This post may contain affiliate links. Please see my advertiser disclosure for more details.
Be sure to check out our follow-up post on this project, answering some FAQs!
Way back, I blogged about our 2012 kitchen renovation. In that post, I mentioned that we had gotten rid of some hideous metal bifold doors on two side-by-side closets in our kitchen.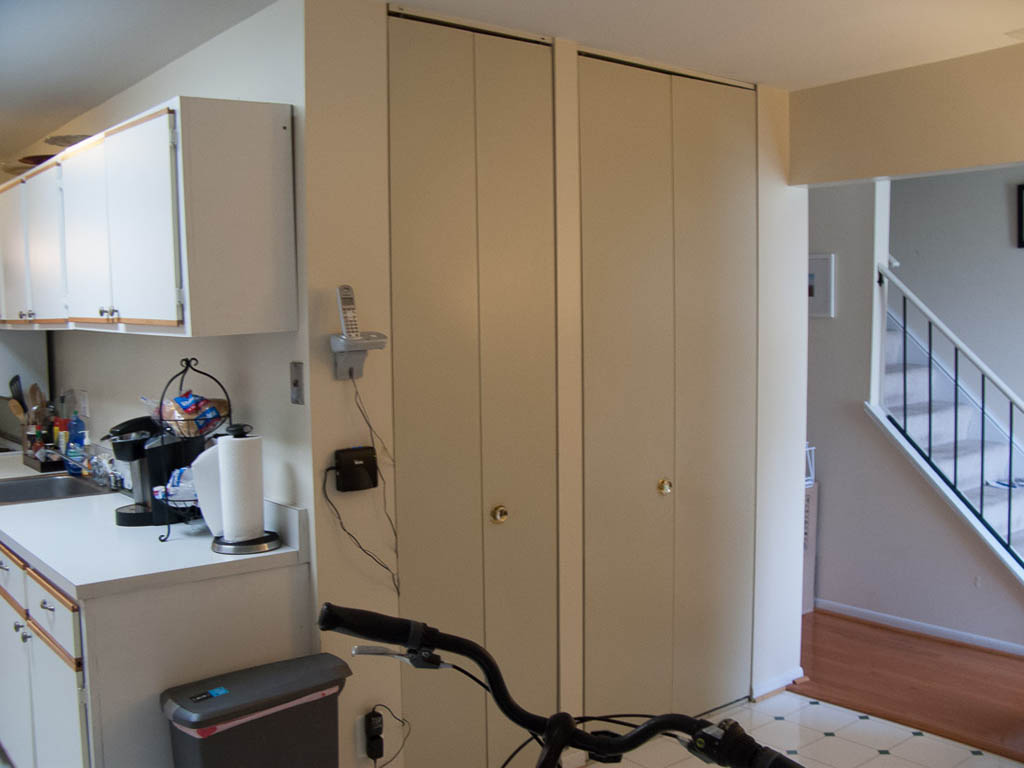 We had no good follow up solution for doors. Neither did our kitchen contractor. Or some other contractors we brought in to look at them. It was like some great mystery.
The biggest issue was that we didn't want bifold doors again. The closets were small, and any bifold door, when open, seemed to take up like two-thirds of the opening. Meaning it was difficult to reach things in the closet, even when the bifold door would be open.
Below is a super old picture that I took in the days we were moving into the house. You can see how the metal bifold door blocks an annoying amount of the closet door opening.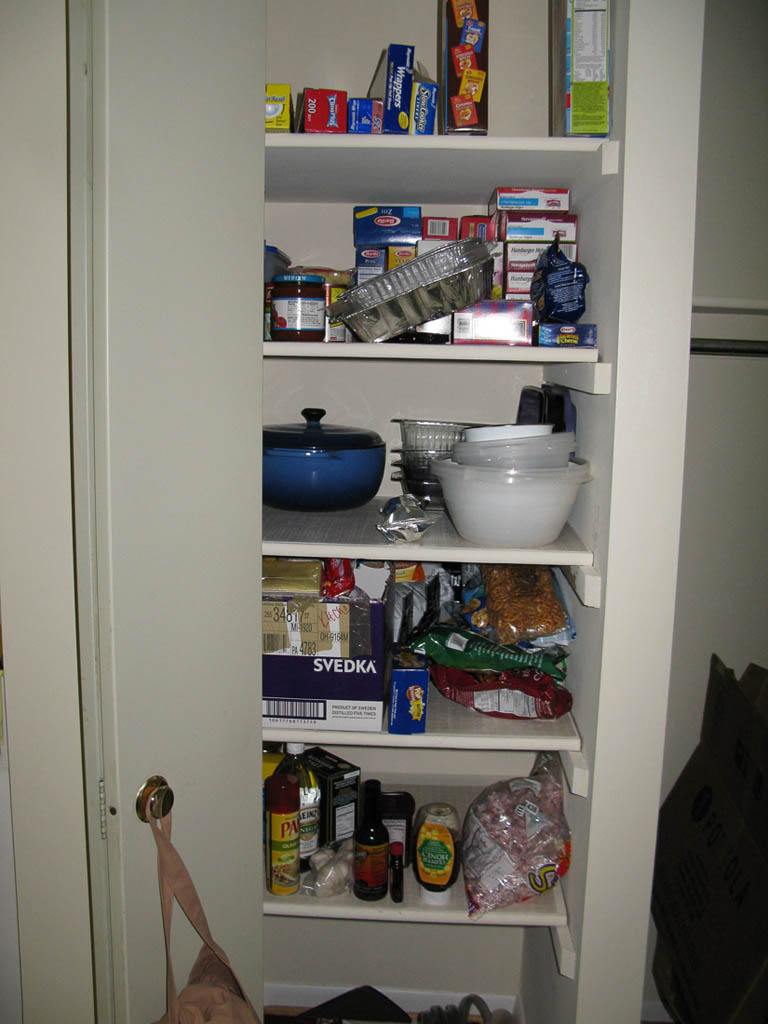 Another problem was that our closets had no overhang. The closet door opening went completely from floor to ceiling. This seems to be very unusual. There's always some sort of drywall or framing at the top of the closet door opening. We didn't have that, making it very difficult to find doors to fit the opening. We were also hesitant to frame in any part of that opening at the top. We loved having easy access all the way to the top of the closet.
Here's a photo that more clearly shows how the closet opening goes from top to bottom: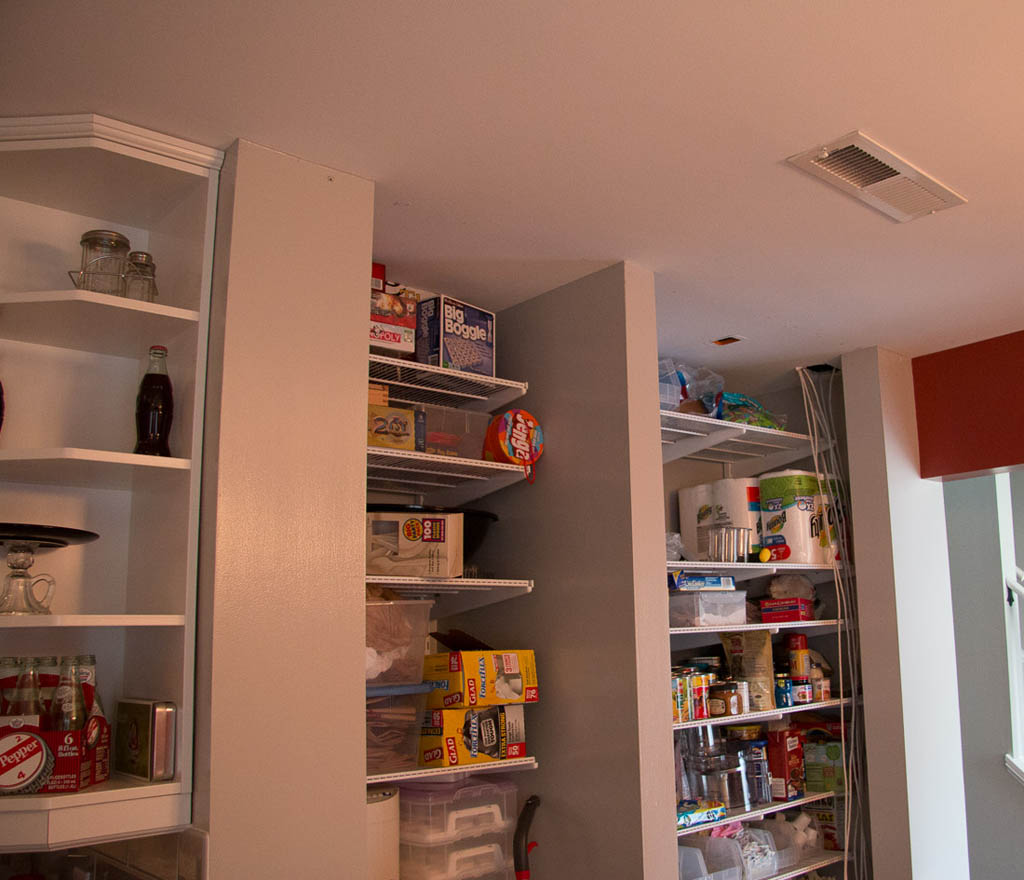 Since there was no overhang, sliding doors or barn doors were also out as an option. We brought in about two or three contractors, including a DOOR SPECIALIST, who had zero ideas for what to do, except perhaps making custom size bifold doors. (The standard 6 feet and 8 feet doors wouldn't work. The opening should've fit 8 foot bifold doors … if we did decide to go the bifold doors route again. But since we had hardwood floors installed during the kitchen renovation, that changed the height of the opening to like 7 feet 10.5 inches or so. No longer a standard size!)
So, our pantry sat open, with no doors, for like 18 months after our kitchen renovation.
This closet issue started getting on my last nerve. #FirstWorldProblems.
Thanks to the layout of the house, you can see the pantry as soon as you walk in our front door. It's like greeting houseguests with, "Hello, welcome to our home, LOOK AT OUR PANTRY CLUTTER."
Finally, we decided that there was no other solution than to frame in a portion of the upper closet opening. Luckily we were able to make it nice and small, still giving us decent access to the top shelves, but it is harder (er, impossible) to fit anything large up there anymore.
We opted for Ikea Pax doors, thanks to their design, sturdiness, and most of all, reasonable price tag. (Have you ever priced custom size sliding doors? Holy Hell. How about SIXTEEN HUNDRED DOLLARS? The two Pax doors, and all related supplies, cost us about $400. Score.) Ikea Pax is a wardrobe closet system that Ikea offers. Typically these doors would be attached to a wardrobe (like a piece of furniture) that you'd buy along with the doors. But we only purchased the doors, not the wardrobe.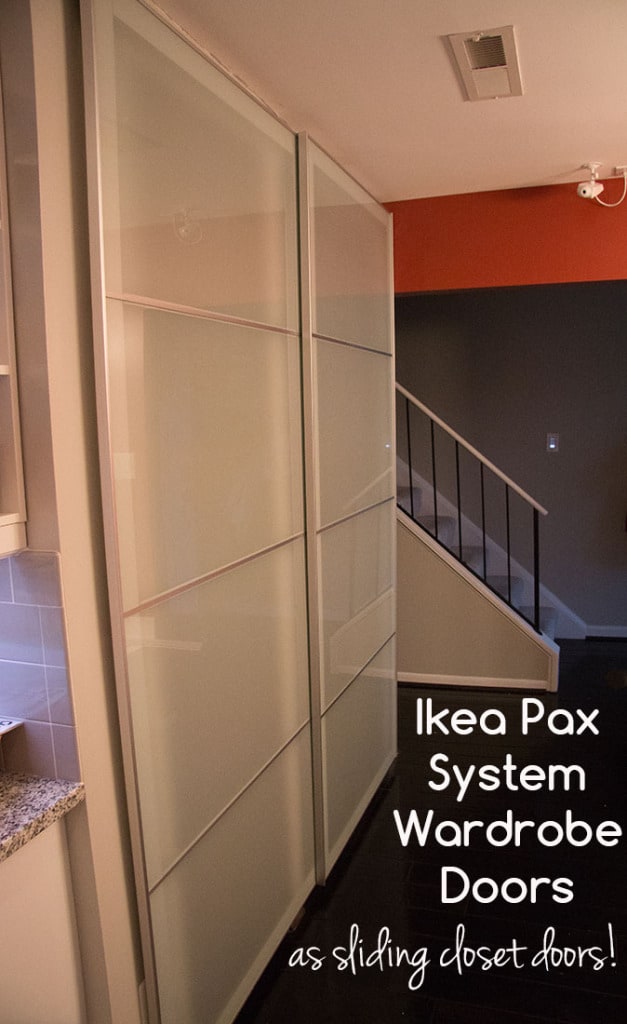 Drywall Framing for Closet Overhang
The bulk of the Ikea Pax Door installation involves a top track. Well, since our closet had no overhang, we needed a structure to mount the track on. We enlisted the help of Ken's stepdad, who is a handyman, to do the framing, since that was well out of our comfort zone (especially if we wanted it to look nice).
I'm not entirely sure about the terminology here, so I'm just going to describe what was going on.
First, his stepdad purchased some lumber materials and built a framing "box" that was the width of each closet door opening. He then installed it at the top.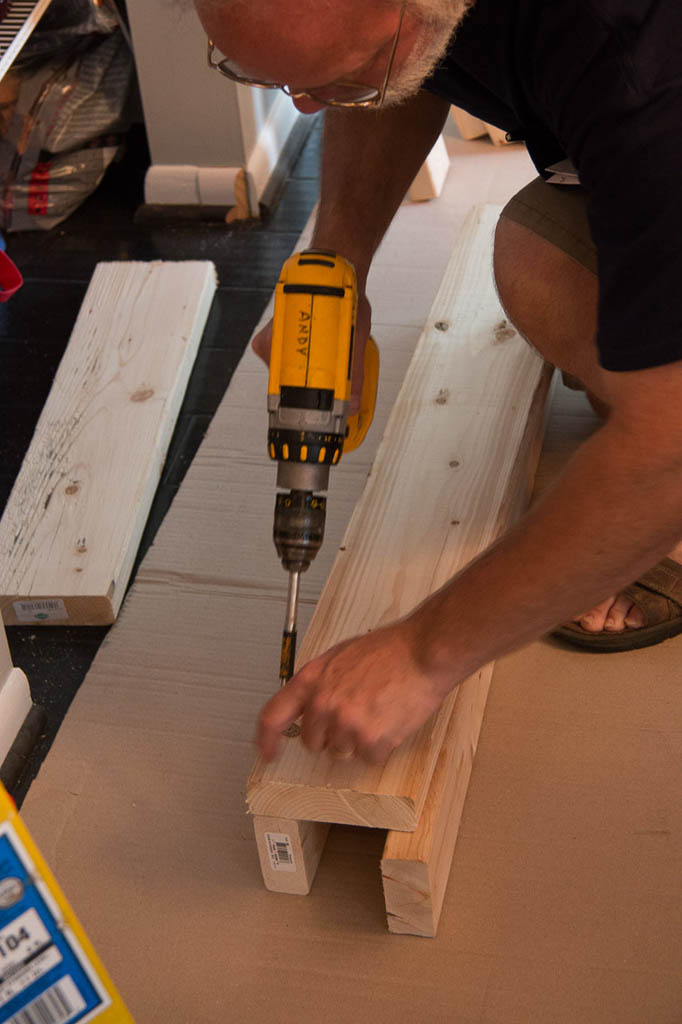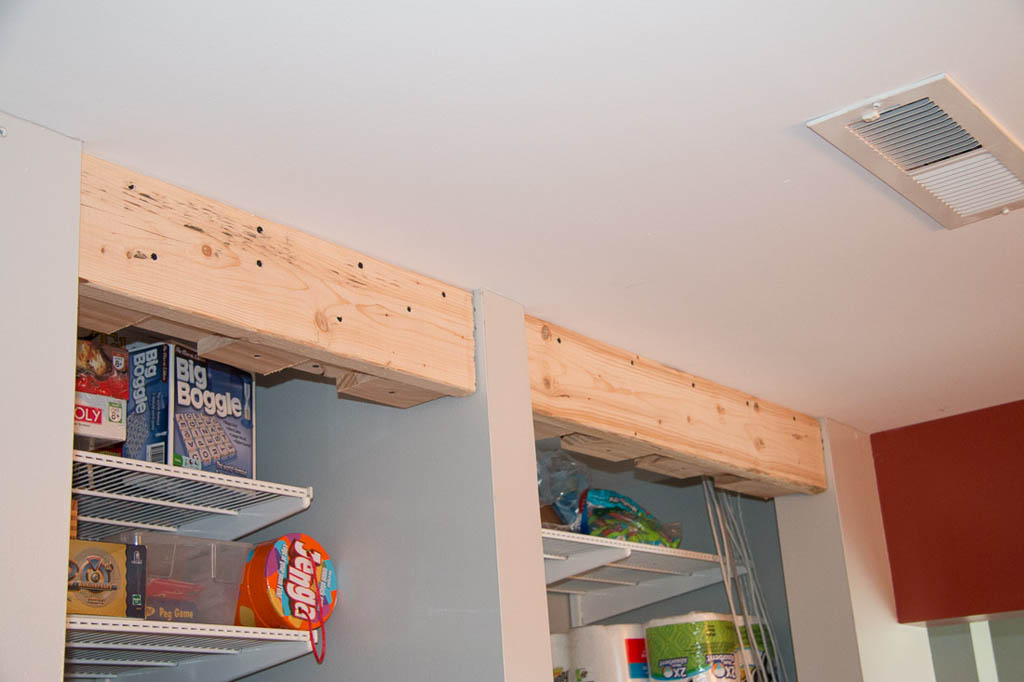 Here's what it looked like from underneath: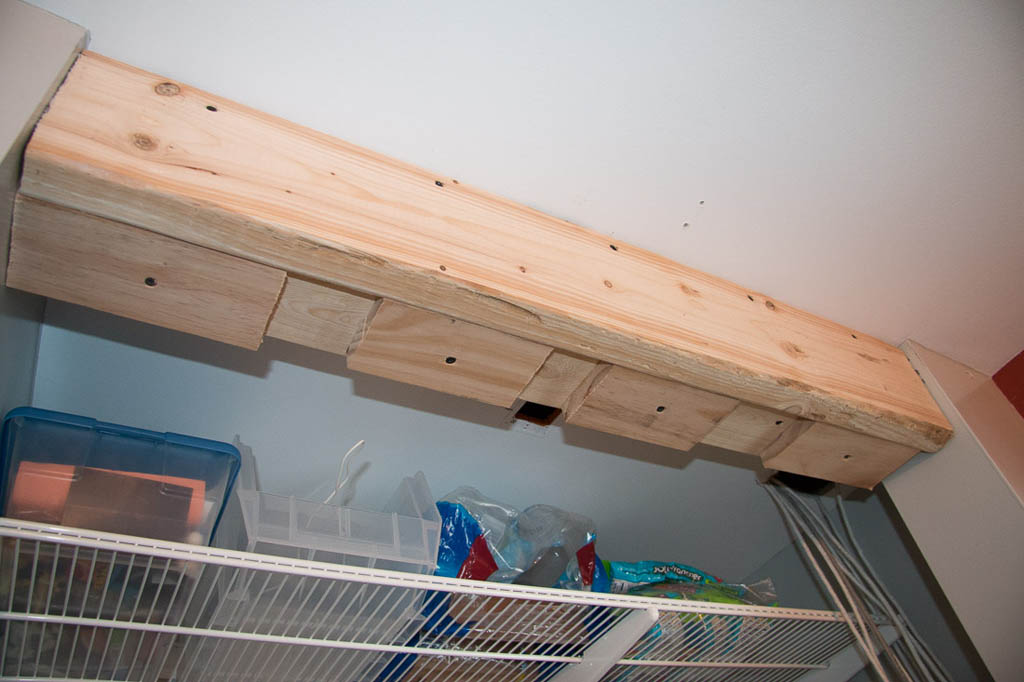 Then, he cut the drywall pieces to size and screwed them to the new framing. This also involved some metal corner/edging pieces.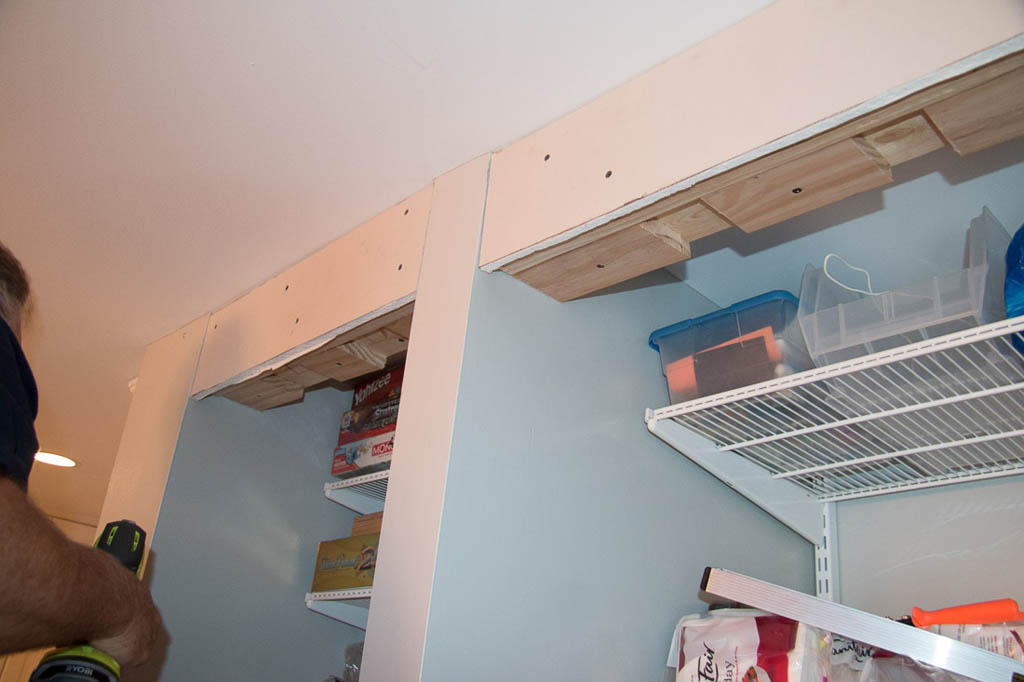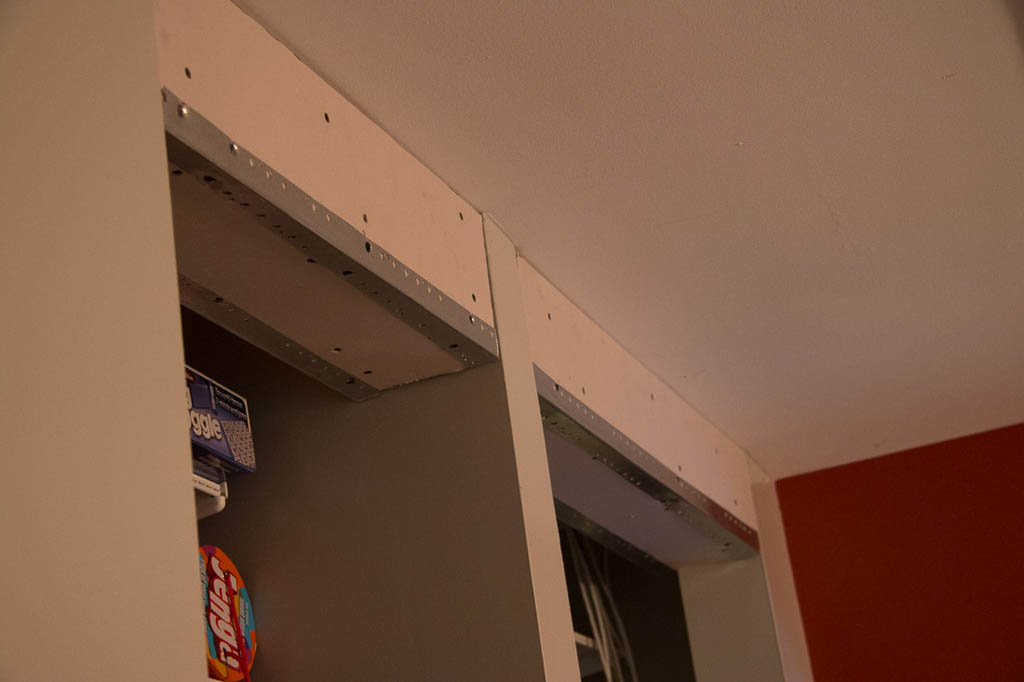 Next up, he put a layer of mud on it. He had to get going, so we waited for the mud to dry, and then did the second layer of mud ourselves and then sanded it and painted it. (Not pictured). I've gotten damn good at patching drywall holes, but wow, mudding an entire new drywall surface was difficult! I made a mess of that second coat of mud. It was really uneven, even after sanding it down. Especially where the framing meets the ceiling. In the future, I can definitely foresee getting that repaired professionally. It doesn't look bad from a distance, but it's one of those things that I KNOW IS THERE.
Before sanding and painting though, we made the drill holes for the Ikea Pax Doors top track, in case we messed up, we wouldn't have to patch the paint again. Also, we assumed we'd be bumping into and scuffing that section as we installed the doors. Hence the unfinished paint in some of the pictures below that depict the installation
Customizing the Ikea Pax Door Top Track
First, we had to remove a "lip" from the Pax door track so that the track would sit flush against the wall.
We followed a tutorial to remove the lip that we had found on a website called Ikeafans. As I went to look up the link for this blog post, I saw that Ikeafans shut down at the end of 2014. How sad! But, I was able to pull an archived version of the page from archive.org. Check it out here (note that archive.org is sometimes slow to load).
However, the person in the tutorial mentioned they used a hacksaw to remove the lip, and that it took about 1–2 hours. We used a Dremel instead of a hacksaw at first to try to speed things along. However it was still taking FOREVER.
We clamped the top track to a folding table (which serves as our workbench!) so it wouldn't move. (We used these Irwin Quick Grip clamps. We've used these for a TON of different home projects, so these are definitely a good buy!)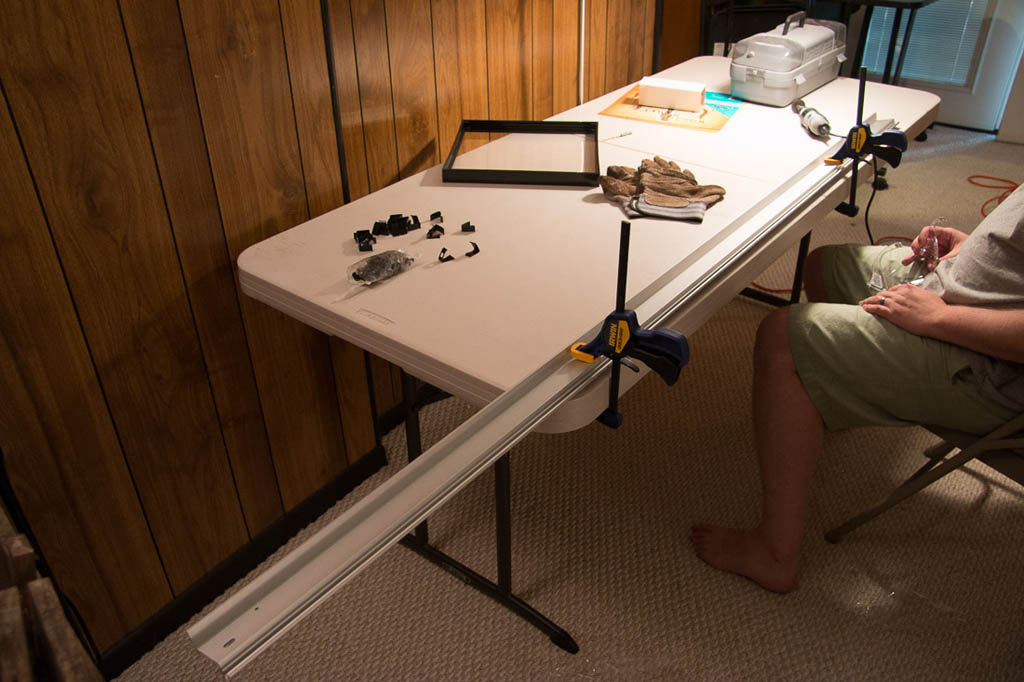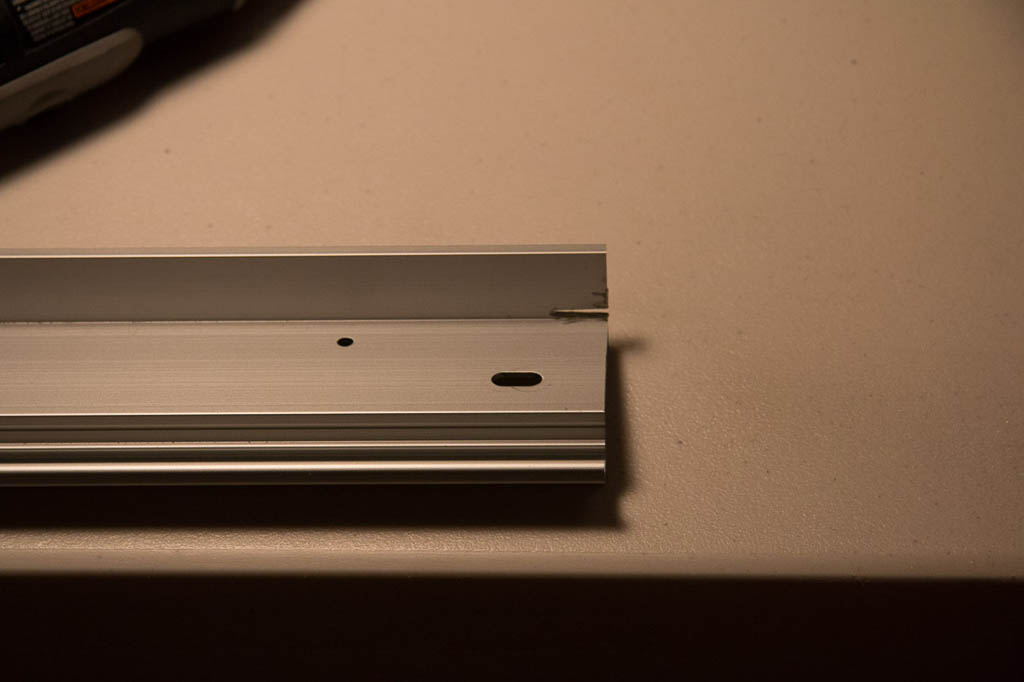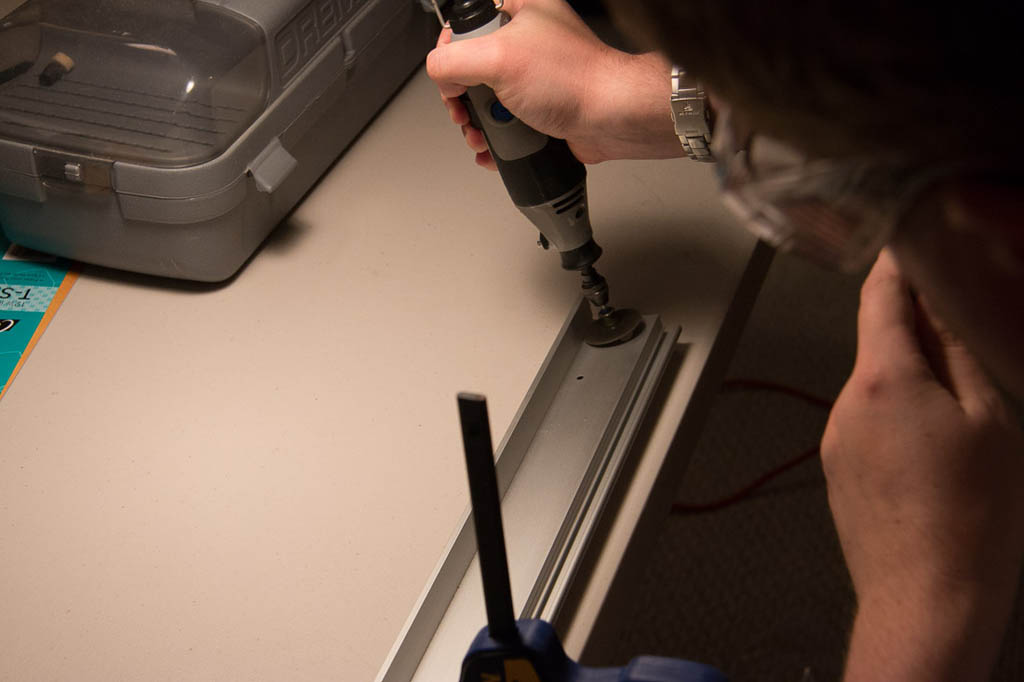 The dremel work went … slowly. More efficient than a hacksaw, but still very slow. After about 20 minutes of work, this was the only progress that had been made. (Don't worry about the scuff marks. This side of the track faces the wall, so you don't see the marks).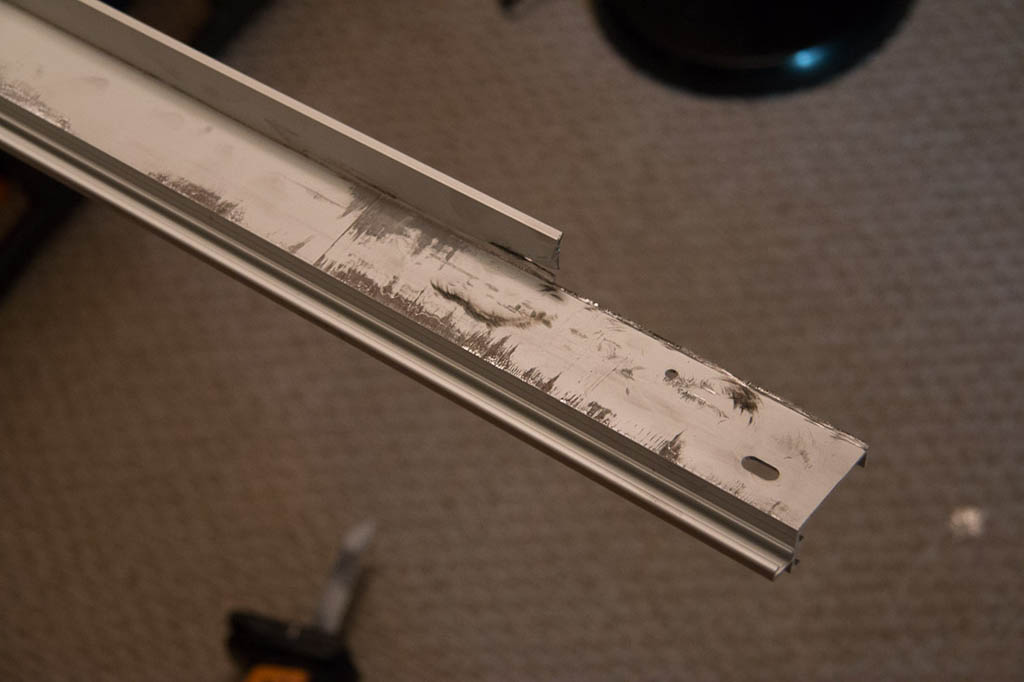 We decided to whip out some bigger guns. The reciprocating saw. This made the job go MUCH faster.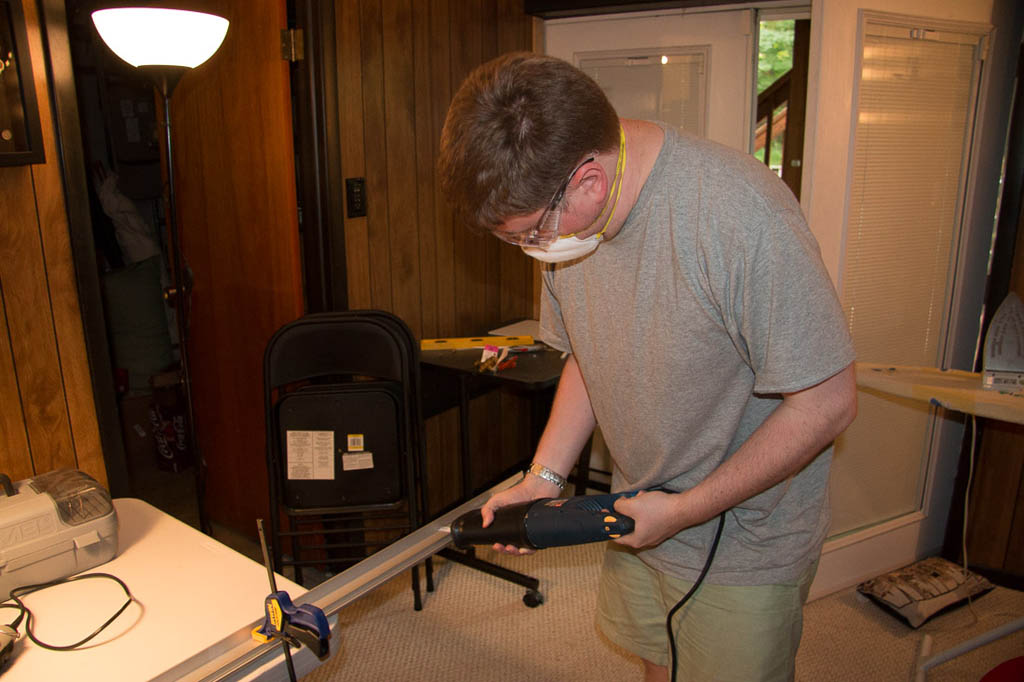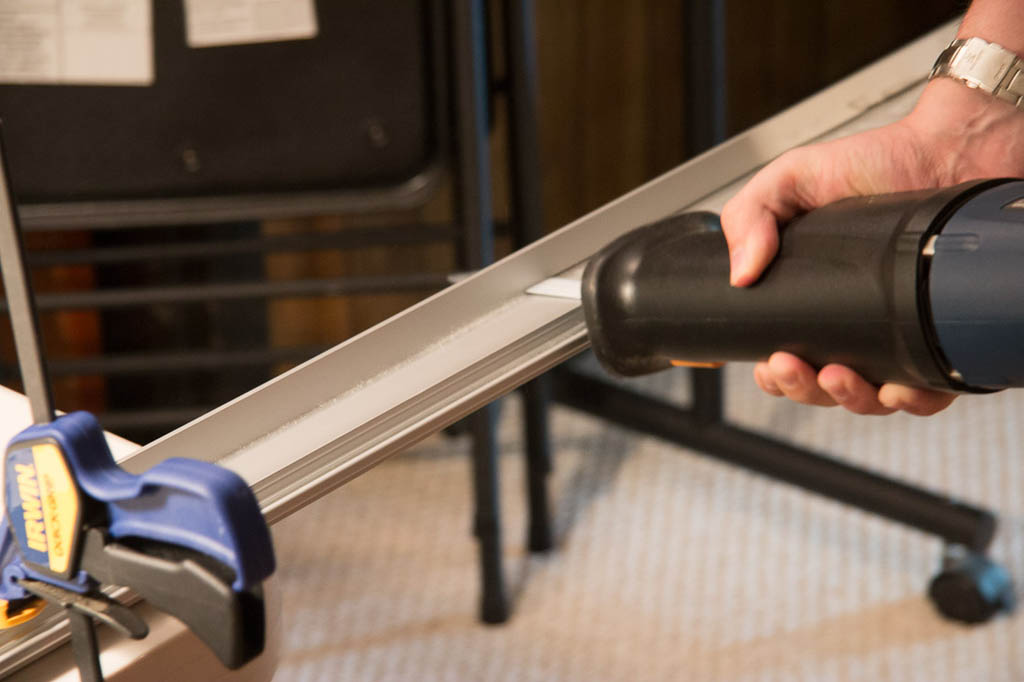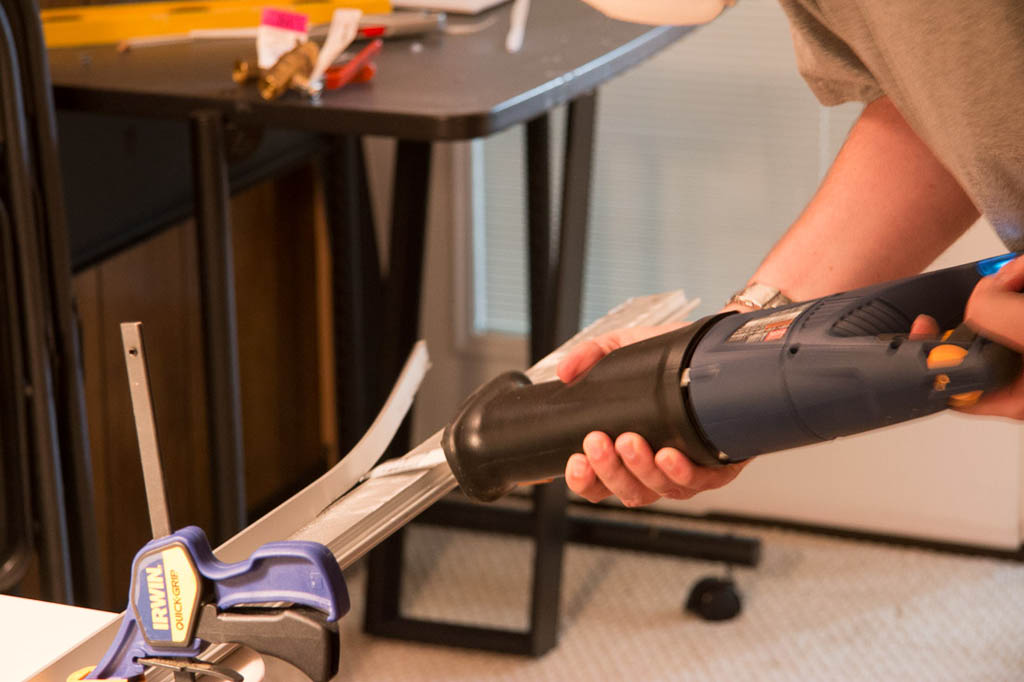 Installing the Ikea Pax Doors as Sliding Closet Doors
Then, we installed the top track on the new closet framing overhang. Then we also hung just the frames for the Pax closet doors on the track to made frames slid well on the track.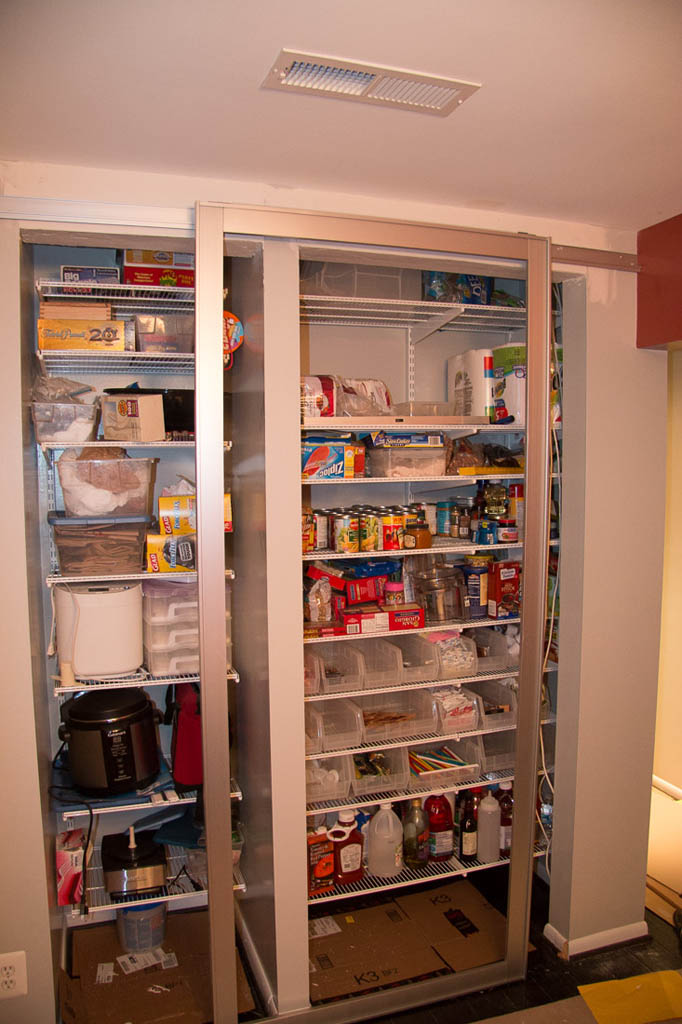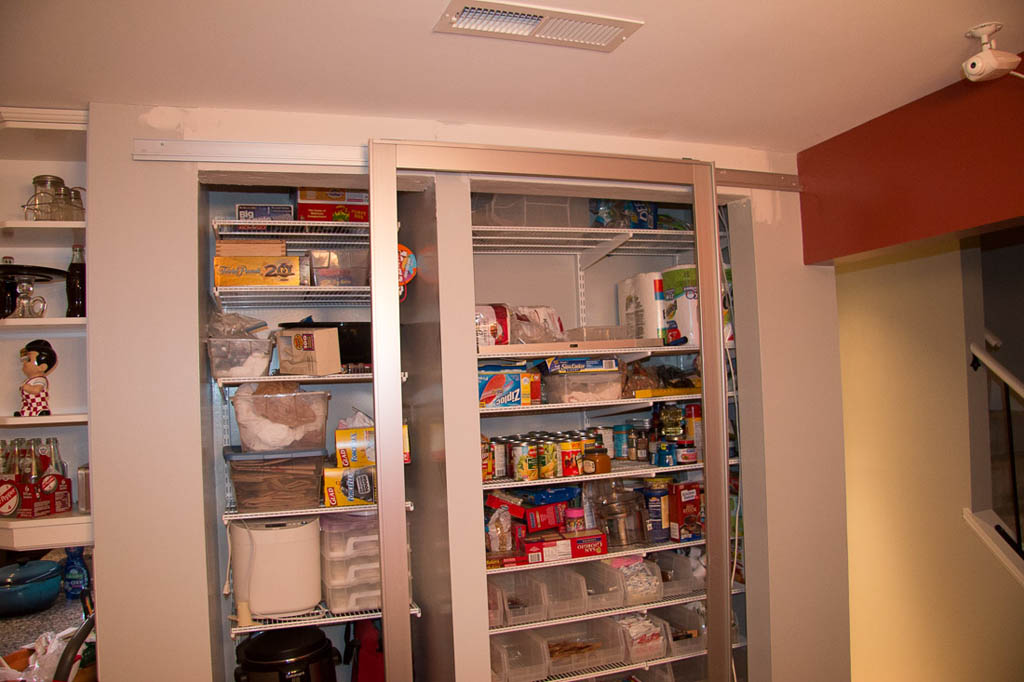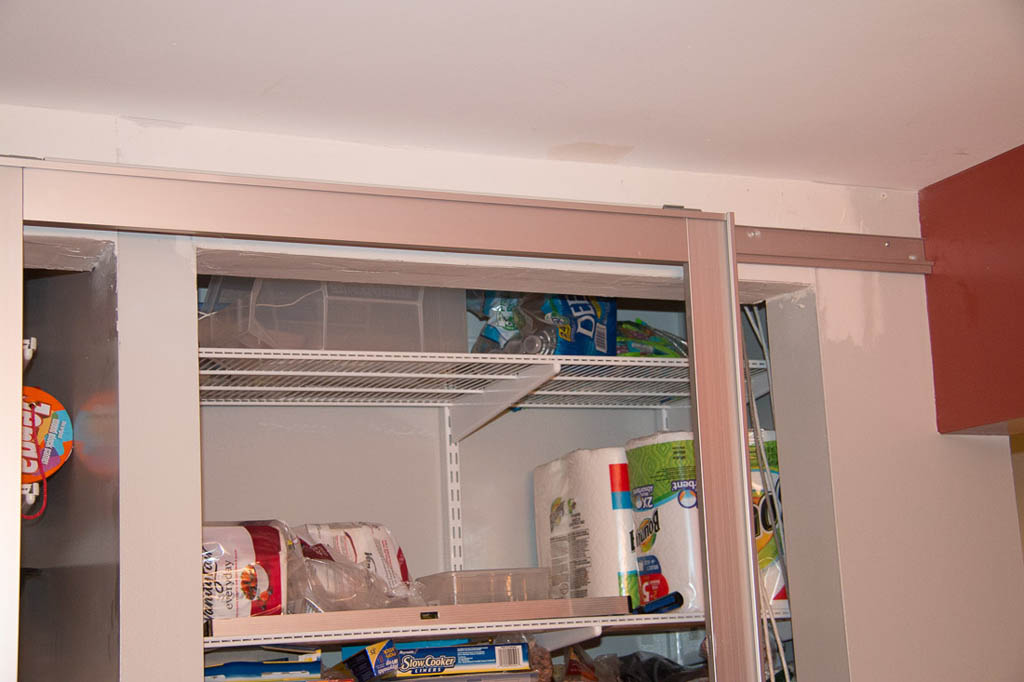 Side note: We have purchased a LOT of stuff from Ikea over the years. I mean, like, a lot. Bed frames, dressers, shelves, desks. You name the furniture, we probably have an Ikea version of it. So, please take my word for this. These Pax doors, when assembled, where the HEAVIEST THINGS WE'VE EVER PURCHASED FROM IKEA. Maybe from anywhere. Like almost-impossible-to-maneuver-heavy.
We had actually assembled the Pax doors earlier, and went to test them out on the top track, and it was almost too heavy to move around for testing purposes. So, we removed the glass panels from the door frames and just used the frame itself to test out sliding. It worked fine! The metal frames are light and easy to pop in and out of the track.
Afterwards, we popped the empty frames off the track and then installed the class panels in the frames, using the instructions that came with the Pax Doors. Then we carefully moved the doors into the kitchen (wow, heavy!). Thanks to the heaviness, we did have some trouble getting them on the top track. It took quite a few tries (including a few periods of rest where one of us would hold the door steady while the other took a breath). This is definitely not a job for one person.
We had opted for the "Sekken" style, which was frosted glass.
But once the doors were on the top track, they slid beautifully and we were now able to cover up our pantry contents!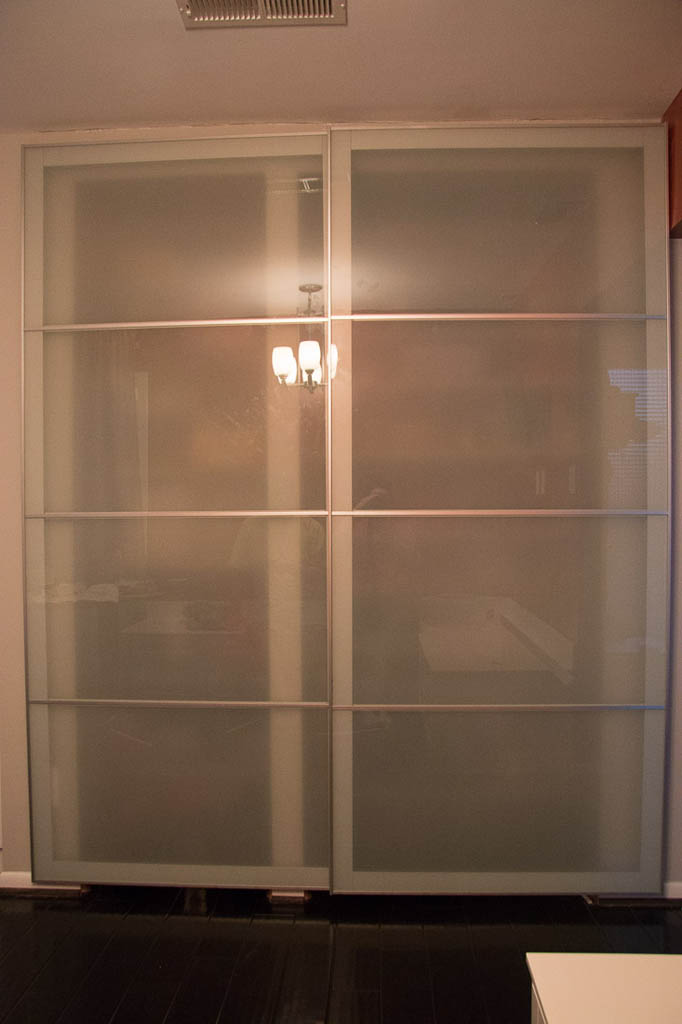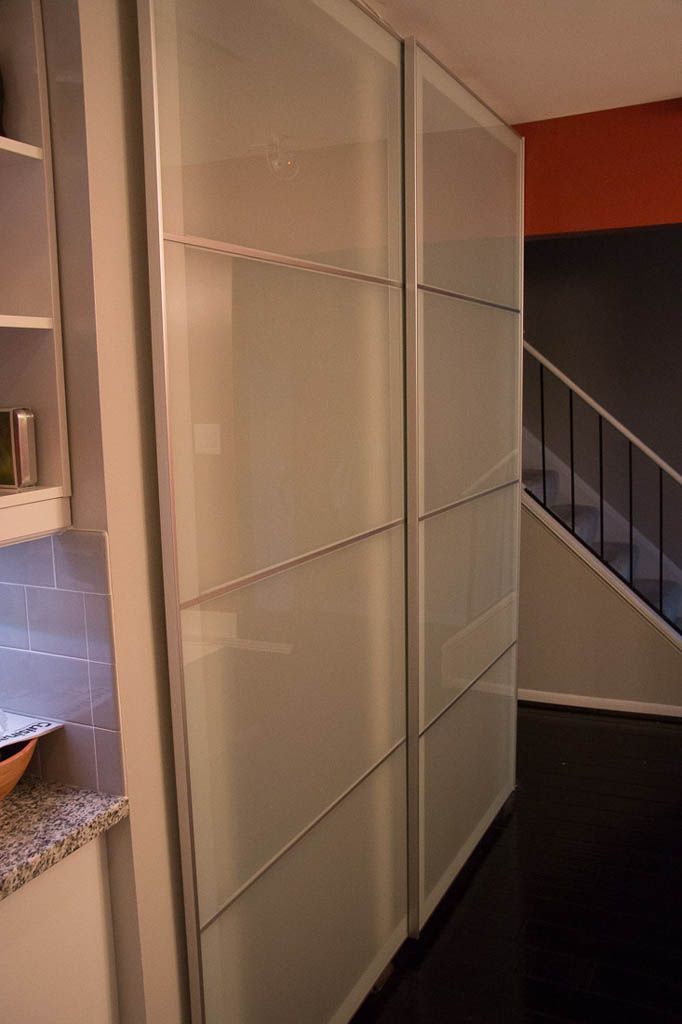 I was so happy to have this project done. It finally felt like our kitchen was complete! We had done our full kitchen renovation, followed by our DIY Ikea Banquette, then this Ikea Pax Sliding door project! It finally felt like our kitchen was a finished product!
Be sure to check out our follow-up post on this project, answering some FAQs!
Tools that Helped Our Installation
I mentioned these tools above, but just to recap, here are the tools that were helpful to us, or could be helpful to you. (We include things like the hacksaw option too, since that's more budget friendly).
Ways to Save Money on your Project
Looking for some ways to save money on this particular project? Head over to raise.com, a discounted gift card reseller, and buy discounted gift cards for Ikea
. (Double bonus, be sure to check Mr. Rebates first to see if they're offering any cash back on Raise.com purchases. As of the time of writing, it's 3% cash back!)
Is Raise.com all out of Ikea Gift Cards? Be sure to check GiftCards.com, GiftCardMall, or even GiftCardGranny. Buying discounted gift cards is one of my favorite ways to save money on purchases I was going to make anyway!
Have you had any troublesome closet doors in your home? What solution did you come up with?
Like this post? Check out some of our other Ikea Hacks and DIY Home Improvement Projects