This post may contain affiliate links. Please see my advertiser disclosure for more details.
A few weeks ago, a coworker was saying that she and her husband wanted to renovate their kitchen, but she was completely stressing out about how she would cook and feed her family during the six week renovation.
I had this exact fear when we renovated our kitchen a little more than two years ago now! I gain weight just by THINKING about dining out excessively (I kid, but only a little). So there was no way I wanted to eat takeout every meal for our scheduled six week renovation.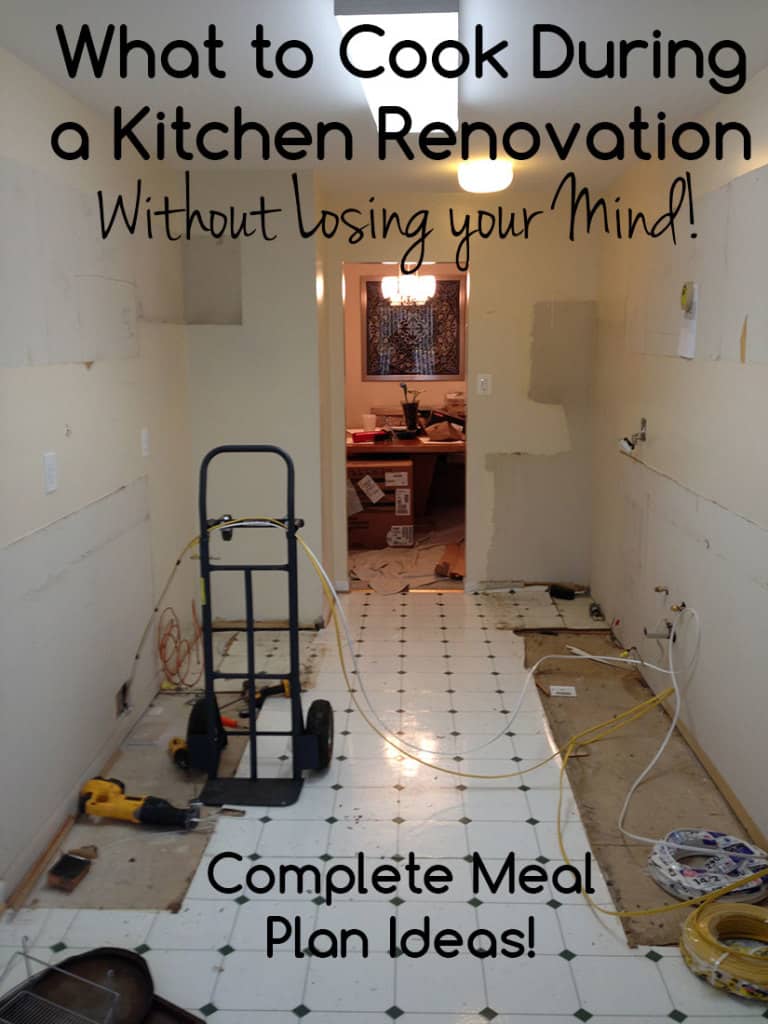 But, with a little bit of planning, we only had to dine out a few times! Is eating during a kitchen renovation going to be the healthiest or cheapest food of your life? Nope. Is it going to be the most environmentally-friendly time of your life considering all the paper plates and utensils you'll be using? Nope. (Unless of course you want to wash dishes in your bathroom sink). But should it keep you from getting that awesome kitchen you want? No way!
Here are some tips and tricks that helped us!
Helpful Kitchen Tools During a Kitchen Renovation
Countertop Oven. When I got my first full time job and moved into an apartment, I realized that my oven sucked. The temperature was never calibrated properly, and it always burnt my food. So, I bought a little countertop oven. It was great! I used it my entire 2.5+ years in that apartment (and my subsequent apartment) to cook anything that required baking. It won't fit a 9×13 dish, but since I was living alone, a standard 8×8 dish was always just fine. When we moved into this house in 2009, I just stored it in the attic, and when the kitchen renovation rolled around, we pulled it out of storage! Mine is old, so I can't find the exact model, but it was certainly not fancy or expensive, and it still worked great! But there are plenty of more expensive models.
Microwave. Mmm. Microwaved meals. Everybody's favorite, right? Well, it's only for a finite amount of time, so a few microwaved meals here and there won't kill anybody. Especially the ones I think are higher quality like frozen burritos from Trader Joe's, or Trader Joe's Sweet Potato Gnocci with Butter and Sage. Even some spaghetti-o's with Texas Toast (heated in your countertop oven!) is a perfectly acceptable choice! So, make sure you don't put your microwave in storage during your renovation or throw it away too quickly if you're getting all new appliances!
Electric panini maker. This was great for making grilled cheese and other warm sandwiches!
Crockpot. Oh, how the crockpot was so fantastic during our kitchen renovation. We bought lots of crockpot liners to simplify cleanup as well. They even have "fancy" crockpots these days that you can saute foods right in them!
Outdoor Grill. We also used our charcoal grill for lots of food that we typically would've cooked inside, as well as for our normal grilling foods like steaks! (We have a Weber 22.5 inch Kettle Grill, but any outdoor grill would do!). To simplify grilling, we pre-marinated and then froze lots of meats! If you happen to have an indoor electric grill, that would also work great! (We didn't, and we were just fine)
Hot plate. Although we went our entire kitchen renovation without a hot plate, I was tempted to buy one a few times. We already owned all the previously mentioned tools, and I was hesitant to spend money on something new, like a hot plate. But I could definitely have seen it be useful for things like boiling water for Macaroni and Cheese or other pastas during a renovation.
Lots of disposable kitchen stuff such as plates, utensils, and bowls.
Bonus item: Although we didn't have one at the time, I have grown to love the pressure cooker I bought about six months ago. There is some light cleanup involved (but usually just the single pressure cooker "pot"), but it is great because you can even brown meat or sear steaks in it!
What to Eat during your Kitchen Renovation
First and foremost, have a meal plan (more on that below). That will help you pare down the equipment you would need during your renovation.
Freezer Meals. Any glance on Pinterest these days, and you're likely to find tons of pins for Freezer Meal ideas. I've been meaning to try it in earnest myself. So, experienced freezer meal cooks would probably have no problem lasting their entire renovation with a freezer full of homemade meals. Unfortunately, that seemed kind of overwhelming to me at the time. But, in the weeks leading up to the renovation, I did make double batches of a few meals that I thought would freeze well, like manicotti italian casserole (one of our favorites), salisbury steaks, and chicken enchiladas (links to recipes are below!). I think I ended up with six frozen meals total. To cook them or heat them, we used the Countertop Oven! In retrospect, I wish I would've known about freezer meal planning sites like MyFreezEasy where I could've created a bunch of freezer-based meal plans more quickly! I think this would be well worth the subscription cost. (Because, after all, you're already stressed enough with kitchen-related decisions, right?)
Pre "anything" from the supermarket. Pre-cooked chicken packages? Sounds great! Pre-made salads and wraps from the deli aisle? Perfect. Rotisserie chicken from Costco? Yum! Pre-made things are obviously more expensive, but I think it's well worth it during a renovation! I don't want to be chopping up individual ingredients for a salad on a folding table. Save yourself the frustration and buy it premade!
You know all those "processed foods" that everyone hates on these days? I'm not a fan of processed foods either, but mostly because of taste. Start stocking up! Again, this isn't forever. So loading up on things like hot dogs, frozen fish sticks, chicken nuggets, and spaghetti-o's will help you have some options on those nights that you're desperate for a meal idea! There are some healthier ideas too like packages of fully cooked chicken sausage.
Keep in mind that a kitchen renovation might be a perfect time to do a quick weekend getaway too! Yes, that would be three days of dining out, but it's away from home, so that makes it totally different and okay, right? Right?
Meal Plan for a Kitchen Renovation
I planned out 20 days of meals (with the intention to just repeat the 20 meals as long as the renovation continued), including a few days of healthy takeout like Subway and Sushi. Did we follow the meal plan precisely? No, of course not. For instance, one day we might have had a really heavy lunch and we weren't hungry for dinner. And we were invited to a family party one evening and didn't eat our normally-planned meal. But you get the idea. It was fantastic to have that framework there to avoid being overwhelmed at the idea of "What's for dinner!"
Sour Cream Enchiladas (Made ahead and frozen)
Manicotti Italian Casserole (Made ahead and frozen. Again, you can check MyFreezEasy for other freezer meal plans and ideas!)
Go out to eat
Steaks on the outdoor grill. Pre-marinated ahead of time using this recipe (our all time favorite). Then we just wrapped them in plastic wrap, put them in a plastic bag, and froze them.
Slow Cooker Pulled Pork BBQ (eliminated the last step of putting in oven to avoid dirtying a dish and just added BBQ sauce to the crockpot)
Grilled Cheese with Bacon and Thousand Island Dressing (cooked using panini maker)
Frozen fish sticks and frozen french fries (cooked in countertop oven)
Rotisserie Chicken (store bought)
Salisbury Steak (Made ahead and frozen. I didn't make the mashed potato portion of this recipe)
Frozen pizza (we like Freschetta. Cooked in countertop oven)
Burgers and frozen french fries (pre-formed the patties and froze them. Cooked burgers on the grill!)
Go out to eat
Sourdough Chicken Panini (using pre-cooked chicken from Trader Joe's)
Garlic chicken cheese rollups (Made ahead and frozen)
Trader Joe's Frozen Taquitos (Cooked in microwave or oven!)
Meatball subs (Just cover frozen meatballs with jarred sauce and put in the oven! Use a disposable foil tin pan for easy cleanup. Put meatballs on store-bought sub rolls. You can even add some Mozzarella cheese to the top and throw it back in the countertop oven for 10 minutes).
Frozen chicken nuggets and french fries
Frozen Bertoli "Complete" meal
Hot Dogs and chips (can cook hot dogs in microwave).
REPEAT AS NEEDED.
If the food we put in the oven required a baking sheet, we covered it with nonstick foil to make cleanup easy.
Temporary Kitchen Setup
We setup a "temporary kitchen" in our basement. It just consisted of two folding tables (one six foot and one square table)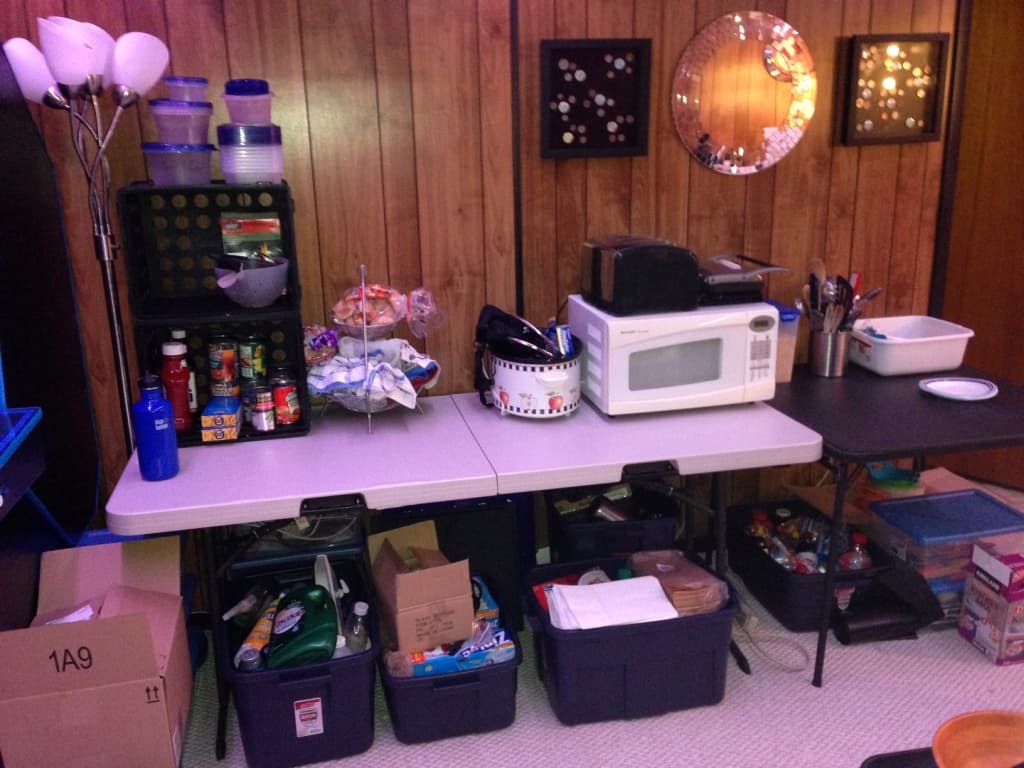 We had the microwave, crockpot, toaster, and panini maker very handy. We also had bins beneath the table containing things like ziplock bags and other cleaning supplies. We kept out our stainless steel utensil holder (pictured on the black table next to the dish pan). Serving and cooking utensils were probably the most frequently used non-disposable things we had to use. We also kept a dishpan handy, as well as canned and other packaged foods. Also, things like cereals, breads, chips were kept handy on the tables. Really, it wasn't bad at all! Keeping it neat (er, well, as neat as possible), really helped maintain our sanity!
That's it! See, it's not as bad as you think, right?
To Recap – Resources for a Successful Kitchen Renovation
So, to recap, here are my recommendations for everything you need to survive a kitchen renovation:
Countertop Oven (and baking dishes or baking sheets that will fit in the countertop oven! USA Pan is seriously my favorite baking sheet brand!)
Microwave (hopefully you already have one of these!)
Crockpot (or fancy version)
Outdoor Grill (or indoor electric grill)
Pressure cooker (optional, but useful! This is the one I personally own, but I've heard that Instant Pots are very popular these days.)
Dish pan (although you can probably get one of these from the dollar store, especially if you don't anticipate needing one after the renovation).
Disposable oven ware (or foil to cover your baking dishes)
What did you eat during your kitchen renovation and what equipment and tools did you find helpful?