This post may contain affiliate links. Please see my advertiser disclosure for more details.
---
After our quick stay in Vancouver, it was time to make our way to Seattle, the embarkation city for our Alaskan cruise. And what a scenic journey it was!
As I mentioned in the introduction for this trip report, I kinda tripped upon the Amtrak Cascades Line as our method of transportation from Vancouver to Seattle. To recap:
My original plan was to just stay at an inexpensive hotel near Vancouver Airport, and then drive the following morning to Seattle. (Our flight wasn't arriving in Vancouver until like 12:45AM, so I didn't want to start driving so late at night. But there was one issue. Rental cars were INSANELY EXPENSIVE. A ONE DAY rental from Vancouver to Seattle was going to be $199 CAD (About $150 USD.) I swallowed my pride and made a reservation, but I couldn't help but think that there had to be a better, and cheaper, way.

And lo and behold, there was! I came across the Amtrak Cascades option! I had read that it was a very picturesque way to get from Vancouver to Seattle, and much more relaxing than a drive. Even though we have Global Entry these days, the line at the Canadian-US border crossing can get very long, so the train seemed like a good option to minimize the delay as well!
Vancouver's Pacific Central Station
We arrived at Vancouver's Pacific Central Station about an hour before the train departure.
We weren't sure what kind of Canada customs or exit processing there would be. There was a dedicated line for the Cascades line, since it was crossing into the United States. There was also a dedicated line for business class passengers.
We walked around the station for a little bit.
After a short while, they started processing the passengers, including checking our passports and providing seat assignments.
Amtrak Cascades Line Business Class Review
Amtrak Cascade Line's business class consists of seats in a 2–1 configuration, which I had learned long before our departure. However, I wanted to make sure that we were on the "coast" side of the train. Since the train was heading south to Seattle, that meant we wanted to sit on the right side of the train to have the best views of the coastline. But, I was never able to figure it out in advance if the coast side was the "2 seat" side or the "1 seat" side.
At the check-in, we were assigned seats in the "2 seats" side of the train. I asked the agent if that was the "coast" side, and she said no. That traveling south, that's the "1 seat" side. Even though it meant not sitting next to each other, we opted for the "1" side. But, as a bonus, she was able to give us two single facing seats, instead of sitting one in front of the other.
Since we still had quite a while before the train departure time, I went outside and took some photos of the exterior of the train.
Views from Amtrak Cascades Line, Vancouver to Seattle
This train route has been touted to be one of the most scenic in the world, and I dare say that I have to agree! [Photo overload to commence]
It's worth pointing out that since we were traveling south, and seated on the west side of the train nearing sunset, it was incredibly sunny! Ken wore his hat and sunglasses even on the train!
Seriously, SO scenic. I couldn't take my eyes off the outdoors.
At the Canada-US border crossing, everyone had to stay in their seats while US Customs and Border Patrol officials boarded the train and checked passports. We were stopped for about 20 minutes or so at the border, and then the train continued on.
Photo Tip: The glare from the windows of the train really could have affected our photos if we had not had our polarizer filters on our SLRs! Seriously, if you do this train ride, be sure to have a polarizer filter, otherwise your photos will be filled with glares!
I walked around to some of the different cars and took some additional photos.
As we got closer to Seattle, farmland started to mix in with the coastal views (which were still scenic!)
And then, the sun started setting farther below the horizon.
We arrived in Seattle, disembarked, and took a taxi to our hotel, the Grant Hyatt Seattle. Highly recommend Amtrak Cascades!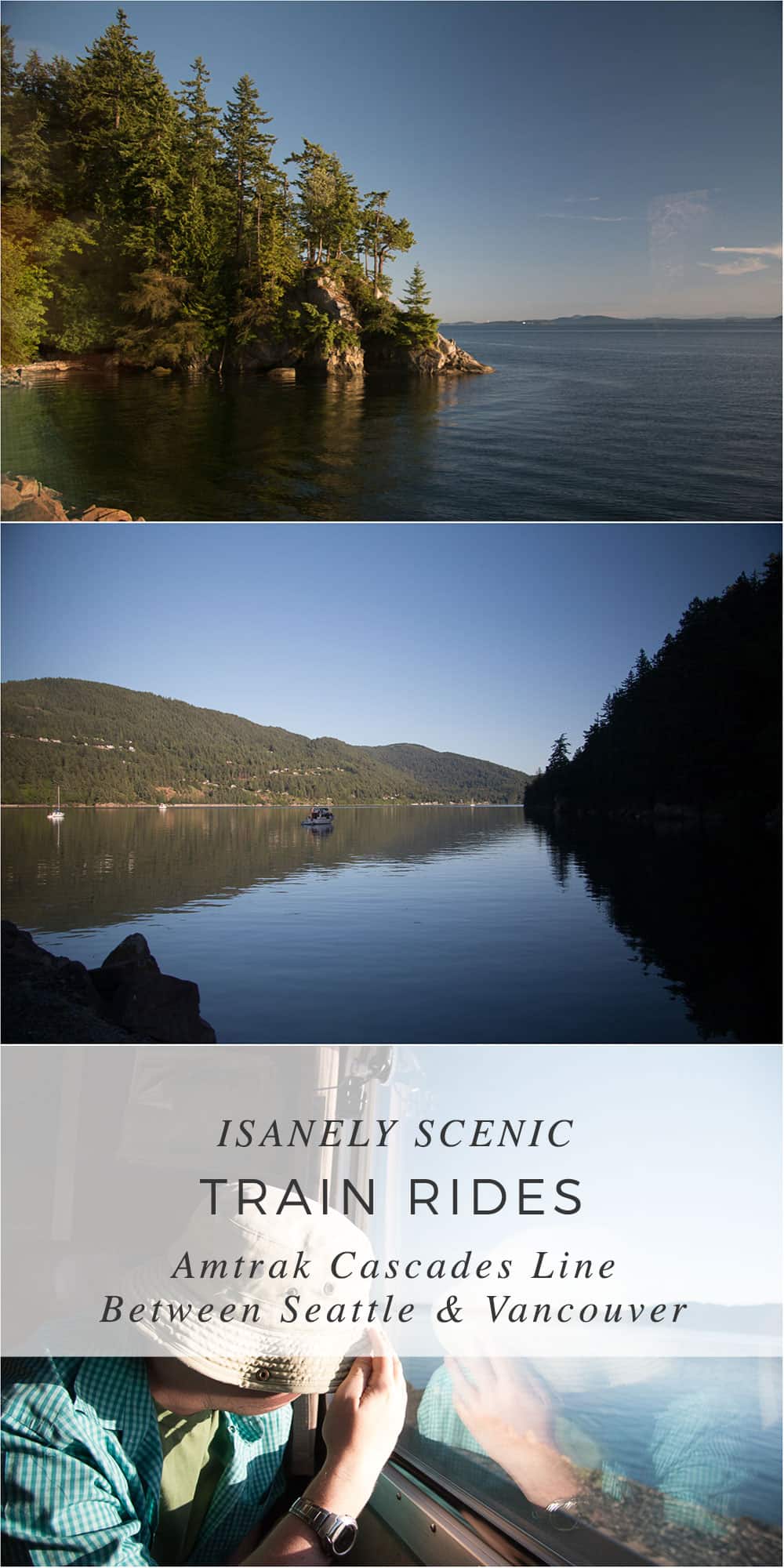 ---