This post may contain affiliate links. Please see my advertiser disclosure for more details.
---
I'm starting a new trip report today all about our June 2015 Alaskan cruise. Our trip also included a day in Vancouver and two days in Seattle, which I'll cover in the trip report as well. Our out-of-pocket costs on this trip were limited to paying for the cruise. Our hotels in Seattle and Vancouver, our flights, and a train ride were all covered by points. Man I love this hobby!
Booking the Cruise
This part didn't require much work on my part. We'd be cruising with my sister and her family (her husband, her 9-year-old son and 2-year-old daughter), as well as my dad. My sister, a VERY avid cruiser with probably 25+ cruises under her belt, had identified a cruise line and itinerary that offered a fairly decent deal. The cruise would depart in early June, meaning that prices were a less expensive than what they would have been in mid-summer. The cruise was scheduled to depart just two days after her son's last day of school, so it really worked out!
We booked a 7-day roundtrip Alaskan cruise on the Ruby Princess. The cruise would include stops in Ketchikan, Juneau, Skagway, and Victoria, British Columbia. On the day we would arrive in Juneau, the cruise would transit the Tracy Arm Fjord area, which, although not a "stop," is definitely worthy of viewing from the ship!

We opted for a mini-suite with balcony onboard the Princess Ruby. Our Caribbean cruise in 2007 had a balcony, which we loved, but on our Mediterranean cruise in 2010, we opted for no balcony in order to save some money on the cruise. We regretted our decision to not have a balcony on that cruise, so we definitely wanted our own balcony for this Alaskan cruise. My sister booked the same type of cabin. She and I booked cabins on the same deck, but on different sides of the ship. That way if we were passing beautiful scenery on one side of the ship only, we could all pile onto one balcony inside one of our cabins! For our dad, we booked a handicapped-accessible room on the same deck. It didn't have a balcony, but it was an "obstructed view outside cabin." I'll be doing reviews of both the mini-suite with balcony, as well as my dad's accessible room, in future posts.
We booked the cruise in November 2014, about 7 months prior to the sailing, but then it became a little worrisome about whether my dad would be able to go. Luckily we had all added cancellation insurance to our cruise, but obviously the point was that we all wanted to go on vacation! My dad broke his hip in February, but doctors were optimistic that he'd be healed enough by June to go on the cruise. Then, just a few weeks after getting out of rehab from his broken hip, he ended up hospitalized for a month in April with pneumonia. He was put on a ventilator because he was unable to breathe on his own. (After my dad was better, doctors told us just how close to death my dad really was.) He had to go back into rehab at the end of April after his hospital stay, and it was really uncertain whether he'd be better in six weeks to depart on a cruise. All that previous physical therapy on his repaired hip had been undone by a month-long stay in a hospital bed. So, he not only had to recover from the pneumonia, he had to work that hip all over again. And luckily he recovered beautifully just in time! In fact, staff at the rehab facility said that the cruise was probably a good thing, because it gave my dad a goal to work toward. "I have to be healthier and stronger by June to go on that cruise with my family!'
Getting to the West Coast
Our cruise was departing Seattle, so first I needed to figure out the best way to get us from Washington, DC to the Seattle area. Flights from here to Seattle are nearly as long as getting to some European destinations (about six hours), but the flight options aren't nearly as fancy. I explored both coach and first class options. Alaska Airlines offered nonstops from DC to Seattle, but holy crap the flights were expensive. I can't recall exactly, but I think they were in the ballpark of $600 roundtrip for one coach seat! Ouch. There were some frequent flyer options available for both coach and first class, but they included some annoying and ill-timed connections. (A six hour layover at DFW anybody? No thanks!)
And then it dawned on me! JFK to Vancouver! The famed Cathay Pacific flight that continues onto Hong Kong after its stop in Vancouver. Beautiful business and first class options. I searched on British Airways for availability, and there were plenty of business class seats! No first class, but that was just fine. I had read previously that seats on Cathay First tended to become available as the flight date approached, so I'd just keep checking back. (Spoiler alert … read the full review post later on to see if First Class seats ever became available!) I booked two seats in Cathay Business Class for me and Ken using British Airways Avios points. We redeemed 50,000 Avios (25,000 points each) plus $55.40 total. Now that sounds like a great way to get to the west coast. Cheap and comfortable!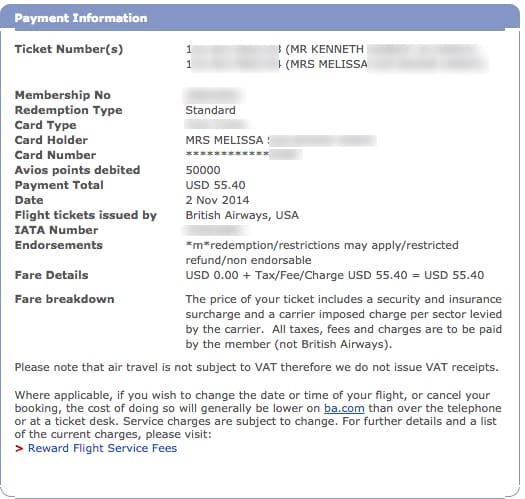 To get to New York for our Cathay Pacific flight, I used more British Airways Avios points to book a short-hop flight from DC to New York. Unfortunately the Avios options were all for Laguardia Airport, and the Cathay Pacific flight was departing New York JFK airport. However, a $40 taxi ride from LGA to JFK would be far cheaper than paying out-of-pocket for two tickets from DC to JFK. 9000 Avios and $11.20 for two coach seats from DCA to LGA. Can't beat that!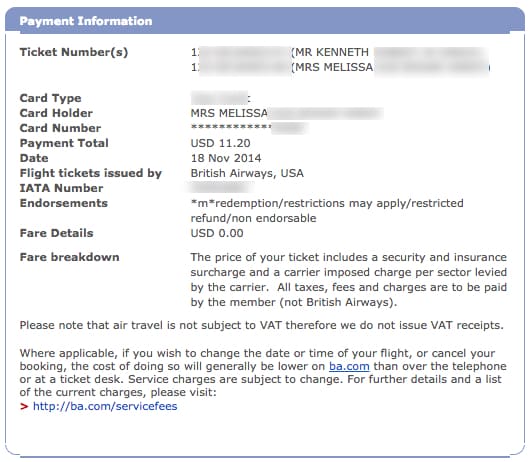 For our return flight, we redeemed American Airlines AAdvantage miles for two first class seats from Seattle to DCA (Certainly not the best use of miles, value wise, but it was worth it to us, especially since we didn't have any other near term plans for AAdvantage miles). It included a connection in Dallas, which was definitely not ideal, but it was the best we could do without being out-of-pocket a ridiculous amount of money.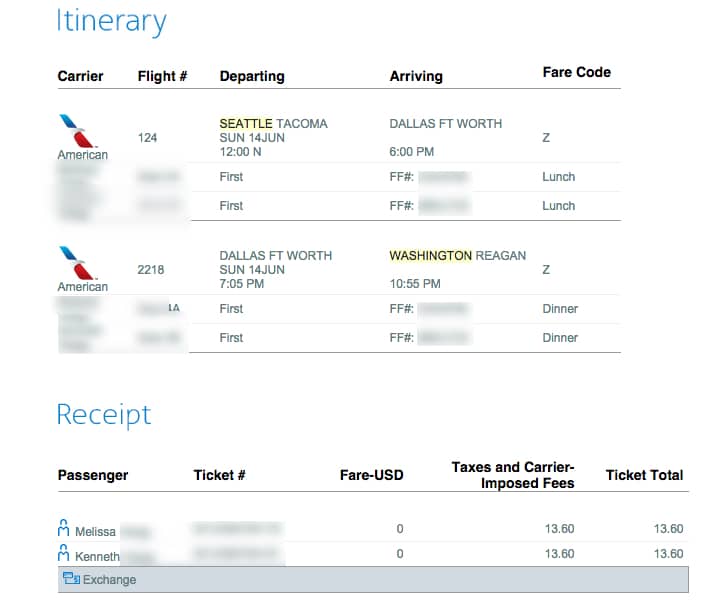 Getting from Vancouver to Seattle
So, we were ending up in Vancouver, and our flight was leaving from Seattle. A small inconvenience for experiencing Cathay Pacific! My original plan was to just stay at an inexpensive hotel near Vancouver Airport, and then drive the following morning to Seattle (our flight wasn't arriving in Vancouver until like 12:45AM, so I didn't want to start driving so late at night. But there was one issue. Rental cars were INSANELY EXPENSIVE. A ONE DAY rental from Vancouver to Seattle was going to be $199 CAD (About $150 USD.) I swallowed my pride and made a reservation, but I couldn't help but think that there had to be a better, and cheaper, way.
And lo and behold, there was! I came across the Amtrak Cascades option! I had read that it was a very picturesque way to get from Vancouver to Seattle, and much more relaxing than a drive. Even though we have Global Entry these days, the line at the Canadian-US border crossing can get very long, so the train seemed like a good option to minimize the delay as well!
For just 4000 Amtrak Guest Rewards points (which I transferred from Chase Ultimate Rewards), we were able to get two business class seats on the Amtrak Cascades line. (I should point out that Amtrak Guest Rewards has since altered their redemption chart, so the points needed for the Amtrak Cascades line has likely changed).

I am SO thankful that the rental cars were expensive, otherwise I probably would've never done additional research to find out about this option. I can't wait to give the full review, but it was so gorgeous!
Of course, I'll have more pictures (LOTS more pictures) in the full review post.
Hotel in Vancouver and Hotel in Seattle
The hotels were the most straightforward part of our booking! I booked the Westin Grand Vancouver on a cash rate. (I'd later redeem Barclays Arrival Plus points as a "rebate" for the expense). Since our train wouldn't be leaving until the evening, we'd have some time to spend in Vancouver, so I wanted to stay in the city instead of our original plan of staying near the Vancouver Airport.
For our Seattle hotel, I chose a Hyatt property. I had two free nights from my sign-up bonus for the Chase Hyatt Credit Card the previous year. Since those would be expiring within a few months, we went ahead and used them for our two nights at the Grand Hyatt Seattle.
Whew! It was a lot of fun booking this trip. Stay tuned for all the individual posts!