This post may contain affiliate links. Please see my advertiser disclosure for more details.
It's almost impossible to believe, but it's coming up on FOUR YEARS since Ken and I attended the Winter Olympics in Sochi, Russia. Which means only one thing. The 2018 Winter Olympics are just around the corner!
I've had a couple of folks ask for tips about attending an Olympics. It seems like such an overwhelming trip to plan for, and potentially very expensive, so folks naturally have lots of questions. I thought I'd put together a list of tips for attending an Olympic Games, and specifically, a Winter Olympics!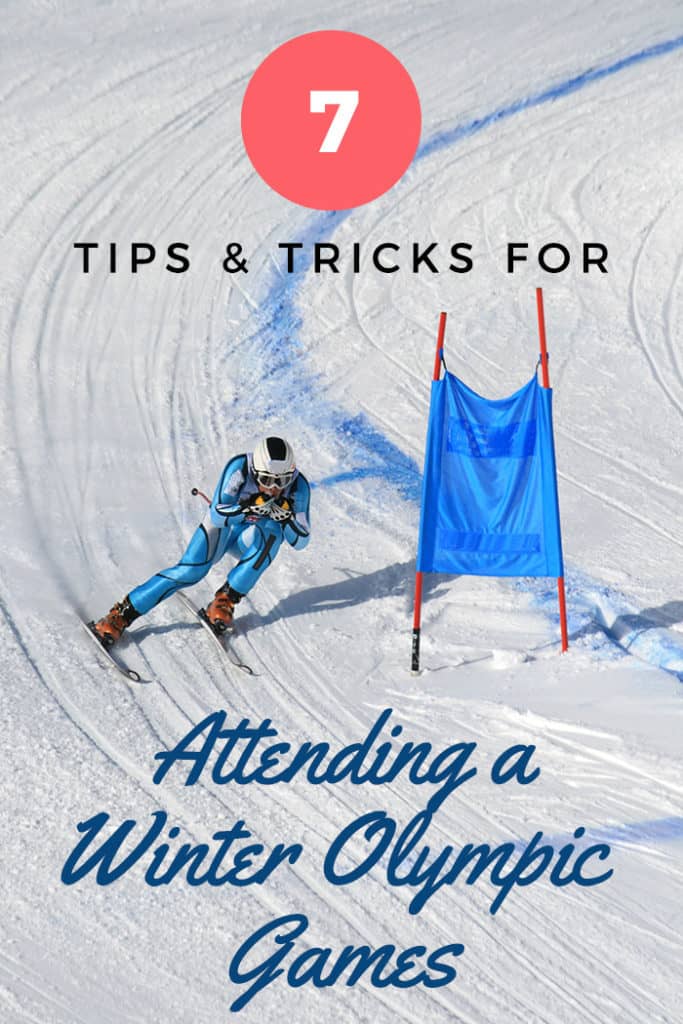 It's not as expensive as you'd think. Yes, some events can be very expensive. And "medal" rounds tend to be more expensive than qualifier rounds or "heats." For example, a figure skating medal round, for example is currently going for $420 on CoSport, the official seller of Olympic event tickets to U.S. citizens. But, things like Cross Country Skiing are selling for $24 (and that's for four hours of viewing!) And ladies' slopestyle (a snowboarding event) is $94 for a medal event. I know folks that spend a lot more than that on high-demand concert tickets, so I just use that comparison as a baseline for whether I think something is too "expensive." The most expensive ticket we bought for the Sochi Olympics was $130 for a medal round for Speed Skating. Followed by Snowboarding (Women's Halfpipe Medal Event) was $108, but that was for EIGHT HOURS of the event! Ski Jumping was $65 and Luge was $43.
Don't book more than one event per day. In Sochi the "mountain" events were an hour travel-time from the Olympic Park area. Same thing in Vancouver (we didn't go to the Olympics in Vancouver, but I know the mountain events were held in Whistler). Factoring in things like transiting security and boarding buses or trains, two events in one day might be cutting it a bit close! You can maybe get away with two if they're in the same venue or at the very least both inside Olympic park.
Hotels. My next section was going to start something like, "BUT, hotels can definitely set you back a pretty penny." But, I was pleasantly surprised to see the availability and reasonable prices for hotels when I just did a quick search on hotels.com for PeyongChang, South Korea from February 7-12. Shocked, and also a twinge of jealousy considering the trouble we had finding accommodations for the Olympics in Sochi! (And then, of course, the crazy checking-in story). Even flights seem to be reasonable at this point (I see roundtrip economy fares for $762 on Air China from DC to Seoul, connecting in Beijing, for February 5-10, 2018.
"Secondary Markets" for tickets tend to pop up all over the place. Our hotel in Sochi (actually a cruise ship), had a bulletin board available for people looking to sell, buy, or trade tickets. My sister and her family managed to sell an extra set of Luge tickets, and bought a set of hockey tickets that way. Remember, a lot of people buy their event tickets before they can make their flight and hotel arrangements. (Event tickets go on sale long before flights are available for booking). That inevitably means that there will be some events that no longer fit within their travel schedule.
Don't be afraid of "standing room only" events. A lot of the Olympic events you see might only have "standing room only" available tickets. When I first bought tickets, like for Luge and Women's Halfpipe, I was hesitant that the tickets were for standing room only. But luckily, there was plenty of space to move and walk around. So it's not like we were confined to a small spot with huge crowds of people around us. And for something like Luge, it was great because we were able to walk to different parts of the track.
There are lots of free (or at least very inexpensive) things to do. In Sochi, Olympic Park was free if you had tickets to an event there that same day, or a very small fee if you did not have tickets to an event. Some sporting events do their medal ceremonies later in the day at a centralized spot instead of at the end of the event itself. You can go watch the medal ceremonies at Olympic Park for free. In Sochi there was even a Jumbotron to see the medal ceremony from farther away. There are tons of free exhibits at Olympic Park as well.
Use your time to visit other parts of the country as well. Since we had to spend a lot of money on a Russian Visa for the Sochi Olympics, we decided we may as well see other parts of Russia on the same Visa! We booked a low cost carrier, S7 Airlines, from Sochi to Moscow and spent a few days there. Then we traveled to St. Petersburg. So, since you're traveling all that way, don't forget to see other parts of the country!
Have you ever been to an Olympic Games? What are your tips? If not, is going to the Olympics on your bucket list?