This post may contain affiliate links. Please see my advertiser disclosure for more details.
---
We just got back from New Orleans the other night. We have hundreds of pictures to sort through, pants that are tighter from all the food indulgences, and a newly developed sense of respect for all that New Orleans does to put on such a crazy celebration every year.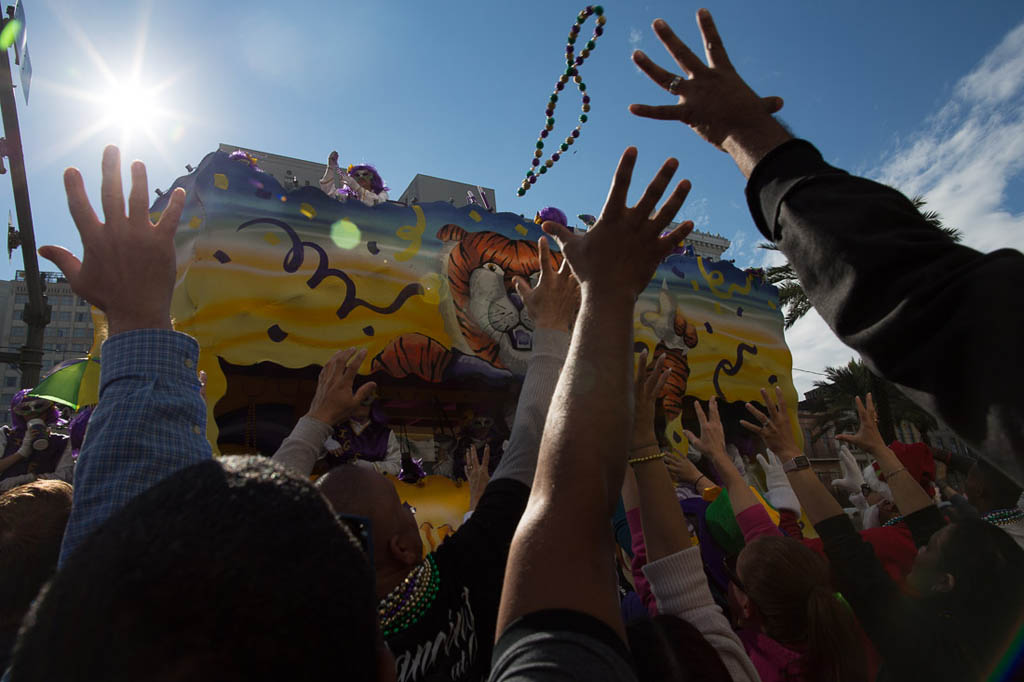 A full trip report will be forthcoming, of course, but I wanted to do a quick postmortem / recap while things are still fresh in my mind.
I had low expectations.

To be honest, I was kind of anticipating that I'd have the following reaction to Mardi Gras: "It was okay. I'm glad I went, but I'm not in any real hurry to go back. At least it's crossed off my bucket list."
But Mardi Gras far exceeded that relatively low bar I had set! I was worried that people would be obnoxiously drunk, pushy, and/or rude. While there were definitely drunk people all around, the atmosphere was so festive and friendly. Even Ken says that the rudest person he encountered was "The 60-year-old lady filming a parade with her iPad and got mad when I had to walk in front of her."
The floats far exceeded my expectations as well. I wasn't sure if the majority of parade floats would be kinda hokey or silly. That maybe only the really "good" floats are the ones you see pictures of. But nope, all the floats were so fantastic! A photographer's dream!
I seriously cannot believe how fast the city of New Orleans can get the streets cleaned up after parades. This is what the streets looked like one night after walking back from dinner. It looks like some sort of post-apocalyptic scene, no? Within a few hours, the street was sparkling clean. And I do mean sparkling. There were literally soapy suds left behind where the streets had been scrubbed. This took place EVERY night!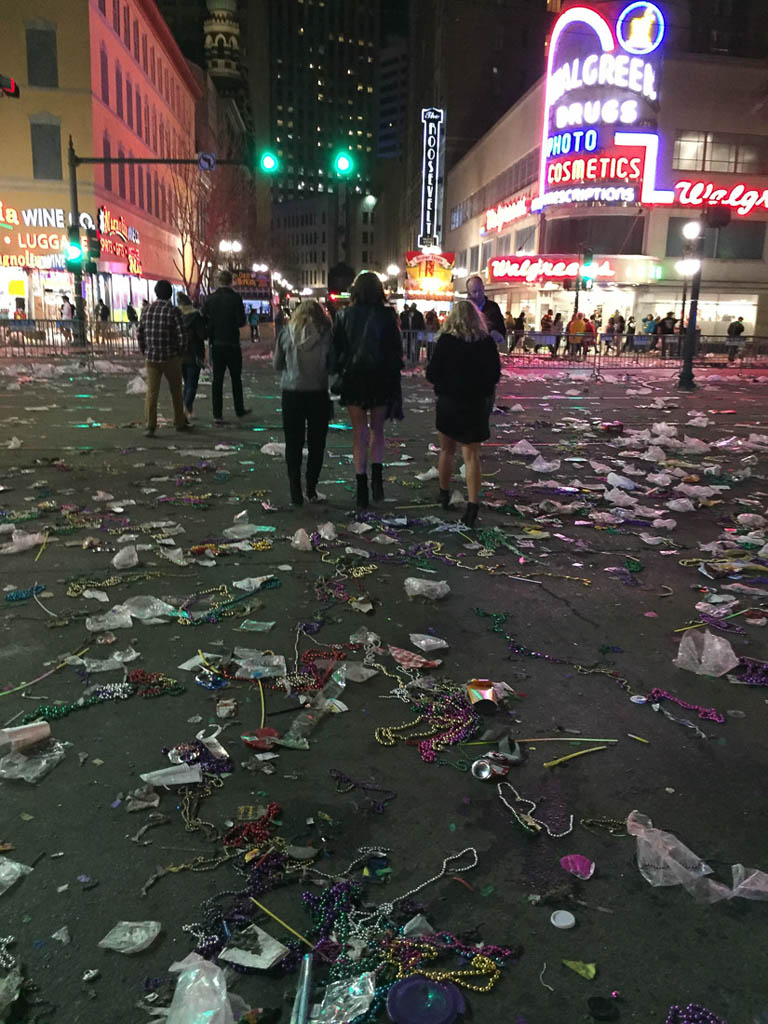 Pay attention to the side of the street you watch the parade from. We watched the Bacchus parade from the "even number" side of St. Charles Avenue. Well, it was freezing cold that night, the parade was about 3 hours late, and unfortunately there was some sort of problem with the parade flow. Instead of it being one big parade, there'd be a marching band, one float, and then nothing for 5 minutes. Then repeat. We were talking to some locals, who definitely said that it was a fluke. And it was definitely not what we had experienced while watching the Endymion parade the night before. That one was a solid flow of floats. So, we decided to cut out early from Bacchus and go back to our hotel room to put on warmer clothes, and then grab some dinner. But, we found ourselves essentially "trapped" on that side of St. Charles Avenue. We couldn't find a place to cross the street anywhere, which we needed to do to get back to our hotel. We finally found a crossing location at St. Charles and Poydras. The police would allow people to cross when there was a big enough gap in the parade. So, if you expect to want to leave the parade early, make sure you don't need to cross any part of the parade route, or you may find yourself stuck for a while!
There was a lot less, ahem, flashing, than I was led to believe. I was expecting to see this left and right on Bourbon Street. While there were some occasional boobage, it wasn't like what the media or pop culture led me to believe. Not sure if that's a positive thing or a negative thing for some people interested in going to Mardi Gras!
We splurged on some tickets for a Bourbon Street balcony party one night. That was a LOT of fun. Once again, I was kinda afraid it might be too obnoxious, but it was great. People have such looks of genuine joy on their faces when you toss them beads from the balcony. It was great!
Remember all those meal reservations I made in an effort to avoid long lines and crowds at restaurants? Well, we kinda ran into some problems. The first night, we showed up at the restaurant where we made dinner reservations. They said, "reservations?? This is Mardi Gras, we don't accept reservations during Mardi Gras!" And I was like, "Umm, nope, I have the reservation right here on my phone. Confirmed via OpenTable." Then there was always some confusion that ensued. What likely happened is that the restaurants didn't close off those dates for reservations until AFTER I had already made the reservations. And I guess OpenTable didn't notify the restaurants to say, "oh hey, these folks already made reservations, maybe you should contact them?" Anyway, it was somewhat surprising that we only encountered one long wait for a restaurant. Three of our dining reservations had that problem. Luckily it wasn't too much of an issue. Despite the crowds for Mardi Gras, restaurants had little to no wait, even the very popular ones. We tried to go to one restaurant (that didn't take reservations anyway) and it was a 1+ hour wait, so we decided to just go elsewhere that didn't have a wait. It all worked out just fine!
Ken wants to go again, but bring nieces and nephews then. Kids get some REALLY awesome throws from the parade krewes! And kids have such a fantastic time watching the floats and catching all the fun beads and other trinkets!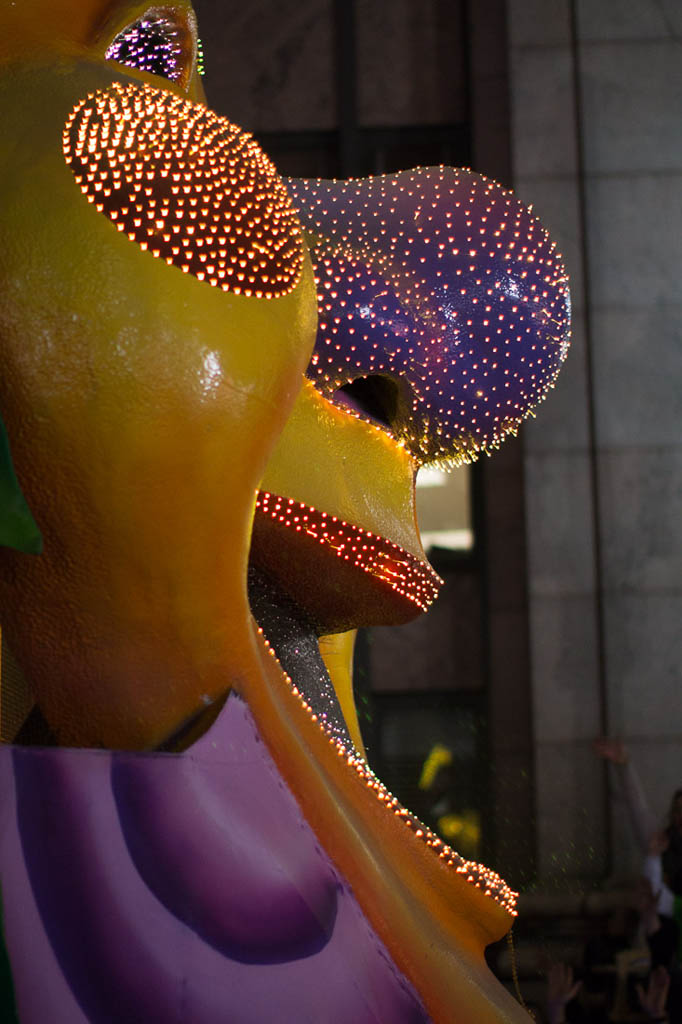 To summarize, we had a fantastic time! It was a great way to celebrate my 35th birthday. Funny enough, Mardi Gras falls on my birthday again in 2027, so maybe we'll have to make a trip back then! Mardi Gras has also given me a hankering for seeing other famous parades. I promptly started looking up information on another bucket list parade, the Macy's Thanksgiving Day Parade in New York City! 2017 I think!