This post may contain affiliate links. Please see my advertiser disclosure for more details.
---
Our Mardi Gras madness continued! Our third day in New Orleans started with a trip to Mardi Gras World. (It's open year-round, not just during Mardi Gras). Mardi Gras World makes and stores a lot of the parade floats. I was a little worried that, since Mardi Gras was currently underway, that perhaps it would be empty or not as fun to see.
Luckily, my worries were unfounded! This place was a photographer's dream (er, in our case, an amateur photographer's dream!)
Mardi Gras World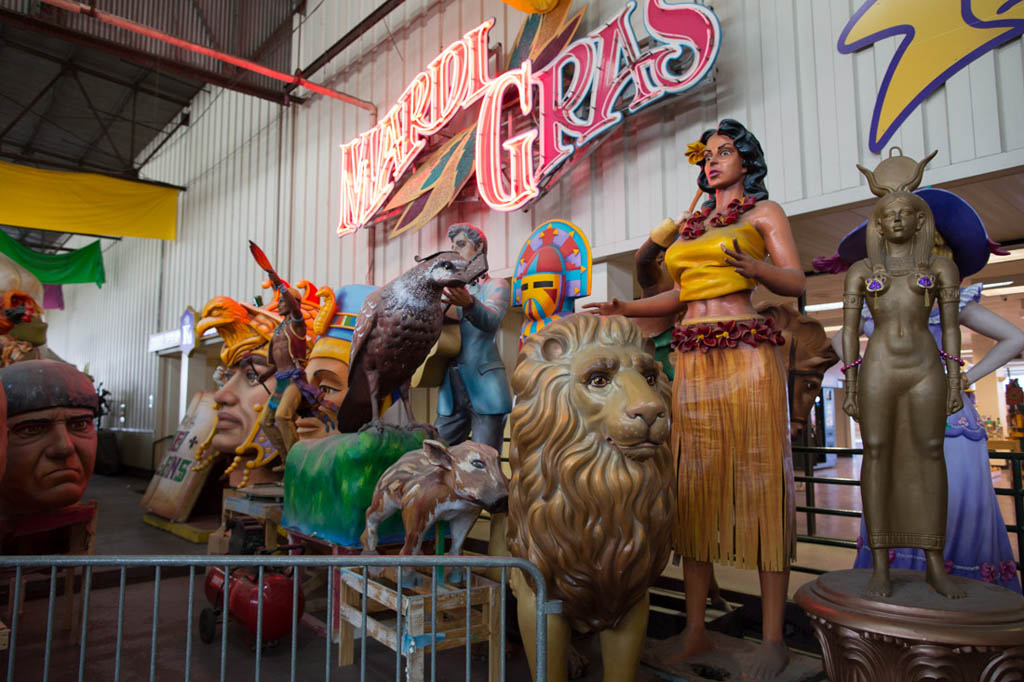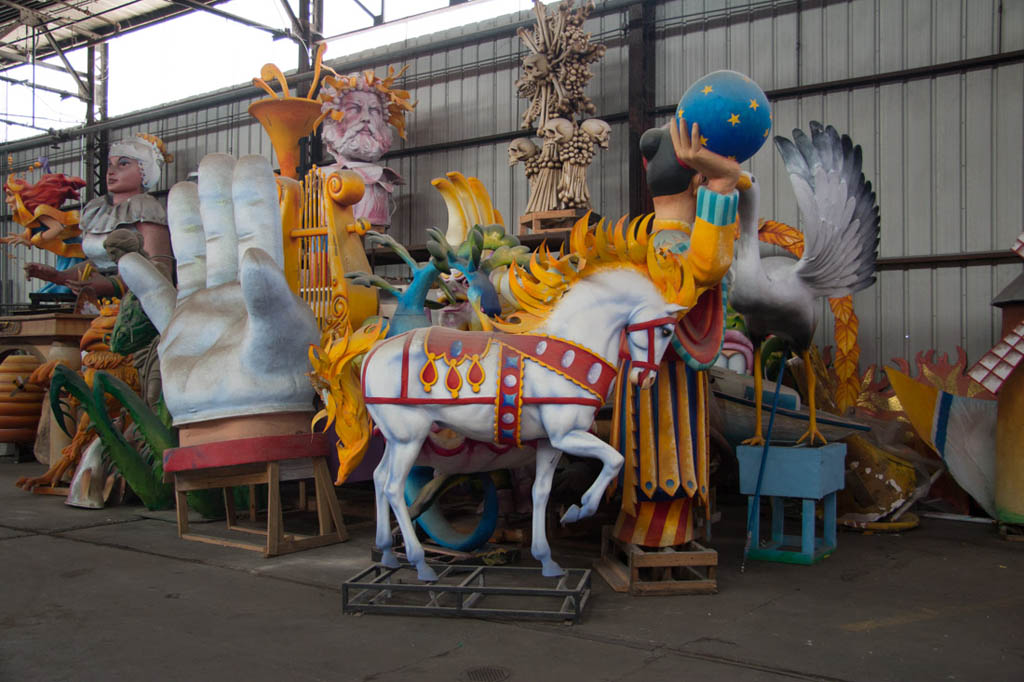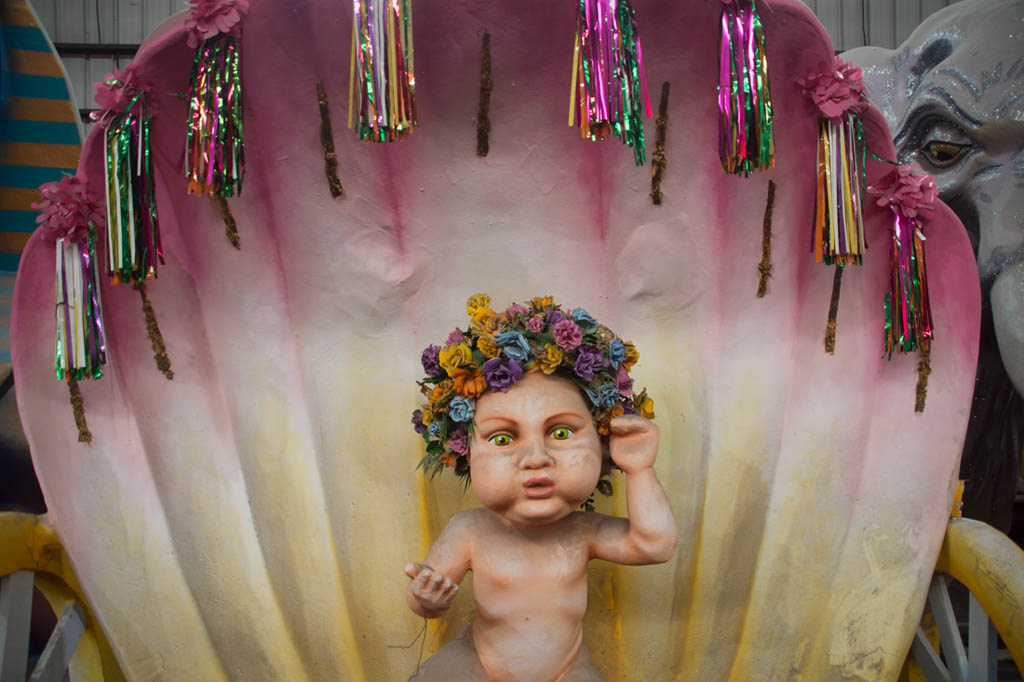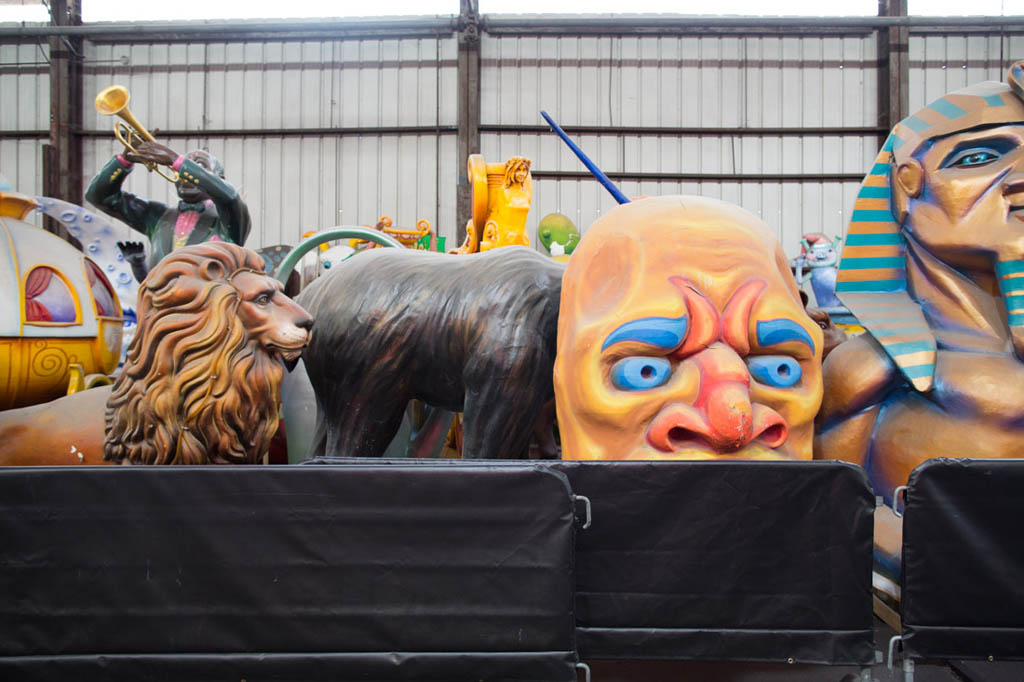 It's a bit off the beaten path, but Mardi Gras World operates a free round trip shuttle from various hotel stops in New Orleans. Luckily, our hotel was one of the stops, so we didn't even have to go anywhere to pick up the shuttle! They don't stop at every hotel automatically though, so you do have to call in advance to arrange the shuttle pickup.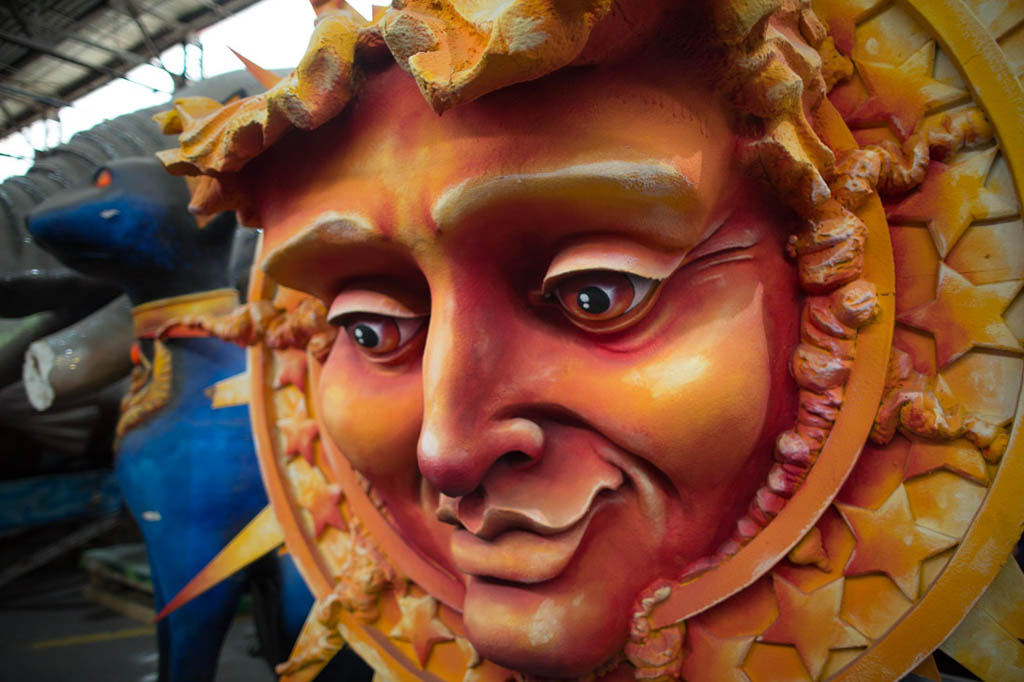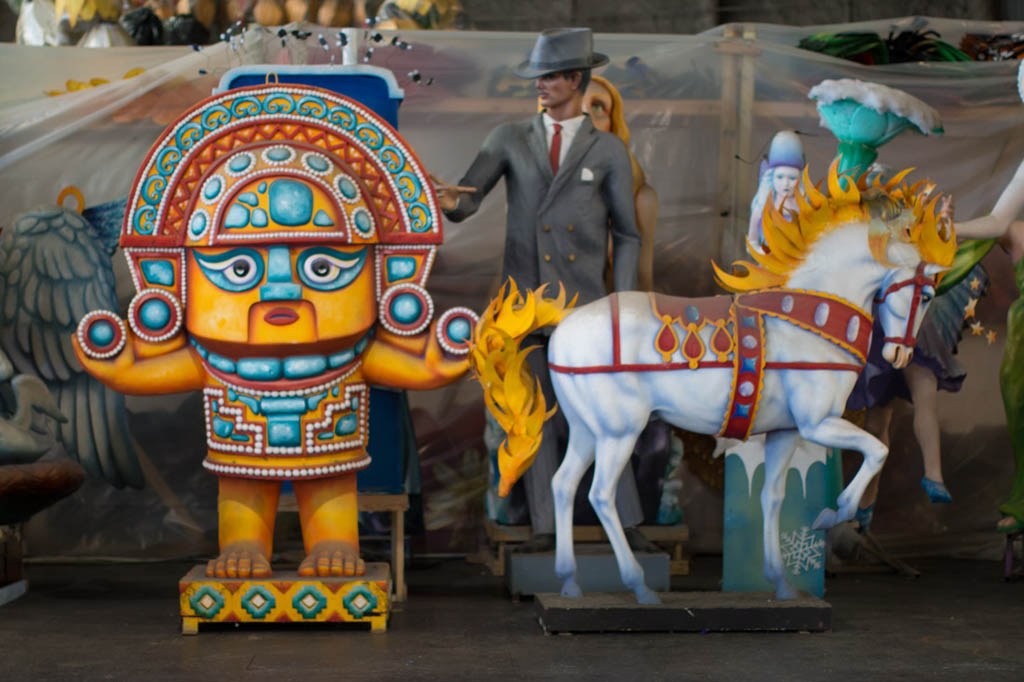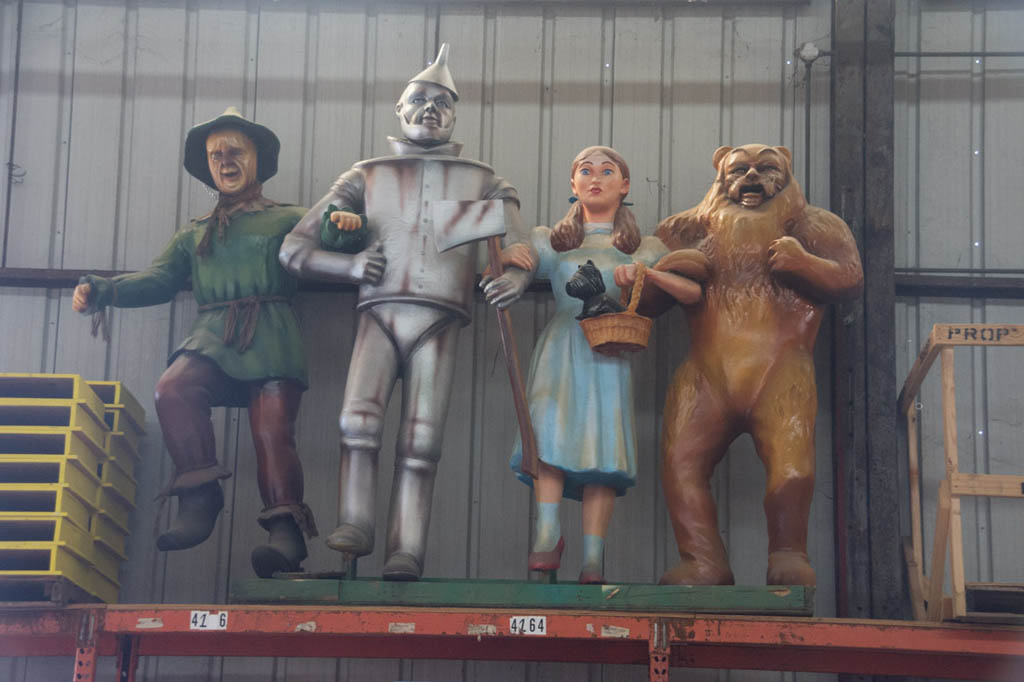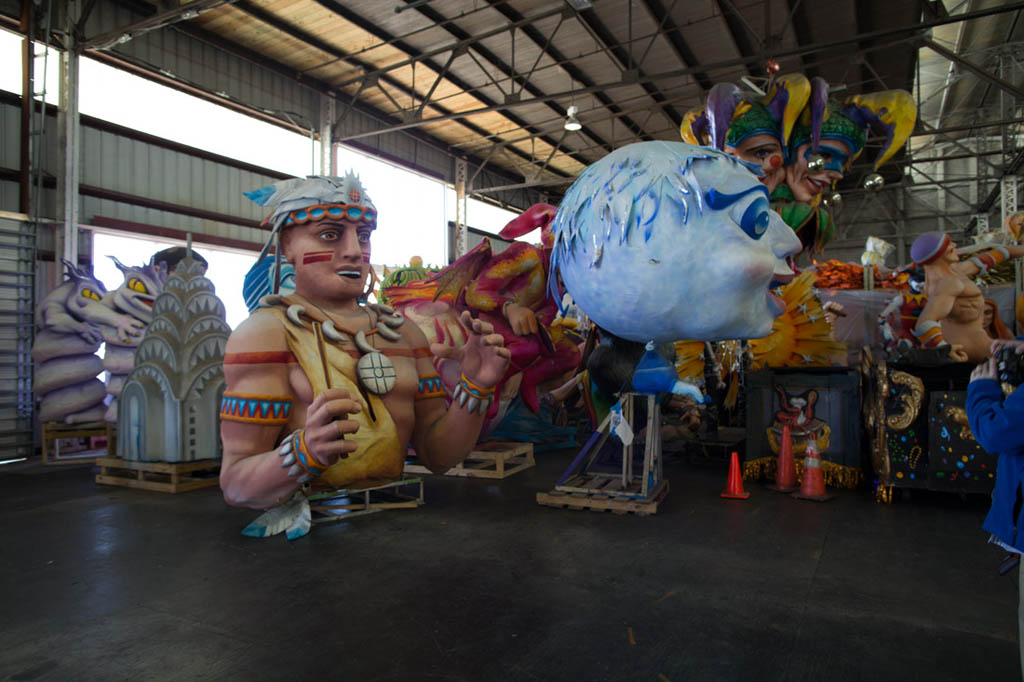 During the tour of Mardi Gras World, you get to stop at various "stations" all throughout the warehouse to see artists designing, constructing, and painting floats. The guide mentioned that as soon as Mardi Gras ends one year, the designs and constructions start for the next year!
Here were some float designs posted!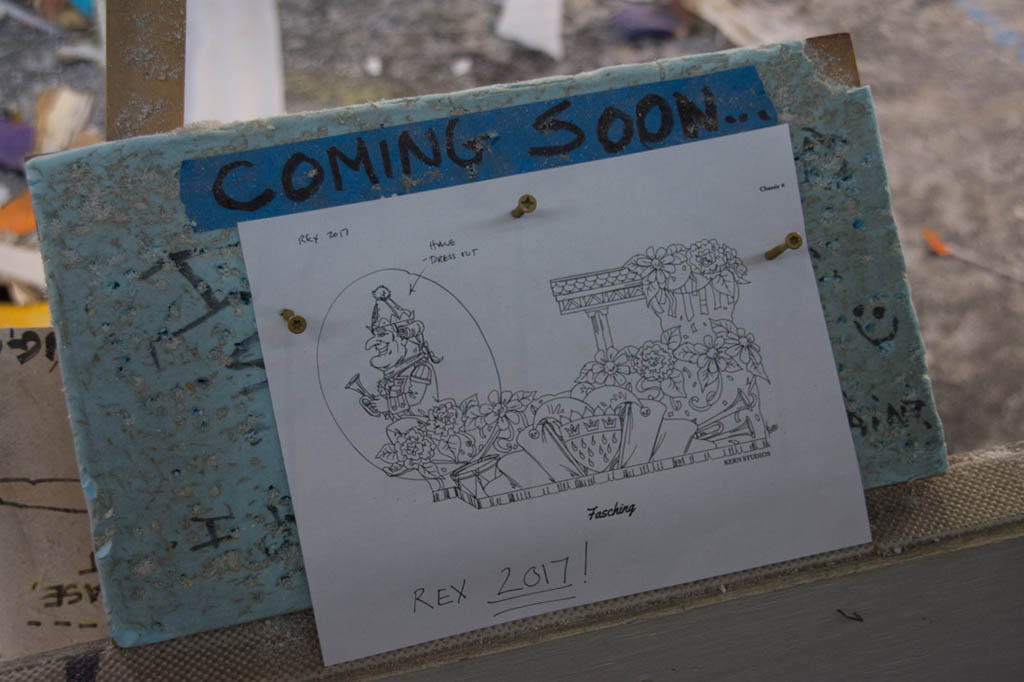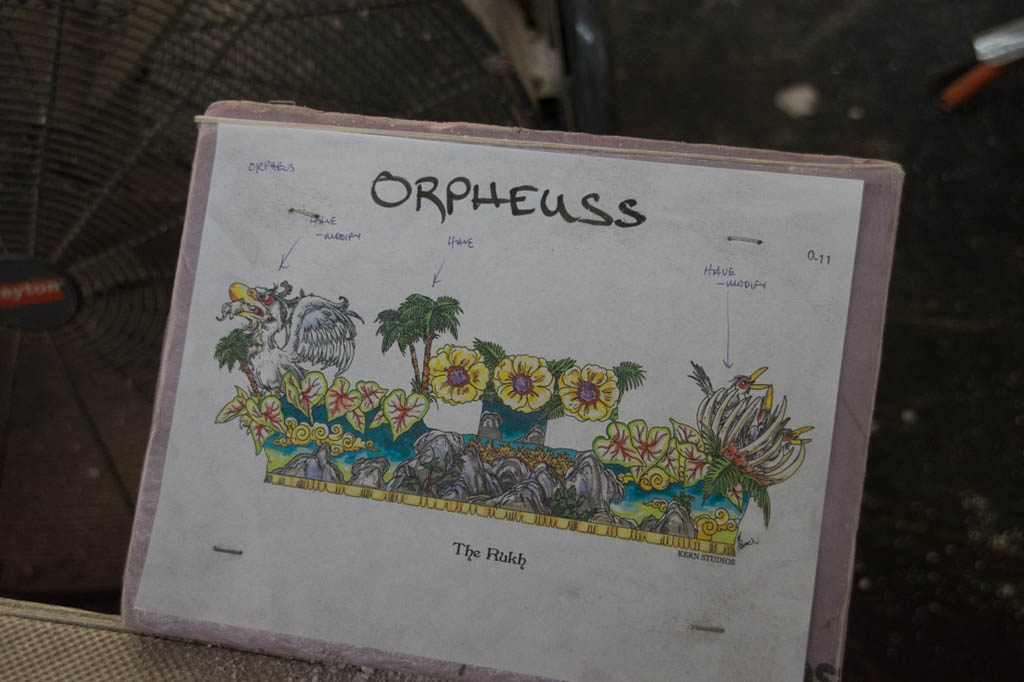 So many art supplies. And my god, the STYROFOAM. SO MUCH STYROFOAM.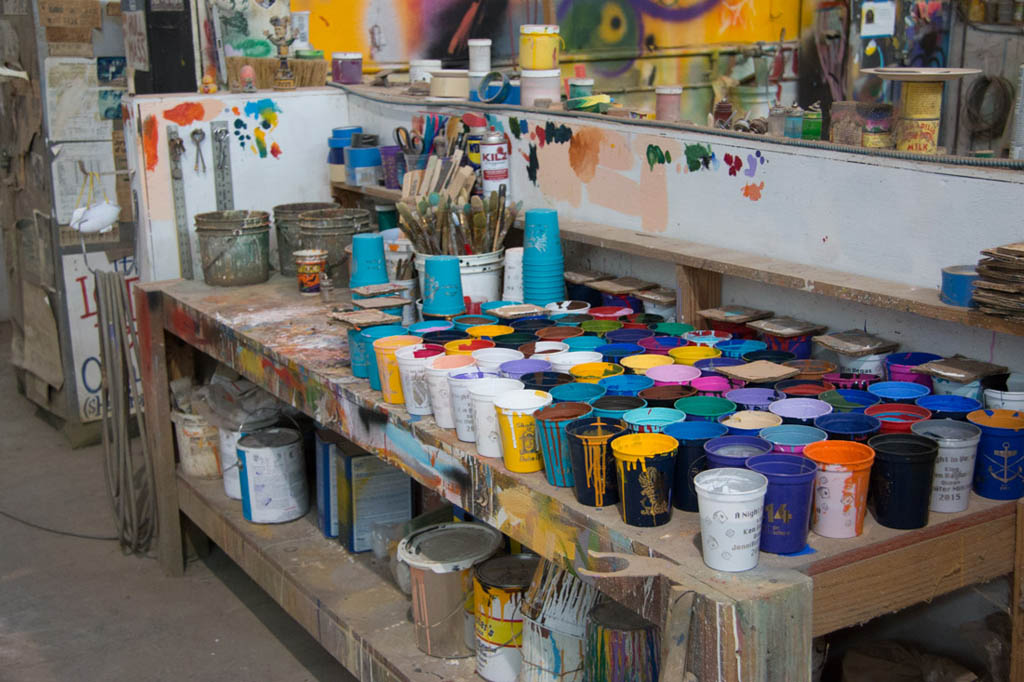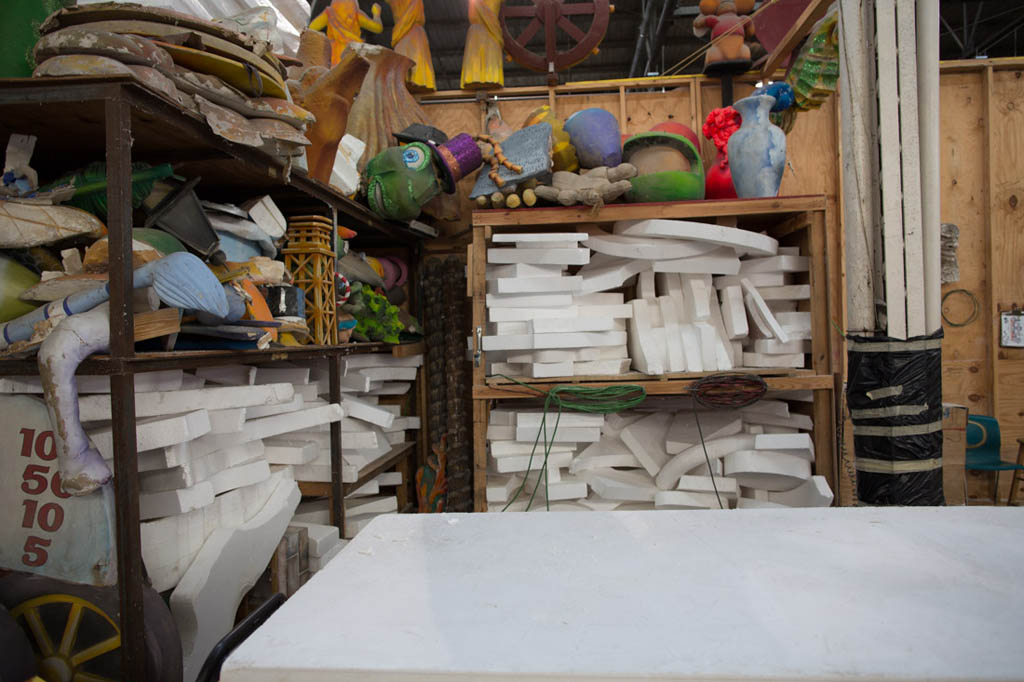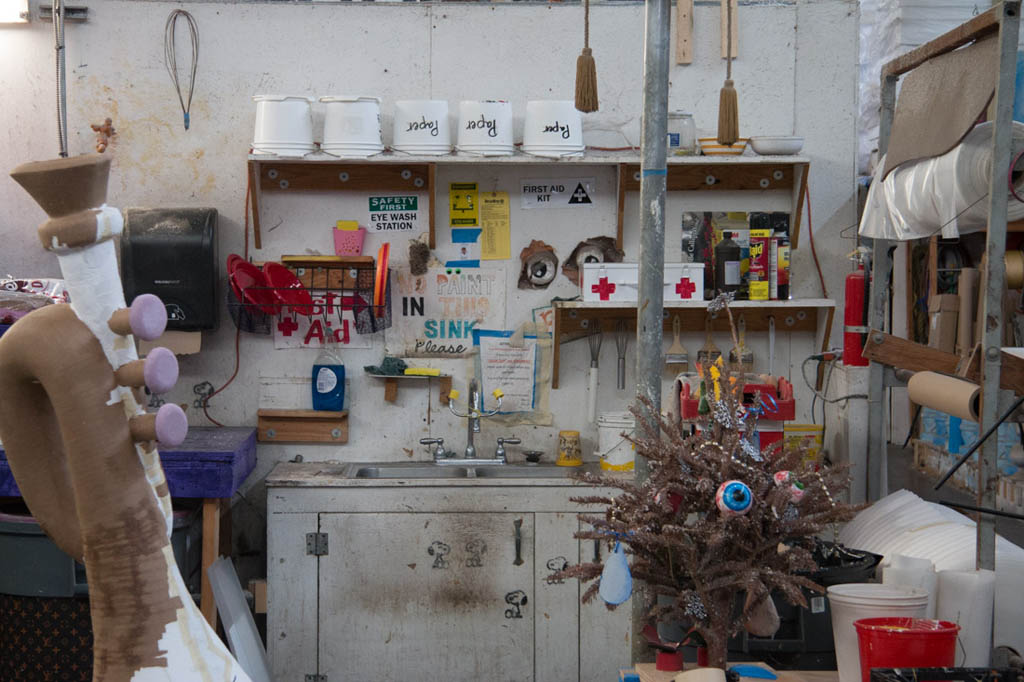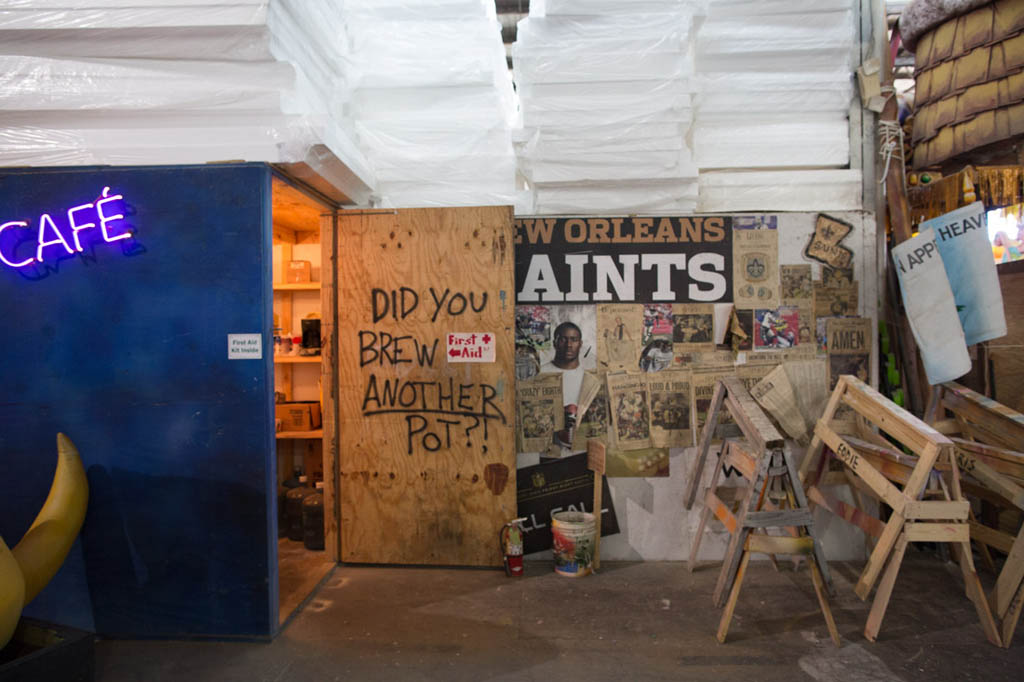 I cannot imagine the tremendous talent and patience that it must take to make rectangular styrofoam slabs and construct them into an amazing Mardi Gras Float like these!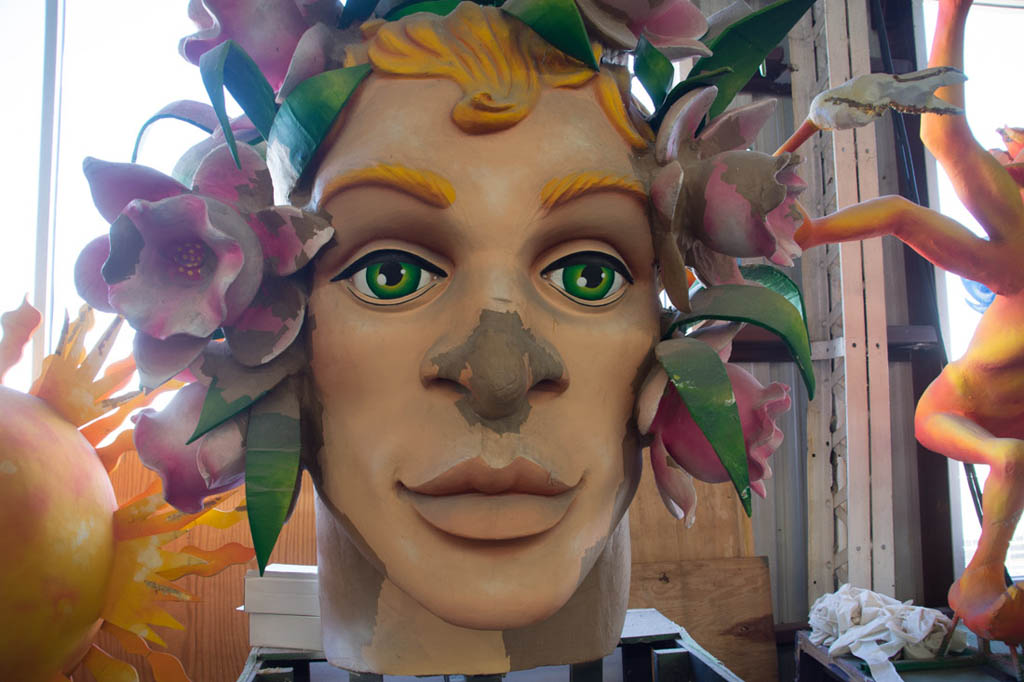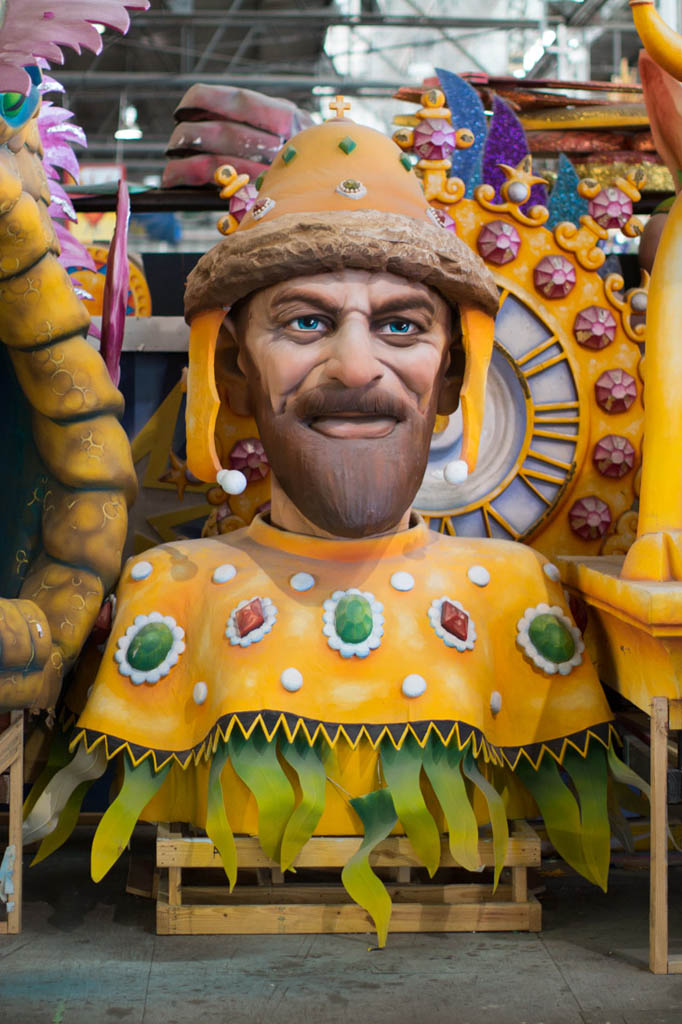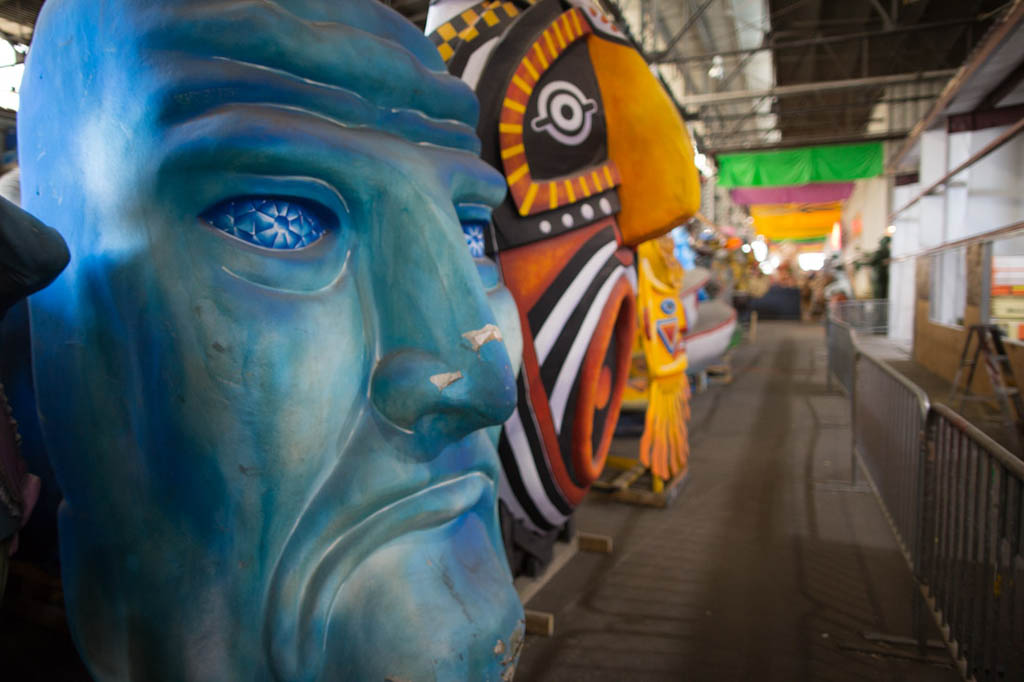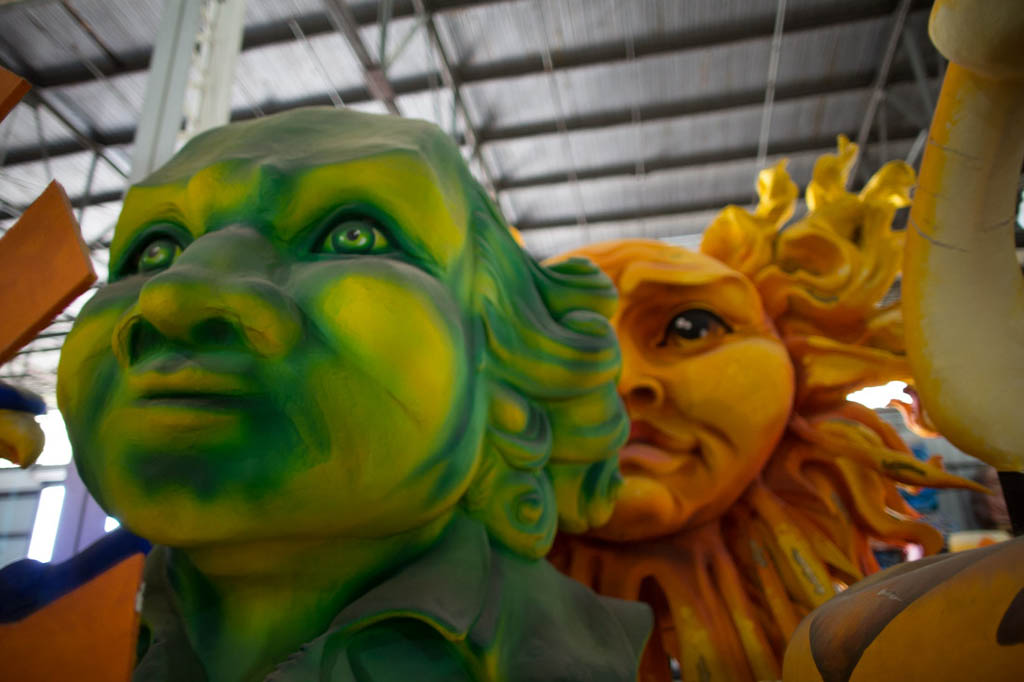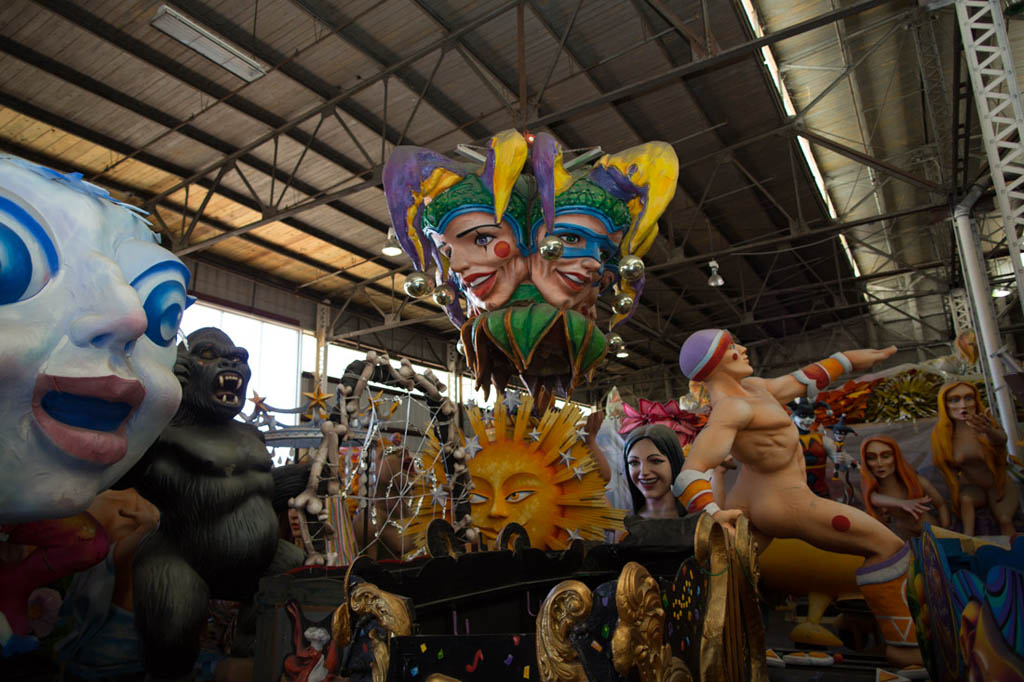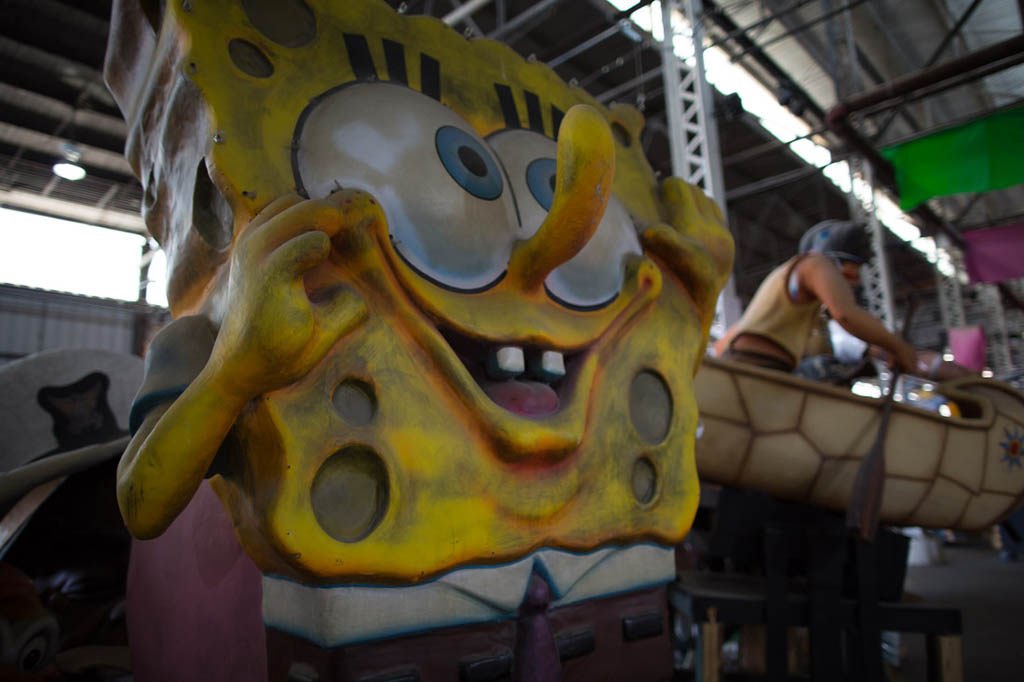 And, look what we found there! The same gorilla that everyone threw beads at the previous night at the Bacchus Parade!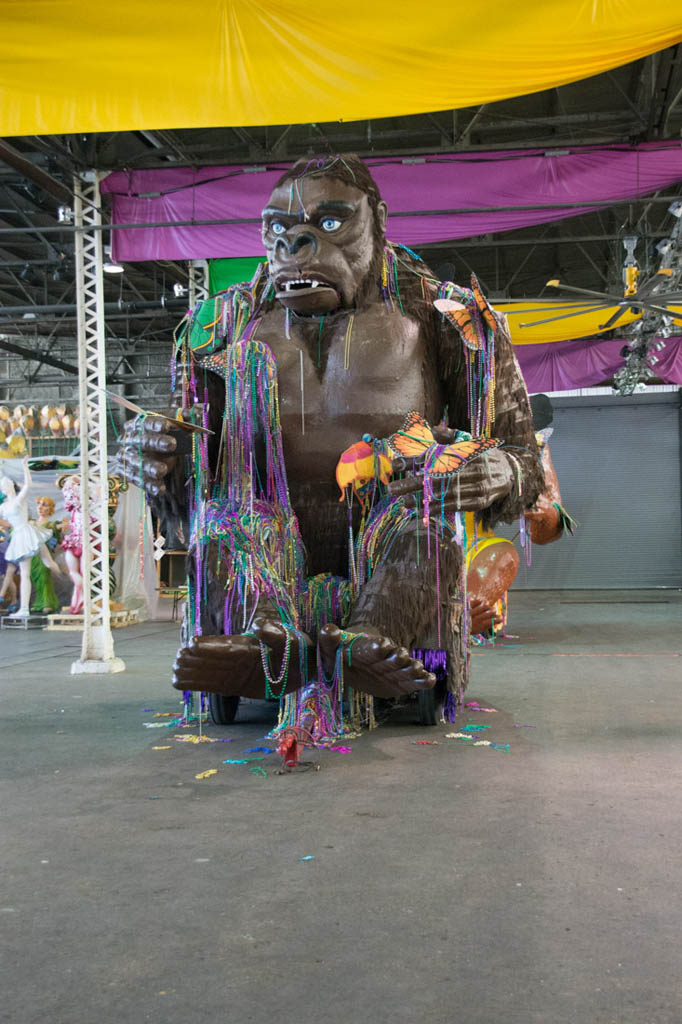 We bought a few souvenirs in the gift shop after the tour was over (and after we spent a ton of time taking lots of photographs!), and then took the shuttle back to the hotel. The shuttle ride unfortunately took quite a while because traffic was a mess. That's what happens during Mardi Gras Season in New Orleans! Lots of closed roads to accommodate the parades. But, we didn't mind being able to relax and rest our legs on the bus.
French Quarter During Mardi Gras
After we were dropped off at the hotel, the next order of business was getting lunch! And more walking around the madness that is the French Quarter during Mardi Gras.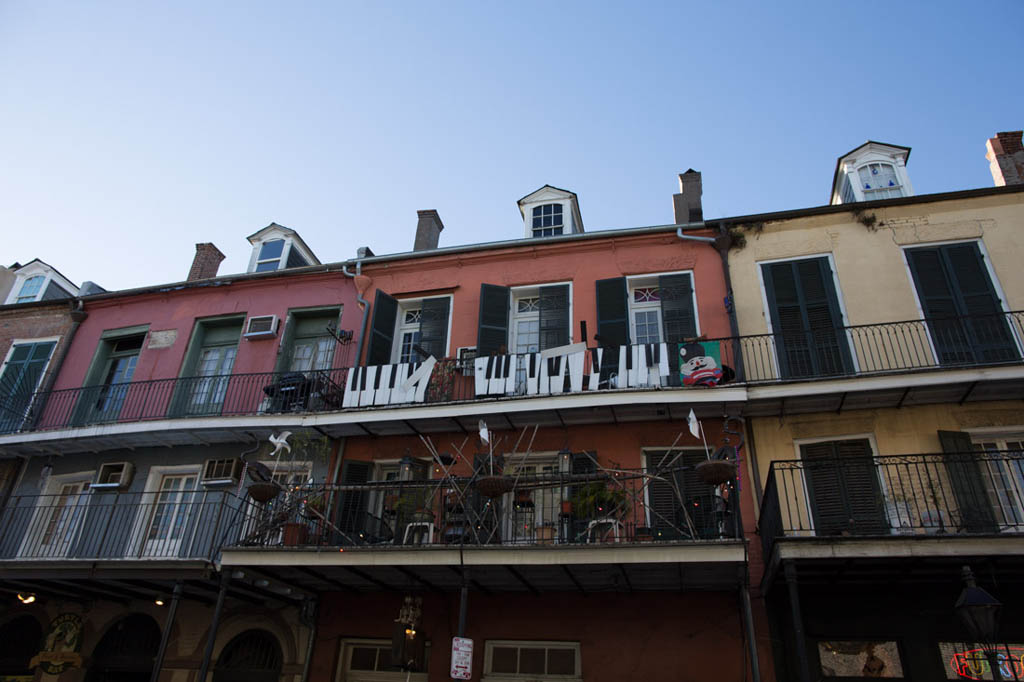 More Jesus signs, just like the day before.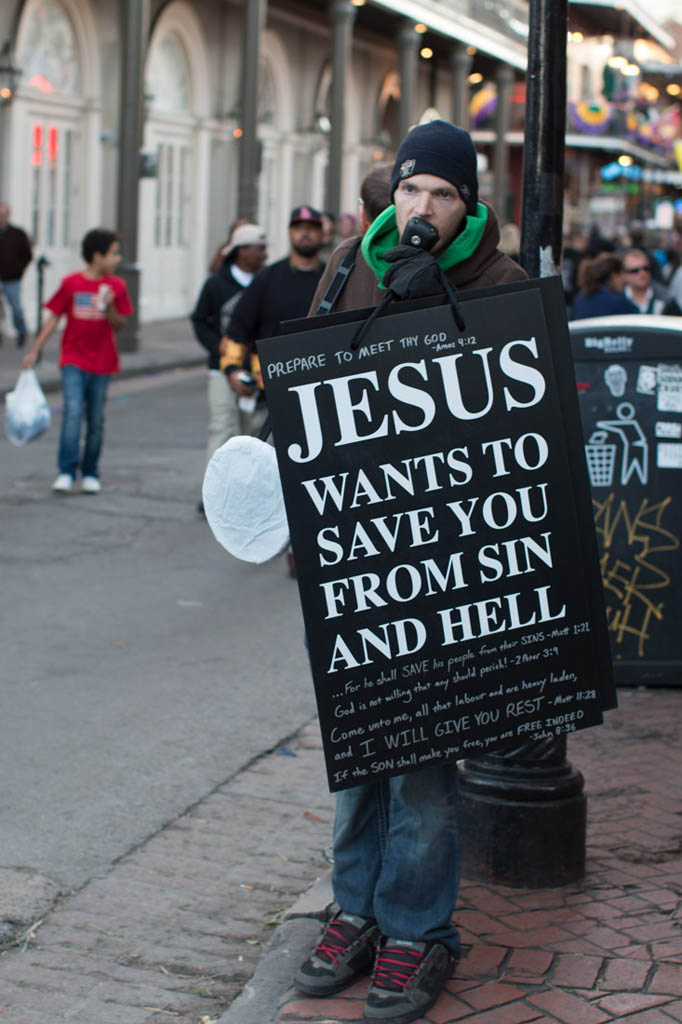 This dude in a motorized scooter had gotten into an argument with a guy in an SUV, and they were racing in the snail-paced traffic.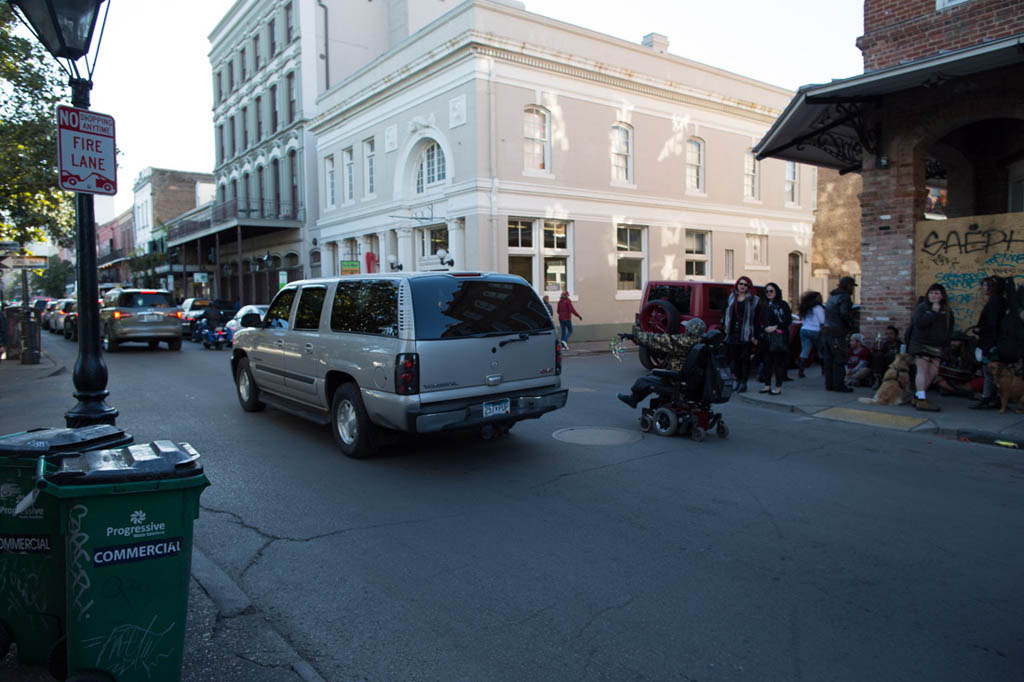 And beads in trees EVERYWHERE!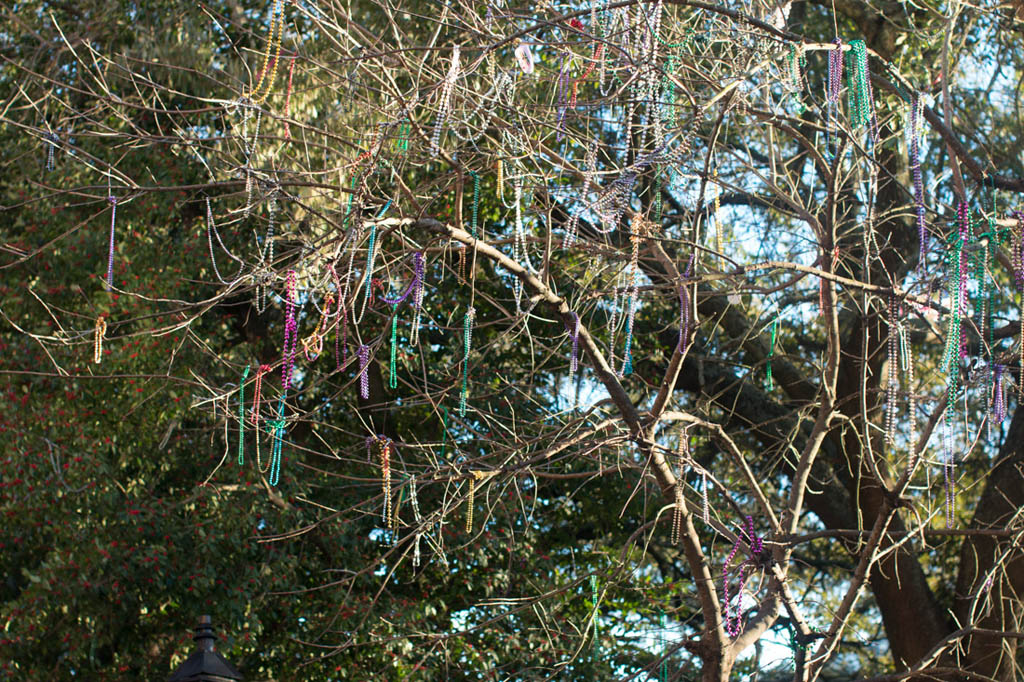 And, of course, a stop at Cafe du Monde for some beignets and hot chocolate. It was, expectedly, MUCH more crowded than our off-season visit in October 2008! There was a long line, but it moved quickly.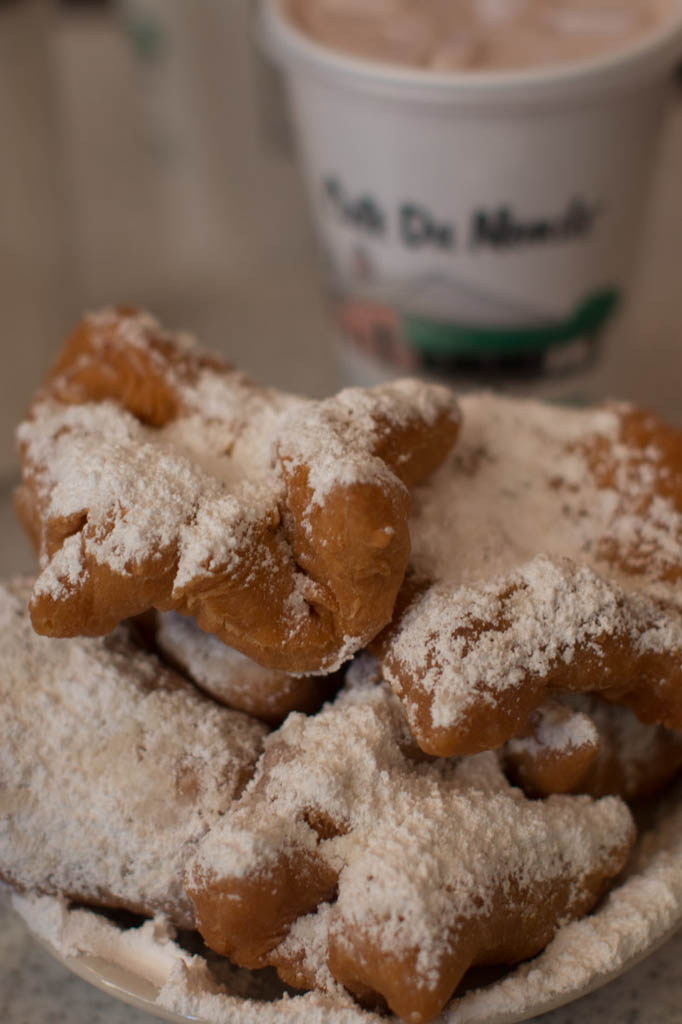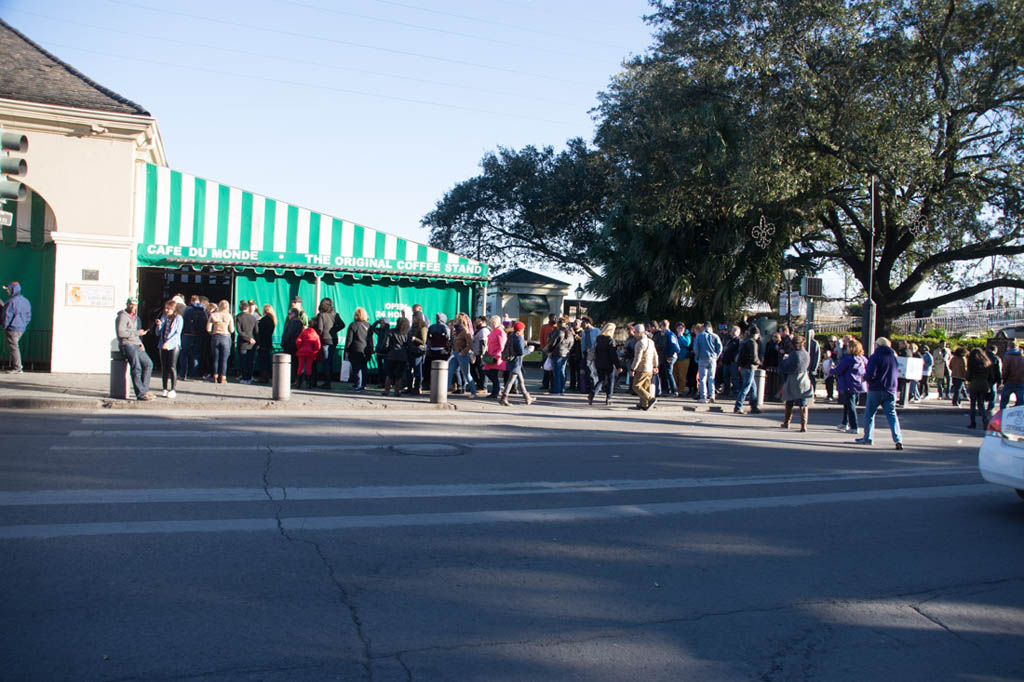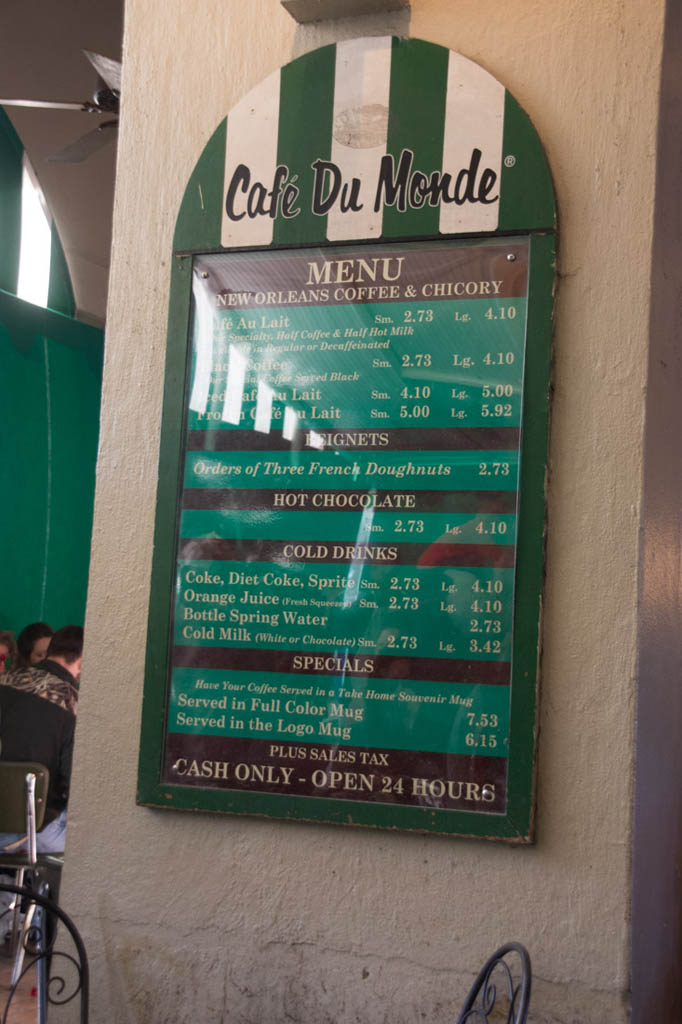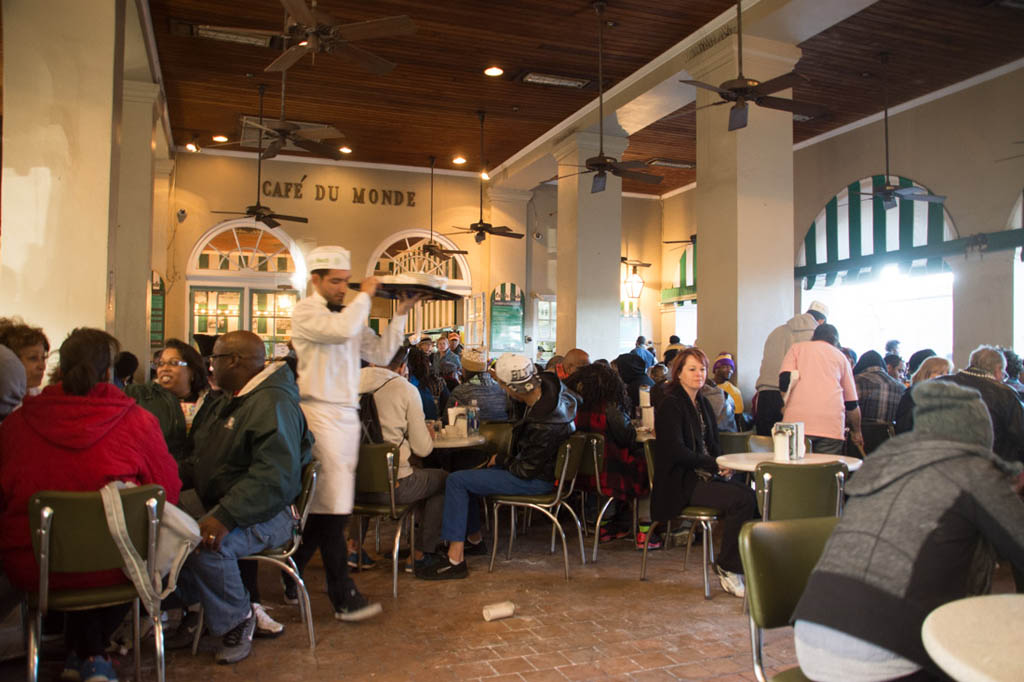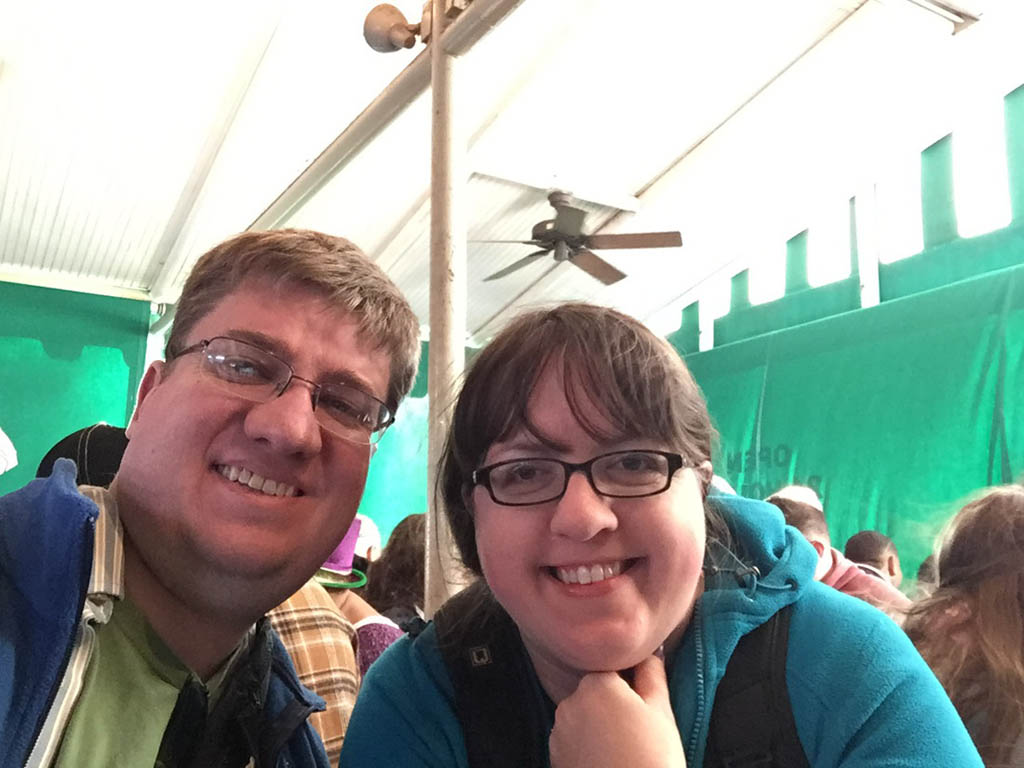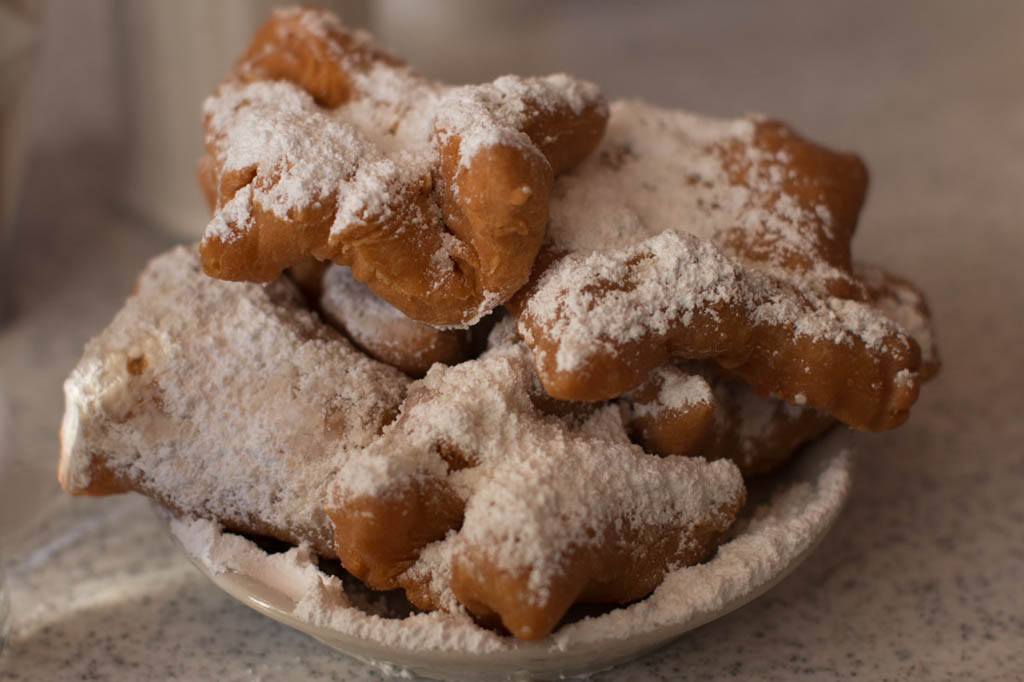 We stopped by a mask shop and bought a fun Mardi Gras mask (just for our display shelves at home!).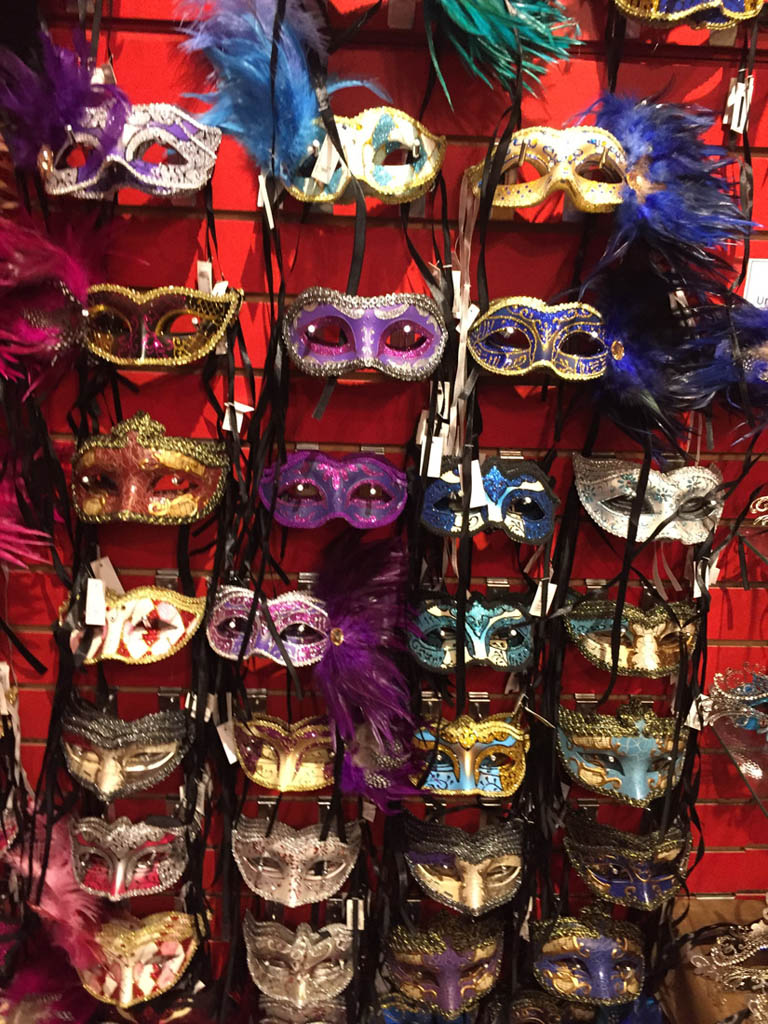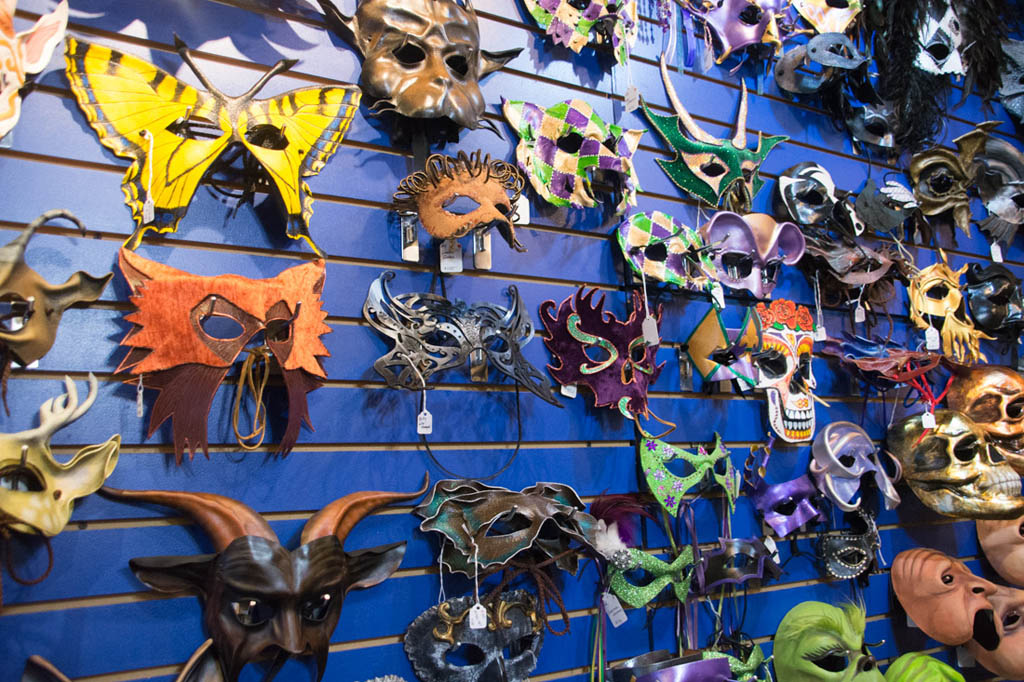 Then, we headed back to the hotel for a while. We had Bourbon Street balcony party tickets for later that night, and wanted to get some rest since it was likely to be a late night. (I'll cover the Bourbon Street Balcony Party in an entirely separate post).
Fat Tuesday!
We woke up bright and early for the parades on Fat Tuesday! We had grandstand tickets at the Hotel Intercontinental, and the parades start around 8AM on Fat Tuesday.
The Zulu parade comes first.
Krewe of Zulu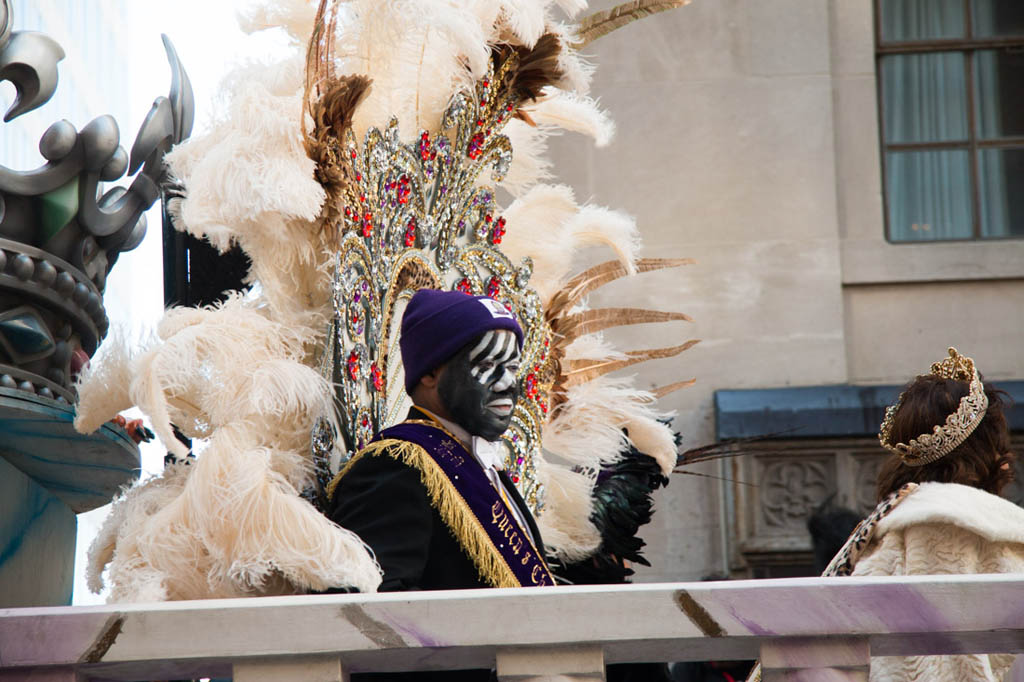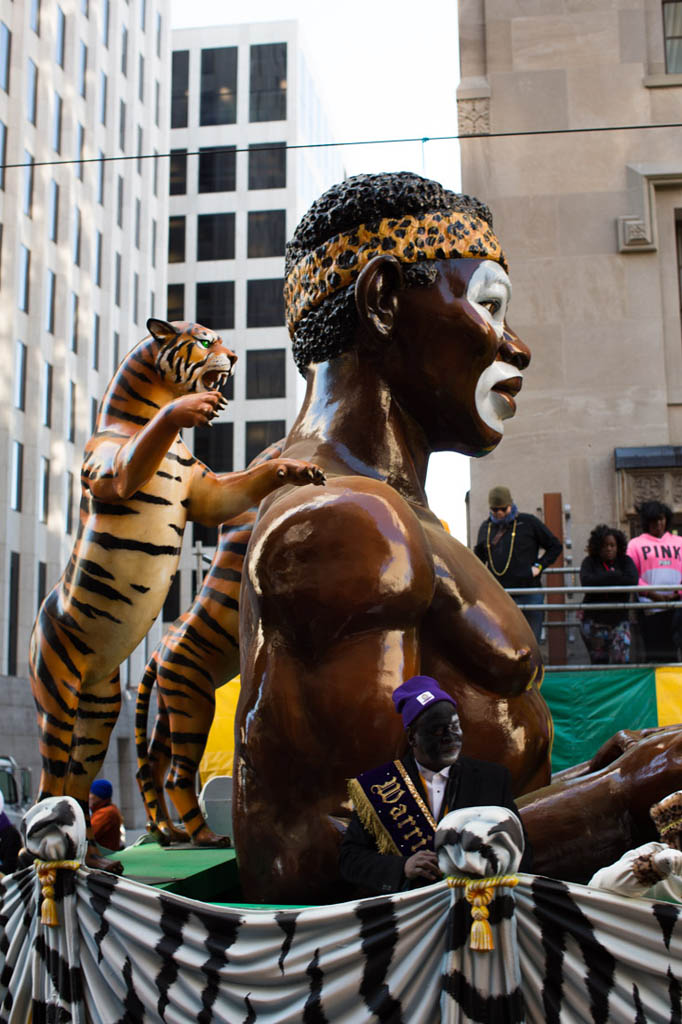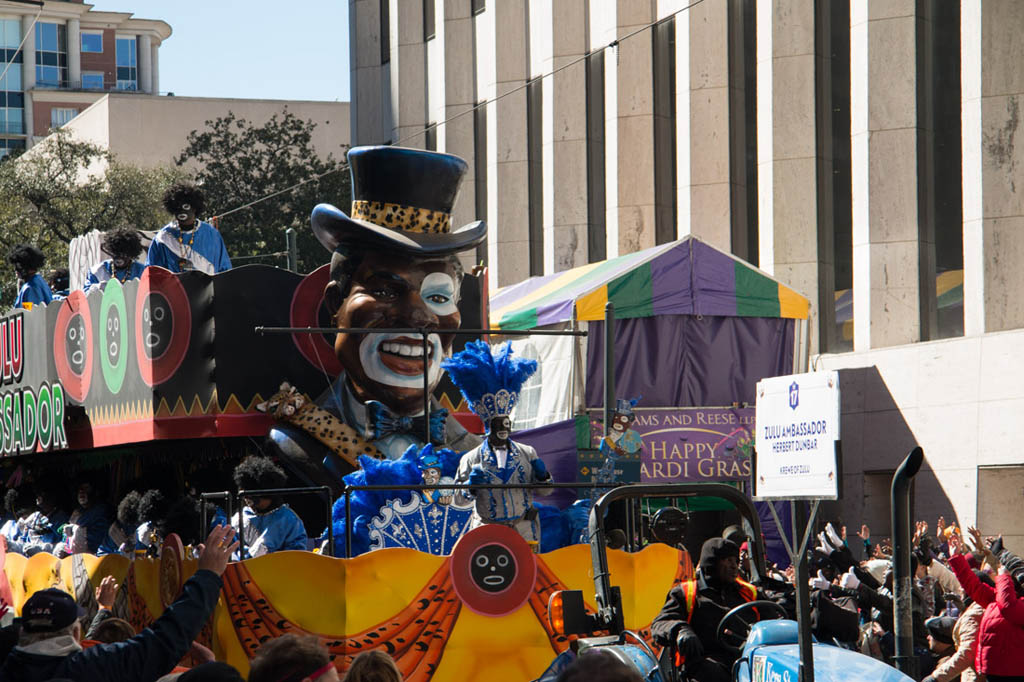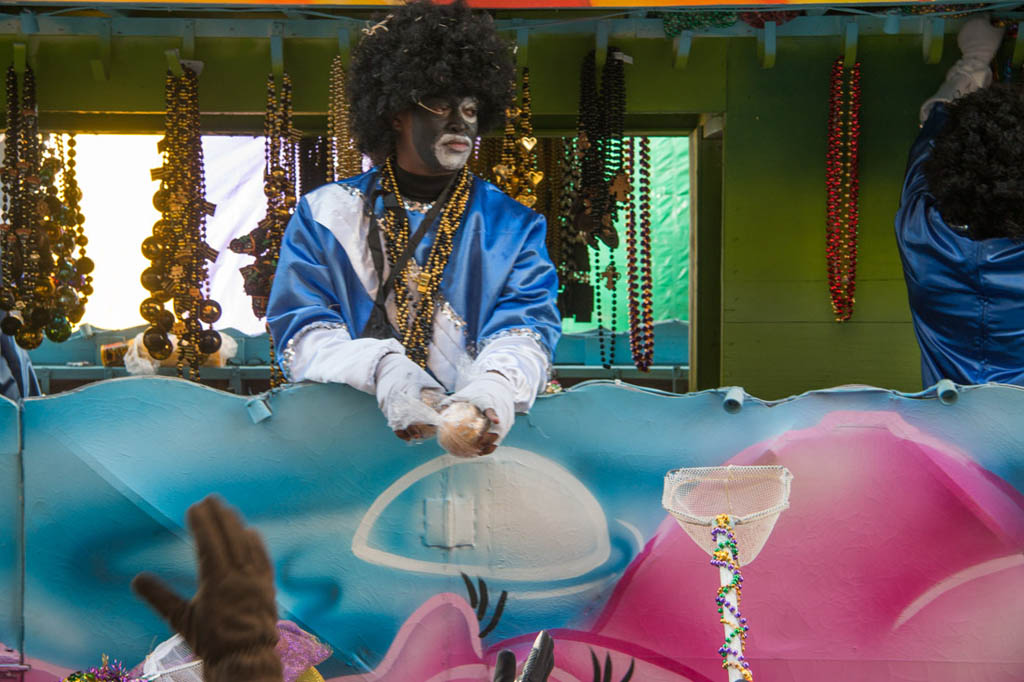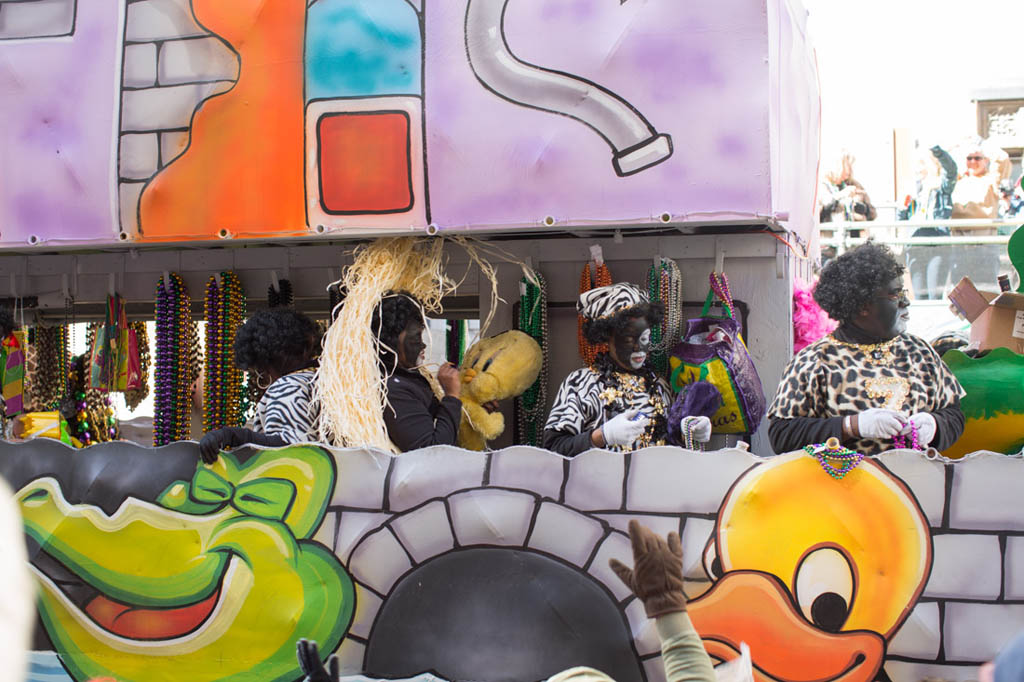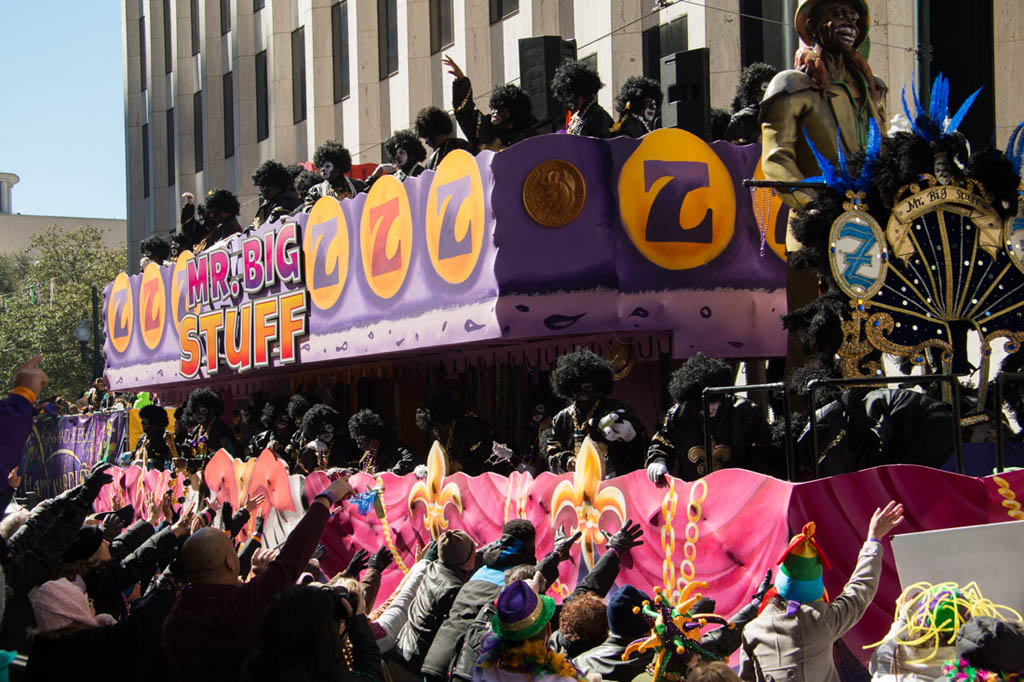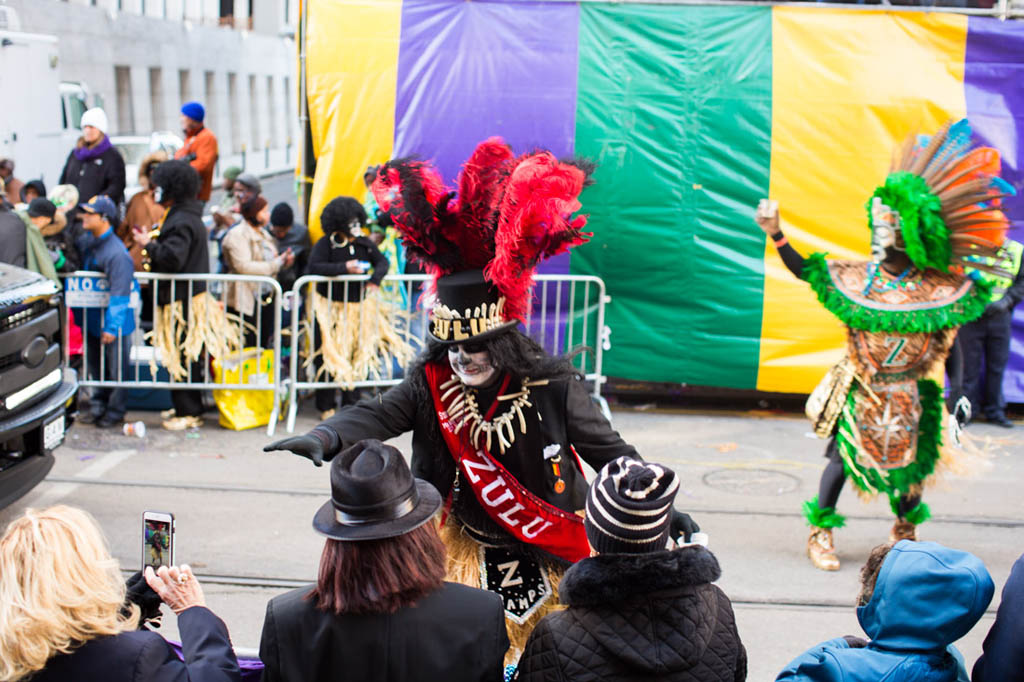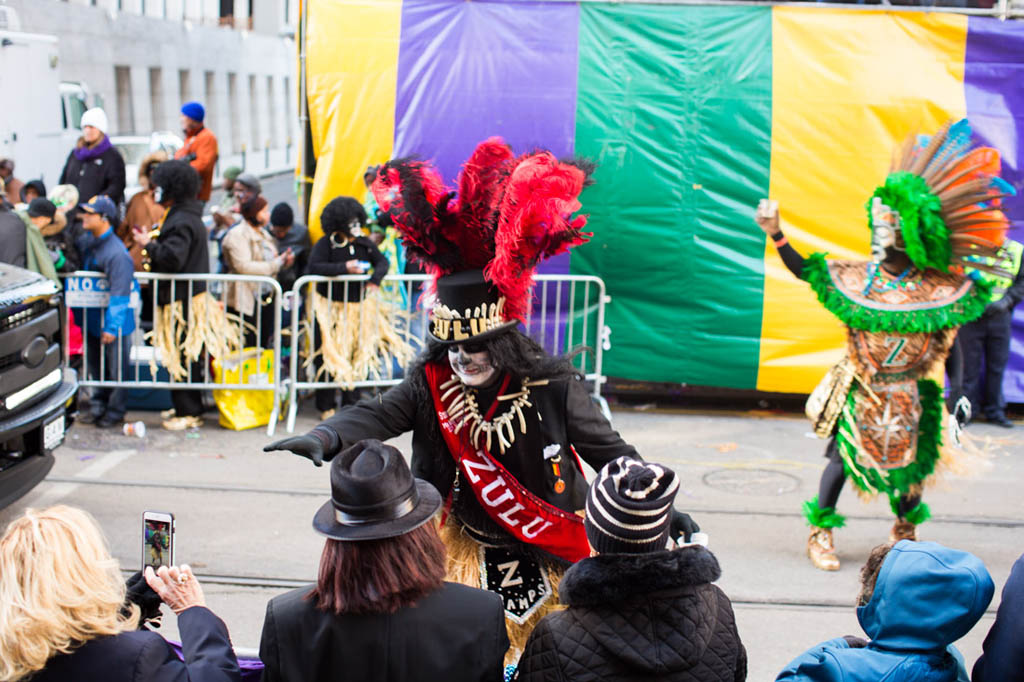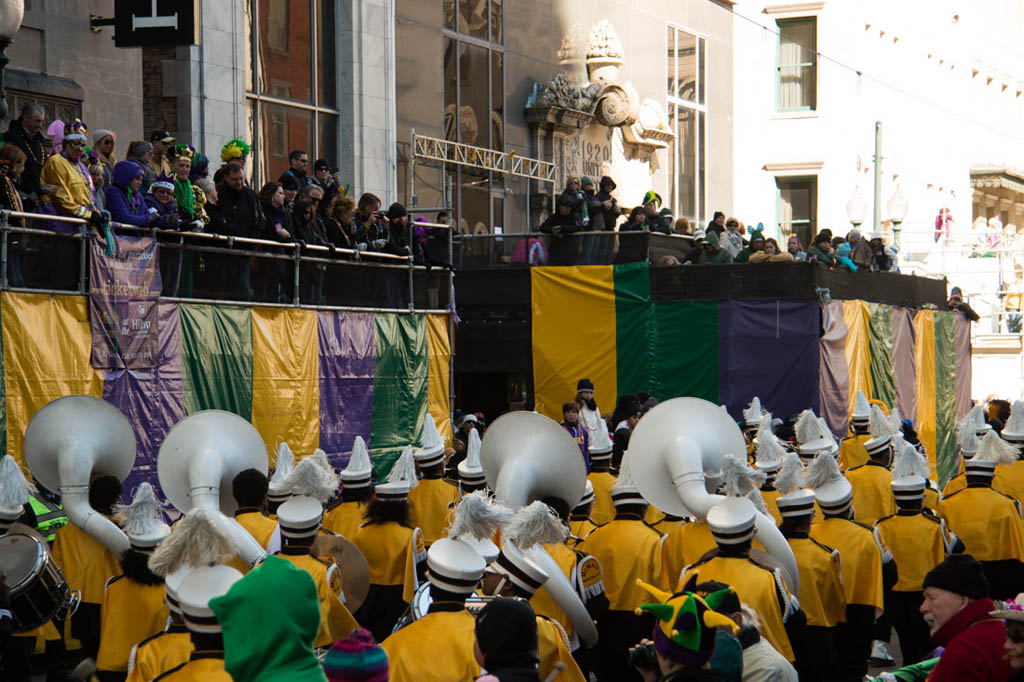 This year's Zulu parade had an amusement park theme, and I was so tickled to see the Cedar Point float. That was an amusement park I went to many times as a kid!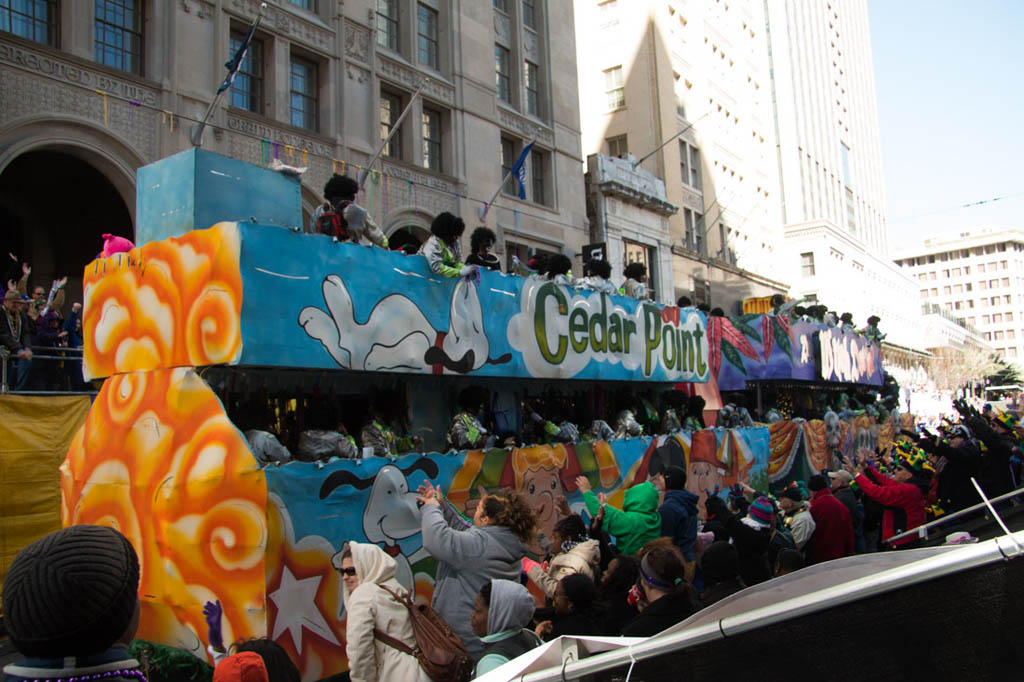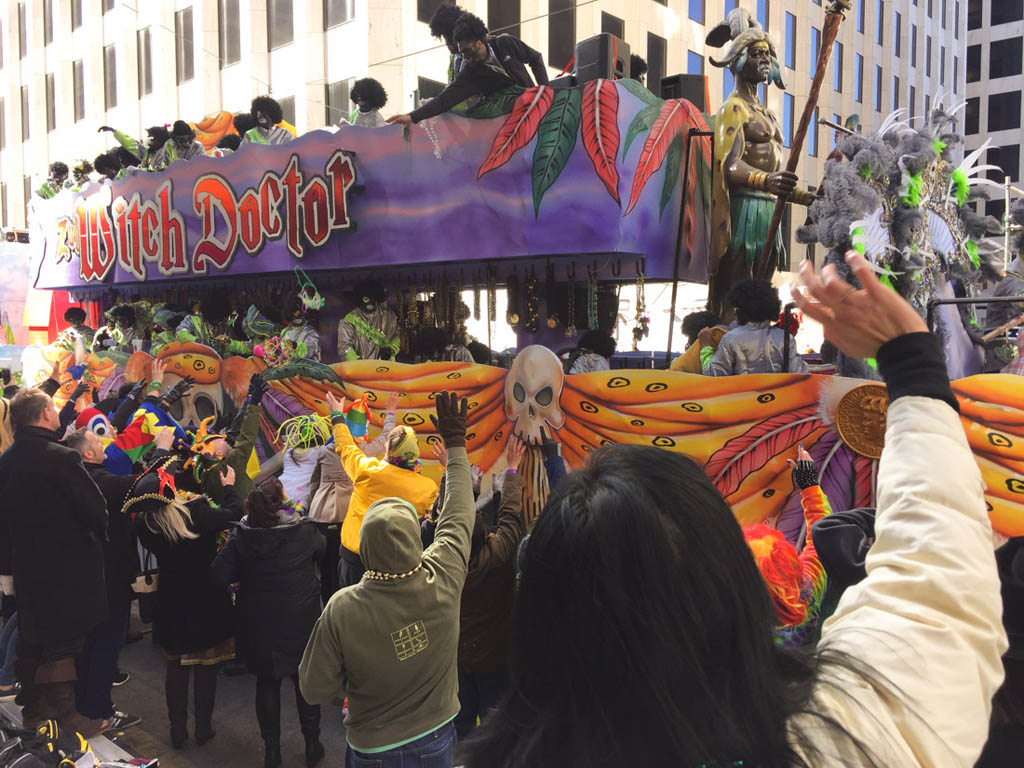 The most coveted "throw" from the Krewe of Zulu are little handpainted coconuts. Apparently those riding in Zulu are no longer permitted to throw the coconuts into the crowds. They have to gently hand them off to people. So, more experienced Mardi Gras goers come prepared with little baskets and nets that they can extend to the float and hopefully get a coconut placed in their basket!
Like the orange basket below which says "coconut please."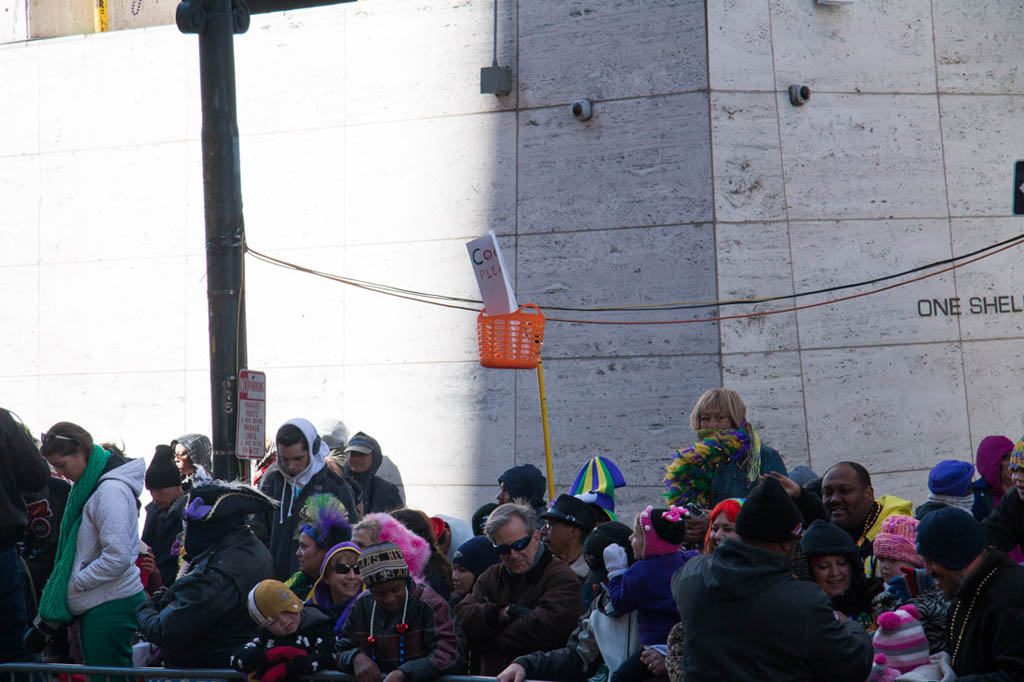 We were enjoying the parade, but damn, we were getting cold. The winds that day were 30+ MPH, and as I mentioned in our previous Mardi Gras posts, we were woefully unprepared clothing-wise.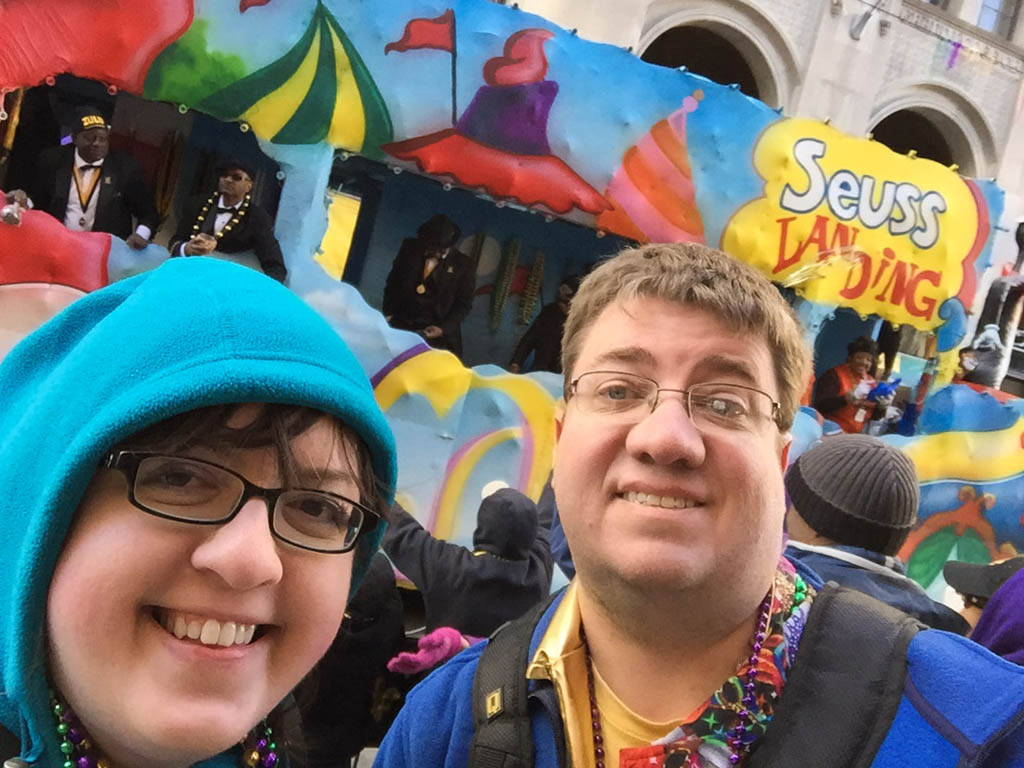 As Zulu was wrapping up, we decided to go inside the Hotel Intercontinental to get some lunch. Many restaurants are closed on Fat Tuesday, and since we were right there, we decided that the hotel was a good option. We warmed up with some soup and hearty burgers.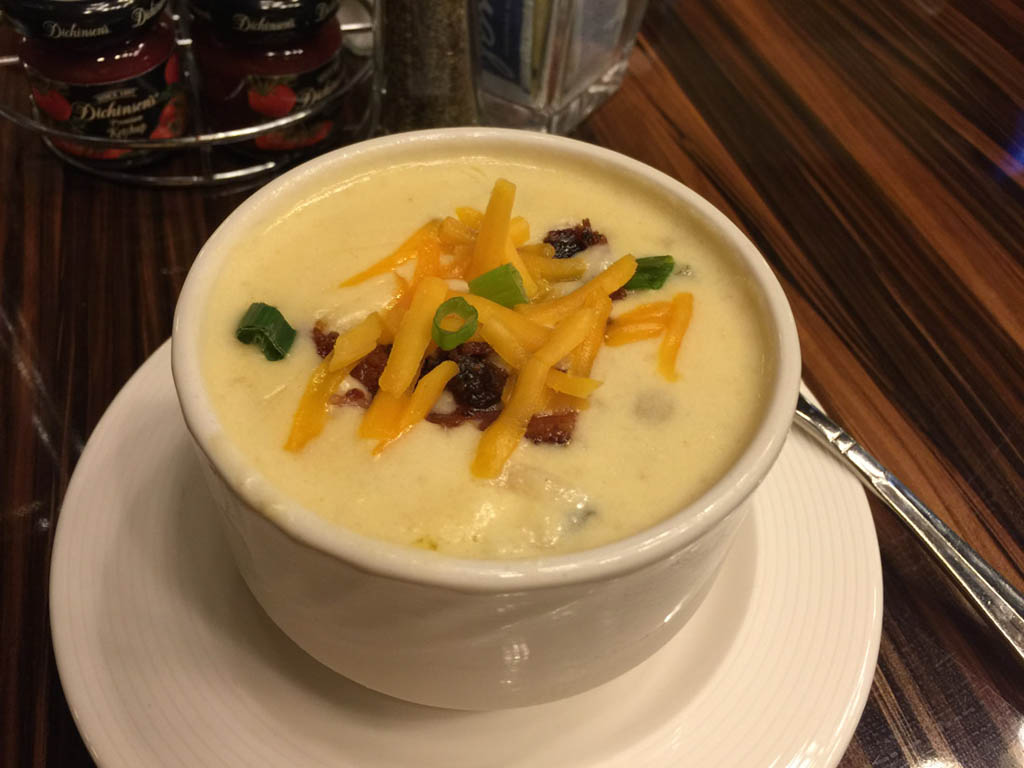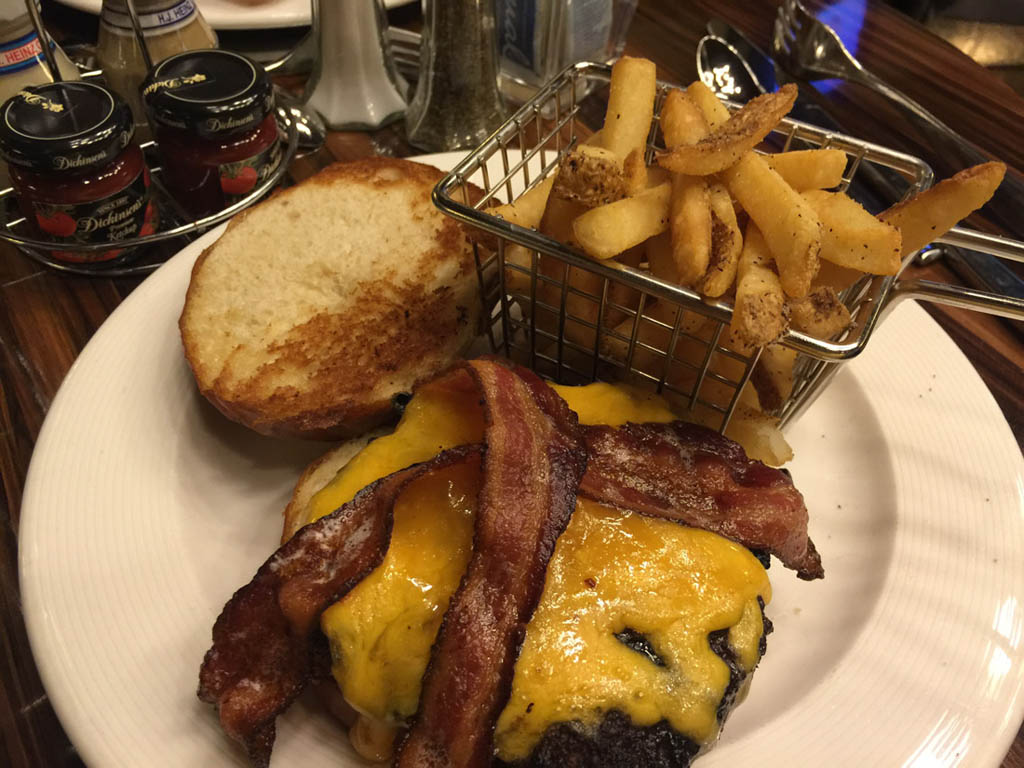 We stayed inside for a while longer until we started to hear marching bands playing outside the hotel again. That was the sure sign that the next parade, Rex, was starting up.
Krewe of Rex
Rex, Latin for "King," reigns as "King of Mardi Gras." It is one of the last parades of the entire season.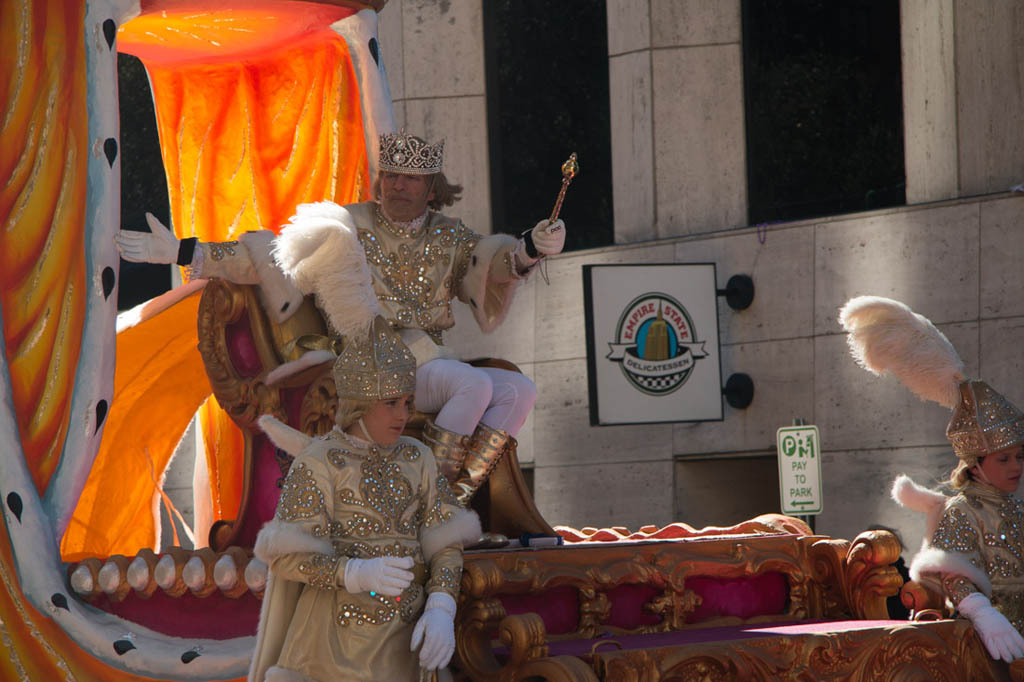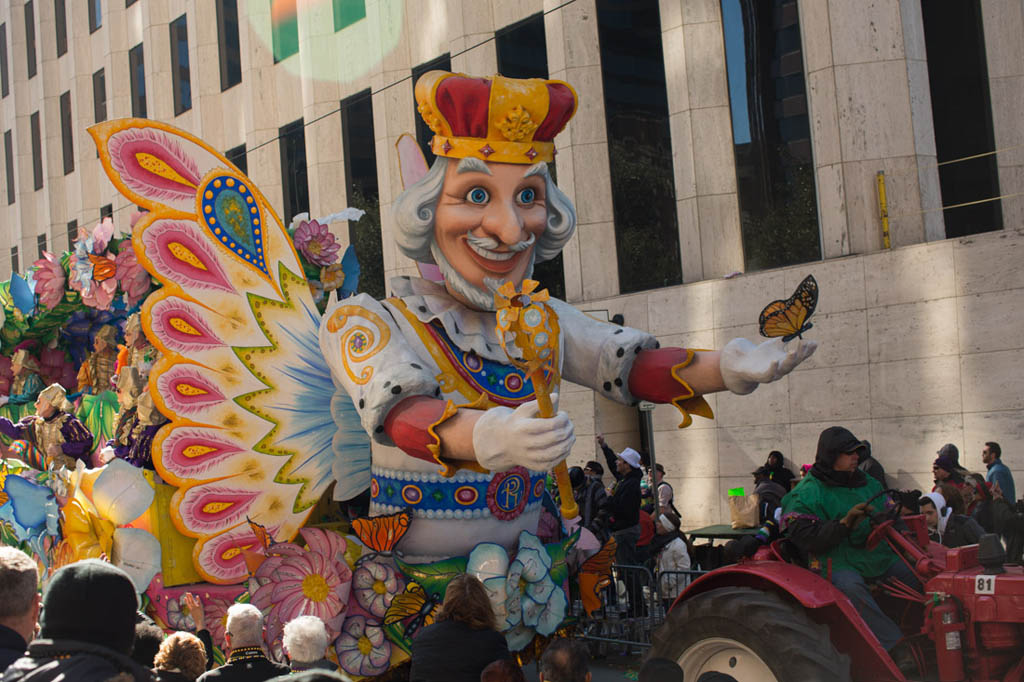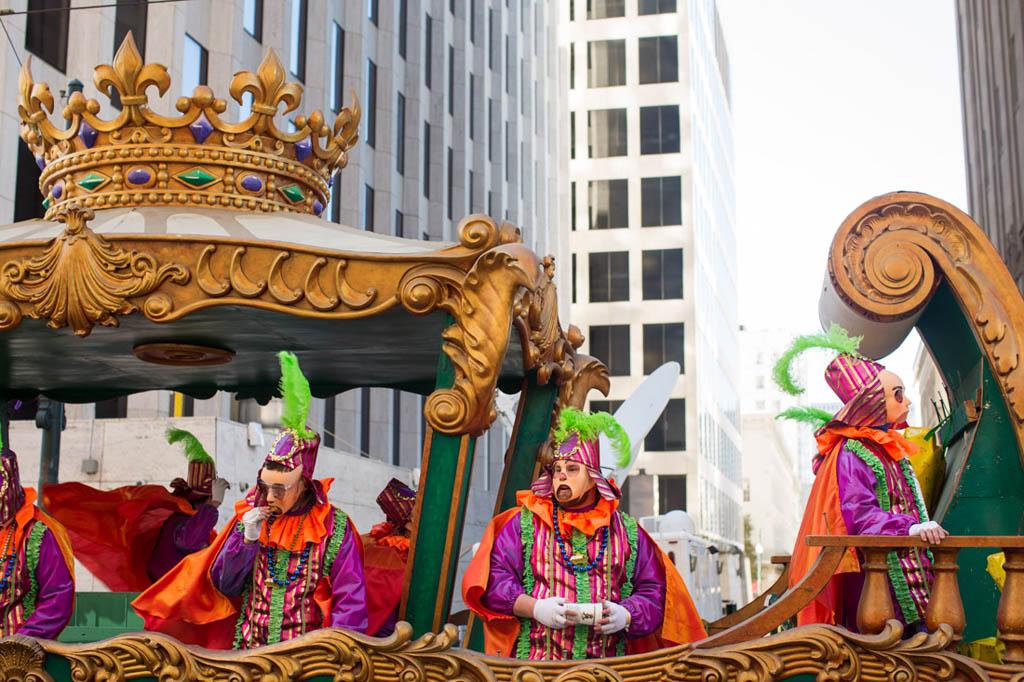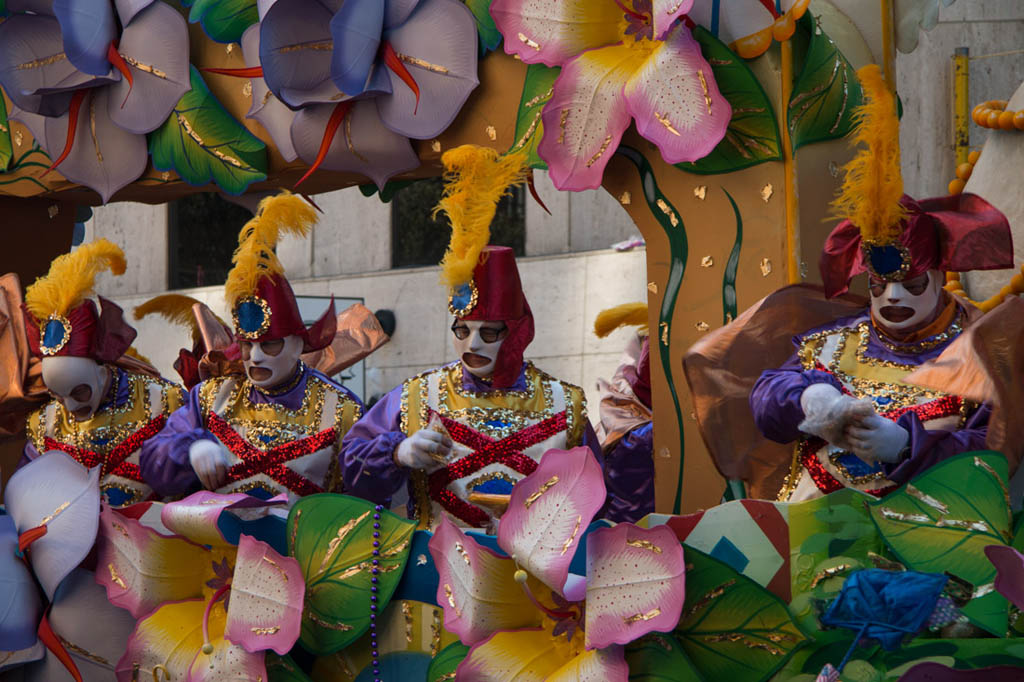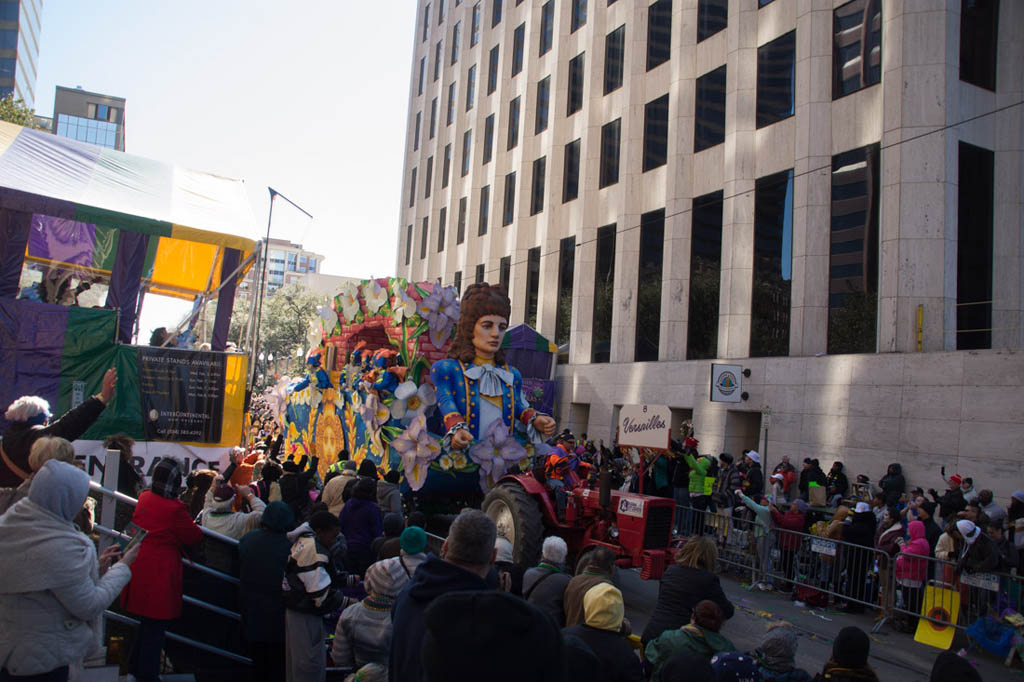 Apparently a big piece of one of the floats had fallen off earlier during the route! That big shell-looking thing was being towed in the back of a truck!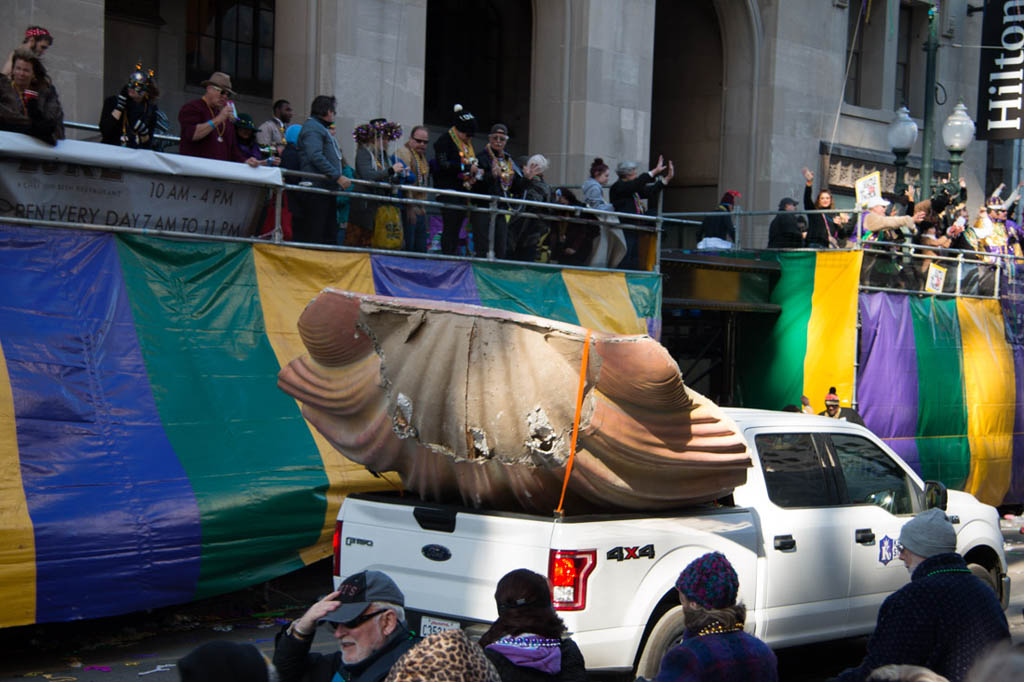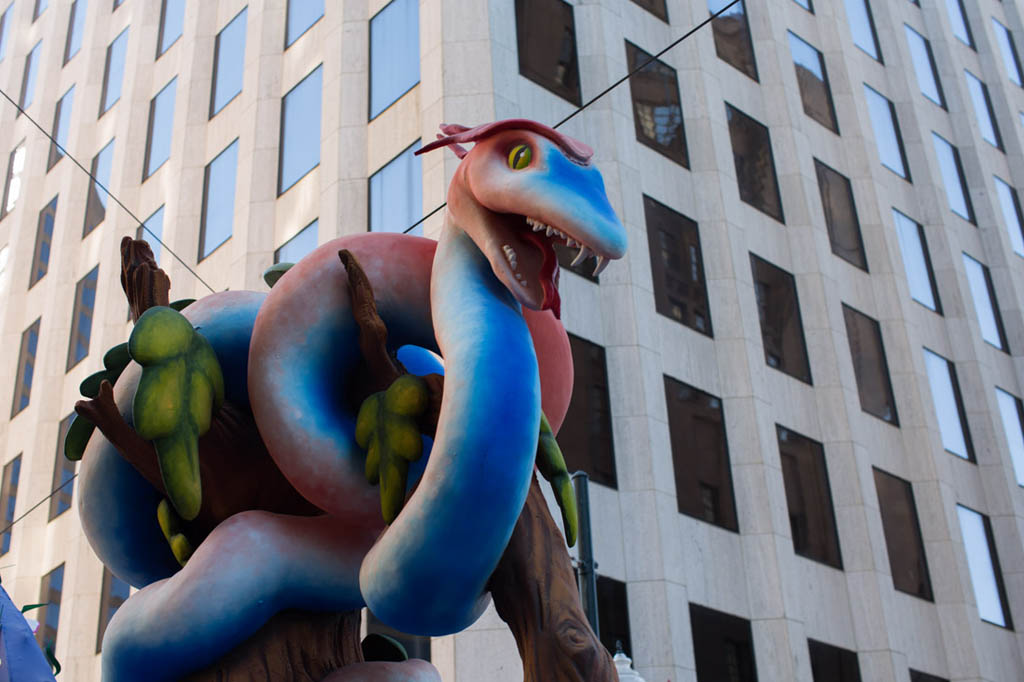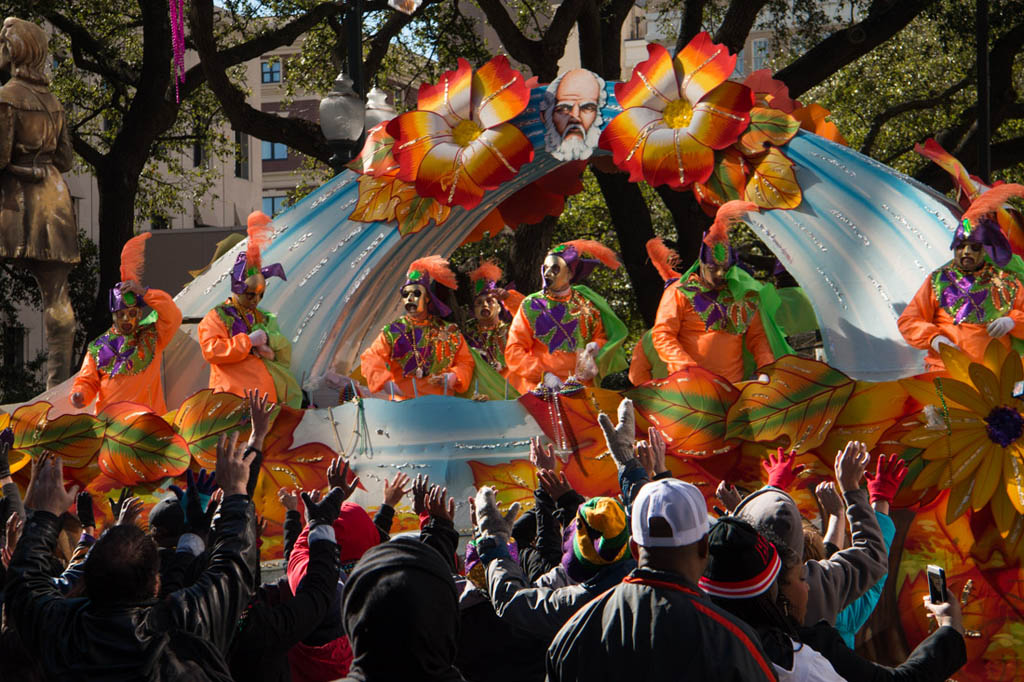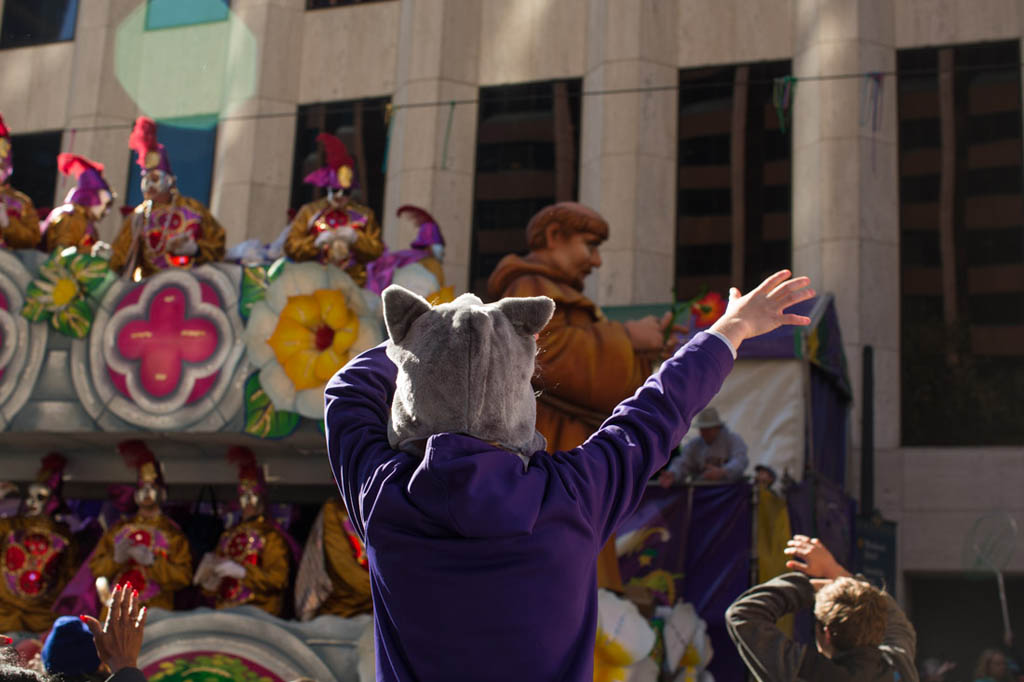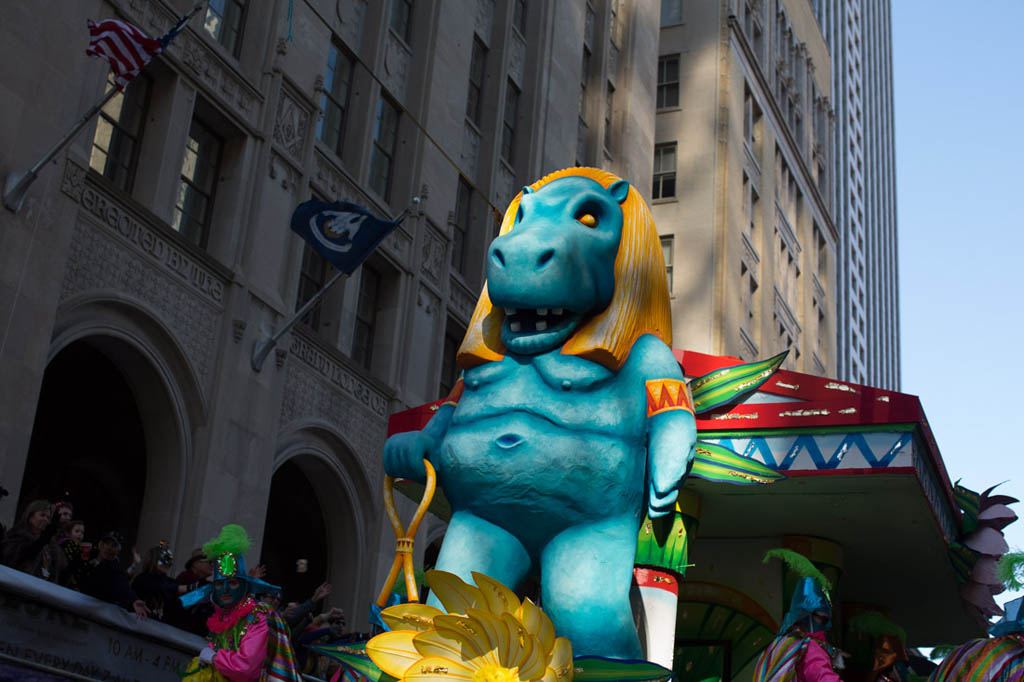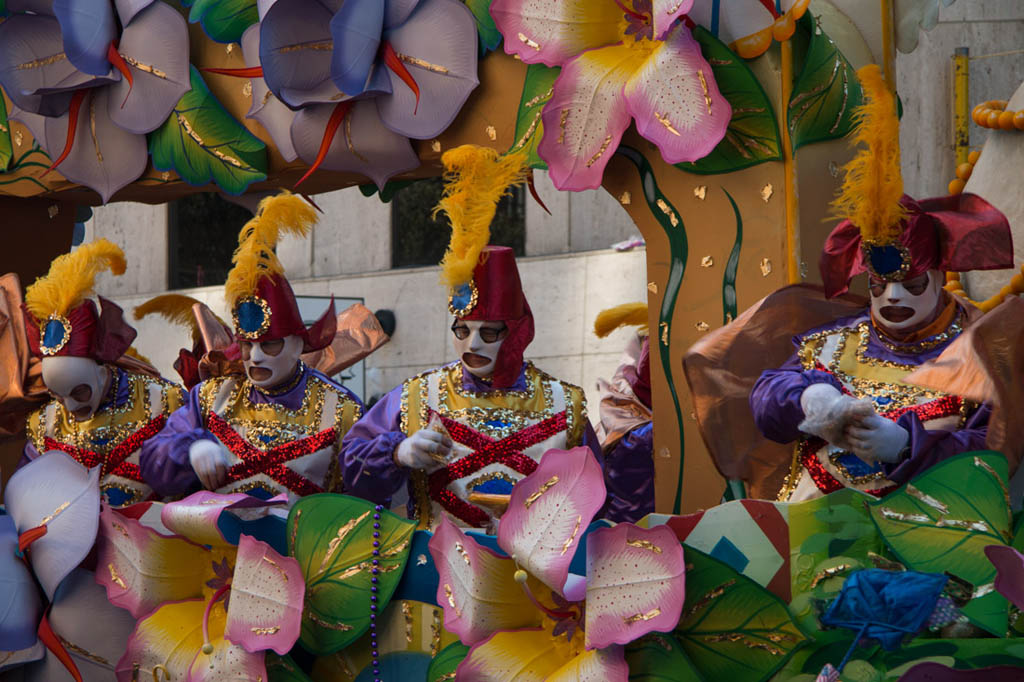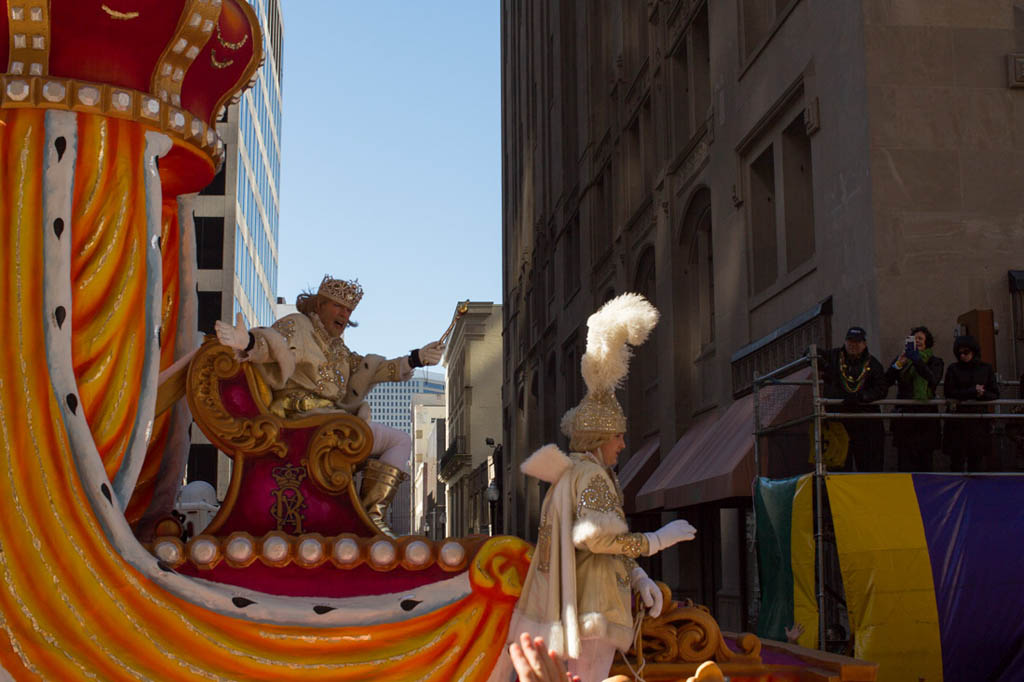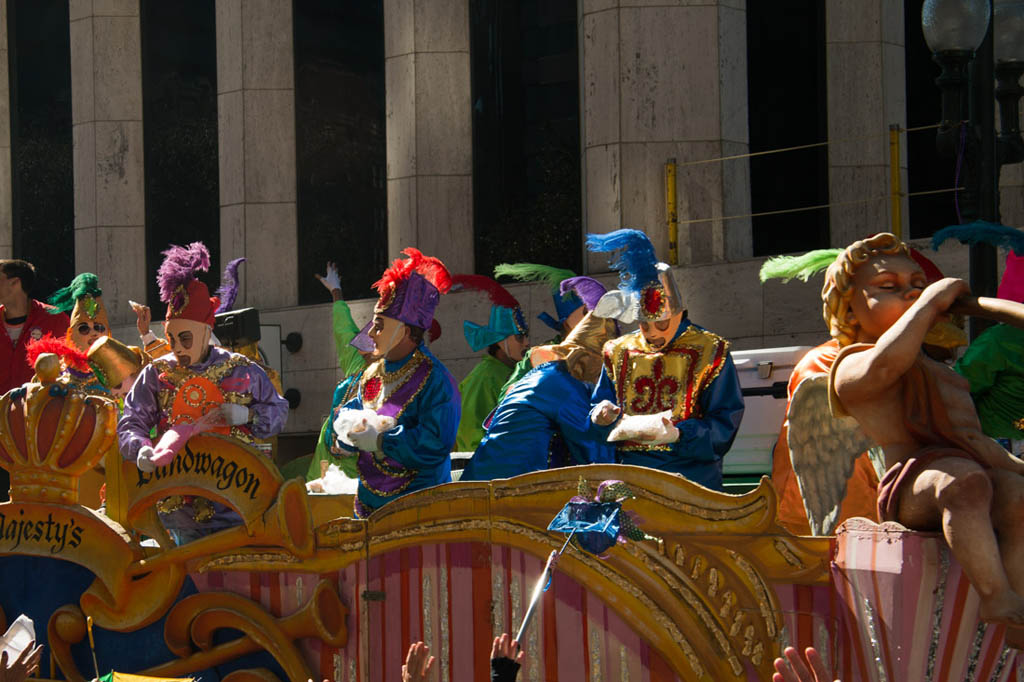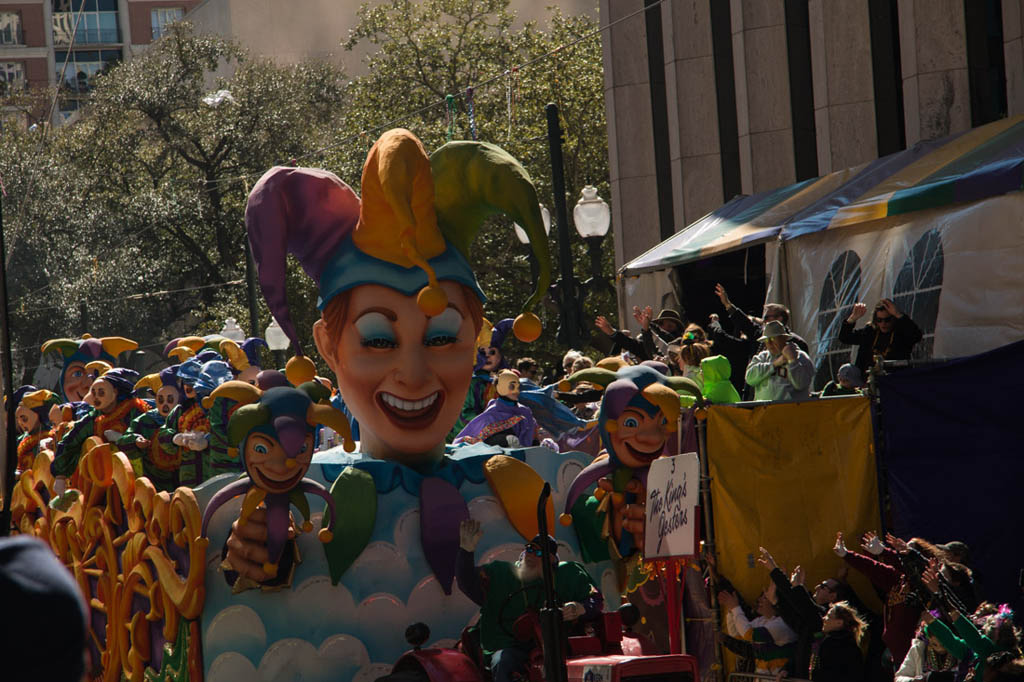 And, of course, lots of folks were dressed up for the occasion, including this guy wearing thong underwear on his head: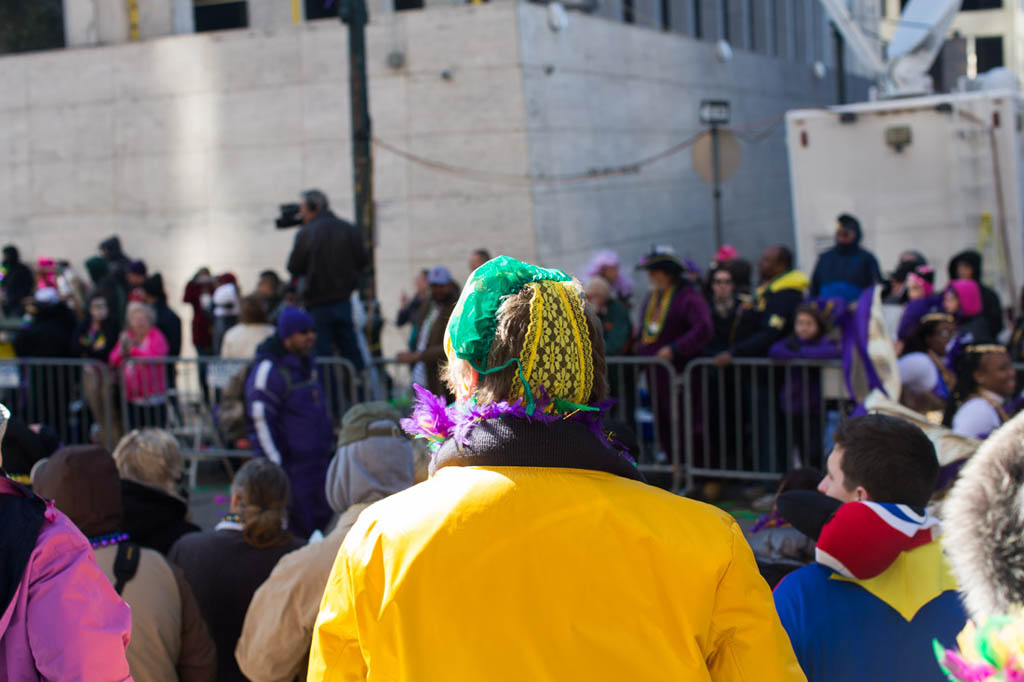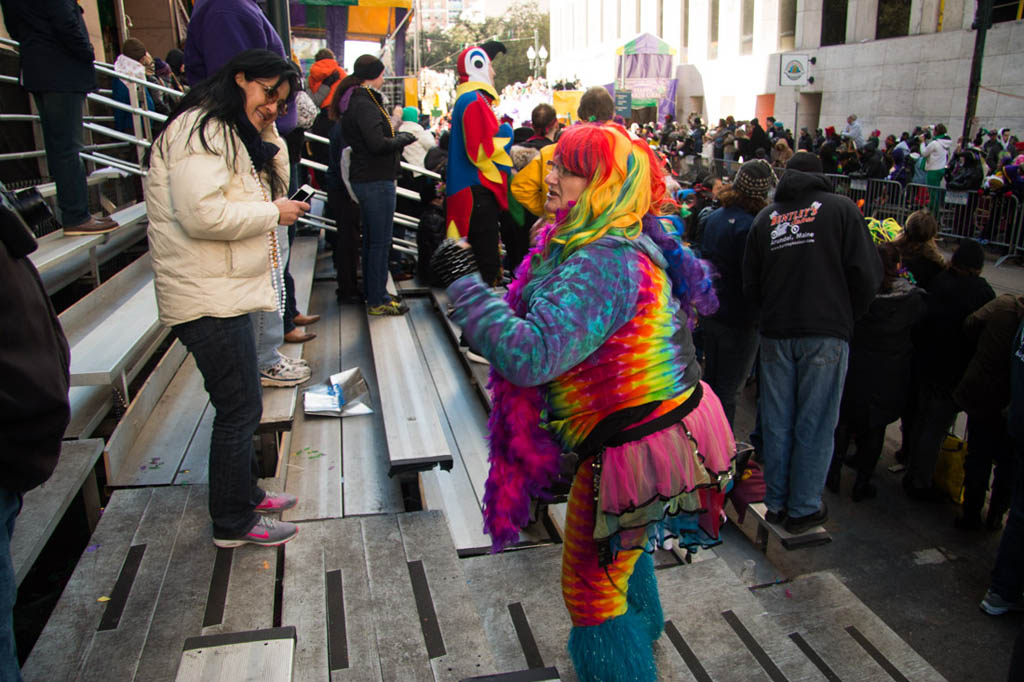 There was a bull float that came by that seemed to be incredibly popular. Although it took me a while to find out the information, it seems to be that it symbolizes the last meat eaten before Lent.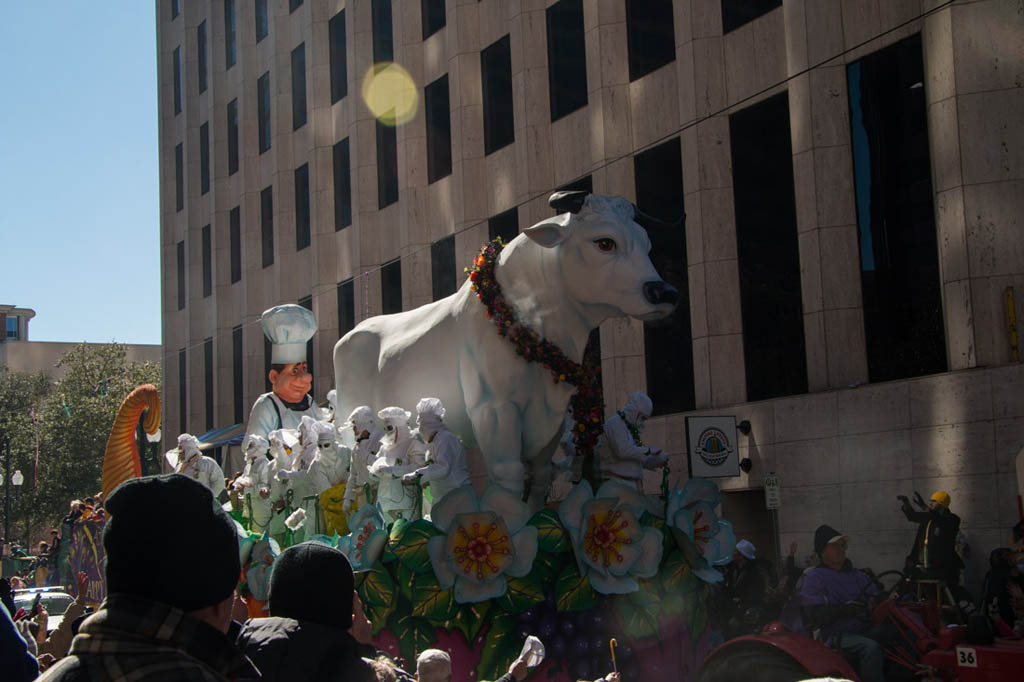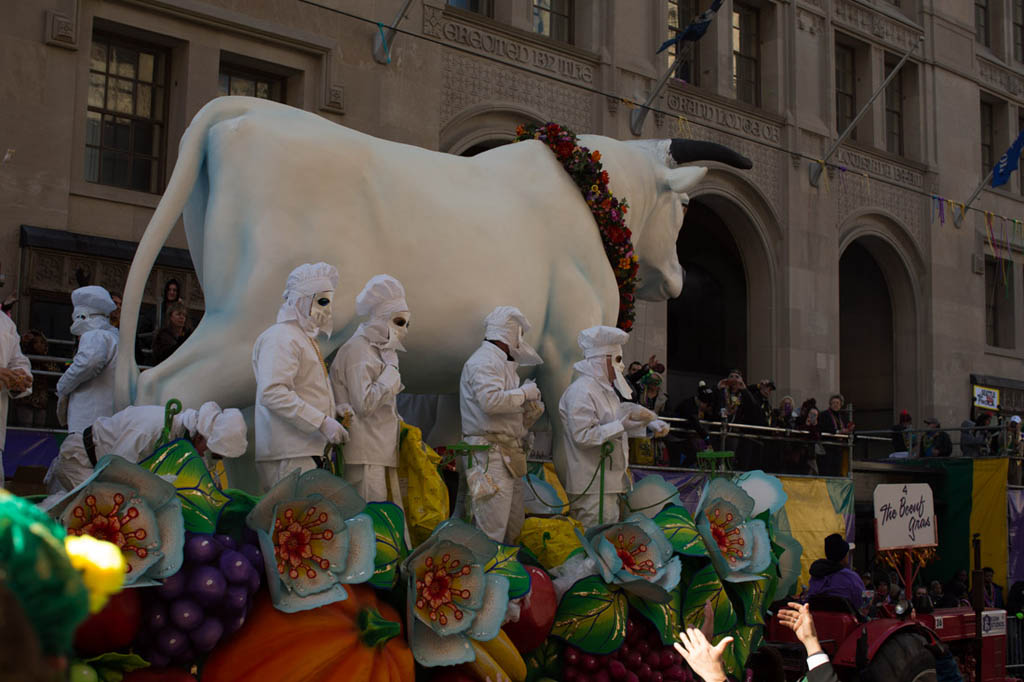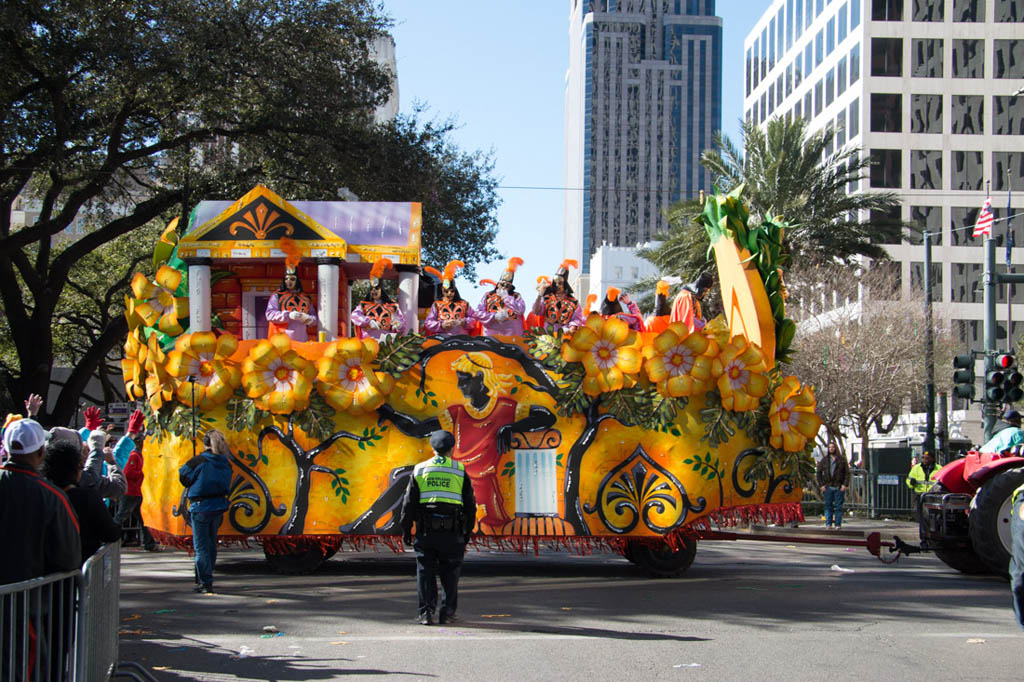 Right as the parade was wrapping up, we started to head back to the hotel to get packed up for our flight that was departing that evening.