This post may contain affiliate links. Please see my advertiser disclosure for more details.
---
After much mulling about on which Disney property to stay at, we ultimately decided on Port Orleans Riverside (POR). This would be our first time ever staying on Disney property, so we based our decision on things like online reviews, advice on disboards.com, price, and the bus driving distance to the parks.
Already set to make your booking at the Port Orleans Riverside? Check out my hacks for saving money on Disney Hotels. In more of a hurry than that? Head over to hotels.com to check rates and book your stay! Be sure also to check Undercovertourist.com for discounted Disney Tickets, and other great tools like Disney park crowd forecasts!
We booked two "Garden View" rooms at POR at $222.80 per night (each). One one for me and Ken, and the other room for Ken's sister (my sister-in-law, SIL) and her family.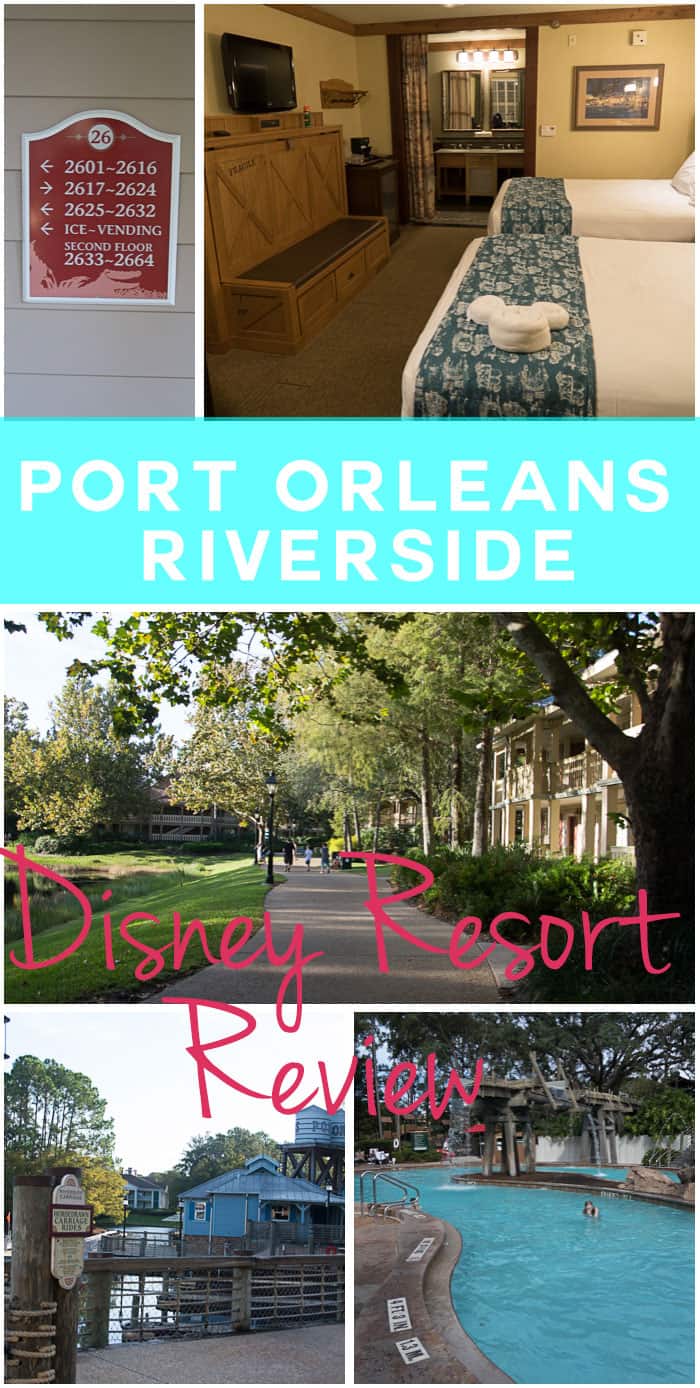 I know that Disney is mainly a destination meant for adults with kids, but I was surprised I didn't see any options for a room with a King Size bed at Port Orleans Riverside. The only option at POR I saw was for two queen size beds. I saw some multi-room suites at different properties (like the Boardwalk Villas or Animal Kingdom Lodge) that had a room with king size bed, but not at POR. After all these years of sharing a king bed, queen beds seem downright tiny!
Hashtag first world problems.
I digress.
A Brief Check-In Hiccup
We used the Magical Express from Orlando International Airport to get to the hotel. Check-in went smoothly and it was time to find our rooms. Well, that didn't go so smoothly.
For those of you who don't know, there is an option when you are staying on a Disney property that Disney will pick up your checked bags for you and deliver them to your hotel room. Well, we were only checking one bag. But, my SIL and her family had a bunch of bags plus a crazy heavy car seat and were pushing their toddler in a separate stroller.
Disney guidance says you should expect to wait up to two hours for your bag to get to your room after checking in if you use their service. Since we were arriving fairly late (9pm-ish), we didn't want to have to wait until 11:00pm for our bags. So, we just picked up our own bags at baggage claim and took them to the Magical Express with us.
The check-in staff at Port Orleans Riverside gave us a map and some quick instructions for how to get to our room, located in the "Alligator Bayou" area of POR. But once we left the reception area, we were totally lost. The map was confusing, it was dark, and we were lugging heavy things with us. We had no idea that Port Orleans Riverside was such a huge sprawling property. Finally, we left the bags with my SIL and her husband, while Ken and I walked ahead trying to find our hotel room.
After what seemed like forever, we found our building number, and then our rooms. We went back to get my SIL and her family. But, my SIL was pretty annoyed that our room was on the 2nd floor and that there weren't any elevators. Since she had a stroller, she didn't want to have to climb steps with a stroller every night after a long day at the park. It was definitely understandable. They went into their assigned room, but called down to the front desk to get a new room. In the meantime, I snapped photos of our room!
Garden View Room at POR
This is what our room looked like from the door. Note the Mickey shaped towels on the bed!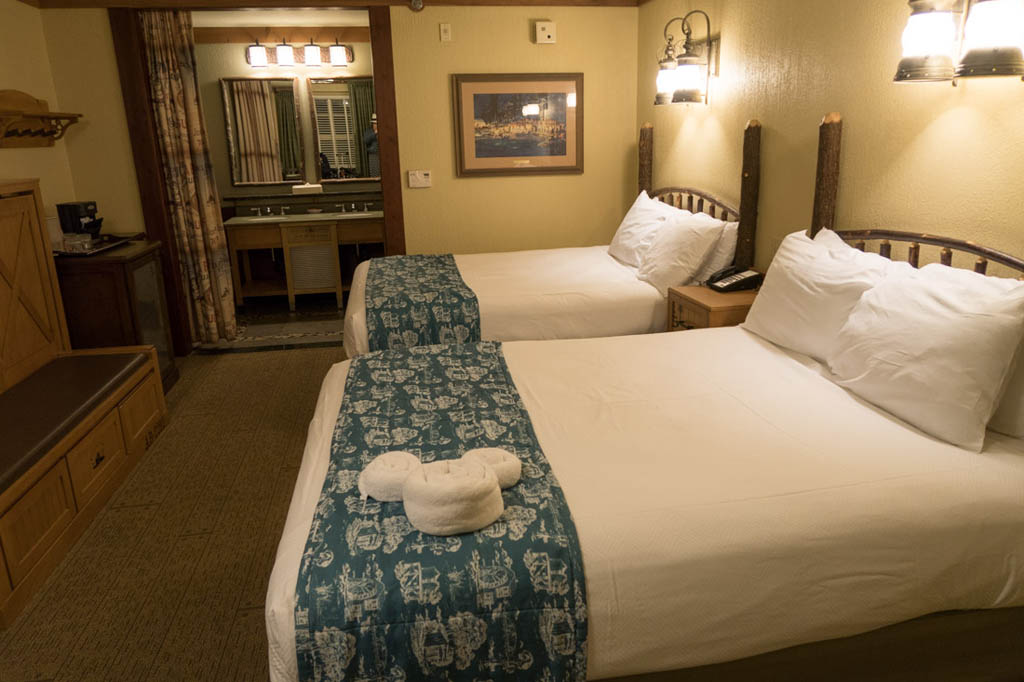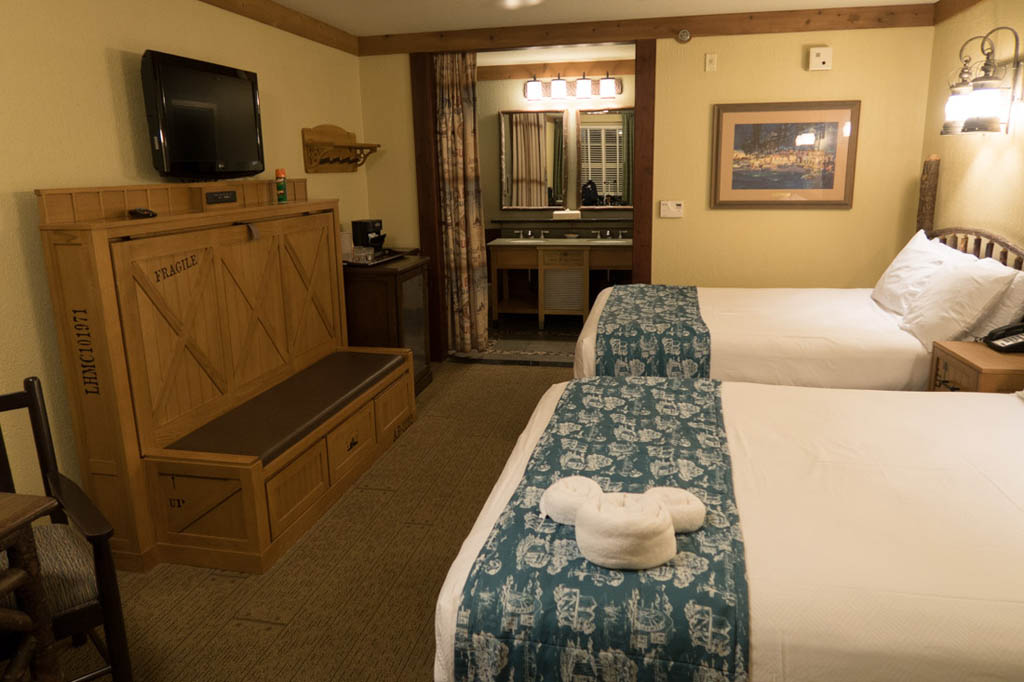 The piece of furniture with the TV is actually a fold-down bed, and has some storage drawers underneath. (We never folded down the bed).
Just next to the door to the room was a small table and two chairs.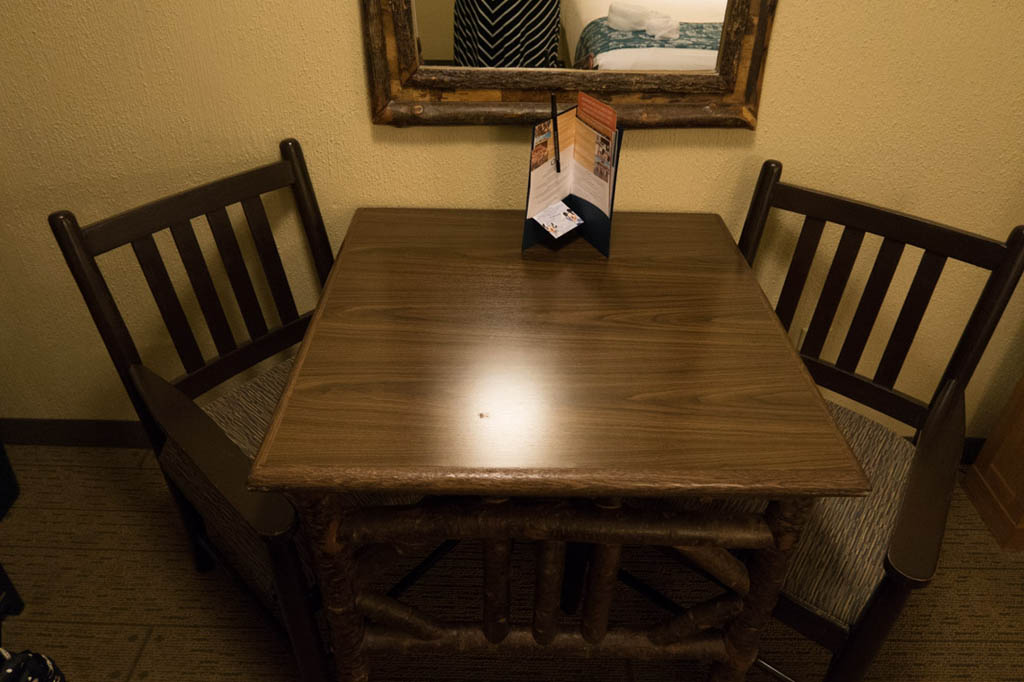 You can see where they are in relation to the rest of the room here: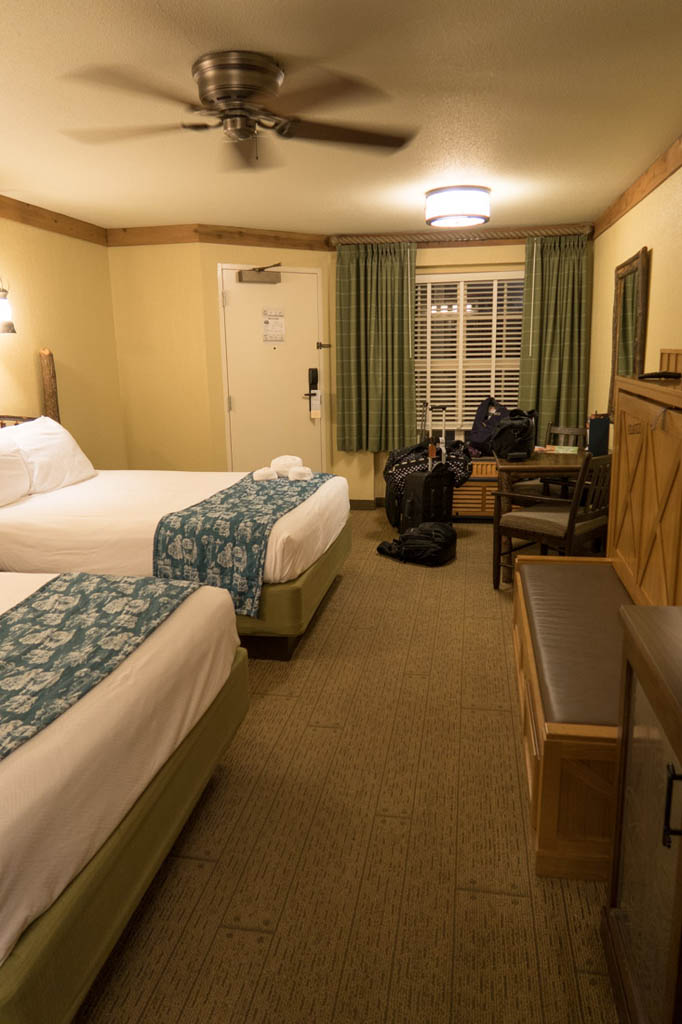 The bathroom area had a room with a tub and toilet, and the double sink vanity was just outside that area. A curtain could be drawn to separate the vanity from the rest of the bedroom.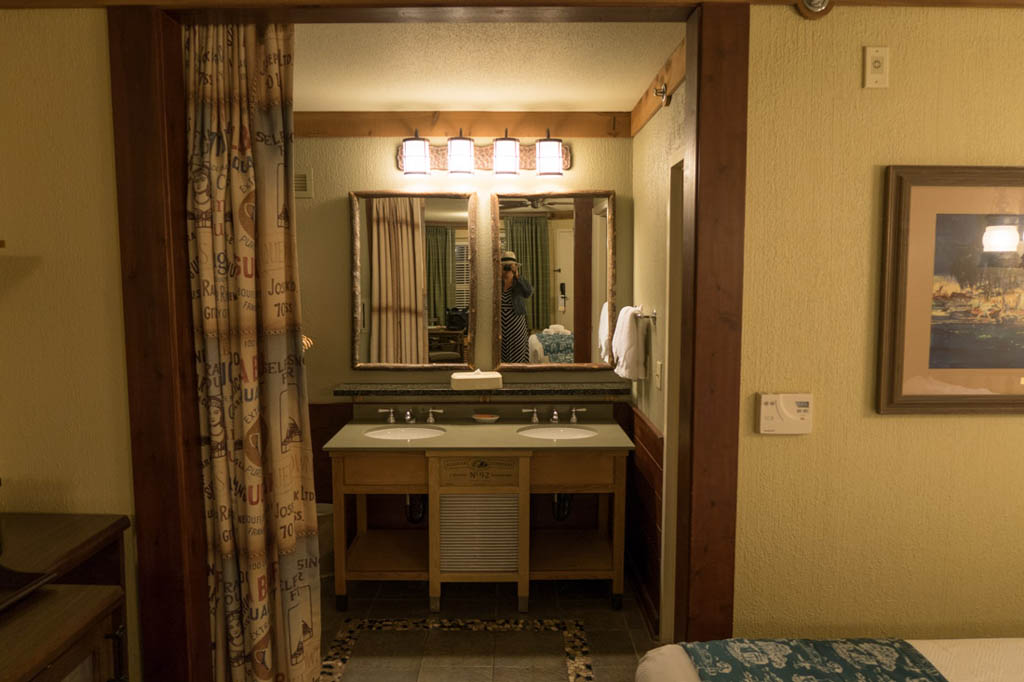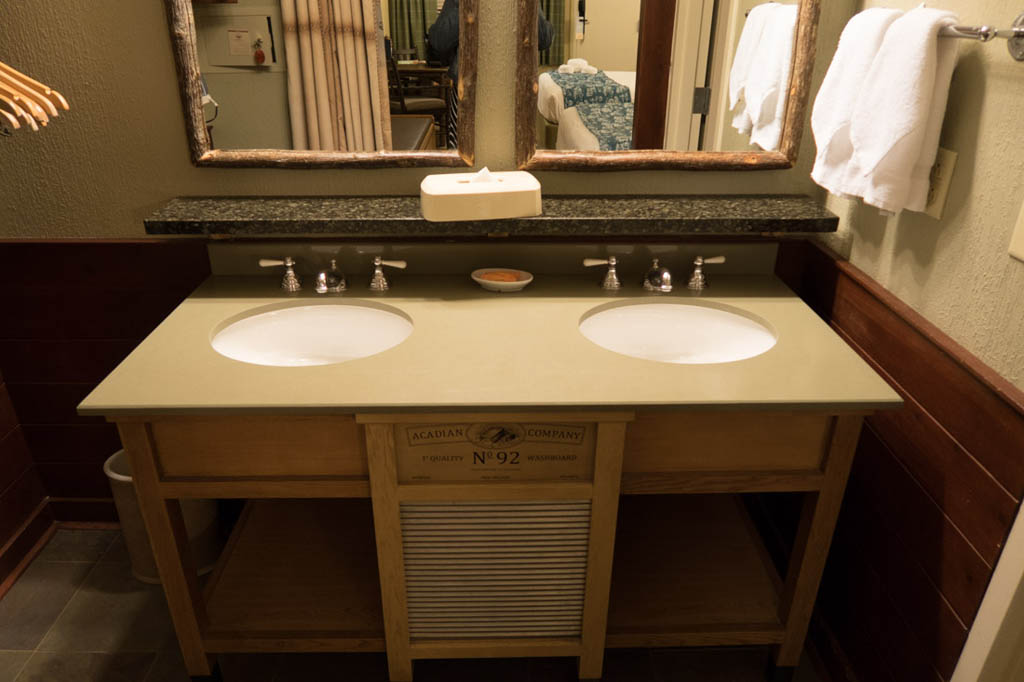 I'm not sure why I didn't turn on the light to take this photo of the bathroom! D'oh!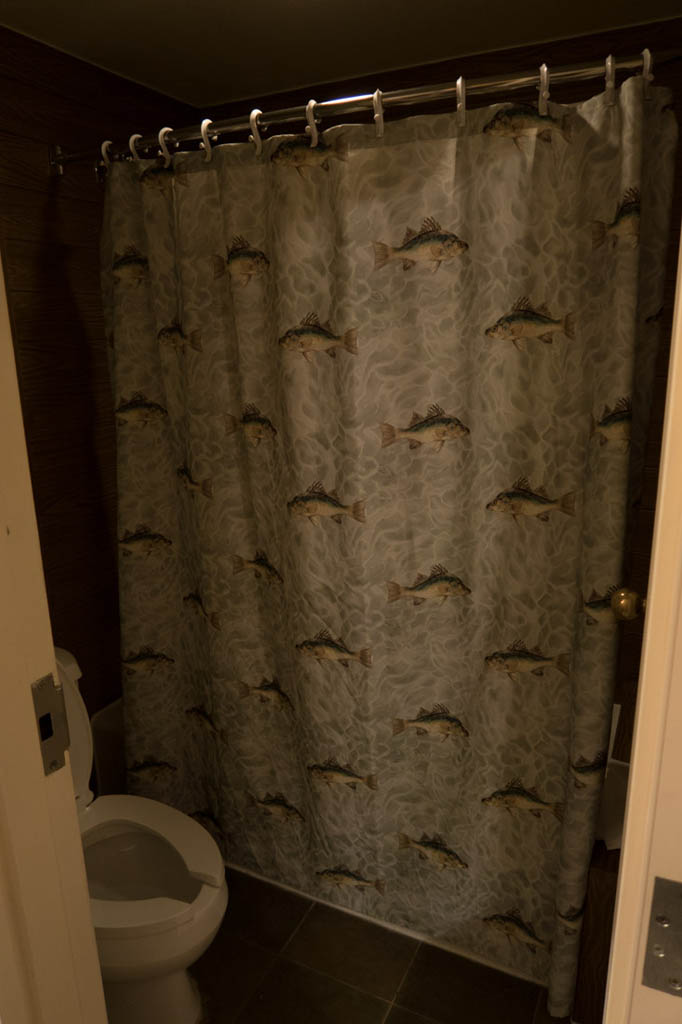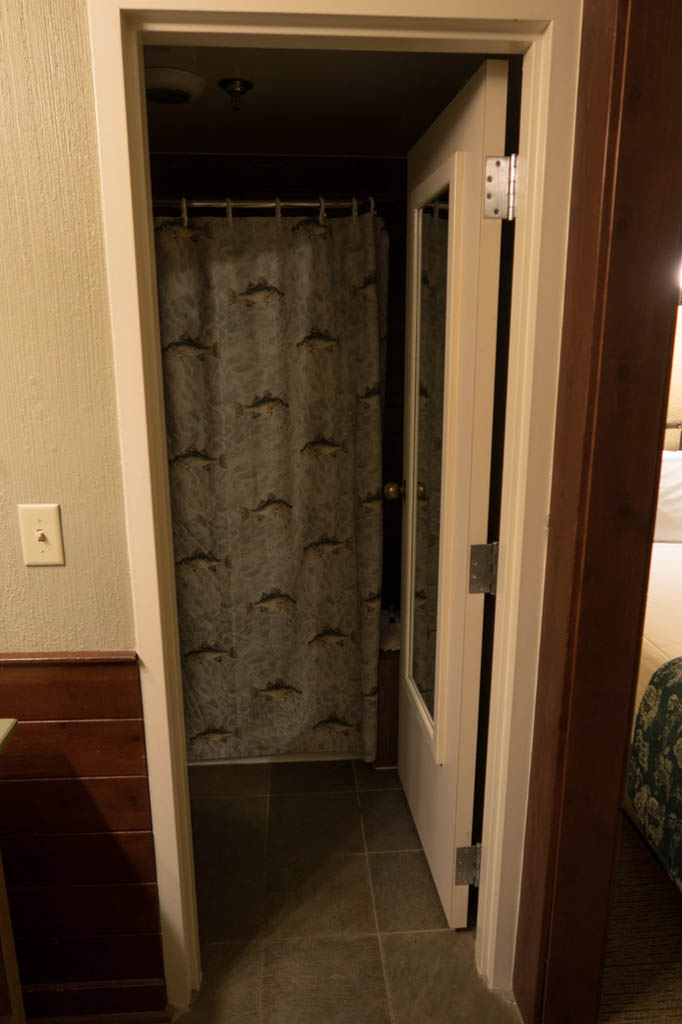 Just to the left of the sink was an open closet area. I was not a huge fan of the "open" closet. I like to be able to put clothes away and out of sight for multi-day trips in hotels. Plus, I'd imagine if you were traveling with kids, you'd like a spot to be able to store some things behind a closed door.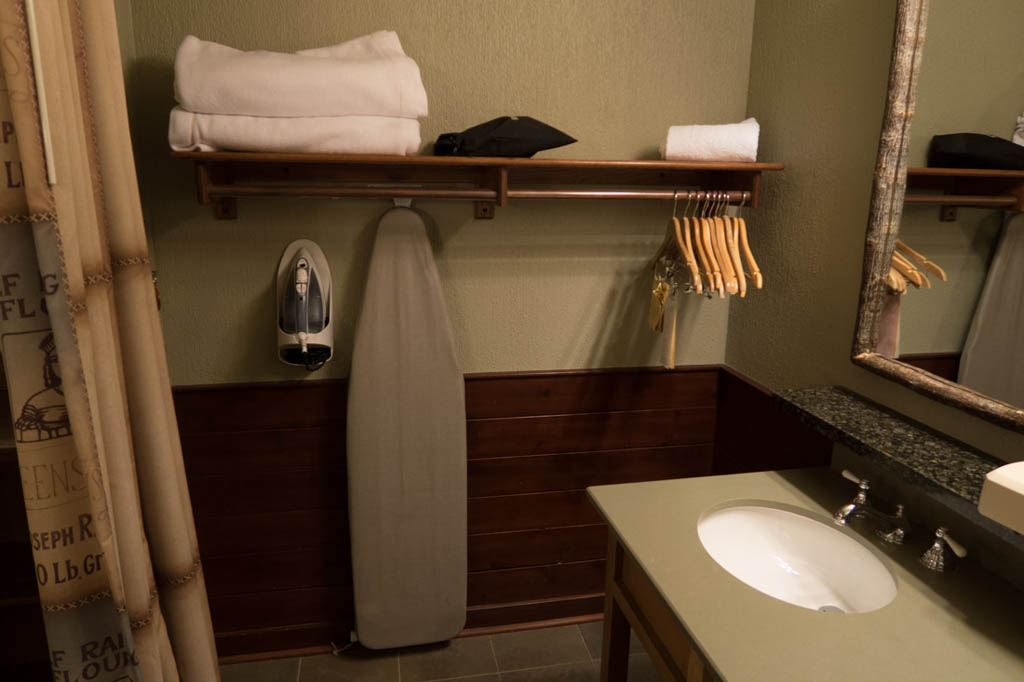 In between the sink area and the pull-out bed was a coffee maker, ice bucket, and a mini fridge.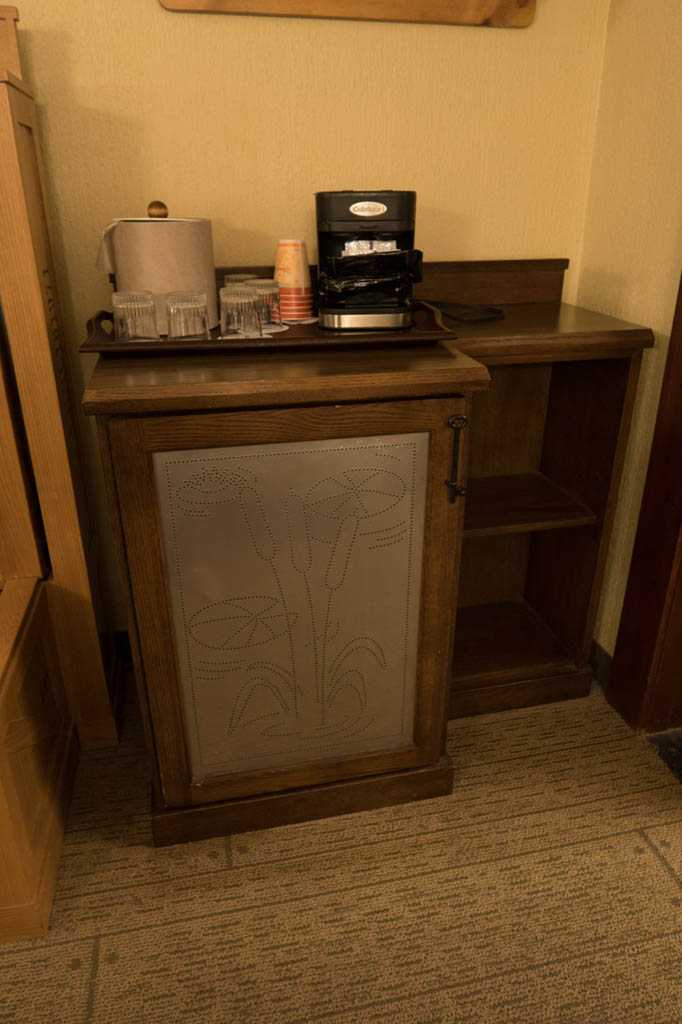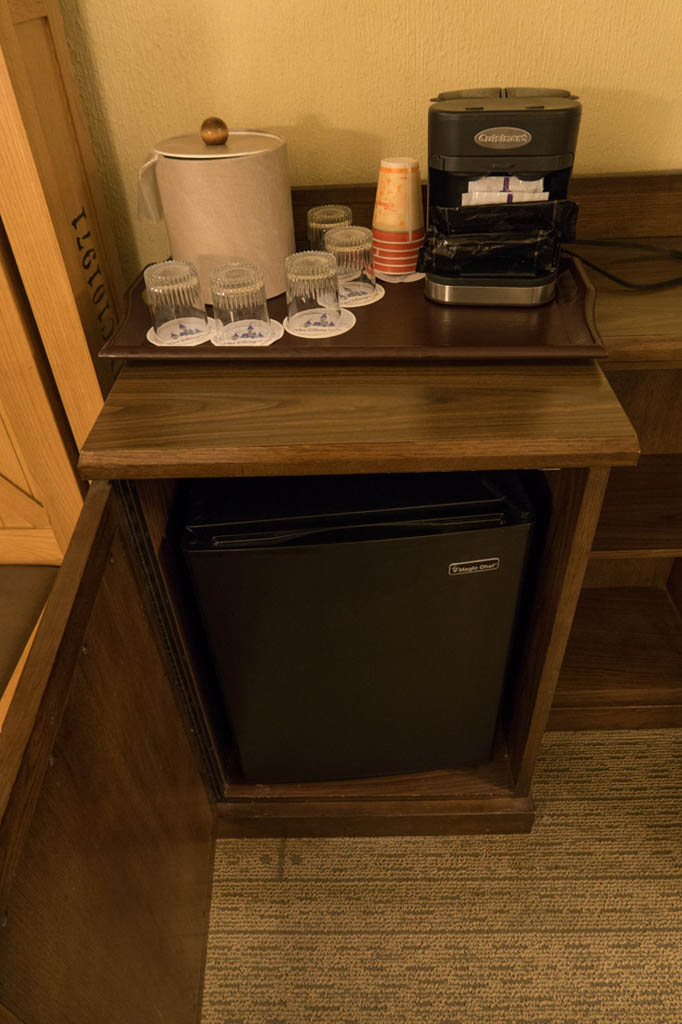 Our room was in the "Alligator Bayou" area of the hotel.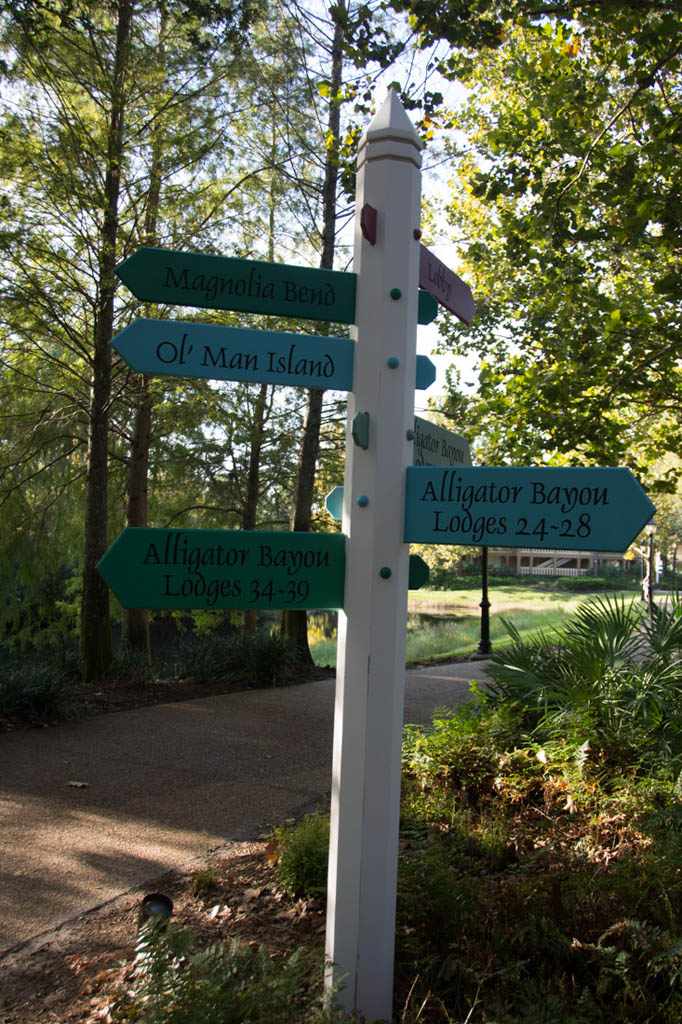 The exterior of the individual buildings was charming.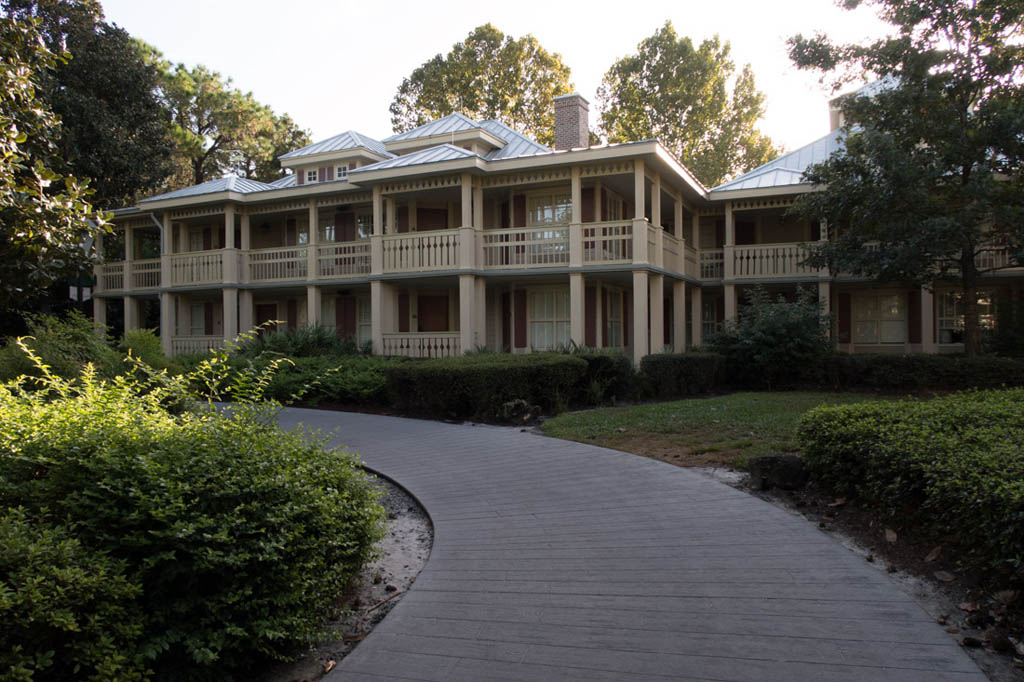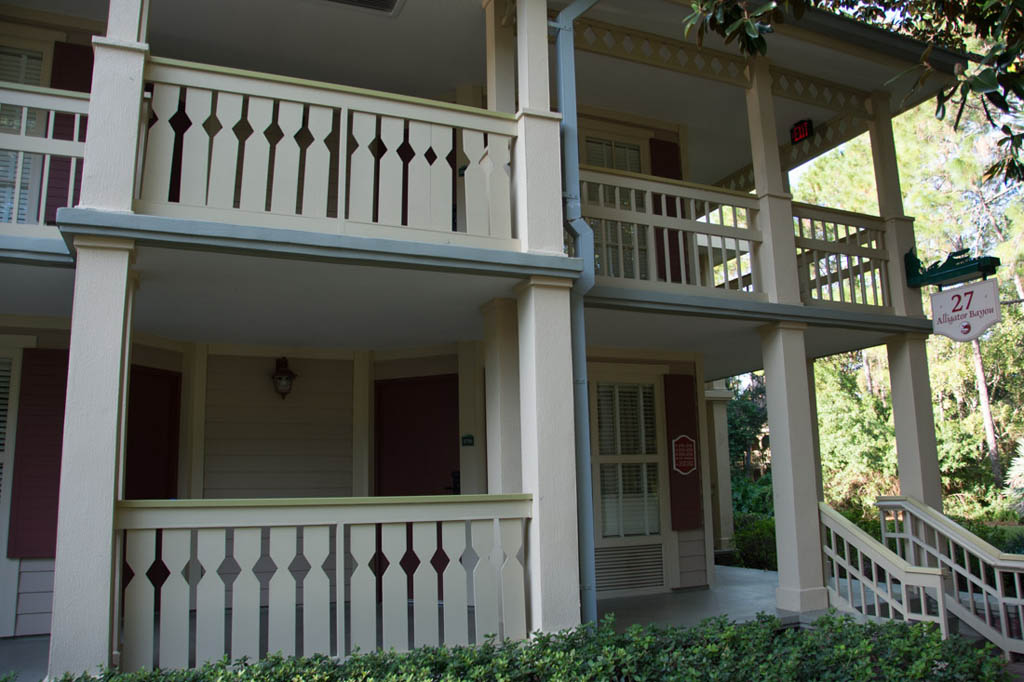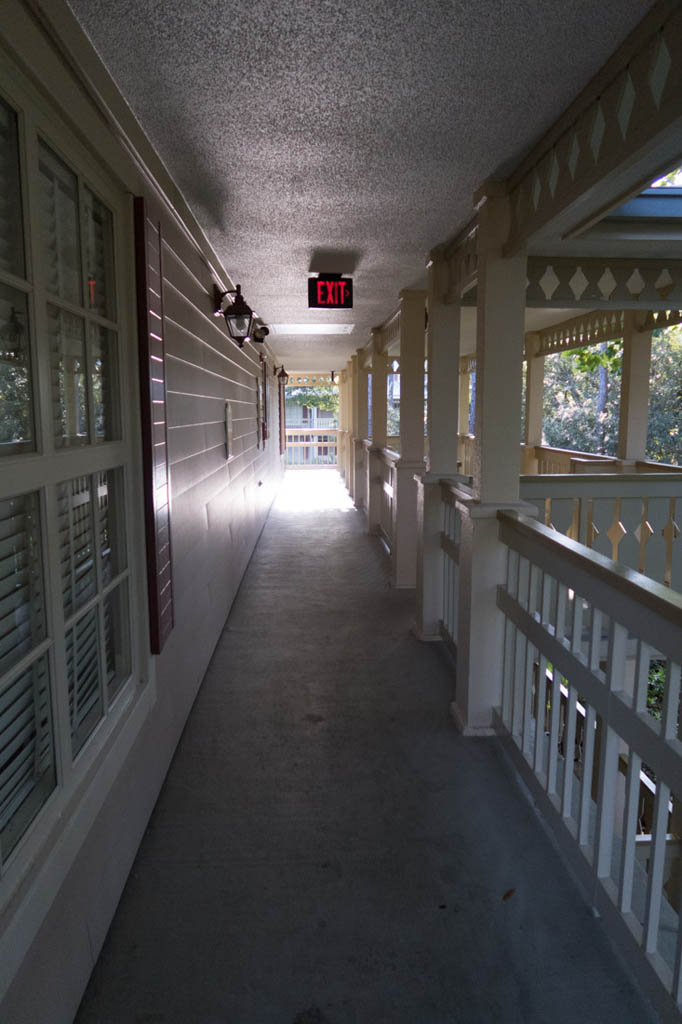 Like I mentioned, we were on the 2nd floor, and there were no elevators, so just keep that in mind if you are mobility impaired or are lugging strollers with you.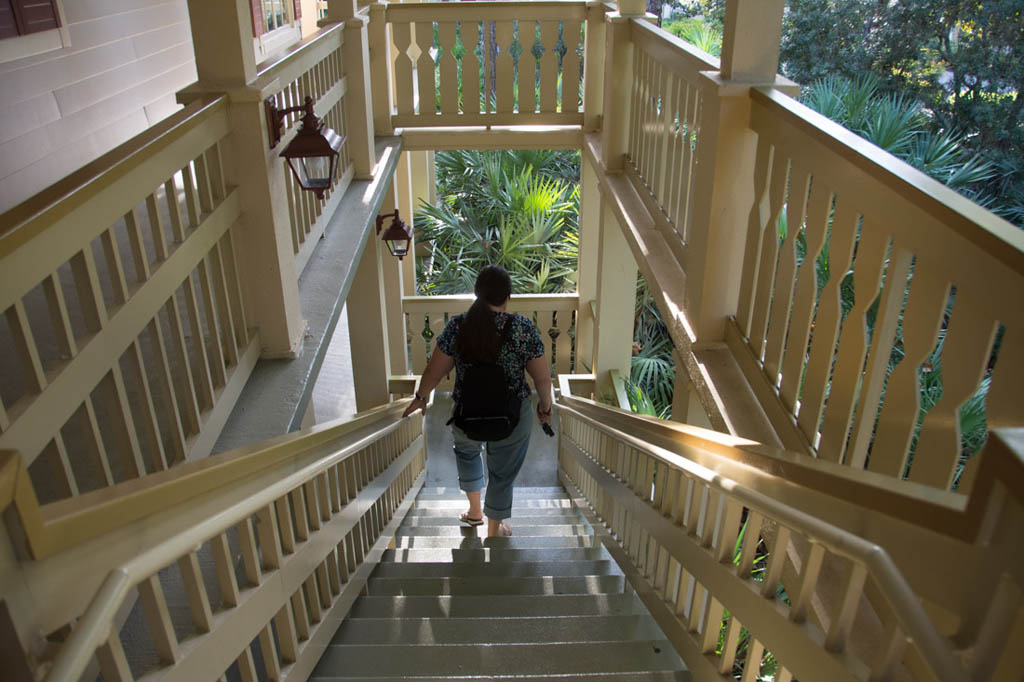 In addition to the minor complaint about the two queen beds options and our difficulty finding our room, I had a few other minor complaints. I really try to temper my hotel reviews based on the cost of the room. So, if a room costs only $80 per night, I don't always "complain" about certain things. But, this room was more than $220 per night, so I think these complaints are fair game.
First, the toilet flushes are SO LOUD. Seriously. Ken and I are both middle-of-the-night pee'ers, and those flushes were so startling in the middle of the night. We could also hear the flushes of neighbors' toilets. I'm not sure what kind of plumbing they have going on in that place, but it was nuts!
Second, there is only one nightstand in between the two beds. Ken and I both wear glasses and like to keep water on our nightstands, but only one of us could have a nightstand! (I guess we could've slept in separate beds, and then both just shared the middle nightstand). So, it was a little annoying that only one of us had a place to keep glasses, water, or cell phone in the middle of the night.
There was a serious lack of storage. Only three very small drawers under the pull-out bed which was barely enough to fit clothes for the duration of our trip. I couldn't imagine staying in this room with more than two people.
Port Orleans Riverside Grounds
Now, back to the more positive elements of the Port Orleans Riverside. The grounds of this hotel are gorgeous and sprawling. (Sprawling is okay when you're not lugging suitcases after a late night flight!).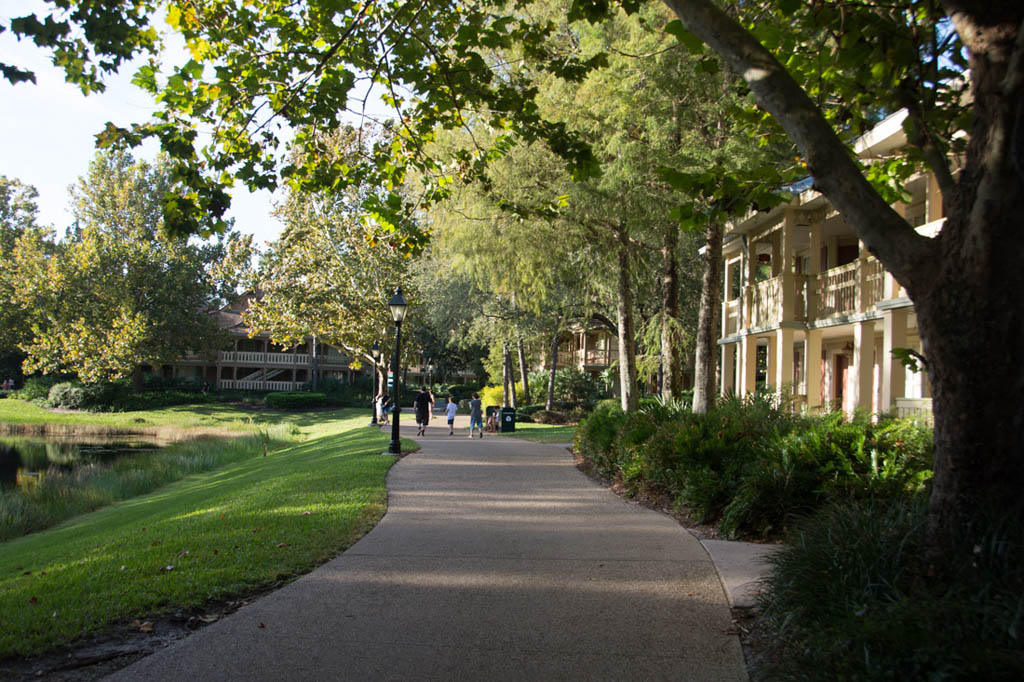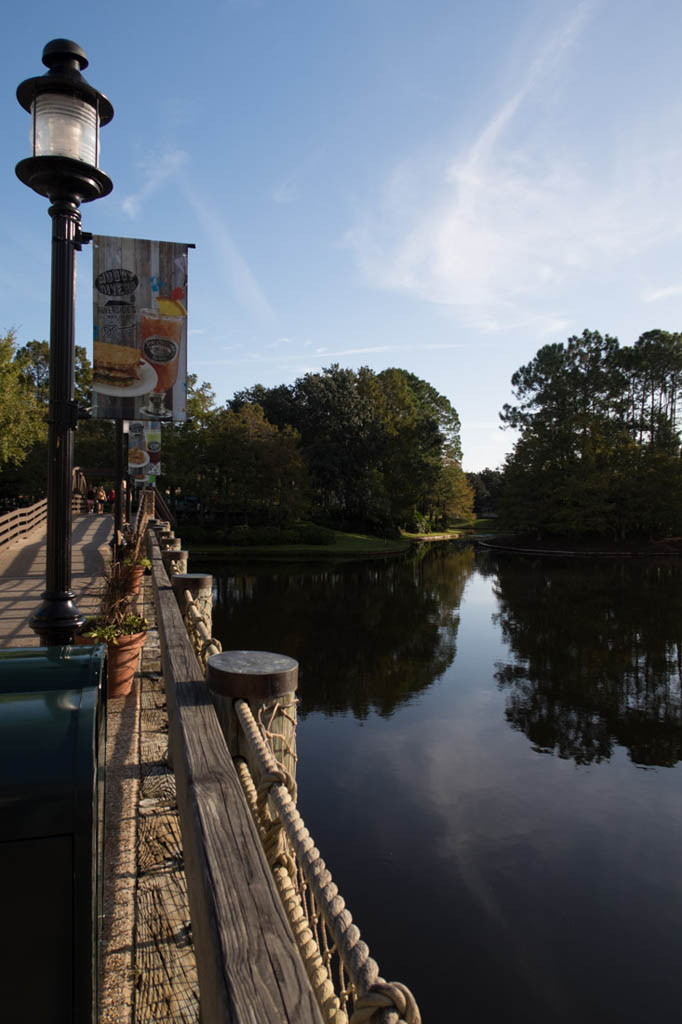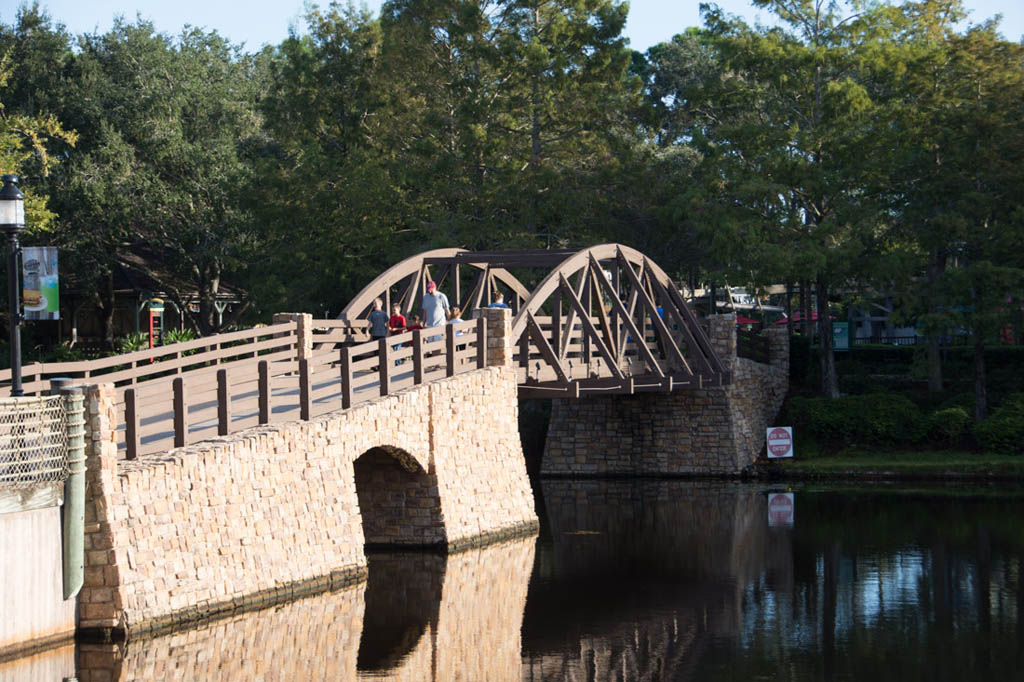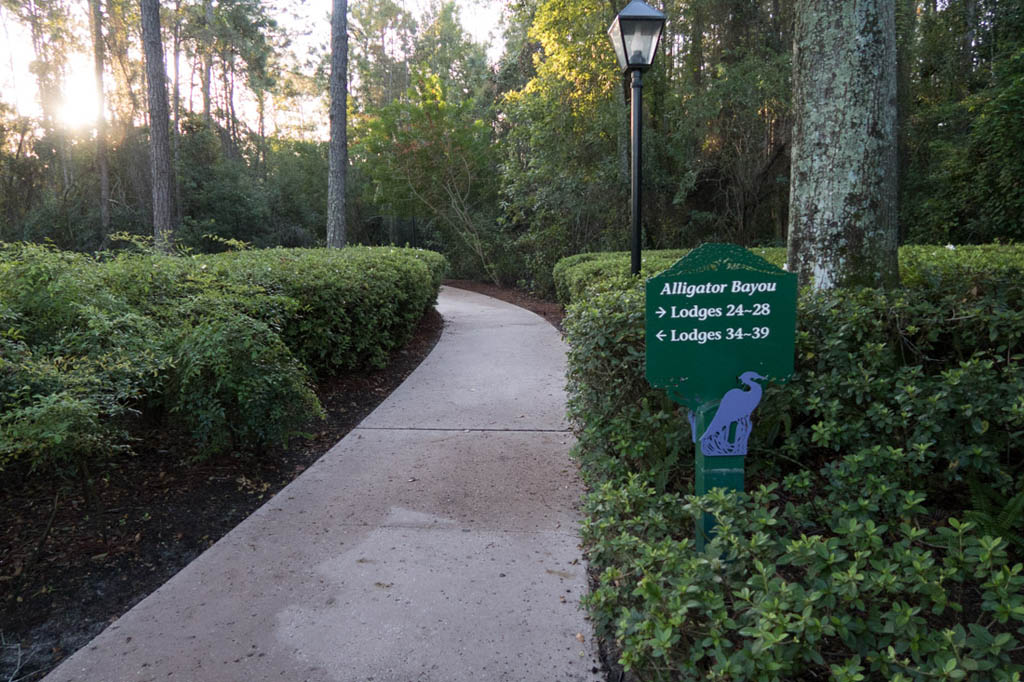 The buildings around the reception area housed restaurants, the cafeteria (counter-service restaurants, in Disney parlance), and the gift shop. There was also a ferry to Disney Springs, and signs posted for horse drawn carriage rides, even though we never saw any of them.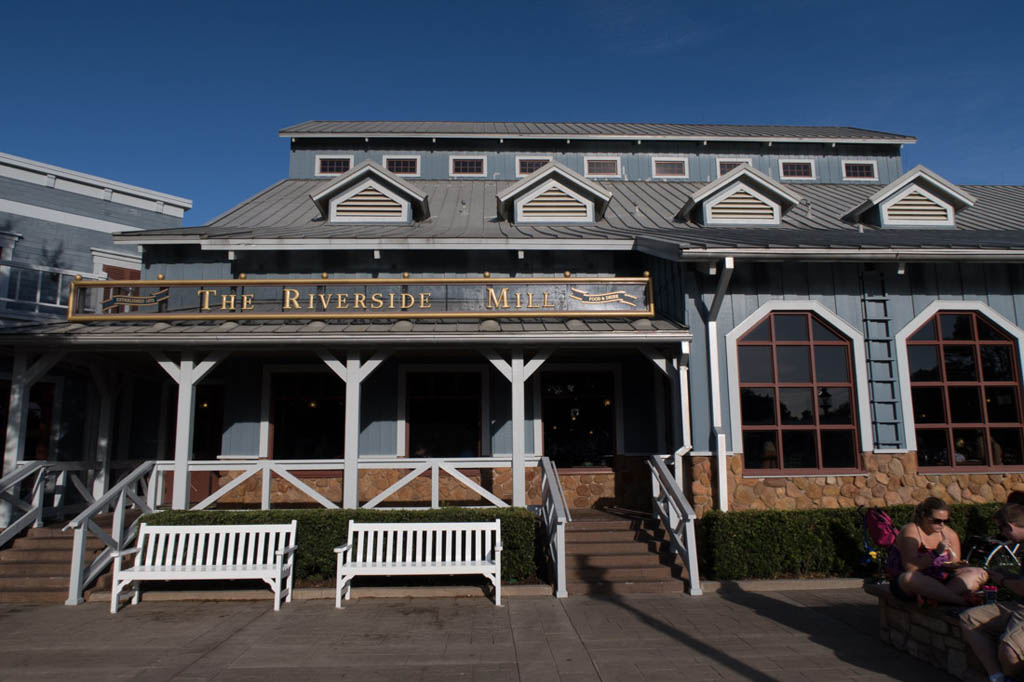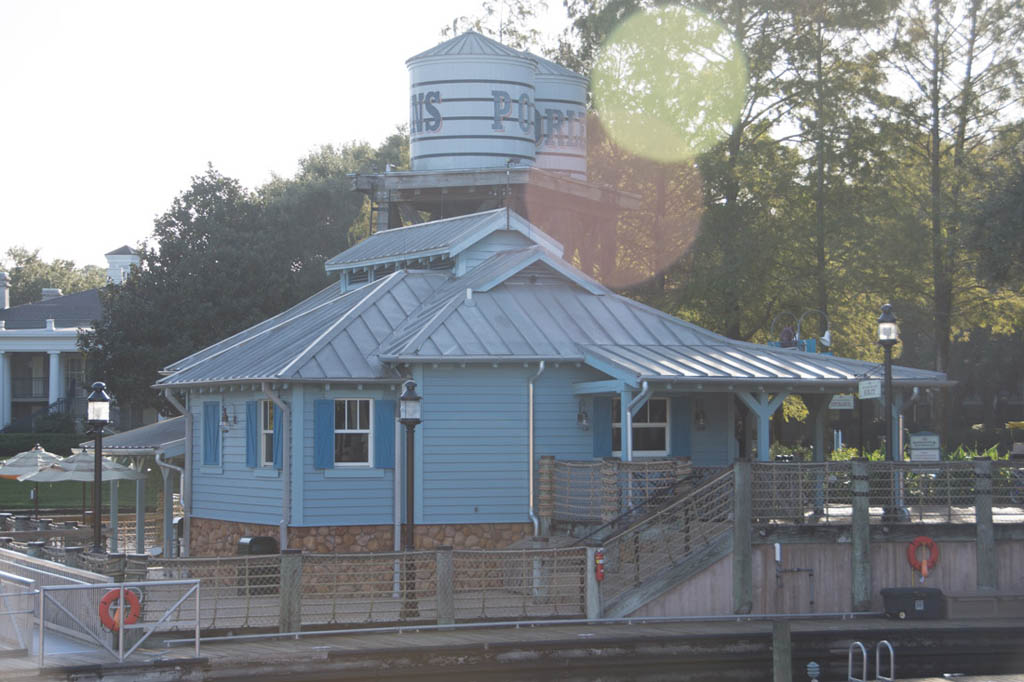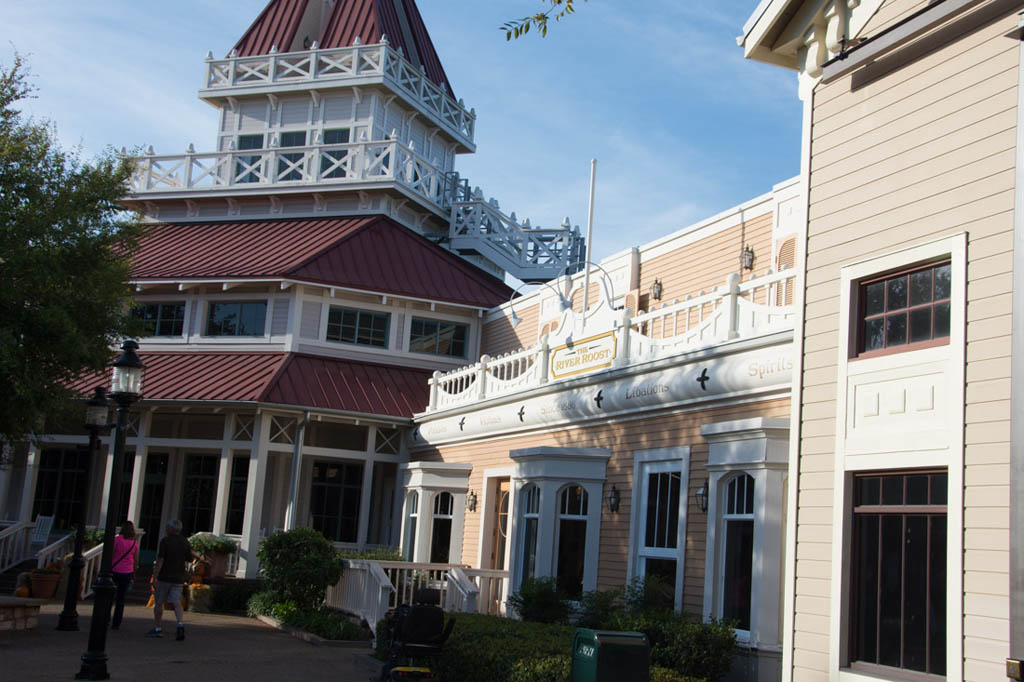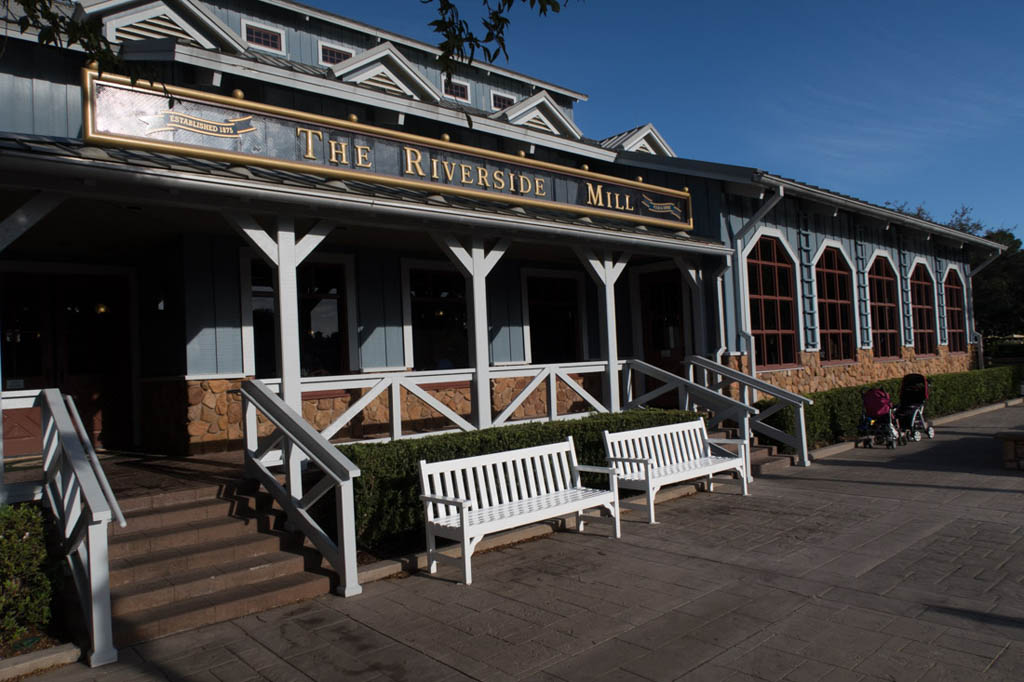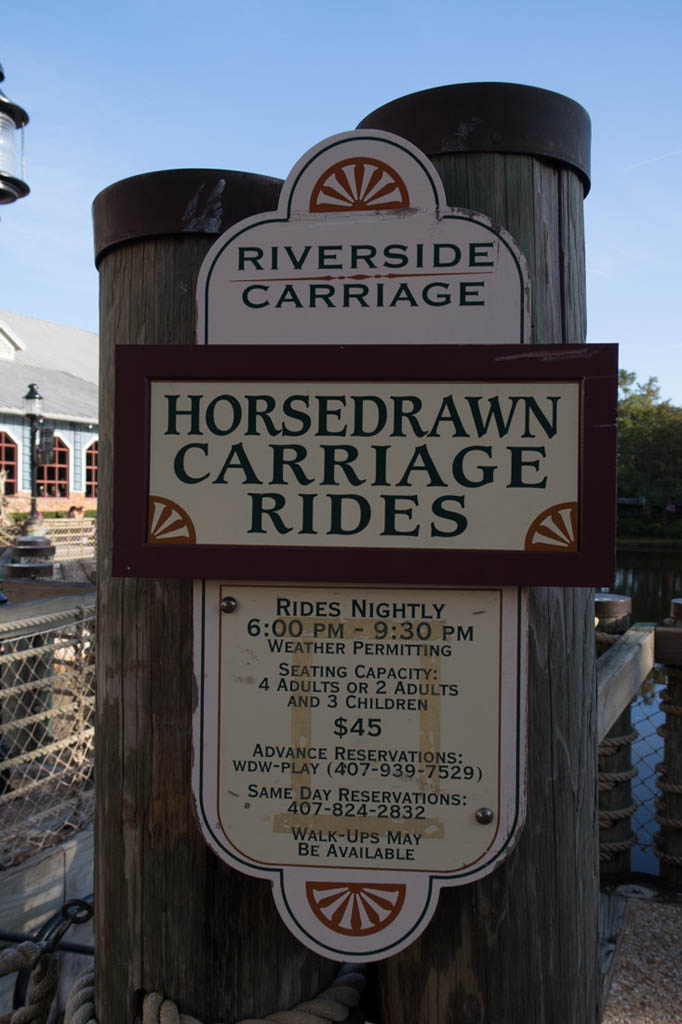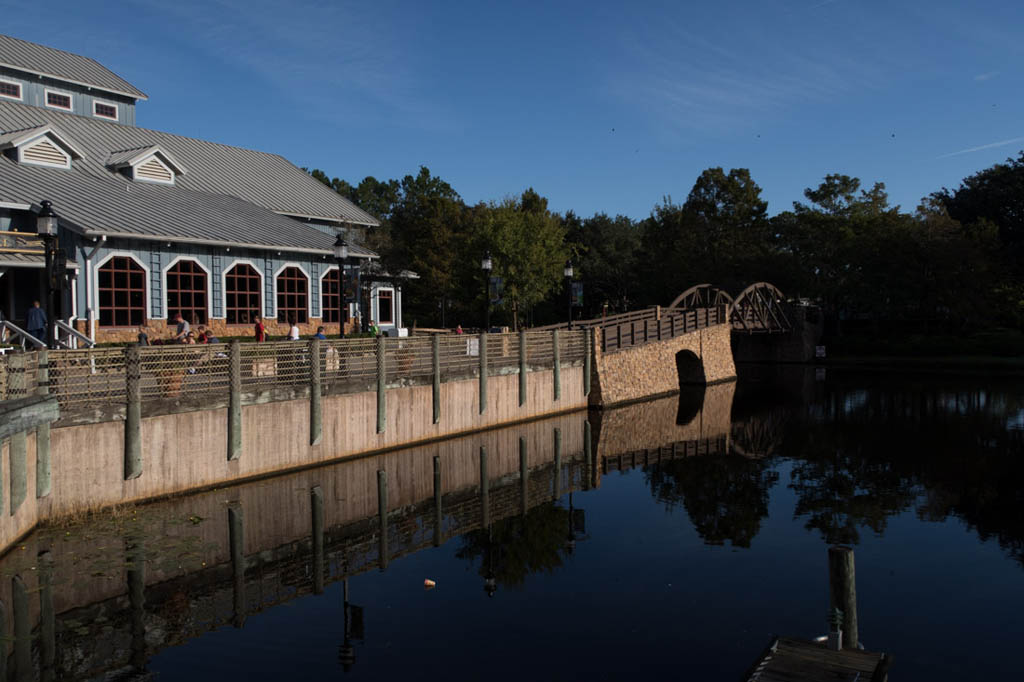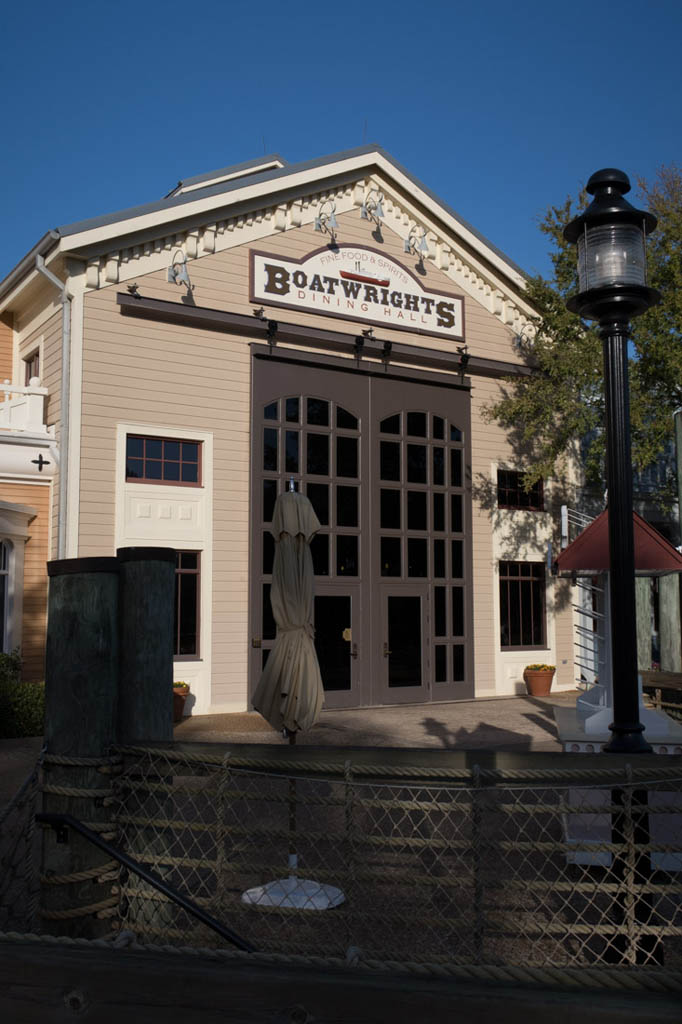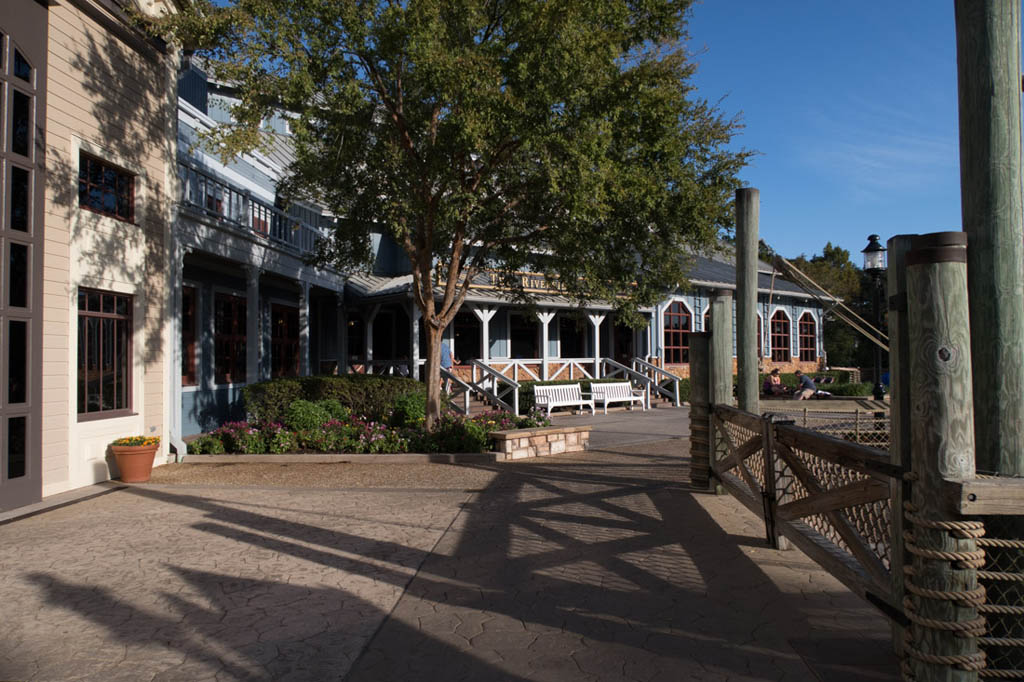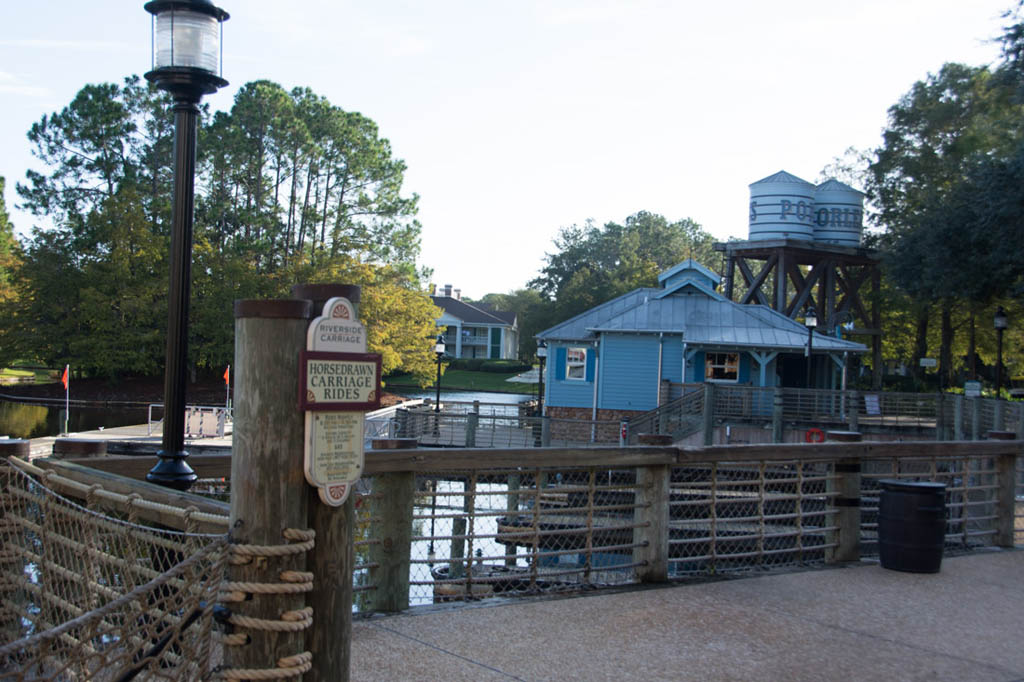 The entrance to the hotel was also lovely.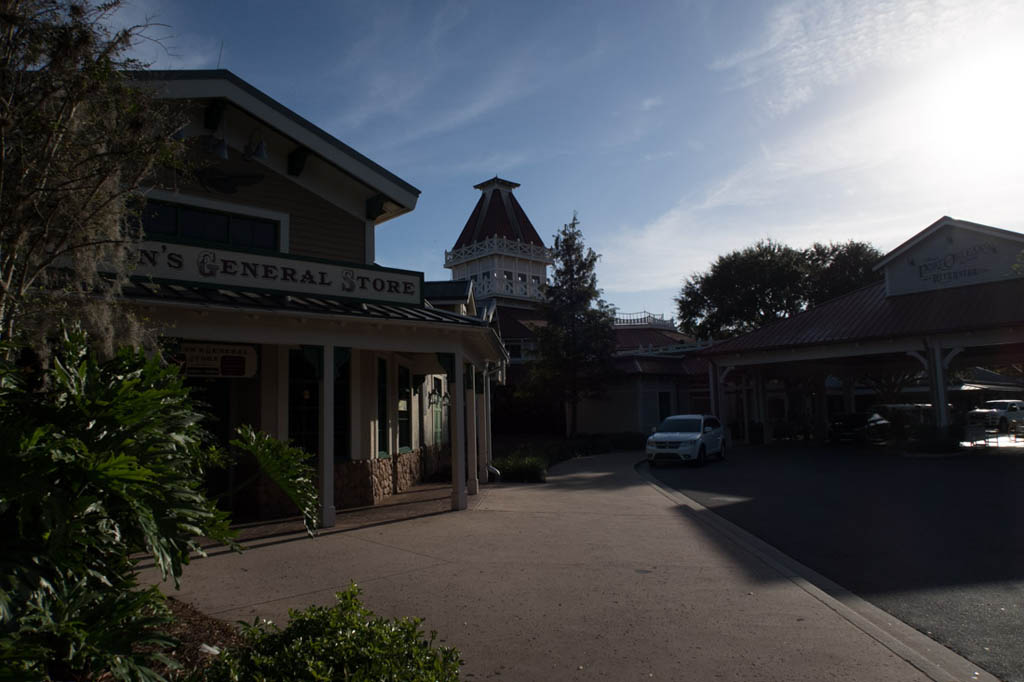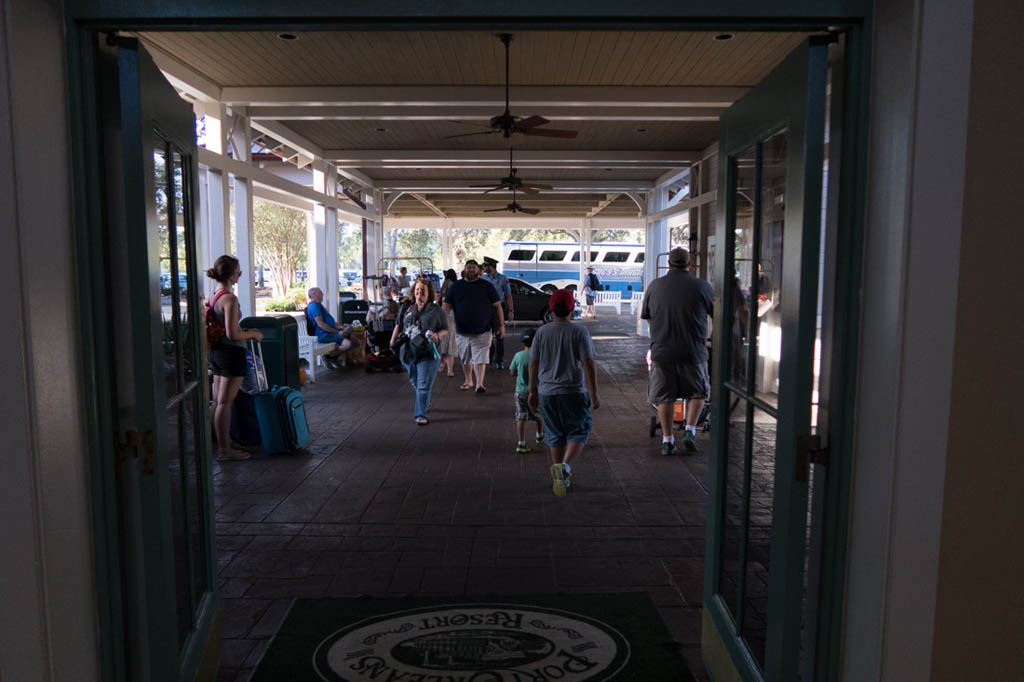 Reception and Registration Area
The reception area was large, light, and airy. There were plenty of staff working the large front desk to minimize wait times.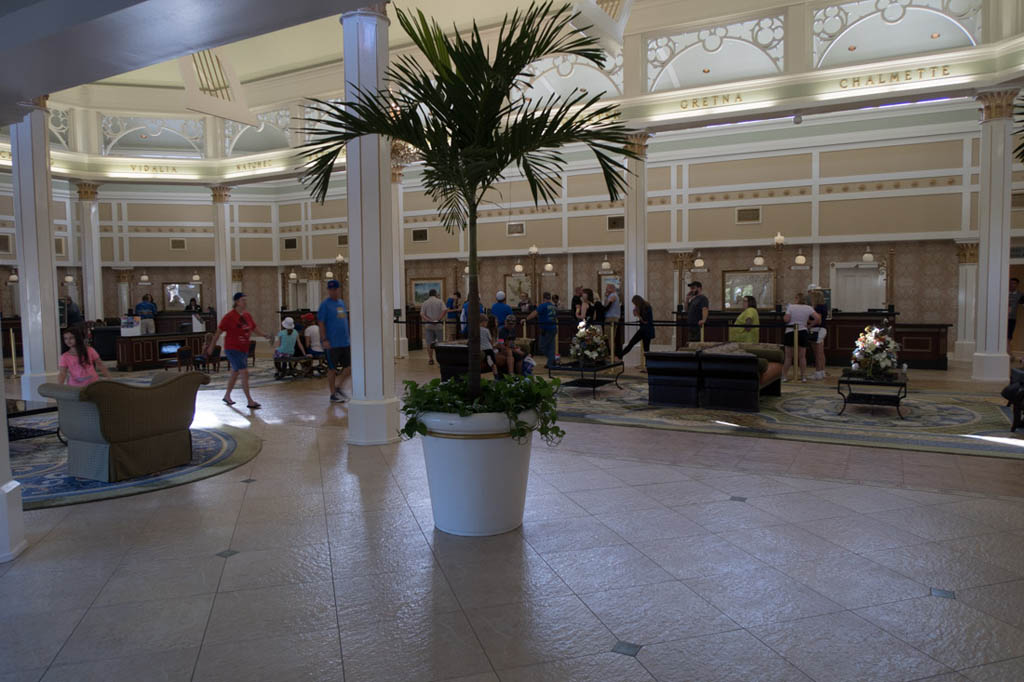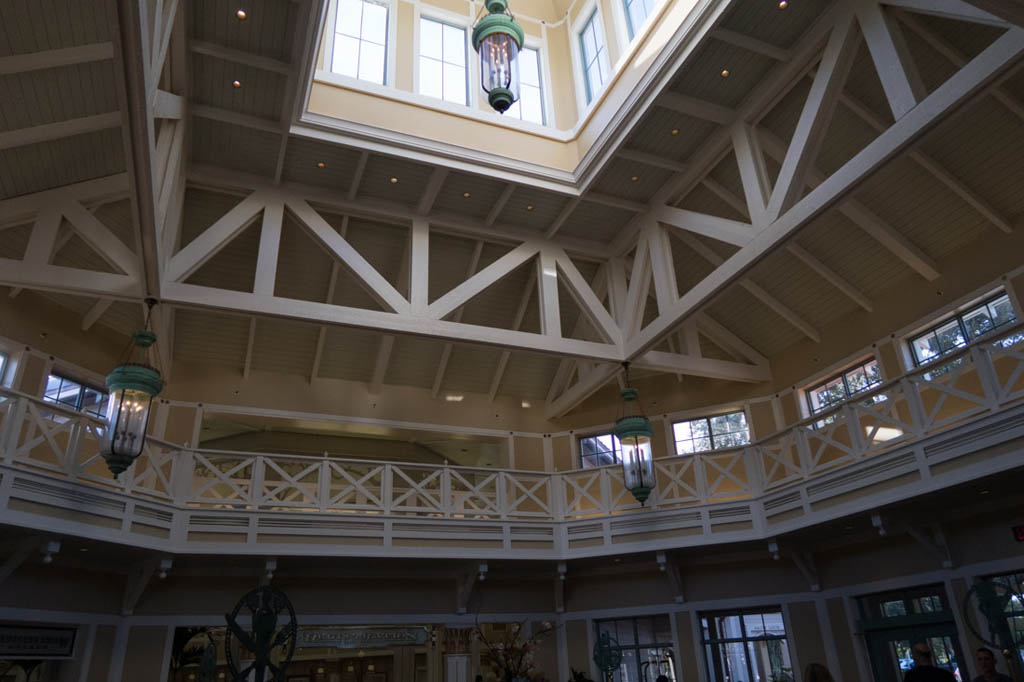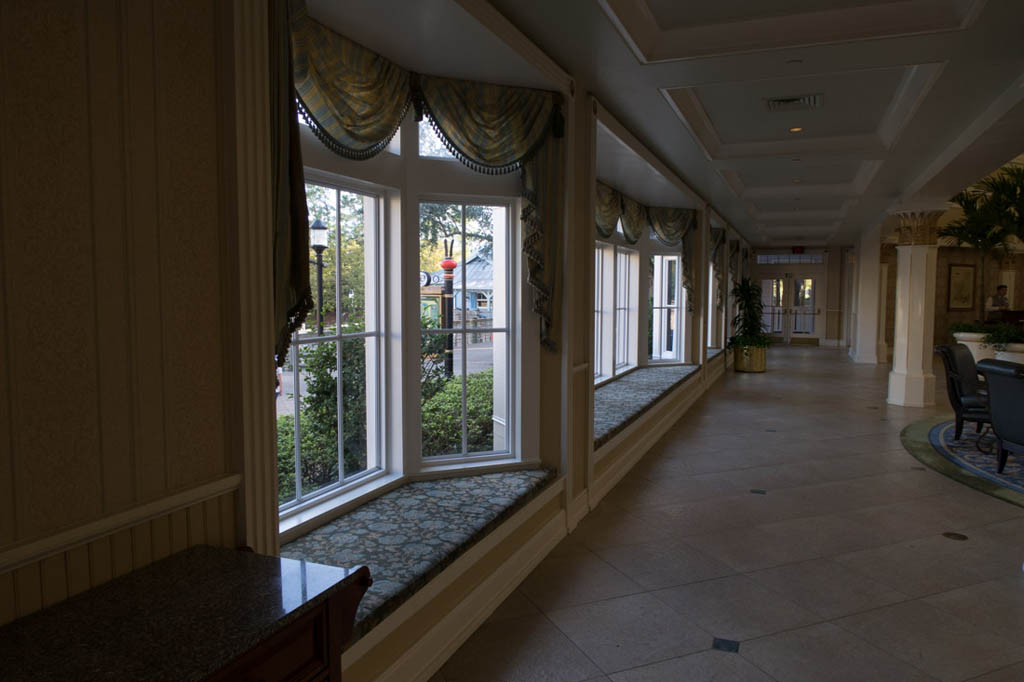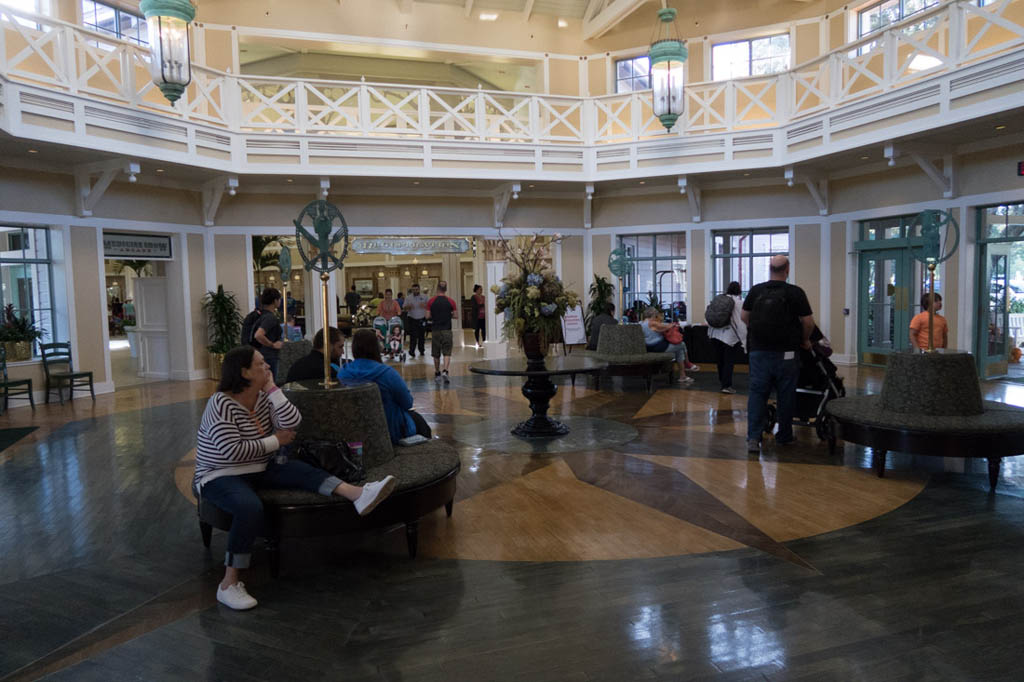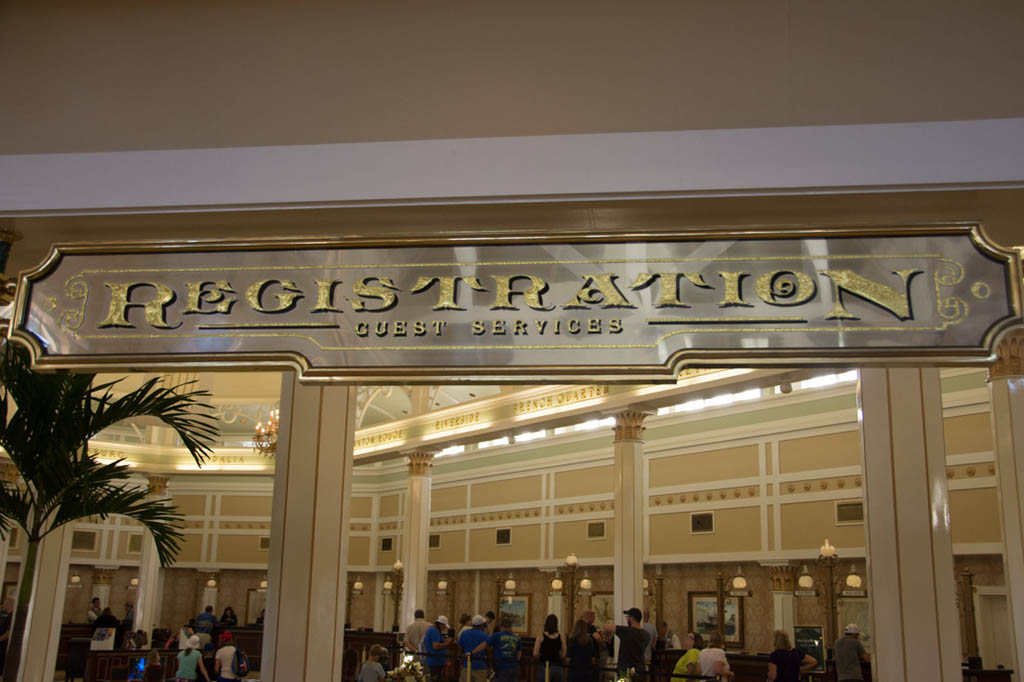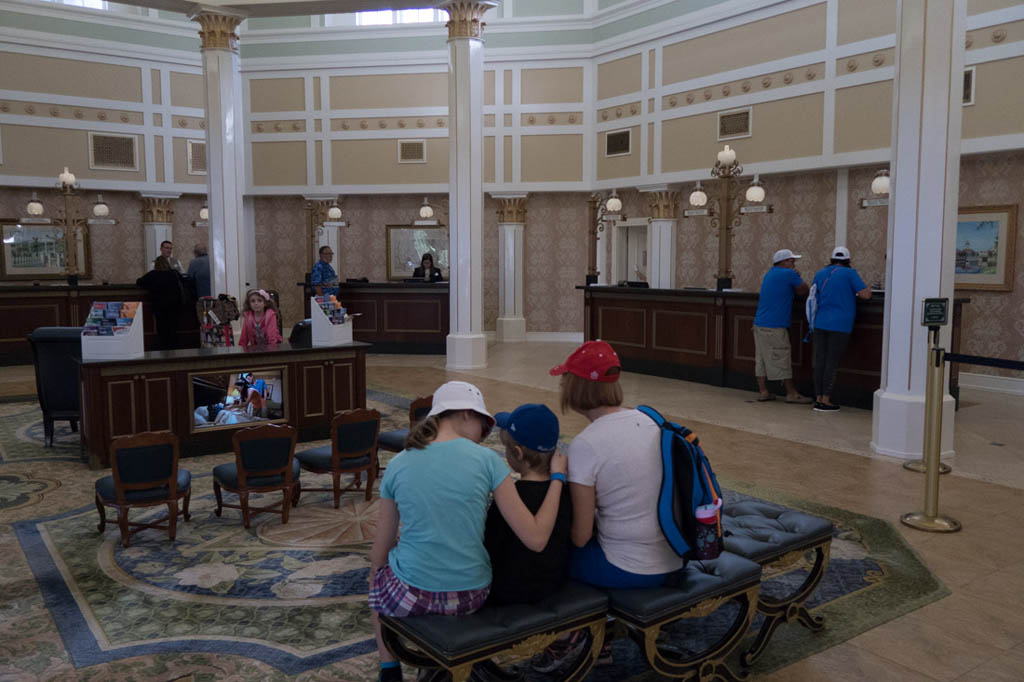 There was even a spot with a TV and little chairs to keep kids occupied during check-in.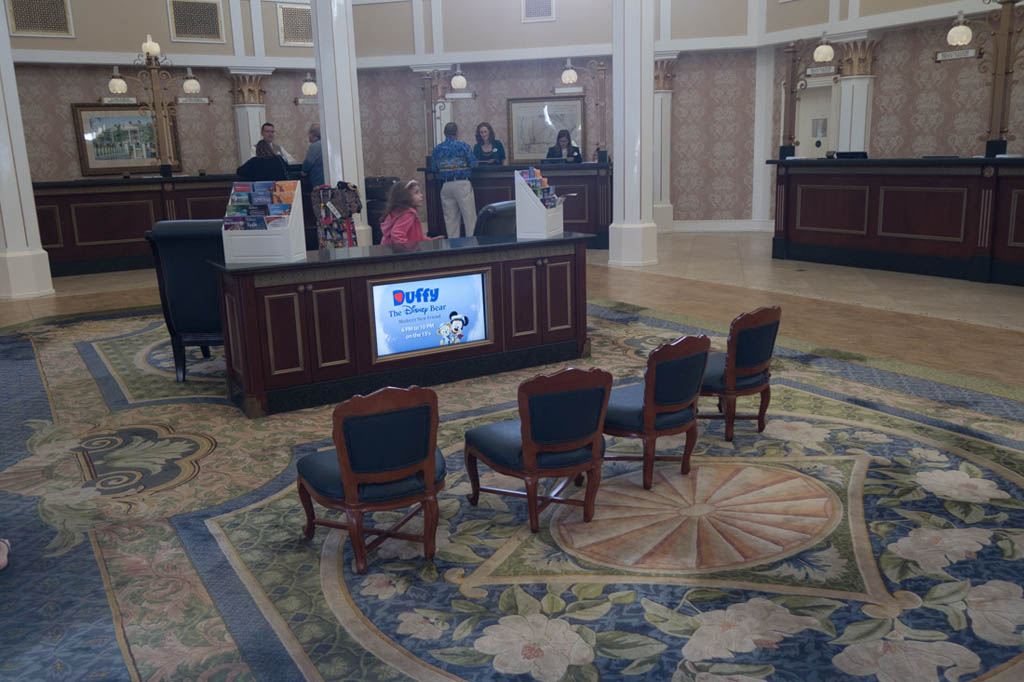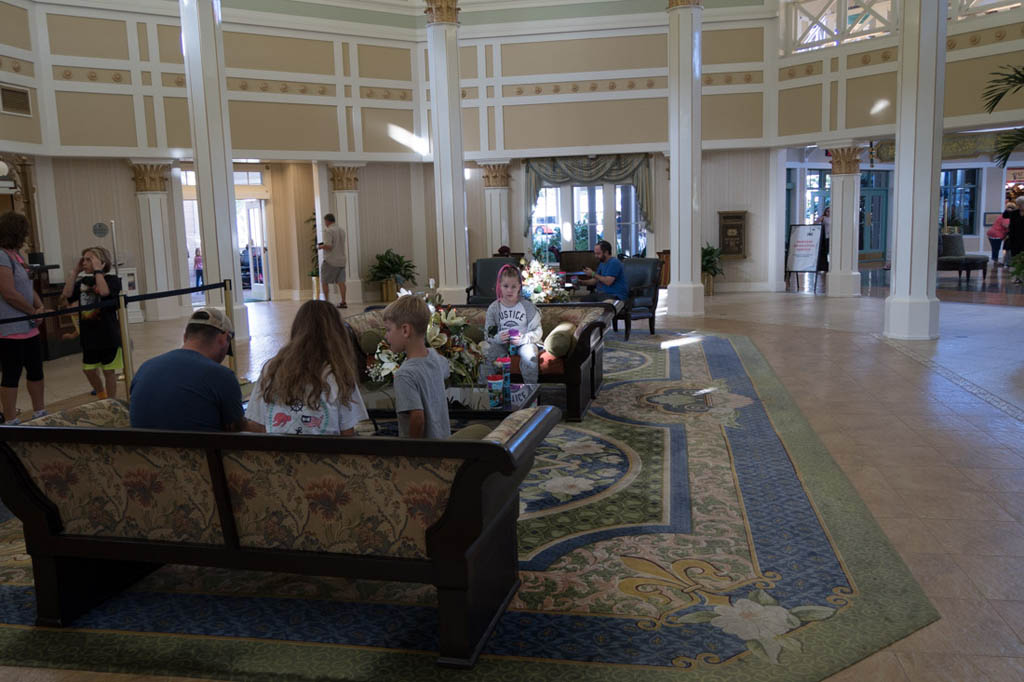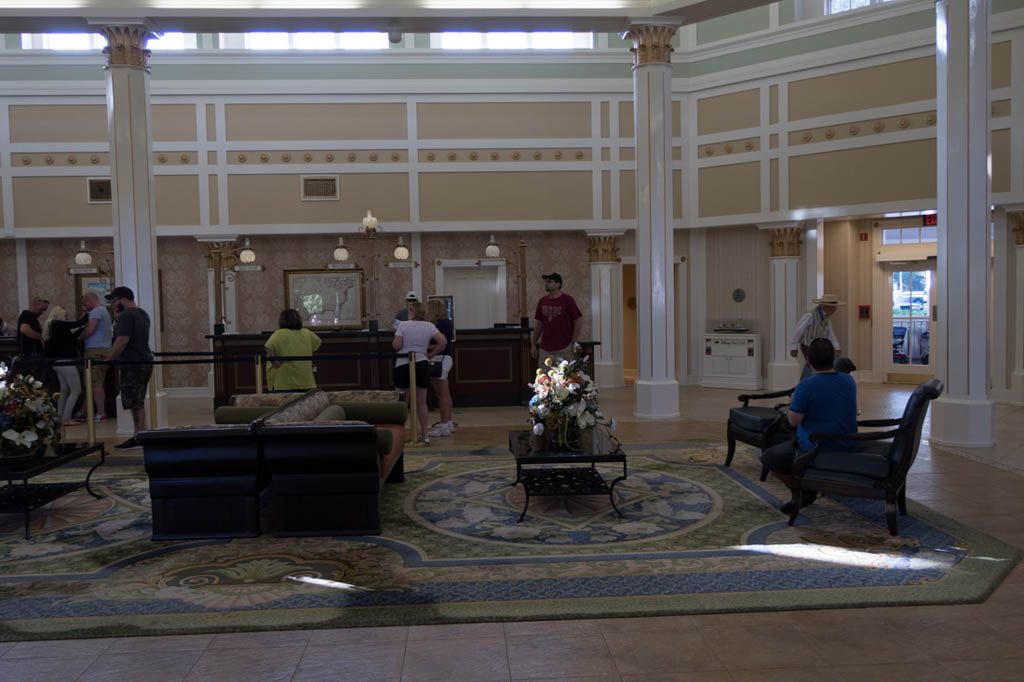 And since we were there in the fall, the lobby was home to a staff pumpkin decorating contest display!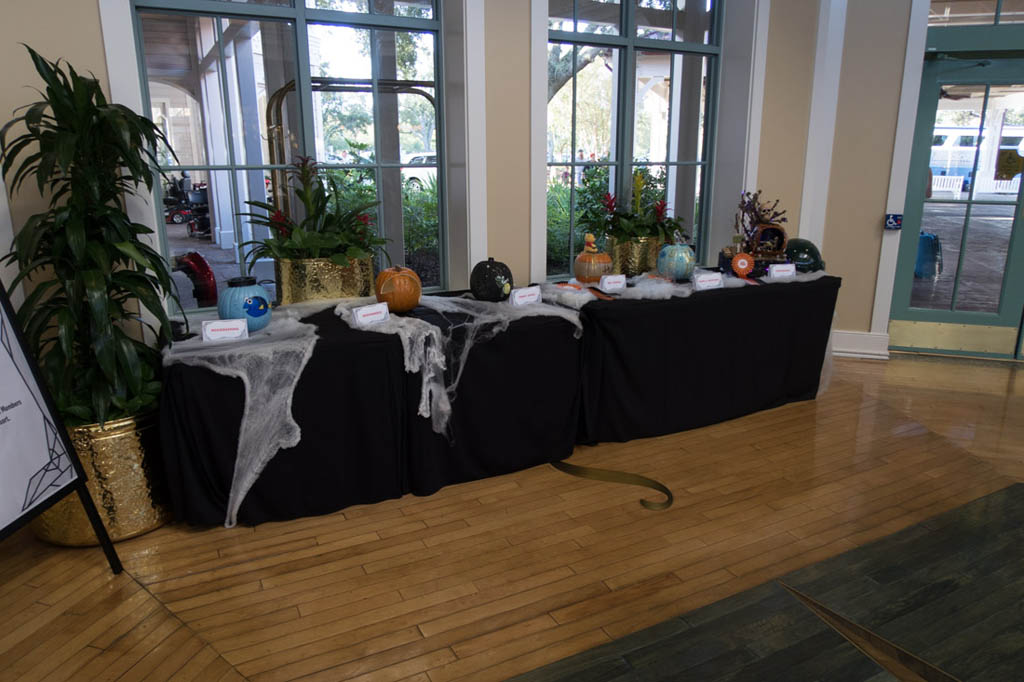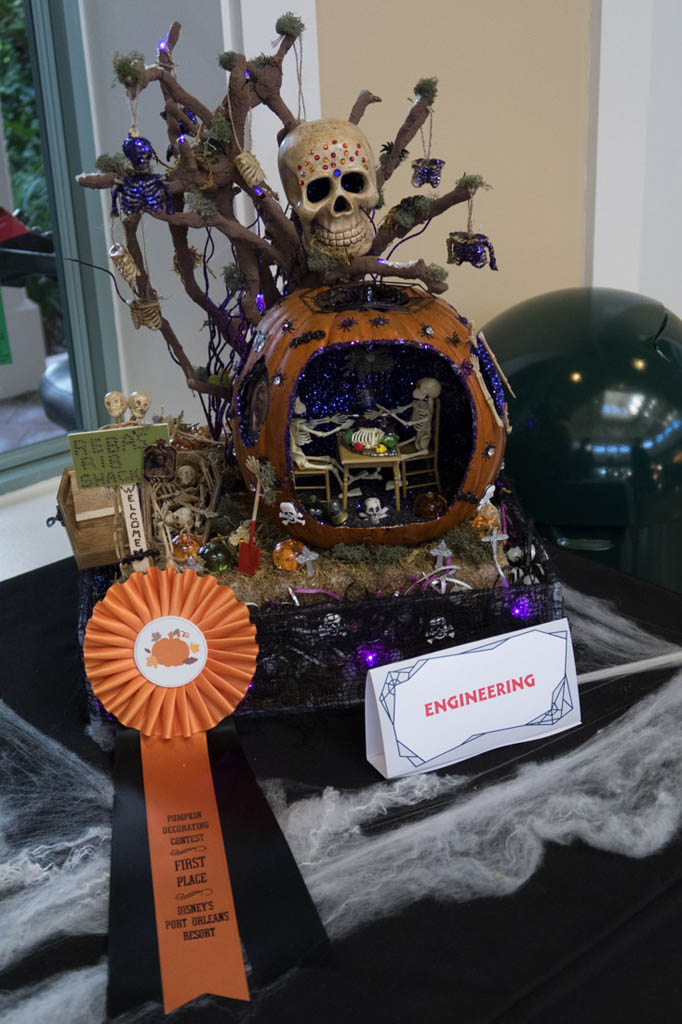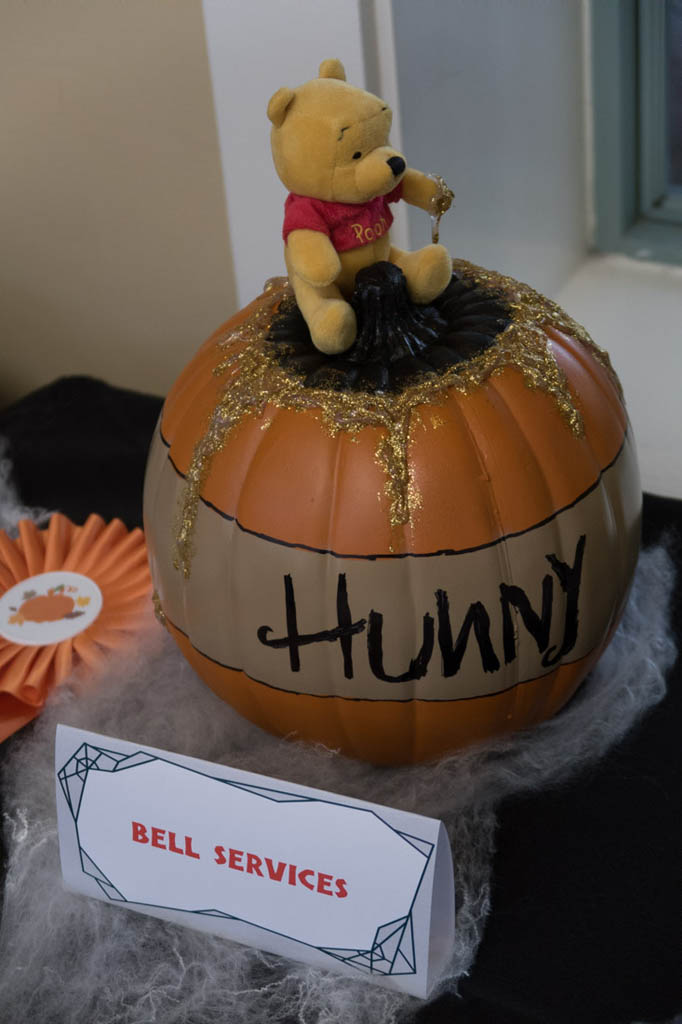 The Cafeteria / Counter Service
The counter-service restaurant at Port Orleans Riverside had a good selection of food and was reasonably priced (for Disney, that is). We ate there two or three times during our stay. The counter service restaurant was about a 6 minute walk from our hotel room in the Alligator Bayou area.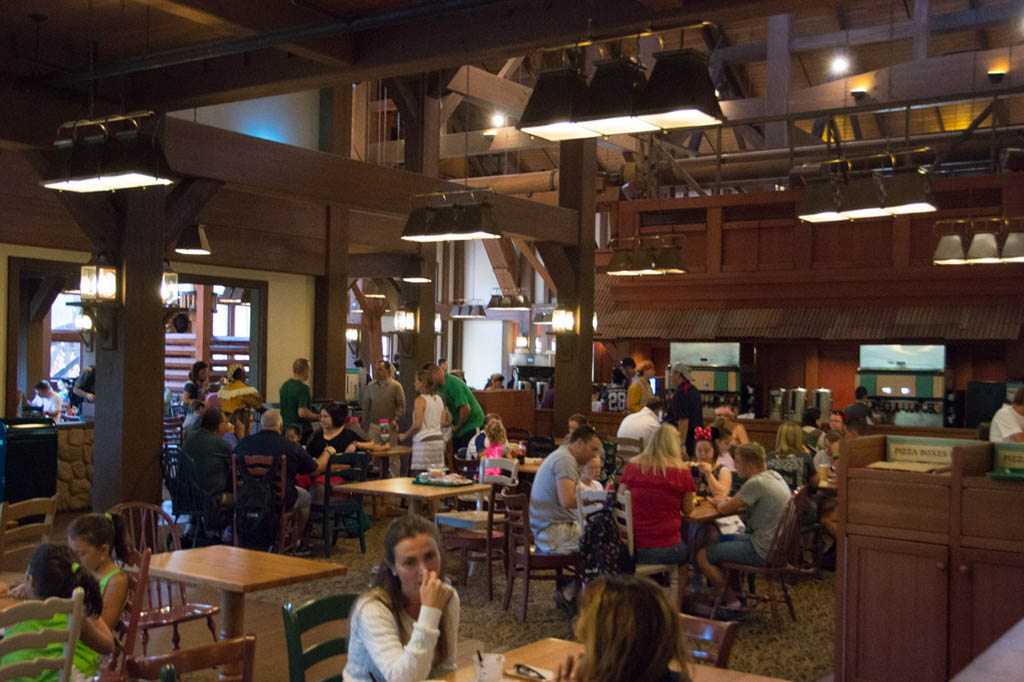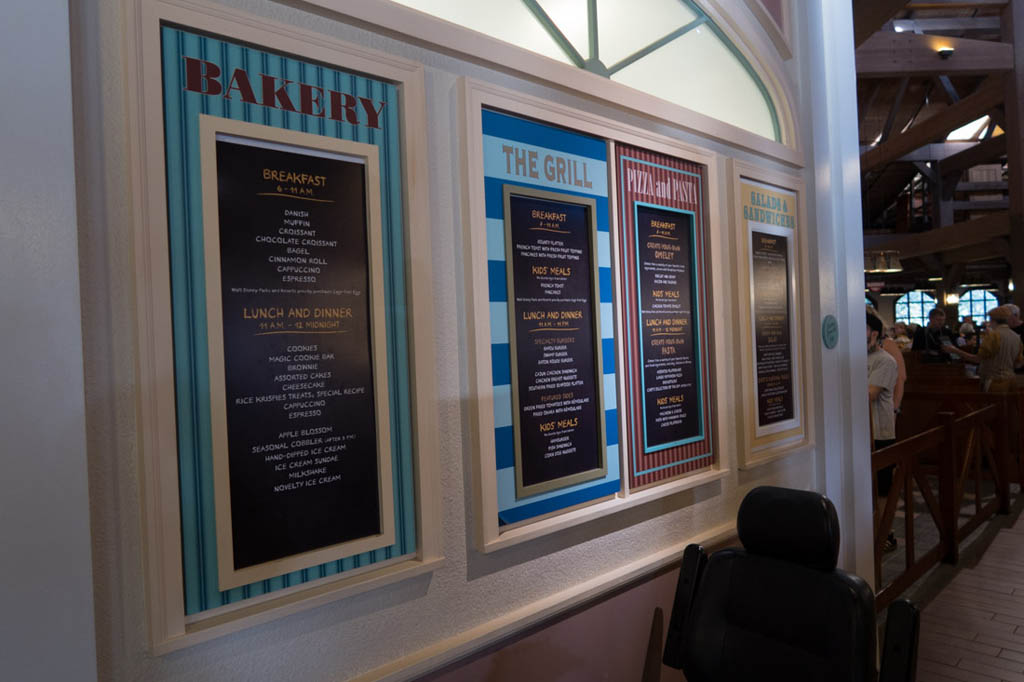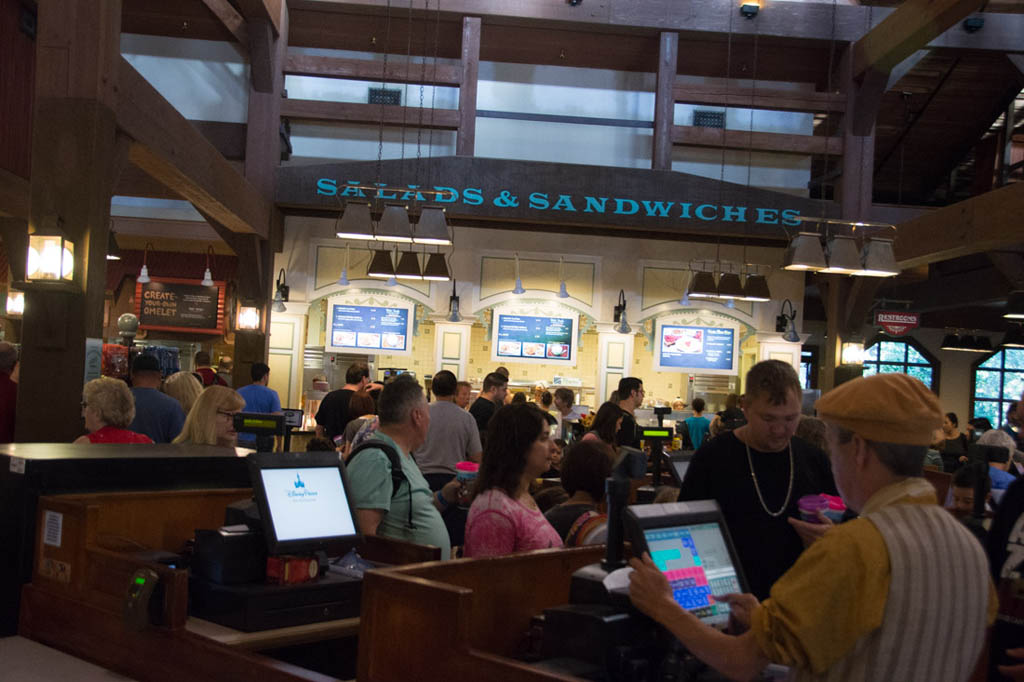 The Pool
There were at least three pools at Port Orleans Riverside. Two "standard" swimming pools with no frills, but likely in place to ensure that any pool is just a short walk from any given hotel room at POR.
But the big "Main" pool is really the main attraction, and is about a two minute walk from the buildings in the reception area.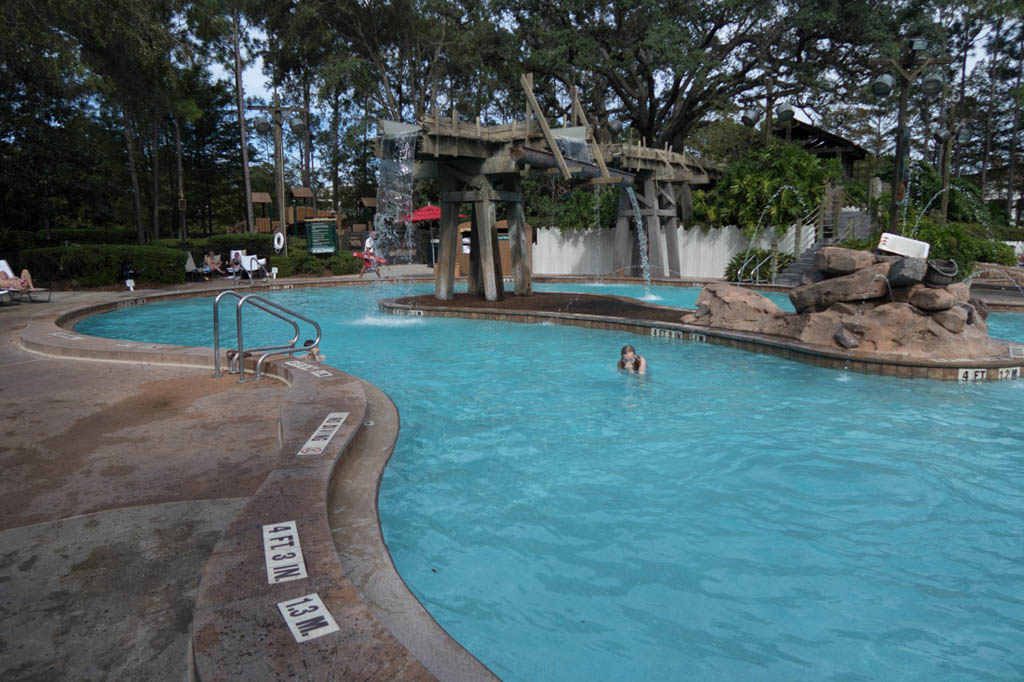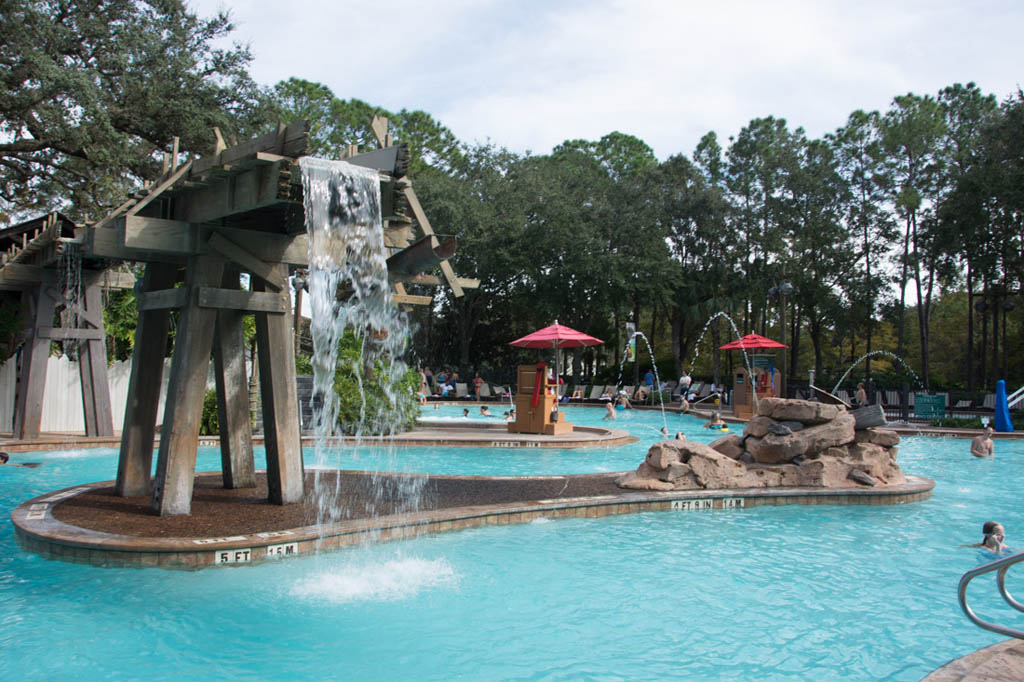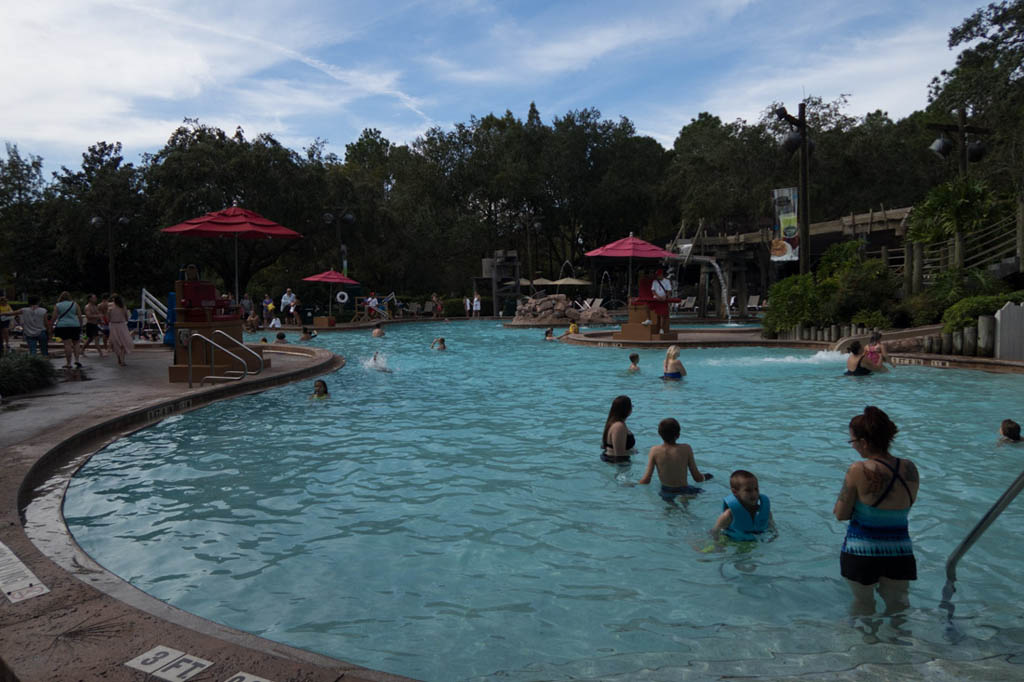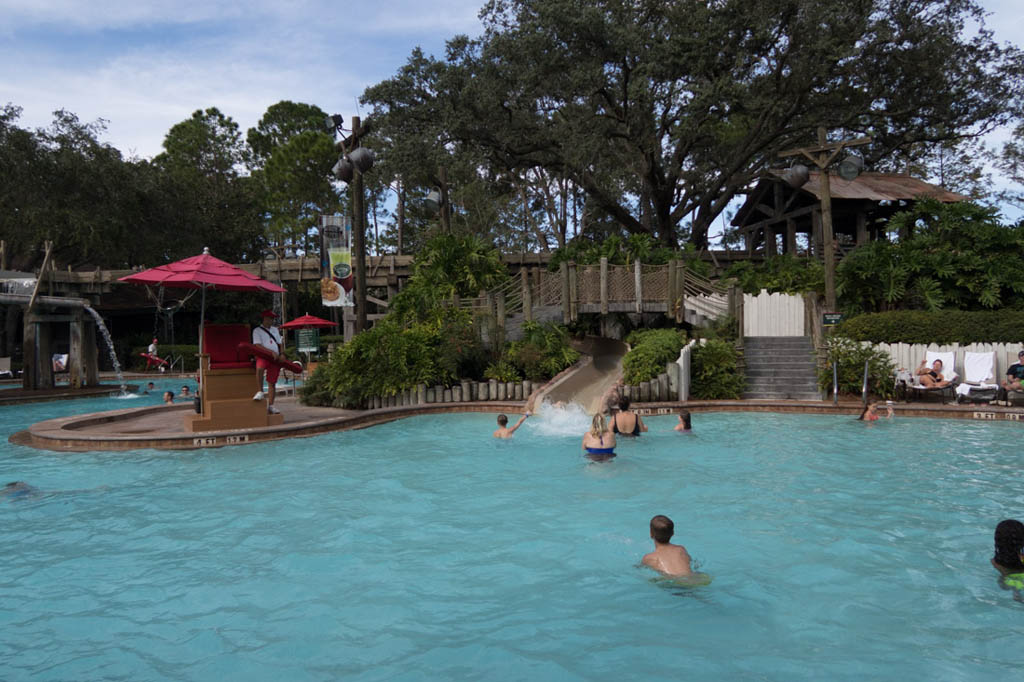 There was also a hot tub and a small kiddie pool.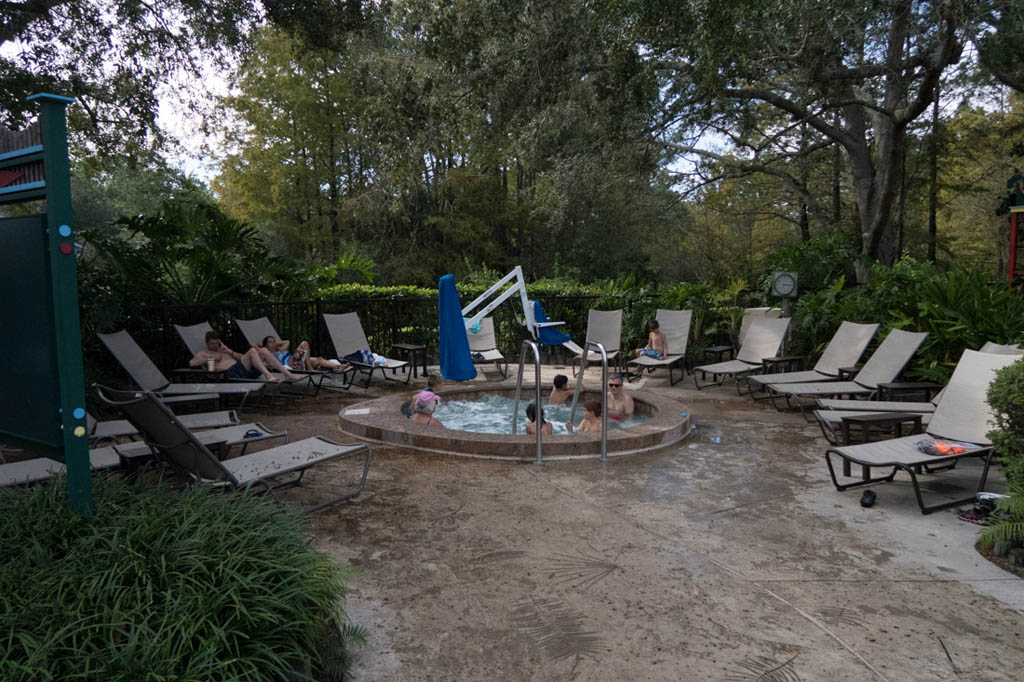 Like I mentioned, there were an additional two "basic" swimming pools at other parts of the property, but I didn't get any photos of those.
Transportation and Bus Depots
Our hotel room was closest to the "West Depot" bus stop. It was about a 4 minute walk from our room, and for what it's worth, it appeared that we were the first stop in the mornings, because the buses were empty when they got to our stop and filled up as we went to subsequent stops.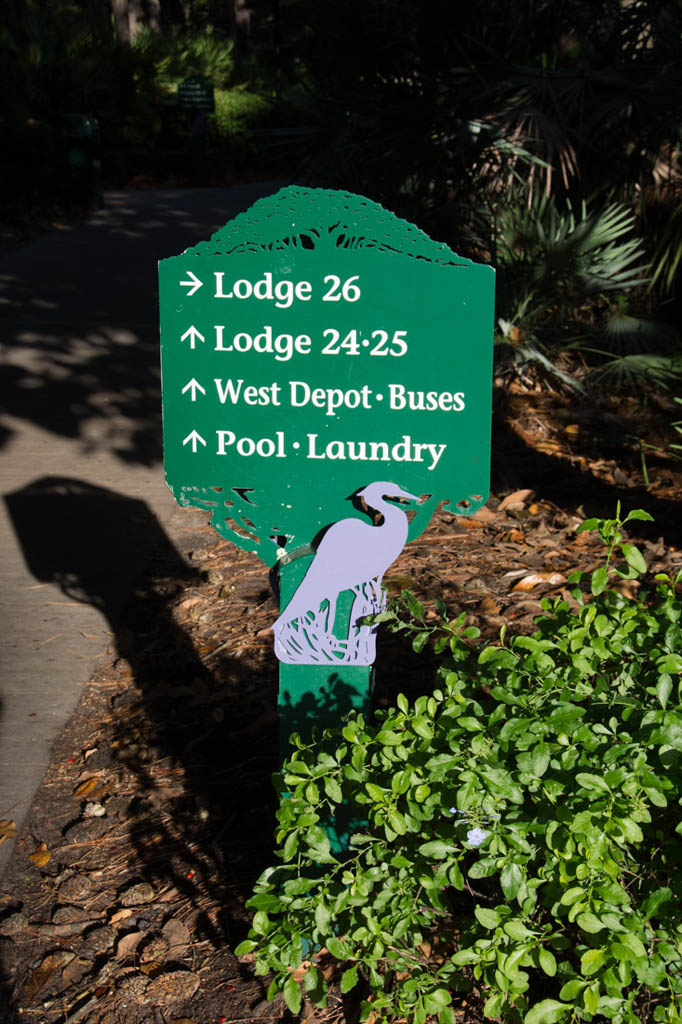 I also noticed there was a bus depot in front of the main hotel entrance, but we never used that one for transportation to the parks.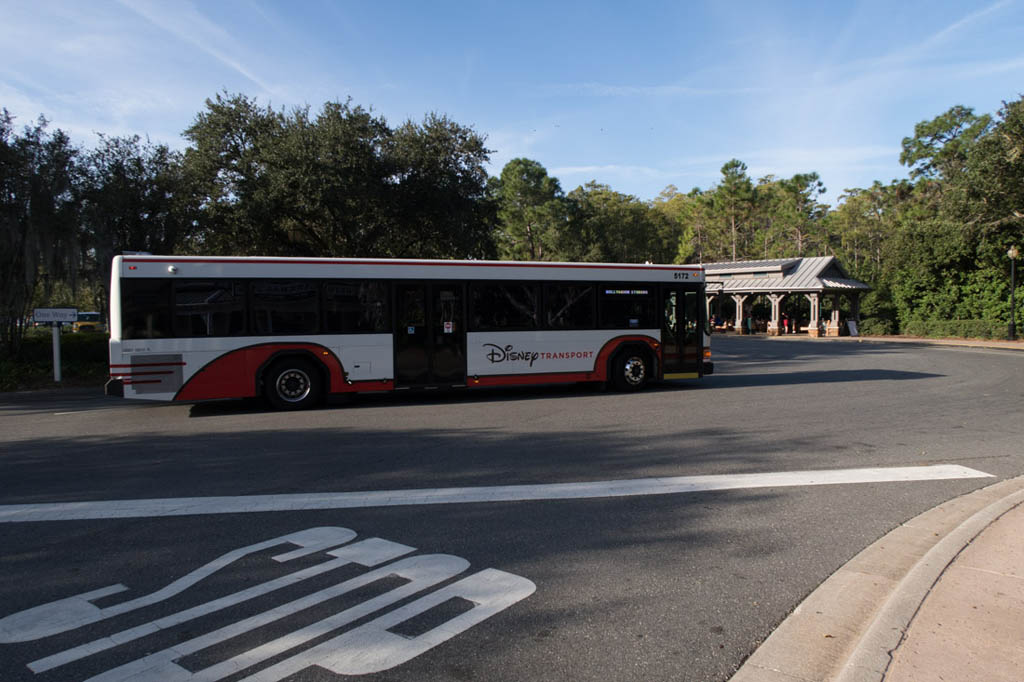 Evening S'mores
There was a lot of entertainment available at POR, but since we spent most of our time at the parks, we didn't have much time to partake in things like evening movies. But, on our last night we did participate in roasted marshmallows. I've been a HUGE fan of this type of resort event since experiencing something similar during our stay at the Hyatt Regency Hill Country Resort and Spa!
Forgive the blurriness of these photos! We took these with our waterproof GoPro camera right after we left the pool. So there are still a lot of water smudges all over them! We hadn't brought our regular camera or even our phones with us to the pool!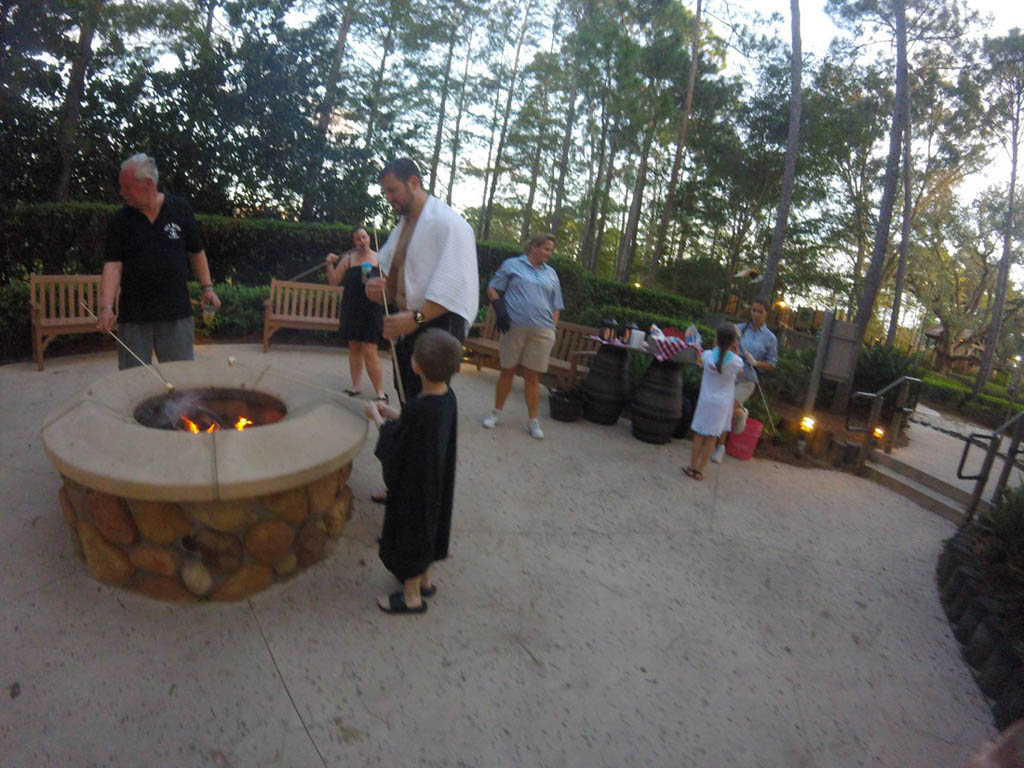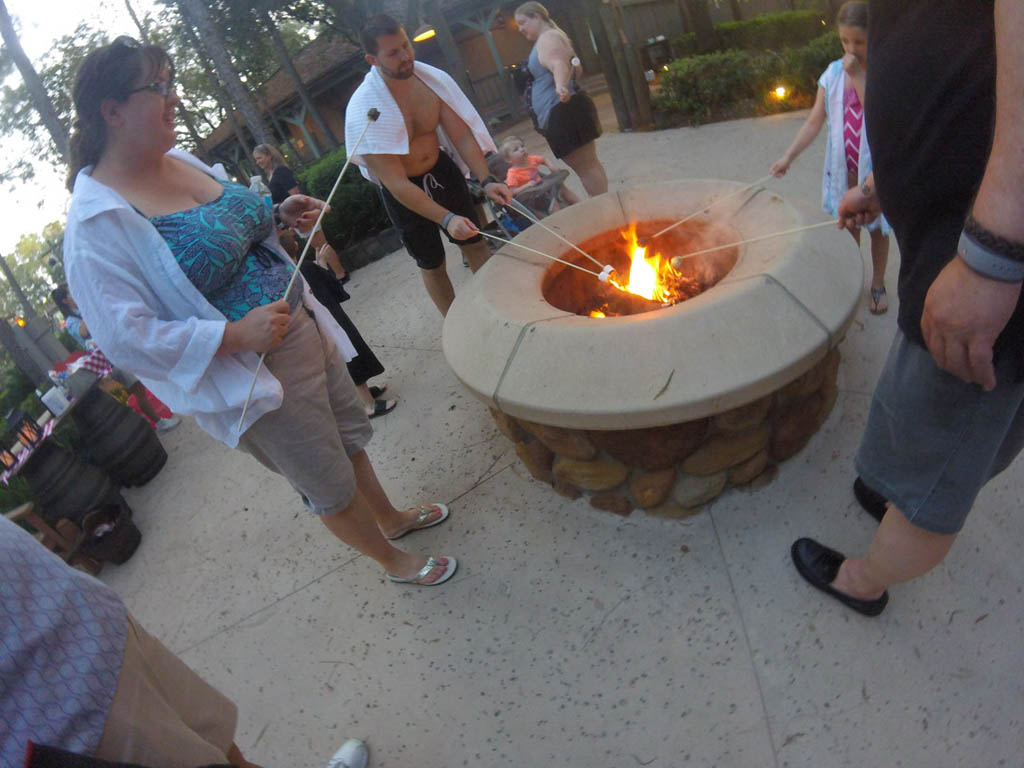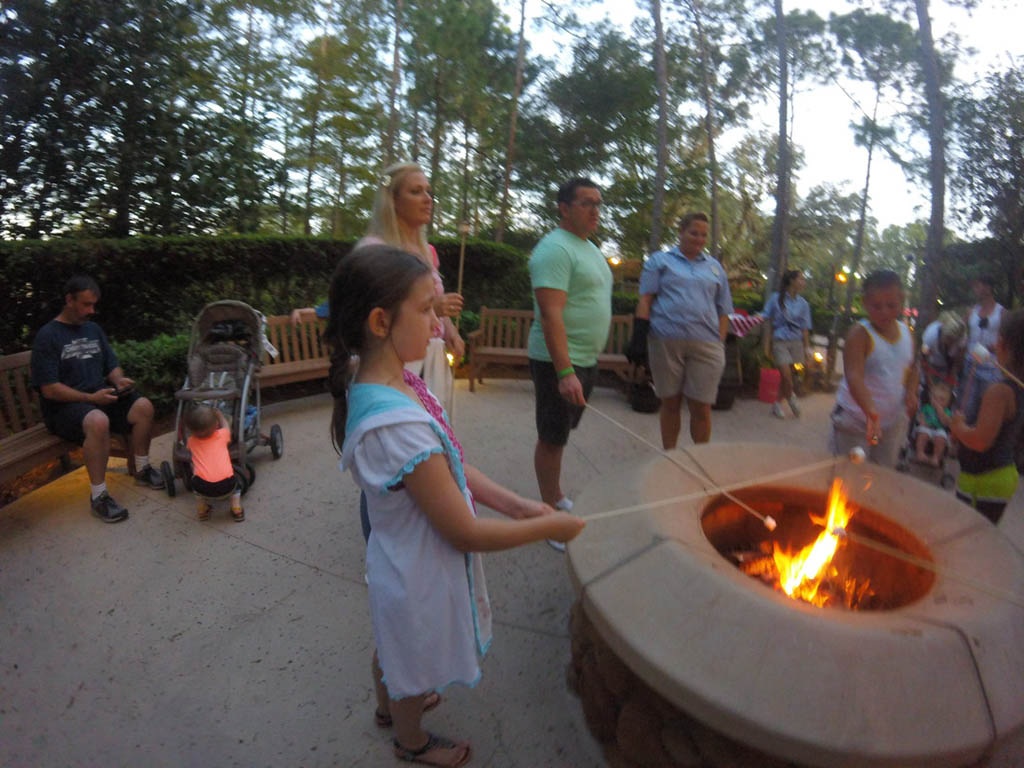 Bottom Line
Overall, I'd recommend Port Orleans Riverside. We had a few minor complaints about the room itself and the check-in process, but the property was gorgeous and homey. I'd definitely stay here again (but, I'm tempted to try out many different other Disney hotels, so that's probably the only reason why I wouldn't stay here again in the near future. To many fun options to try out!).
Ready to book the Port Orleans Riverside or compare rates on other Disney property hotels? Head over to hotels.com to check it out! Be sure also to check Undercovertourist.com for discounted Disney Tickets (and other great tools like Disney park crowd forecasts!)
Have you stayed at the Port Orleans Riverside at Disney? What were your thoughts?