This post may contain affiliate links. Please see my advertiser disclosure for more details.
Like I've mentioned a few times now on the blog, Ken and I are planning a trip to Disney in the fall. In addition to me and Ken, Ken's sister, her husband, and their 7-year-old daughter and 1-year-old son will be coming too. (And maybe Ken's dad too). We offered to pay for their airfare and hotel, and everyone will be responsible for getting their own Disney tickets. This will be mine and Ken's first trip to Disney in SEVEN YEARS. My sister-in-law and her husband went to Disney for their honeymoon back in 2003, but haven't been there since, meaning neither of their kids have been to Disney either.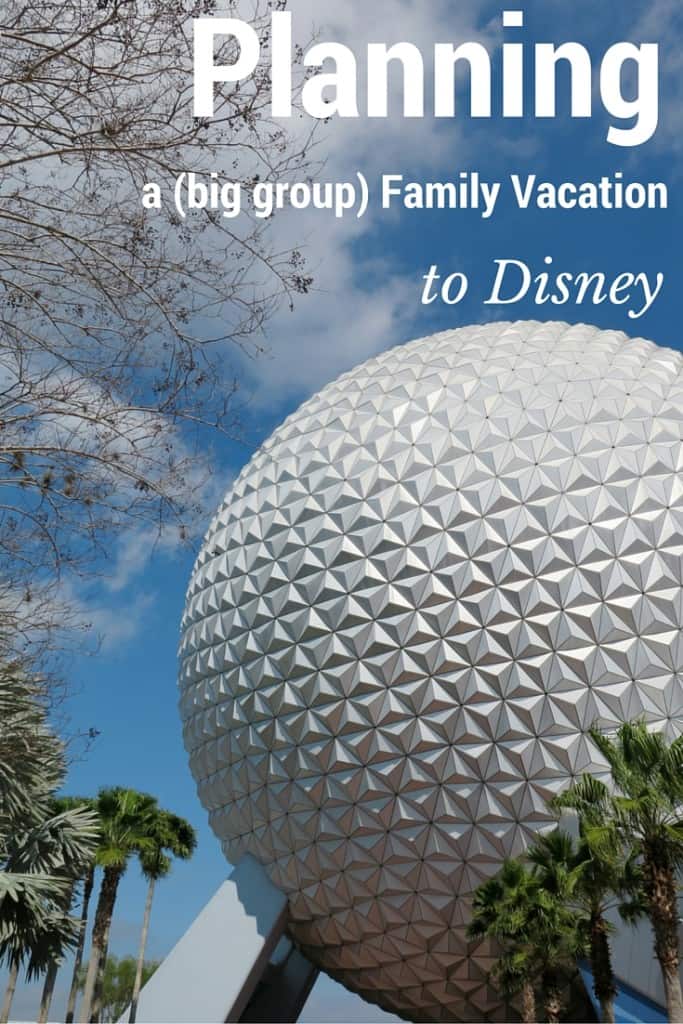 We're trying to keep things relatively flexible for that trip. We probably won't all go to the same parks every single day, and we'll probably have different eating and dining preferences too.
I'm a bit compulsive when it comes to planning vacations, and I didn't want to seem dictatorial to my sister-in-law's family when making any decisions for the trip. (Ken, on the other hand, is used to my dictator-like style).
I also didn't want to overwhelm her with decisions to make in some marathon conversation.
So, I did what I do best.
I created a spreadsheet.
Using a Spreadsheet to Plan Family Vacations as a Group
I knew that my sister-in-law was confident using spreadsheets, so I figured this would be a good approach.
I thought I'd share the spreadsheet with you all in case you're looking for a decent method of planning a vacation with a group.
In the first table, I put the dates of our trip, along with mine and Ken's plans for where we wanted to go each day. Then, I highlighted the adjacent cells in pink, with a note to ask my sister-in-law where they wanted to go for that day, making clear that they shouldn't feel obligated to go to the same parks we do each day.

To make things easier for my sister-in-law and her family, I entered in the hours, special events and crowd predictions for each of the parks to help guide their decisions.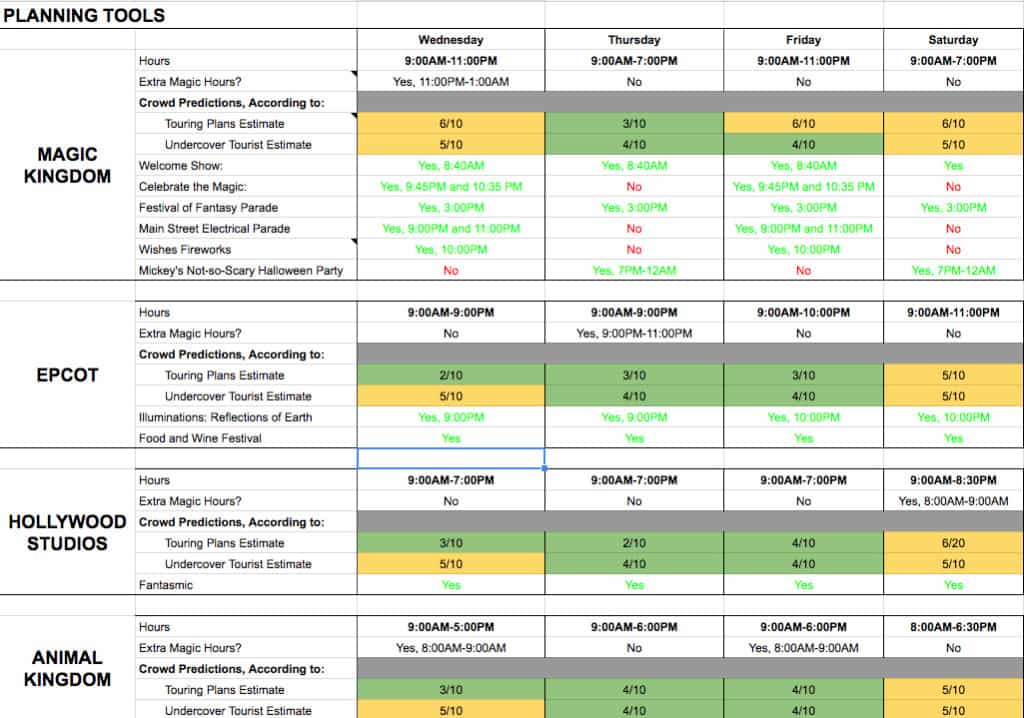 On a separate tab in the spreadsheet (not pictured), I entered in specific questions I had or "things to consider." That way, she could take a look at the questions I have that I'll eventually need to know for finalizing plans (like does she want to take her kids to the Mickey's Not-So-Scary Halloween Party? And did she want to do any "character meals?" And that she should create a "My Disney Experience" account and let me know her email address used to register for it so I can link our trips together. And whether she wants to take afternoon breaks back to the hotel for her baby's naps and stuff.)
I figured by having a centralized place to list all the questions would avoid back-and-forth text message responses and FB messenger chats that would be impossible to search for later when I needed to take the responses into account for planning.
To help centralize planning resources, I created a "resources" tab with links to helpful sites, like reviews for our Disney hotel, links to things like all the restaurants on Walt Disney World property to help us figure out where we'd need to make dining reservations, Disney "hacking" links, like buying discounted gift cards to use for Disney purchases, and links to events I had found that I thought her kids might be interested in. For instance, her daughter loves to draw, and I thought she'd like to know about the daily drawing lessons offered at the Art of Animation resort.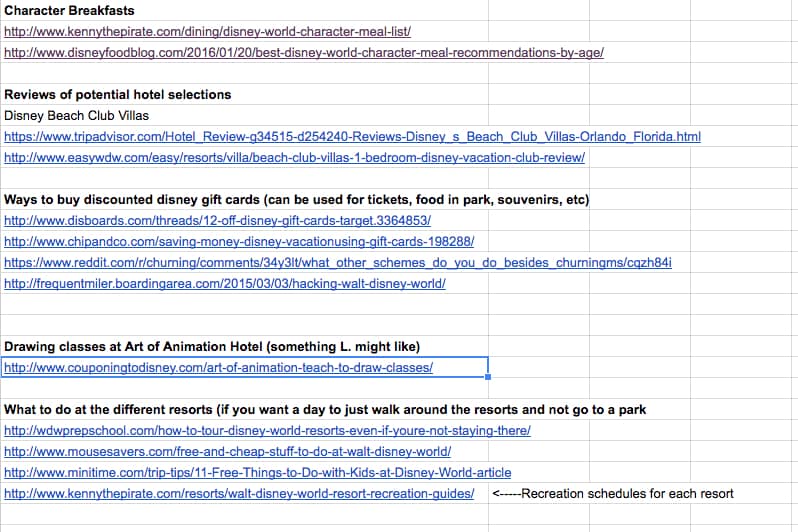 Finally, I added a "to pack and other ideas" tab. This is just a list of random things I had come across and wanted to make sure I remembered for our trip. Like making sure we pack (or buy at a store once we get to Orlando) ingredients for s'mores. The resort we're staying at offers evening marshmallow campfire roasts, but only includes the marshmallows and charges an arm and a leg for chocolate and graham crackers. Since this is an unusual packing item, I wanted to make sure I noted it somewhere!
I also had another tab to help us decide what meals to eat in the different parks, but that's a topic for a whole different post!
I think that this shared spreadsheet approach could be valuable to any sort of group vacation planning effort.
How have you planned group / family vacations in the past? What methods do you recommend?