This post may contain affiliate links. Please see my advertiser disclosure for more details.
I still consider myself relatively new to the points and miles world.  When I first applied for the 100,000 sign up bonus for the British Airways Chase Visa card in early 2011, I wasn't entirely sure what I was doing.  I just knew that 100,000 miles sounded like a lot, and I applied.
I've learned so much in the past 3.5 years. And even though I'm still a relative beginner, I'm always a bit perplexed when I read "beginner's guides" to points and miles.  The information they convey is important and usually cover things like "Consider your travel goals and bucket list destinations," and "Sign up for all frequent flyer mile programs."  Some even go into "why" airlines and banks offer credit card miles.
When I tell friends and family that our airfare and hotels are free for about 90% of our travel, they always ask, "How does that work!"  And let me tell you, saying things like, "Well, I consider my travel goals and sign up for frequent flyer mile programs and earn miles," does not cut it as a good explanation.  And certainly nobody has ever given a crap about "why" airlines do this.
They want to know the nitty gritty.  So I'm here to explain.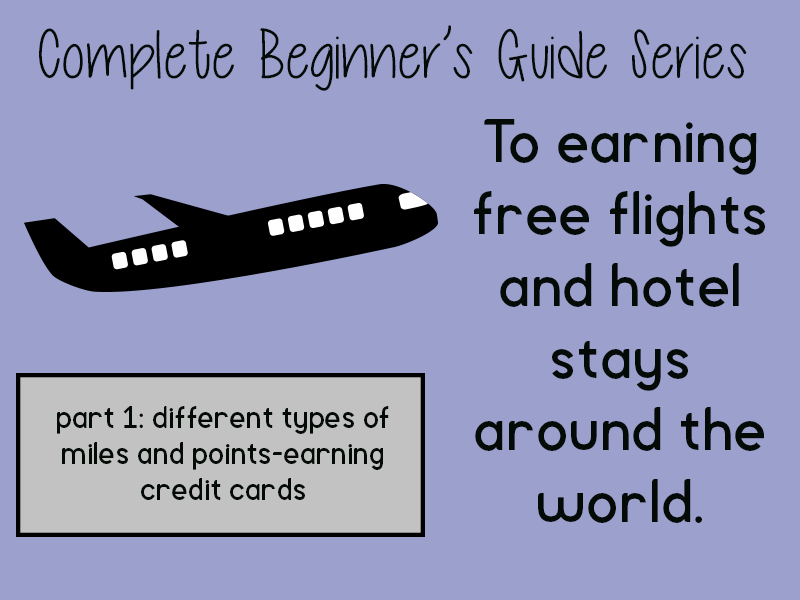 First things first!  Start reading miles and points earning blogs.  When I first started reading these blogs, I was pretty confused by the terminology.  Membership Rewards, transfer bonuses, mileage runs, etc.  But, wouldn't you know it, simply by reading every day, I was able to make links and connections to other things I read.  Slowly, the terms started to make sense!  Just do it!
How can you earn miles and points?
Here are the basics:
By flying
By staying in hotels
By applying (and getting approved) for credit card sign up bonuses
By spending money on the credit cards that you sign up for
By doing your online shopping through "portals."
There are several more advanced techniques (like manufactured spending), as well as techniques that can provide "mini" points (points that are earned in like 50-250 mile increments) but since this is assuming you're a beginner, there's no need to worry about that.
But, let's start with the biggie.  Applying for credit cards.
Understanding the differences among miles and points-earning credit cards
There are a few different categories of points-earning cards.
1.  Airline or Hotel-specific cards. These cards earn you points that are specific to certain airlines or hotels. For example, the Citi AAdvantage card earns you AAdvantage (American Airline's frequent flyer program) points, which are redeemable through American Airlines (and therefore American Airline's partner airlines).  The Chase United Mileage Plus credit card earns you points redeemable on United Airlines (and therefore United Airlines partners). The Citi HHonors (HHonors is Hilton's loyalty program), earns you points for Hilton hotel stays. And so on!
Real World Example #1:  In the past three years, I've applied for several (five to be exact!) 75,000 or 50,000 mile Citi AAdvantage credit card bonuses, which gave me a large balance of AAdvantage miles.  I redeemed 100,000 of those AAdvantage miles for two business class tickets on Air Berlin (a partner of American Airlines) from St. Petersburg, Russia to Washington, DC.
Real World Example #2: In 2012, Ken and I did a big Southwest USA road trip, but first we had to fly to Albuquerque, which was the origination point for our road trip.  We redeemed Southwest Rapid Rewards points that we had earned through Chase Southwest Rapid Rewards sign up bonuses on our flight from Baltimore to Albuquerque, and then on our return flight from Las Vegas to Baltimore.
2.  "Bank points" cards.   This is not a formal term, but just how I'm categorizing it for the purposes of this post.  These cards earn you a certain bank points "currency," which you can then transfer to certain hotel or airline partners. (You can also redeem these points in another way, but it's not as valuable, so I won't mention it here). Examples of these bank points programs are Chase Ultimate Rewards, American Express Membership Rewards, and (only very recently, and not nearly as valuable), Citi Thank You points. Here are Membership Rewards transfer partners and Here are Ultimate Rewards transfer partners
Real World Example #1:  I have applied for both the Chase Sapphire Preferred and the Chase Ink Bold cards, both of which earn Chase Ultimate Rewards points.  From those two credit card applications, I netted 100,000 Chase Ultimate Rewards points.  Hyatt is a transfer partner of Chase Ultimate Rewards points.  Last year, Ken and I went to New York City and stayed at a Hyatt property called the Andaz Fifth Avenue.  I transferred the amount of points I needed for three nights (then 66,000) from my Chase Ultimate Rewards account to my Hyatt account.  The transfer was instantaneous, and I was able to book my stay right after initiating the transfer.
Real World Example #2:  United Airlines is also a transfer partner of Chase Ultimate Rewards.  Turkish Airlines is a United partner, and Turkish Airlines had the best options for getting to Sochi during the Olympics.  I needed 100,000 United Mileage Plus points to "pay" for two business class tickets on Turkish Airlines.  But I only had about 55,000 Mileage Plus points in my account!  So, I simply transferred 45,000 Chase Ultimate Rewards points to my United Mileage Plus account, which brought my balance of United Mileage Plus points to 100,000!  Like the Hyatt transfer, it was instantaneous and I was able to book my Turkish Airlines tickets (on United's website) right away using my freshly topped-up United miles.
Real World Example #3:  We are planning a trip to the Florida Keys this fall.  I was just a few thousand points short in my Hilton HHonors account to book a several night stay at a Hilton property in Key Largo.  So, I logged into my American Express Membership Rewards account, and transferred points to my Hilton HHonors account.
3.  Outlier Cards.  There are a few very valuable cards that don't fit precisely into one of the two categories above.
Free nights cards.  These are credit cards that you apply for that give you a set number of free nights in a hotel as your sign up bonus not a set amount of points.  Two examples of these cards are the Chase Hyatt Card and the Citi HHonors Reserve.  Both cards give you two free nights at their respective properties.  So, these cards are great to use if you plan on staying at a very expensive property that would normally require an excessive amount of points!
The Starwood Preferred Guest (SPG) American Express Card.  This card seems like it should be pretty straightforward, right?  When you sign up, it gives you usually 25,000 SPG bonus points, good to use at Starwood hotels.  But, in many ways, the SPG Amex is also like a "Bank Points" card, because you can transfer SPG points to many different airline partners, making it quite a valuable card!
The Barclays Arrival Plus Card.  This card currently offers a 40,000 point bonus sign-up offer.  But those points aren't tied to any particular airline or hotel, or anything really!  This card is fantastic because you can redeem those points for nearly any travel-related expense.  So, if you're staying at non-chain hotel that you can't use any "normal" points for like a chain hotel, you can redeem your Barclays Arrival points for that purchase.  You simply "redeem" the points by going into your account and asking for a statement credit for the travel purchase.
Real World Example of Using Barclays Arrival Plus points:  During an upcoming stay in Miami, we wanted to stay at a Kimpton hotel.  Kimpton hotels do have a loyalty program, but pretty much the only way to earn points is to stay at their hotels.  So, I will pay for the hotel upfront using my Barclays Arrival Plus card.  Then, when the credit card statement arrives, I'll request a statement credit for that hotel purchase.  So, if the hotel is $300, I'll have to redeem 30,000 points.  But, you get a 10% bonus for redeeming the points, so really it's only like I'm redeeming 27,000 points for the $300 statement credit for the travel-related purchase.
What is the best points earning credit card?
When I describe my miles and points hobby to friends and family, the question always inevitably comes up, "Okay, so there's all these different types of cards.  But which one is the best one?"  Here's what my answer to that always is:  While there are definitely bad credit cards (in terms of value), there is no single "best" points earning credit card.  Plus, my answer could change day-to-day based on the current sign up bonuses that are out there because they change fairly rapidly.  But if you REALLY want to know:
If you want the option to travel or stay anywhere, your best bet is to diversify.  Even if you don't want to go fully hard core into credit card app-o-ramas (applying for multiple cards every few months), it would benefit your travel options by having at least one credit card for an airline in each of the major alliances (Star Alliance, OneWorld, and SkyTeam … more on alliances in future posts in this series), and credit cards for at least one or two major hotel chains.
If you travel to pretty much the same destination(s) and always from the same airport (like if you travel several times a year between Chicago and Los Angeles to visit family and are just looking for ways to save on those options), your best option might be to apply for the credit card of the major carrier at your airport.  So, since Charlotte, NC is a hub for US Airways, you'd probably want to apply for a US Airways Dividend Miles (or Citi AAdvantage now that US Airways and AA are merging).  If you live near Baltimore, where Southwest has a large presence, then the Southwest Rapid Rewards card would be a great option.
Whether you want to travel anywhere or just want points to visit mostly the same destinations, you also can't go wrong with some of the Bank Points cards (like Chase Ultimate Rewards or Amex Membership Rewards) to fully maximize your options.
Okay, I think that's enough for a first post, don't you?
What do you think?  Do you have a better idea of how to use credit cards to earn free travel?