This post may contain affiliate links. Please see my advertiser disclosure for more details.
---
This is a Blast from the Past post. These posts chronicle our travels and other life events before we started blogging! These posts are usually heavy on the photos, but lighter on the narrative text.
In October 2012, Ken and I took a two week road trip around the Southwestern United States. We flew to Albuquerque, NM and then drove from Albuquerque, New Mexico > Canyon de Chelly, Arizona > Moab, Utah > Monument Valley, Utah > Lake Powell, Arizona > Grand Canyon (South Rim).
This post covers our third stop, Moab, Utah!
After seeing Canyon de Chelly in Chinle, Arizona, we drove about four hours north to Moab, Utah. While there's lots of outdoor and adventure activities in Moab, we visited mostly to see Arches National Park.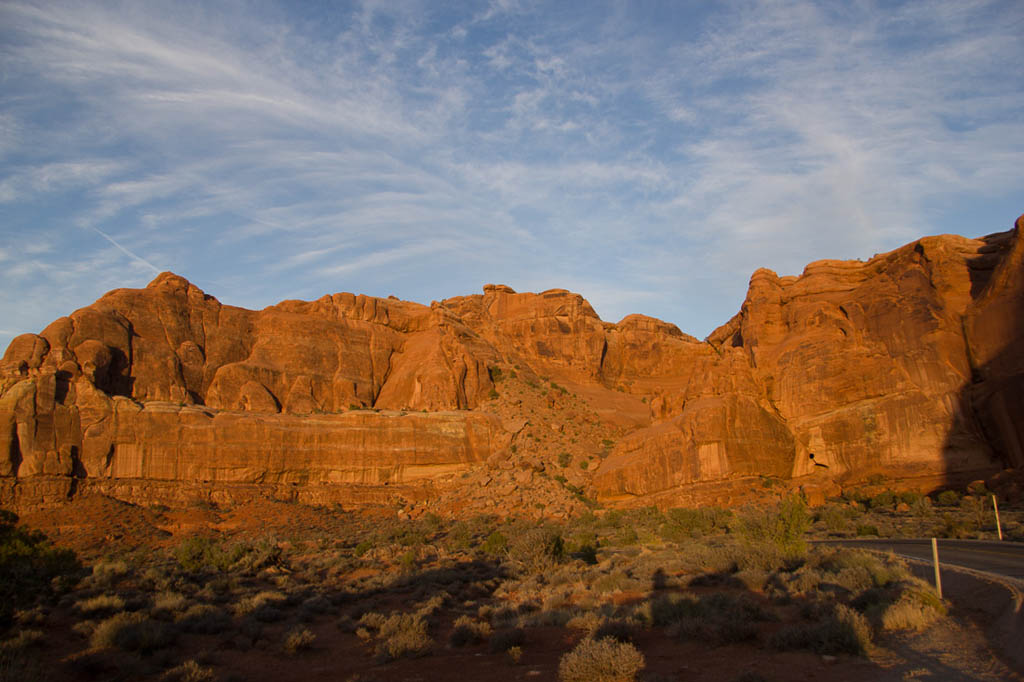 There are many hikes in Arches National Park, ranging from easy to hard. We're not seasoned hikers (plus, I'm a tremendous klutz, which I've mentioned many times here!), so we stuck to the easy ones, with the exception of one, Fiery Furnace (more on that further below).
This was an area of Arches called "Park Avenue."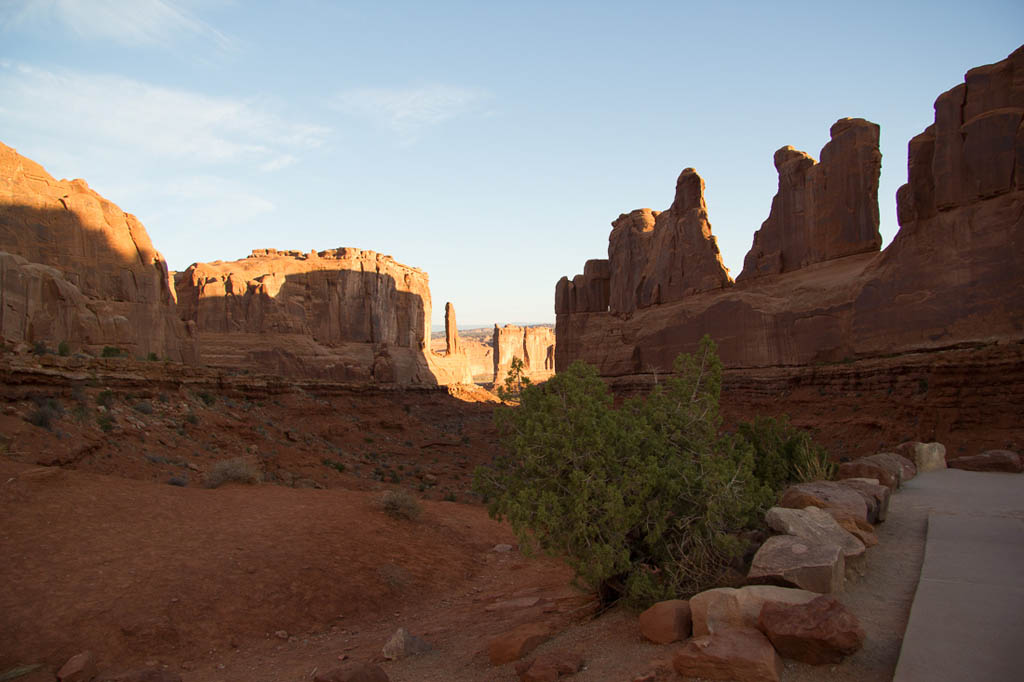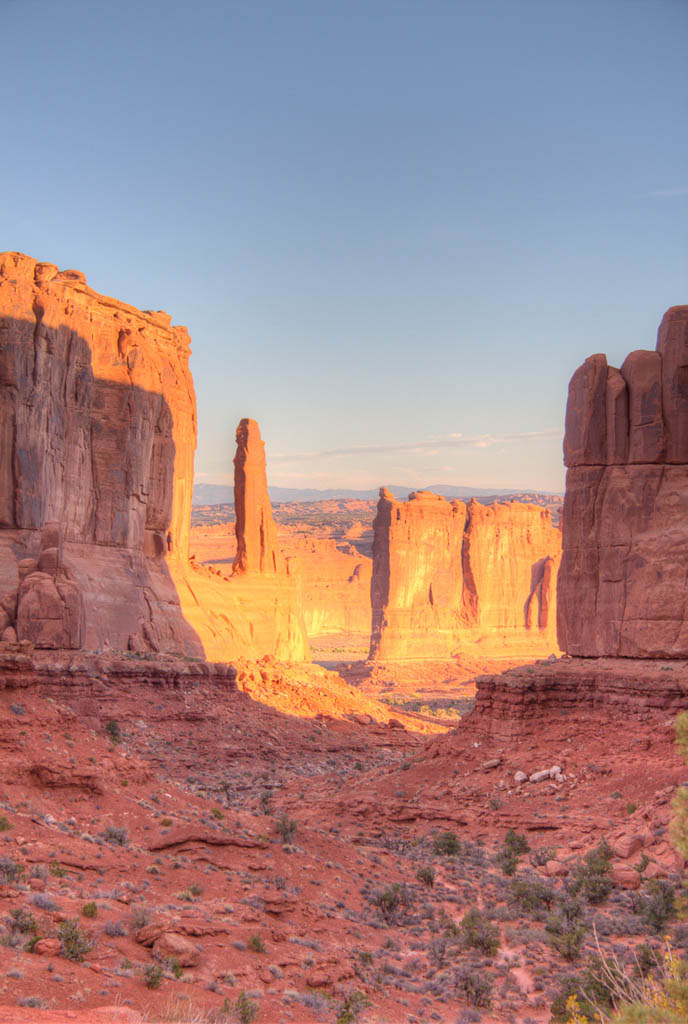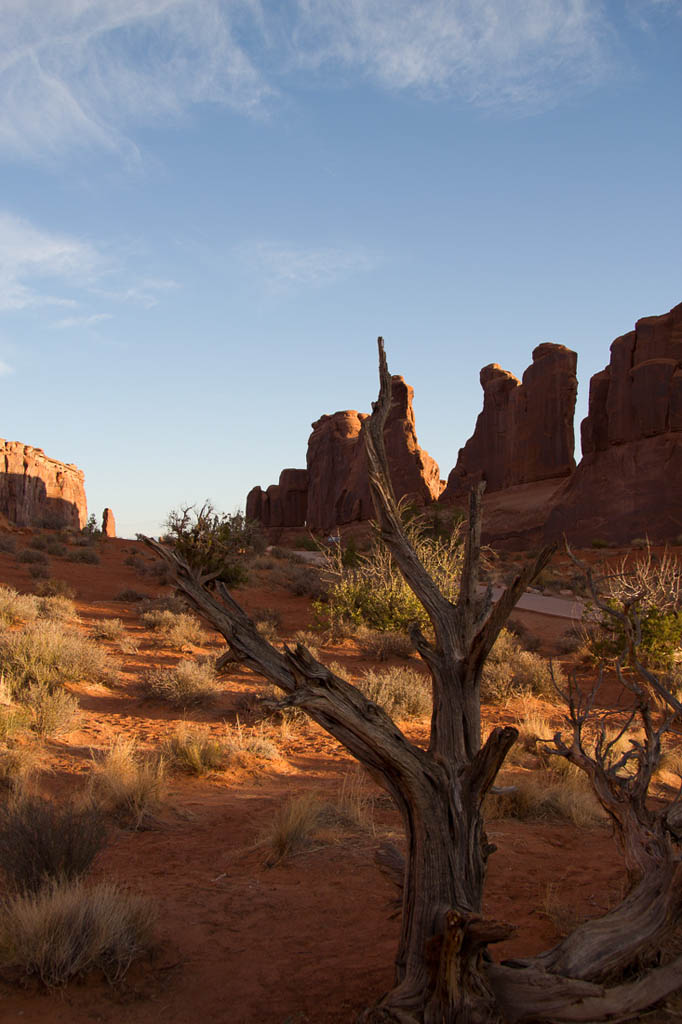 And an area called the Courthouses.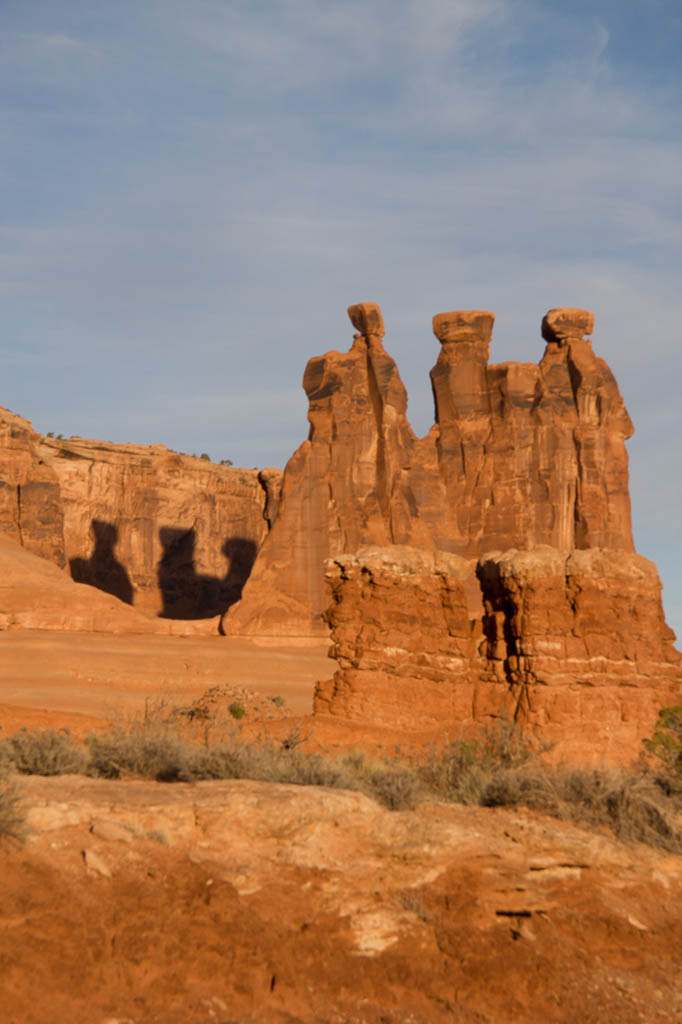 Driving between the different areas in Arches National Park, you could see these petrified sand dunes, which made it look like we were on Mars or something.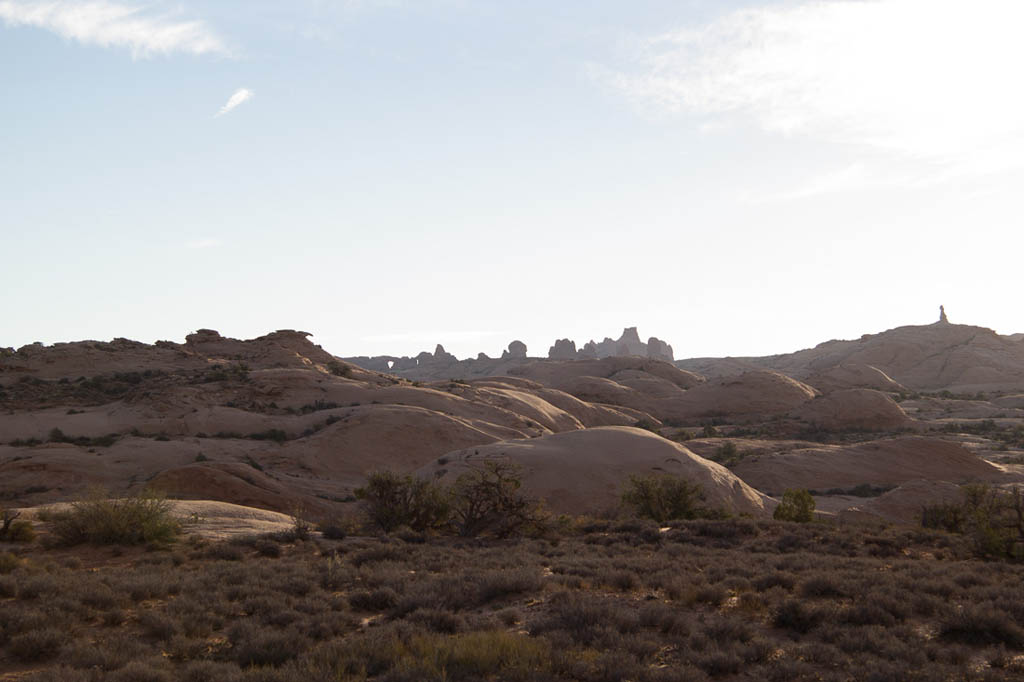 One of the more famous landforms at Arches is Balanced Rock.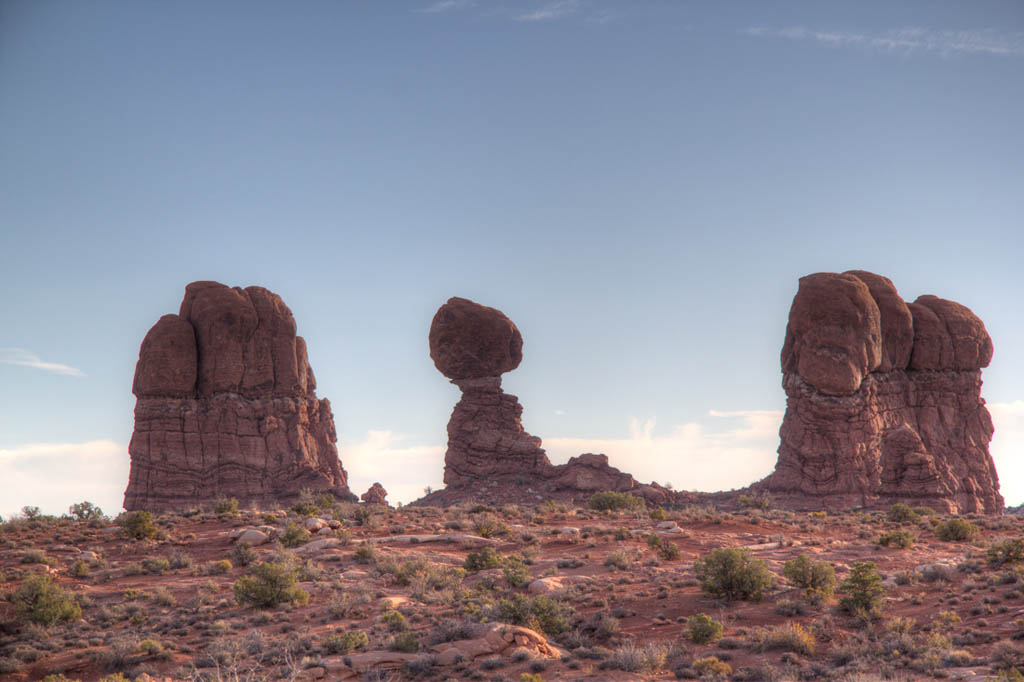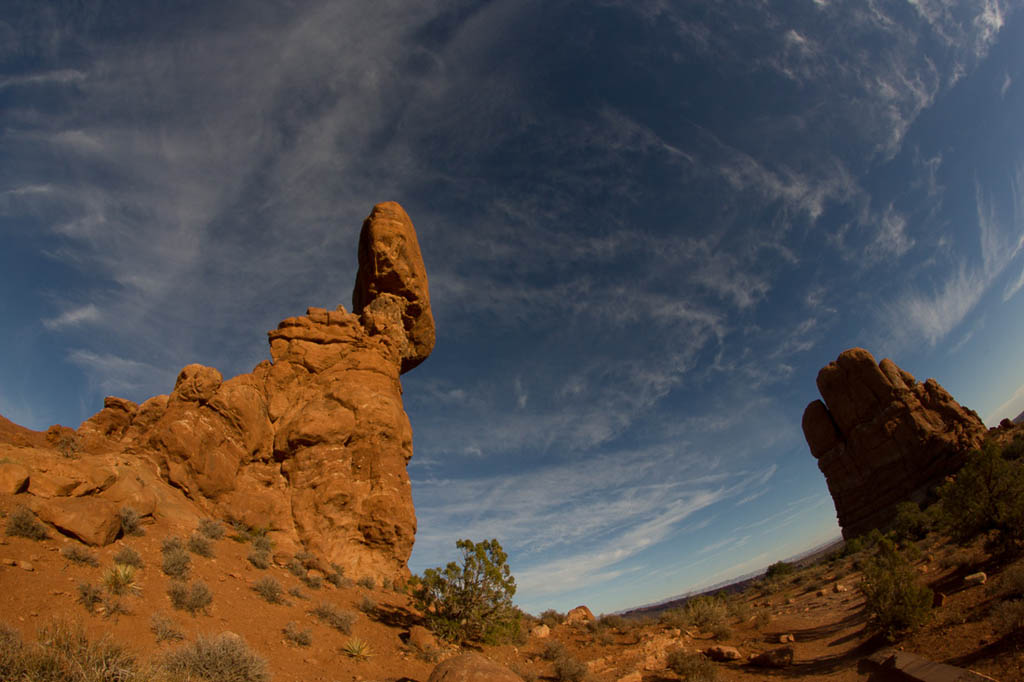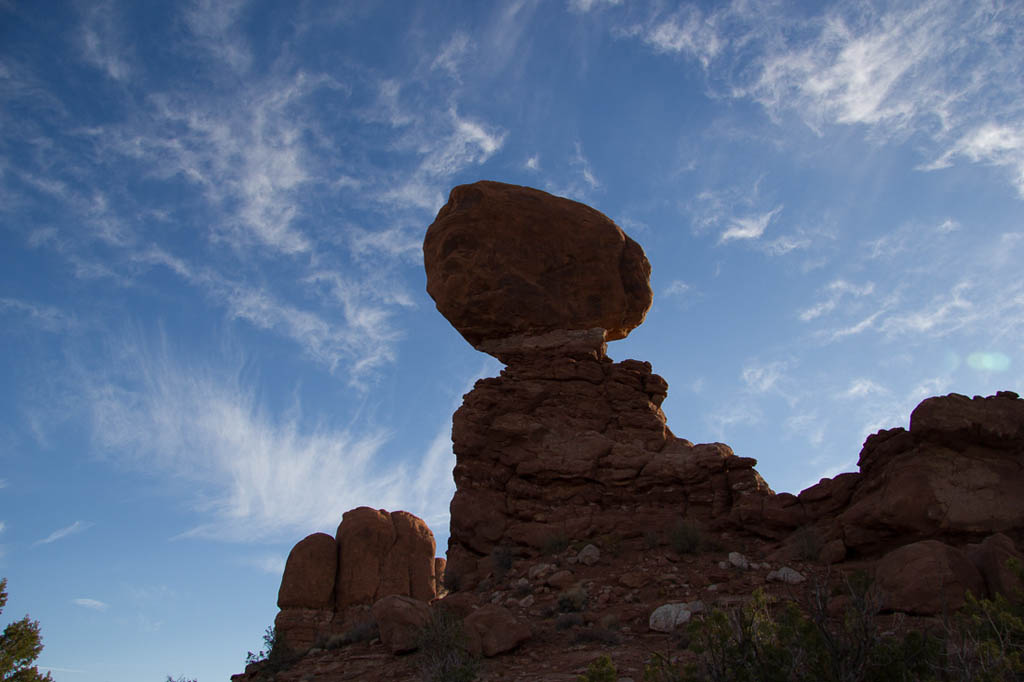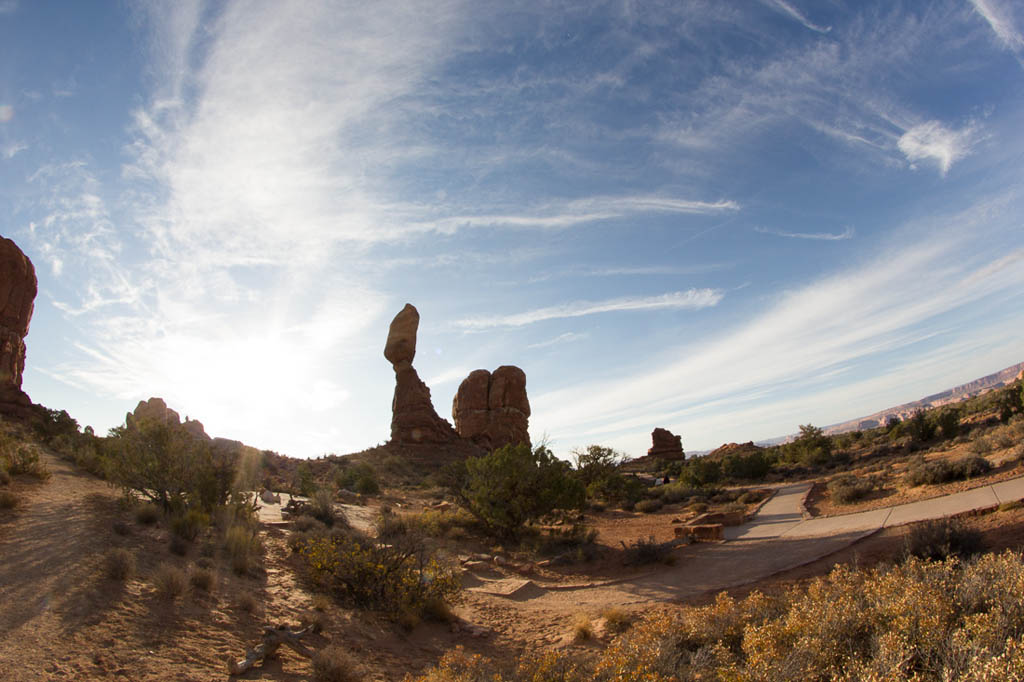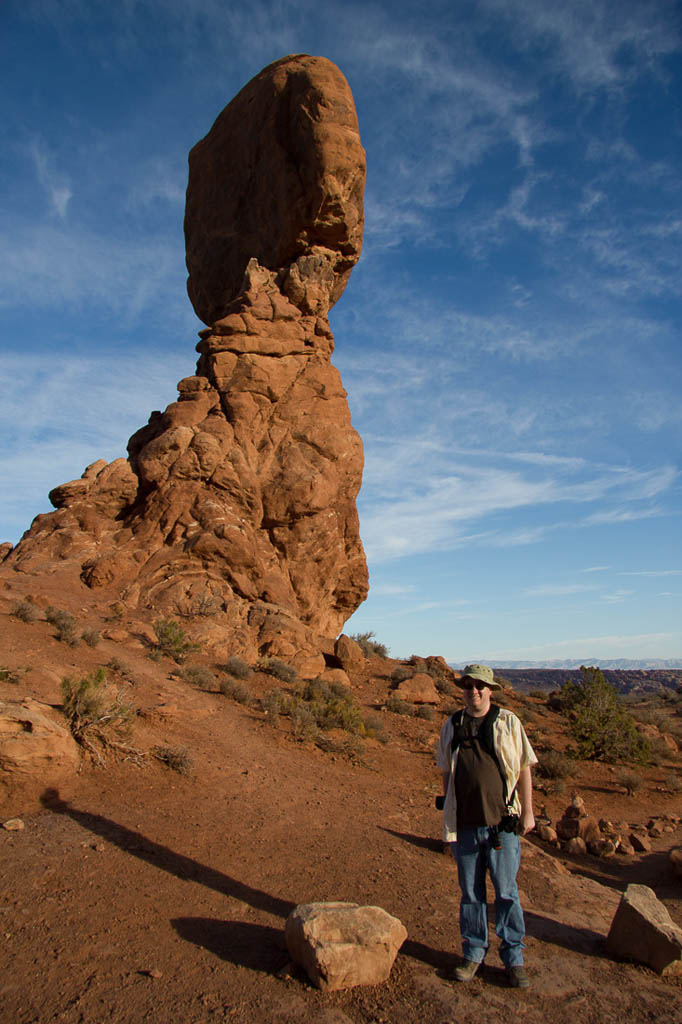 And can I please just point out the absolutely stunning weather and skies we had! And there were virtually no crowds. October was a fantastic time to visit!
Fiery Furnace Fail
Okay, let's talk about Fiery Furnace for a few minutes. The Fiery Furnace is an area of Arches National Park that is only accessible by ranger-led hike (unless you go through a special permitting process) or with an authorized guide. Arches National Park mentions that it is a difficult hike, while reviews on TripAdvisor were like, "I'm a 65 year old grandmother and I thought it was very easy and I think Arches National Park just doesn't want many people to go," and "This is not nearly as difficult as the website makes it out to be!"
So, we booked our reservation far in advance, and we met up for our Fiery Furnace tour. I only made it like 5 minutes. I was almost a crying mess. I kept slipping on the gravelly surfaces and tripping on the sloped rocky formations.
Here I am grabbing onto any surface I can!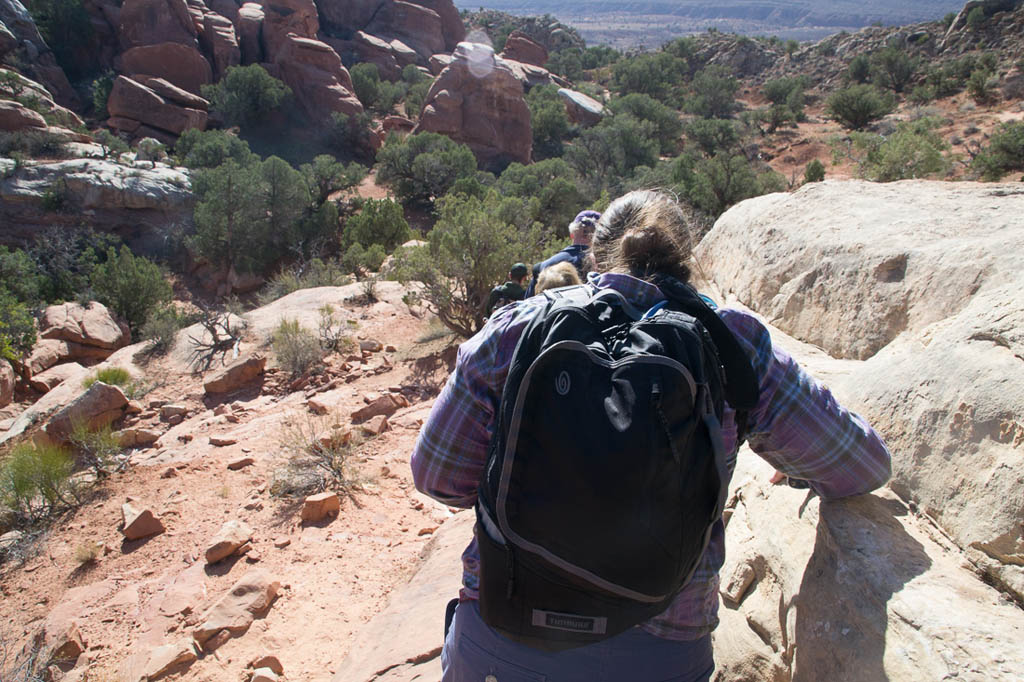 We got to a point and the guide asked us if anybody felt they had to turn around, and I raised my hand. There was just no way I could spend another two hours in such as stressed out mess worrying that I was going to break an ankle. Ken and I turned around and left.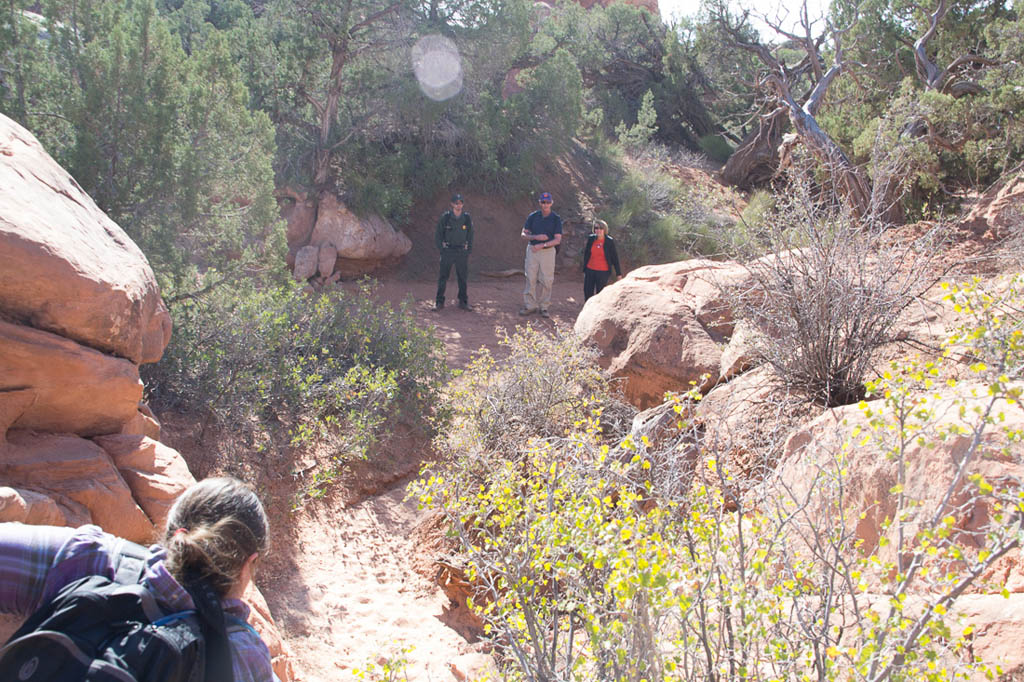 Here's a view of the rock formations outside Fiery Furnace.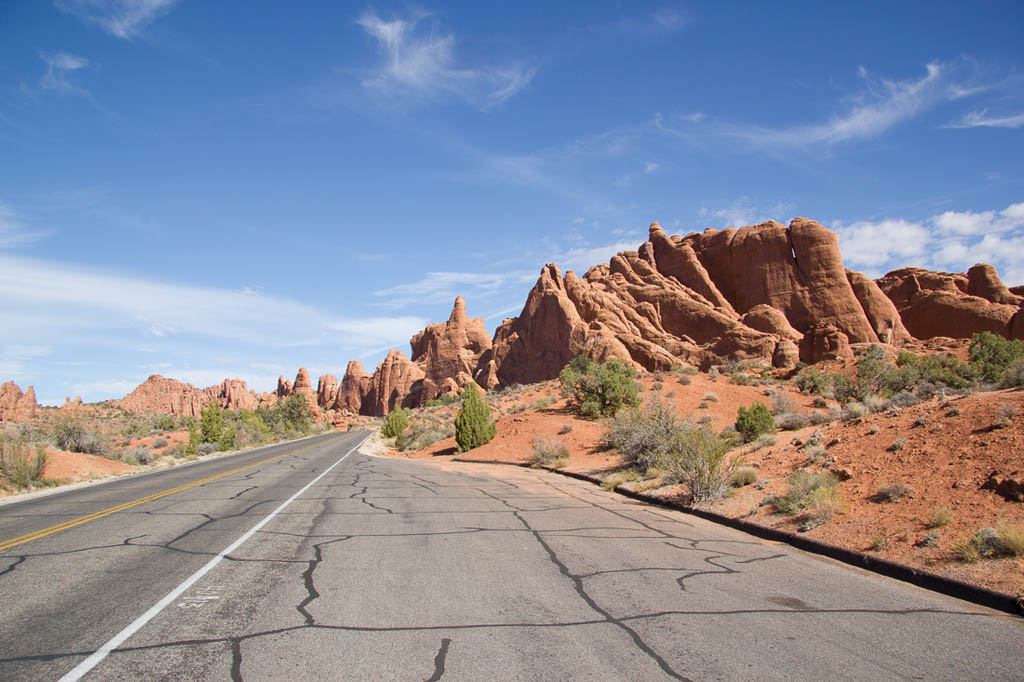 This may seem a little silly, but I was really feeling dejected at that moment. I love experiencing beautiful places and getting to see amazing and unique landscapes (and taking photographs of them!). And I was feeling really down that I am just not coordinated enough to do things like rocky hikes. And that people who ARE coordinated don't quite understand what it's like to always feel off balance and clumsy. I didn't get to experience something I really wanted to, and I was mad, like there was something I could do to help "fix" klutziness.
After the Fiery Furnace incident, we drove to the main area of Moab to have some lunch. Ken asked what I wanted to do next, and I looked at him and said, "I don't even know if I want to go back to Arches!" I felt like I probably wouldn't be able to do ANY of the other trails there. But, after some lunch, I was feeling better about the situation and we headed back to Arches.
(By the way, less than a year later, I was watching the Today Show, and saw a segment about how scientists and engineers have done experiments that show some people really are just born clumsy! Somehow that made me feel better about the Fiery Furnace situation, even months later!)
More Hikes at Arches
Next up, we did a short hike to the Sand Dune Arch.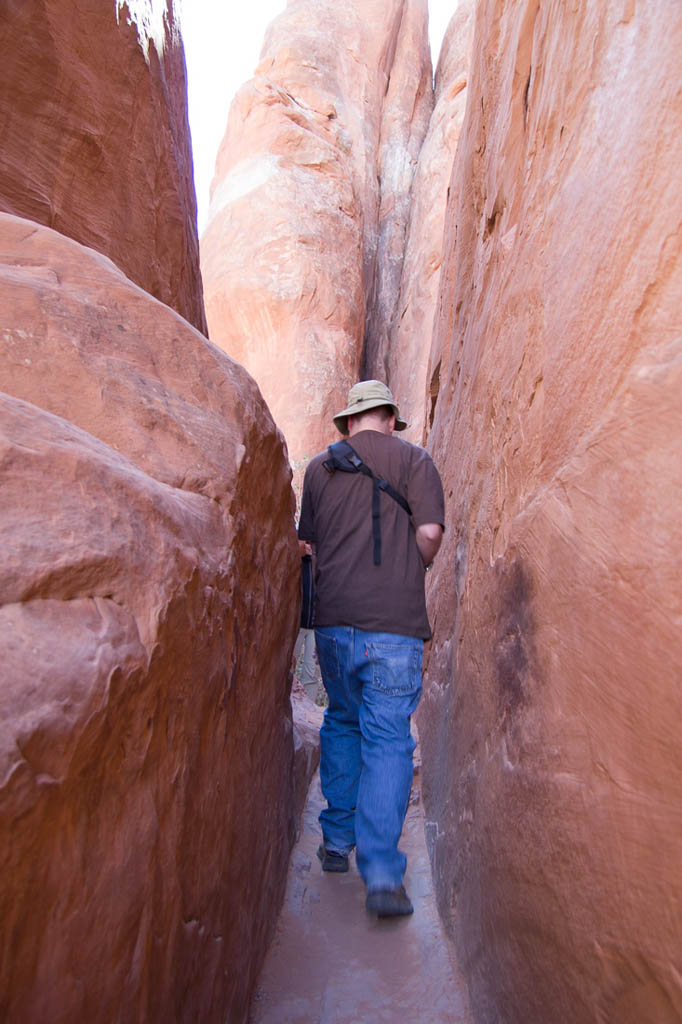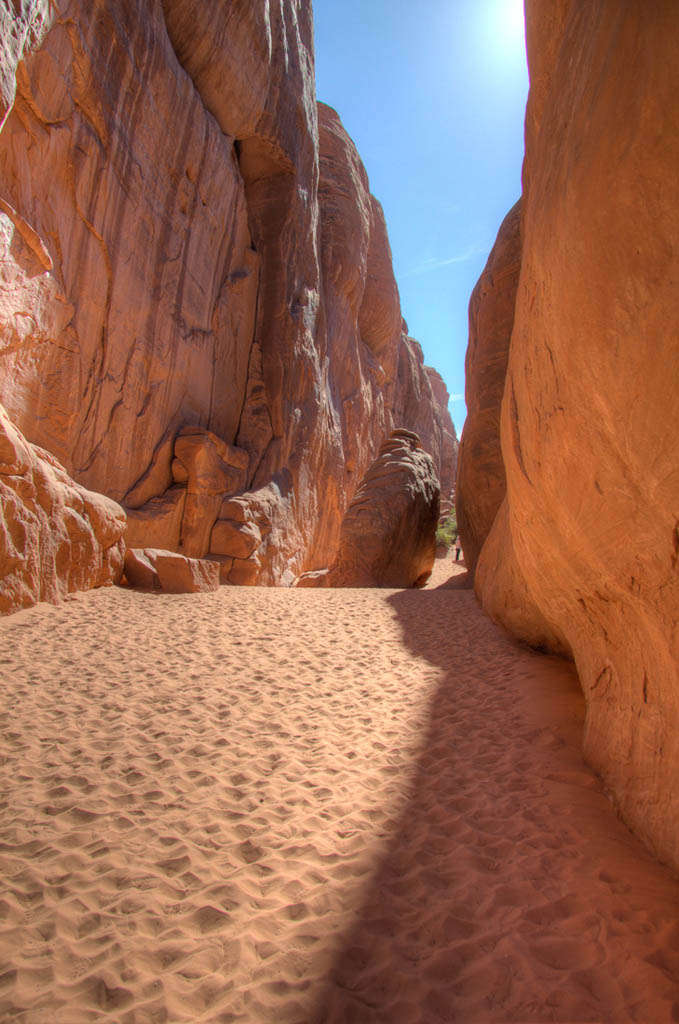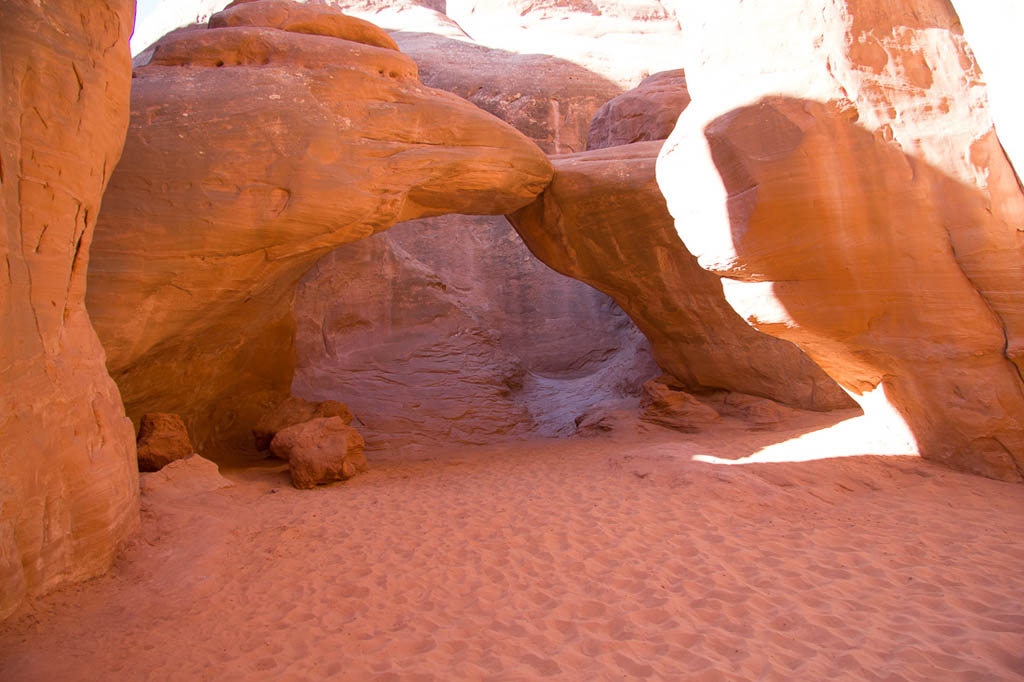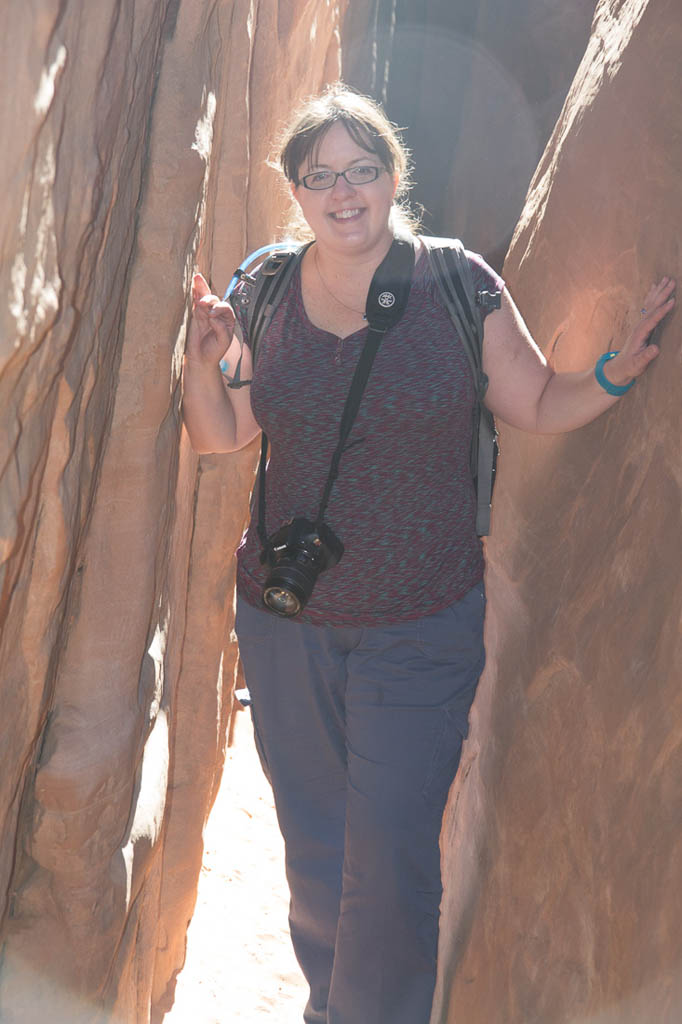 And then we took another quick-ish hike to Broken Arch. It's called Broken Arch because there originally two arches at that location, but in the 1940s, one of them collapsed.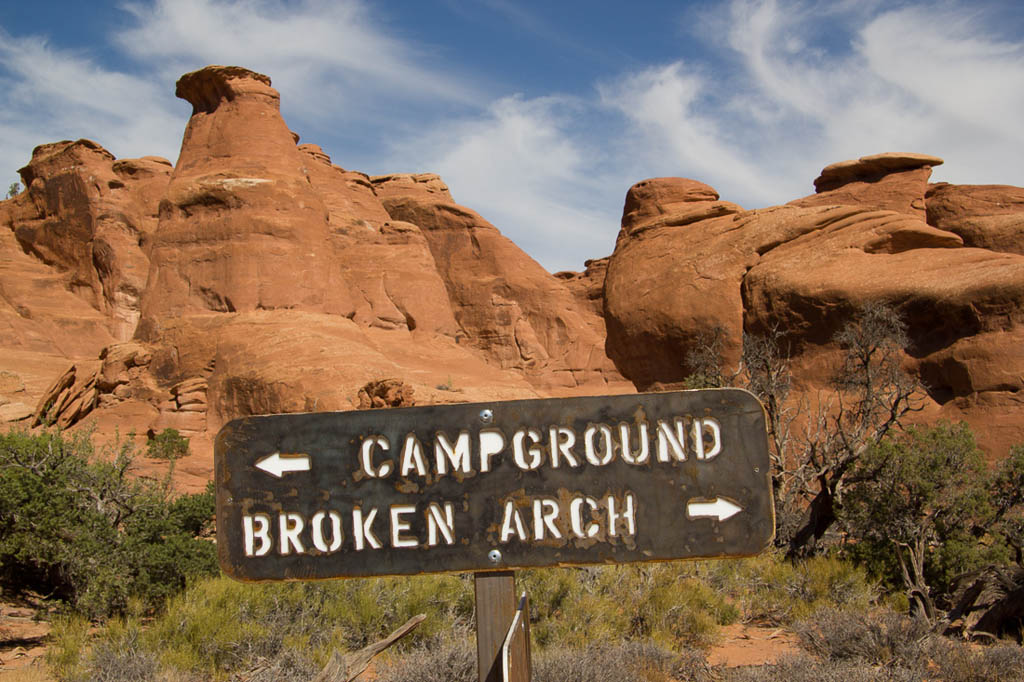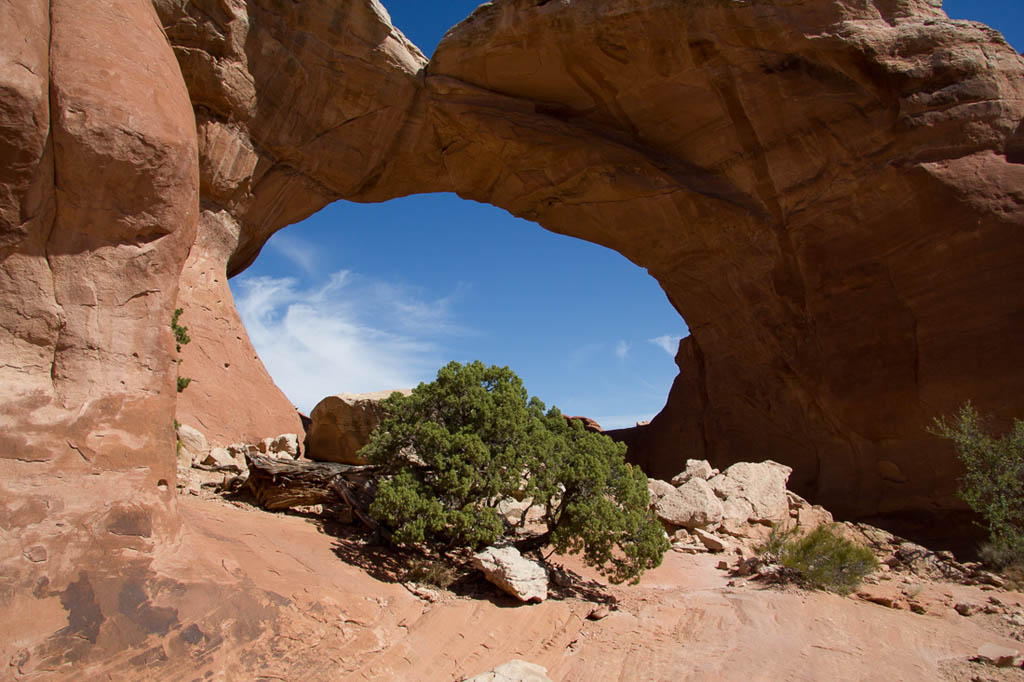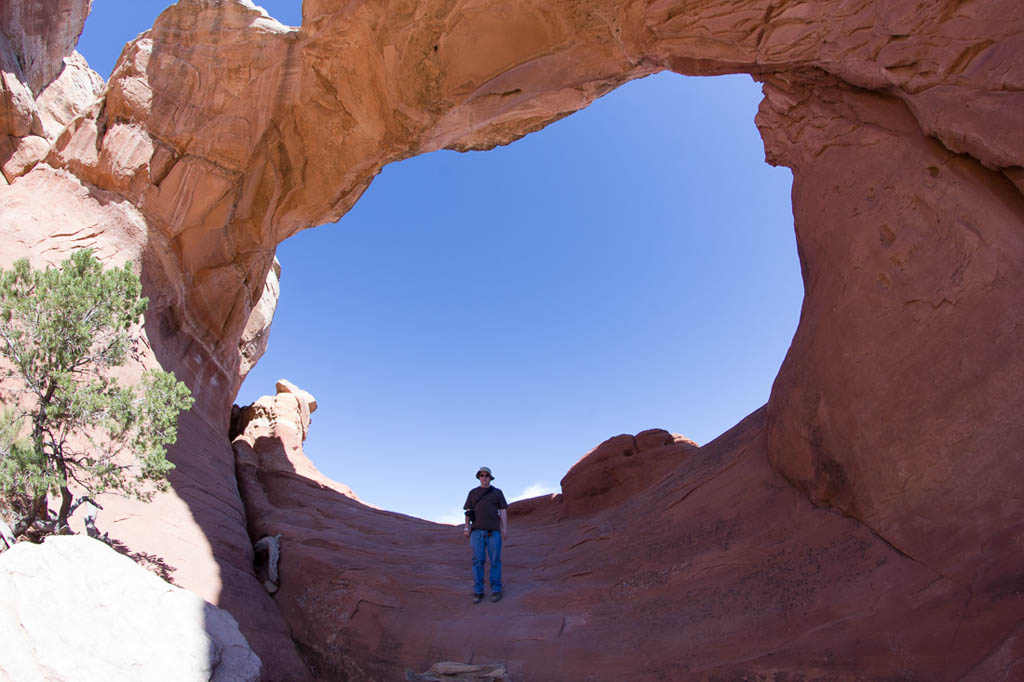 Then our next stop was Windows and Turret Arches (two arches accessible on one trail).
This is North Windows Arch:
And to the right of where I was standing, you could also see Turret Arch.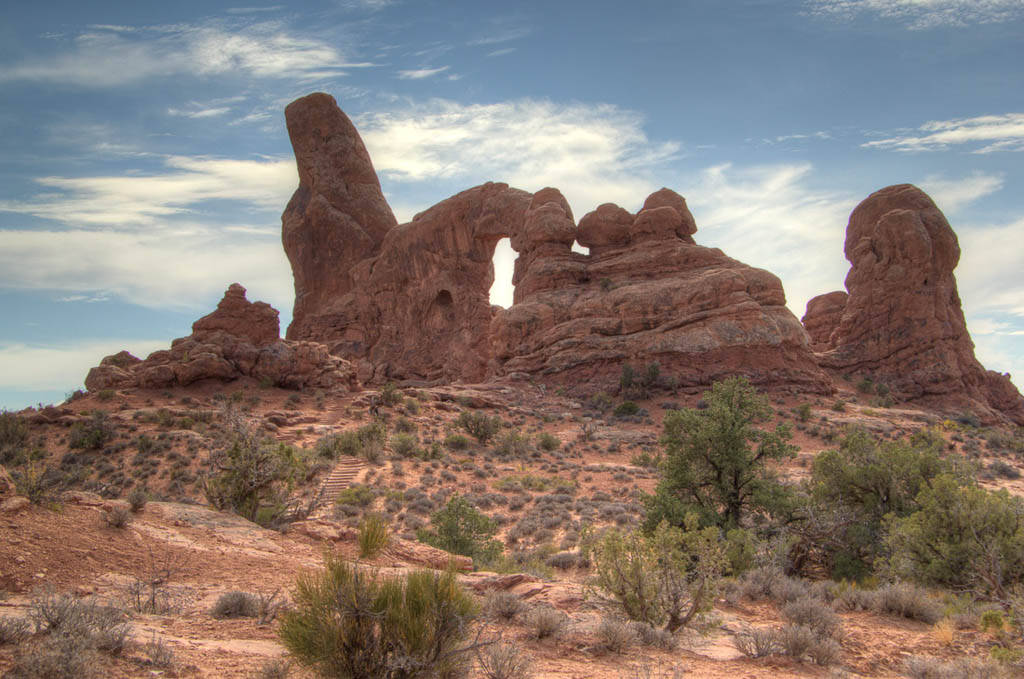 But first, we walked the trail to the North and South Windows arches.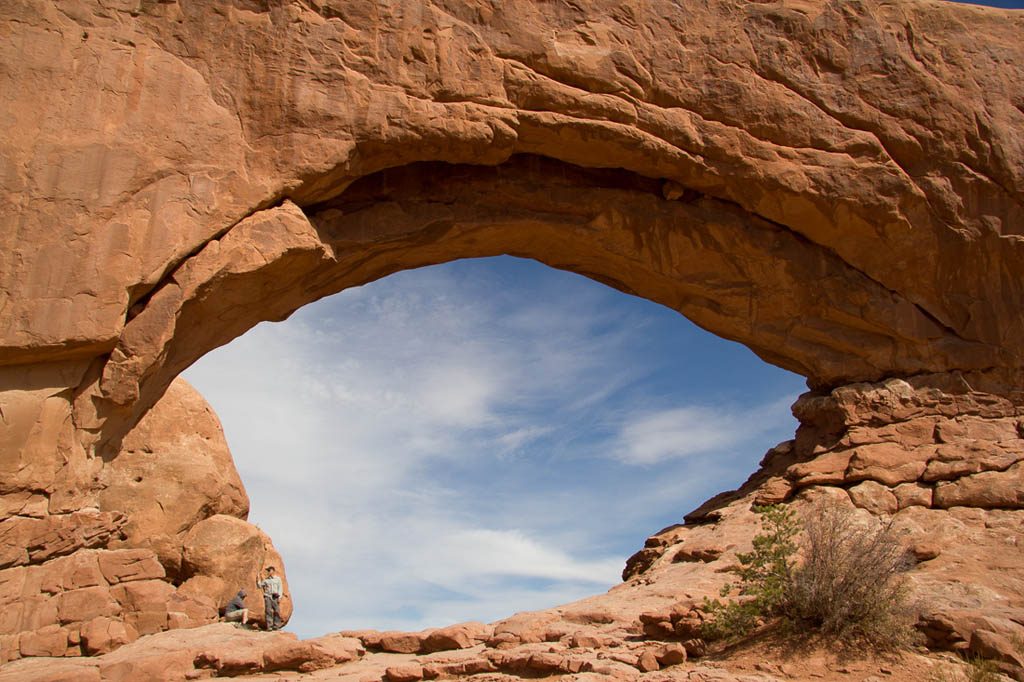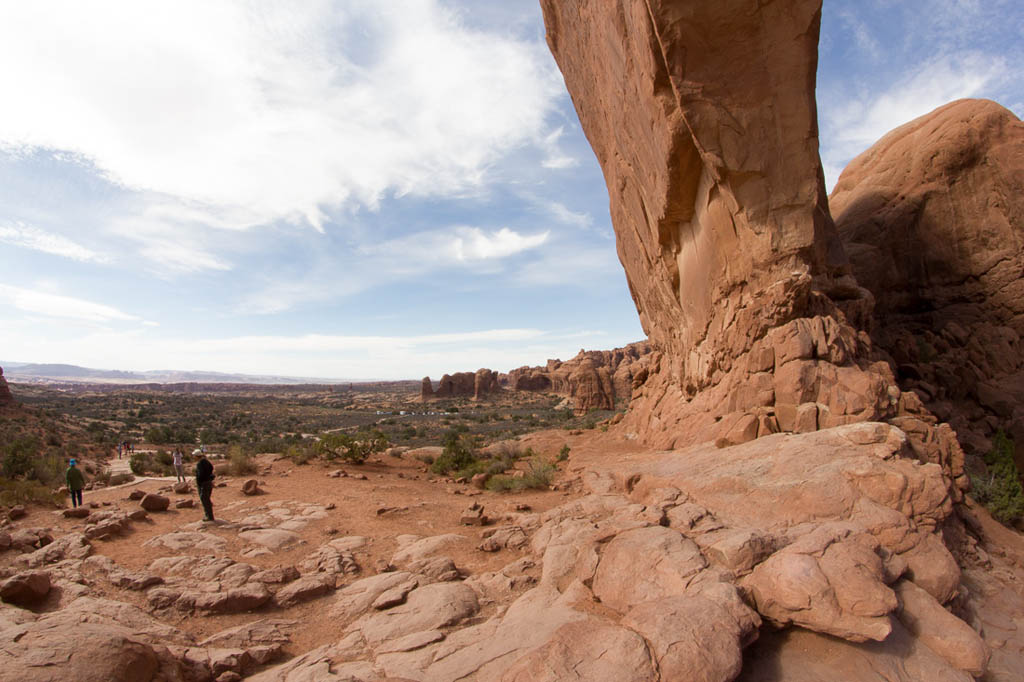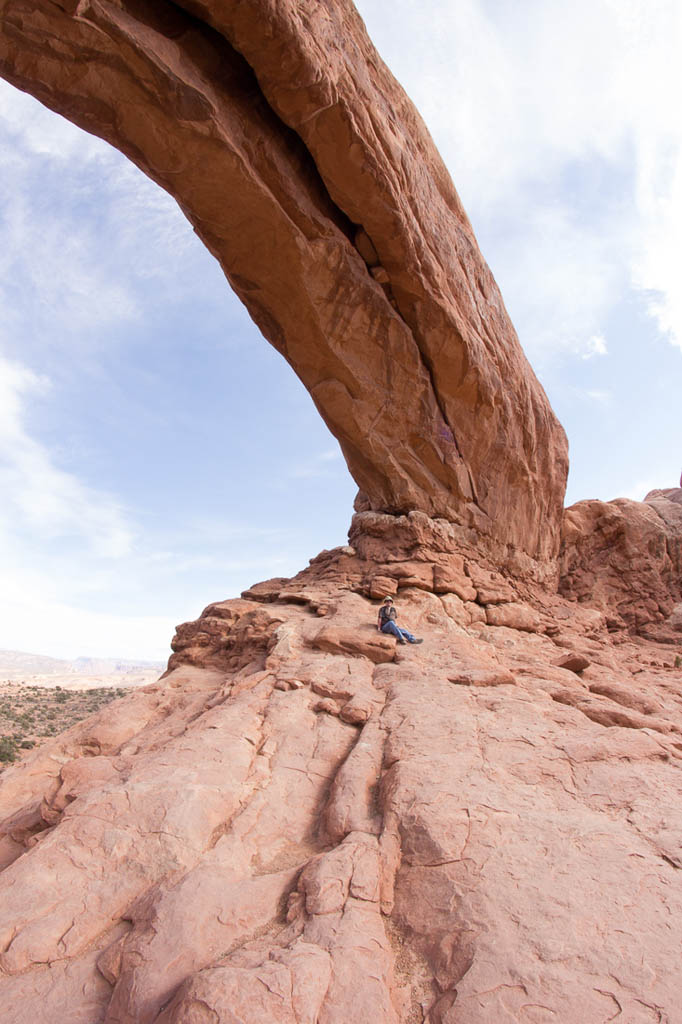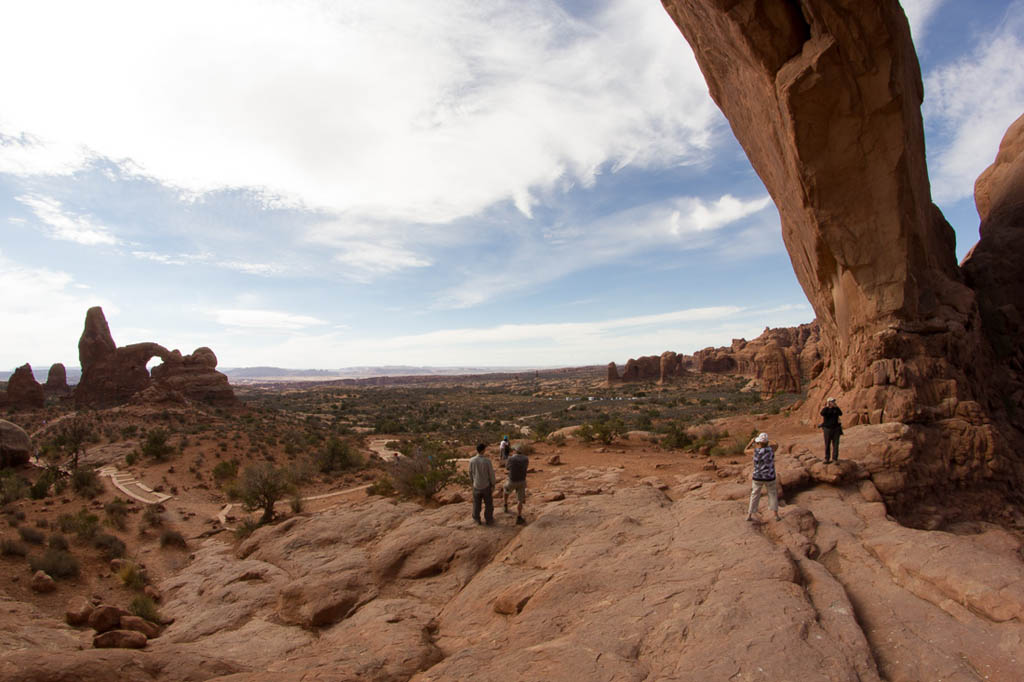 Then we walked over to the South Windows Arch, right next to North Windows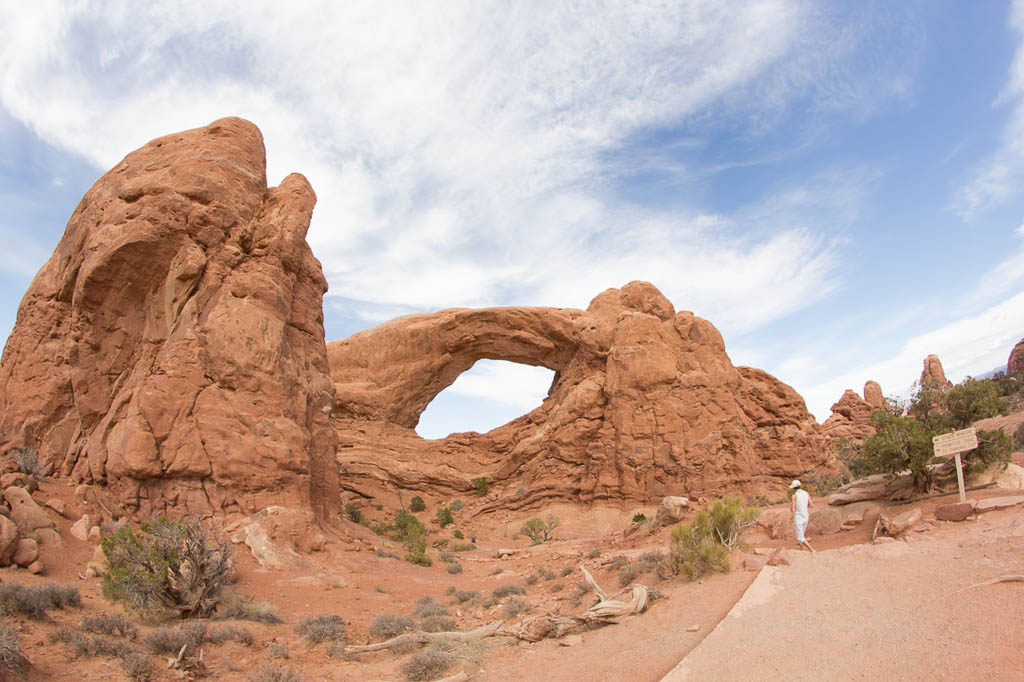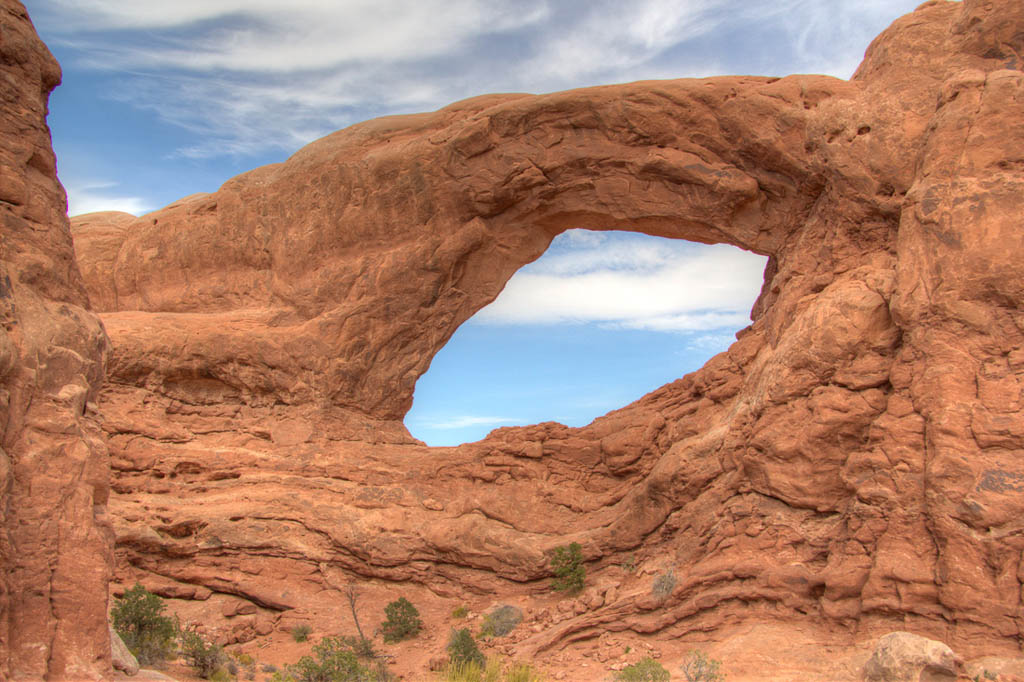 And as we walked to Turret Arch, we could get both North and South Windows Arches in the same frame!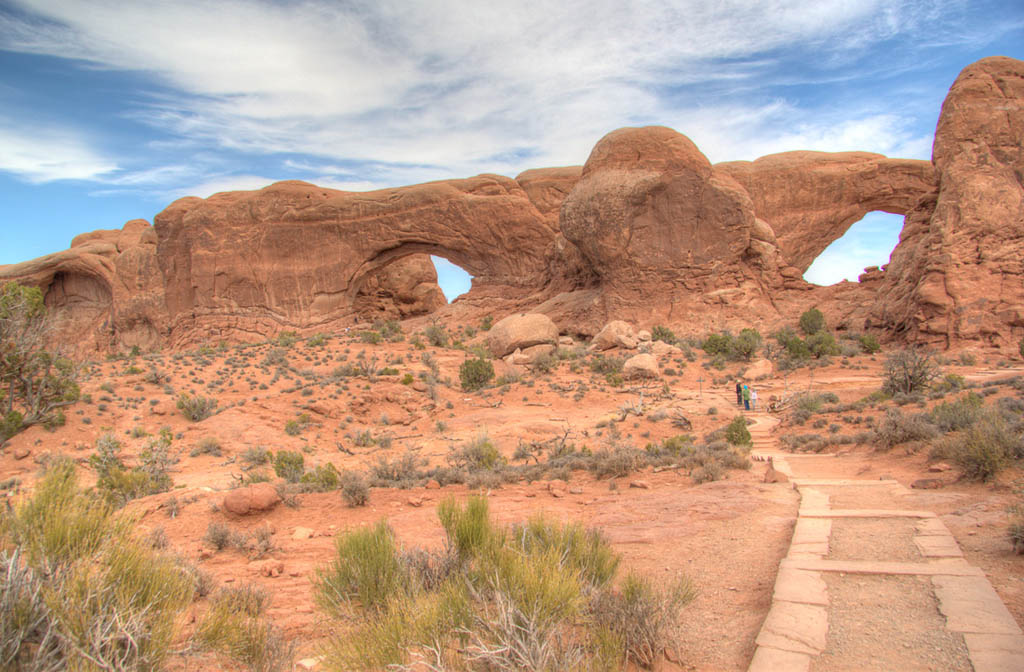 Then we spent a lot of time walking around Turret Arch.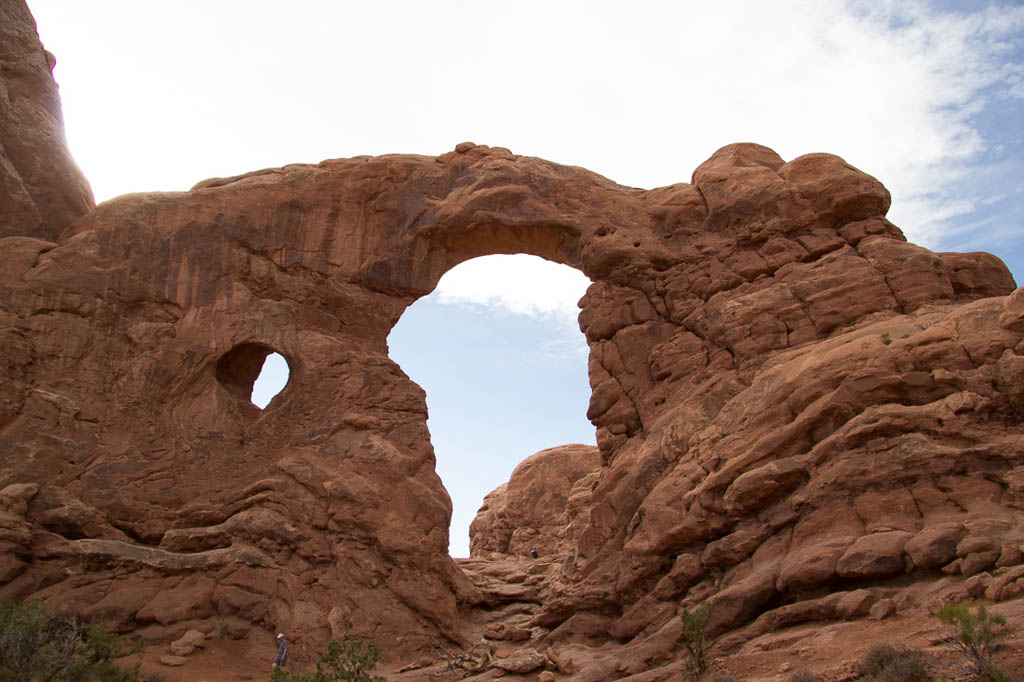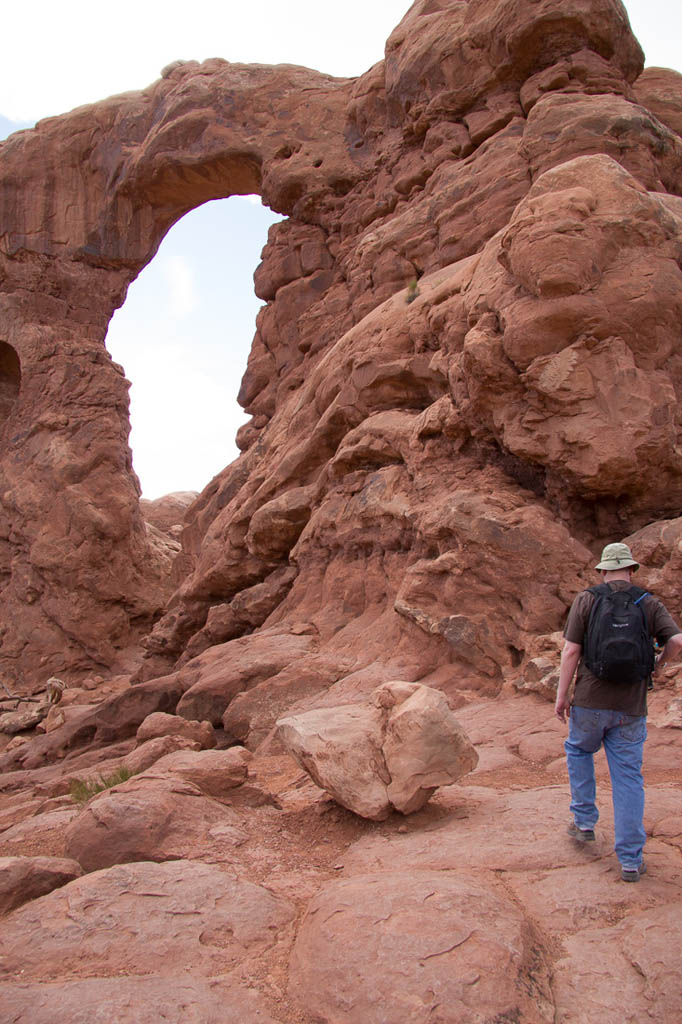 Ken, who is luckily much less clumsy than me, climbed the rocky surface to sit directly under Turret Arch. I stayed put and just took photos from the base of the Arch! (He's the tiny dot sitting about 1/3 up from the bottom of the photo).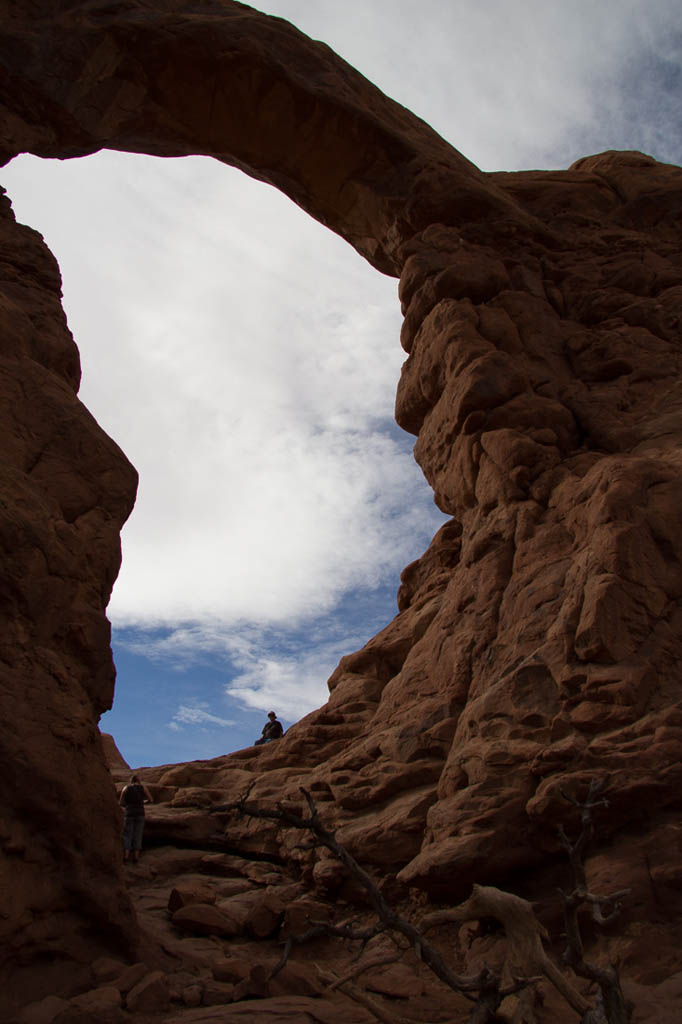 Our final stop for the day was Delicate Arch. The hike to Delicate Arch was described as a difficult one. Having learned my lesson from earlier in the day, we decided we'd just go to one of the viewing points for Delicate Arch instead of hiking up to it. Again, I was kinda disappointed, but I think it was good to recognize my limitations.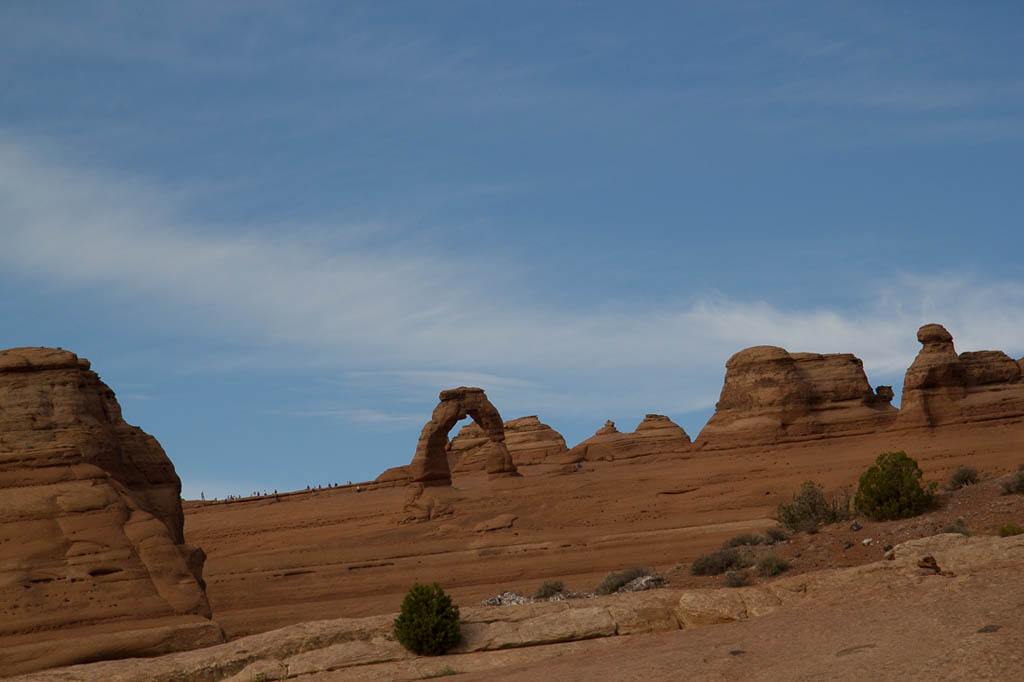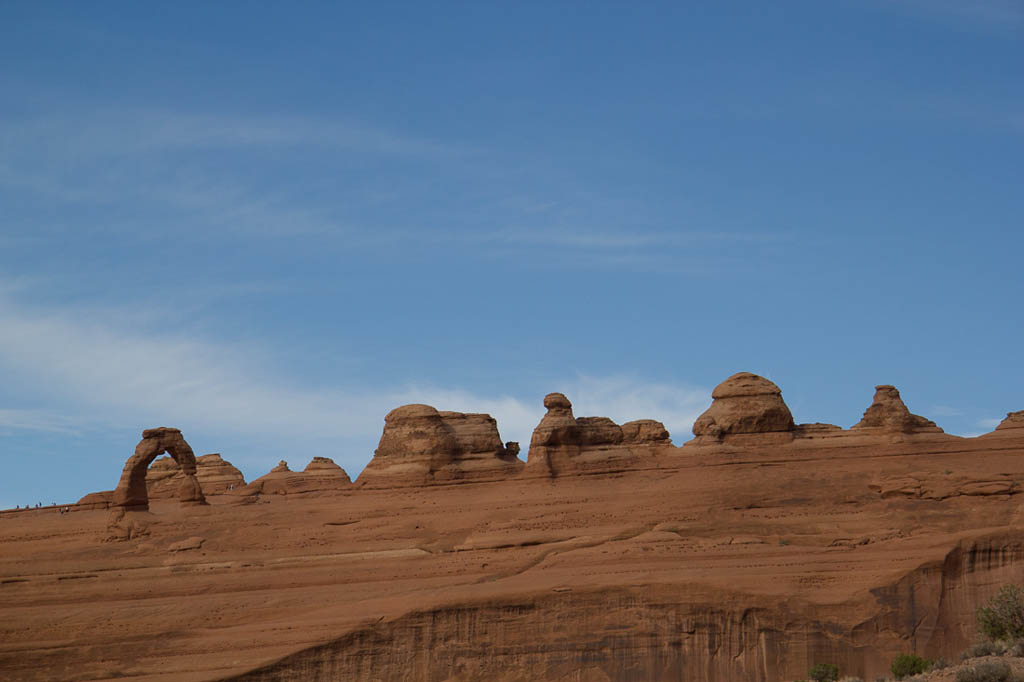 The next morning, after checking out of our hotel, we stopped by Arches again for just a few more hikes we hadn't gotten to yet.
Here was Double Arch, which was a nice and easy hike.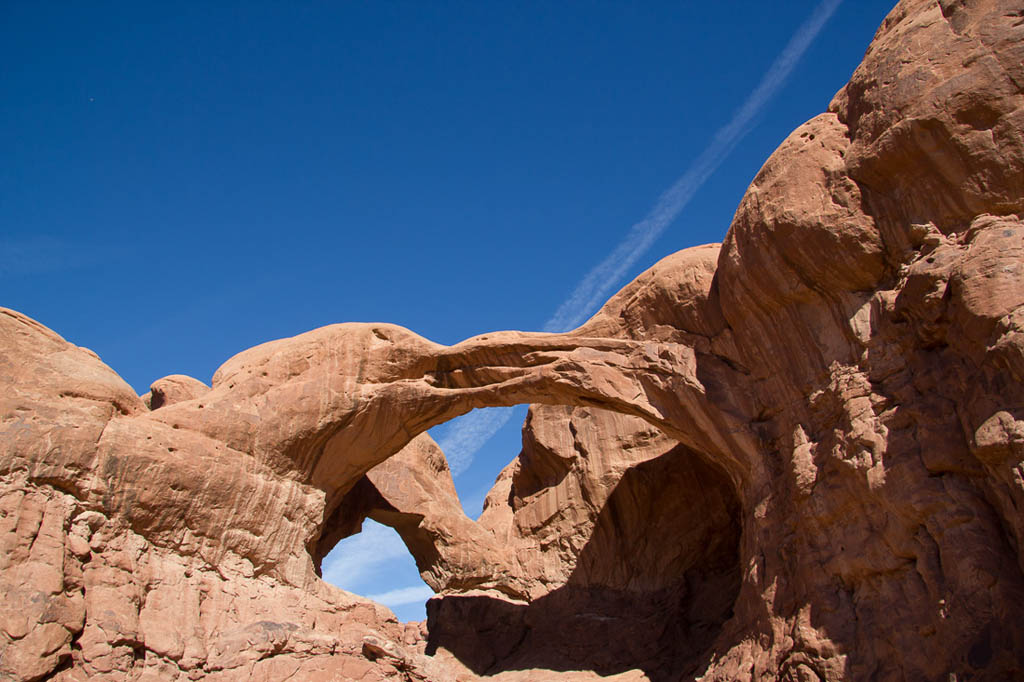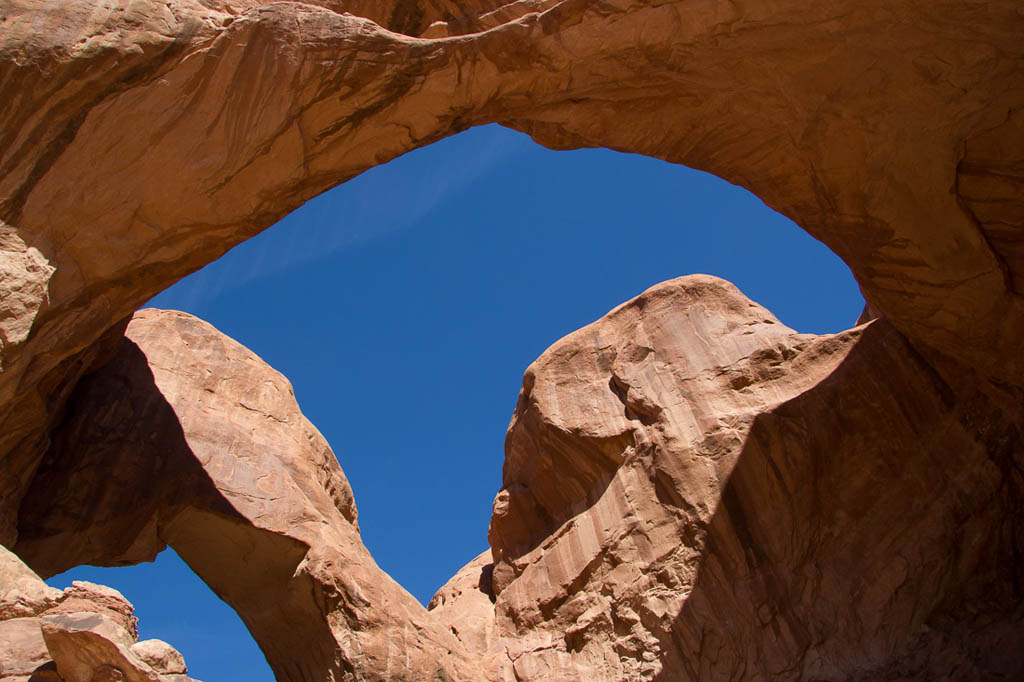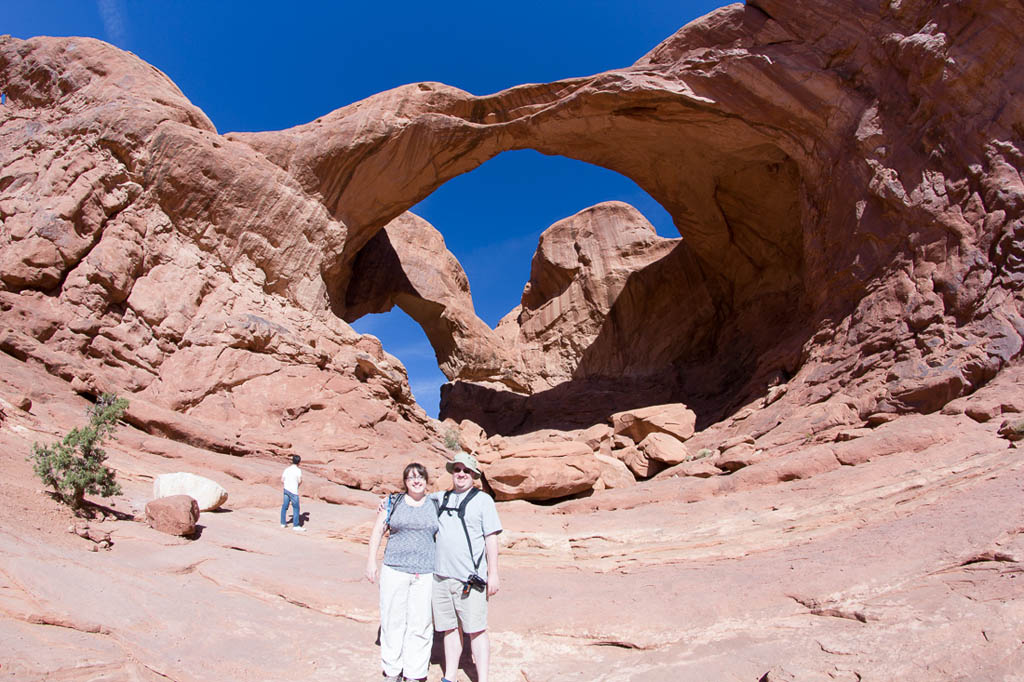 And we also checked out a trail called the Devil's Garden, which had many arches along the way.
This one was Tunnel Arch: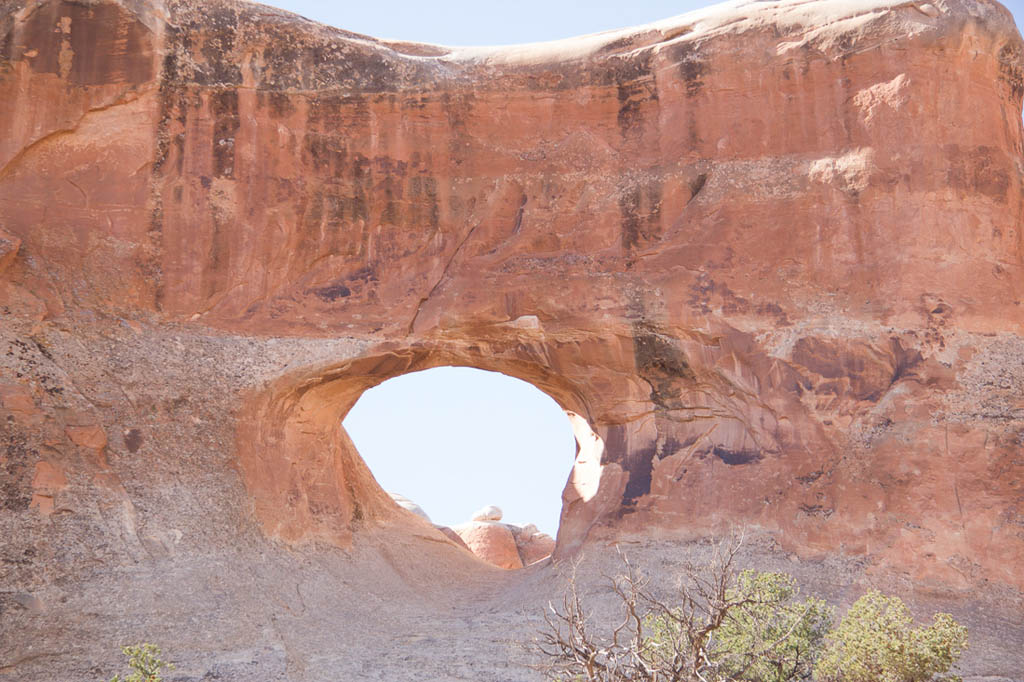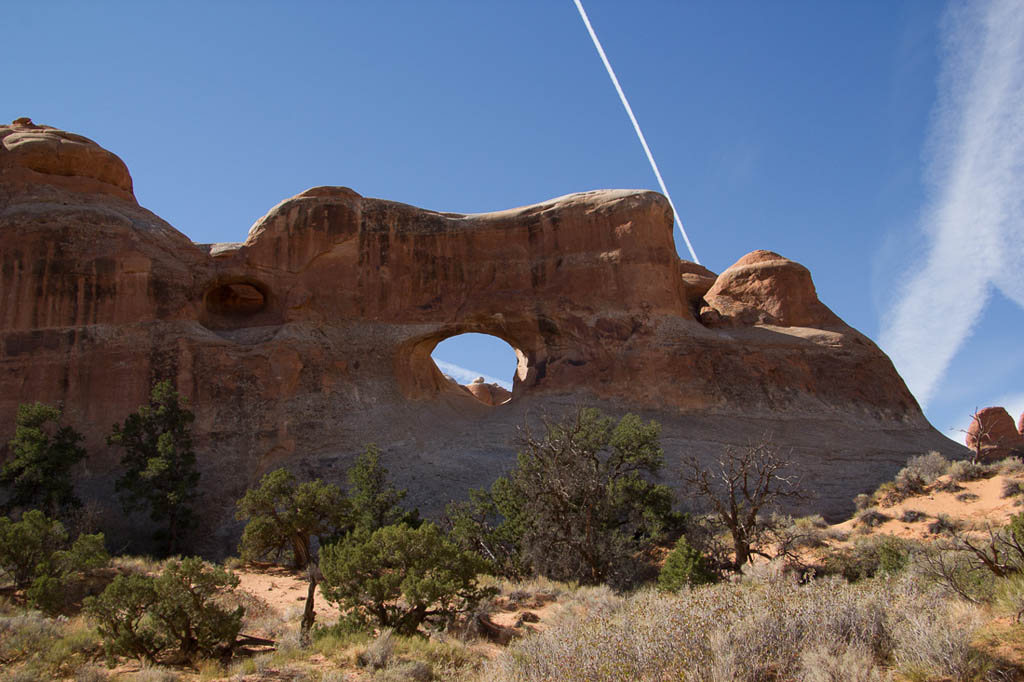 Pine Tree Arch was also stunning in the Devil's Garden area. It looked like visitors used to be able to hike under this arch, but the trail has been closed. Upon closer inspection, there's a huge crack along the curve of the arch. We figure that the park expects it to collapses sometime soon … like within the next hundred years.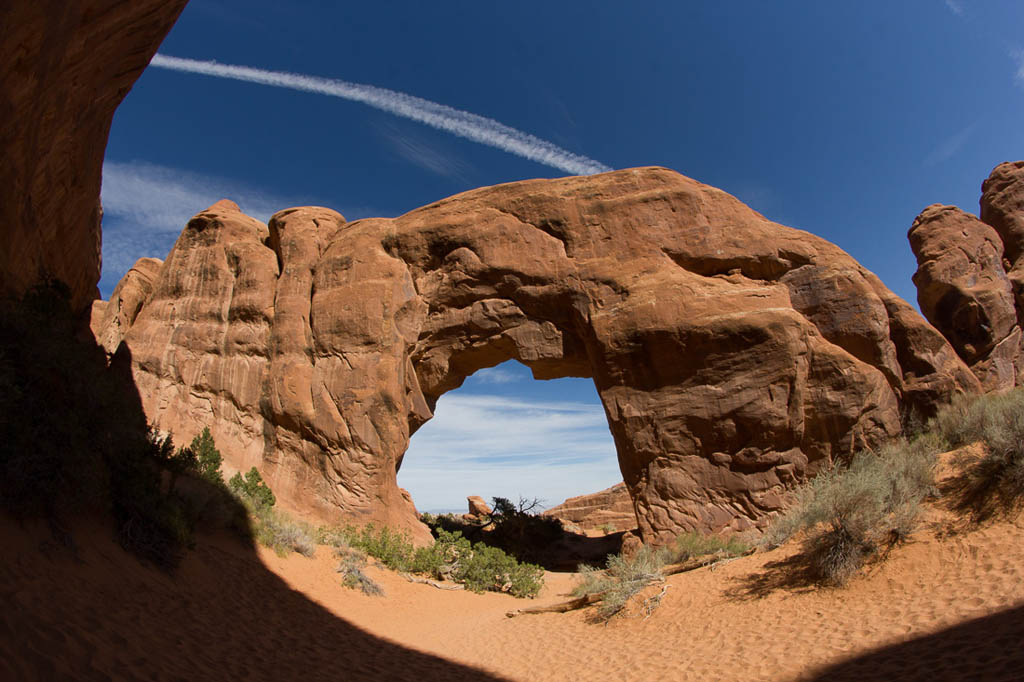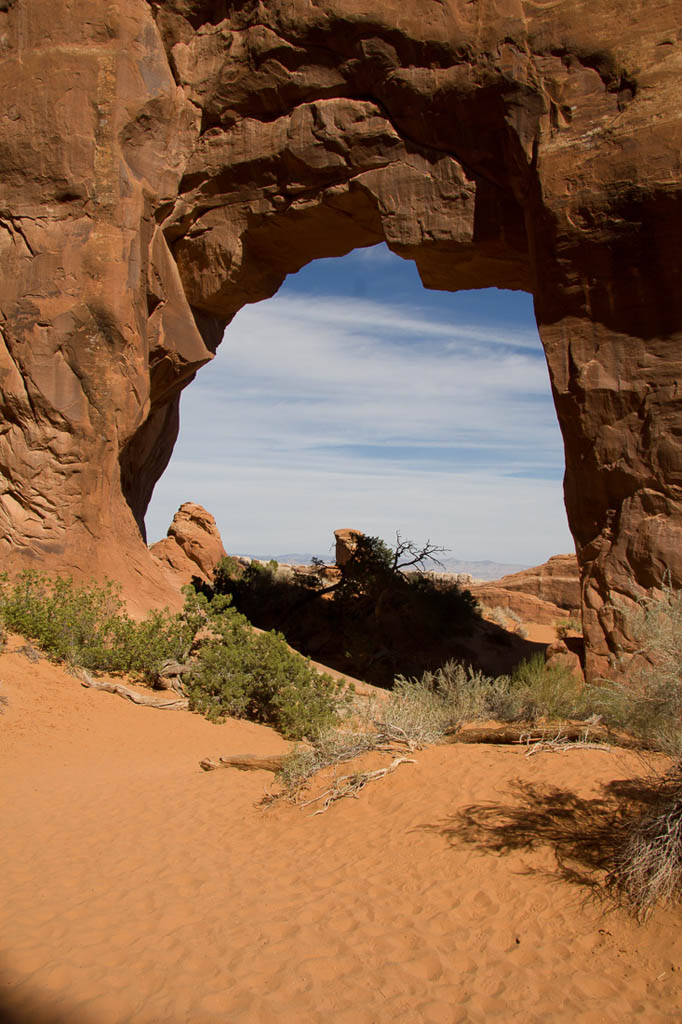 Besides the Arches, the Devil's Garden trail also had just generally stunning landscapes!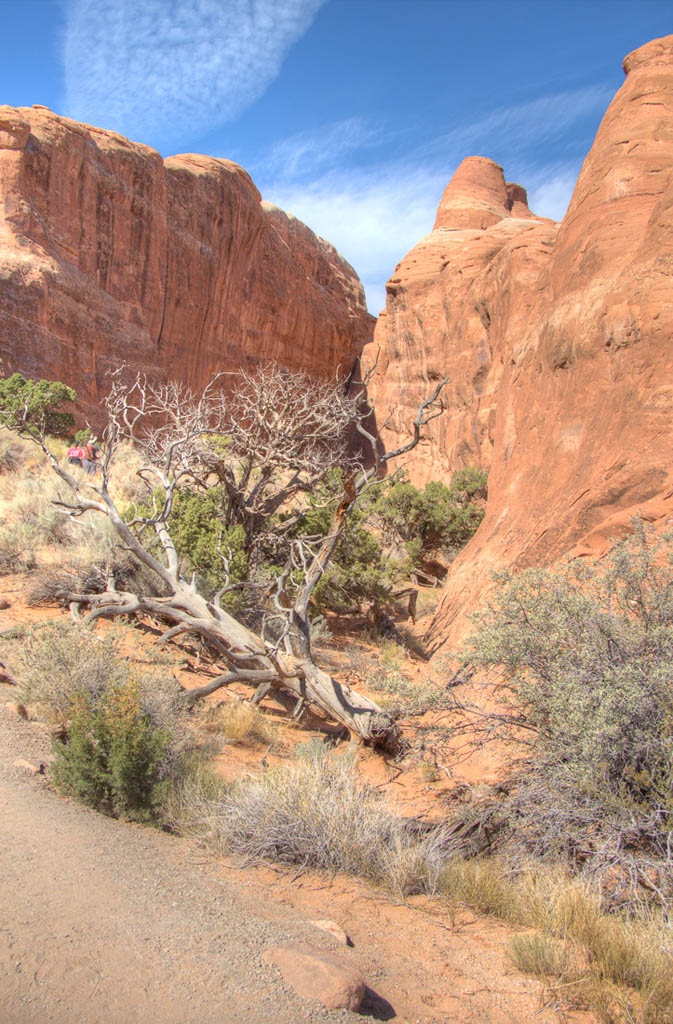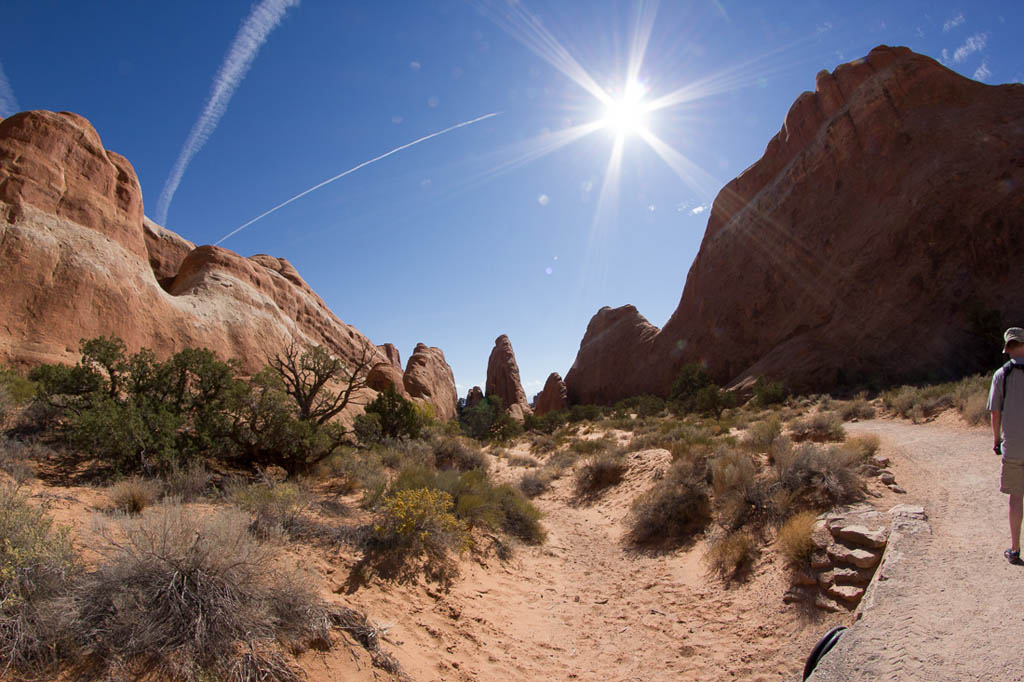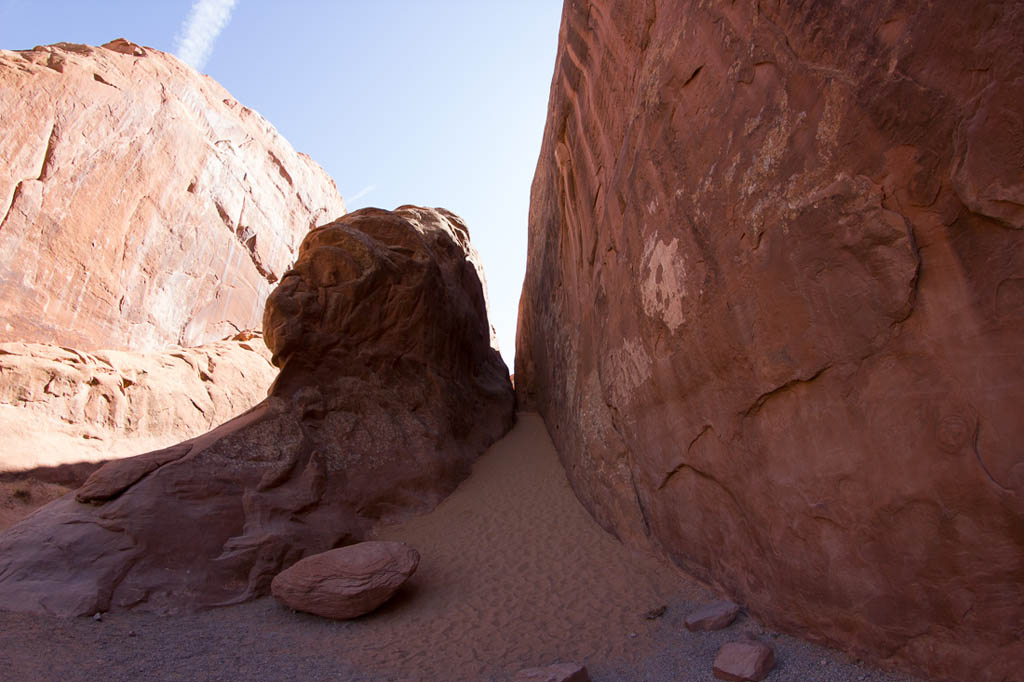 And that was it! I wanted to point out that we stayed at a hotel called the Red Cliffs Lodge. Although it was farther than many of the other hotels in Moab, the drive on Highway 128 from the main area of Moab to our hotel was just SO SO stunning. Amazingly beautiful. If you ever find yourself driving through this area, make sure you drive along that road!
---