This post may contain affiliate links. Please see my advertiser disclosure for more details.
Installing Ikea Sektion Kitchen Cabinets as Basement Storage
---
The next phase of our basement renovation, after covering our wood paneling with paintable wallpaper and installing new carpet and ripping out the old bar, was a new cabinetry and workbench area.
As I mentioned in a previous post, the previous bar in our basement, while fun, wasn't very functional and left a lot of "dead" space behind it. The bar top wasn't good for much either. When we had to use our basement as a workspace, like installing our recessed lights or building our DVD shelves, we just used an ugly folding table and an old black table/desk thing. (We don't have a garage or much of a back yard to work on our projects).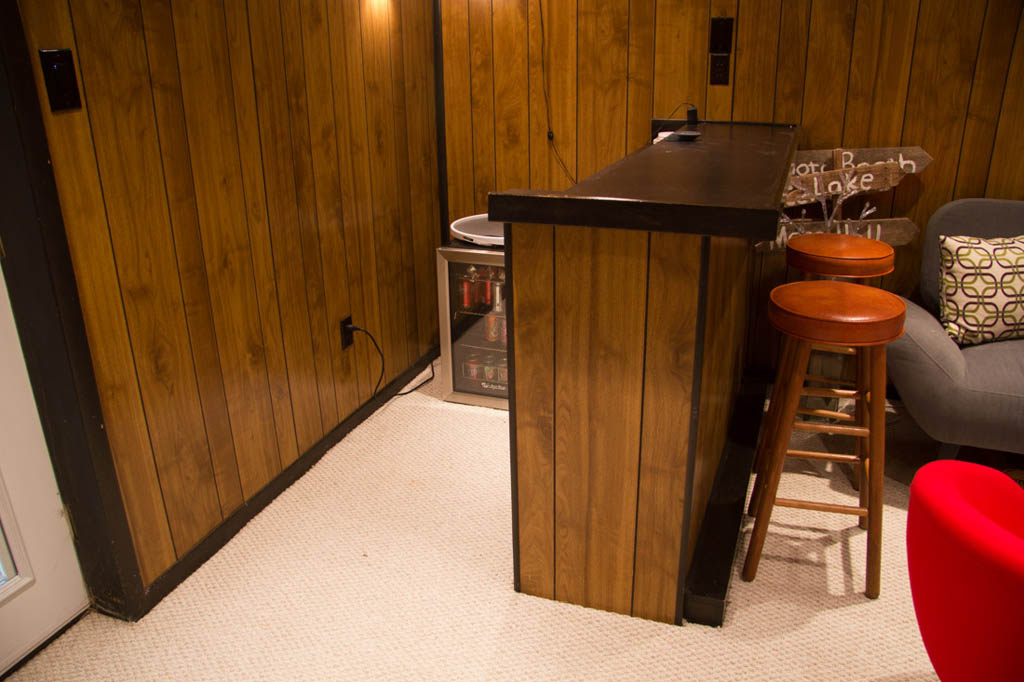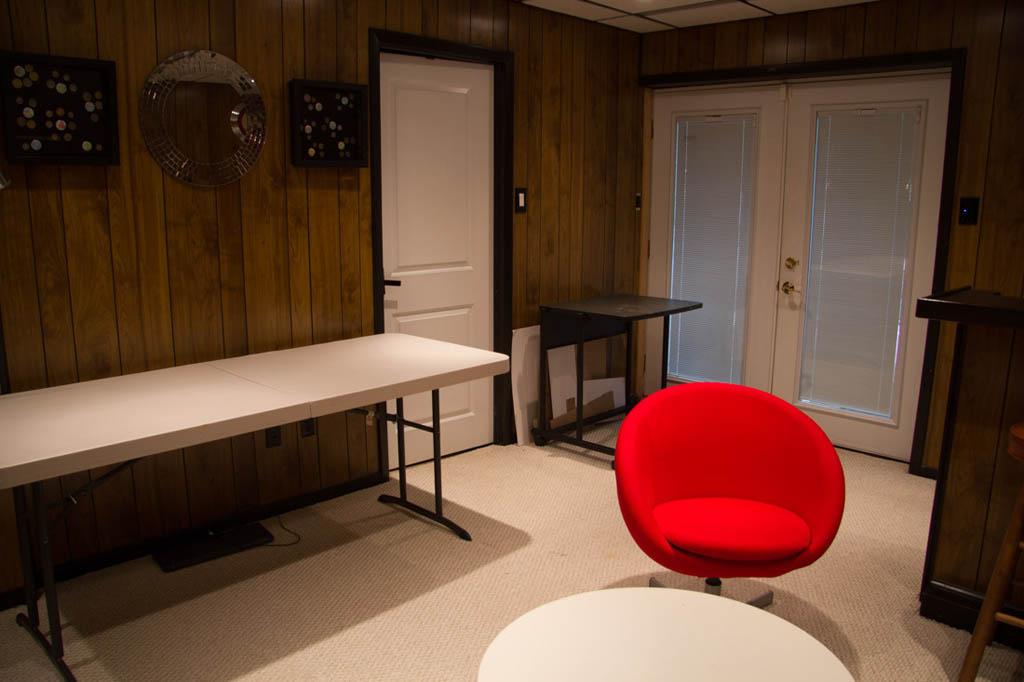 After considering lots of options, we decided on installing some Ikea cabinets for storage and a butcher block countertop as a "workbench." It's worth noting that its function goes far beyond a workbench. It's a puzzle-building bench, Lego assembly bench, and paperwork sorting area. We LOVE our Ikea kitchen cabinets we installed during our 2012 kitchen renovation and our subsequent Ikea cabinet banquette installation, so we knew we'd like them. (Just want to point out though that these are Ikea's "new" style of cabinets called Sektion. Our previous cabinets had been from Ikea's now discontinued Akurum line).
We opted for Ikea Tingsryd Doors in "wood effect black" and the Hammarp Countertop in Birch.
I didn't take a huge amount of pictures of the installation process for the Ikea cabinets, but I thought I'd share what I had.
Installing Ikea Sektion Cabinets
For those folks not familiar with Ikea kitchen cabinet installation, a simple hanging track is the only thing installed directly on the walls. Each cabinet then just "sits" on the track. This VASTLY helps keep things level and properly spaced for DIYers like us.
First up, the LOADS OF FLAT PACKED BOXES.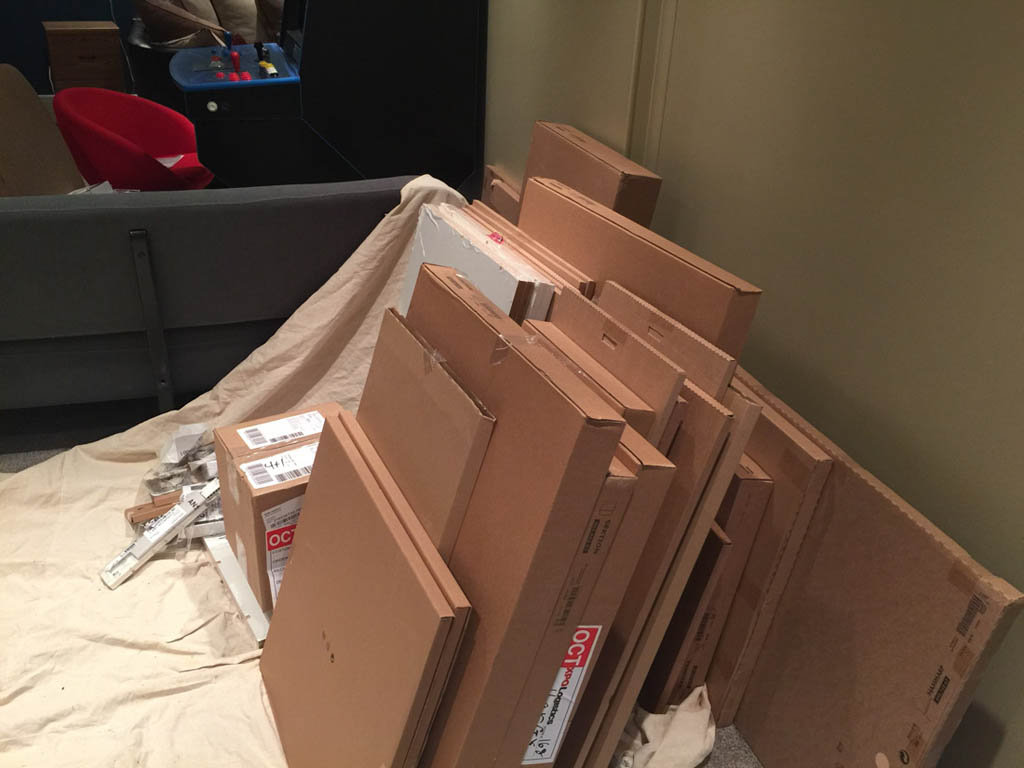 Okay, now on to the real installation. Cutting the hanging track and attaching it to the wall. We installed the lower cabinets first.
First, we (ahem, Ken), cut the tracks to the appropriate length after doing some measurements on the wall. The cutting was quite labor intensive since we were just using a hacksaw. We used a miter box to keep things straight, but there are probably infinitely more efficient ways to cut these tracks.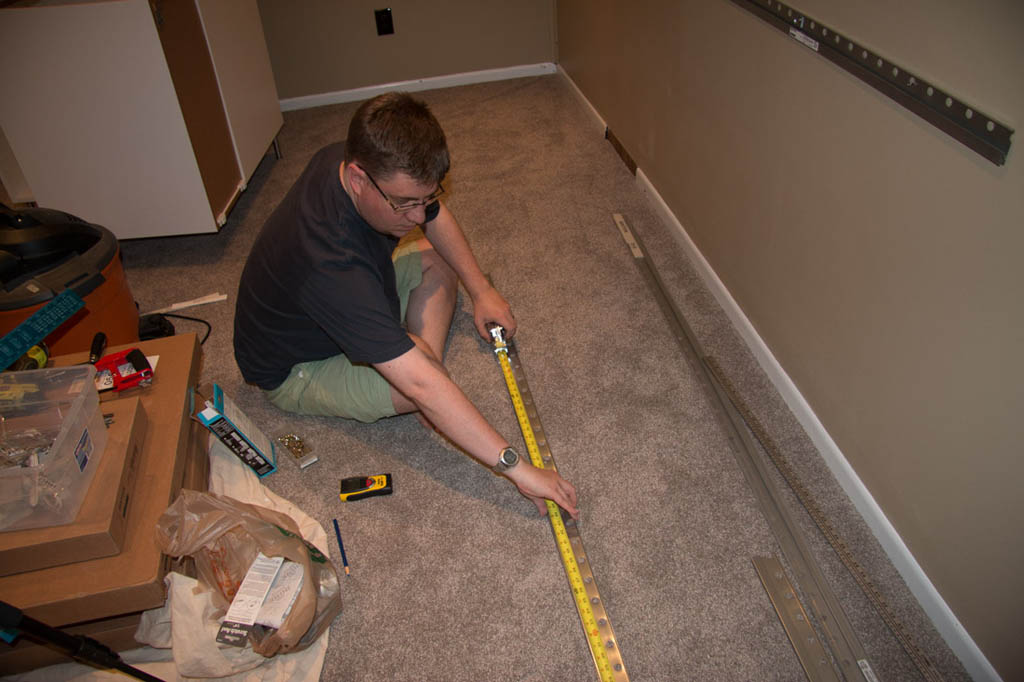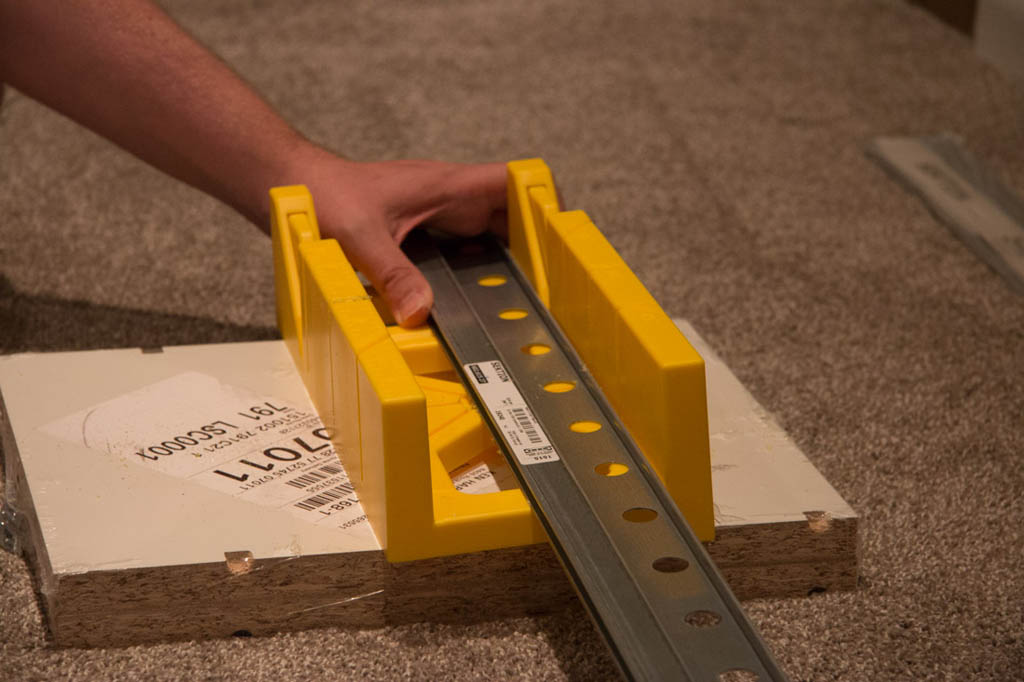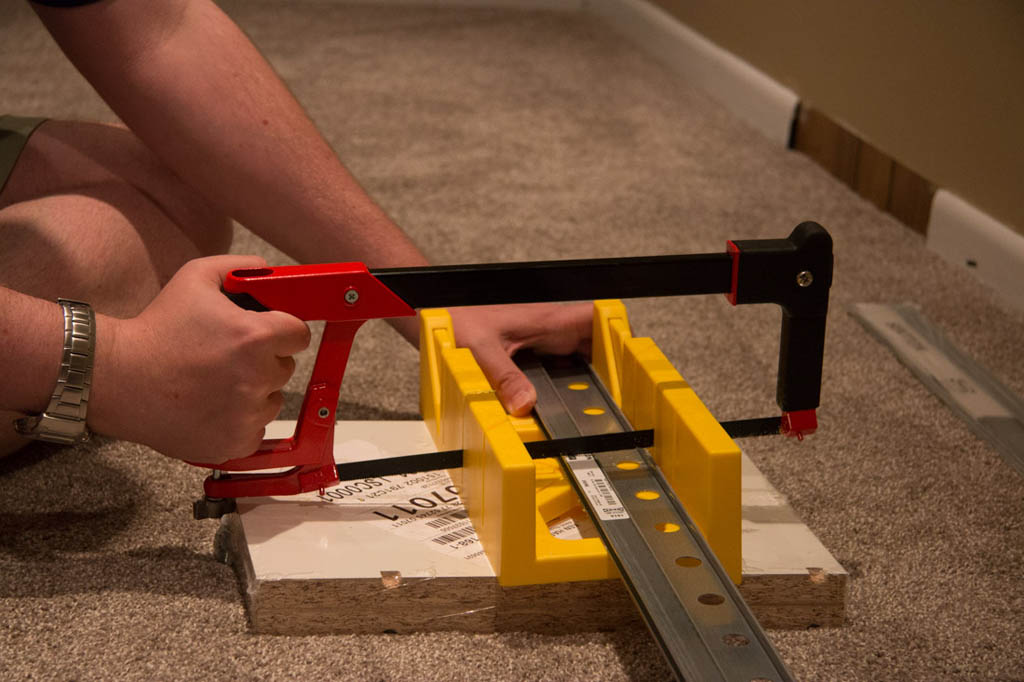 It generated a tremendous amount of dust, so Ken had the ShopVac handy.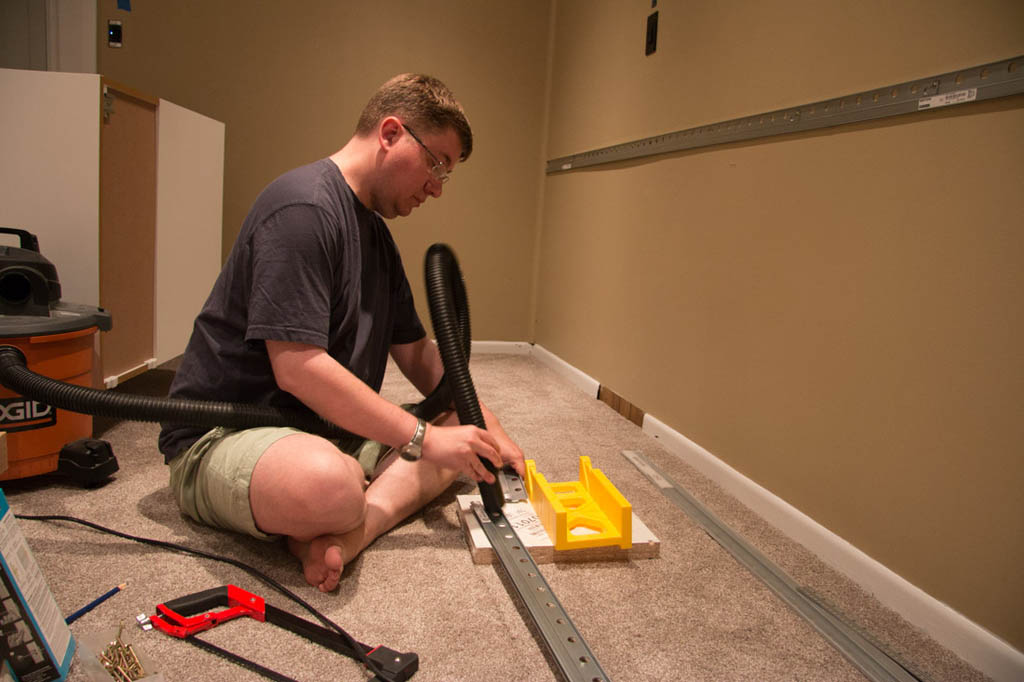 Next, Ken used our laser level (note the red laser lines) to ensure that he hung the bar mostly level. Exact level precision was not necessary at this point. More on that later.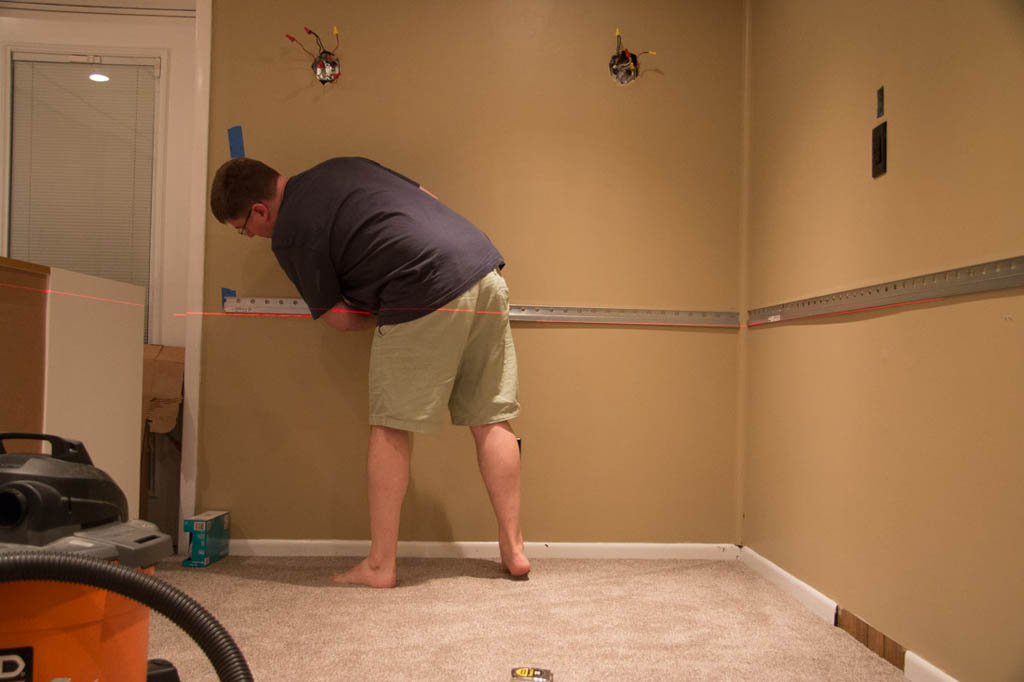 He just held up the bar by hand, and I went over and filled in the two end circles with pencil on the wall, so he'd know where to drill holes for the bar. (Just look on the left hand side for now, we had already installed the hanging bar on the right).
(It's worth noting at this point that we were installing our bottom cabinets much higher than normal kitchen cabinets. The idea being that we would spend most of our time standing at this space instead of sitting.).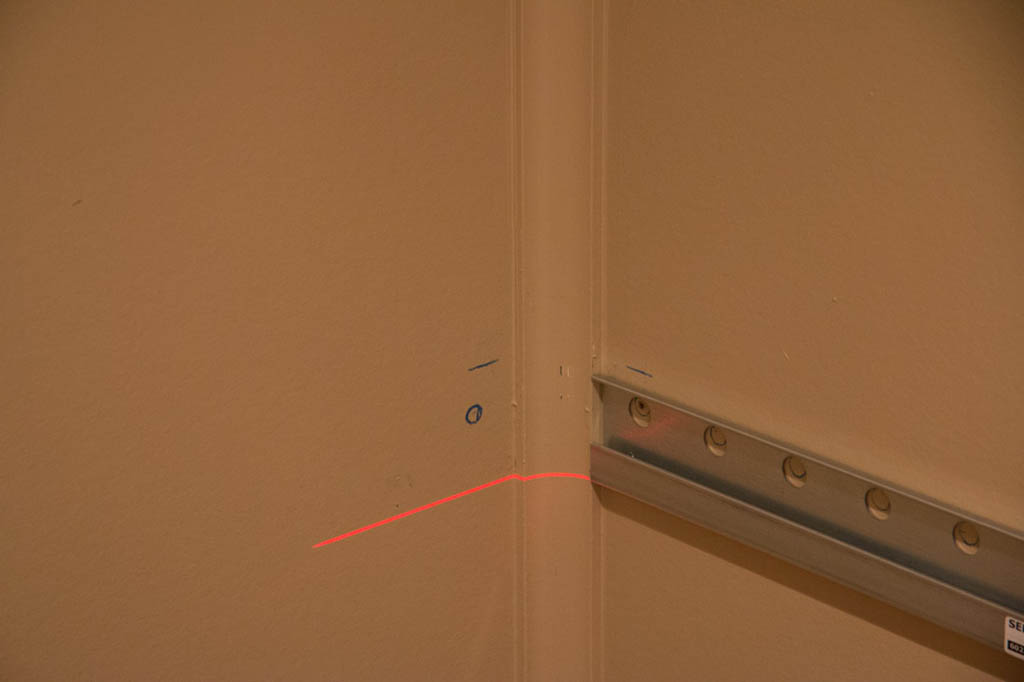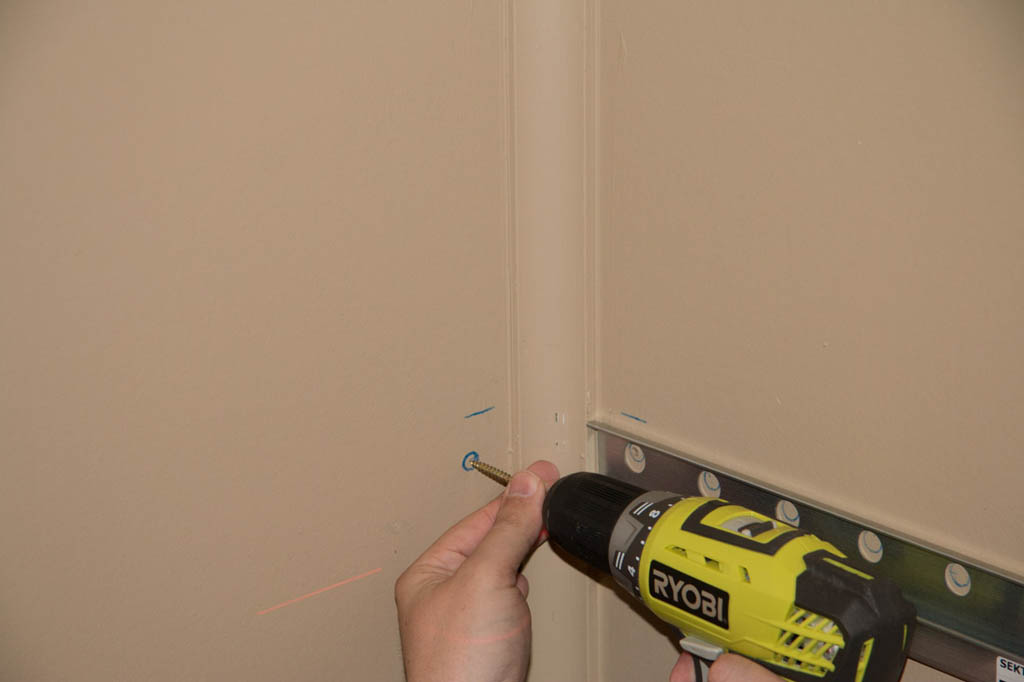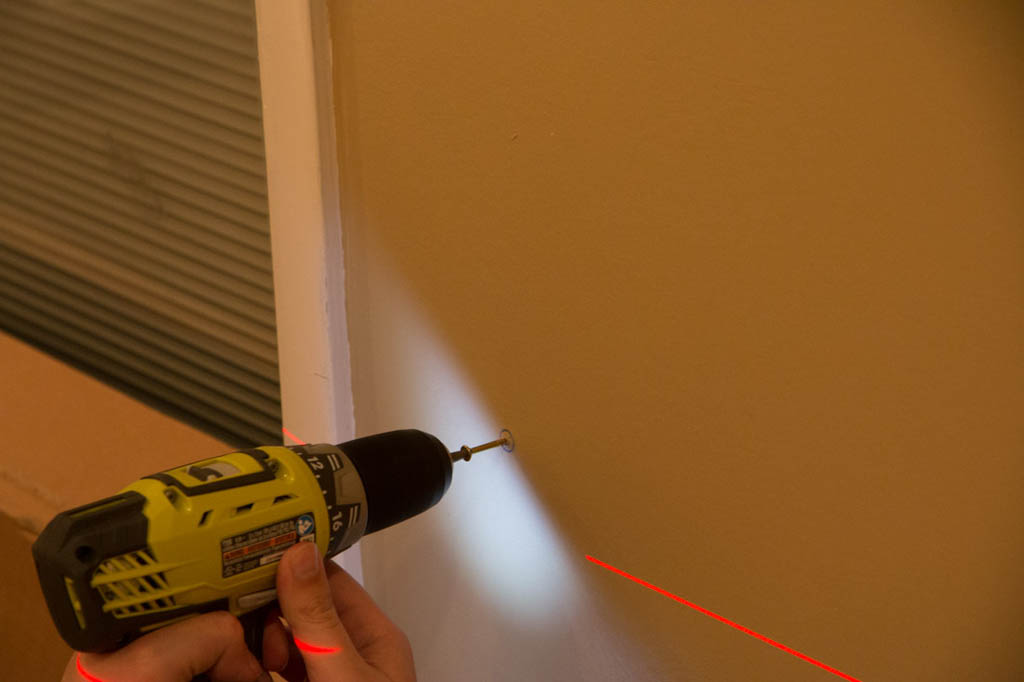 For now, he just lightly placed the bar on the screws for some additional measurements.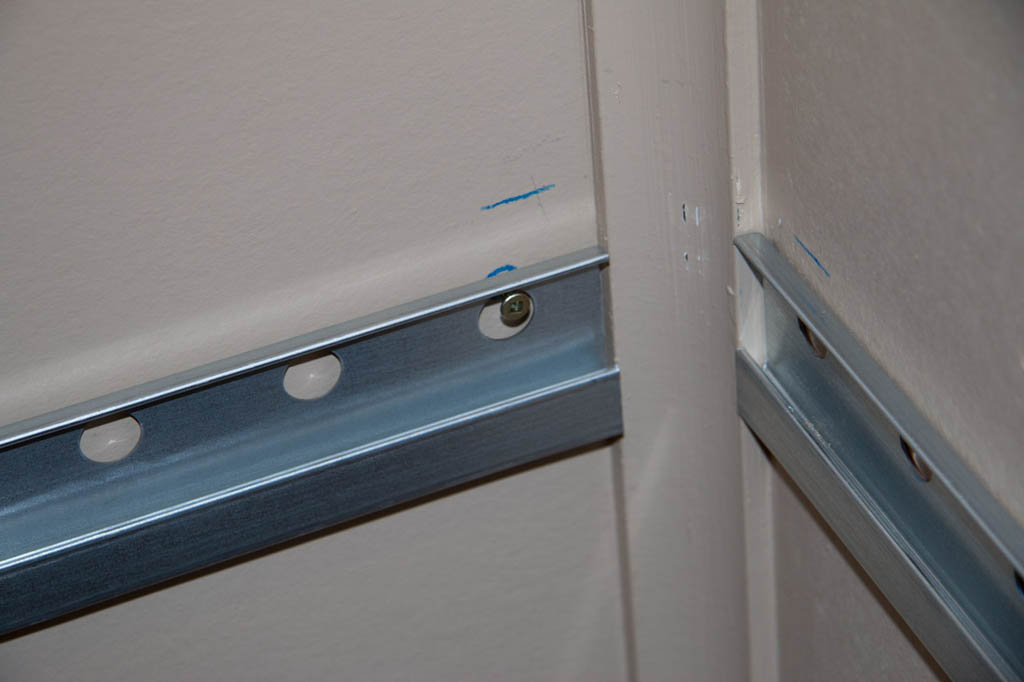 Then, based on how far apart our studs were, Ken measured the appropriate distance and marked additional holes to screw. (But he didn't screw anything yet, we wanted to make sure things fit first.)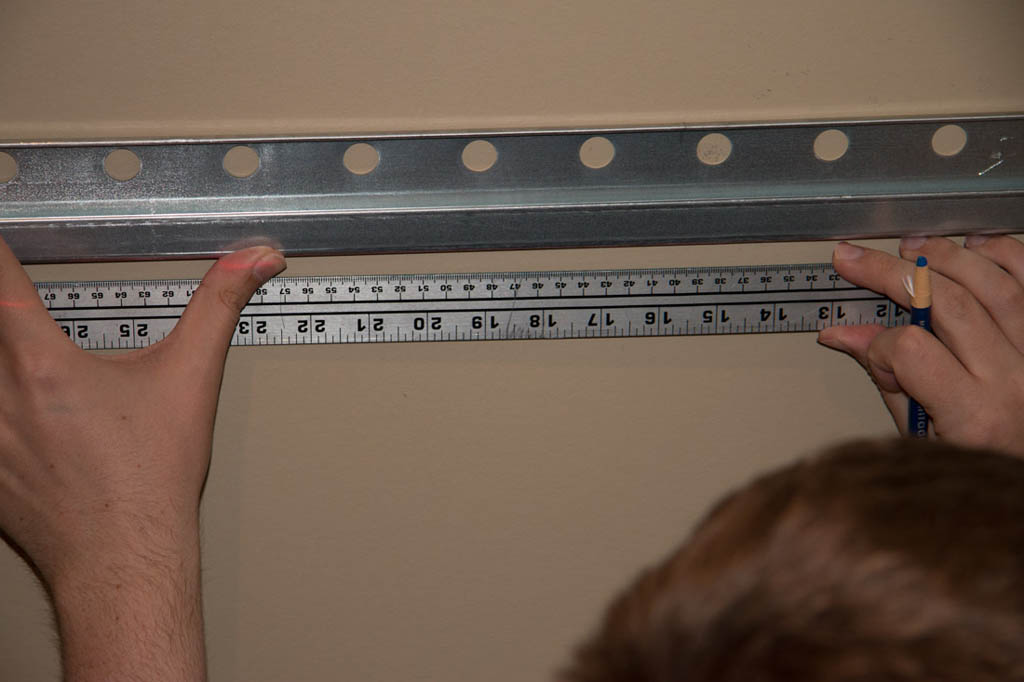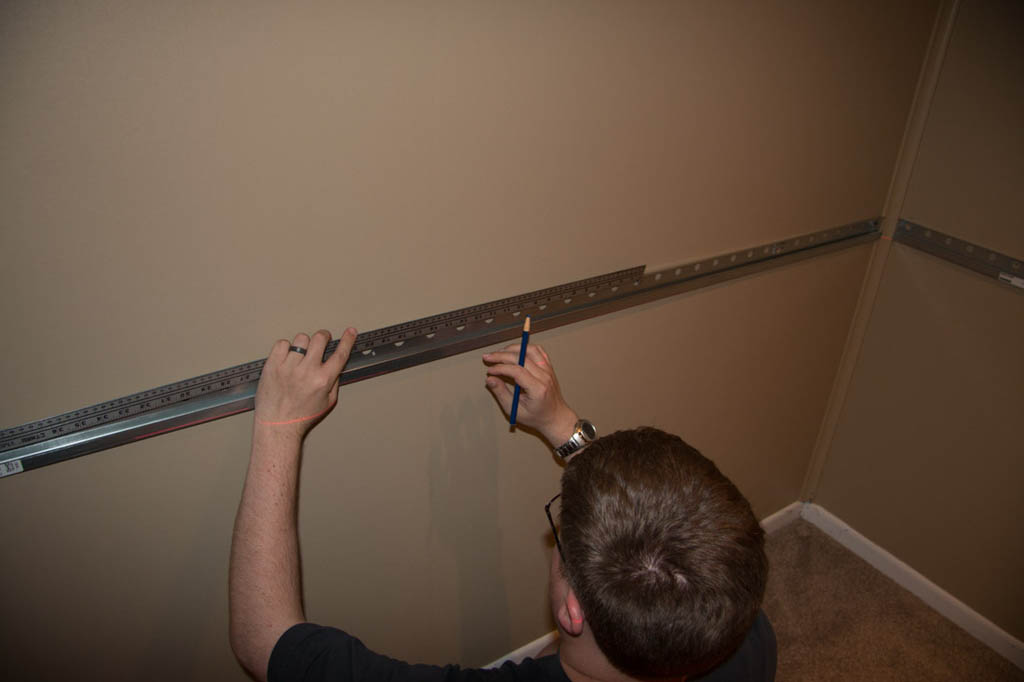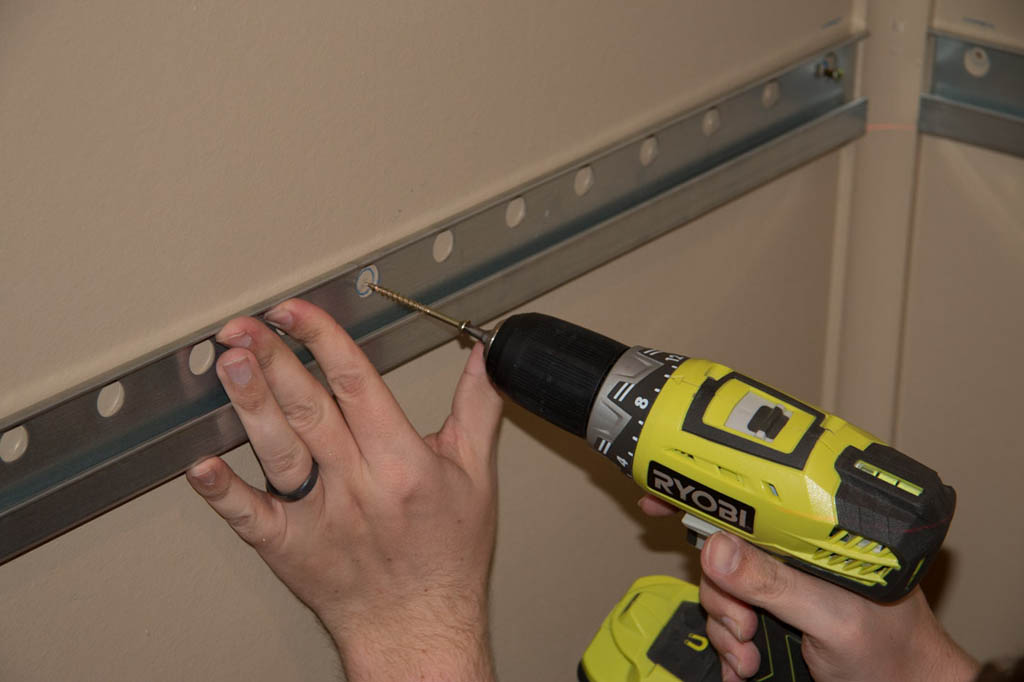 We needed some shims to make the bar fit flush against the wall, since our walls are woefully uneven.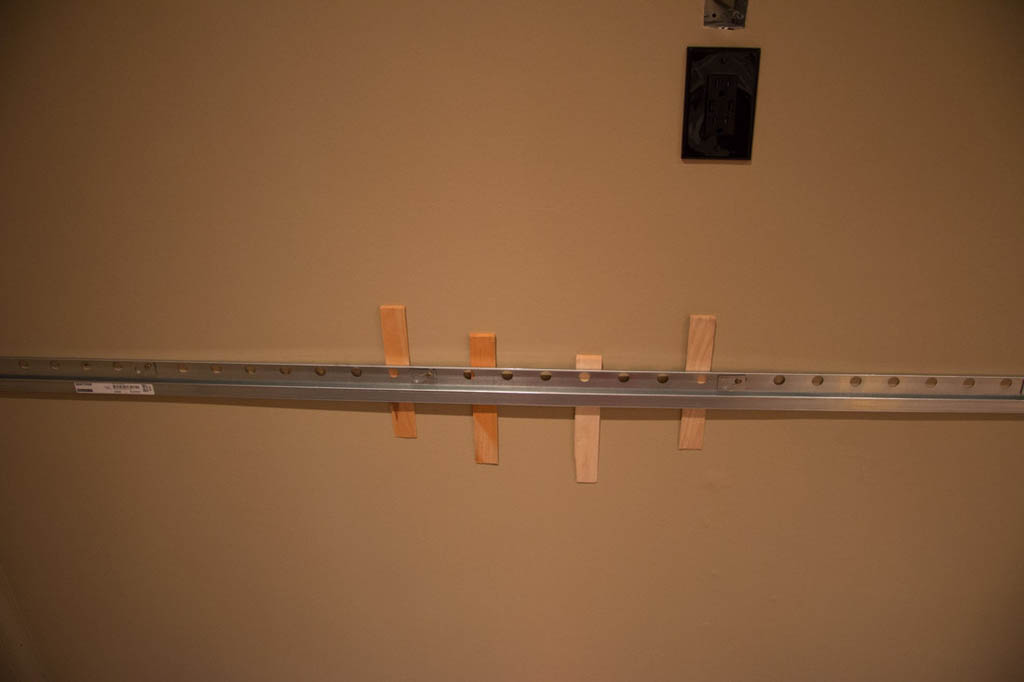 Ken moved the cabinets to the corner for a test fit, and things were looking good!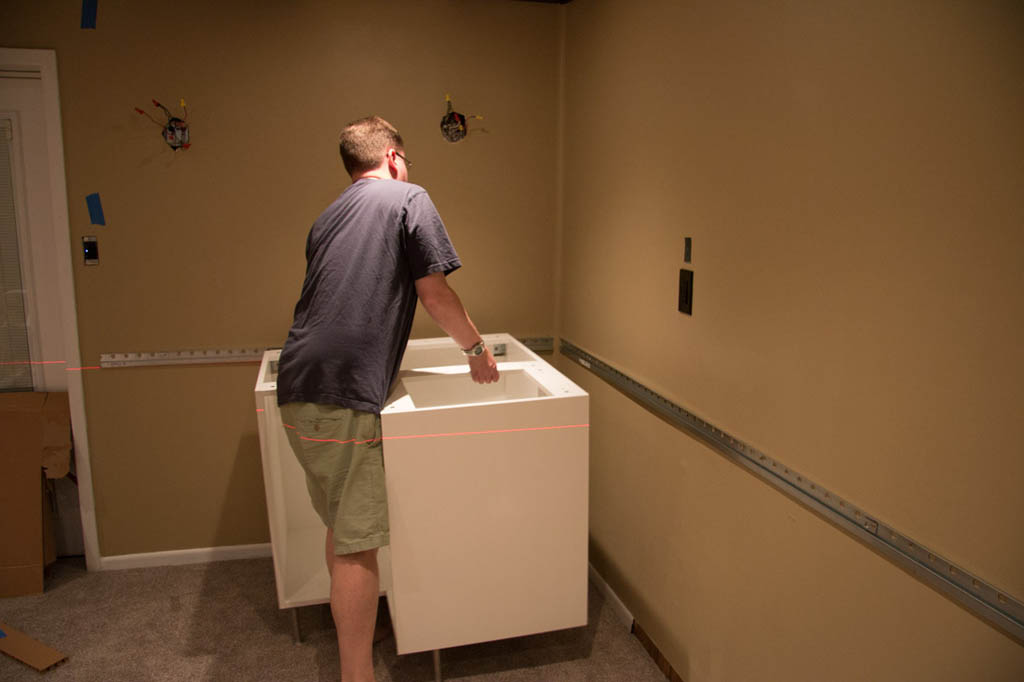 Then it was time to more permanently affix the bar to the wall using these things. I'm not sure what they're called, but they came with the Ikea hardware. It's basically a washer to keep the screw in place in the hole (since the holes are much larger than the screw). These are helpful for adjusting the track to be level after you've already screwed it to the wall.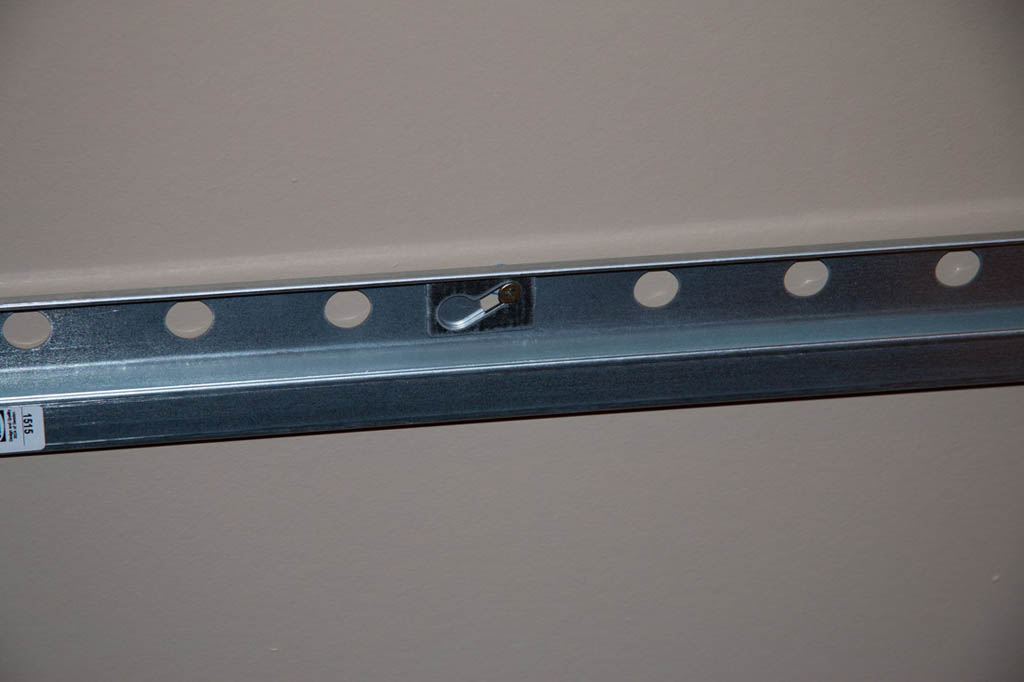 A Few Issues
We encountered a few issues during our installation. First, Ikea recommends that screws be installed into studs every 12 inches. But, we had a problem. Our basement studs were 16 inches apart, not 12. And, since our walls are paneling and not drywall, any sort of normal drywall anchor seemed out of the question.
So, we installed screws in every possible stud that we could. Then, in several other holes, we installed toggle bolts, called SnapToggles, for added support. Not perfect, but hopefully enough to give our cabinets added support when hanging from the wall (hanging bar thing). (There wasn't enough space in our walls to use normal toggle bolts, which expand to be fairly large inside the wall).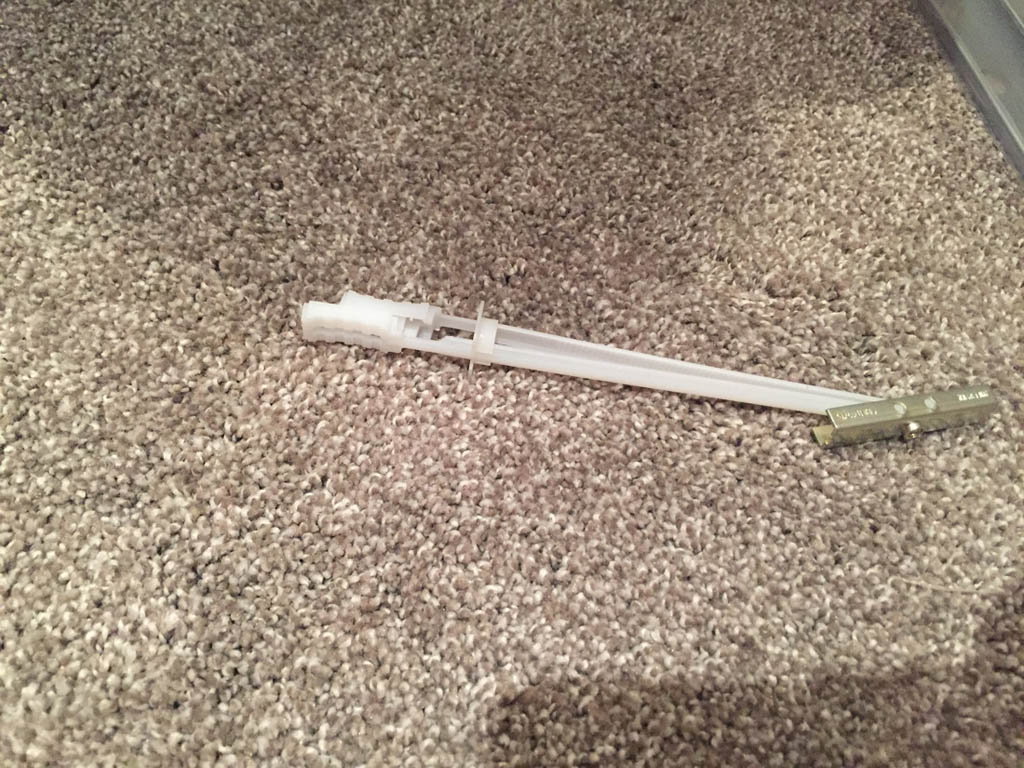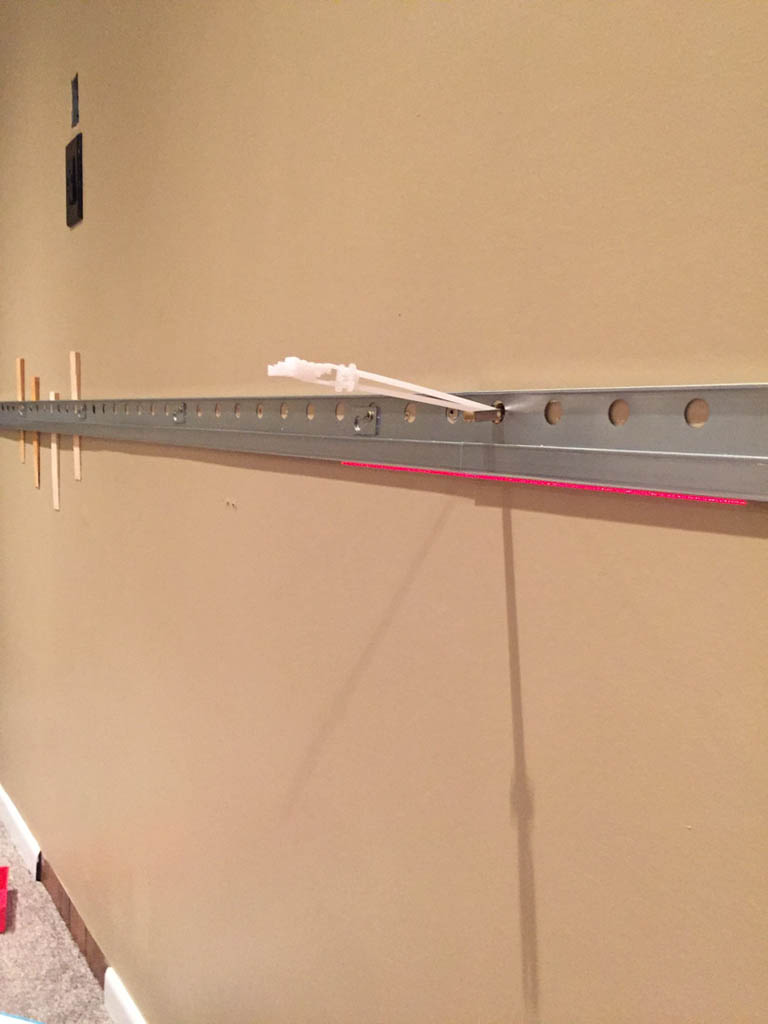 The second issue we encountered was this piece of corner moulding. These are the mouldings used to hold together the (now wallpapered and painted) wood paneling pieces at each corner.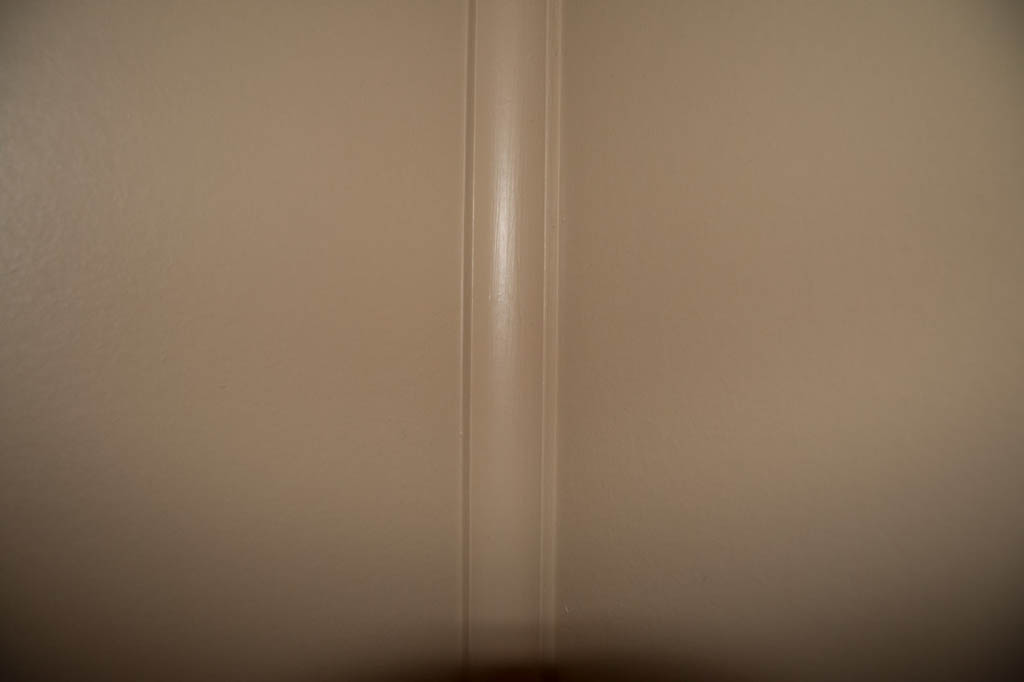 With that corner moulding piece, we wouldn't be able to install our countertops at any sort of nice, neat corner angle. Plus, it was blocking our access to the last stud. So, the moulding had to go. The cutting commenced.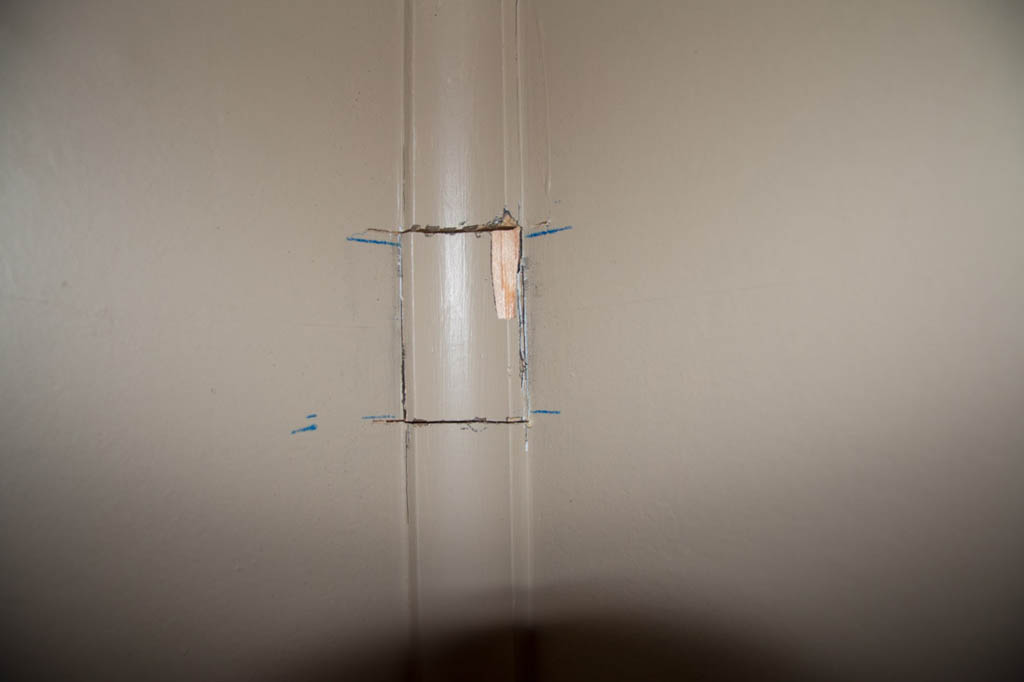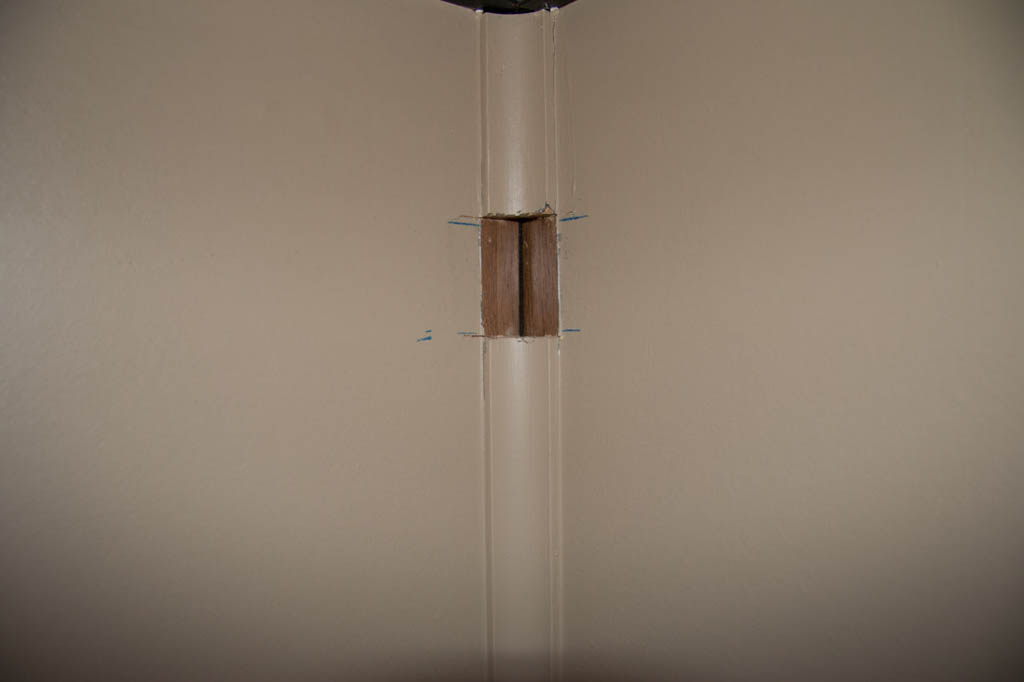 It wasn't the prettiest cut in the world, but it would be covered by cabinets and countertops, so no one would be the wiser.
It was rinse and repeat for the top cabinets.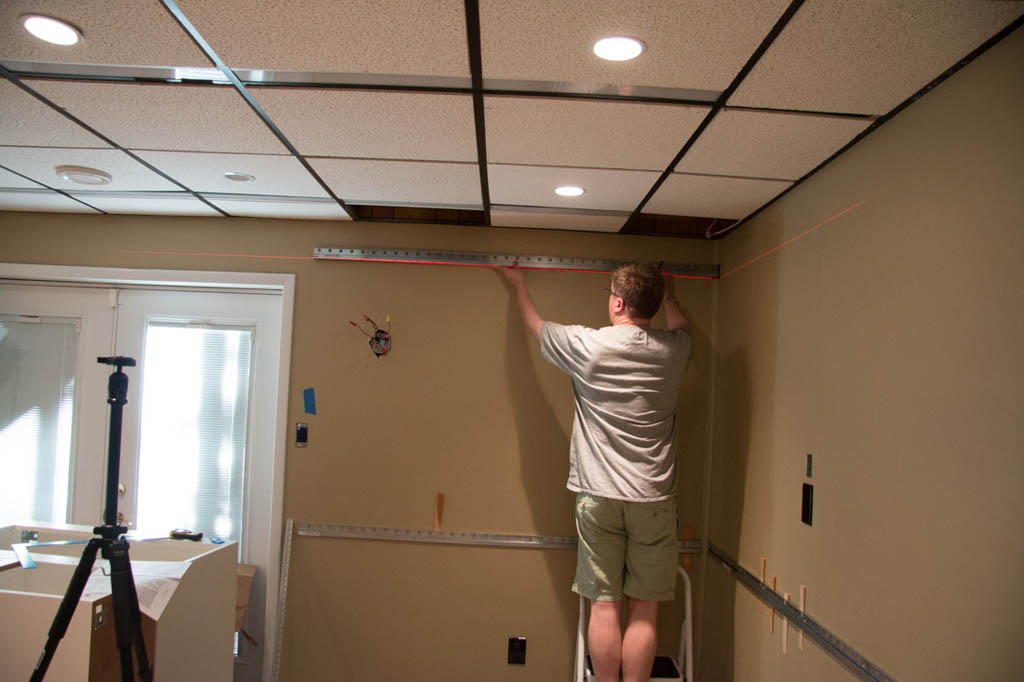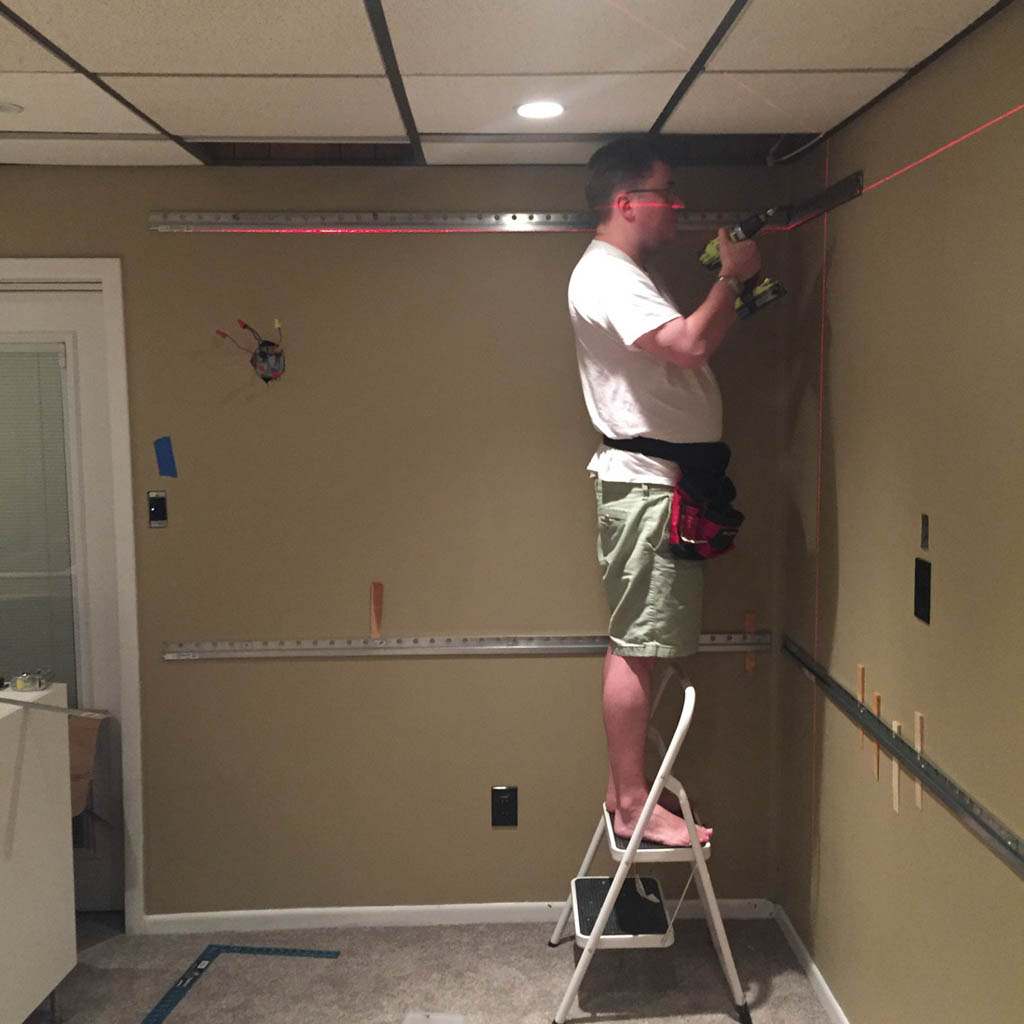 It was time for a dry fit of the shelves!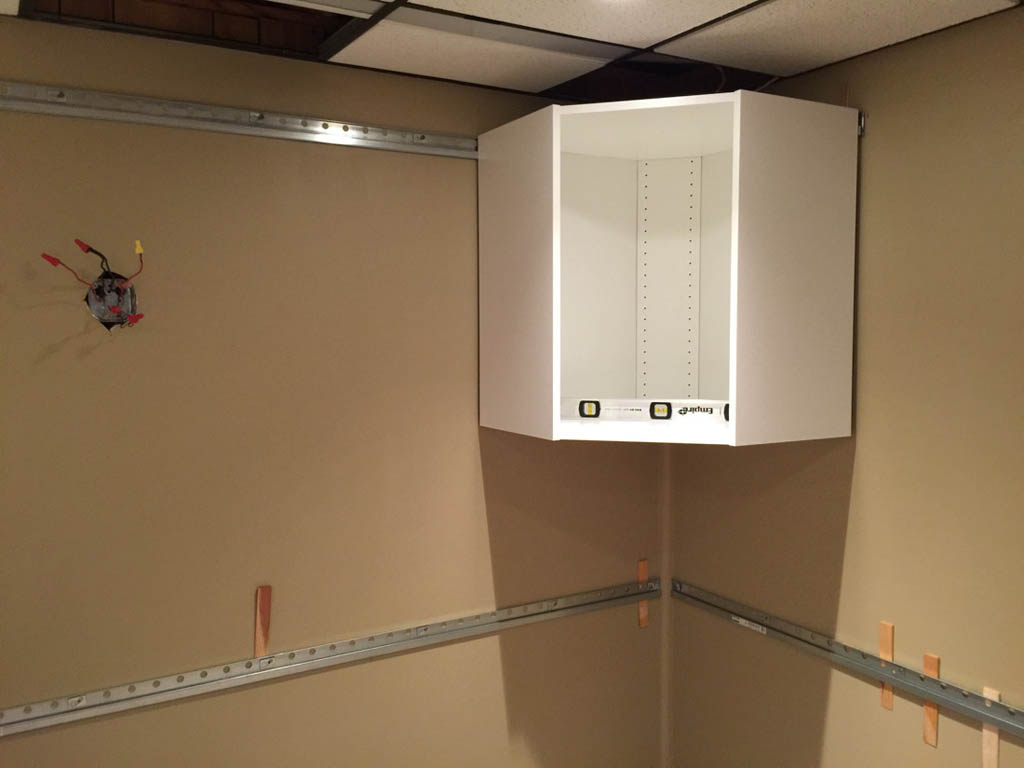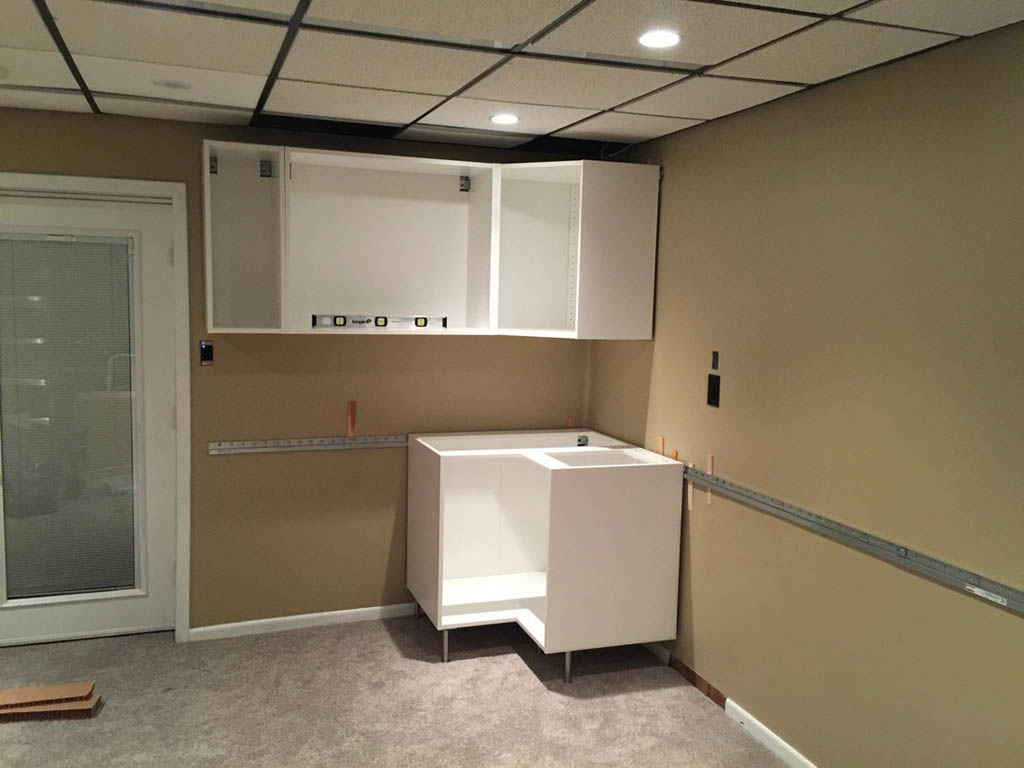 And, just setting the countertops on the cabinets to take some measurements. (I didn't take any photos of the actual countertop installation. We just cut them to size and then screwed them to the bottom cabinets).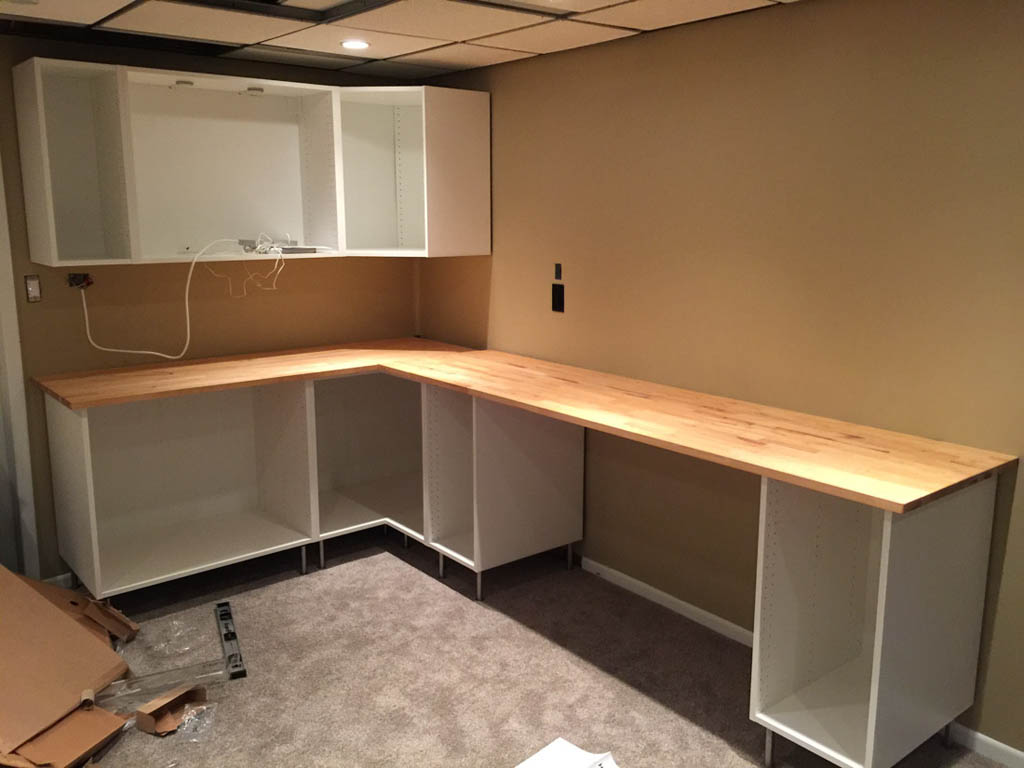 Finishing Touches
Then it was time for the "fun" part! Installing the cover panels in the colors that we had selected.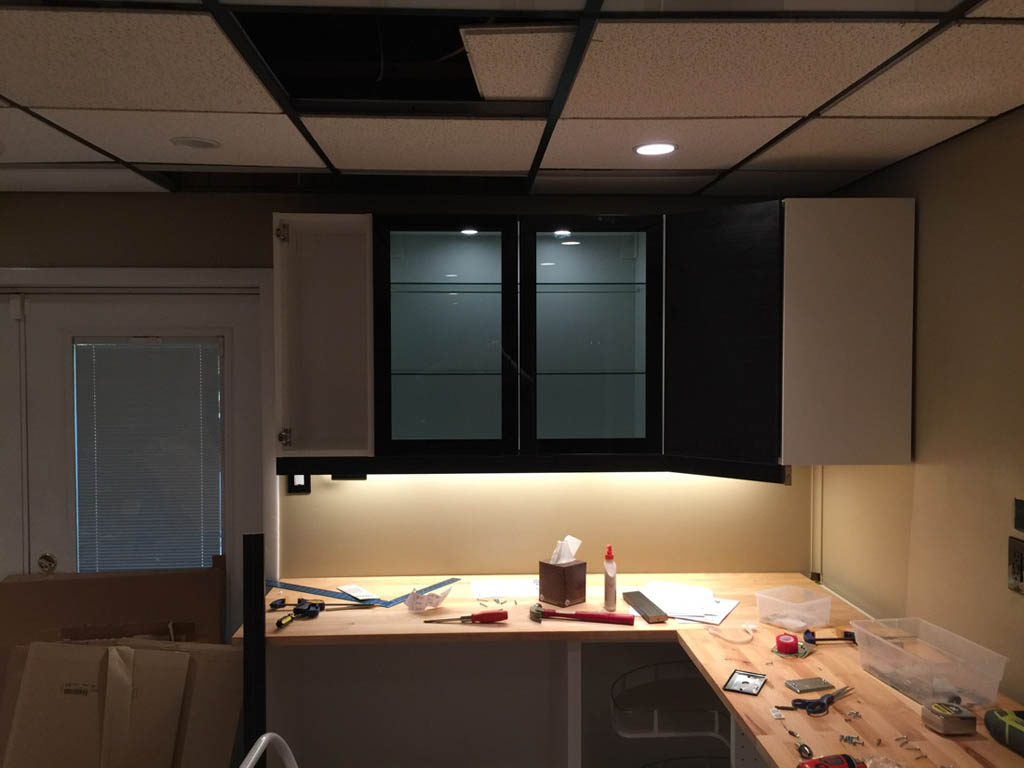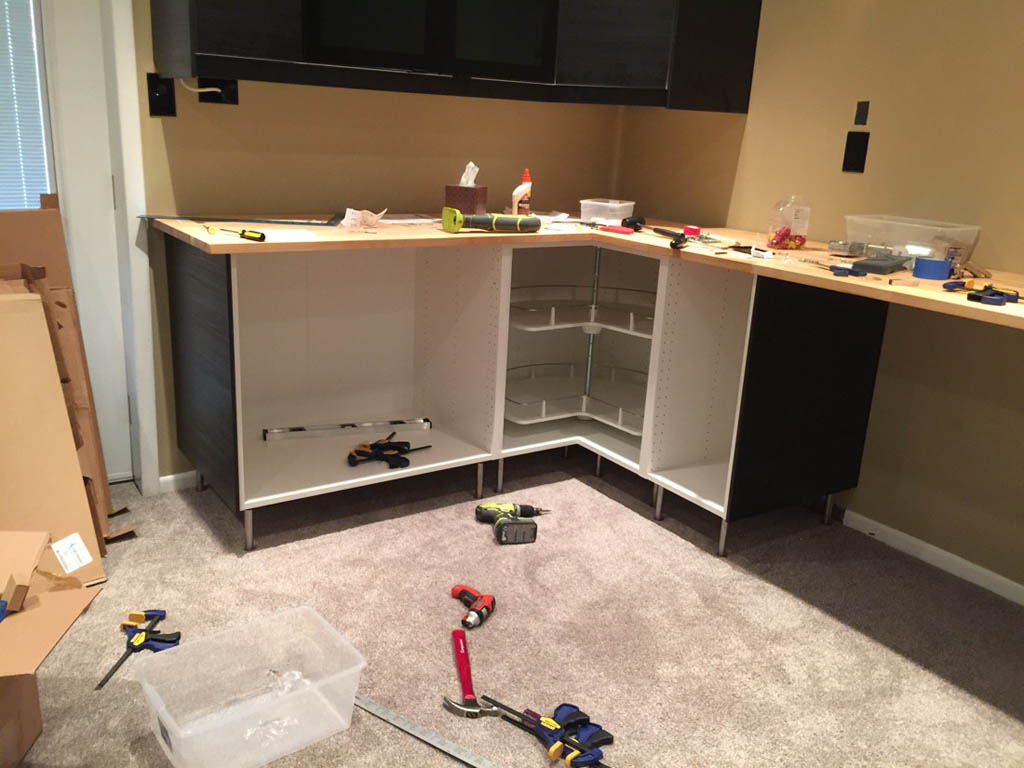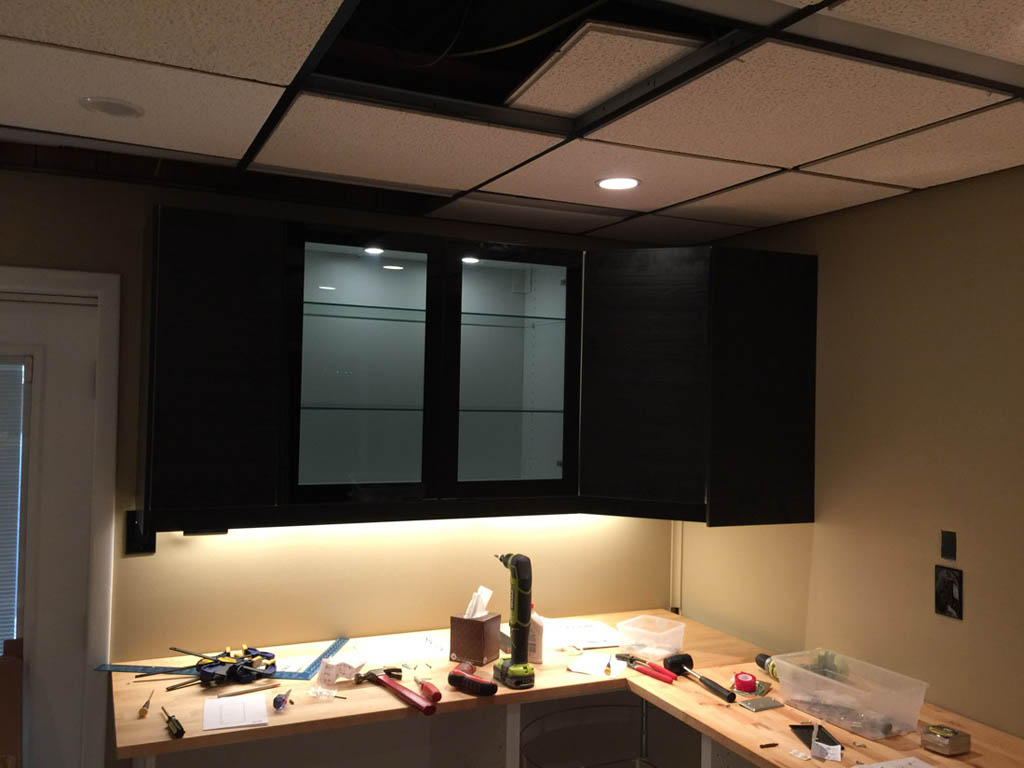 Then it was time to fill up the space!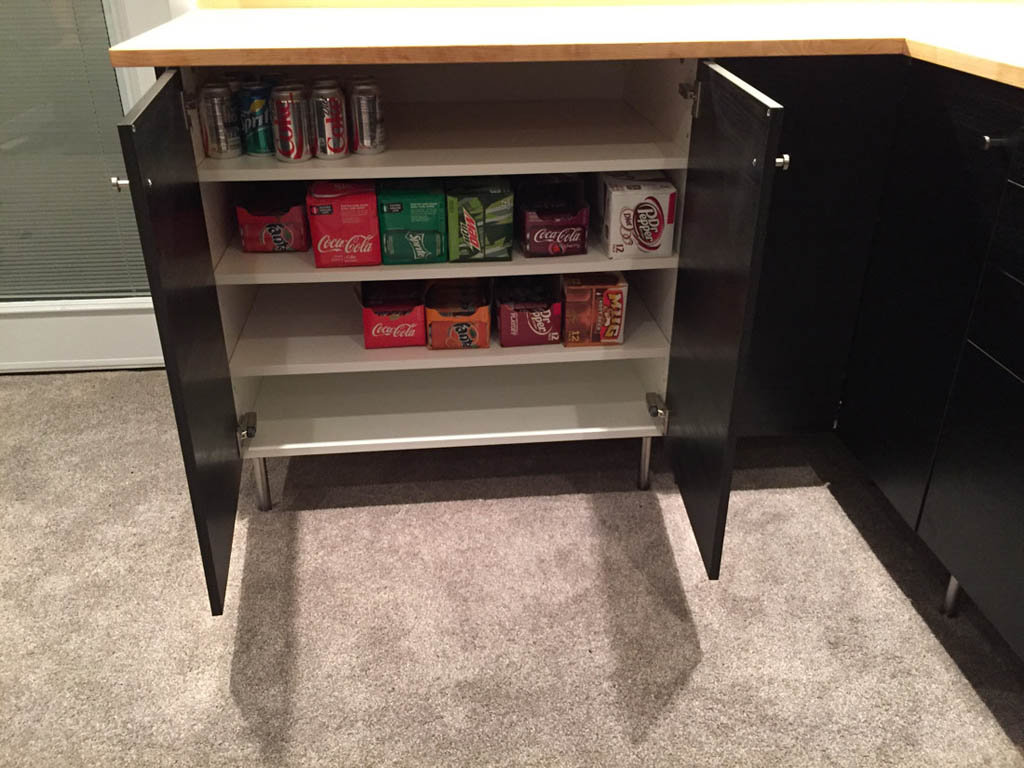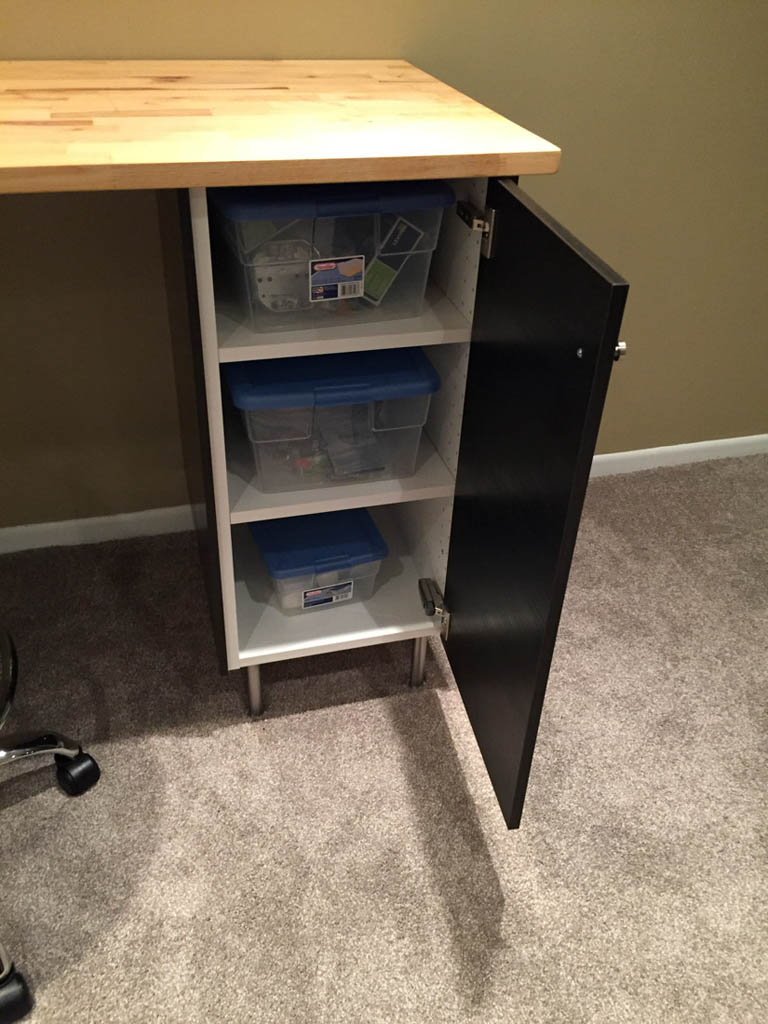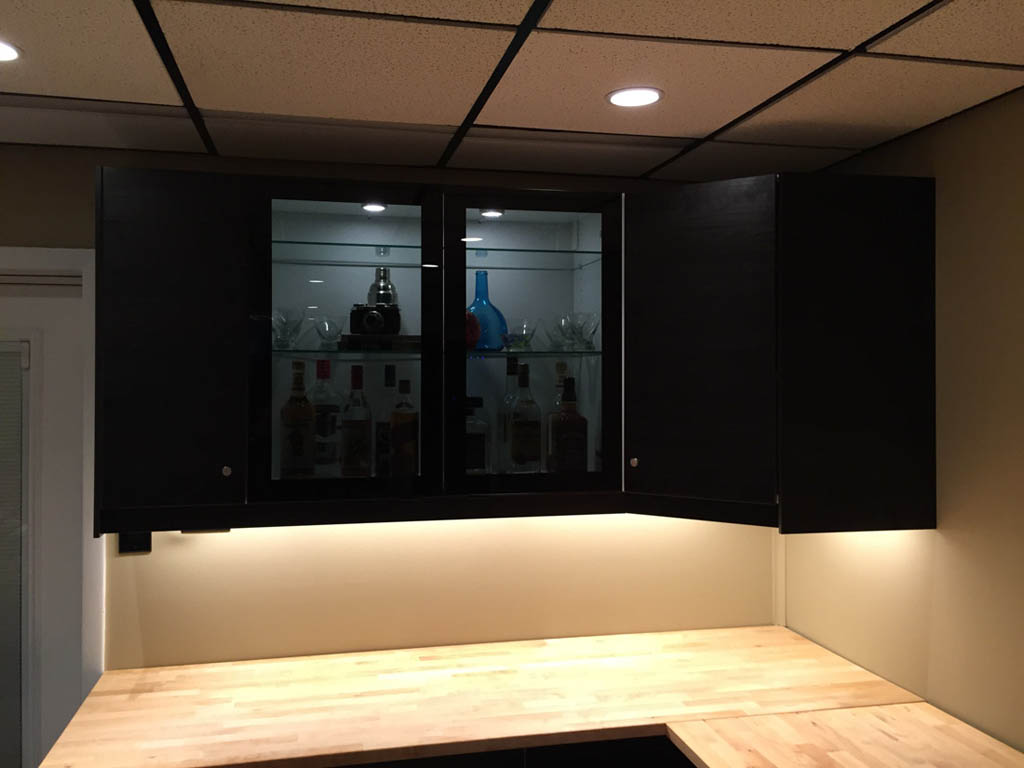 Ahhh. And such concluded our basement renovation!