This post may contain affiliate links. Please see my advertiser disclosure for more details.
Back at the end of April, Ken and I went camping at First Landing State Park. We try to go camping in April and October. Our previous two attempts at visiting this park for a camping trip had been foiled. The previous April (2016), my grandmother had passed away and I had taken a lot of time off from work for that. Then, six months later, in October, Hurricane Matthew was hitting the eastern seaboard on our planned weekend, which didn't make for great camping weather.
So, we were finally going to make it camping in April 2017!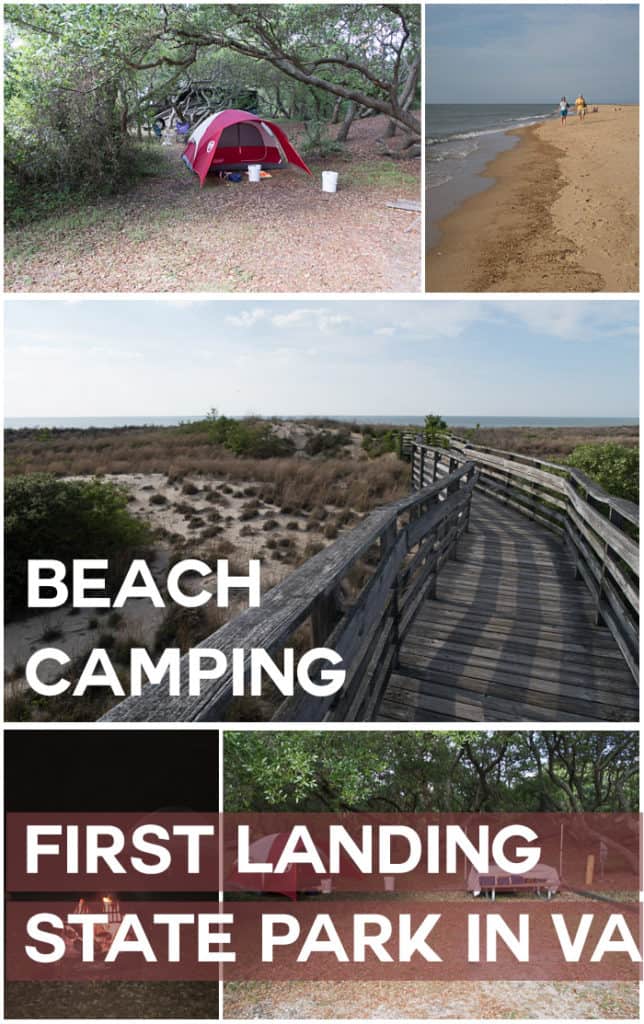 Campsite Review
We booked site 152, a site reservable in advance. It's worth pointing out that the reserved sites at First Landing State Park fill up months in advance, especially the more coveted spots.
Here's what the spot looked like empty, right after our arrival. It was spacious and had great shade.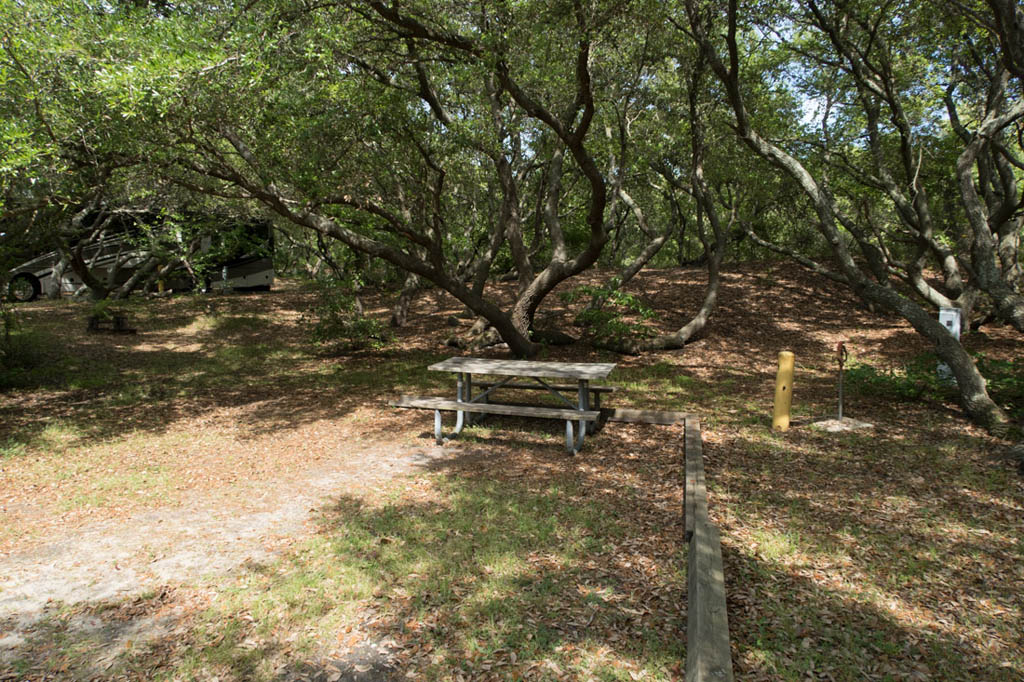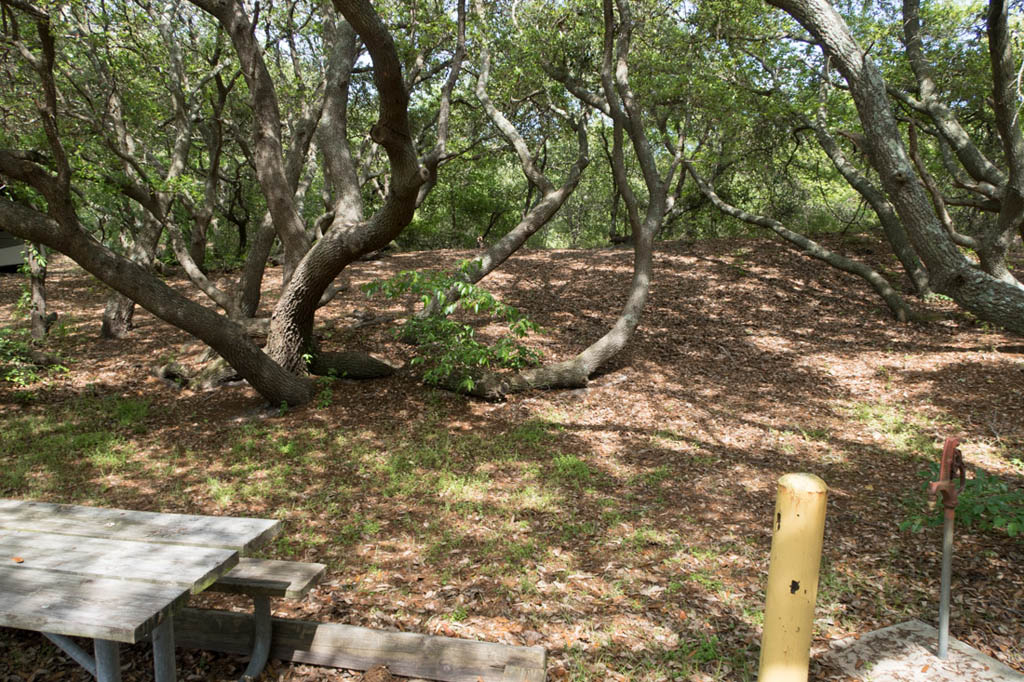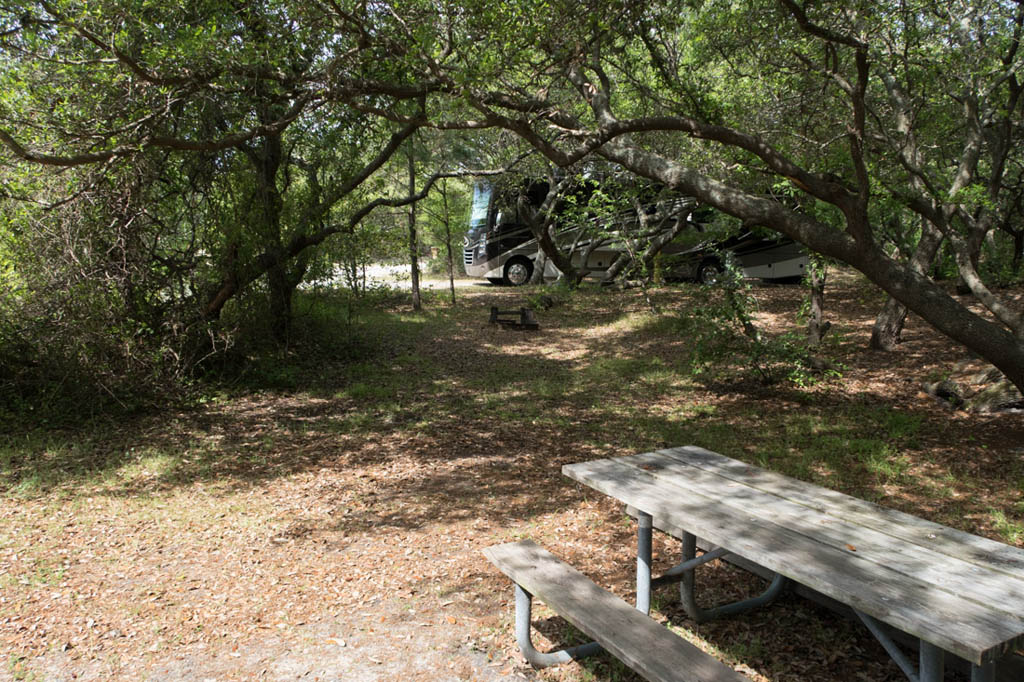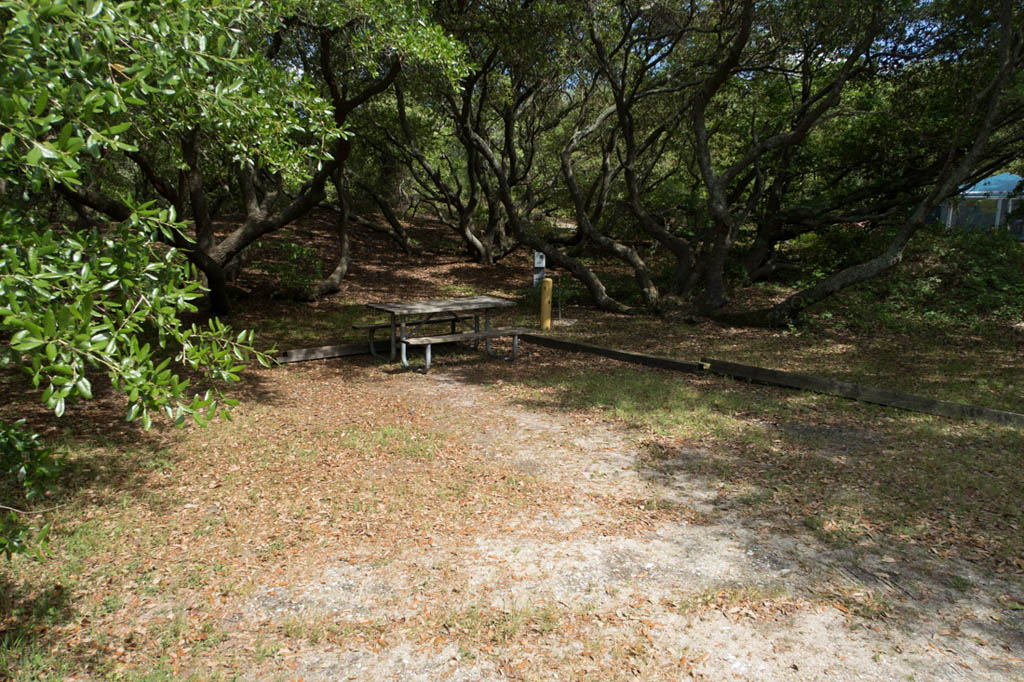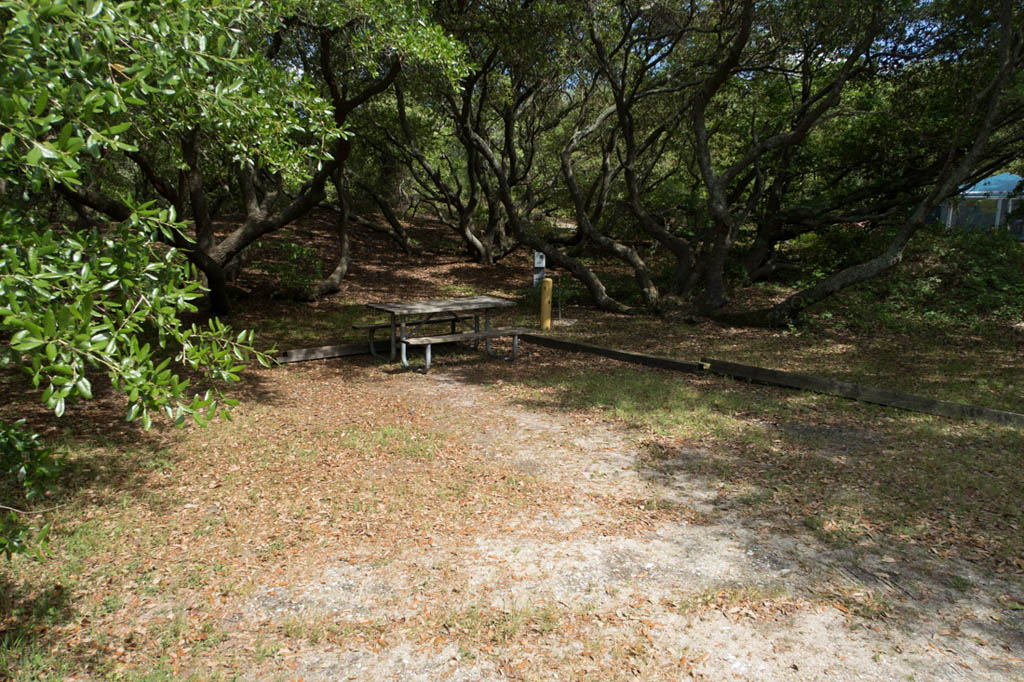 And here it is after we had (most) of the campsite set up: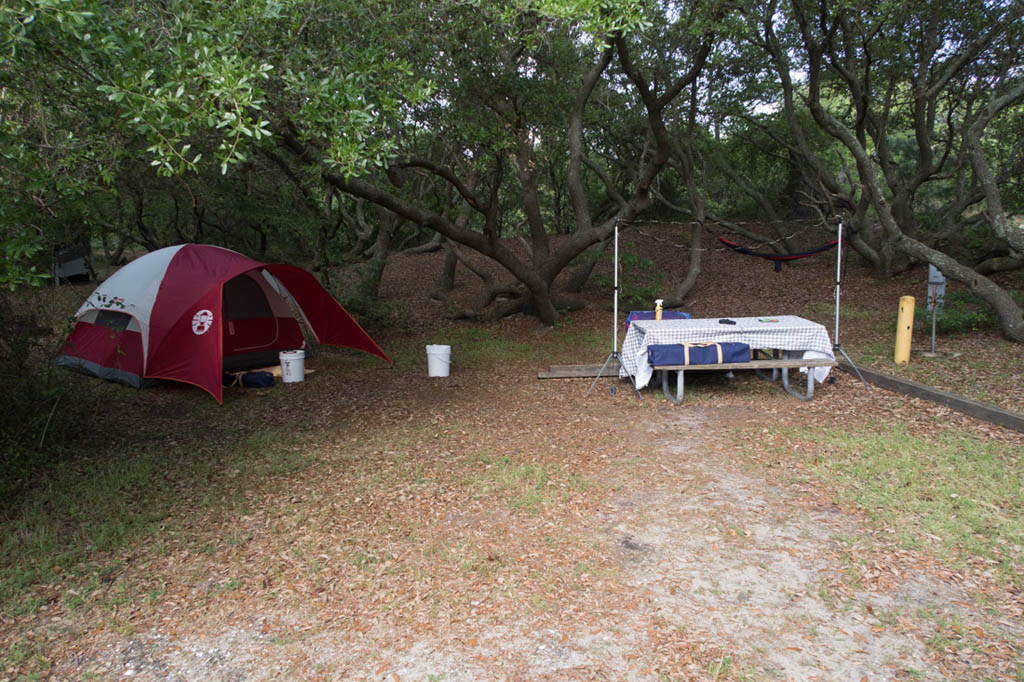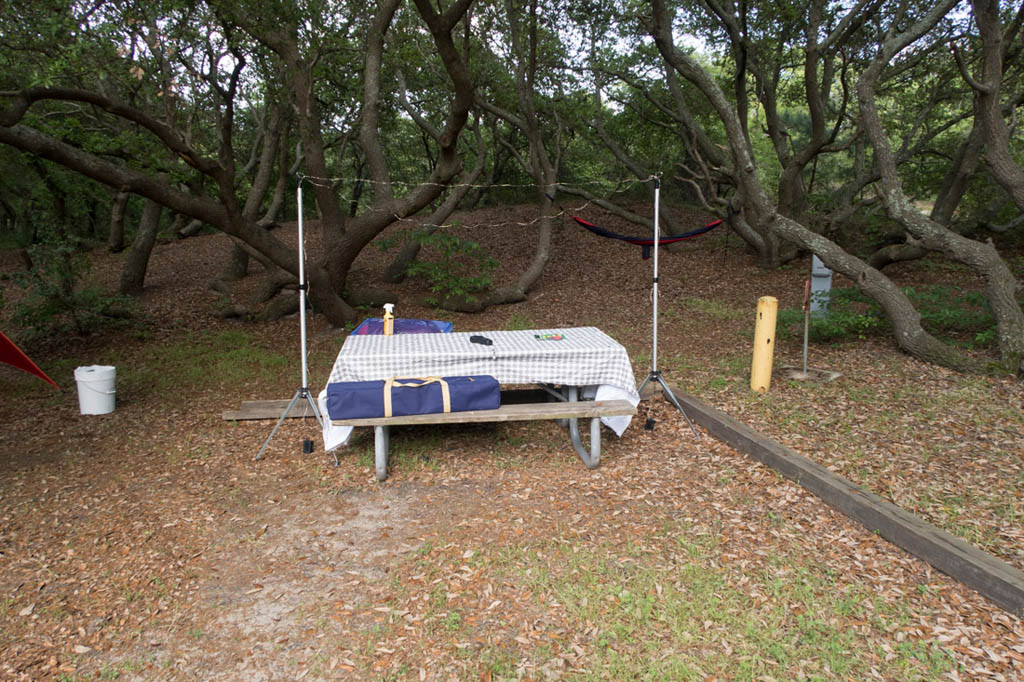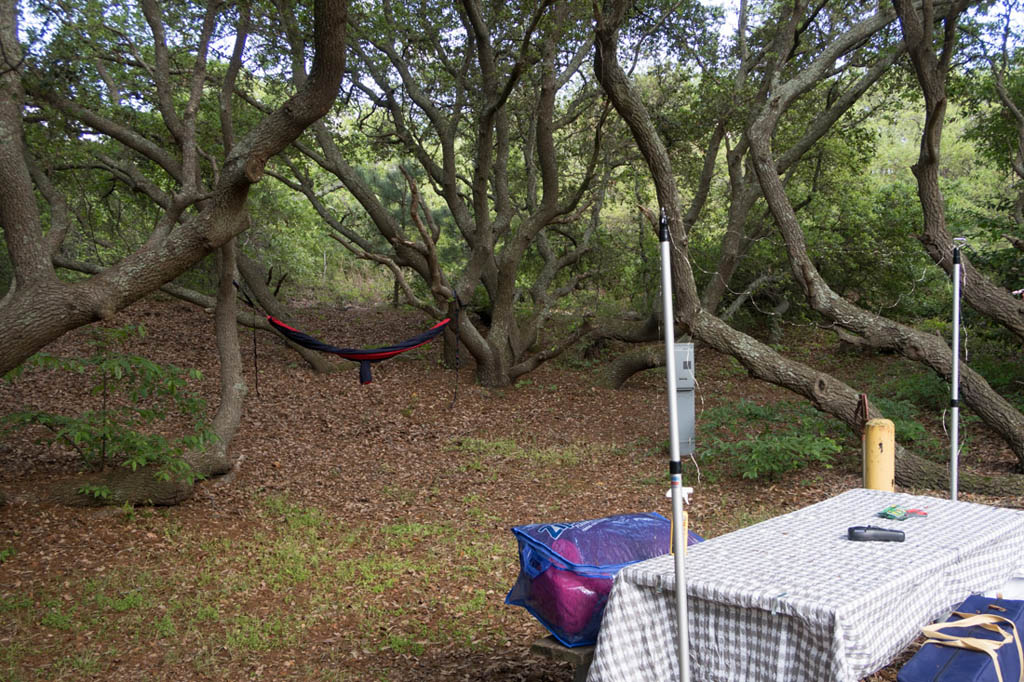 You can tell in this picture below the space between the campsites. (There's an RV you can see just past above our tent). So, the spots were close, but not on top of each other.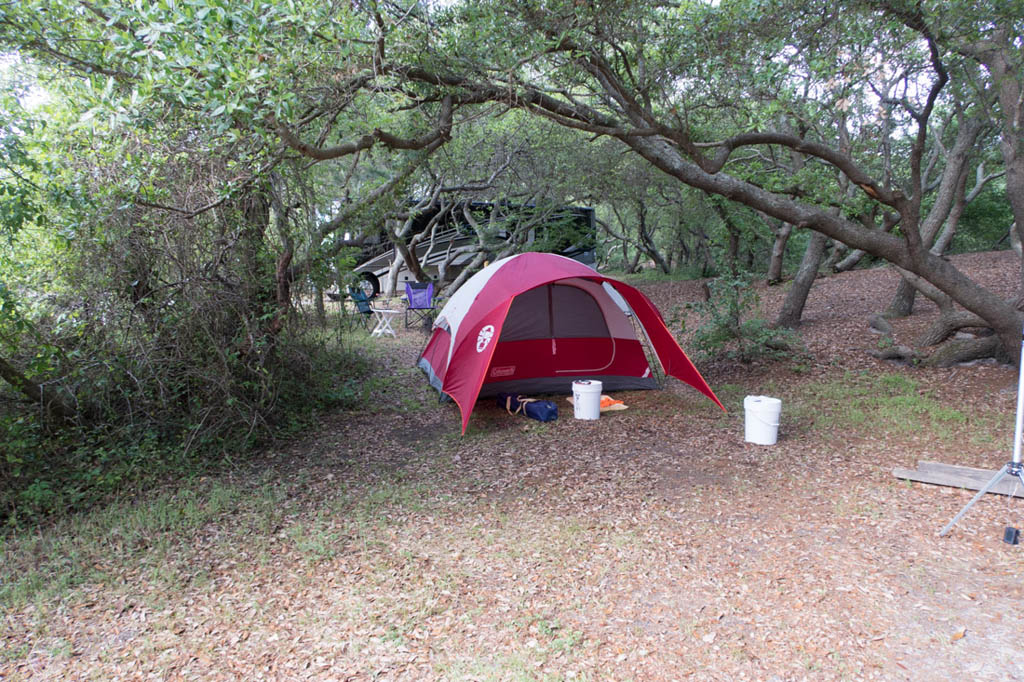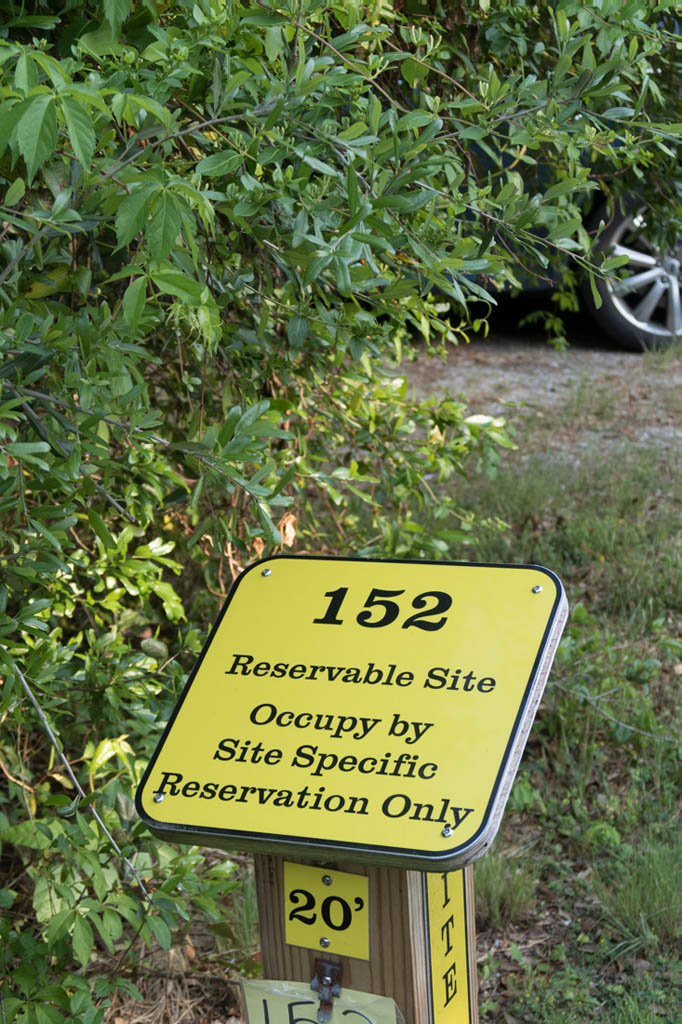 A new addition to our camping gear this trip was a hammock!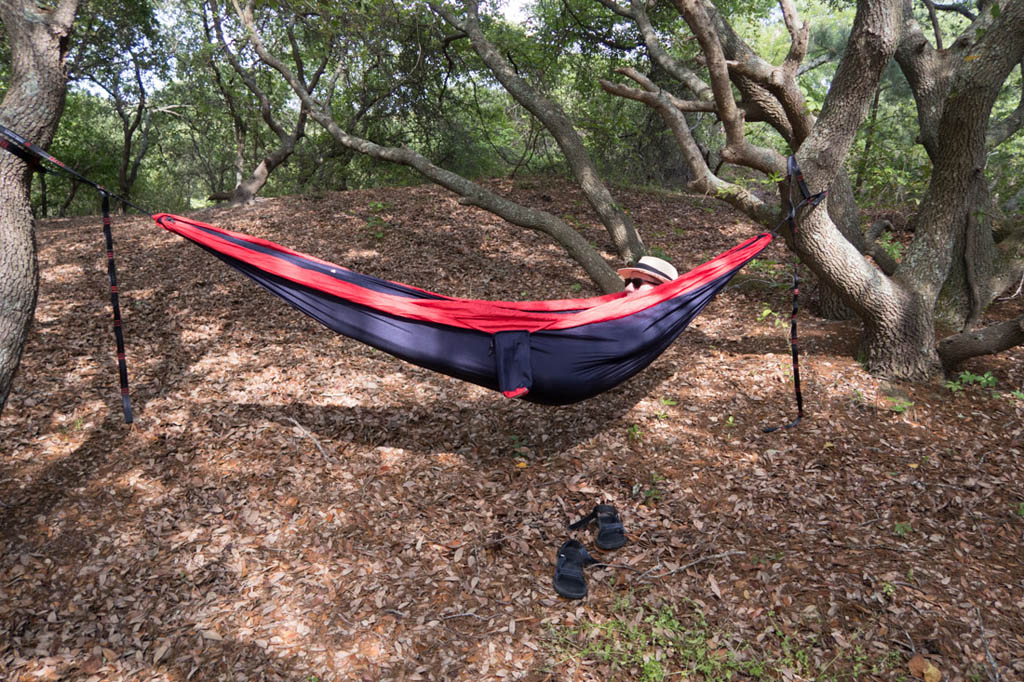 This is the first campsite I've ever stayed at with water and electrical hookups right at the campsite. The water especially turned out to be nice and convenient.
Campground Review
The facilities were decent. Not nearly as "fancy" as Assateague State Park, but better than Gifford Pinchot State Park.
The restroom and shower facilities, called Bathhouses, were numerous all across the campground. Our site, site 152, was about equidistant from two different bathhouses. Photos are of the "Percy Bathhouse" below.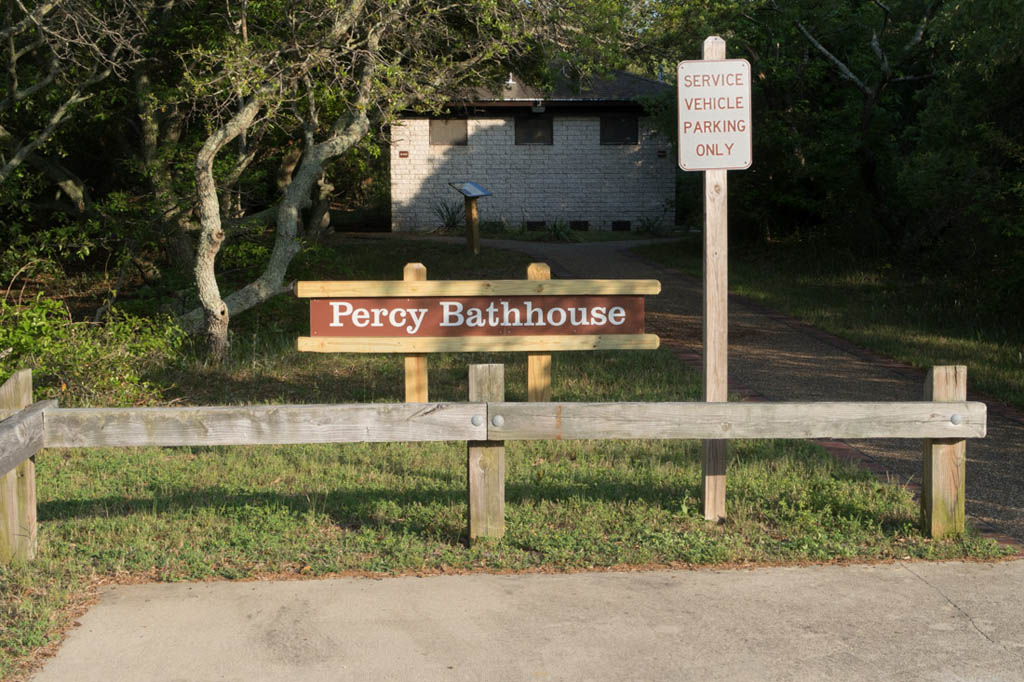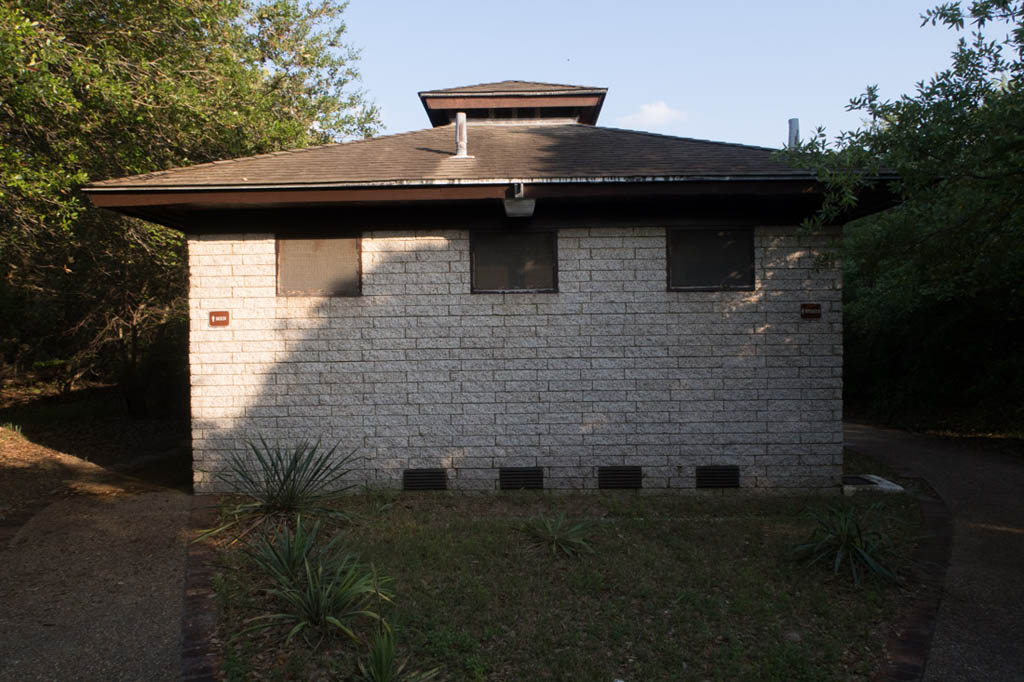 A middle "hallway" in the unit was home to dish sinks and the shower stalls. In the photo below, the doors to the shower stalls are on the right.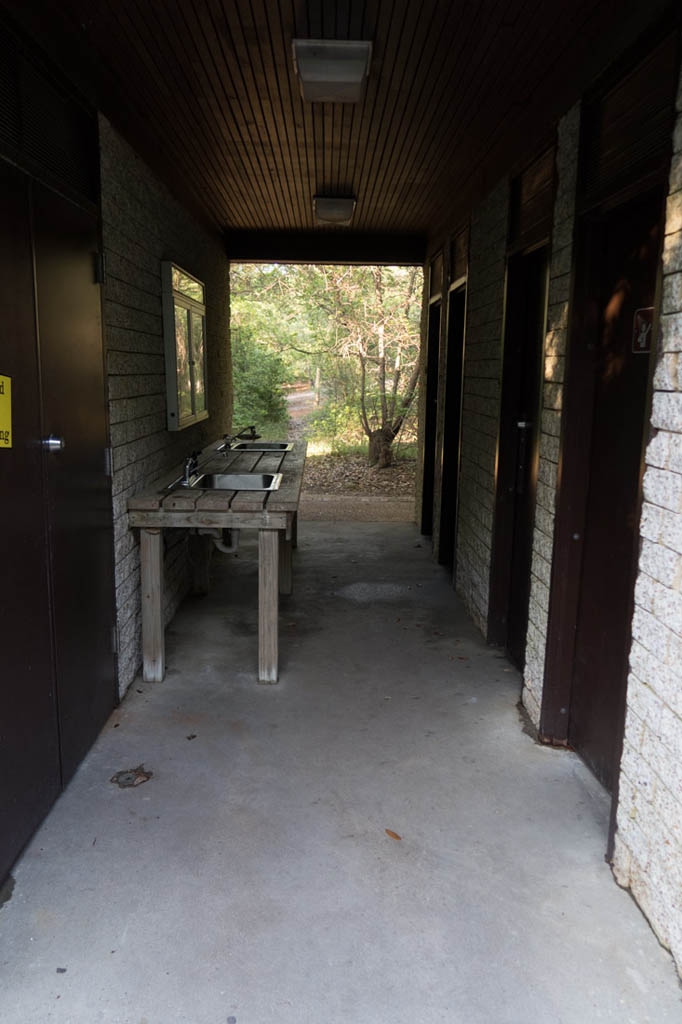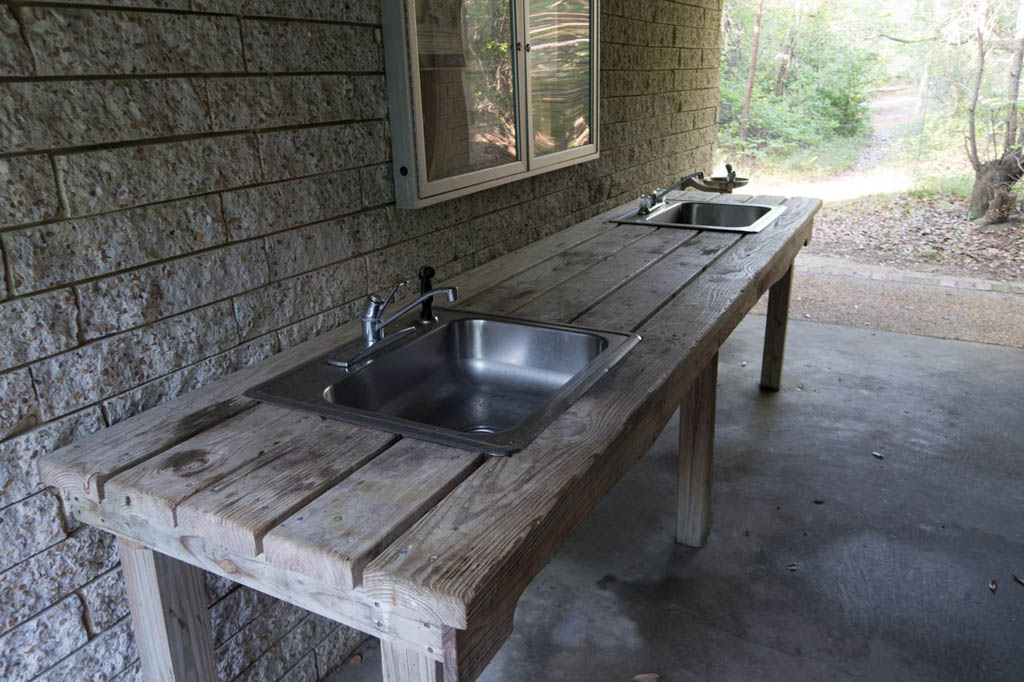 This is the first campsite I've stayed at (but remember, I'm a relatively new camper), where the shower stalls were not actually inside the restrooms. And the shower stalls were unisex, available for anybody.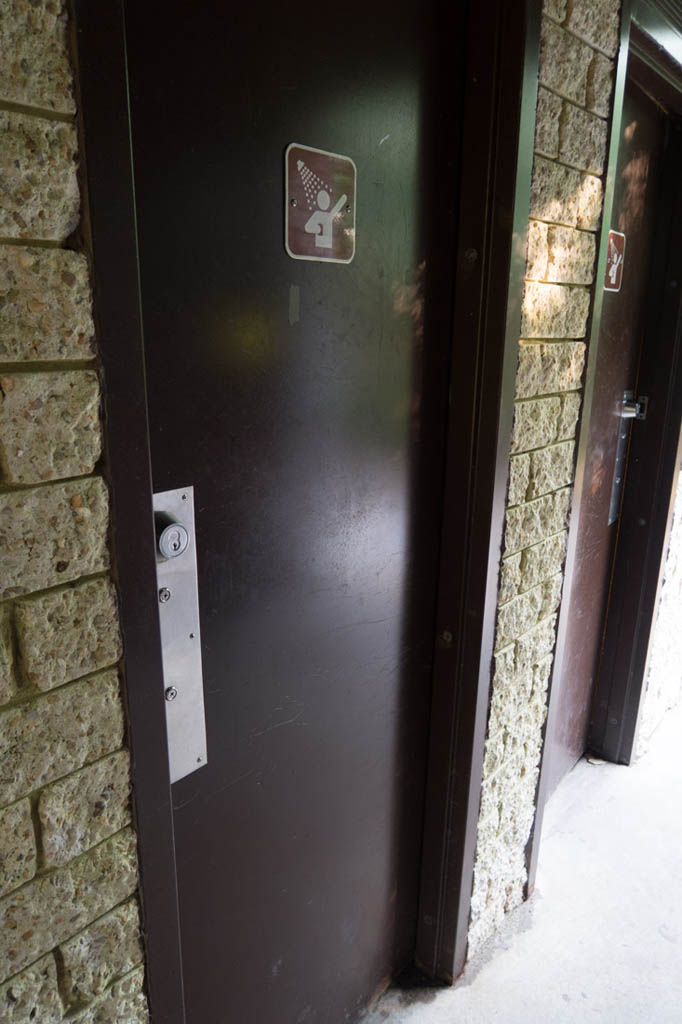 The showers them selves were fairly large, and had a bench and separate "room" for changing.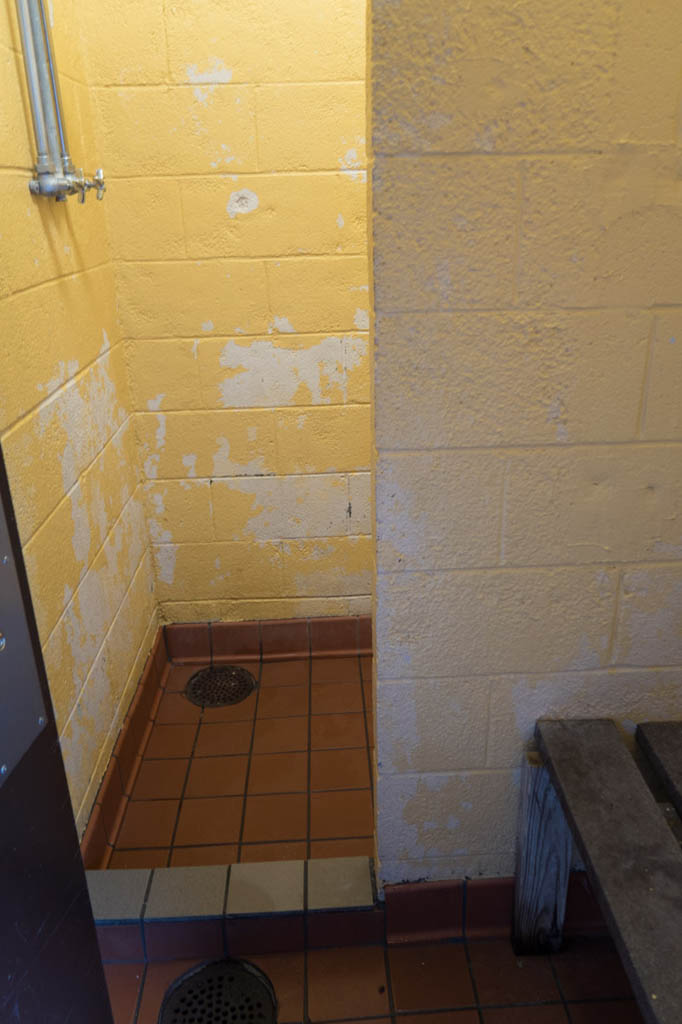 On the other side of the bathhouse was a "slop sink."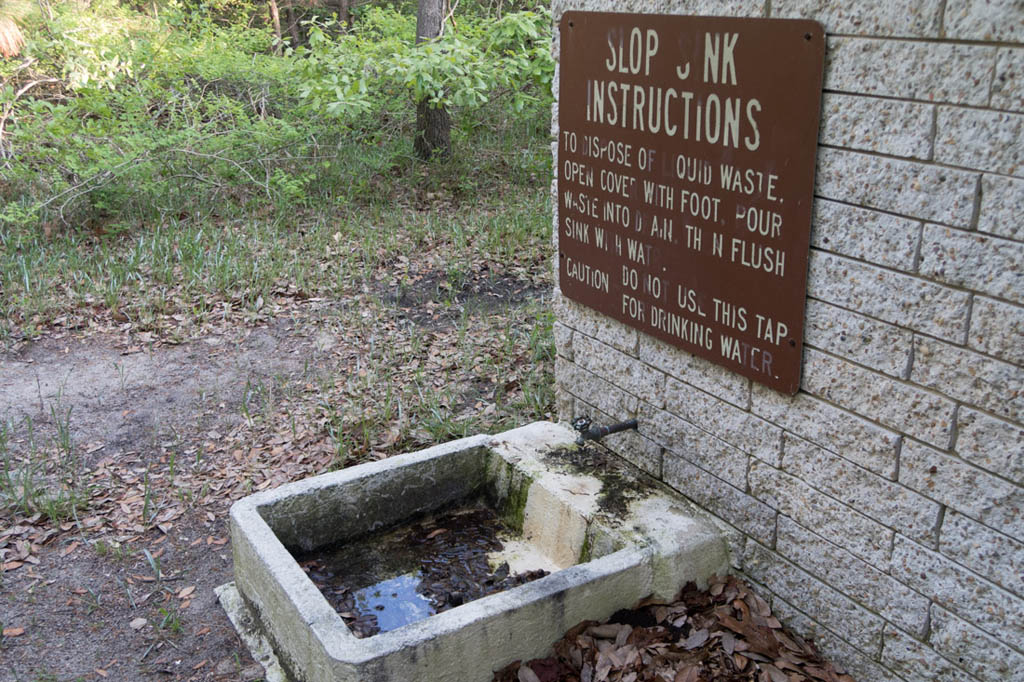 So, although these photos are just of one of the many bathhouse facilities at the park, they were all very similar in layout and design, with some larger than the others. My apologies, I did not get any photos of the actual restrooms. But, they were mostly clean.
There was also a dumpster in front of the Bathhouse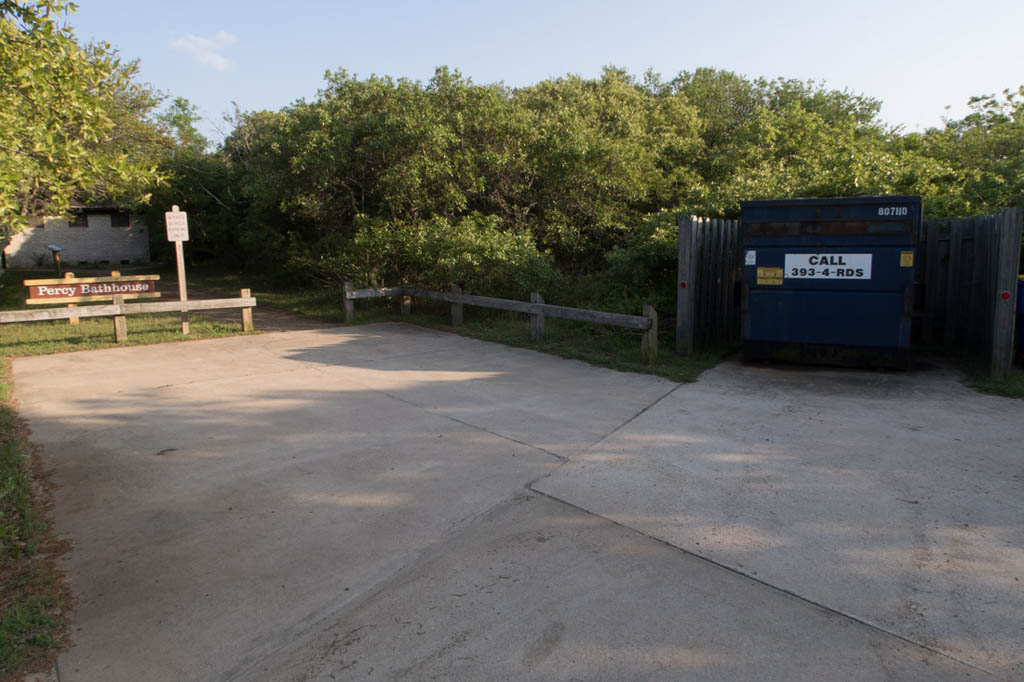 And, interestingly enough, it looks like the different Bathhouses at First Landing State Park are named after people. Here is the placard in front of the Percy Bathhouse.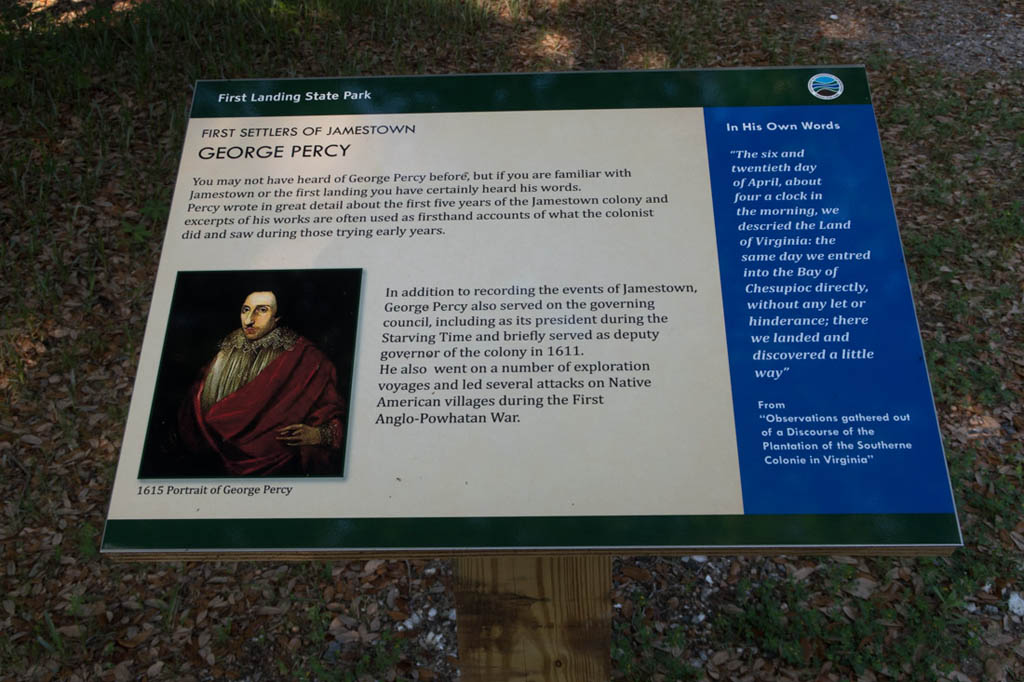 Beach Access
There were a few beach access points at First Landing State Park. This Beach access point, pictured here, was just next to our campsite.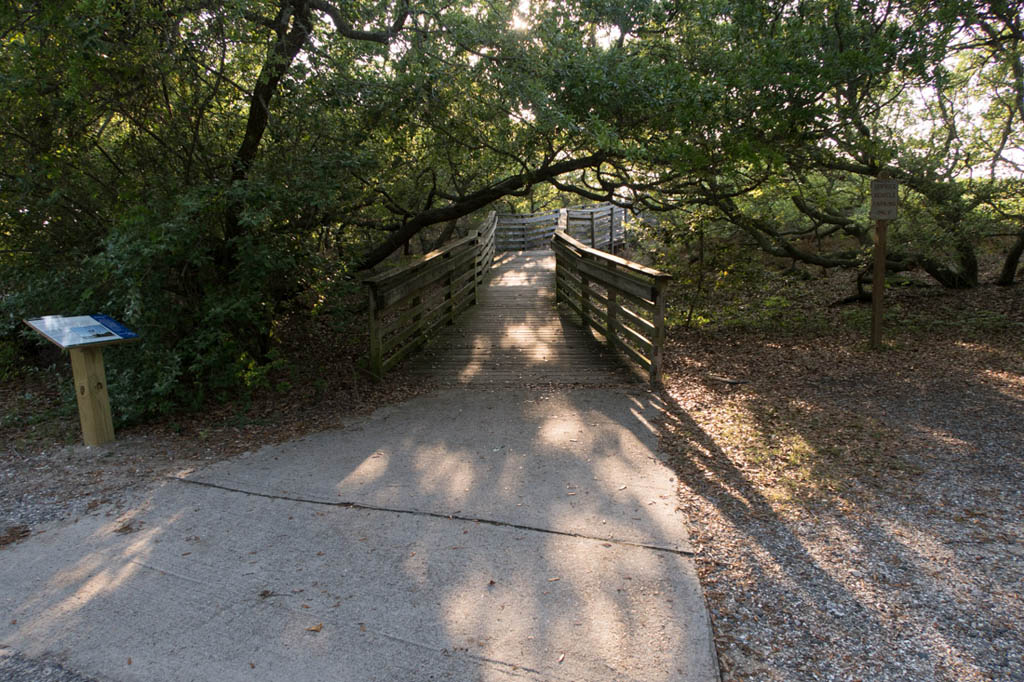 For reference, the photo below was taken from our campsite. You can see that access point just ahead on the right. So, if you're looking for the closest access points, site 152, and those around that site, are great options.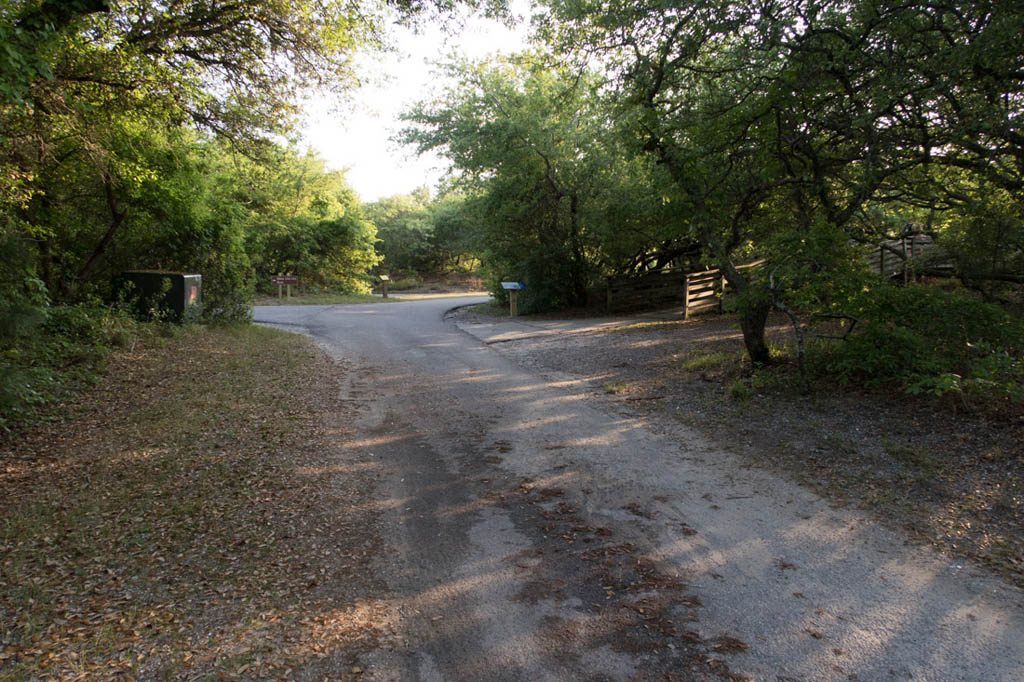 The walk to the beach was about 5 minutes, and included walking on the elevated decking, as well as sand after the decking. But, my how scenic!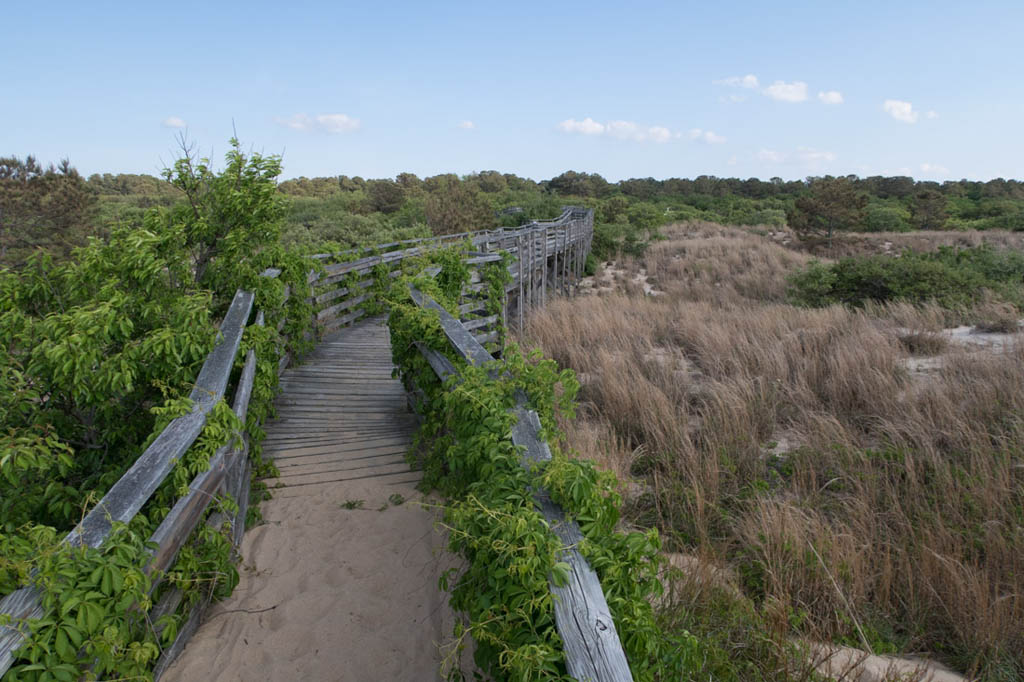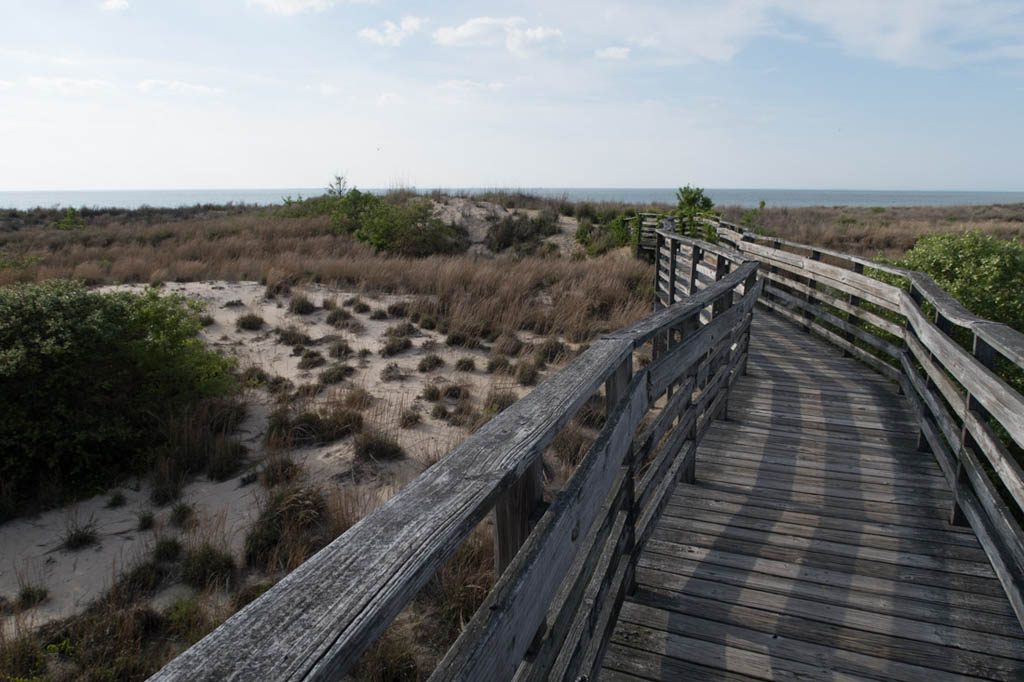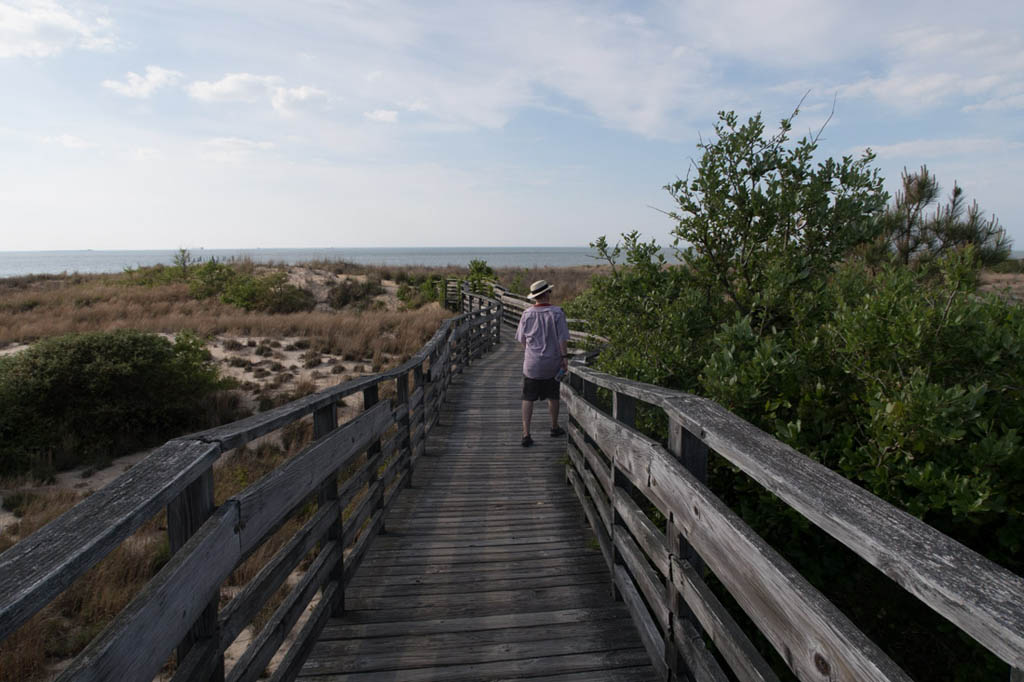 After the deck-type trail, we traversed the dunes on sand.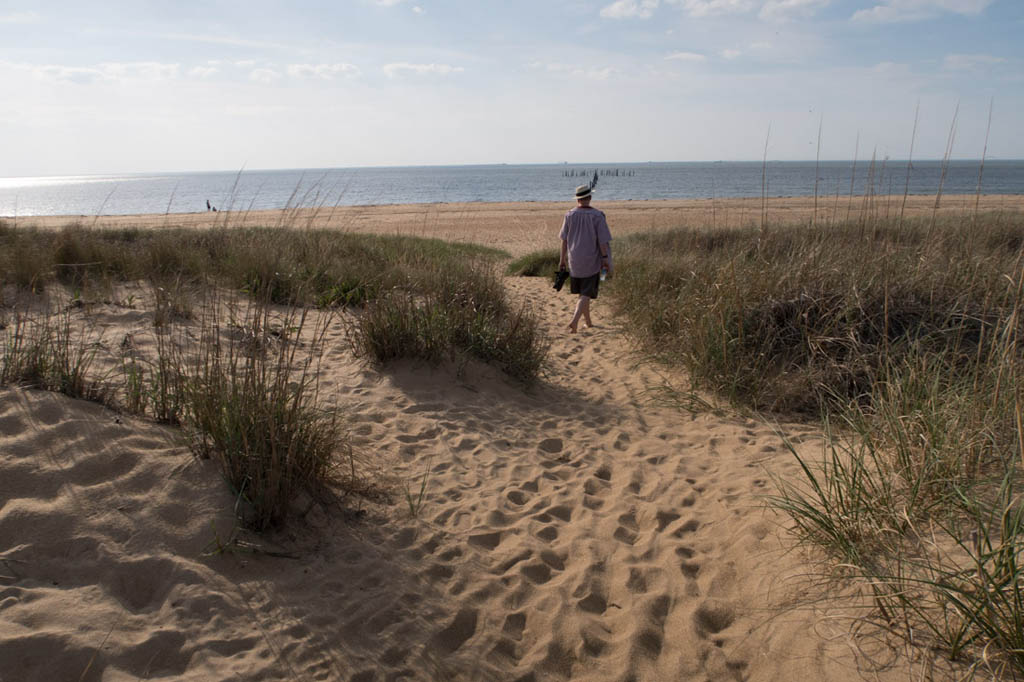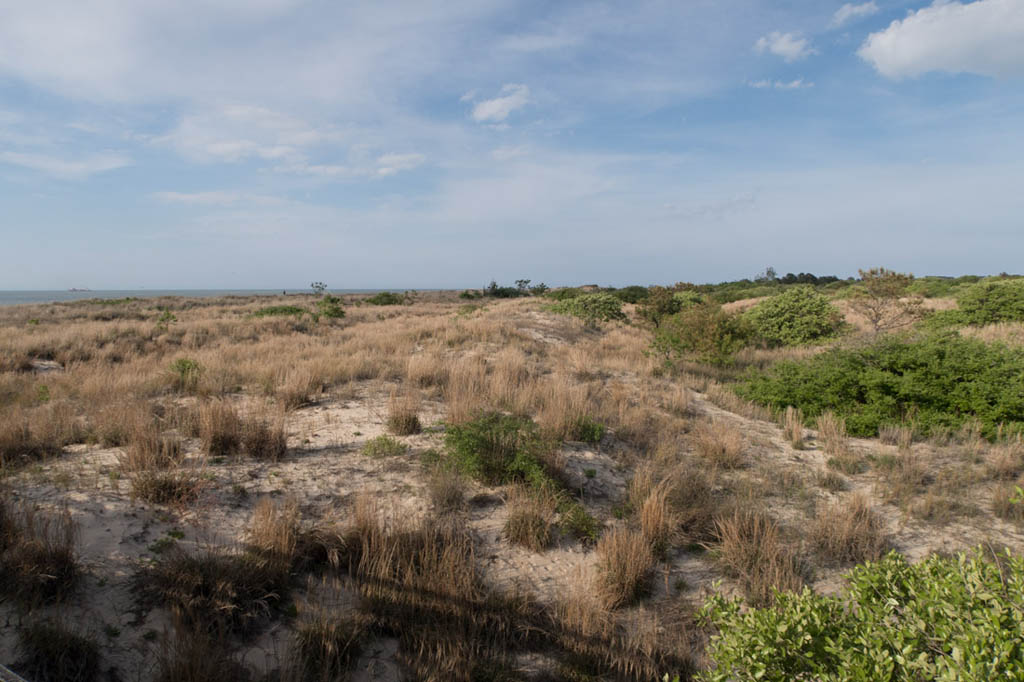 And we were on the beach!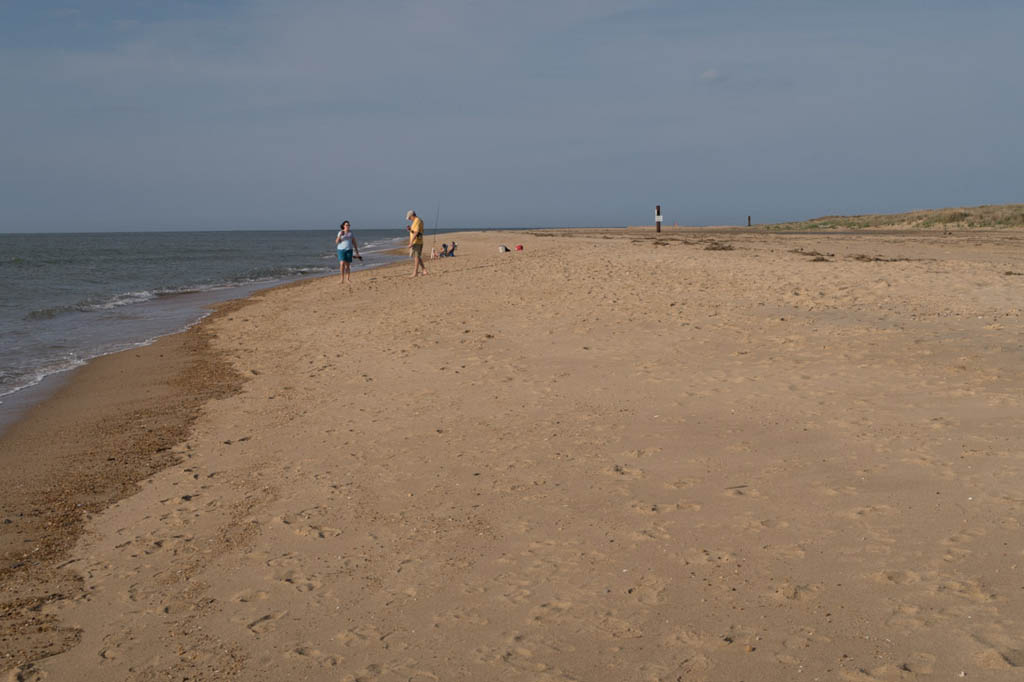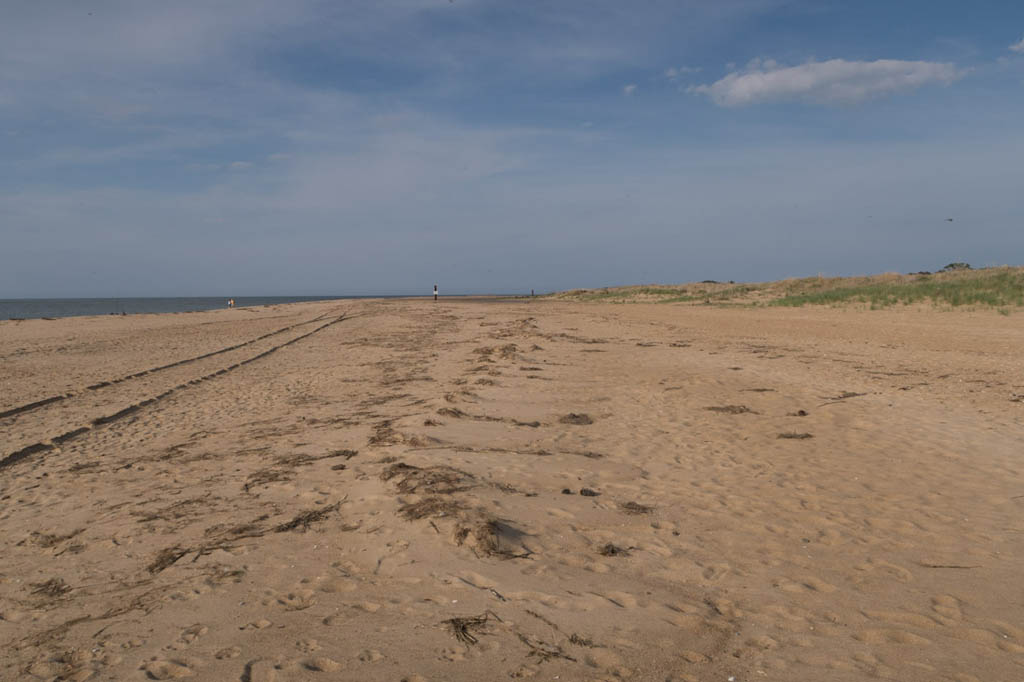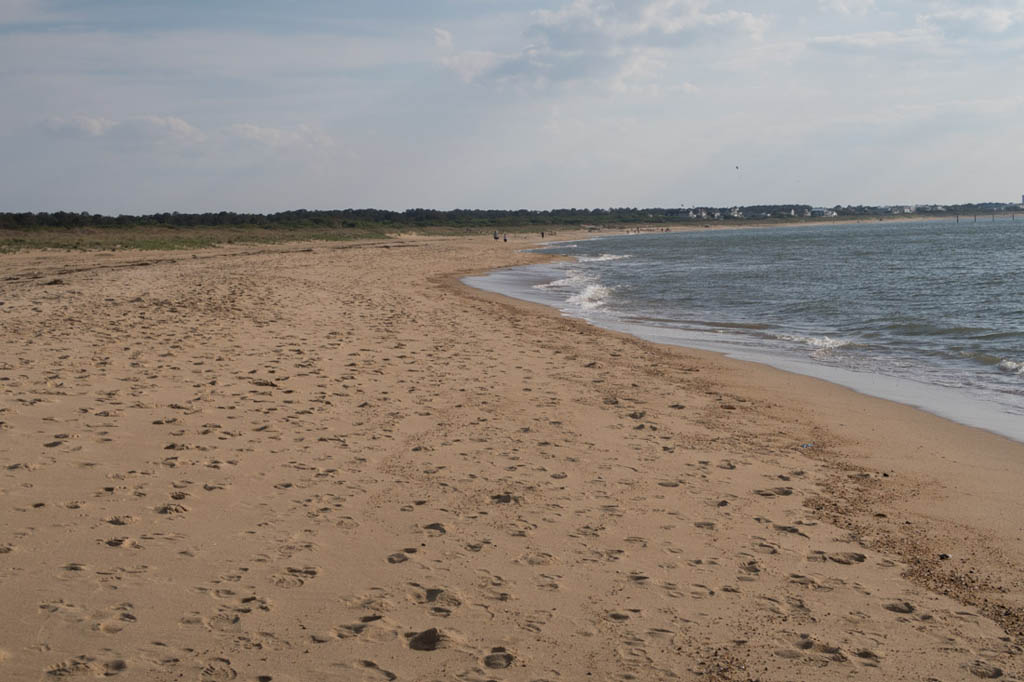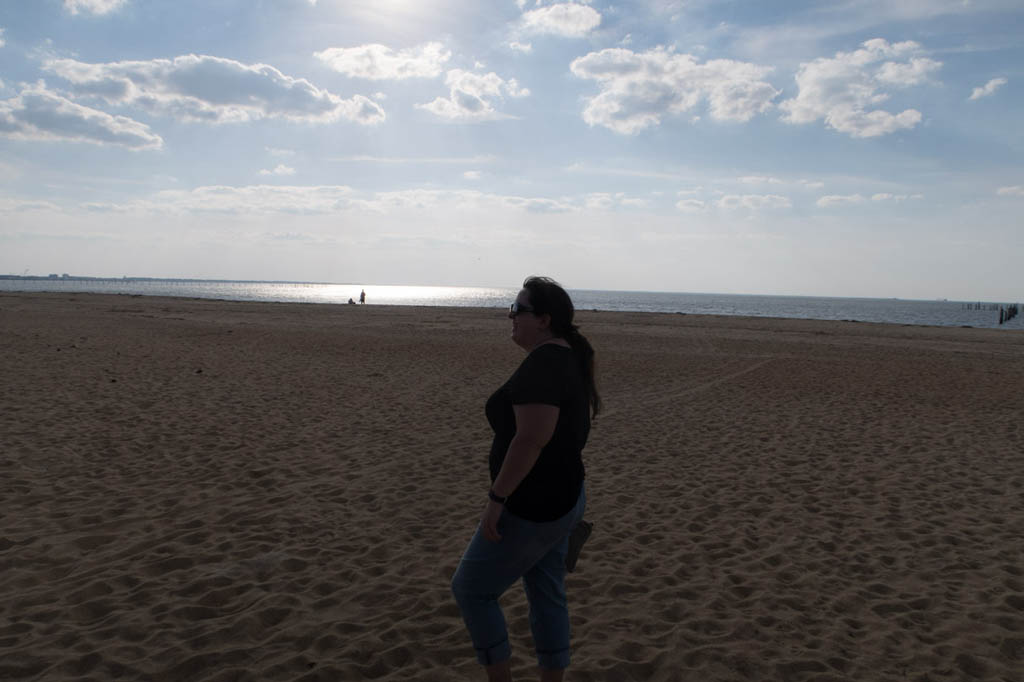 Check-in Process and Camp Store
The check-in process was done inside a small visitor's center.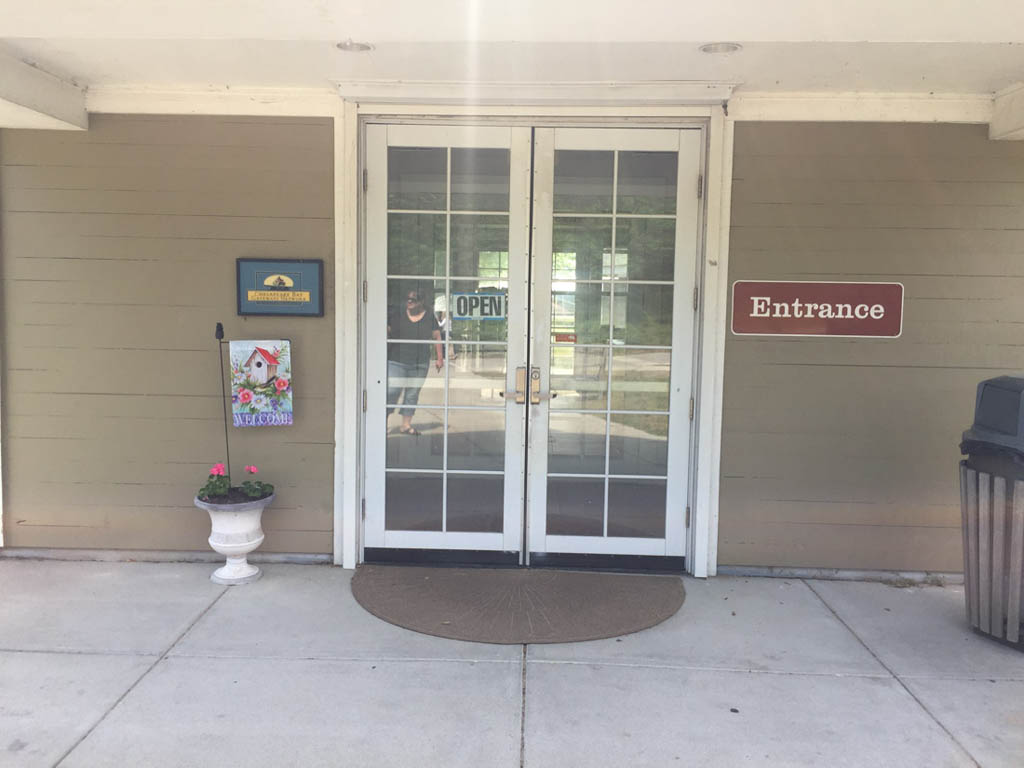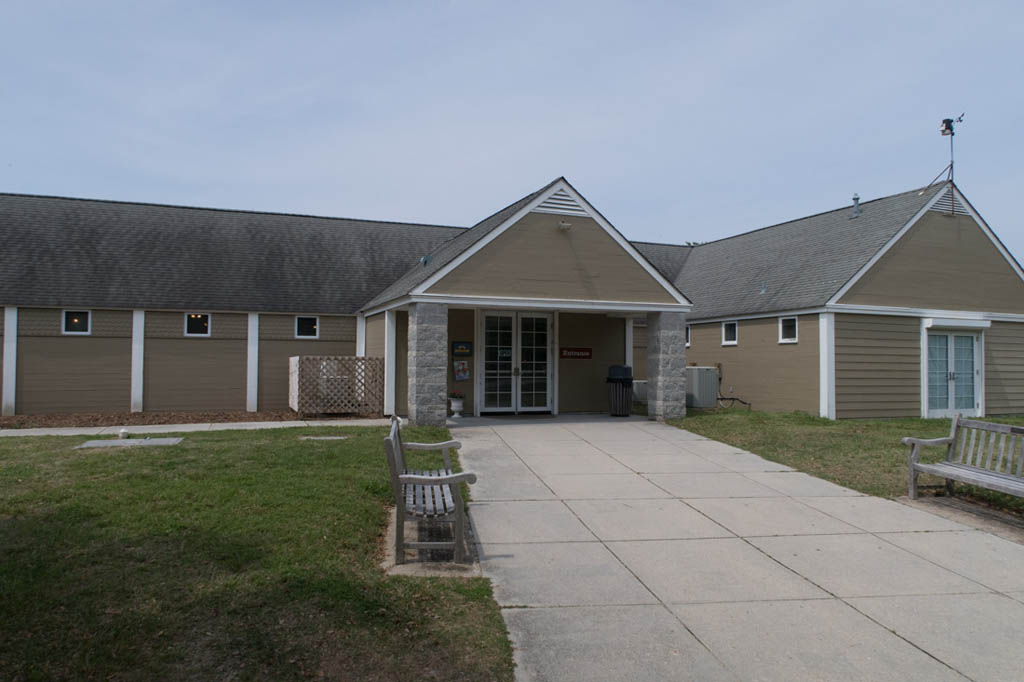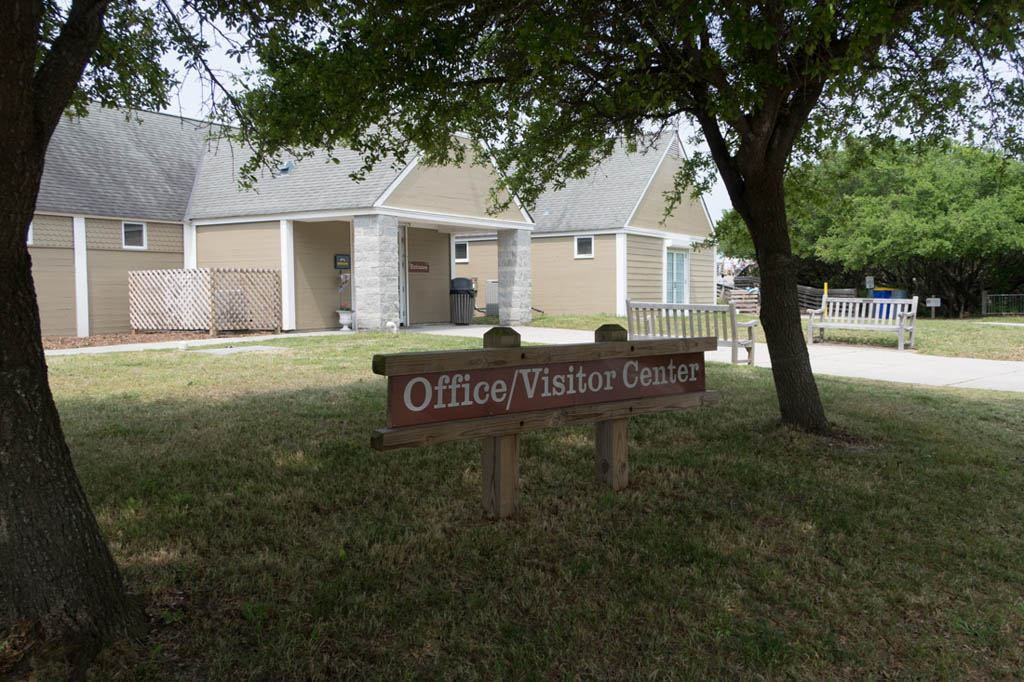 There was even a little lobby area!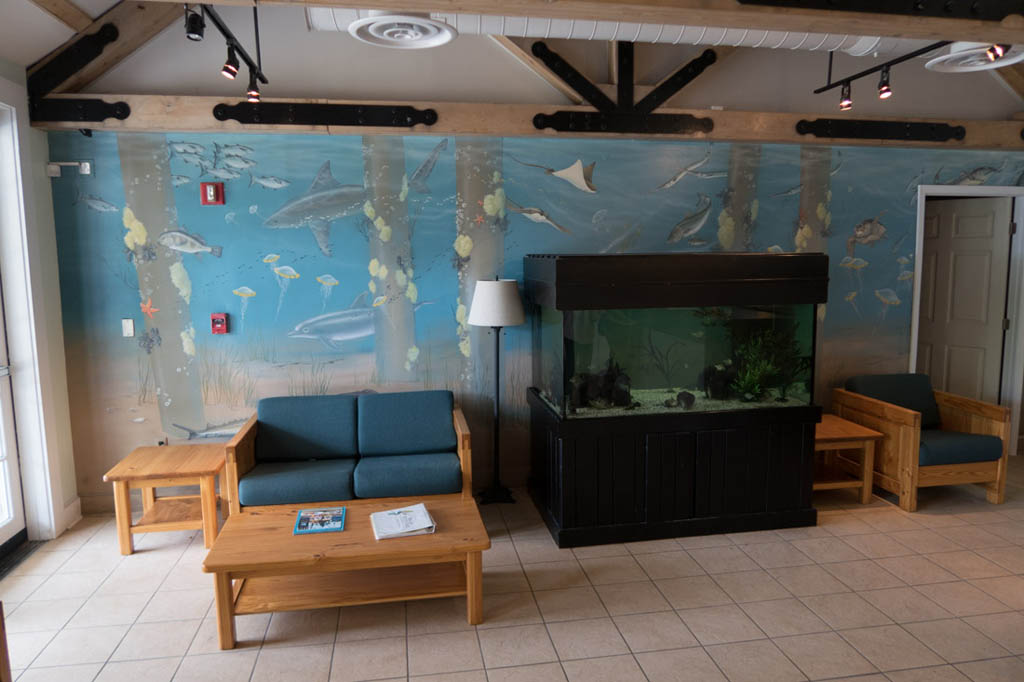 And, just behind the check-in area was a well-equipped camp store that sold firewood.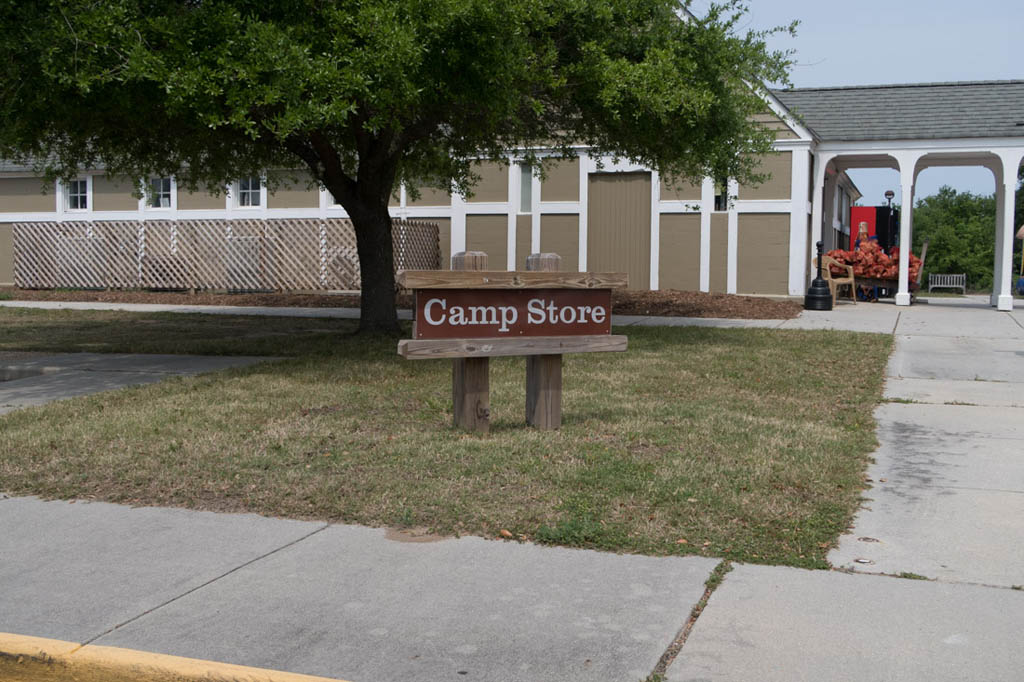 But the weather
Overall, this was a great campsite and campground. But unfortunately, some external factors didn't make it a very enjoyable trip. 1) The heat. OMG the heat. Heat indexes of 94 degrees IN APRIL. We knew that the weather was forecast to be hot that weekend, but we thought that being so close to the beach that we'd have a "nice breeze" to help keep us cool. Not so much. 2) The biting flies. I didn't even know these existed. The mosquitoes we were bad too, but we could control those with Deet spray and some other tools. But the biting flies, my god. They were numerous, unstoppable, and so painful. We bought more bug sprays at the camp store, which didn't help, and even MORE sprays at a nearby RiteAid, all in vain.
We had decided not to pack our screened-in canopy for this trip since our campsite would be well shaded. But, one day into our camping trip, we actually went to Walmart just to buy another one in an attempt to keep the biting flies away.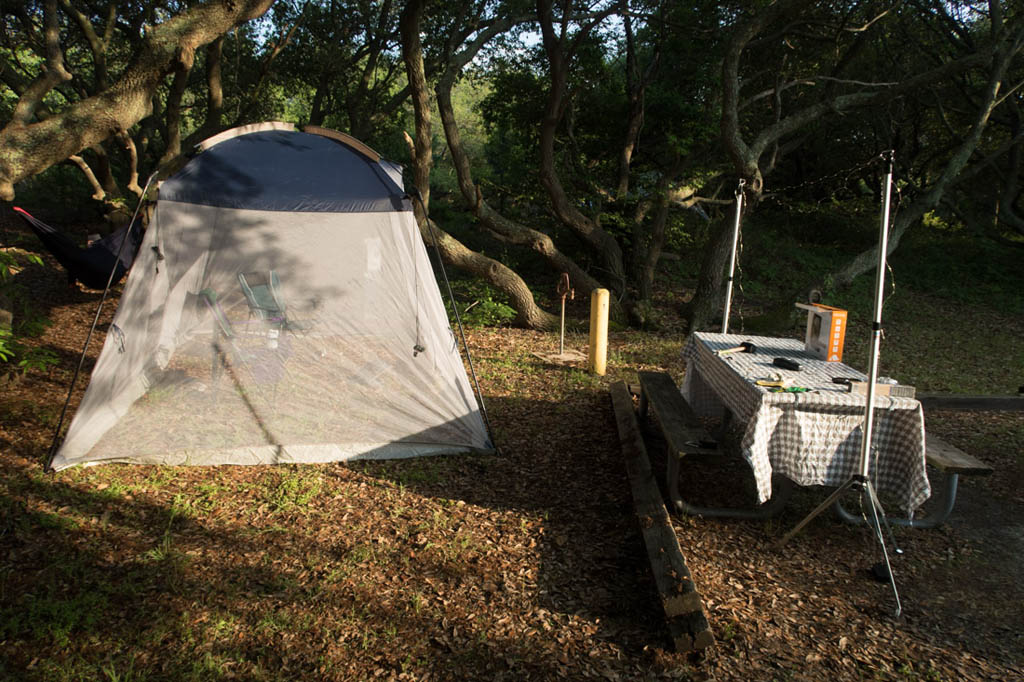 And, 3) it rained really hard overnight the first night. And that definitely had NOT been in the forecast. Luckily the rain cleared up by mid-morning, but our campsite became a muddy mess.
Here is a view from our tent door the morning after the rains.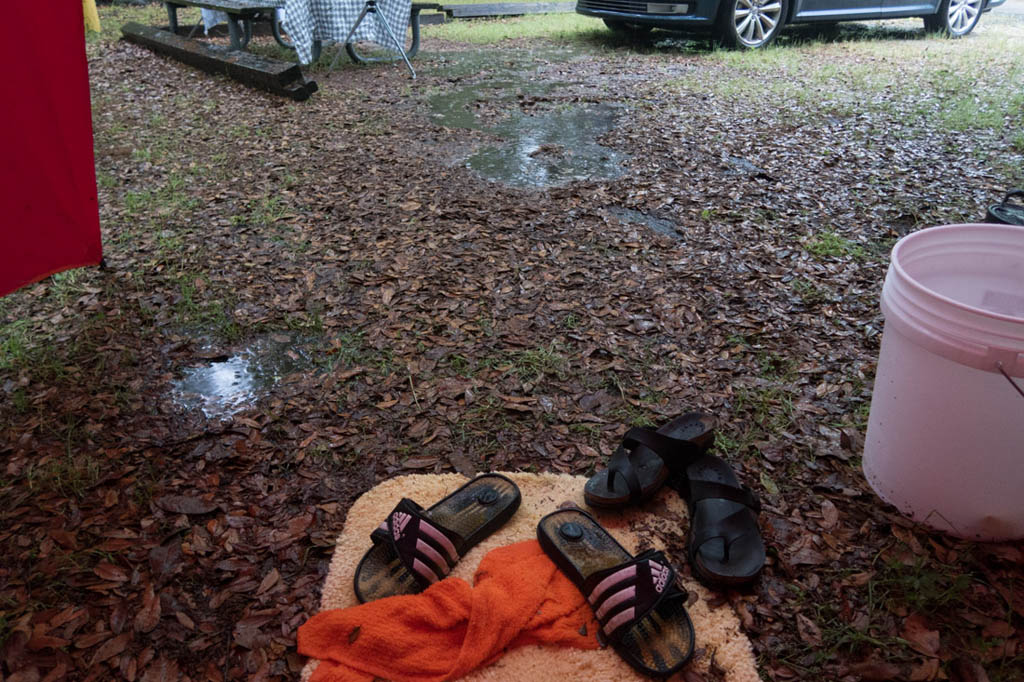 We had planned to stay for three nights, but only stayed for two. If there had only been one issue, like JUST the heat or JUST the biting flies, it probably would have been a more enjoyable trip. But, the combination of the two was just too much to try to "force" ourselves to enjoy our time.
BUT, it did get me in the mood for potentially buying a very small travel trailer in our future. I mean, how cute are these Winnie Drops!?!
Anyway, even though we decided to cut our trip a day short, we still saw some of the sights in the area, including the Virginia Beach boardwalk. I cover those sights in a future post!