This post may contain affiliate links. Please see my advertiser disclosure for more details.
---
Back in 2007, Ken and I went on our first "big" vacation together. We had been to the Outer Banks a few months earlier, but that was just for a long weekend. It was actually while we were in the Outer Banks that my sister called me, and she told me about this great deal she had found on a Caribbean cruise. She gave me the details. It was a Southern Caribbean itinerary that would go from San Juan, Puerto Rico > Barbados > St. Lucia > Antigua > St. Maarten > St. Thomas > and back to San Juan. I was like, "sure, sign me up!" My family used to go on a cruise pretty much every year I was in high school and college, but it had been at least 3 or 4 years since I had been on a cruise, so I was pretty excited.
I told Ken about it after my sister and I hung up. Ken was hinting around that he would love to go on a cruise. I initially hadn't actually "invited" him, because we had only been dating three months at the time, and the cruise was four months from then, and I didn't want him to get all like scared away at some girl trying to PLAN FOUR MONTHS INTO THE FUTURE WITH ME type of thing. Well, as it turns out, Ken was happy to plan a vacation with me, even if it was four months from then! He still makes fun of me for that to this day, claiming that he had to invite himself!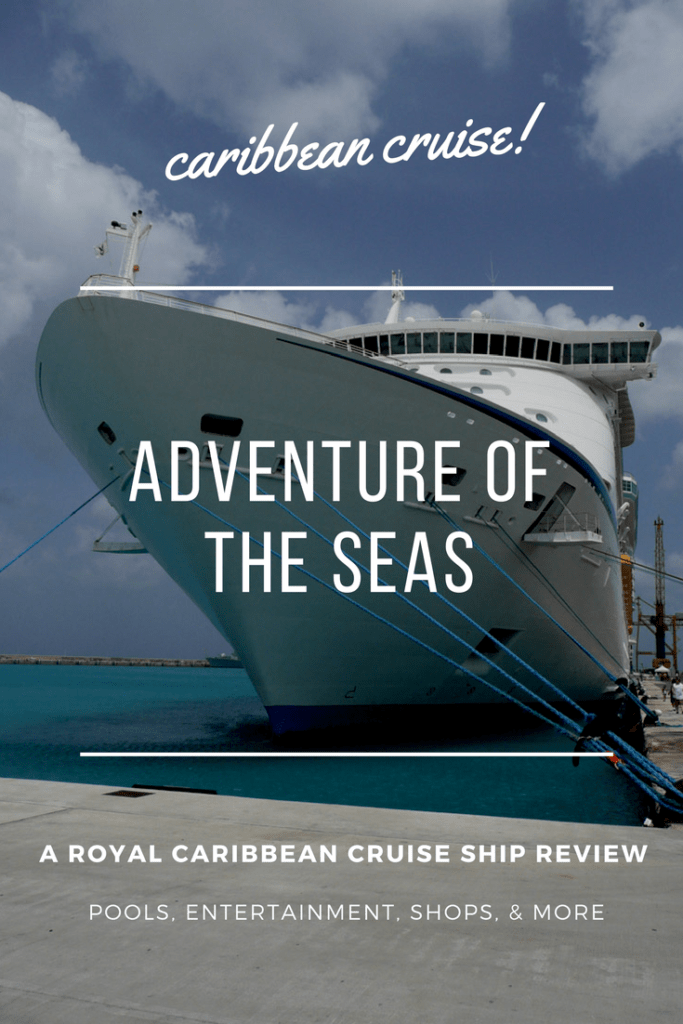 Four months later, we were still dating (and here we are, more than 7 years later, now married!), and the cruise was a blast.
We actually booked a "family suite" on the cruise ship. It consisted of two bedrooms, a living room, two full bathrooms (one with a standing shower only, another with a tub/shower combination), a walk-in closet, and a HUGE balcony on the rear of the ship. (Yes, aft, okay).
Luckily Ken took a ton of photos inside the ship, so we have some blog material for a ship review 7 years later! However, my memory is a bit hazy on what some of the rooms may have been called, so I'll probably be presenting the photos pretty generically.
Around the Adventure of the Seas
At the time that we sailed, the Adventure of the Seas was one of the largest cruise ships operating. Well, that record has been smashed since then, but it was still an enormous ship. By far the biggest one I had ever been on.
Here I am trying to decipher the floor directory:
The layout was really amazing, and there was some impressive decor that spanned the height of several decks. Even the elevators had a great view!
The Adventure of the Seas featured a large "Promenade," with several restaurants and shops.
There are several cabins that have views of the Promenade. While those are "inside cabins," meaning they have no view of the outdoors, I would imagine that they are slightly less claustrophobic than a traditional inside cabin with no windows whatsoever. I did wonder if the noises levels might be loud for folks staying in those rooms, tince the Promenade was always so crowded.
The windows in this photograph are of the Promenade-view cabins:
There were several shops and restaurants along the Promenade, including a General Store to purchase small items you have have forgotten to pack!
Things to do on the Adventure of the Seas
Like I mentioned earlier, the Adventure of the Seas was by far the biggest cruise ship I had ever been on. So I was truly blown away by the amenities.
Rock climbing wall:
Huge Basketball/Soccer/Volleyball/General sports court:
A fantastic arcade:
A mini golf course. I should point out that my nephew, who was 15 months at the time, LOVED the mini golf course. He mostly just picked up the golf balls and placed them in the holes, but it kept him entertained for a long time!
And, if you're a motivated person (unlike me), you can even keep up with your running routine on an outdoor track or go to the gym:
And I'm guessing that these "boards" on the floor are for some game or entertainment too?
There was an area overlooking the helm of the ship (not sure if that is the right term!)
Overall, it was a fantastic looking ship!
Pools and Hot Tubs on Royal Caribbean Adventure of the Seas
Most of the cruise ships I had been on previously always had disappointingly small pools. But the pools on the Adventure of the Seas were a fantastic size!
Lounges, Entertainment, and Shows on the Adventure of the Seas
It's been more than 7 years since this trip, and I didn't label my photos as well as I do these days. So, I'm not sure of the names or purposes of each of these lounges. But here are the photos to give you an idea of the different options!
There was a small library, with books and computers. Internet usage was available for a fee.
There was even an ice skating rink, where we caught a show one evening!
And a small wedding chapel:
And, a casino that was open pretty much any time the ship was at sea:
There were a million other entertainment options, many of which we didn't take advantage of mostly because we were too tired after long days in port! But, we did catch a comedy show (not pictured), and we also watched an ice carving demonstration:
Food and Dining on Royal Caribbean
We didn't take too many photos of dining onboard, like of normal dinners or the regular daily buffets. But we did capture of few photos of the dining room, as well as some of the fantastic evening buffets.
Here is the main dining area. I believe we sat in the "Mozart" area.
The buffet, called the Windjammer Cafe, was a great place to grab a quick bite for meals, in case you didn't feel like doing the full "sit down" meal option.
There was also a Johnny Rockets (although that was an additional charge. But it didn't seem any more expensive than what you would normally pay at a Johnny Rockets).
There was also at least one additional restaurant, called Portofino, which we did not eat at. It was also an additional cost, and fairly pricey.
And, if you've ever been on a cruise, you know that their "midnight" or "gala" buffets are huge deals, and can look like works of art. They even have a special photography hour, when you can photograph the buffet before people start diving in to eat!
Cabin on Adventure of the Seas
I mentioned earlier that we stayed in a family suite. Unfortunately we didn't take many photos of it, but I will say that it was a fantastic option for families! Booking a family suite also gave us access to a "concierge lounge" where we could go for expedited service, like booking shore excursions, or for light drinks and snacks before meals.
Here is a view of our enormous balcony:
I'd definitely recommend the Adventure of the Seas. The food was not AS good as other cruise lines that I've been on, but it was still fantastic. I can't think of a single complaint!