This post may contain affiliate links. Please see my advertiser disclosure for more details.
This is a "Blast from the Past" post. These posts chronicle our travels and other life events before we started blogging!
Ah, the Outer Banks. I have such fond memories of the Outer Banks because, 1) It was beautiful and awesome, and 2) It was the first vacation Ken and I took together.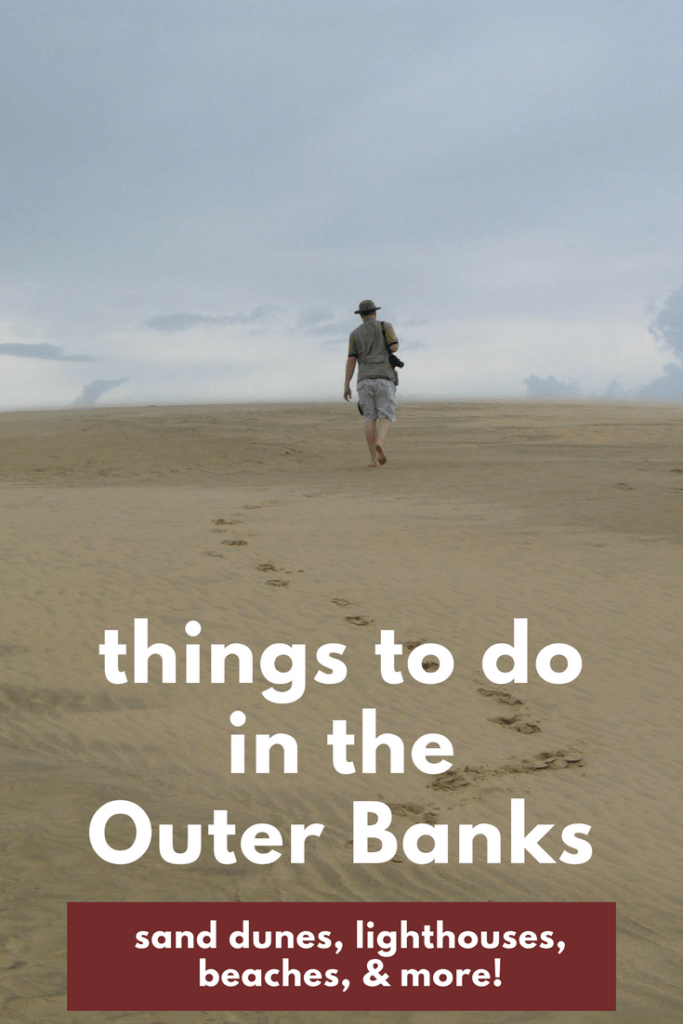 We had been dating for about three months, and he was taking off some time in between jobs. He suggested that we take a long weekend trip together, and he suggested the Outer Banks. Neither one of us had ever been there before, so we booked a hotel for a weekend in early June, and drove from DC to the Outer Banks!
Luckily, it was very early in the season and it wasn't crowded at all, so we got to squeeze in a bunch of stops at many of the highlights in the Outer Banks area!
I'll let most of the pictures do the talking here.
Jockey Ridge State Park
My favorite spot in the Outer Banks, by far, was Jockey Ridge State Park. These pictures really don't do it justice. You might be thinking, "Sand dunes, big whoop." They are HUGE sand dunes and it is such a stunning spot.
You can even take hang gliding lessons in Jockey Ridge State Park. I'm too chicken (and too much of a klutz), so we passed.
We loved the park so much that we even went back the next day with a kite to fly!
Elizabethan Gardens
We also visited the Elizabethan Gardens during our trip to the Outer Banks. We got stuck in a huge rain storm on drive there, and when we arrived, we had practically the whole place to ourselves!
Outer Banks Lighthouses (Cape Hatteras and Bodie Point)
We drove down the coast to the famed Cape Hatteras lighthouse.
We climbed the dizzying spiral staircase all the way to the top!
And once we got up there, we enjoyed the views and took some photos of each other!
While driving back from Cape Hatteras, we spotted another awesome looking lighthouse, so we pulled over. This one was Bodie Point lighthouse. Unlike Cape Hatteras lighthouse, this one was not open to the public for visits. So we just enjoyed the view from a distance.
Uh oh
On our drive back from the lighthouses, Ken decided to pull his Honda Civic over into a sandy area to take some photos. I was like, "umm, do you think we'll be able to get out of this," and he said, "oh yeah, no problem."
Well, we weren't able to drive out with no problem. We were, without a doubt, stuck in the sand.
A random guy with a truck and rope pulled over to try and tow us out. Unfortunately his rope just wasn't strong enough, so we called a AAA to dispatch a tow truck.
We took some photos while we waited for the tow truck, laughing about the entire situation.
The truck arrived and was able to get us out of the sand within moments.
We tied up traffic for a few moments, but like I mentioned earlier, the entire area was pretty deserted.
Wright Brothers National Memorial
Another fantastic stop in the Outer Banks was the Wright Brothers memorial. Located in Kill Devil Hills, the memorial is located on the exact spot of the Wright Brothers' first successful flight. The winds in that area apparently made for fantastic flying conditions.
Here is the monument in the distance.
Leading up to the monument is a path that marks the flight's short route.
We walked to the monument and snapped some photos closer up.
And we enjoyed the view looking from the hilltop.
After our walk, we stopped by the small museum and visitor's center, located near the parking lot for the memorial. The museum had models of the Wright Brothers' plane, as well as tools used to build it.
Beaches
It was still relatively cool in the Outer Banks for the first weekend in June, so our time at the beach was limited to walks in the sand. No ocean dips for us! We stopped at several on our drives up and down the coast to the other sites.
And that was it! It was a great and relaxing trip! And we still look back on it so fondly to this day! We would like to go back with our entire family (my side and his side) one day soon, and rent a house for a week! So, if you have any recommendations for waterfront properties in the Outer Banks for about 14 people, let us know!