This post may contain affiliate links. Please see my advertiser disclosure for more details.
Okay, perhaps woes is a bit too strong. We've had very few issues with our rental so far, and they've been minor. But, as investment property owners for a whopping year now, Ken and I are starting to wonder if perhaps our expectations are too high for the, well, management, of property management companies.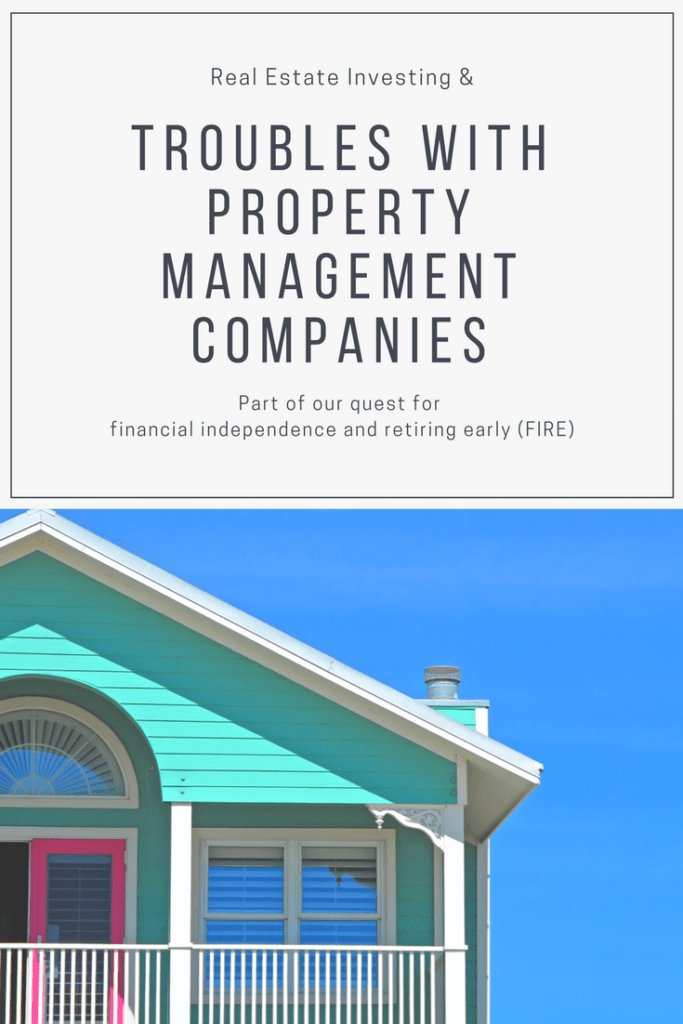 The Late Paying Tenant
Case in point:
The rent for our two tenants is due on the 1st of the month, with a grace period until the 5th. The tenants pay the rent to the property management company. Typically by the 15th of the month, the rent proceeds, minus any expenses, are direct deposited into our bank account, and we receive a monthly rental statement via email.
Well, back in January, I noticed around the 17th of the month that we hadn't received the direct deposit for January's rents yet. No biggie, it was a holiday week with MLK day, and I assumed things were delayed. So, I waited two more days. Still no direct deposit.
I emailed our property manager, as well as the administrative assistant who typically is the person who emails us the monthly rental statement. In my email, I I asked why there was a delay with the rents being deposited.
The property manager, Joan, emails me back within an hour or so, expressing disbelief. Her exact email began with "Really?? I will check on that."
Uhh, wat?
Then, a few hours later, we get another email from Joan:
"I am so sorry about that. We are getting [The second floor tenant's] rent deposited to you. [The first floor tenant] can pay next week with the 50.00 late fee. Just talked to him"
So here we are, the 19th of the month, and ONLY AFTER I POINT IT OUT, does the property management company realize that the first floor tenant tenant is now two weeks late with his rent? Our contract with the property management company stipulates that they should file eviction paperwork with the local magistrate if the tenant hasn't paid rent by the day after the grace period. If this tenant decides to squat, we've now just lost two precious weeks of eviction notices.
In the meantime, the property management company makes the deposit in our account for the 2nd floor tenant, who had paid their rent on time, and then we just waited for the first floor tenant.
A Pattern
Of course I knew what was going to happen. By the time the tenant paid his rent, with the $50 late fee, it was now only one week from February. I assumed that he'd be late again for February, and told that to Joan. She said she'd keep an eye out for his check for February.
By the 7th of February, I had not heard whether the first floor tenant had paid. So, I texted the property manager, and, sure enough, he had not paid by the end of the grace period again. And again, I was left wondering, why am I the one having to initiate these conversations? Is this not something that we should expect from the company that we're paying?
She said she talked to the tenant, that he had mailed the check, and that he'd pay the $50 late fee again. And, once again, I had to follow up every day. Three days later, the check still hadn't arrived at the property management company (it only takes a day in the mail since it's local), and I was like, "Whelp, file the eviction paperwork." The check arrived the next day.
Late Again in March
So, here we are in March. The 15th of the month arrives, and we receive our monthly rental statement and deposit. Except, it's only for the upstairs tenant. Once again, the first floor tenant is more than ten days late with his rent and NO ONE HAS TOLD US.
At this point, Ken and I are asking ourselves, "Isn't this what we're paying the property management company for?"
The tenant mails the check, along with another $50 late fee. This time, at least, the property manager proactively informs me when they received the check.
The first floor tenant's lease is up at the end of May, and he also provided 60 days notice of his intent to move out.
Putting Things in Perspective
I gotta say, although there was some slight hassle with getting rent on time, we've made an extra 150 bucks in late fees from this whole thing, so I really can't complain too much.
I realize that this is a long, complaint-filled email, but I'd like to keep things in perspective. We have a gross cash flow more than $500 per month on this property, and I'd say that I spent about 30-45 minutes total on this whole situation since January. That includes phone calls, emails, and texts.
But, I am genuinely curious, are we asking too much of our property management company? Shouldn't they have some sort of mechanism in place to track when a tenant's rent has not been received? And, that the mechanism triggers certain actions, like a notification to the property owner, as well as a notification of intent to evict to the tenant? I mean, if the tenant doesn't pay, that means that the property management company doesn't get paid either, since their fee is a percentage of the rent.
And, I'm just feeling especially rage-y, because we're also having issues with the Accountant we hired this year to do our taxes. We've always been TurboTax users, but with 2017 being the first year as property owners, as well as having some Crypto capital gains (Bitcoin and other altcoins), we decided to hire a pro. And, they've been pretty terrible with communication as well.