This post may contain affiliate links. Please see my advertiser disclosure for more details.
---
I wanted to give a quick rundown of our campfire (er, and Coleman Grill) cooking during our camping trip at Assateague State Park.

Camping Cooking Prep
Before we even left for camping, I had a food prep checklist so that we could minimize food preparations at the campsite. Because, although cooking around the campfire is fun, finding 5 different ingredients and dirtying a dish to stir them all together is a whole different story.
First up, pasta salad.
I made a big batch of pasta salad. This is fantastic for camping. It's great for when you first arrive at the campsite and haven't had time to make the campfire yet, or when you get back from a long hike and need a snack ASAP!
I use this this recipe for Antipasto Pasta Salad. I make a few minor adjustments, mainly just swapping out the dry italian dressing and oils mix with some plain old bottled italian dressing. I also add roasted peppers (from a jar that I buy from Trader Joe's) instead of the raw bell peppers. I'm not a huge fan of raw bell peppers, but the roasted ones are great.
I made up a big bowl of it the day before we left so the flavors could meld together. Then the day of departure, I put the pasta salad into individual portion bowls to make it easier to eat and to make it easier to store in the cooler.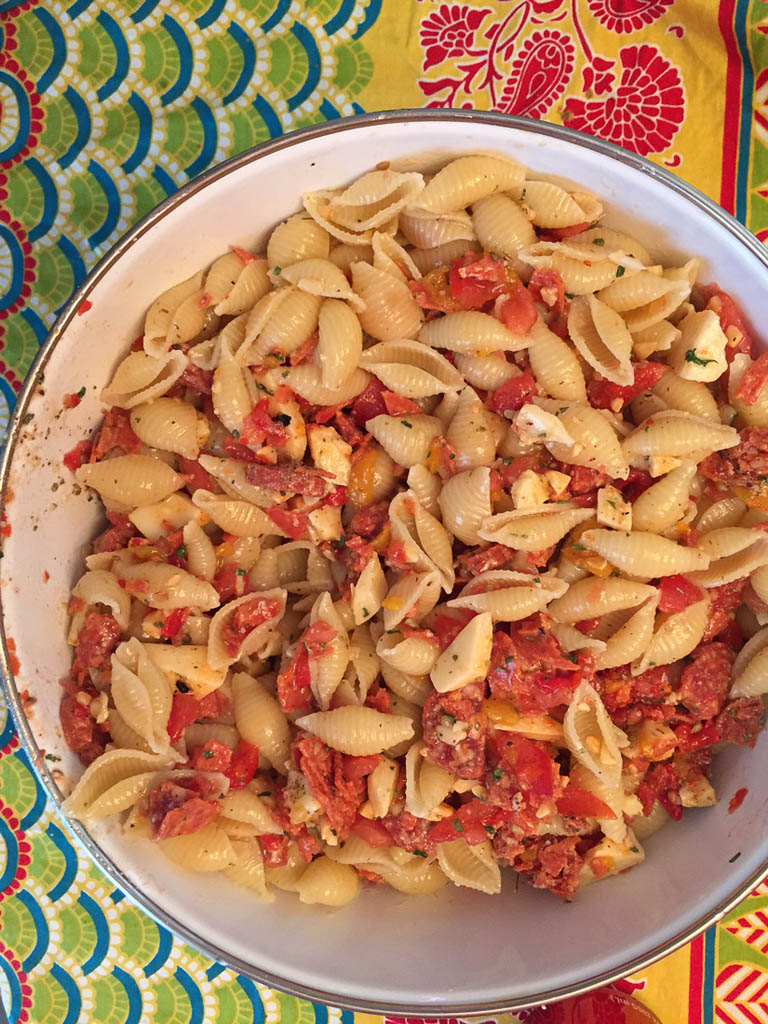 It was perfect to eat at the campsite!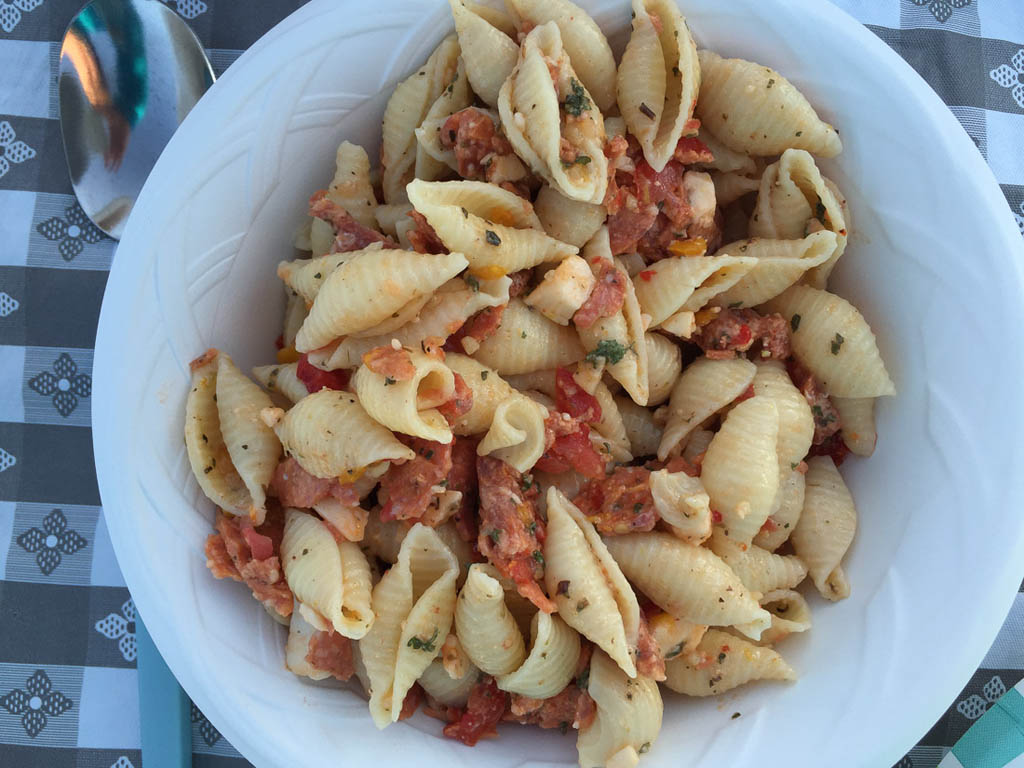 I also made up some pinwheel bites. I basically used this recipe for Cheddar Bacon Ranch Pinwheels, but added turkey deli meat slices, and swapped the ranch for cream cheese, just because I thought it would hold together better in the cooler.
These kept fantastic in the cooler, but I did put them in gladware containers so they wouldn't get smooshed.
I also assembled the "Perfect Picnic Sandwich" from Echoes of Laughter. I had made this for a previous camping trip, and had ignored her advice for cutting it into slices with an electric knife before leaving home. And, that did not work out well. It was so difficult to cut with a normal kitchen knife! So this time I was sure to cut it before I left home and wrapped each slice in plastic wrap. And look at how gorgeous it turned out!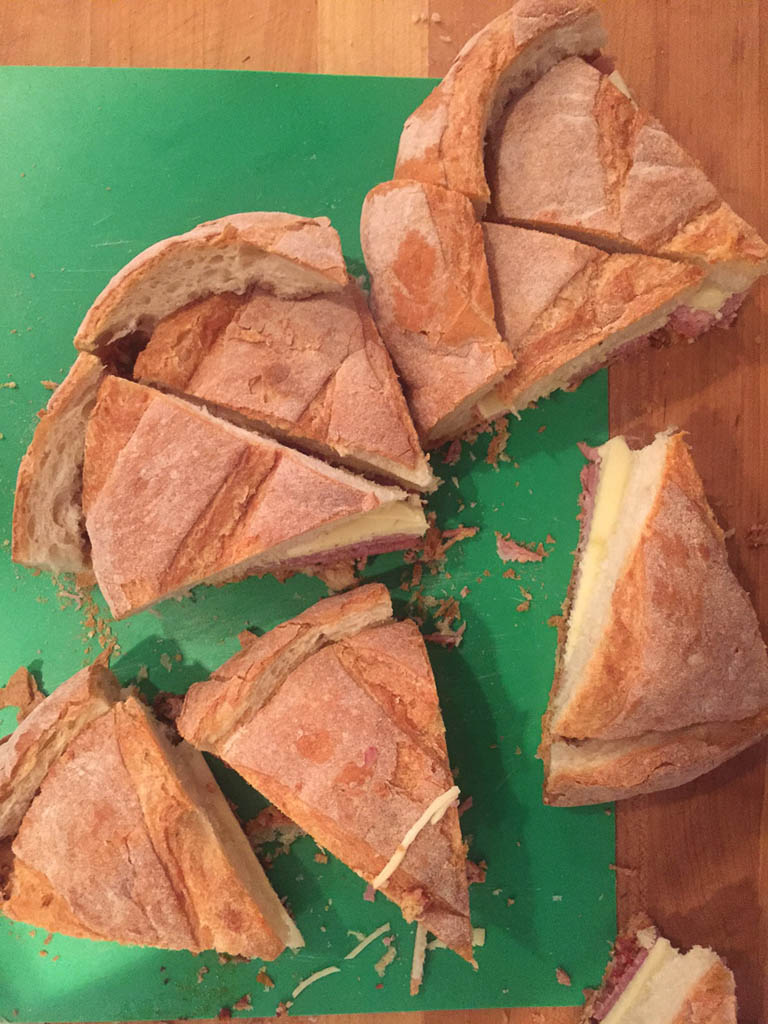 Campfire Foods
As soon as we got to the campsite, we had some of the sandwiches and pasta salad.
The first night, we kept things simple. Hot dogs and baked beans. (I had already mixed together the ingredients for the baked beans at home, so all I had to do was dump the container in the cast iron skillet)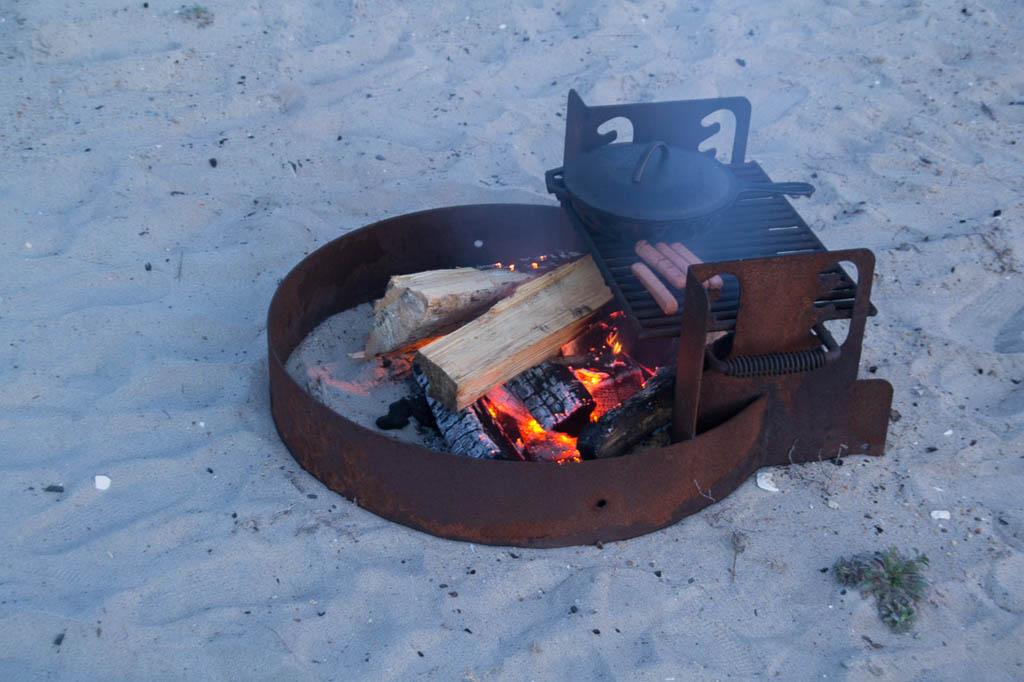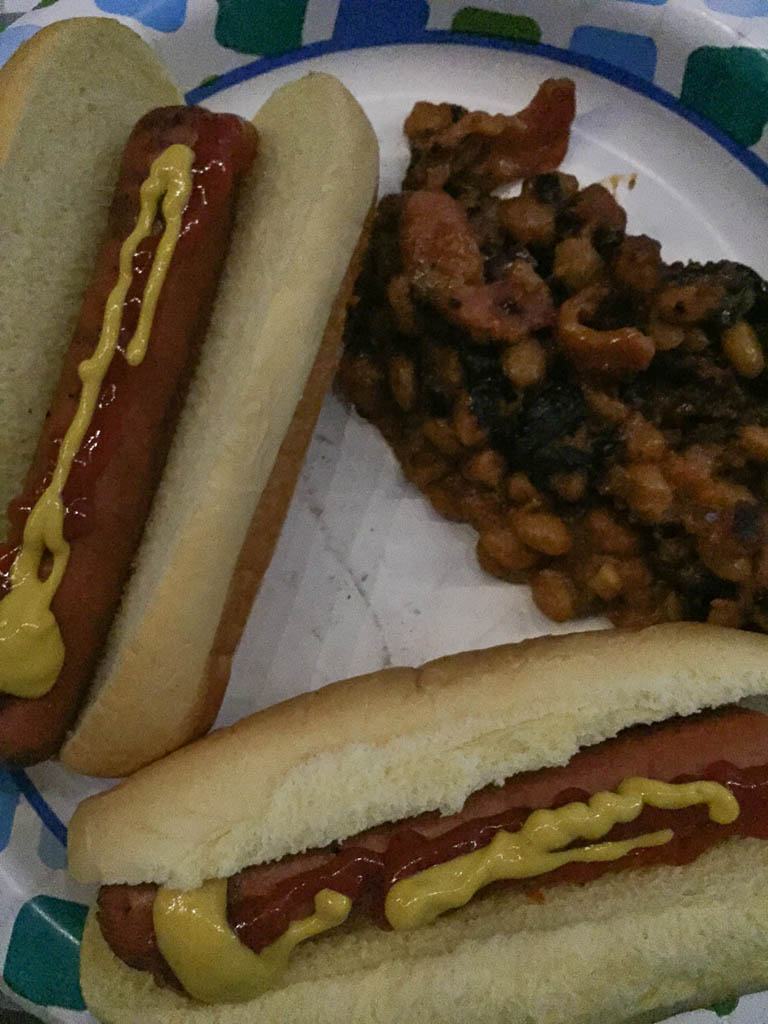 The next morning we had some hot chocolate and homemade breakfast burritos (that I always have on hand at home. I make them in huge batches and put them in the freezer). We heated everything up on the Coleman Grill. The burritos were still pretty frozen even after being in the cooler for 24 hours, so it was difficult to cook them evenly. Next time I may try some different techniques, like maybe keeping the foil on it for a while on the grill so it can thaw without getting burned.
As an FYI, I generally use this recipe for my breakfast burritos, The "Potato Skillet.". Adding, obviously, the critical "tortilla" component.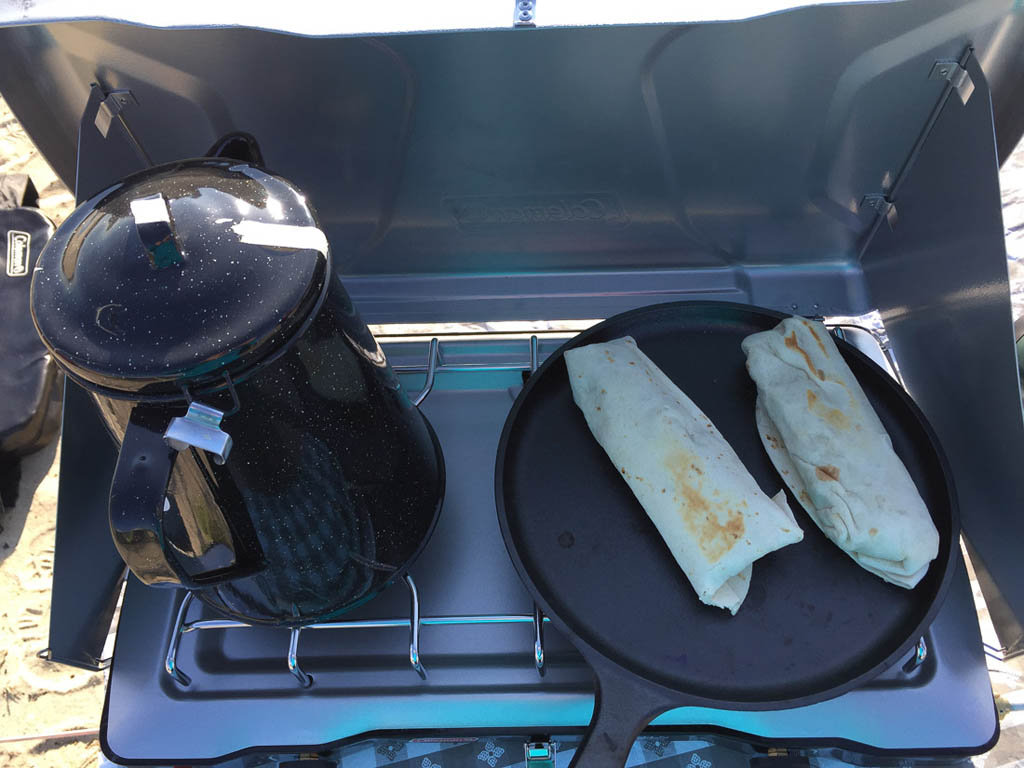 For lunch, we went out to a fun local BBQ joint.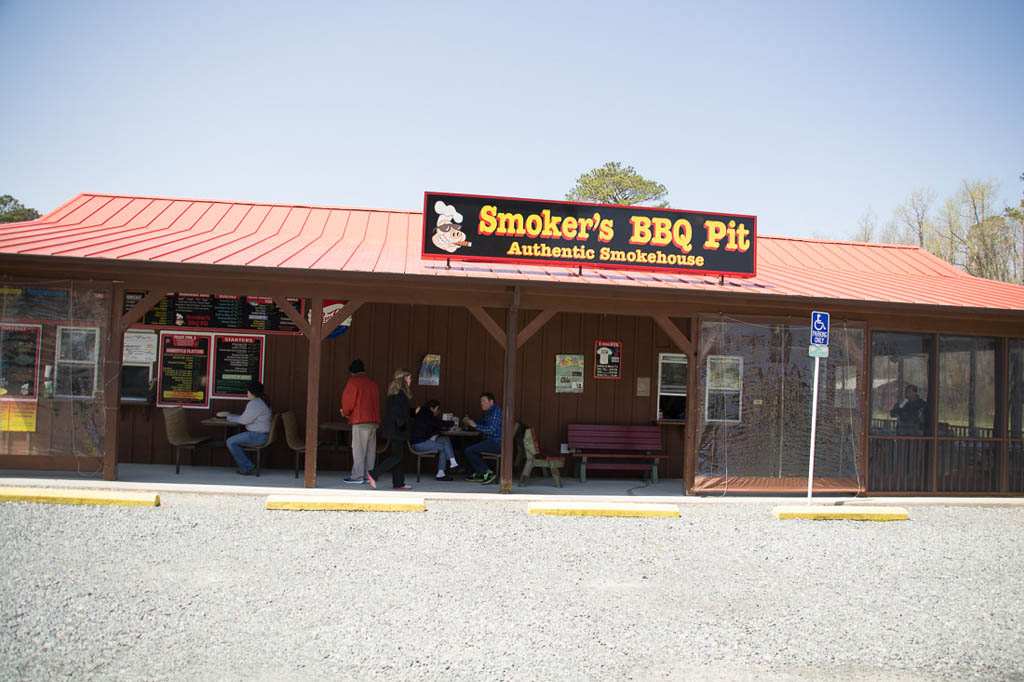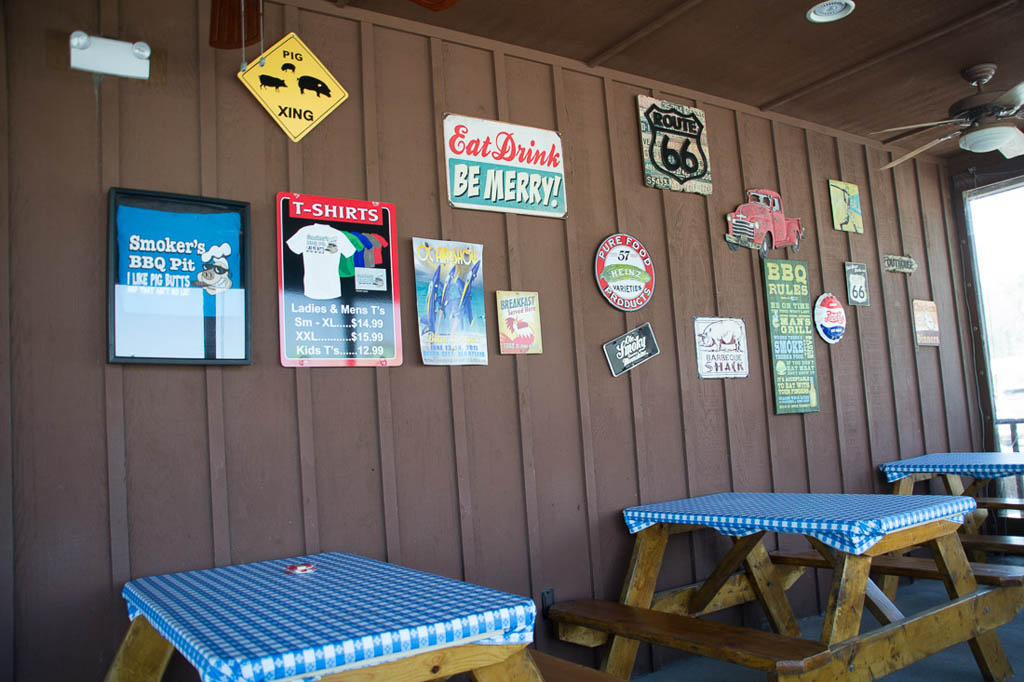 The food was good, but the "dining room" area was meant to be an outdoor space and was just covered by plastic walls, so it was actually kinda chilly.
We went on a hike after lunch, and when we got back to the campsite, it wasn't quite dinner time, but we were hungry, so we just snacked on some pinwheels.
For dinner, back at the campsite, we had spaghetti and garlic toast grilled cheese and boozy campfire brie and baguettes. (I had pre-made the spaghetti at home, including boiling the noodles and adding the sauce to them. Then I poured the ingredients into a plastic baggie, along with a little extra water to keep the noodles from drying out.). We cooked the sandwiches using our pie irons. I also threw in some frozen homemade meatballs, but as it turns out, we weren't really hungry for them.
I know the lighting is terrible, but it was so dark at the campsite! Both the brie and the spaghetti sandwiches were divine! (First time making both of them!)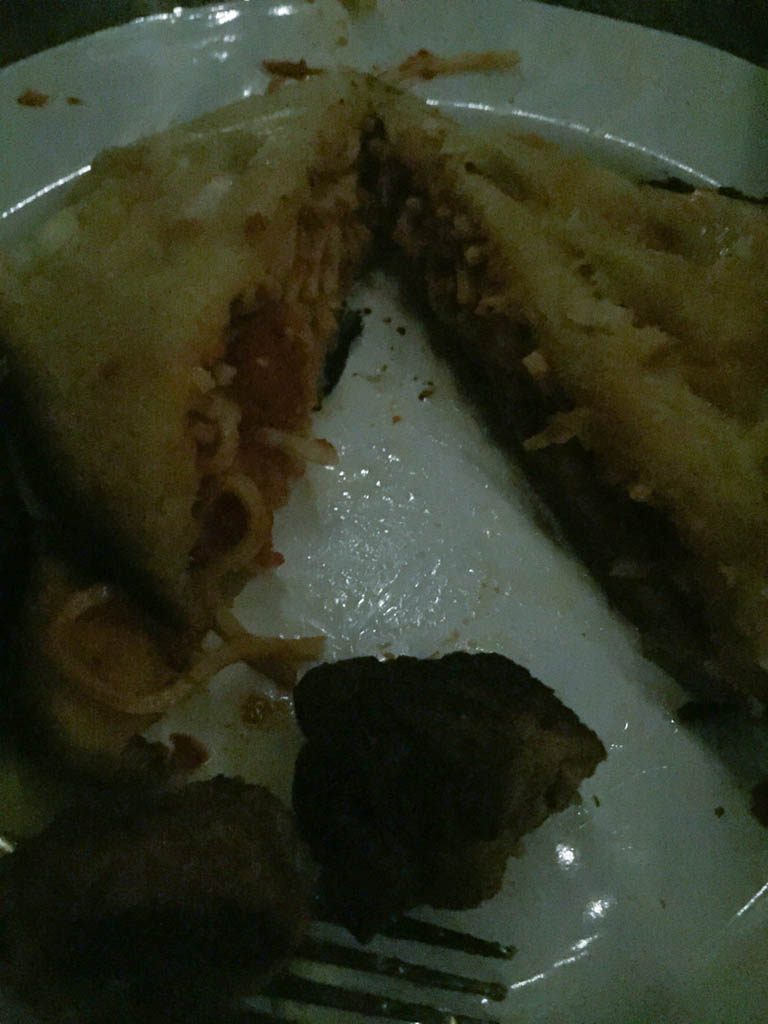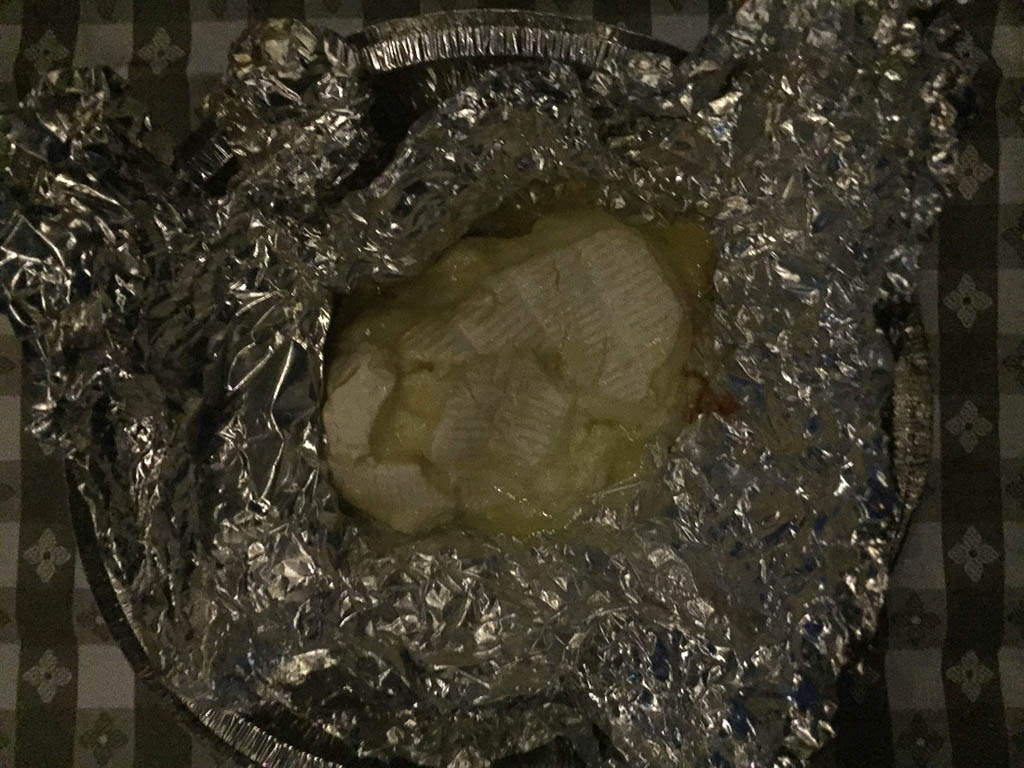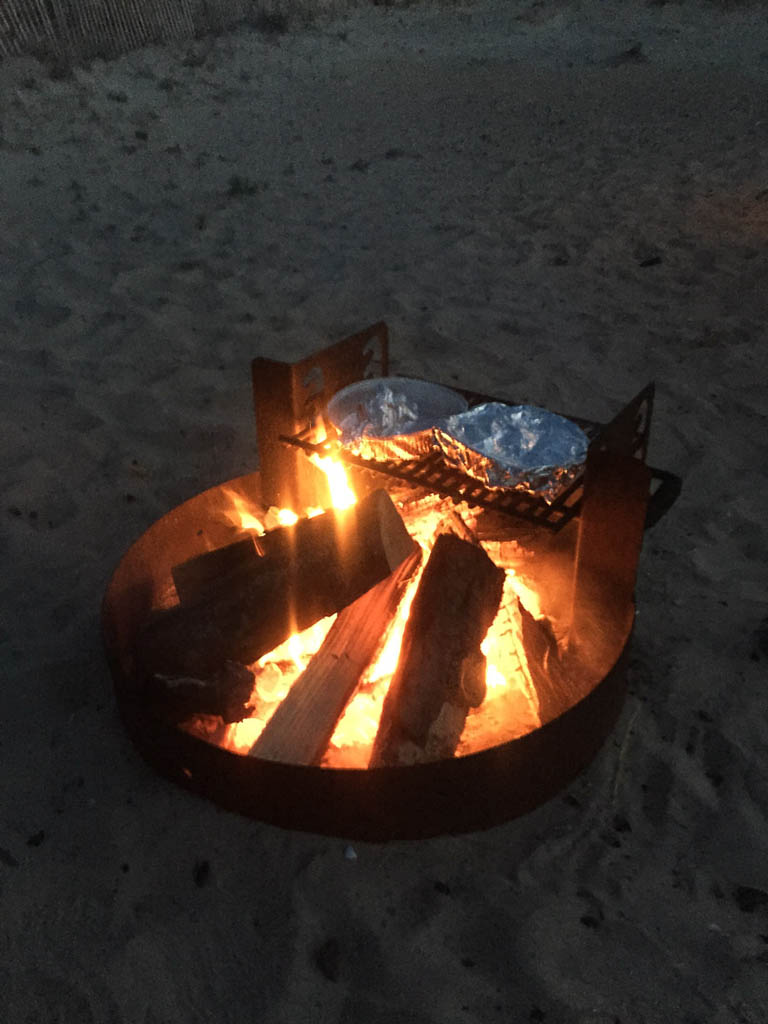 We heated up the brie and the meatballs in foil pie tins covered with aluminum foil.
I'd definitely call this camping menu a success!
The next day, we went out for our meals.
What are some of your favorite camping meals?