This post may contain affiliate links. Please see my advertiser disclosure for more details.
Nearly two years ago, after we finished our kitchen renovation, Ken and I did a massive rearranging of our living room. As part of this rearranging, we got rid of our old couch and loveseat and purchased a sectional sofa instead. We also wanted to ditch our coffee table and opt for a console table / sofa table instead.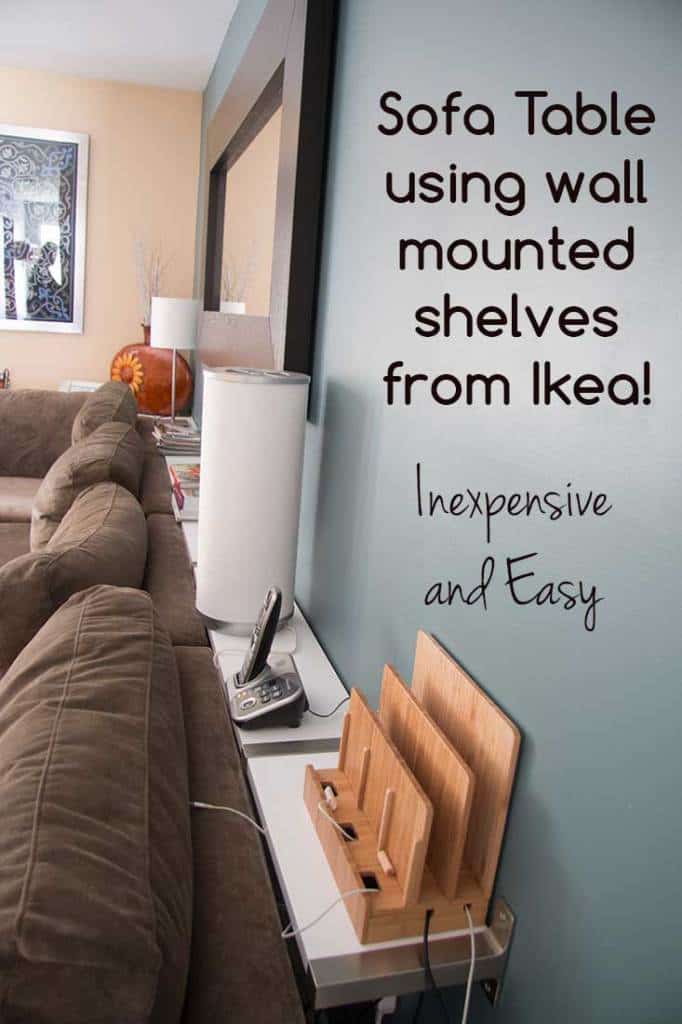 (Side note: What do you call a table that sits directly behind your couch? A sofa table? A console table? There seem to be many opinions online. I'll refer to it as both throughout the article, but I'm talking about the same thing!)
Thanks to the unusual dimensions we needed for the sectional (very short on one side and very long on the other), we were having trouble finding something a console table that would fit. We also didn't want a very wide console table. We just wanted something very narrow.
We didn't want to build anything from scratch, and after doing some searching, we had decided on an option from Ikea – the wall mounted Ekby Jarpen shelves.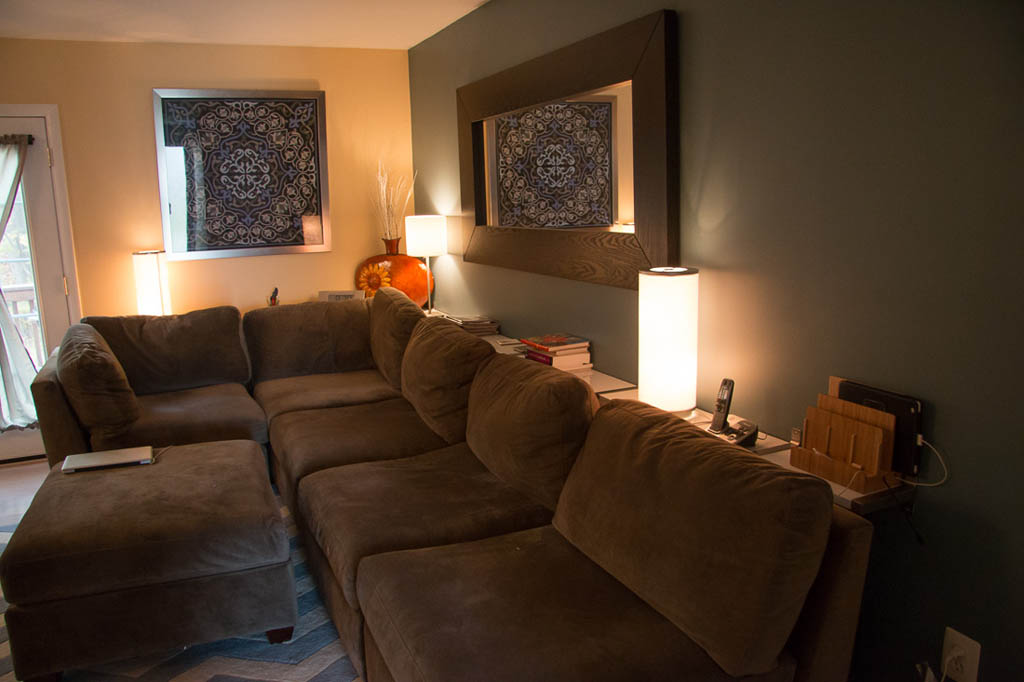 It's amazing we took photographs of the process since we weren't blogging at that time, but luckily that tends to happen when you have a husband and wife that both love to take pictures!
Anyway, we both liked that we could cut the Eky Jarpen shelves to size, so that it would fit our space precisely. Plus, they had a shiny, kind of laquered looking finish, so, it looked like those shelves would clean up easily and not be easily marred by like a cup that hadn't been put on a coaster.
We knew we wanted the shelves to be the exact height of our sofa backing. So, Ken made a few marks on the wall, and then placed our laser level
at that height. The laser level is great because it like "wraps" around the corners. That made it much easier to have each end of our L-shaped sofa table be the precise height. (Note that the laser level we use is a Black and Decker one that appears to be discontinued. But this Dewalt Laser Level
seems very similar with the "cross lines" feature. This Bosch Laser Level looks similar too, and is cheaper than the Dewalt one, but it doesn't get as good reviews it seems).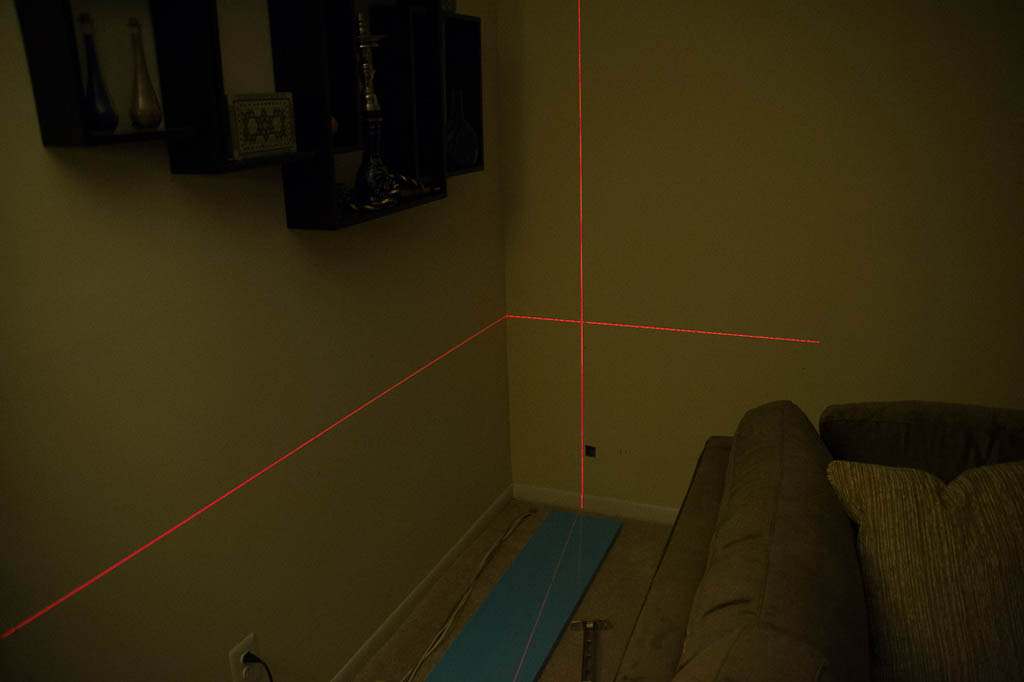 After the laser level
was set to the correct height, Ken installed two of the Ekby Jarpen shelves – one on each side of the "L" shape. Note that we used two different depth shelves. A slightly deeper one on the short side, and the narrower shelf on the couch's long side. We still had the protective blue cellophane on the shelves at this time too.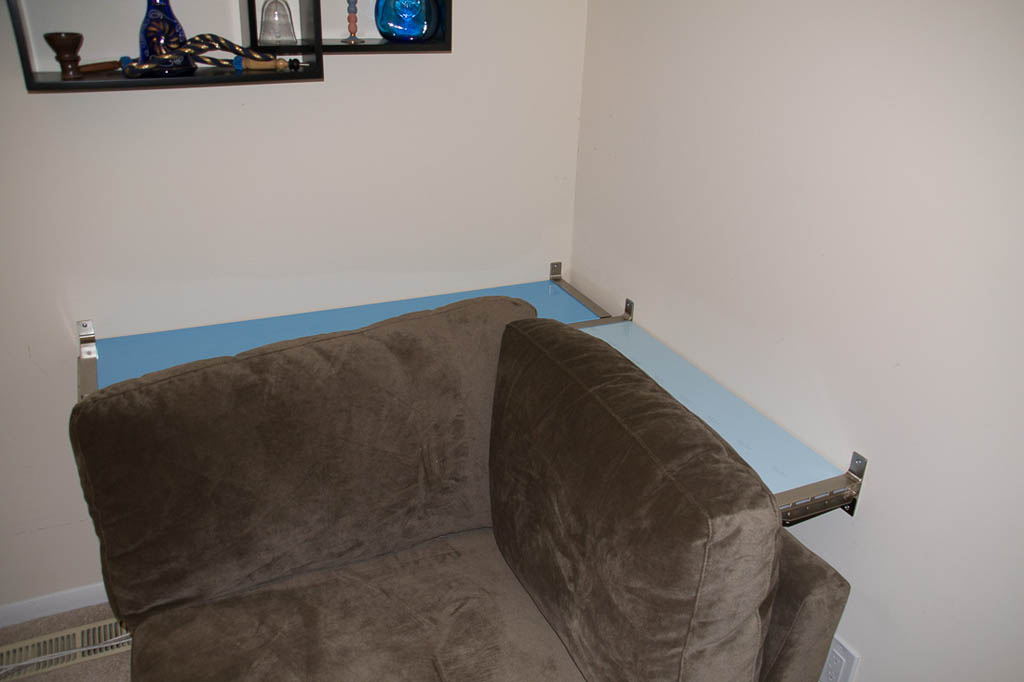 Then we installed the rest of them. We just needed two on one side, and then five on the other. (Please don't mind the gashes on the wall. We had just moved the TV from one wall to another, and the cable/cord concealer things we were using were so sticky they ripped the paint off the wall when we took them down. We repaired the wall and painted the room after we had everything rearranged!)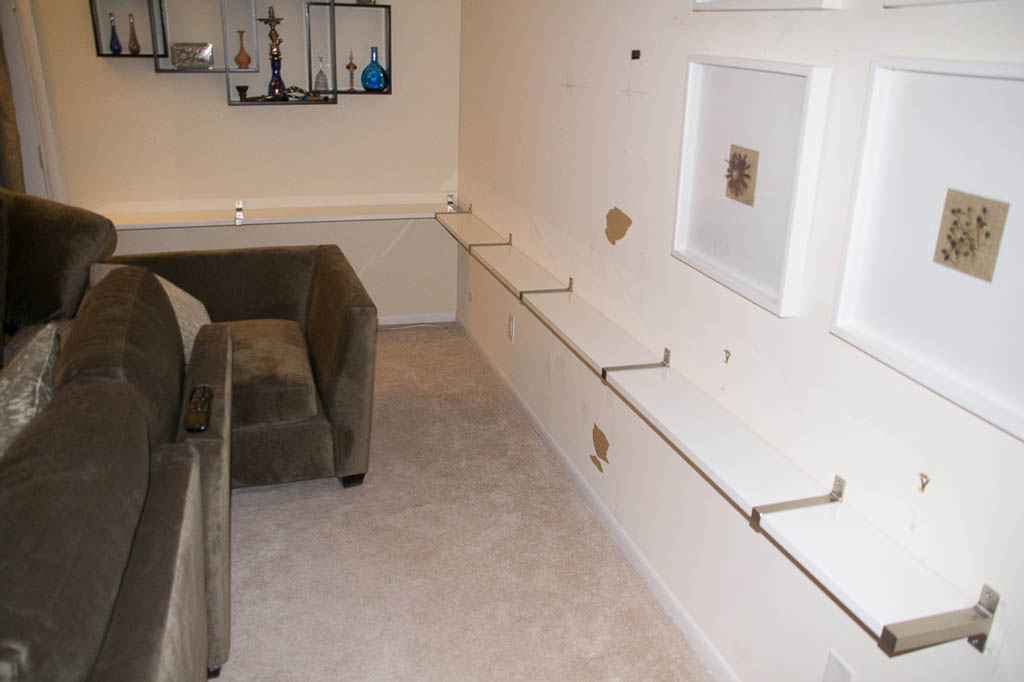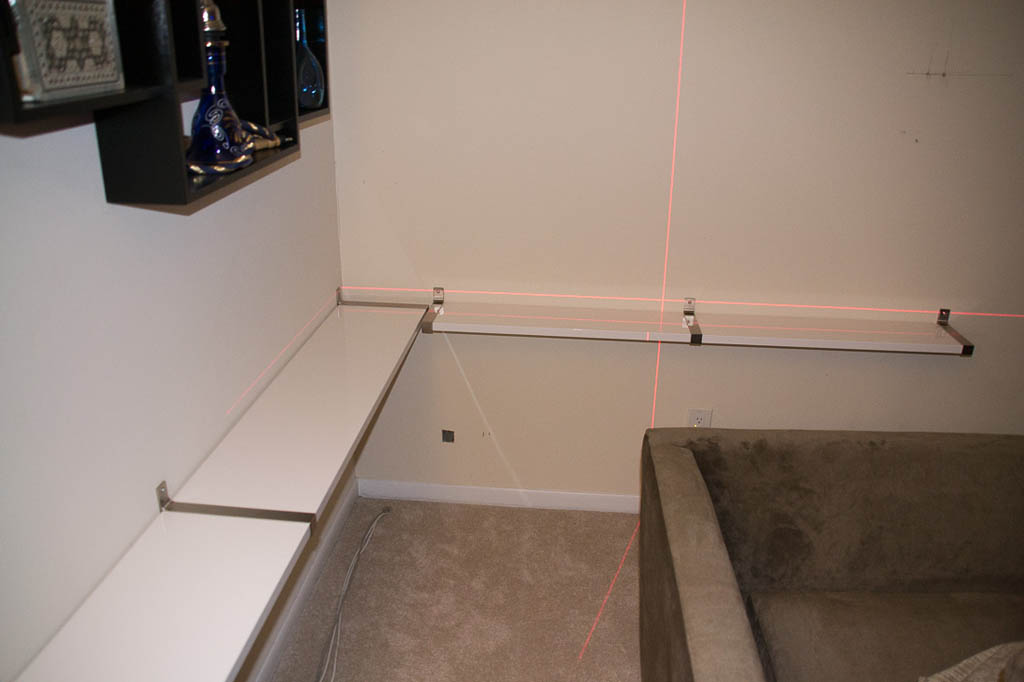 When we pushed the sofa back against the tables, we were very pleased with the fit.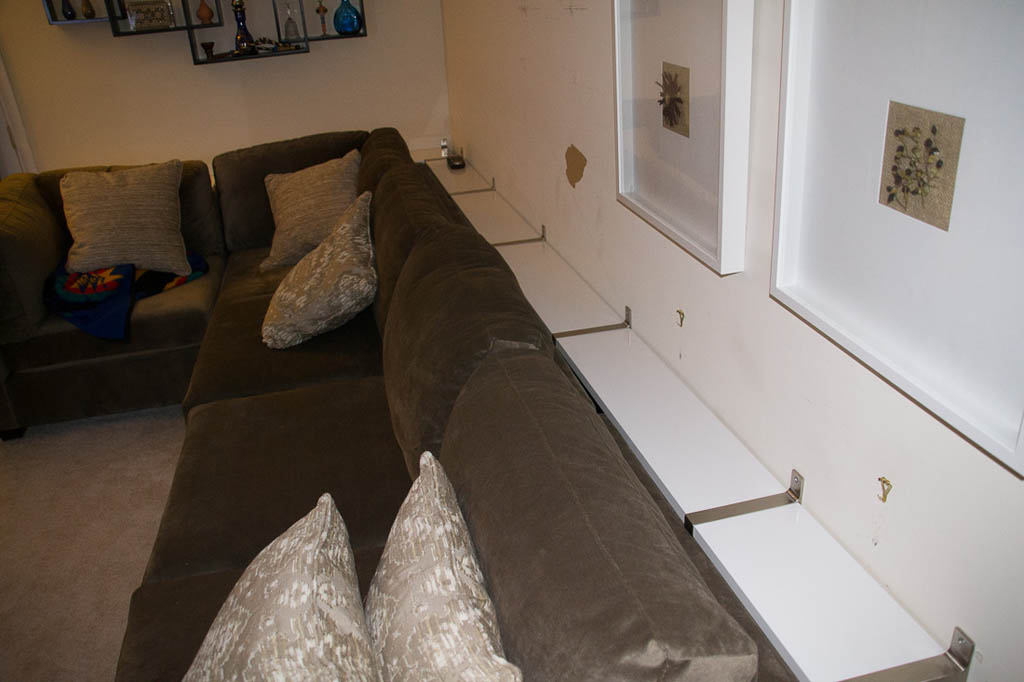 We did have to cut both end shelves to get the precise fit that we wanted (so it wouldn't extend too far beyond the sofa. And on the shorter side, we have a set of french doors that obviously we couldn't hit) But, the Ekby shelves very easy to cut. Luckily, the way the Ekby shelves are designed, the bracket covers the cut edge, so the cut/unfinished edge isn't visible!
We unfortunately didn't photograph the cutting process, but we just used a standard miter saw that we already own and just used it to make a straight cut. You could also use something like a table saw if you have that. But we just don't quite have the space in our house for many big tools since we don't have a garage or anything. But either one of those tools will be useful in other projects too!
After some painting and adding some lamps and accessories, we're very pleased with our sofa table! We've had it for about 18 months, and we don't even miss having a coffee table.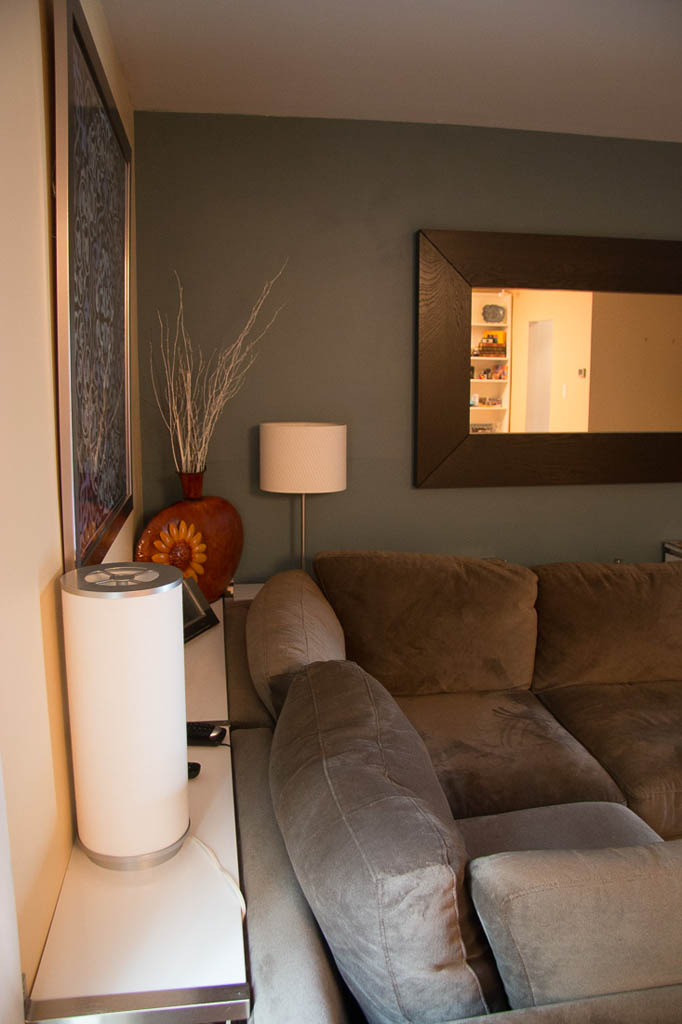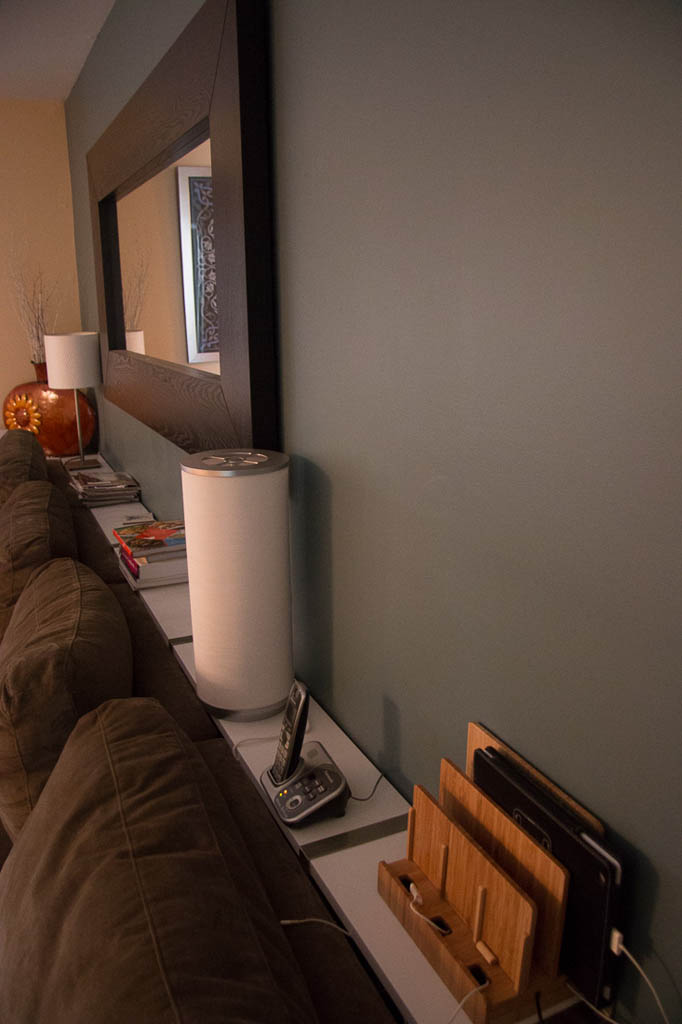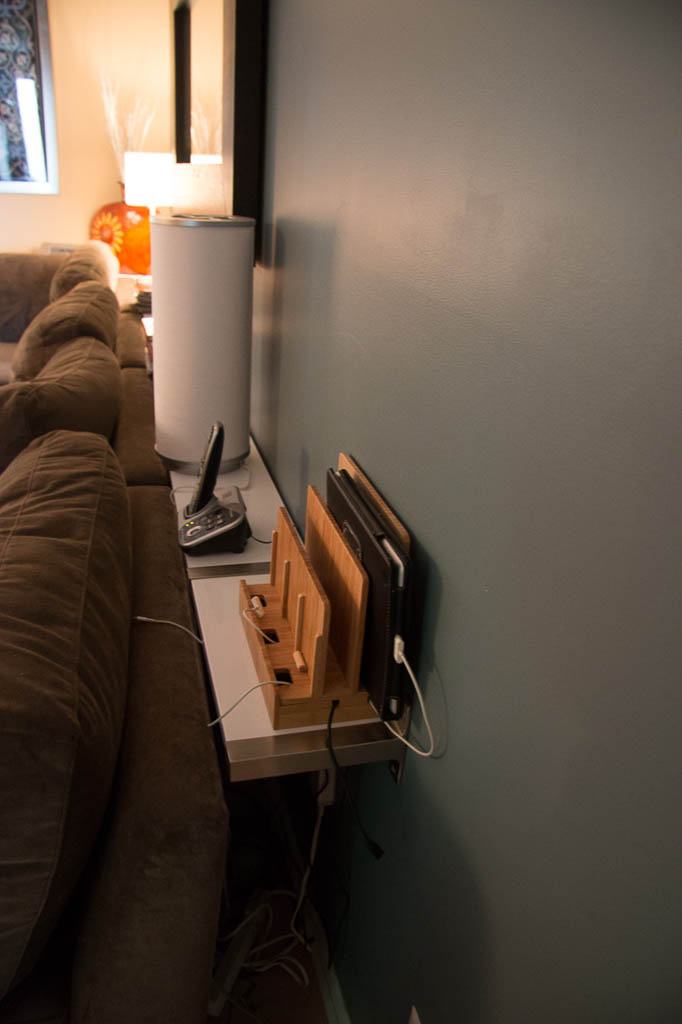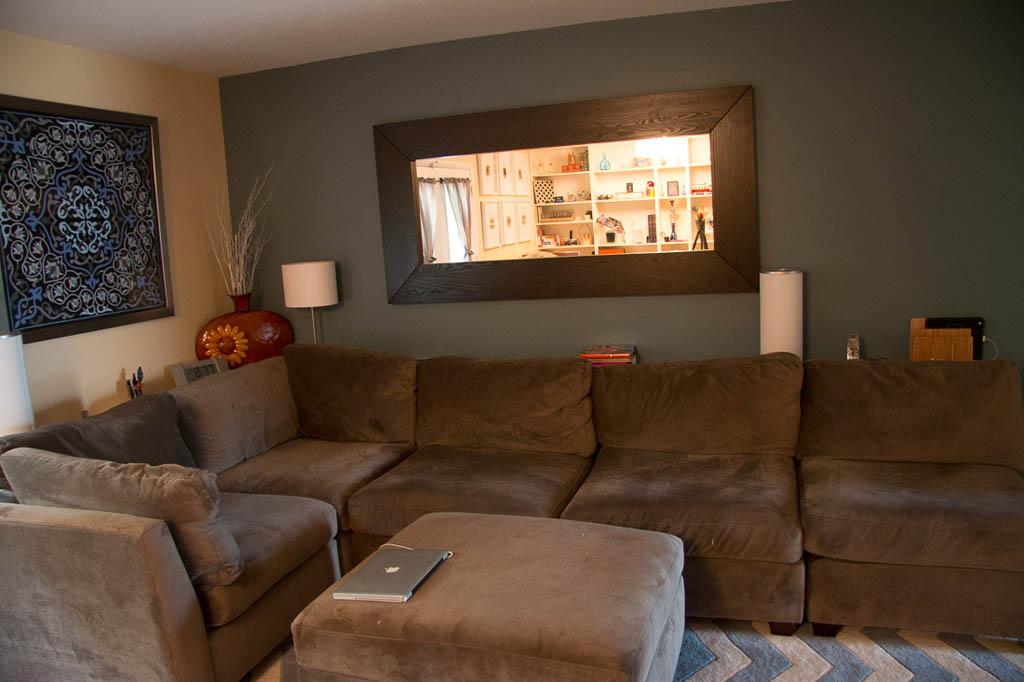 Ways to Save Money on your Project
Looking for some ways to save money on this particular project? Head over to raise.com, a discounted gift card reseller, and buy discounted gift cards for Ikea
. (Double bonus, be sure to check Mr. Rebates first to see if they're offering any cash back on Raise.com purchases. As of the time of writing, it's 3% cash back!)
Is Raise.com all out of Ikea Gift Cards? Be sure to check GiftCards.com, GiftCardMall, or even GiftCardGranny. Buying discounted gift cards is one of my favorite ways to save money on purchases I was going to make anyway! And, don't just limit your search to Ikea. You might need some Home Depot
or Lowe's gift cards too.
Do you have a console table / sofa table? How do you like it?