This post may contain affiliate links. Please see my advertiser disclosure for more details.
Sheraton Gateway Hotel in Toronto International Airport Overview
---
Our trip from DC to Calgary included a connection in Toronto. No big deal. But about two months after booking our tickets, I received an email that the departure time for the flight from Toronto to Calgary had changed. It was now scheduled to depart 40 minutes earlier, from about 9:10AM to now 8:30AM. That made our connection in Toronto a bit tight (an hour and six minutes), but I didn't think much of it.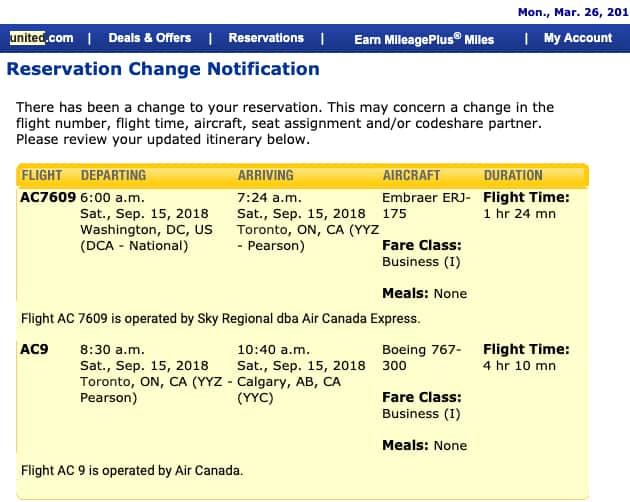 Then, about two weeks prior to our trip, I started to panic a bit. I really didn't want to miss our connection in Toronto. So, I called United, and they changed our flight, free of charge. By choice, Ken and I decided to fly from DC to Toronto the night before. That meant staying at a hotel close to the airport.

And luckily for us, there's a hotel directly inside the Toronto Airport!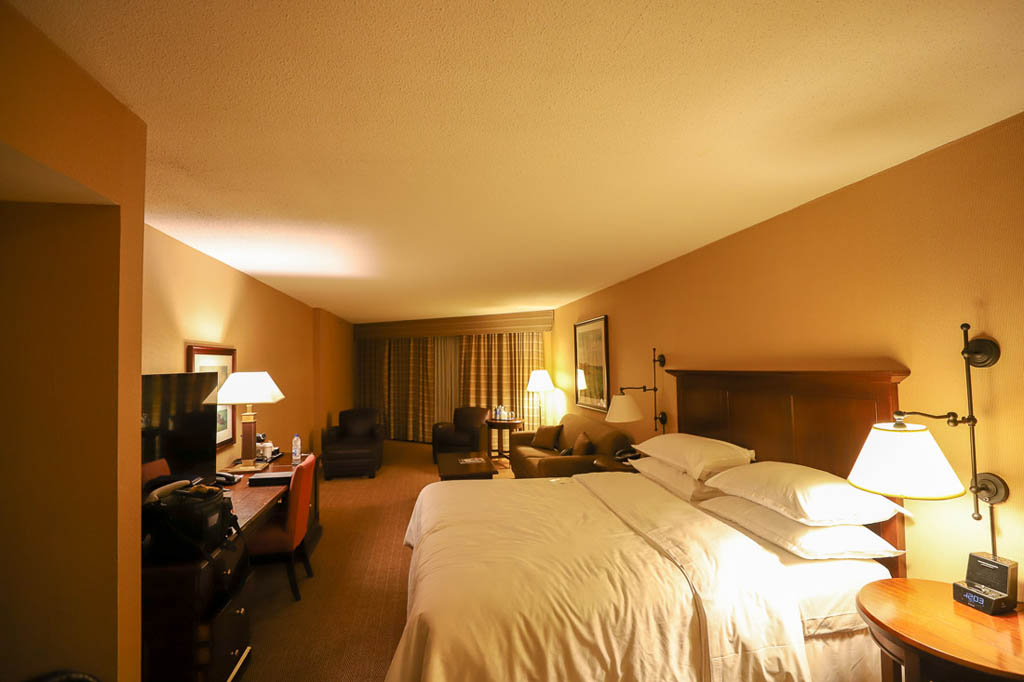 Sheraton Gateway Hotel in Toronto International Airport Overview
Although there were some slightly cheaper hotel options near the airport, those would have required taking a bus. For us, we couldn't beat the convenience staying right at the airport, so it was worth the small added cost.
However, unlike the airport hotel we stayed at in Istanbul for a few hours, this hotel did require leaving security and re-transiting security in the morning.
We booked the "Traditional Non-smoking: 2 Double Beds" room. King bed room options were slightly more expensive when making the reservation, so we opted for the two double beds since our stay was going to be so short anyway. However, upon check-in, the staff asked for a bed preference. And, they had a King size bed available for no additional cost!
Traditional Non-Smoking Room at Toronto Airport Sheraton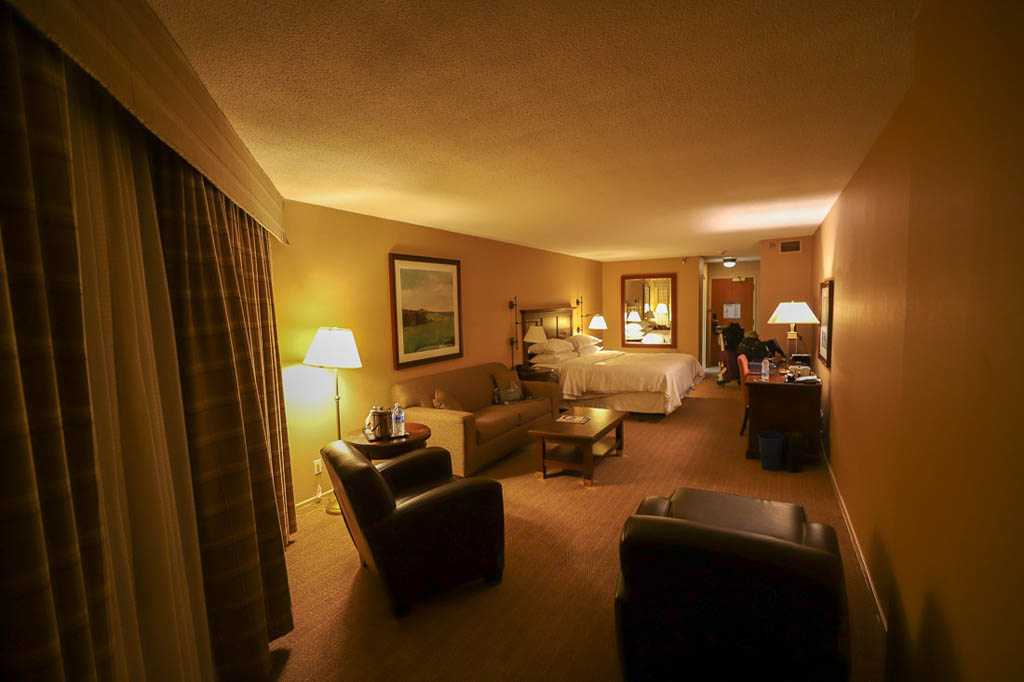 This hotel was a solid choice. Sure, it didn't have any luxury finishes, but the room was spacious, the bed was comfy, and there were plenty of accessible outlets for charging our cell phones.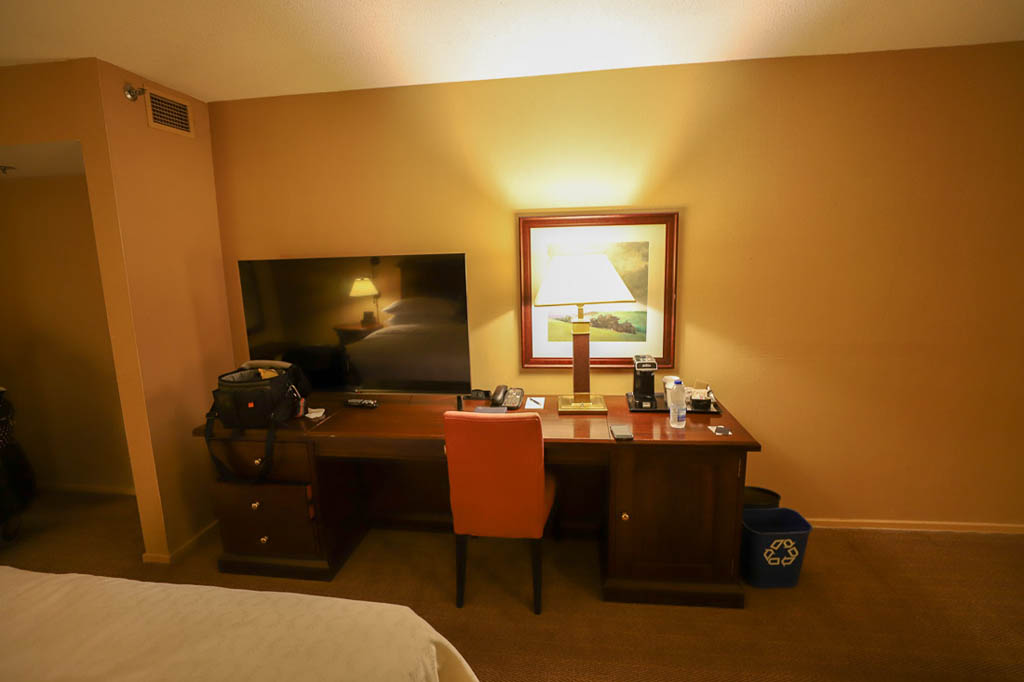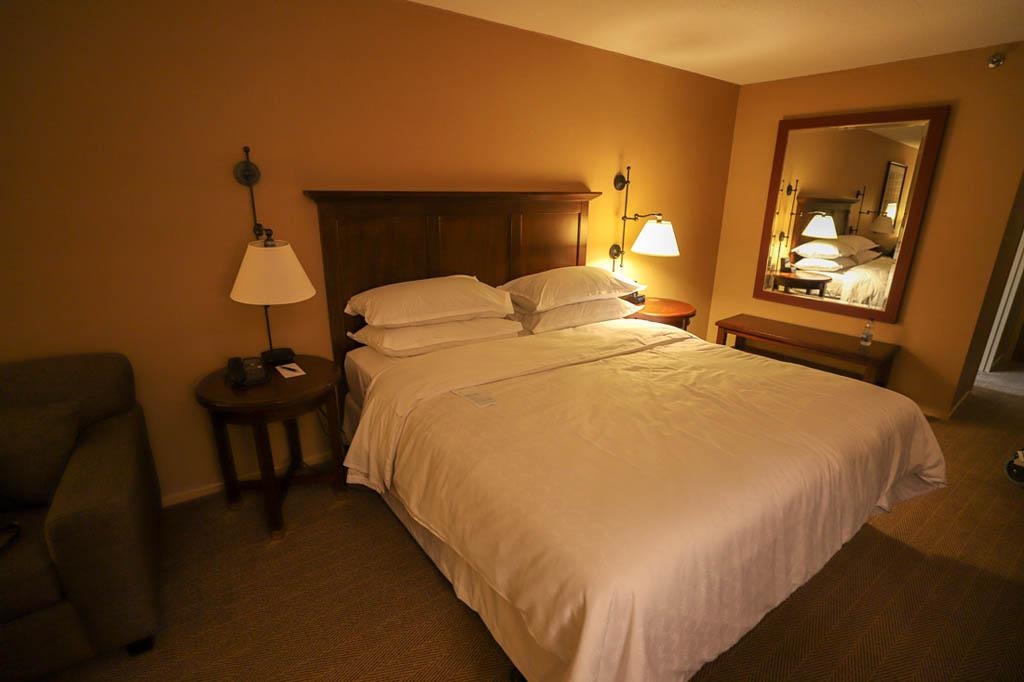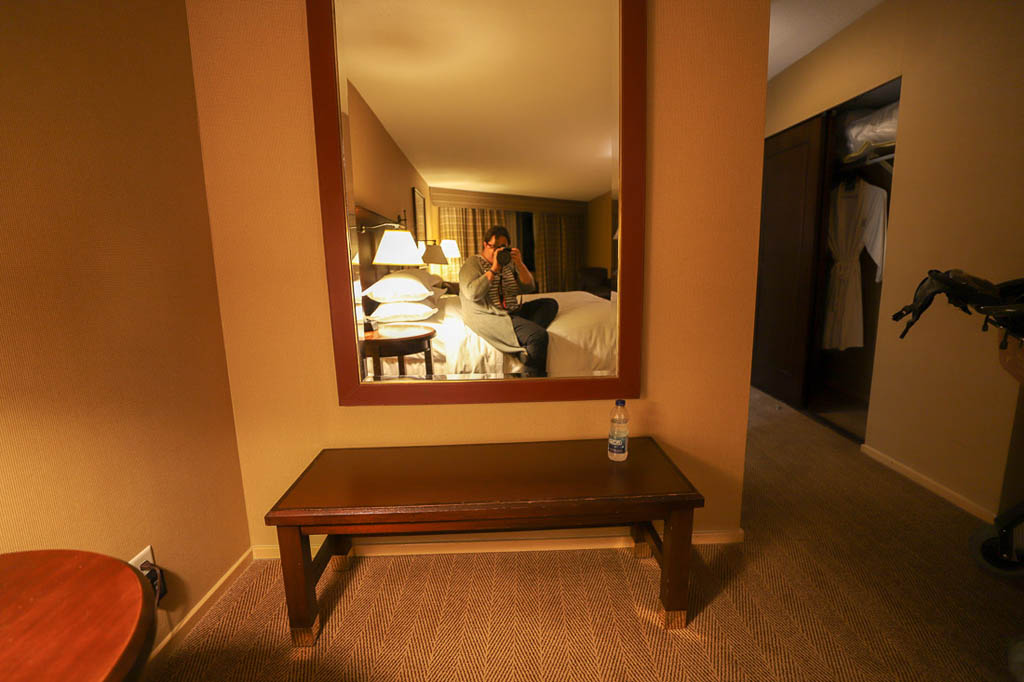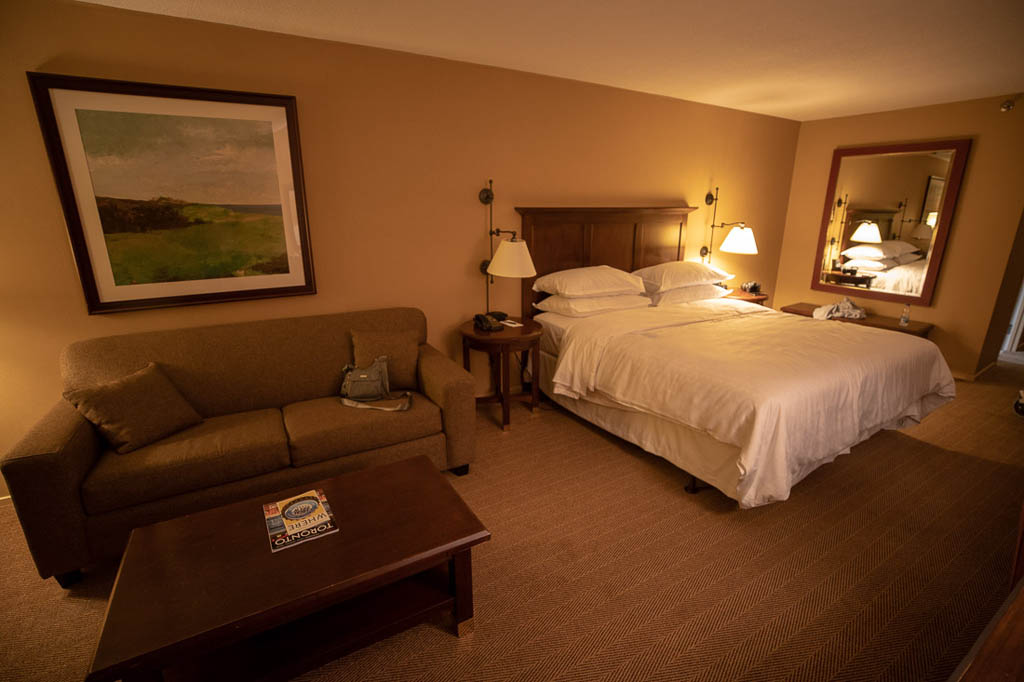 The bathroom was basic, but the water pressure was great, and we didn't have to duck when using the shower (always appreciated since Ken and I are both tall). There was also plenty of bathroom counter space.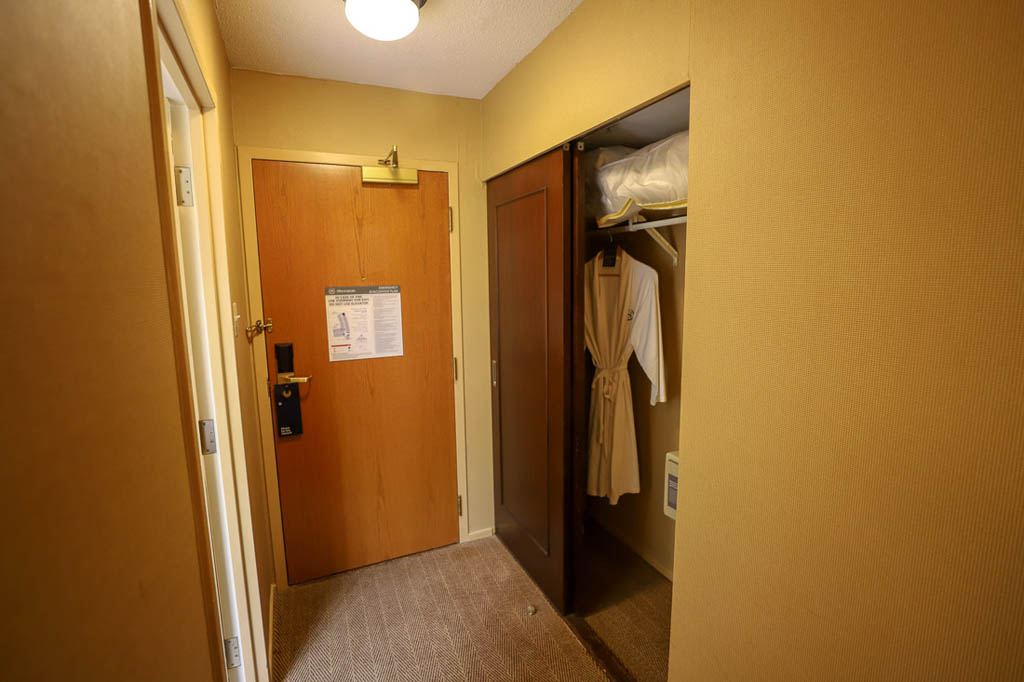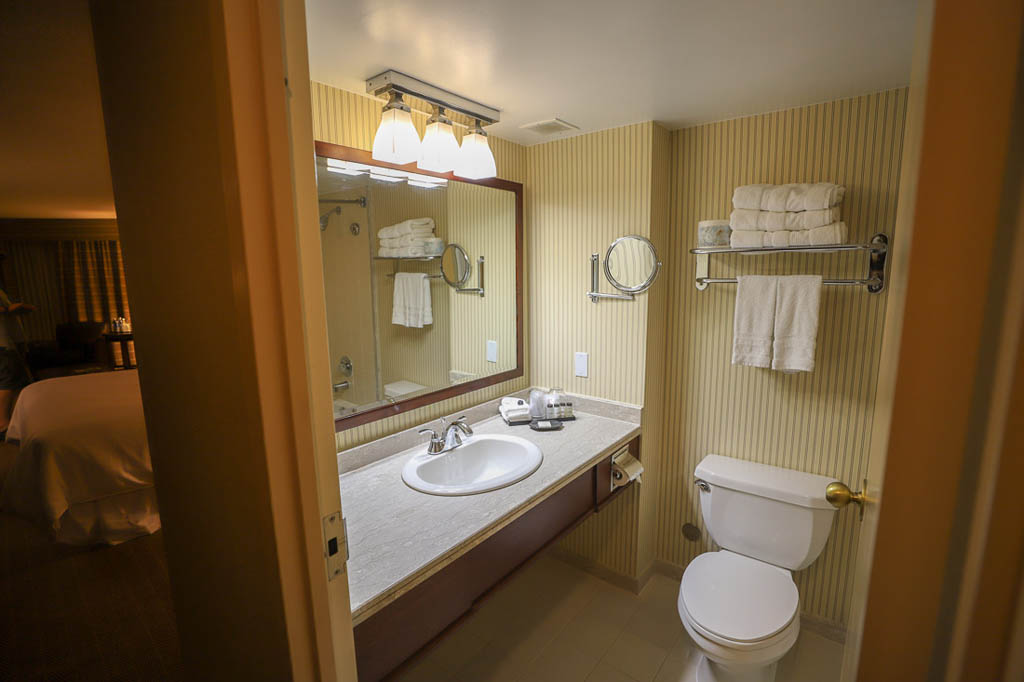 The next morning, we also had the opportunity to snap a few photos of the view from our room. It wasn't much to look at, but a better view than, say, our rooms at the Andaz Fifth Avenue or the Park Hyatt Moscow. (And again, this was just serving as a basic overnight for us, so we weren't anticipating any sort of amazing view).
For what it's worth, we were expecting some moderate airplane noise since this hotel is, after all, an airport location. However, we didn't notice anything all night.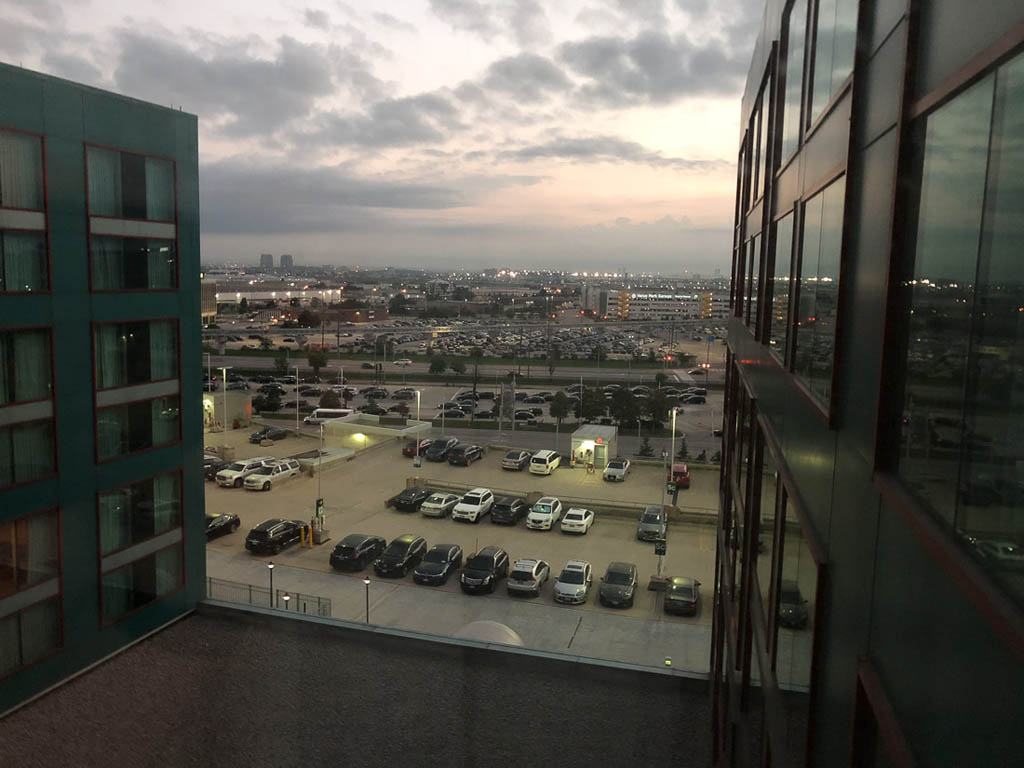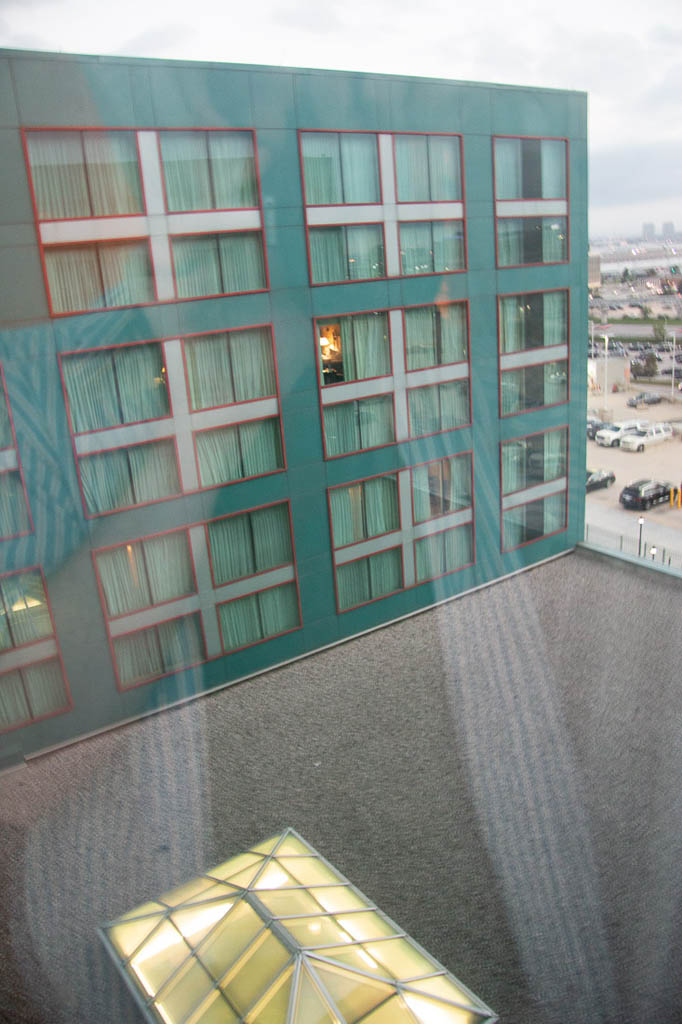 Lobby at Toronto Airport Sheraton Hotel
It was late when we arrived, but Ken went to the lobby to snap a few photos. (You know, being dedicated bloggers and all).
Despite being located within the actual airport, it still had a large, dedicated hotel lobby.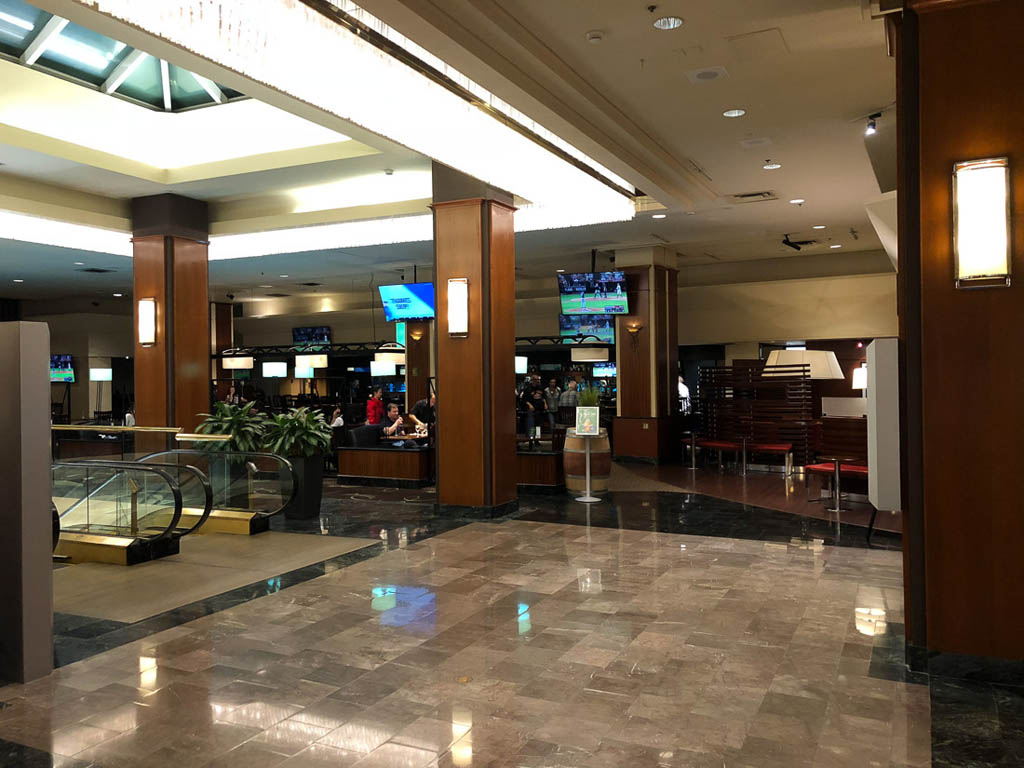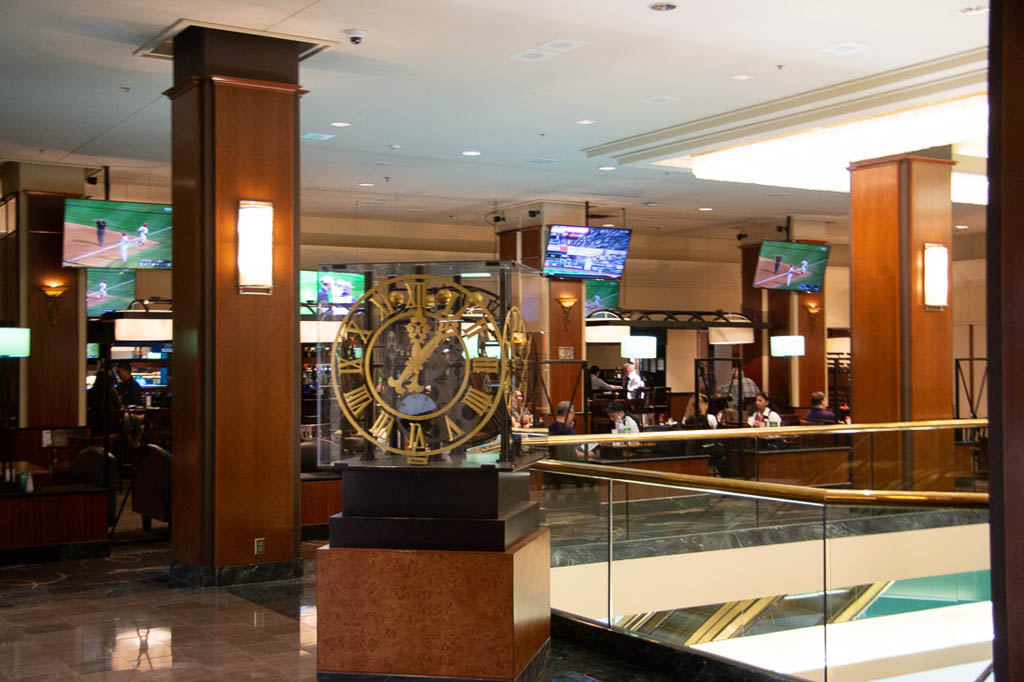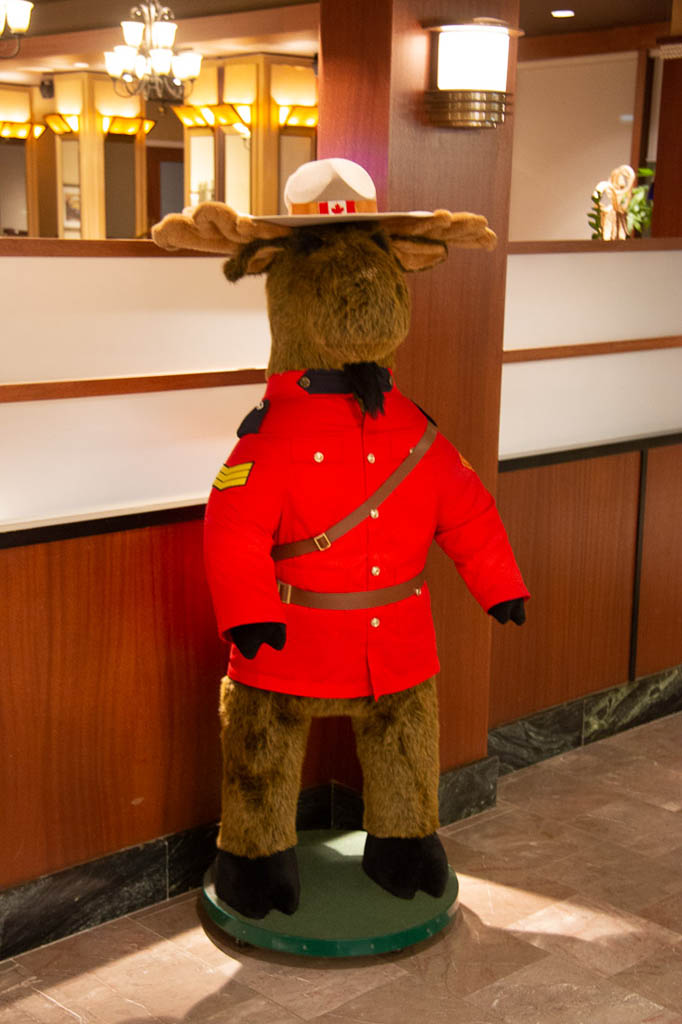 Getting to the Hotel after Arrival
The hotel was incredibly easy to find. The hotel is located at Terminal 3. Toronto's airport is large, and getting to the hotel will depend on your arrival terminal. For us, we transited Canadian immigration and customs since we arrived from the United States, picking up our luggage along the way. (We were not able to re-check our luggage for our next flight since it didn't leave until the morning. No big deal, we just took it to the hotel with us).
There were signs for the Sheraton clearly marked at every step of the way. I'd say that, after picking up our checked bags, it was about a five minute journey, including a brief Toronto Airport tram ride, to the hotel.
Getting back to our departure terminal the following morning was equally as easy.
Overall, this was a great, albeit quick, overnight stay in between flights in Toronto. Have you stayed at the Toronto Sheraton or other convenient airport hotels? If so, tell me about it in the comments below!
---
Sheraton Gateway Hotel in Toronto International Airport Overview