This post may contain affiliate links. Please see my advertiser disclosure for more details.
---
Ketchikan was the first port on our Alaska cruise.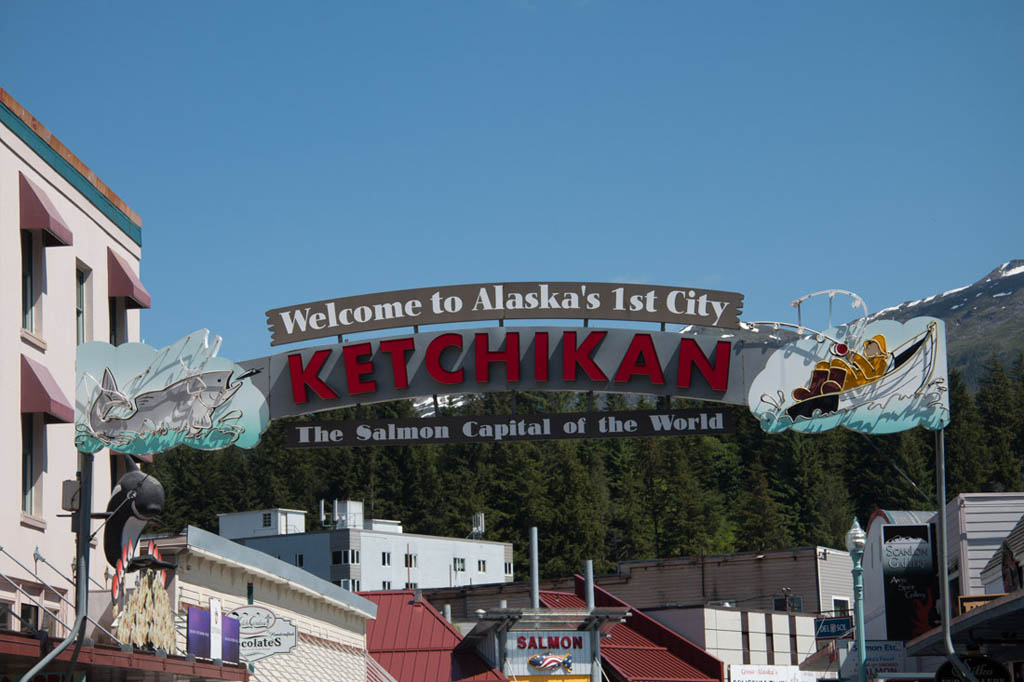 Why I was Dreading Ketchikan
When we booked the shore excursions for our cruise several months earlier, I somehow thought it would be a good idea to include a seaplane tour of Misty Fjords National Monument in Ketchikan. As the months leading up to our cruise elapsed, I couldn't help but think I had made a terrible decision. Quite the opposite of looking forward to it, I dreaded our stop in Ketchikan.
I've mentioned in the past that, despite traveling a lot, I don't like to fly. One of the few things I'd tell myself as solace when flying is that "large jets are safer than smaller planes." Therefore, by choice, never in my life have I been on any sort of turboprop plane, let alone a single engine plane with just 8 seats. I become a panicked mess during airplane turbulence, even on large jets. So, understanding that smaller planes experience more turbulence, I was only left with one thought:
WHY IN THE EVER LOVING HELL DID I BOOK A SEAPLANE TOUR IN KETCHIKAN, ALASKA. IT ENCAPSULATES MY BIGGEST FEARS! FLYING, TURBULENCE, AND DEATH. SERIOUSLY, WHAT.THE.F*CK.
Oh, that's right. SEEING THE WORLD. DON'T BE SCARED MELISSA, YOU SHOULD EXPERIENCE NEW THINGS. BLAH BLAH BLAH. That's what I said to myself six months earlier when I booked the cruise.
Well, Ketchikan-arrival-day-Melissa was HATING six-month-ago-Melissa who booked this excursion. Should I cancel this nonrefundable excursion? Just call the $200 (each!) a loss and consider it an expensive lesson in not doing potentially dangerous things WAY outside my comfort zone?
I really thought I'd chicken out. But, every step of the way, I continued, hating myself more and more with each step. I disembarked the ship. I boarded the bus to the seaplane terminal. I listened to the seaplane safety video in the terminal. I walked to the plane. AND I BOARDED THE PLANE. I texted my sister "on the seaplane," hoping that the text wouldn't be the last electronic communication I ever made in my life.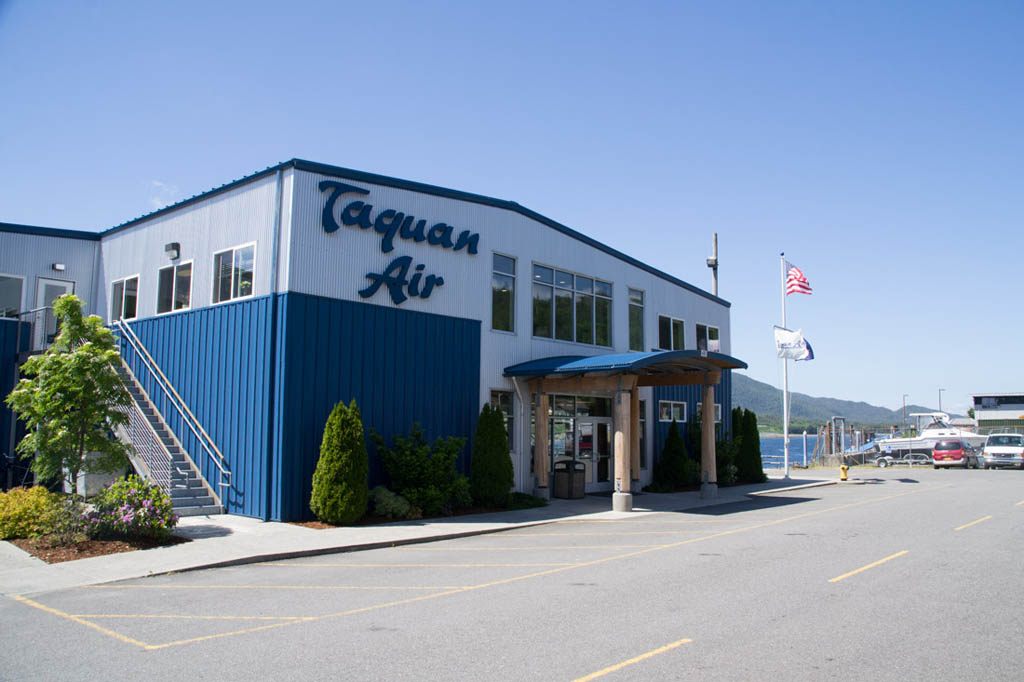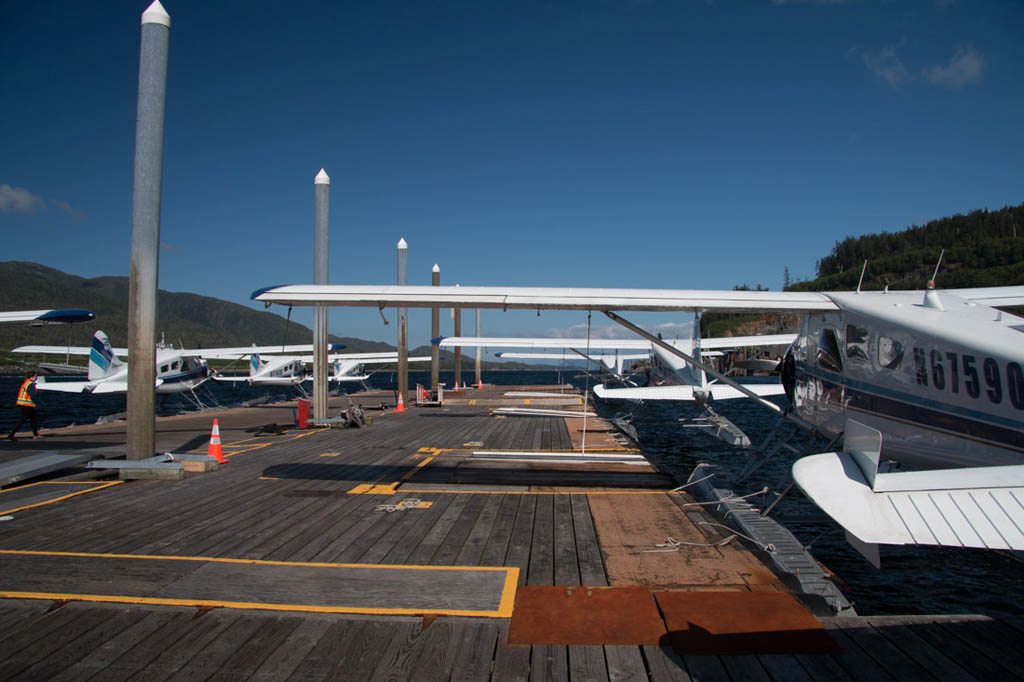 I realize this all sounds like I'm being overly dramatic. And perhaps I am. But, truthfully, those were the thoughts racing through my brain.
The Seaplane Ride
We took off, and something beautiful happened. I was mostly able to relax! I had been anticipating an experience so turbulent that I'd just want to curl up and retreat into my mind during the flight. But, it wasn't turbulent at all. A few tiny bounces here and there. I picked up my camera and started snapping away at the gorgeous sites I was seeing in Misty Fjords National Monument.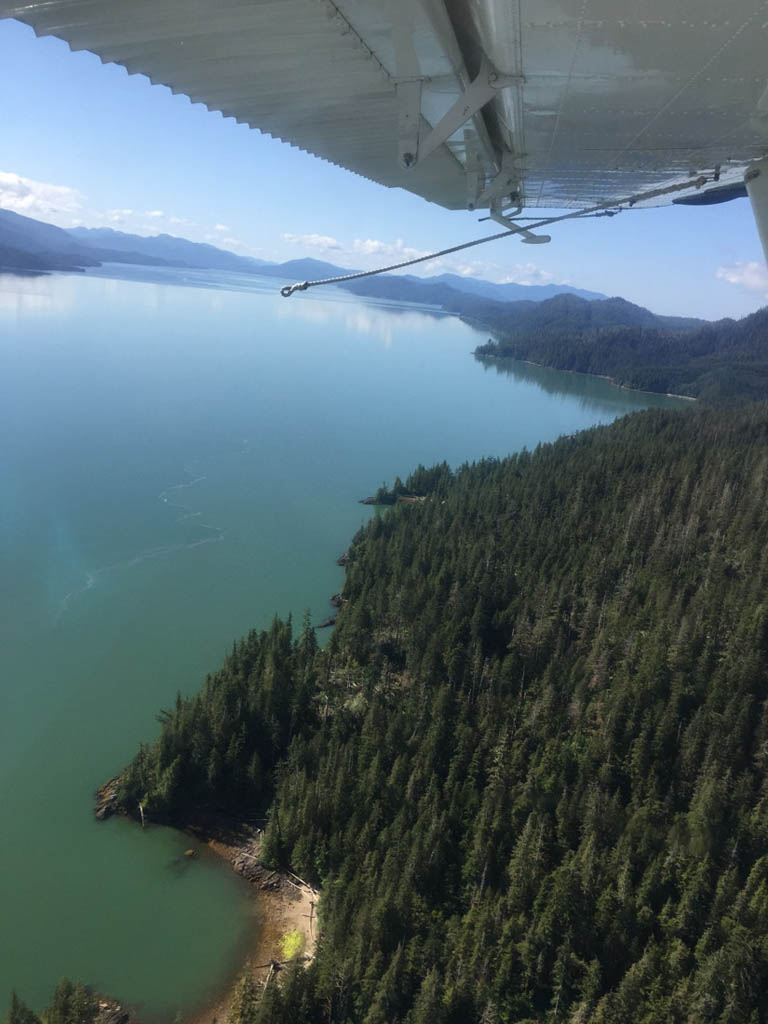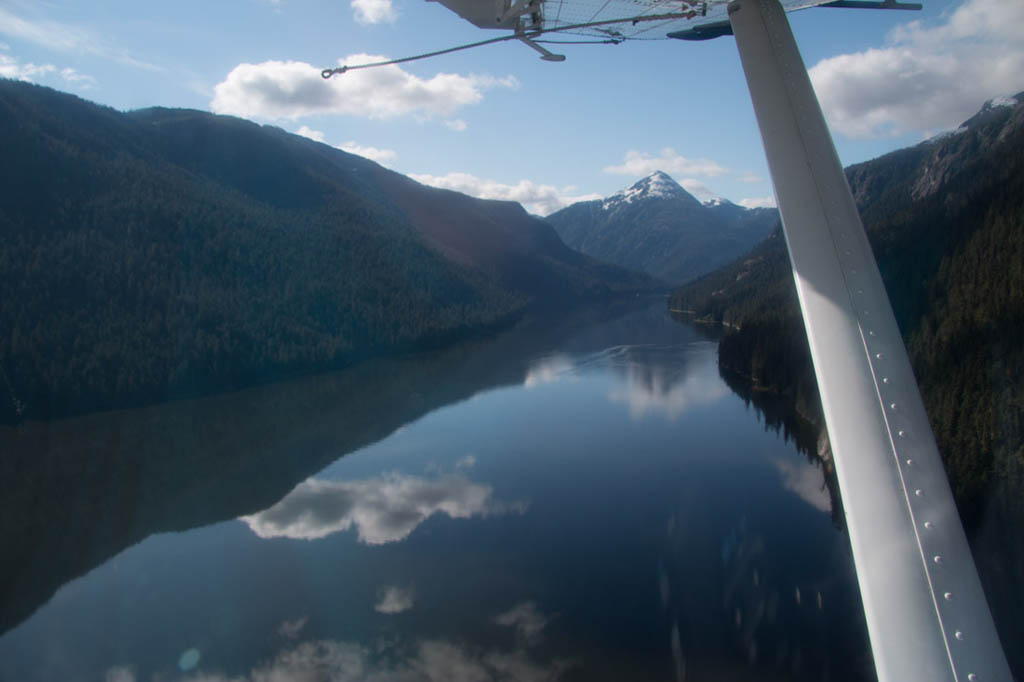 The pilot said that we had unbelievable luck with the weather. That often, the weather is, well, misty, in Misty Fjords National Monument. We had a clear, beautiful, sunny day.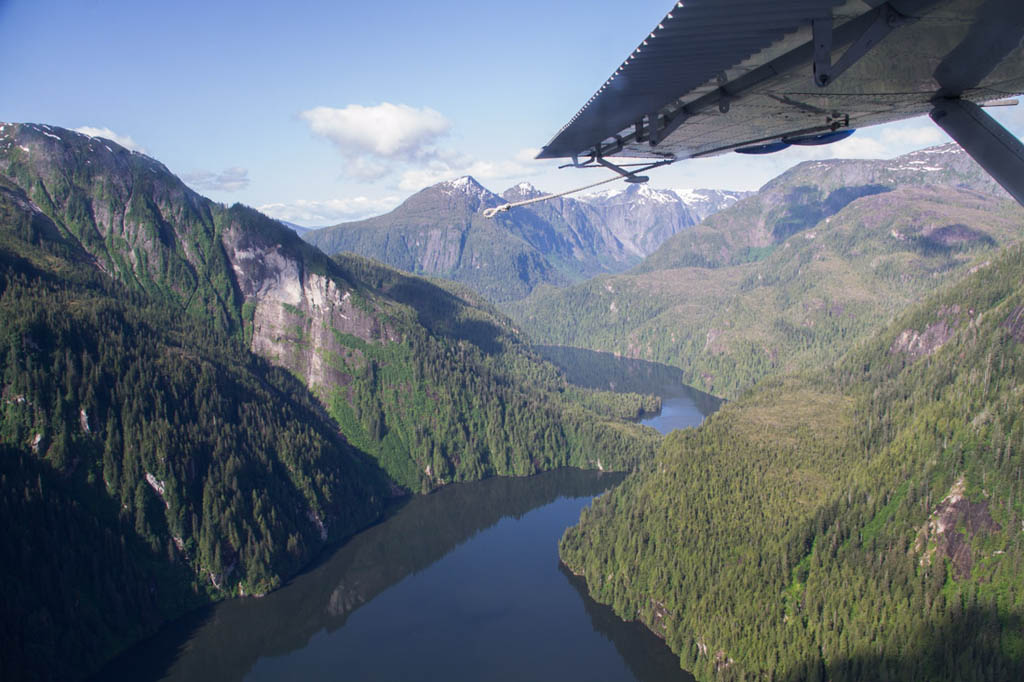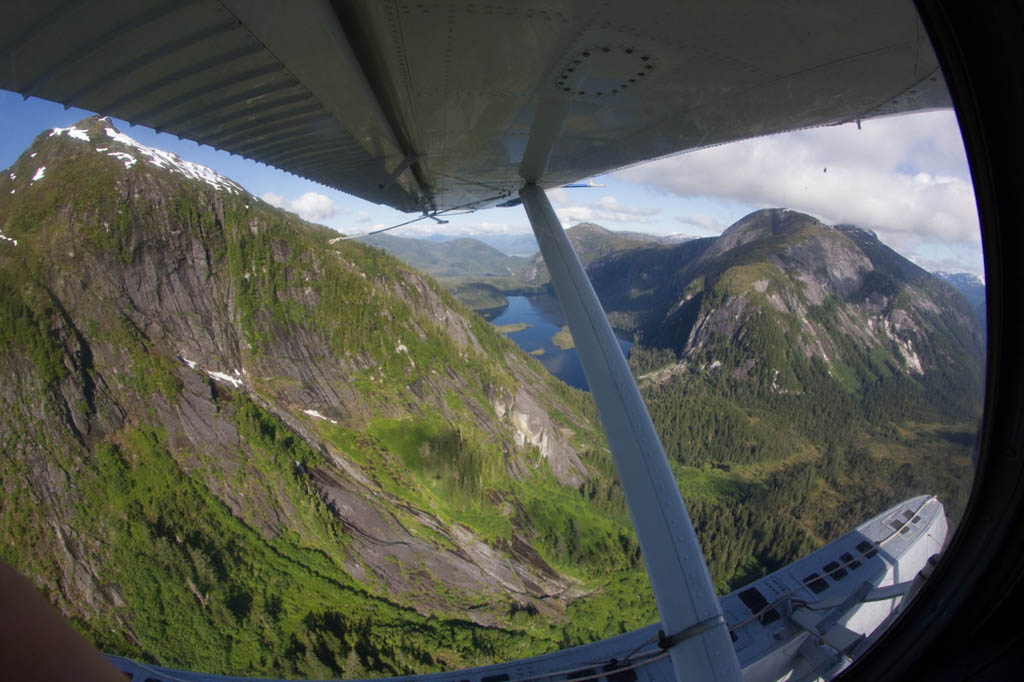 And look, I was feeling relatively relaxed! (Ken and I couldn't sit next to each other due to weights-and-balance considerations. I had no objections. Whatever was needed to make the plane fly safely!)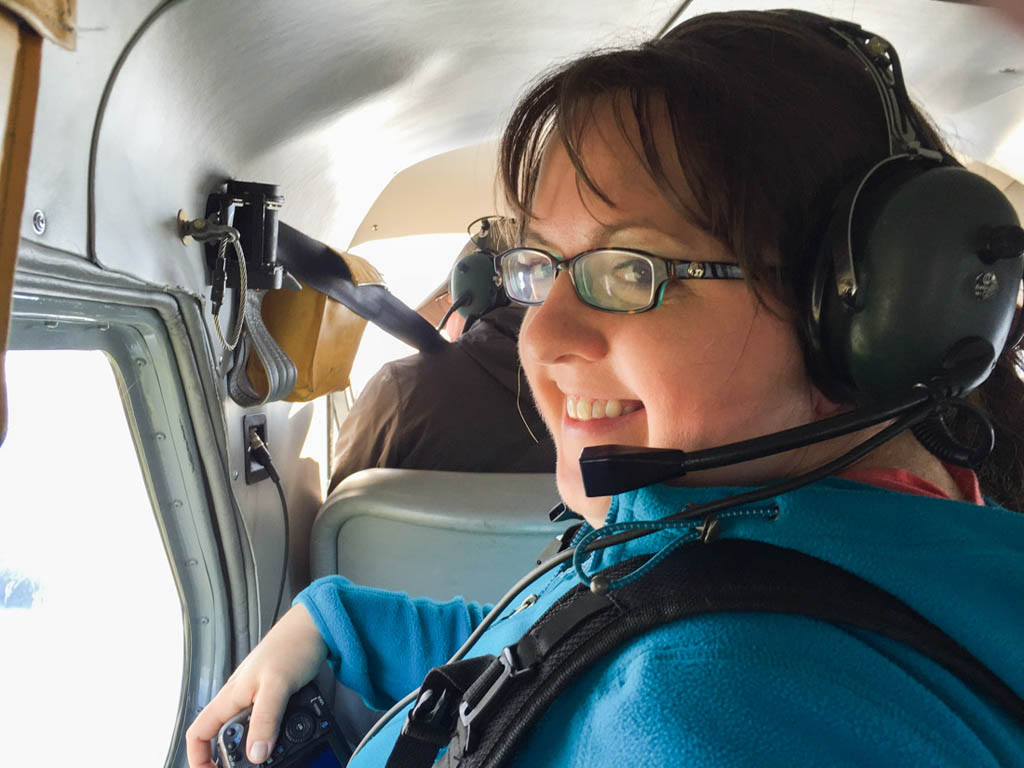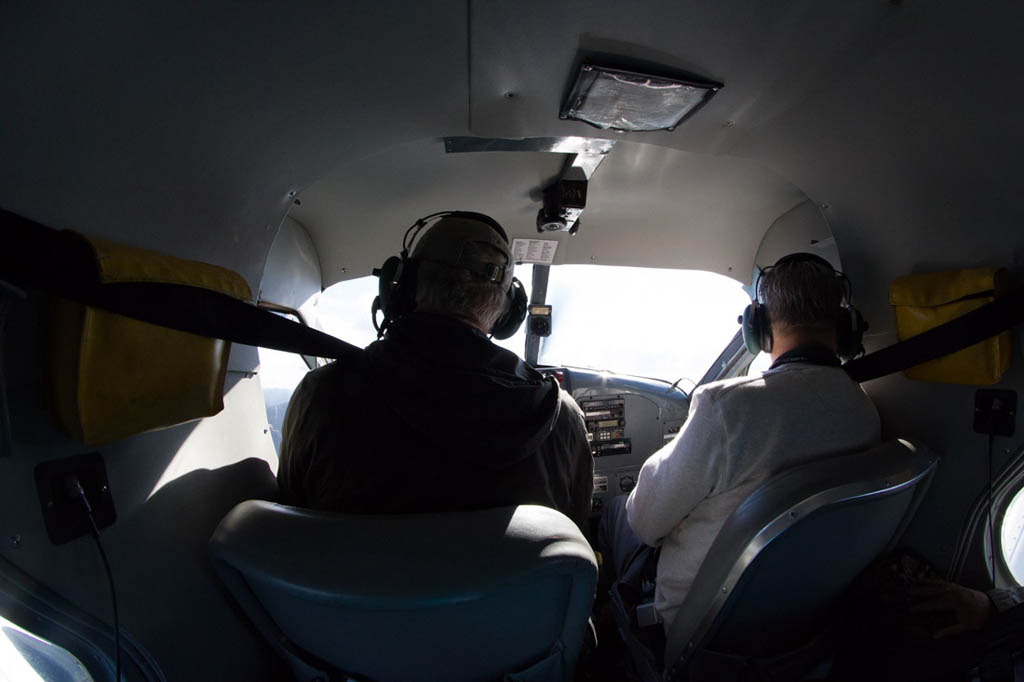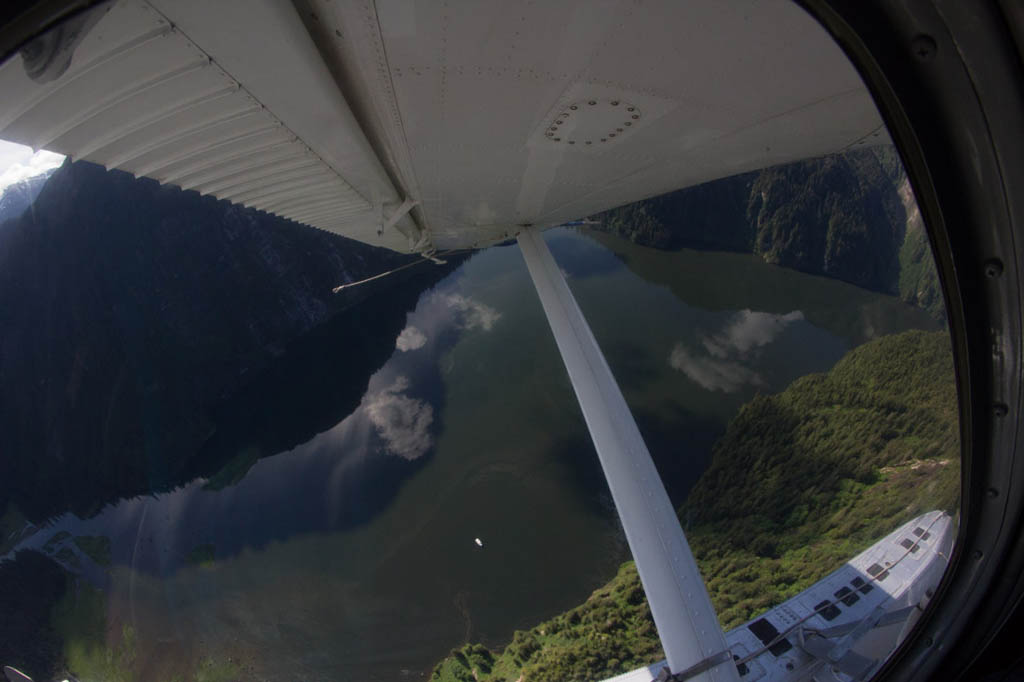 About halfway through the flight, we landed at a scenic spot in Misty Fjords for a few photographs. We actually got out of the plane and stood on the plane's "floats" in the middle of nowhere!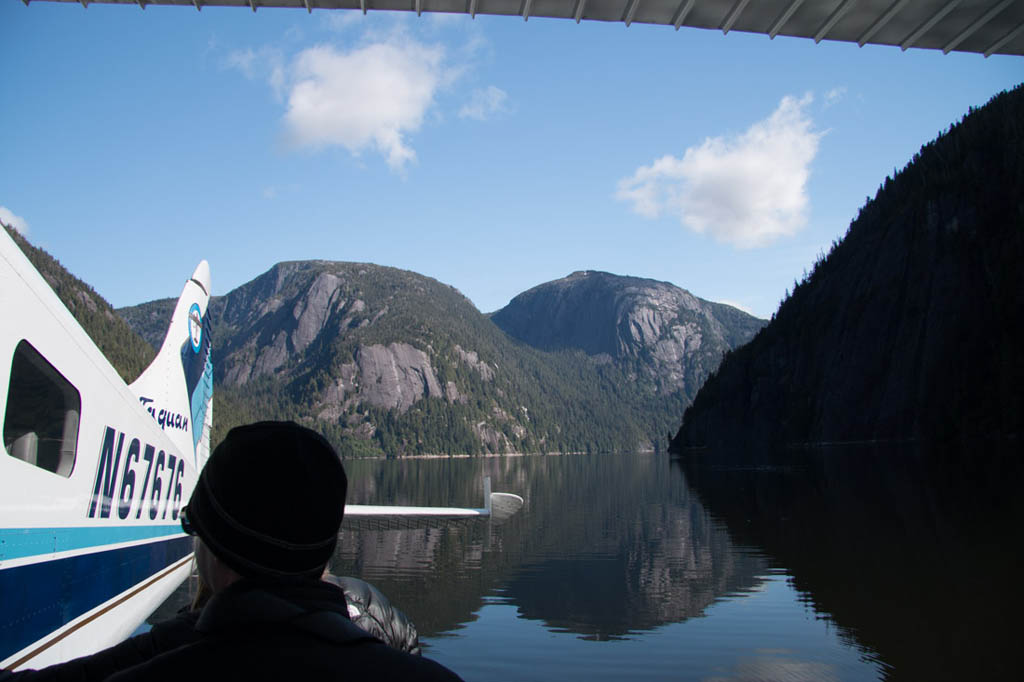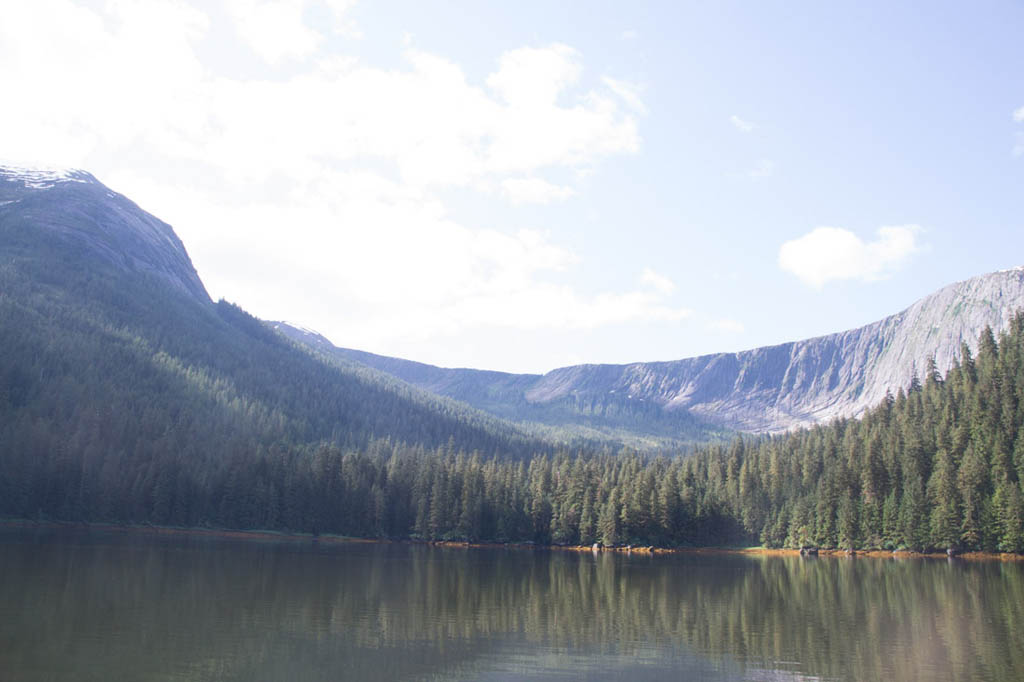 We took off again, and headed back toward Ketchikan.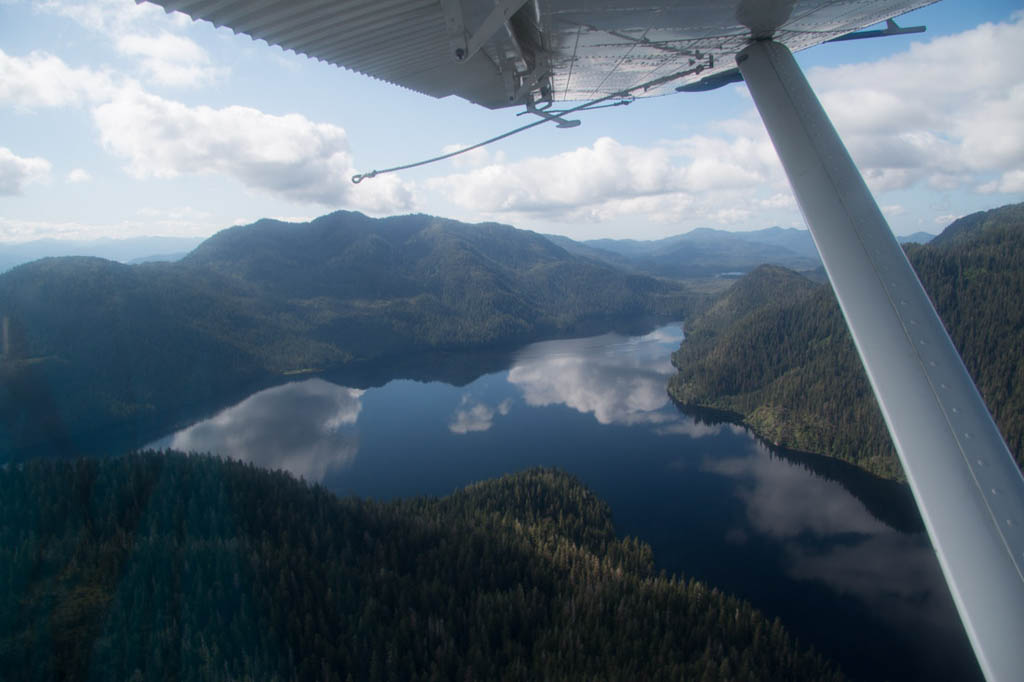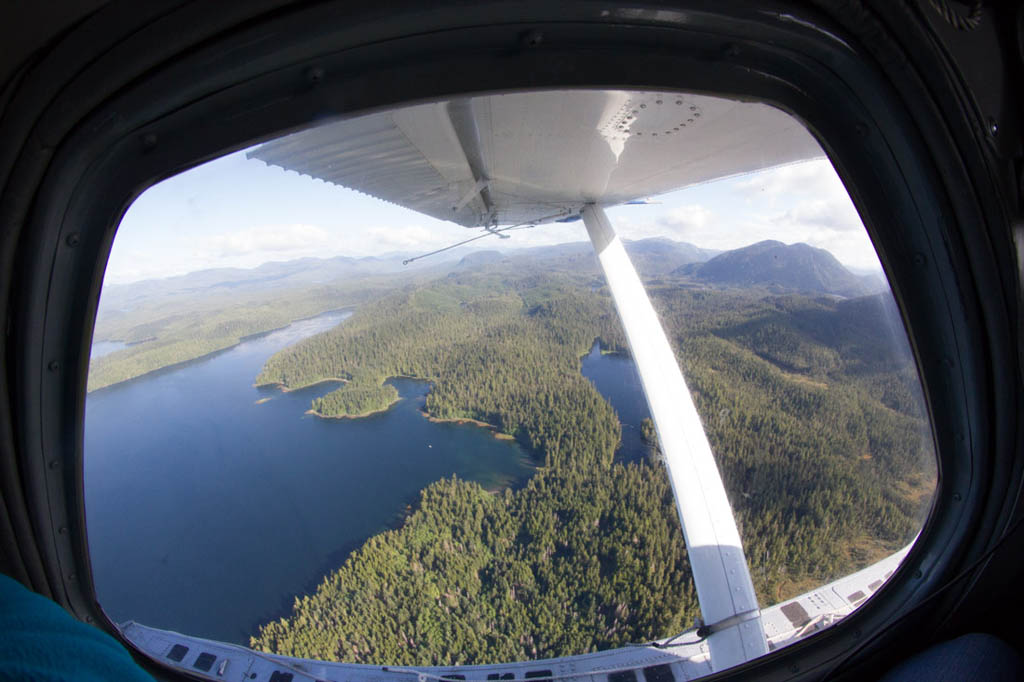 The pilot said that this is called "Gator Island" (or something like that) because it looks like an alligator. I concur!
It was so stunning.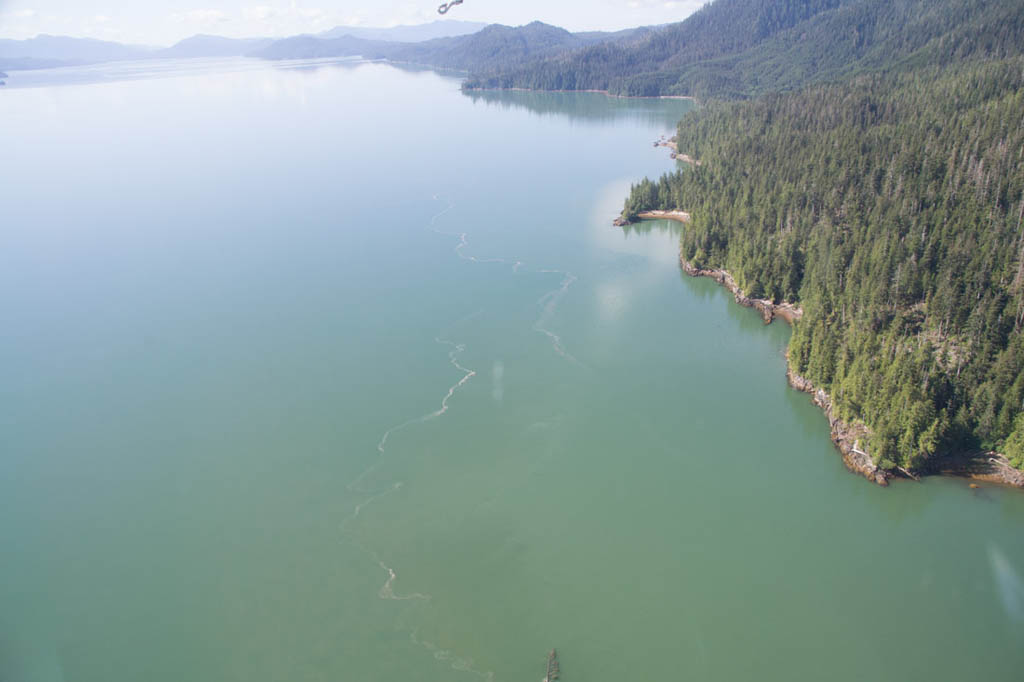 Despite my intense dread leading up to this experience, I really enjoyed it! In fact, less than a year earlier, we had considered taking a seaplane to Dry Tortugas National Park when we were in the Florida Keys. However, I quickly dismissed that idea. And I had always been interested in traveling to the Out Islands in the Bahamas, but the quickest way to travel around seemed to be by seaplane. And that was always a big old nope from me. Now, seaplane opportunities abound!
Here was our plane. As you can see, there are lots of them available to take visitors on tours!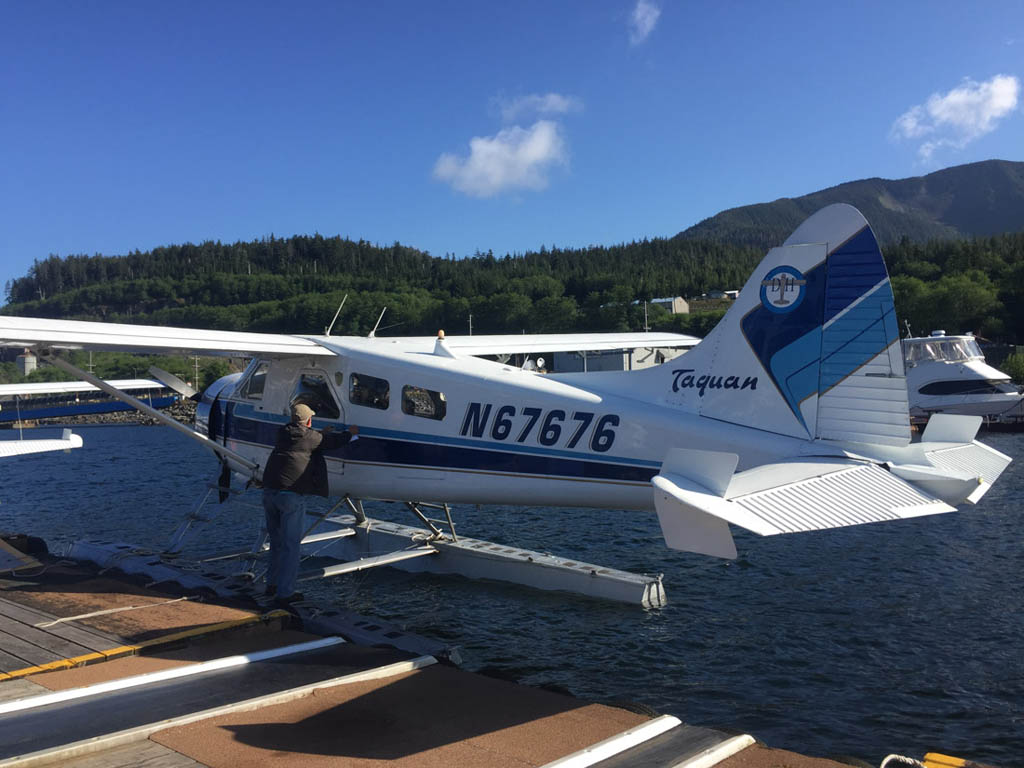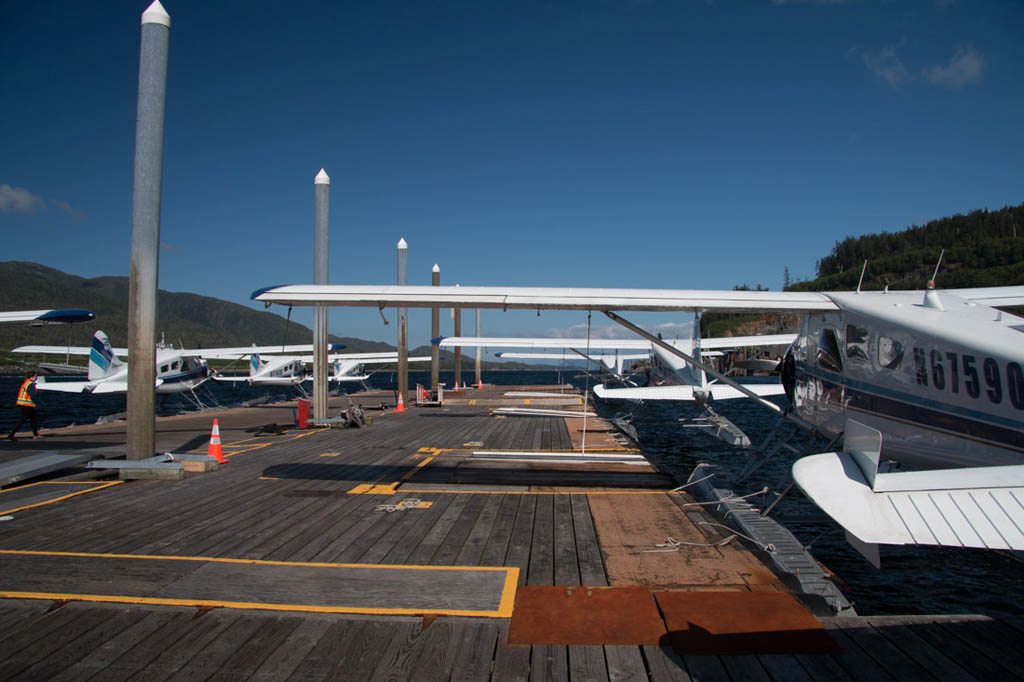 After our seaplane ride, we took the bus back to the cruise ship. Onboard, I reveled in my new confidence. I felt like skipping. I HAD BEEN SO SCARED, AND NOT ONLY DID I FLY ON A SEAPLANE, I DIDN'T EVEN CRAP MY PANTS. (Seriously. I had brought extra underwear in my bag).
We ate lunch on the ship and then headed back out to see other parts of Ketchikan.
Creek Street Area of Ketchikan
We took a shuttle bus to "Creek Street," a scenic part of Ketchikan.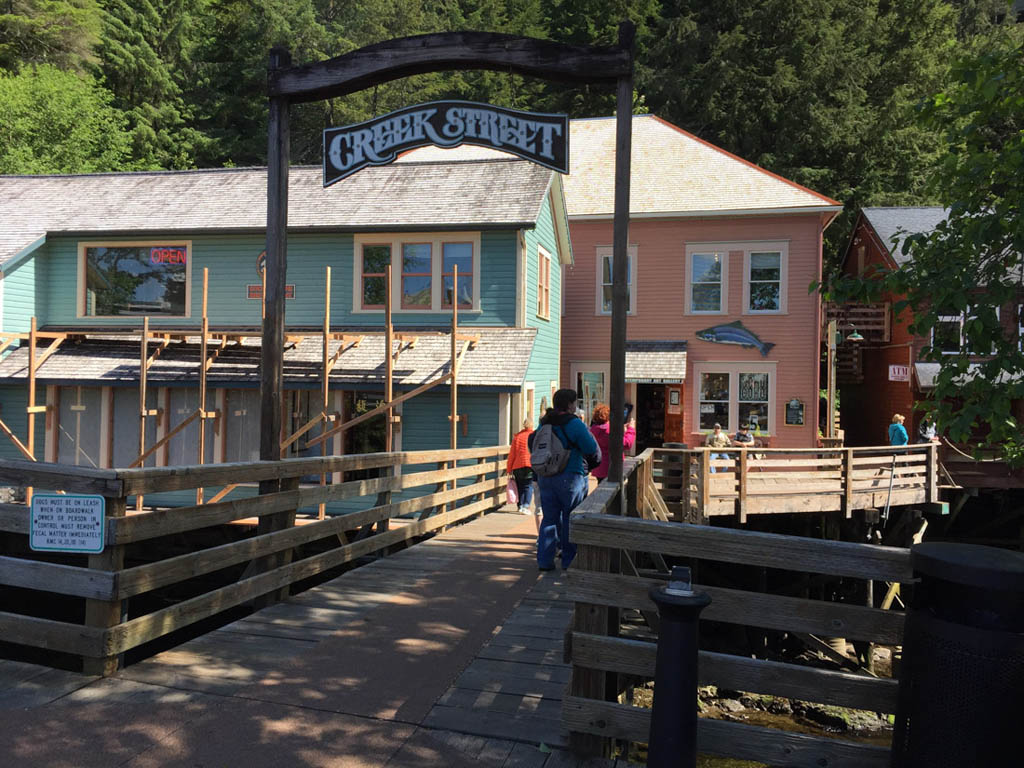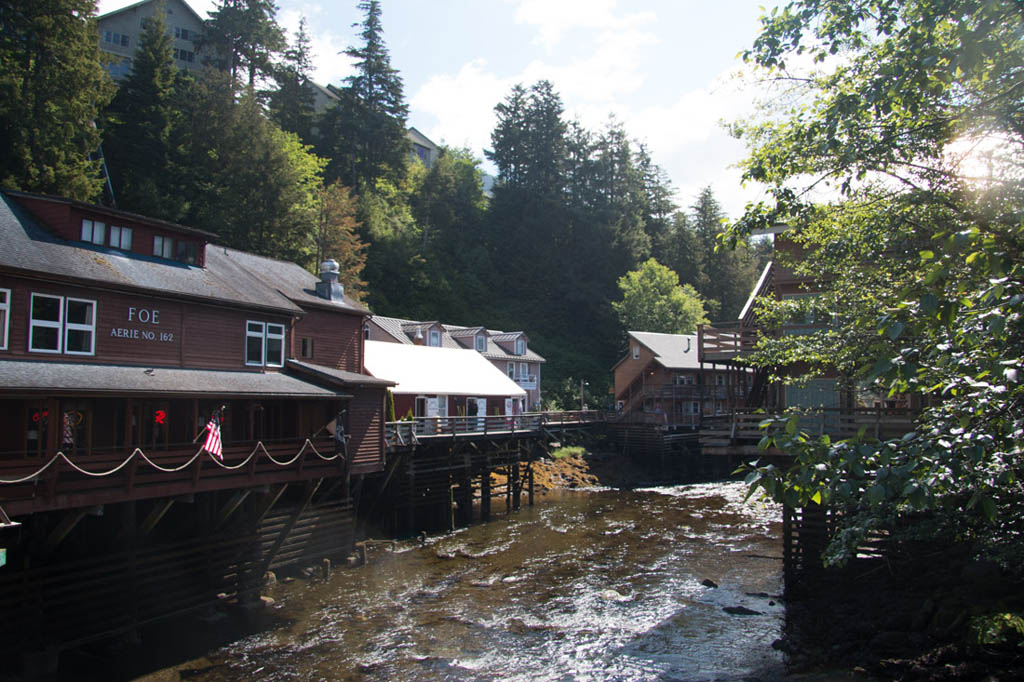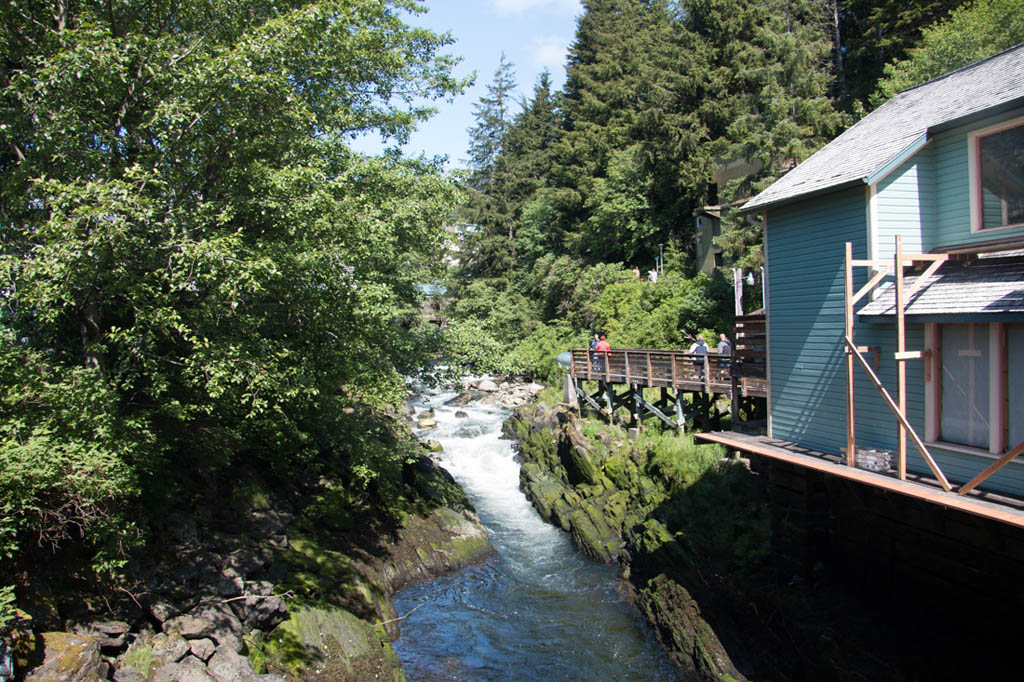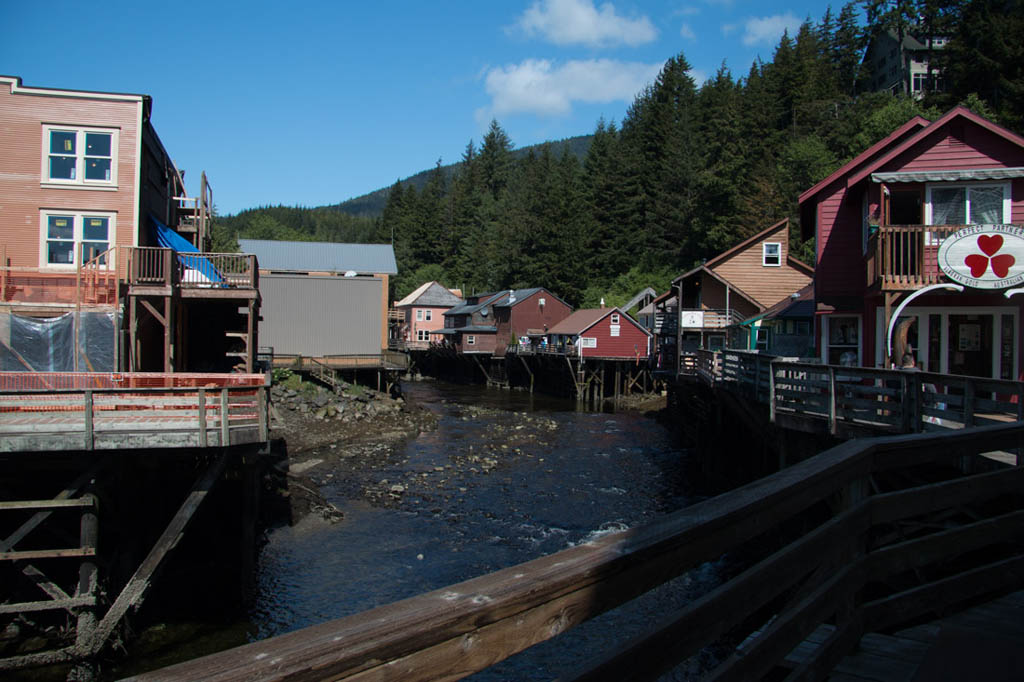 According to Experience Ketchikan, "Creek Street is built along the shores of Ketchikan Creek. It was built over the water because it was simply too difficult to blast away the rocky hills surrounding the creek. This is a common theme with Ketchikan as you will notice a large percentage of the town was quite literally built 'over the water'." It continues, "The History of Creek Street can be summed up by fishermen, bootleggers, & prostitutes, oh my! Creek Street is known as Ketchikan's old red-light district. In the mid 1920's there were over 20 bawdy houses on Creek Street alone! In fact, Creek Street was once home to Ketchikan's #1 industry – prostitution. The prostitutes or 'working women' were frequented by men looking for a little company and some liquor."
So, there were lots of prostitution-related jokes along Creek Street.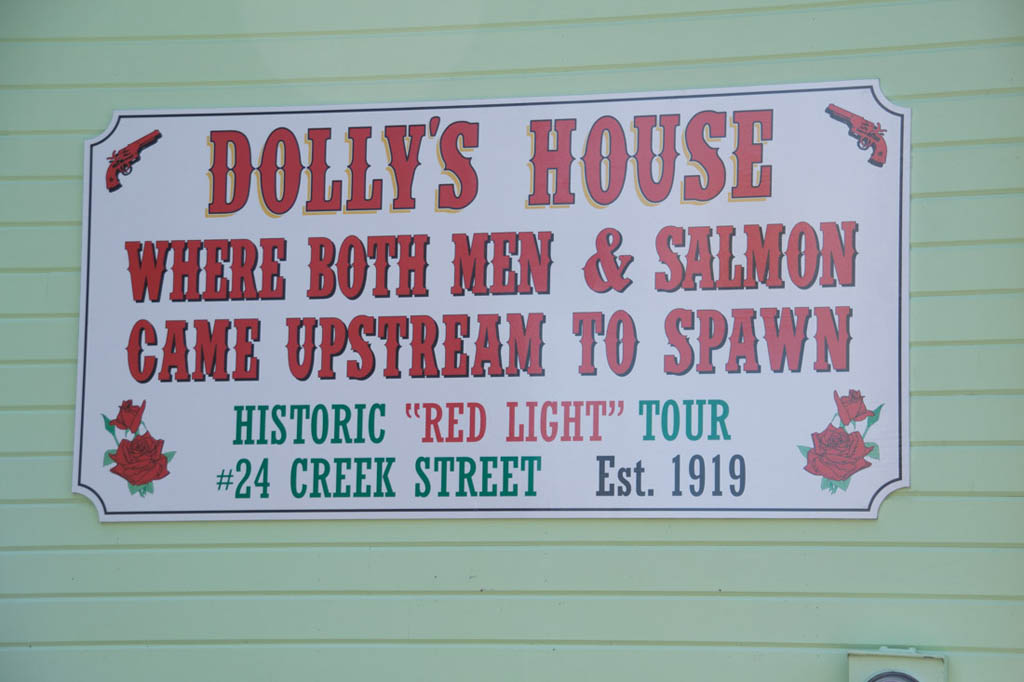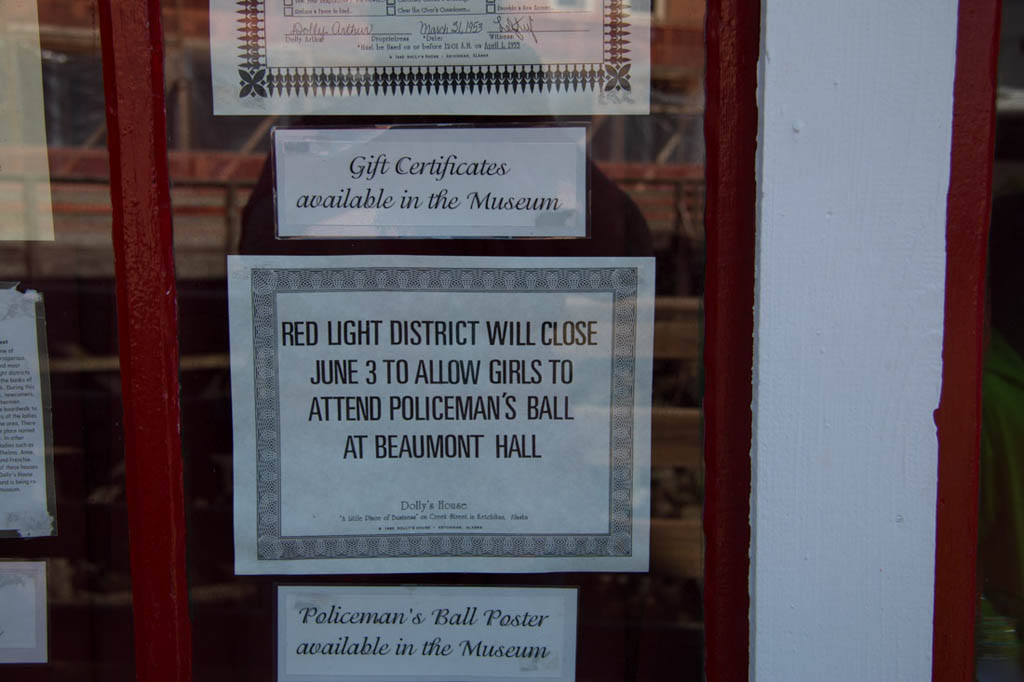 There were maps and markers to help you find what you were looking for.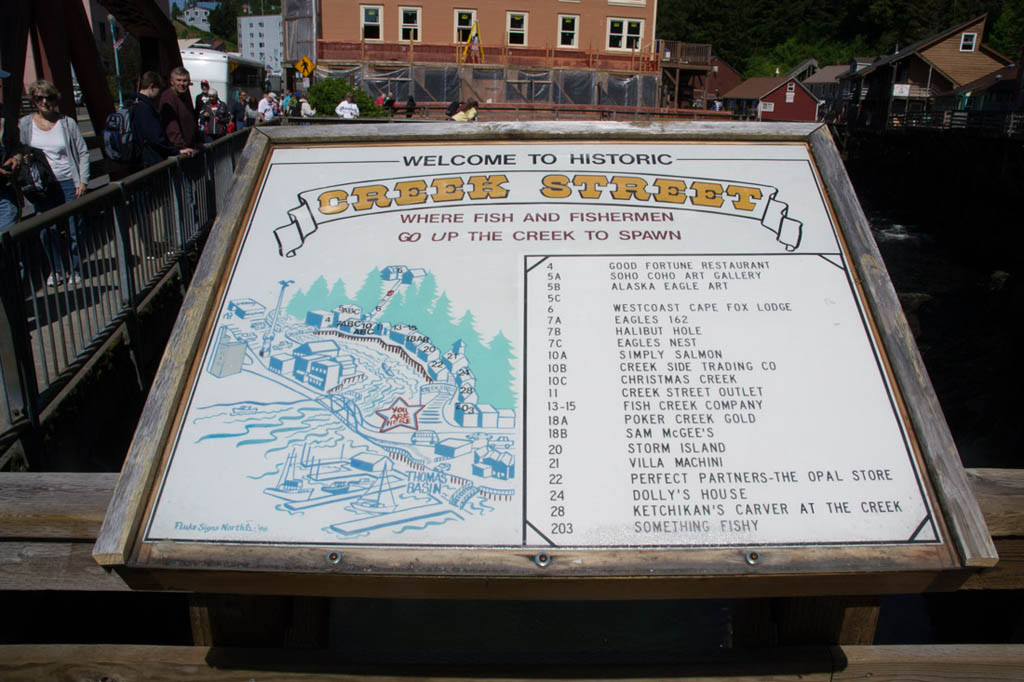 We walked around a bit more, bought some souvenirs, and then headed back to the ship. All that worry earlier sure made me tired!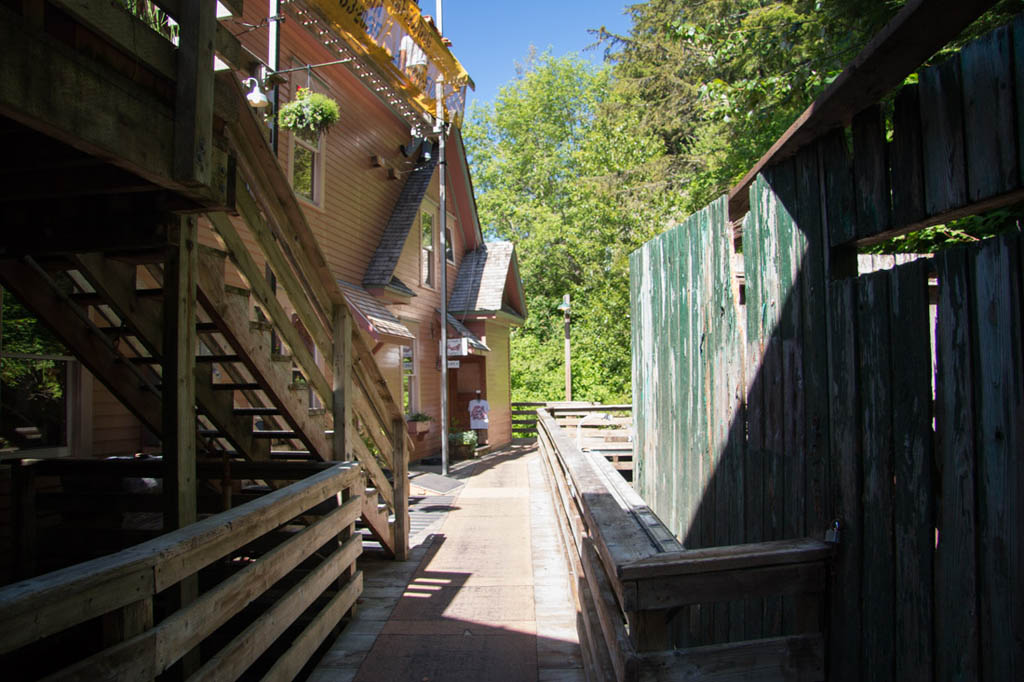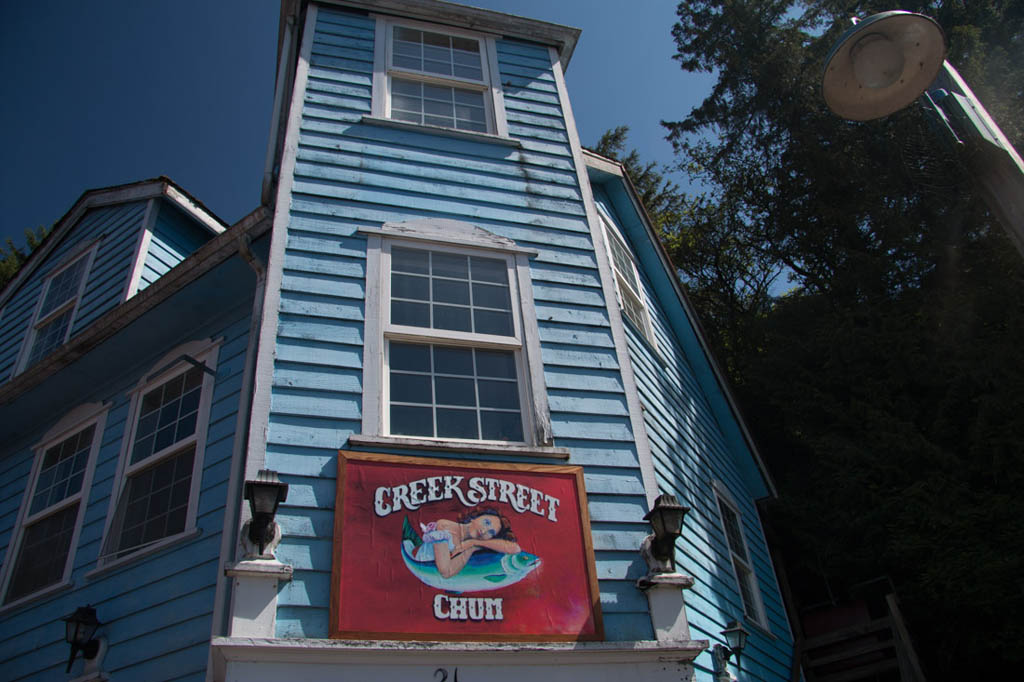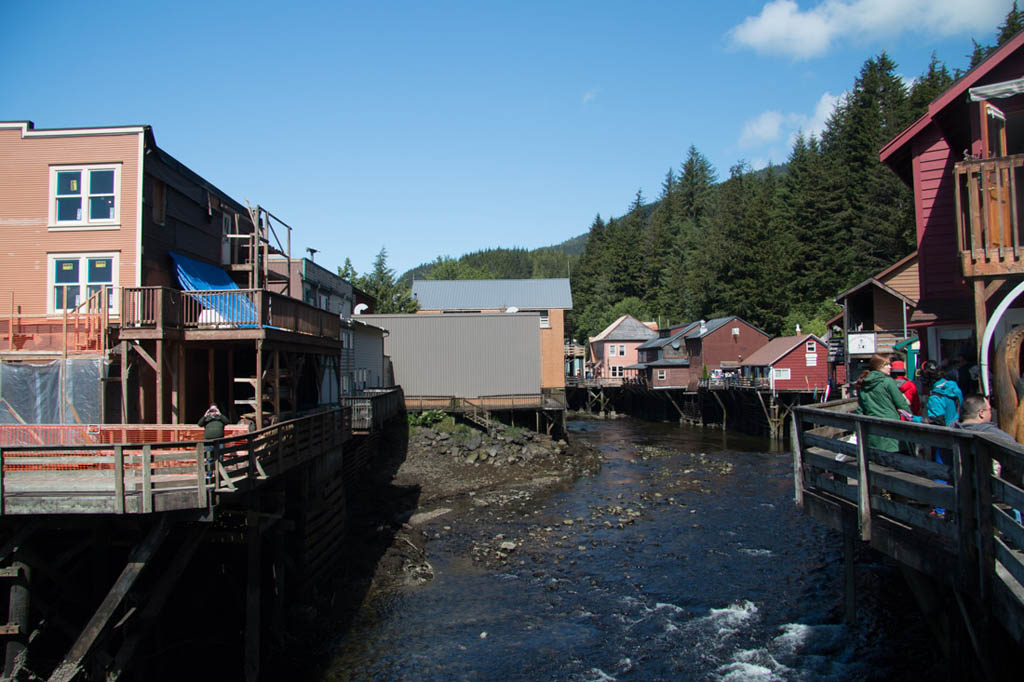 Have you ever taken a seaplane? Or done something WAY outside your comfort zone? How did it go?