This post may contain affiliate links. Please see my advertiser disclosure for more details.
---
I realize that the solar eclipse is ANCIENT news by now, but, since we take photos using a regular camera and we take TONS of photos, it takes me a while to go through them and get them sorted.
We traveled to St. Joseph, Missouri for the solar eclipse. We wanted to be in the path of totality, but didn't want to travel crazy far, like to Wyoming (which was also crazy expensive). And we wanted a place that typically had clear skies in August. (For example, Charleston, South Carolina would've been an easy and inexpensive trip for us from the DC area, but forecasts showed that 85% of the time, August 21st is a cloudy day in Charleston.) St. Joseph, MO only had a 5% history of being cloudy on that day! And they would have 2 minutes and 38 seconds of totality, just two seconds shy of the longest totality duration for the entire eclipse!
We actually made this a mini road trip. We flew into Des Moines, and spent a few days there, enjoying, among other things, the Iowa State Fair (more on that in a future post!). From Des Moines, we drove to St. Joseph for the eclipse, and ended our trip in Kansas City.
Spoiler Alert
It was CLOUDY in St. Joseph. I guess we were there on a 5 percenter day! But, we did get some sneak peeks at the eclipse during some brief breaks in the clouds, at which point the crowds went WILD.
You won't see any photos of the actual eclipse here. We decided that we didn't want to spend precious eclipse time figuring out proper camera exposure or anything like that. But, you'll see our people-watching photos and photos of others enjoying the eclipse.
Rosecrans Memorial Airport
We had selected one of St. Joseph's official viewing locations for the eclipse, a small regional airport called Rosecrans Memorial Airport. It was phenomenally well-organized! We arrived just after sunrise.
There were signs warning of traffic due to the eclipse!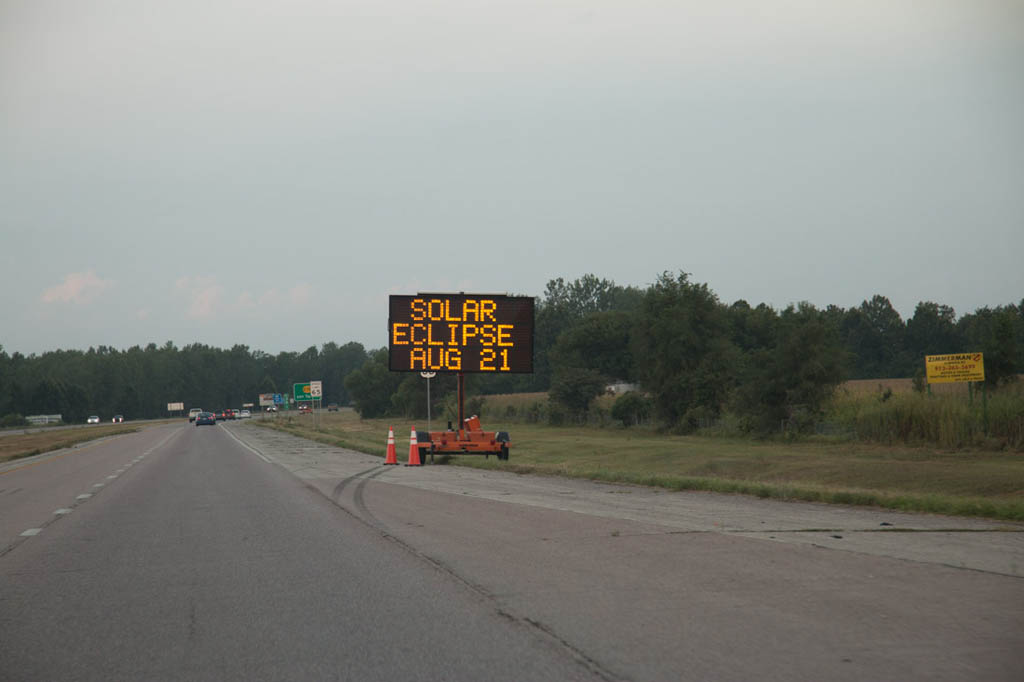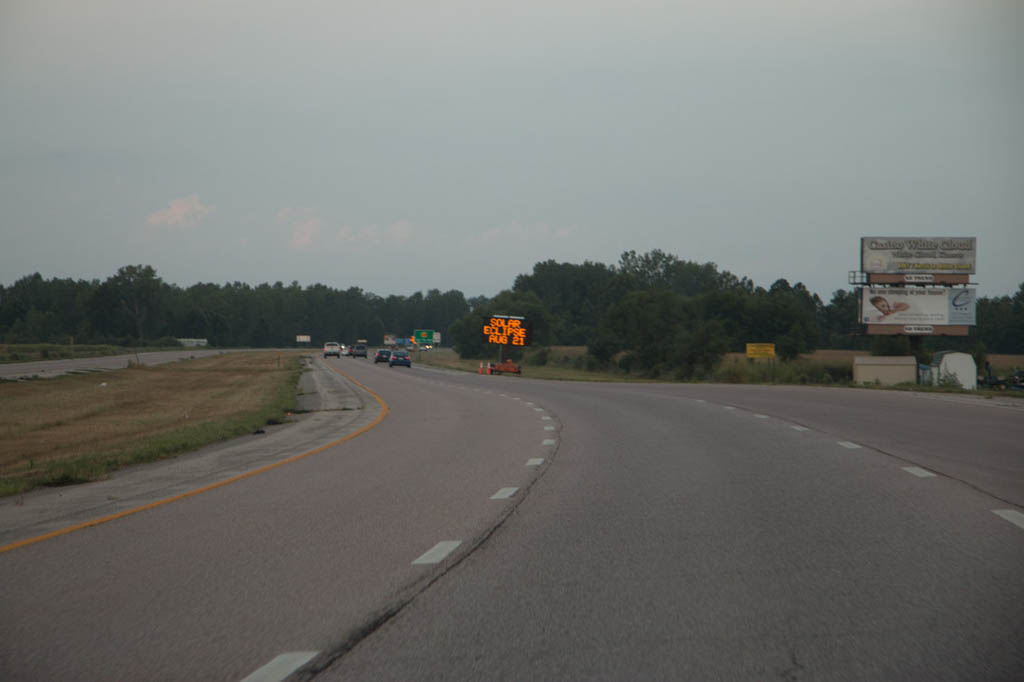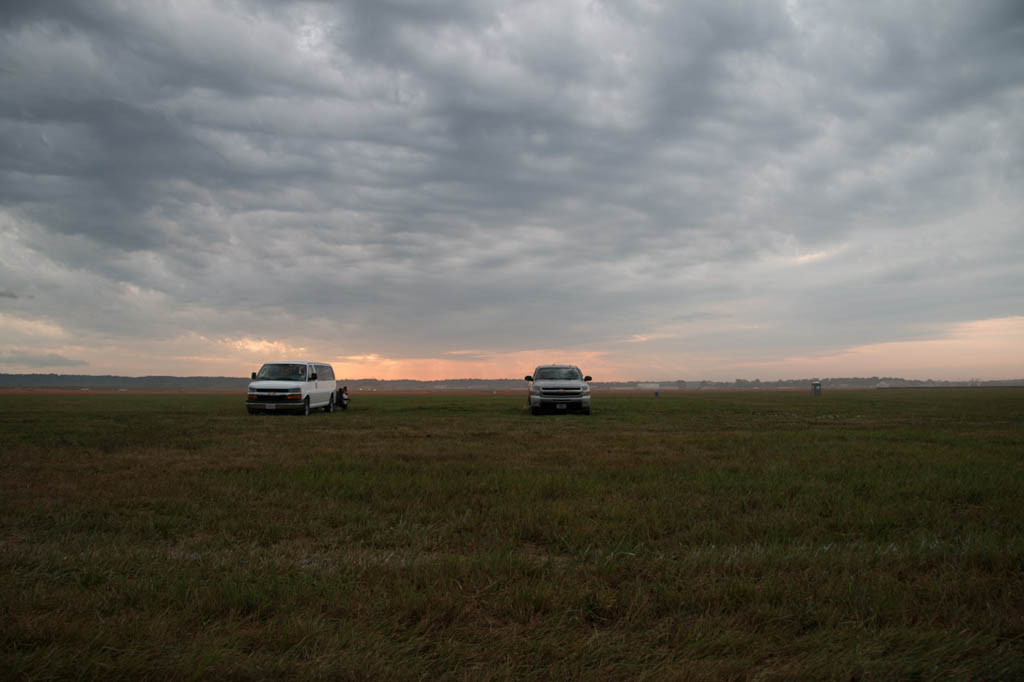 You can tell from the photos that there was cloud cover, but the clouds were forecast to be just intermittent all day, so we had hopes that there would be more breaks in the clouds as eclipse time approached.
The night before, Ken and I had stopped by Walmart in St. Joseph to buy a canopy shade type thing and two folding chairs. Although there would be intermittent clouds, it was also forecast to be HOT, so we wanted some shade and a place to sit. It ended up also being a shelter from passing rain showers!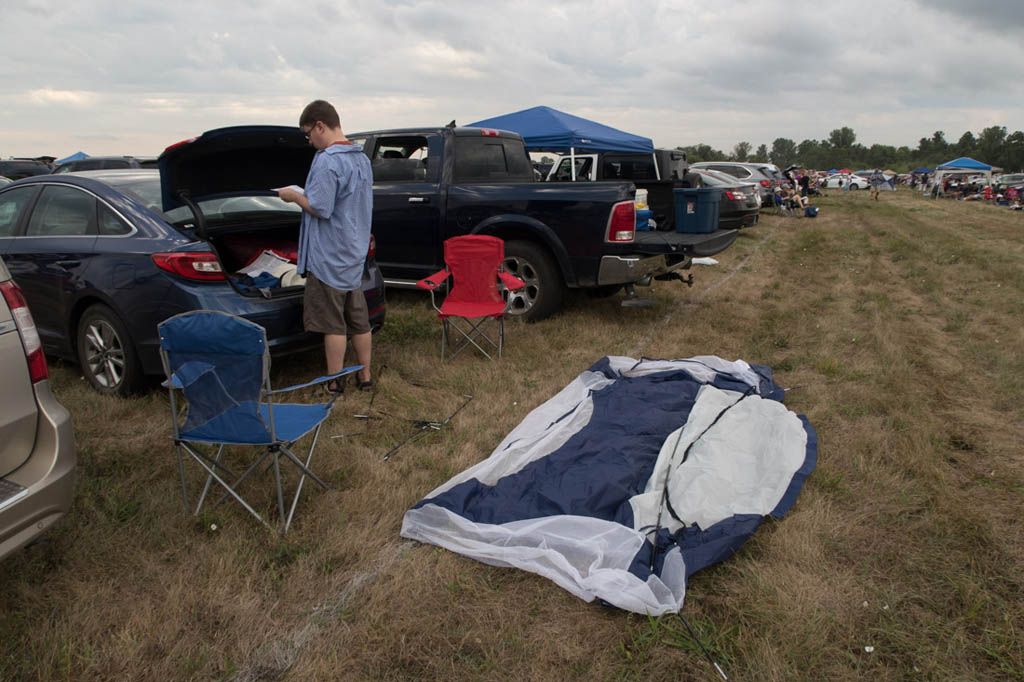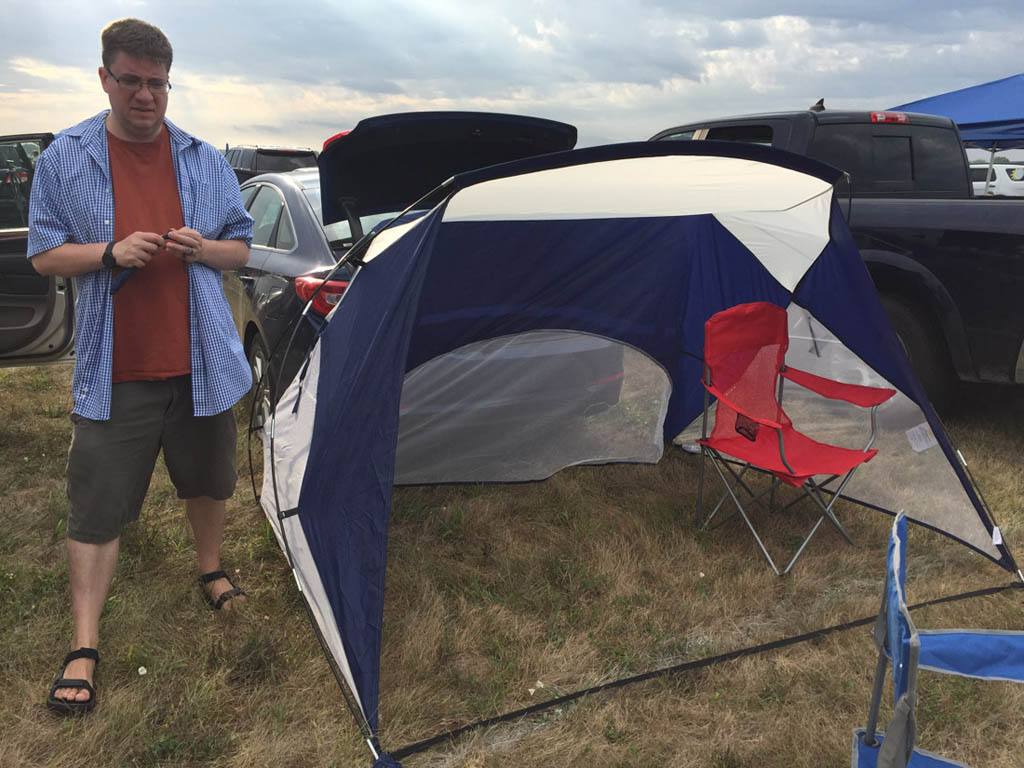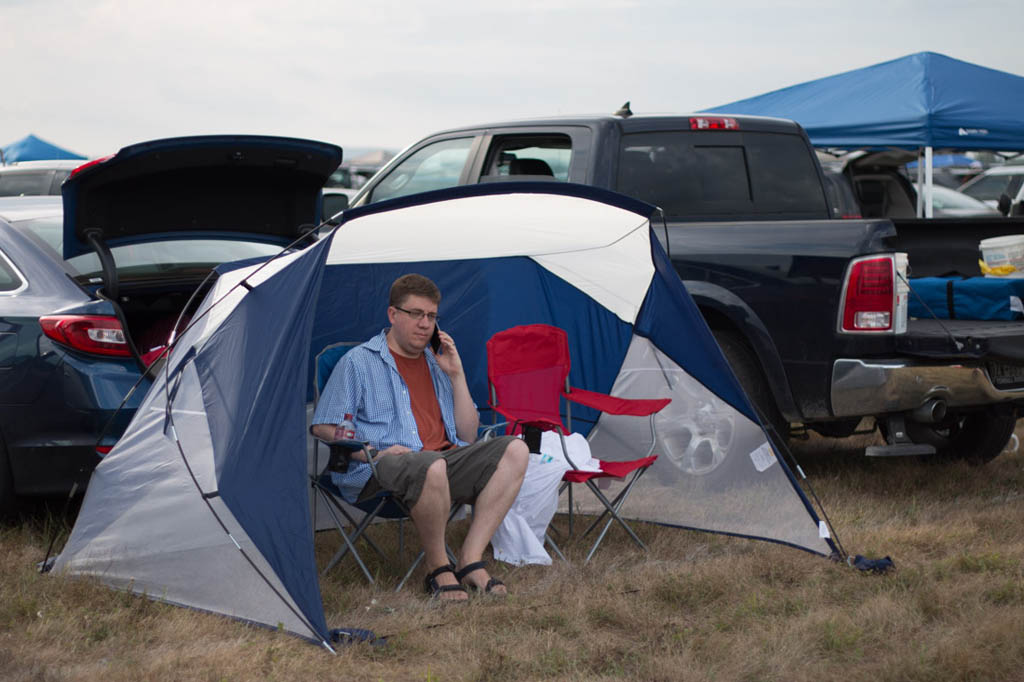 People Watching Before the Eclipse
I'll just let the photos do the talking here. The eclipse hadn't started yet, but a lot of people were wearing their glasses to look at the sun anyway! Good to test them out!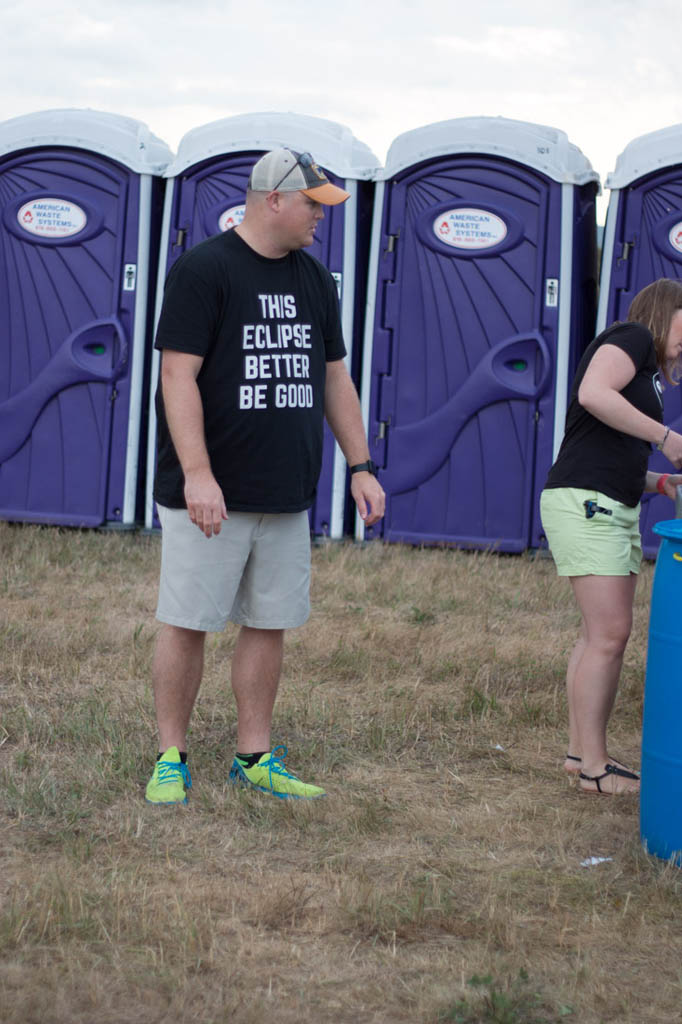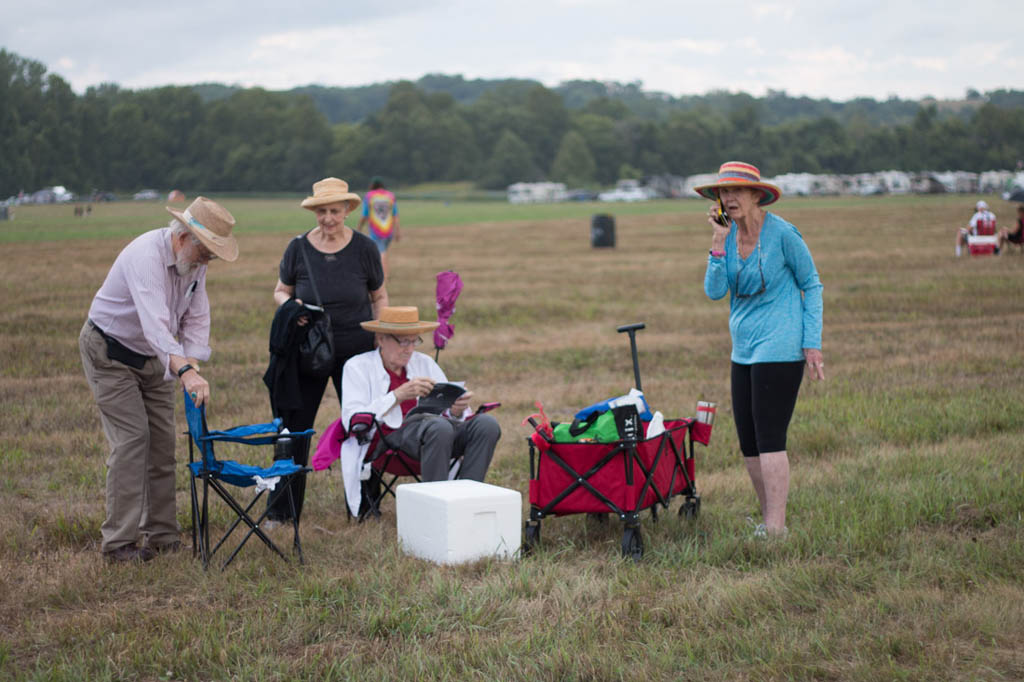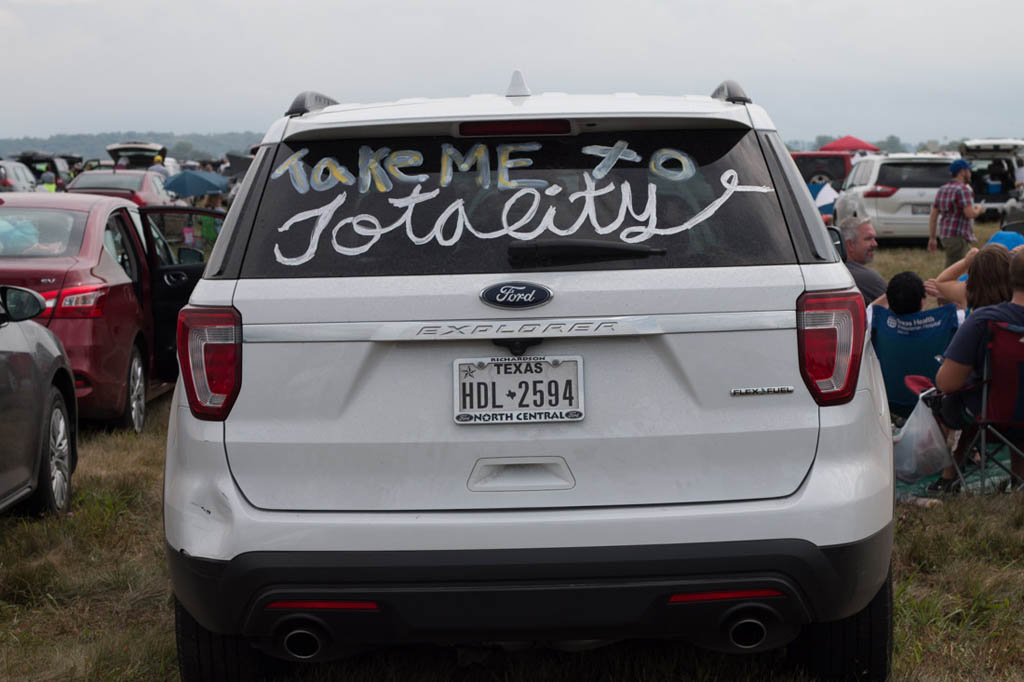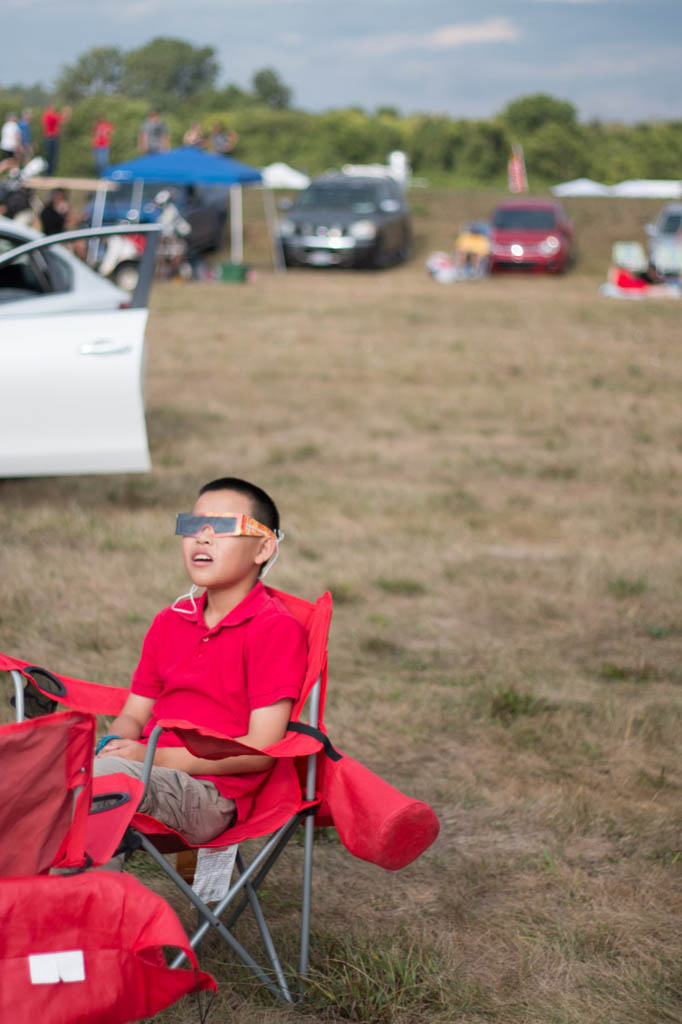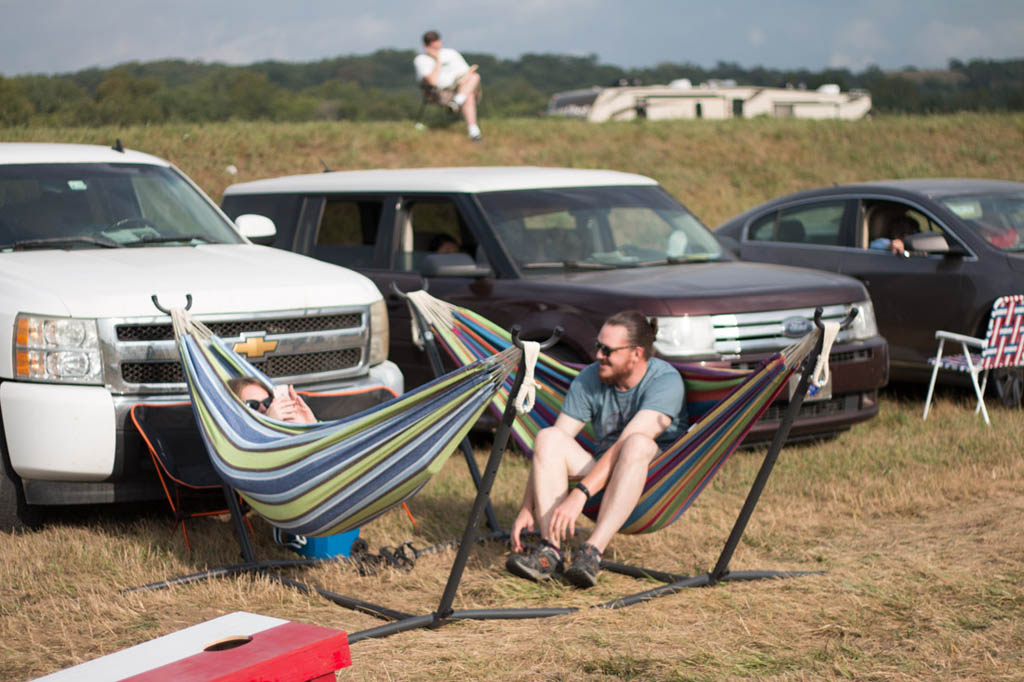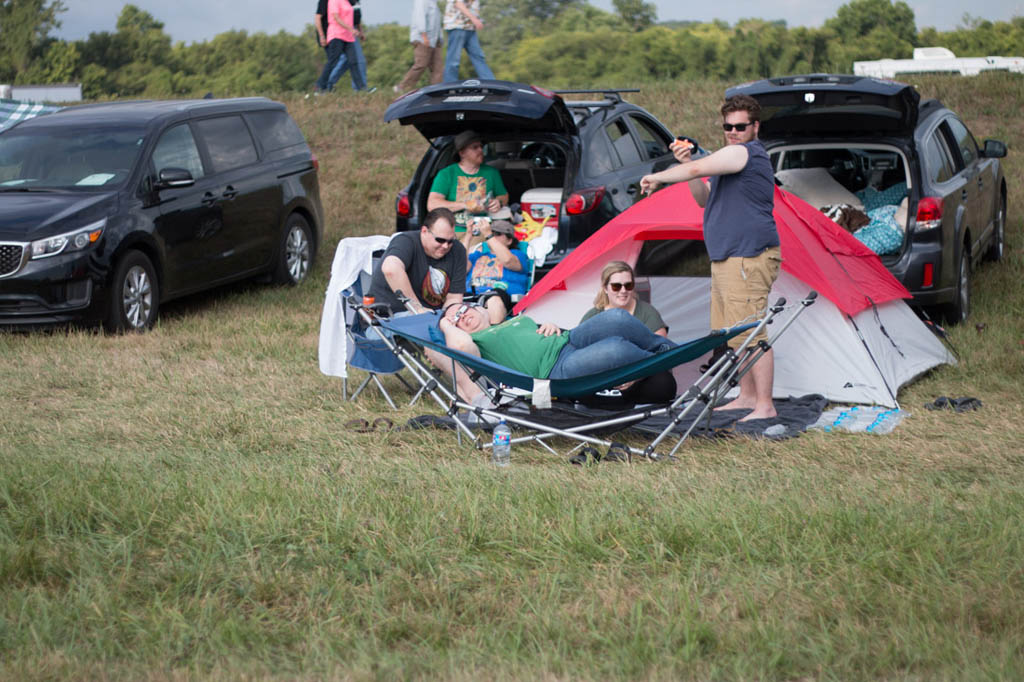 One car even came with eclipse balloons!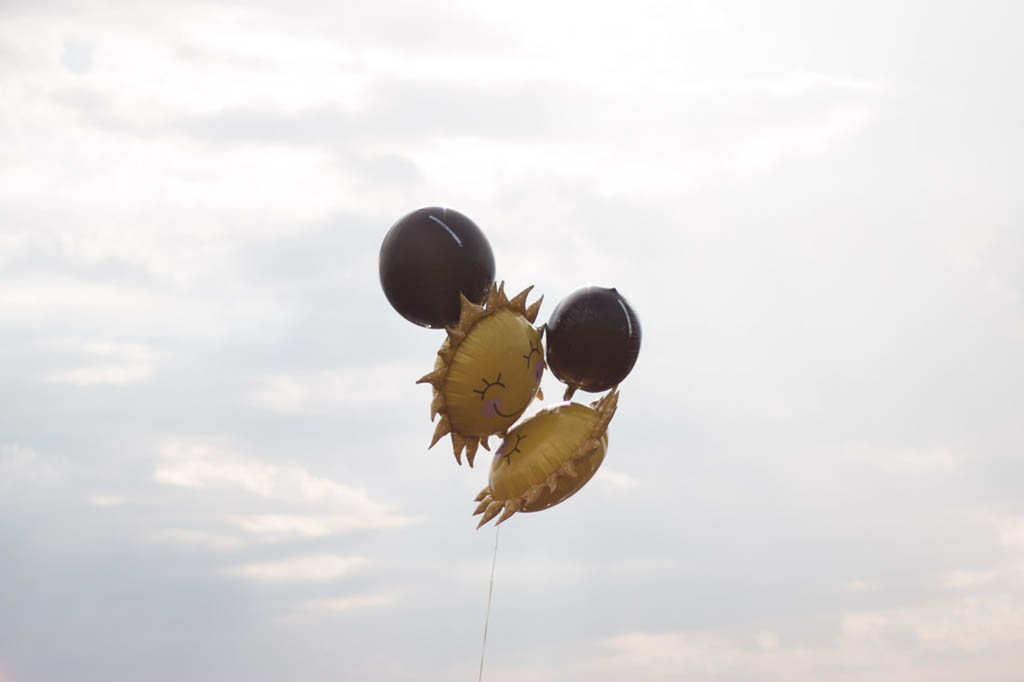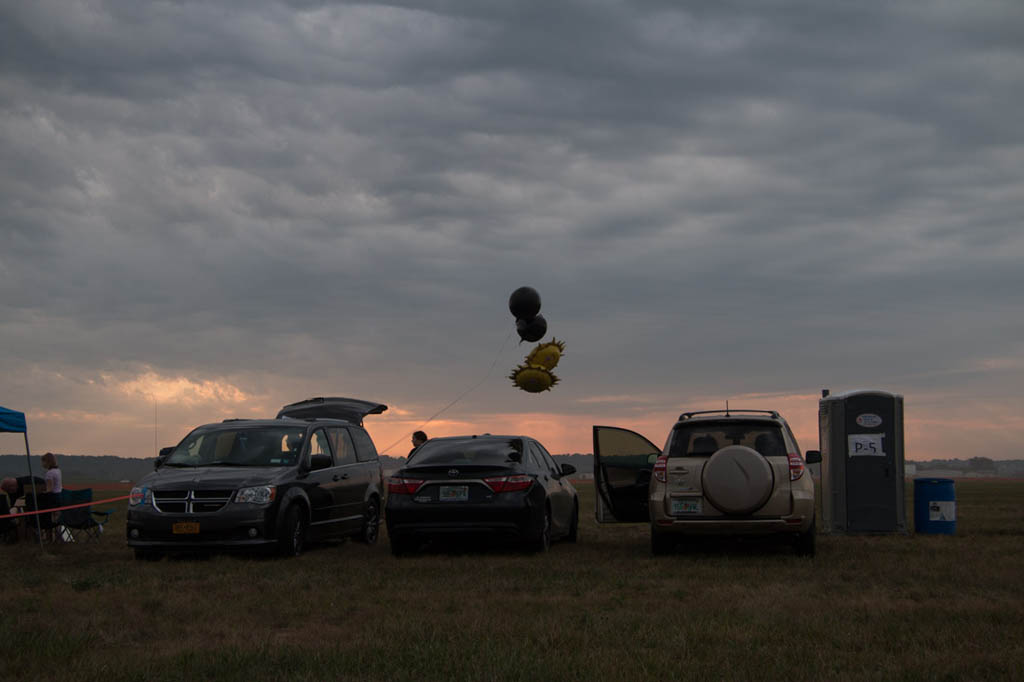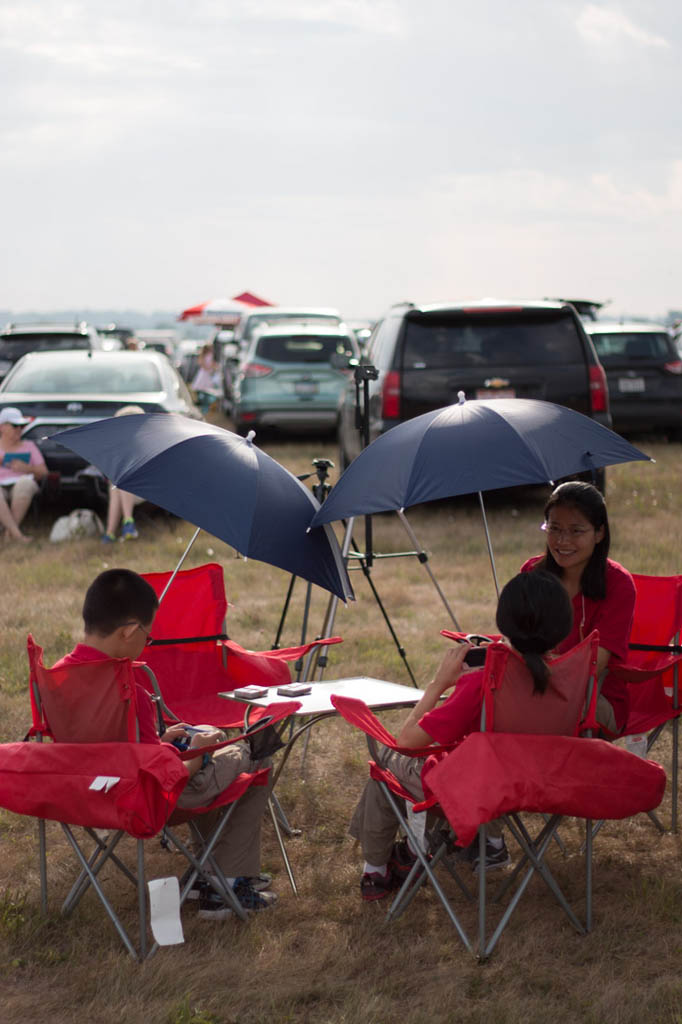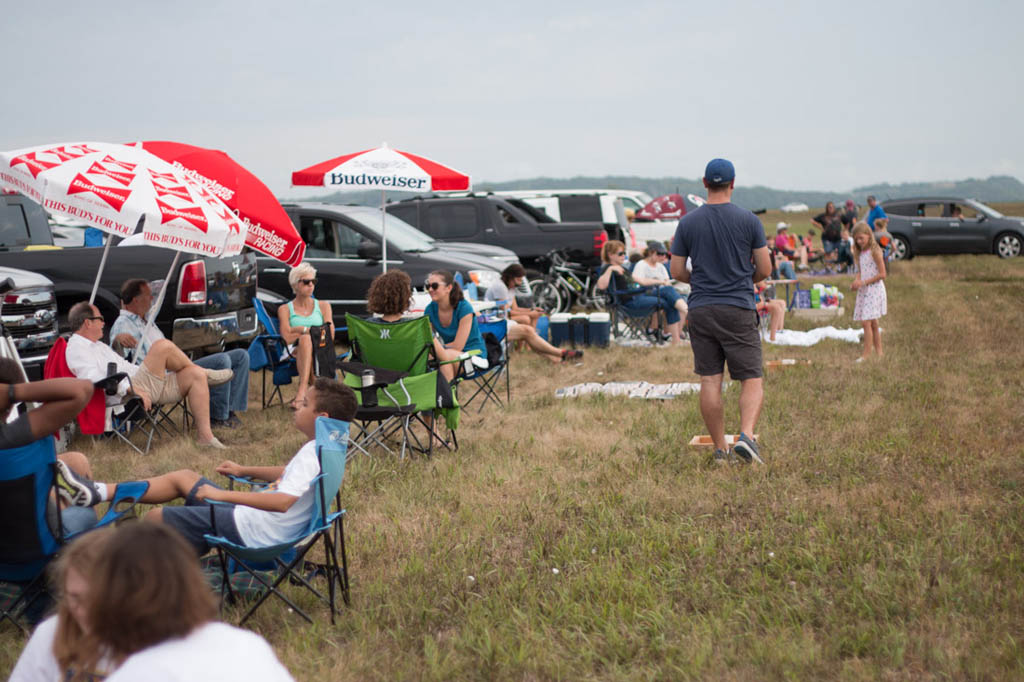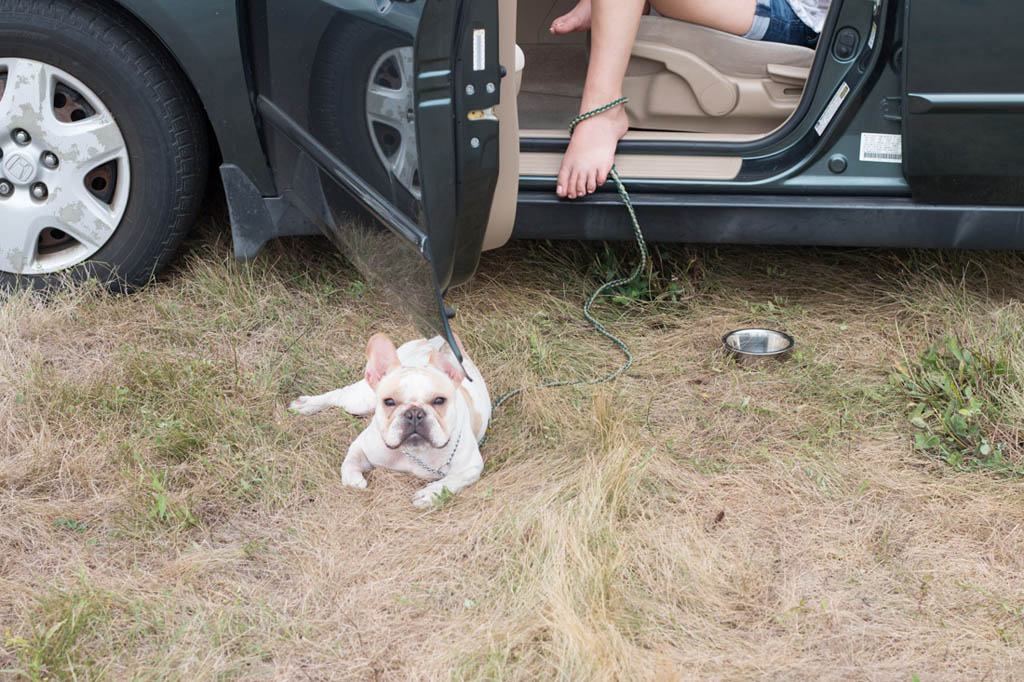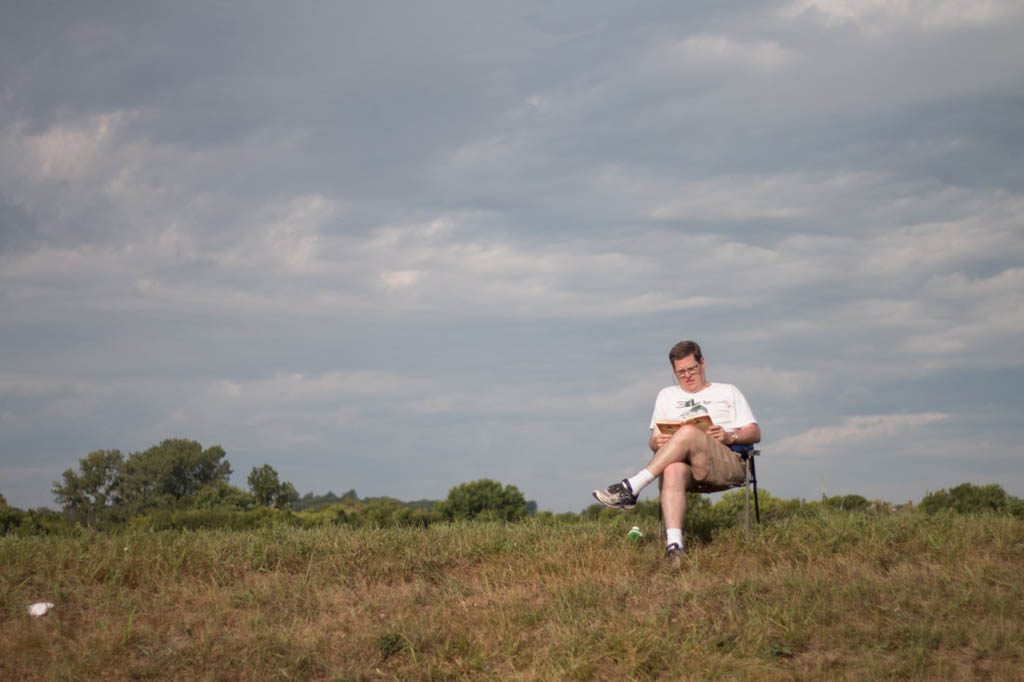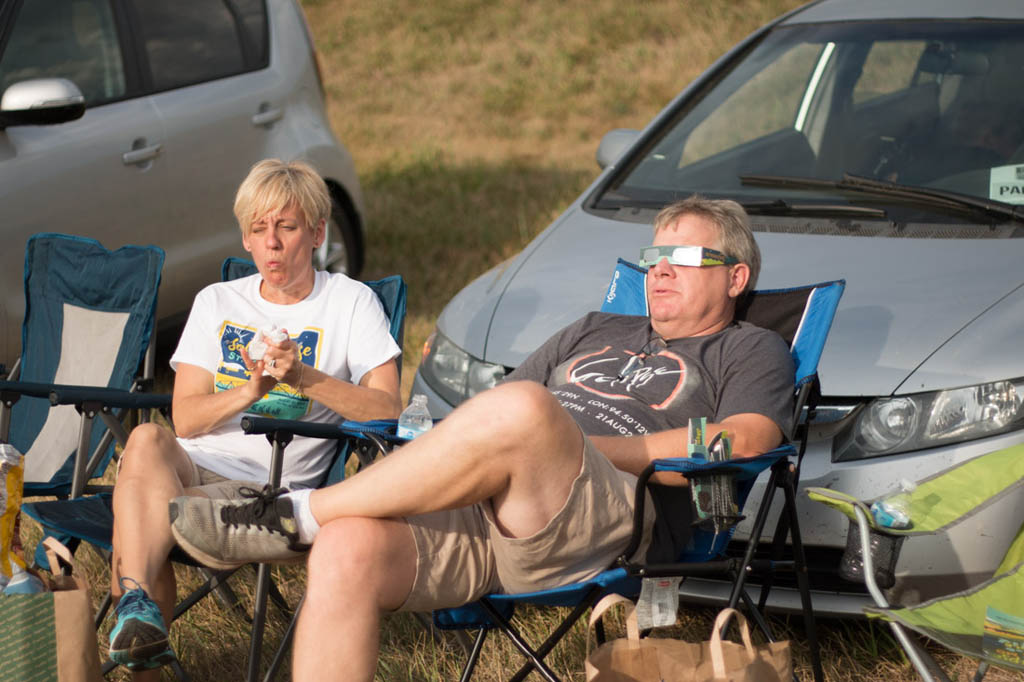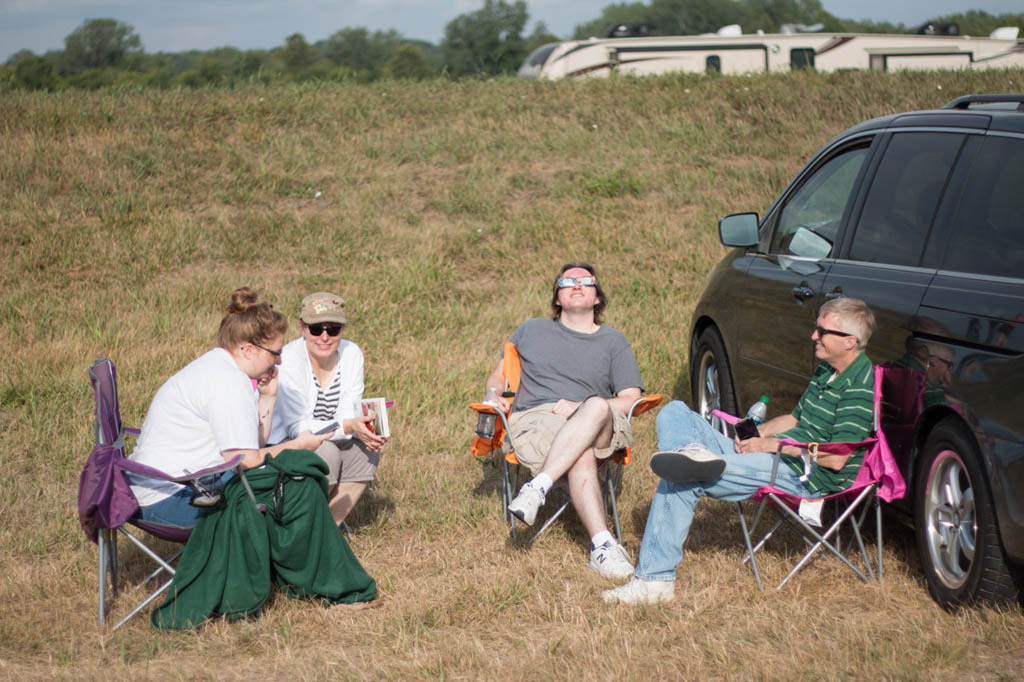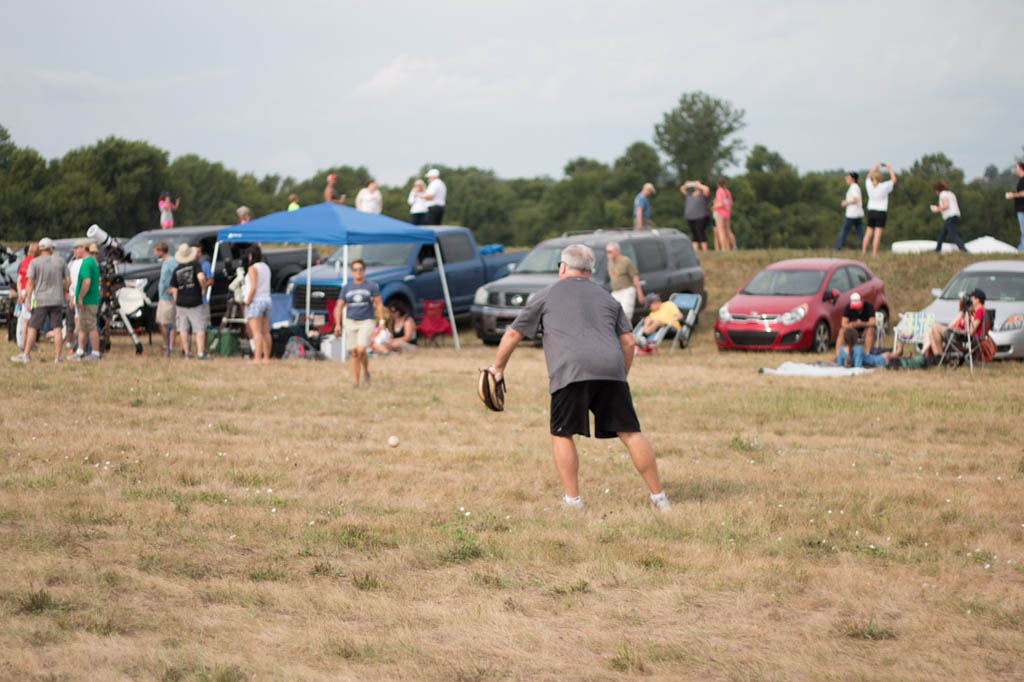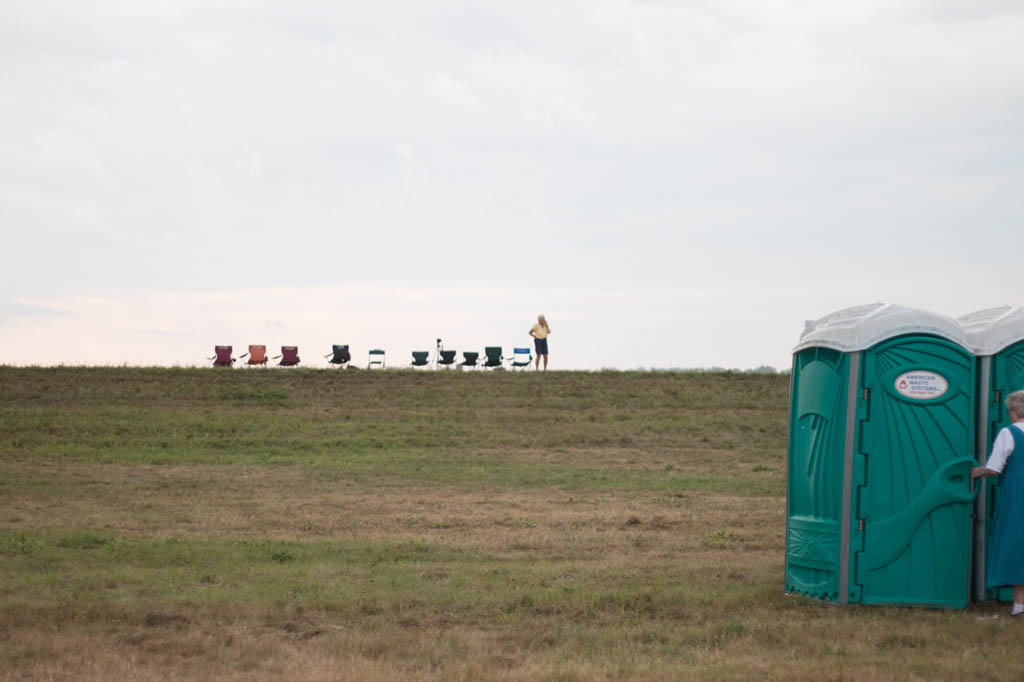 It was a very festive atmosphere! It was also very hot! First responders were walking around on foot and using golf carts, distributing free water to anyone who needed it.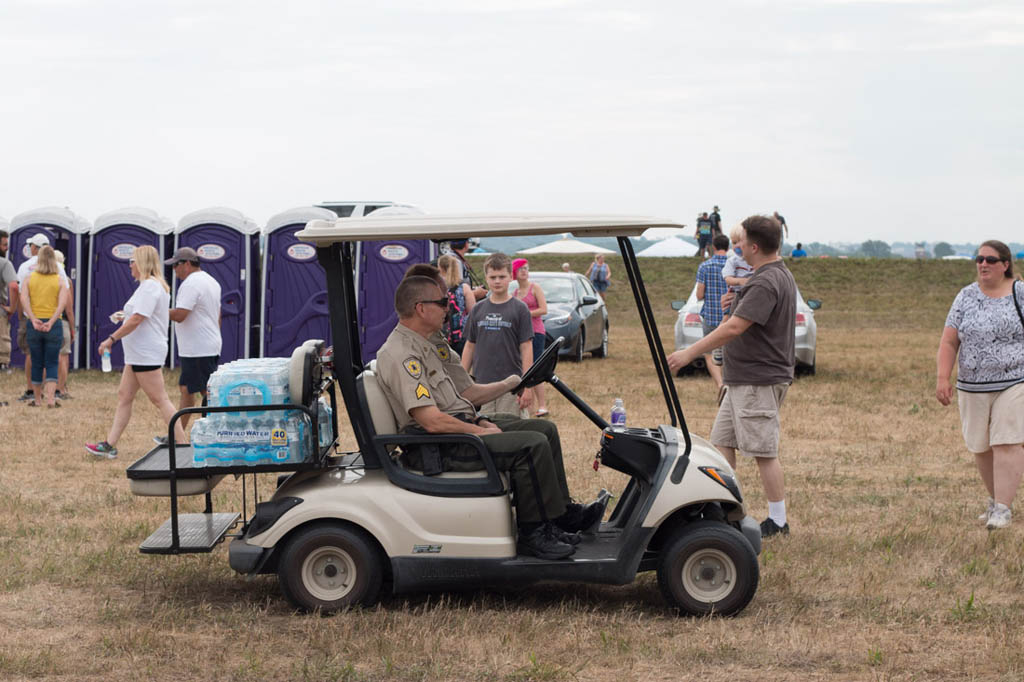 And, paper delivery staff were walking around selling the day's newspaper which had eclipse special coverage. We went in for two copies!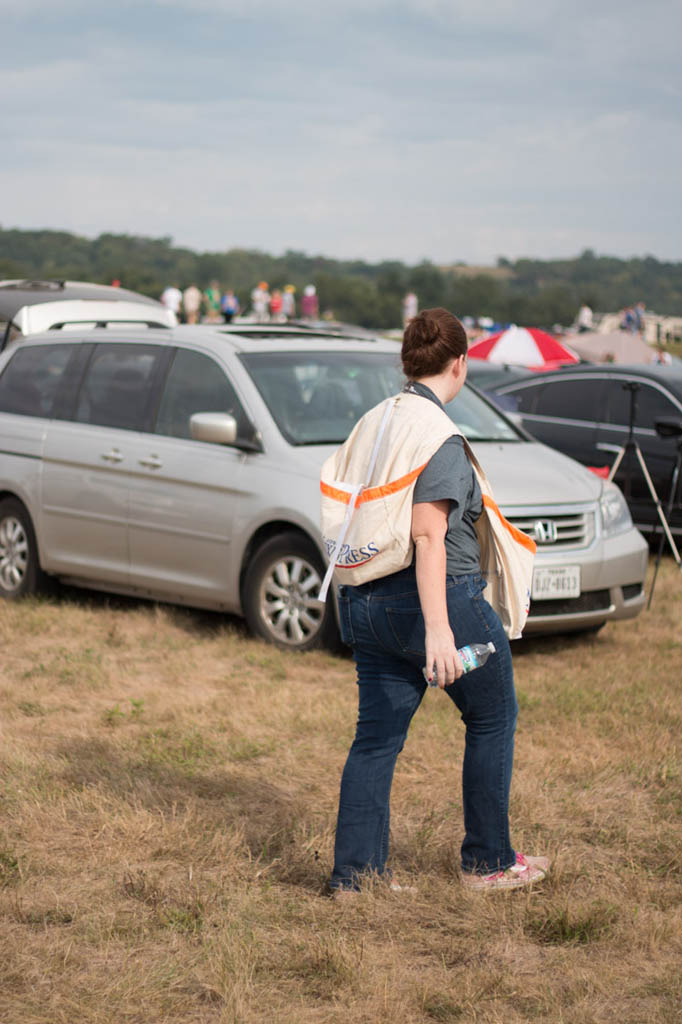 Telescopes and Camera Equipment
Many folks brought incredible telescopes and specialty photograph equipment. (In addition to, of course, equipment brought by media outlets).
For what it's worth, I have no idea what some of these camera filters are or what they do, I just photographed them!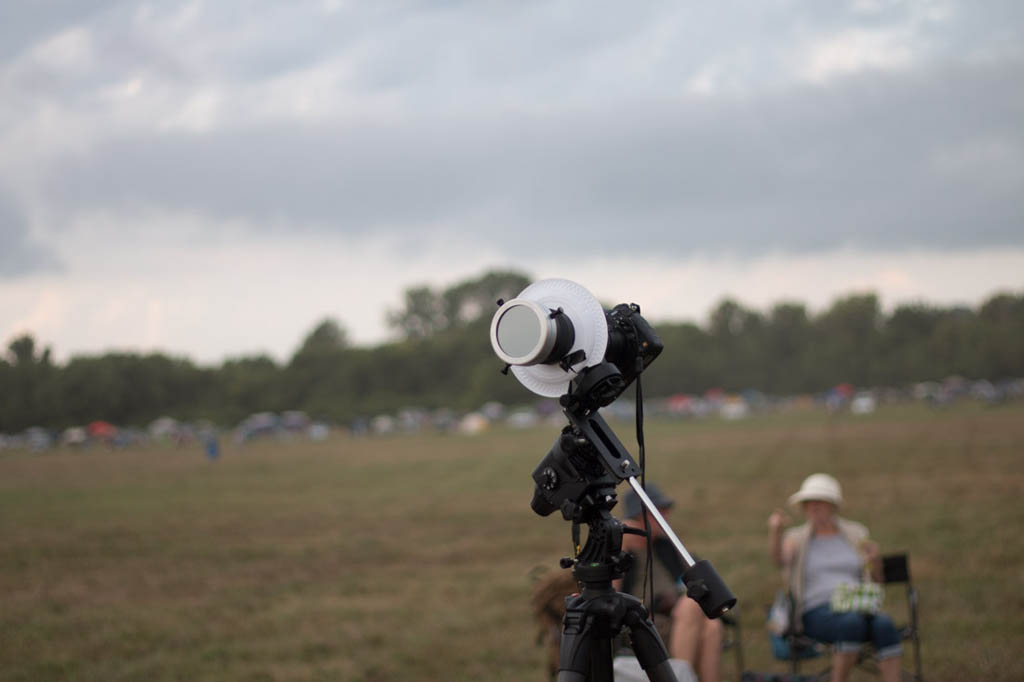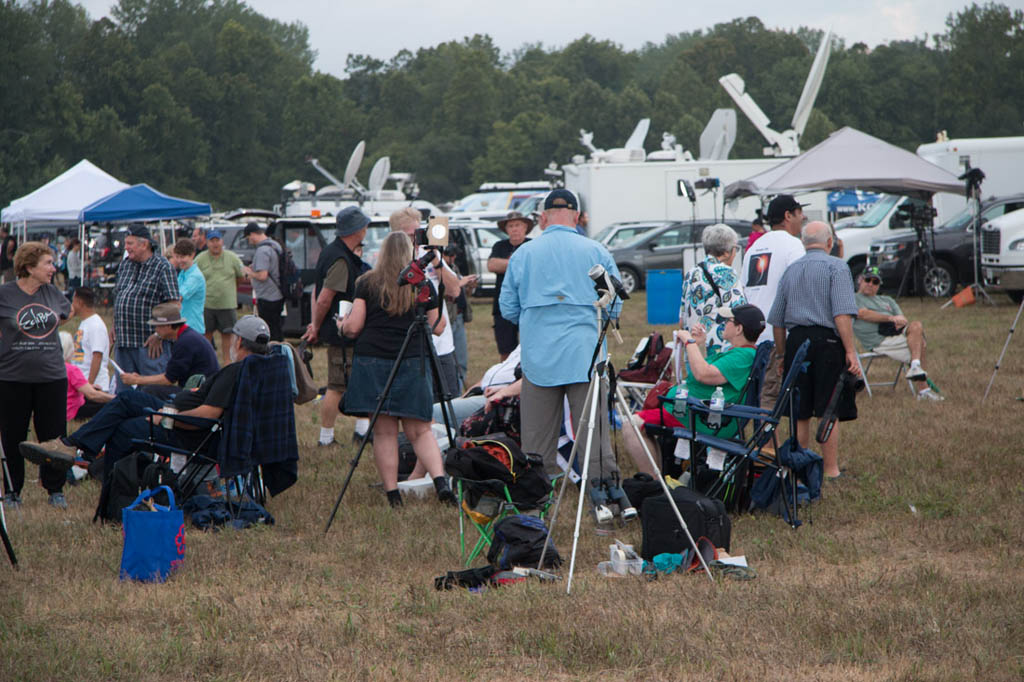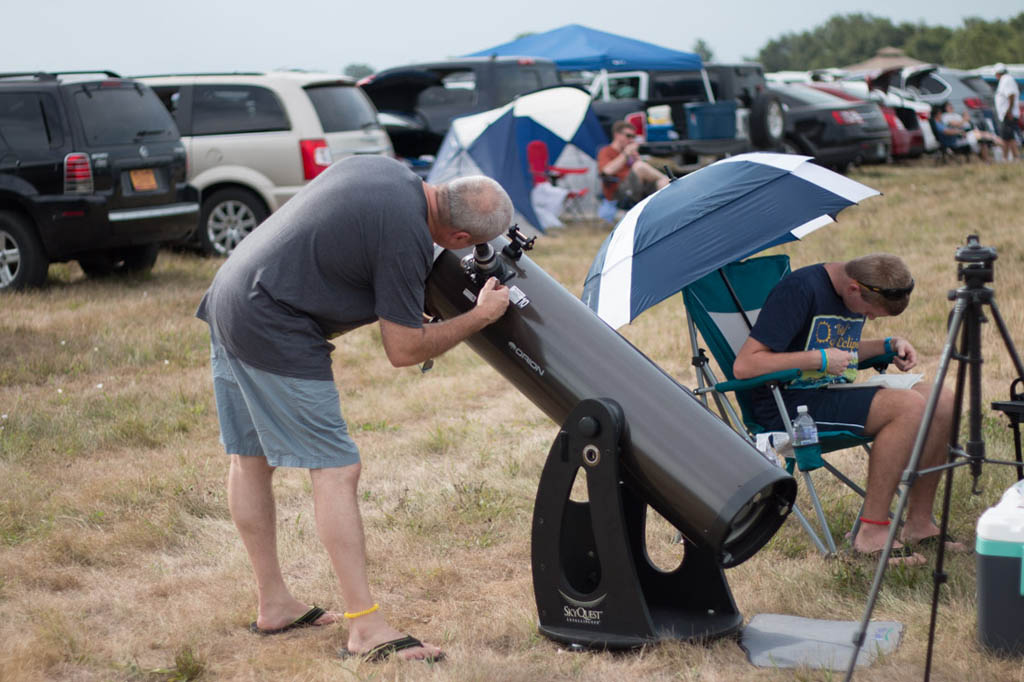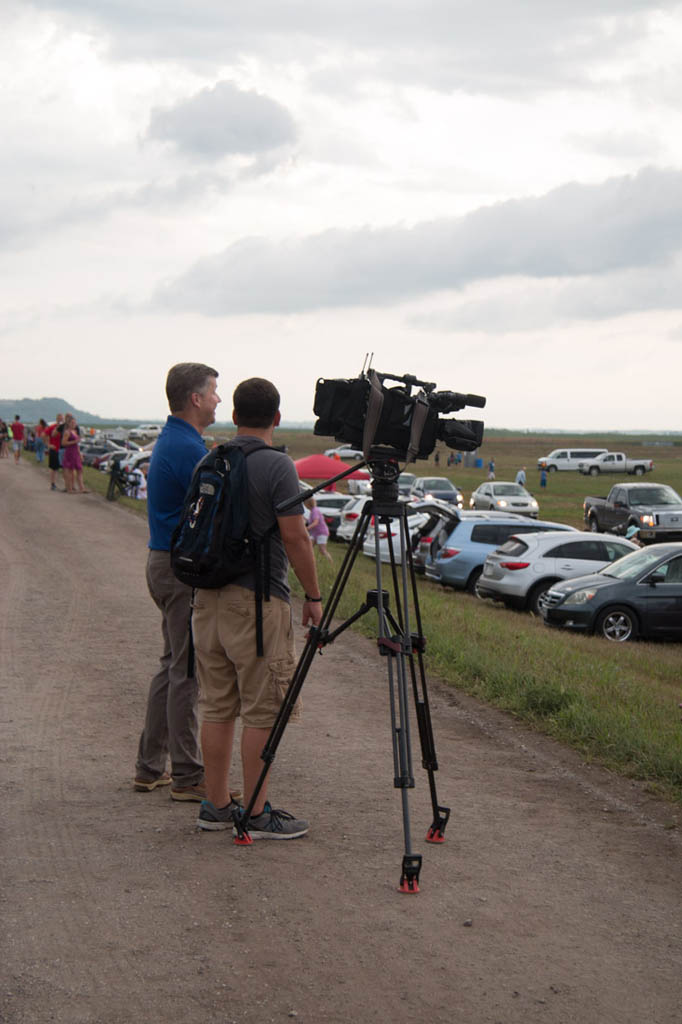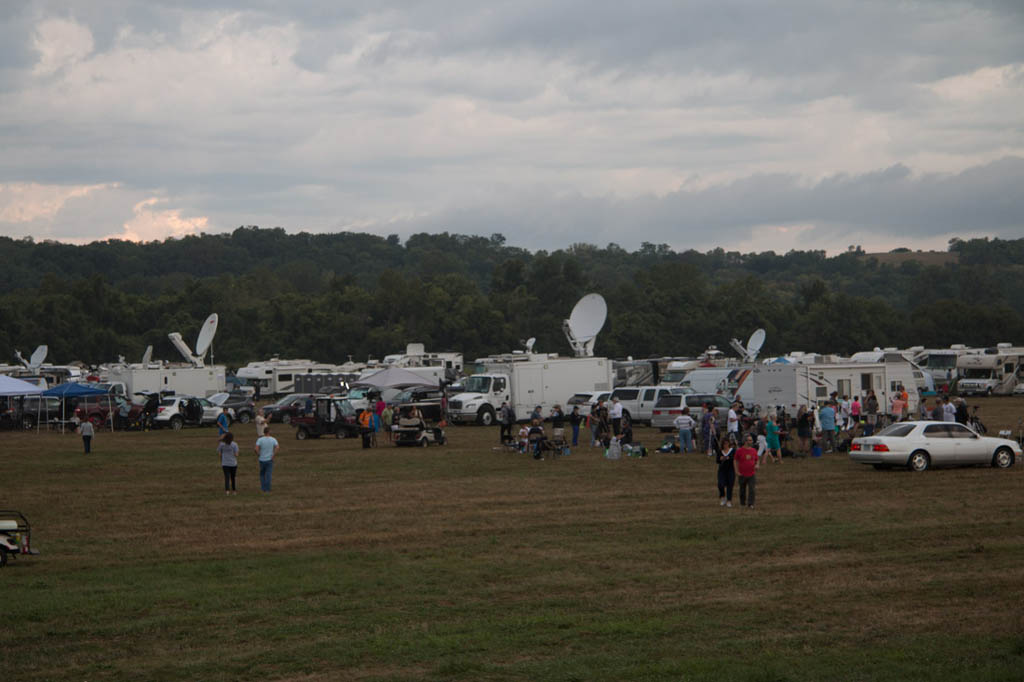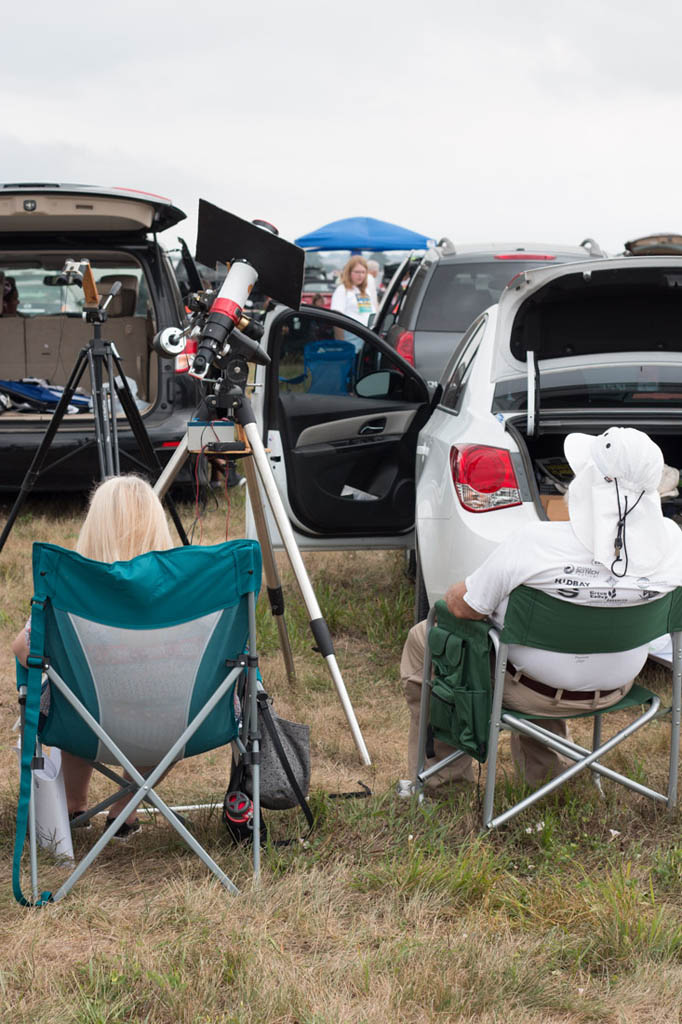 Partiality Begins
Just as the partial eclipse was beginning, it started to rain. It had been cloudy off and on all morning, but this was the first steady rain we had gotten.
Folks took out their umbrellas, donned ponchos, and put away their expensive camera equipment.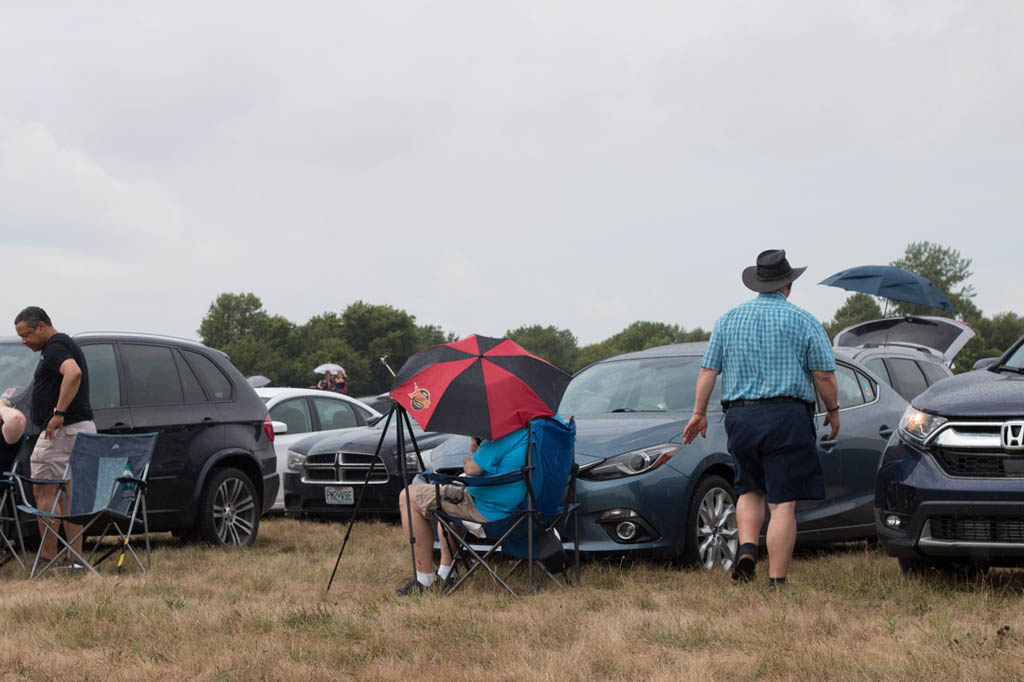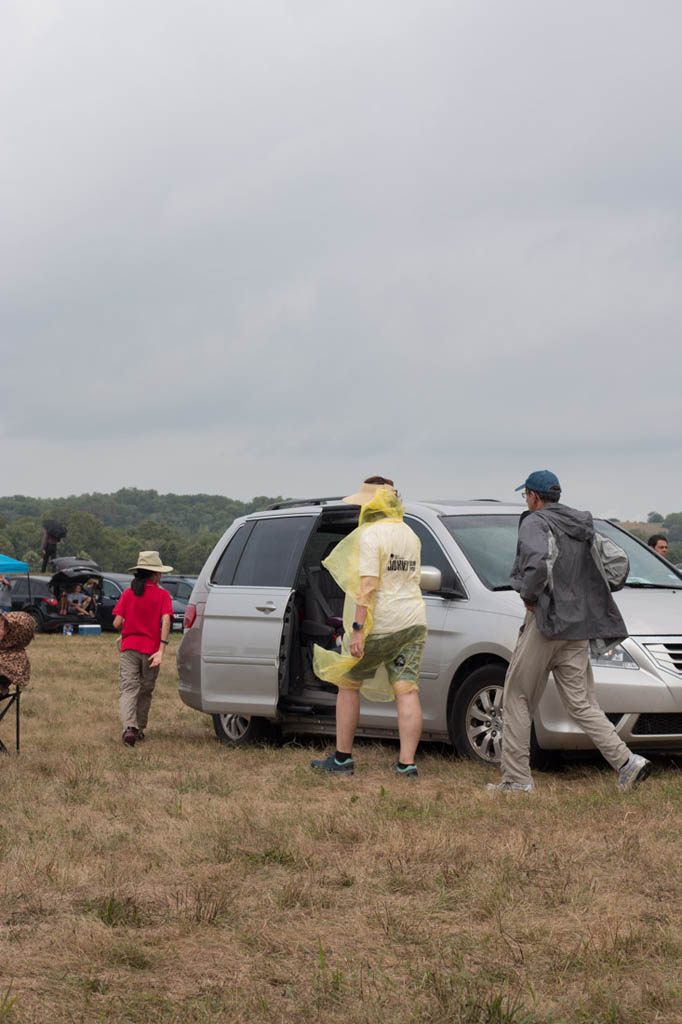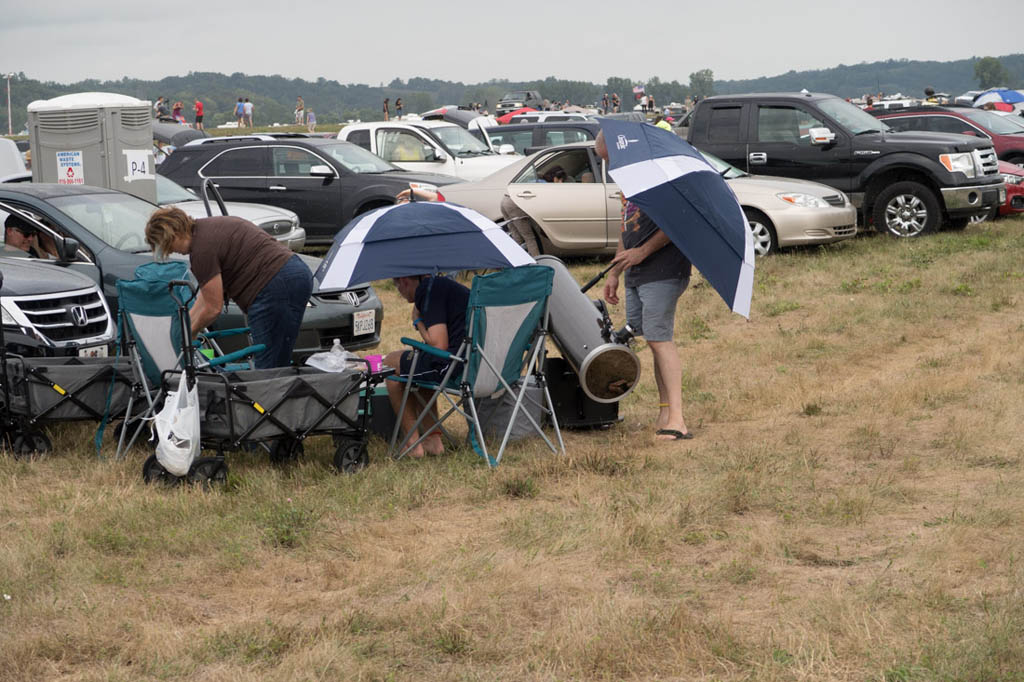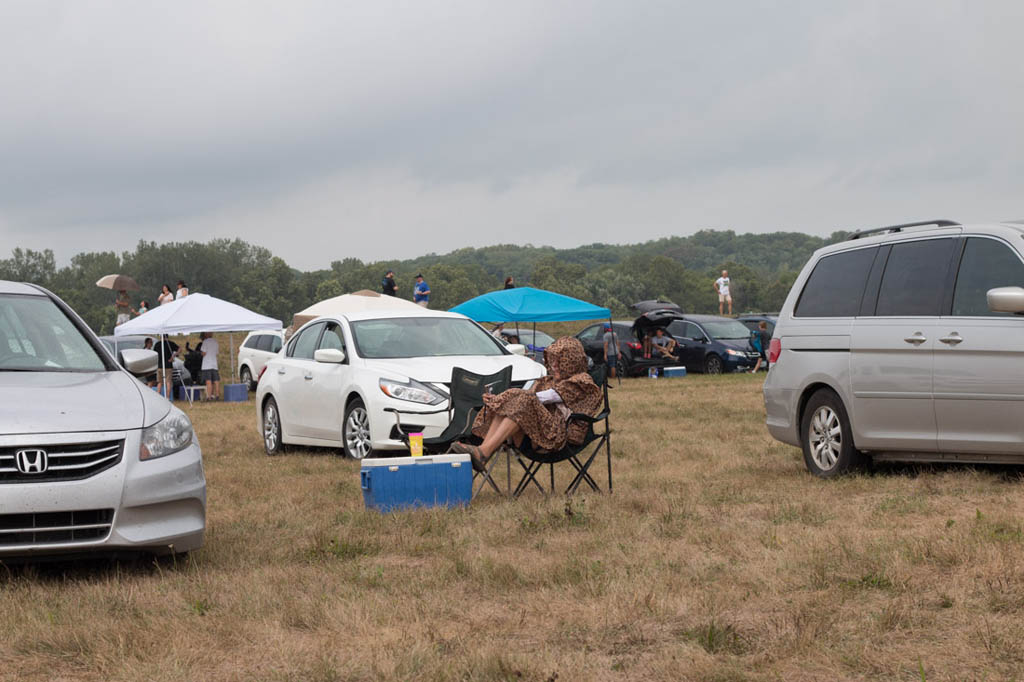 We had been chatting with the couple that was in the car next to us. We asked them to take a photo of us wearing our eclipse glasses. Even though the sun was covered by the clouds, we thought it would make for a fun picture.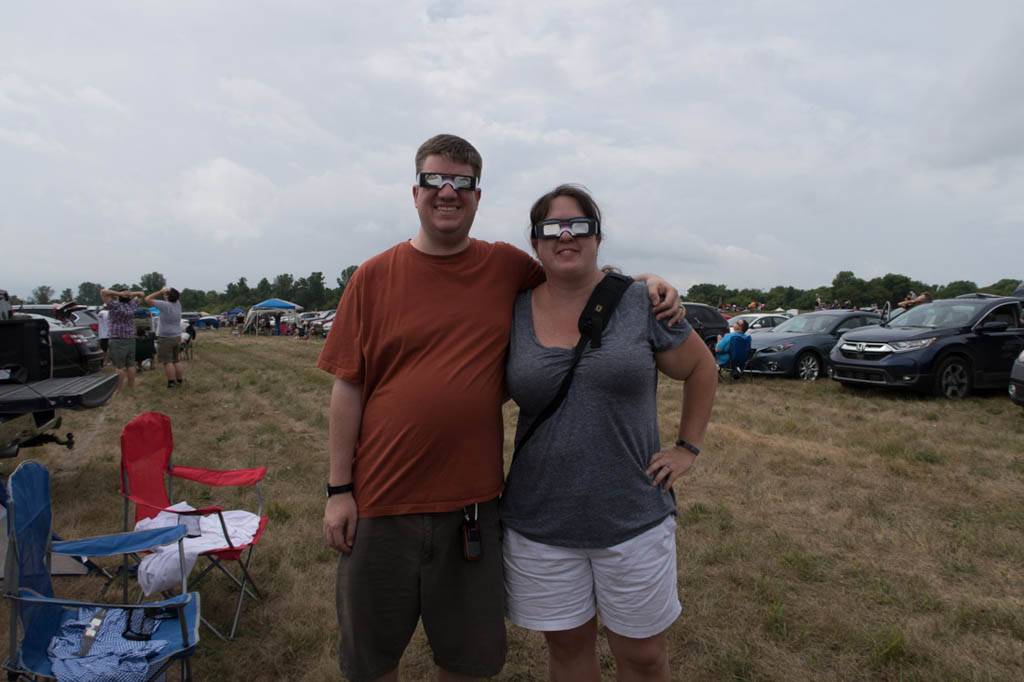 Then, while she was taking our picture, a roar of cheers and applause erupted in the crowds. We turned our heads to look, and cloud cover had broken! We saw our first glimpse of the eclipse! And in that incredible moment, the woman had the presence of mind to take another photograph of us! This is genuinely one of the best impromptu photographs of us ever! I think it conveys our excitement and happiness of that moment!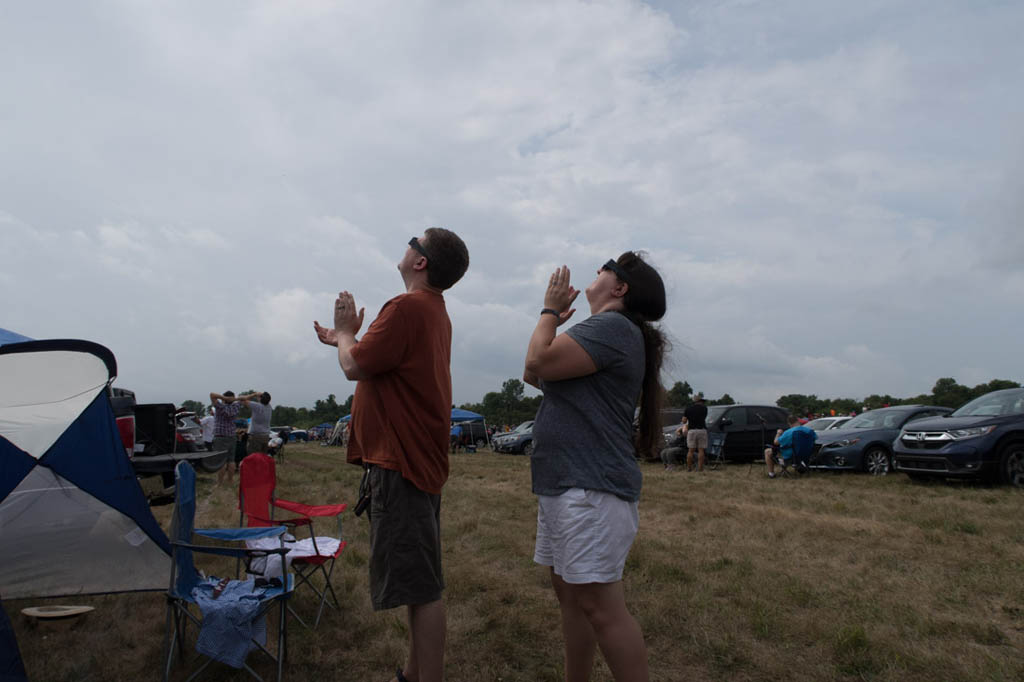 There were a few additional breaks in the cloud cover to see the partial eclipse, before cloud cover was completely blocking the sun again. Everybody took the opportunity to catch the glimpses when they could!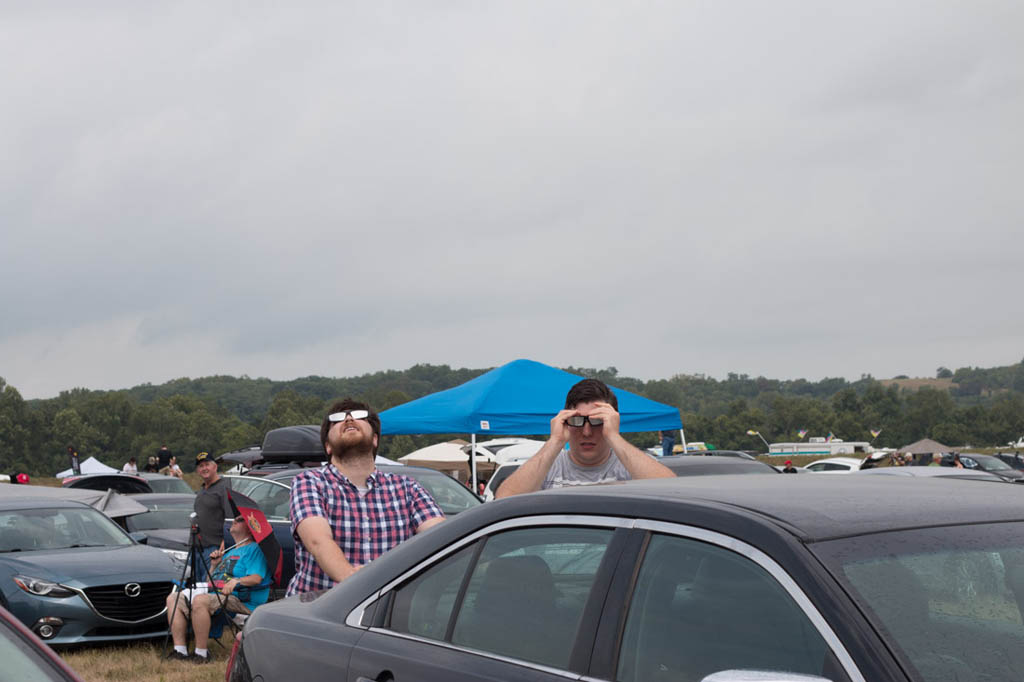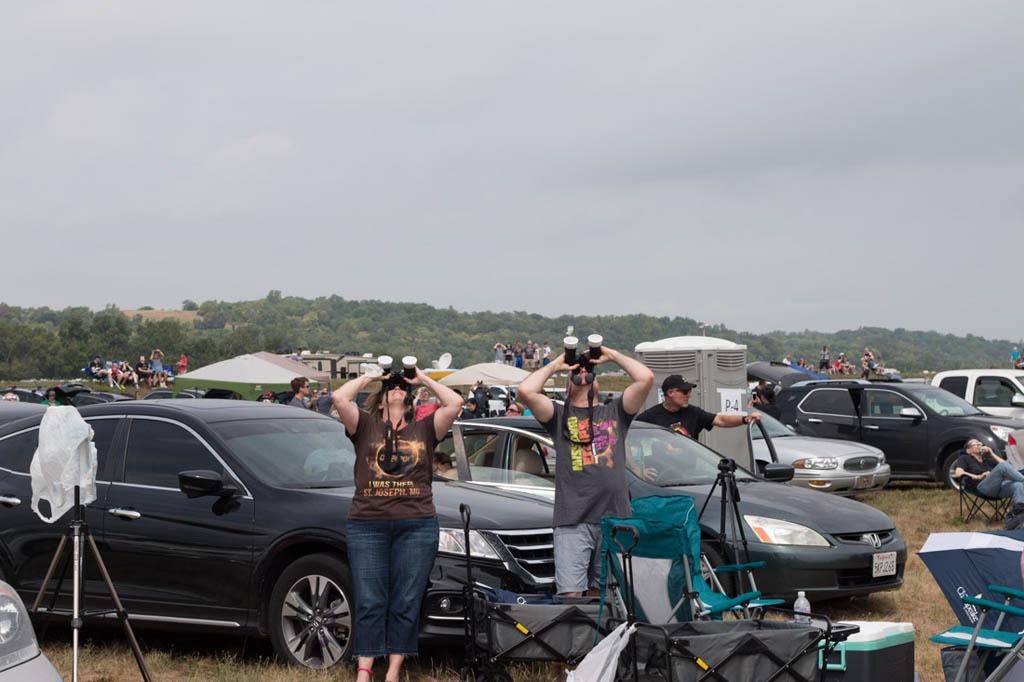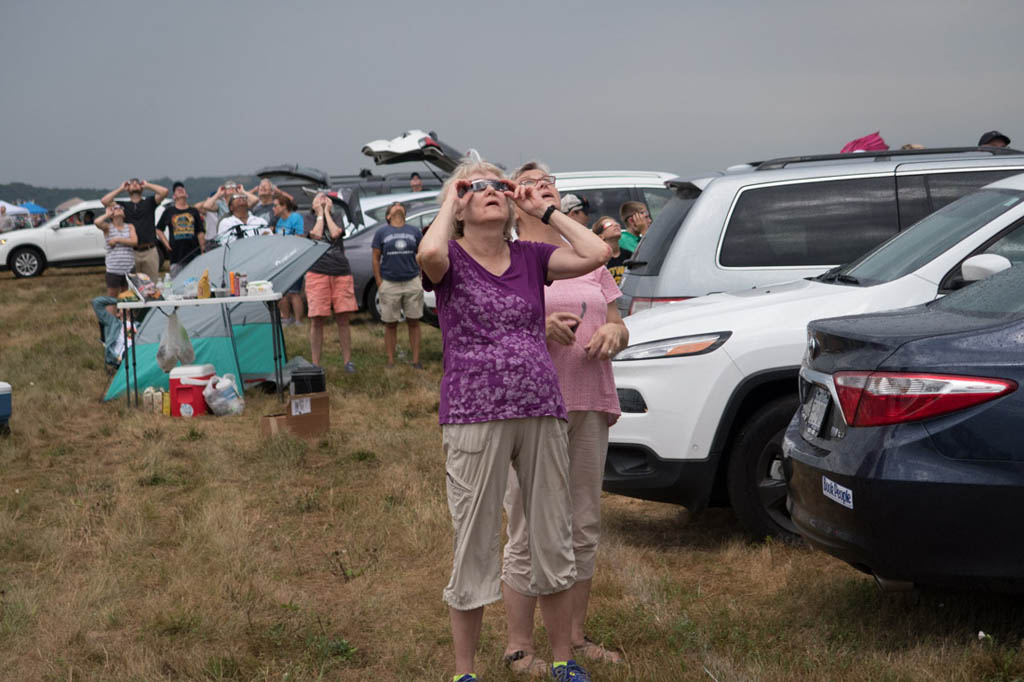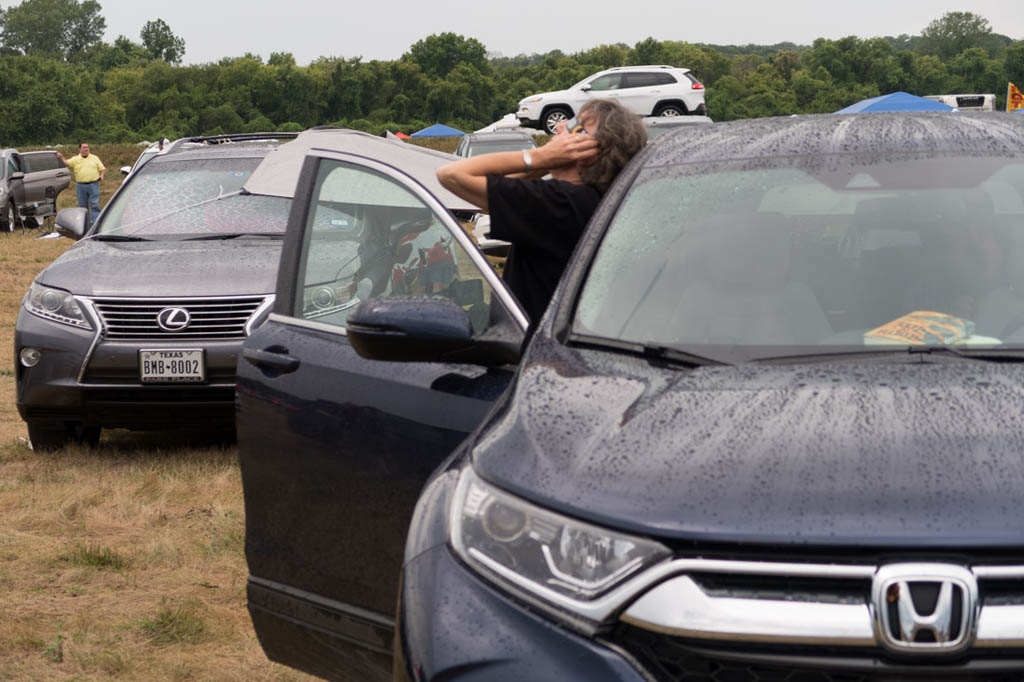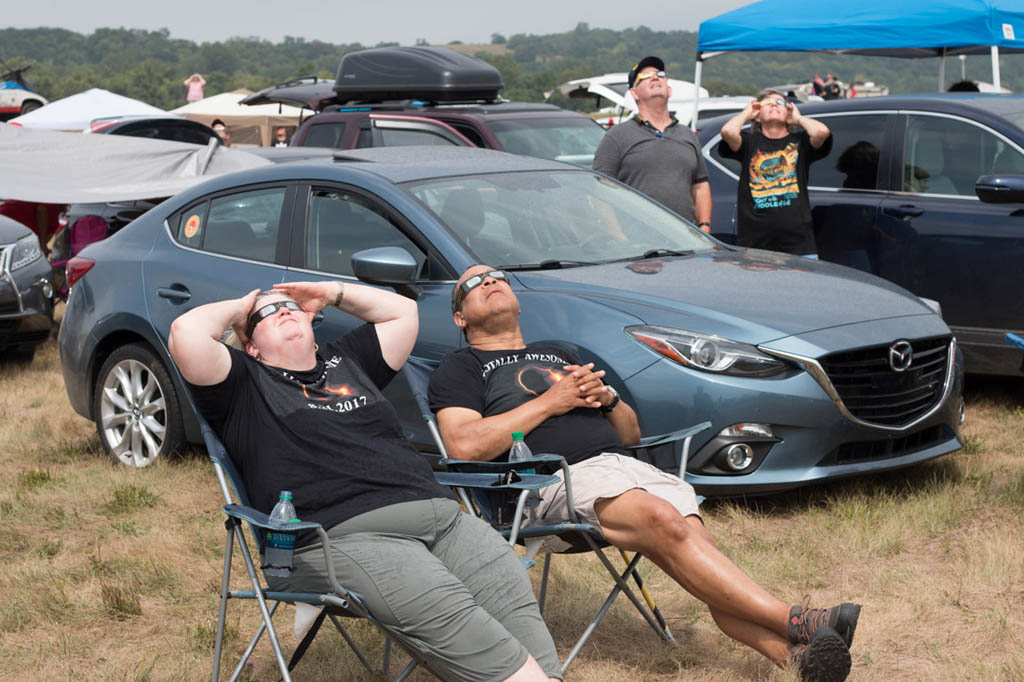 Totality
Then, it started to get dark. And darker. And darker. And it wasn't storm clouds rolling in. It was the moon as it was about to completely cover the sun. I only took a few photos of this moment, because it was incredible to experience.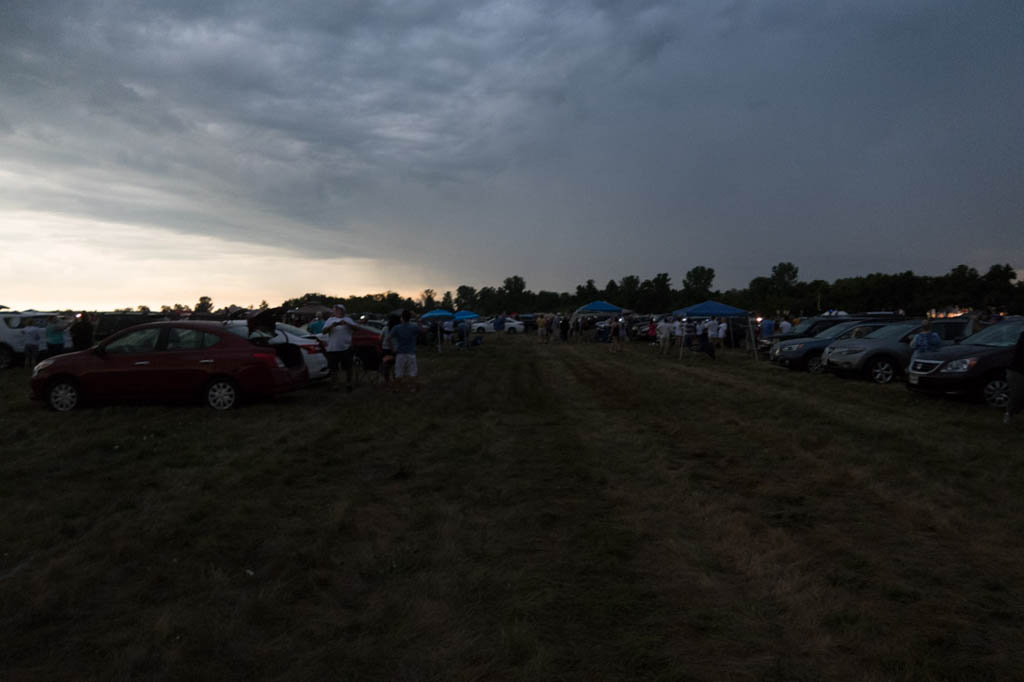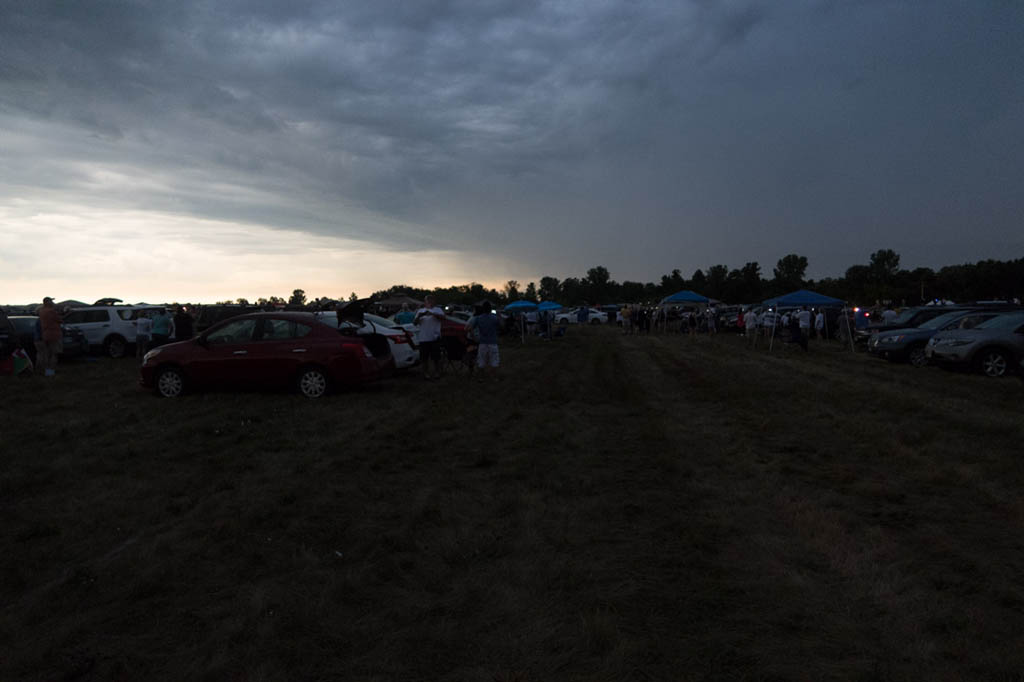 Totality had arrived, but we couldn't actually see the sun (err, the moon blocking the sun?).
But then another amazing moment arrived. There was a small break in the clouds, and the crowd roared with excitement again. We could see totality!
Back to partial
After totality, it started getting brighter again, and there were more breaks in the clouds. Since there hadn't been much opportunity to see the sun as it was approaching totality, people were now soaking in the partial eclipse following totality.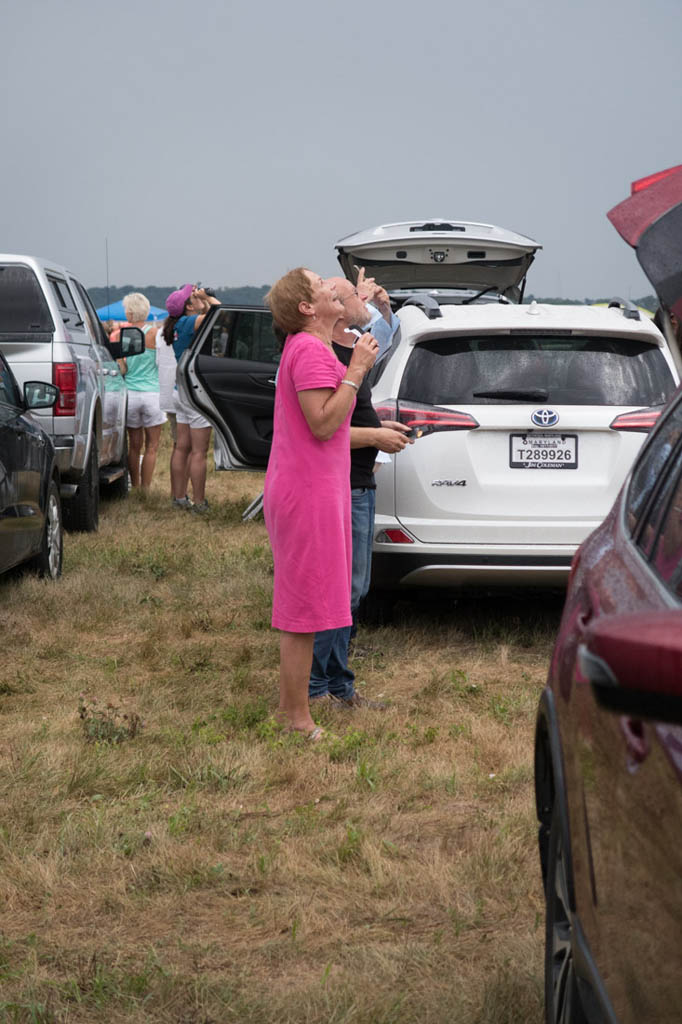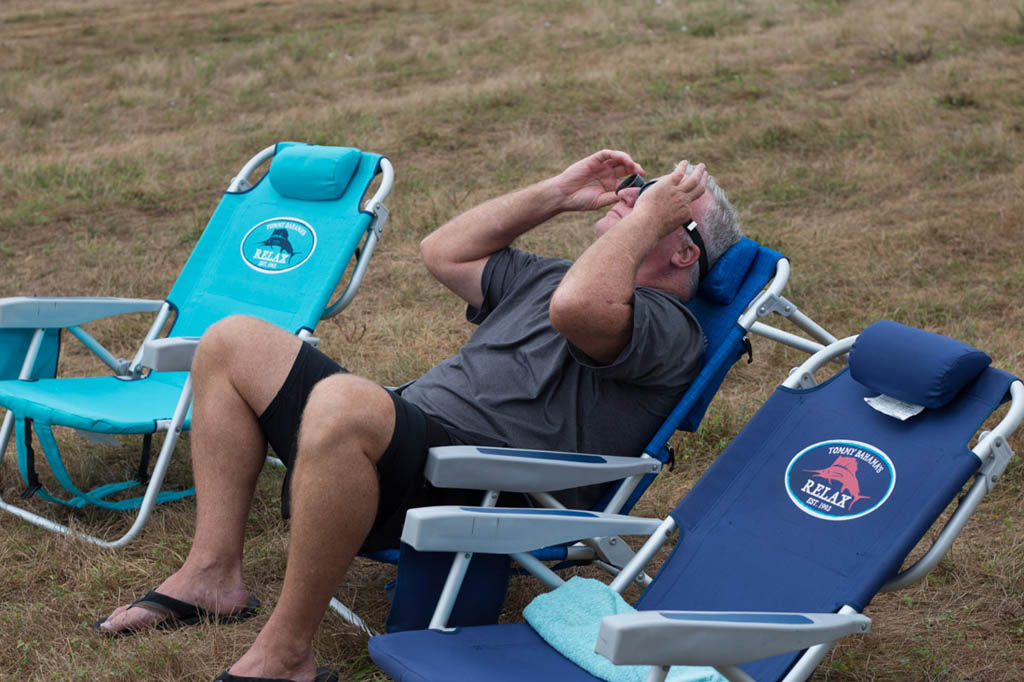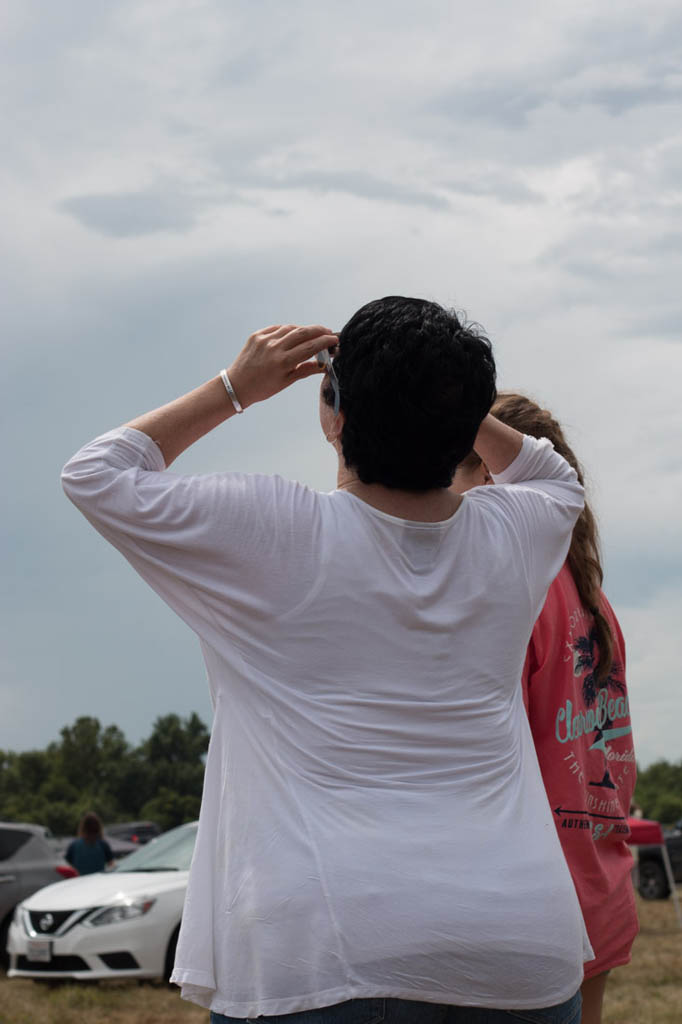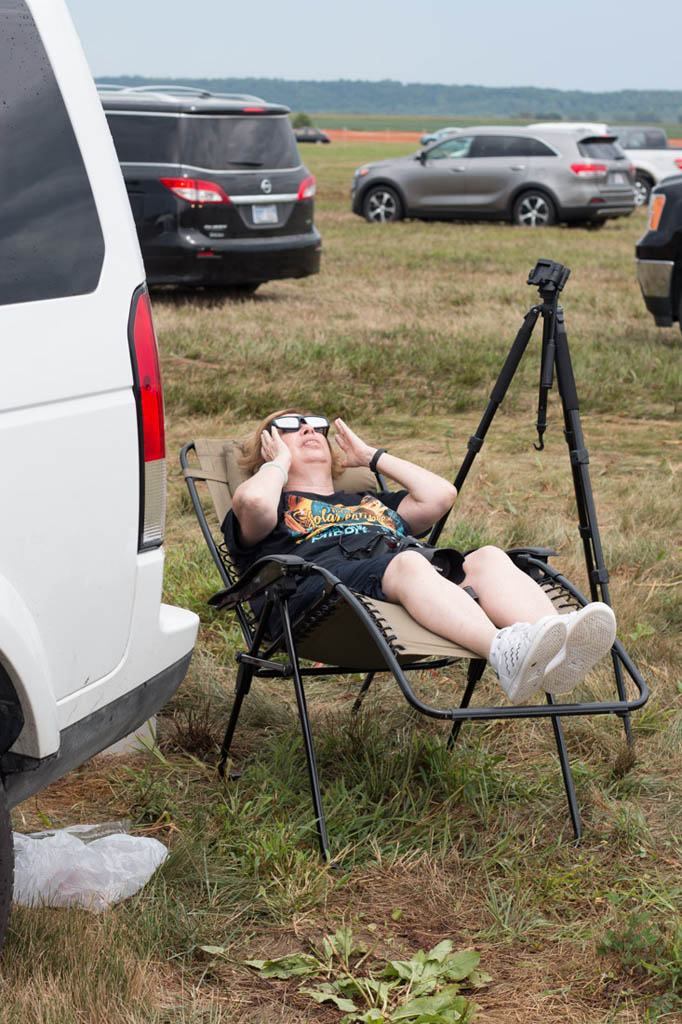 I got a few good shots of Ken: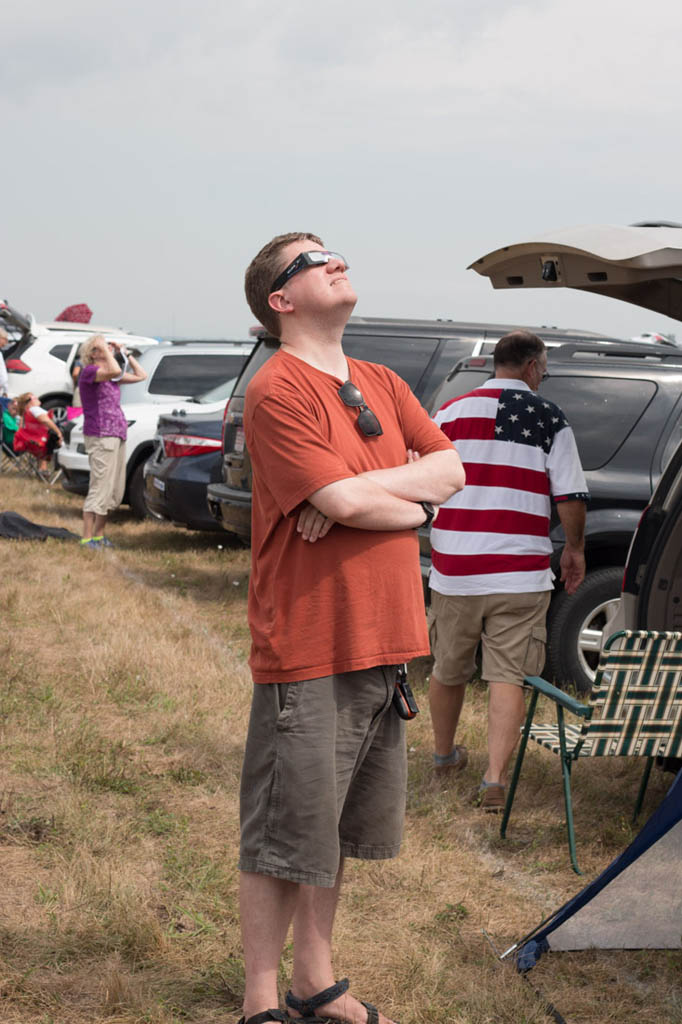 And this very staged photo of the two of us:
And one that Ken took of me. All that bending backwards to look straight up at the sky! I'm surprised my back wasn't hurting that night!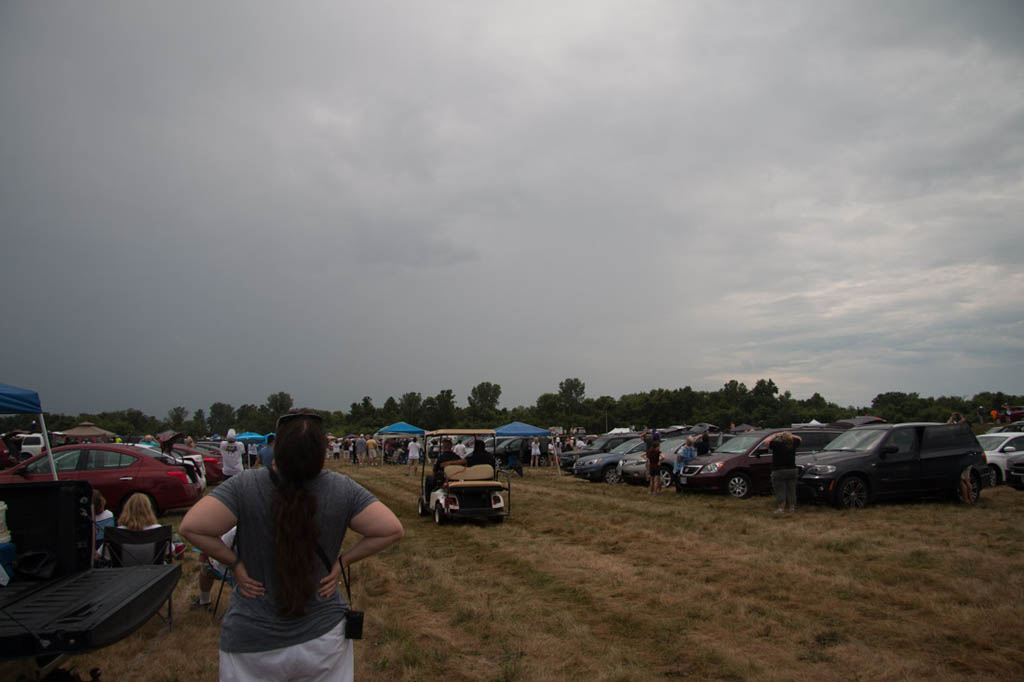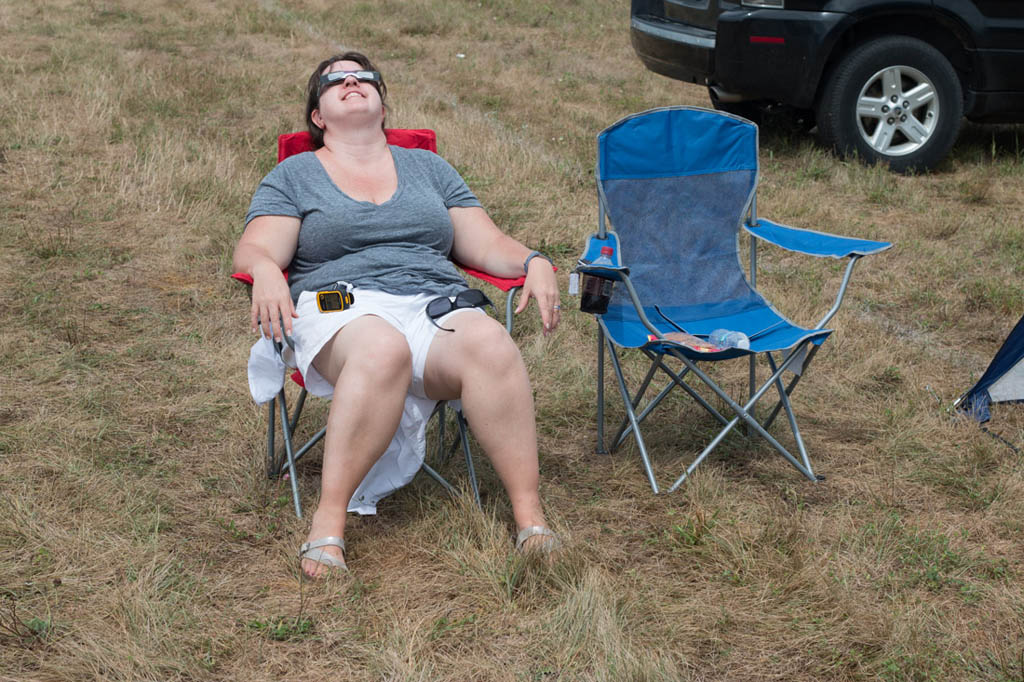 Food Trucks and Eateries
Ken and I were sure to have a big breakfast before heading to the eclipse location around sunrise. But, totality wasn't scheduled until 1:42PM, so we figured we'd want some snacks too.
Ken enjoyed a snow cone.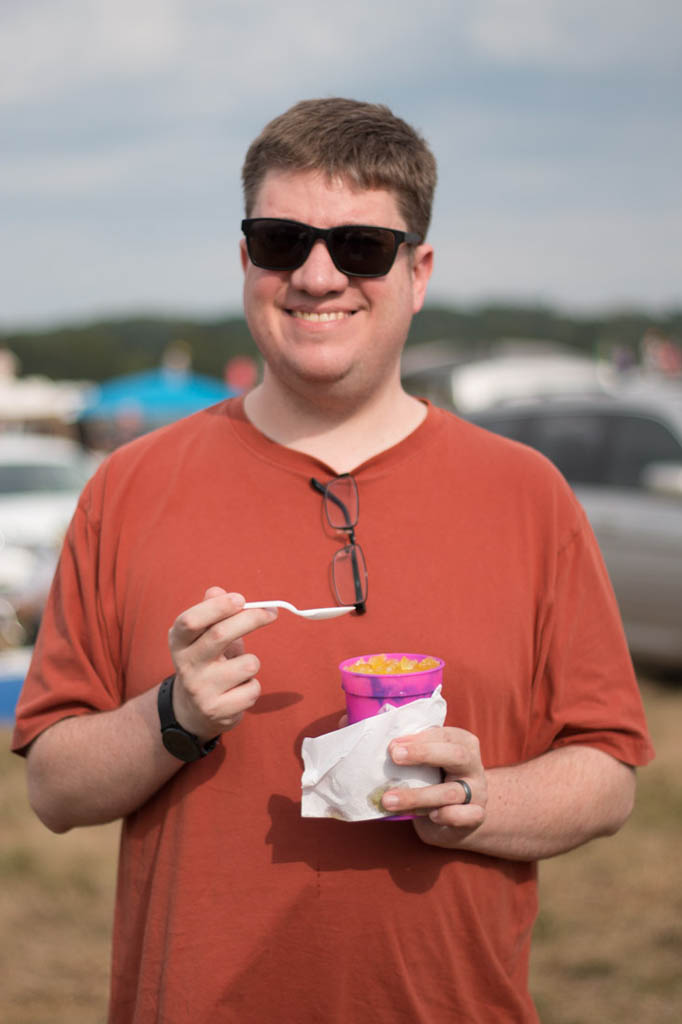 And we had these AMAZING homemade donuts! We knew they'd be something special. No food truck line was longer than the one for Yoder's Donuts!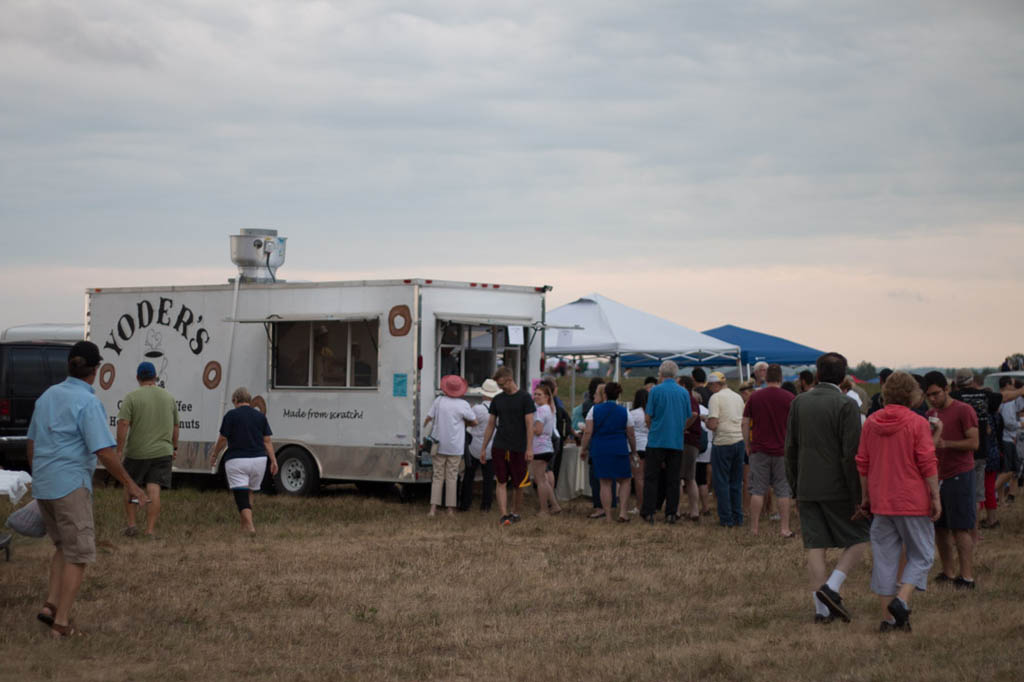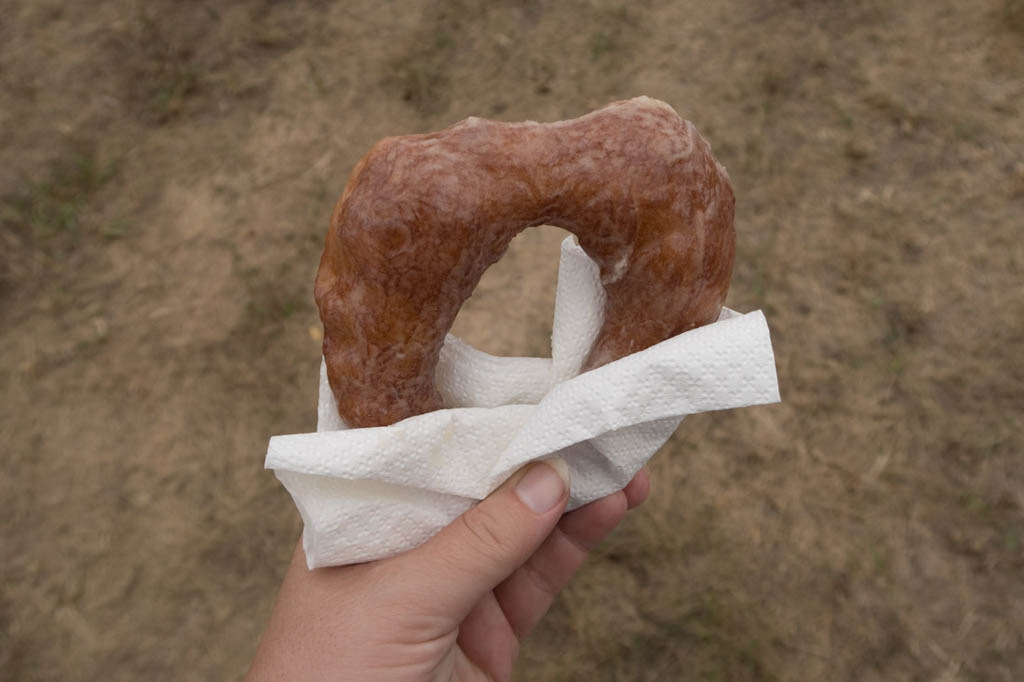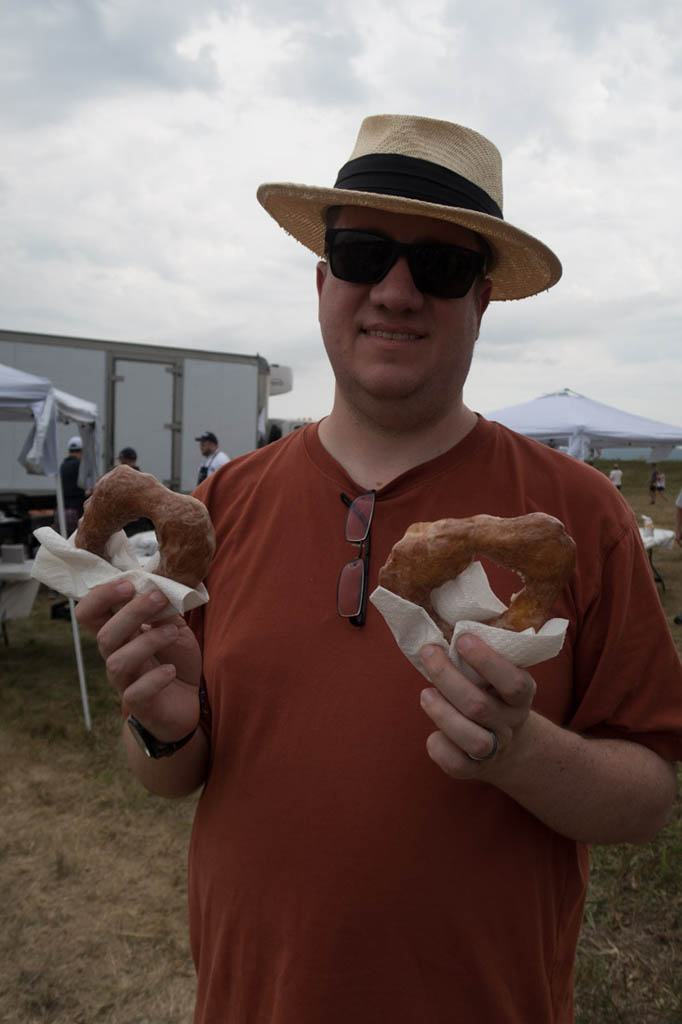 While we were standing in line for the donuts, Ken was like, "Do you just want to get one donut and split it? And I was like, ummm, "NO."
We also bought some baked goods from a stand at the eclipse location. You'll have to forgive me, I'm not sure the type of religious community these folks belong to, so I don't want to misrepresent them by calling them by the incorrect term. Either way, their donuts AND their baked goods were simply amazing.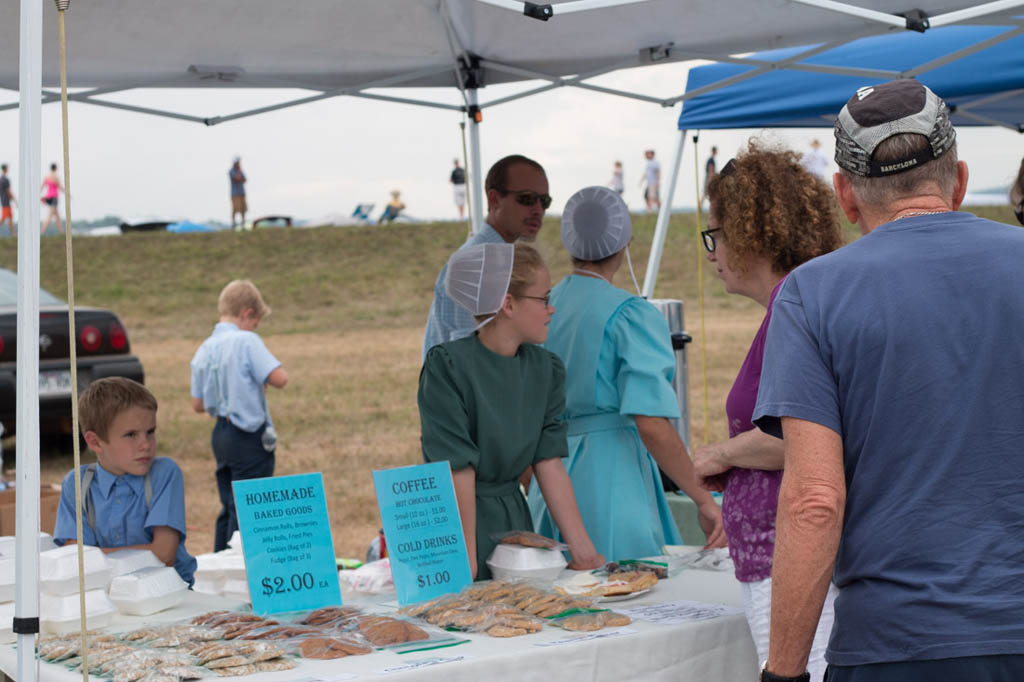 There were other food options as well!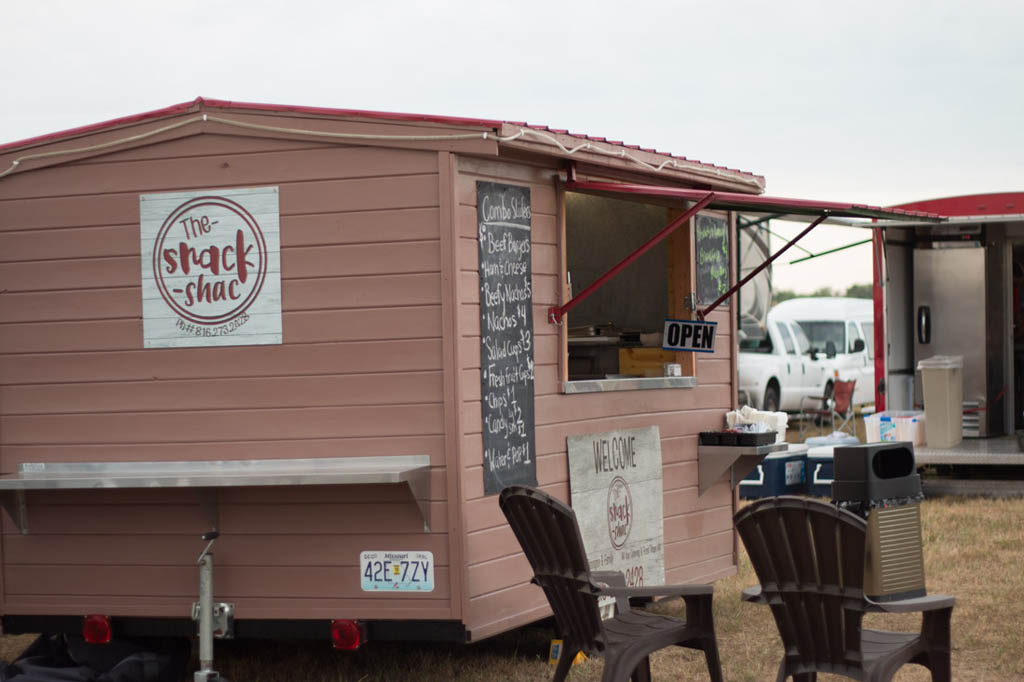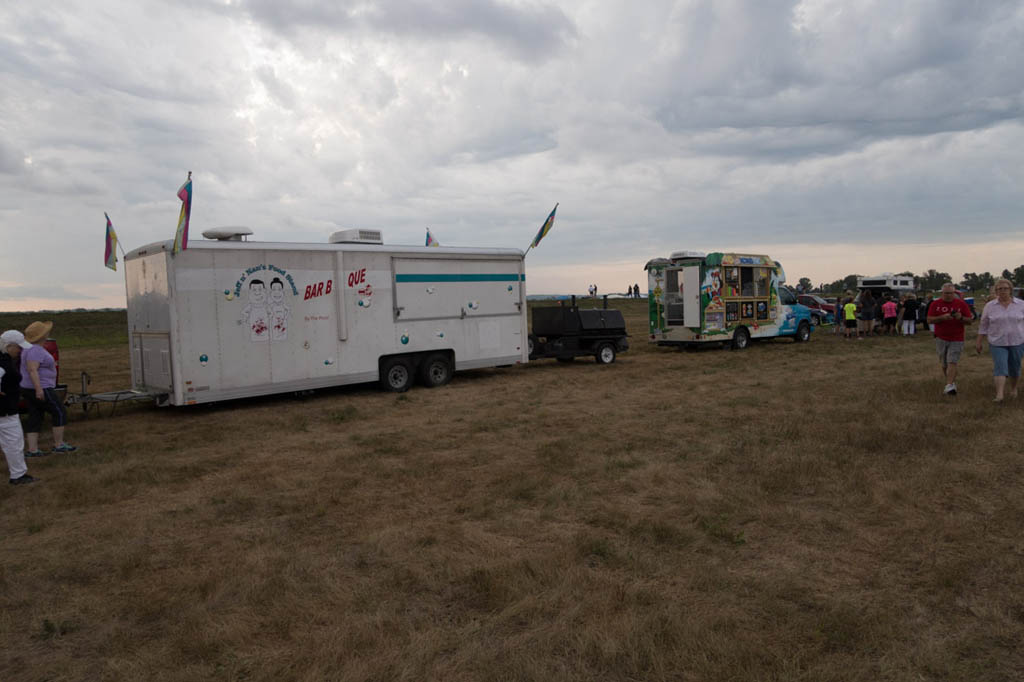 And I don't think I've ever seen such a standalone ATM machine as this one! I don't know why this made me laugh so hard.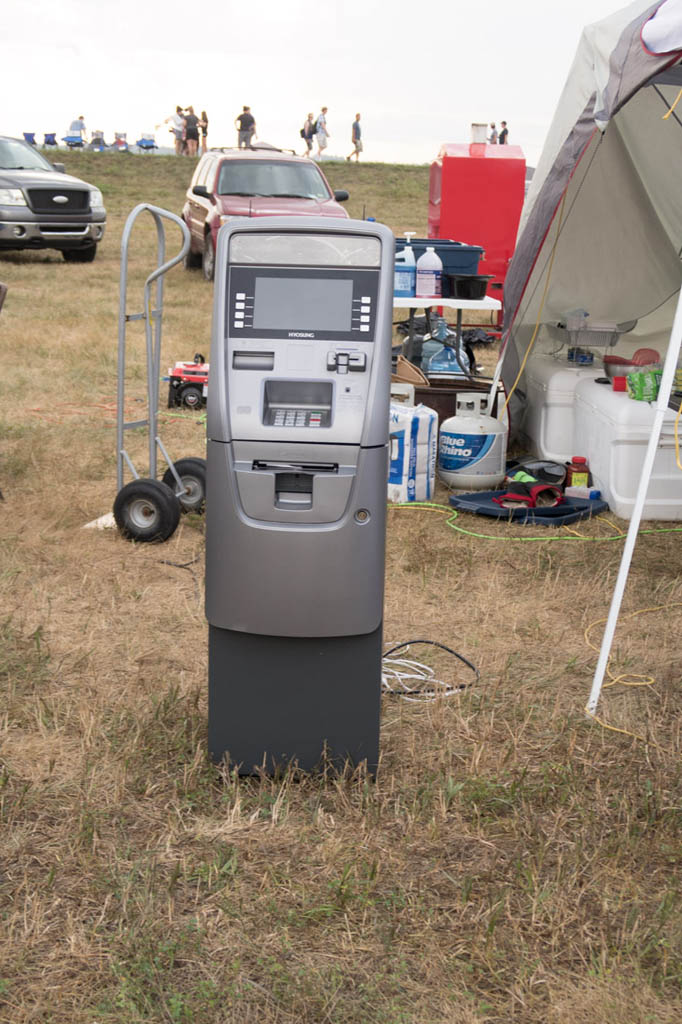 And, of course, there was eclipse-related merchandise for sale!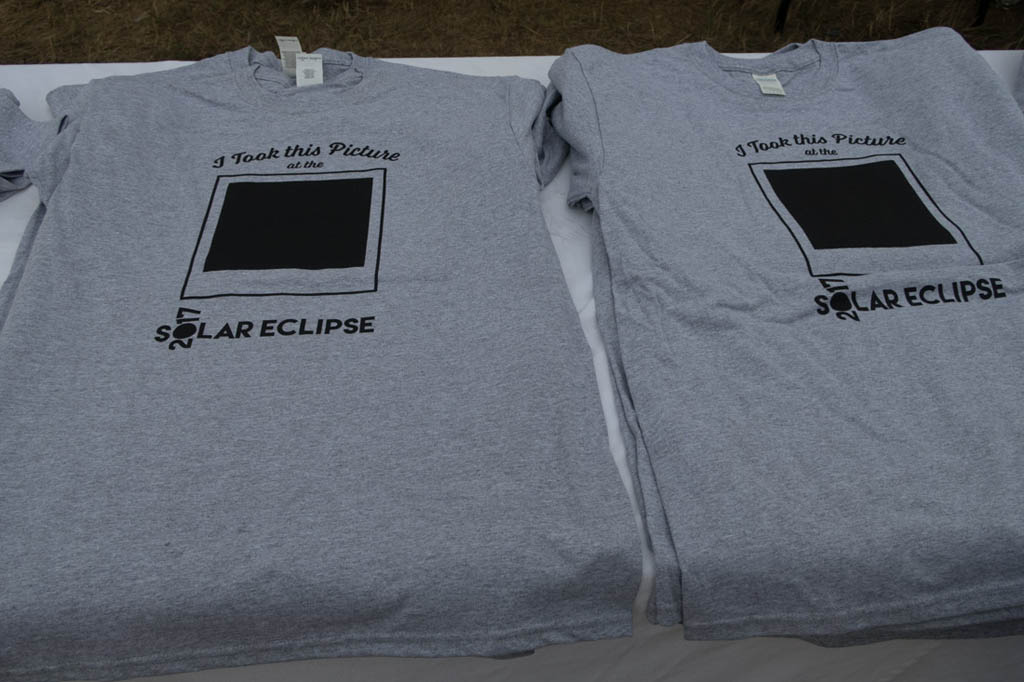 And the day before, when we had checked into our hotel, they gave us eclipse-related swag!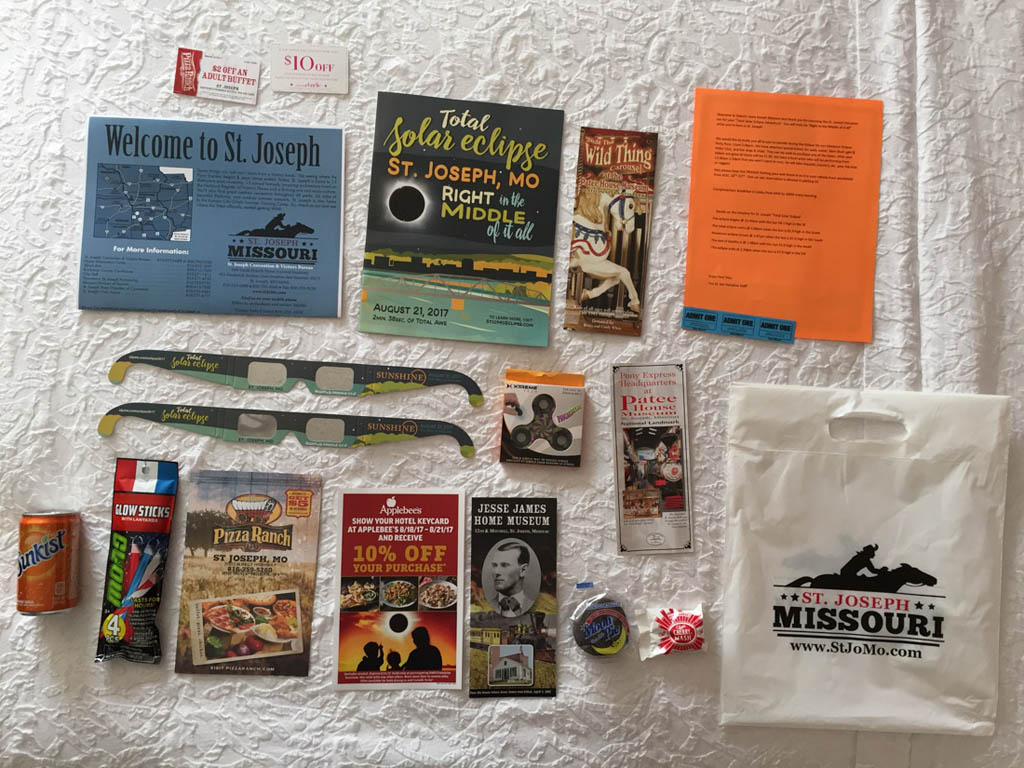 The eclipse was a really fun experience. Ken described it as more of a "music festival" atmosphere. To which I replied, "Da fuk you know about attending music festivals??" Because, frankly, we aren't cool enough to go to music festivals. But, it was still a fun analogy. Sure, it was disappointing that there ended up being heavier clouds than we were expecting, limiting our views of the eclipse. But, that made the views that we did get all the more exciting! I think we're already starting to narrow down spots for the 2024 eclipse!
Did you travel to watch the eclipse in totality? What was your experience?