This post may contain affiliate links. Please see my advertiser disclosure for more details.
---
I wanted to cover all our dining experiences in New Orleans during Mardi Gras in a single post. I don't think there was a single place that disappointed us! Ken is not into "fancy" dining or seafood or any sort of foods that one cannot pronounce. So the restaurants we went to are relatively inexpensive and are great for folks not looking for anything overly elaborate!
Address: 833 Conti Street // New Orleans, LA // 70112
Meal: Lunch
TripAdvisor Reviews
Yelp Reviews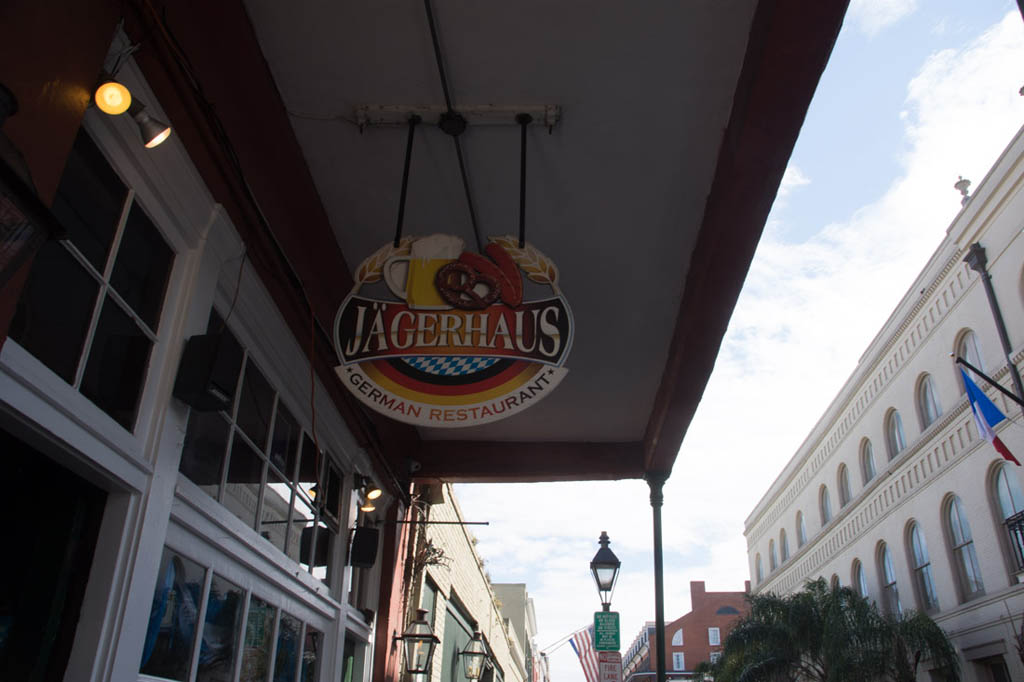 This place did not accept reservations via OpenTable. When I called a few weeks prior to our trip, they said that they typically accept reservations, but not during Mardi Gras. But, luckily we didn't have to worry. When we got there for a late lunch, the restaurant was crowded, but there was no wait!
I had a "meal of appetizers" because I couldn't make up my mind what I wanted to eat. A pretzel, hot German potato salad, and an order of pierogies.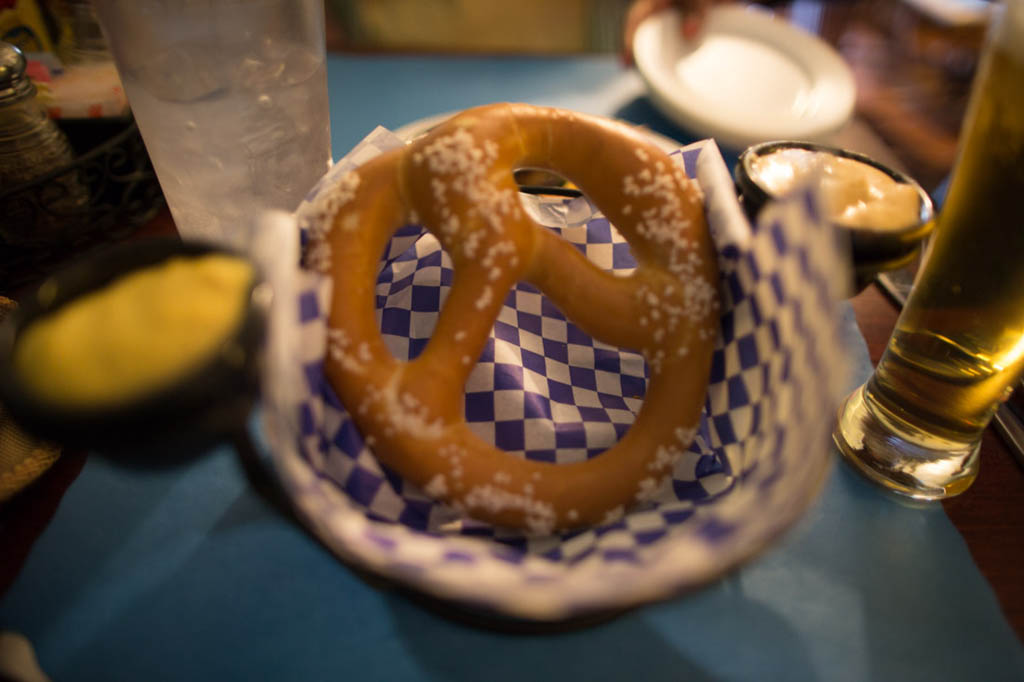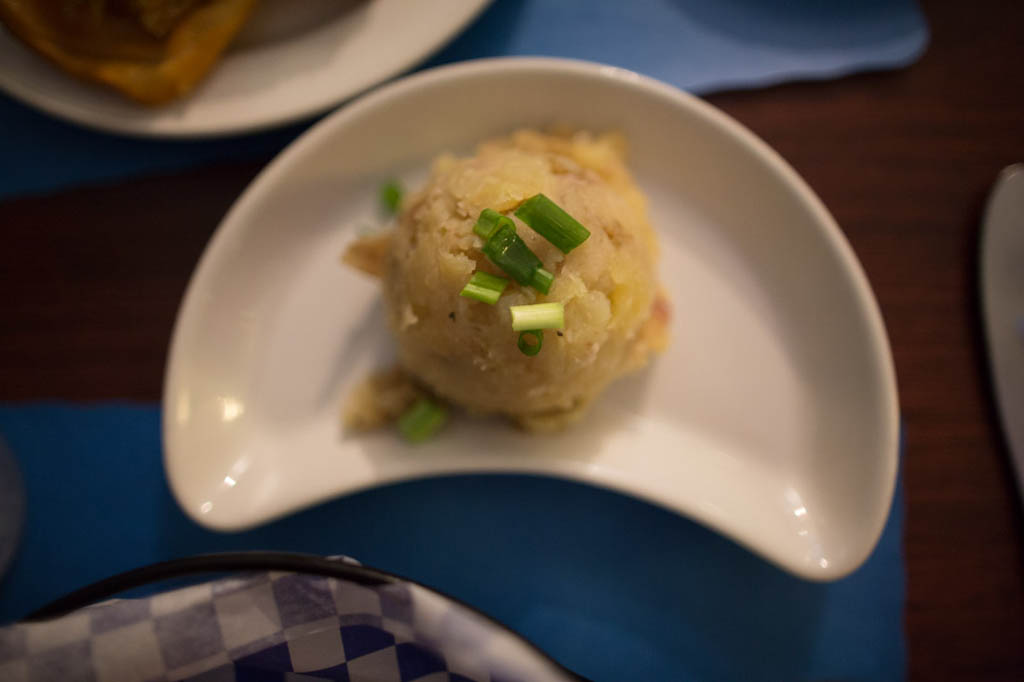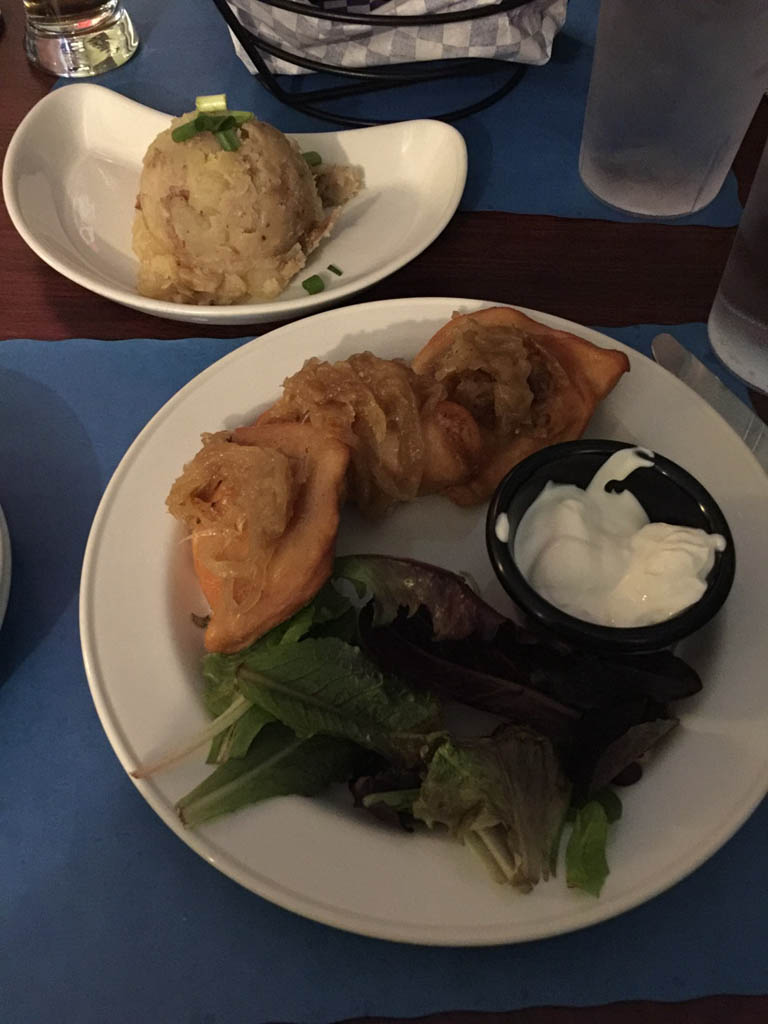 And a beer, of course. It is a German restaurant after all!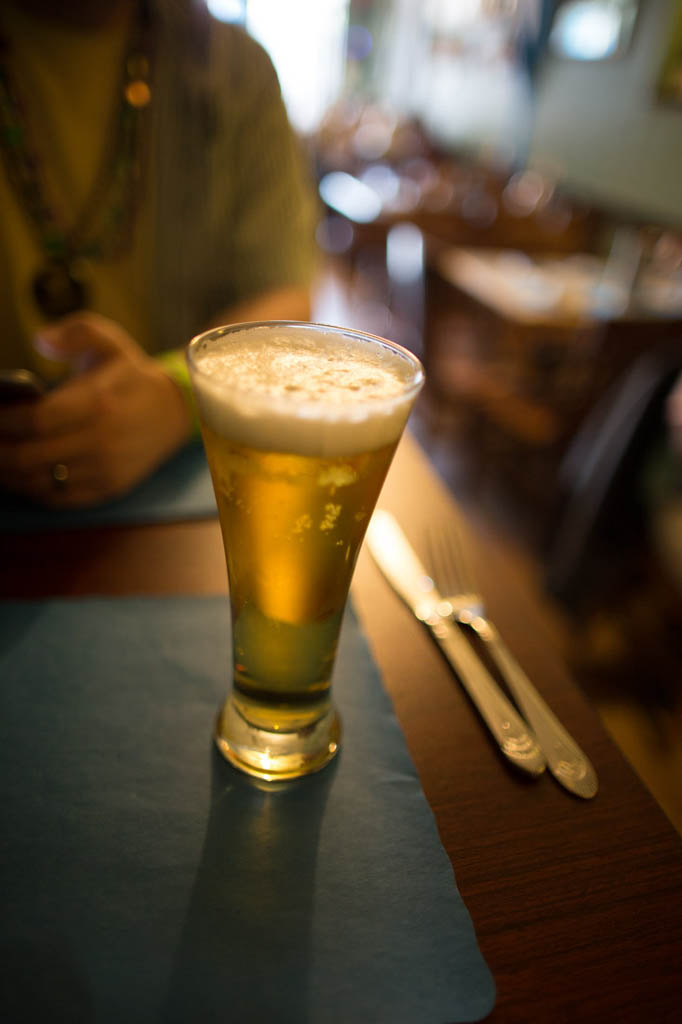 Ken had a burger: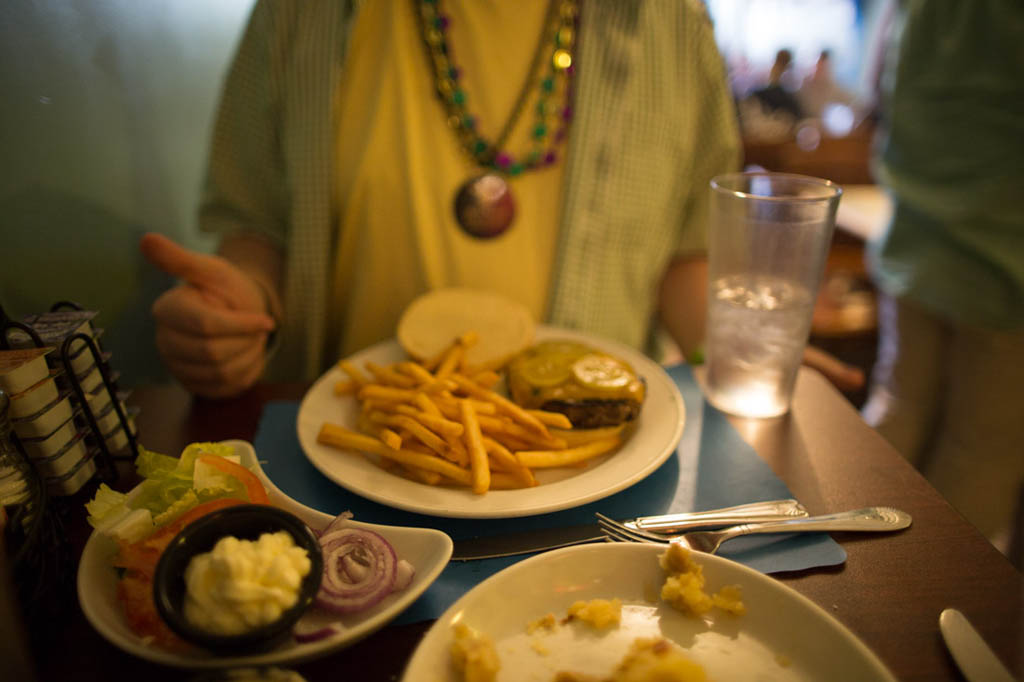 Address: 901 Louisiana Ave // New Orleans, LA // 70115
Meal: Breakfast / Brunch
TripAdvisor Reviews
Yelp Reviews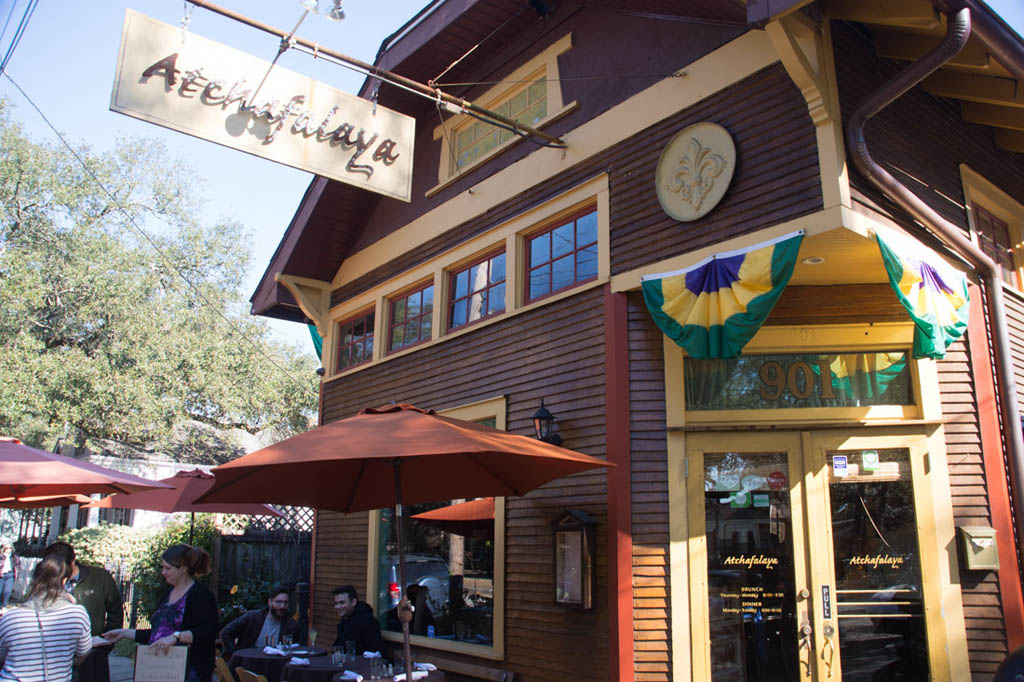 This place was pretty far from the French Quarter, which we knew, so we just hopped in an Uber to get there. But I'm glad we ventured out there! The food was fantastic, and we walked around the "Magazine District" neighborhood after lunch! We made reservations for this restaurant, and they even called us the day before to confirm!
I had a Bloody Mary because I couldn't resist the looks of their Bloody Mary "bar!"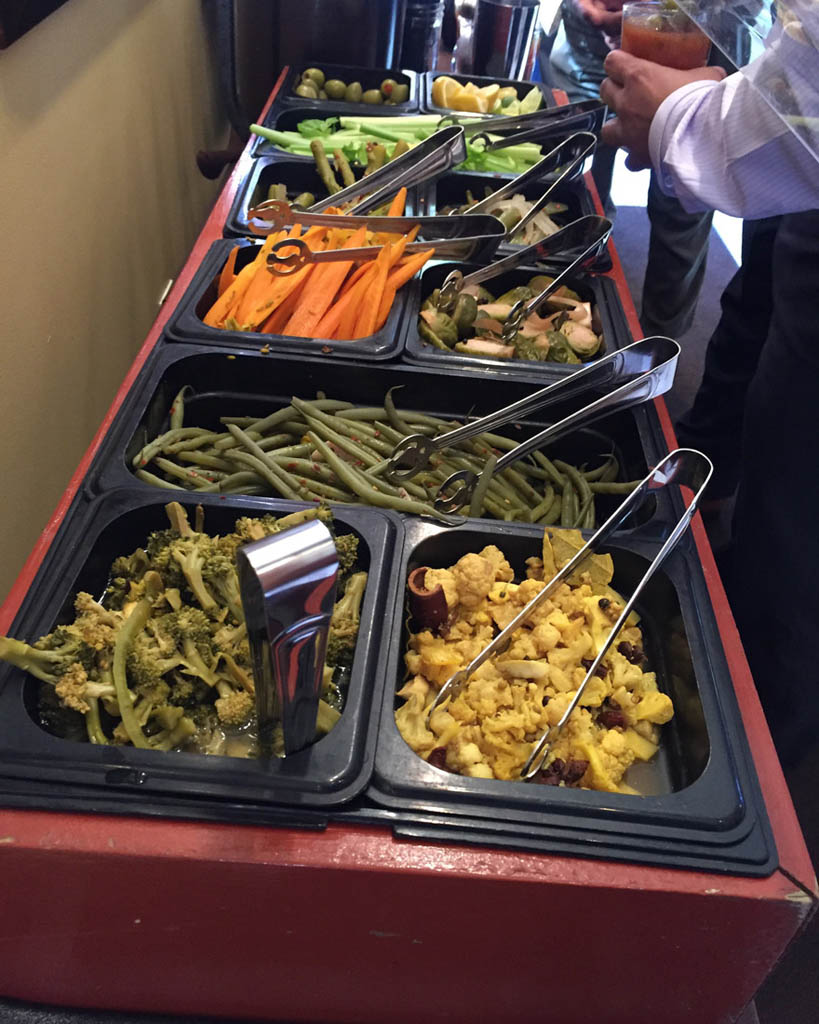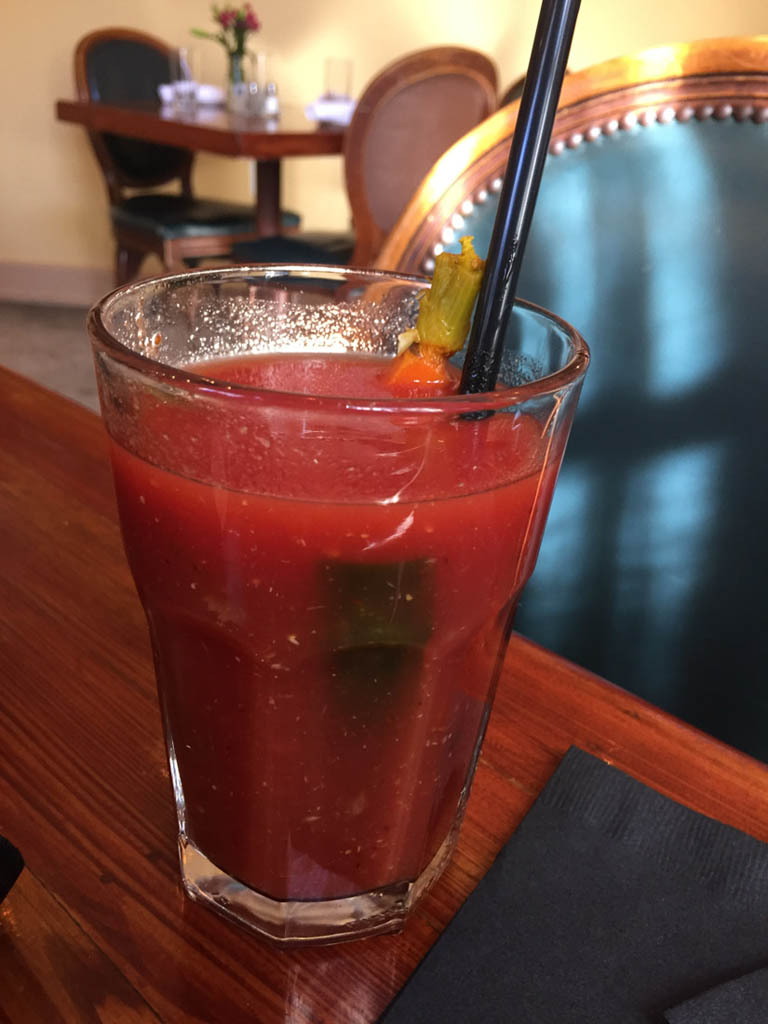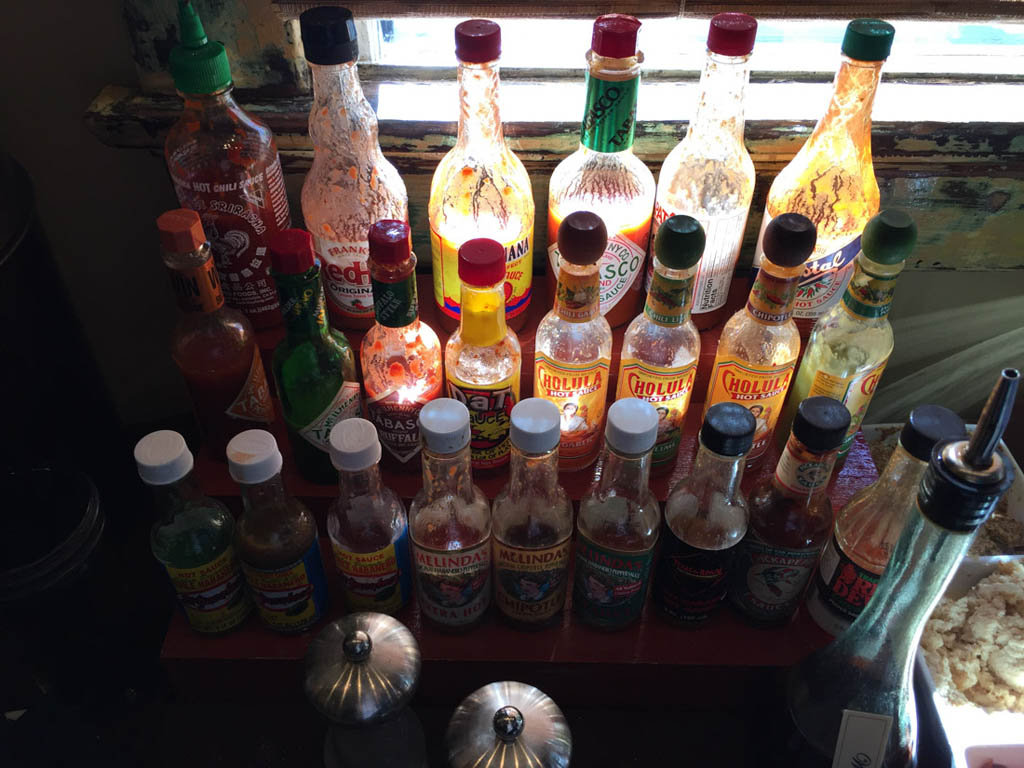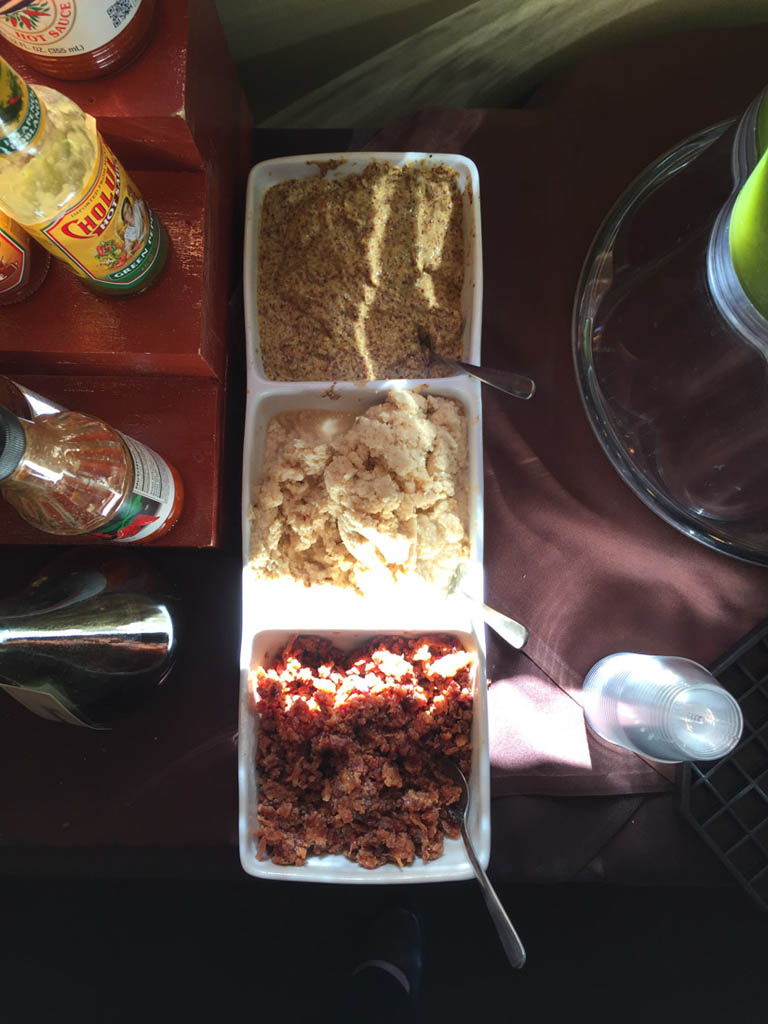 I can't remember exactly what I had, I think it was the Eggs Treme. And Ken had the Banana Foster french toast, and we split a side of brunch potatoes.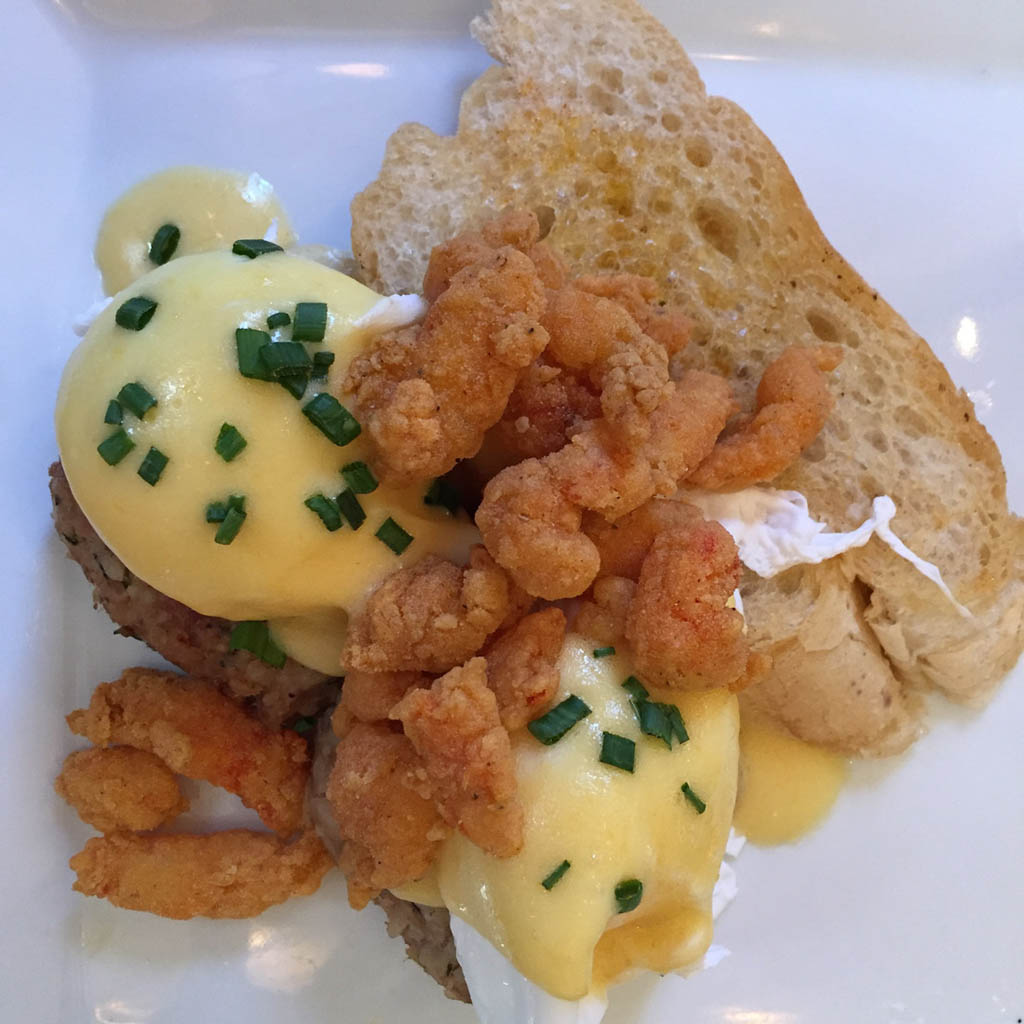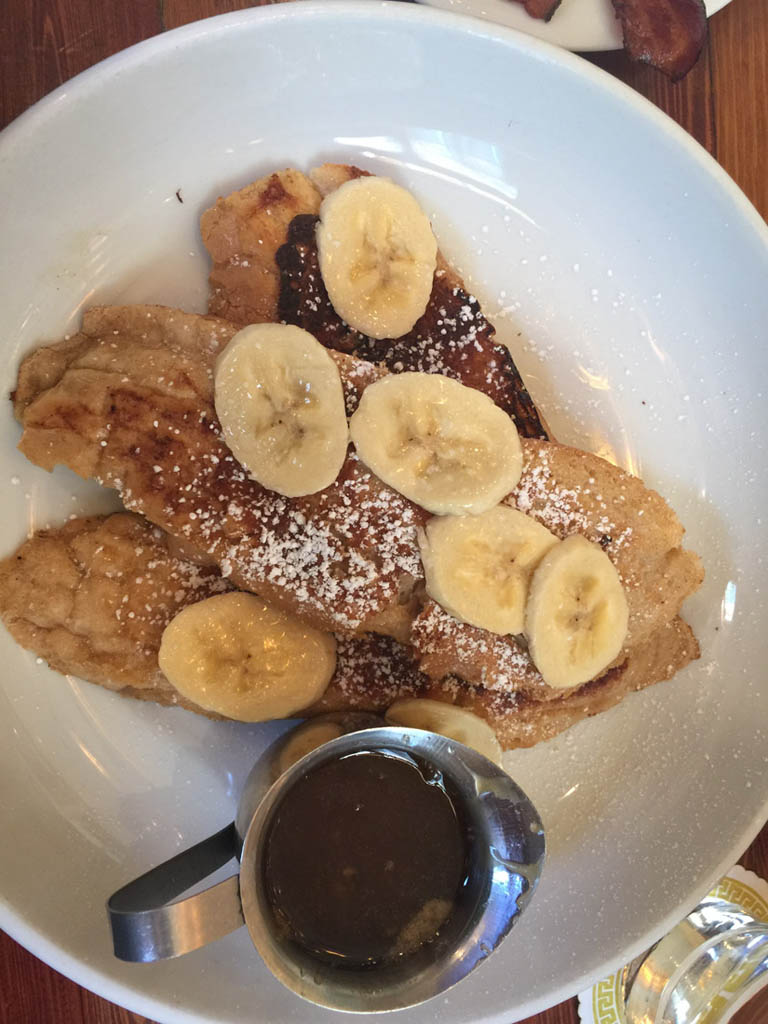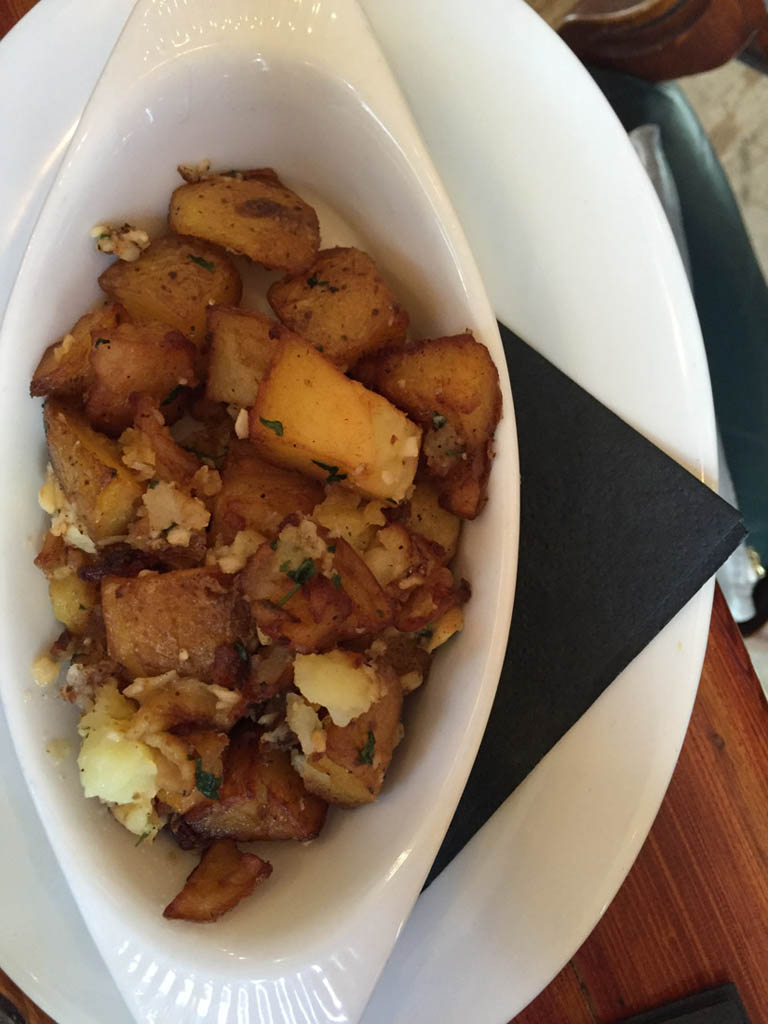 Address: 95 French Market Place // New Orleans, LA // 70126
Meal: Lunch
TripAdvisor Reviews
Yelp Reviews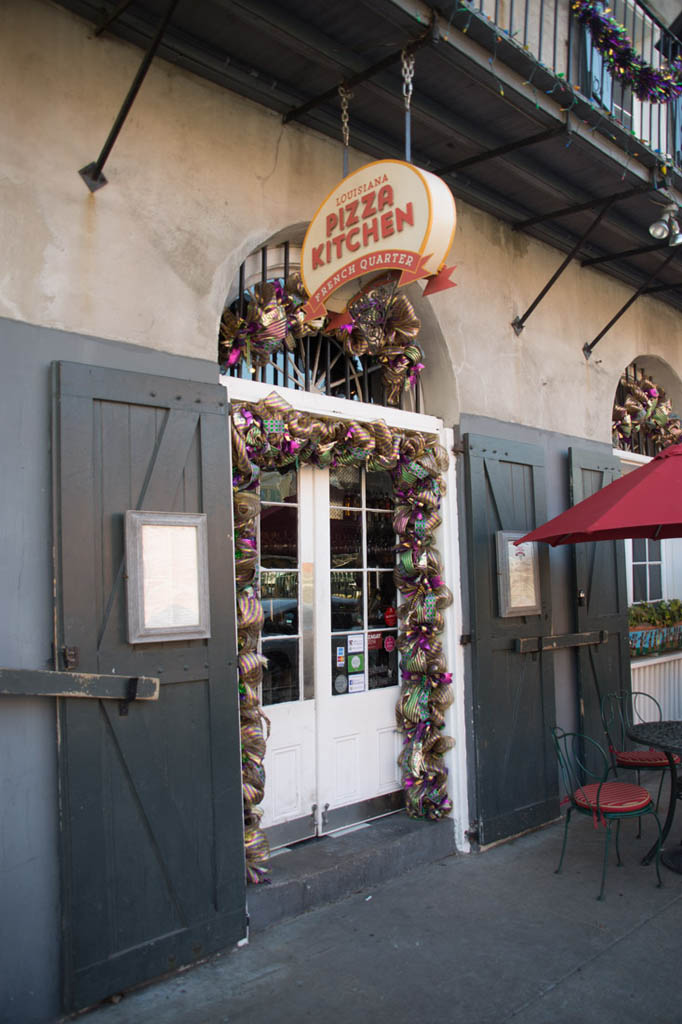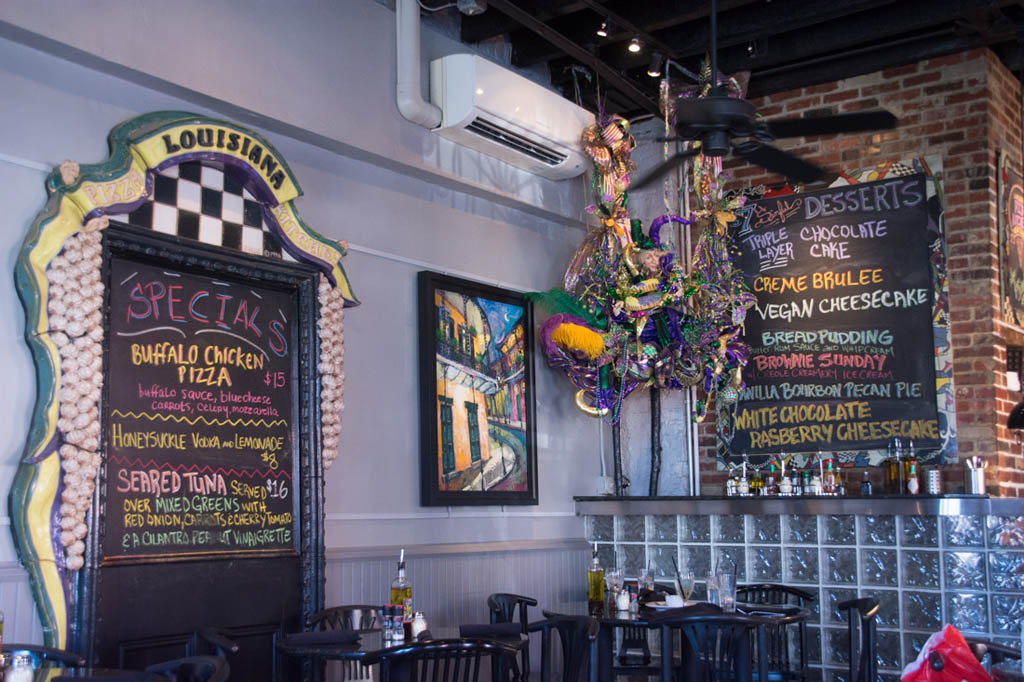 Not to be confused with "California" Pizza Kitchen, we had lunch one afternoon at Louisiana Pizza Kitchen. We also had reservations at this restaurant for 2PM, but it was empty when we got there, even during Mardi Gras season! I guess it was an off-time for a meal, in between normal lunch and dinner times.
We started out with a Caesar salad, and then I had a pepperoni pizza and Ken had a cheese pizza.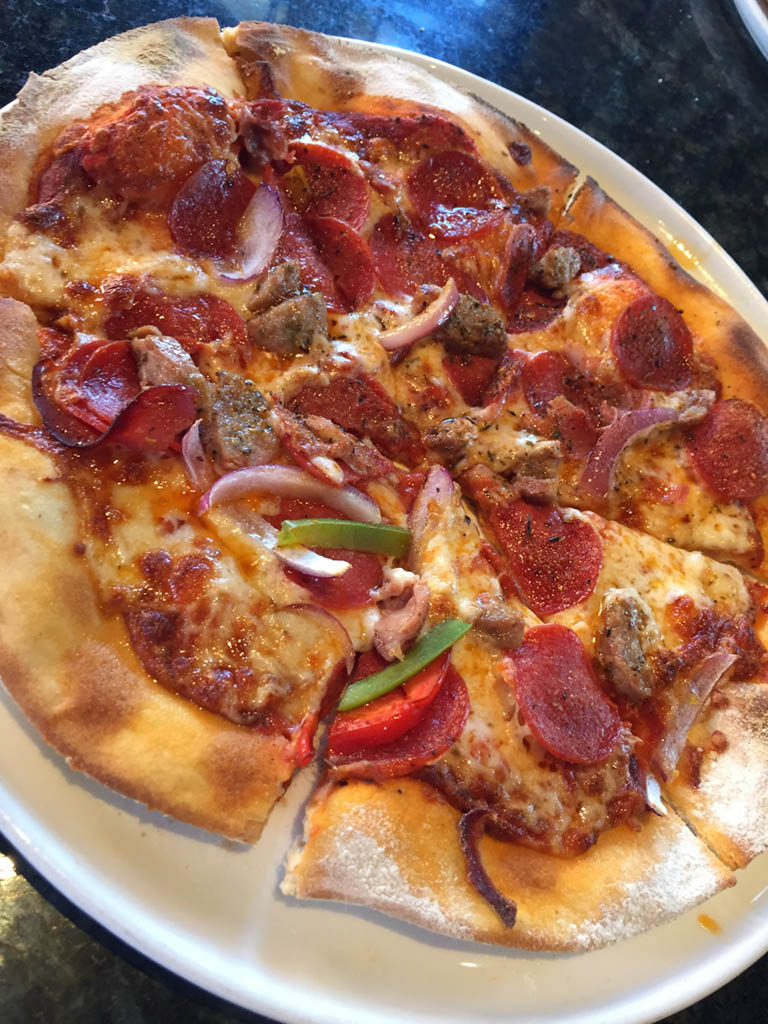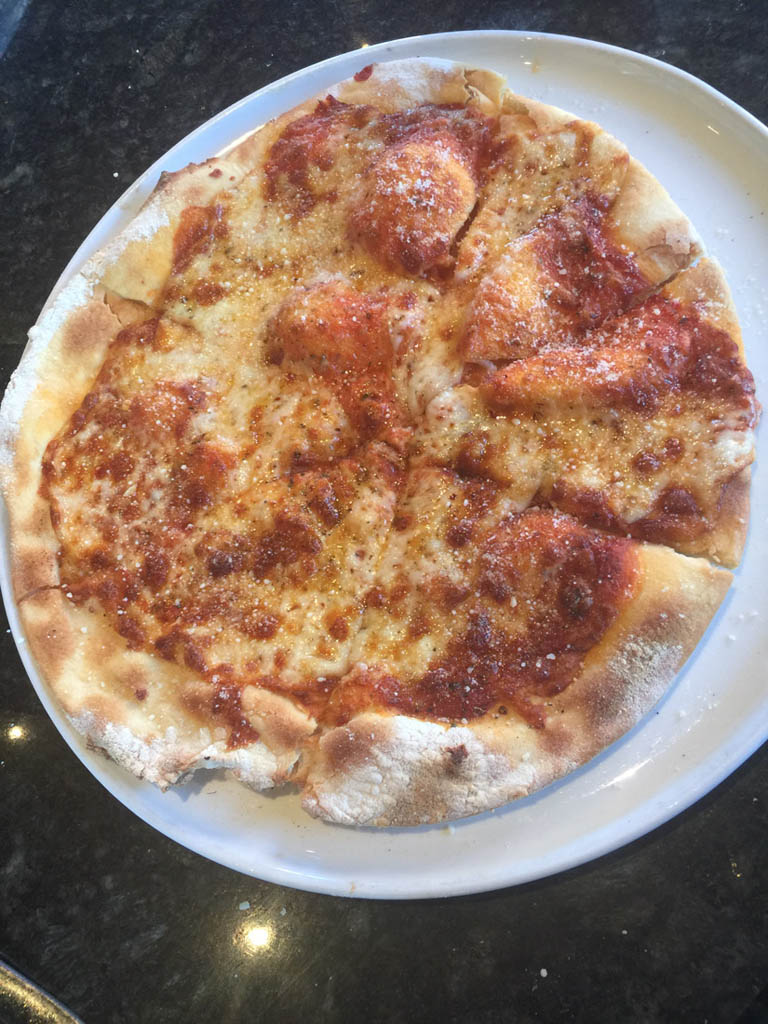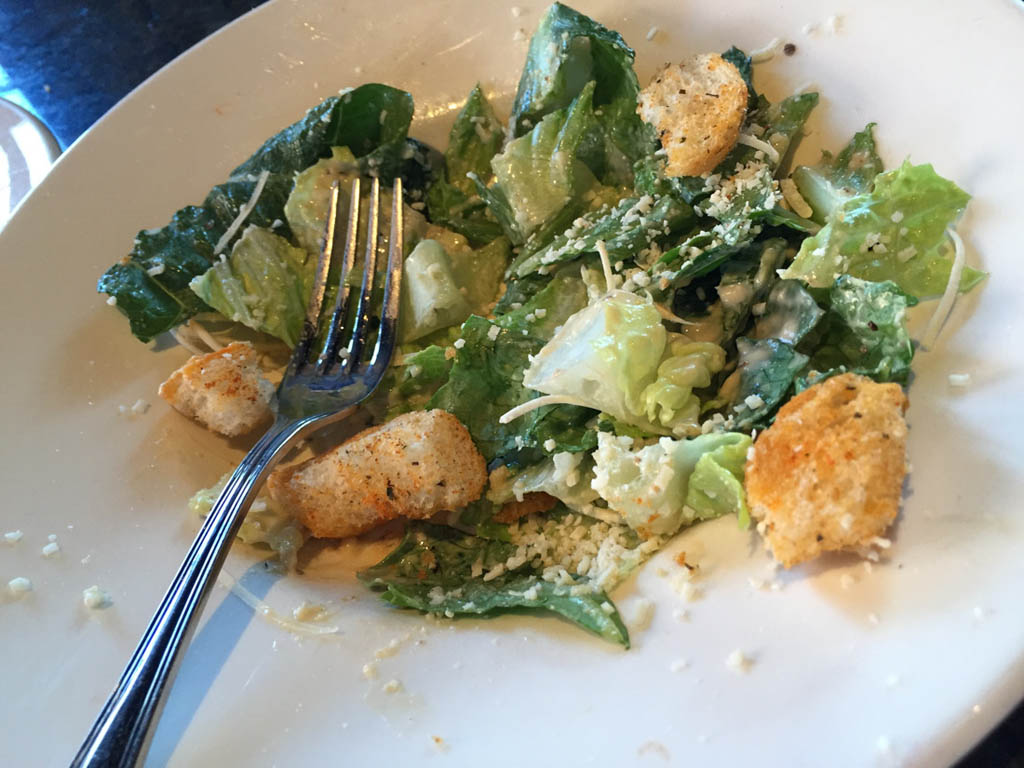 We even finished everything off with some dessert!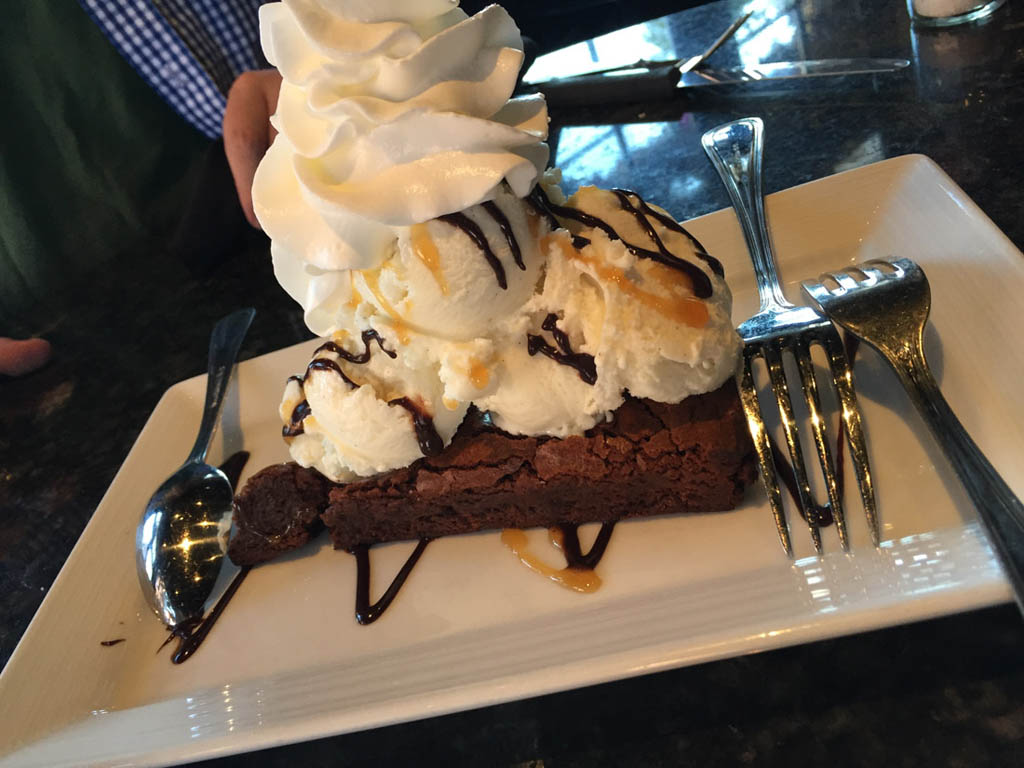 Address: 125 Camp Street // New Orleans
Meal: Breakfast / Brunch
TripAdvisor Reviews
Yelp Reviews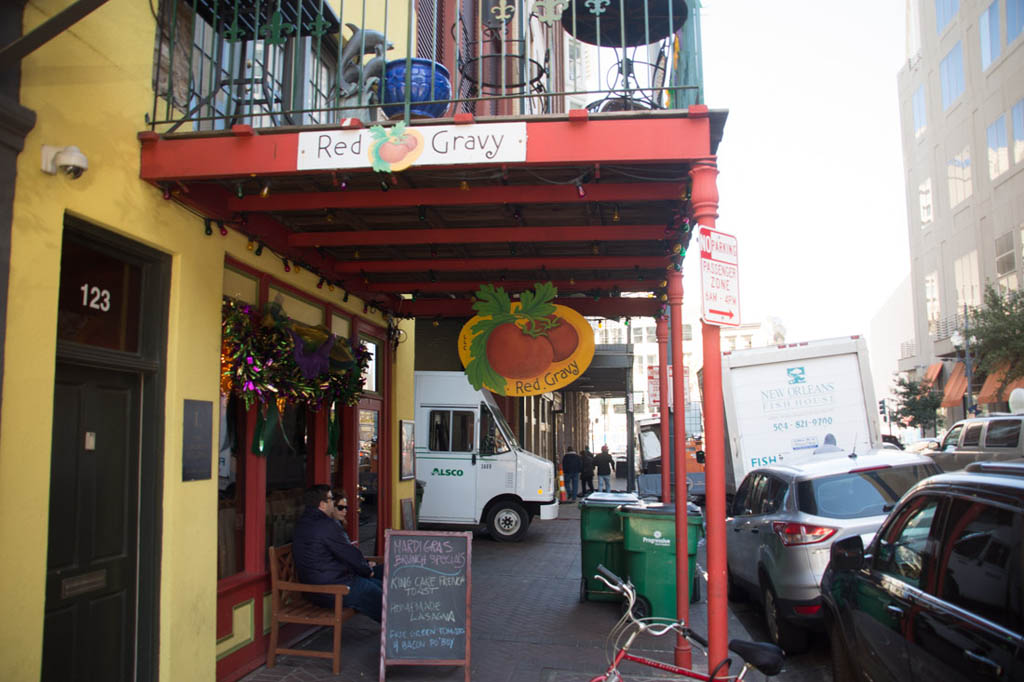 I had an "Uptown" omelet, with meatballs, eggs, "red gravy" and a side of potatoes.
I believe that Ken had the Cannoli Pancakes: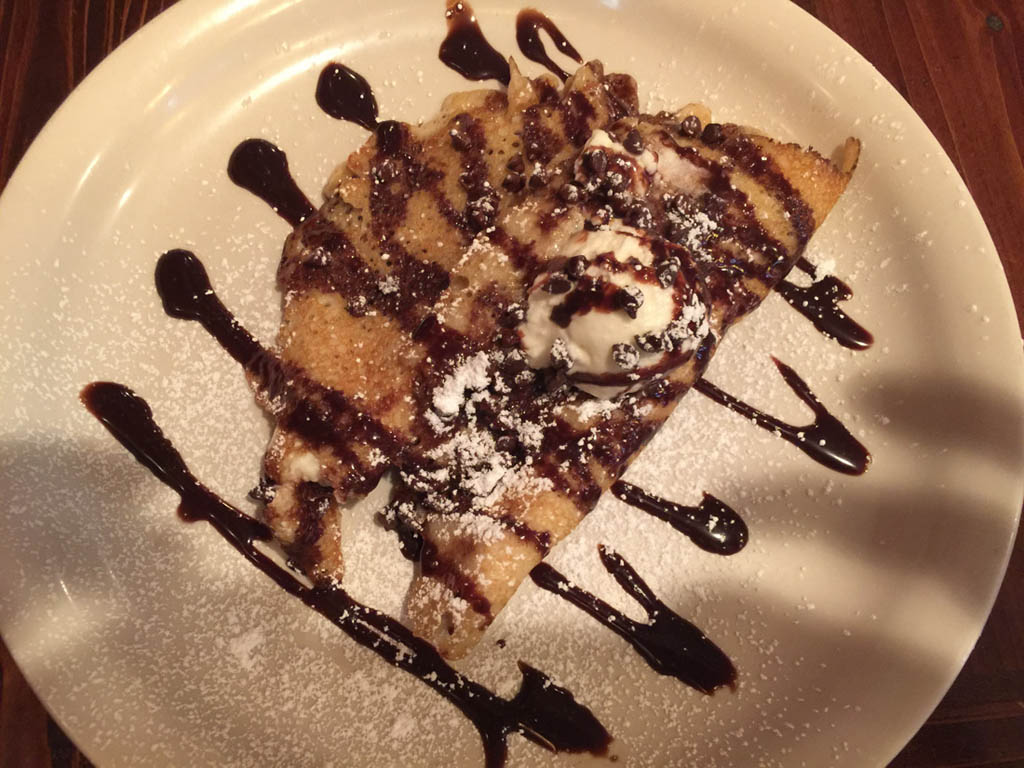 With also split a side of "A Biscuit, A Basket," which was biscuits with REALLY delicious home preserves.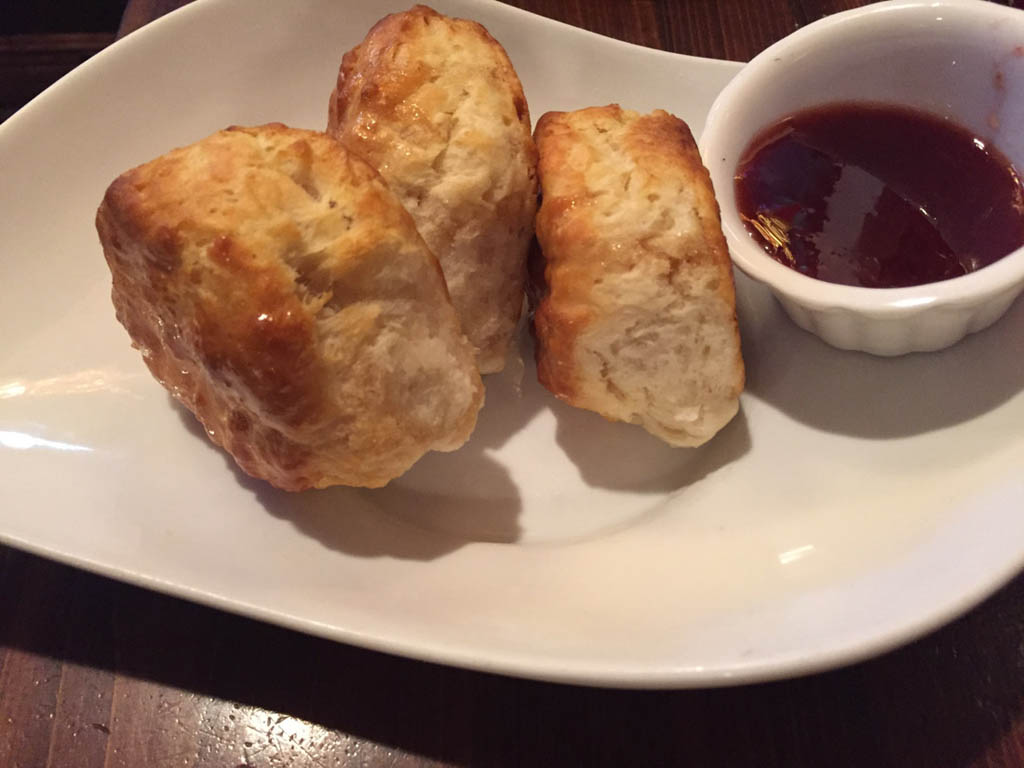 Address: 601 Frenchmen Street // New Orleans
Meal: Lunch
TripAdvisor Reviews
Yelp Reviews
Ken is a HUGE burger connoisseur, so we tried to go to "Port of Call," a local burger joint with amazing reviews, one afternoon for lunch. However, it was PACKED. Like an hour plus wait. (They did not take reservations). So, we set out to find another restaurant, and we settled on "Dat Dog" just a few blocks away. Well, I shouldn't say settle, because it was amazing!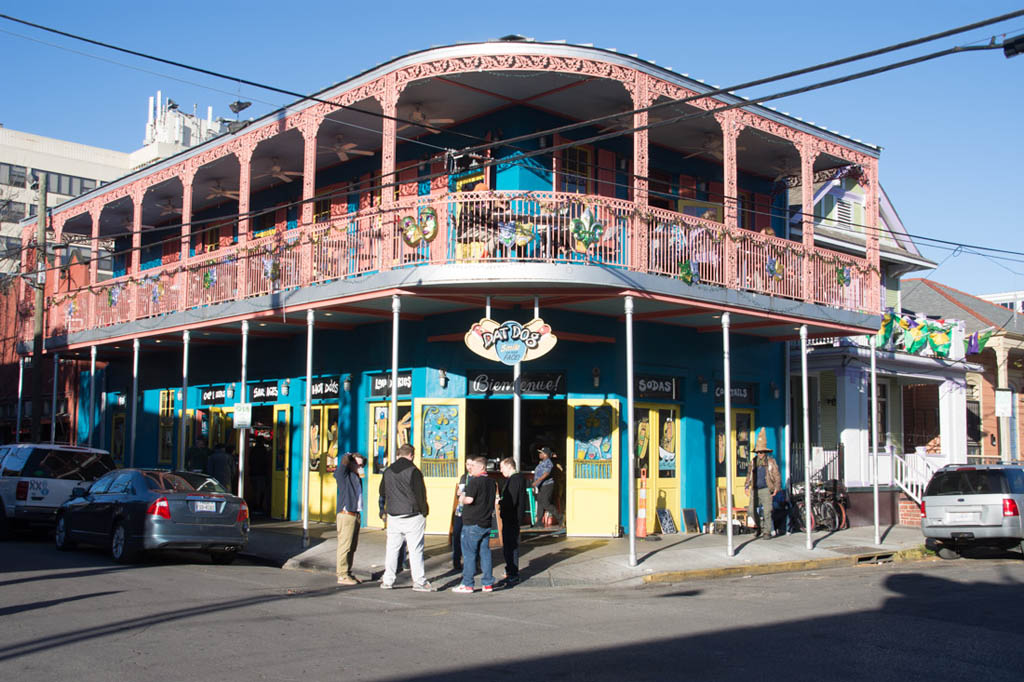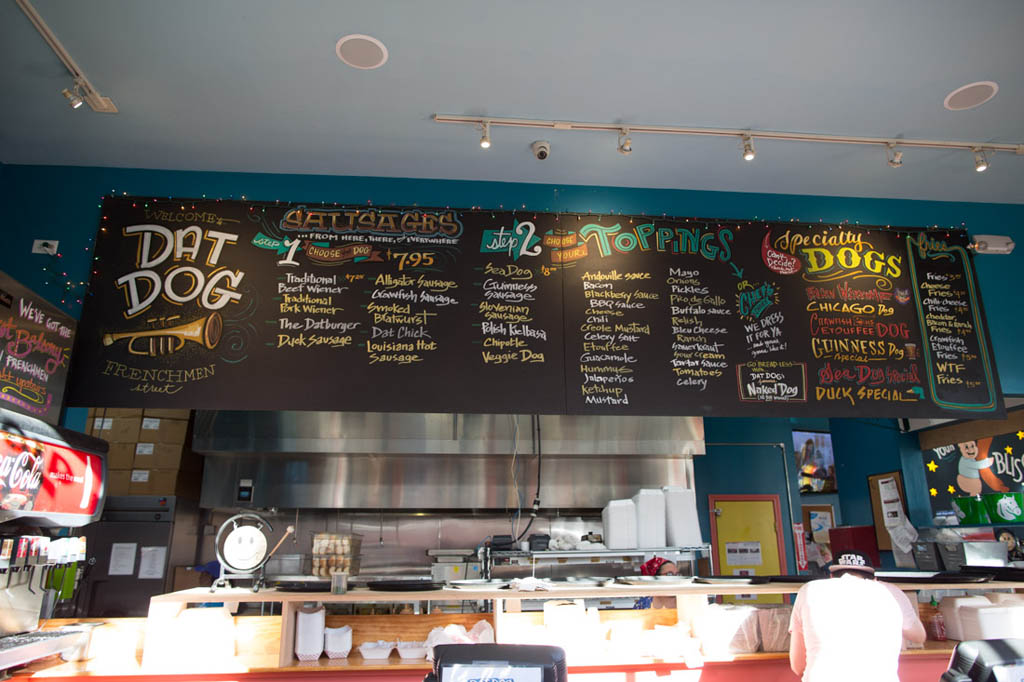 I'm pretty sure that I got the Guinness Special dog, with Irish Guinness Sausage, Andouille Sauce, Onions, Shredded Cheddar Cheese, Bacon, & Yellow Mustard.
I'm not sure what Ken got, I think he might have just added a smattering of his own topping selections.
We also split an order of chili fries.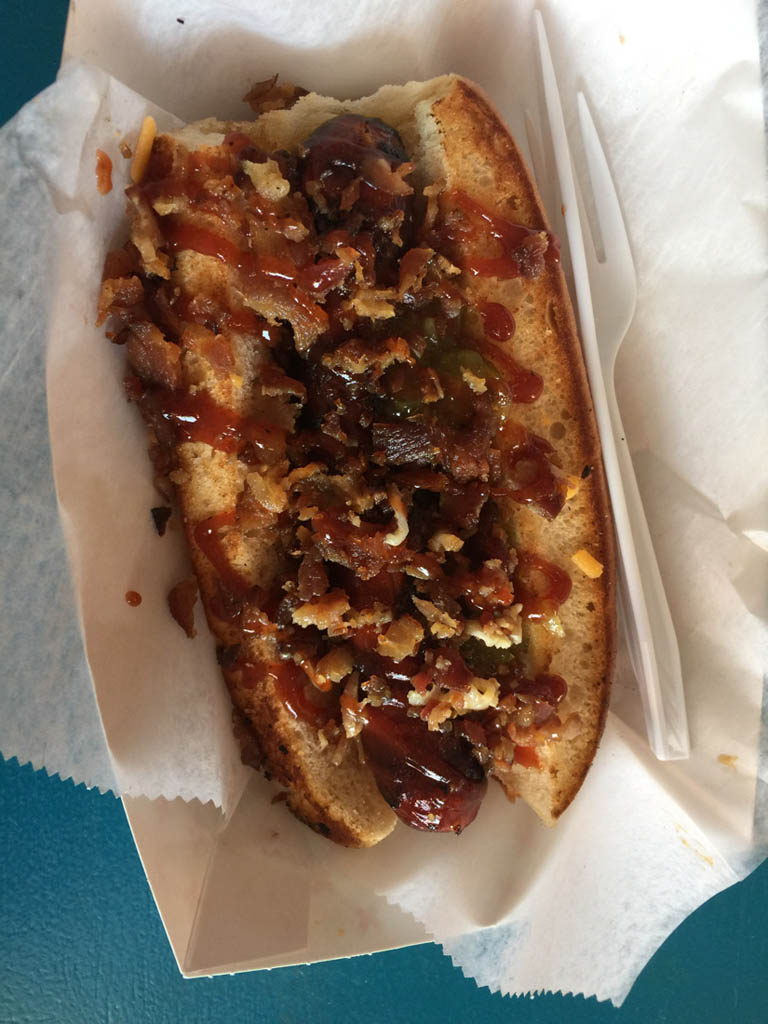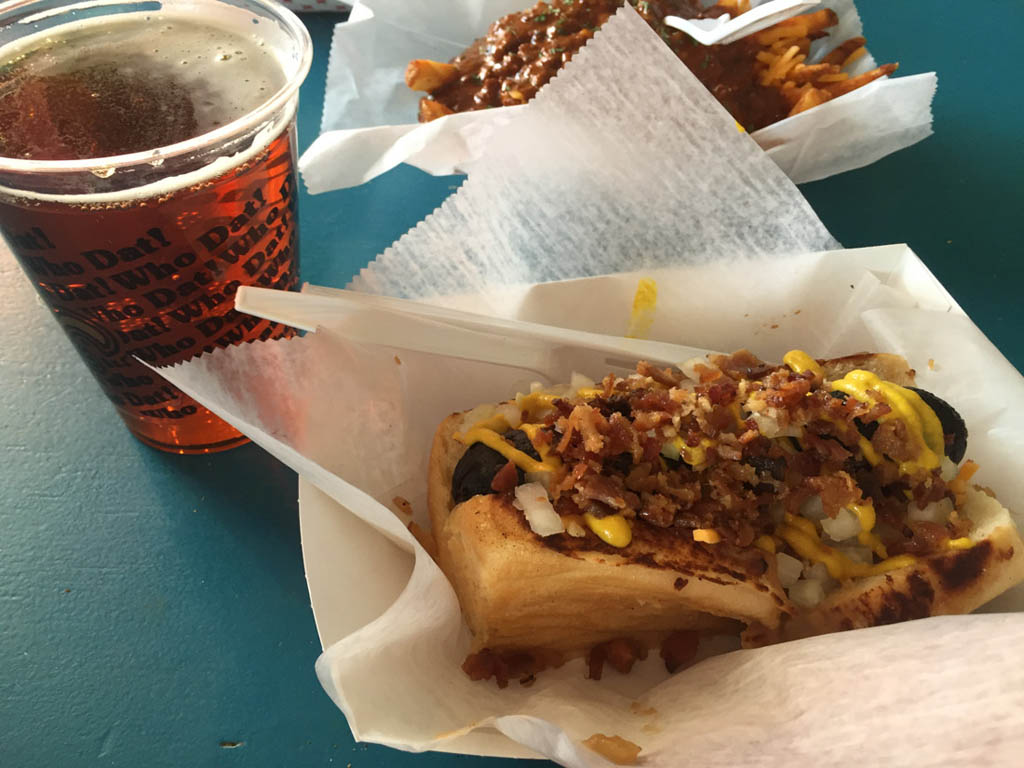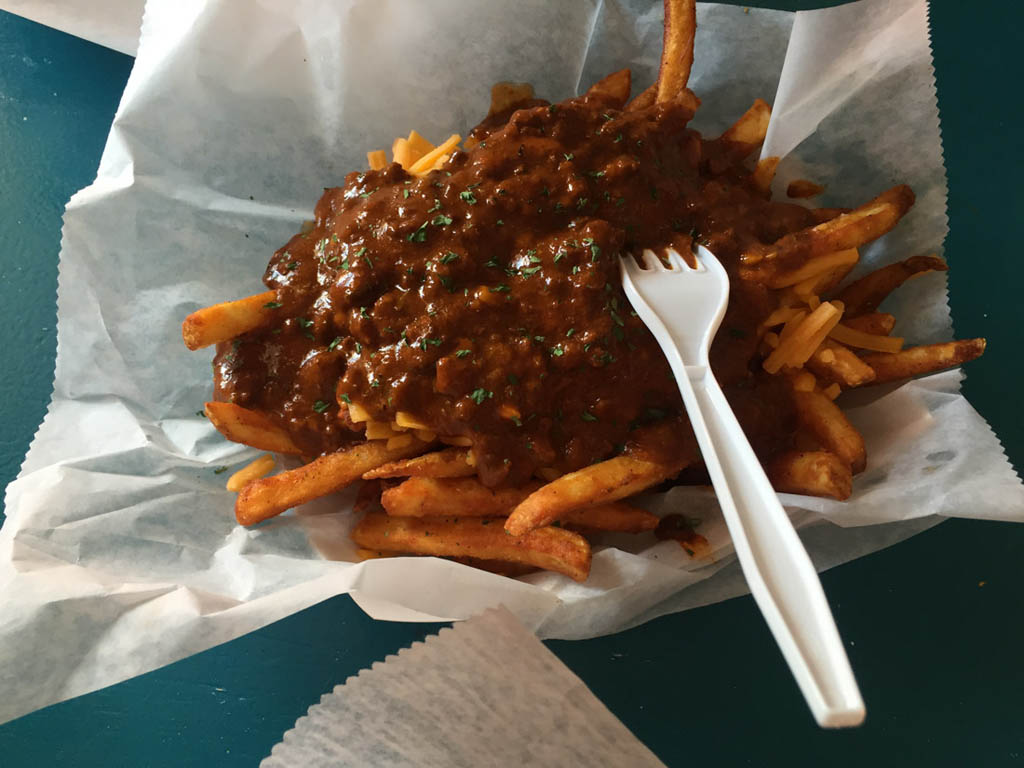 Address: 800 Decatur Street // New Orleans
Meal: Snack
TripAdvisor Reviews
Yelp Reviews
And of course, no trip to New Orleans is complete without a stop at Cafe du Monde!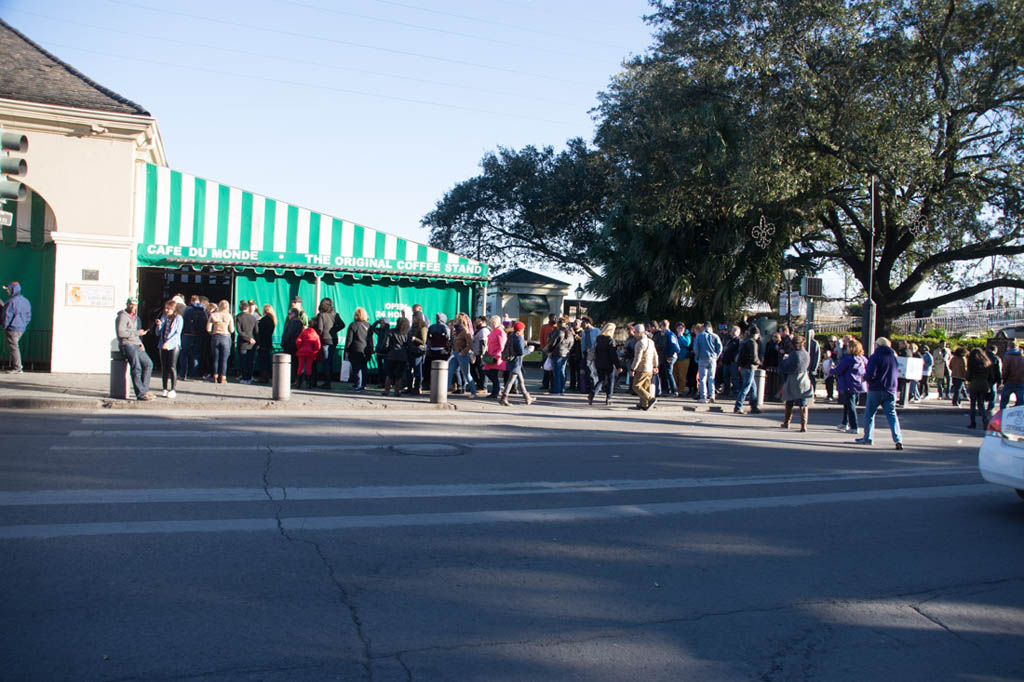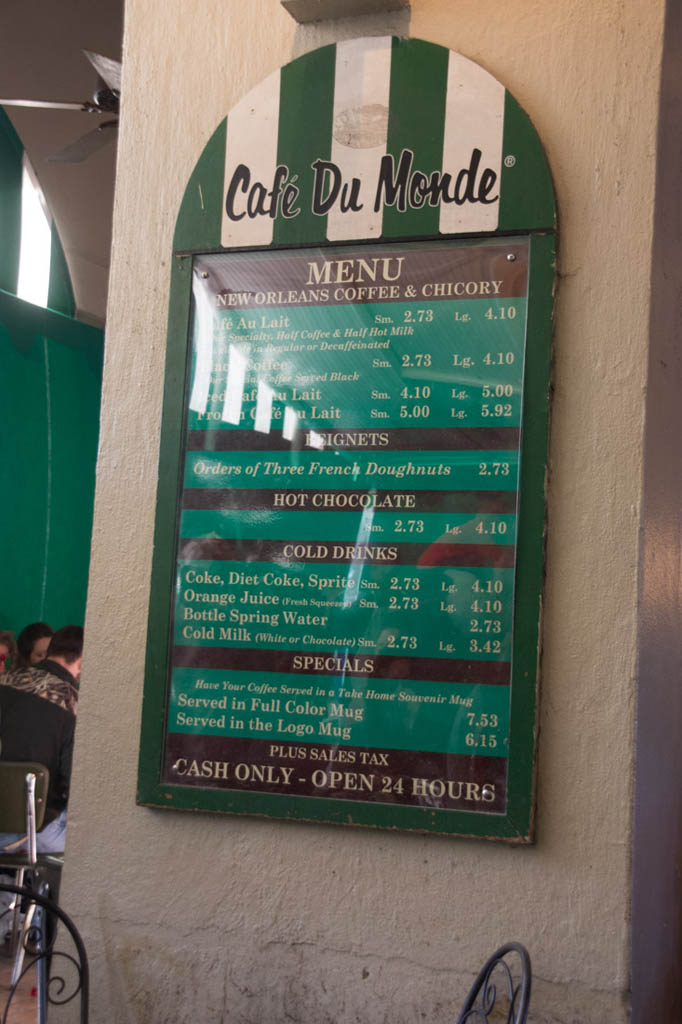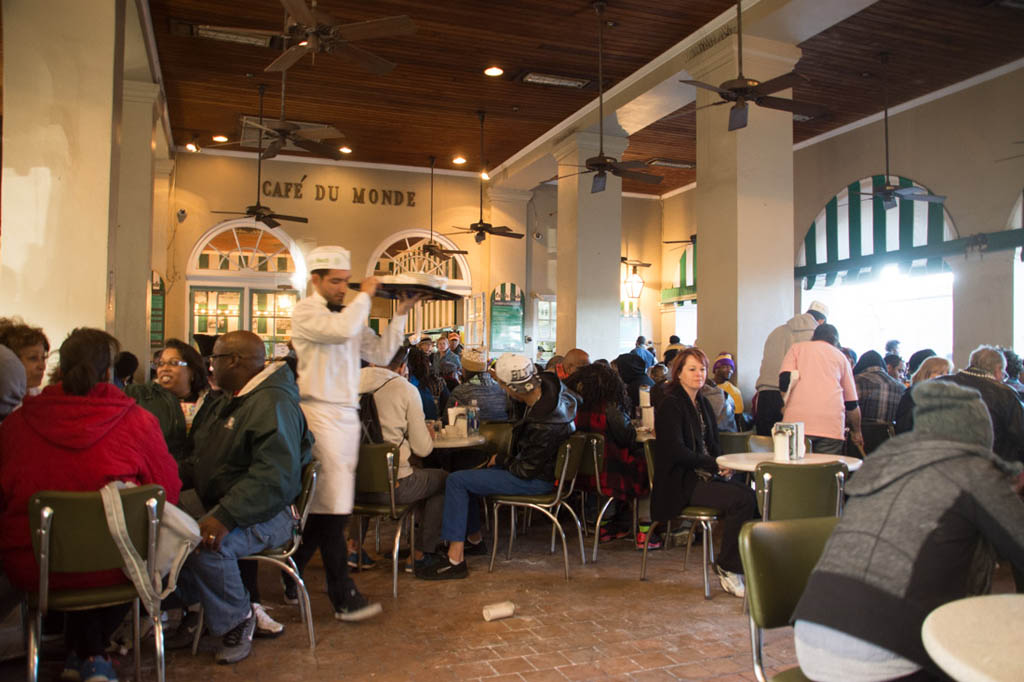 We had been to Cafe du Monde previously, during our time in New Orleans back in 2008. However, it was a LOT more crowded this time thanks to Mardi Gras! The line was long to get in, but it moved quickly. We had a table in about 15 minutes.
We had an order of beignets and two hot chocolates.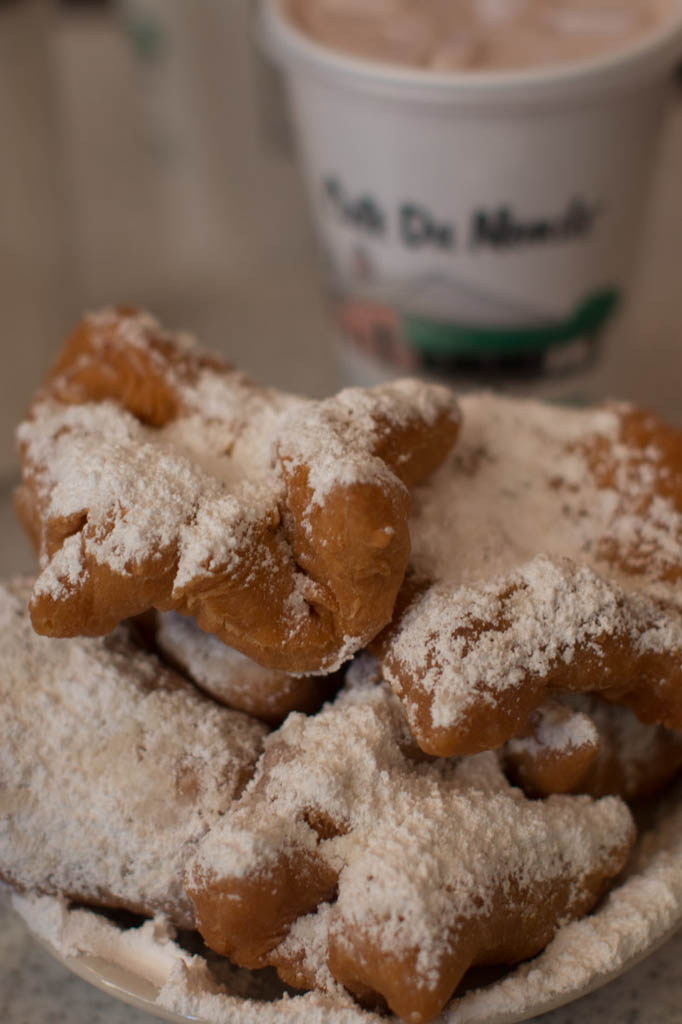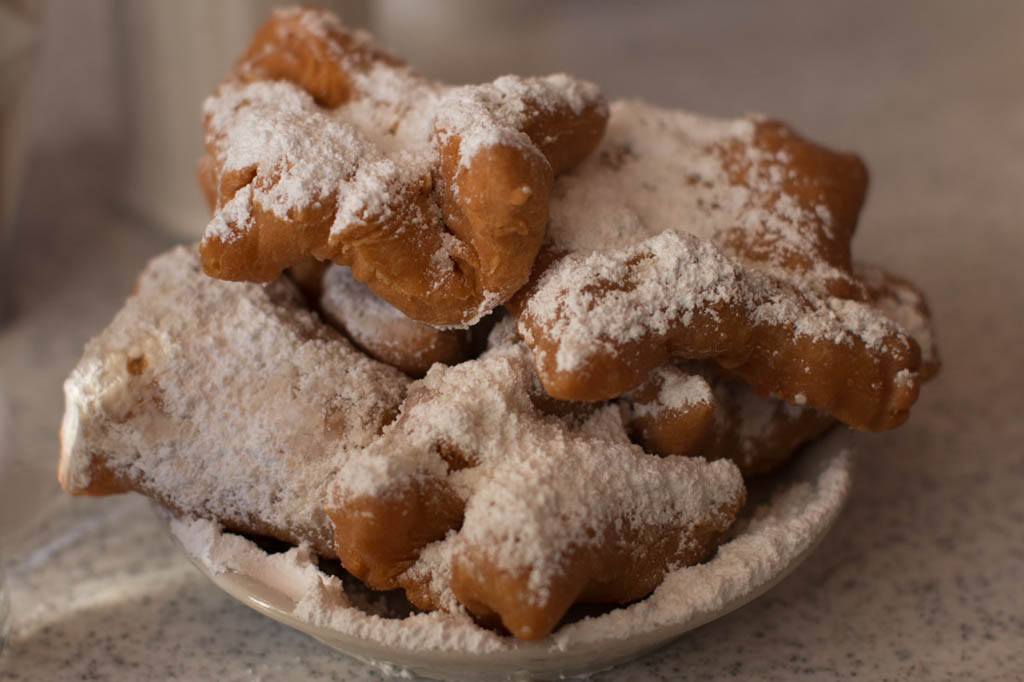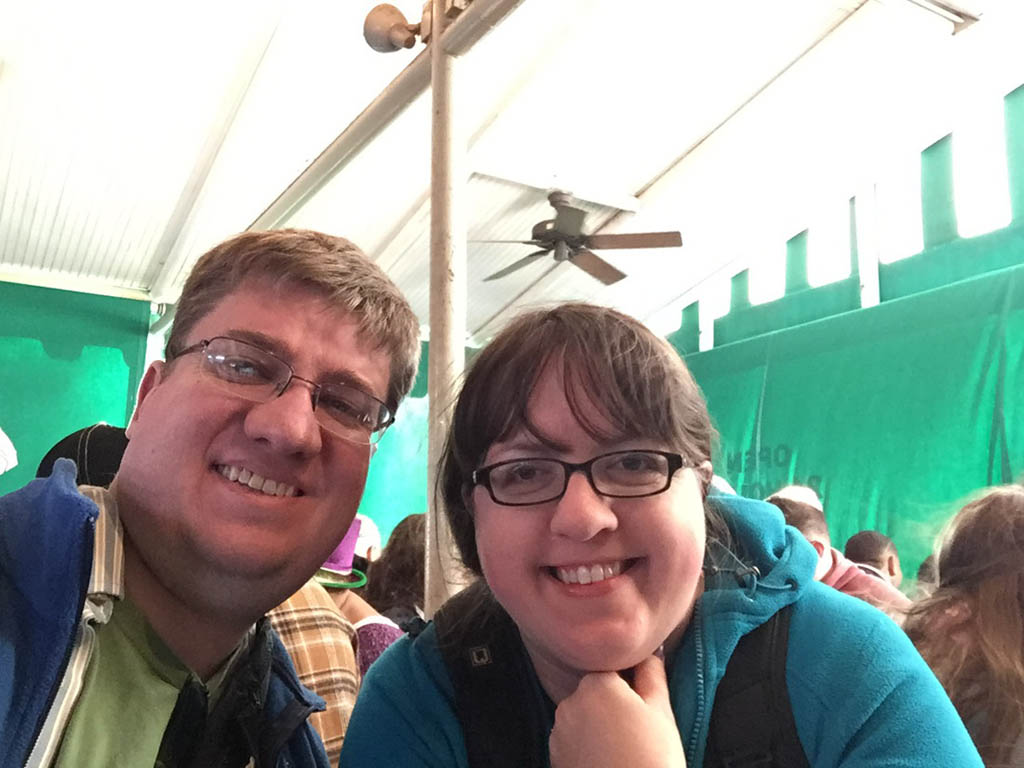 ---
That's about it. We did go to a few other places as well, like one hotel restaurant at the Intercontinental, right by our grandstands on Mardi Gras day. (Very few restaurants are actually open on Mardi Gras day, so the hotel seemed like a good option). We also ate at a place called Pierre Maspero's. However, the restaurant was so dark that our pictures didn't come out very good! And of course we had a buffet dinner the one night at the Bourbon Street balcony party.
What places do you recommend to eat in New Orleans?