This post may contain affiliate links. Please see my advertiser disclosure for more details.
Using Paintable Wallpaper to Cover Wood Paneling
---
In my Basement Renovation introduction post, I outlined the COUNTLESS (okay, you can count them – five) options we considered regarding our faux wood paneled walls in our basement.
We ended up going the route of paintable wallpaper, and I cannot begin to tell you how pleased we are with the results! (P.S., We bought our paintable wallpaper from Amazon here.)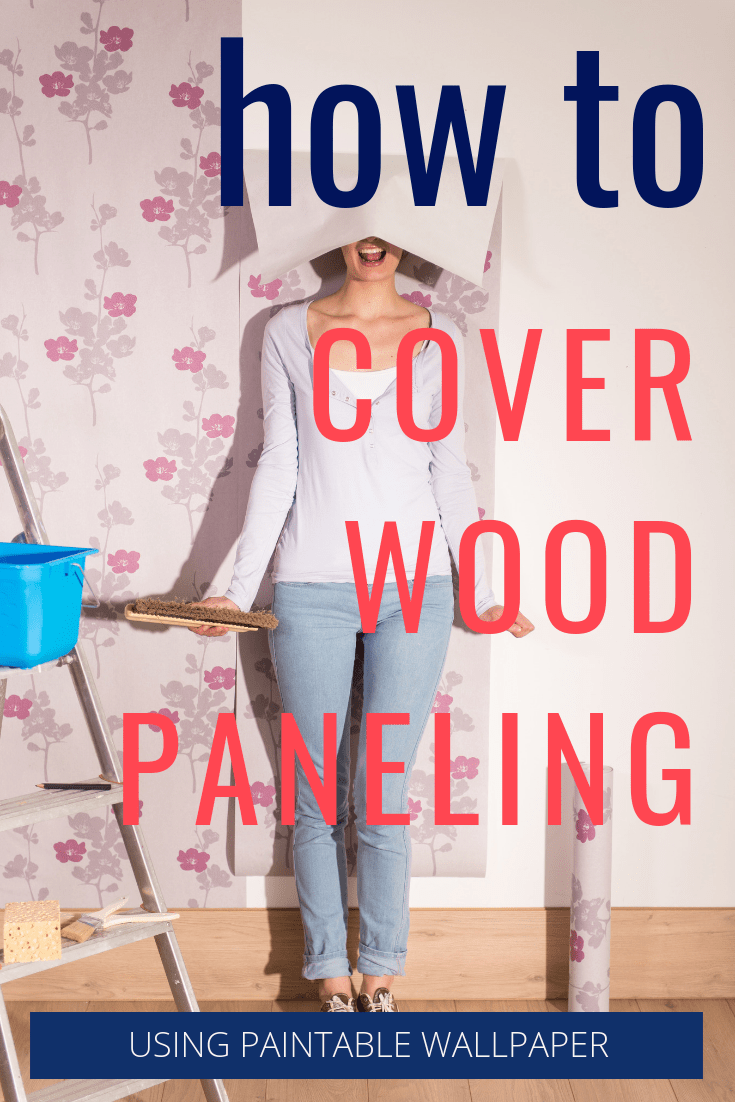 Once we decided on paintable wallpaper, I contacted three local wallpaper contractors that I found on Angie's list.
The first contractor essentially laughed at our suggestion via email, saying that that wallpapering over paneling would not work.
The second contractor at least stopped by to provide an estimate. He said that he could wallpaper over the paneling, but that we'd still have to fill in the grooves with spackle or drywall mud. As I mentioned in the previous post in this series, that would have been a tremendous amount of time and work. I told the contractor that I thought the wallpaper would cover the paneling grooves well enough, but he said that it wouldn't work. Whelp, that wasn't encouraging.
A third contractor stopped by to provide an estimate. He said that he had never worked with paintable wallpaper, but he was willing to give it a try. Since, as part of our renovation, we were planning on ripping out our basement bar which also had wood paneling, he offered to put up a piece of wallpaper right there on the bar. If it didn't look nice, it wouldn't make a difference since the bar would be gone in a few days anyway. He wet the wallpaper in our laundry sink, waited a few moments, and then attached a small strip to the wood paneled bar. ** "Wow," he said, "this is great stuff." We could immediately tell that it covered the grooves just fine. We decided to proceed with this contractor. He took some measurements of the room and told us how many rolls of wallpaper to buy.
It's worth noting that we had this work done in September 2015. So, as of the time of writing this, we're now 17 months past the wallpaper installation. And it still looks just as fantastic as when it went in!
There are a lot more "before" photos in our intro post, but here are some of the paneled walls again, just for reference: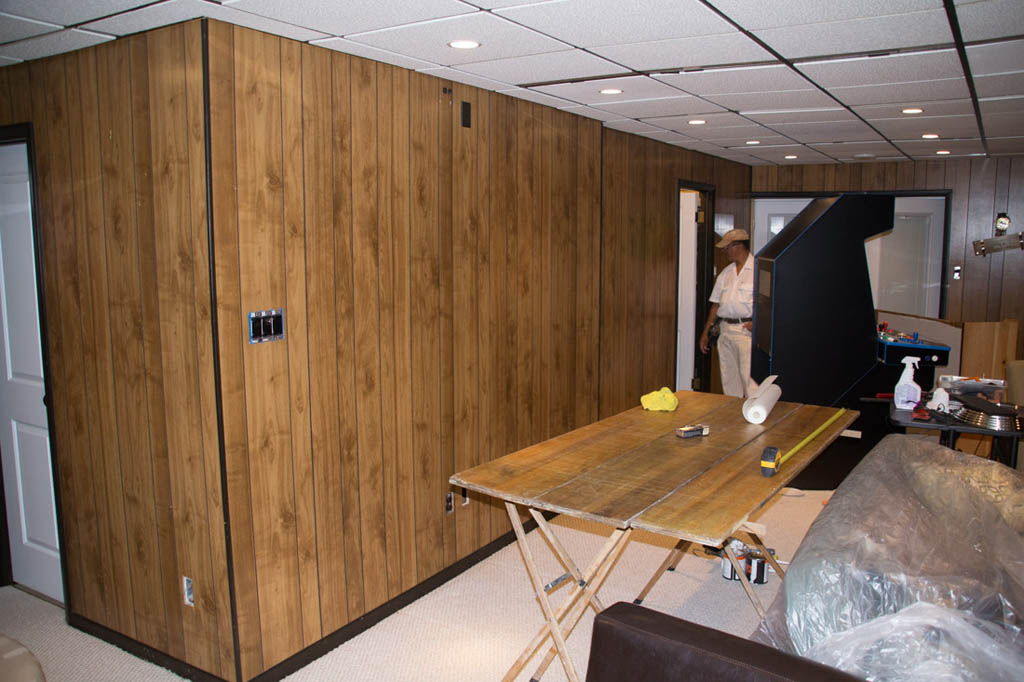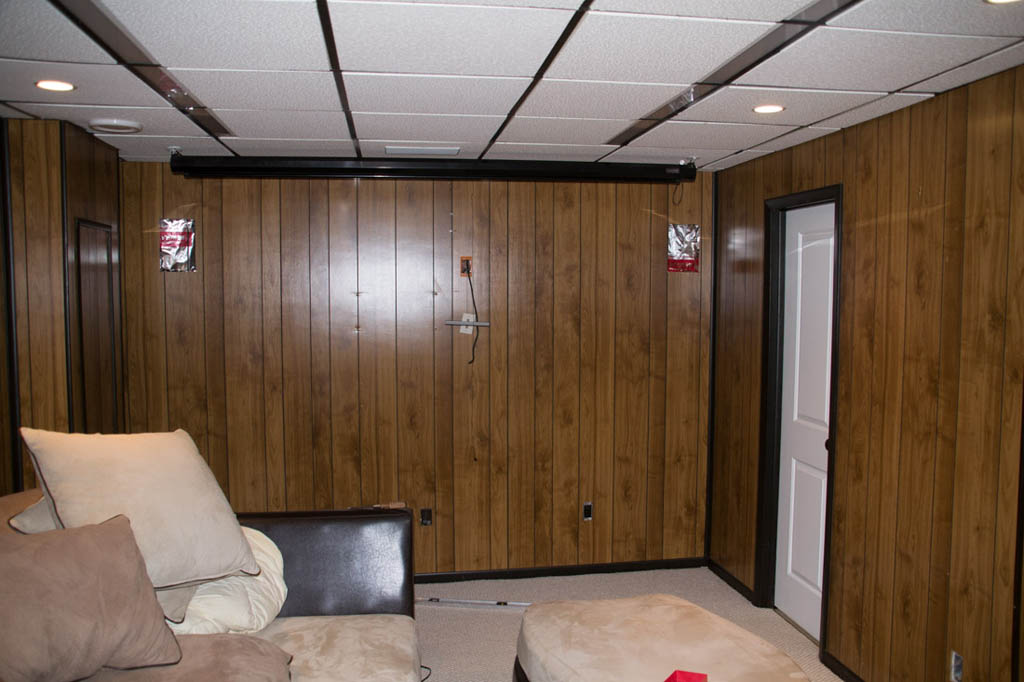 Then, the wallpaper installation began.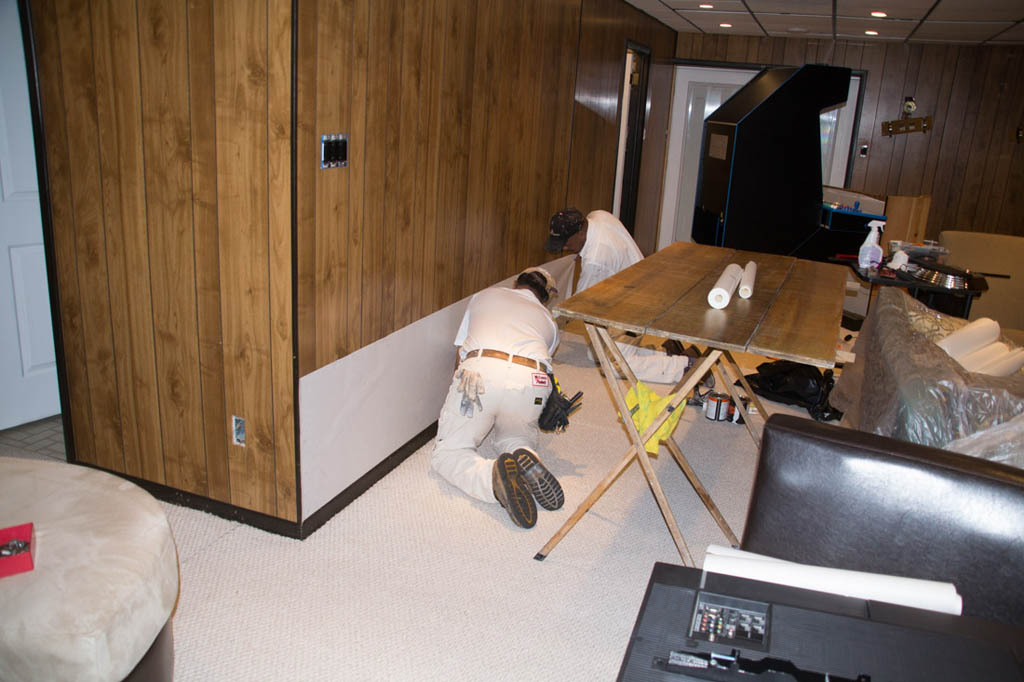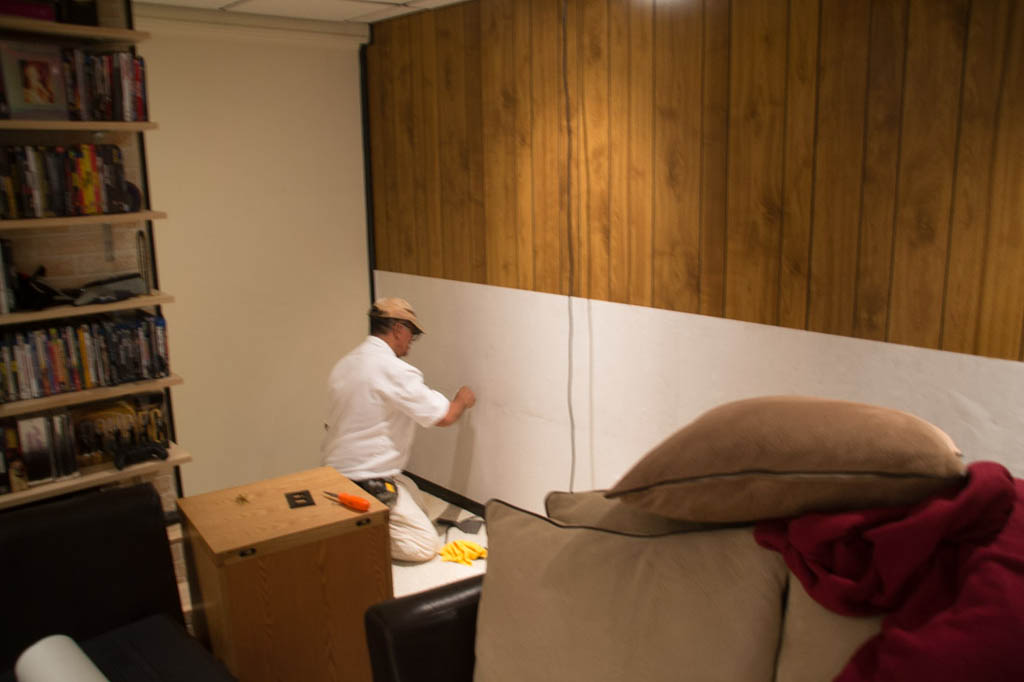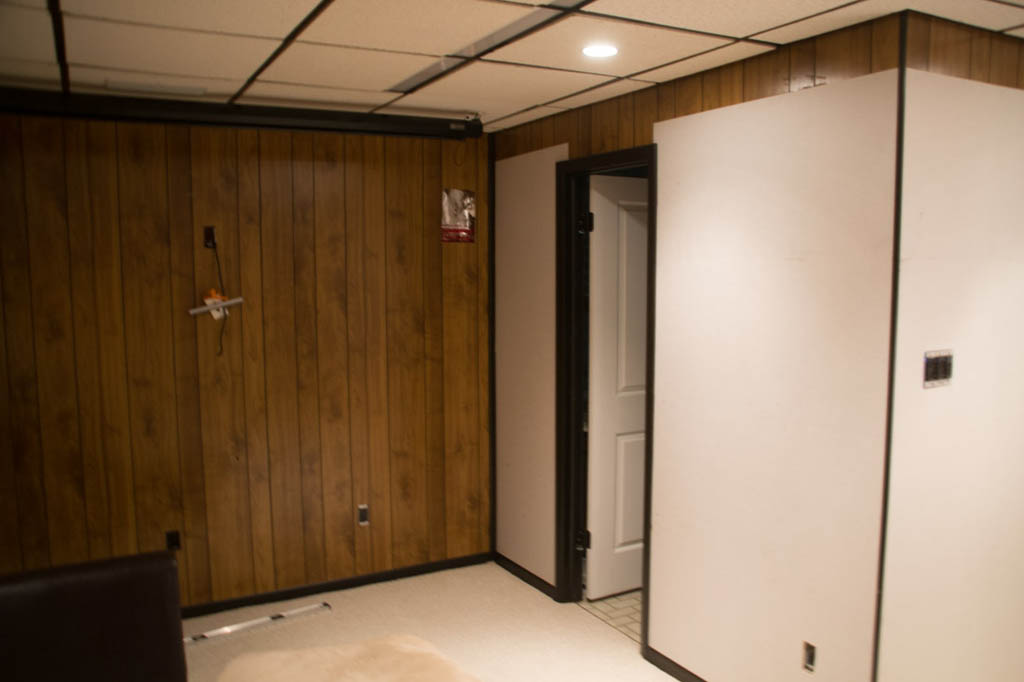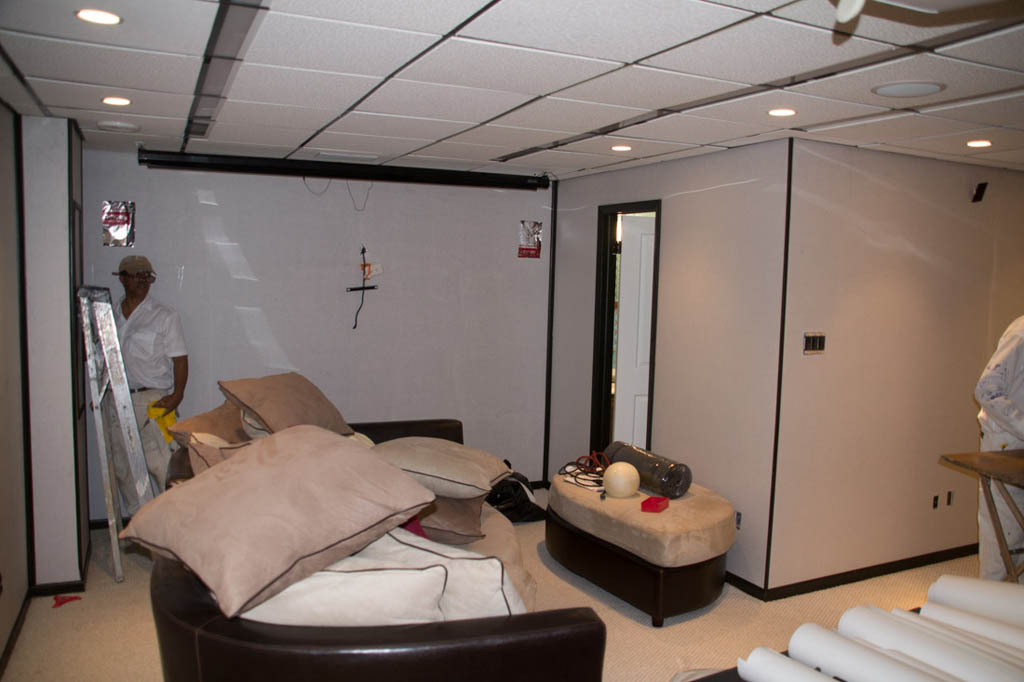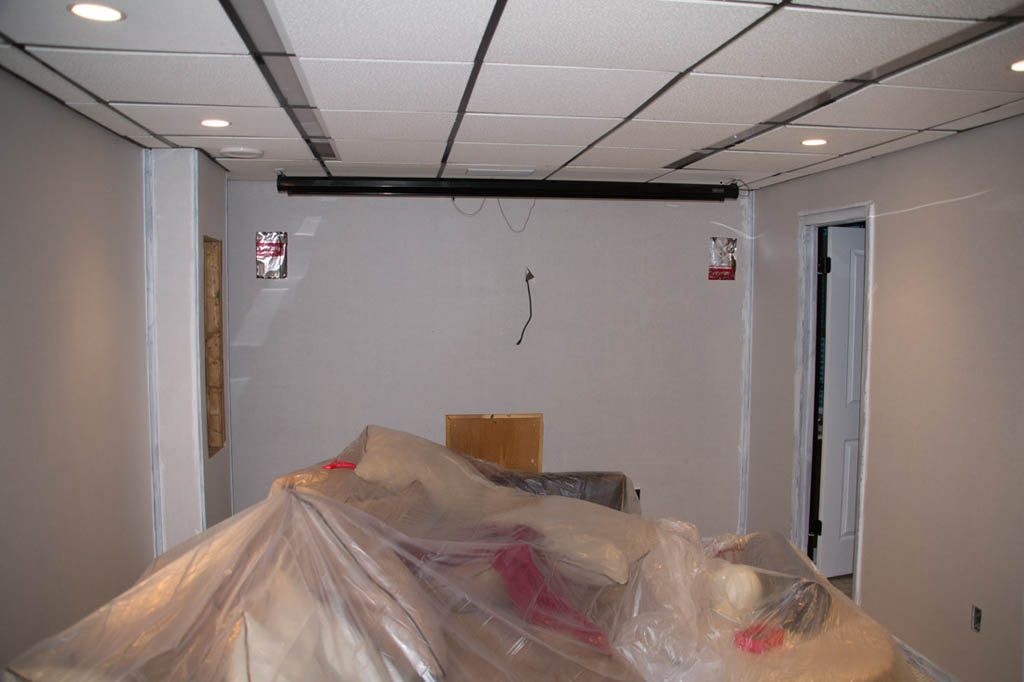 It was an incredible transformation to witness. Even before the wallpaper was painted, our basement looked like an entirely new room.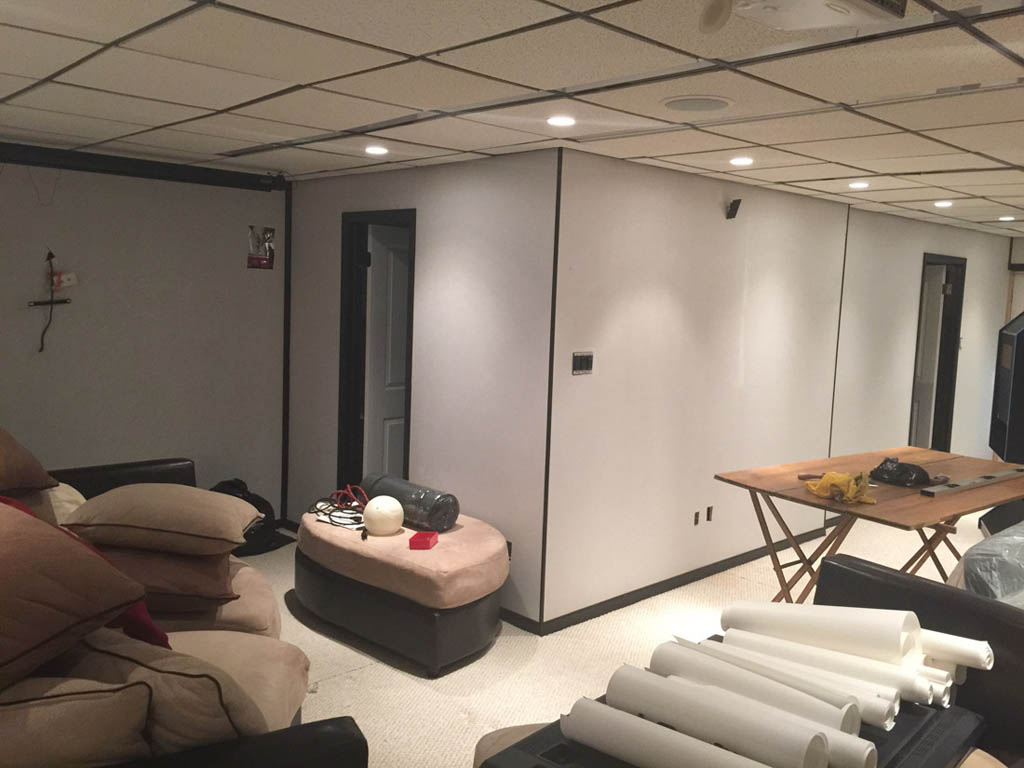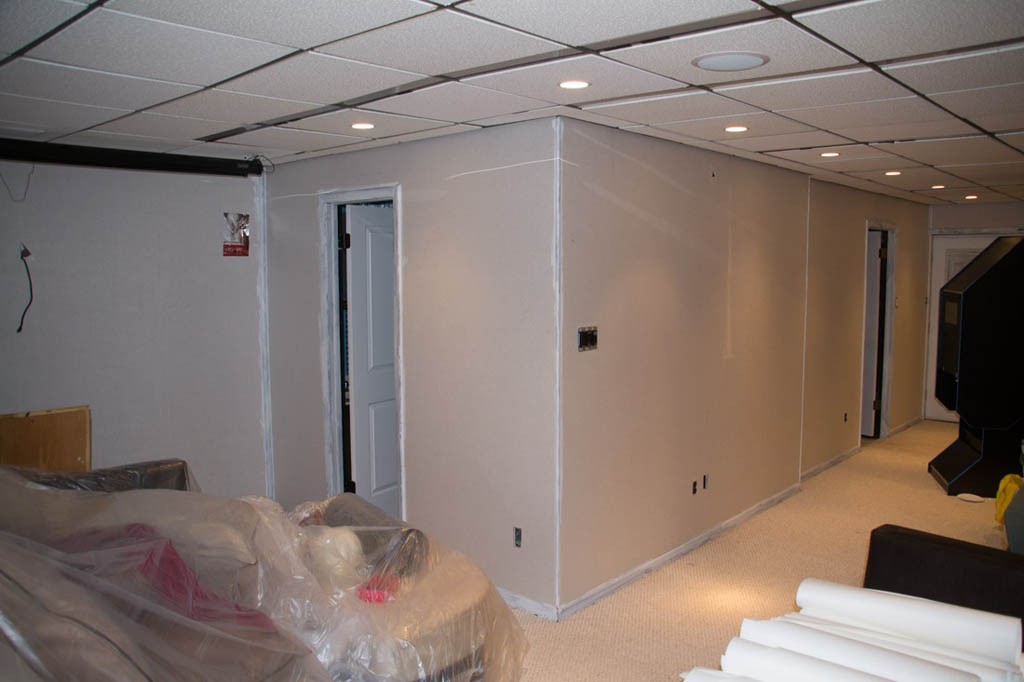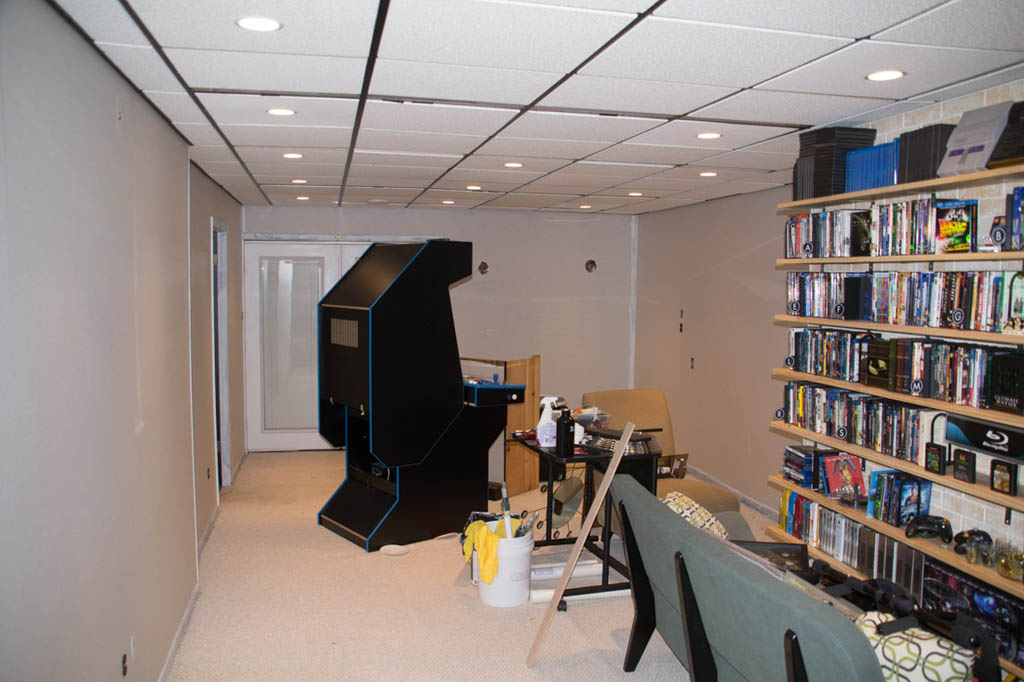 I'm not sure how necessary this step is, but just thought I'd share it in case others are considering the same option. After the wallpaper was up, the installers decided to cover the seams of the wallpaper with a little bit of caulking. I think this was to help in case the wallpaper shrunk a bit as it dried.

The instructions on the wallpaper said to give it 72 hours to dry before applying paint. So, three days later the contractors showed back up to paint the wallpaper!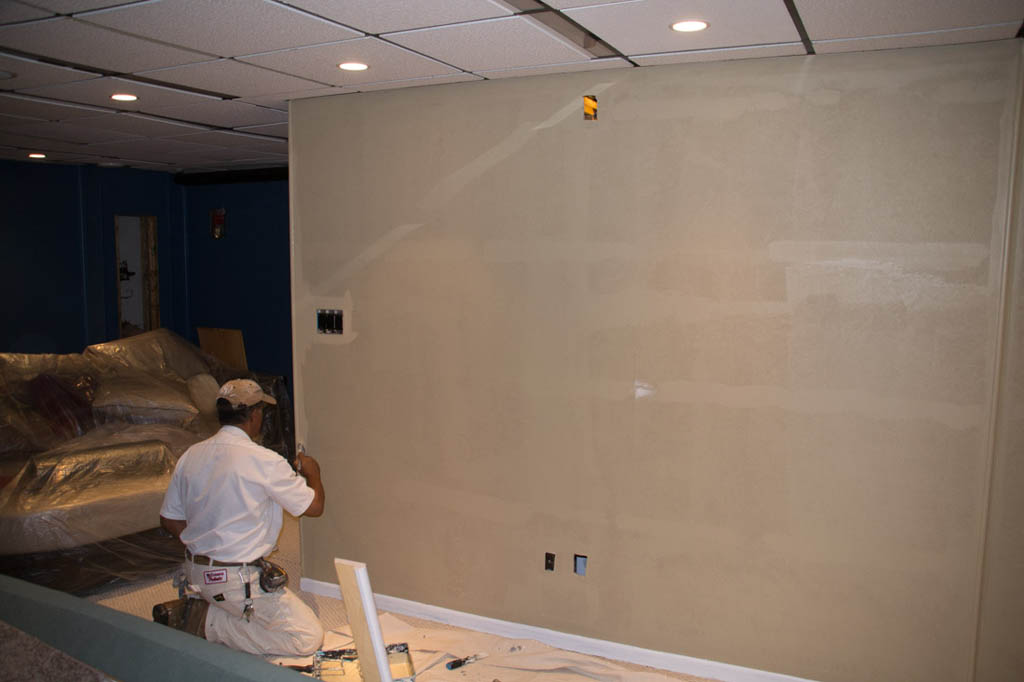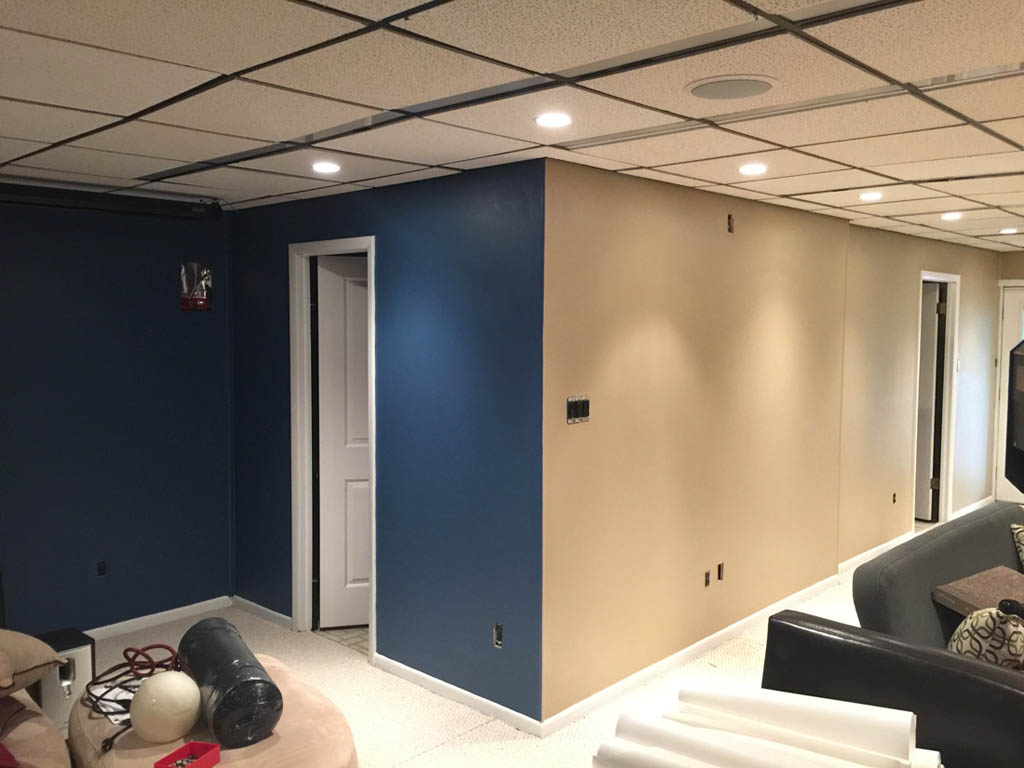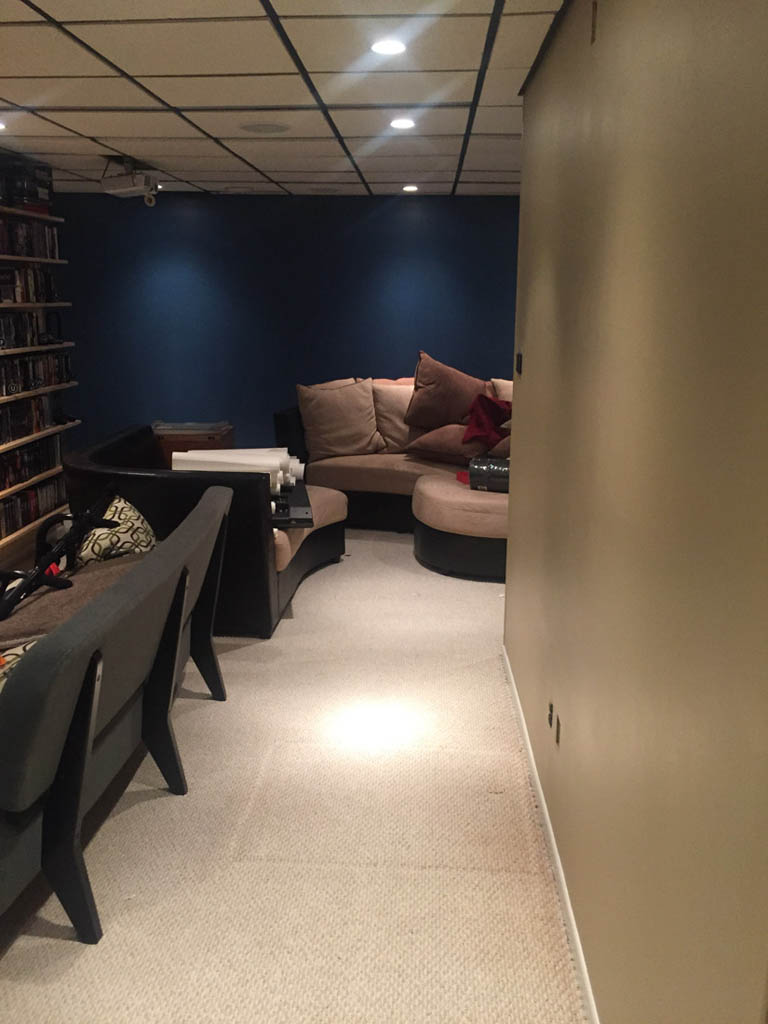 Like I mentioned at the beginning of this post, it's now been nearly 18 months since having this work done, and it still looks so fantastic. Just for absolute disclosure though, there is one teeny tiny portion of paneling that is visible under the wallpaper. So, I never had looked very closely at our paneling, but apparently paneling is installed in pieces that are several feet wide. Where these pieces "join," there is a slightly larger groove than the normal part of the paneling. THAT thicker groove, every 5 feet or so, is ever so slightly visible under the wallpaper.
Here's our attempt to photograph the deeper groove: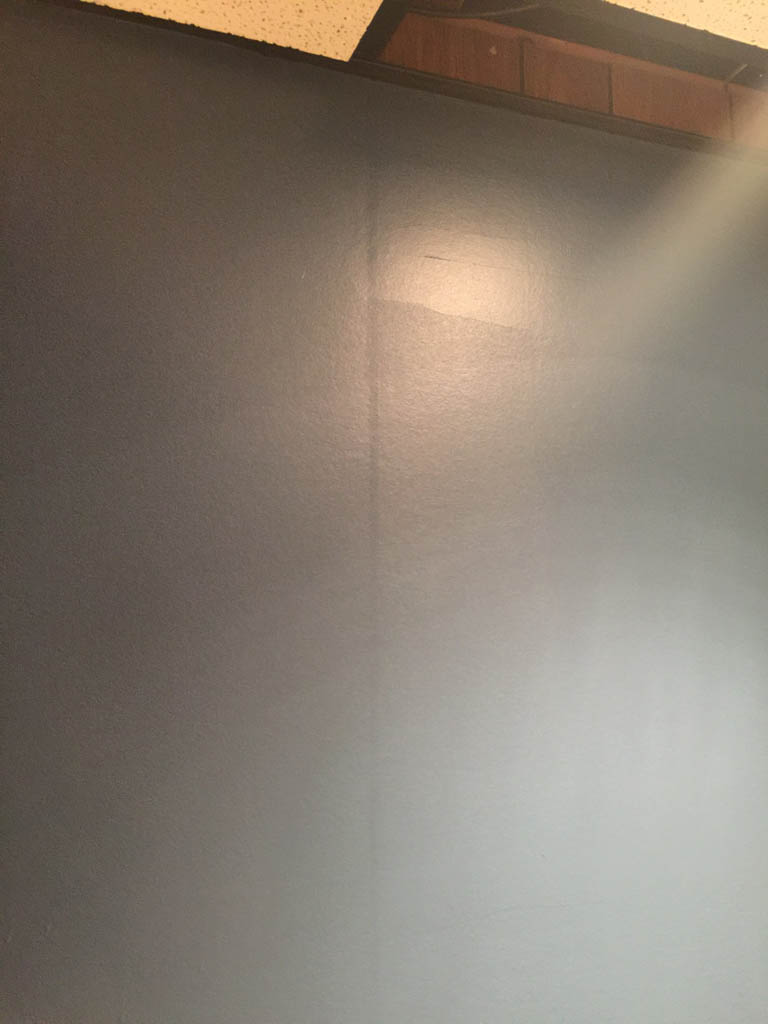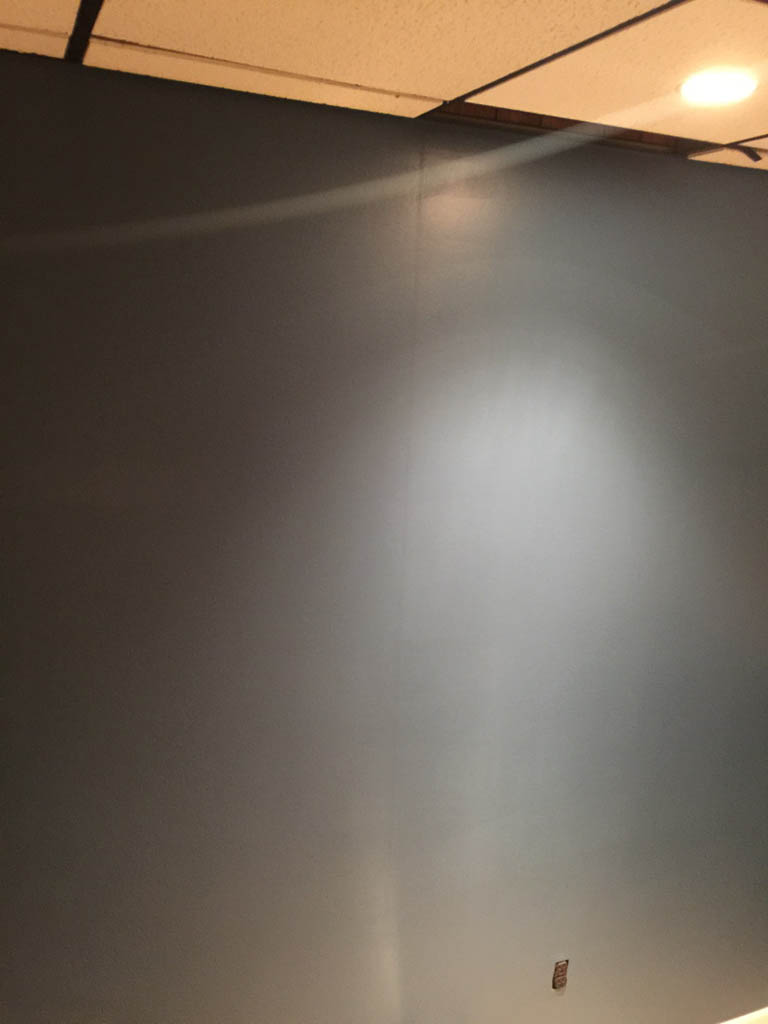 But seriously though, that's probably only visible to us because we know it's there. It still doesn't change our mind that the paintable wallpaper was the easiest and most cost effective option (for the style impact it has) for our basement! And we haven't had any trouble with the wallpaper settling into any of the regular grooves.
** Here is the sample that the contractor installed on our wood paneled bar before we removed it. We also then used that spot to identify paint samples we'd eventually want to use on the walls.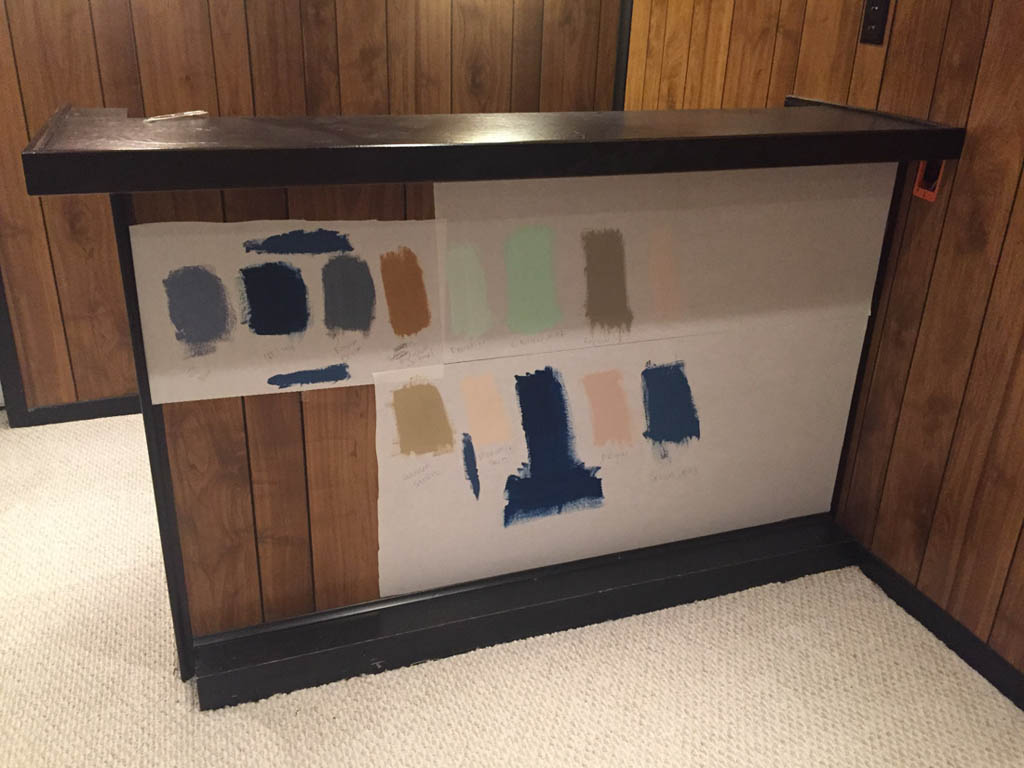 If anyone is in the DC / Northern Virginia area and would like to pursue this option, message me and I can send along the contractor's info. They were great.
Again, here is a link to the paintable wallpaper we used.
**Update. Because I've had a few folks ask about the paint colors, we used Behr Woven Straw and Behr Seven Seas, both in eggshell finish. I find it super easy to order paint samples from Home Depot online in case you want to experiment with different colors.
Do you have a 1970s era wood paneled room in your house? Did you do anything to cover or replace the paneling? What option did you use?