This post may contain affiliate links. Please see my advertiser disclosure for more details.
---
The most famous thing we had heard about the Iowa State Fair was, of course, THE FOOD. We had scoped out the menus prior to our trip, and tried to have a plan for which foods were our "must tries," but really, we just wanted to try ALL THE FOODS.
Iowa State Fair Foods – General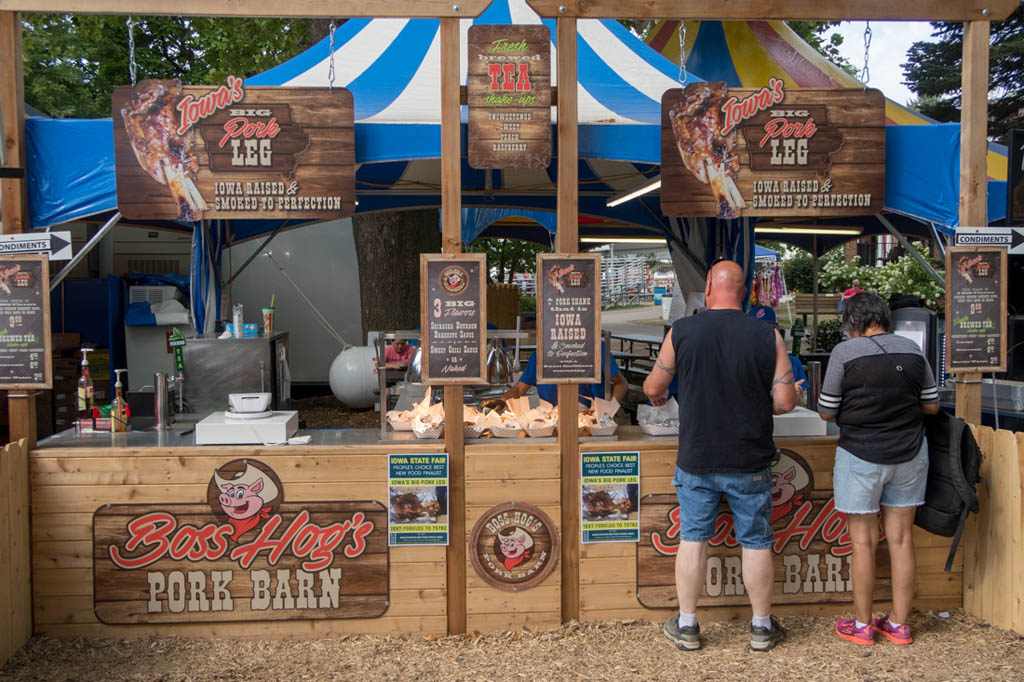 As you can tell by the photos so far, the food booth options were plentiful. I wasn't entirely sure how the booths would be "arranged" in the fairgrounds. Like, if they would be focused all in one particular area. While there were some areas of the fairgrounds with heavier concentrations of food booths (like by the concert venue arena), the food booths are pretty much spread throughout the grounds.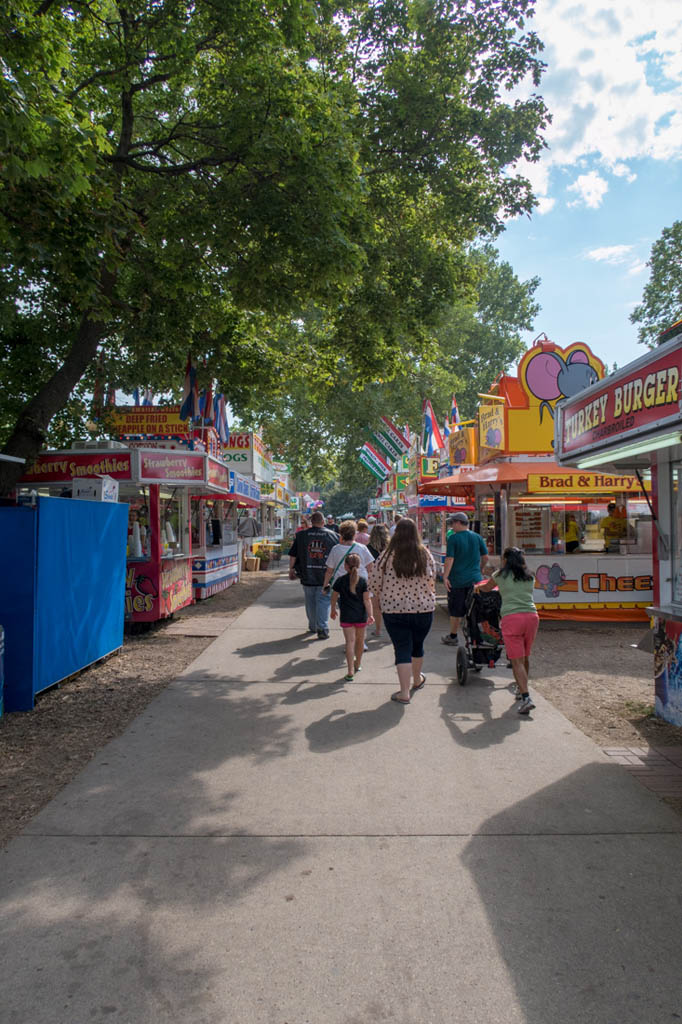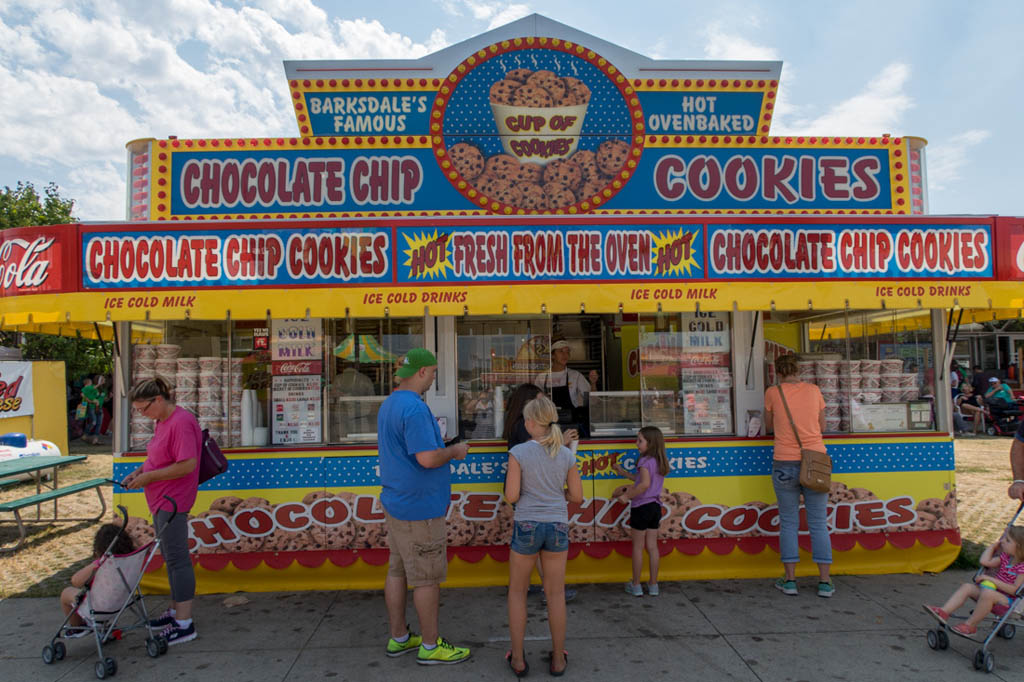 What we Ate at the Iowa State Fair
We tried to take photos of everything we ate at the fair.
We started out with some "classic" fair food of a corn dog and deep fried pickles that we bought from the "Pork Barn" at the Fair: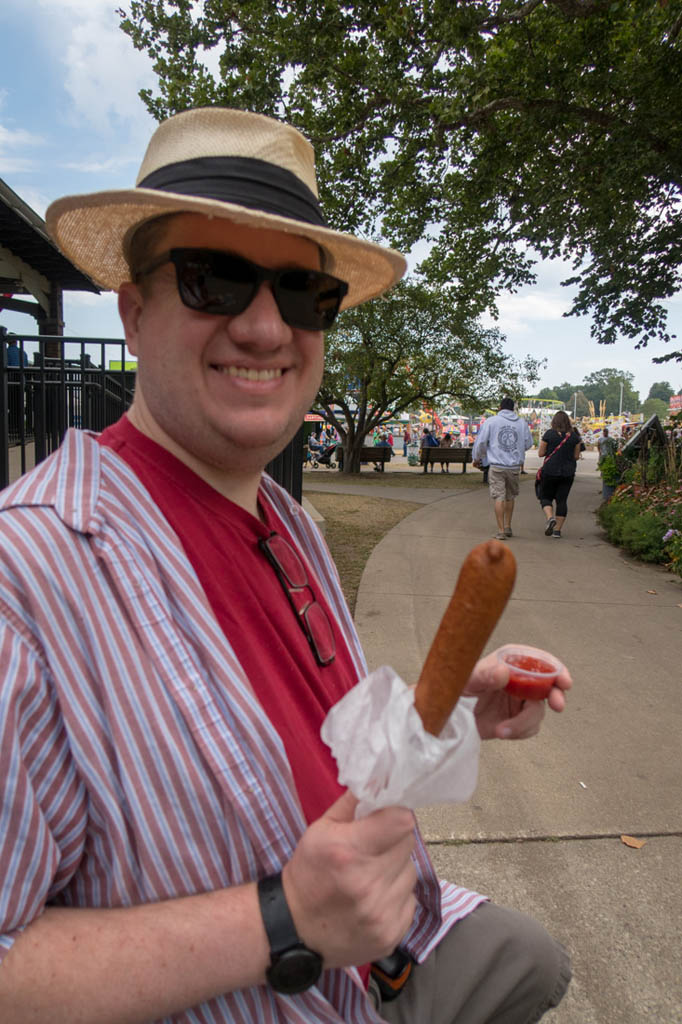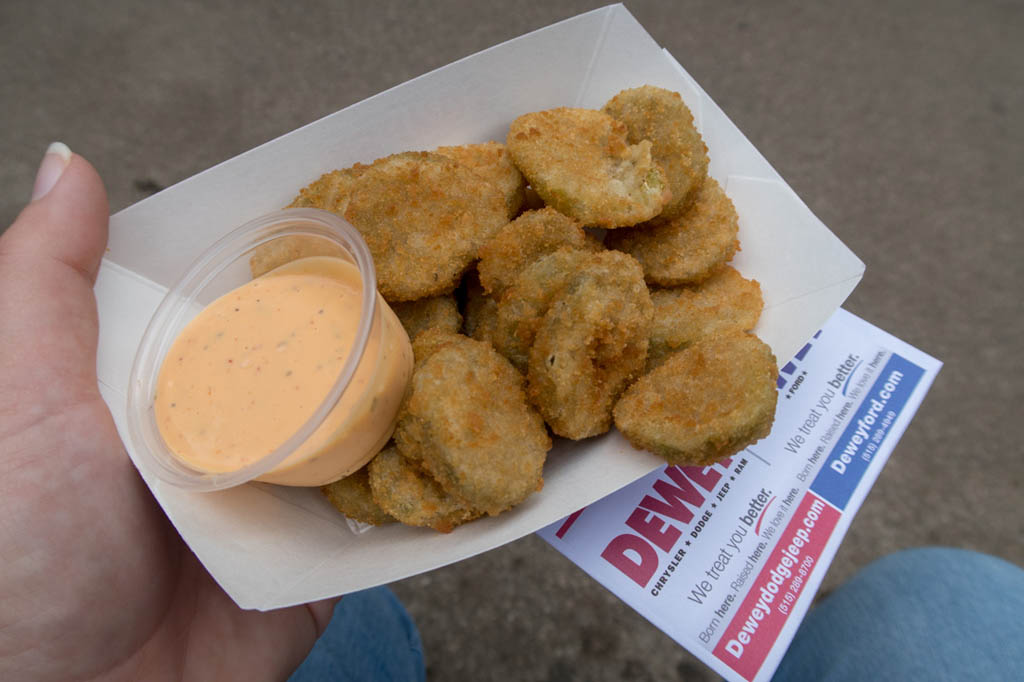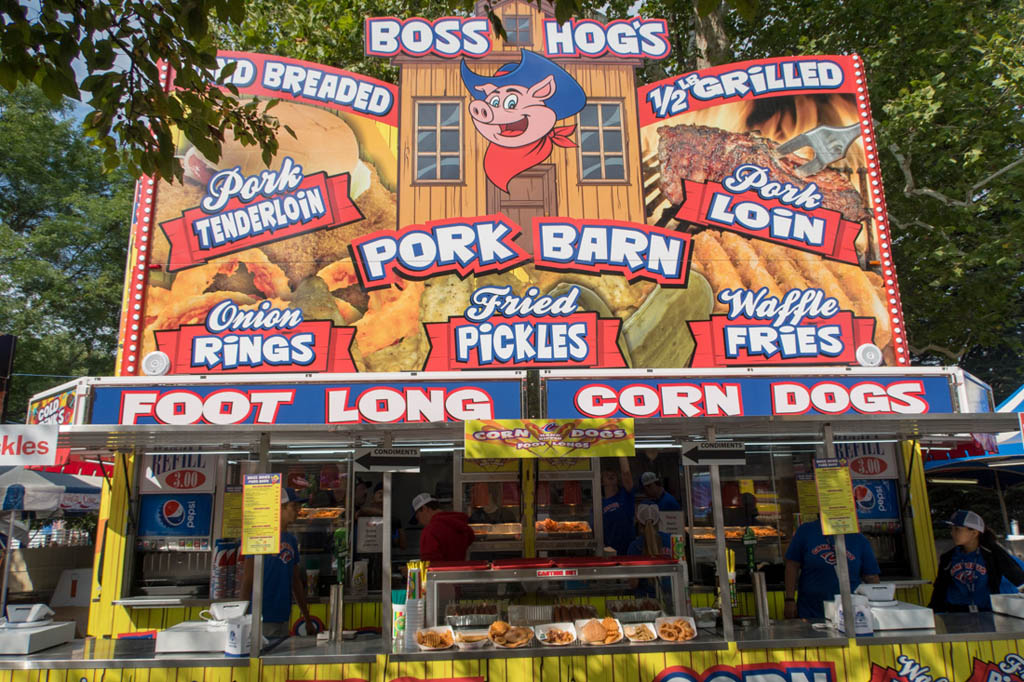 And I tried some jerkey sticks from this little stand that was in the same building at the Butter Cow! (Called the Agriculture Building)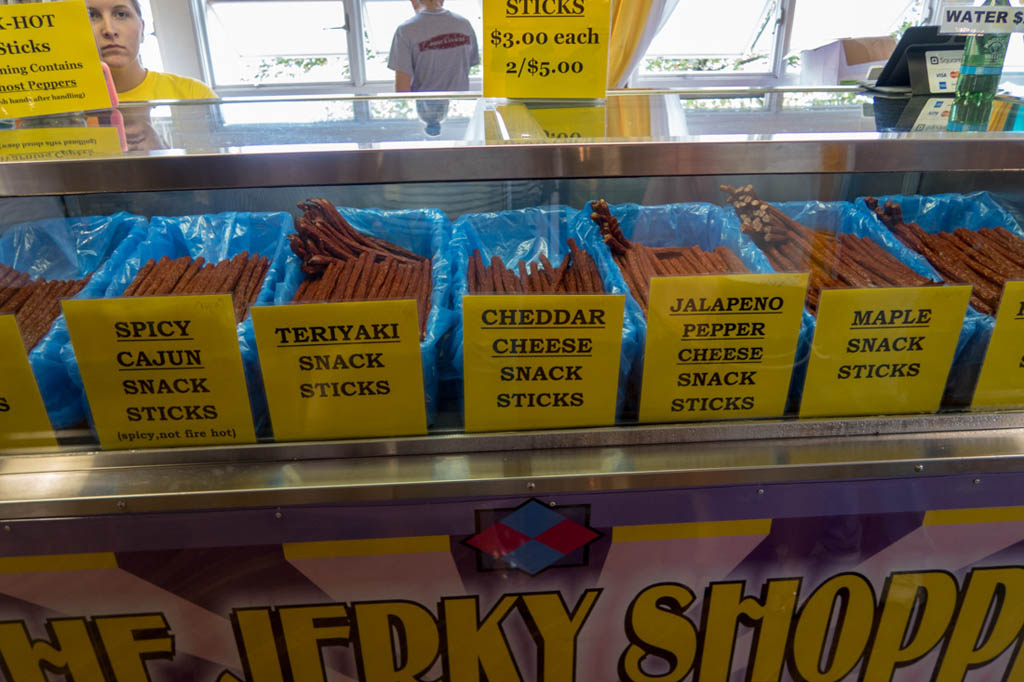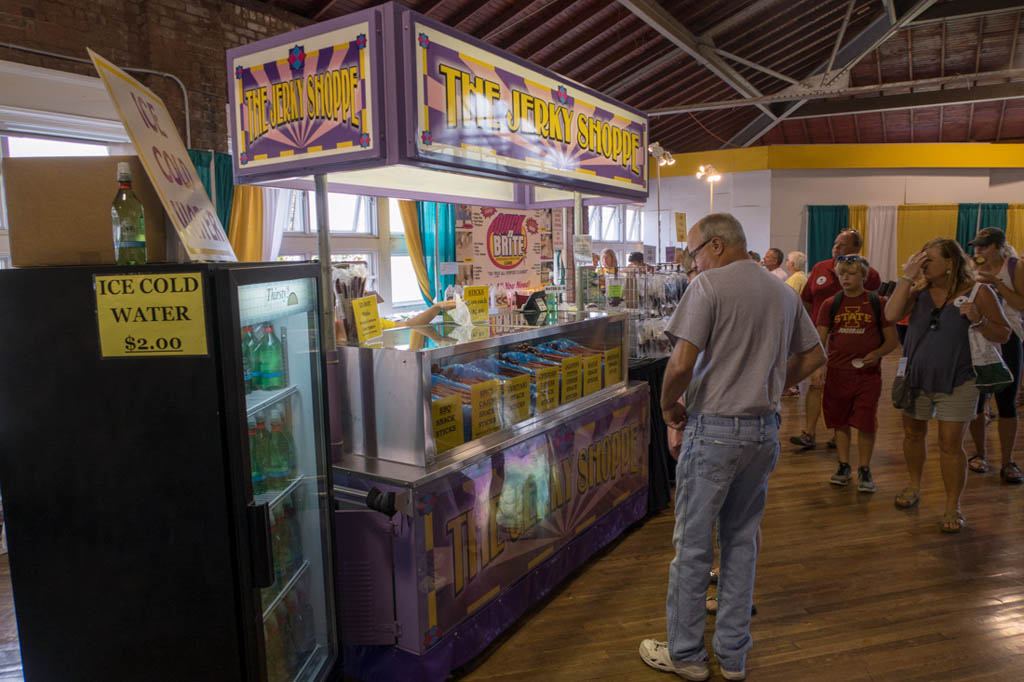 I did NOT, however, opt for their Ghost Pepper Jerky, which came with this warning: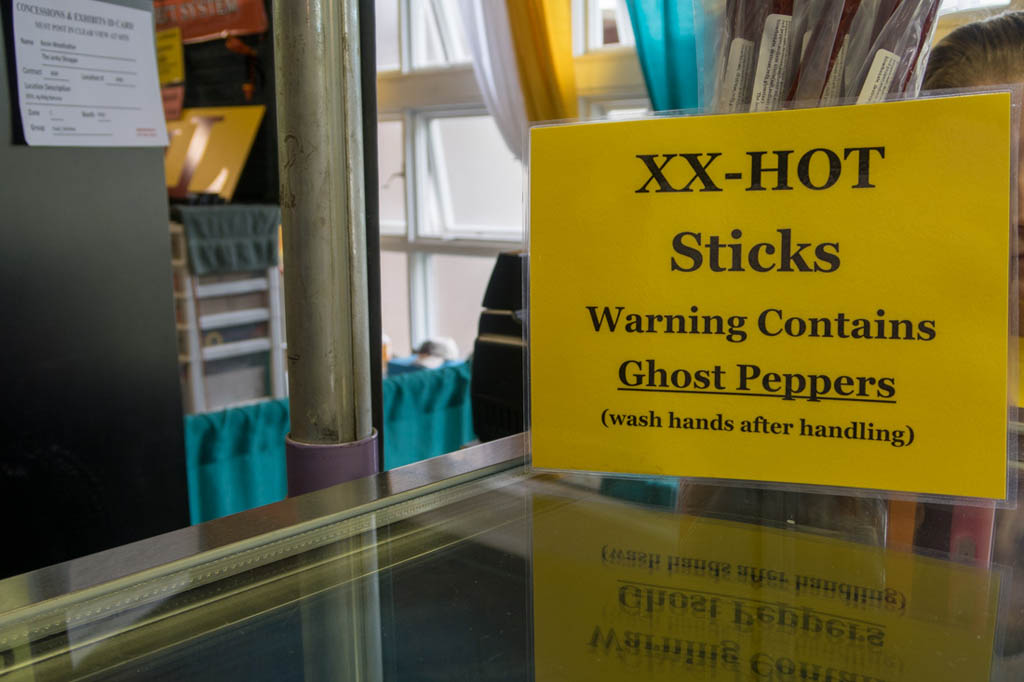 Ken got a cup of chocolate chip cookies! (And, well, I ate a few too!)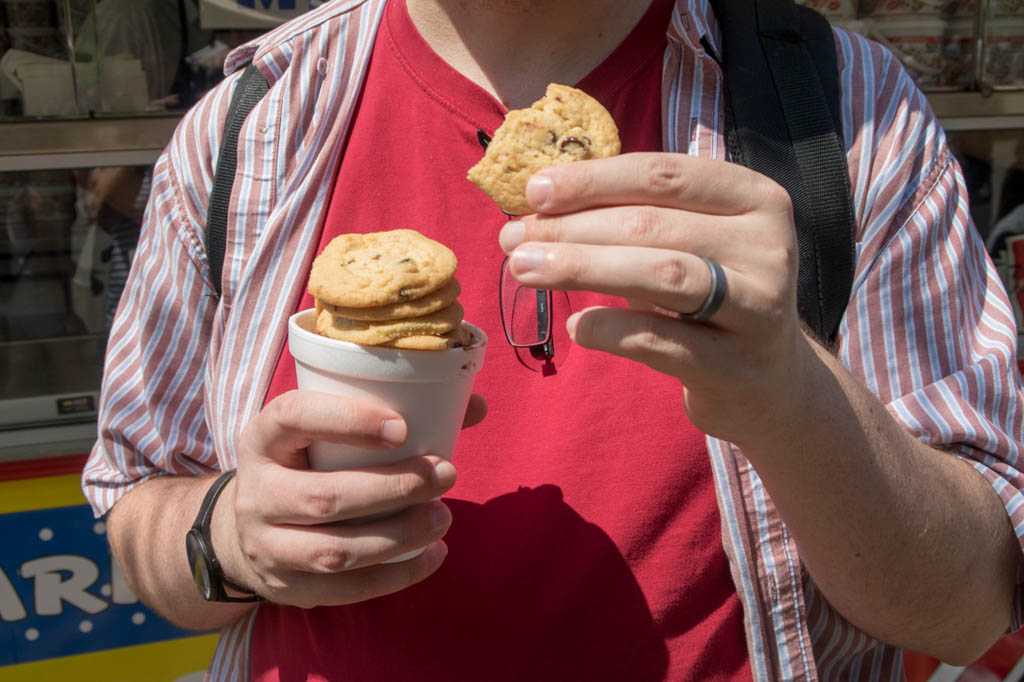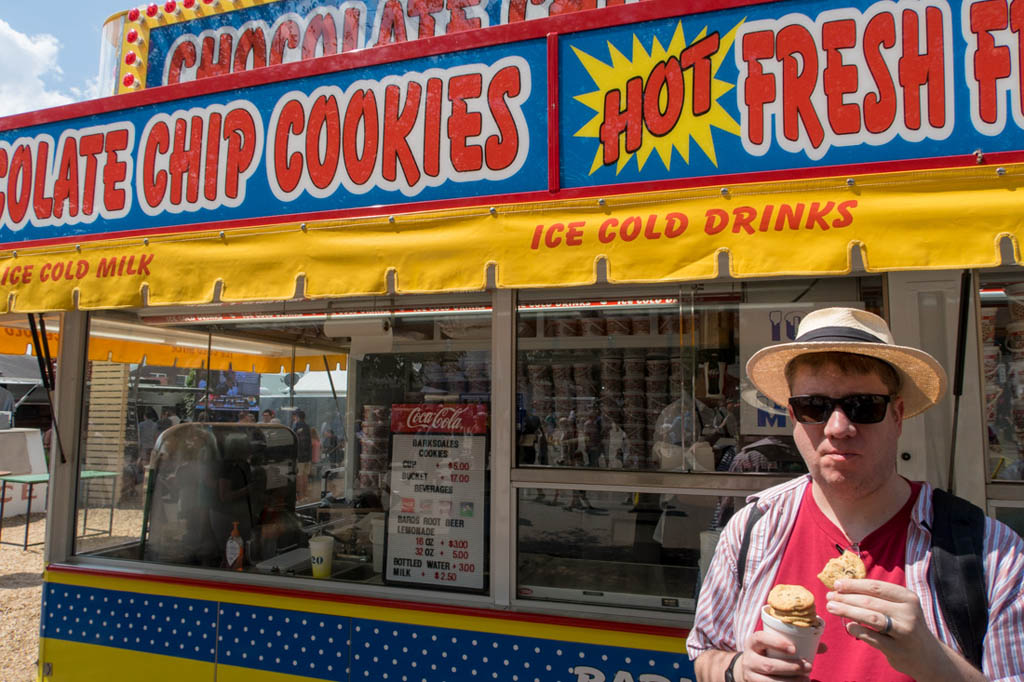 At one point in the afternoon, it was getting pretty hot, so we decided to eat at one of the "sit down" BBQ spots. I wouldn't quite call it a restaurant, but it was covered, had lots of picnic tables, and it was a good place to rest our legs for a while and get out of the midwest afternoon sun! It was still open air, but the shade was greatly appreciated.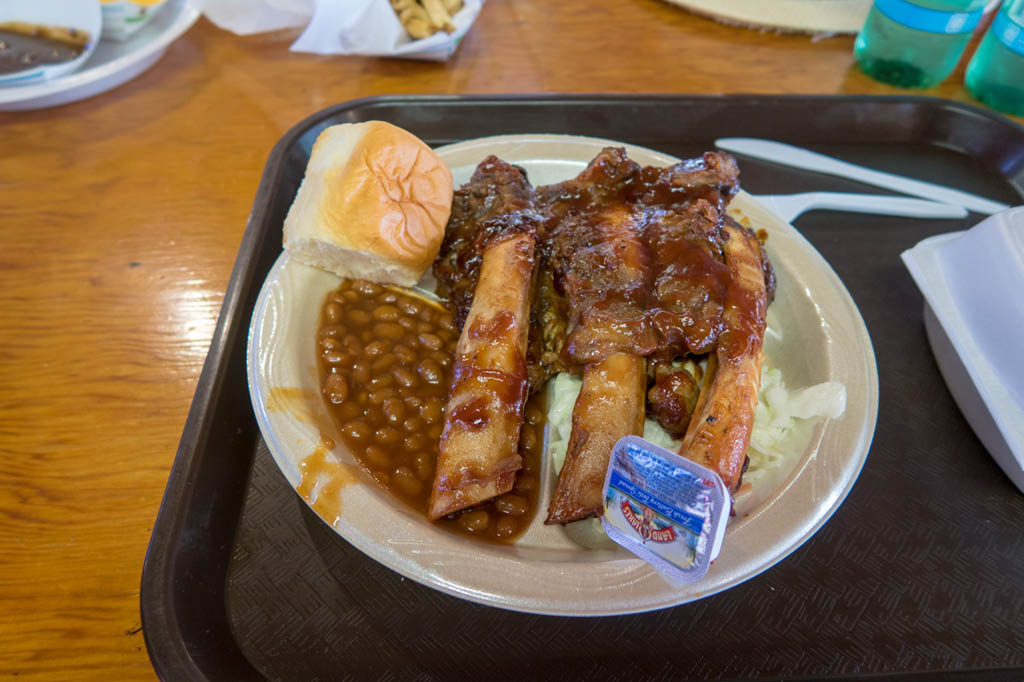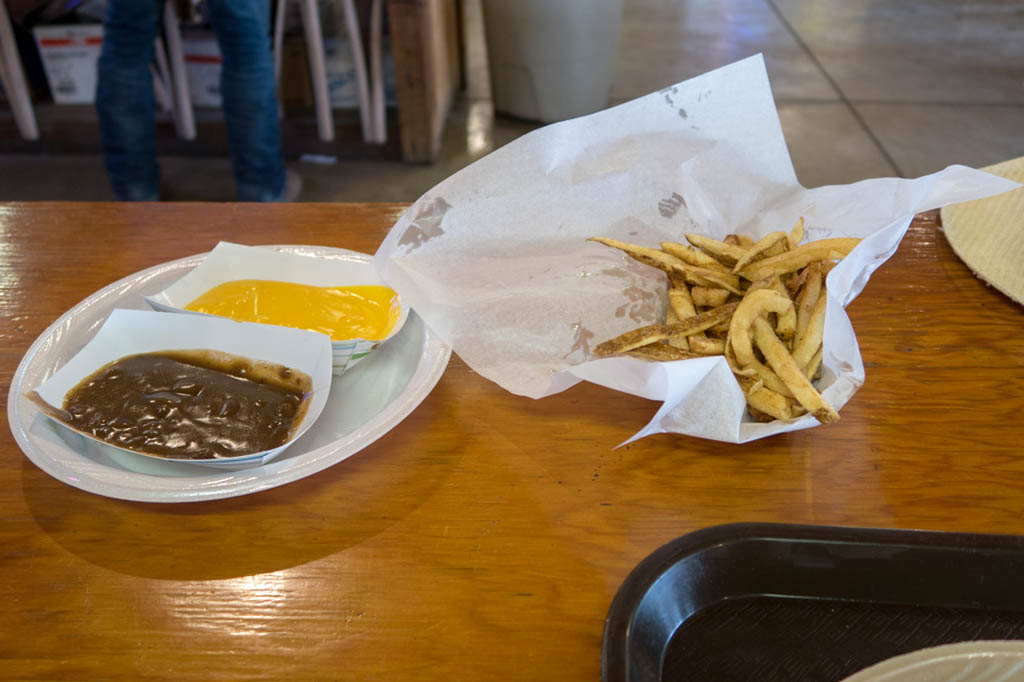 Later on, I had one of the "Pride of Iowa" Wraps at the G. Mig's Speciality Wraps booth. The wrap had pork carnitas, bacon bits, cheddar jack cheese, sweet corn salsa, fresh guacamole, tortilla pieces, and chipotle aioli. It was HEAVEN, and this photo doesn't do it nearly enough justice!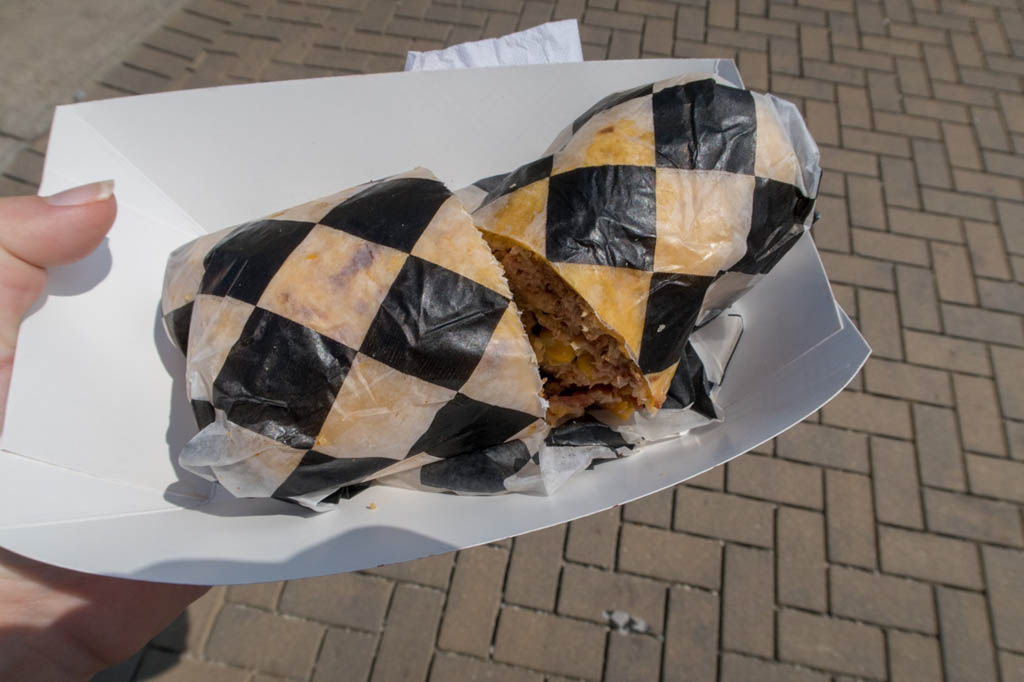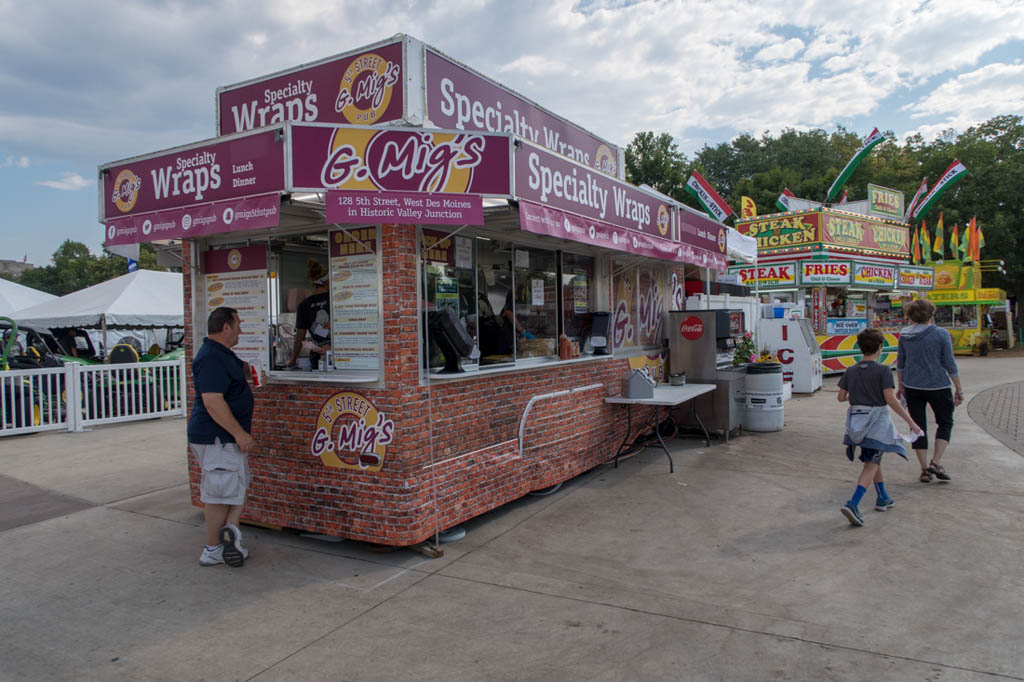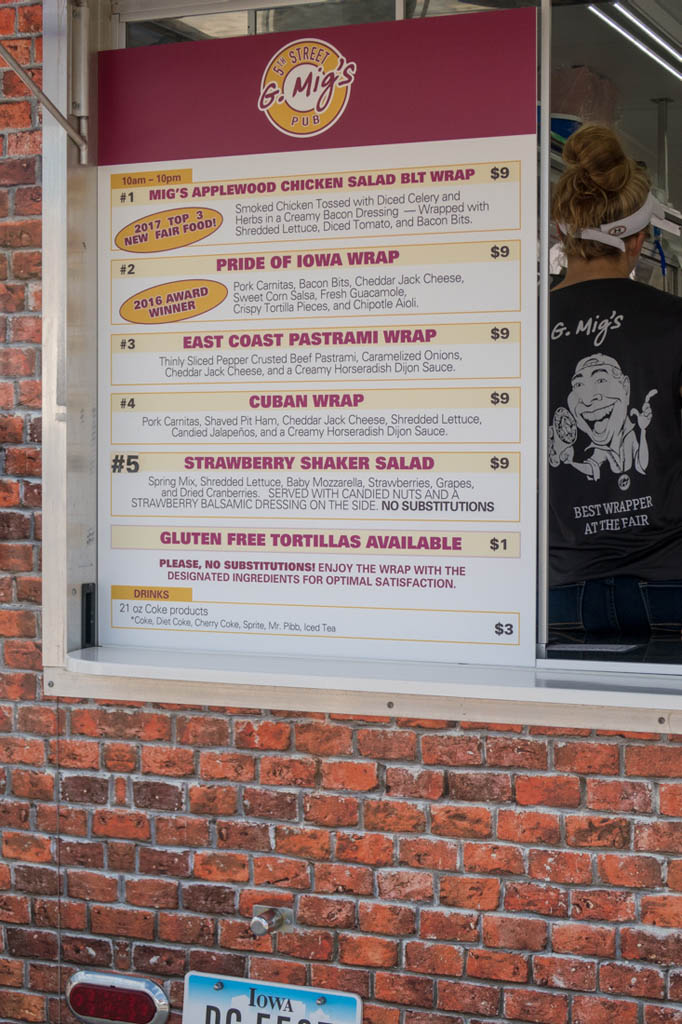 Let's see. What else did we have? (Oh, and we visited the Fair multiple times during our 3-night-stay in Des Moines, so please don't think we were stuffing ourselves all in one day!)
From the Corn Stand, I had Mexican grilled corn in a cup, which was divine, and might have been my favorite dish that I tried at the Iowa State Fair.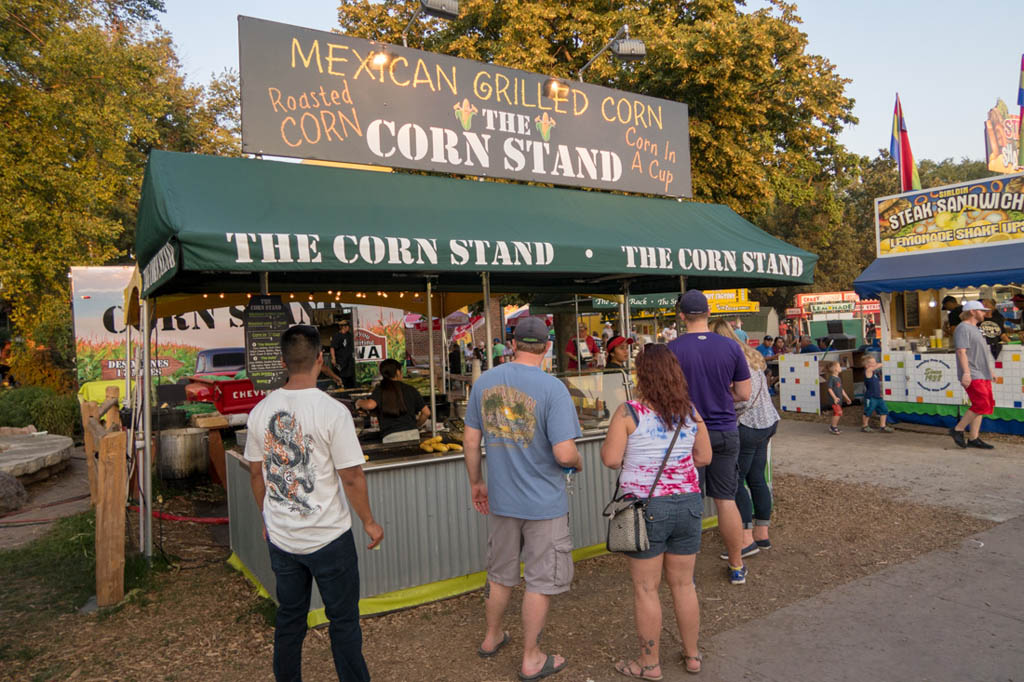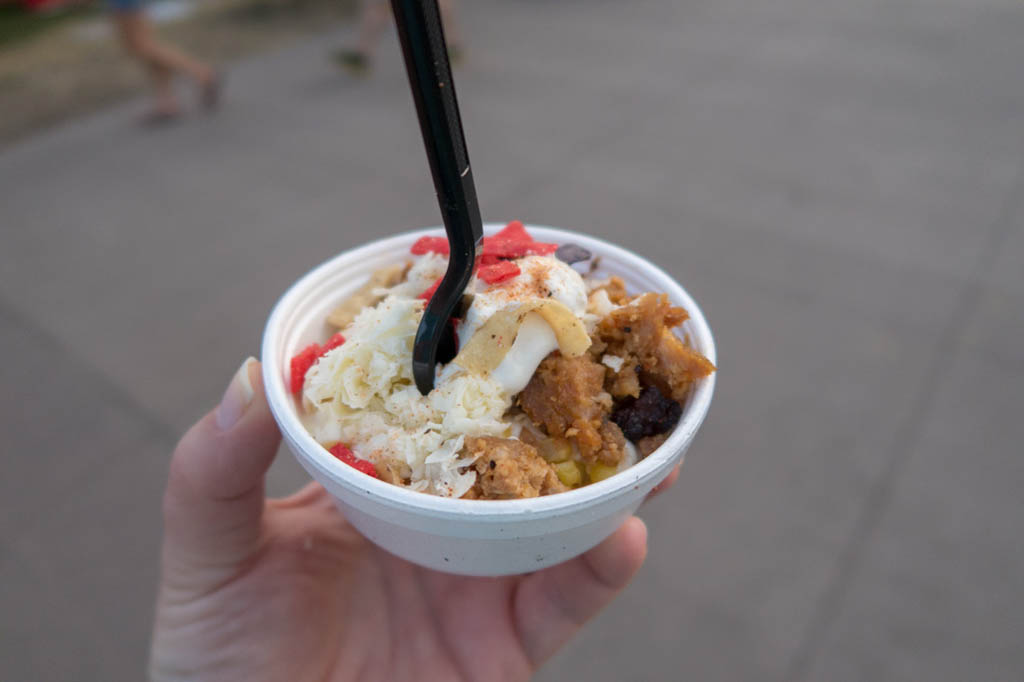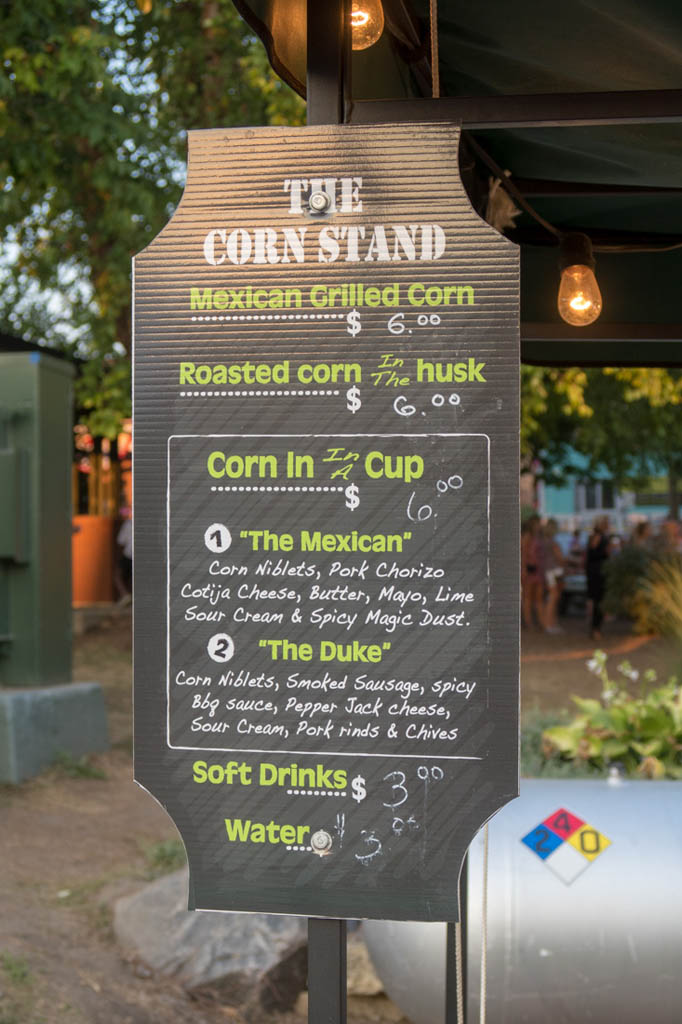 And, while I was enjoying my Mexican grilled corn, Ken had cheese on a stick.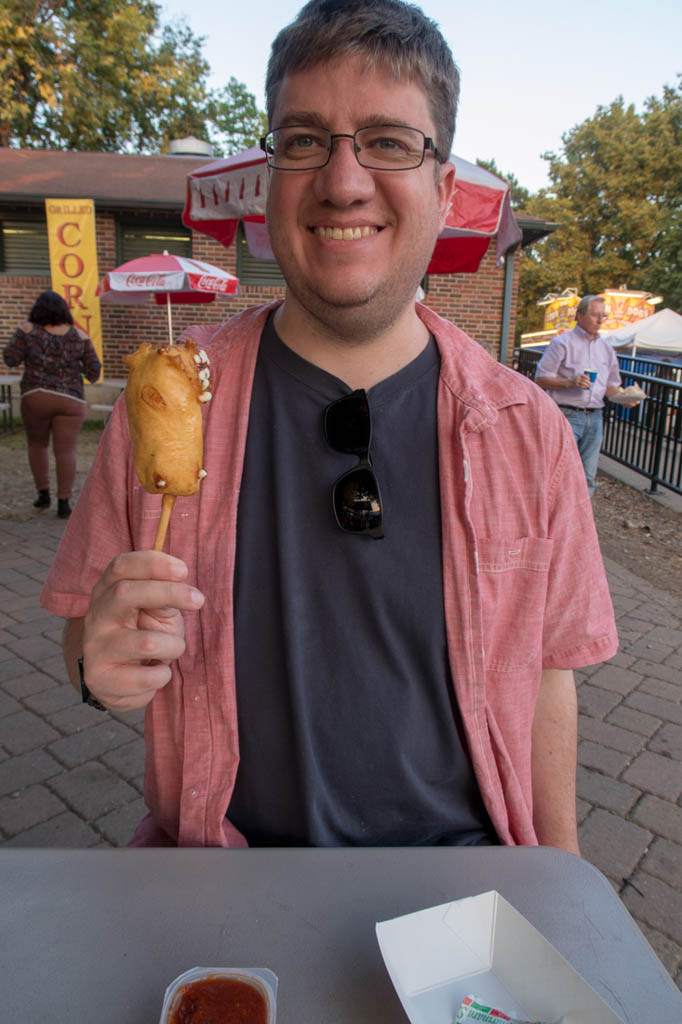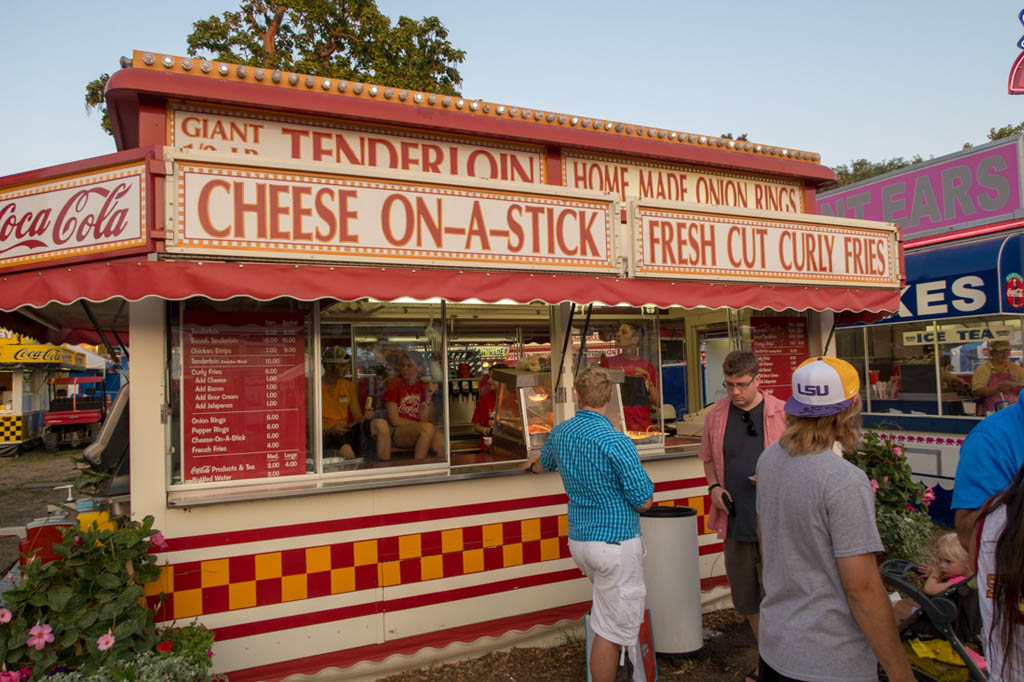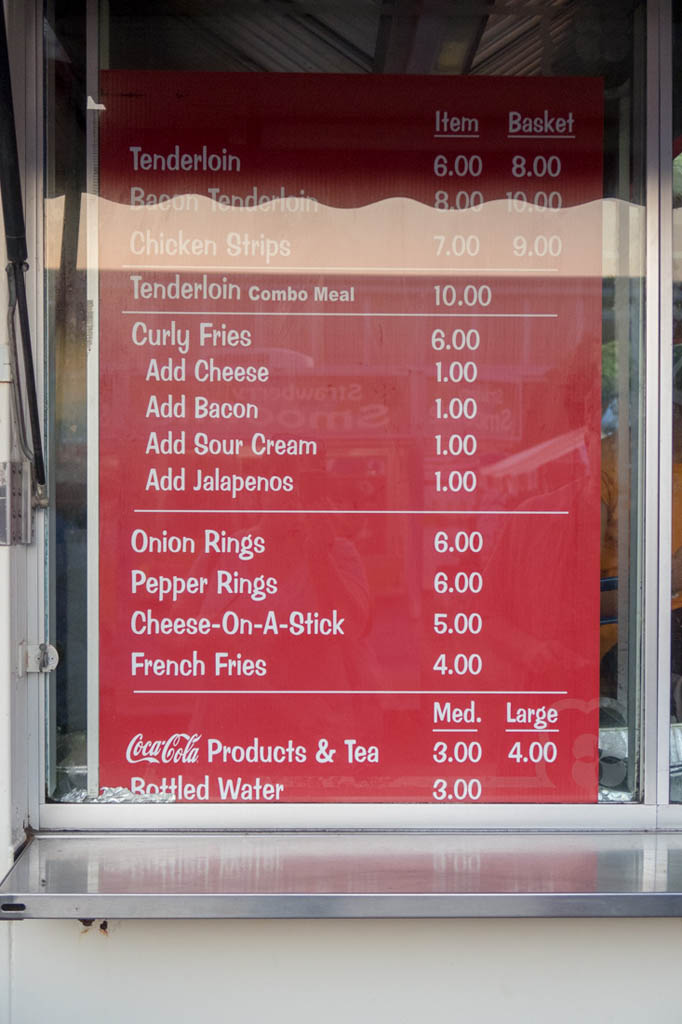 And, we washed down our snacks with some freshly squeezed Lemonade: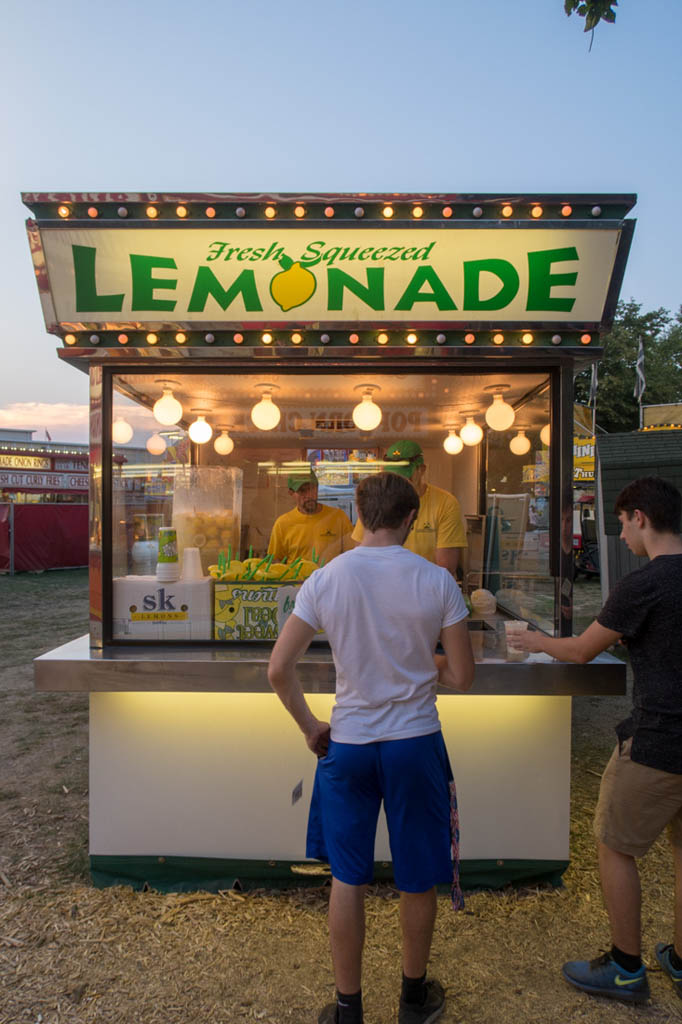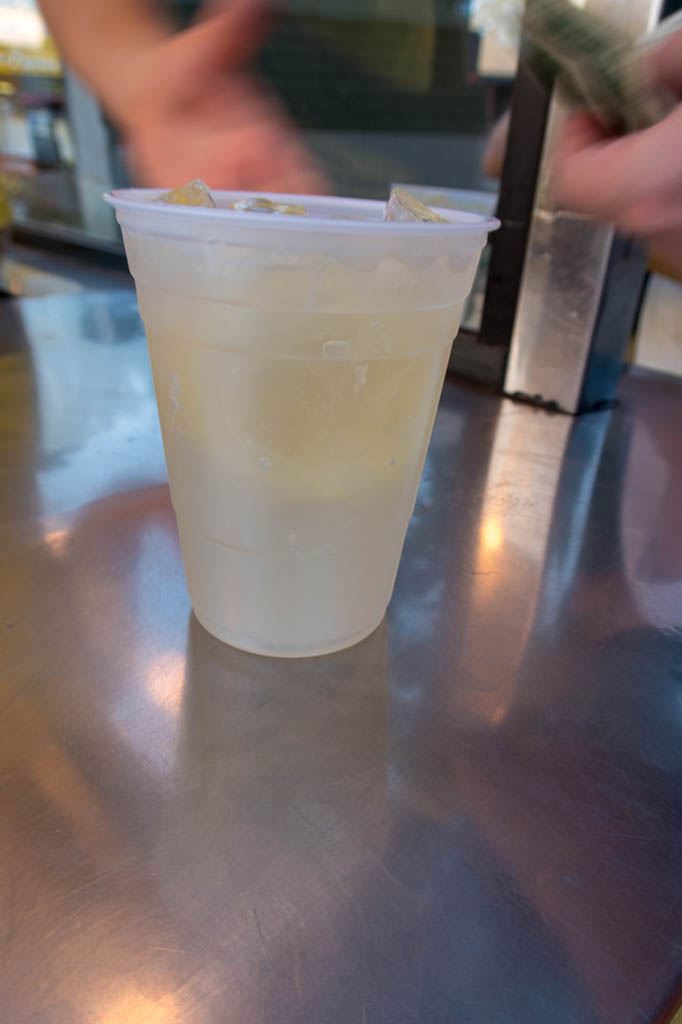 One evening at the fair, Ken wrapped up the night with a bacon wrapped hot dog and a snow cone.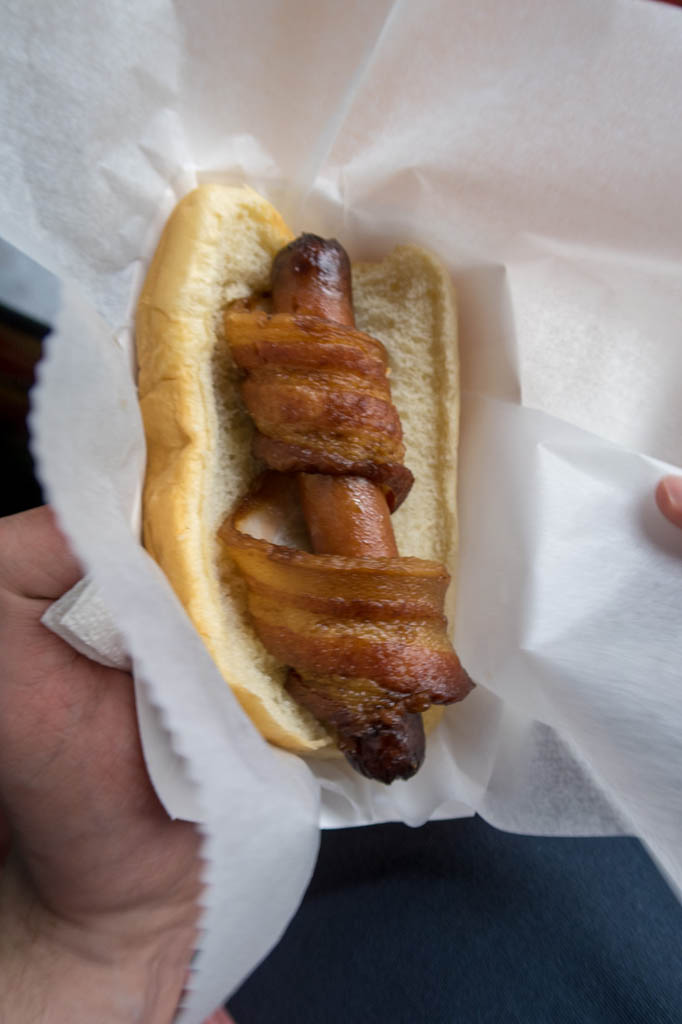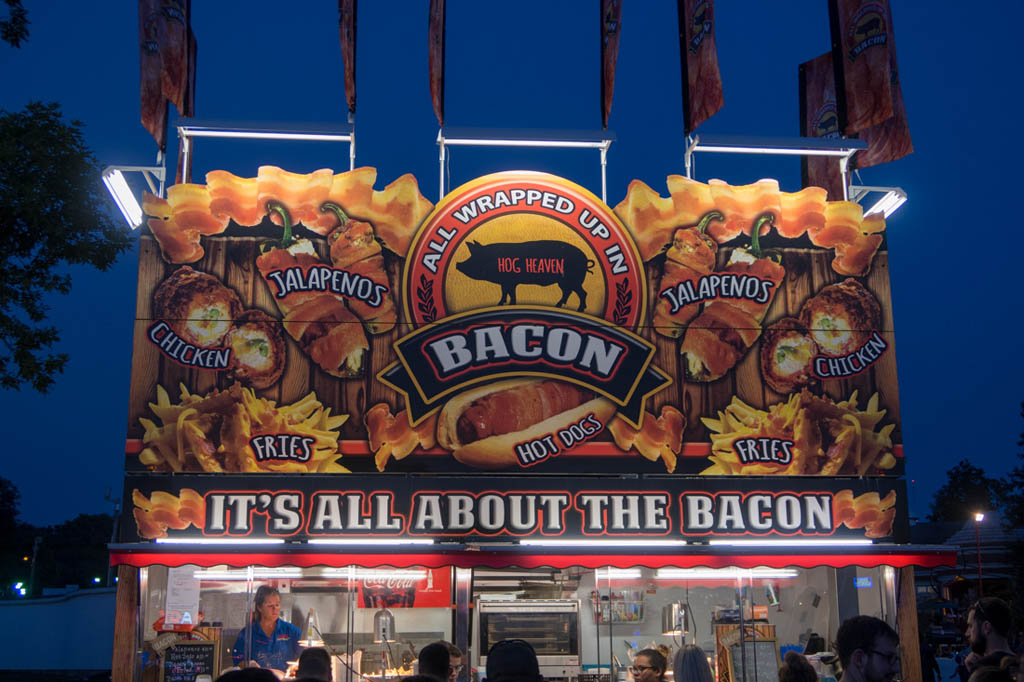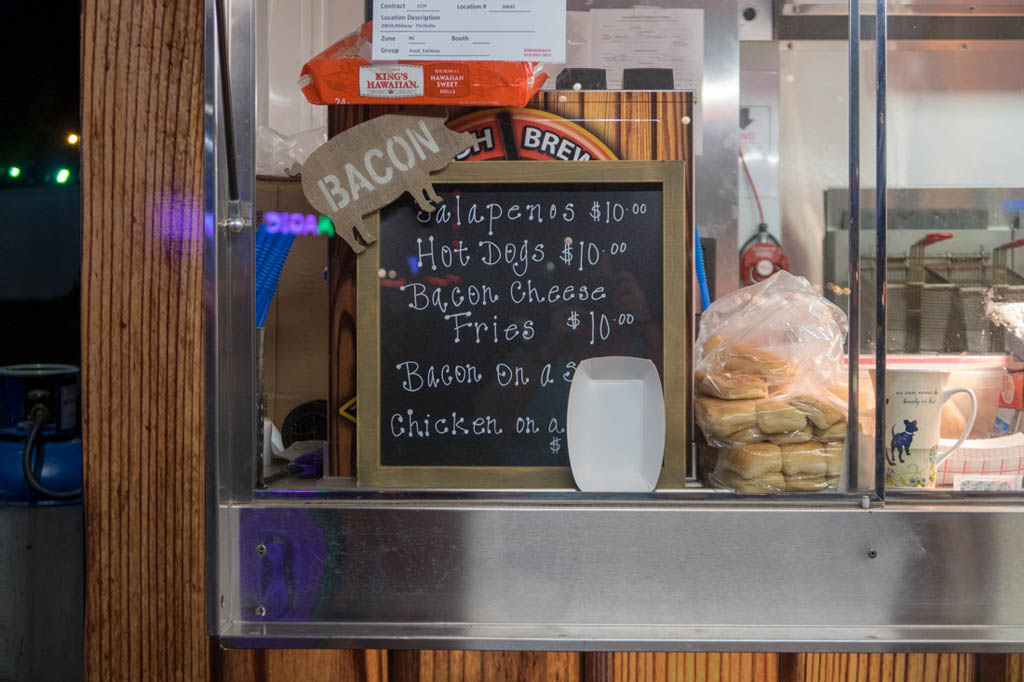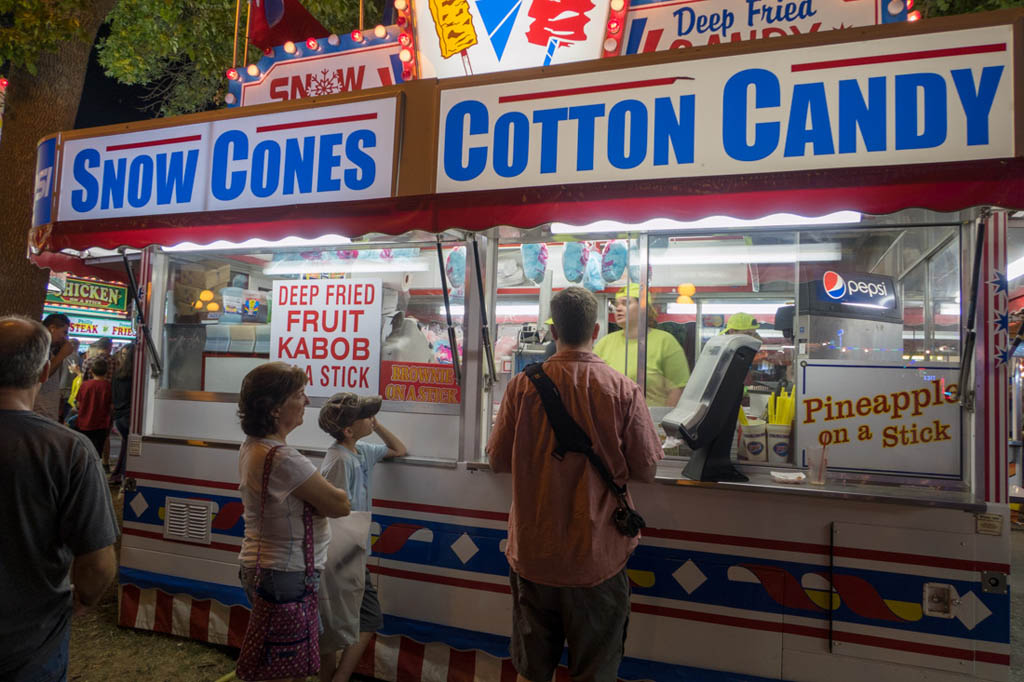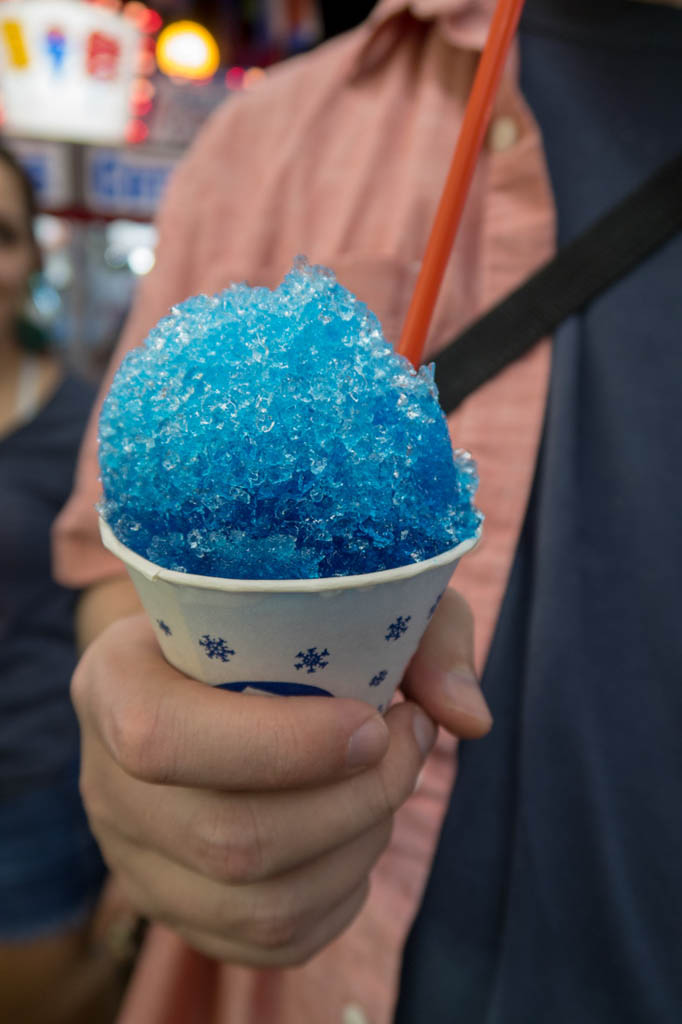 Food on a Stick and Deep Fried Everything
So, I know that "food on a stick" is a famous general fair food, but I didn't quite expect just how many types of food on a stick to see there.
Like, Deep Fried Fresh Fruit Kabob on a Stick!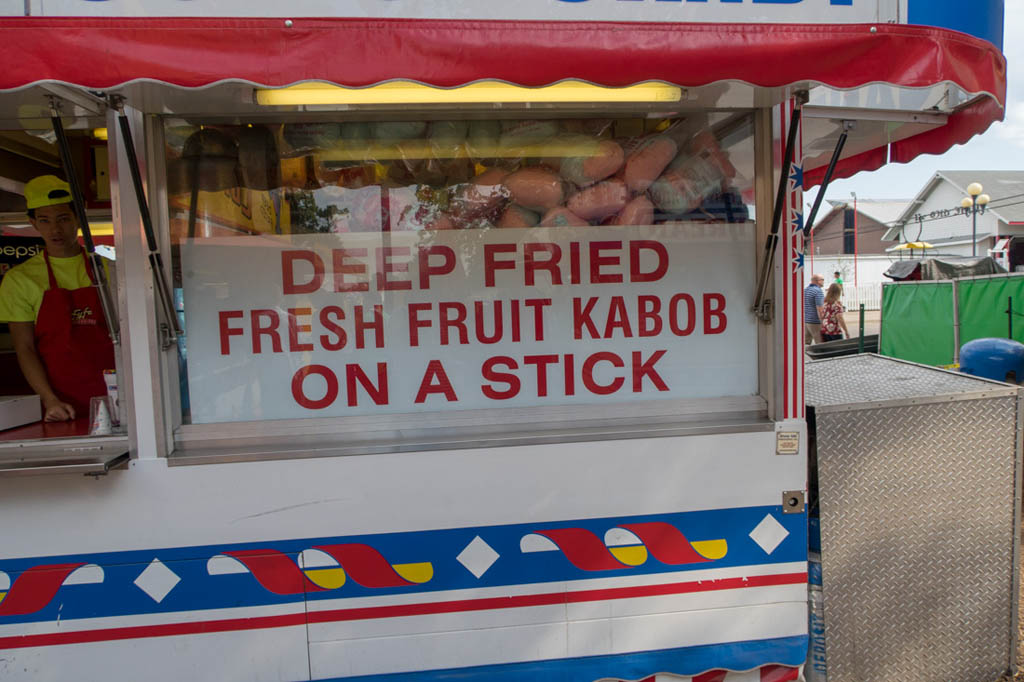 Or the Pork Chop on a Stick: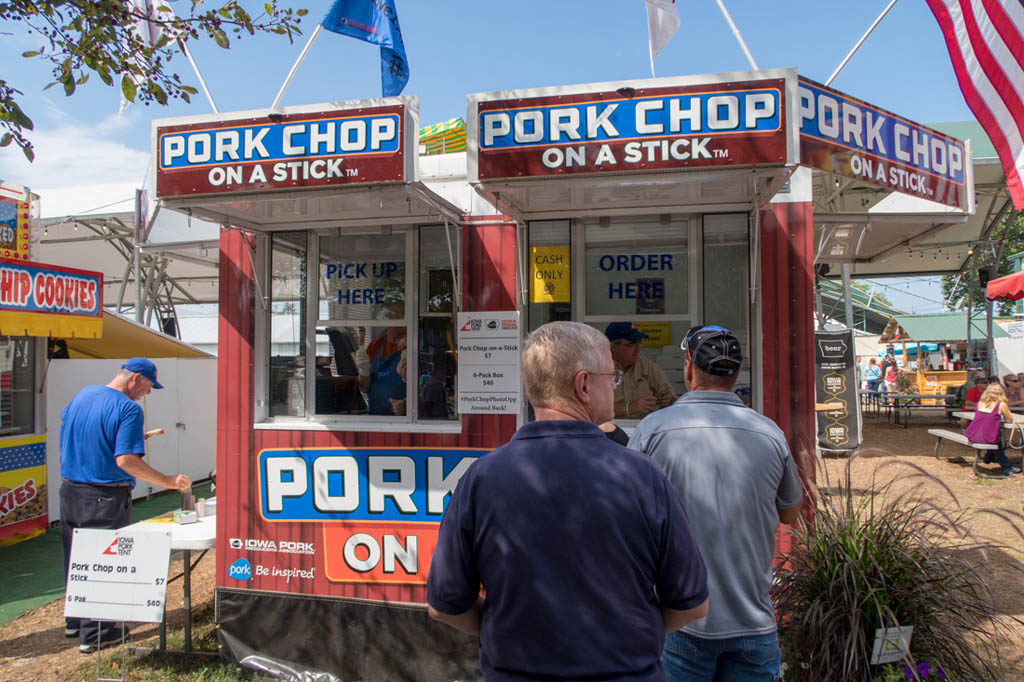 And, let's not forget, the Deep Fried Mac & Cheese: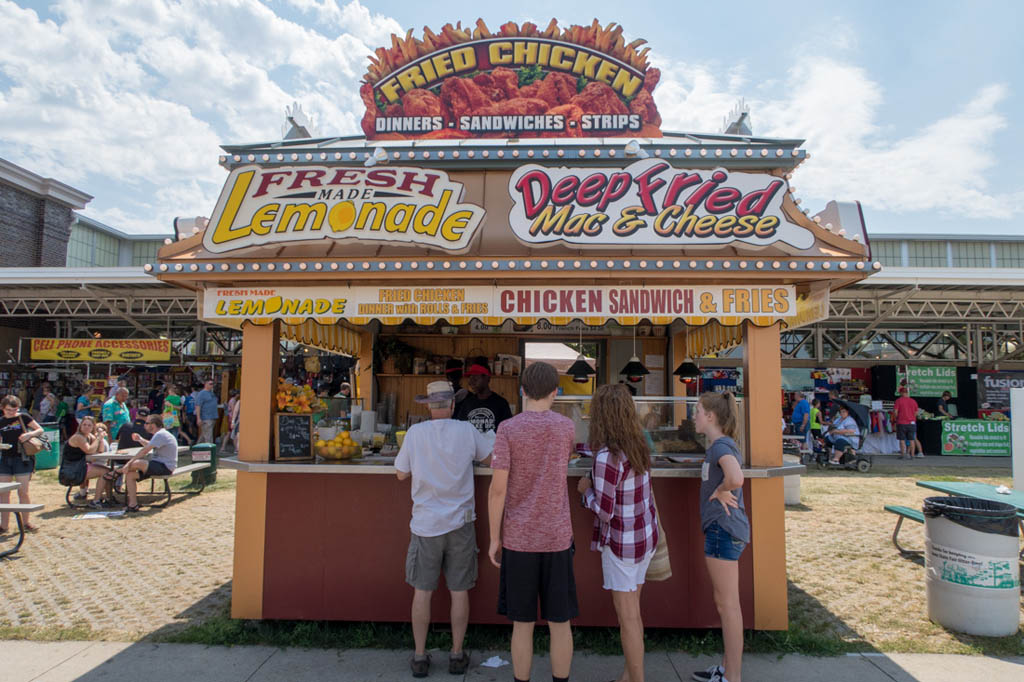 Even the Veggie booth had deep fried veggies!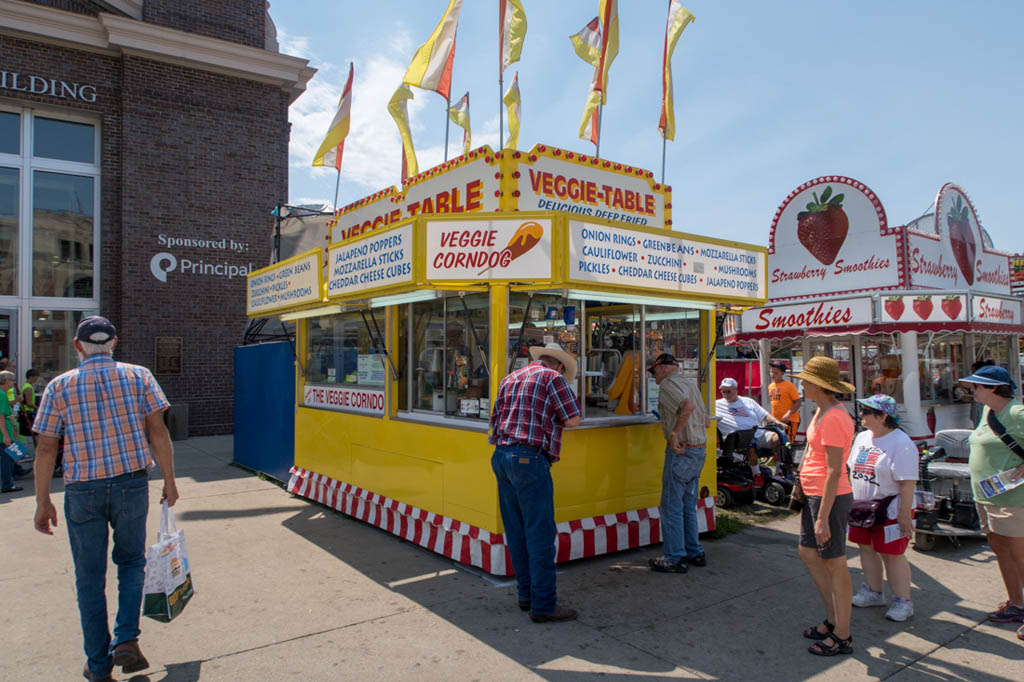 Apple Pie on a Stick: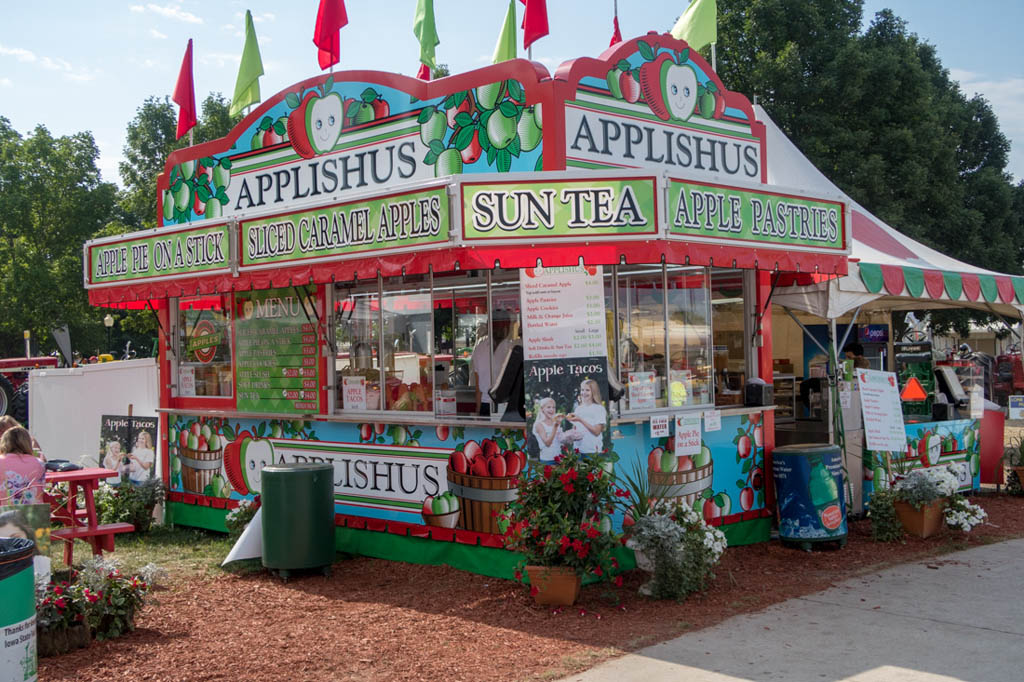 And, a bacon wrapped rib on a stick: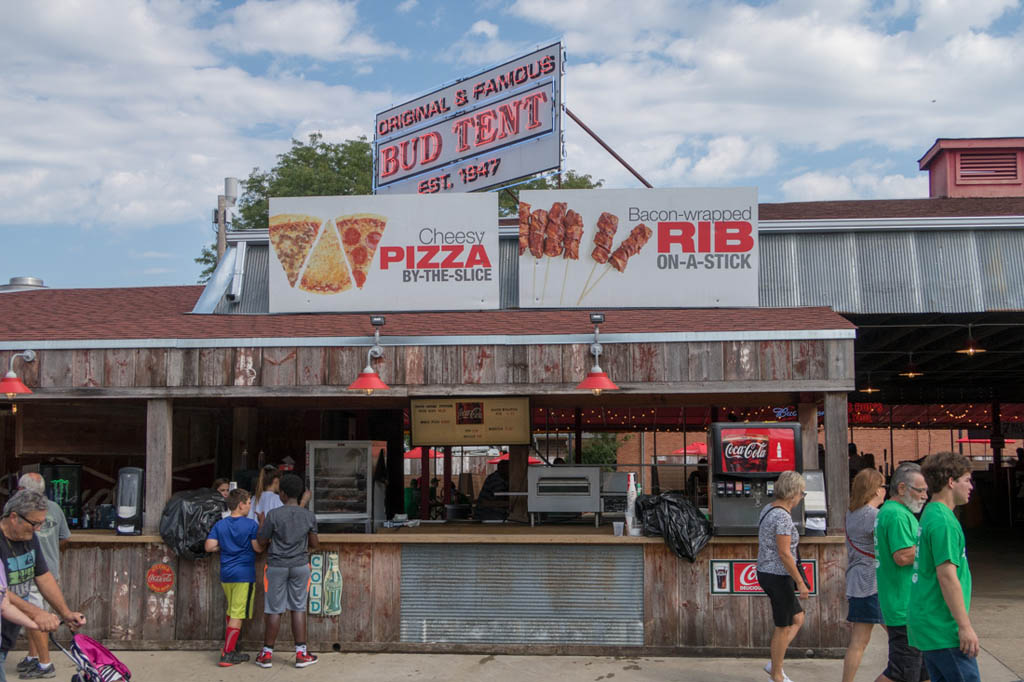 You get the idea!
I just wanted to point out there there were beer options, like at this Craft Beer Tent: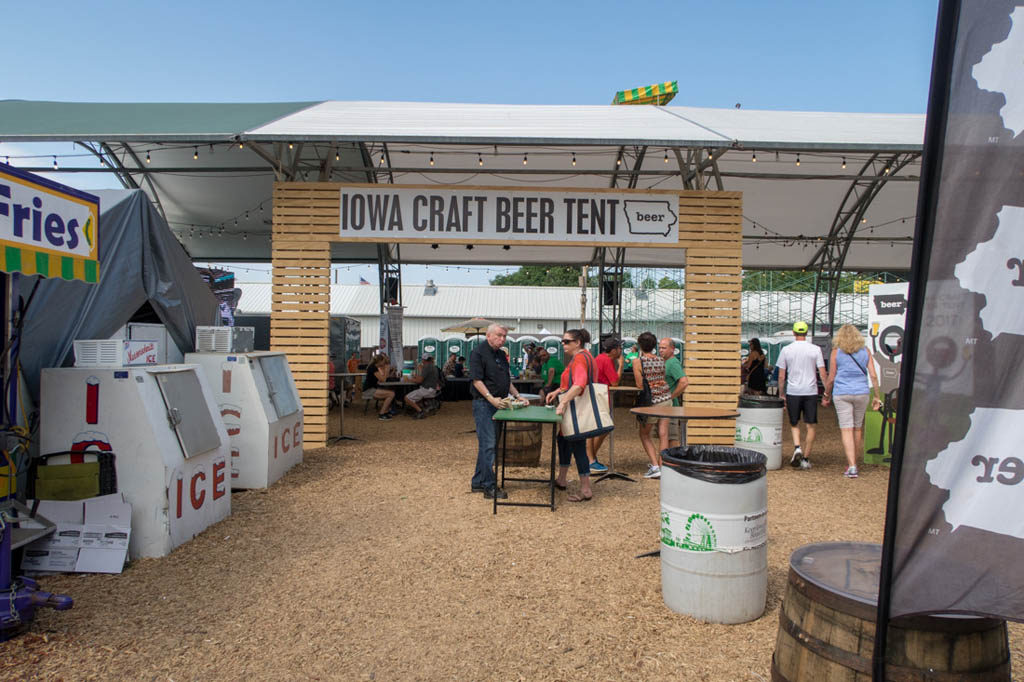 However, like I mentioned in my post about the EPCOT Food and Wine Festival, me plus hot weather plus booze DO NOT MIX. I end up with a near instantaneous headache. So, I skipped the alcohol options at the Fair, but they looked plentiful.
More Food Booths at Iowa State Fair
Now, just because I find all these food booth designs to be so quaint and adorable, I'm going to just leave you with a bunch of additional general photos of the food booths. Although, it makes me so sad that there were many foods that I wanted to try, but probably literally would've burst if I had eaten any more.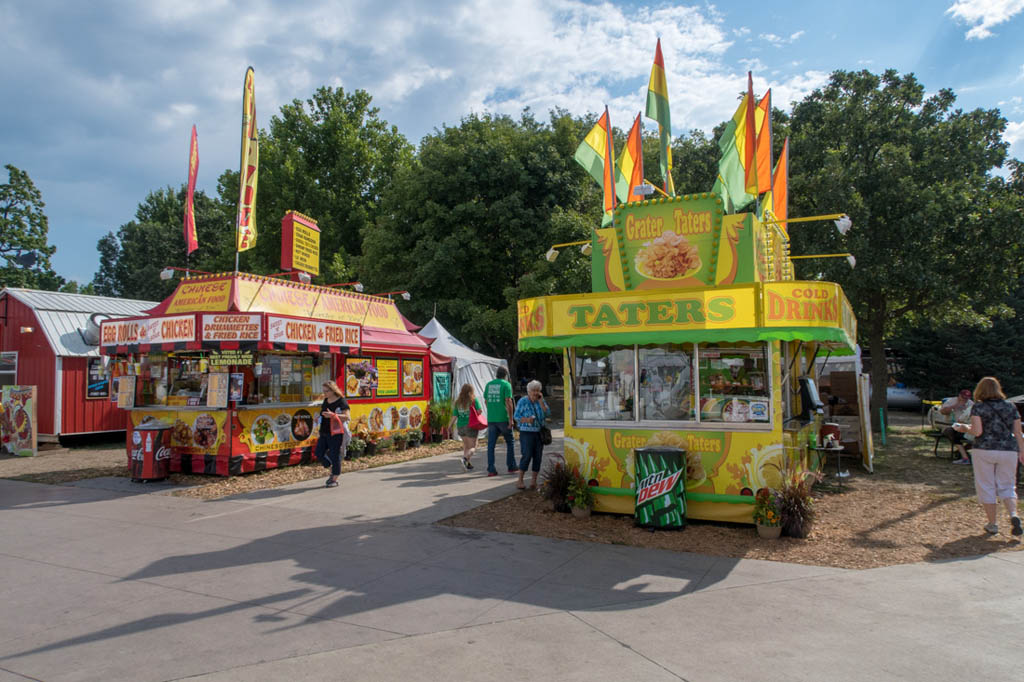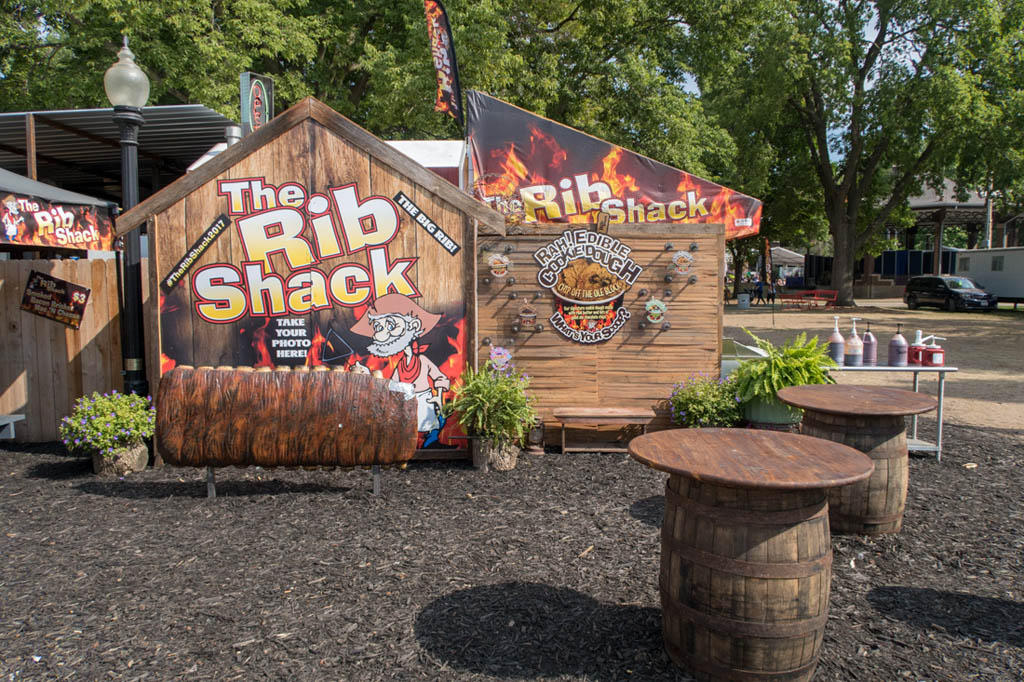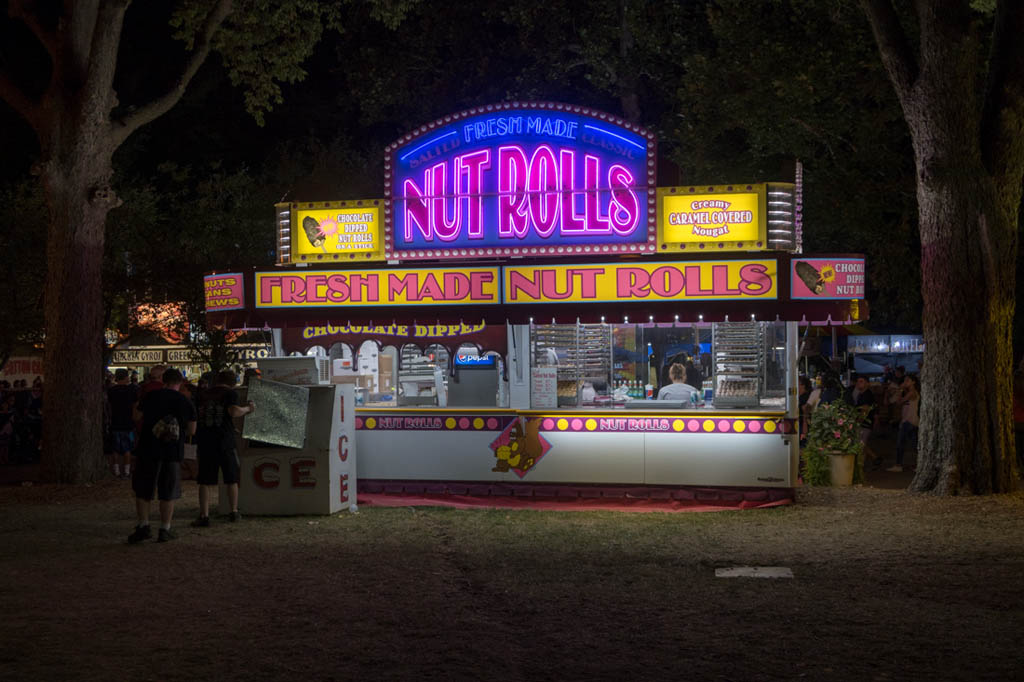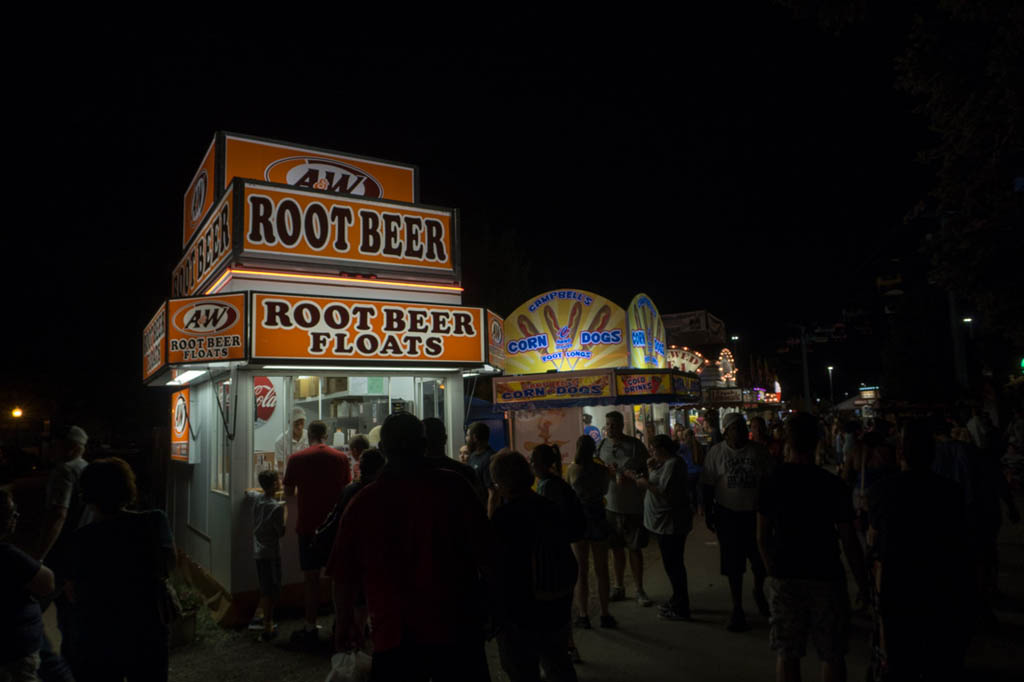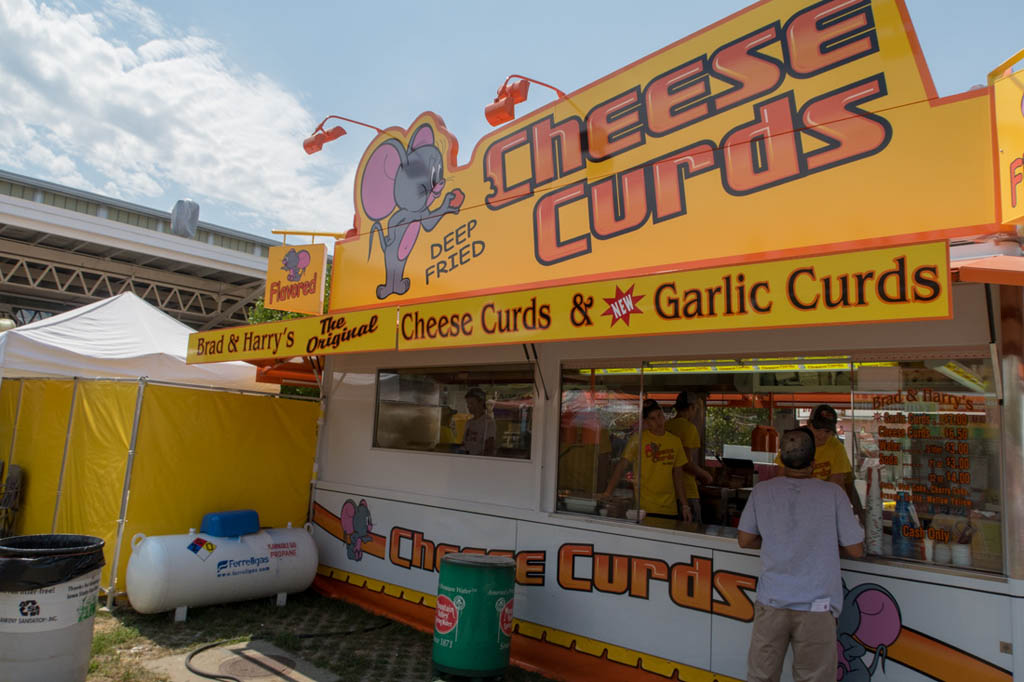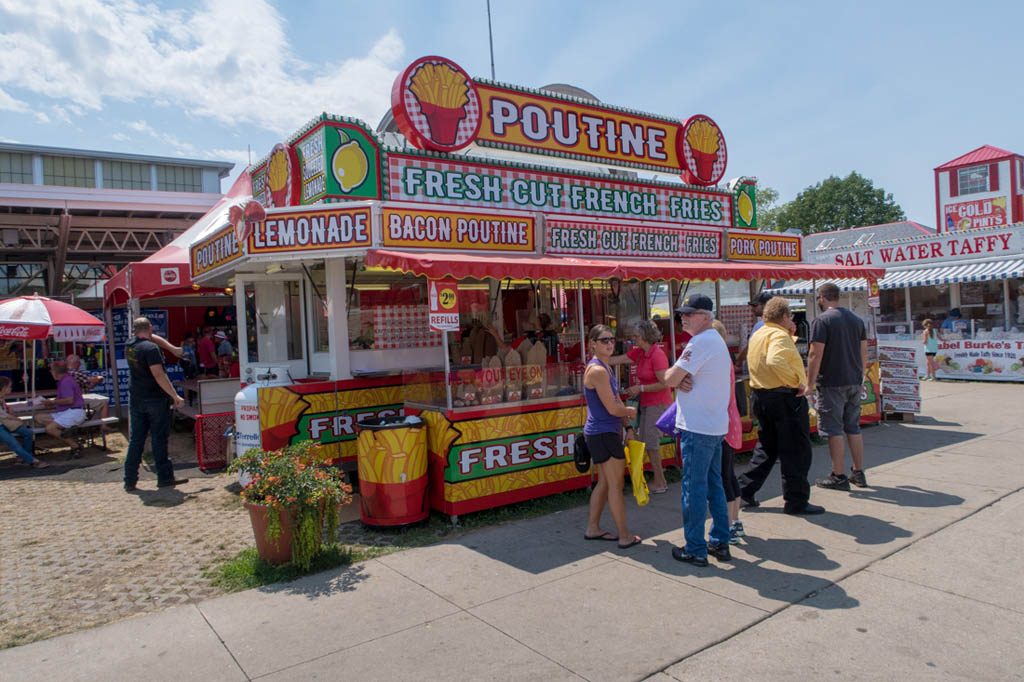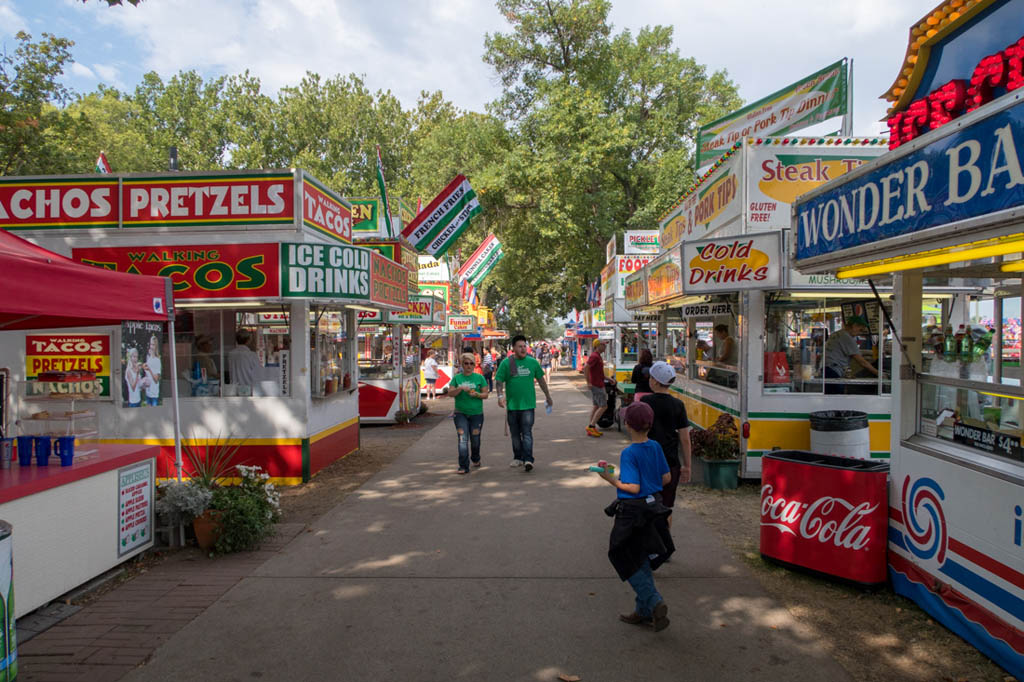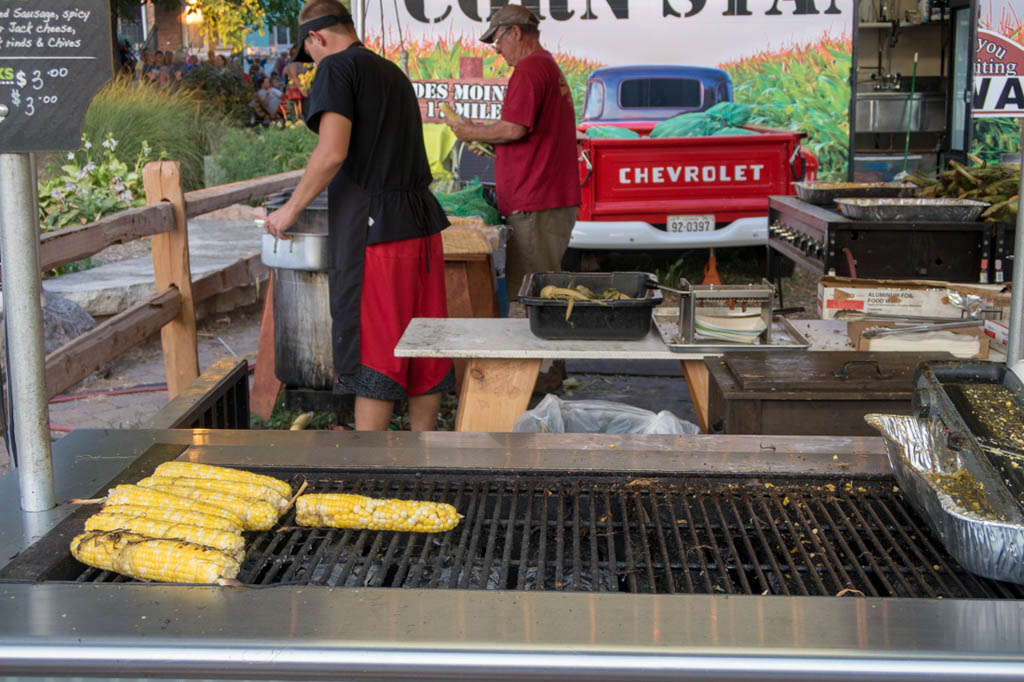 I LOVED that they had Iowa State Fair cookbooks on sale at one of the exhibits! I picked up the cookbook that covered fair foods that had been at the 2016 Fair the year before. It was a great souvenir of the fair to bring home with us.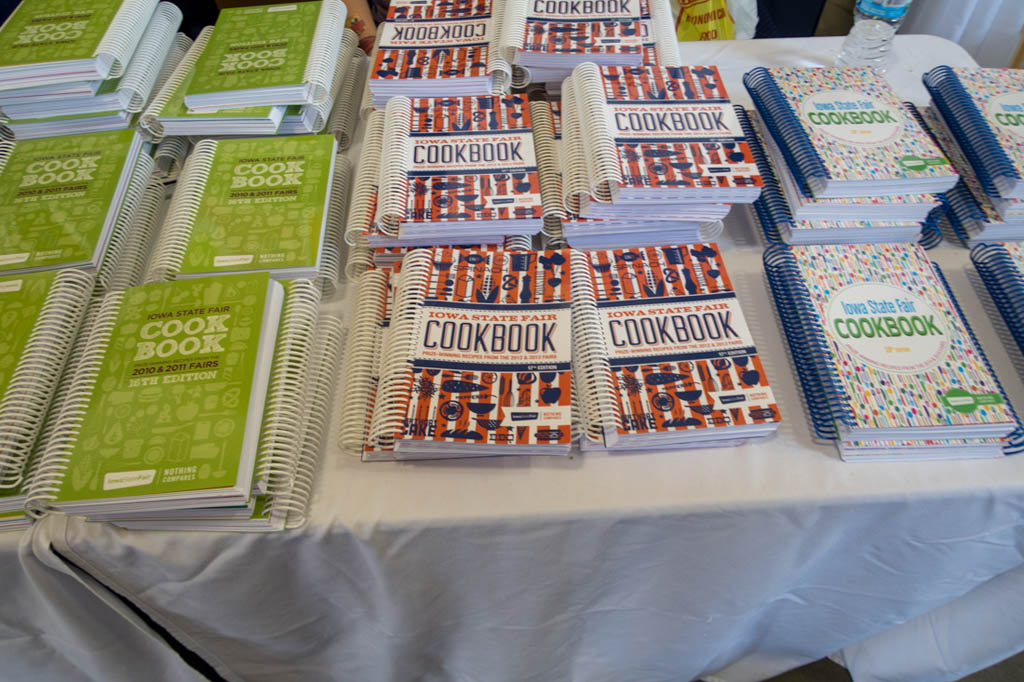 Have you been to the Iowa State Fair? What were your favorite foods? What other State fairs have excellent food selections?