This post may contain affiliate links. Please see my advertiser disclosure for more details.
---
One of the main reasons I wanted to go to Disney at the time of year we did, was to experience the EPCOT Food and Wine Festival.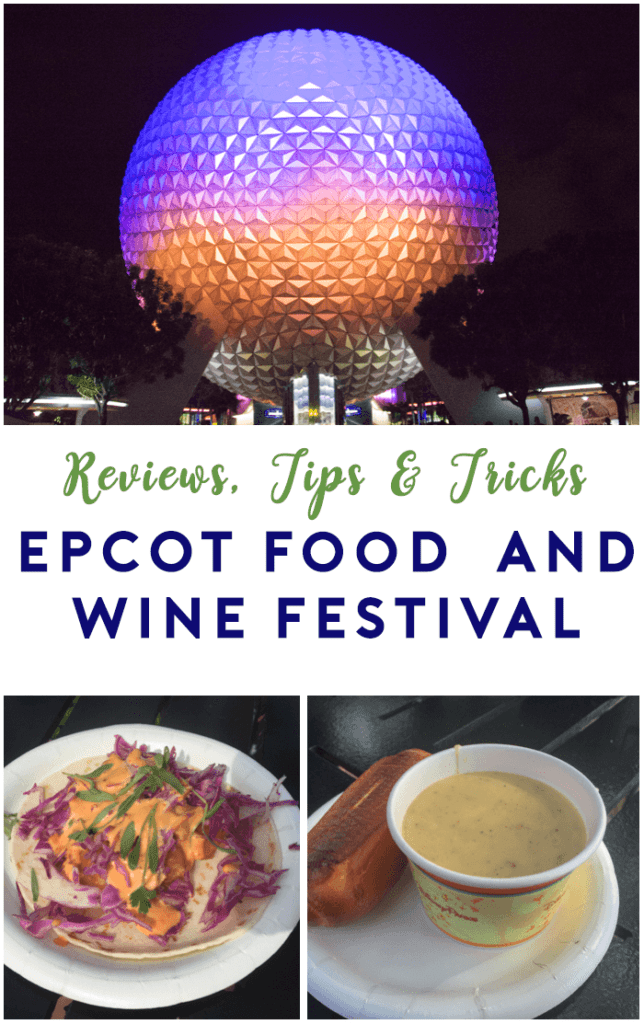 I wrote about our day at EPCOT in a separate post, covering things like the rides we went on and the evening IllumiNations light show. However, I didn't cover anything about the Food and Wine Festival in that post, since I wanted to dedicate an entire separate post to it!
Okay, let's get to it! The food!
The Food, Part 1 (Early Afternoon Tastings)
We started out with an order of Loaded Mac n Cheese from one of the "generic" (non-country) booths.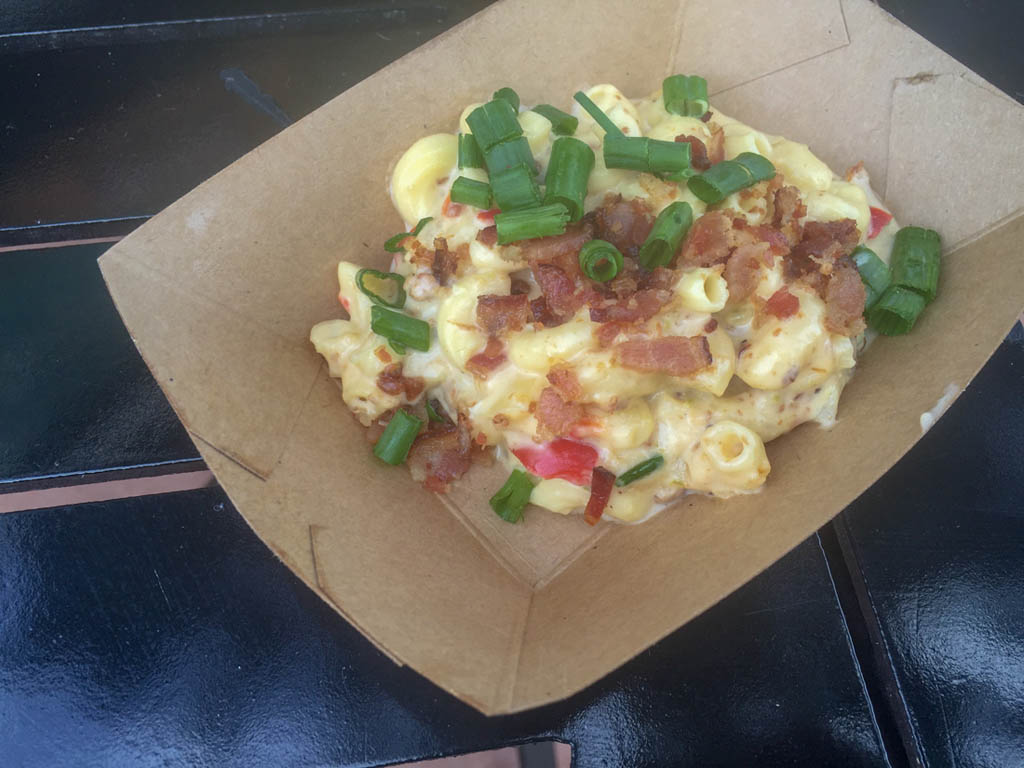 Yum!
It was at this point that I started to consider the "wine" part of the EPCOT Food and Wine Festival. I had thoroughly intended to enjoy both, well, food and wine! But, even though it was late October, it was getting pretty hot as midday approached. I tend to get headaches when I get overly hot. And heat + wine + getting bounced around on rides just seemed like a surefire way to get a bad headache. So, I decided to skip the wine part for now, and just imbibe after the sun went down later that night.
Next up, we stopped by the Mexico tasting booth, where I had the Taco de Camaron, and Ken had a Barbacoa Enchilada. (Both were very yummy!)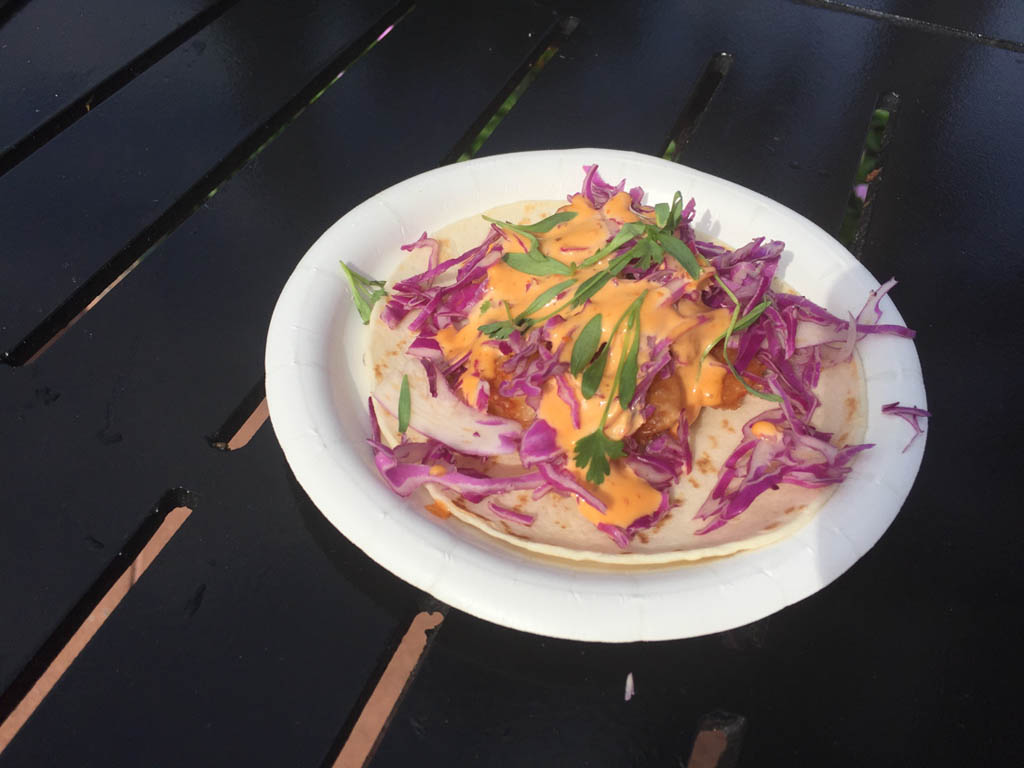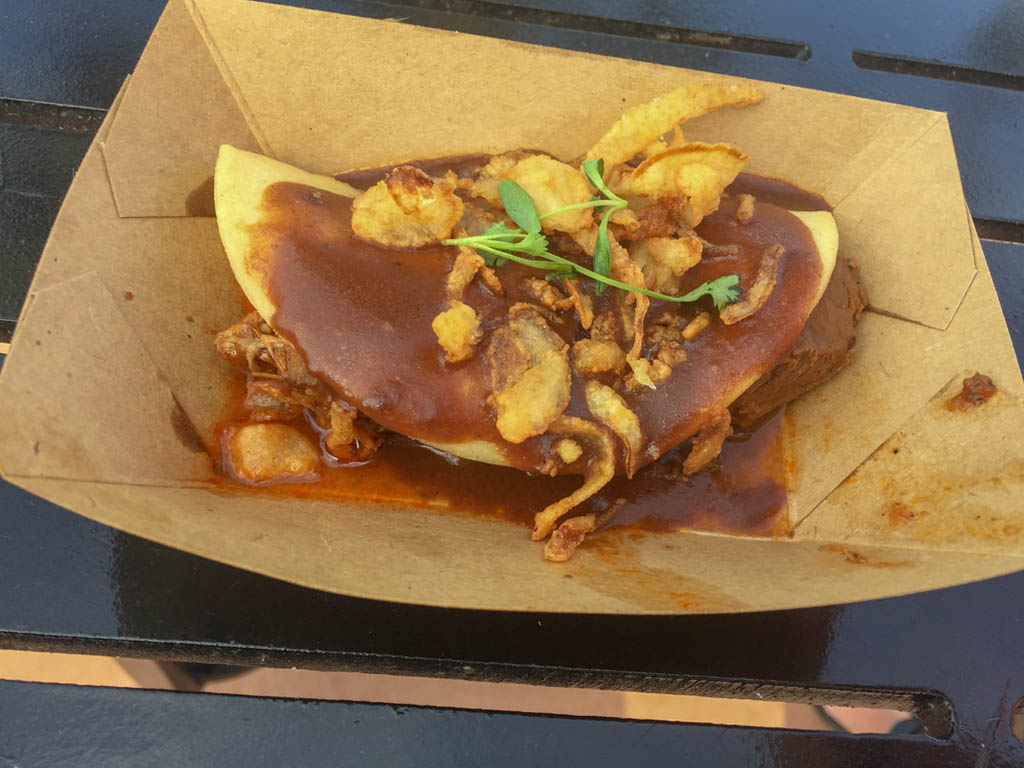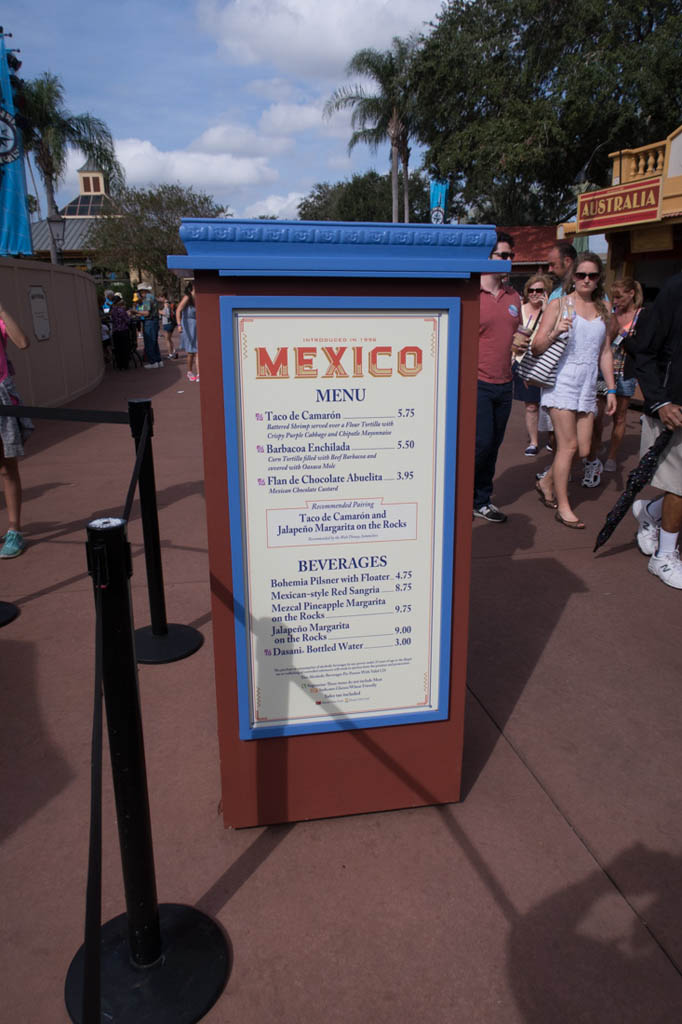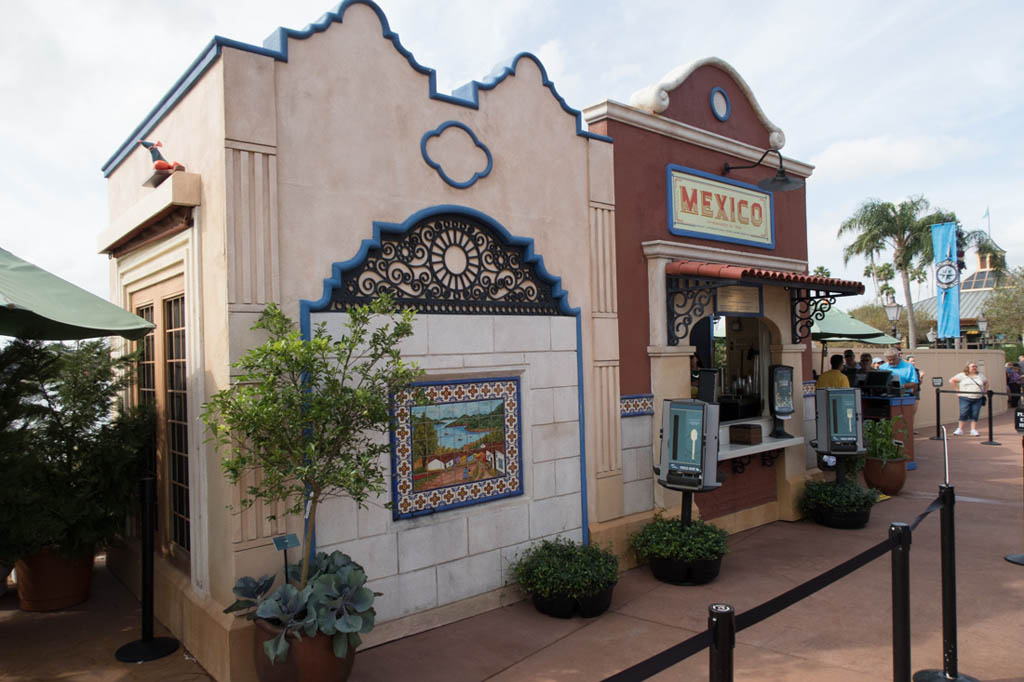 It's worth noting that some of the biggest "complaints" I've read about the EPCOT Food and Wine Festival are 1) The crowds and long lines at the booths, and 2) Lack of table space to eat. One of the ways to combat the crowd issue was to attend the EPCOT Food and Wine Festival on a weekday, when it wasn't overly crowded with locals who flock to the Festival with their Disney Annual Passes.
So, we we attended on a Friday. AND, we got started eating at the booths around 10:45AM. Sure, maybe that's a bit early for some to be eating loaded Mac 'n Cheese and Shrimp Tacos. But, we didn't have any issues with crowds.
Now, with that said, the longest booth line that we did have was at the Canada booth. It seems to be one of the most popular booths there! The line probably had about 20 people in it, but it moved fast, and we were through the line in about 5 minutes. We both ordered the Canadian Cheddar Cheese Soup (served with a pretzel roll), and the Le Cellier Wild Mushroom Beef Filet Mignon with Truffle Butter Sauce.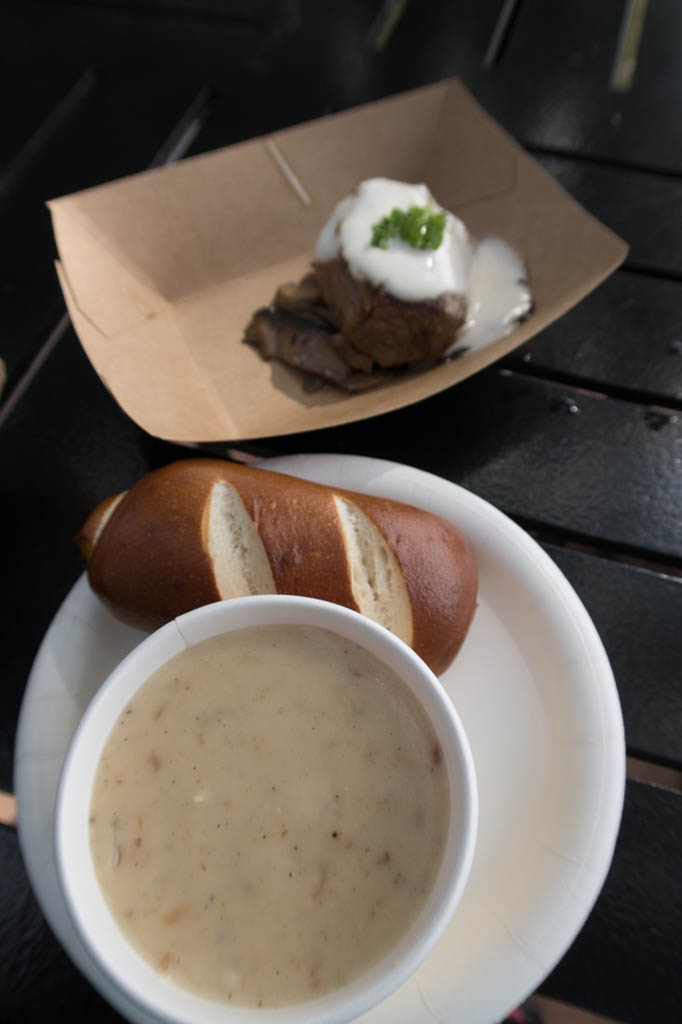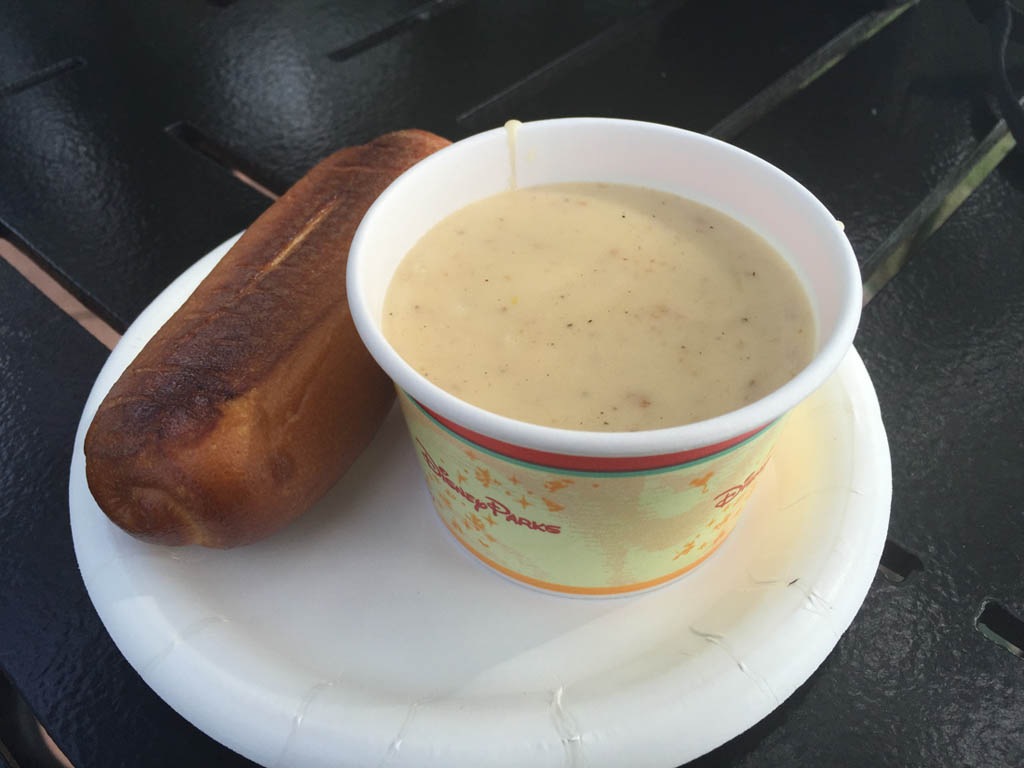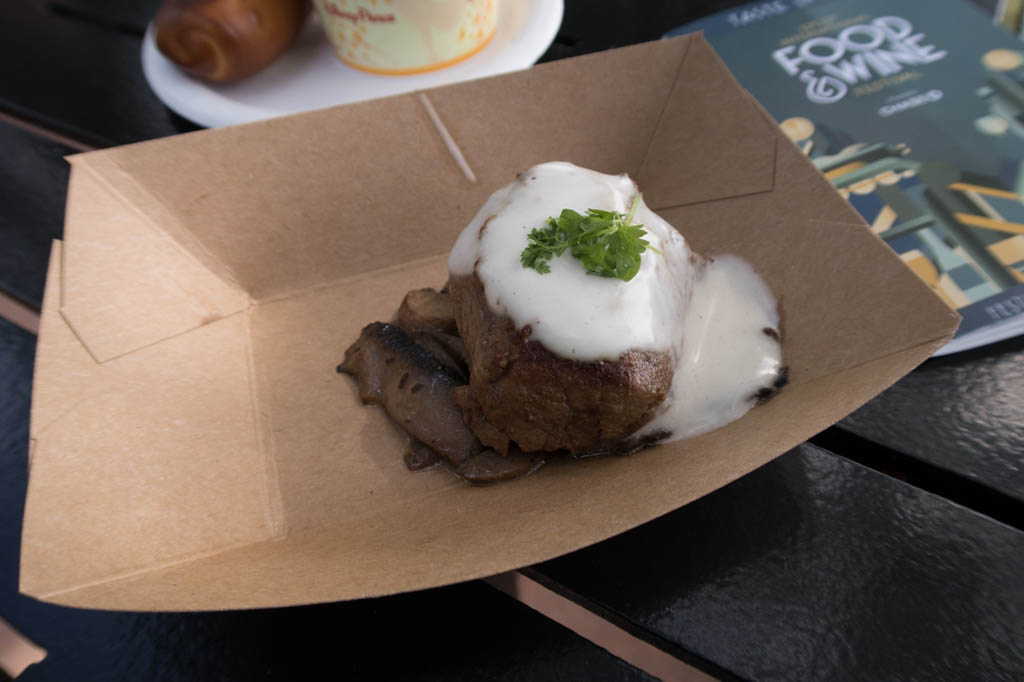 And, as you can see, there were still plenty of the standing tables available.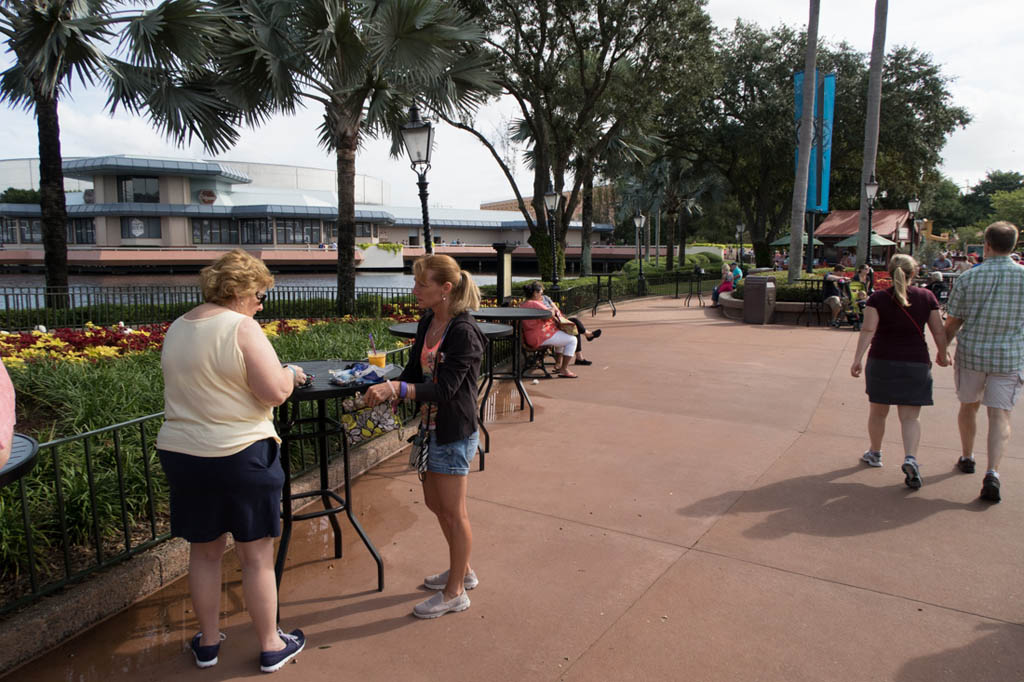 We couldn't believe we were already getting pretty full! But, it was fine. Ken's sister and her family were going to be finishing up their brunch at Akershus pretty soon, and it was going to be time to get back on the rides!
We finished up our "morning" tasting rounds with the Ireland booth. We both shared a tasting of the Irish Cheese Plate and a Warm Chocolate Pudding with Irish Cream Liqueur Custard.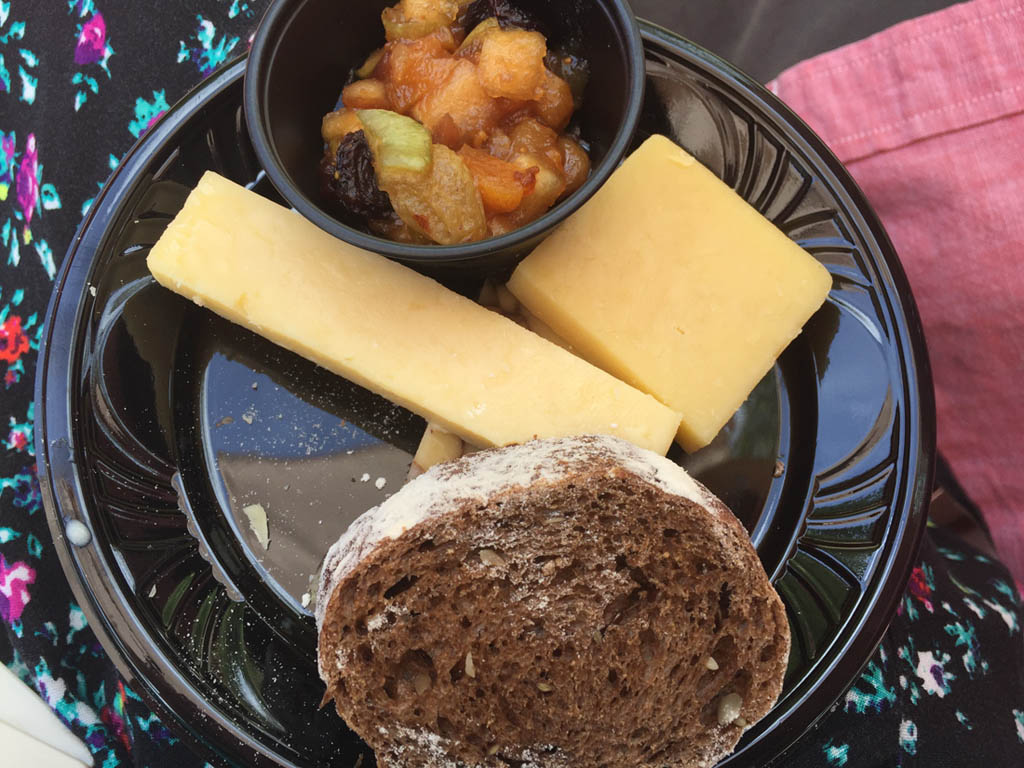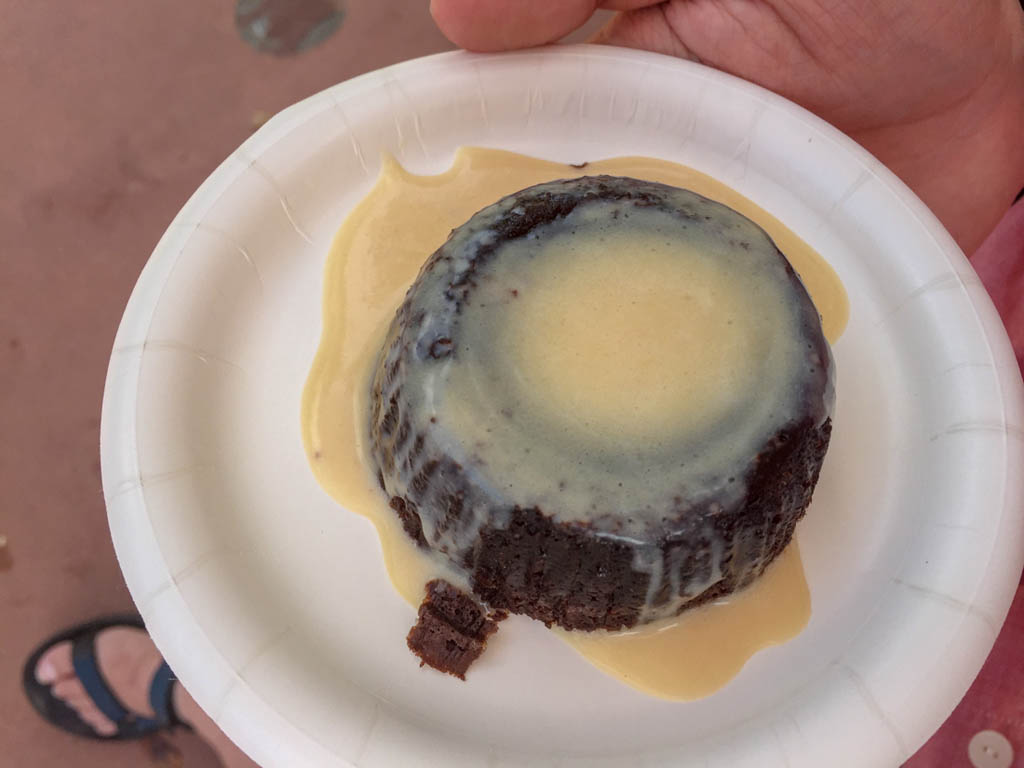 The Food, Part 2 (Evening Tastings)
After our early afternoon tastings, we met back up with my sister-in-law and her family, and we started back up with the rides!
By the evening, Ken and I were ready for a second round at the EPCOT Food and Wine Festival.
This time, we hit up the Poland booth, trying both their tastings of the Golabki (Pork Stuffed Cabbage in Tomato Sauce), as well as the Kielbasa and Potato Pierogi with Caramelized Onions and Sour Cream. I'm a native Pittsburgher, where kielbasa and pierogies are wildly popular (I mean, c'mon, the Pittsburgh Pirates have pierogi races in between innings), so I was excited to try this dish.
Since it was significantly cooler now that evening had arrived, my headache fear had dissiptated, so I started up with the booze! So, in addition to the food, I also purchased a Beer from the Poland booth.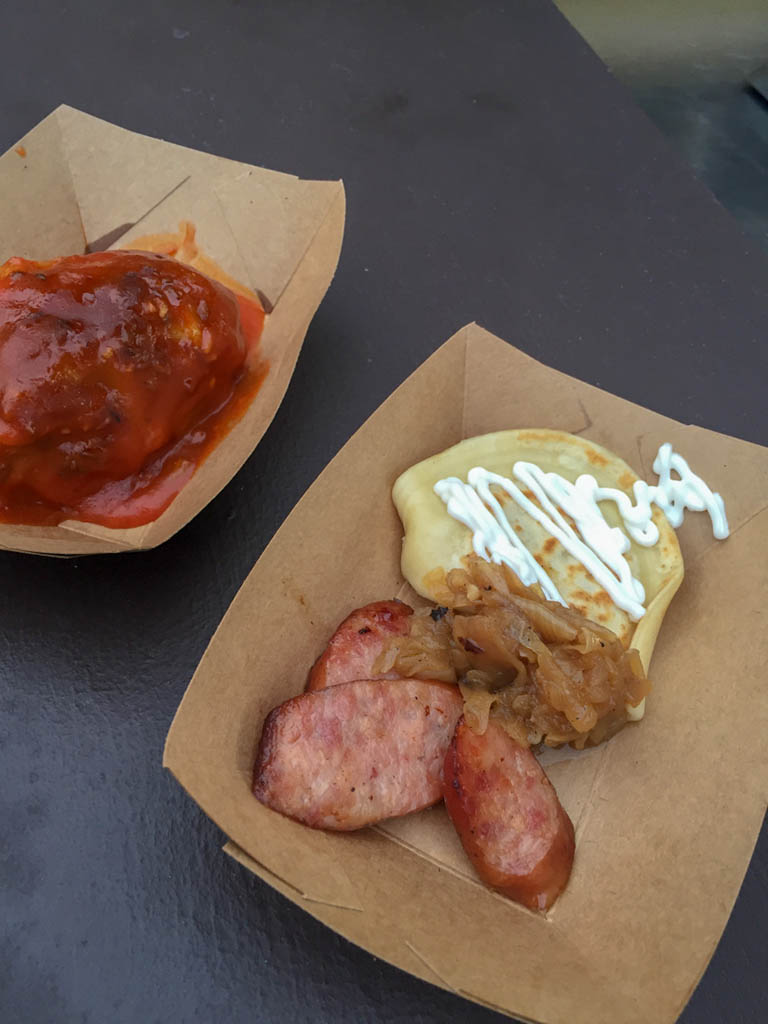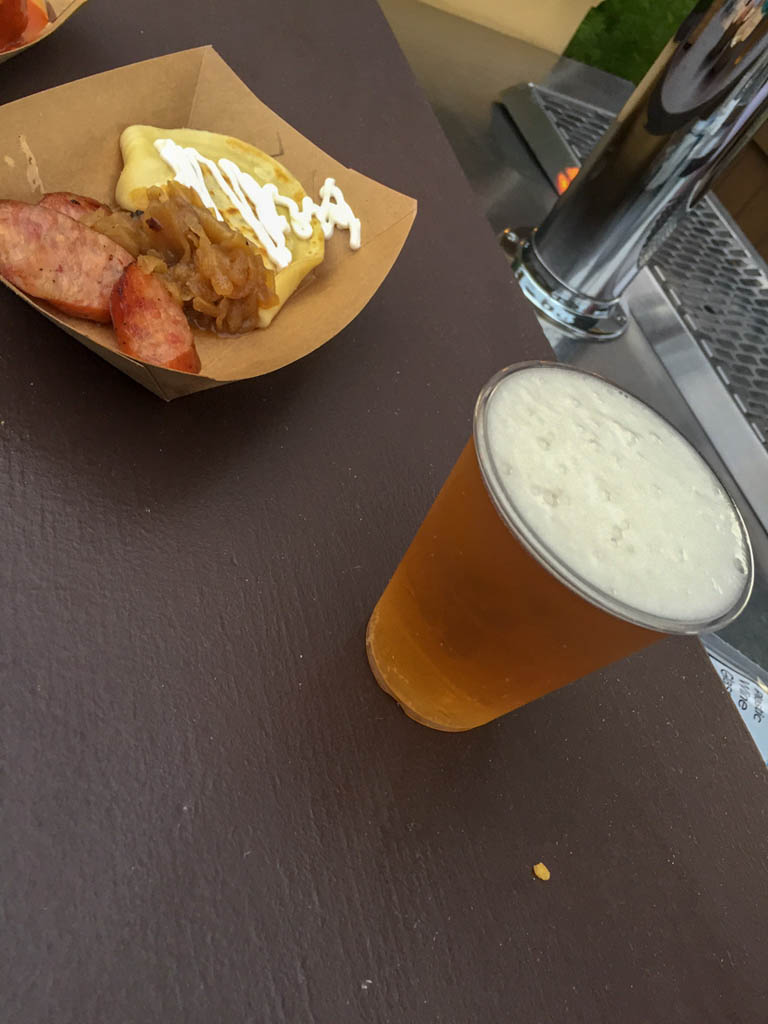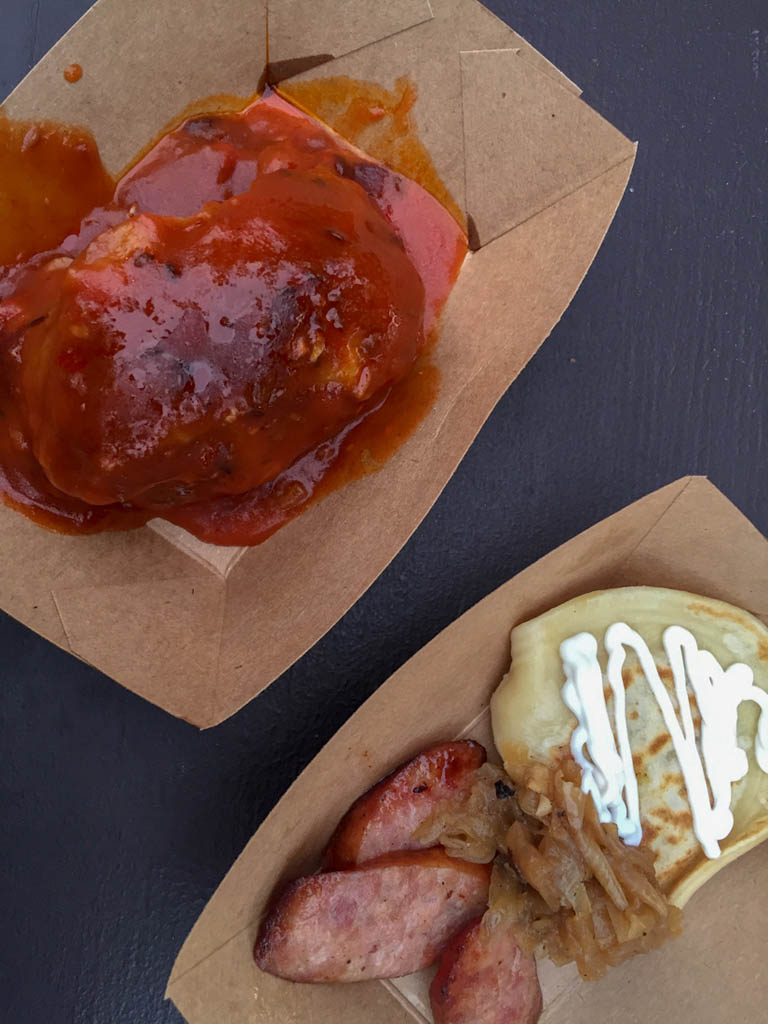 We also tried the Smoked Beef Brisket and Pimento Cheese served with Griddled Garlic Toast from the "Hops and Barley" booth. Oh, and another beer.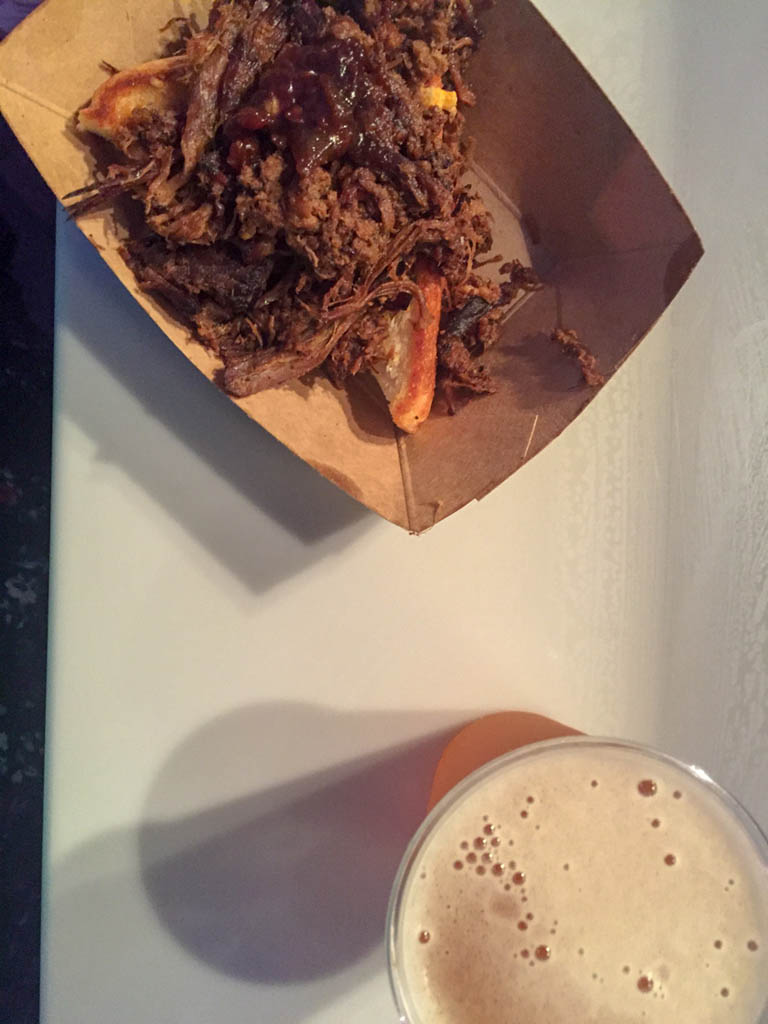 (It was getting pretty dark by this point, so the picture quality isn't great).
Ken and I were watching our 18-month-old nephew at the time during an informal "baby swap" while my SIL, her husband, and their 7-year-old went on Test Track. For what it's worth, our nephew thought the Smoked Brisket dish was very tasty too! (He kept eyeing me up as I was eating it!)
Even though it was more crowded at the Food and Wine Festival in the evening compared to earlier in the day, there were still very short lines and enough spots to sit or stand to eat. So, we didn't have any major complaints about crowds! Not sure how it would've been on a weekend though.
Food and Wine Festival Themes and Decor
This was our first time ever at the EPCOT Food and Wine Festival. And frankly, this was my first time at EPCOT in probably 10–12 years or so, and Ken's first time there since childhood.
One of the things I was not expecting was all the elaborate and gorgeous "theming" throughout the park for the Food and Wine Festival.
For example, these posters and signs near the entrance to the World Showcase: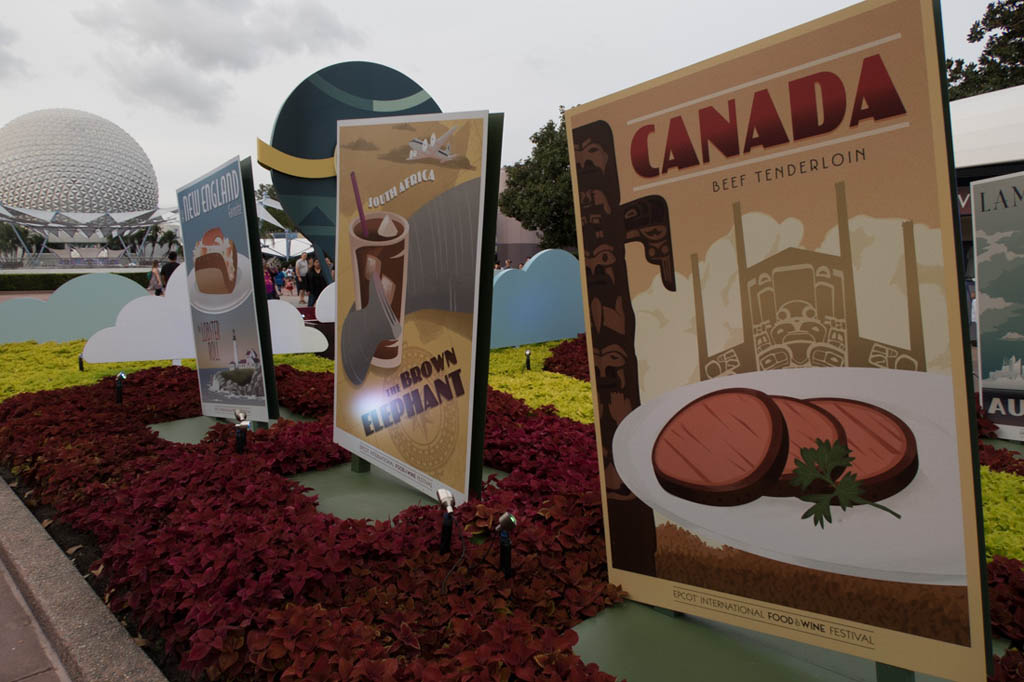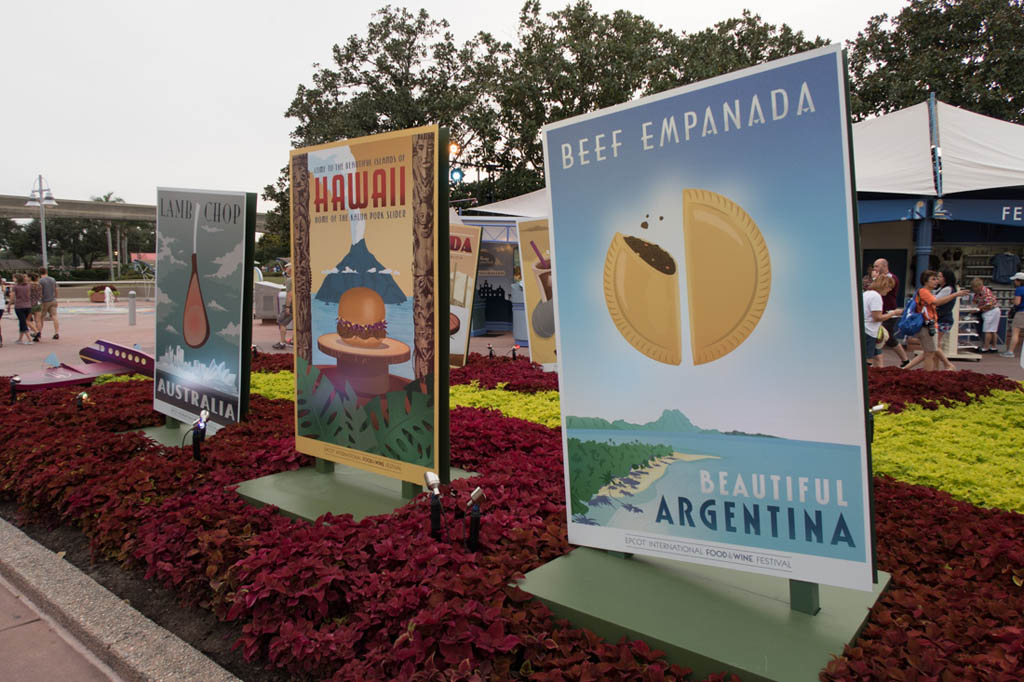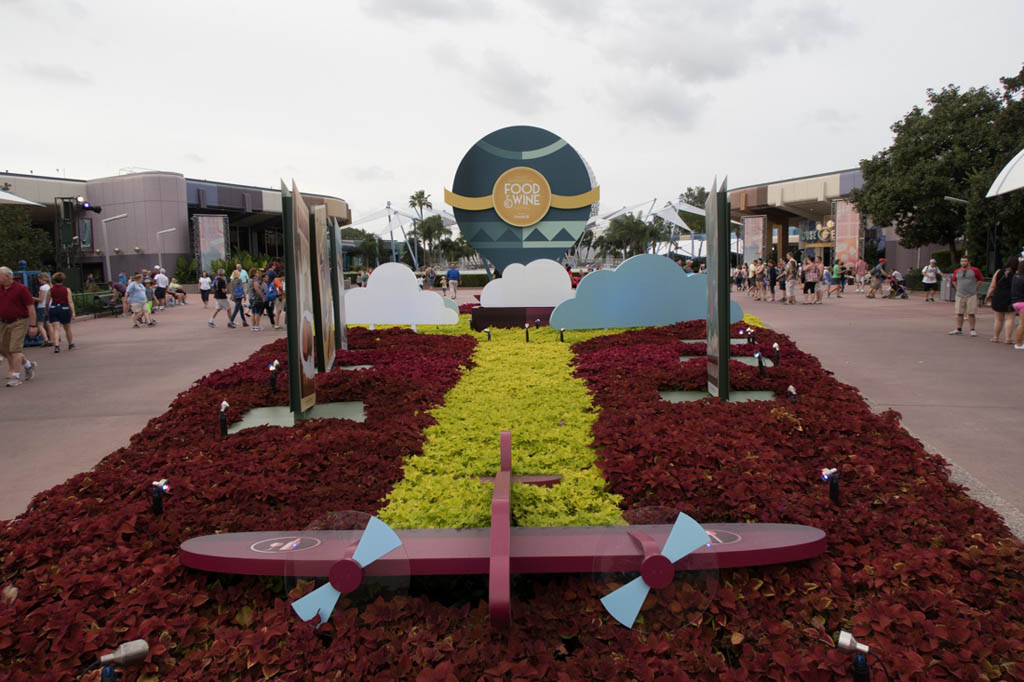 Or, like this topiary of Mickey grilling!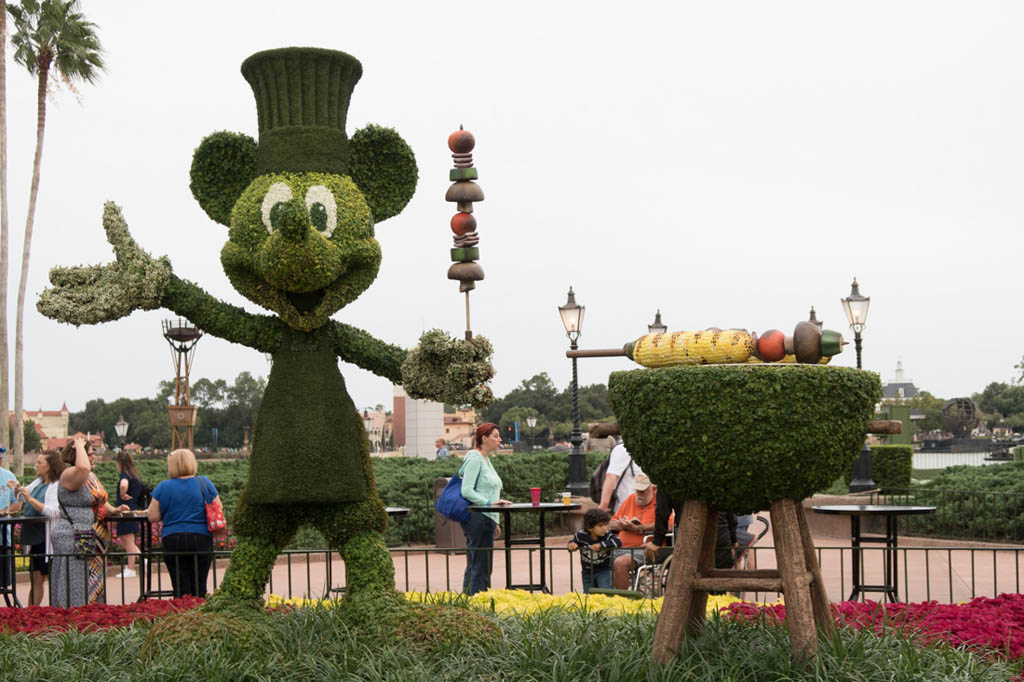 Prior to attending the Festival, I also couldn't quite picture how the food booths would be set up. I had originally envisioned that the food booths would be housed within the individual "country" areas of the World Showcase. That, however, was not the case. Completely separate booths are set up during the Festival, and those are sometimes nowhere near the respective "countries."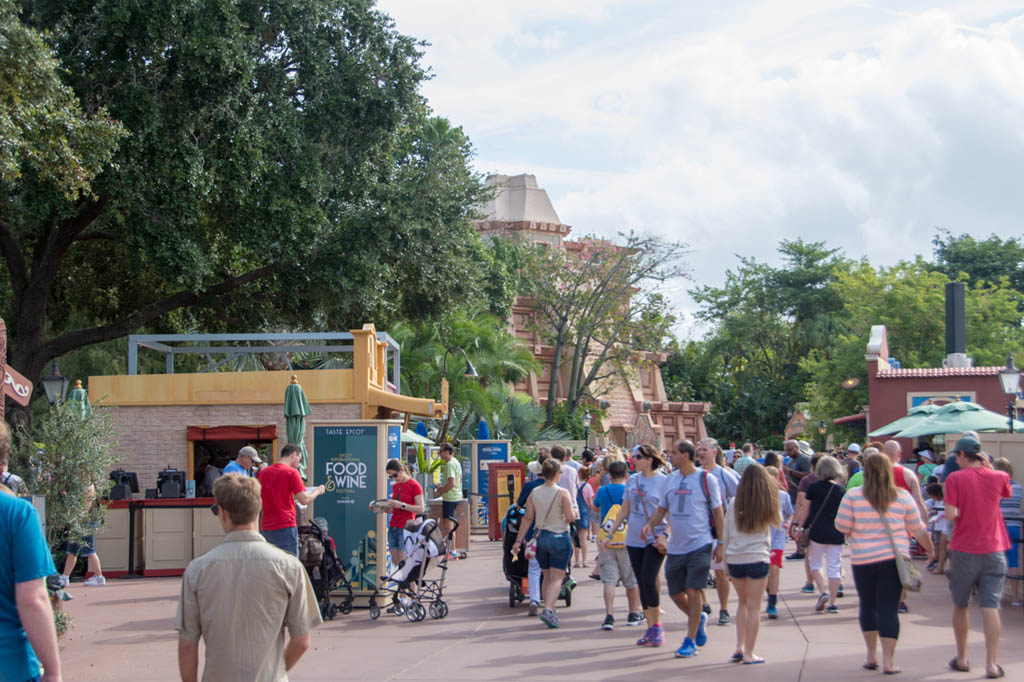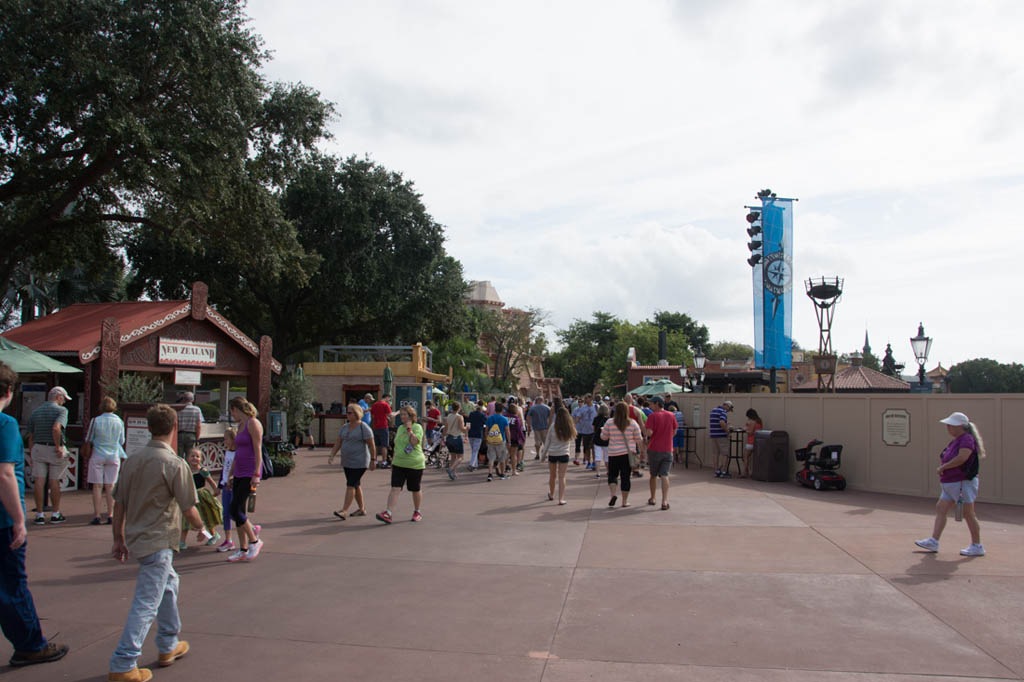 And even at night, things looked spectacular.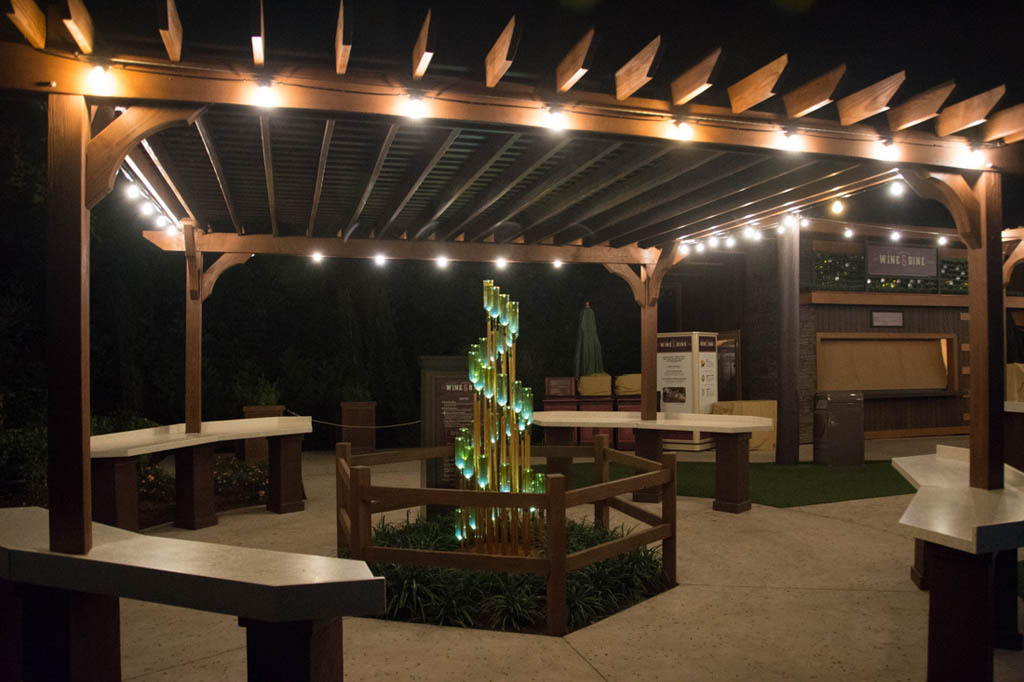 Closing Thoughts
Overall, I was really impressed with the EPCOT Food and Wine Festival. I just regret that we only had one day at EPCOT to experience it! I would definitely like to go back in the future and be able to spend at least two days there and be able to sample even more foods.
Have you been to EPCOT Food and Wine Festival? What were your thoughts?