This post may contain affiliate links. Please see my advertiser disclosure for more details.
Recently, as soon as I boot up my computer in the morning, my routine goes like this:
Check Radisson's website
Check Hyatt's website
Check Marriott's website
Check Travelocity
Check BookingBuddy
Check Accor Hotels website
Check Chase Ultimate Rewards Travel
Check American Express Travel
Check TripAdvisor Forums
What, you might ask, am I doing?
Looking for some freakin' availability for hotels in Sochi during our upcoming trip to Russia for the Olympics.  It's not just in the morning that I do this.  Waiting for a conference call to start?  Let's check the TripAdvisor Forum.  About to go to bed?  Let's check the hotels one more time.
I bang my head on my desk, ponder whether we should just cancel our whole trip to Russia, and then tell myself to relax.  Then I Google some keyword search terms like "Marriott Sochi" and "Hyatt Sochi" to see if folks on other blogs or forums have posted updates about whether they have been able to book hotel rooms.  (Hint: It's a no).  The apprehension sets back in, then I just tell myself that I am worrying about a first worldliest of many first world problems.
Here's some back story.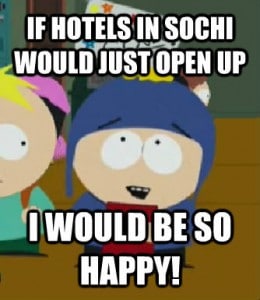 Attending an Olympics is a strange planning experience.  I was slightly panicked at first about how things worked, but after a bit of research, I realized this is just how it works.  Every Olympics.
First and foremost, the event tickets are released for sale more than a year prior to the Olympics.  And you pretty much have to buy the tickets the day they are released for sale, because they sell out within an hour.  Olympic event ticket sales occur WELL before flights are available to book. Generally speaking, you cannot book a plane ticket more than 330 days in advance.  (There are a small handful of airlines that are 365 days, and some airlines, like Southwest and AirTran, that are 180 days or so.)  To add to this already complex situation, the International Olympic Committee (IOC) retains "ownership" of all hotel rooms in an Olympic host city until shortly before the Olympic games commence.  Meaning you cannot book any hotel room in any host Olympic city during the Olympics, until the IOC say so.  In the past, it looks like hotels have been released to the public about five or six months prior to the start of the games.
As you can see, buying Olympic event tickets takes a huge leap of faith.  Sure, I could get an idea of how much it will cost to fly to Sochi on a normal day, but I have no idea what it will cost to get there during the Olympics!  So, after spending about $700 on four different event tickets for me and Ken (Snowboard halfpipe, speed skating, luge, and ski jumping), we waited about two months before we could begin booking any sort of flights.  Once March rolled around, and we were able to secure Business class flights using United miles. (Score!  More on that in a future post.) We also planned stops in Moscow and St. Petersburg.  So our Russia trip plans were looking up as of March.  We had Sochi Olympic event tickets, we booked flights, booked the Park Hyatt in Moscow for free using points, researched that hotel availability is aplenty in St. Petersburg, and now we just had to wait for hotels in Sochi to become available.
And here we are. It's September.  Every day since March, many times multiple times per day, I perform those searches I listed at the top of the post.  We have just over four months until we depart for Sochi.  And we do not have a place to stay.  I am trying not to panic.  But I am.  I thought my panic might be due to my compulsive need to plan things, but I am not alone in my worries about this situation.  No one has been able to book any hotel rooms in Sochi for the Olympics.  Adding to this complicated situation is that many hotels in Sochi are still under construction.  There have been rumors on various forums that many of the hotels won't even be completed in time.
So, we continue to wait.  And wait. And wait.  Ken says that we can just go over there and wing it if hotels never open up, but I'm not really into that.  I don't want to find myself sleeping in a car … in Russia … in the winter months.
Has anyone else ever attended an Olympics and found themselves in a similar situation?