This post may contain affiliate links. Please see my advertiser disclosure for more details.
The holidays are coming! This week, I'm sharing gift guides related to topics I blog about. First up, the ultimate guide to gifts for travelers.
Traveling and Packing Conveniences
Packing Cubes. After YEARS of buying packing cubes but never liking them, I have become a true packing cube convert. I use packing cubes for every trip now. One cube for shirts, one for bottoms, and one for undies. And another set for Ken. Our luggage stays organized, especially on long trips that involve multiple hotel stays. We have them in a ton of size and colors so we can always pick exactly the one we need. I love the eBags brands of packing cubes, but there are tons of other brands out there too. Price: Starting around $18 depending on the size and color and number of cubes in the set.
Portable Battery. Of all the gadgets Ken and I travel with, the one we use most is a portable battery. When you are out and about all day, probably using your phone to take pictures and upload those pictures to social media, your phone battery can drain pretty quick. So, we always have a portable battery with us to charge our phones. (Make sure you don't get one that's too powerful, as those ones can get heavy lugging around all day in your bag). Price: Around $25.
Leather Luggage Tags. We bought leather luggage tags a few years ago for all our bags, including carry-ons, and we love them! Unfortunately the Etsy seller that I bought mine from no longer sells them, but these luggage tags from another Etsy seller also look amazing. Leather is great because it's durable and the lettering won't fade. I can't even begin to tell you how many plastic luggage tags I had in the past that just snapped and broke. Leather forever and always now! Price: $12-$15.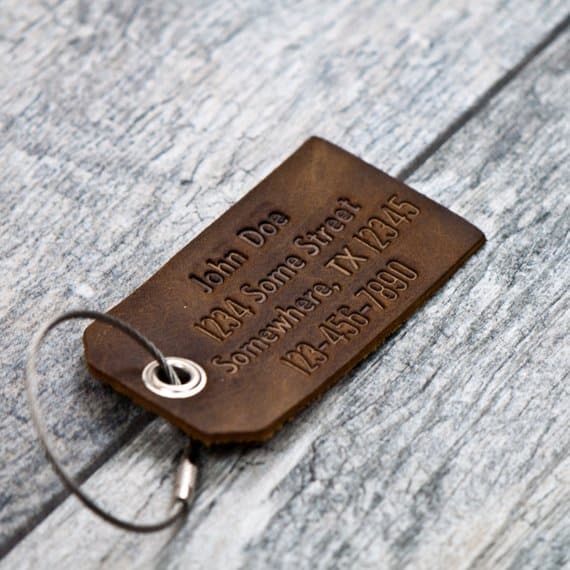 Etsy Seller: OxAndPine
Platypus Water Bladders. We use these Platypus Water Bladders
on every trip. This is the best way to always have water with you when you're out traveling. The water bladders fit right in your backpack, and it's convenient to take a drink from the long straw whenever you need it. We have taken these to Disney, on camping trips, and pretty much everywhere else. They are built great, and we've never had an issue with leaks. As an added bonus, you don't have to worry about generating extra waste with using disposable water bottles.
Luggage Scale. Well, hopefully luggage weight wouldn't be an issue if you bought them my favorite travel bag that I listed above, but for travelers who always worry about exceeding their luggage allowance when flying, a portable luggage scale is great! This AmazonBasics brand luggage scale
is the slimmest, cheapest, and most compact one I've ever seen! Price: $10
My Ultimate Favorite Travel Duffel. Ah yes. The LeSportsac Classic Extra Large Weekender
. Why do I love this bag so much? Well, for years I was always hunting for the perfect travel bag. I wanted some sort of ideal collection of pockets and sections to organize my packed items. Well, guess what? All those existing pockets and organizers in bags suck. They space is never optimized. So, a few years ago, I bought this generic duffel, and it is perfect for my traveling needs. I just toss in what I'm packing. No need to rearrange things in various pockets. No lamenting that one particular pocket seems to be a waste of space. And perhaps this biggest bonus? This bag weighs virtually nothing when empty, which means you don't have to worry about reaching checked baggage weight limits! I have the bag in black-and-white polka dot, which makes it easy to spot at baggage claim. It doesn't look like the polka dot version is sold anymore, but there are other color variations. It's super durable and worth every penny. Price: Starts at $116, depending on style.
Yoga Toes. You're probably like, "Yoga what now?" Yoga toes
.
I pack these for every trip. I can't explain it, but they work wonderfully for easing sore feet at the end of a long day of sightseeing. You just put them on your feet for about 20 minutes or so, and it's like your feet feel refreshed and brand new. Price: $30
Travel Photo Organization and Editing
Adobe Lightroom Subscription. When you travel, you likely take LOTS of photos. We use Adobe Lightroom to organize all our photos. I've been using it since probably 2010 or so, and love it. I organize all my photos, edit them (like with photo filters), tag them to organize them, upload them directly to social media from Lightroom, etc. Any traveling photographer would love to have this! Price: $9.99 per month.
Lightroom Presets. Likewise, if the traveling photographer in your life already has a Lightroom subscription, consider some of these fun presets (Lightroom's name for pre-defined photo "filters). The Driftwood Presets and the Sweets presets look so much fun!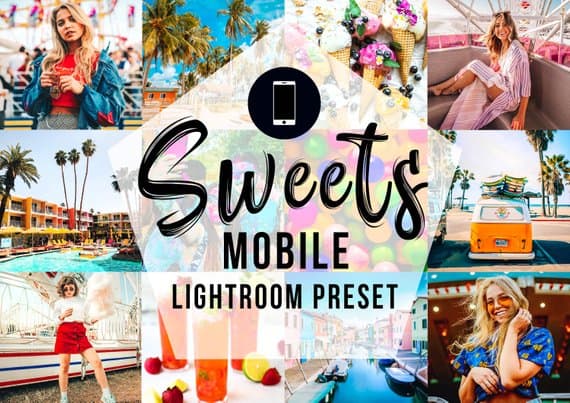 Etsy Seller: Magic Stars Photo
Travel Electronics
Kindle. I pack my Kindle
for every trip. It is so much easier and lighter to pack the Kindle instead of a big bulky book. Plus, the light on the Kindle is great for reading on dark airplanes without having to turn on harsh overhead lights. So, if the traveler in your life also loves to read, get them a Kindle if they don't already have one. Price: Around $80, but can go cheaper if buying refurbished, or higher depending on the model.
Roku Stick. We pack our Roku Stick
so we're able to watch good TV shows in the evening as we wind down from a day of sightseeing. The Roku stick plugs right into the back of flat screen TVs. In fact, some hotels these days have more easily accessible ports to plug in accessories like these! Having on demand TV options is so much better than mindlessly surfing TV channels on the hotel TV when all you want to do is zone out and relax! Price: $49.
GoPro. Okay, this one is on the higher budget end, but any traveler would be eternally grateful for a GoPro
. These tiny cameras take epically crystal clear wide angle photos and videos. Plus, they're waterproof and darn near indestructible. Price: $340
The Catch-All
Travel-Related Gift Cards. If you know that the gift recipient uses a particular airline a lot, some airlines sell gift cards. In particular, Southwest, Delta, and American sell gift cards. Hotels.com also sells gift cards, which can be used on tons of different hotels around the world. Or, to save yourself money, you can head over to a gift card reseller site and buy discounted gift cards there. My favorite gift card reseller is Raise.com, but there are tons of others too, like GiftCardMall or Cardpool or Giftcards.com. Price: Whatever price you want!
Are you a traveler? What would you add to the list? What else where you thinking about giving to the travelers in your life this holiday season?