This post may contain affiliate links. Please see my advertiser disclosure for more details.
Thanks to my relatively recent hobby of earning travel points and miles, much of our upcoming trip to Russia will be free.
I've mostly been interested in earning large sign-up points bonuses through credit card offers.  I travel, but not frequently enough to earn the amount of miles that I can earn through credit card sign up bonuses!
But recently, I have become more interested in learning about elite status options on airlines at at hotels.  Unlike large quantities of points earned through credit card bonuses, elite status, generally speaking, are earned mostly by flying a lot on a particular airline (like 25+ times per year) or staying a lot at a single hotel chain (again, 25+ times per year).
There are typically different tiers of elite status, so depending on what tier you are, you can get additional perks when you fly or stay.  For instance, you might be able to get a free breakfast at a hotel, or earn additional bonus points on paid stays.  Similarly for airlines, you might be able to get upgraded to first class on a paid ticket, and you can also earn additional bonus miles when flying.  There are some dedicated folks in the frequent flyer world that do "mileage runs," which are flights they take solely to make progress toward their "status."  These flights are typically very cheap.  This time of year, you see a lot of folks talking about status, because status is usually earned on a calendar year basis, and then you get to keep it for the following calendar year.  For instance, if you have flown 48 times this year in 2013 on a particular airline, which means you might be two flights away from reaching a mid-tier status level achieved by flying 50 times, you might take a mileage run of two flights to make sure you achieve that status and are able to keep it all the way through the end of 2014.
A similar concept for hotel status exist, except it's called a mattress run.  You might book some very inexpensive hotels at a chain you've been staying at, just to achieve status.
While I always saw the value in status, I can't say that I paid much attention.  After all, I knew that I didn't travel enough to get status, so I never really researched it much.
Well, I've been starting to research it a bit more.  Not necessarily to actually start doing mileage runs and mattress runs, but strategizing a bit to get additional perks out of my travel time.
One of these tidbits I've been researching are called "status matches."  I'm not sure if there's any formal definition (although I'm sure there's a dictionary on Flyertalk somewhere), but basically it is a way for one hotel chain to attract an "elite" customer of another hotel chain by offering similar perks to what the customer is used to at the hotel chain he is loyal to.  For instance, if Bob has Marriott Mid-Level Status, Bob can call Hilton and say, "Hi, can you match my Marriott mid-level status at Hilton?" Hilton would almost certainly say, "Yes," and voila, Bob has his status matched.  Then when Bob goes and stays at a Hilton during his next trip, he is afforded many of the same perks as what he would at the Marriott, like free breakfast, or whatever.  Typically that status "match" might only be temporary, or there may be some conditions if he wants to keep the matched status longer term.  For instance, he might have to stay 10 nights at a Hilton hotel within three months to keep that status for the next year.
So, what is the point of this big long explanation of status matches?  I'm going to try and get status matched for some of our upcoming hotel stays in Russia.  Specifically, I want Hyatt Diamond status for our stay at the Park Hyatt Moscow.
Since I don't stay at hotels enough to earn status, how exactly am I going to get Hyatt Diamond status?  Well, although I don't earn status through hotel stays, I do have some hotel status from being an American Express Platinum Cardholder.  Through my American Express Platinum card, I have Starwood SPG Gold and Hilton Gold status.  (My American Express Platinum Card was also great because I was reimbursed for the $100 Global Entry fee)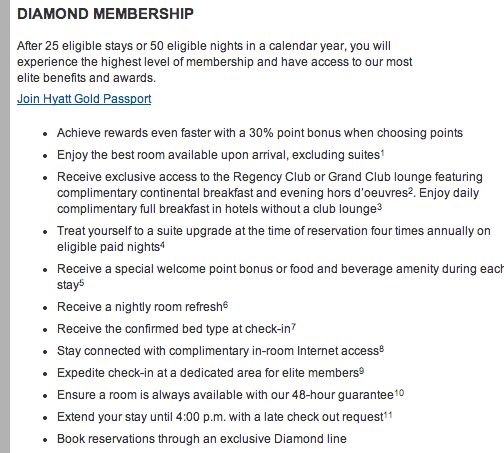 Luckily, with my Hilton Gold status, I can request from Hyatt a two month Hyatt Diamond status match.  Diamond status would be a HUGE benefit for our stay at the Park Hyatt Moscow.  It guarantees us the best room (excluding suites) when we check in.  It also provides us with a food and beverage amenity, 4:00PM check out time, as well as free breakfast.  Breakfast costs, especially in an expensive city like Moscow, can really add up over the course of three days.  Plus, I like eating a big breakfast when traveling because I feel like then I'm typically not hungry again until dinner time.
The Hyatt Diamond Status Match only lasts for 60 days.  Since we don't leave for Russia until mid-February, I'm going to wait another month before applying for the status match.  (To earn long-term Hyatt Diamond status, you have to stay 12 nights at Hyatt properties within those 60 days.  I don't think I'll be able to achieve that, but I'll at least be able to get some benefit from having temporary Hyatt Diamond status during our stay in Russia.)