This post may contain affiliate links. Please see my advertiser disclosure for more details.
In October, Ken and I took a short weekend road trip to the Laurel Highlands area in Southwestern Pennsylvania. Since we had to cancel our September trip to the Candian Rockies due to the wildfires, we were definitely itching for a vacation, even if it was just a quick trip to somewhere nearby.
We crammed a lot into our weekend trip, visiting Ohiopyle State Park and two Frank Lloyd Wright-designed houses – Fallingwater and Kentuck Knob.
Hotel and Breakfast
We stayed at the Hampton Inn Uniontown for our stay. Although the Nemacolin Woodlands Resort nearby looked gorgeous, it unfortunately was way out of our budget at $500+ per night for a basic room.
We hit up a local Uniontown place for breakfast, called Yum Yum's Bagel Cafe. Ken and I both had bagel breakfast sandwiches, a donut, and hot chocolate to start our day.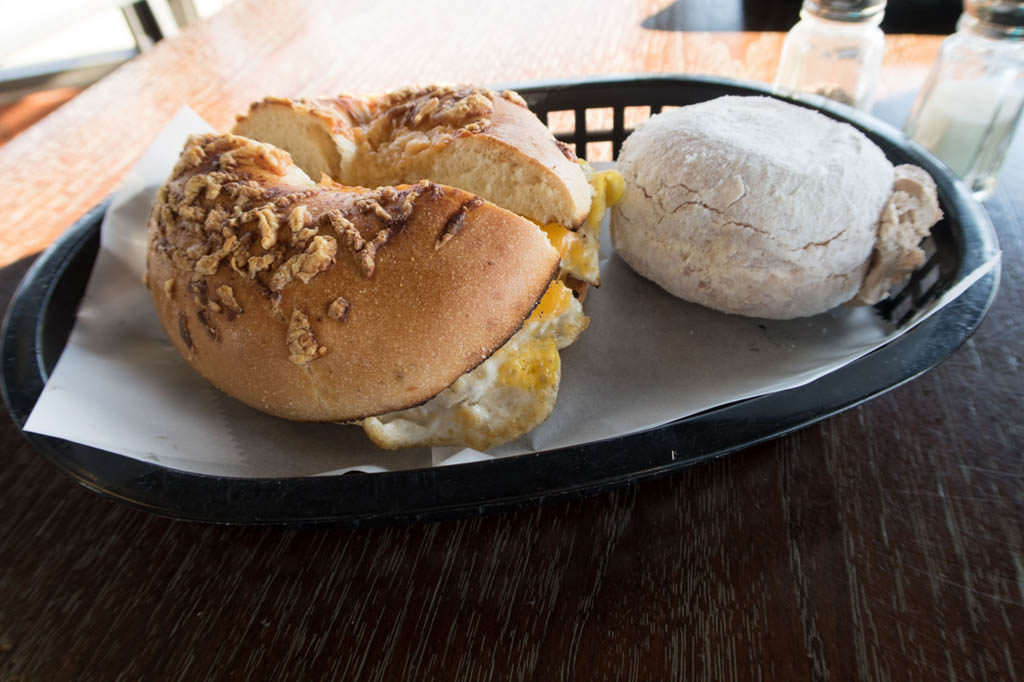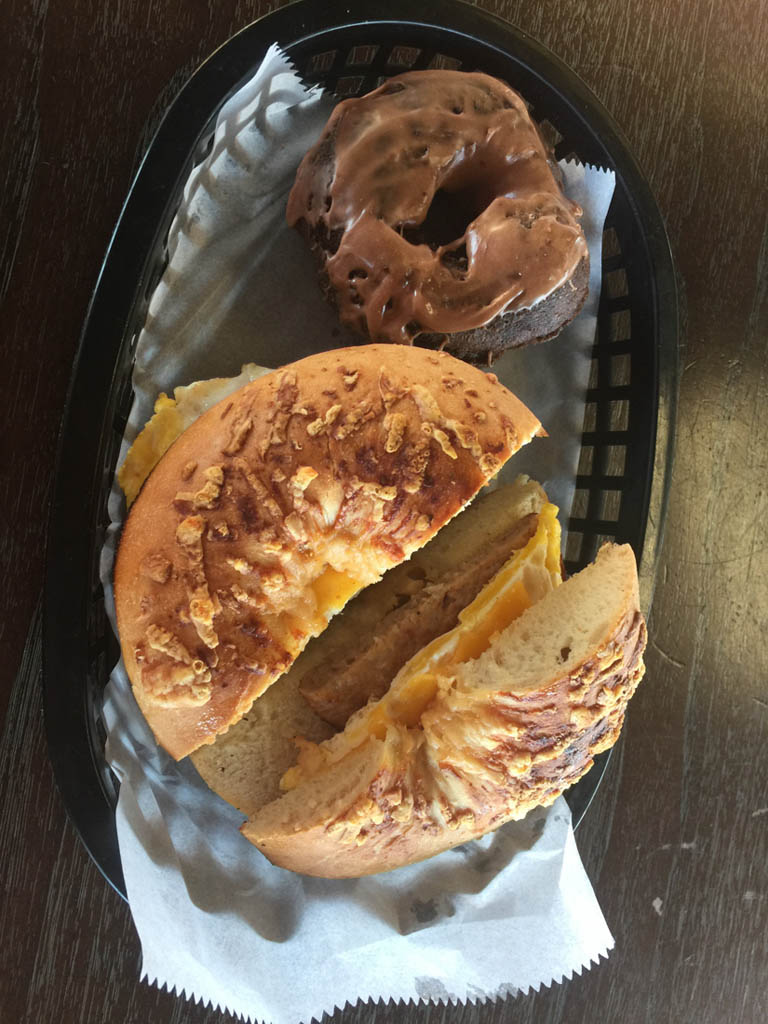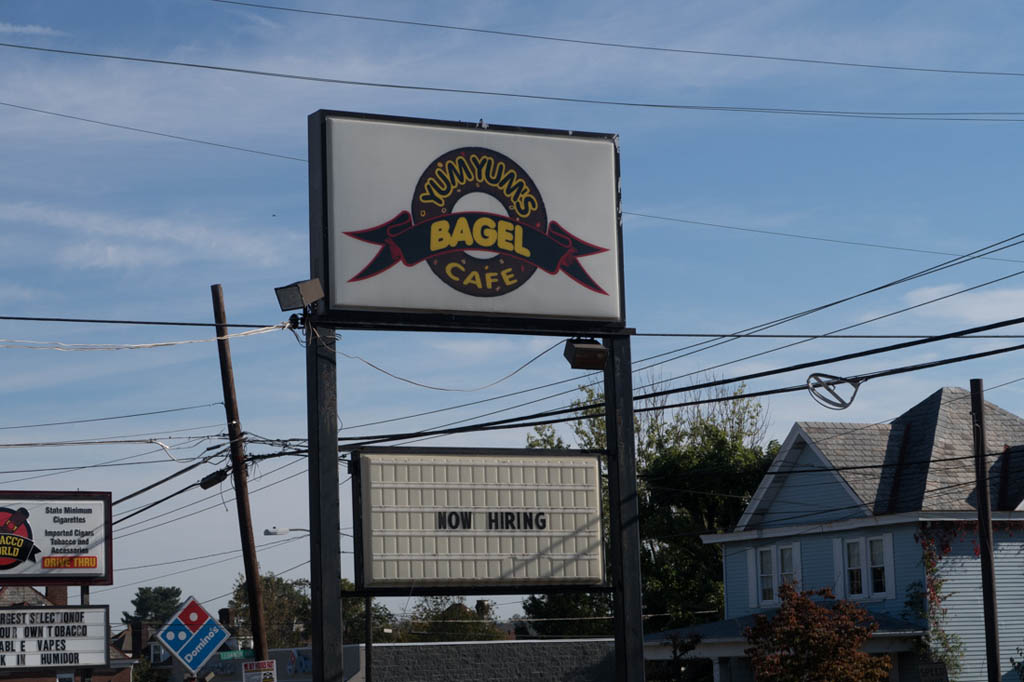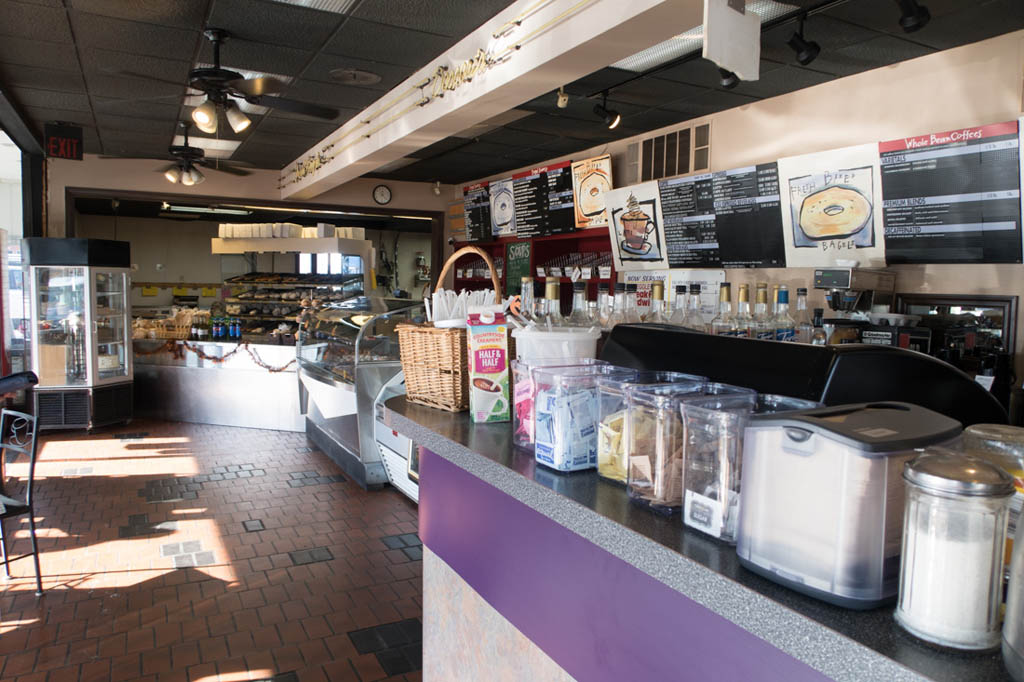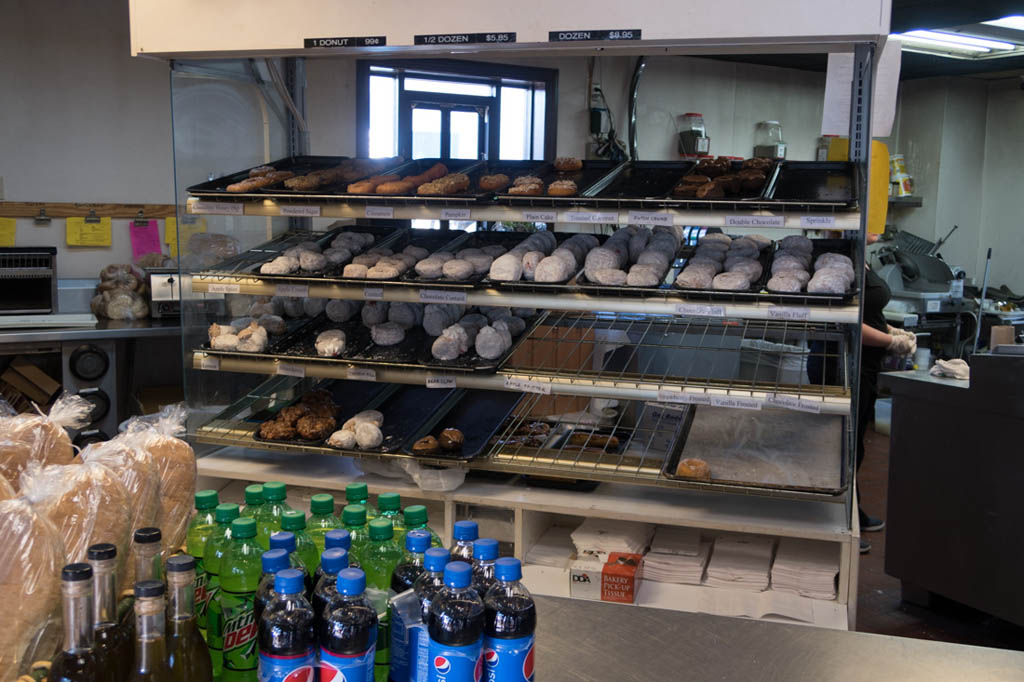 The chairs at the restaurant had a fun coffee mug design!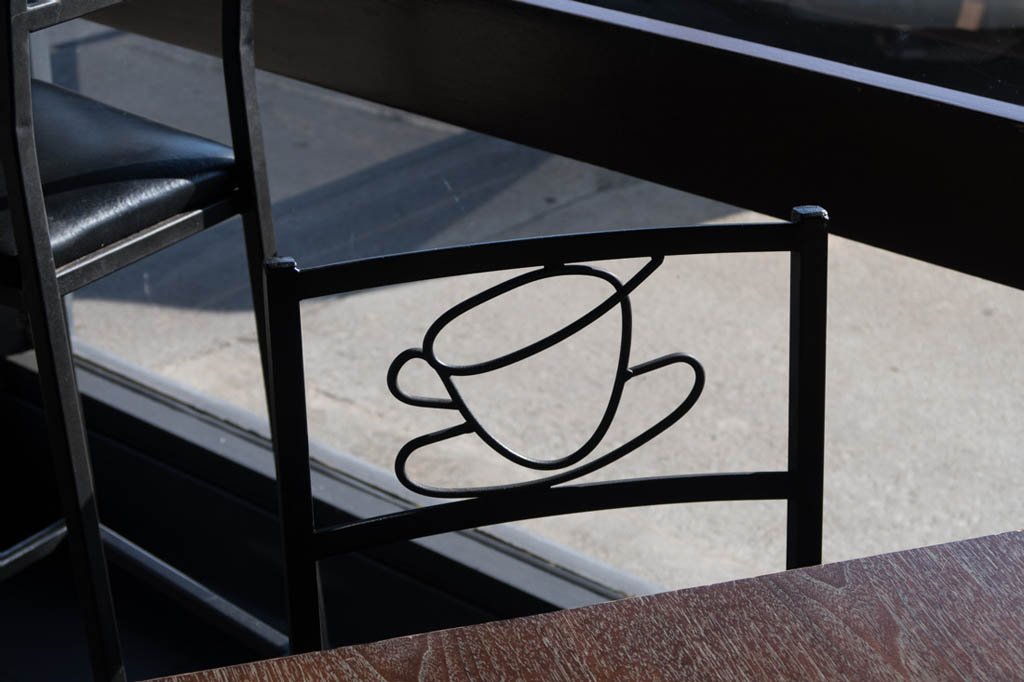 After our breakfast, we headed to Ohiopyle State Park!
Ohiopyle State Park Trails
We started with a visit to the gorgeous Ohiopyle State Park.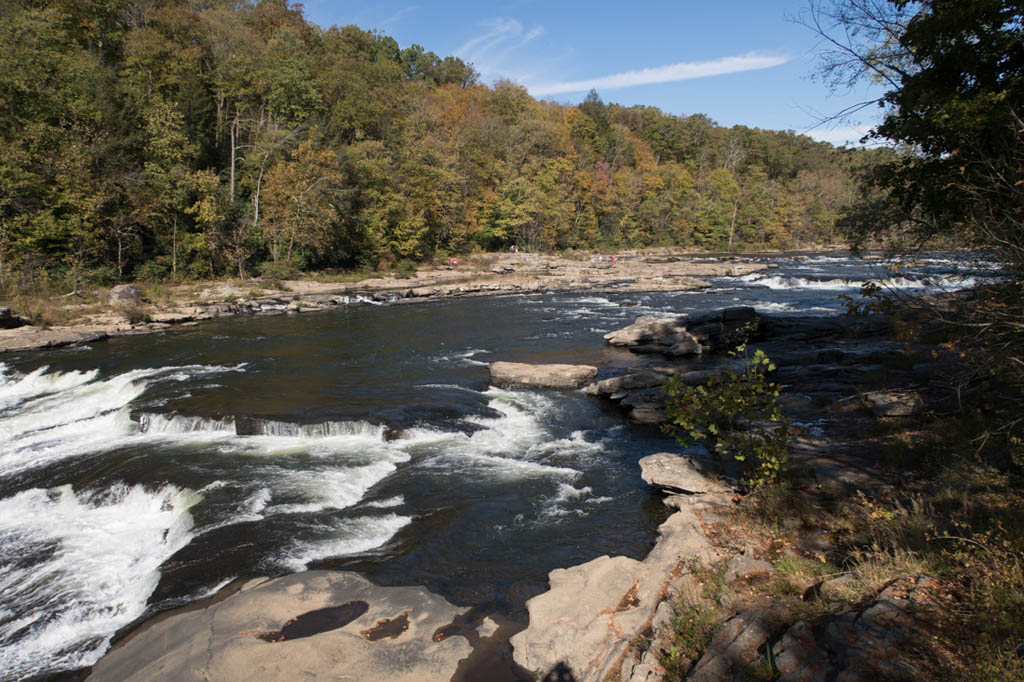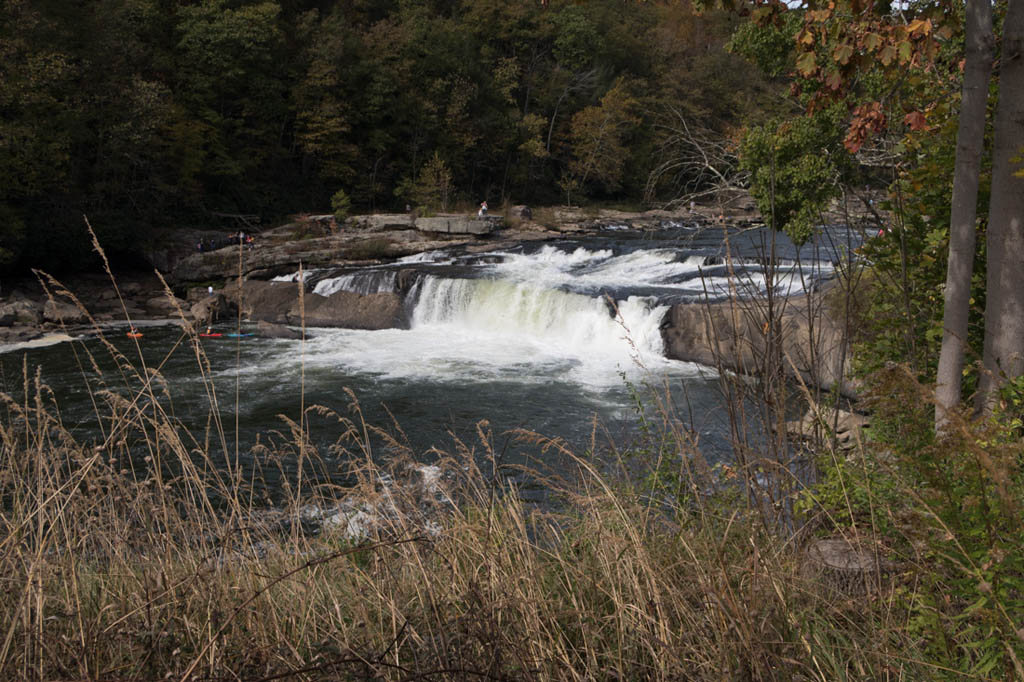 We went the third weekend in October, and we were hoping that there would be some gorgeous fall foliage, but the trees were still pretty green. Park rangers told us that given the unseasonably warm weather in September and October, coupled with the recent lack of rain, that they were not expecting vibrant foliage colors this year. They said that the leaves would likely just start to fall off without much color change.
Oh well, at least we managed to sneak a peak at a few individual vibrant leaves.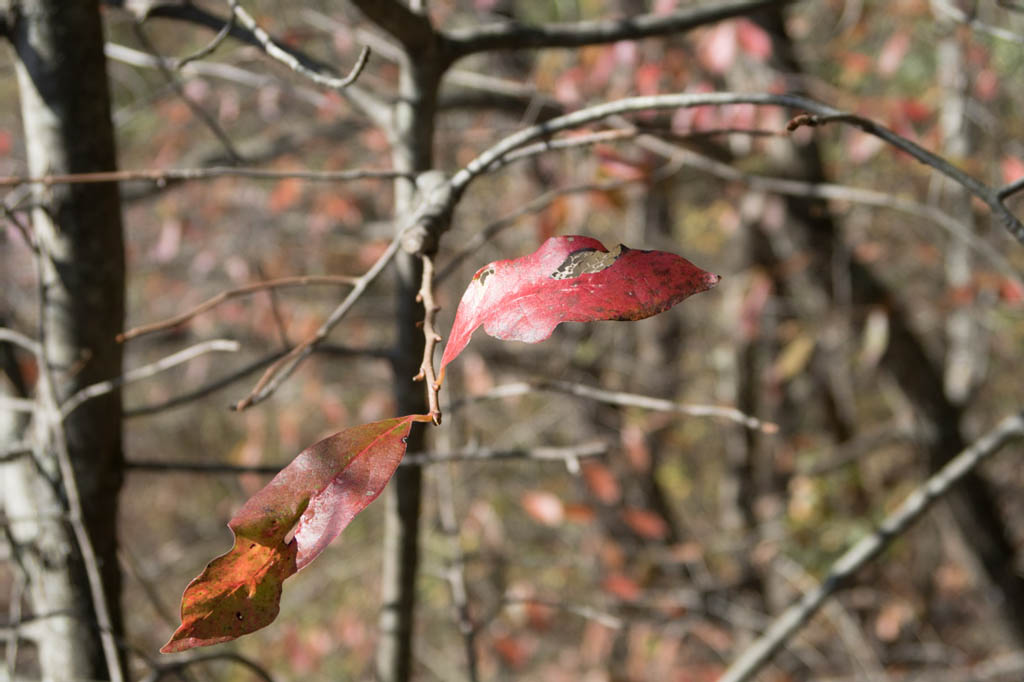 We started out on the Youghiogheny River Trail, which is part of the Great Allegheny Passage which connects Pittsburgh, PA and Cumberland, MD. Interestingly, the trail used to be the railbed for the Western Maryland Railroad!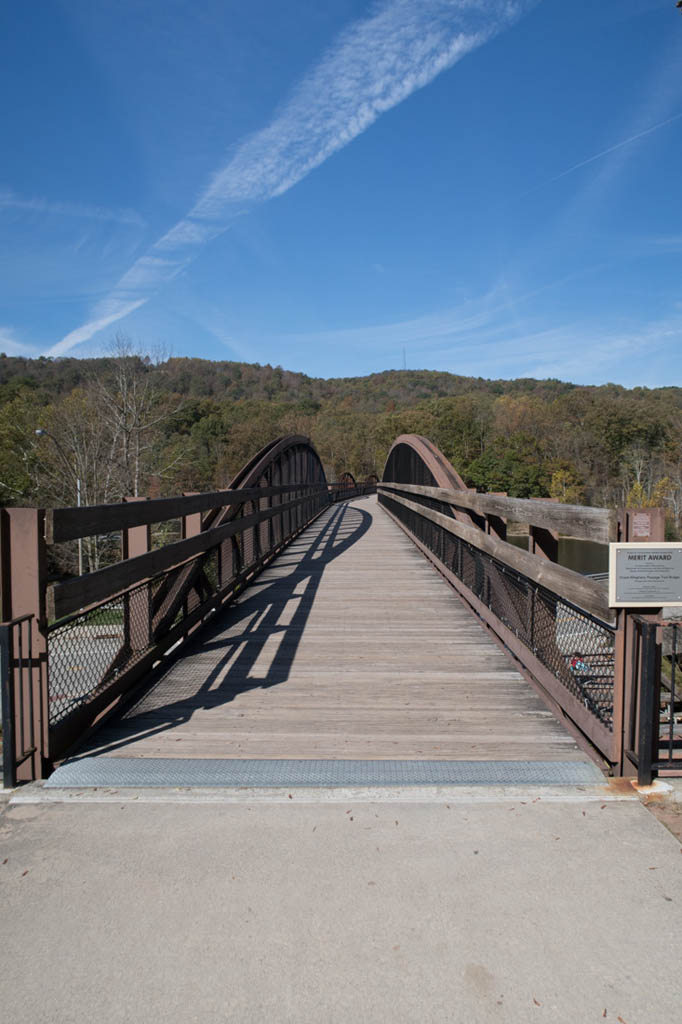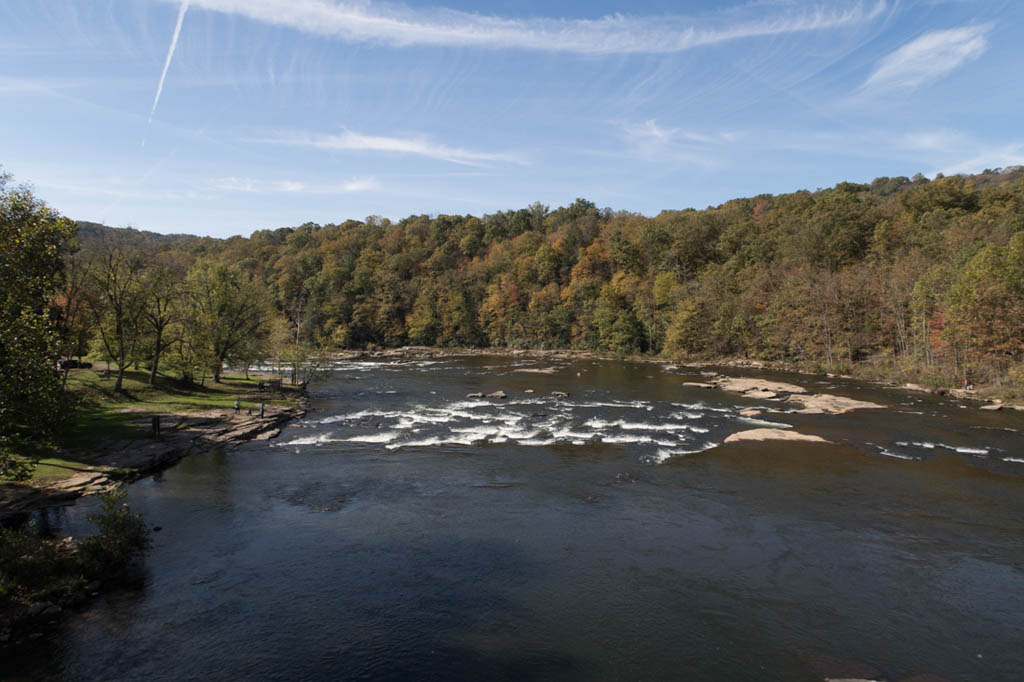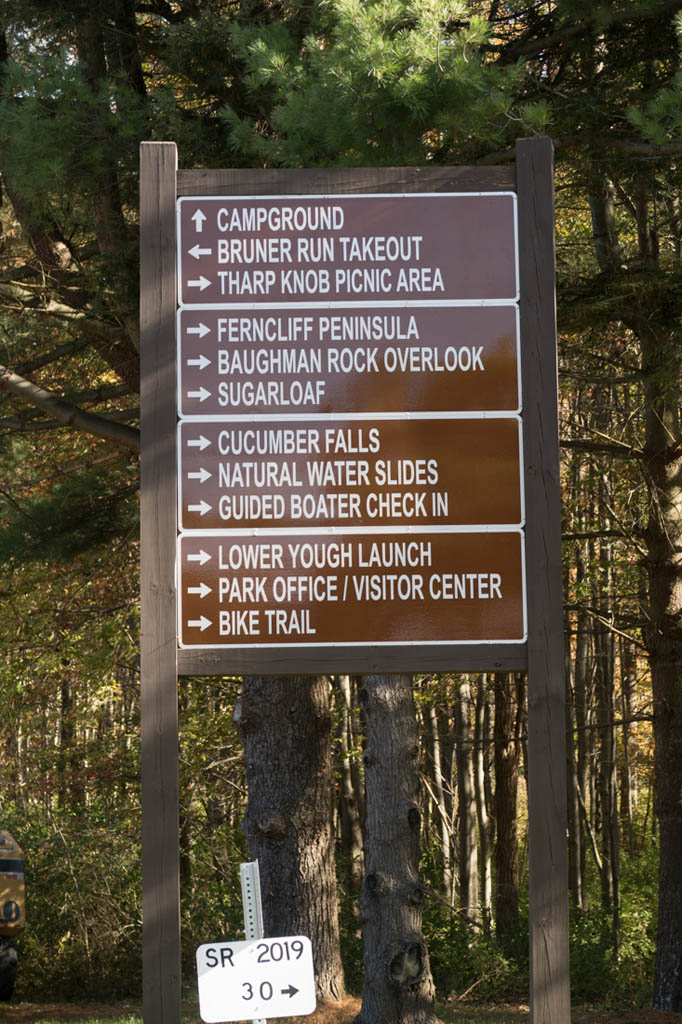 Then we reached this stunning portion of the trail, with a bridge that spans the river and gives stunning vistas! I believe this is called the Ohiopyle High Bridge.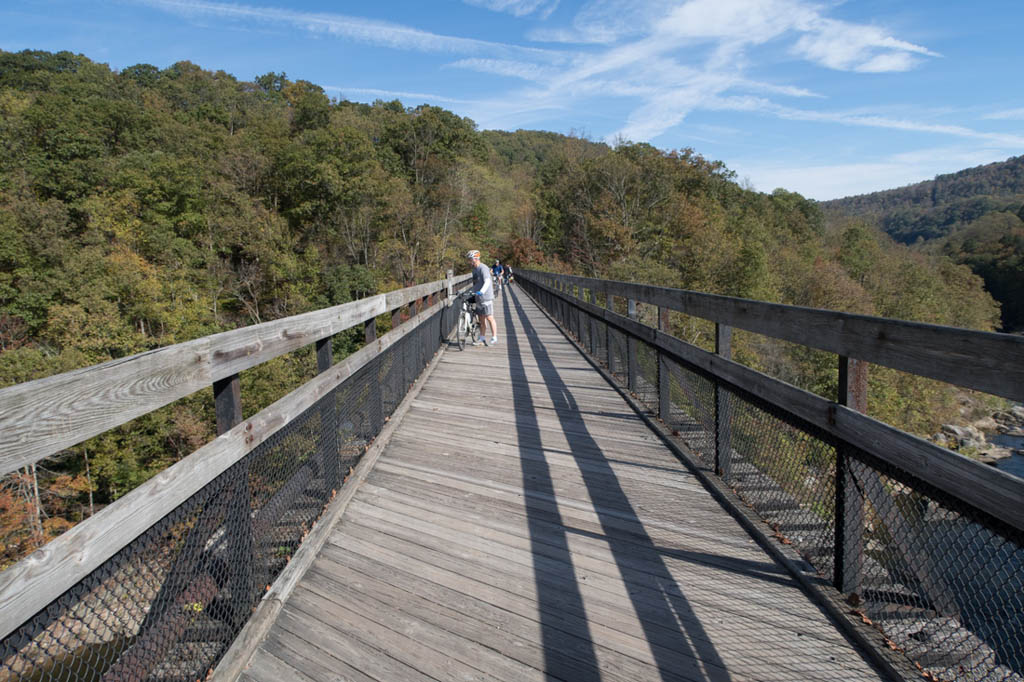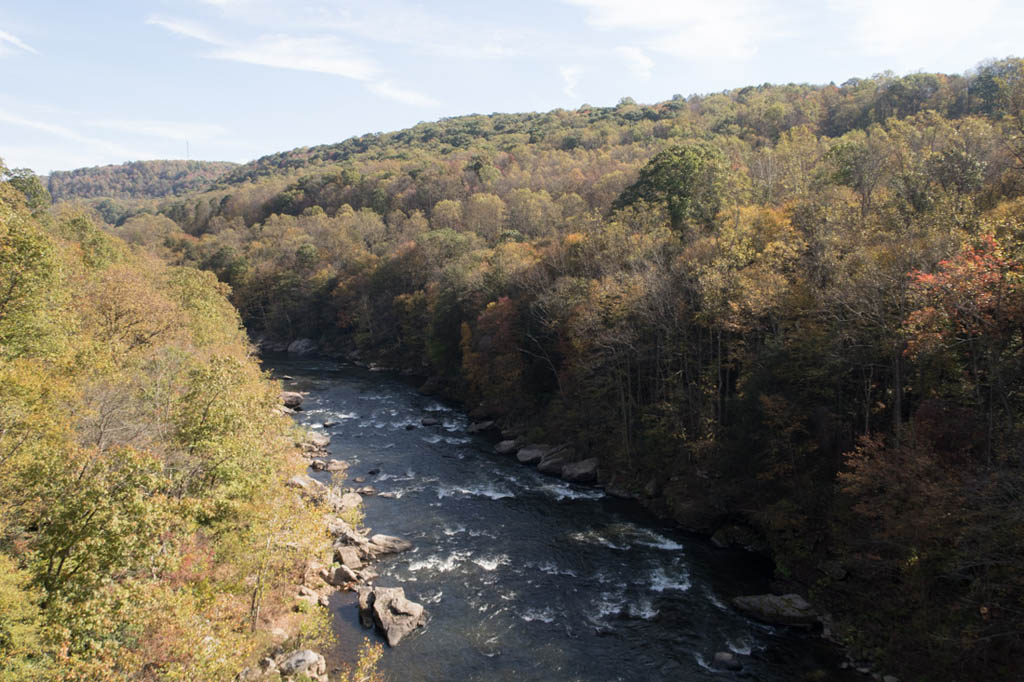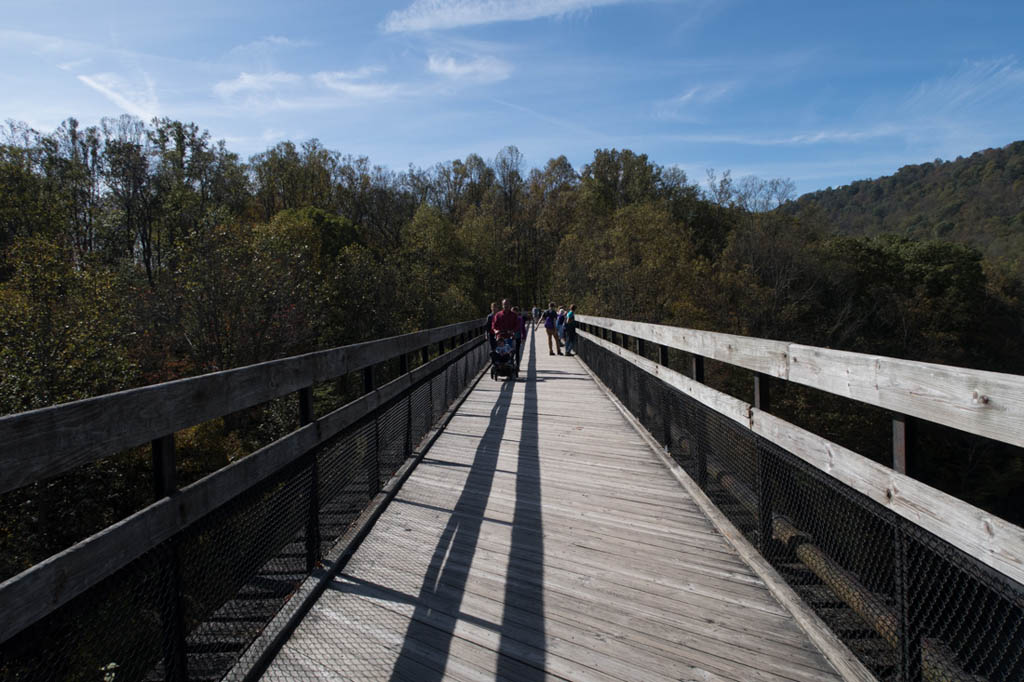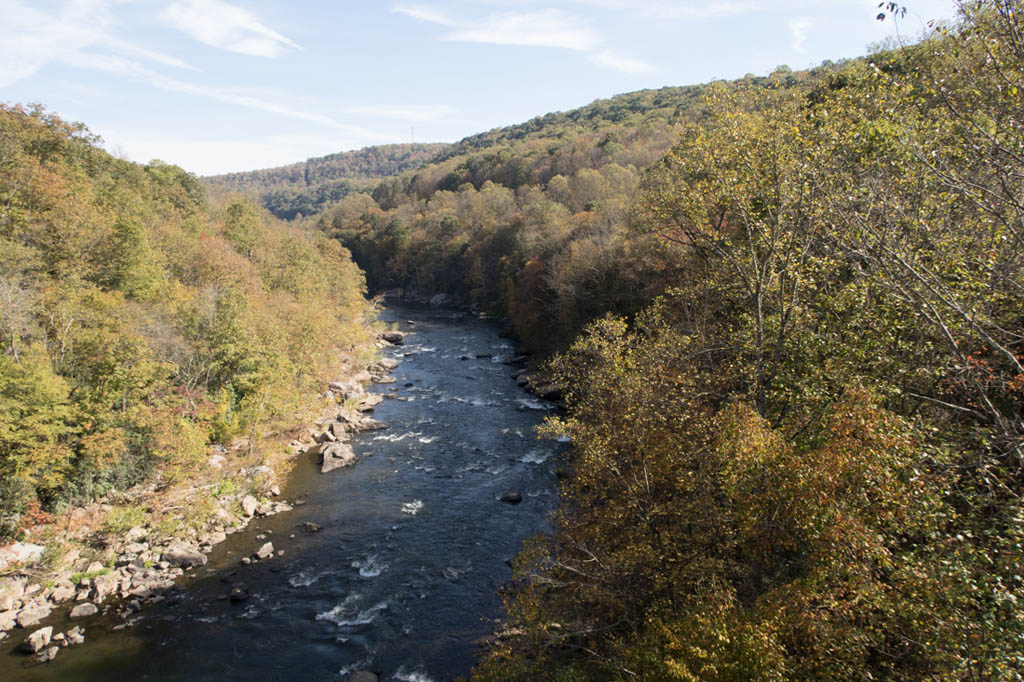 The rest of the trail that we walked (it is a 40 mile trail, so we only covered a tiny fraction of it), was wide, flat, and perfect for an easy hike or biking.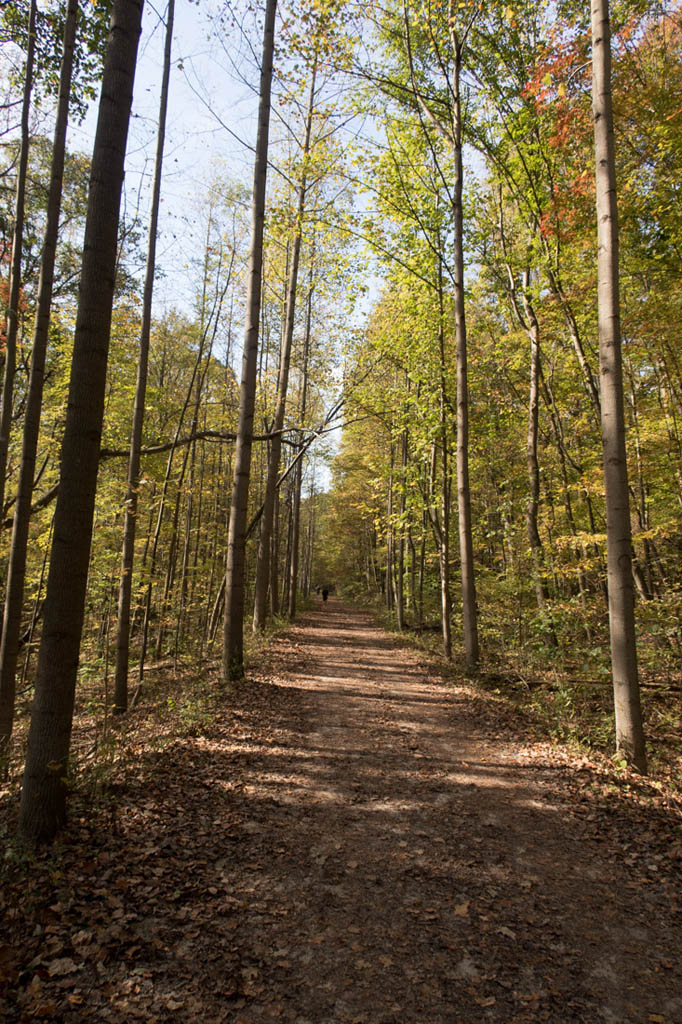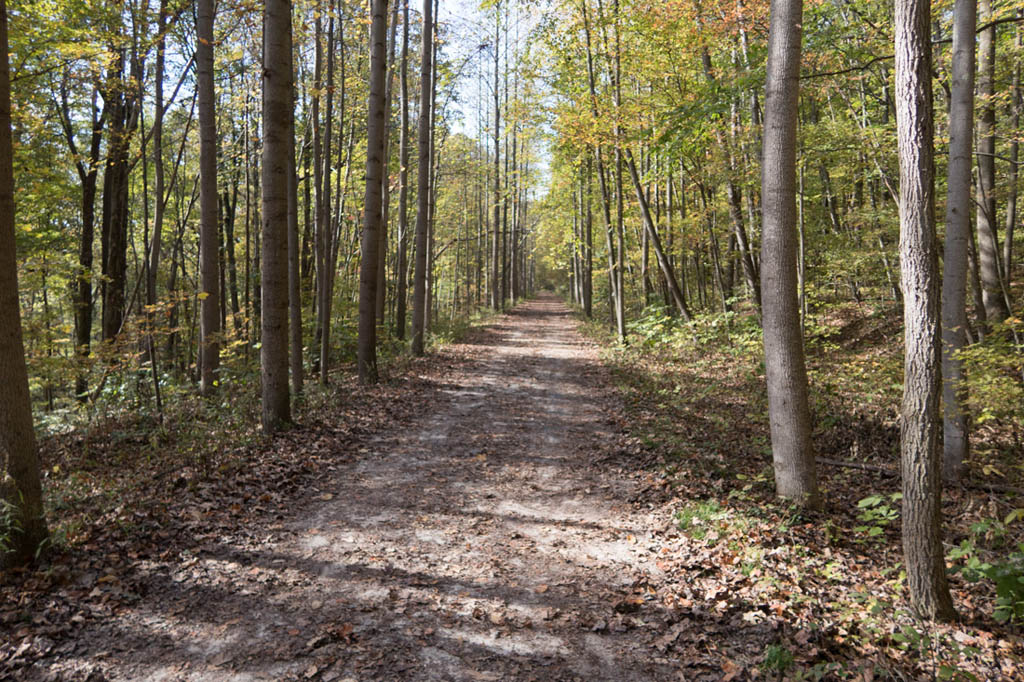 We also did a brief hike of the Fernwood Trail, but it was a bit rocky and slippery and I was only wearing flip flops. Womp womp. So, we didn't hike too much of that trail.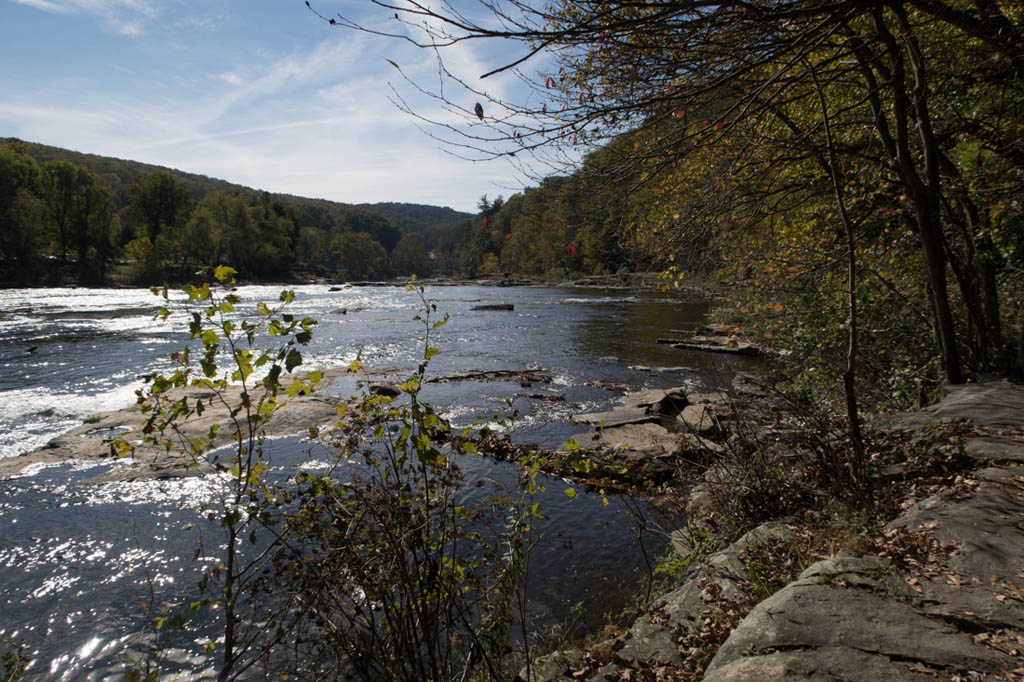 Ohiopyle State Park Visitor Center
We didn't have much additional time to spend at the Park, since we had afternoon tour tickets for Fallingwater, a Frank Lloyd Wright House. But, before we left the park, we stopped by the Visitor Center.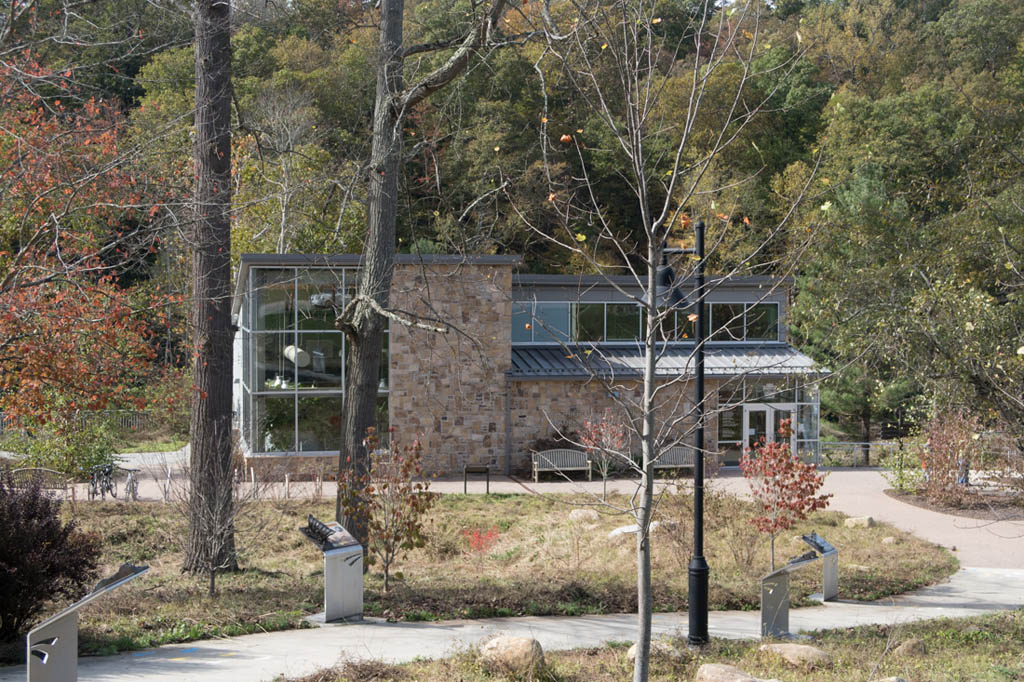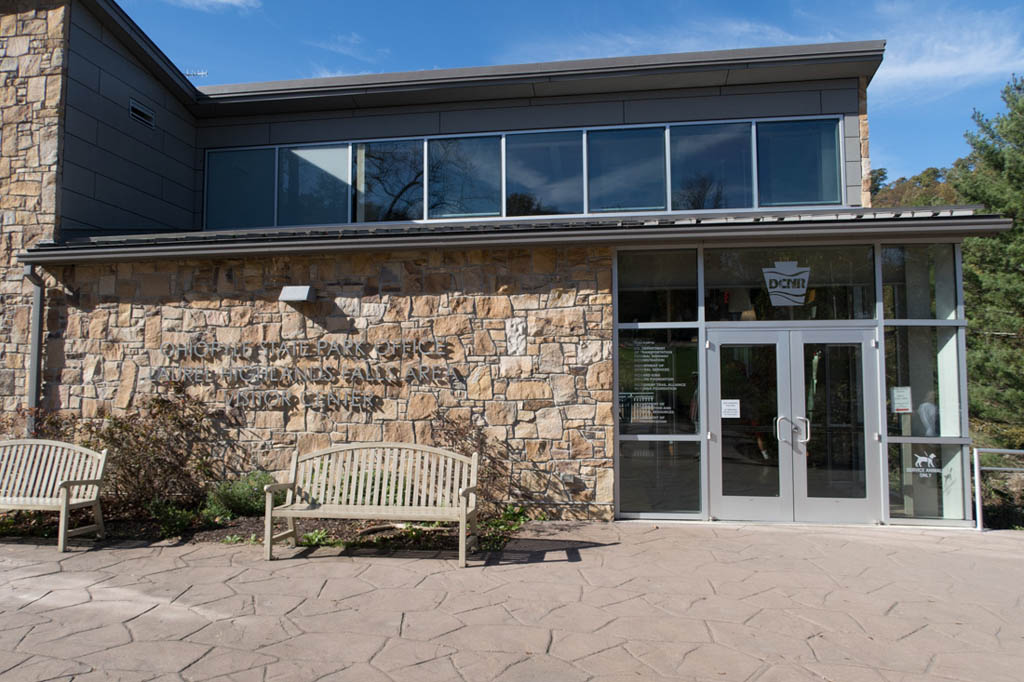 The inside of the Visitor Center was gorgeous, and it looked almost brand new.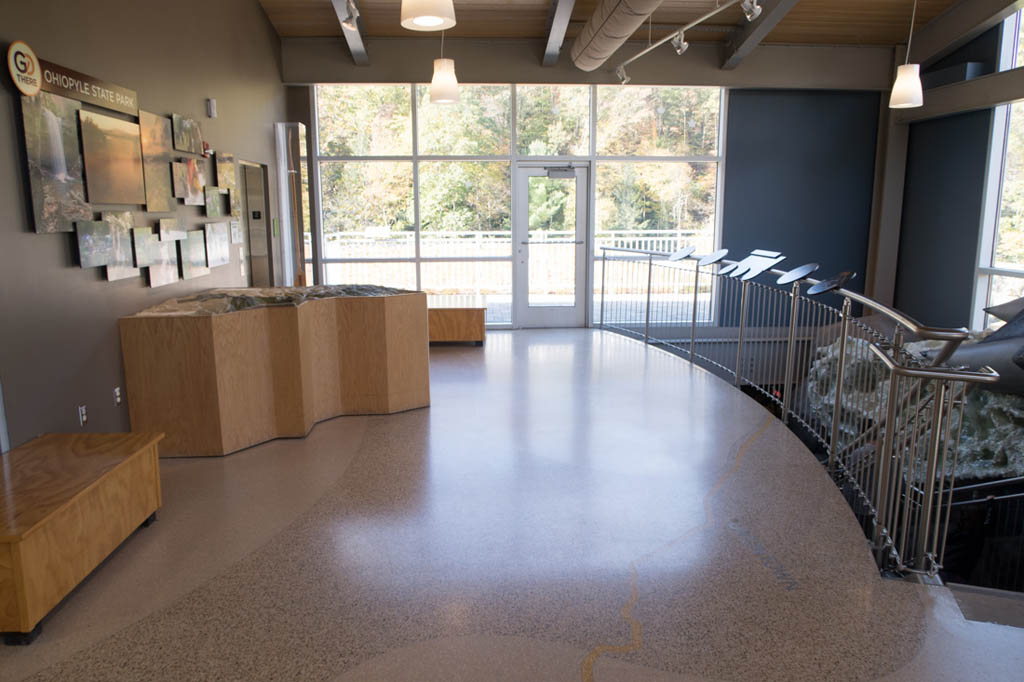 There was a lookout area with floor to ceiling windows that allowed for great views of the river.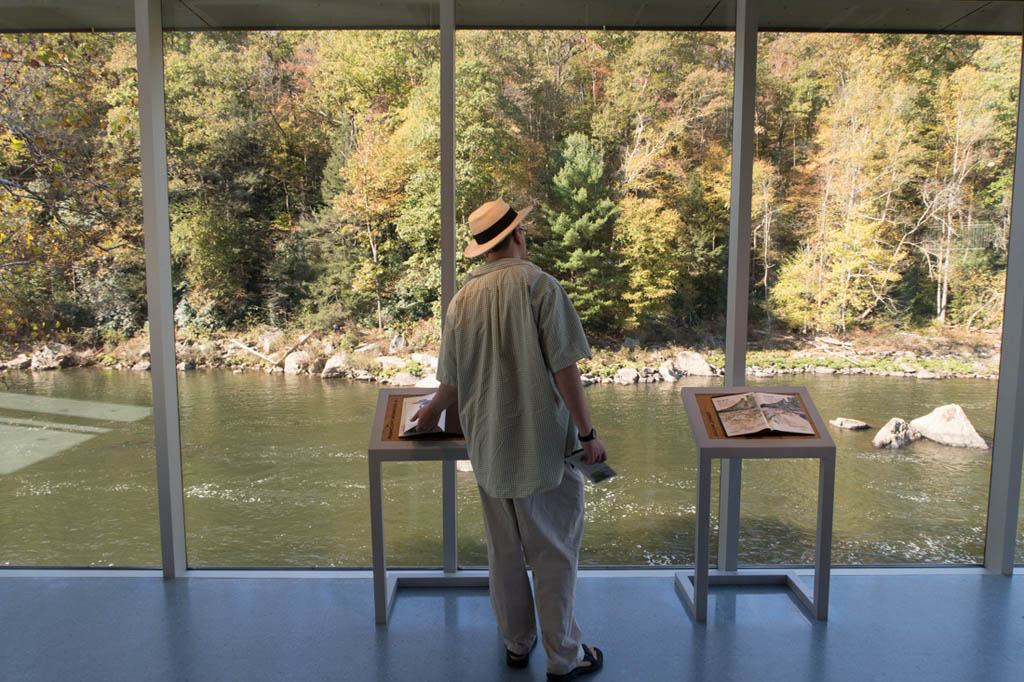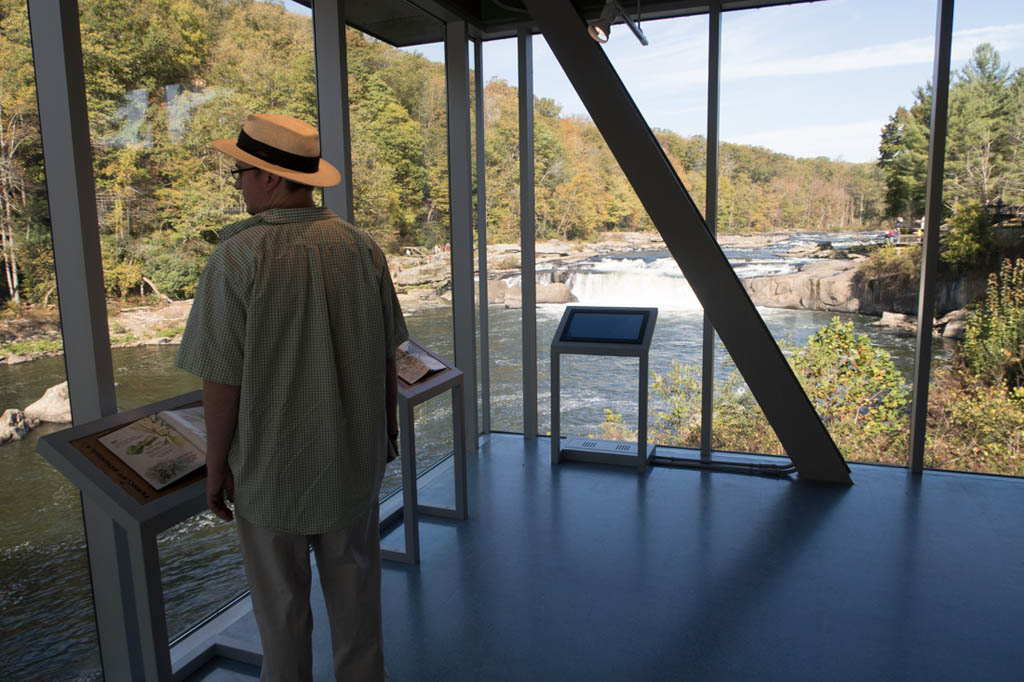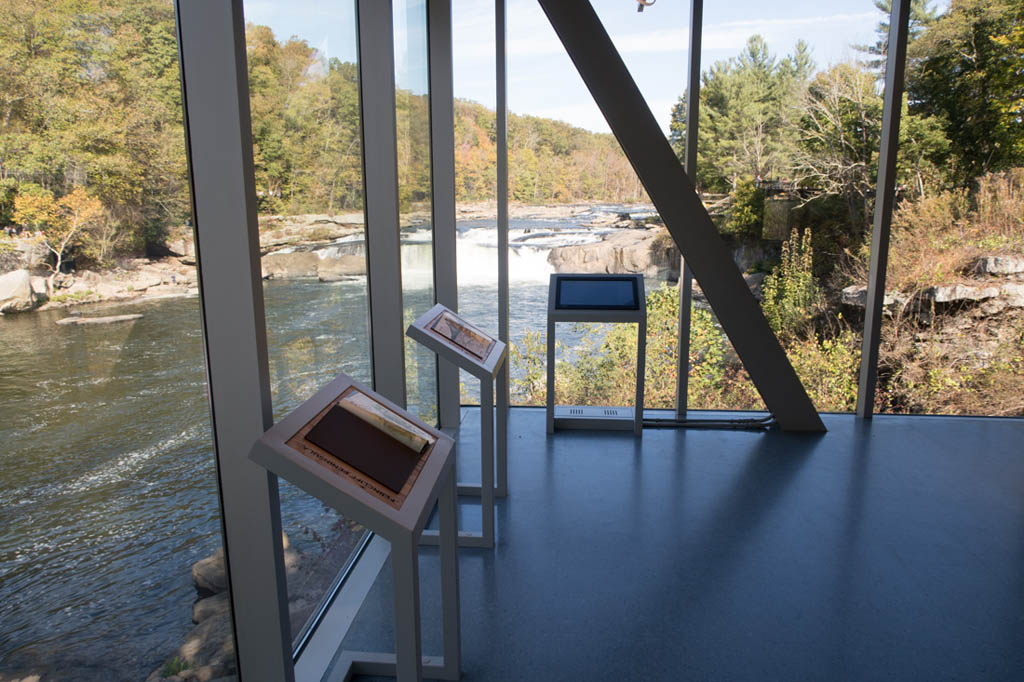 Just outside the visitor center were these fascinating displays. I'm not sure if these would be characterized as a diorama, but whatever you'd call them, they were very cool.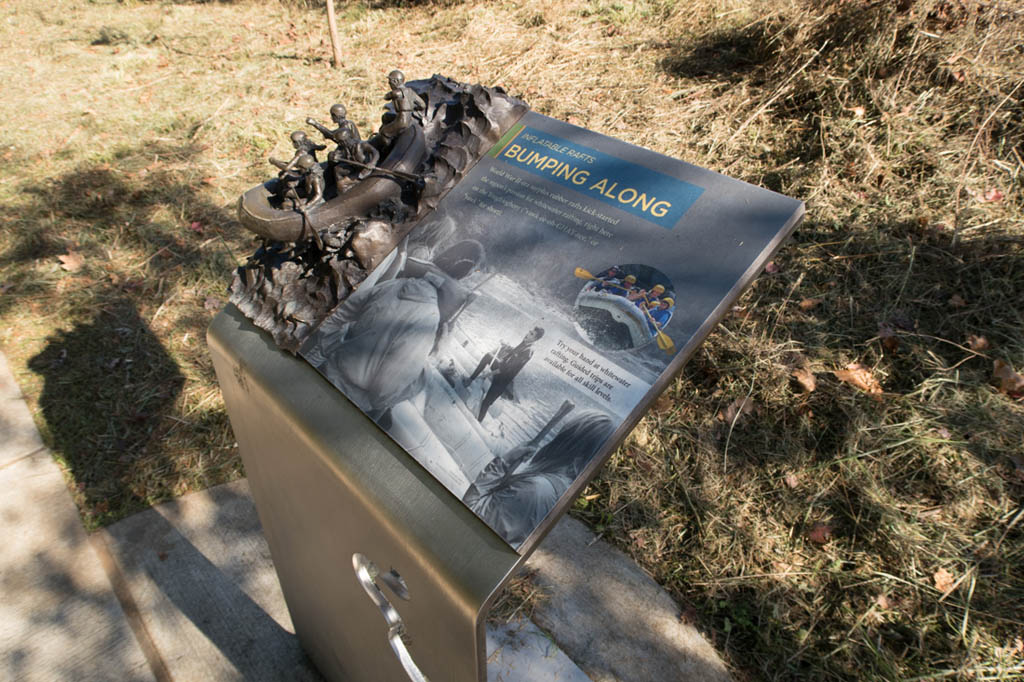 Each display had a brief history of different boats and methods used to traverse the rapids of the Youghigheny River.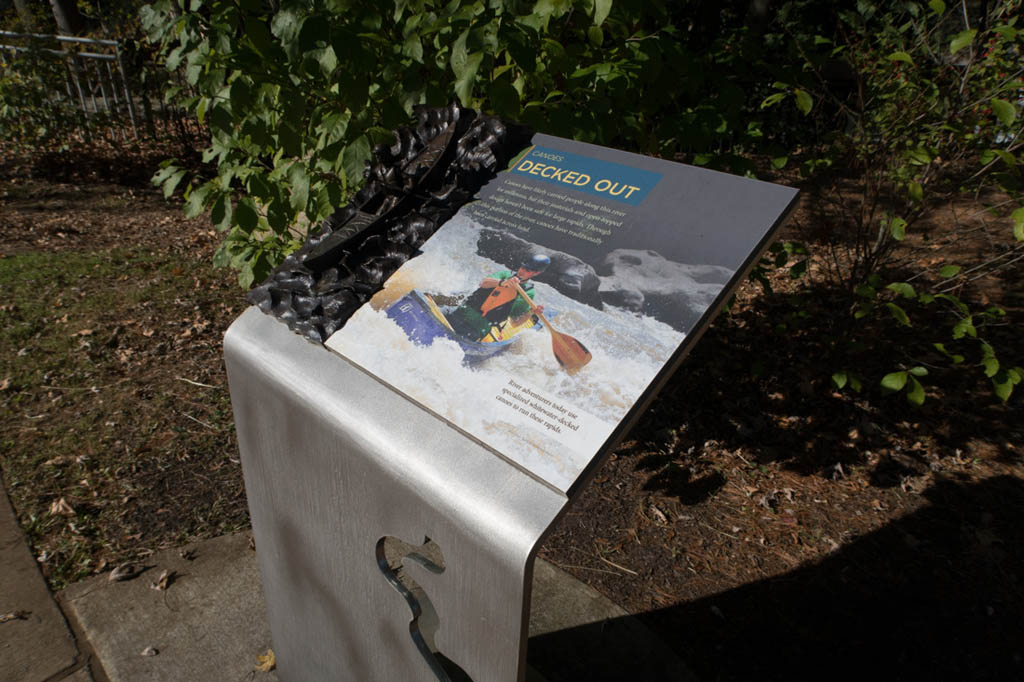 Lunch at Ohiopyle State Park.
We had lunch at a restaurant very close to the Visitor Center called Firefly Chocolates and BBQ.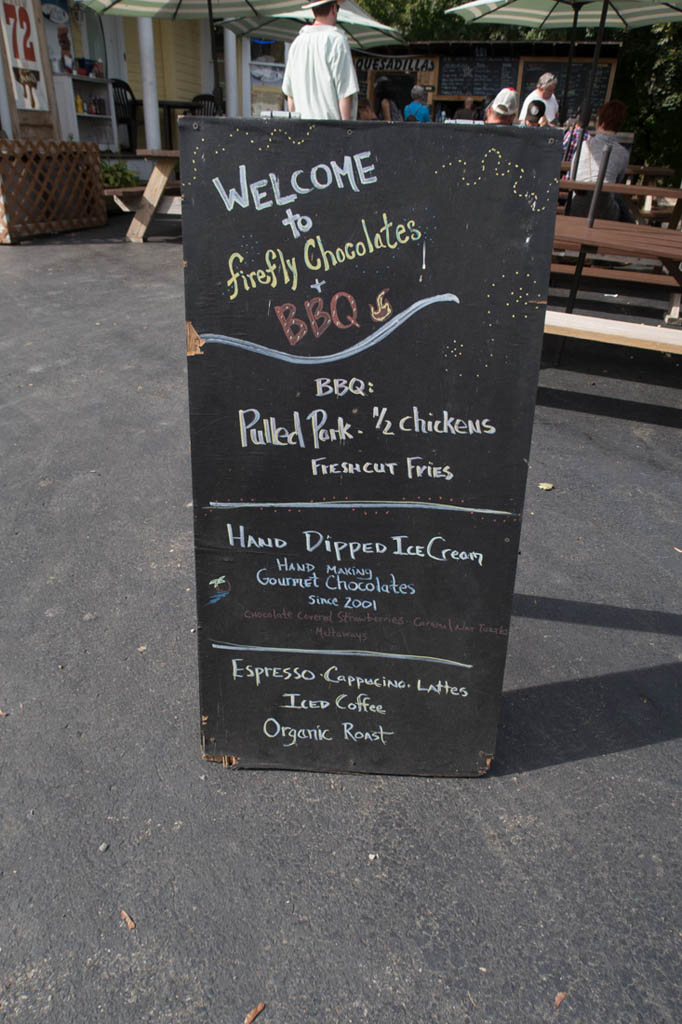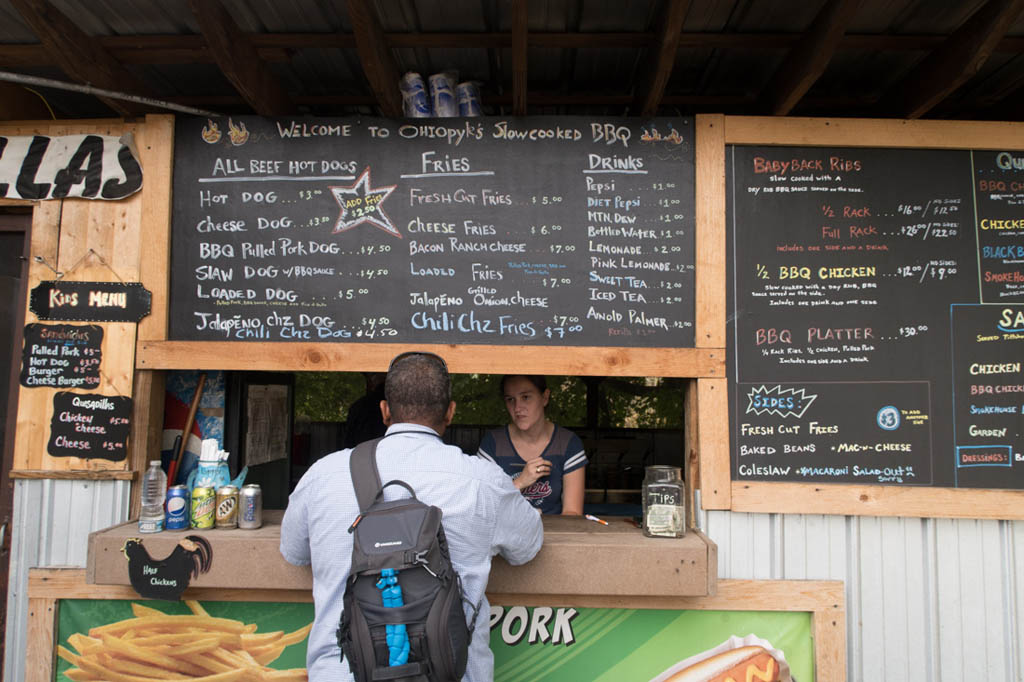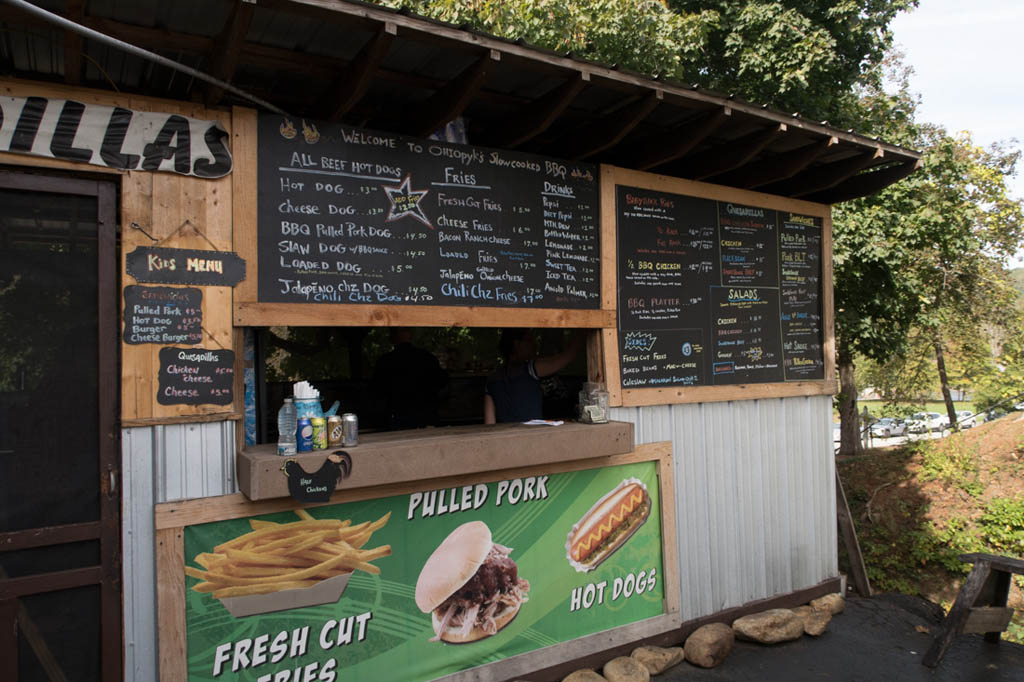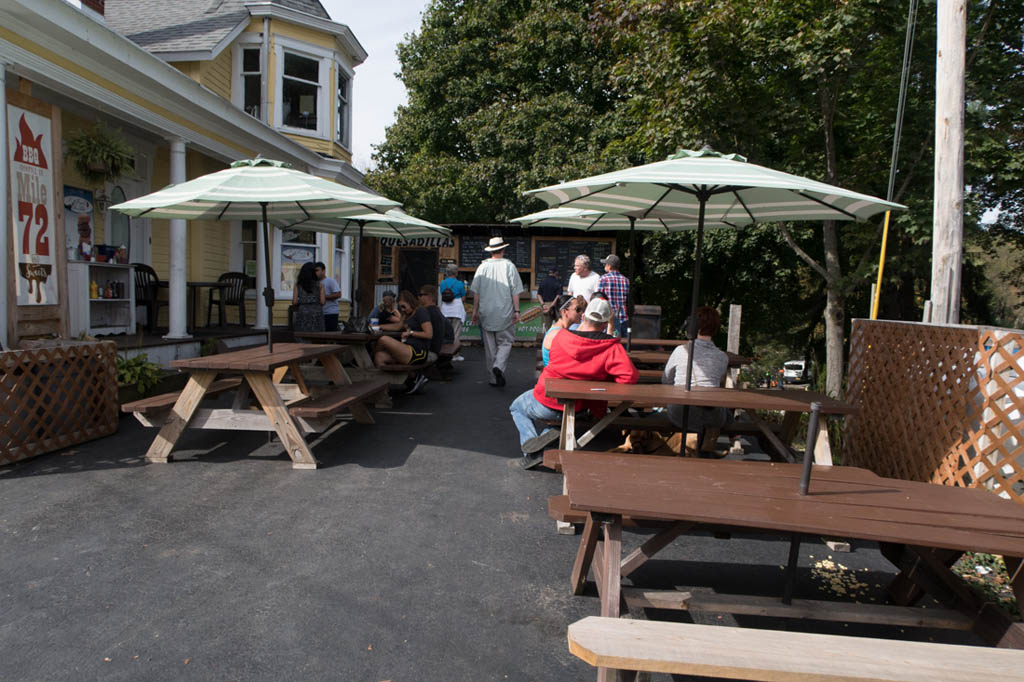 I had a slaw dog, while Ken had a quesadilla. We also split an order of Bacon Ranch Cheese fries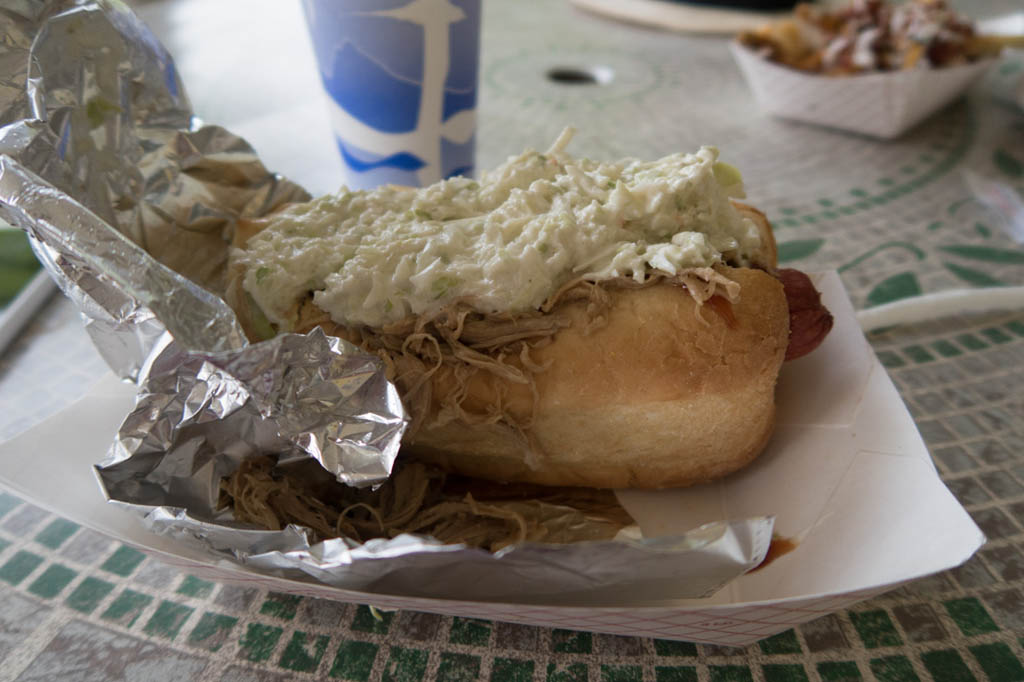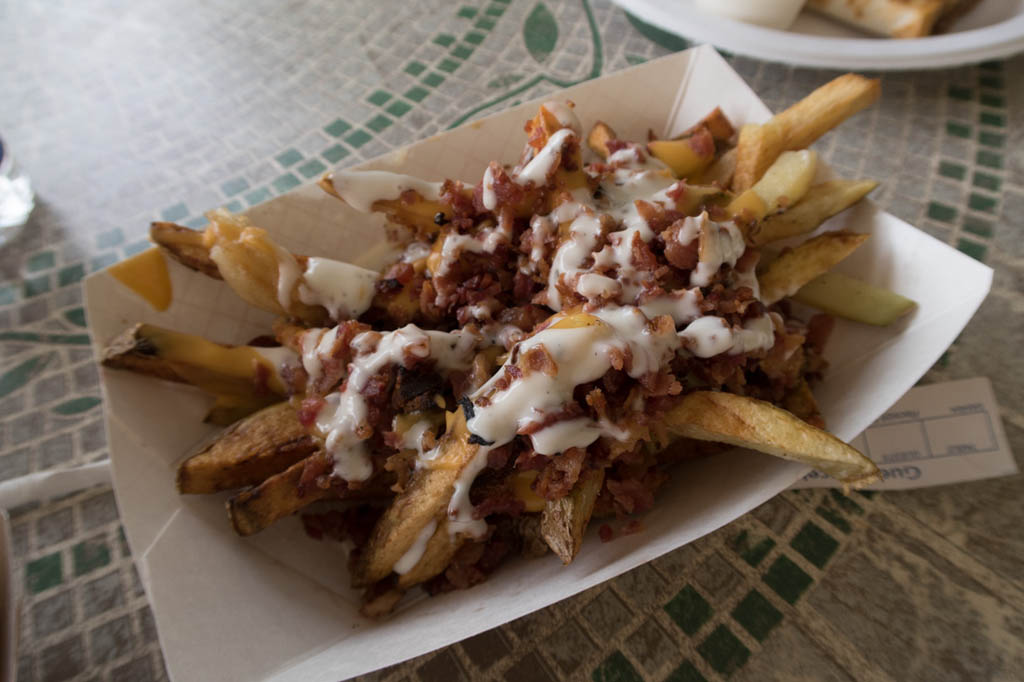 The food was good, but my god, there was only outdoor seating and the yellow jacket situation was overwhelming. So many yellow jackets swarming around our food. I was trying to just stay calm, but there were about 20 that descended on my hot dog at once, and I was ready to leave. We walked and ate with the rest of our food.
Once the yellow jackets cleared out, we stopped by the connected chocolate store for some sweets.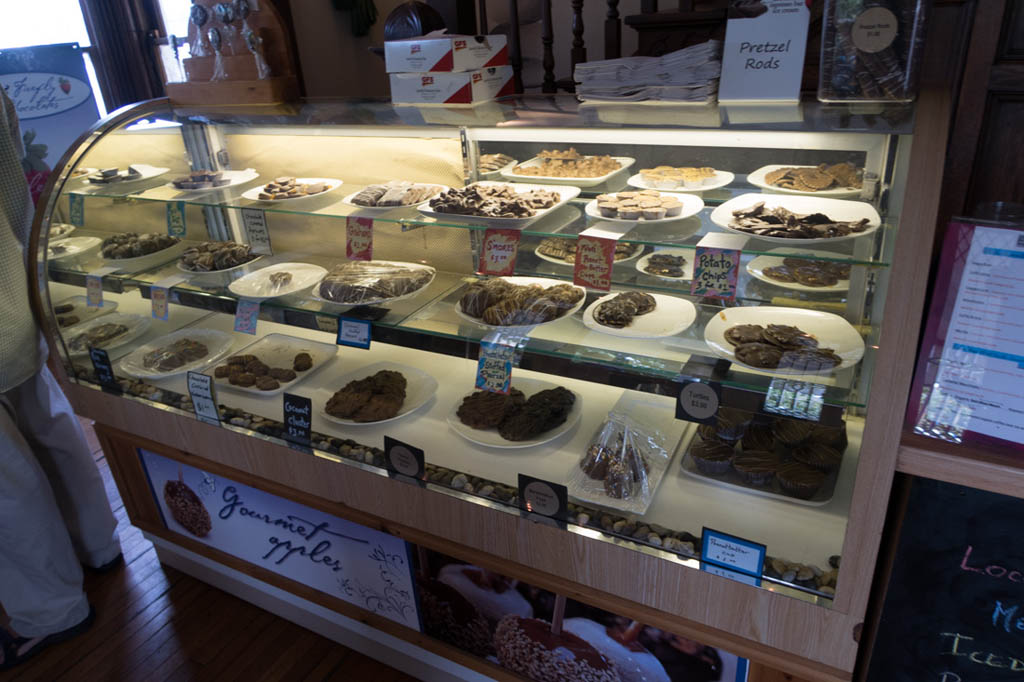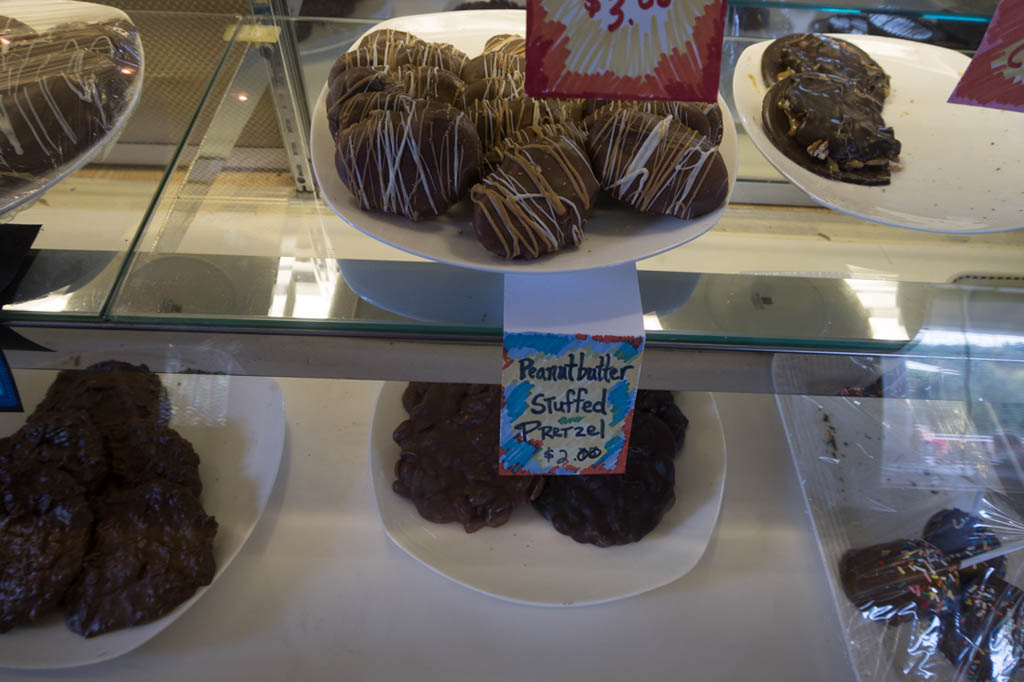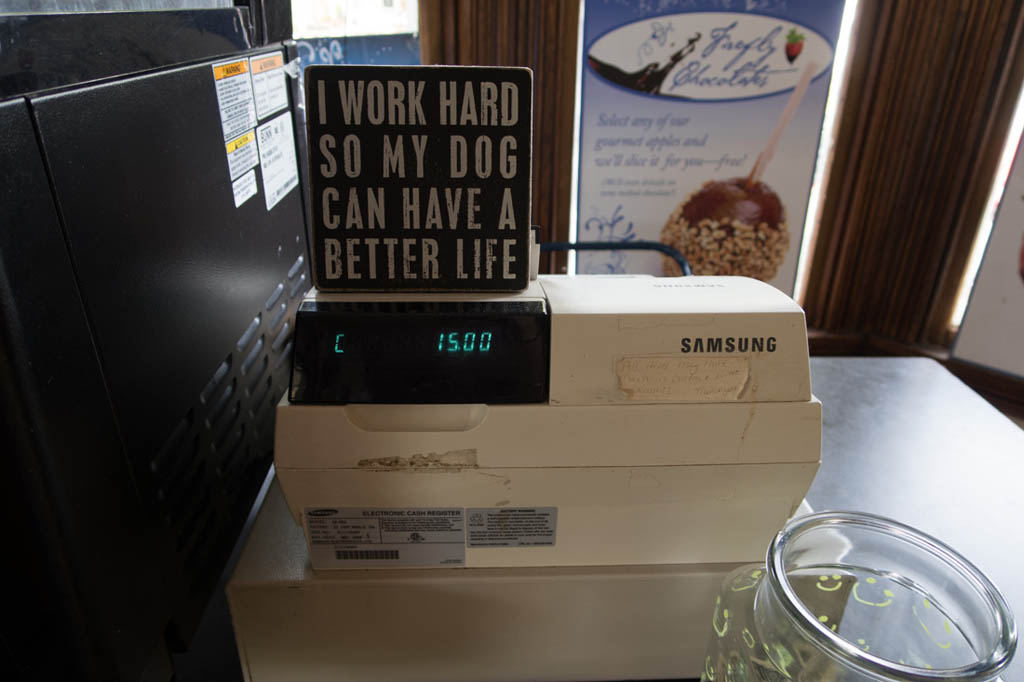 Afterwards, we got back in the car and headed to Fallingwater, which I'll cover in a future post!