This post may contain affiliate links. Please see my advertiser disclosure for more details.
Once we get back from a vacation, we usually try to figure out what stuff we didn't need on our trip and should not have packed. One thing we almost never regret packing are our technology-related gadgets. When we talk to friends, most of them don't really understand why we both carry around cameras with us. I have a digital SLR and Ken has a digital SLR. Well, the short answer to that is that we BOTH like taking pictures. So that got me thinking about all our other technology-related travel gear. So, what do we take with us on vacation?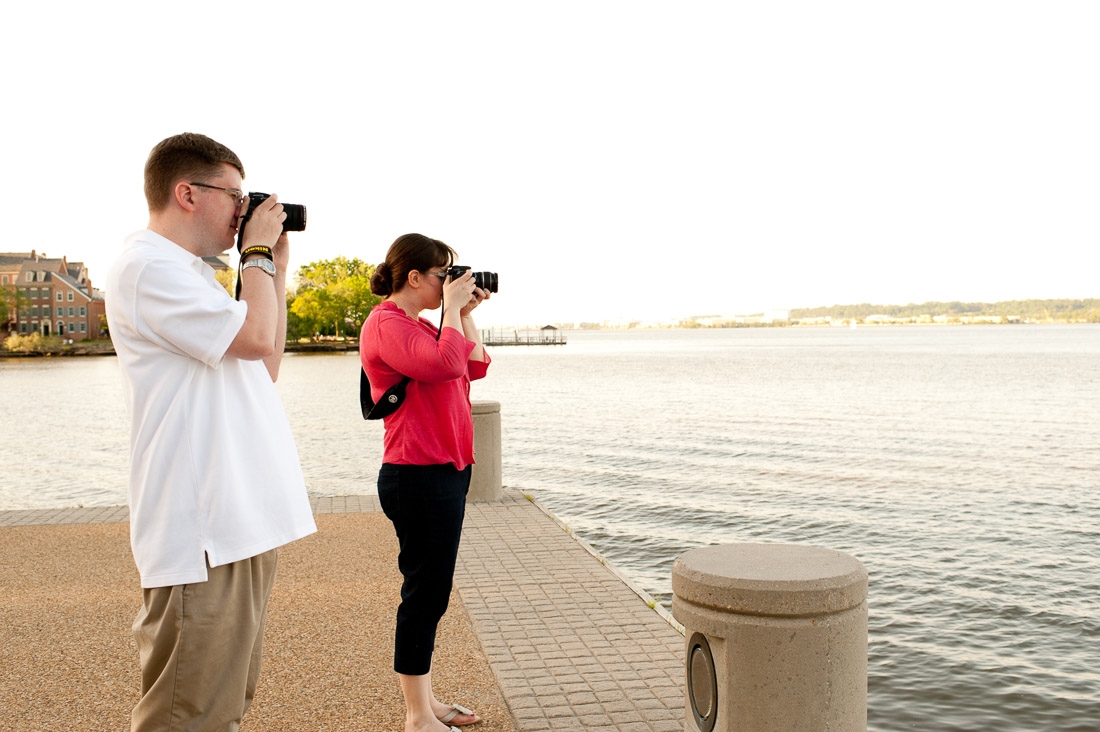 Canon 70D, including a zoom lens and prime lens and a recently purchased wide angle lens.
Canon G9. This is a smaller, advanced point and shoot that I used as my primary camera before I made the switch to DSLRs. I LOVE that little camera. Before that, I had a Canon G5 for almost five years! It's the perfect blend of compactness and manual mode options! I always bring this on our trips in case 1) One of our cameras breaks … like Ken's did when we went to Niagara Falls in 2009, or like mine did when watching the Shuttle Discovery flyover about two years ago in DC. As an added bonus, we can save the day with this camera! We did a guided tour for a few days when we were in Spain in 2010. An older couple on the tour had not brought their camera battery charger with them, so we let them use this extra camera during the tour! We just e-mailed them all their pictures after we got back home!
Ken's Nikon D3100 DSLR
Sony HD Video Camera. This is the second HD Video Camera that Ken has had. He got his first one in 2007 and upgraded in late 2010.
Garmin Handheld GPS (eTrex 20). Ken carries this everywhere on our vacations and uses that to sync our photos with our GPS coordinates. (It's called geotagging. More on that in a future post!)
Acer Netbook. If we are going on a long and complicated trip, this is likely the only computer we bring so we don't have to lug anything heavier. But sometimes I like to also bring …
My MacBook Pro if I expect to want to import my photos into Lightroom every evening or blog about the trip.
Backup external hard drives. Combined, we can easily take nearly 6,000 pictures on a two week trip together. Since we shoot in RAW format, that can add up to … well, countless Gigabytes of photos. Plus, we're both compulsive about having backups of backups. So, we'll dump our photos everyday onto the netbook and then also back that up onto one of our external hard drives in case the netbook dies, gets stolen, etc.
iPad. But only sometimes. I like to use it to read digital versions of magazines.
iPhones. Obviously.
Automobile GPS. If we're flying somewhere and renting a car, we bring my Garmin Nuvi. But if we're going on a local road trip, we typically take Ken's car, which has a built in navigation system.
Kindles. Ken and I each have one. You know, for all that "free" time and "relaxation" you expect to have on vacation! But, we definitely use them on airplane rides!
A packing cube filled with chargers (iPhone, car iPhone chargers, camera chargers, video camera chargers, laptop charger, and one Kindle charger depending on the length of the trip, and a mini power strip).
Even with all this gear, we typically manage to travel with just carry-ons. What's on your tech gear packing lists?