This post may contain affiliate links. Please see my advertiser disclosure for more details.
---
Our last two days in Key West were just as fantastic as our first two days. Gorgeous November weather: Not too hot, but still plenty warm for the beach and pools, amazing food, and just a lovely relaxing vacation. And by relaxing, I mean that we occasionally took breaks from visiting all of Key West's sites to just enjoy the hammocks at the hotel!
Harry Truman Little White House in Key West
Our next day started with the Harry S. Truman Little White House Museum. Harry Truman apparently loved Key West, so this place served as his "Winter White House." It was originally a naval station headquarters during the Spanish American War.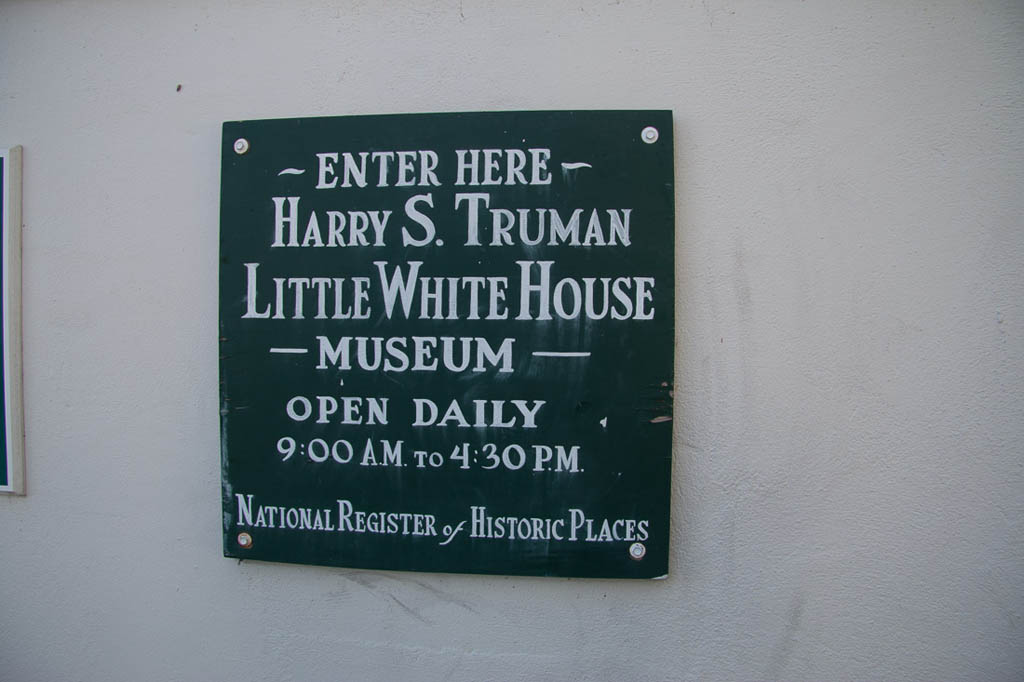 Unfortunately, photos were not allowed inside, so we just got to snap a few outside.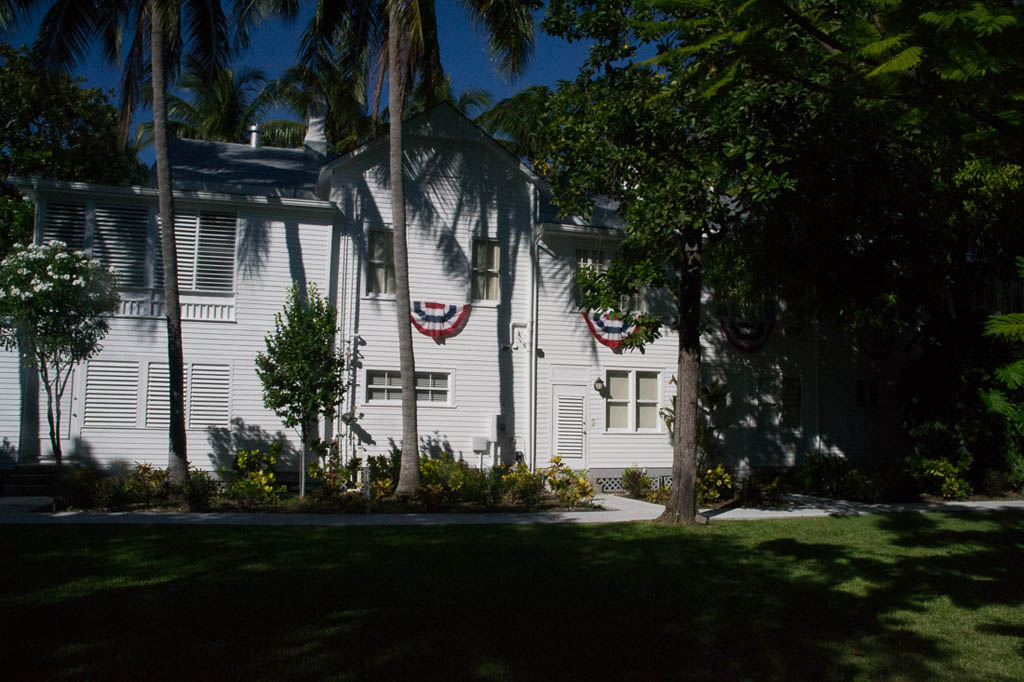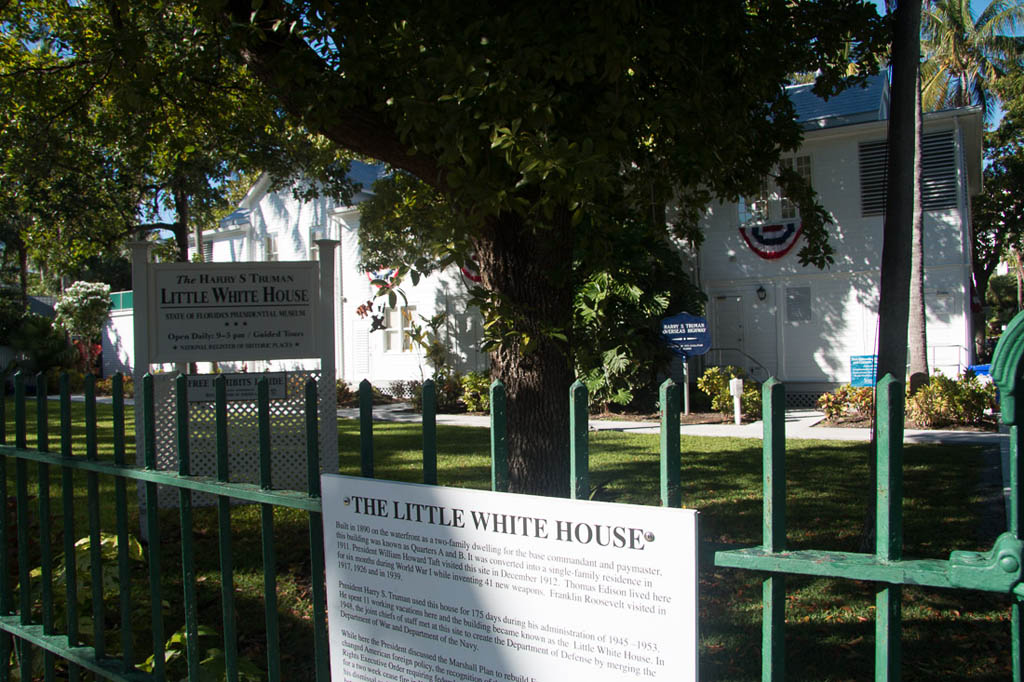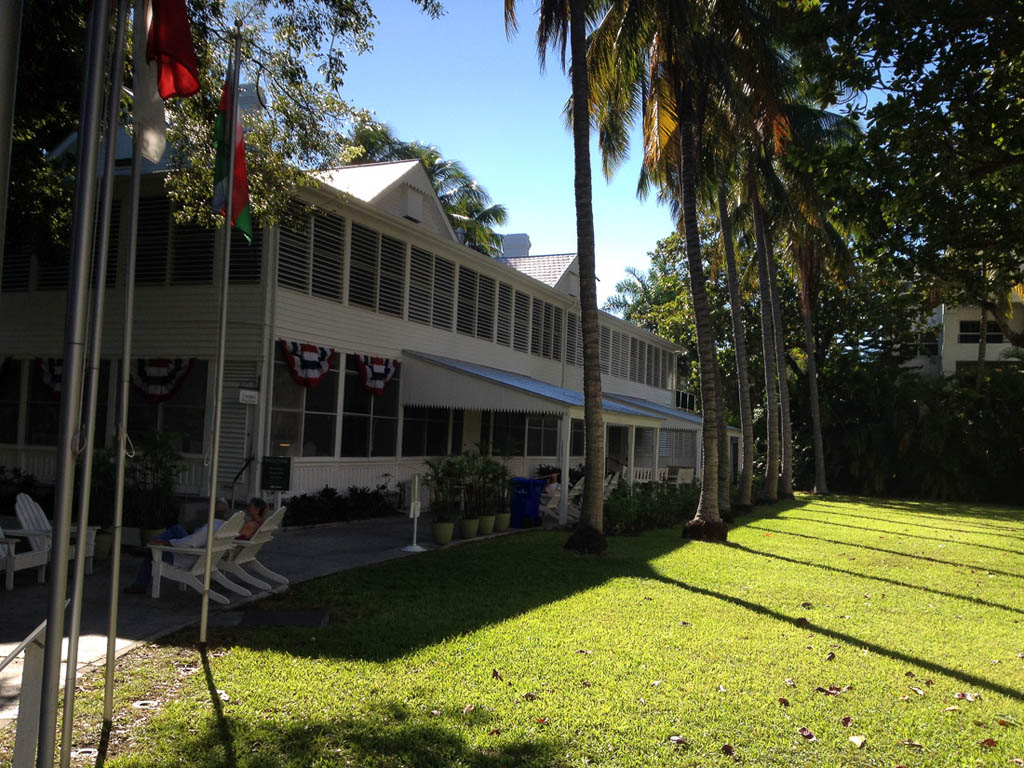 I must admit that this was not a very memorable tour. Our tour guide just did not seem very knowledgeable or excited. It seemed like she was reciting a memorized script. Very unlike other historical home tours we've been on, when tour guides seem to have a genuine passion for what they're talking about. Heck, even our tour of the Hemingway House just the day before was fantastic.
I think largely because of the guide, I didn't think this place was terribly worth visiting. But reviews online for it seem to be pretty contrary to what I'm reporting here, so perhaps it can vary based on who you get as your guide!
Afterwards, we walked around Key West some more, purchasing some souvenirs and just taking in the sites.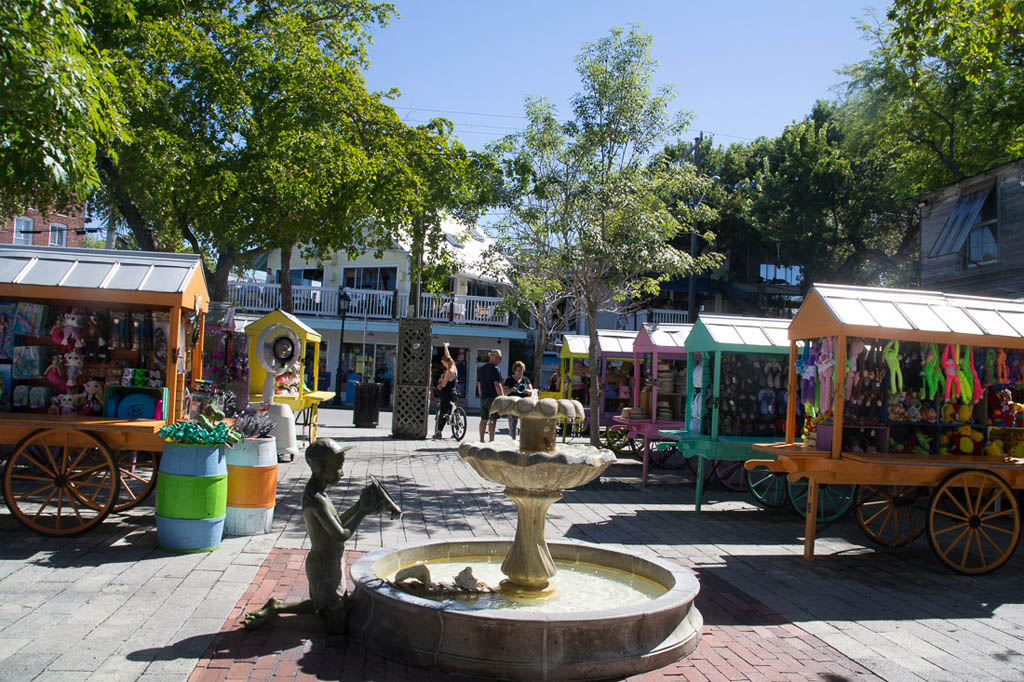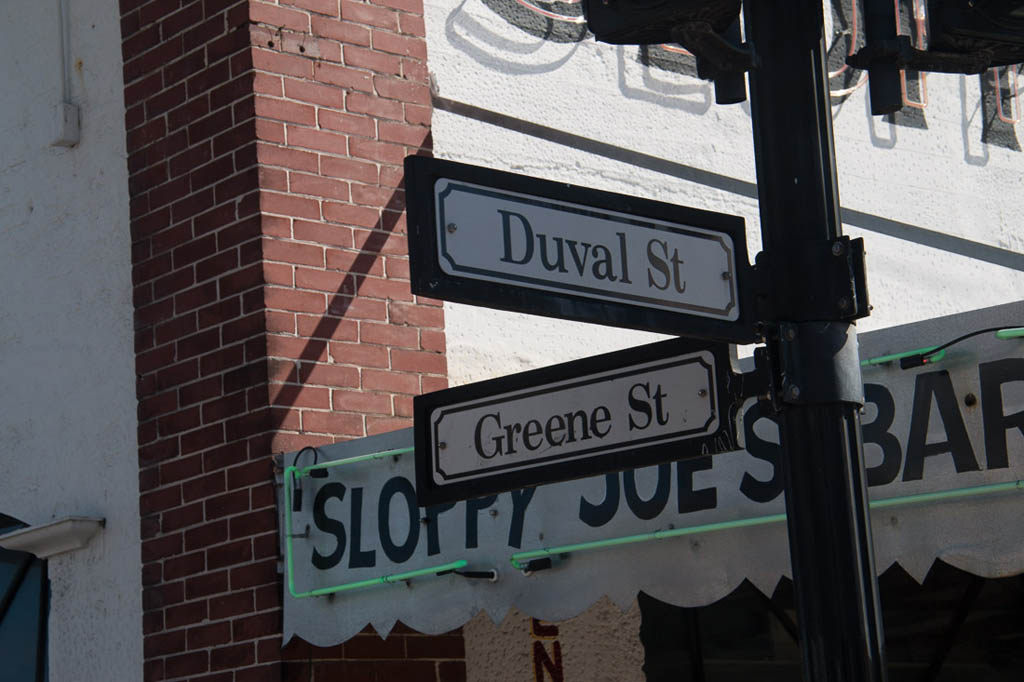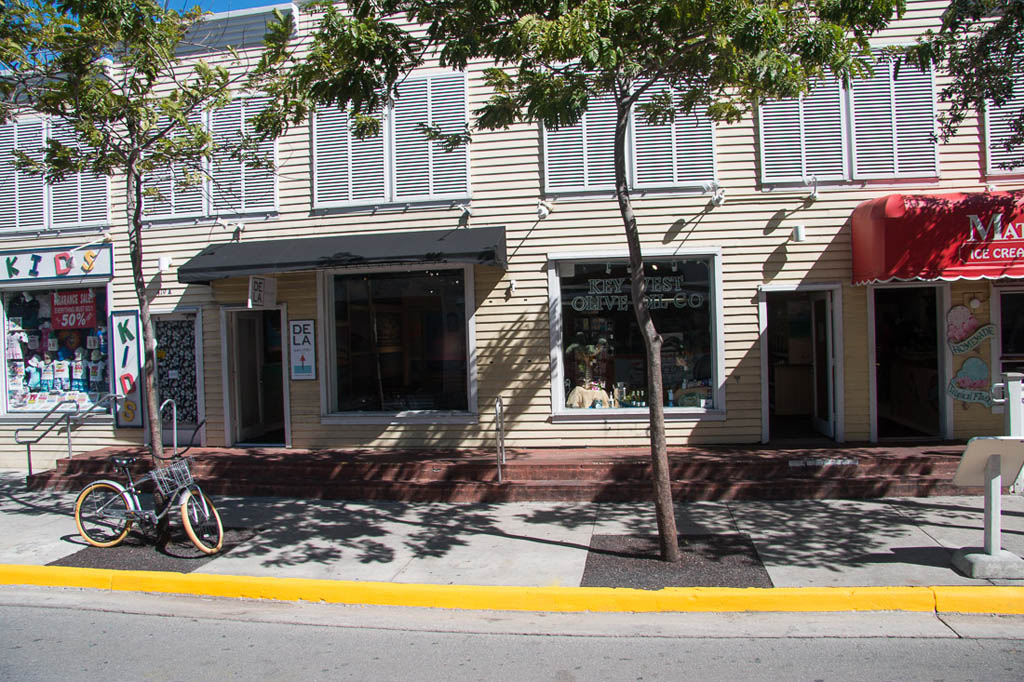 Then we headed back to the hotel to relax at the pool and on the hammocks some more.
Sunset at Fort Zachary Taylor State Park
From the hotel, we drove to Fort Zachary Taylor, which I had read was a fantastic location to watch the sun set in Key West. And not only that, it had a large beach too! (Well, large for Key West!) So, if you're looking for a nice, large beach, all you have to do is pay the entrance fee for the state park and you're all set.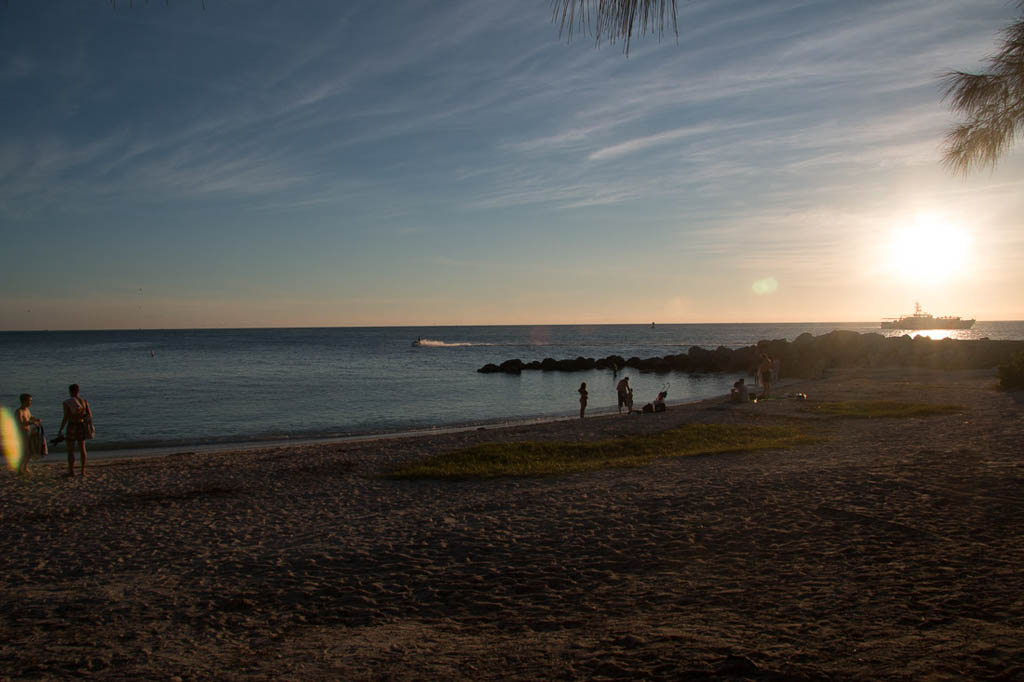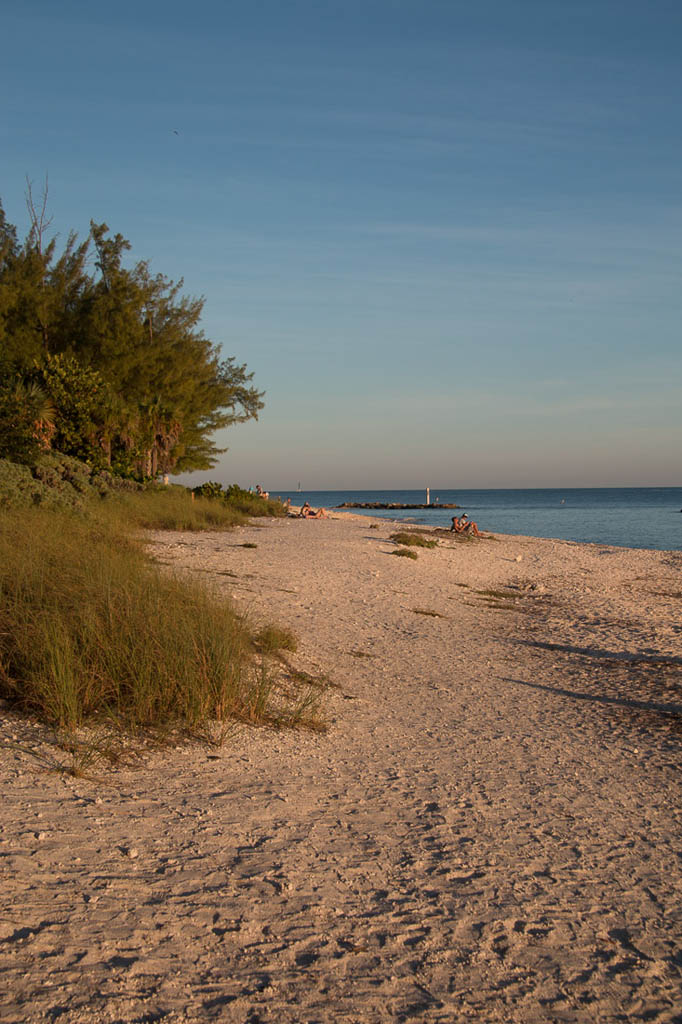 There were plenty of trees for shade, and even lots of picnic tables. It was a fantastic place!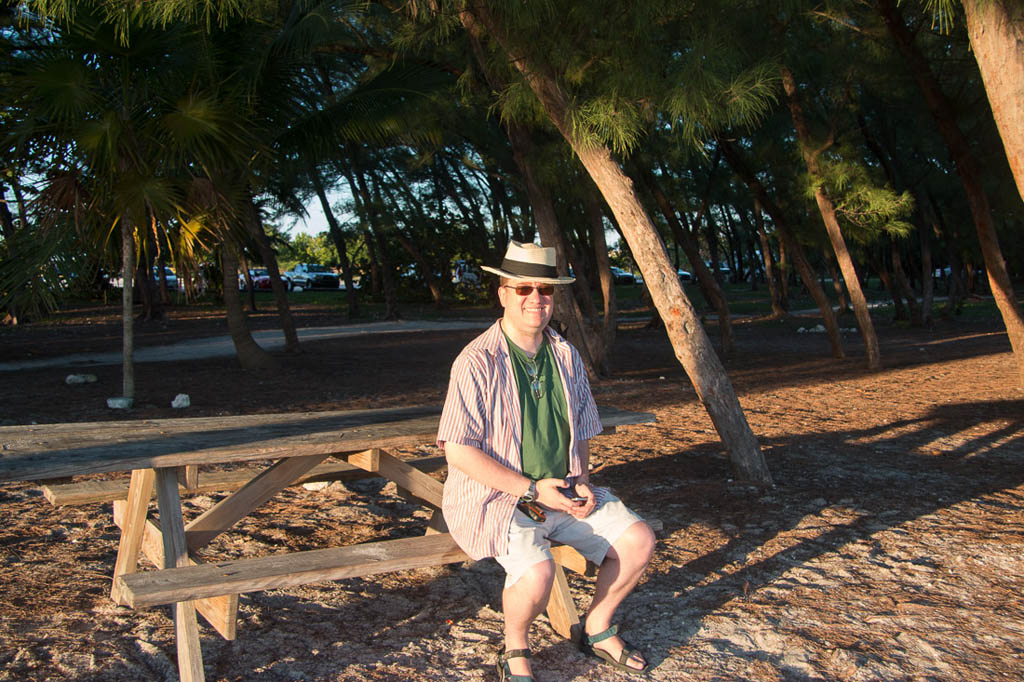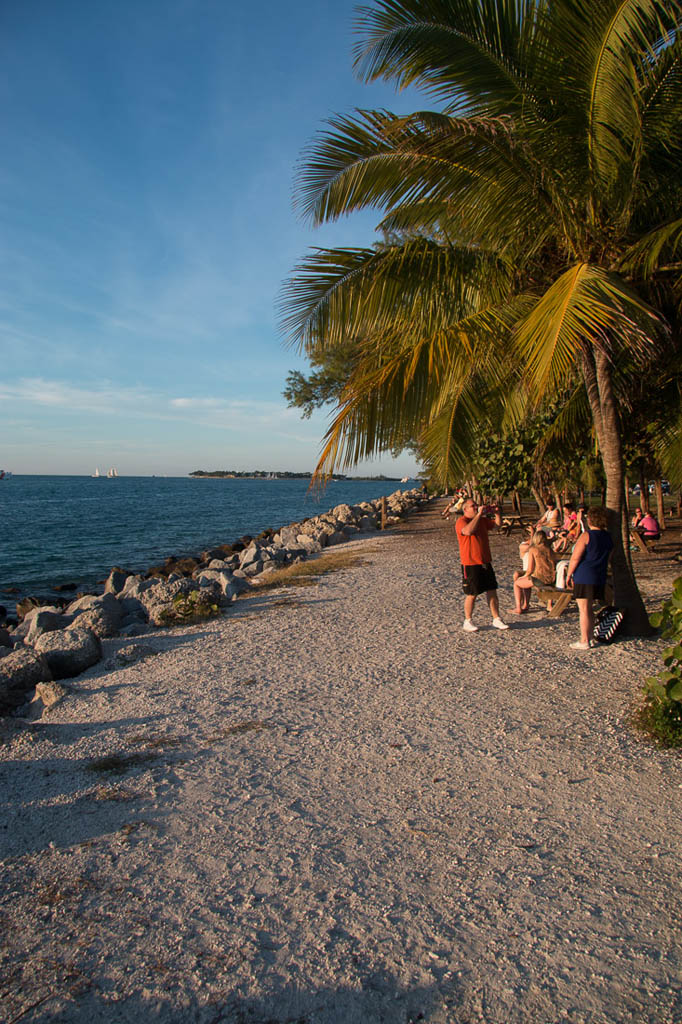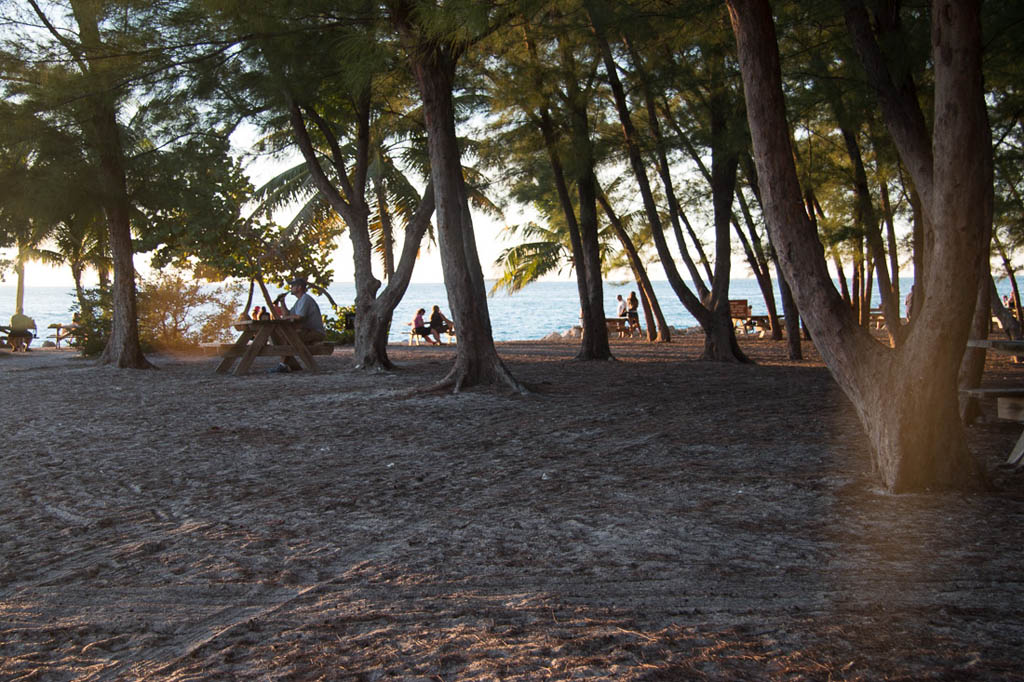 Then, as sunset approached, we were happy to find out that the location lived up to the hype. It was, in fact, a great place to view the sunset! And not at all crowded like the Mallory Square area of Key West, which is also a spot to view sunset, but was way too crowded and loud.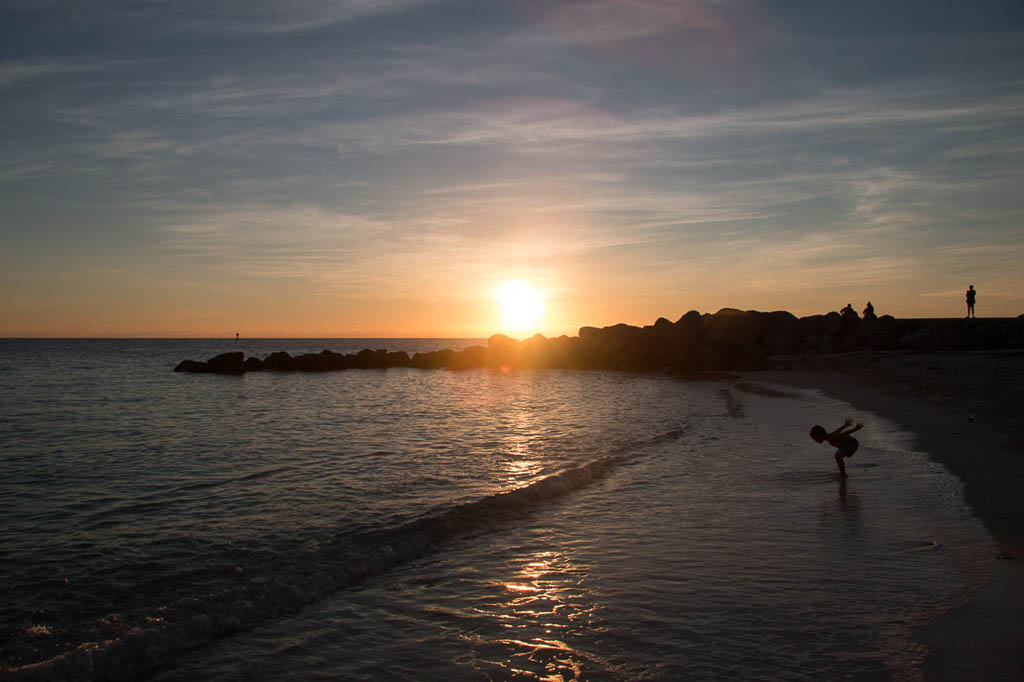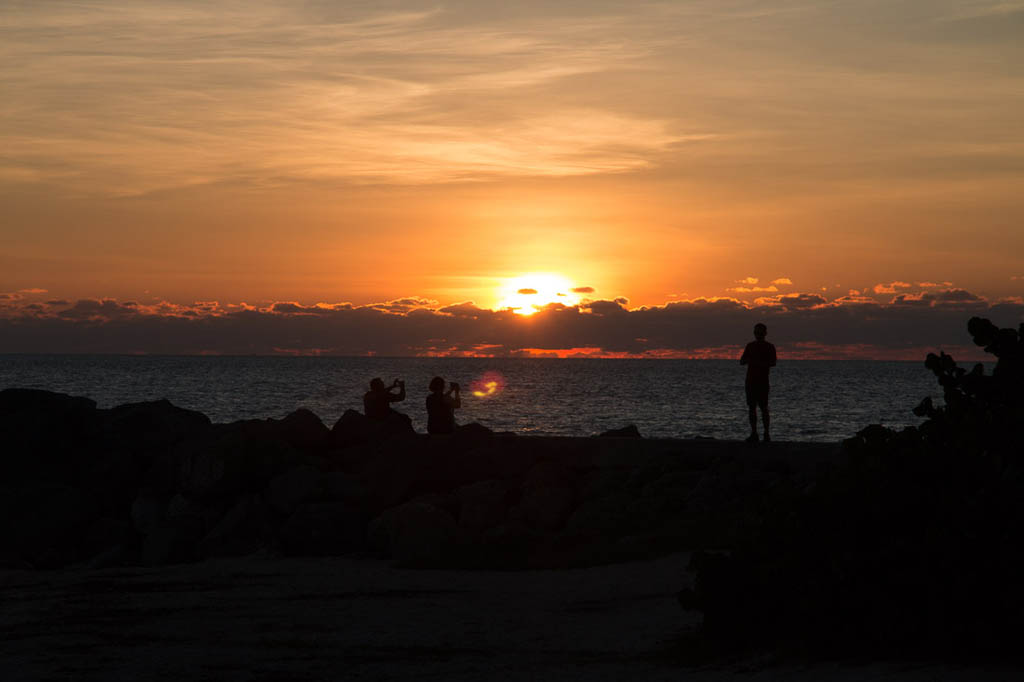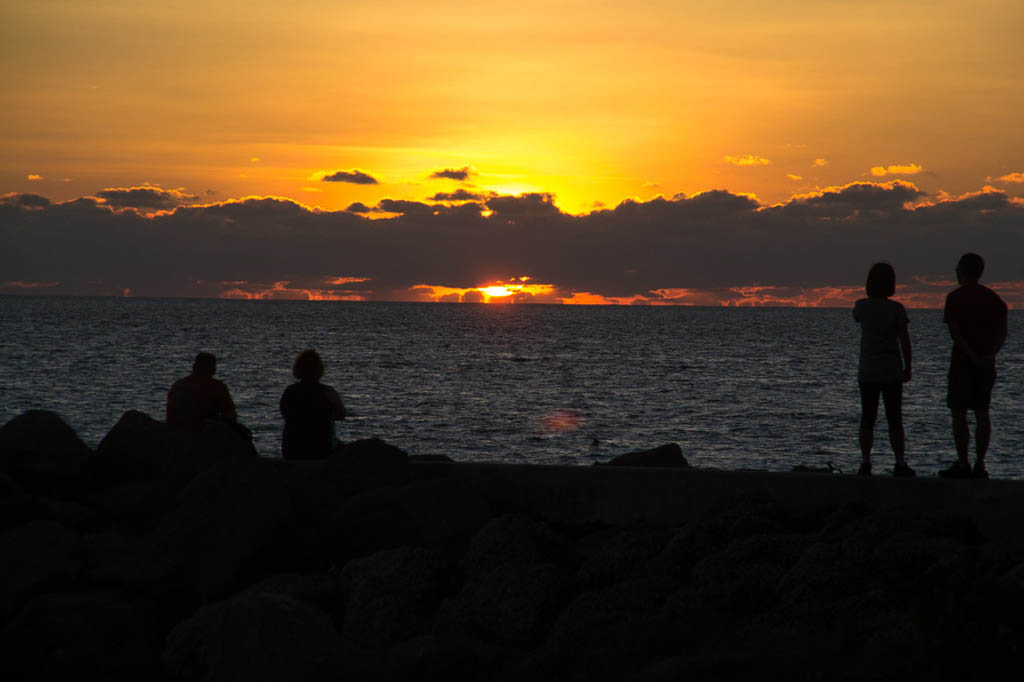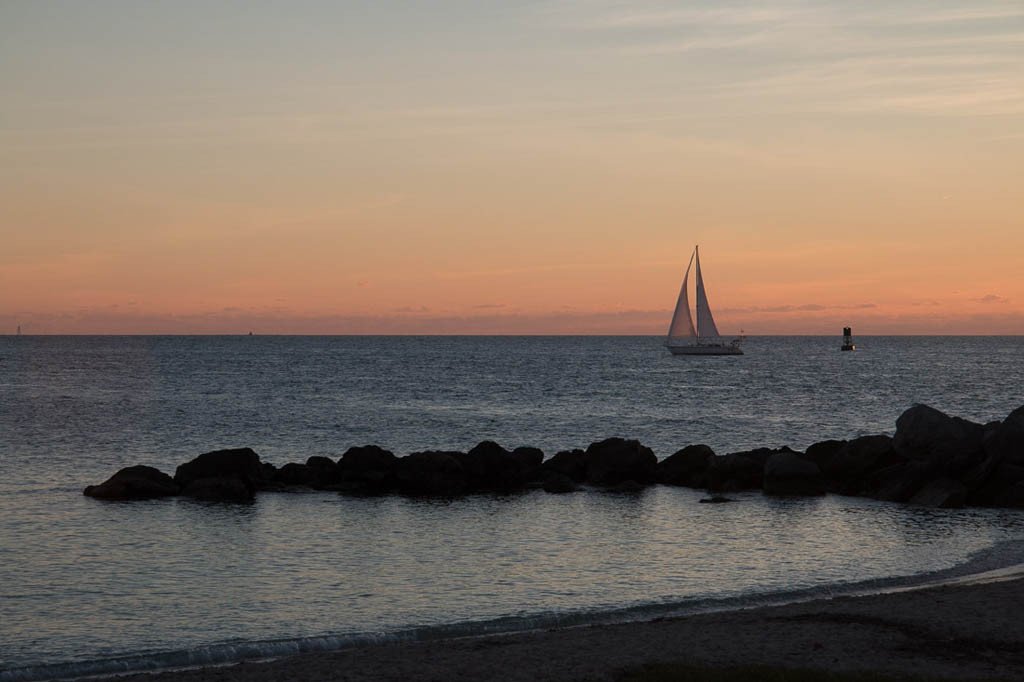 The sunset light provided a gorgeous warm glow on the beach: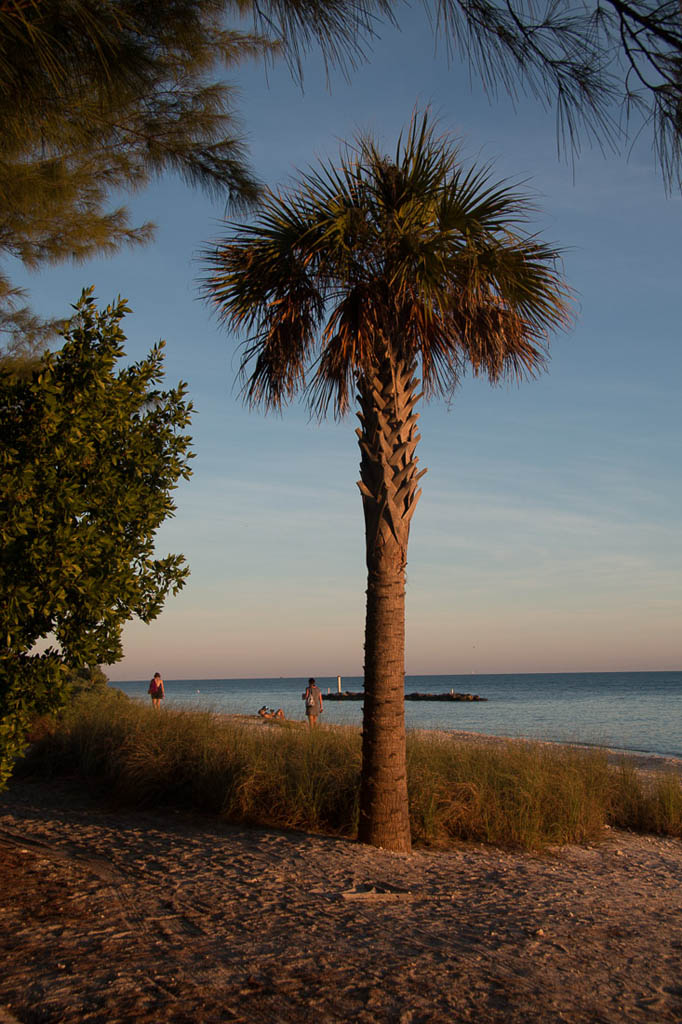 And with that, the sun was down, and we had to go! (It's worth pointing out that virtually right after the sun sets, park employees start to come around reminding everybody that the park closes at sunset and that it's time to go!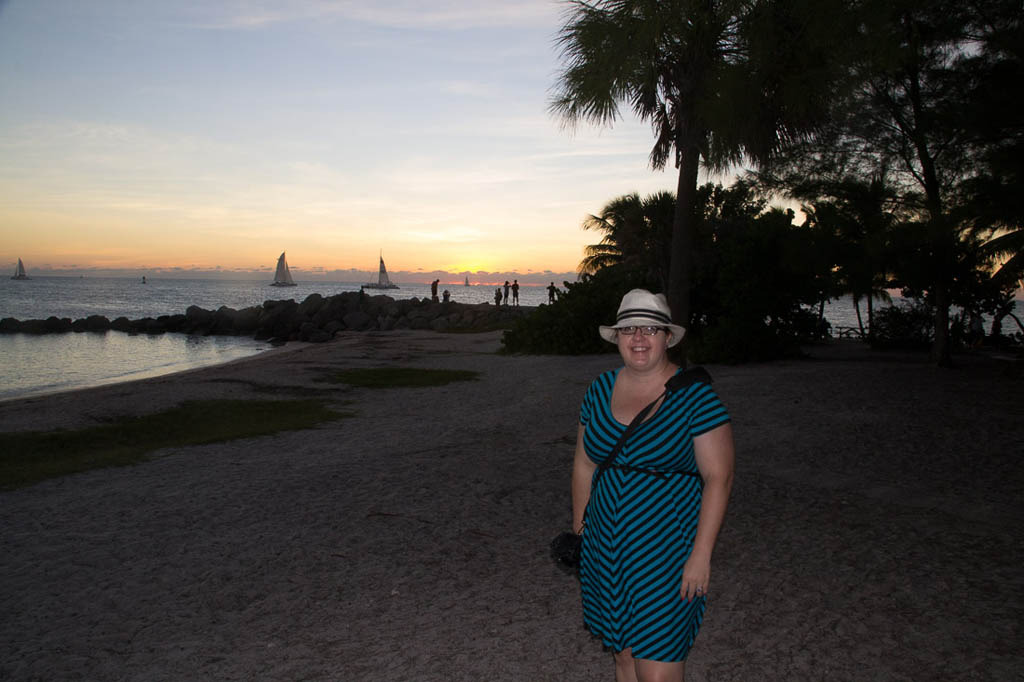 I should point out that there looked to be some other things to see at Fort Zachary Taylor, but we didn't have time to check them out. (Like maybe one of the actual fort buildings).
Afterwards, we drove back to the hotel, where we enjoyed sitting around the firepits and enjoying the beautiful weather. Then we headed back out for some dinner, and then it was time for bed!
Southernmost Point in the Continental USA
Our last day in Key West. Sniffle!
We started off with a quick stop (walkable from the hotel) at the Southernmost Point in the Continental USA. Only 90 miles to Cuba. There's not much more than a marker, but it's still a fun place to stop and have your picture taken!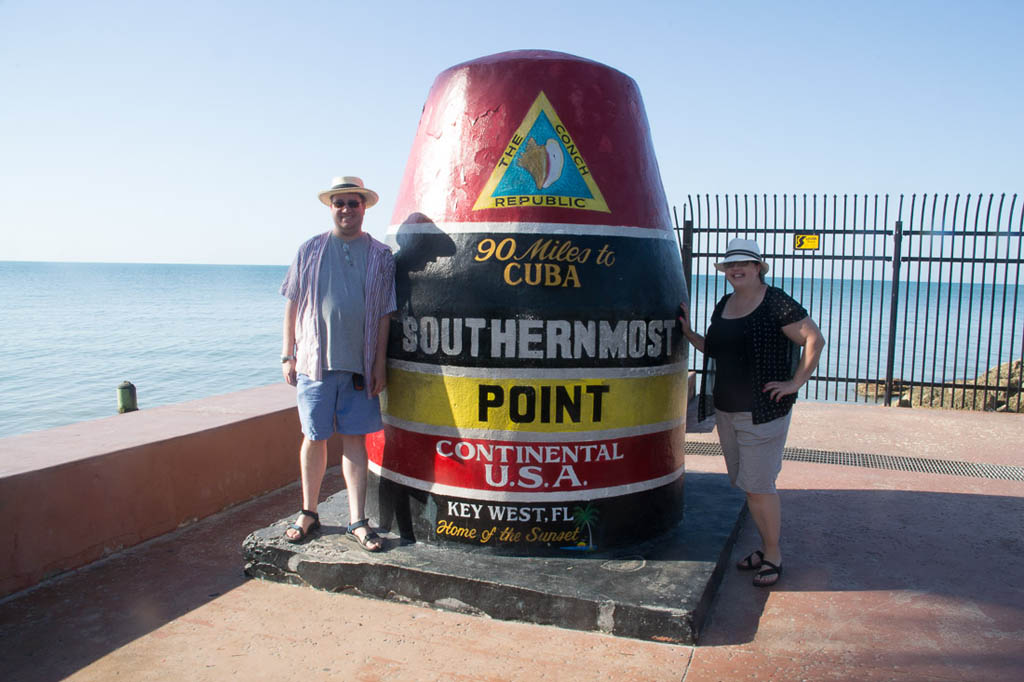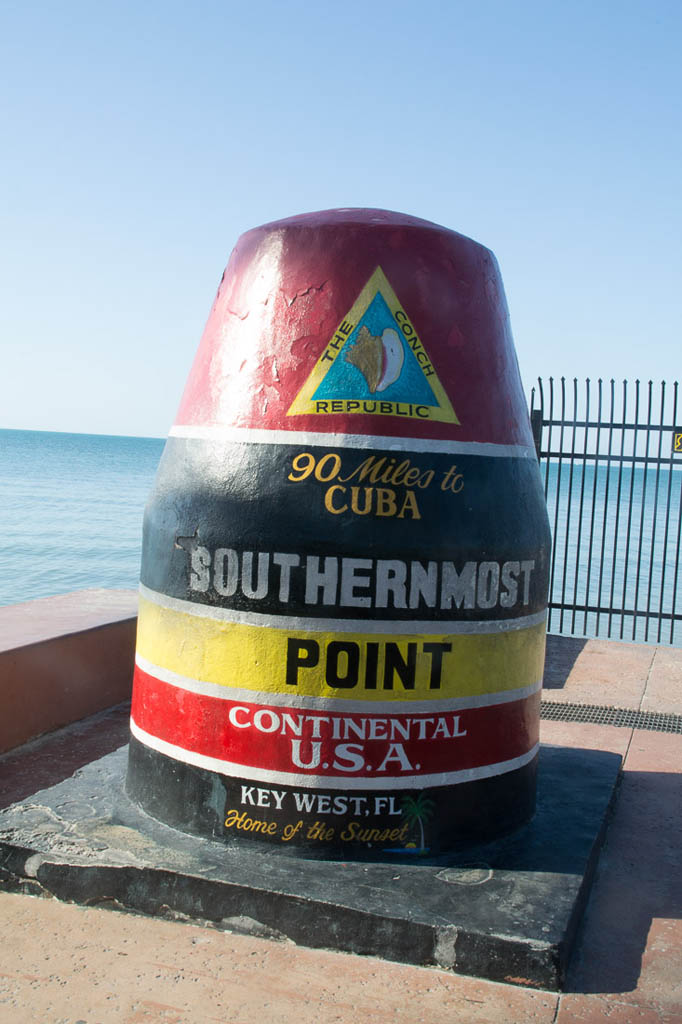 There was a line, but it was very well organized. Self-organized, I might add, it's not staffed or anything. People stood in line, and the folks in line behind them would take their picture. Very smoothly run!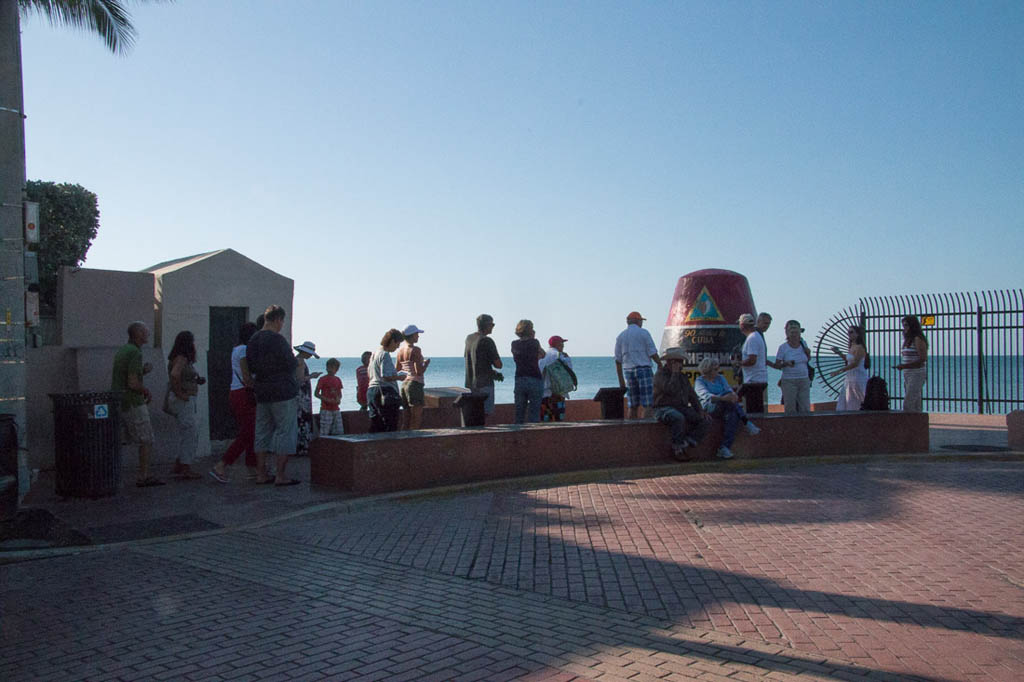 Key West Butterfly and Nature Conservancy
Right around the corner from the Southernmost Point was our next stop, the Key West Butterfly and Nature Conservancy.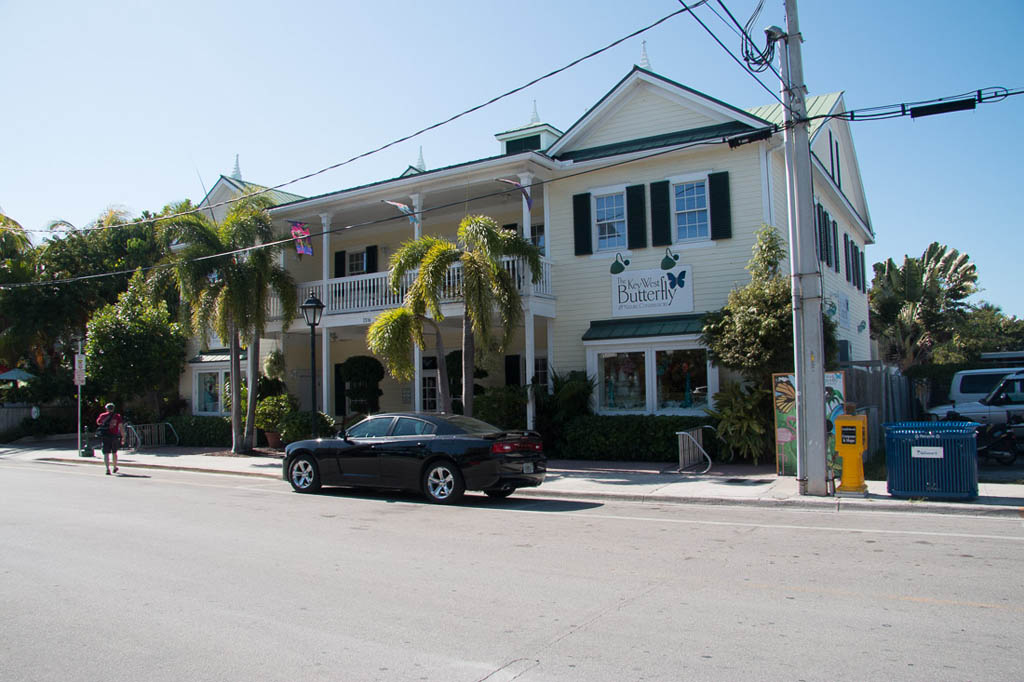 We paid our admission, and proceeded to the butterfly part, but not after taking note of this warning!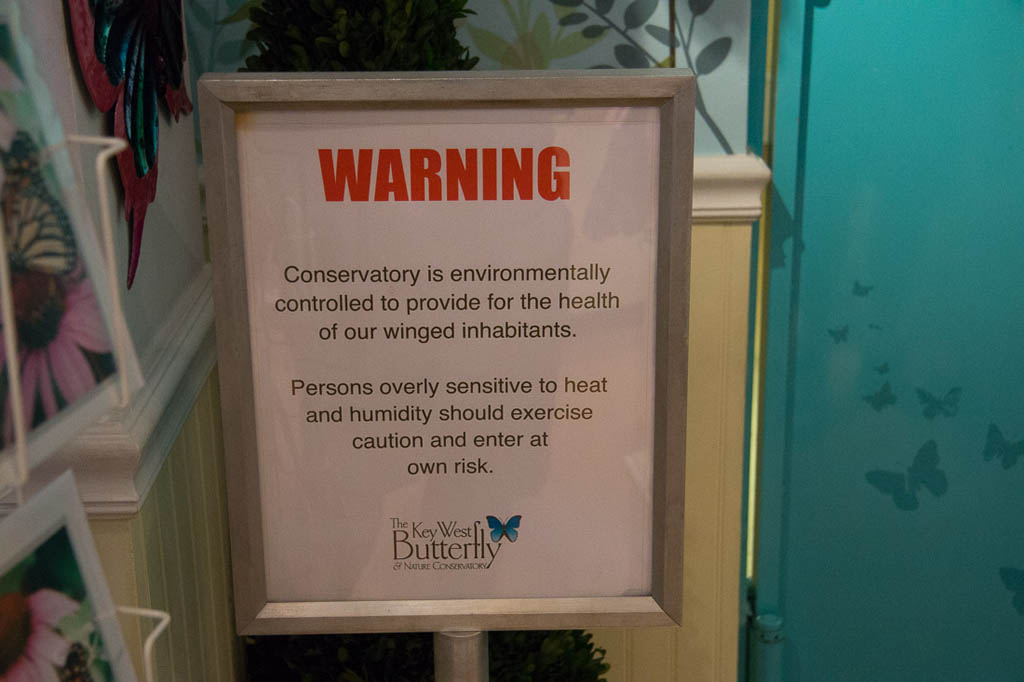 And whoo-wee, was this sign accurate. It was hot and humid inside! So much so that it took about five full minutes for our cameras to stop steaming up! Our first photos look like this: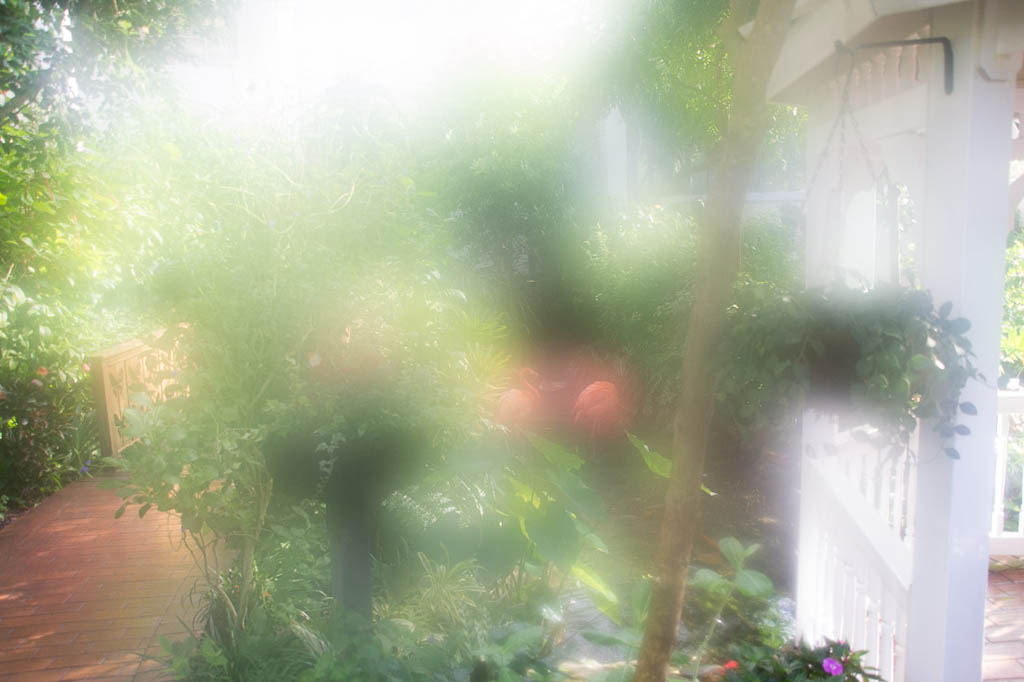 So, we walked around for a little while (without taking photos) and waited for our cameras to acclimate.
And after that, man did we go WAY overboard with photos! (Hmmm, why does going overboard on taking photos of butterflies sound so familiar? Oh, that's right, because we did the same thing at the Butterfly Farm in St. Maarten back during our Caribbean Cruise in 2007! This place was small, but man was it cool! We probably spent a good hour inside watching the butterflies and taking tons of photos.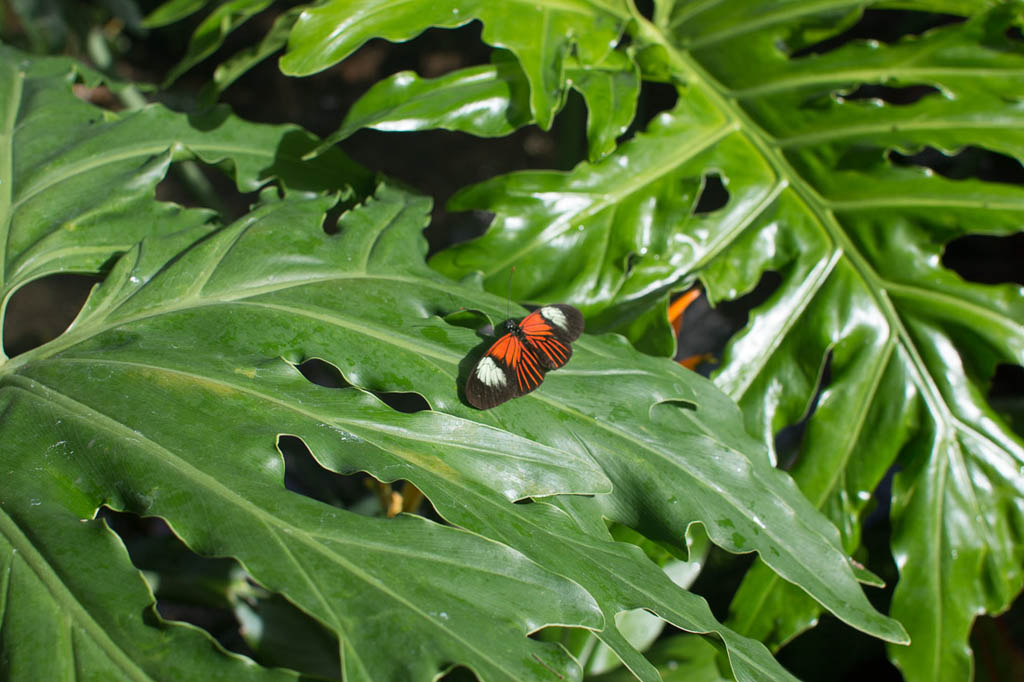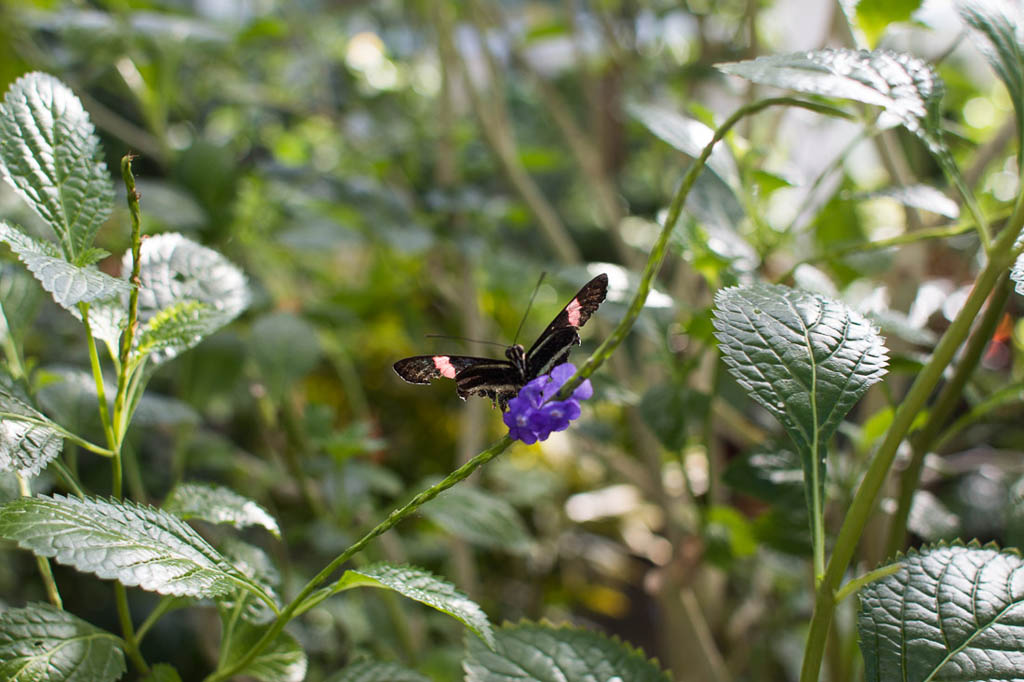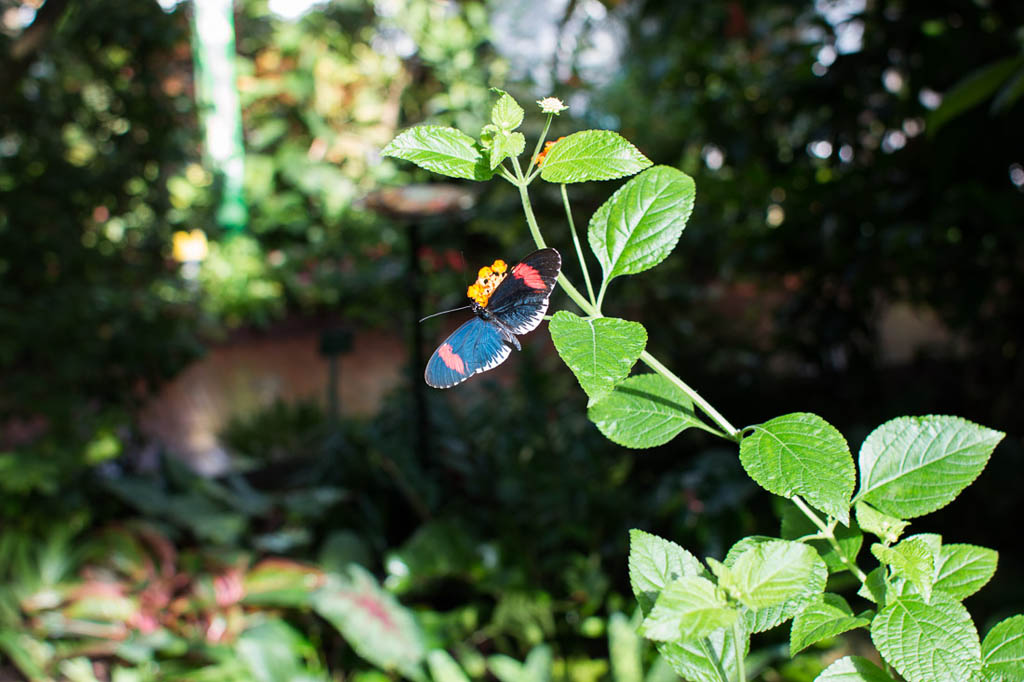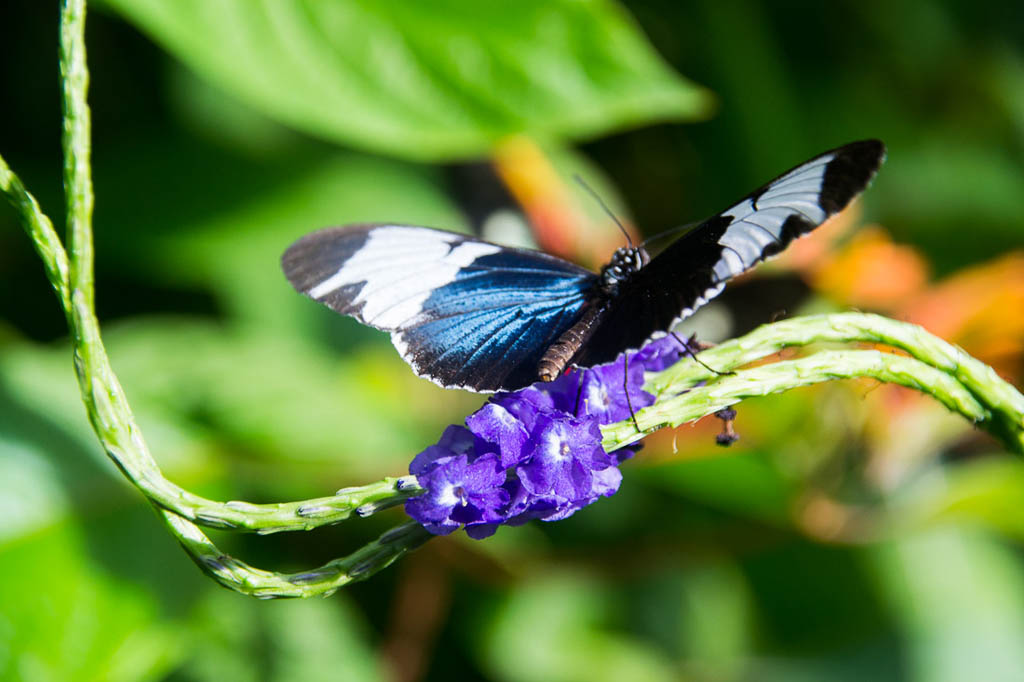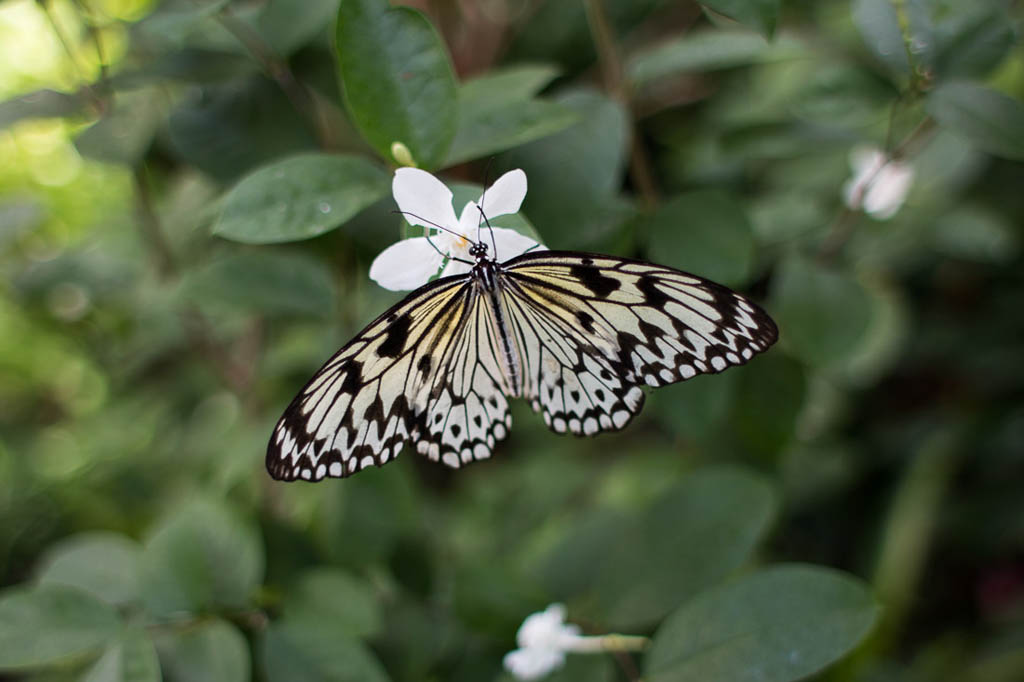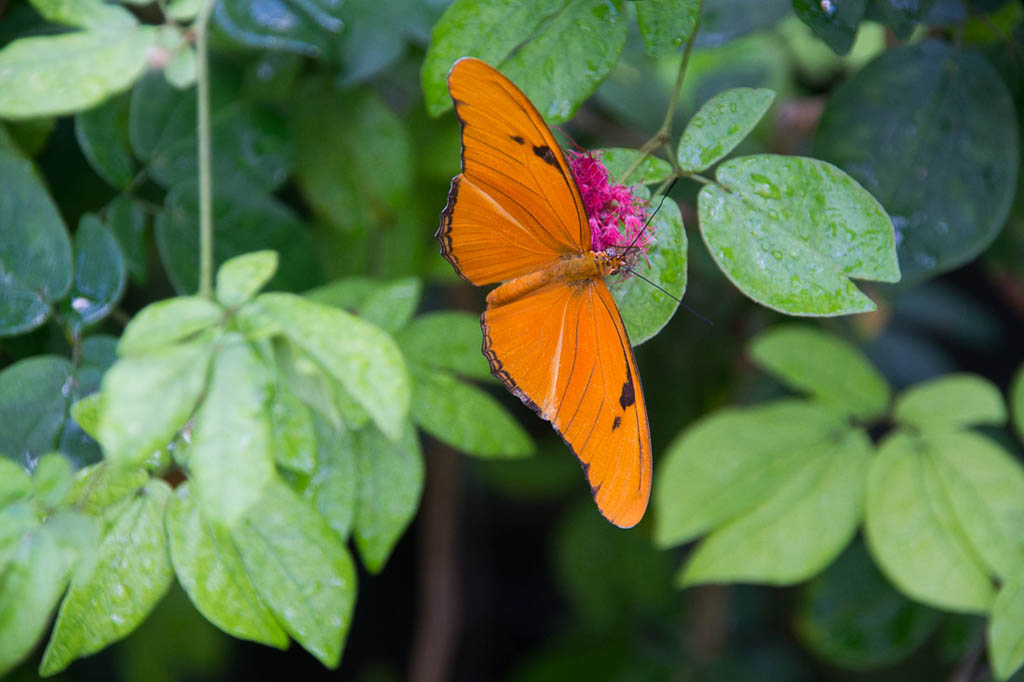 The conservatory was also home to two flamingos!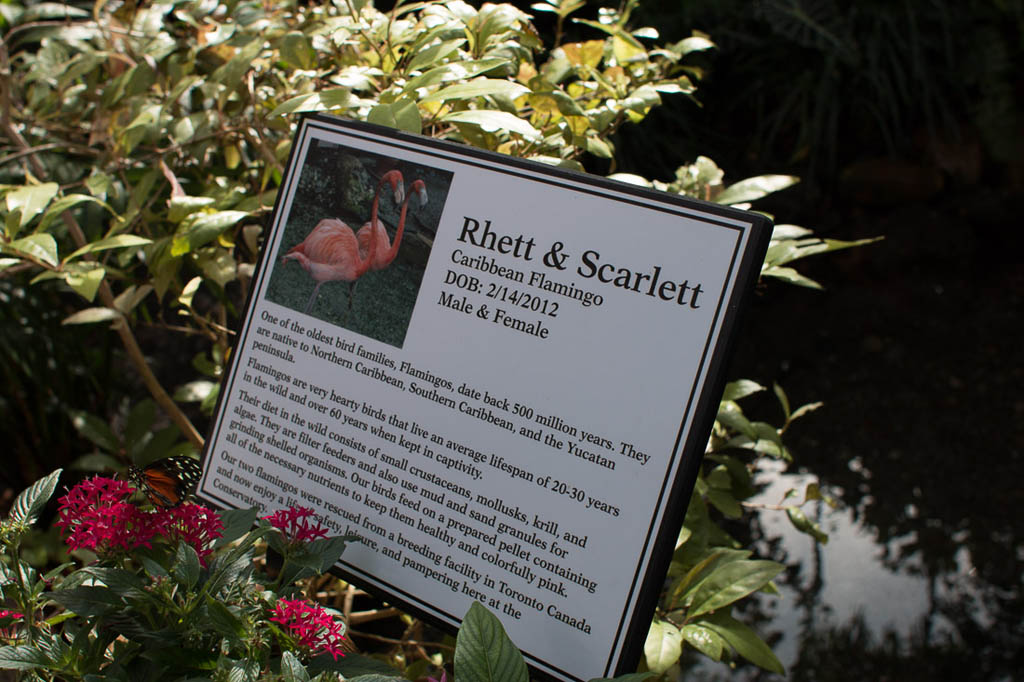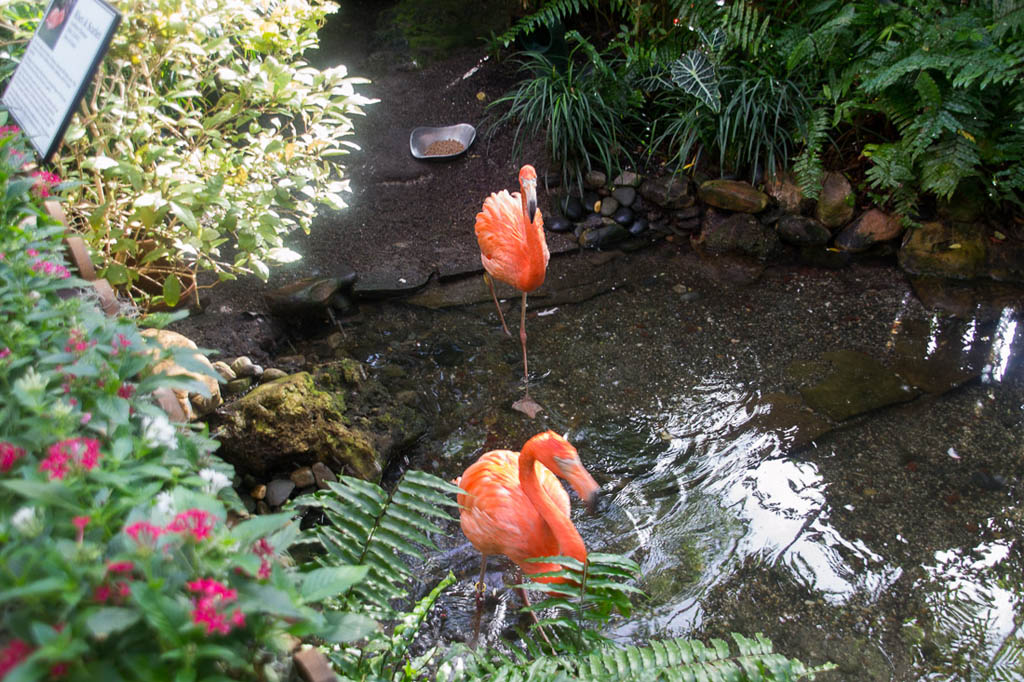 All throughout the conservatory, there are these plates of fruit for the butterflies to eat!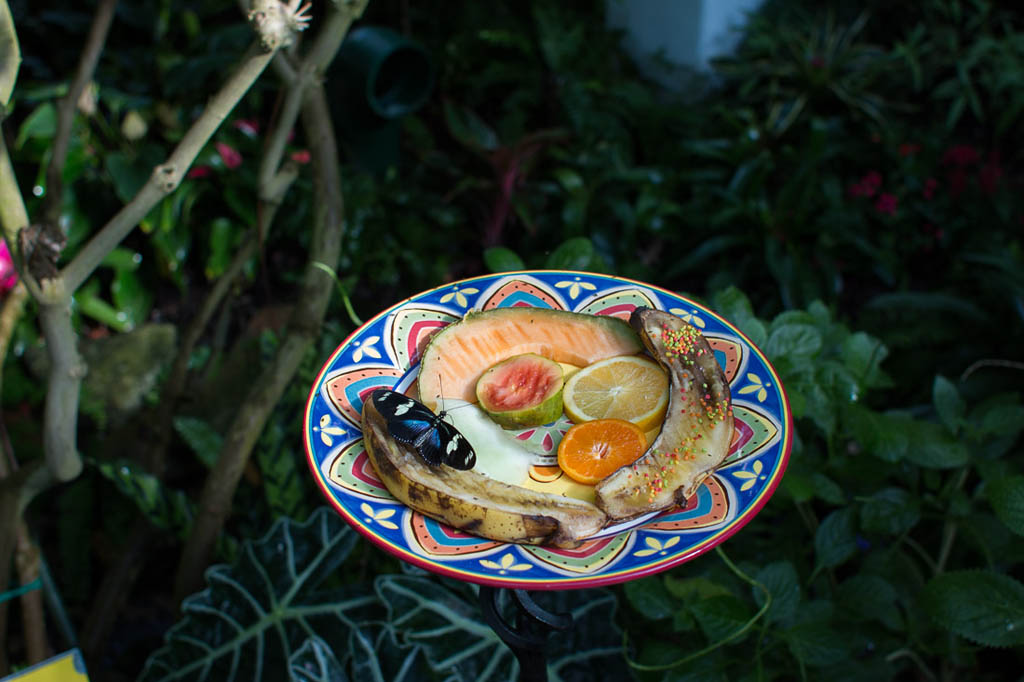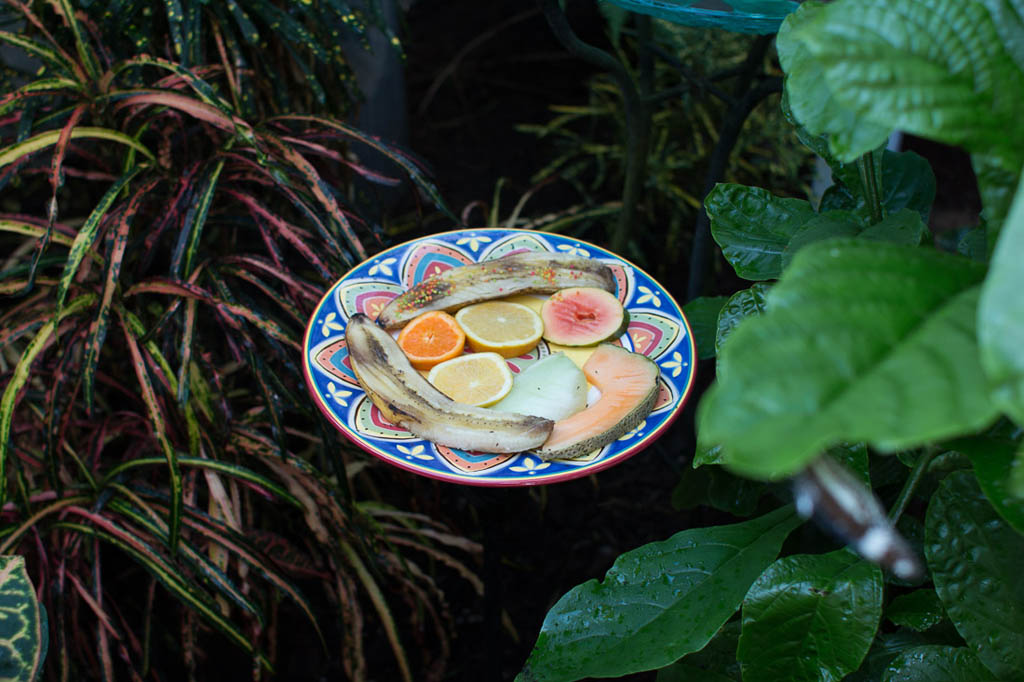 A few butterflies even landed on Ken's hat! I couldn't get great pictures of them because they would fly away so fast, but here are a few just so you get the idea!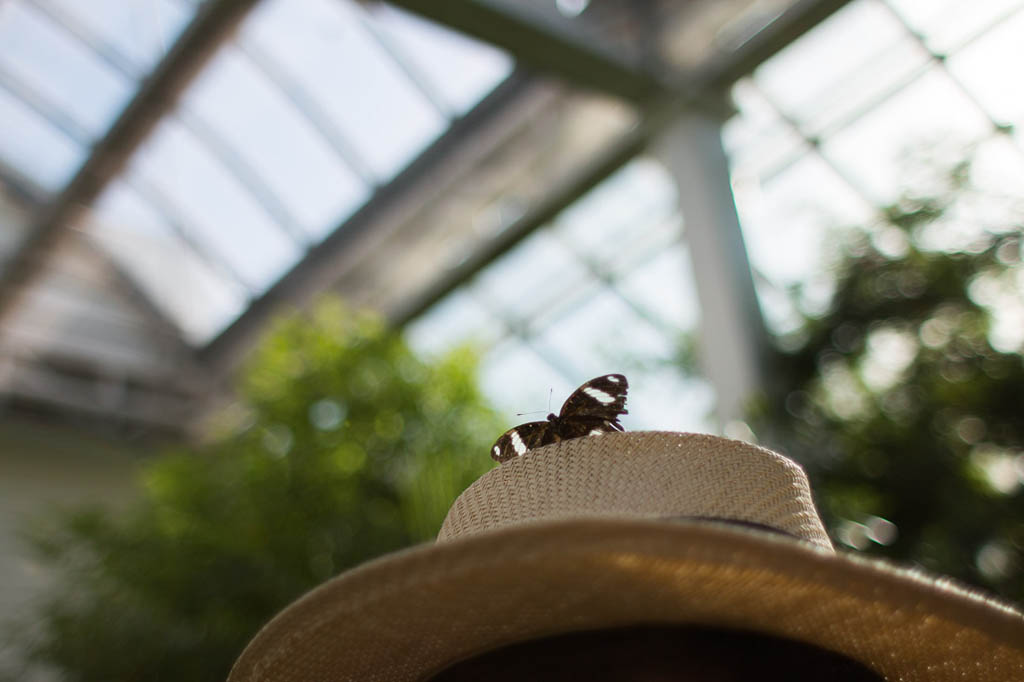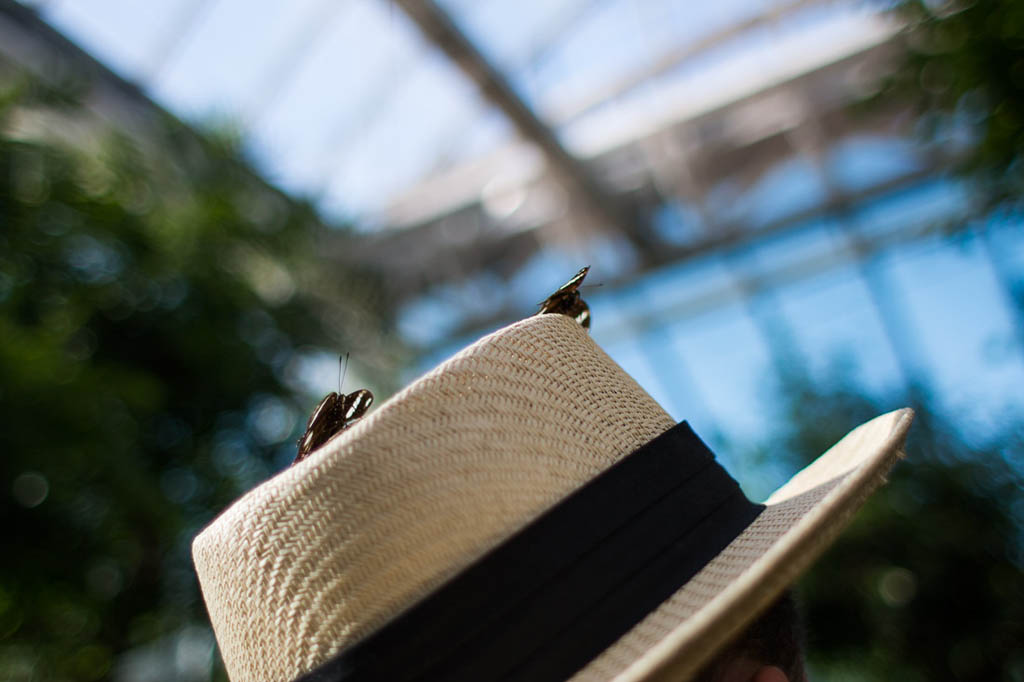 In fact, as you exit the conservatory, there are signs reminding you to look at your clothes to make sure you don't take any butterflies with you! There are even mirrors to do a thorough check!
The conservatory room itself is stunning, with beautiful paths, water features and even butterfly-shaped seats!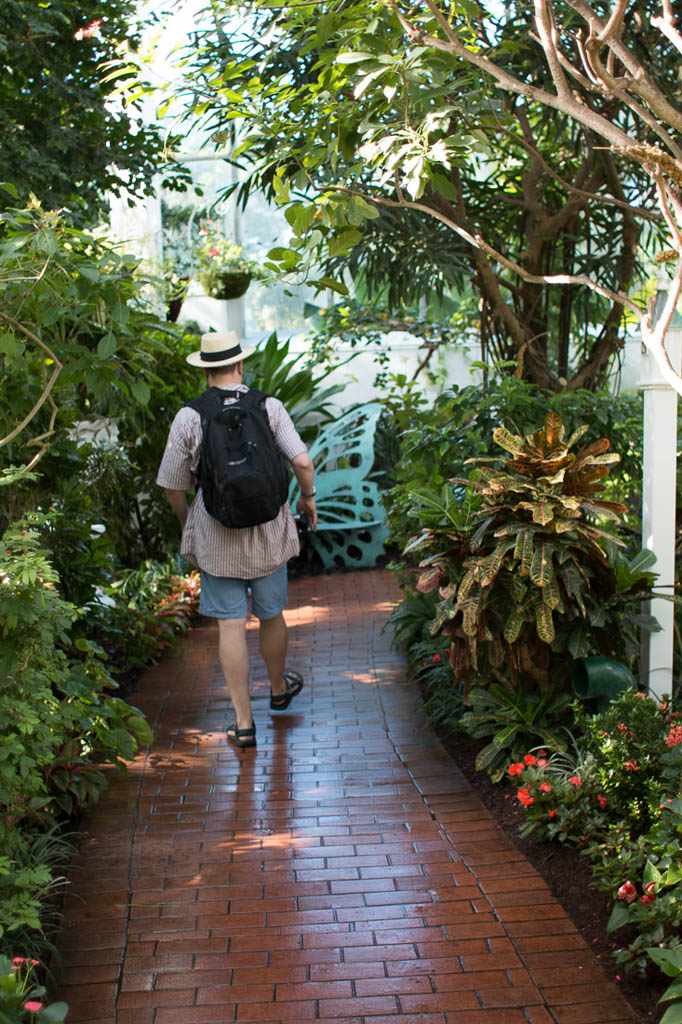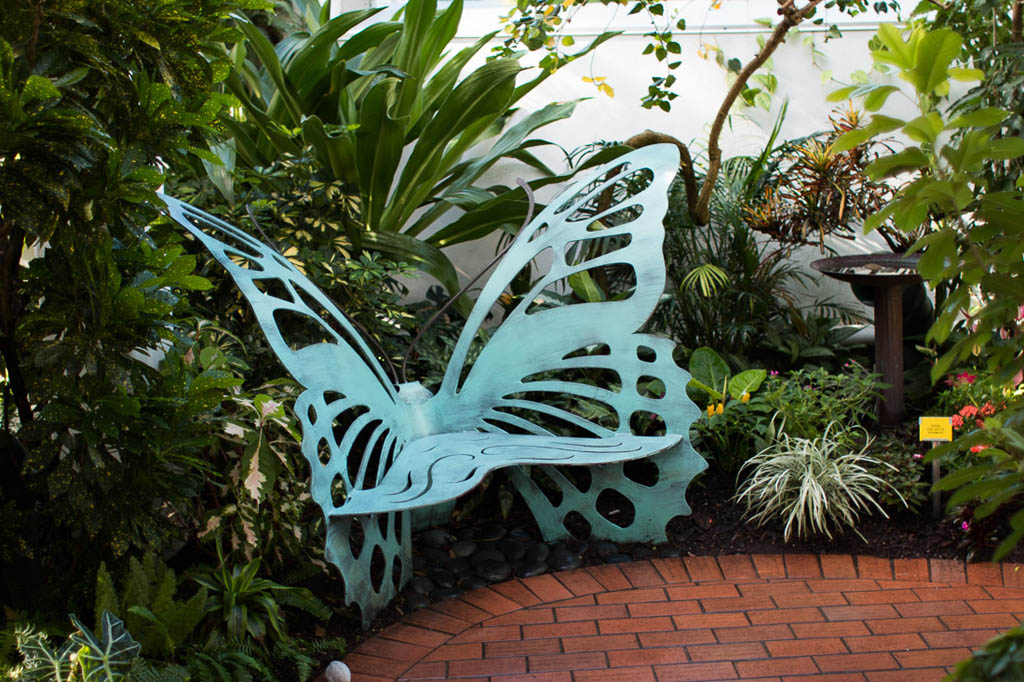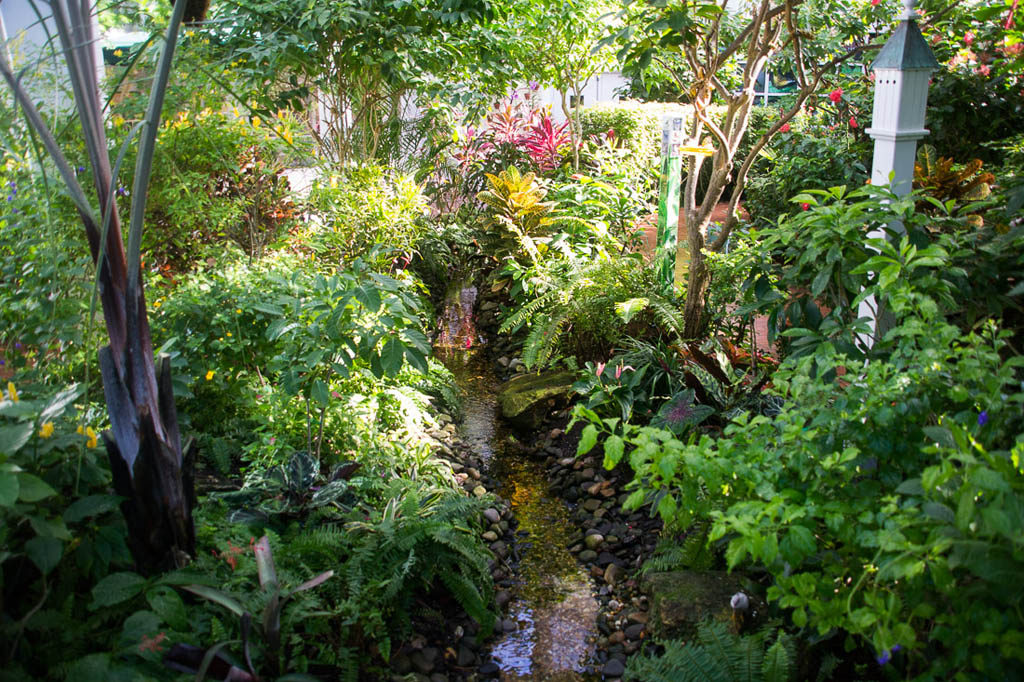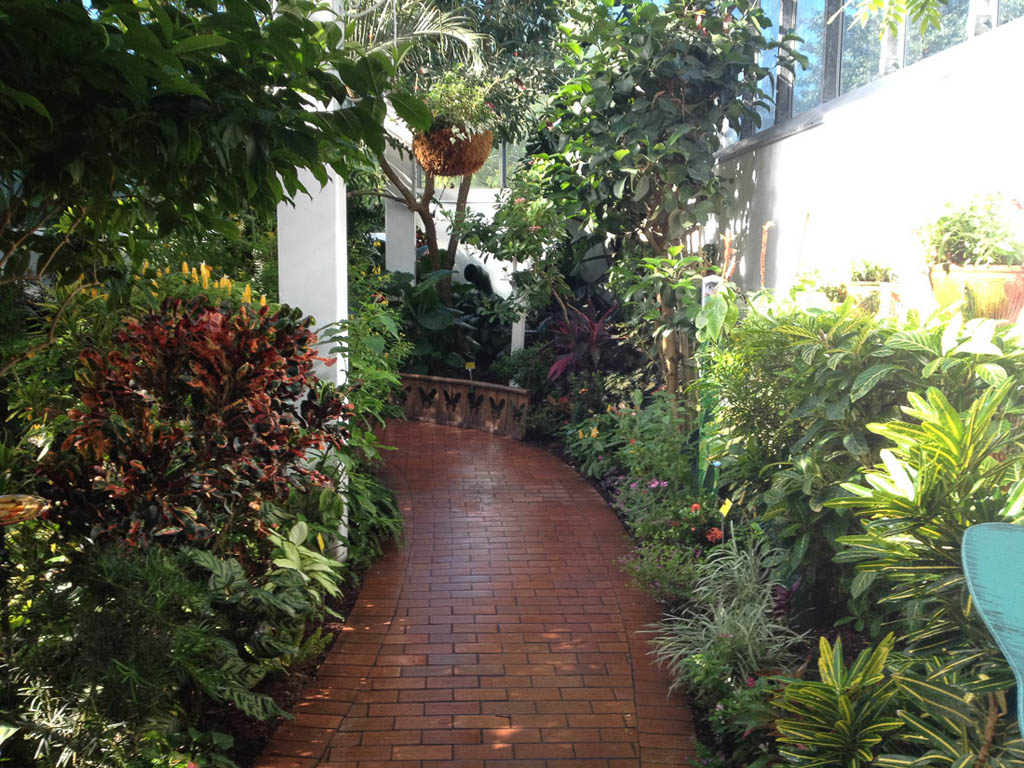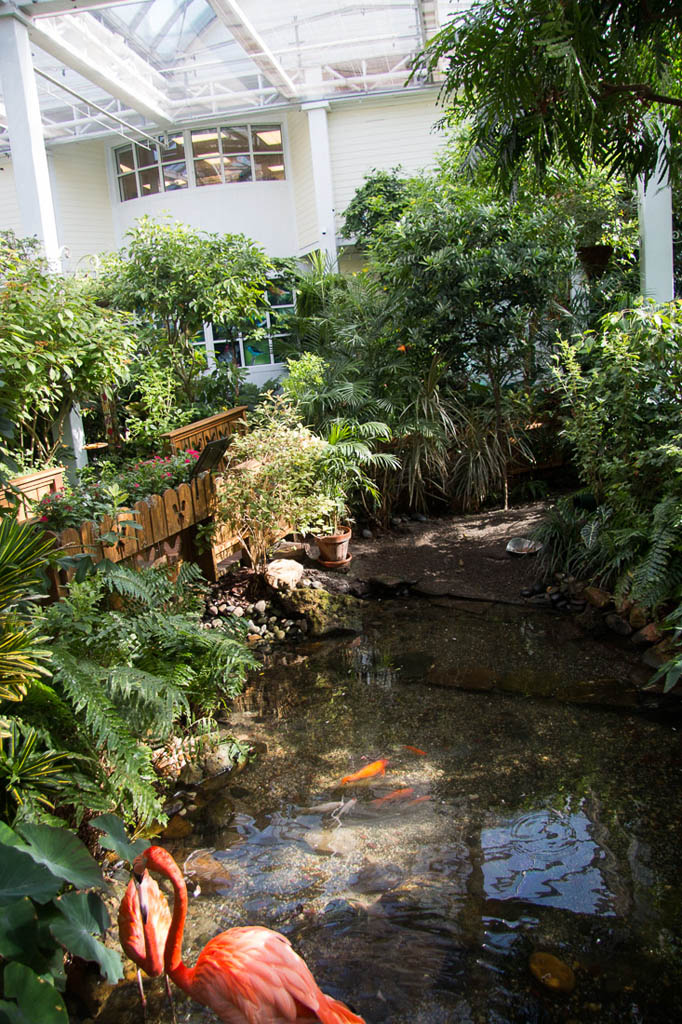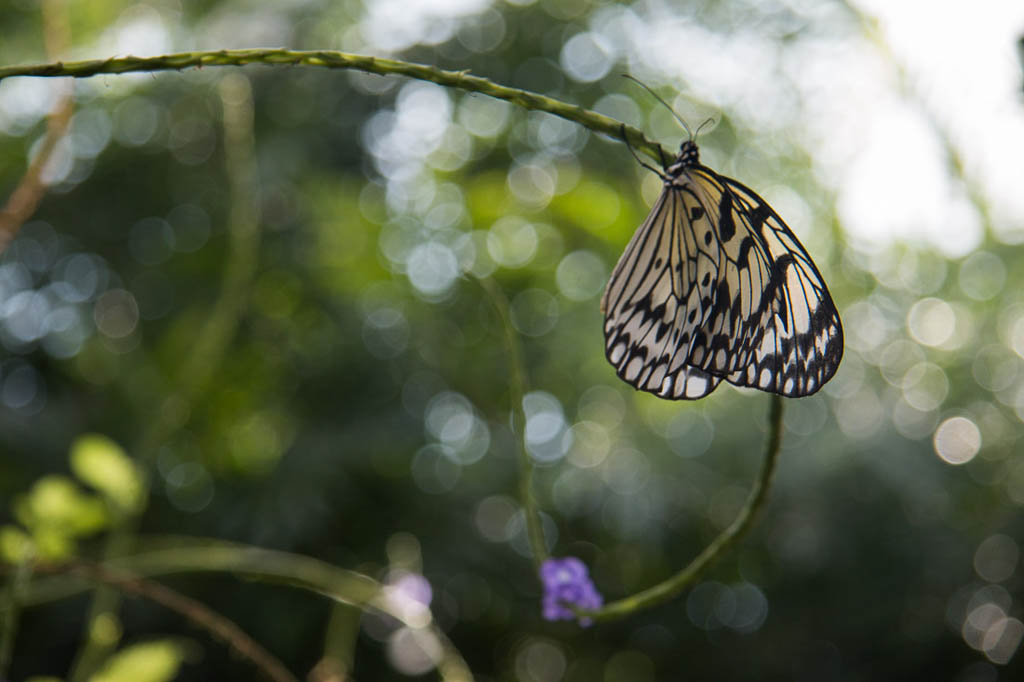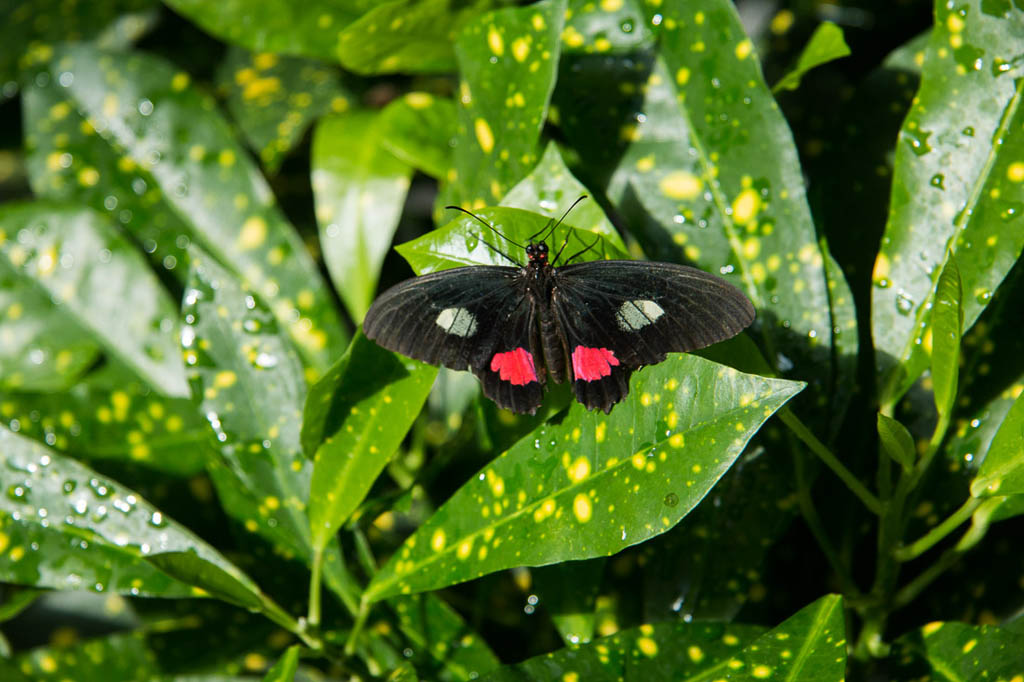 Butterflies? Check. Flamingos? Check. And let's not forget that the Conservatory is also home to birds!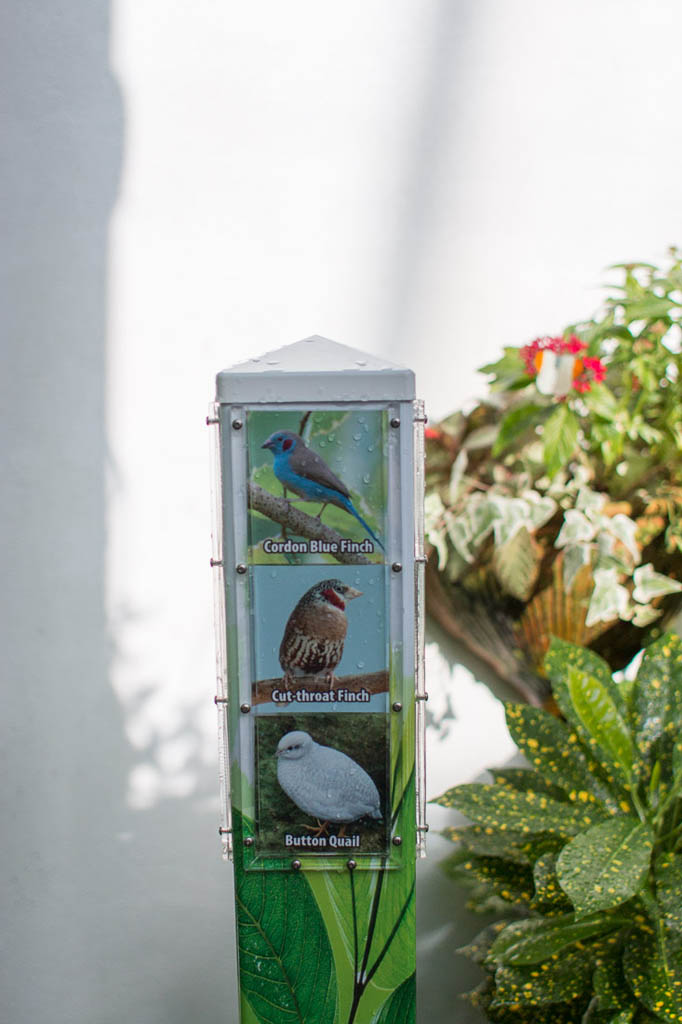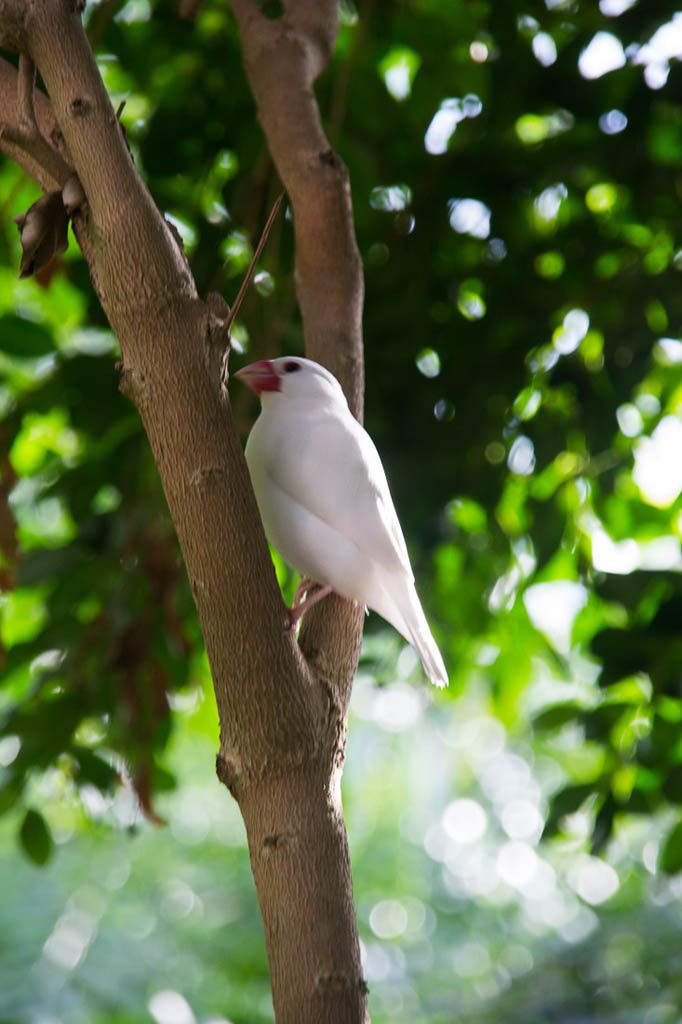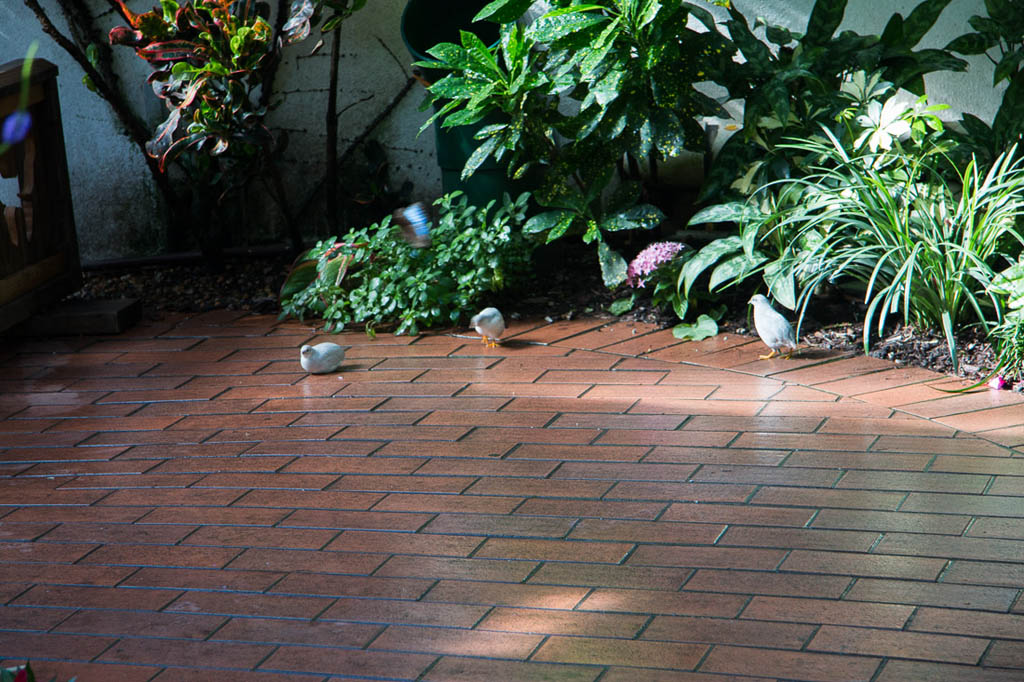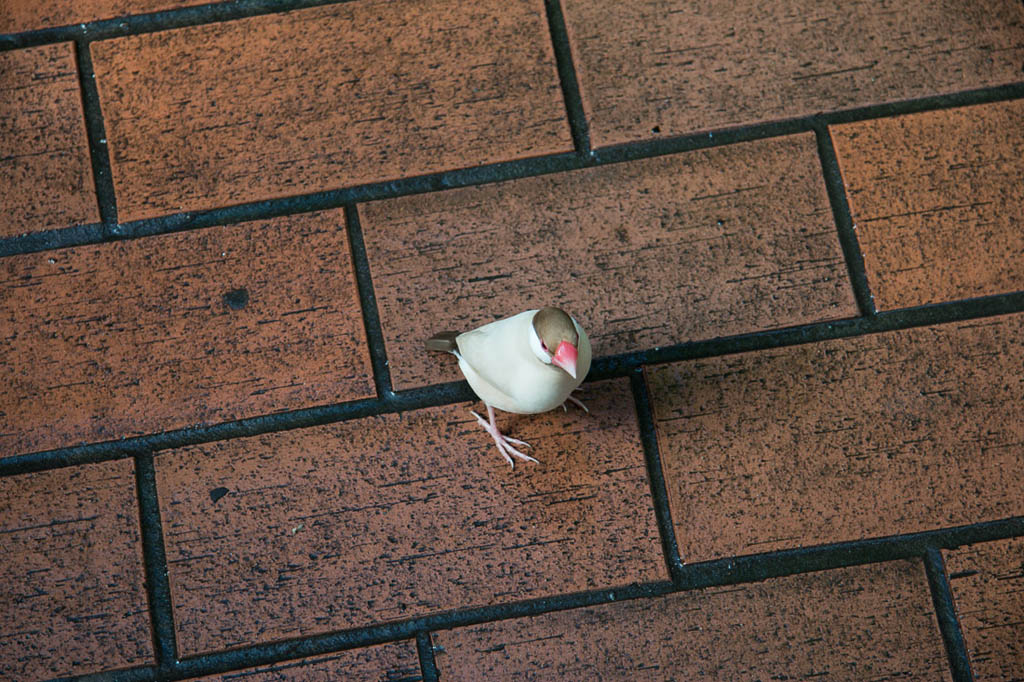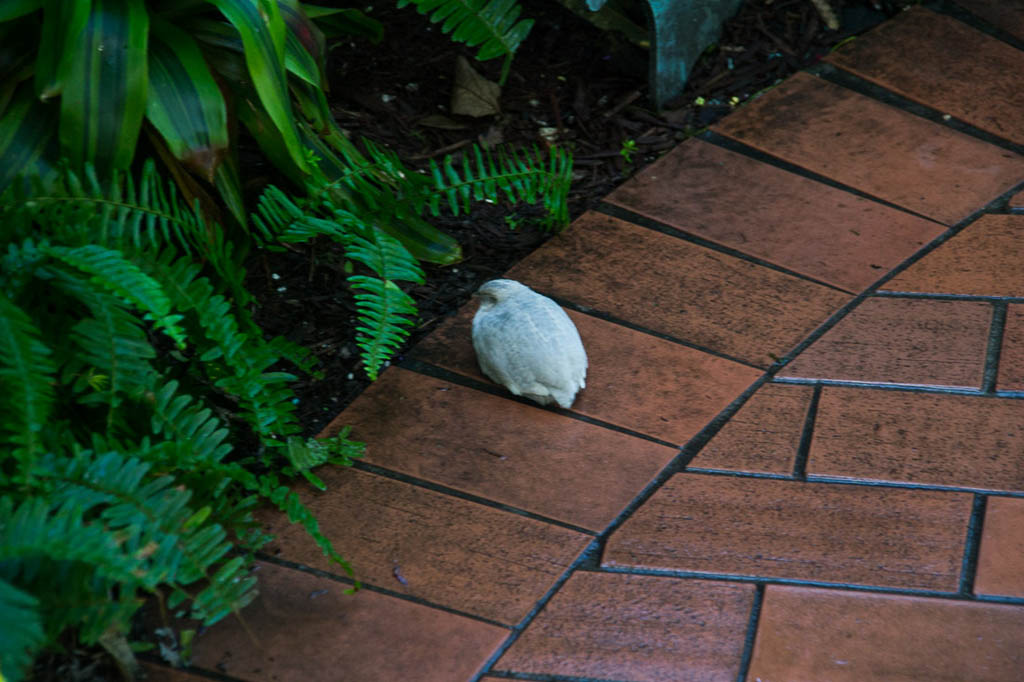 Leaving Key West
After the Butterfly Conservatory, we grabbed some brunch nearby and it was time to head back to the hotel to get packed up. We were driving to Miami, where we'd spend the night before our flight departed for DC the next day.
On our drive from Key West to Miami, we got to see some amazing military jets flying overhead (Key West has at least one big military base!).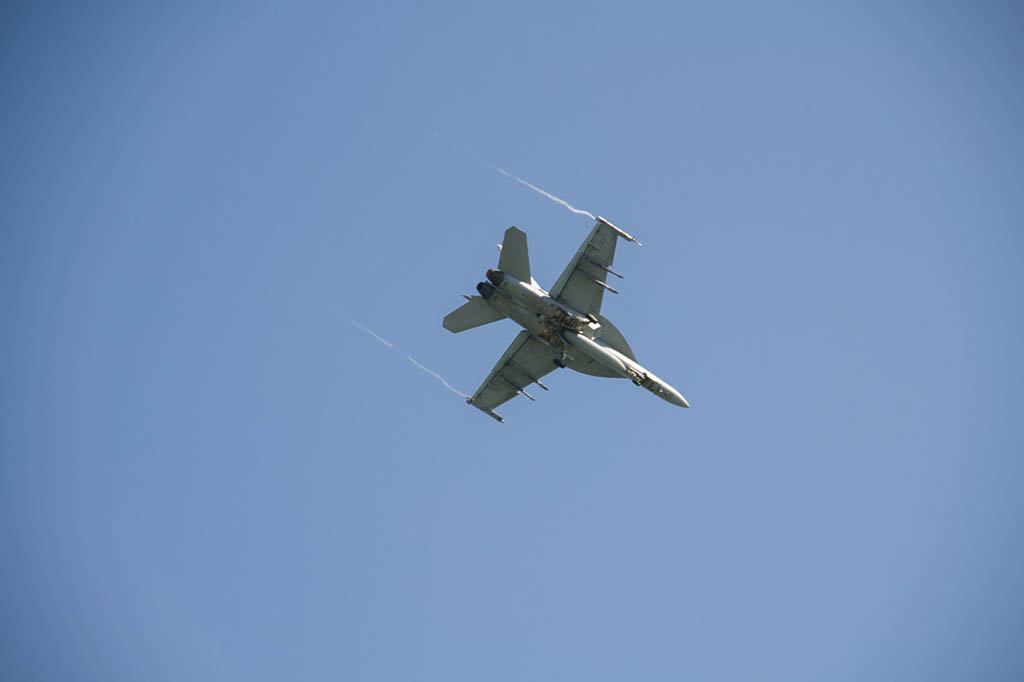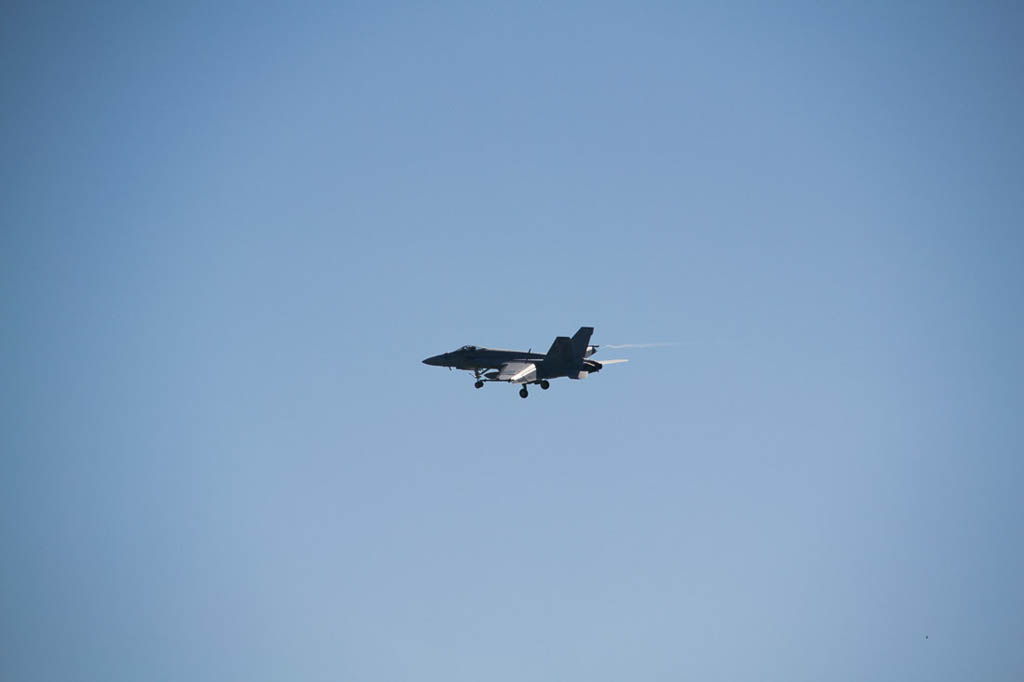 Our drive north was just as stunning as our drive south on the Overseas Highway!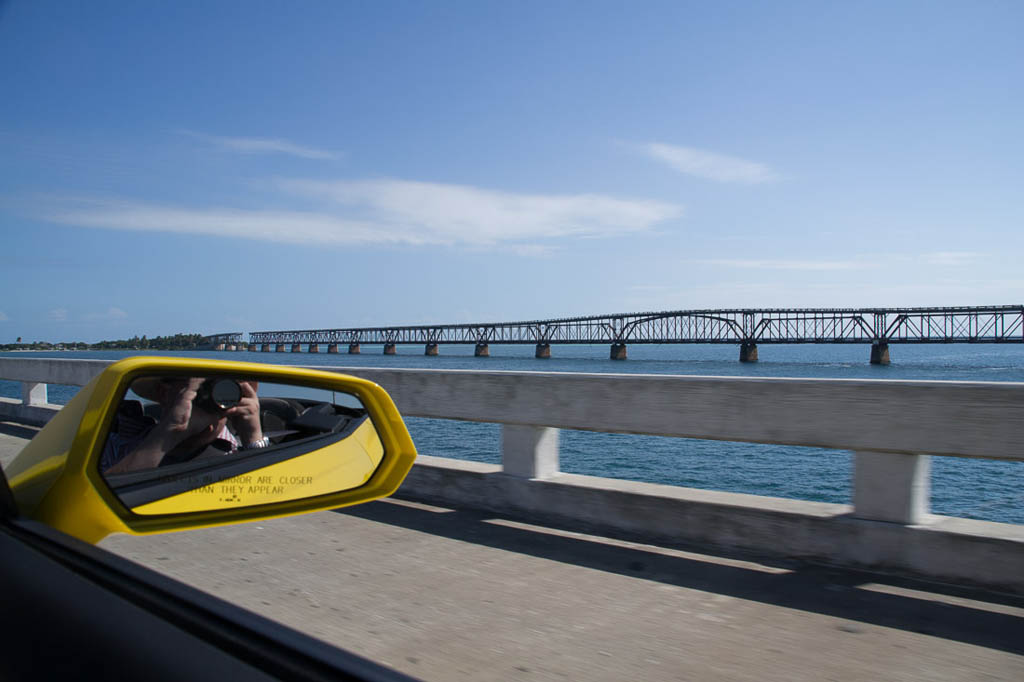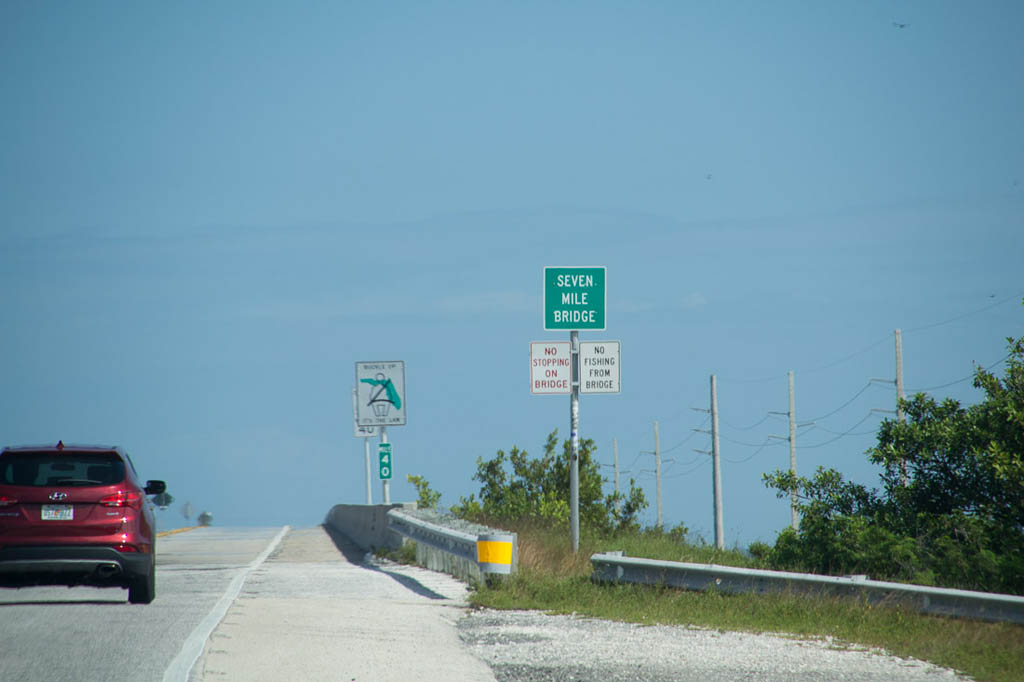 And I still chuckled when I saw old roads and railroads, parallel to the Overseas Highway, that just had huge gaps!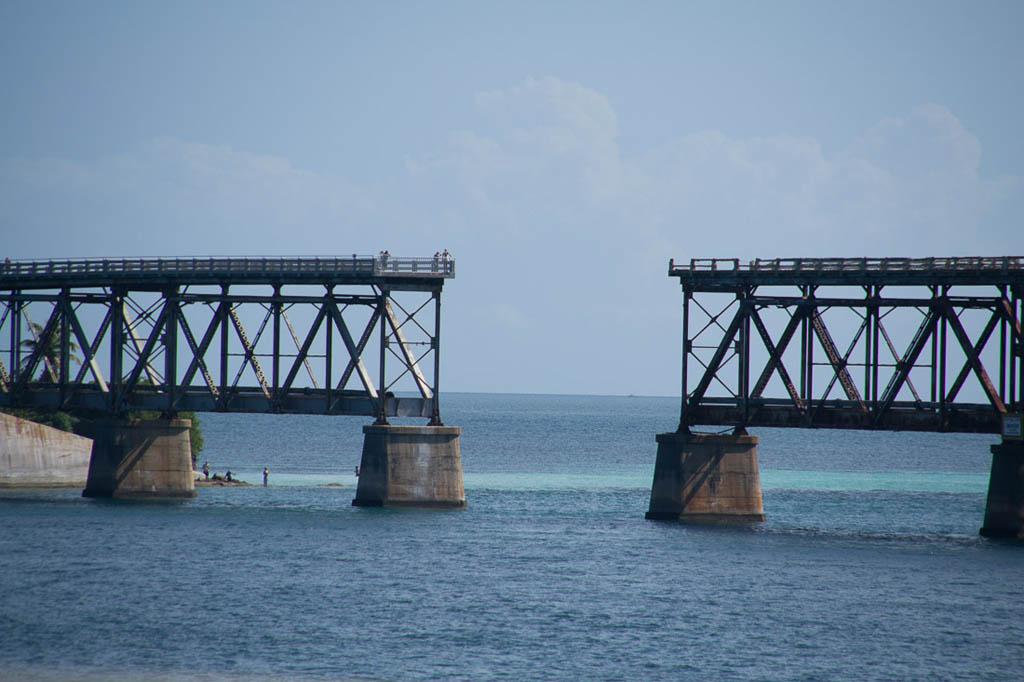 The Overseas Highway is a narrow road most of the way, filled with traffic lights and some relatively heavy volume. So even though the distance itself isn't terribly far (166 miles), it was a fairly long drive, probably 4+ hours. That was mostly why we didn't want to drive from Key West to Miami on the same day as our flight departure. We didn't want to worry about getting stuck in a major traffic jam or anything.
We got to Miami and checked into our amazing hotel. More on that in the next post!
I LOVED Key West. I'd love to go back someday! So gorgeous, so much to do, and that breezy weather was just perfect.