This post may contain affiliate links. Please see my advertiser disclosure for more details.
Our drive from Fort Lauderdale to Key Largo was fantastic. In fact, here's a timelapse Ken captured using a GoPro setup. (We use a handheld GPS to sync the photo datestamp with the GPS coordinates, and then Ken wrote a script to overlay the Google Map on the video below. My husband wins at life.)
Oh, don't mind that long-ish stop at some random office building. We were trying to find my cell phone charger and my GPS charger (which, funny enough, we didn't need because the car had GPS!) Oh, and the bathroom break at the random, non-official visitor center!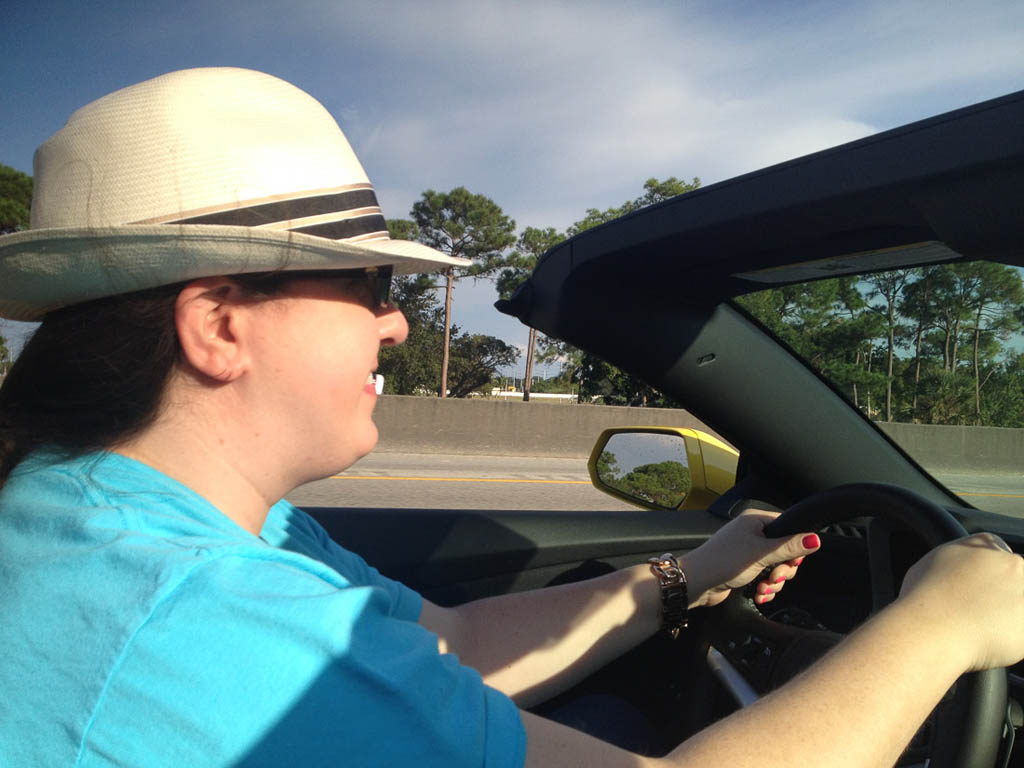 We arrived in Key Largo, got checked into the hotel, and were starving. How do we always let that happen? Kind of randomly, on check-in, the receptionist asked us if we needed any restaurant recommendations, and we were like, "Sure, why not." I'm typically a Yelp/UrbanSpoon reviewing-type girl, but I was open to other suggestions. One of her recommendations was Bayside Grille, and she provided us with a coupon (I think it was 15% off maybe?) for it.
We got to the restaurant just as the sun was setting, and there was a beautiful view!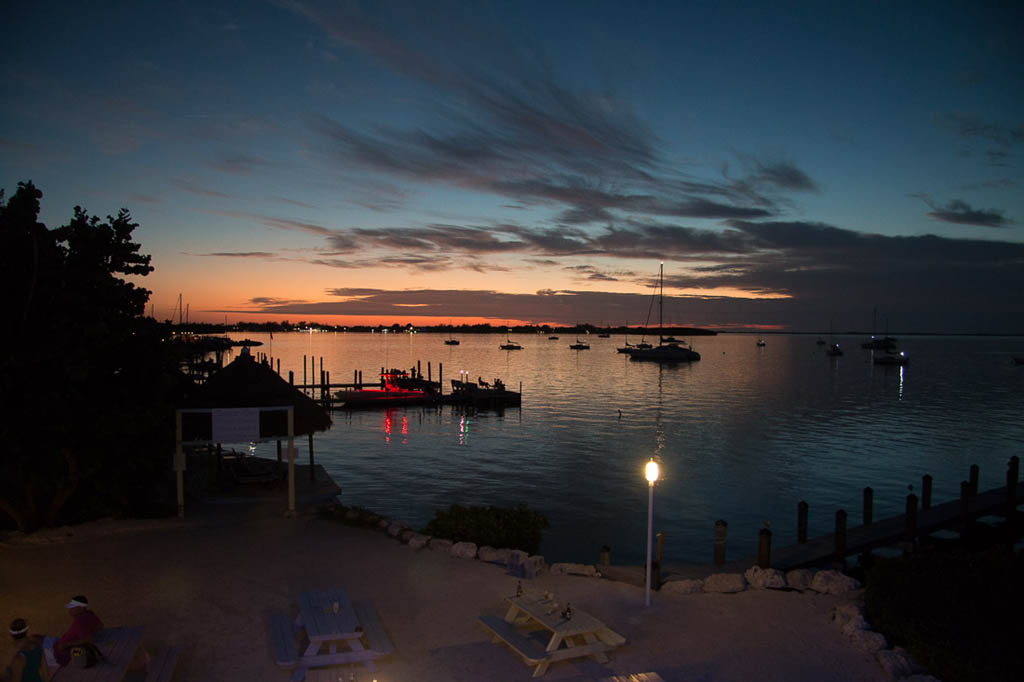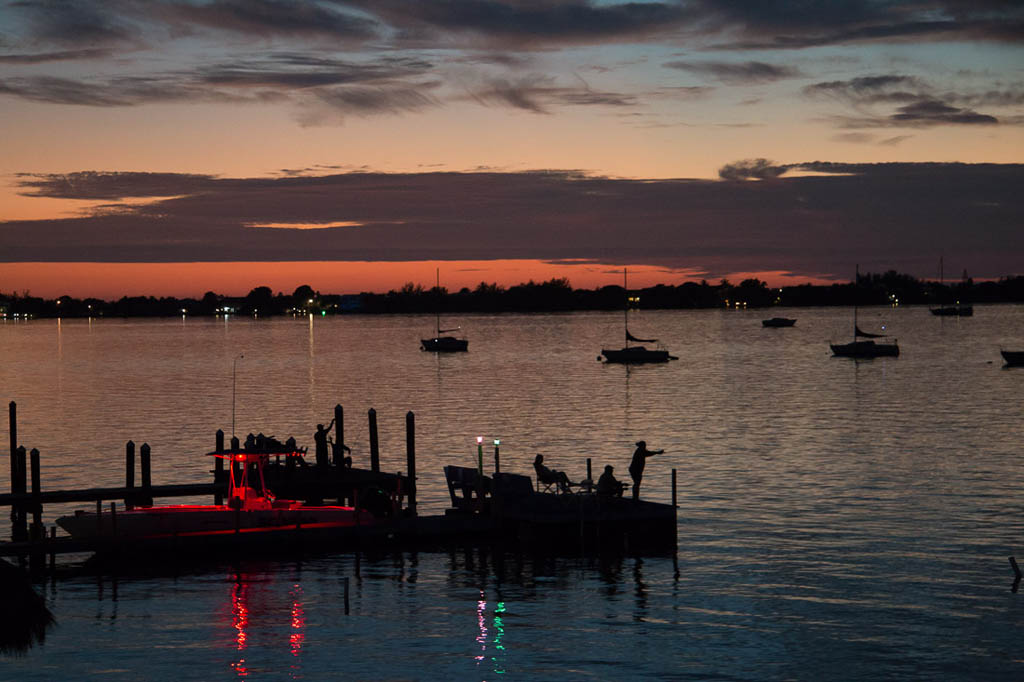 Everglades National Park
We set out the next day by heading back north of the Keys to Everglades National Park. The forecast was calling for rain most of the day, but we figured we'd take our chances.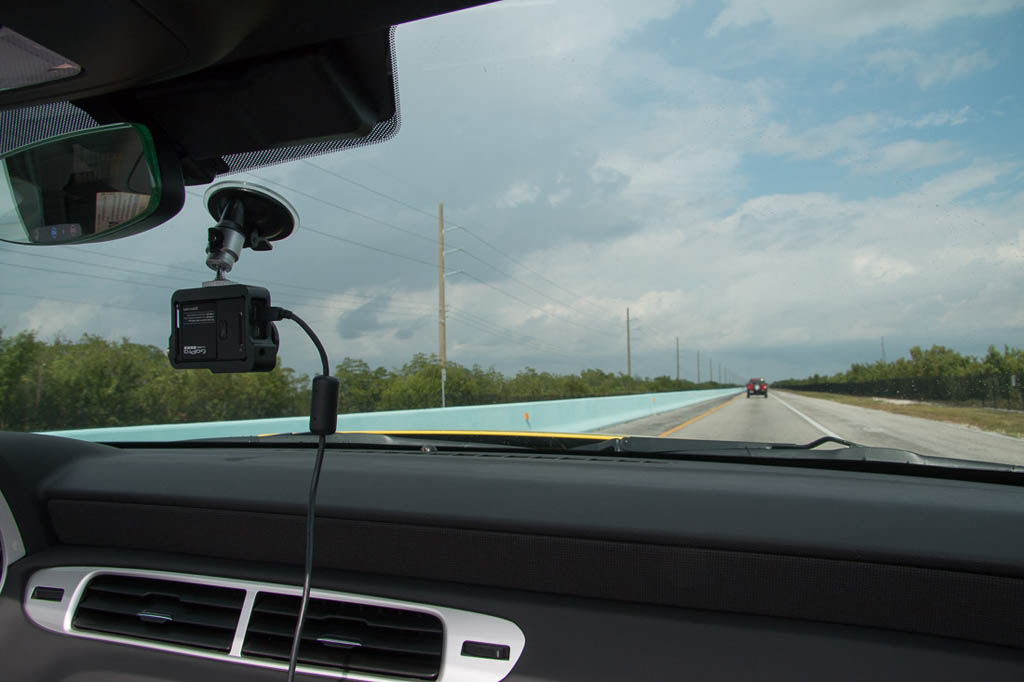 We rode the entire drive with the convertible roof down, nervously watching as the dark clouds rolled in, and then rolled back out. We arrived at the park's visitor's center just in time to put up the roof and watch is start to pour down rain. Here's the timelapse of our drive from Key Largo to Everglades: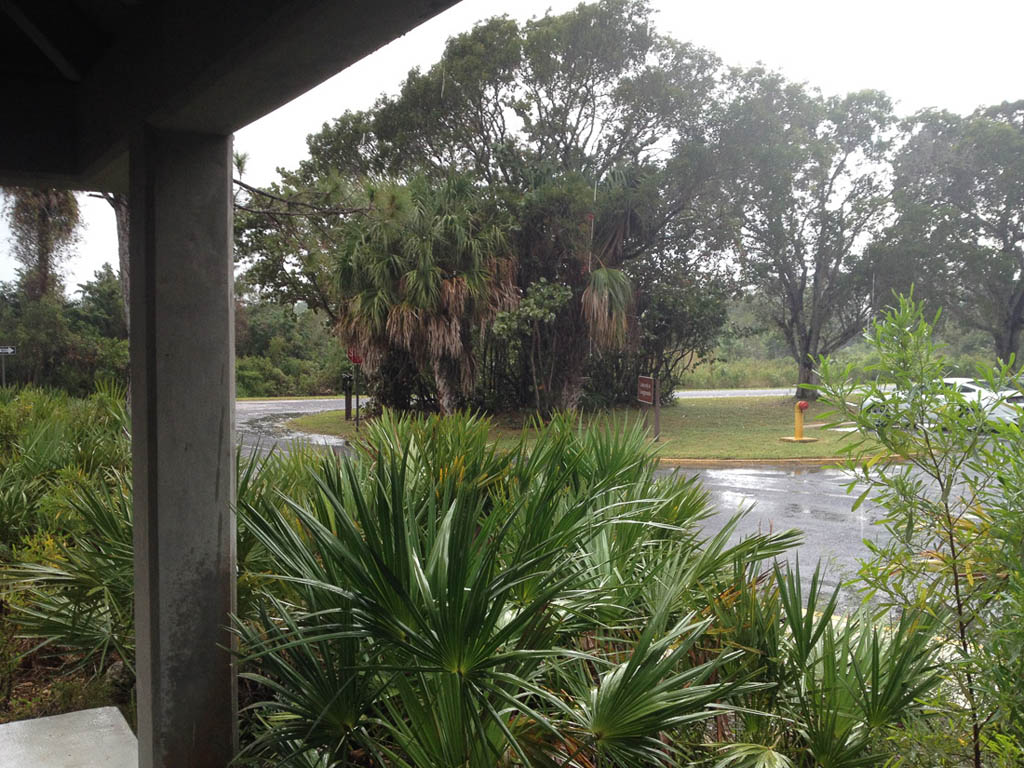 We walked around the Visitor's Center until the rain subsided. We also purchased two cheap ponchos from the gift shop!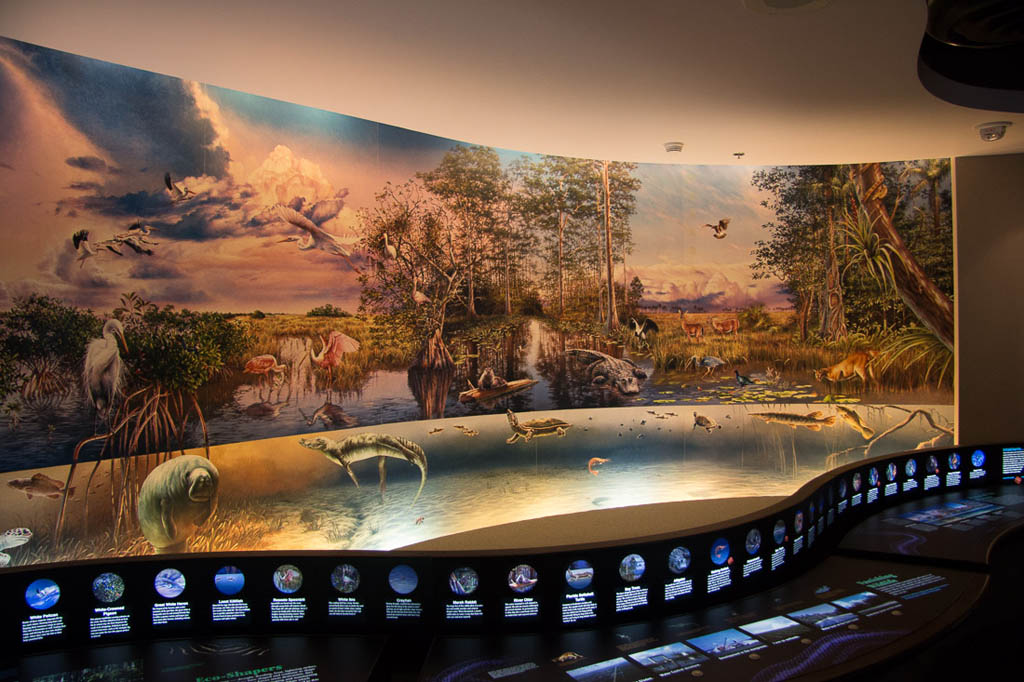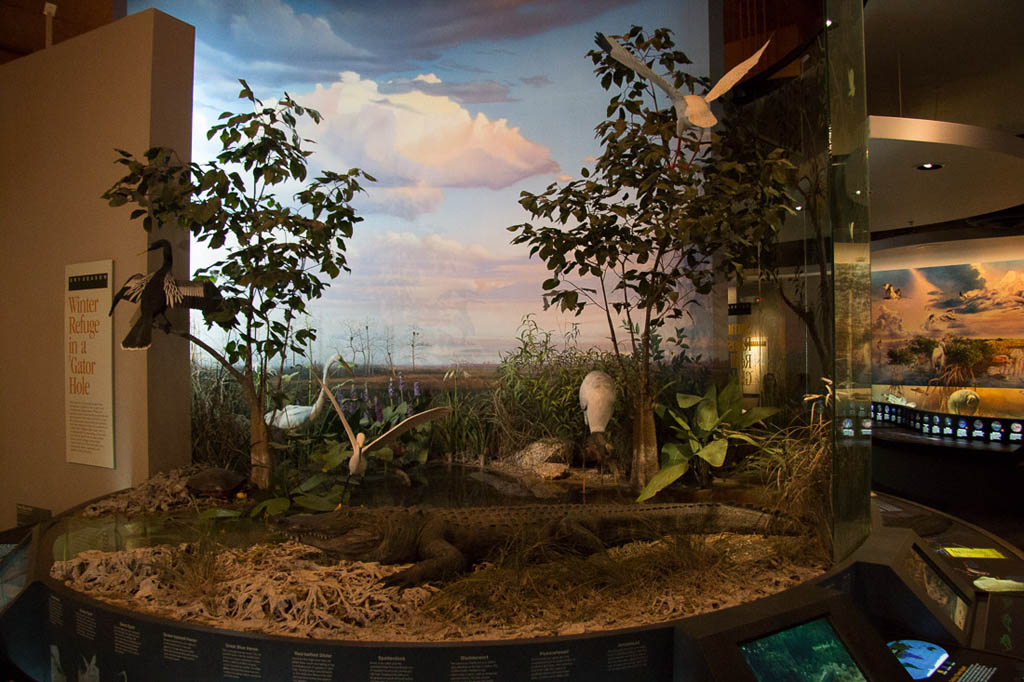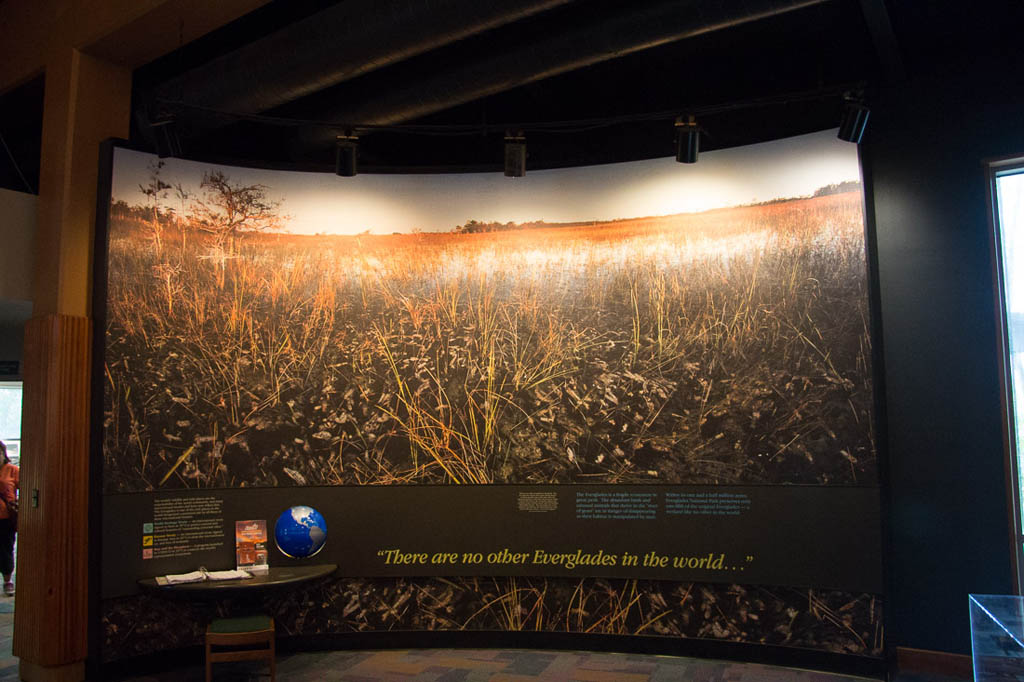 We drove from the visitor's center to the trailhead for one of the more popular trails at Everglades.
As we drove, we saw this sign. Panther warning? Cougar?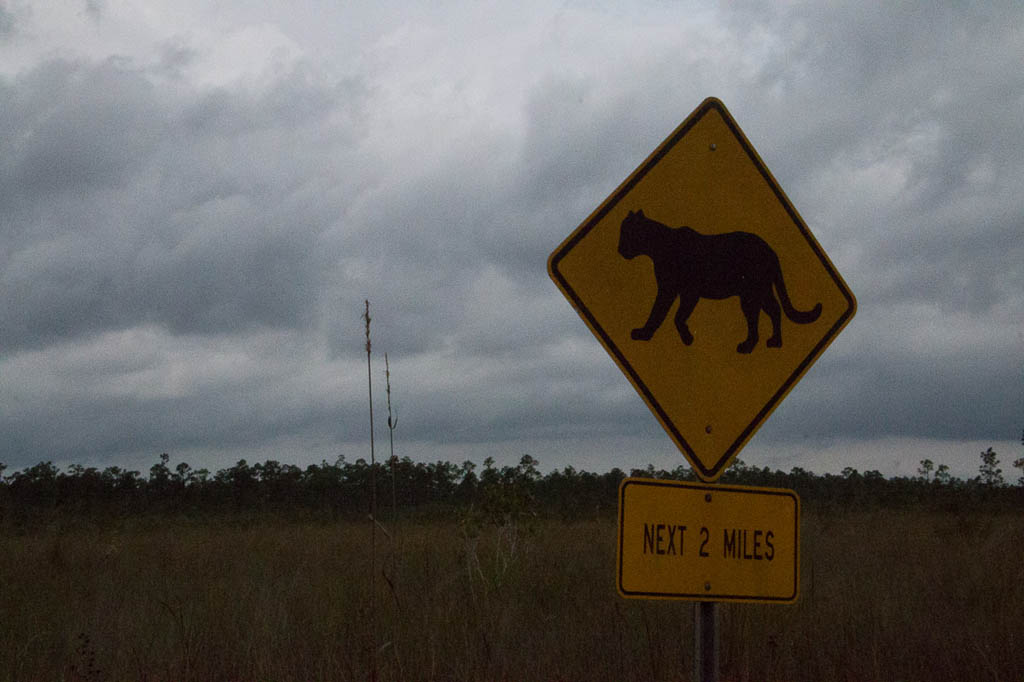 Oh, and then this sign at the parking lot for the Anhinga Trail Head. I'm such a sucker for funny signs! I was envisioning a vulture pecking holes in the roof of our convertible rental. Oy.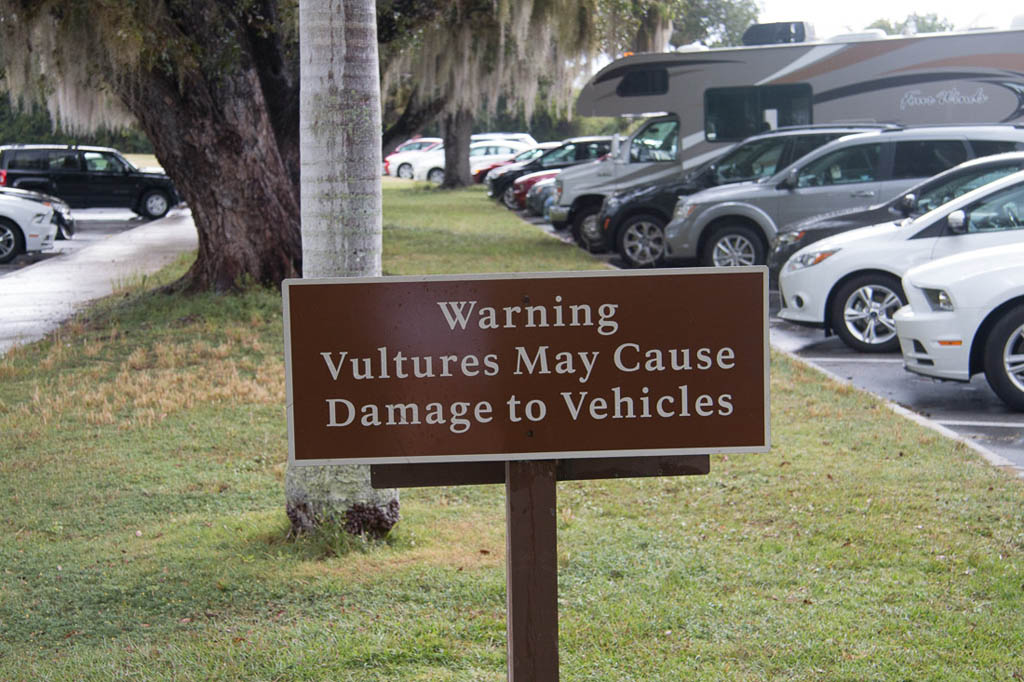 Right as we arrived, it started to pour again. Luckily there was a covered picnic spot at the trailhead (and we had purchased those ponchos!)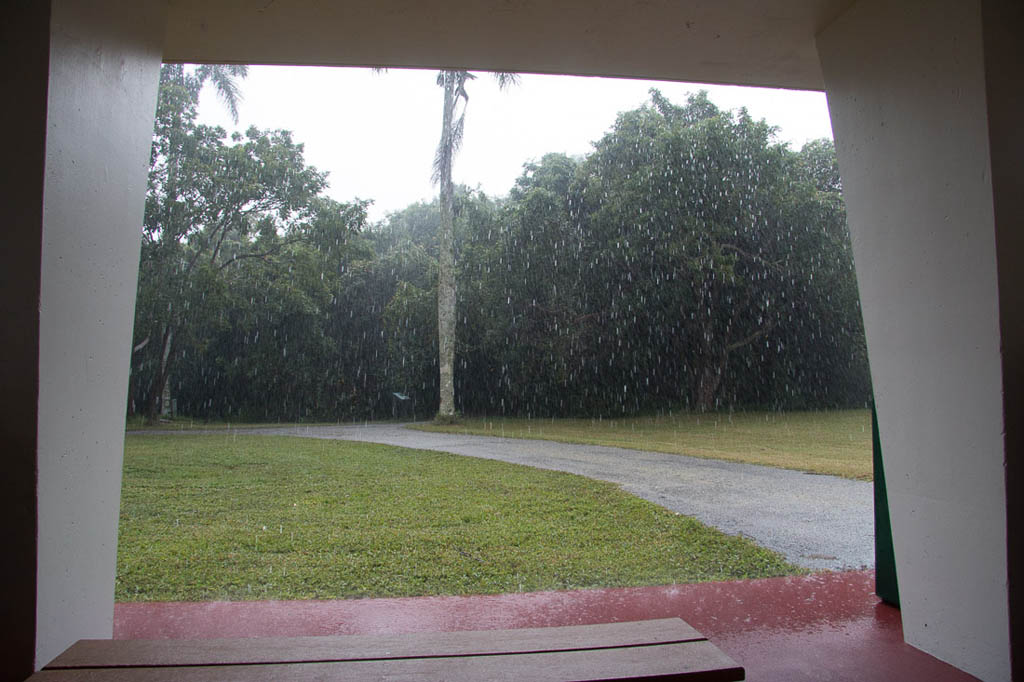 Like the always say in Florida, if you don't like the weather, wait five minutes. Within a few minutes, the pouring rain had stopped, and we started our walk along the Anhinga Trail.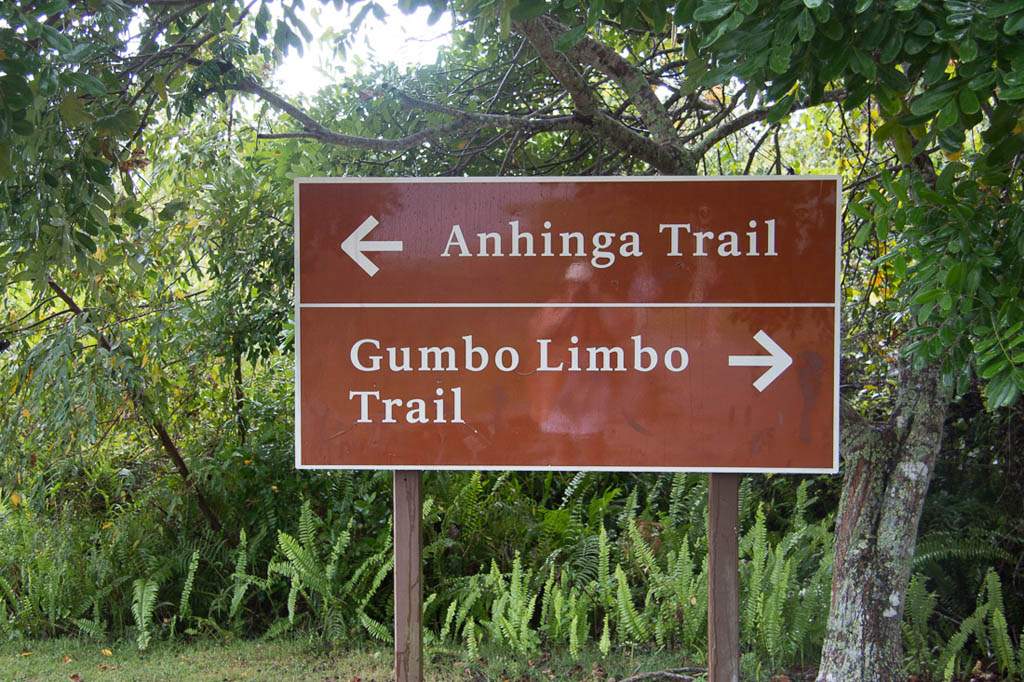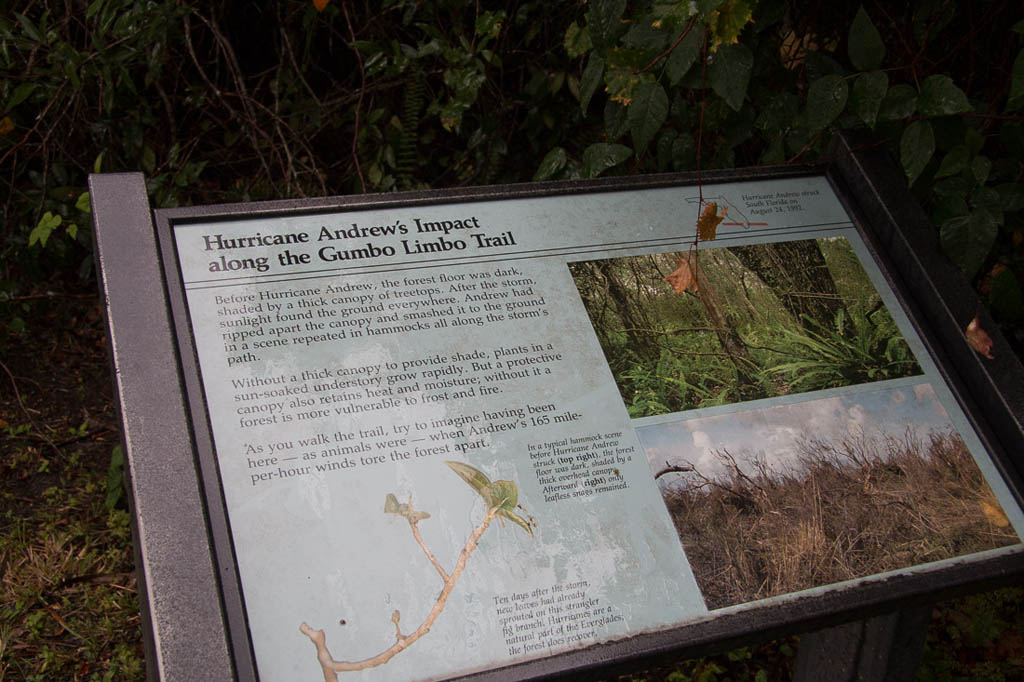 Okay, so if I can be sappy for just a moment. 1) Sometimes I forget just how beautiful nature can be. When I'm not traveling, I tend to be a complete homebody. (Please, don't even ask me the last time I interacted with nature on any sort of outing in my own town). So, I forget that there are such completely amazing and stunning sites in nature. 2) It boggles my mind how diverse America's landscapes are. From our 2012 Southwest USA road trip, to our 2009 trip to Niagara Falls (even just taking into account the American side!), it is amazing the different things you can see without even needing a passport!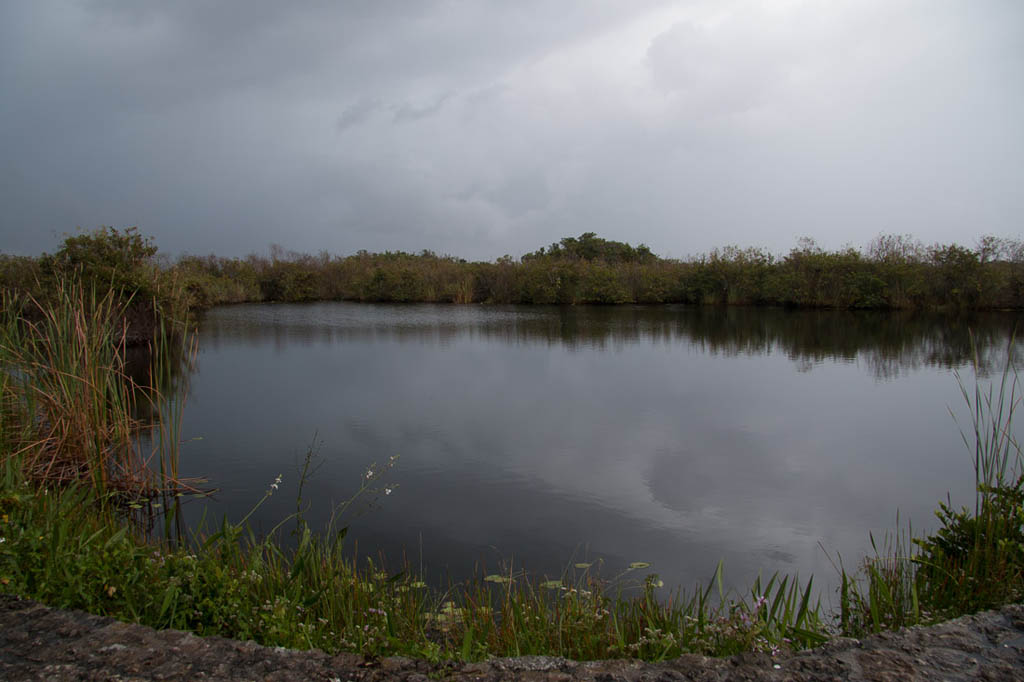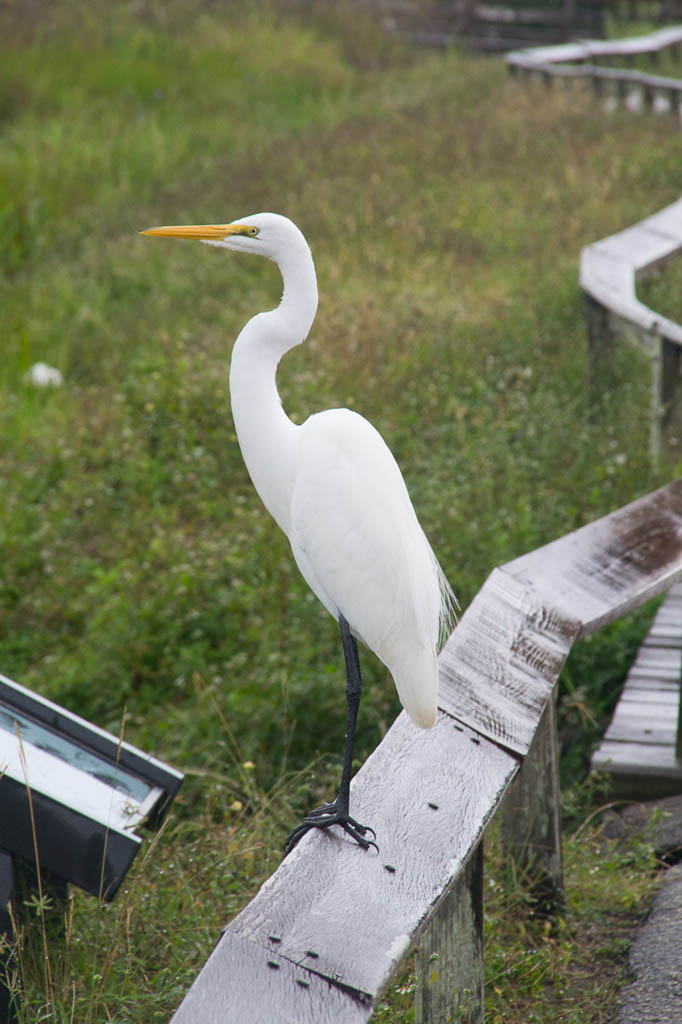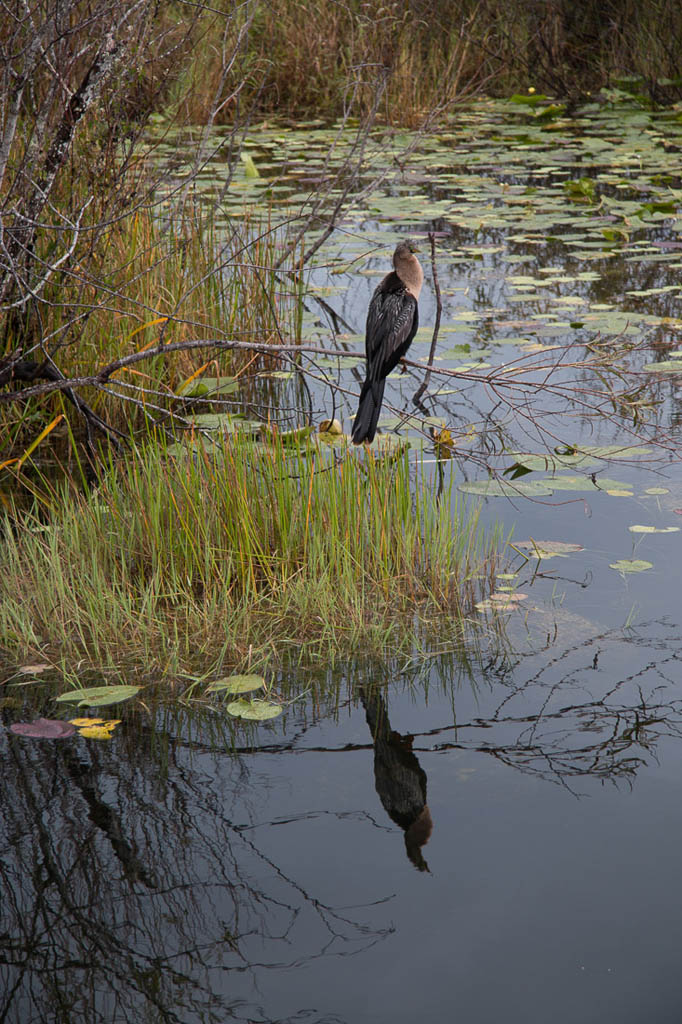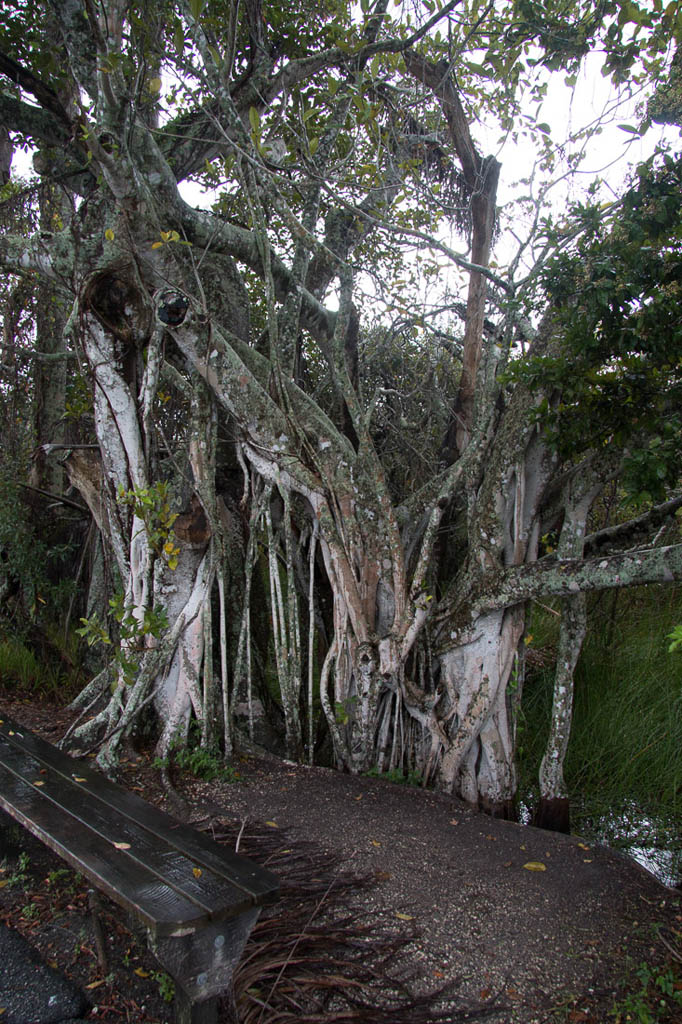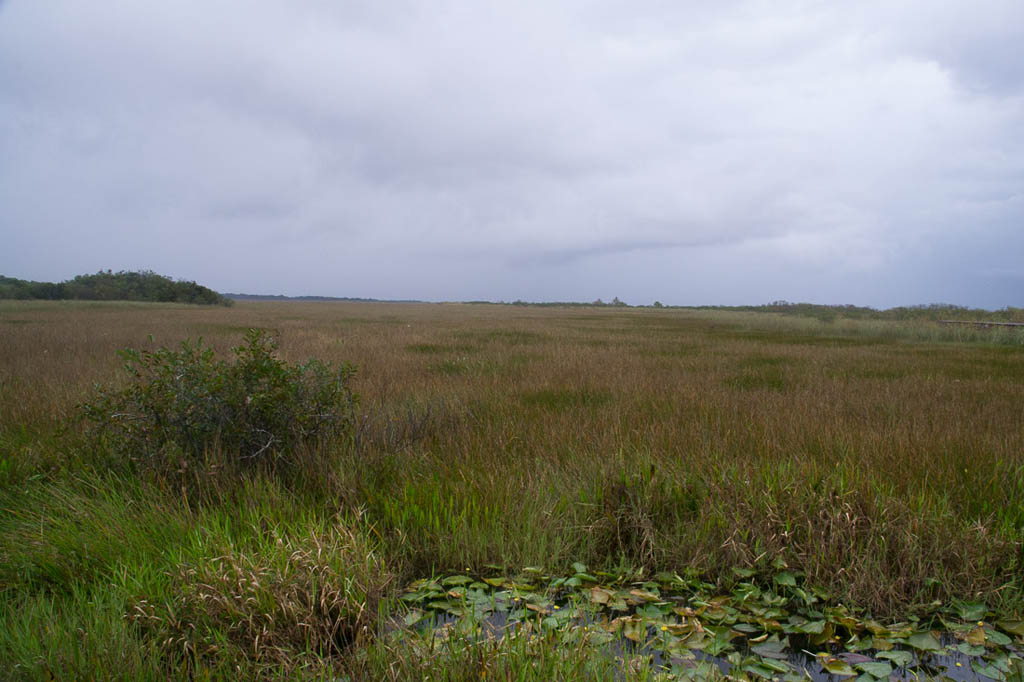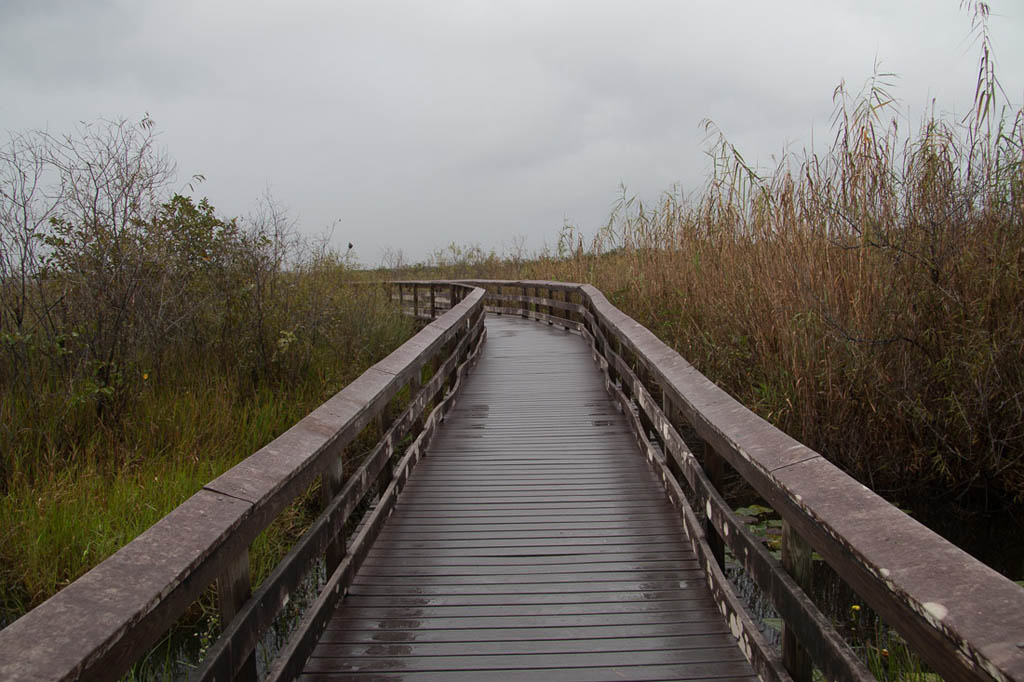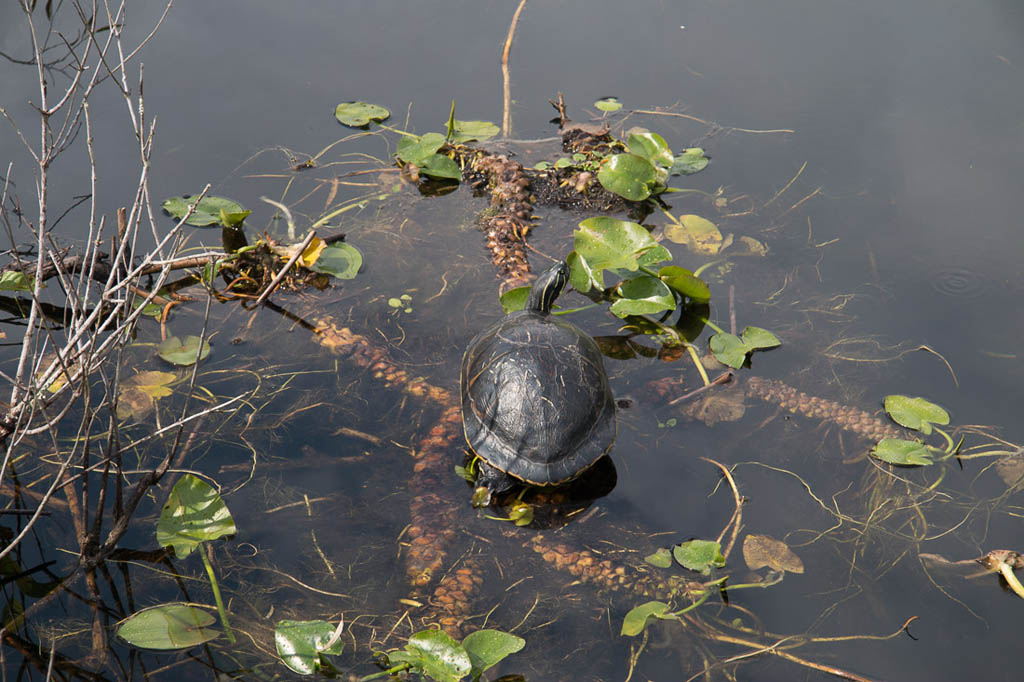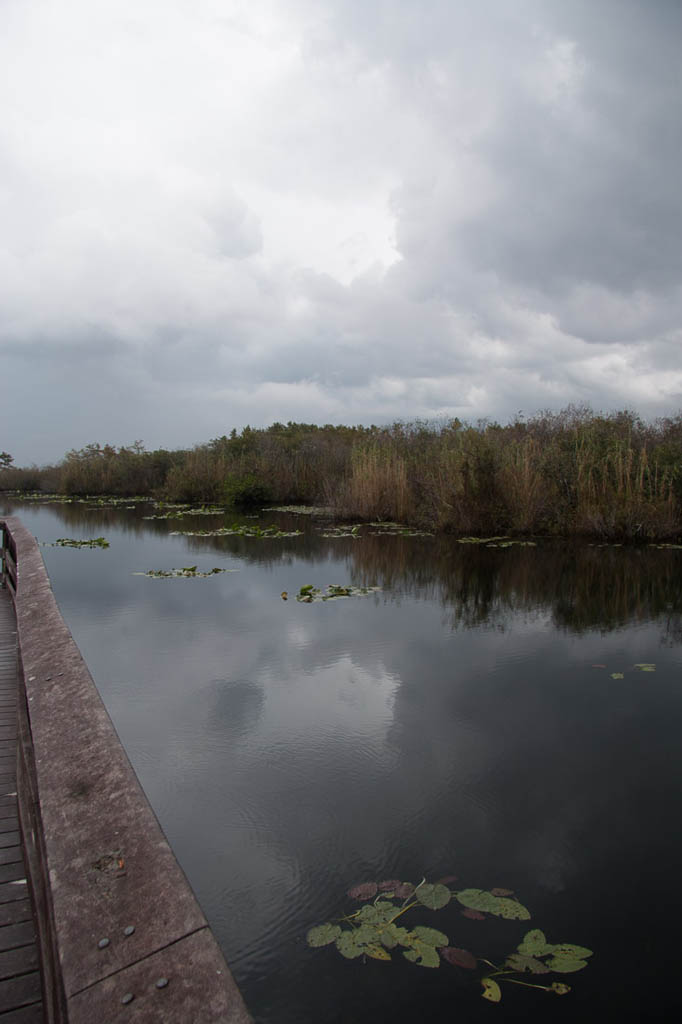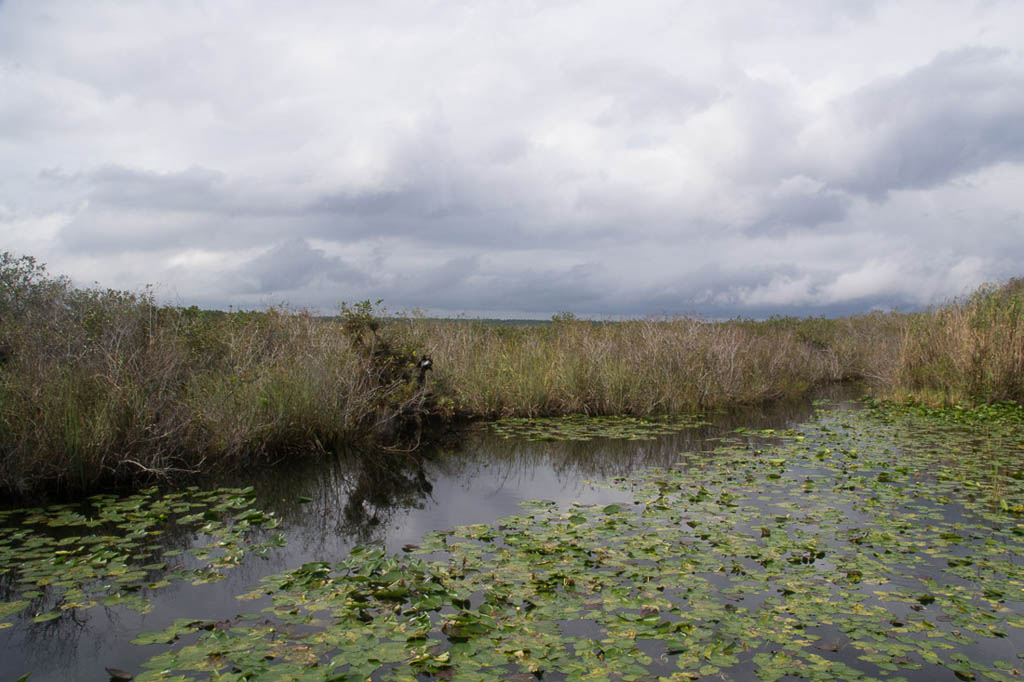 And we spotted a gator!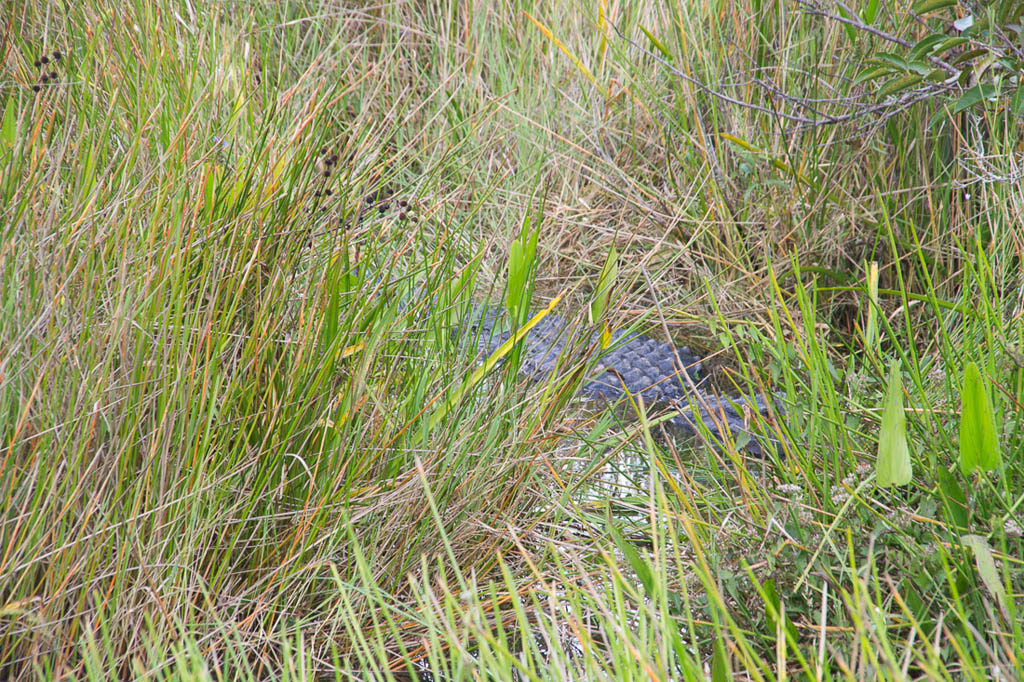 The walk at Anhinga was lovely. Next, we decided to drive about 30 miles to the southern tip of Everglades National Park called Flamingo. There were trails in between Anhinga and Flamingo, but we had read that boat tours leave from Flamingo, and we wanted to see what our options were.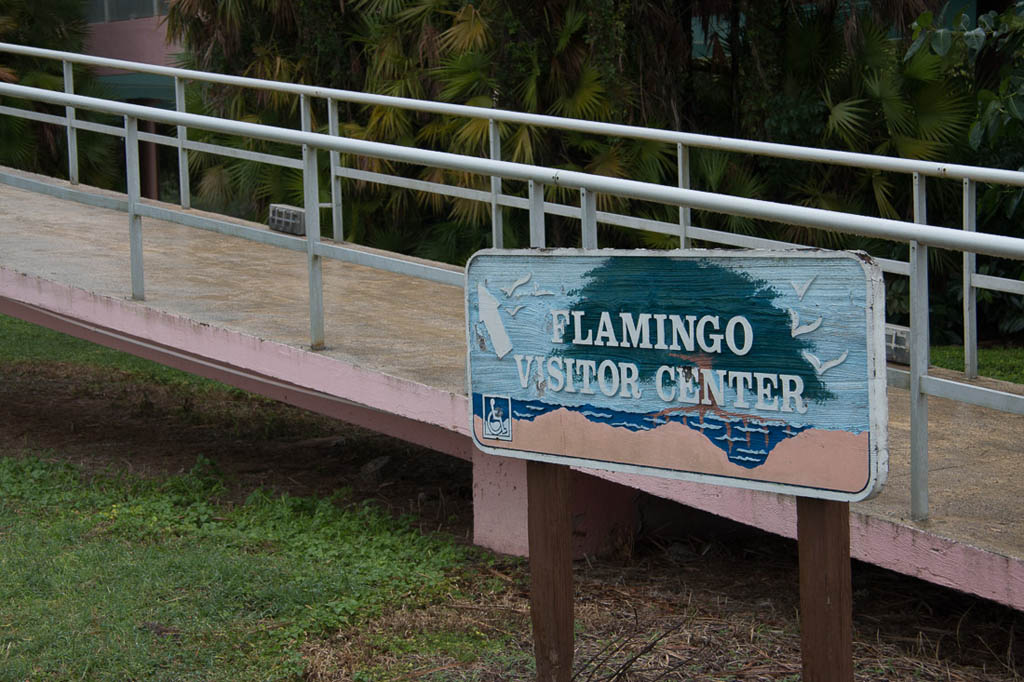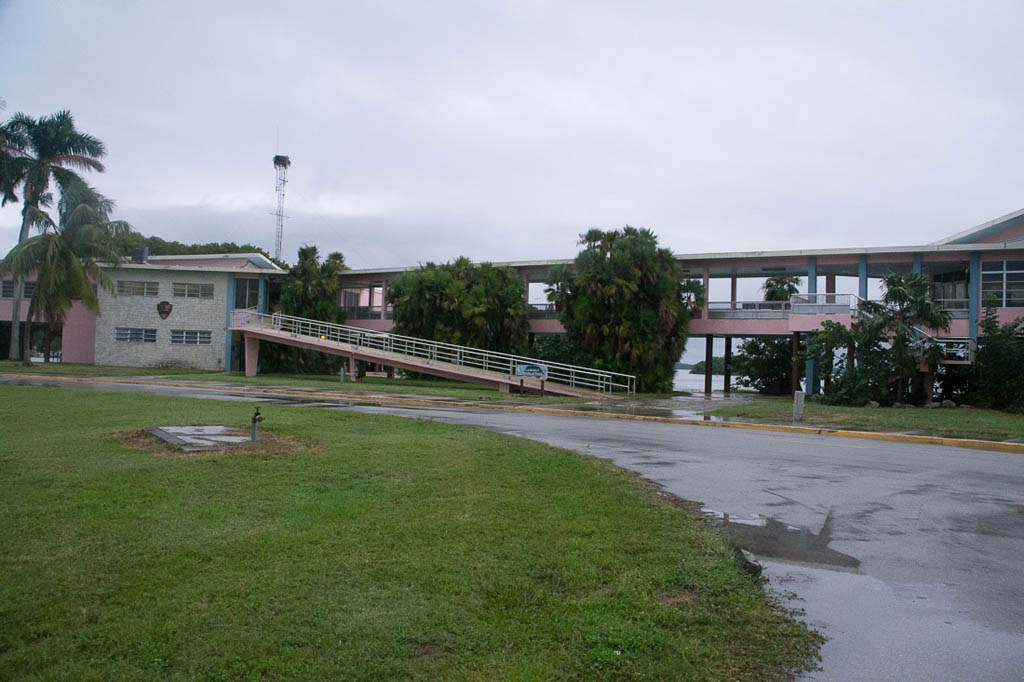 We walked around inside the Visitor Center, which, to be honest, was not much to look at. That's fine though, the main Visitor Center at the park entrance was quite good! Although I did chuckle at the Mosquito Meter sign! We were there on a "hysterical" mosquito activity day. I do regret wearing shorts and short sleeves to Everglades. I was COVERED with mosquito bites within moments of getting to the park. And the irritation lasted the entire rest of our trip!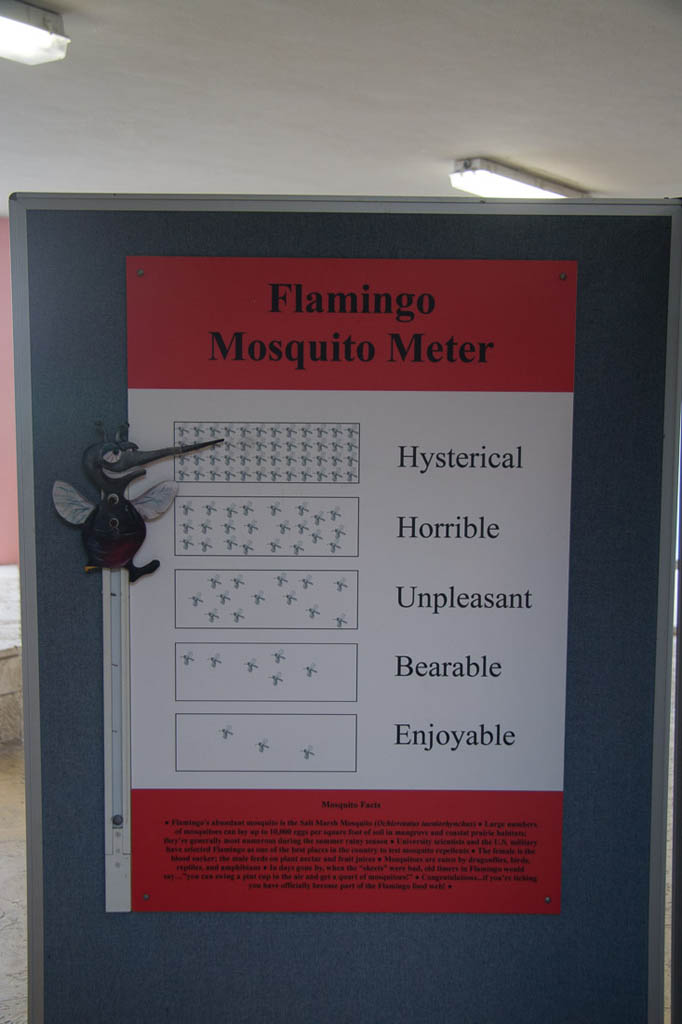 The rangers at the Visitor Center were helpful in directing us to where we could book a boat tour, which was just a short walk away. We bought the tour tickets, purchased some snacks at a convenience store-type place, and waited about 20 minutes for our tour to begin.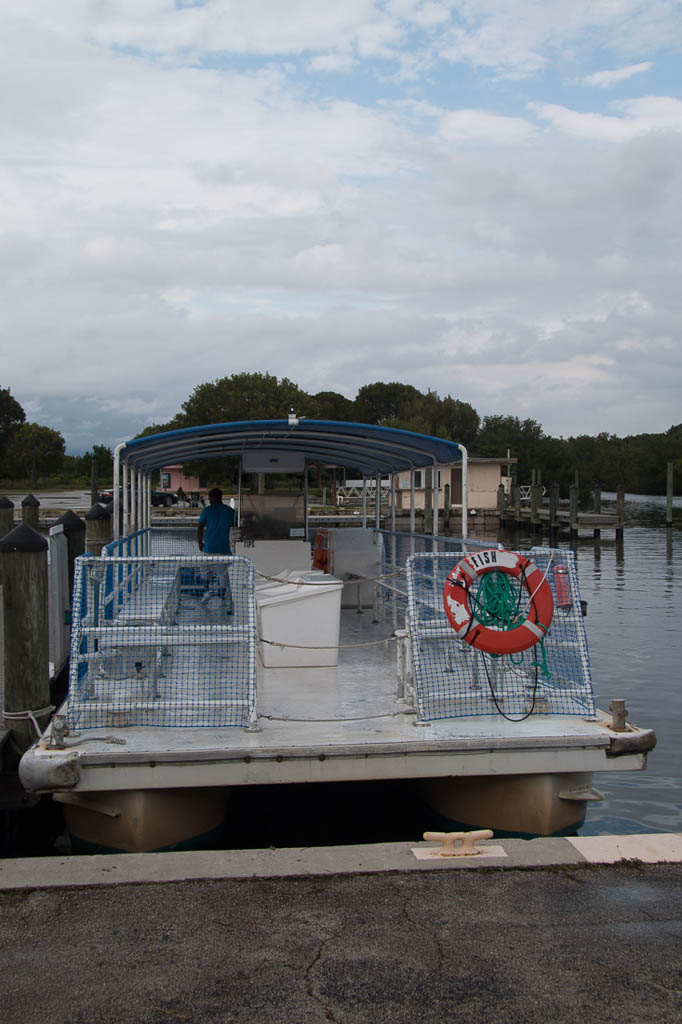 The boat tour was great, and lasted about two hours. The guides were fantastic about pointing out gators, birds, and other wildlife.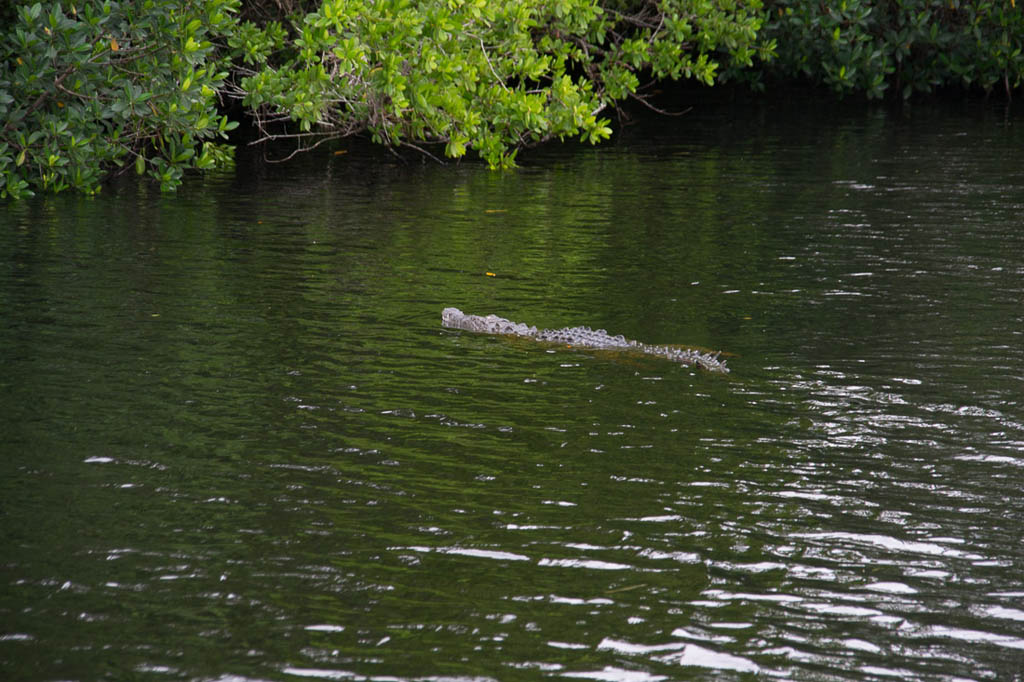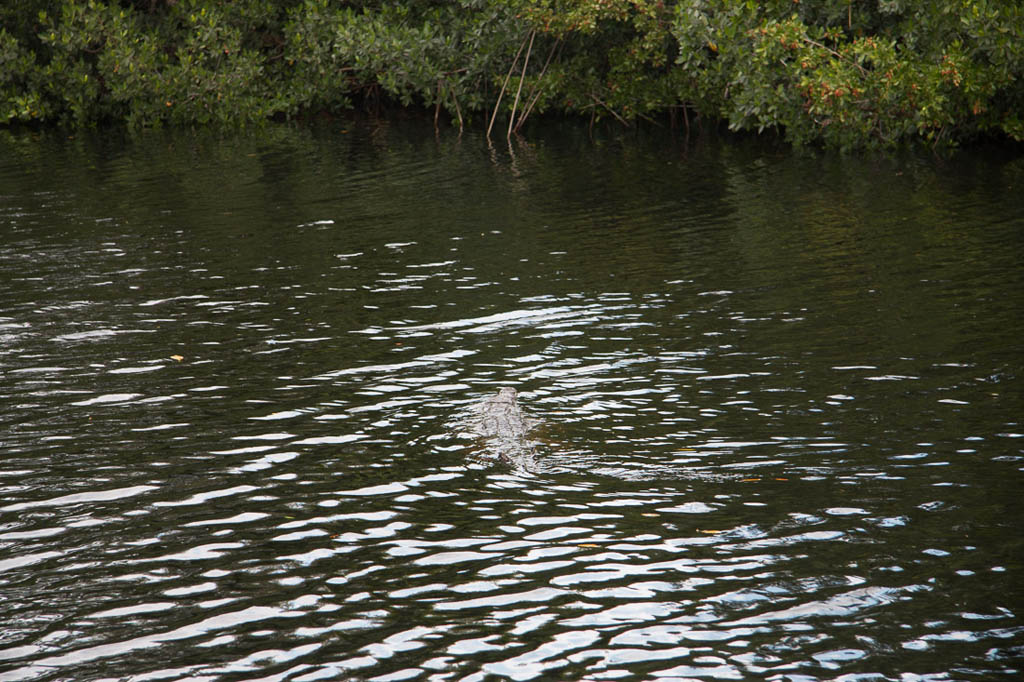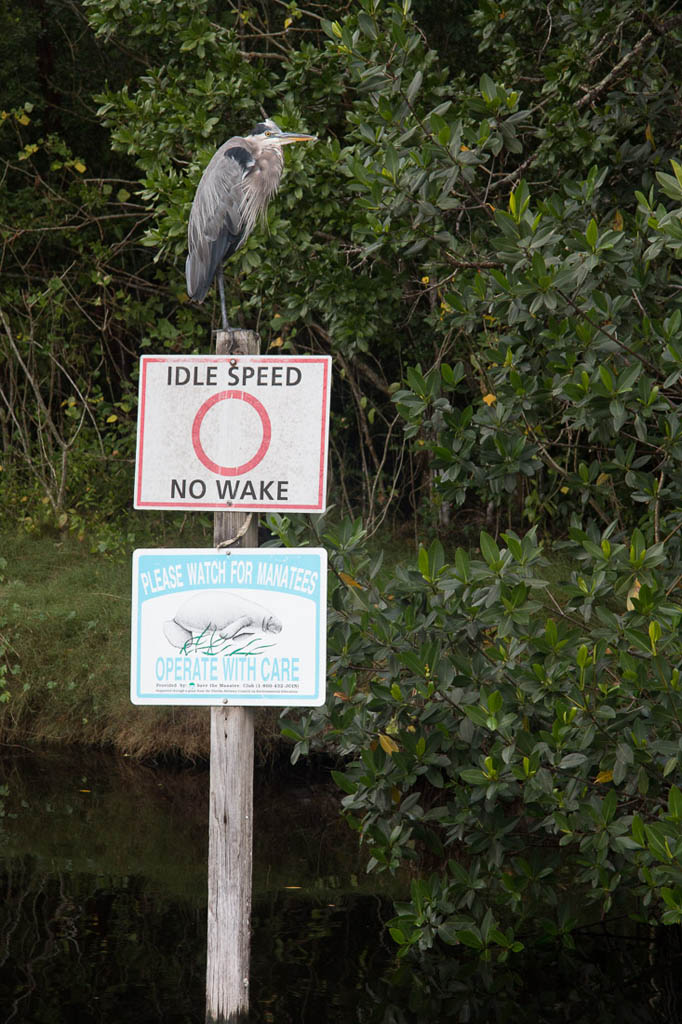 The Everglades is filled with these types of trees, called Mangroves. They protect coastal areas especially during hurricanes.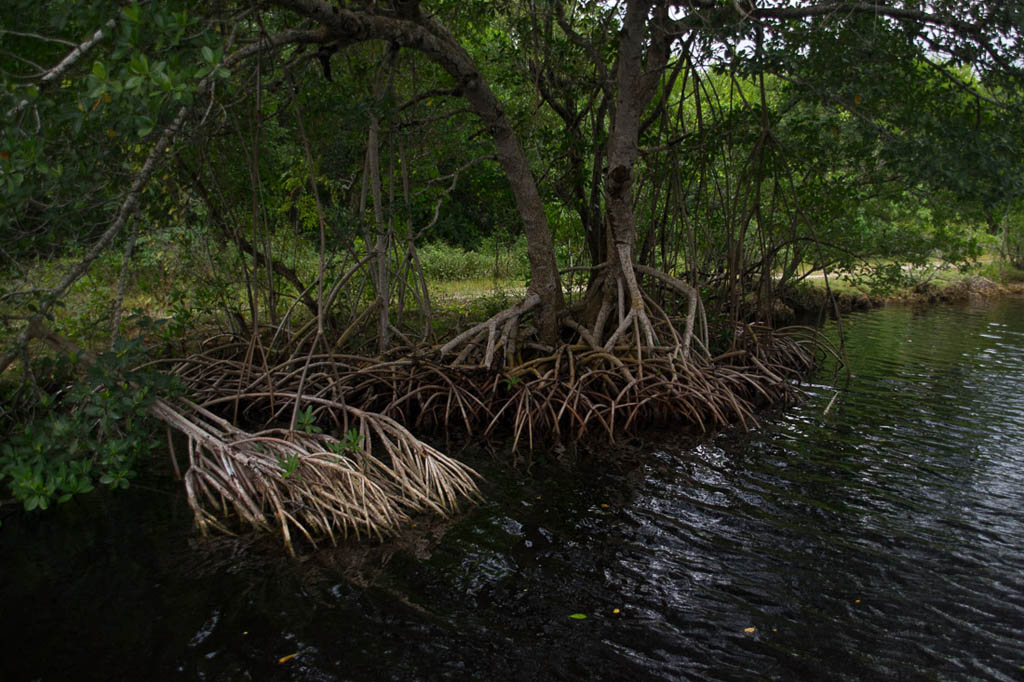 Apparently some portions of the water was covered in canopies of mangrove trees, but the canopies were destroyed in a large hurricane (I can't remember which one, but it wasn't Andrew. I believe it was a hurricane in the 1950s)
I'll just post a few other photos from the boat tour: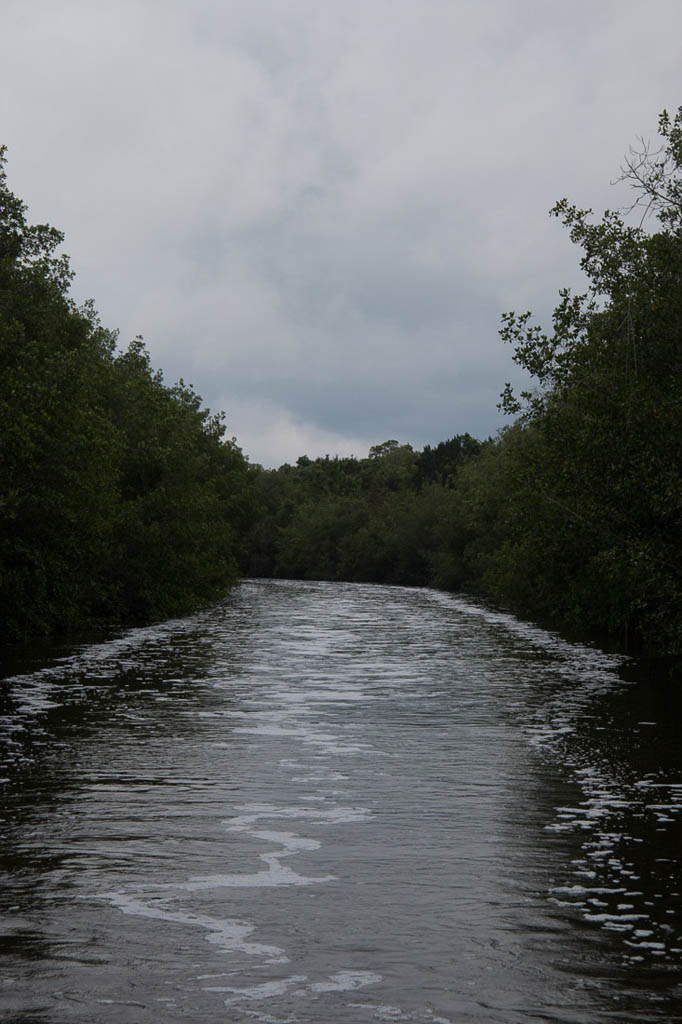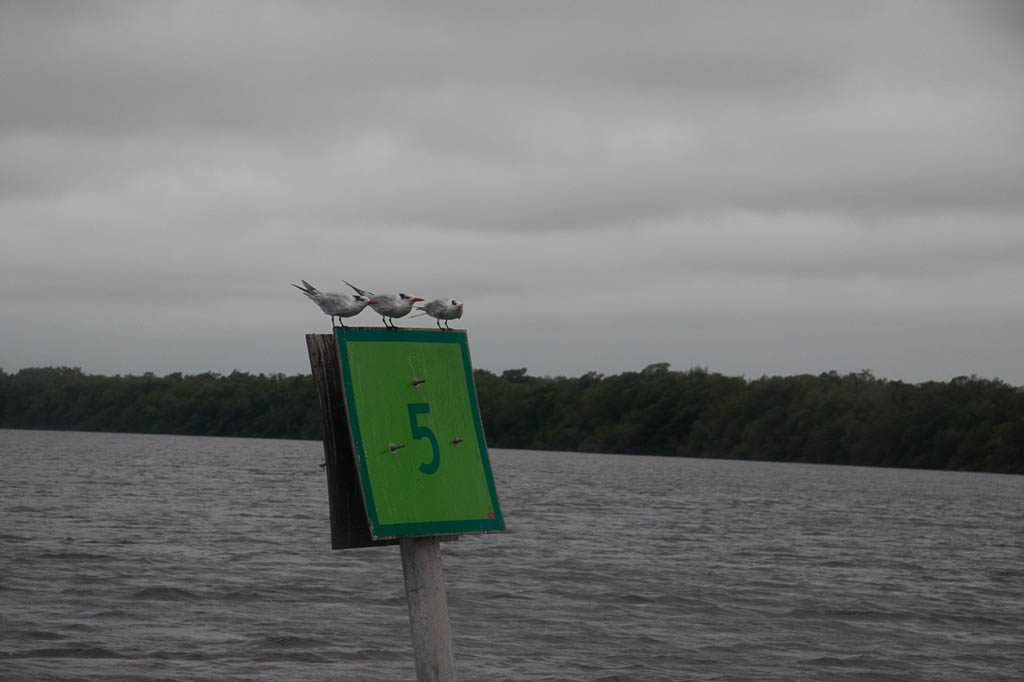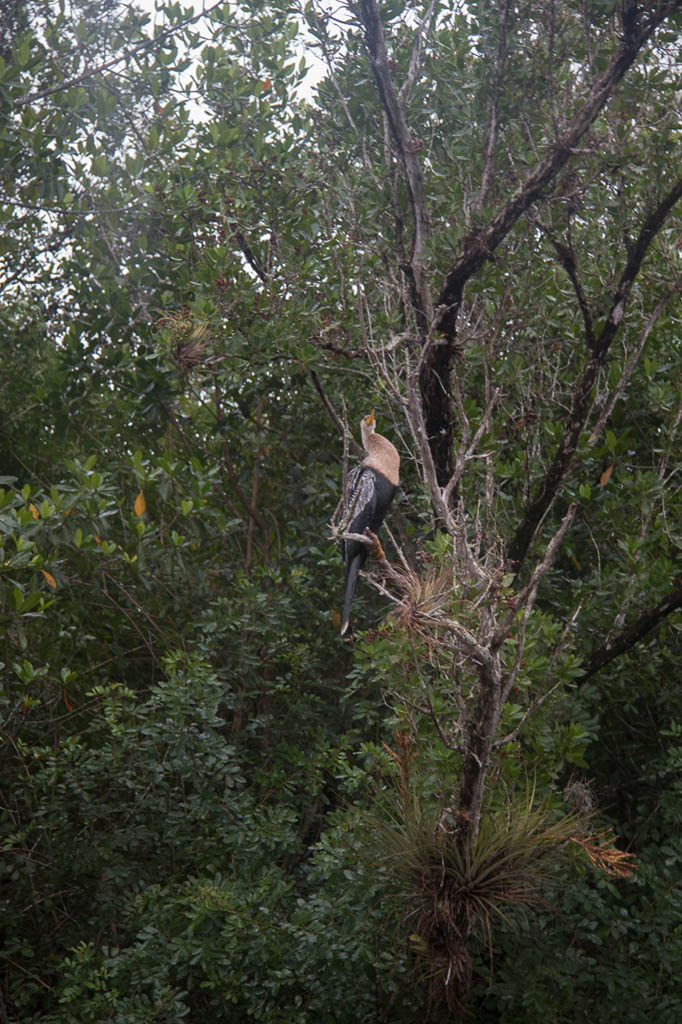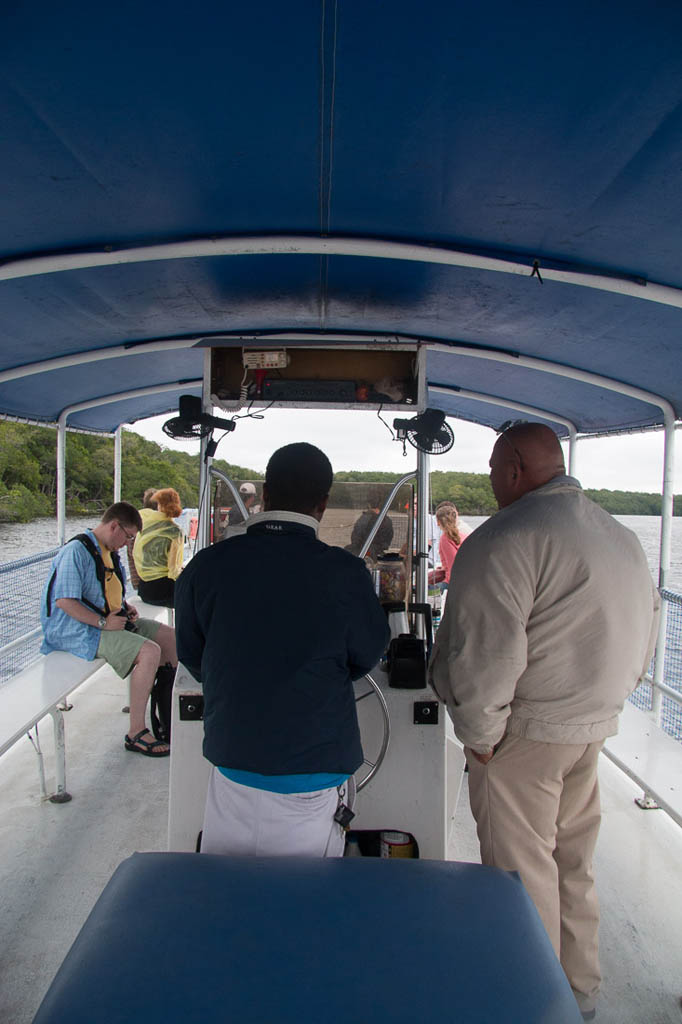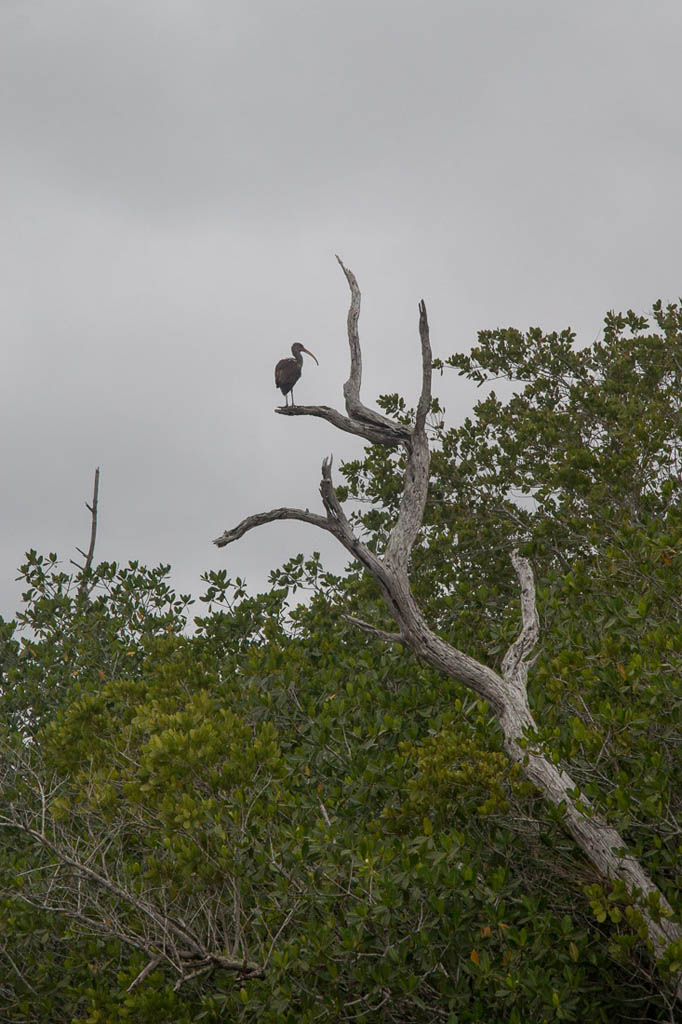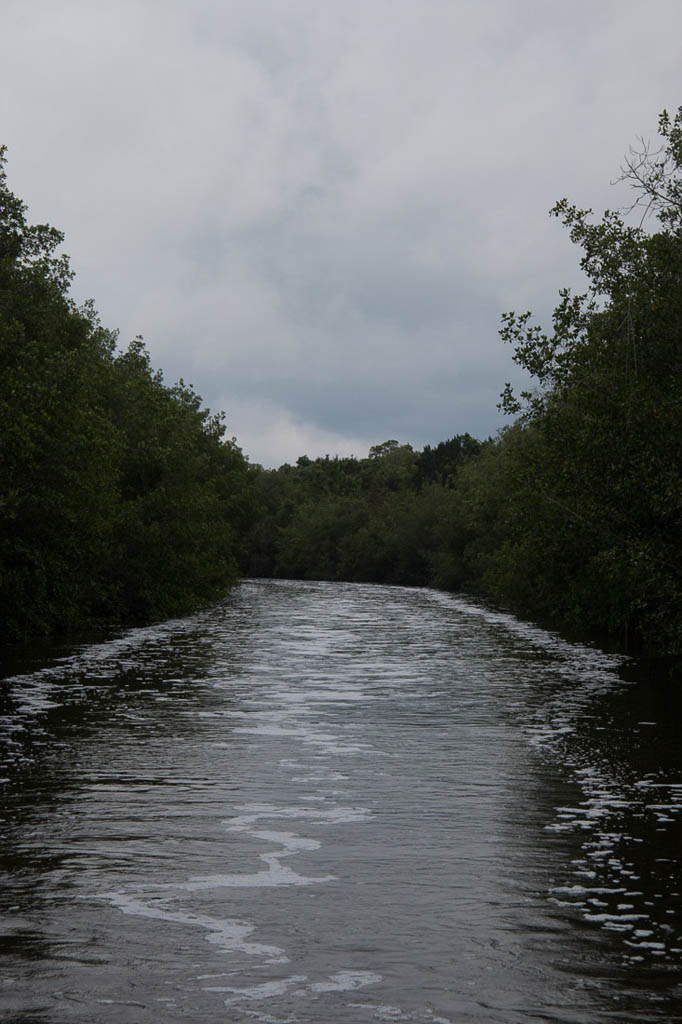 By the end of our boat tour, it was raining hard again, and we were all huddled in the middle of the boat. I was shivering the last 20 minutes or so. (Tip – bring a sweatshirt!) We got off the boat, drove the 35-ish miles to the exit for Everglades, and drove back to Key Largo for the night!
John Pennekamp Coral Reef State Park
The next morning, we had a big breakfast, and set out for John Pennekamp Coral Reef State Park, which was just a very quick drive from our hotel. The park is reported to have one of the best, and largest beaches in Key Largo. Beaches aren't huge in the Keys, so this was enormous compared to, for instance, the beach at our hotel!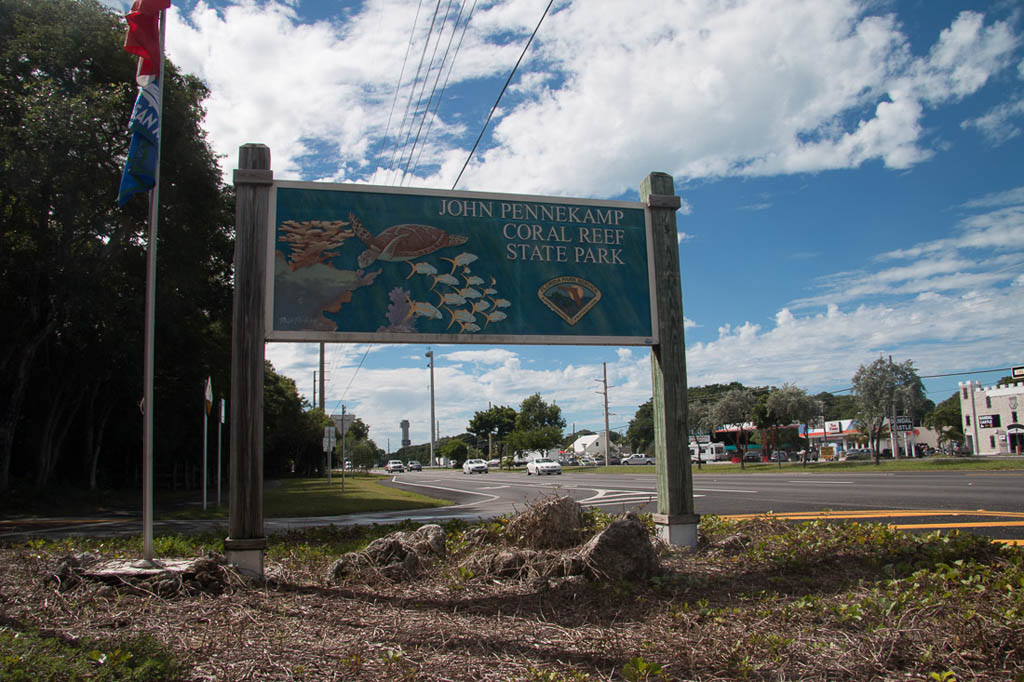 It was a beautiful day, especially compared to the previous day's overcast weather and intermittent downpours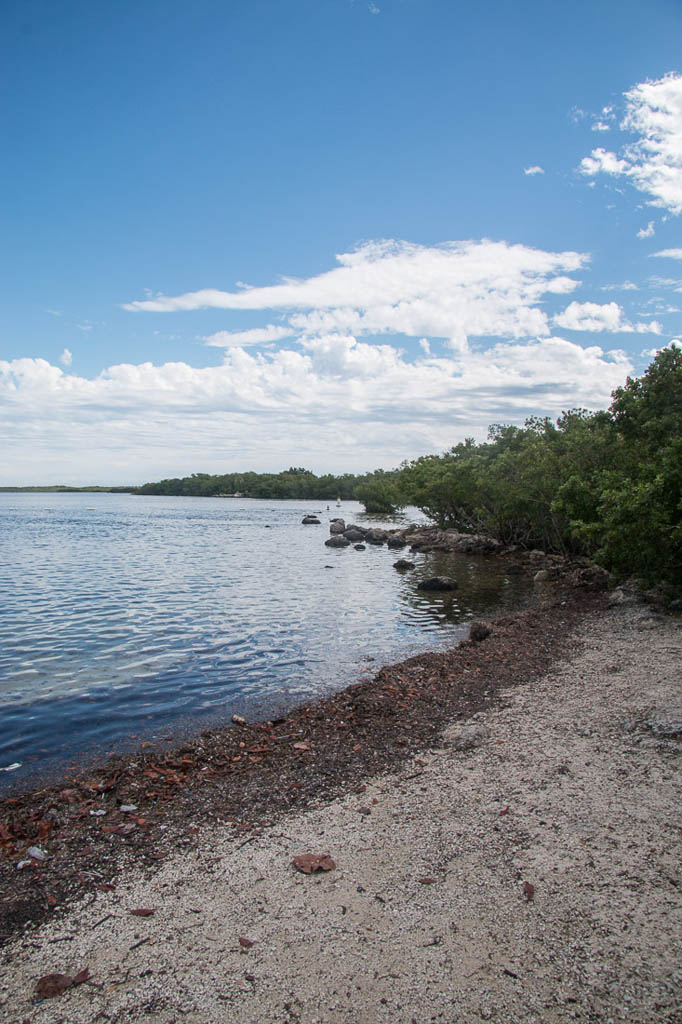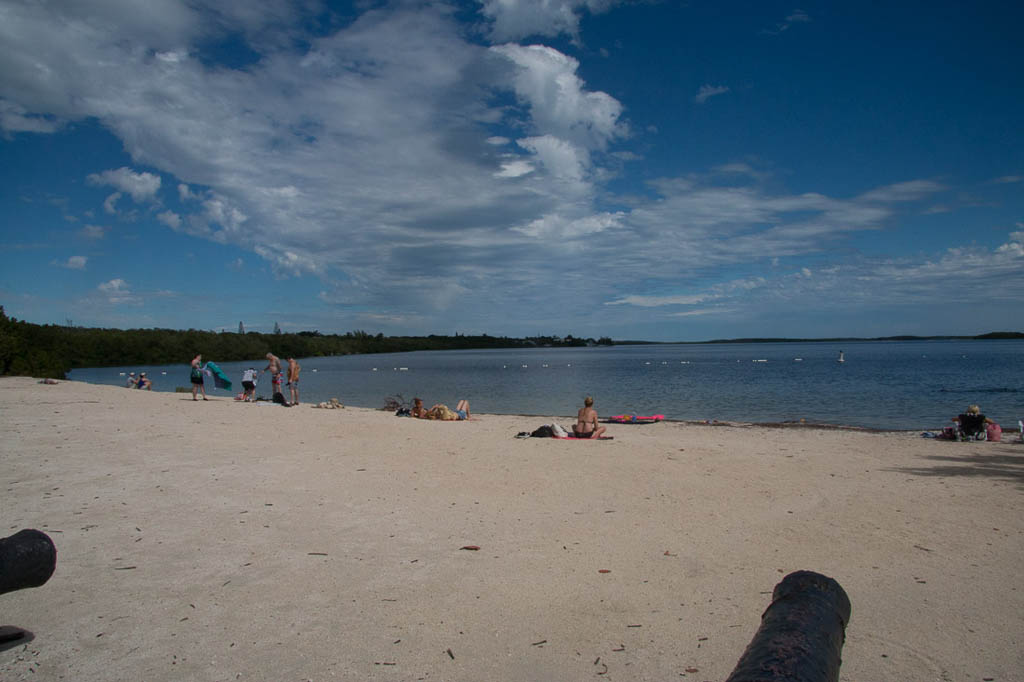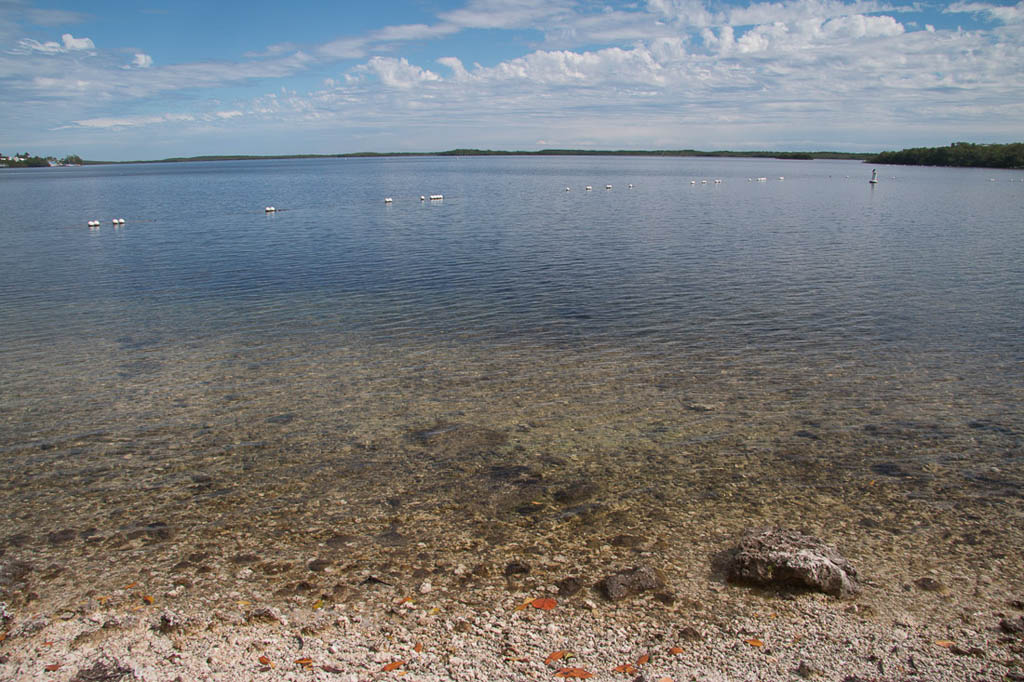 There were a few trails at the park, and we decided to give them a whirl.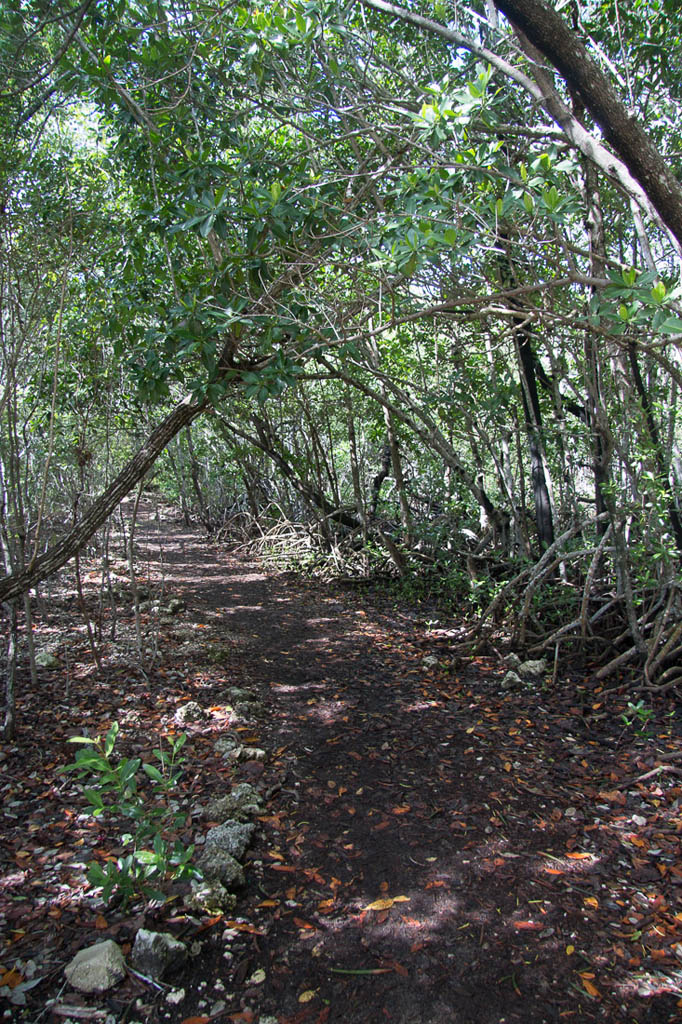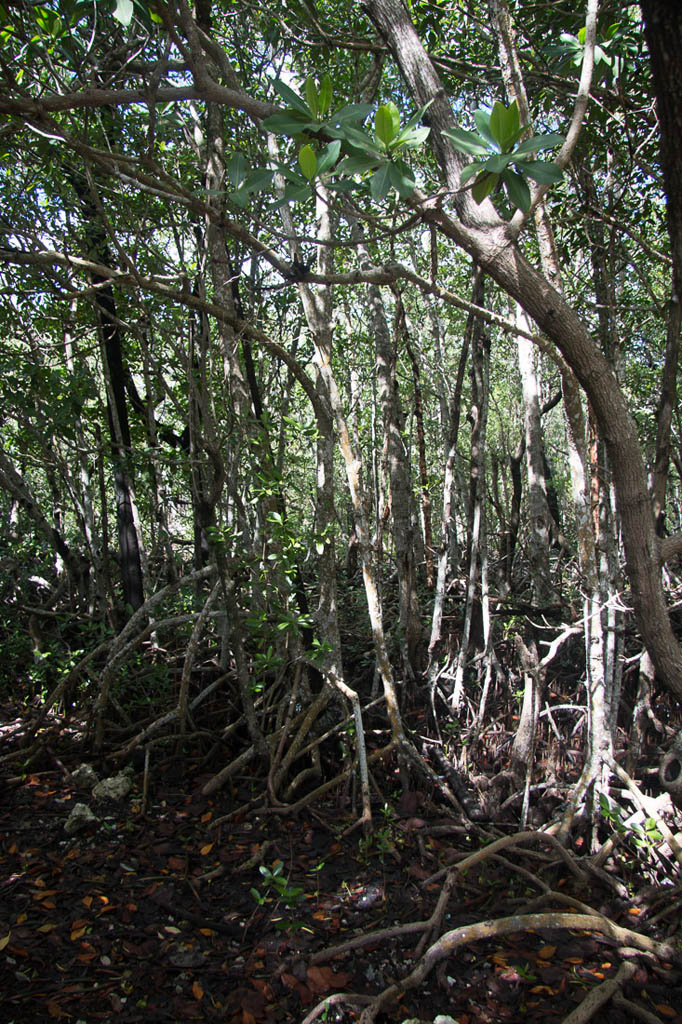 But, after covering just a small distance, we discovered that the trail was sopping wet and muddy thanks to the previous day's rains. Plus, I was wearing flip flops, which definitely wasn't conducive to a muddy walk! So we gave up on our trail walk idea fairly quickly.
After the park, we stopped by a few Key Largo shops (Ken wanted a Panama hat), and then we went back to the hotel. After lounging around for a bit and exploring the small beach area at the Hampton Inn, it was time for our drive to Key West, which was fantastically beautiful!