This post may contain affiliate links. Please see my advertiser disclosure for more details.
---
Train #138
WASHINGTON, DC – NEW YORK (PENN STATION), NY
Depart 6:05 PM, Thursday, October 24, 2013
Arrive: 9:30 PM, Thursday, October 24, 2013
2 Reserved Coach Seats (Unassigned)
Date Booked: August 6, 2013
Total Out of Pocket Cost for Two Adult Passengers: $98
Although I do not travel by train often, I think rail travel is a refreshing break from air travel. There's no need to arrive 90 minutes prior to departure. You only have to transit security if you are selected for a random check. You can use your electronics whenever you want and you can (gasp!) get up and walk around at your leisure thanks to the absence of "fasten seatbelt" signs.
On the evening of our departure, Ken and I took the metro from our workplaces to Union Station, and we met up about an hour prior to departure.
Union Station was, as usual, packed. I cannot recall a time that I was at Union Station outside of rush hour. During rush hour, you have throngs of daily commuters clamoring to board their commuter trains to cities like Baltimore and Fredericksburg, in addition to regular Amtrak departures and arrivals.
The gate for our train was not announced until 20 minutes prior to departure. I think this is usually intentional to prevent the passengers from lining up to board too early. There's no assigned seating on Amtrak trains, so many people, especially larger families and groups, probably prefer to board earlier to sit together. All Amtrak trains I have ever ridden, including this one, have always had plenty of empty seats. Boarding started about 15 minutes prior to departure. Although the line was long, the boarding process moved quickly.
I knew I'd want a snack during our 3.5 hour train ride, so we boarded the third car, right behind the cafe car. We had no trouble finding two seats together.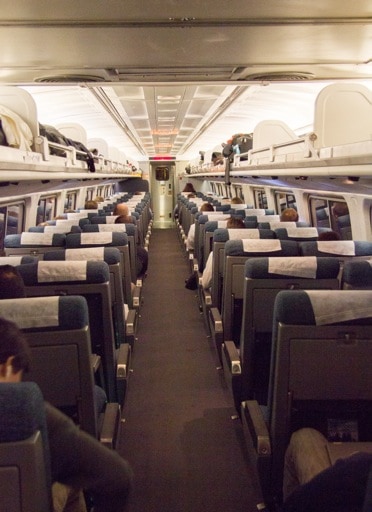 Our train car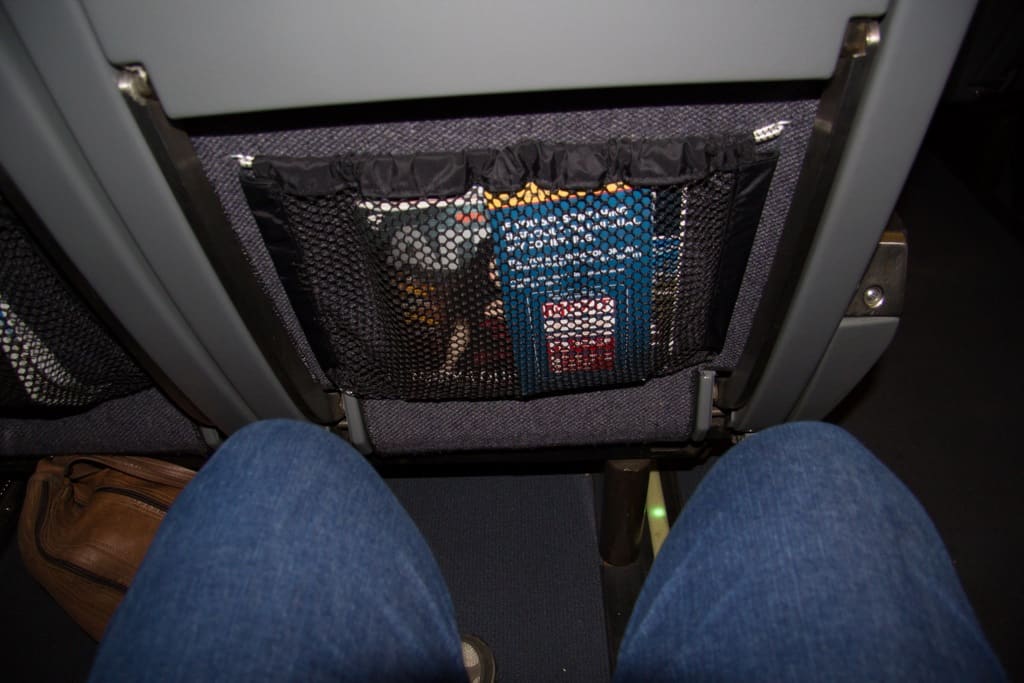 Plenty of legroom
Thirty minutes into our train ride, I walked to the Cafe Car and purchased a cheese and cracker tray, as well as a bottled beer. The Cafe Car had a decent selection of food and drinks available for purchase, especially compared to coach class airlines! I always forget just how "bumpy" trains are compared to most flights. The cashier had already removed the cap from my beer bottle when she handed it to me. I set down the bottle on the countertop to get out my credit card to pay, and my bottle almost fell right off the counter! I had a similar mishap back at my seat. The tray tables to not contain any cup-like indentations, so my beer bottle was unsteady. I ended up just holding it on my lap in between my legs. Next time, I will take a cup holder tray they had available in the cafe car, even if I am only carrying one beverage! I think that would help keep drinks steady on the tray.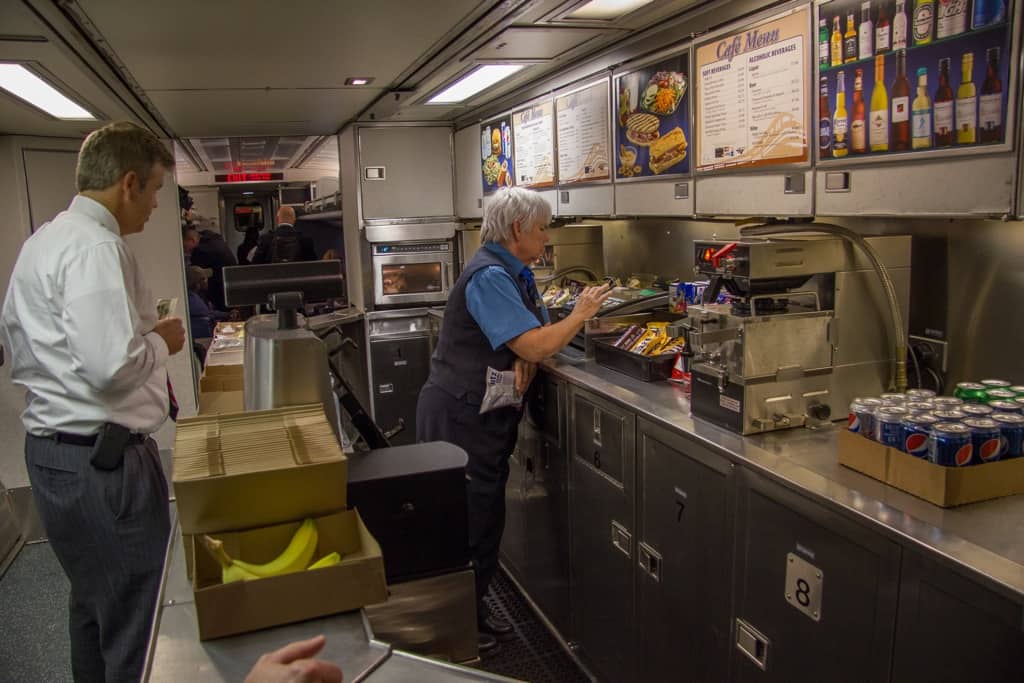 The Cafe Car's Snackbar
Just outside of Philadelphia, our train came to an unexpected stop. The engineer stated that our train was having some mechanical issues that they needed to examine. We were moving within 15 minutes, but once we arrived at the Philadelphia train station, the train remained stopped for longer than usual. Presumably, they were verifying that the mechanical issue had been fixed, now that they were safely stopped at a train station.
Throughout the train ride, Ken had his handheld GPS and was tracking our speed. Our train maxed out around 100 MPH, and when it did reach that speed, the train didn't stay at that speed for very long. There are many stops on the Amtrak Northeast Regional between Washington, DC and New York, so (although I'm no train engineer!) the train probably can't stay at higher speeds for very long since it has to prepare to stop so frequently.
We arrived at Penn Station about 30 minutes behind schedule.
Thanks to many lessons learned in my travels about hauling luggage, no matter how light, through unfamiliar public transportation systems, we opted to take a taxi from Penn Station to our hotel at 41st and Fifth Avenue. After climbing several sets of stairs and escalators, we found the taxi stand fairly easily. We waited in a short line, and then proceeded to have a terrible (read: completely unknowledgeable) taxi driver take us to the Andaz Fifth Avenue.
---