This post may contain affiliate links. Please see my advertiser disclosure for more details.
I mentioned in one of the last posts that our taxi drive from Penn Station to the Andaz was kind of ridiculous. He didn't know the address, so we were left scrambling to look up the cross streets on our phone, and then he wanted to drop us off three blocks from the hotel to avoid some sort of traffic. So, we politely said no, and he begrudgingly drove us all the way to the hotel. I don't understand this logic. He's getting paid for his time, no? Whether he's sitting in traffic or driving us up and down the streets of NYC?
Times Square and the Late Dinner Debacle
Anyway, we got checked in to the hotel, relaxed for a few minutes, and I was getting hungry. My cheese plate on the Amtrak train didn't exactly fill me up. Our hotel was a relatively short walk to Times Square, so we walked that direction, figuring we would find a restaurant on the way.
It was 10PM by this point, and surprisingly for the city that never sleeps, many restaurants were already closed. We walked around Times Square for 45 minutes or so, but most restaurants in that area are chains. Ken suggested McDonald's just to hold me over, but fast food literally makes me sick, so I declined. On one of my previous trips to NYC, I remembered eating at some famous deli-type restaurant that served these huge sandwiches. But it wasn't there. I can't remember the name, and it is possible I might have had the general Times Square location mixed up, but I swear it must have closed.
After our walk around Times Square, we decided to head back to the hotel. There was an Irish pub right across the street that was open when we left the hotel. You can't go too wrong with Irish pub food. Except when we got there, it was now after 11PM, and the kitchen was closed. How was this possible? How was it possible to starve in NYC at night? Okay, I'm being dramatic, but I was getting really hangry.
I opted for room service at the Andaz. Here we are, three months past our trip to NYC, and Ken continues to make fun of me for the room service option. $34 for a plate of glorified spaghetti. It was okay. Not bad, not great though either. But, I was hungry and it did the trick. We went to bed shortly thereafter.
Empire State Building
The next morning, the first stop on our agenda was the Empire State Building. It was only a few block walk from our hotel, and, like the previous night, we decided to find some place for breakfast along the way. Again, we ran into the issue of chain after chain. Corner Bakery, Dunkin Donuts. Panera. Wasn't there some nice local option to just grab a breakfast sandwich and hot chocolate to eat on our walk? We finally found a place. They had a grill and we were going to get breakfast sandwiches, but they had stopped serving breakfast at 9:30. We were batting zero for eating in NYC. The place also served muffins and pastries, so we bought some and continued our walk to the Empire State Building.
I had purchased tickets in advance for the Empire State Building. The options were somewhat confusing and went something like 1) Buy everything at the Empire State Building and stand in all lines, 2) Prepay for your tickets and avoid the ticket line, but not the elevator line, or 3) Prepay for your ticket and get the extra special elevator line avoidance ticket and stand in no lines (except for security screening). We went for option 2, figuring the elevator lines wouldn't be that crowded for a random weekend in October. They weren't bad, but they were longer than I thought. I think we waited about 20 minutes total, including the security screening line.
While waiting in line, they had a green screen to take your picture. Then they would superimpose your picture onto an Empire State Building background.
So, can I just tell you something here? An interesting quirk? Ken DESPISES these things. We see them everywhere. Green Screen before boarding the Maid of the Mist at Niagara Falls. Green Screen before entering the Atlanta Aquarium. Green Screen at Graceland. You get the idea. Each time we see a green screen, Ken reacts in the same way:
"WHY WOULD I WANT MY PICTURE TAKEN IN FRONT A GREEN SCREEN!?! I'm HERE! I'm AT the famous location! I have an idea! Why don't I JUST TAKE A PICTURE AT THE ACTUAL LOCATION INSTEAD OF HAVING IT TAKEN IN FRONT OF A GREEN SCREEN?!? IF I wanted my picture taken IN FRONT OF A GREEN SCREEN and then SUPERIMPOSED at the famous place, I WOULD DO IT FROM MY COMPUTER! AT HOME! And never travel anywhere!"
You get the idea. Ken is typically a very calm person, but what can I say? Green screen options enrage him. So, we spent about 5 minutes in line making fun of the green screen. Ken told me, "I'd rather have my picture taken next to this SCALE MODEL of the Empire State Building instead of that green screen." So, I took his picture next to the scale model.
We bypassed the option to have our picture taken, much to the displeasure of the photographer.
Walking up the stairs to the 86th Floor.
Well, that heading is misleading, but only slightly. The first set of elevators takes you to the 80th Floor. But the Observatory is on the 86th Floor. The 80th floor contains some amazing photographs and historical descriptions of the Empire State Building. Fascinating stuff. After meandering around the 80th floor, we walk to the lines for the elevators that will take us to the 86th floor. The line was not exceptionally long, maybe just 50 people, but an employee was announcing that only one of the elevators was working. Therefore, the line would take about 30 minutes. As an alternative, they had opened the emergency stairwells if folks wanted to climb the six flights of steps instead of waiting.
We opted for the steps, and although we're not in the greatest of shape, we appreciated the chance to see parts of the Empire State Building that are typically off limits. Like this scary airshaft that looks down 80 floors.
We got to the 86th floor, and took our time walking around the Observatory.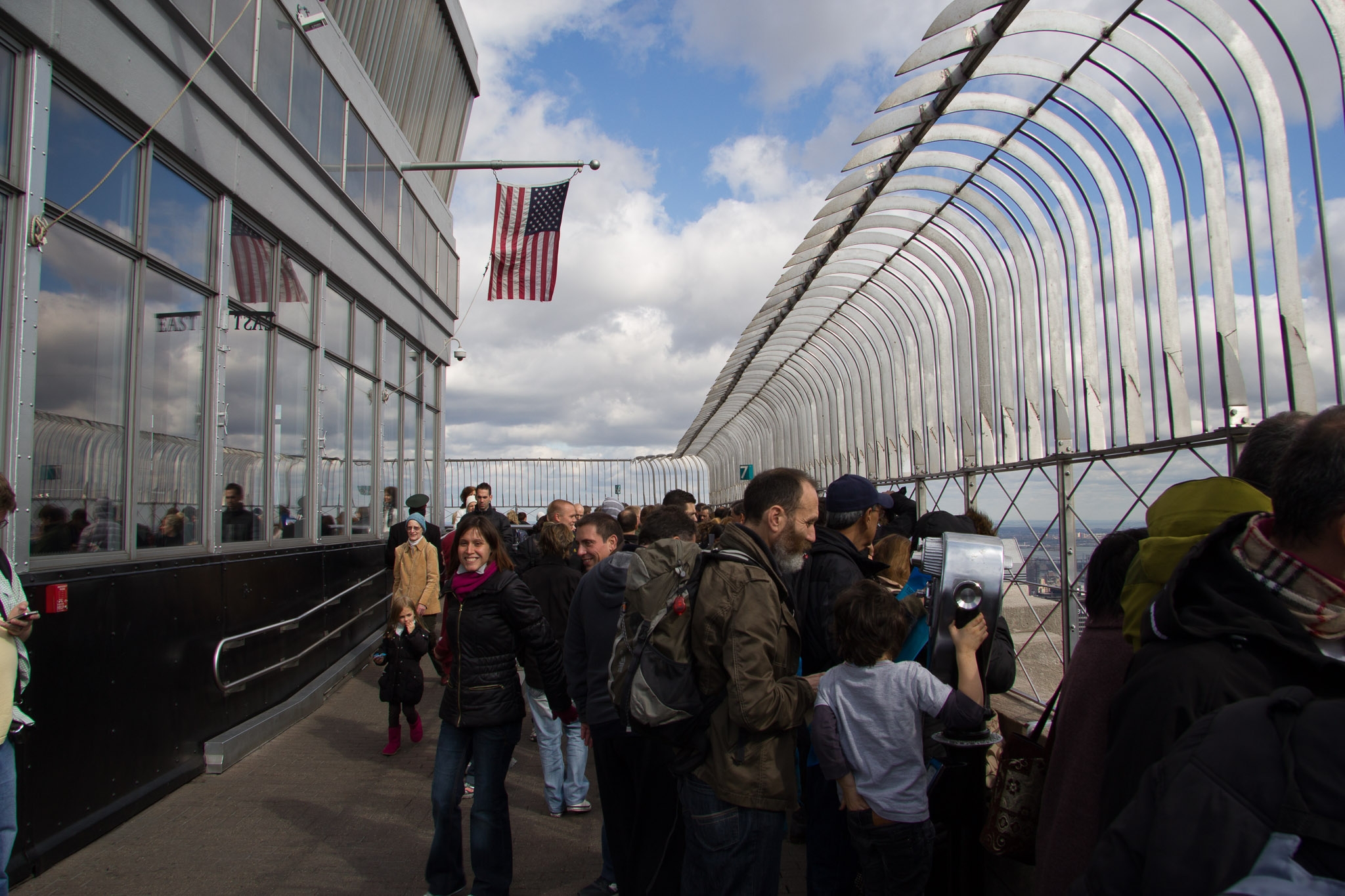 This was my third time at the Empire State Building, and it's fascinating (and sad) to see the NYC skyline changes that I have captured with my camera.
From Top to Bottom: Downtown Manhattan from the Empire State Building in 2000, when the World Trade Center towers still stood; in 2002, after they had fallen; and in 2013, with the new Freedom Tower nearing completion.
We had also purchased tickets for the 102nd floor of the Empire State Building, called the Top Deck. On my previous trips, I had never opted for the 102nd floor, because I was a broke college student and it was too expensive. Well, I must say that I was pretty disappointed with the 102nd floor. It was very crowded and it was a very small, enclosed space. The views were no better than the 86th floor. The most fascinating part was the old fashioned elevator that was manned by an Empire State Building employee. It was actually hand cranked to a precise location once we got to the floor! So, recommendation, save your money and skip the Top Deck option.
We wrapped up our tour, and decided to grab an early lunch at a restaurant in the lobby of the Empire State Building, called Heartland Brewery. It wasn't bad, and I even enjoyed a lovely lunchtime Microbrew.
Intrepid Sea, Air, and Space Museum
After lunch, we grabbed a taxi to go to the Intrepid Sea, Air, and Space Museum.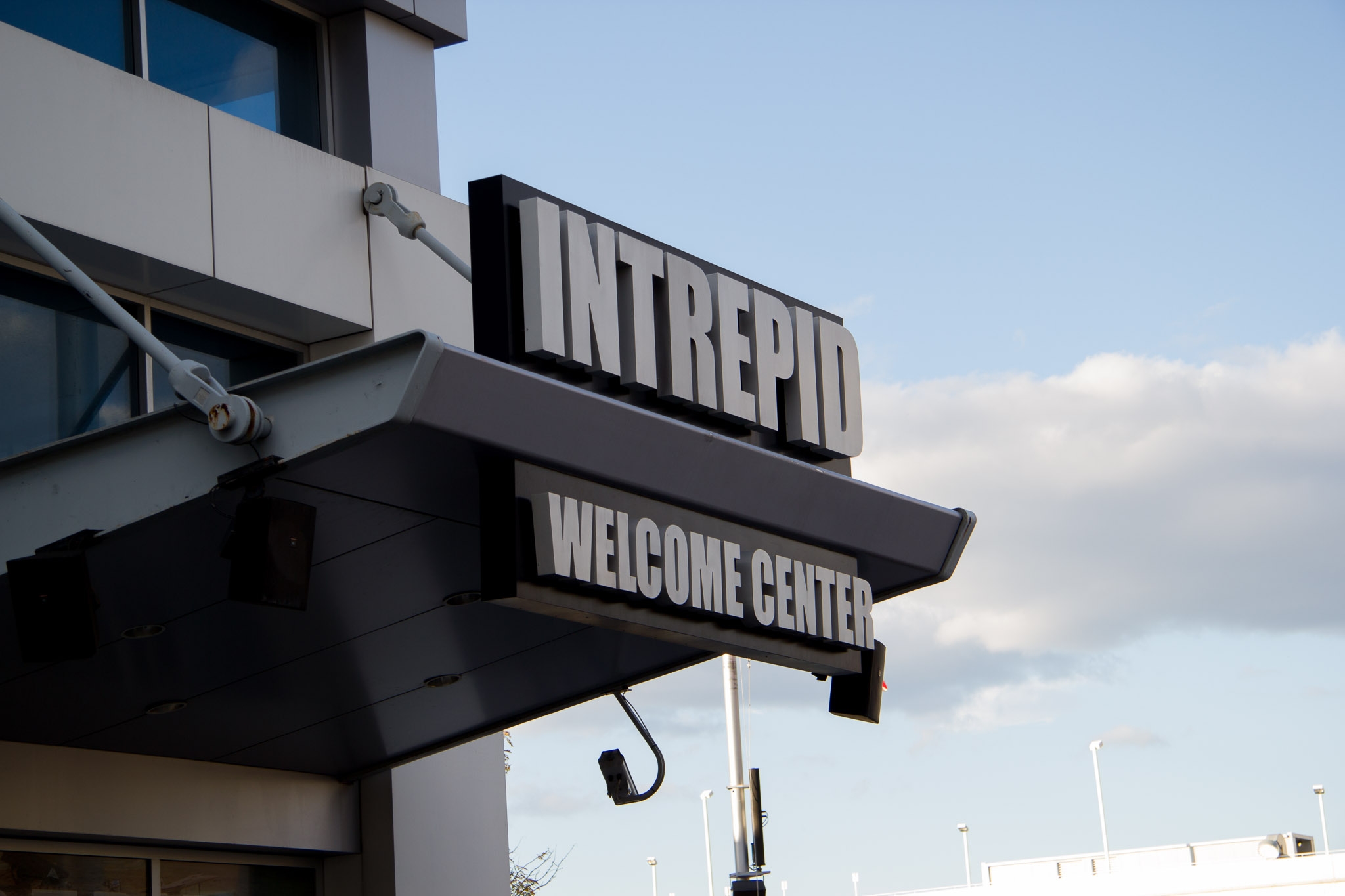 I had prepurchased tickets for that museum as well, and opted (obviously) for the entrance to the Enterprise Space Shuttle exhibit. I thought it would be pretty difficult to be blown away by another aviation museum. After all, we've been to the Smithsonian Air and Space Museum and the Udvar Hazy Center many times now. The Udvar Hazy center especially is a stunning museum. But the Intrepid was terrific and definitely worth the admission price! I'll let the photos speak for themselves.
The Intrepid is also home to a Concorde!
In addition to the planes there was, of course, the actual Intrepid Aircraft Carrier itself, which remained largely in original form since its 1970s retirement (surely there is a different term for this. Decommissioning perhaps?)
We were walking around the Intrepid for quite a while. We had tickets for the World Trade Center Memorial for a 5PM admission, their last admission time. (Tickets are normally free, but they are limited. So you can pre-book your tickets for a nominal fee of $2 to ensure that you get a ticket.) We didn't want to rush finishing up at the Intrepid, so I went on my phone and managed to book more tickets to the World Trade Center Memorial for the next evening. We leisurely enjoyed the rest of our time at the Intrepid, without having to rush to leave for the next stop on our itinerary! One deck of the Intrepid has been repurposed as an indoor museum.
It was really fascinating to see the Enterprise. Obviously it never flew in space, and it was an amazing contrast to the Discovery, which we've seen up close at the Udvar Hazy center. The Discovery looked very, very beat up and well worn. (To be expected considering its age, miles logged, and harsh conditions endured!) The Enterprise looked as clean as could be!
We also walked around the former nuclear submarine, the Growler. I'm not claustrophobic, but something about people telling me that something is going to be "very claustrophobic" always makes me a bit uneasy. The start of the submarine tour was also exceptionally hot, and I almost opted not going any further. But, I went and the temperature cooled off and yes, it was small, but as always, I'm fine in confined spaces. It's cozy!
Some Rest
After the Intrepid, we tried to find a taxi, but weren't having much luck. Luckily a taxi had just dropped somebody off so we ran for it! The taxi driver told us how lucky we were. Apparently it's really hard to get a taxi in NYC during evening rush hour. That is the time taxi cab drivers change shifts and they all have to make their way out of Manhattan towards JFK airport, where their taxi HQs are located. That taxi driver was insane, but in a good way. He darted out into a blocked intersection right before our traffic light changed, weaving in front of and behind the cars that had been illegally blocking the intersection. It was quite the maneuver!
We went back to the Andaz for a little while to rest our legs. I took full advantage of the foot bath basin in the bathroom of our hotel room, soaking my feet for a good 20 minutes. Since our planned itinerary had changed thanks to our extended visit at the Intrepid and rescheduled World Trade Center memorial tour, we took some time to plan out the rest of our evening.
We decided on dinner, the Art of the Brick, and Top of the Rock.
We ate dinner at John's Pizzeria on the suggestion of one of Ken's coworkers. It was actually located in Times Square, which we did not know the night before when we were searching for a place to eat that was open. I thought it was really good! Very noisy, but good!
Art of the Brick
After dinner, the Art of the Brick was less than a block away. Ken is a huge fan of legos. I had seen this being sold as a Groupon a month earlier, so I purchased tickets via Groupon for half price. The exhibit was actually larger than I expected, and it was really good!
Top of the Rock (Rockefeller Center Building)
After the Art of the Brick, we walked through Times Square again, on our way to Top of the Rock. The entrance was a little confusing to find, but we made our way through.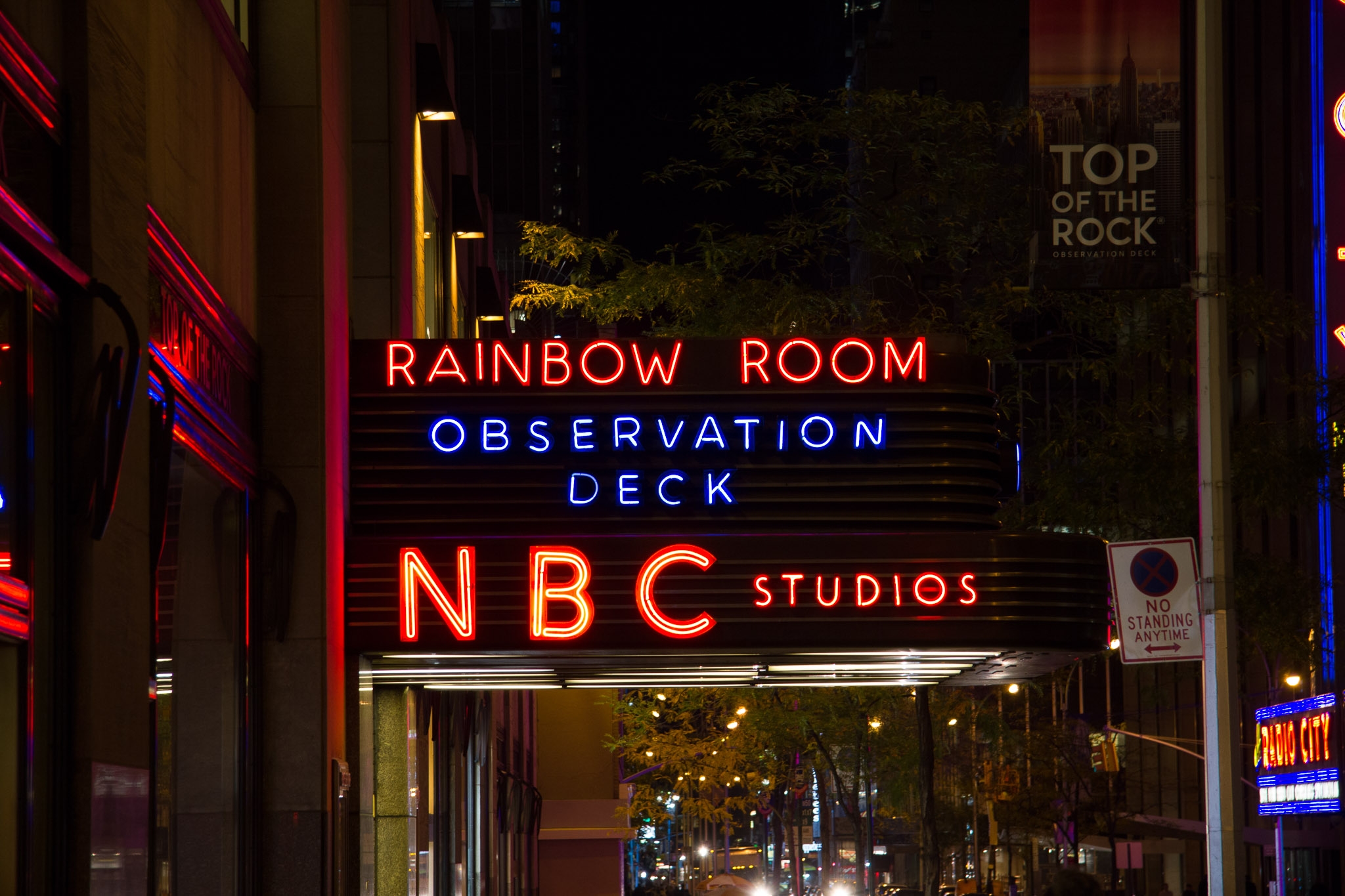 It was fairly late, probably 10PM or so, and the place was really empty. We waited a few minutes to purchase our tickets, but I think that wait was mainly because they didn't have many people working. There was no line at all for the elevators, but you can tell that they're always prepared for a long line, considering the many switchbacks of rope and dividers. We also snuck past the green screen too!
I don't think I'm overstating things that when I say that the elevator to the observation deck was the coolest elevator I have ever been in. Crazy cool lighting, a clear roof that allowed you to see the tremendous speed that the elevator was traveling, and a recap of NBC history all in like the 45 second ascent to the top. Truly amazing stuff. I was totally unprepared for how cool it was, so I only managed to snap this crappy photo.
It was really amazing to see the NYC skyline at night. Unfortunately tripods aren't permitted at Top of the Rock, but there were plenty of wide, safe surfaces to set down the camera for a long exposure (I had researched that in advance).
There was also some amazing indoor spaces, including this interactive colorful room that you could make change by touching or talking.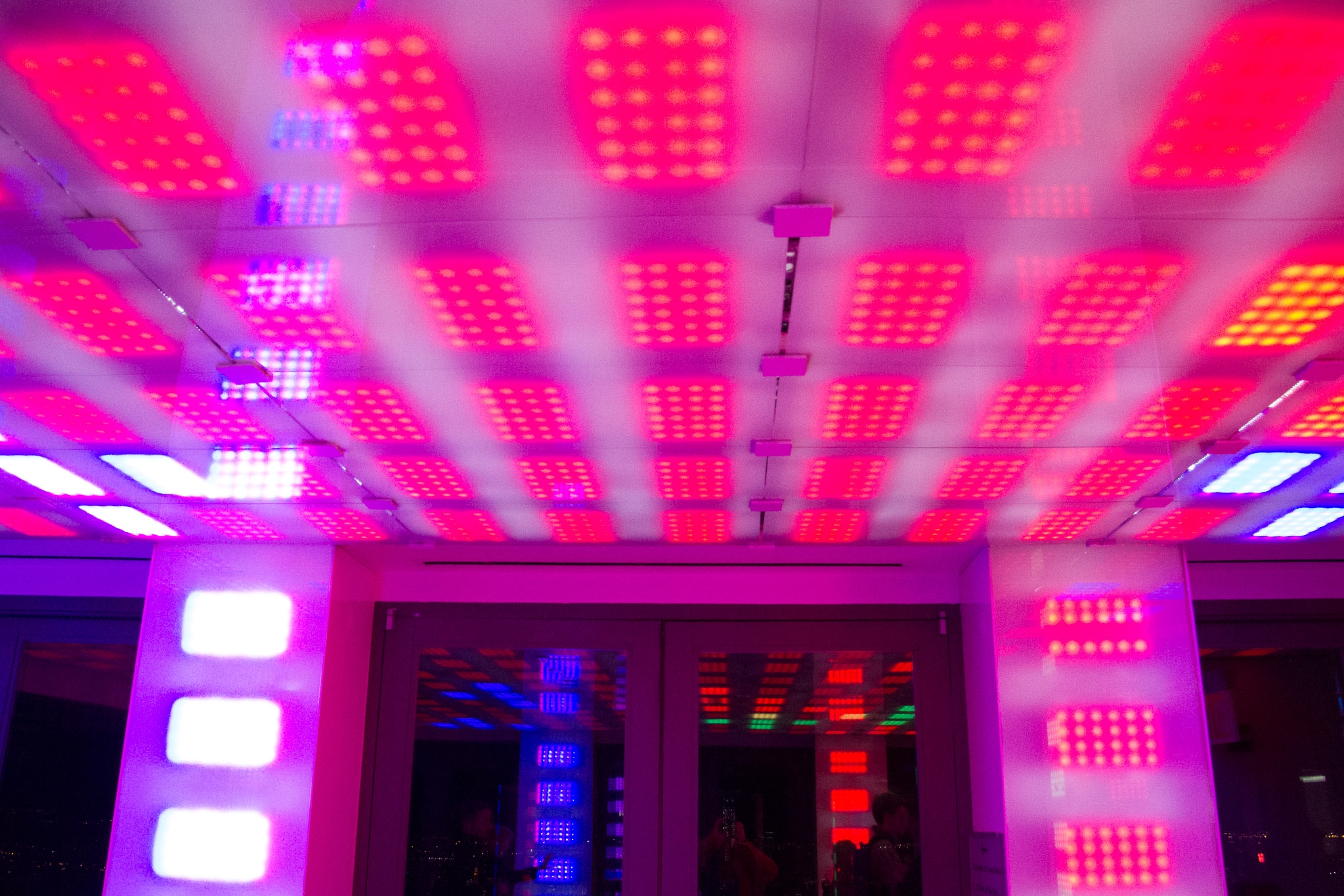 There was also some nice indoor spaces with comfortable couches and mood lighting. Considering our sore legs thanks to a full day of sightseeing and the chilly October evening air 60 floors up, we sat for a little bit on the indoor sofas and relaxed.

Once we were done, we hung out for a bit near the Ice Skating rink at Rockefeller Center, and decided to walk back to our hotel. It was only a few blocks, but we were some tempted to hail a cab. We were exhausted! But we walked and we were just fine.

We got back to our hotel, I took a long hot shower to ease my leg muscles, and we went to sleep.
---