This post may contain affiliate links. Please see my advertiser disclosure for more details.
---
After Ken and I booked our Alaskan cruise, we started researching the cruise excursion options. As you can probably tell from our Caribbean Cruise in 2007 and our Mediterranean Cruise in 2010, we generally do a mix of independent travel and cruise-organized shore excursions. We had read before that Alaskan Cruise shore excursions can be VERY pricey, so we wanted to make sure we budgeted appropriately, both for time and expense, and determine if independent options were more cost effective than the options offered by the cruise line.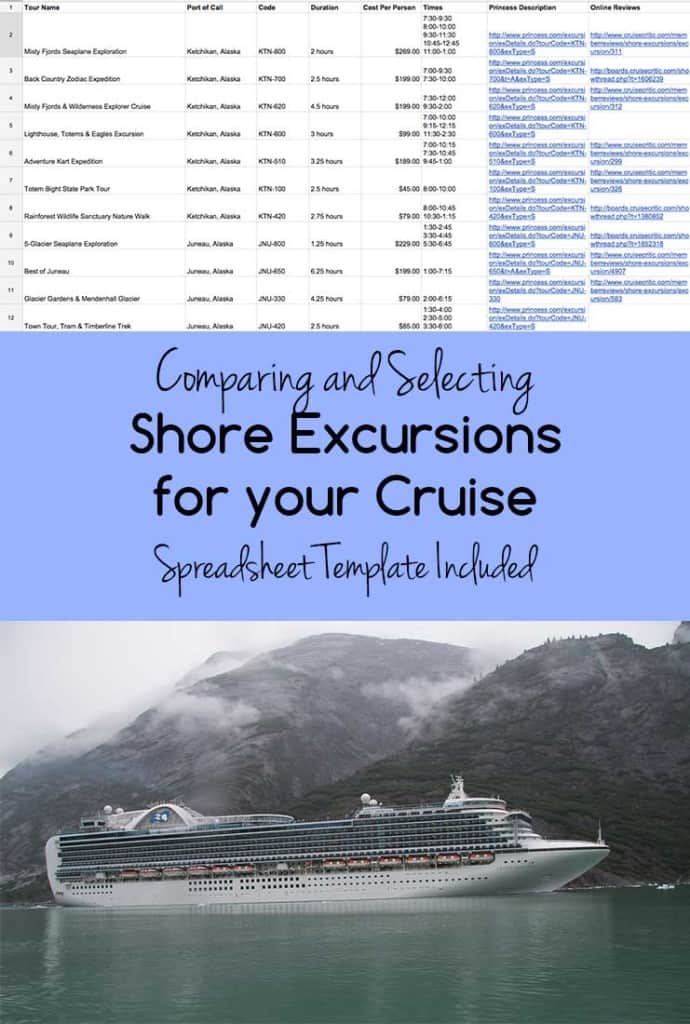 To keep things organized, we developed a spreadsheet. (Say Wha? Totally unlike us, right? End sarcasm). The goal was to help us identify the shore excursions that sounded appealing to us, and then to compare prices, departure times, and reviews of the shore excursions. The spreadsheet contained 8 columns:
Tour (shore excursion) Name
Port of Call
Code (this was the code designated by the cruise line. It helped us differentiate between similar sounding tour options)
Duration
Cost Per Person
Times
Link to description of shore excursion on Princess's website
Link to online reviews we found of the excursion (mainly from Cruise Critic)
When we had time, we each went through the shore excursions being offered for our cruise, and added ones that sounded interesting to the spreadsheet. This was great because we could each do it on our own time, and then take a look at each other's additions, and see if we had any overlap (and sure enough, we did!)
This is what our spreadsheet looked like (well, for the first two ports-of-call anyway):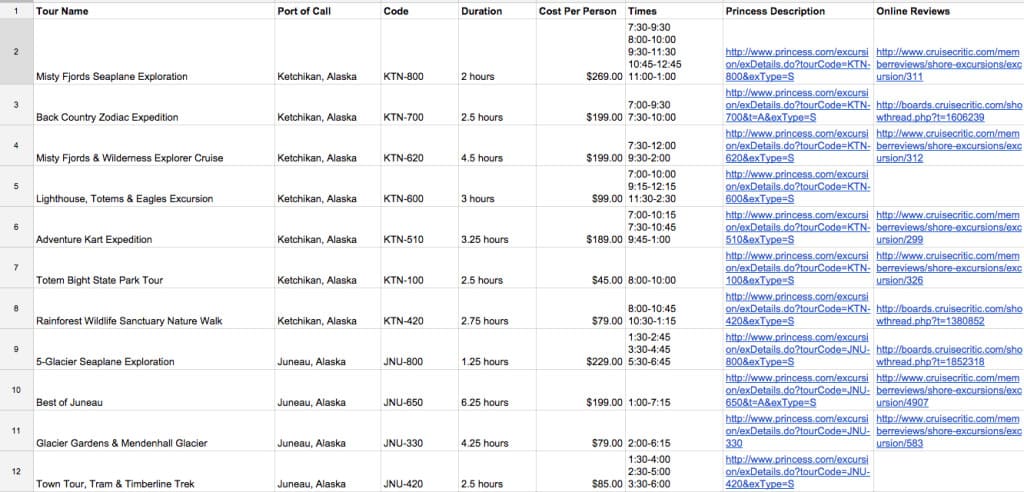 We also had some general information at the bottom, such as the cruise itinerary and some links to third-party (independent) tour operators.

This was great for reference. For instance, we could see at quick glance that if we did the "Misty Fjords Seaplane Expedition from 7:30-9:30," then we'd still have time for another cruise excursion after that, such as the "Lighthouse, Totems, and Eagles Excursion" that would leave at 11:30AM. (We didn't end up doing that combination, but you get the idea!). By having the duration and price listed, we could also get a quick idea of an "entertainment price per hour" to try and determine if something was worth the cost. For instance, does a $99 excursion that lasts 6 hours offer a better value than a $250 excursion that only lasts two hours? Of course, that's something we looked into further as we narrowed down our options.
I've included a link to our spreadsheet, which you can then save as your own document in Google Docs if you're looking for a template:
Spreadsheet to Figure out Cruise Shore Excursion Options
Although we didn't do it in our spreadsheet, I can foresee other options that might be useful for this spreadsheet, such as color coding which entries were entered by which person (probably great for a larger group trying to organize cruise excursions), as well as coming up with a scheme, like maybe an additional column, indicating priority of which excursions sound REALLY REALLY great, and which ones might just be fun to consider if your schedule or budget allows.
Anyway, I'll discuss which shore excursions we did for each port-of-call as my trip report progresses here on the blog.
How do you figure out what to do when you're in a port-of-call on a cruise?