This post may contain affiliate links. Please see my advertiser disclosure for more details.
---
As you can probably tell from the first several posts in our Alaska Cruise trip report, we took quite a roundabout way to Seattle! To recap:
Taxi from our house to DC's National Airport

Flight from DC to New York's LaGuardia Airport

Taxi from New York's LaGuardia Airport to New York's JFK airport

Taxi from Vancouver Airport to a one-night stay in a Vancouver hotel

Taxi from Vancouver hotel to Vancouver train station

Amtrak Cascades line from Vancouver to Seattle
Taxi from Seattle's train station to our two-night stay in Seattle
And finally, our cruise departure from Seattle to Alaska!
Why did we ship our luggage?
As I've mentioned before, I have completely given up on carry-on only packing for long trips. I pack lots of camera equipment (including a tripod), and a lot of international airlines go by WEIGHT of carry-on bags instead of dimensions. So, although I can generally FIT all my items into carry-on bags, it always exceeds the airline's allowable weight for a carry-on bag. Plus, for a cruise, I generally pack a bigger selection of clothes compared to other trips. Dressy clothes for dinner, casual clothes for the ship, and for this Alaska cruise, cold weather clothes and things like hiking boots. So, a checked back was definitely a necessity for us.
But yikes, the idea of lugging a big suitcase on all those different modes of transportation was kind of daunting. Plus, having to pick up our bag at LaGuardia then re-check it at JFK seemed unnecessarily time consuming. So, we did something that we've never done before for a trip! We shipped most of our luggage!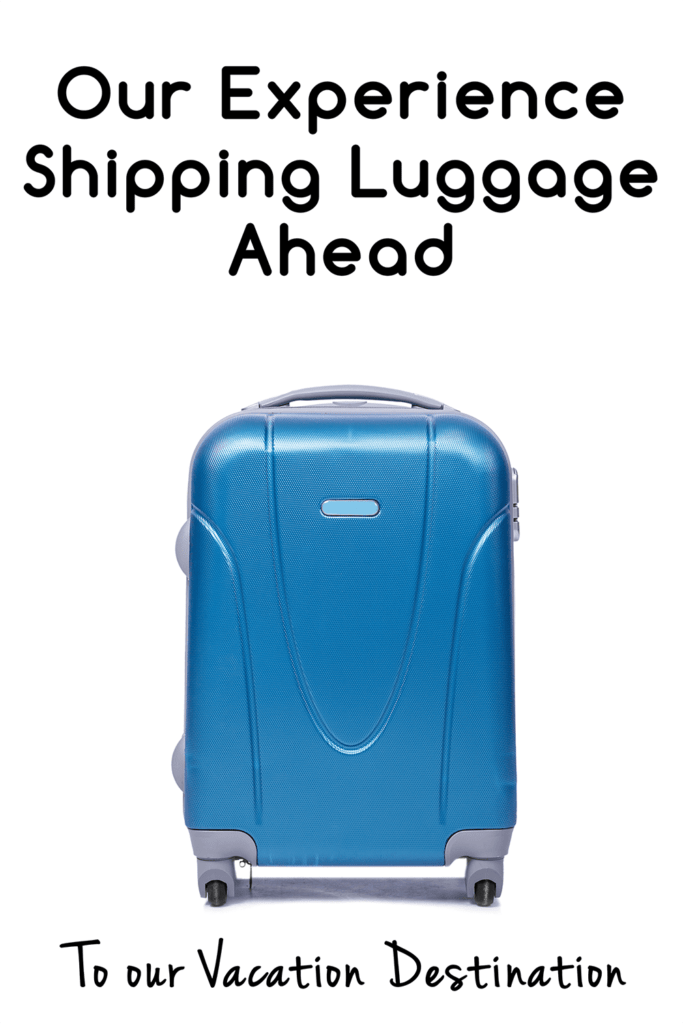 We briefly considered luggage shipping services like Luggage Free and Luggage Forward, but those companies just seemed like an unnecessary middleman, adding lots of cost without much additional service. So, I measured the suitcase we would normally use as checked luggage, and entered the dimensions into FedEx's and UPS's website, estimating about 50 pounds for our suitcase. I also sent a quick email to our hotel in Seattle, the Grand Hyatt, to make sure that they would accept a suitcase FedEx delivery. They responded promptly that they could certainly accept the FedEx'ed suitcase. *
The process for shipping our suitcase (and packing the bag)
The estimated price for FedEx'ing our suitcase would be about $60.00. Considering we would've had to pay $35 to check our bag on our DCA-LGA flight (since we weren't flying first class or anything on that leg), it seemed well worth an extra $25 to avoid the hassle of lugging our suitcase in and out of planes, trains, and automobiles. We also signed up for a FedEx account, which was totally free, and that gave us an additional discount on the shipping. The only downside was that the cheapest option was FedEx ground, and that was a five-day transit time from our home to Seattle. Since we'd want to build in a little "cushion" to account for transit delays, that means we'd have to ship our suitcases a full week in advance. I don't know about you, but, despite multitudes of detailed packing lists, I often think of so many things to pack at the LAST POSSIBLE MINUTE. Or, similarly, needing to rearrange items between checked bags and carry-on bags thanks to space or weight considerations. But, with no LAST POSSIBLE MINUTE available if we shipped our big bag far in advance, we'd have to plan our suitcase packing very methodically!
Luckily, our planning went smoothly. We packed everything that we wouldn't need for the first few days of our trip in the shipped suitcase. Those included things like our tripod, hiking boots, swimsuits, dress shoes, cold-weather items like long pants and sweaters, (Vancouver and Seattle would be quite warm .. the Alaska portion however was forecasted to be much colder, even in June), and frankly, the vast majority of our clothes we'd need for the trip.
We shipped our bag a week prior to our departure. I was a little nervous about how FedEx would label a suitcase (compared to like a box). I feared that their normal sticker labels would fall off the suitcase material. But they actually have special luggage tags, not that different than what you'd get at the airport. (Just a quite a bit larger). Those shipping labels attached to the suitcase handles.
For the next several days, I obsessively checked FedEx's website for updated tracking information. Once I saw that the bag was delivered to our hotel in Seattle (which was actually the day we were departing JFK for Vancouver), I called the hotel to confirm receipt of the luggage. They had it, and I also confirmed my reservation and arrival date.
Once we arrived at the Grand Hyatt, we checked in, and the reception staff told us that they would get the suitcase out of storage and have it sent up to our room. That part actually took quite a while! We waited for more than 40 minutes for our suitcase to get delivered, despite one or two calls to the front desk to make sure they didn't forget about us. At that point I was starting to get worried that our suitcase had been misplaced at the hotel.
But, not to worry, our suitcase finally arrived in our room. We took a quick glance inside and everything looked in order. And that was it! Now the only transporting of that suitcase we'd be responsible for is getting it from the hotel to the ship check-in! Much easier than lugging it around on all those transportation modes!
Anyway, we'd definitely call the luggage shipping experiment a success and we'd definitely try it again for future trips. One thing I might try in the future though is packing a duffel bag instead of a suitcase. Even though we have lightweight luggage, the suitcase alone is still about 11 pounds. Since most of the shipping cost is based on weight, we could've saved a decent amount by shipping something that was 11 pounds lighter! But, of course that sets up the potential for damage to the items or the bag ripping. Pros and cons to both options I suppose.
Have any readers ever shipped luggage ahead? How did it work out for you?
* We did consider shipping services directly to the cruise port also. However, I really wanted to make sure that my bag was IN MY POSSESSION prior to boarding the ship. I wanted to be able to shop for last minute items in case my bag got lost or didn't arrive as planned.