This post may contain affiliate links. Please see my advertiser disclosure for more details.
---
Air France / Air Berlin / British Airways Lounge at Berlin Tegel Airport (TXL)
After spending our overnight connection at a nearby Holiday Inn, we arrived at Berlin's Tegel airport bright and early for 9:20AM flight from Berlin to Miami. After two weeks abroad spanning many hotels and cities, we were anxious to get home!
Air Berlin Business Class passengers share a lounge with Air France and British Airways business and first class customers. When we arrived at the lounge, it was quite empty. I think it was just Ken and I plus one or two other guests. However, by the time our flight was ready to board, it had really filled up.
There was a decent amount of seating, but if the lounge got much more crowded, I'm not sure if there would be enough for all the guests!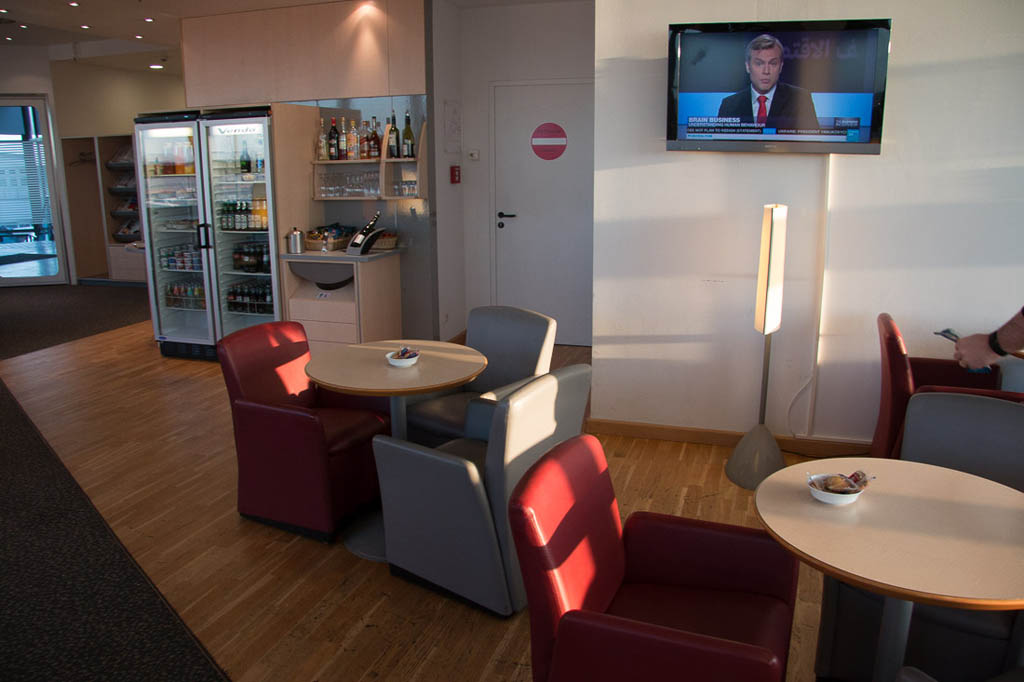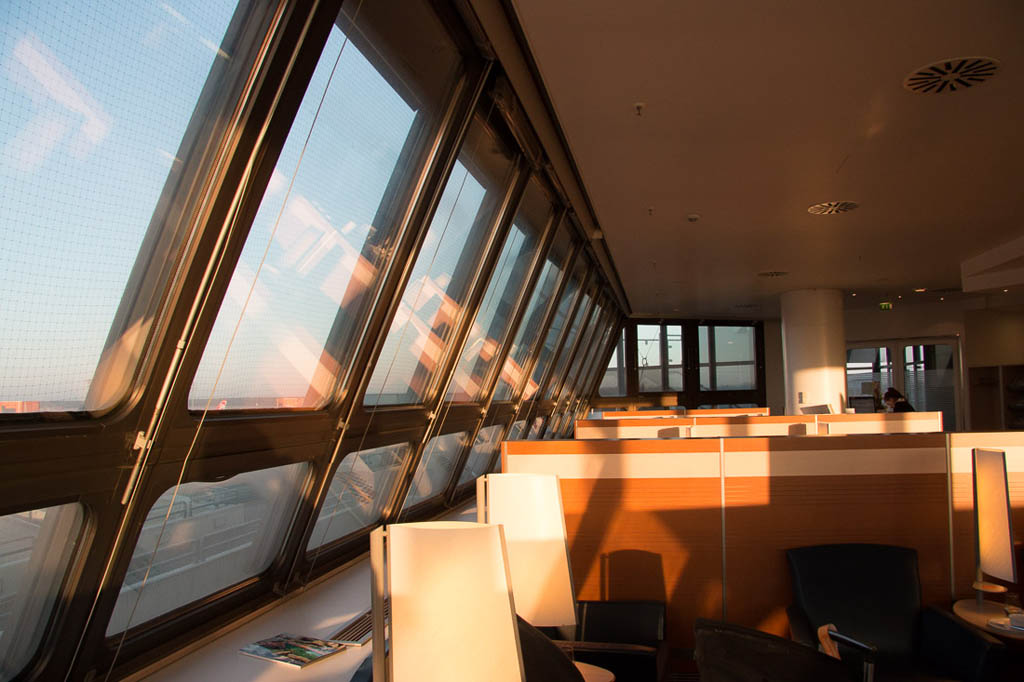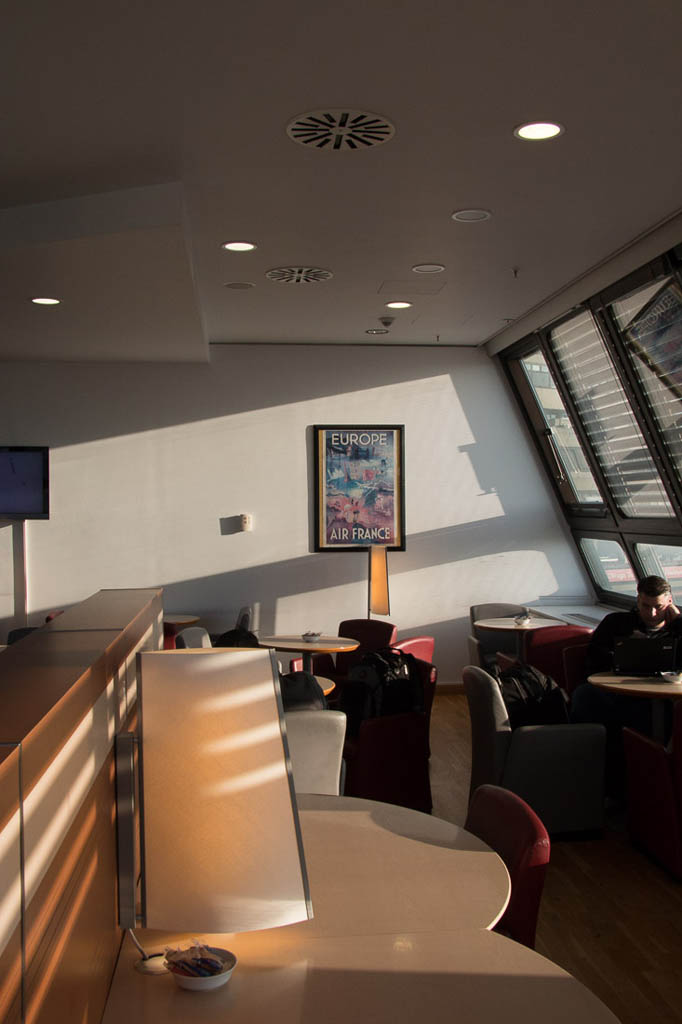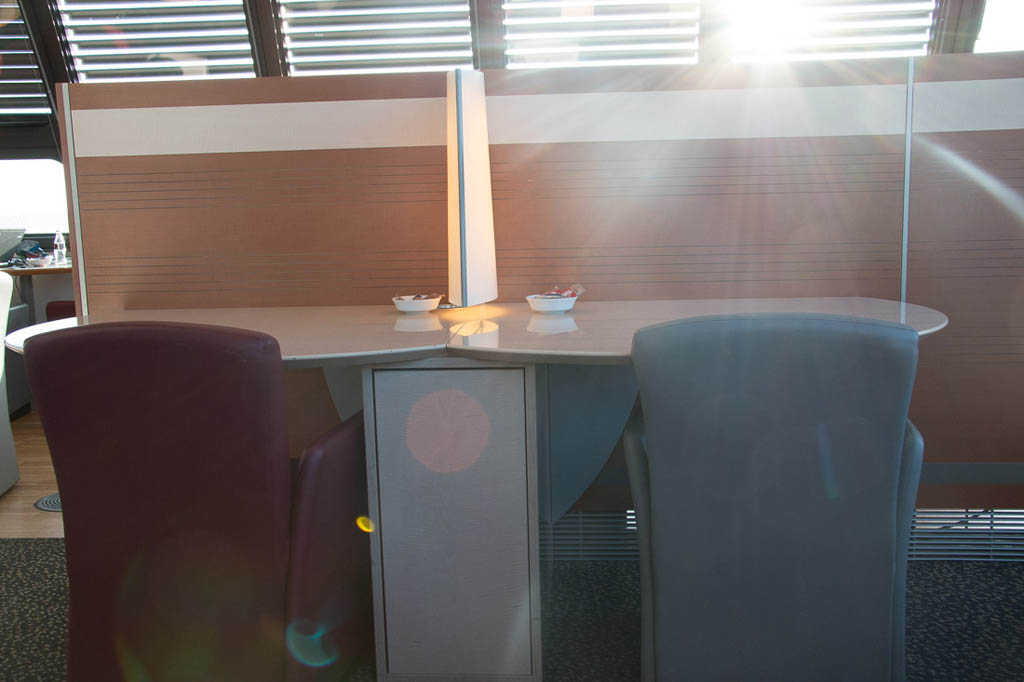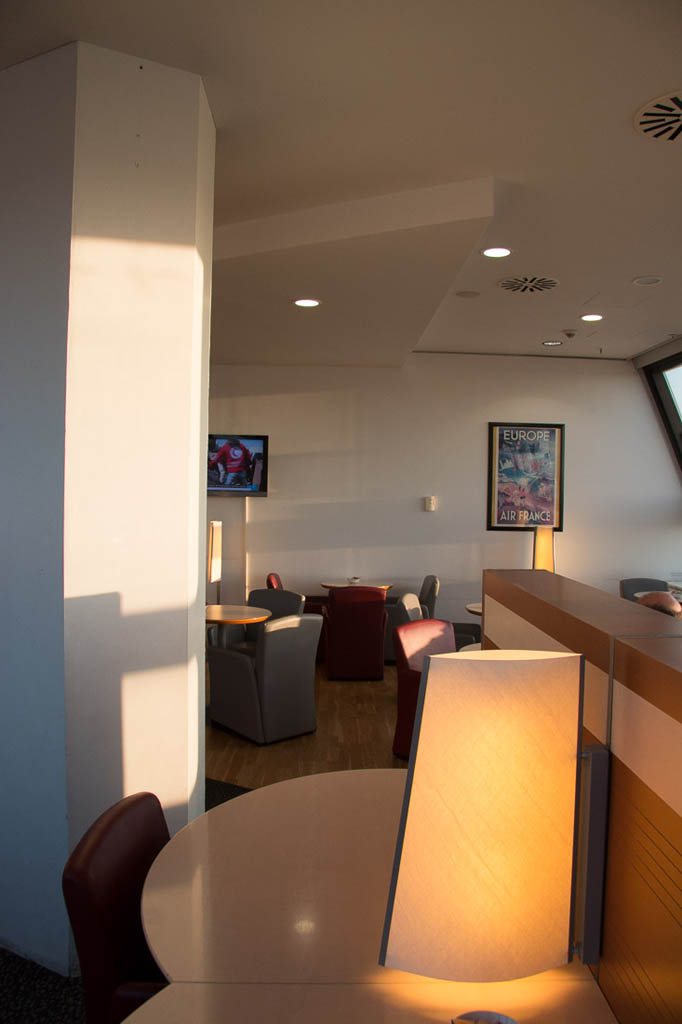 There were light snacks available, plus self-serve beverages, including beer and wine.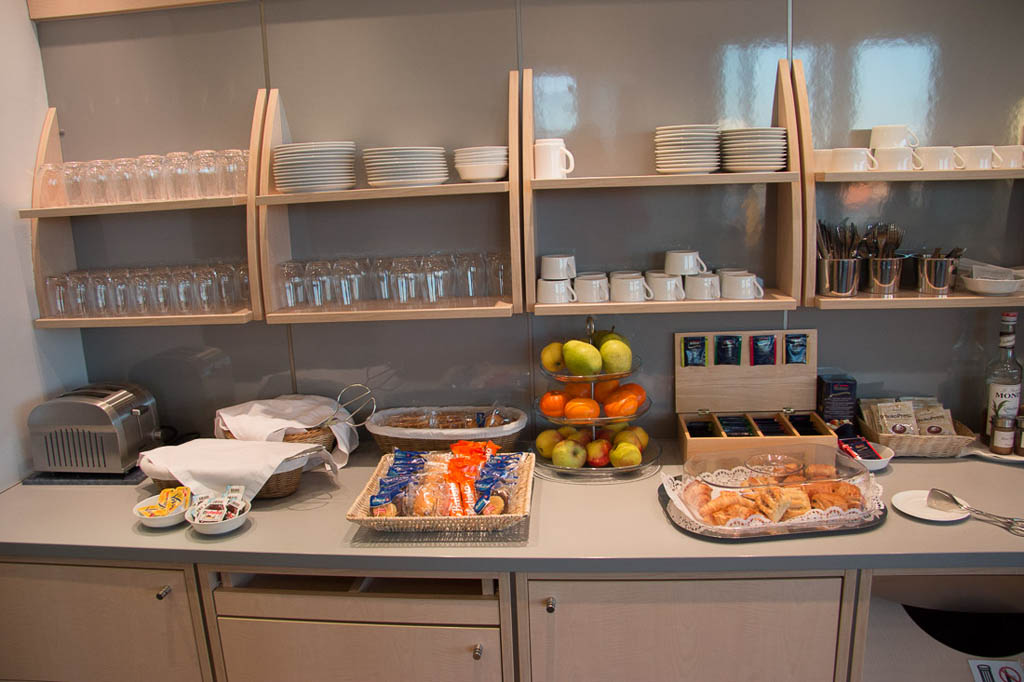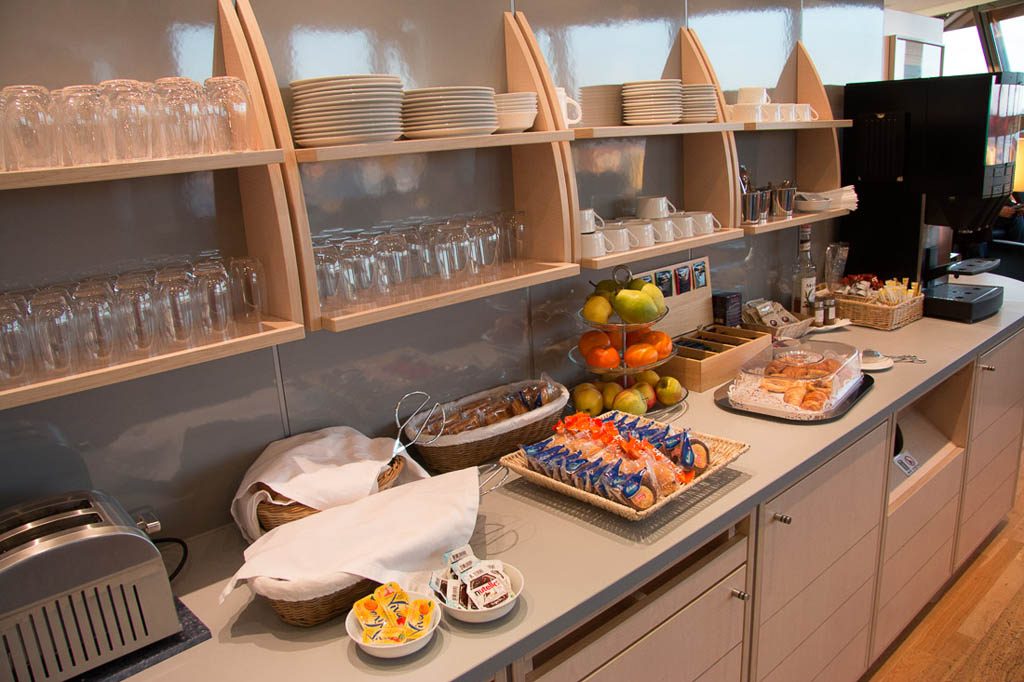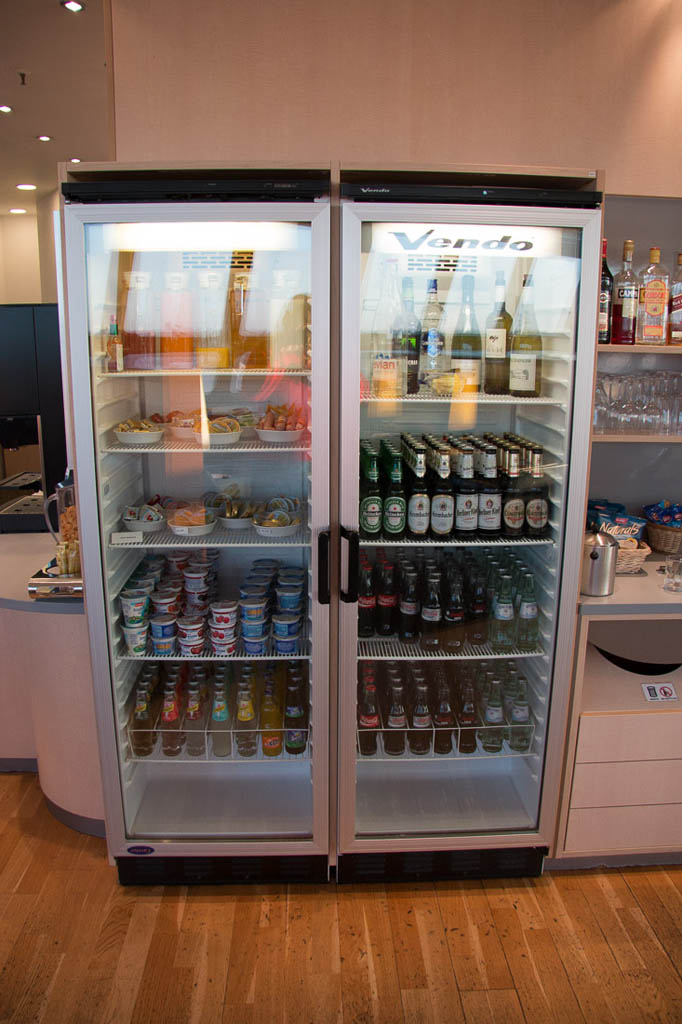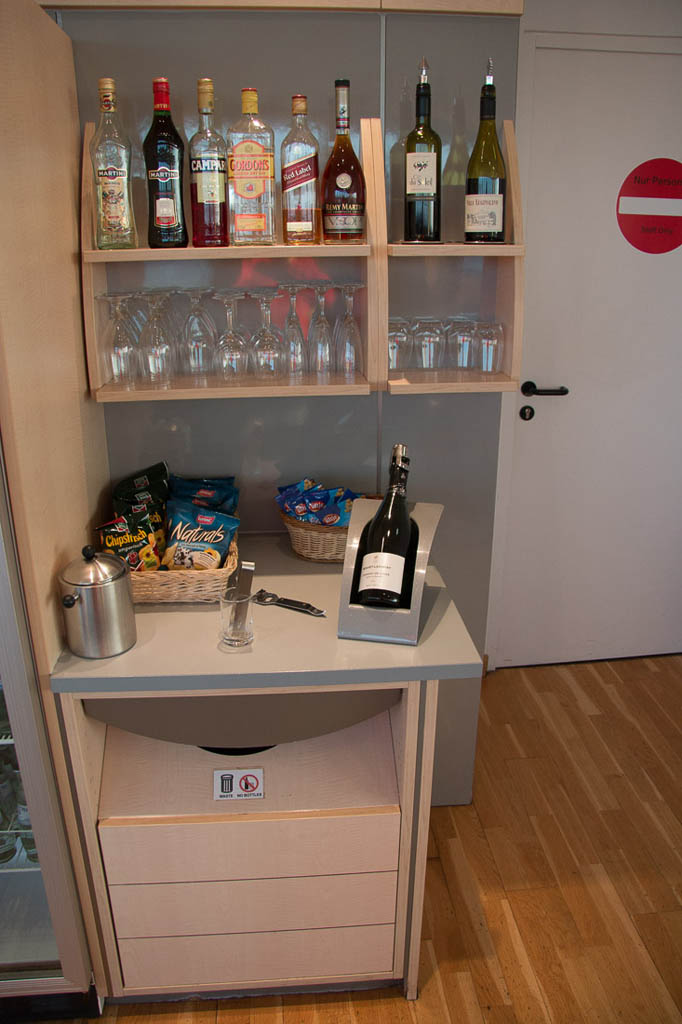 When we checked into the lounge, the receptionist said she would announce boarding for our flight. When 9:00AM came and went, we decided to ask if they had started boarding, or perhaps there was a delay. She said, "Yes, they're boarding now."
Umm, thanks for the heads up!
We rushed to the gate, where we transited security (security was done at each gate, not at a central location), and got on board.
Air Berlin Business Class A330 Review TXL-MIA
When we boarded, the business class cabin was already quite full.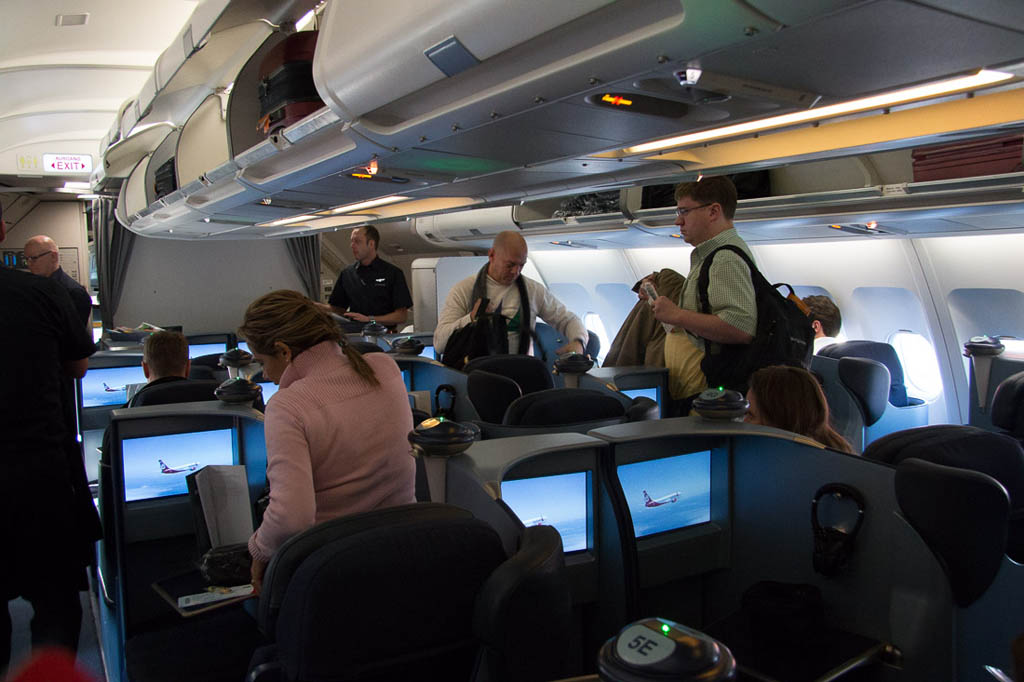 We took our seats in 1E and 1F. And while it was infinitely better than what coach would've been, I couldn't help but think that our seats looked pretty squishy.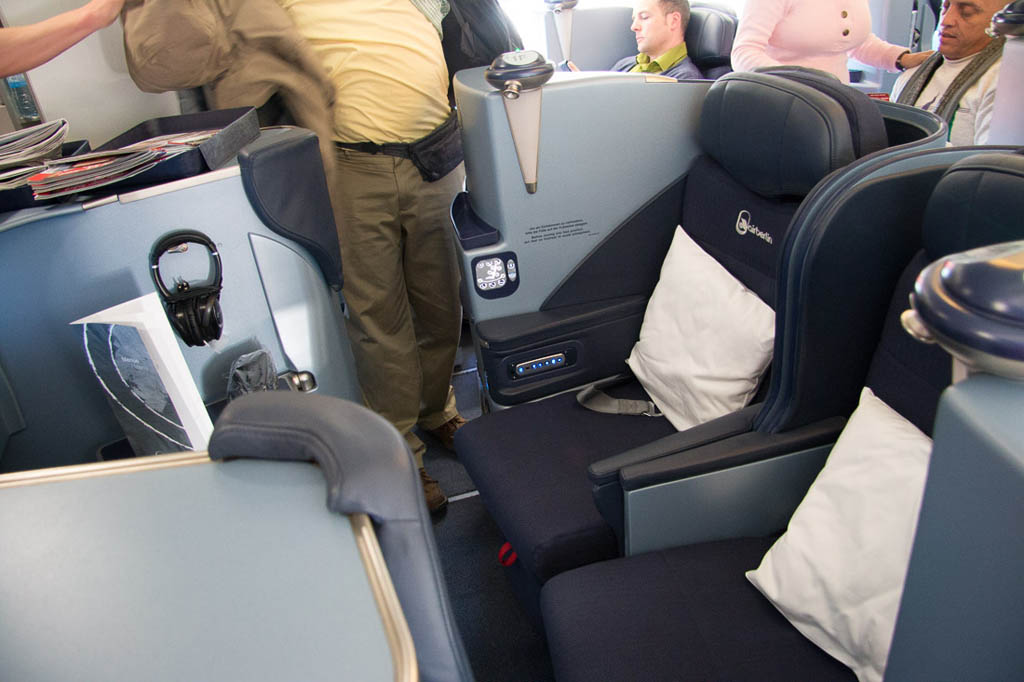 We were promptly offered drinks, and we both opted for orange juice.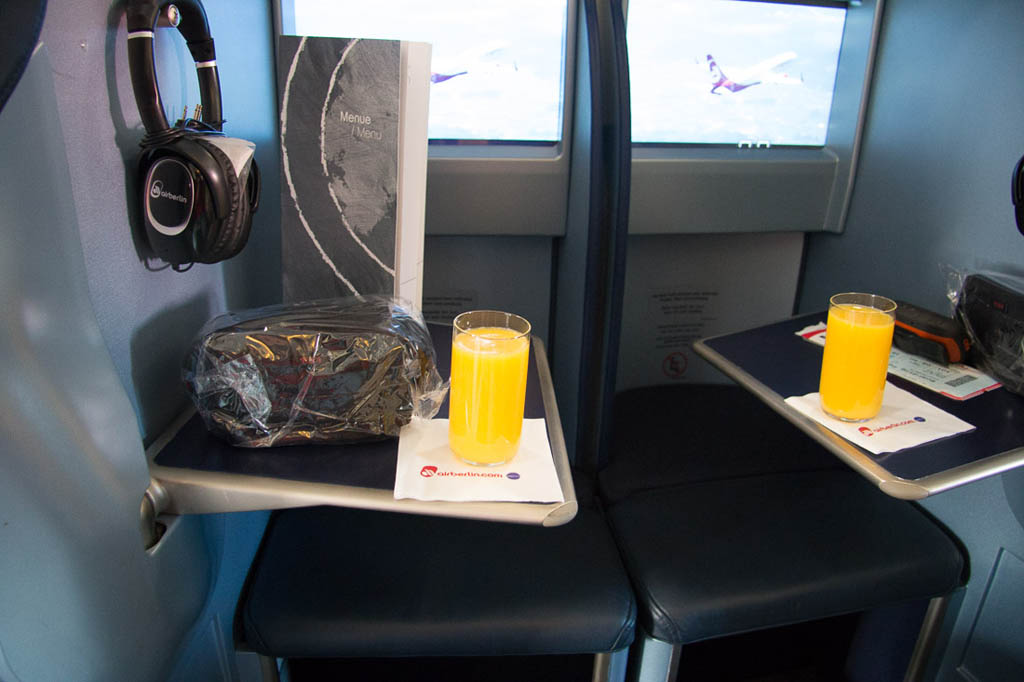 We had plenty of legroom, and enjoyed streching out our legs.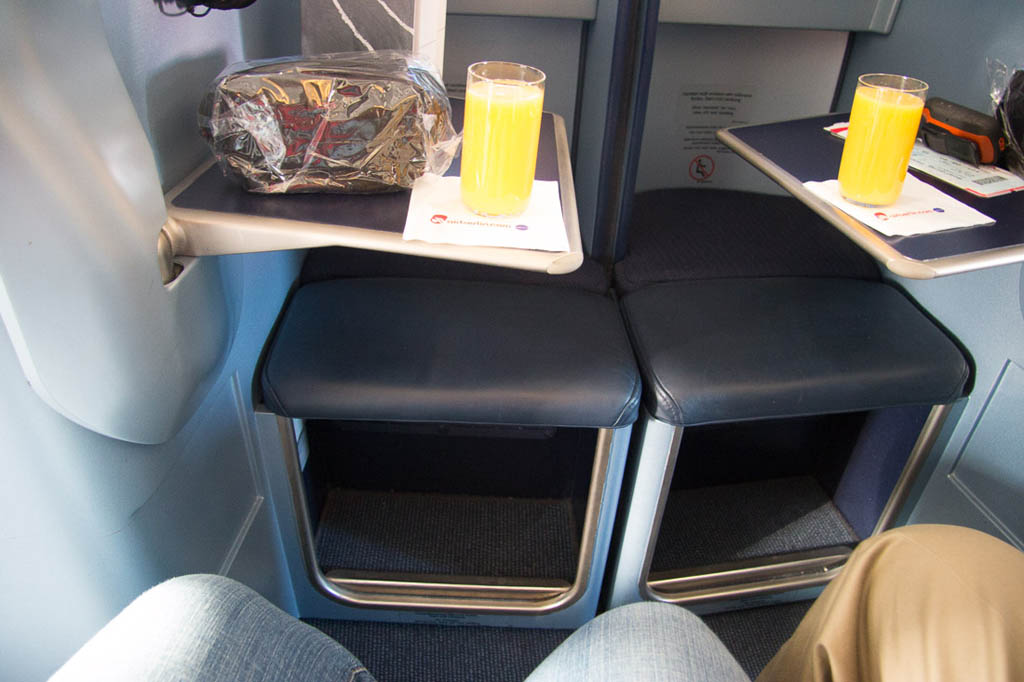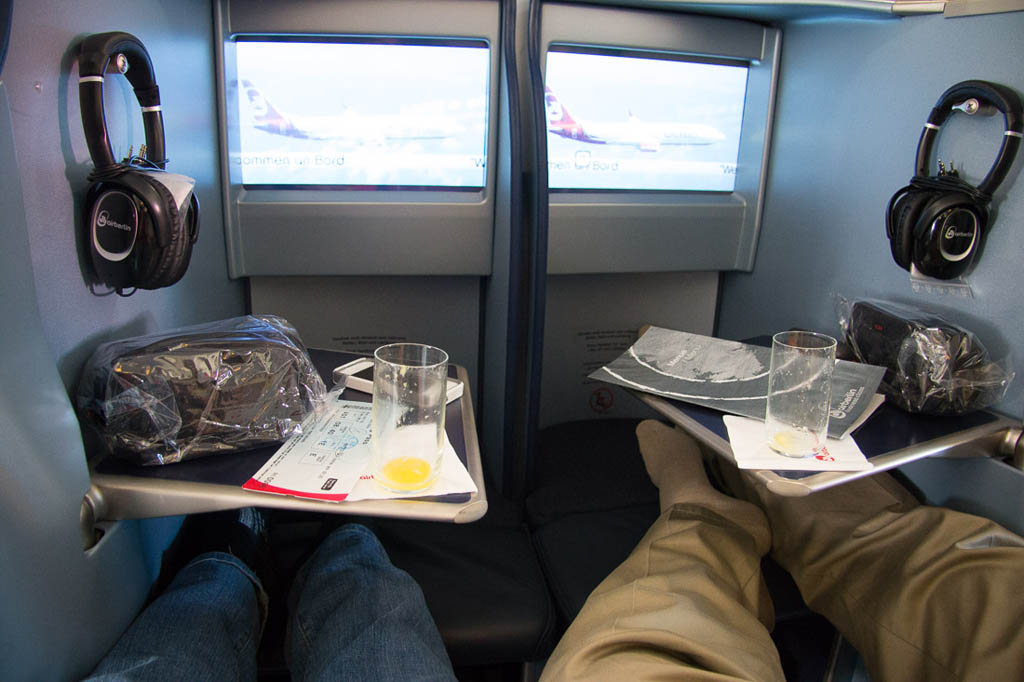 But, I will say one thing. The seats were WAY too close together. I love my husband and all, but if we both had our arms on the armrests, our elbows always touched. And during the course of a 10 hour flight, that is really REALLY annoying.
It also didn't help that the plane was swelteringly hot, so sharing body heat just worsened matters. I definitely would not recommend the E and F seats on rows 1, 3, and 5 on Air Berlin's business class product, especially if you are traveling by yourself. It was bad enough touching elbows with my husband. You wouldn't want that around a stranger. The seats A, D, G, and K have more privacy. (Check the seat map here).
Headphones were provided, and they worked well for the inflight entertainment. Seat controls were on my left hand side.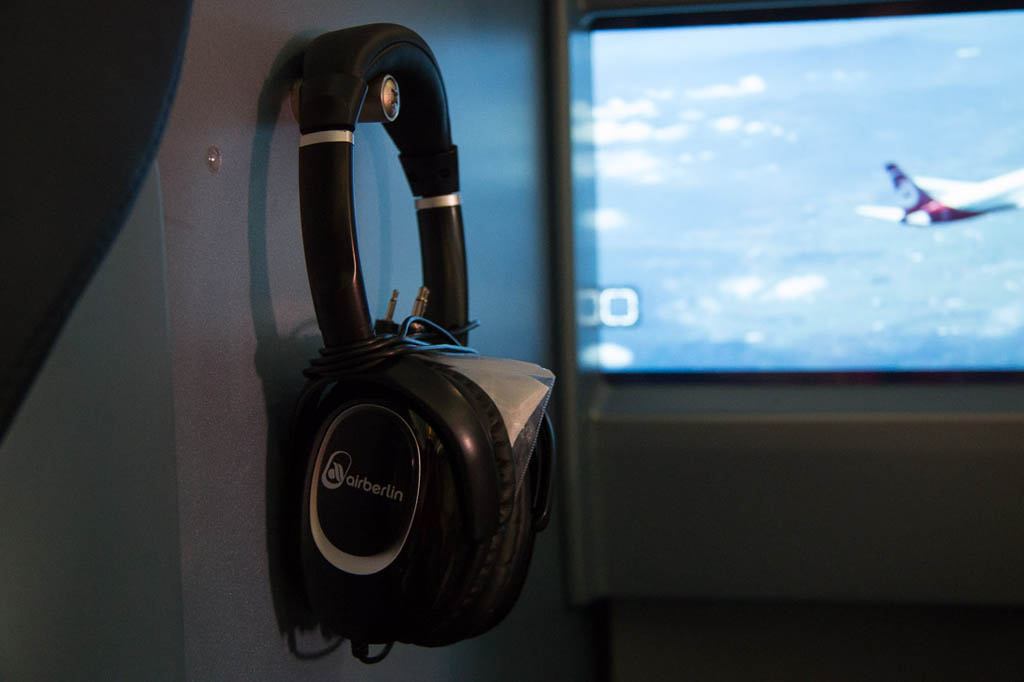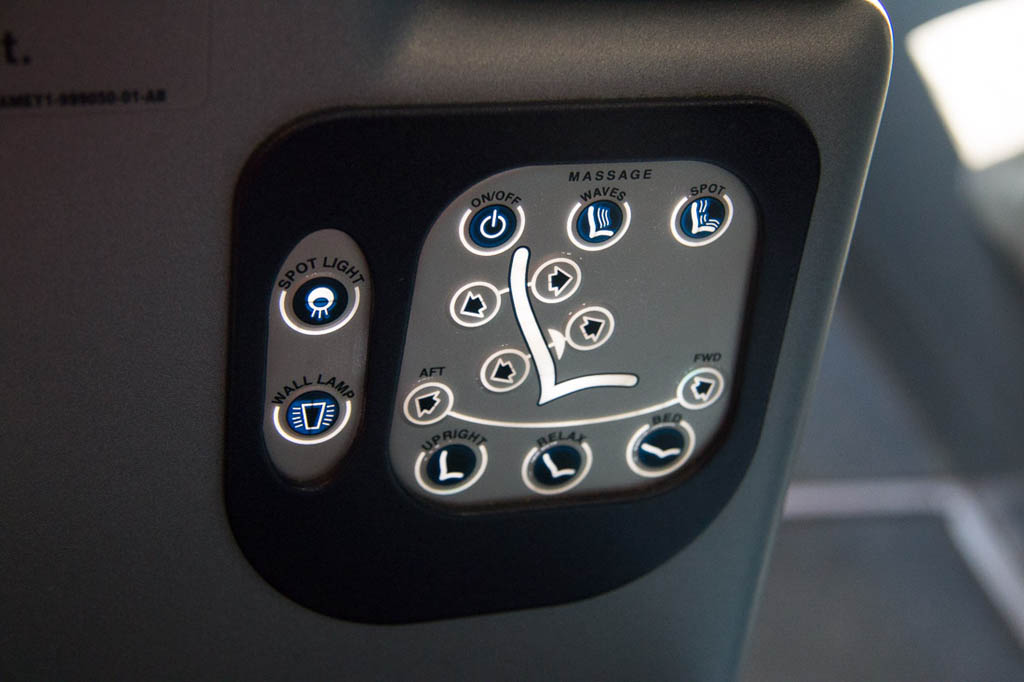 There was this dire-sounding warning next to our seats: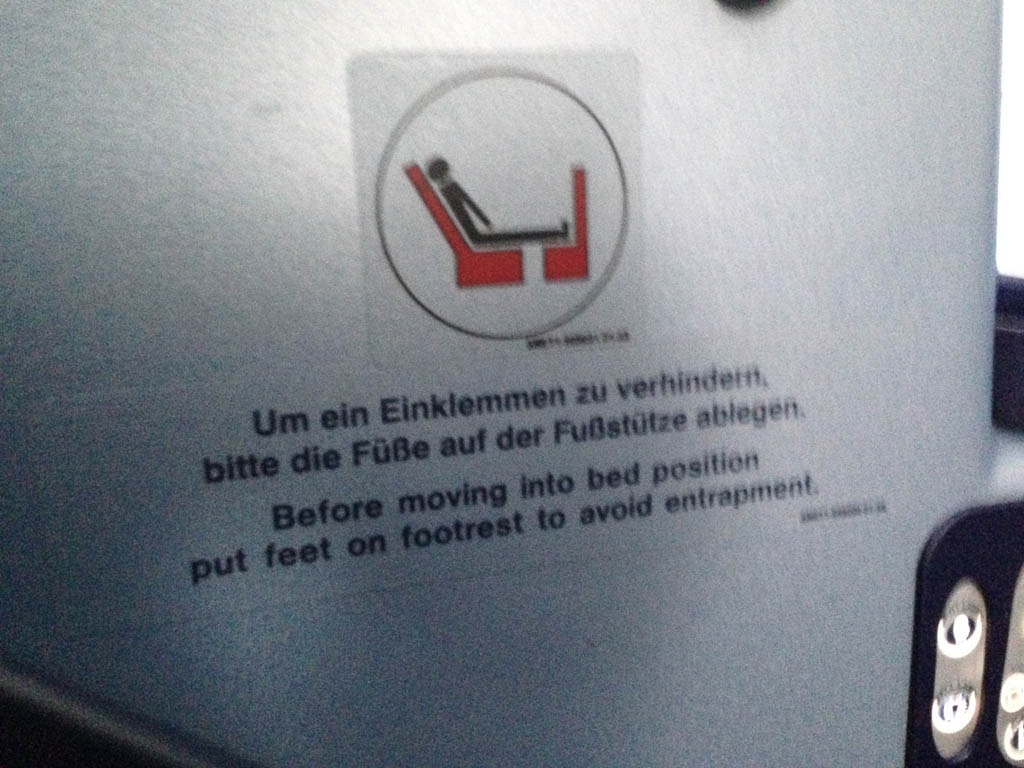 And there was a task light if needed.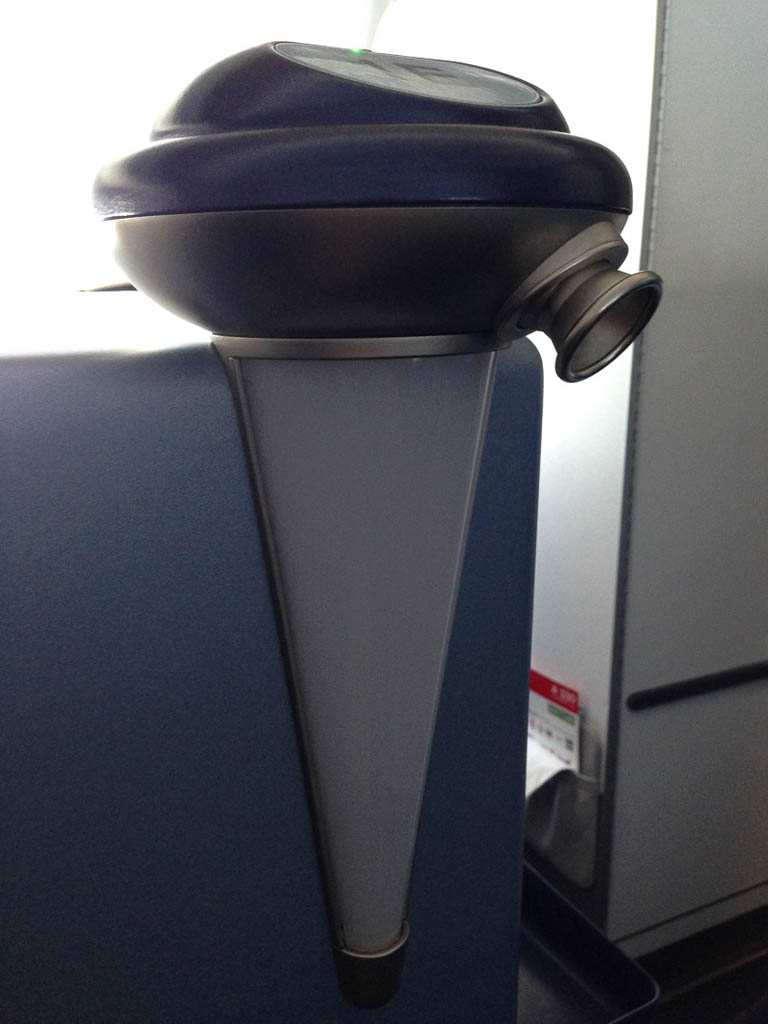 The opening to get into your seat was really tiny. I know that Ken and I can stand to lose a few pounds, but it was a really tight squeeze.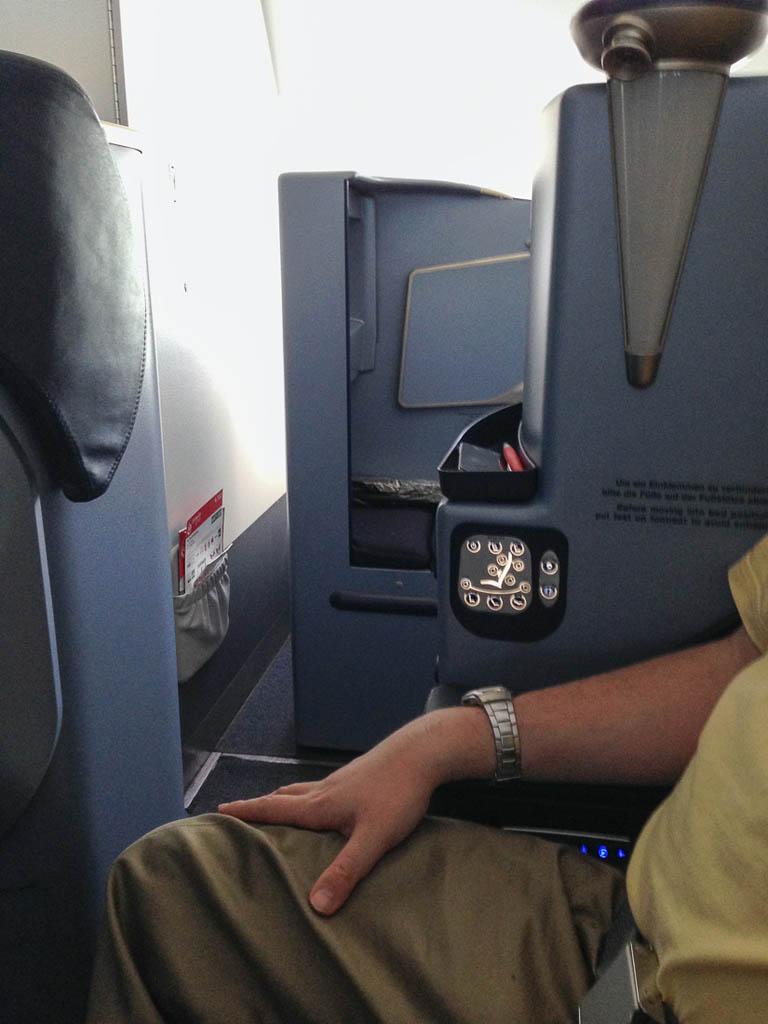 We were served lunch, which I actually thought was quite tasty. (My apologies, I did not get a photo of the menu, and I'm not sure what these dishes were).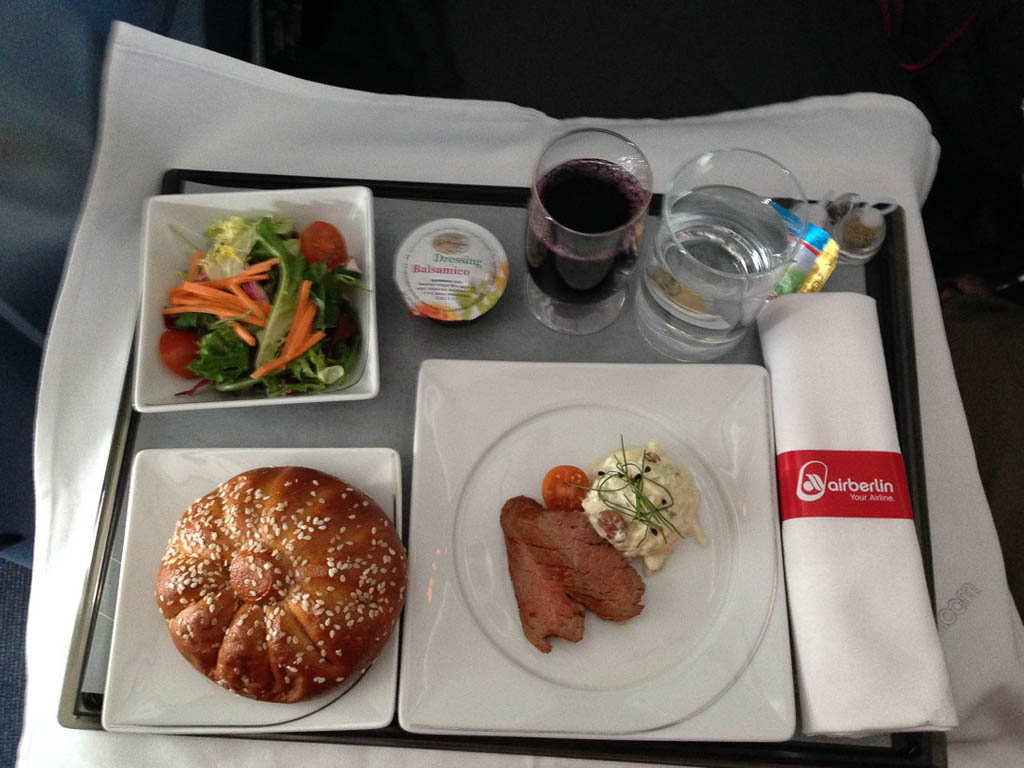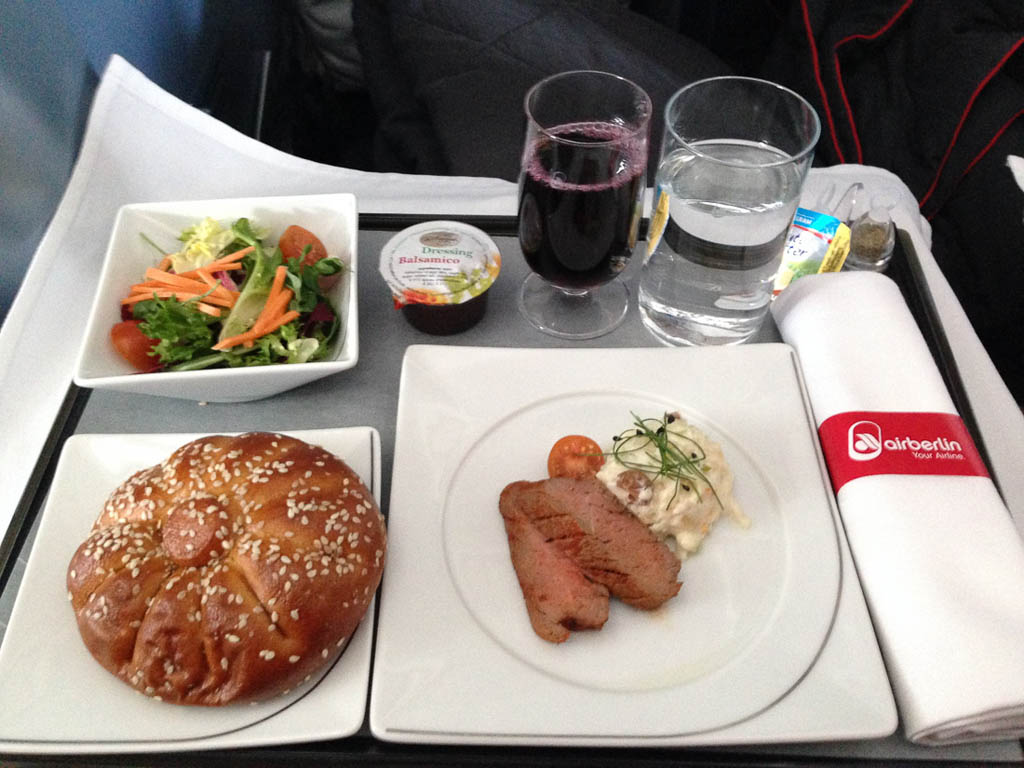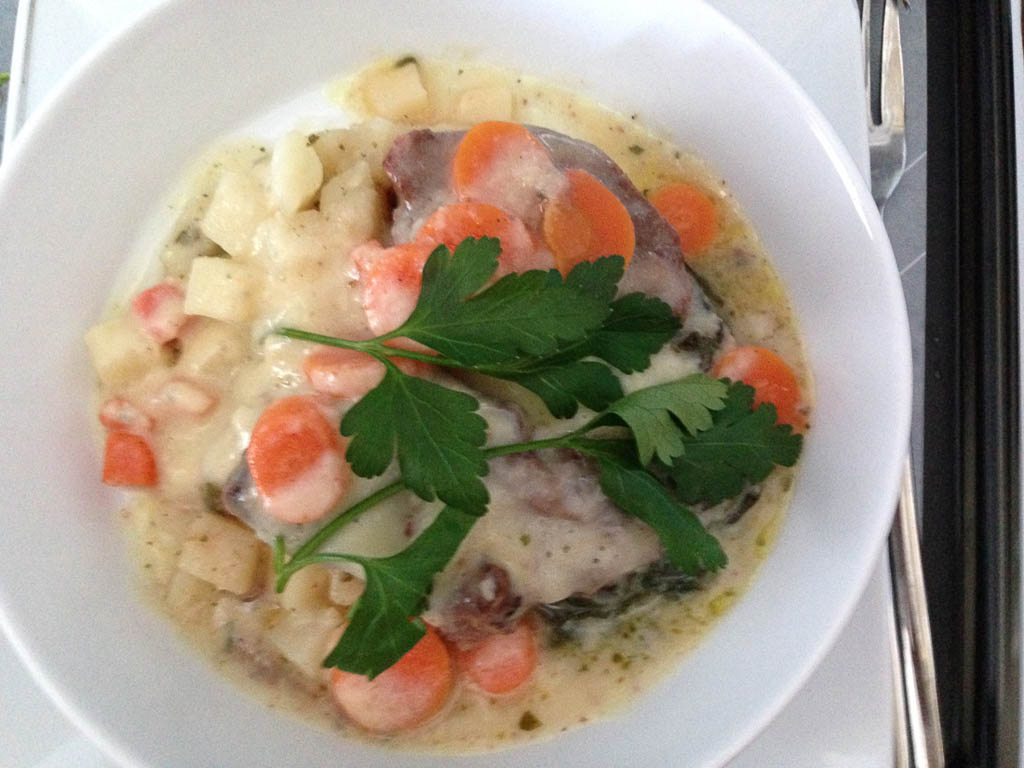 And even though the dessert looked slightly off-putting, it was great!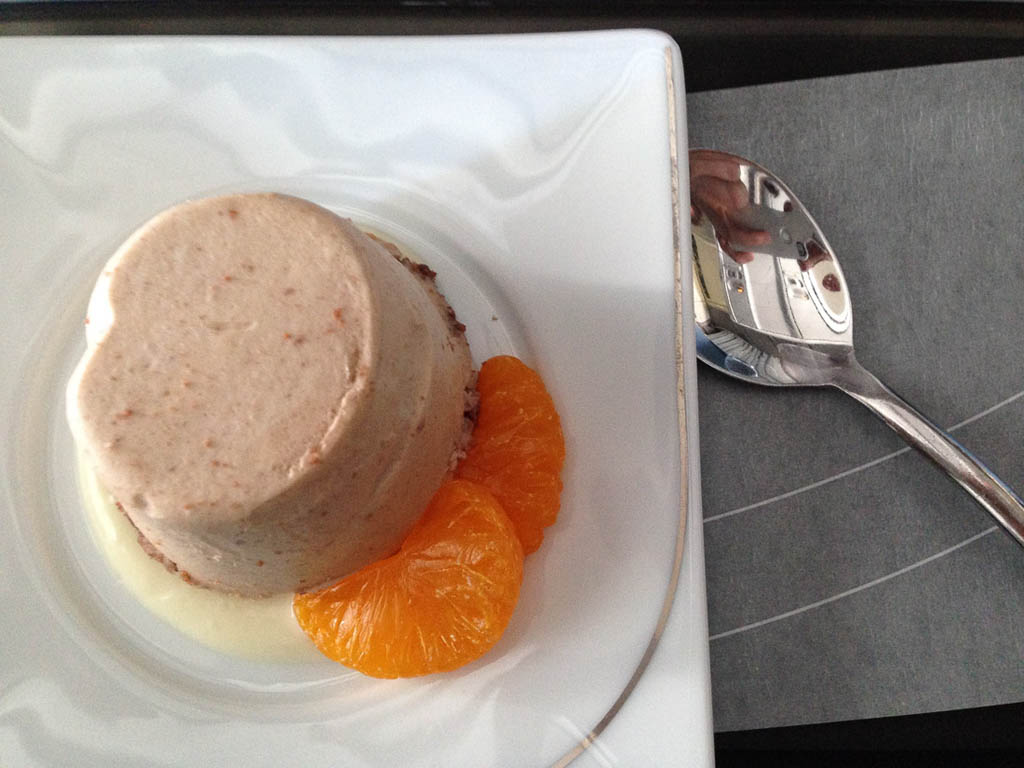 And with that, we were full!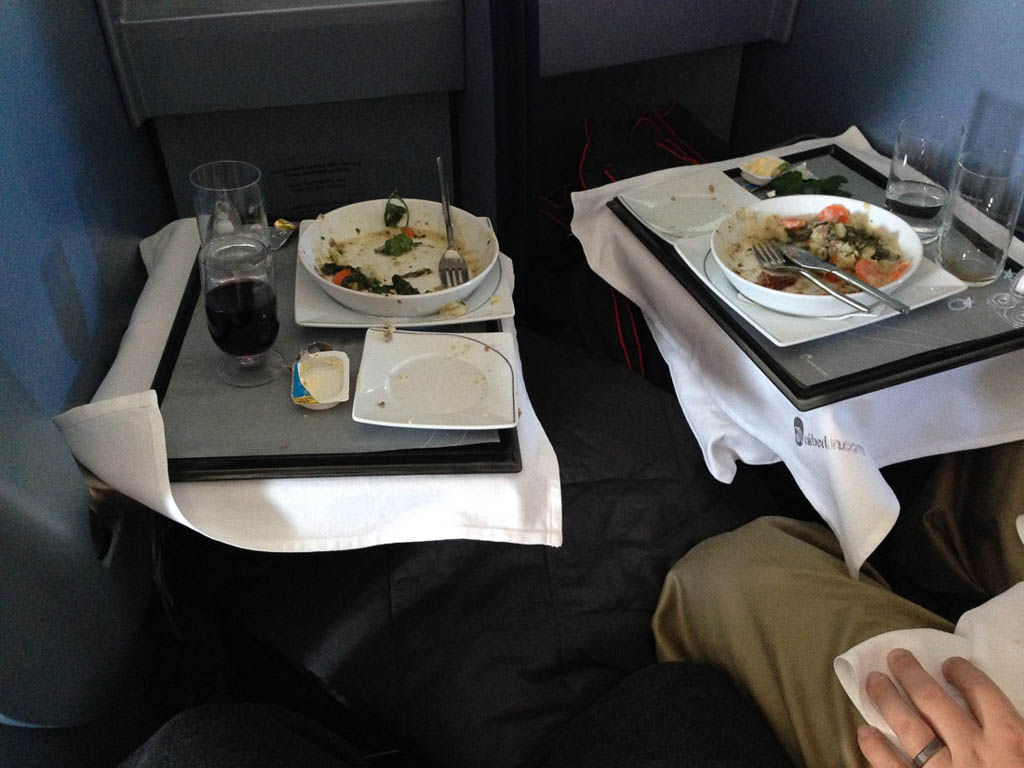 After lunch, we settled in for the long haul. However, thanks to the morning flight time, a good night's sleep the night before, and traveling 10 hours all during daylight, we weren't that tired. So sleeping to pass the time wasn't really an option.
I watched three full movies: Behind the Candelabra, The Butler, and No Country for Old Men. (I had actually seen No Country for Old Men in the theaters, but I thought it was worth re-watching!)
At some point, Ken's screen started acting up, and the flight attendant restarted it over and over until it started working again.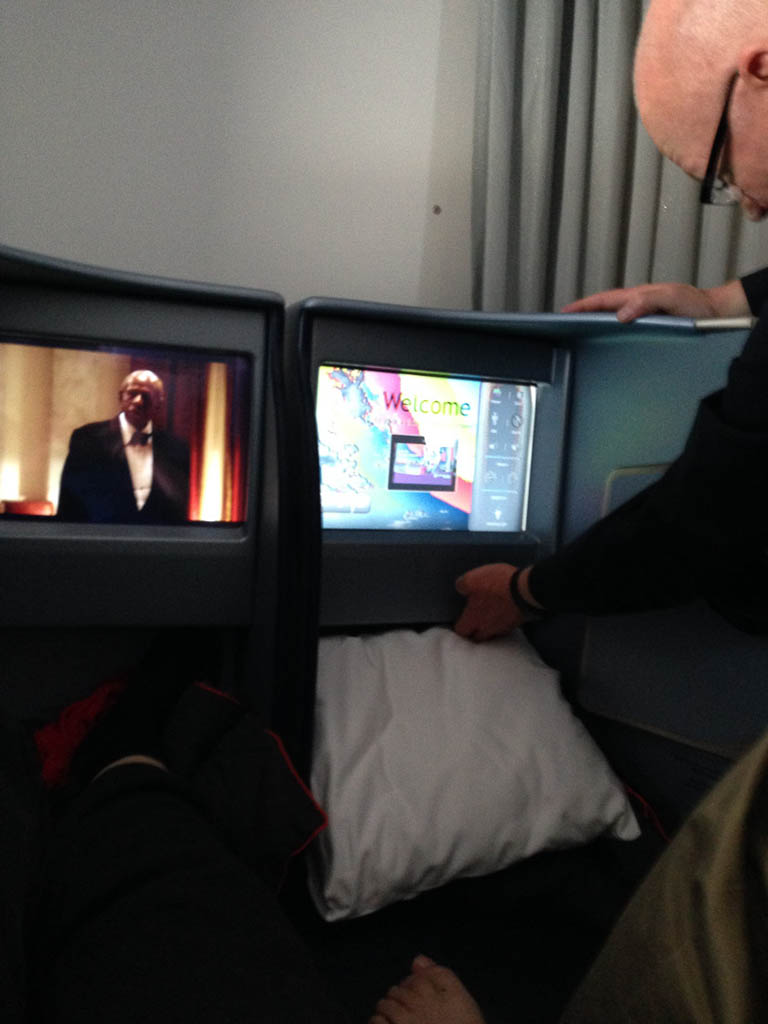 And finally, after what seemed like a painfully long flight, we started our descent into Miami.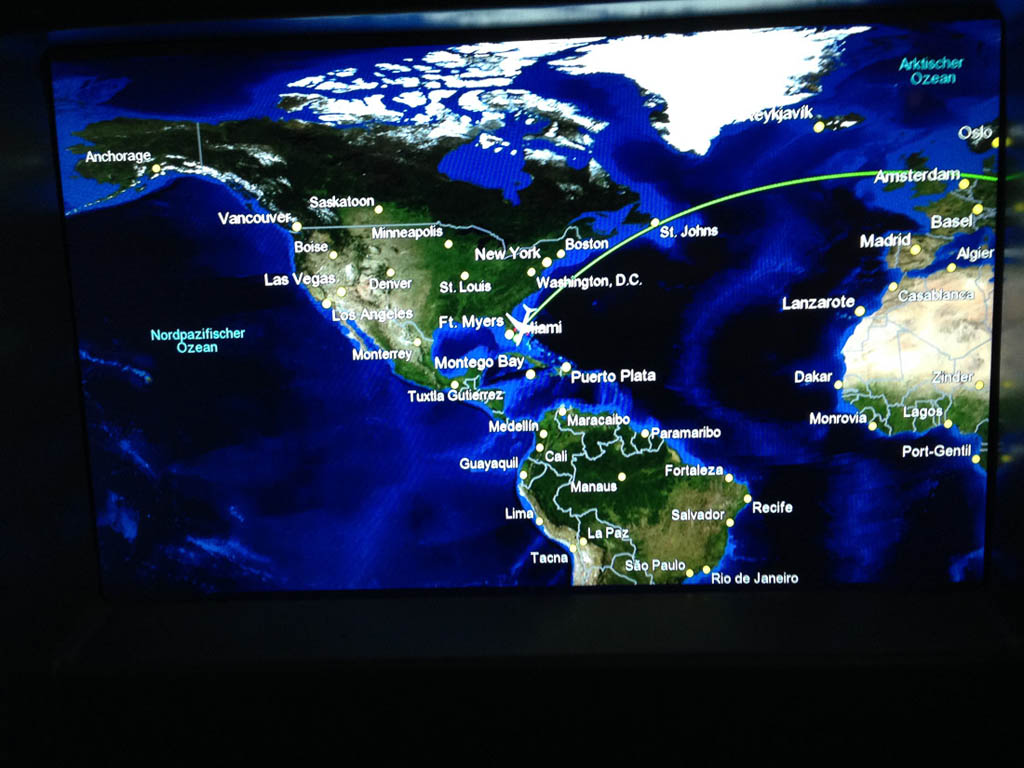 The Service
I thought the service onboard our flight was impeccable. We had three male flight attendants, and each one was polite and attentive. They always made sure my wine glass was full, and always remembered which wine selection I had made. Even when Ken was having trouble with his TV screen, the flight attendants kept working on it until it was fixed.
Bottom Line
Although I definitely enjoyed having the extra space compared to coach, Air Berlin Business Class seats were quite small and way too close to neighboring seats. But, given how easy it was to redeem AAdvantage miles on Air Berlin with low fees, I'd definitely take Air Berlin again if that was the best option.
---