This post may contain affiliate links. Please see my advertiser disclosure for more details.
---
For the first leg of our trip to get to Seattle for our Alaskan cruise, Ken and I had a short hop flight on American Airlines from Washington, DC National Airport to New York's LaGuardia Airport. Since our Cathay Pacific flight to Vancouver was leaving out of JFK, we had to take a taxi from LGA to JFK. It was a flat rate, around $40 I think, and relatively quick despite being the beginning of rush hour.
We had booked a fairly early flight from DCA-LGA to allow for flight delays and traffic delays to get to JFK, but as it turns out, everything went perfect. No flight delays, barely any traffic. So, once we arrived at JFK, we had to wait a while before the Cathay Pacific ticket counter opened before we could check in and proceed past security to get to the lounge. (We had been unable to check-in online!)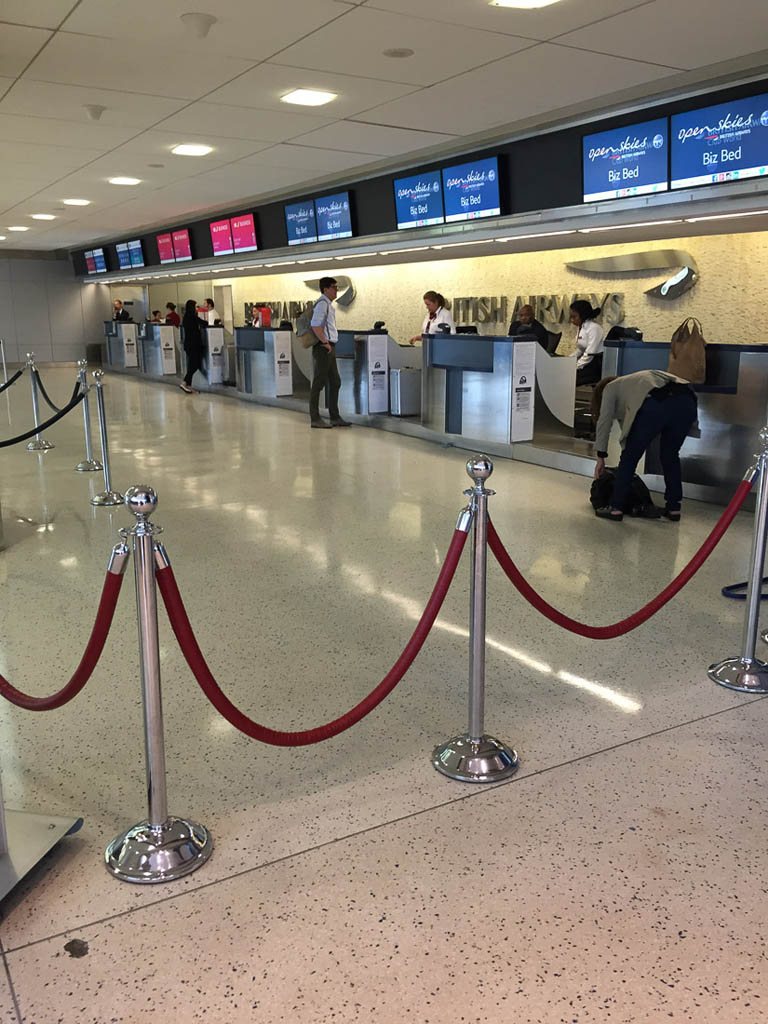 Check-in counter for Cathay Pacific and other international departures

Can I just point out that the location of the TSA screening line was SO ridiculous at JFK. It was actually on some sort of ramp, so everybody's suitcases would tip over backwards while waiting in line. And, as the bags came off the conveyer belt and onto the rollers, the bags would drift backwards. Not very well designed!
After we made it through security, we made our way to the British Airways international departures lounge, which first and business class Cathay Pacific passengers are allowed to use.
The lounge is split into two sides: The First Class passenger side and the Business Class passenger side.
As I alluded to in our introduction post, I had originally booked two business class tickets on Cathay Pacific, knowing that they usually open up first class availability at the last minute. The idea was that I would switch our seats from business class to first class. About two months before our departure, ONE first class seat opened, and I jumped on it, booking it in Ken's name. And I kept checking and checking for one more seat to come available. There were four open seats in first class according to ExpertFlyer (meaning that only two seats were booked, one of which was Ken's).
Long story short, a second first class seat NEVER opened. I checked all the way until the morning of our departure. The flight did, in fact, go out with FOUR empty first class seats. Ken and I had talked about it, whether we both just wanted to sit in business class together, but I told him I really wanted him to experience Cathay Pacific First Class. So, I sat in business and he sat in first.
Anyway, all this to say that we had access to BOTH sides of the British Airways lounge. The first class side (Ken as a passenger plus me as his guest), and the business class side (which both first and business class passengers can access.)
So, first we went to the first class side, assuming it would be nicer. It was quiet and clean, with a decent spread of food. I'd say about 70% of the seats were full, so there wasn't a huge issue with seating. But the biggest problem was the absolute SWELTERING heat in the lounge. It was early June, but it really wasn't THAT hot outside. maybe like the upper 70s. In fact, it was downright pleasant outside for summer weather. So the heat in the lounge was downright perplexing.

British Airways First Class lounge | Cathay Pacific First Class lounge at JFK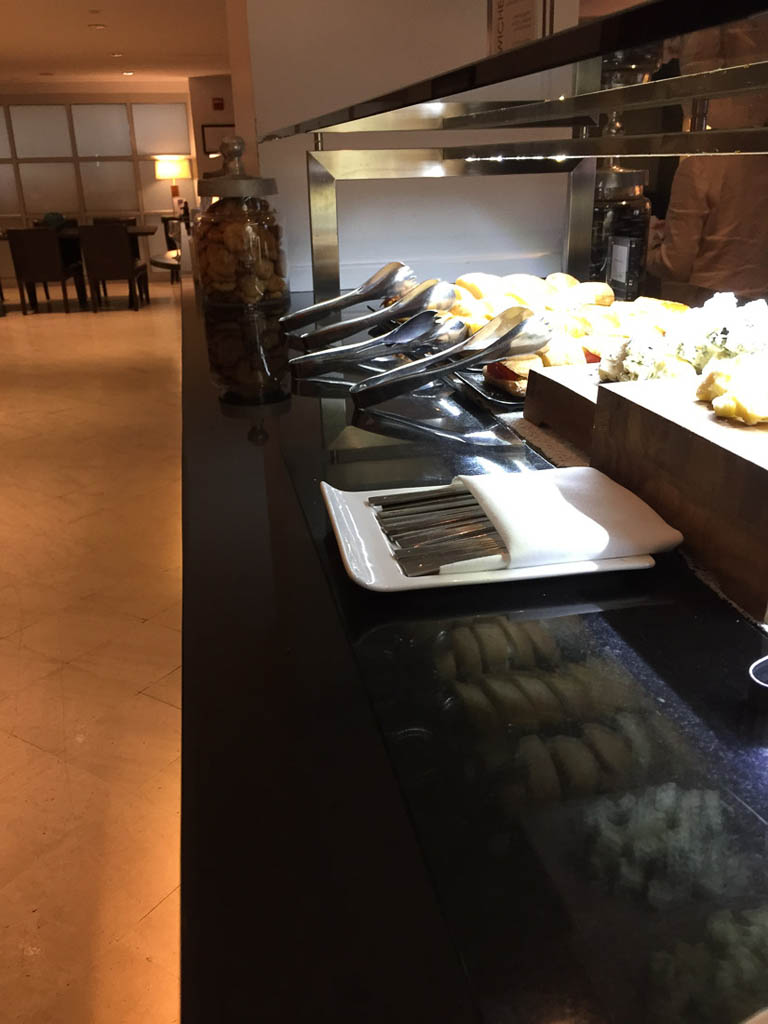 Food spread at British Airways first class lounge at JFK
So, Ken ventured off to check out the business class lounge side while I saved our seats in the first class lounge.
Within a few minutes, I get a text from Ken. The below photo was attached along with the caption, "See if you can come find me on the business class side."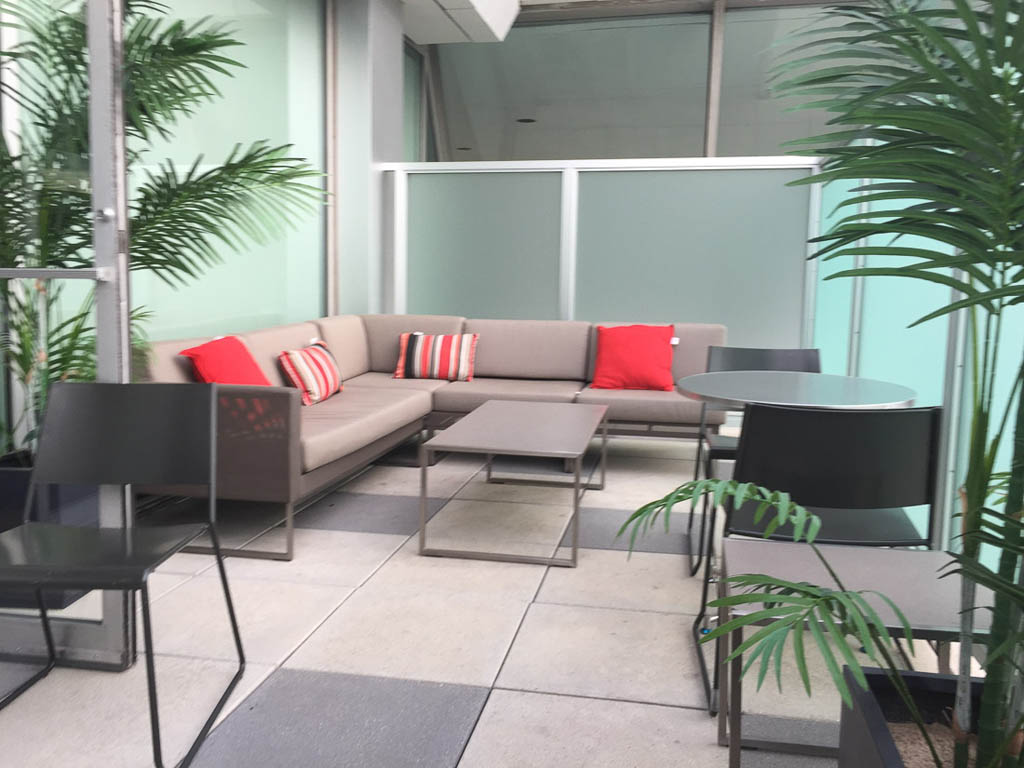 I was all like, "Huh?" I gathered up my bags and headed to the business class side. It took me a few minutes to figure out where on earth he could be in an outdoor seating area, but I finally found it!
We sat down on the lovely outdoor couches and enjoyed the gorgeous June air while we waited for our late night Cathay Pacific flight. It was truly a perfect spot to lounge.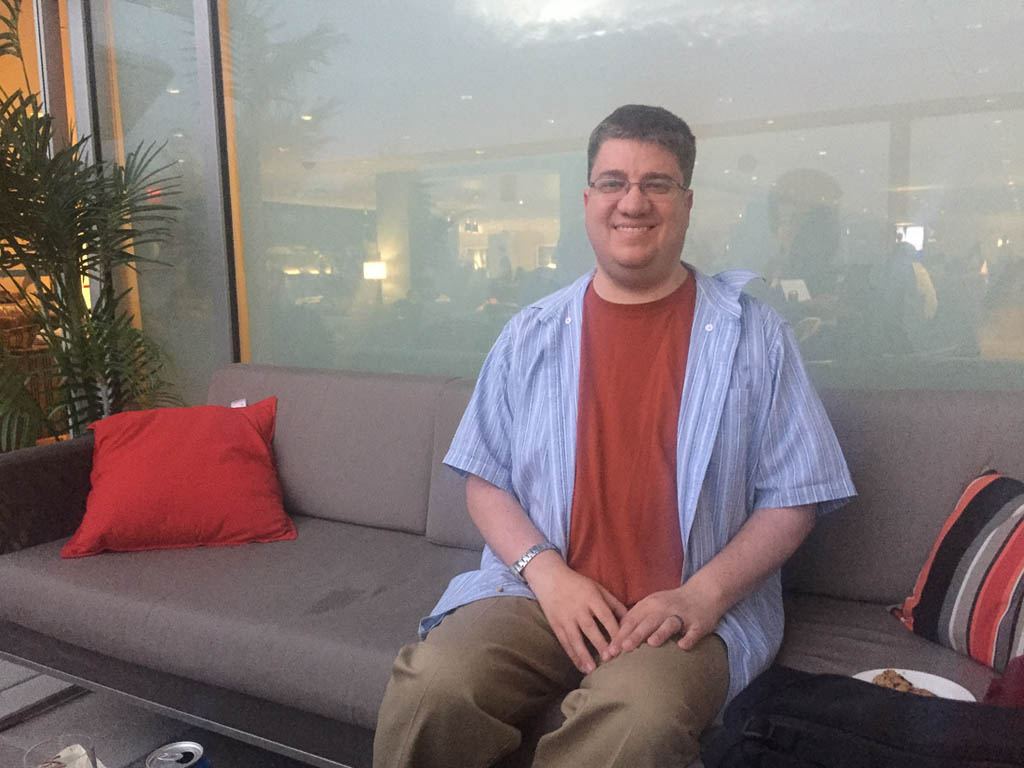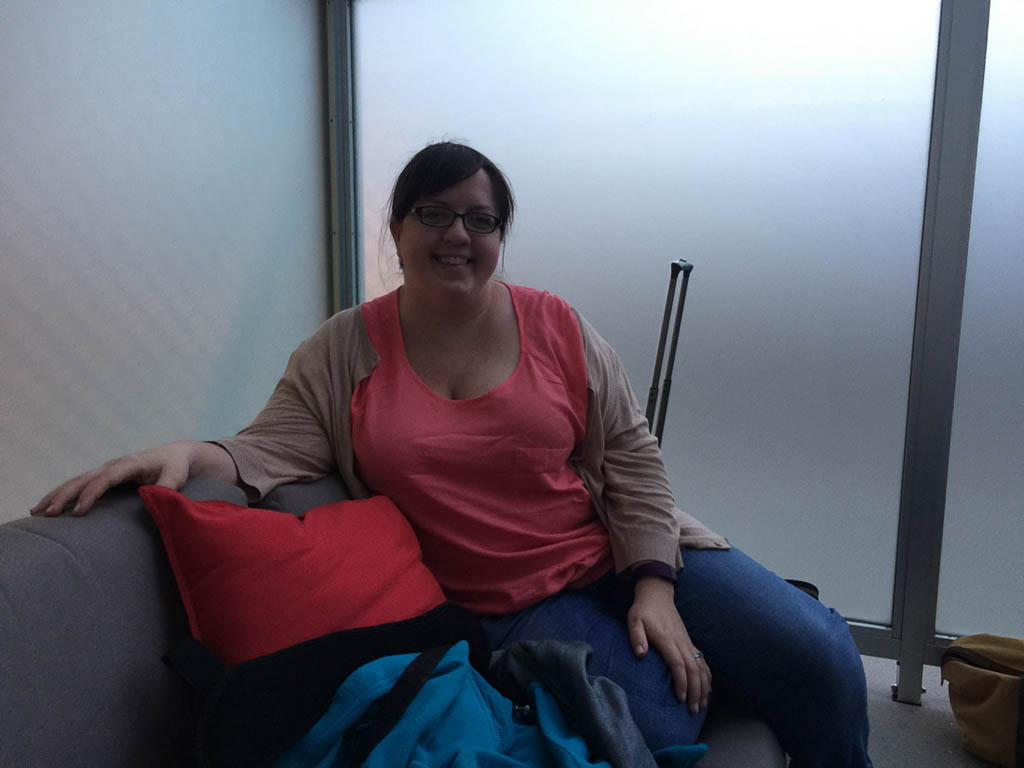 Now that we weren't completely sweating like we were on the first class side, we were able to sit back and enjoy the lounge.
There were multiple buffet and alcohol stations throughout the lounge.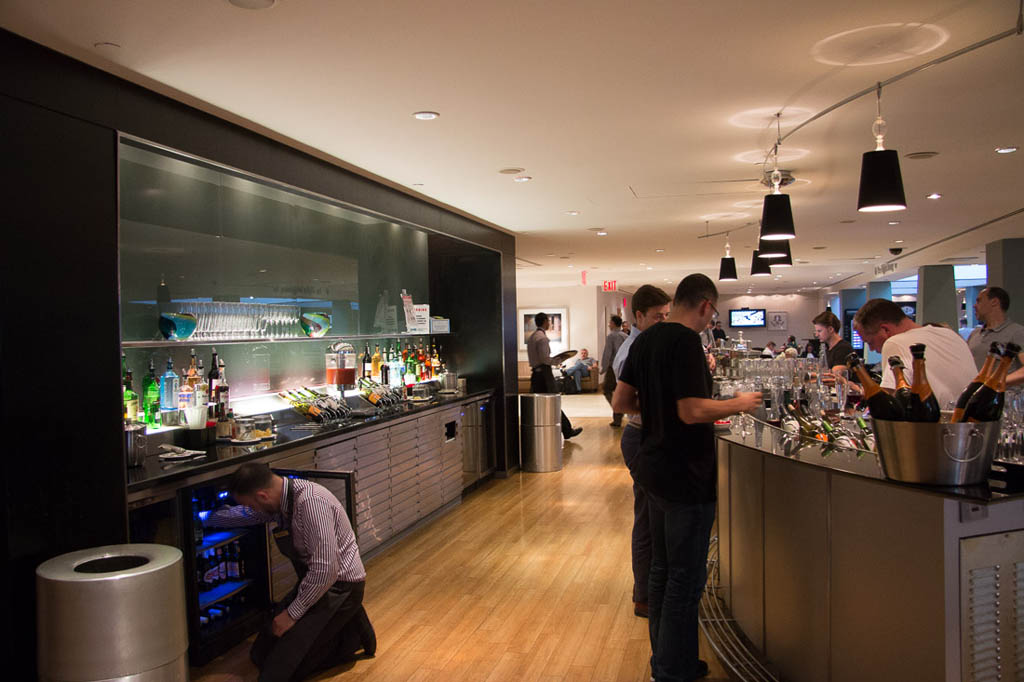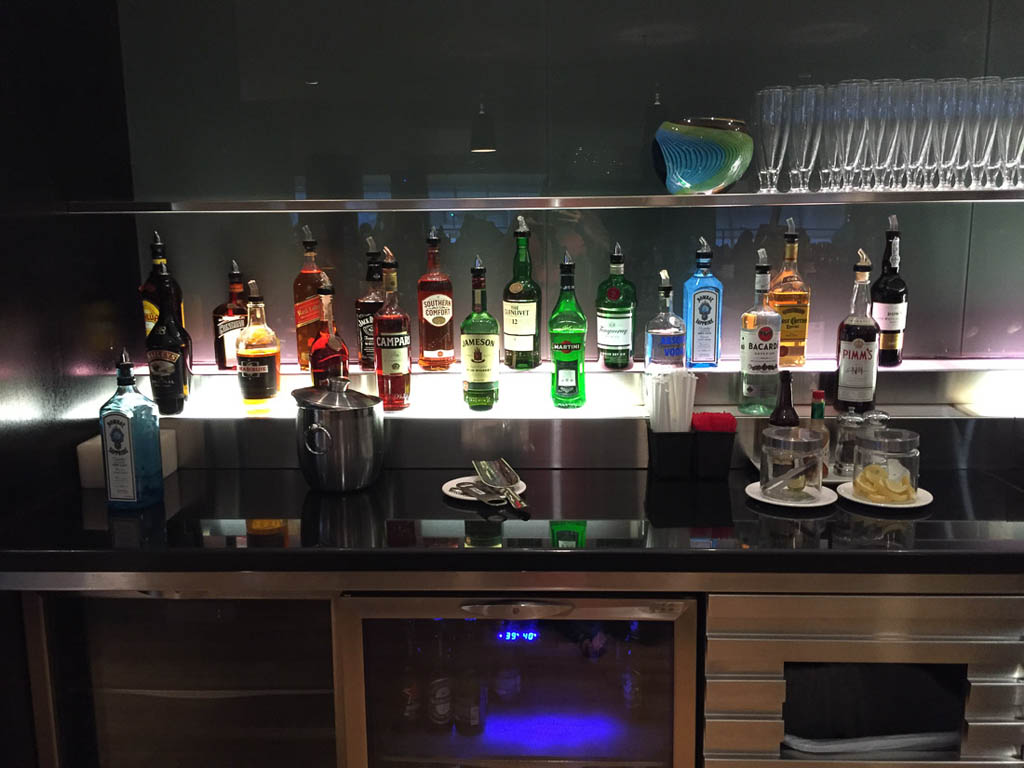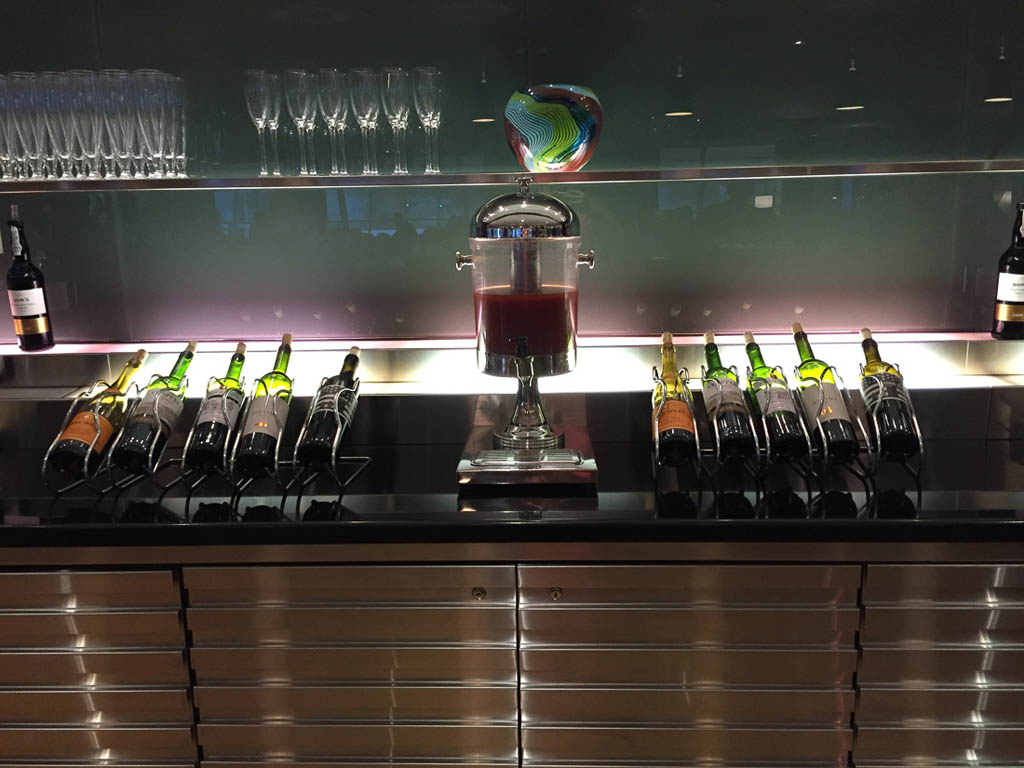 The food and snacks servings were decent.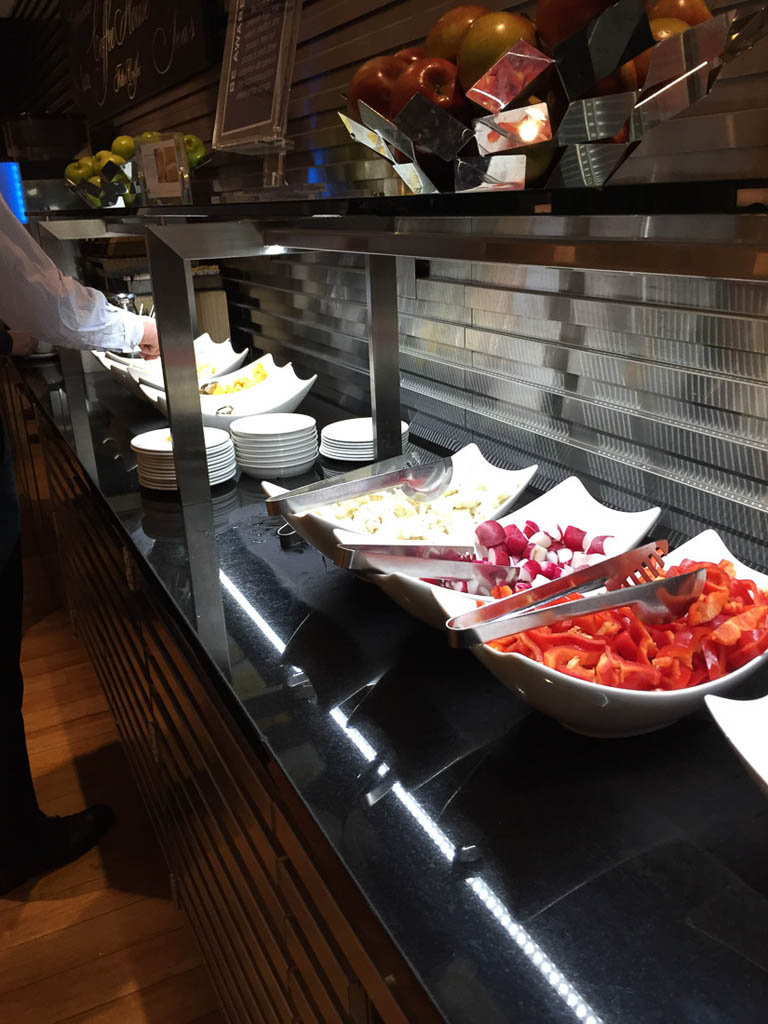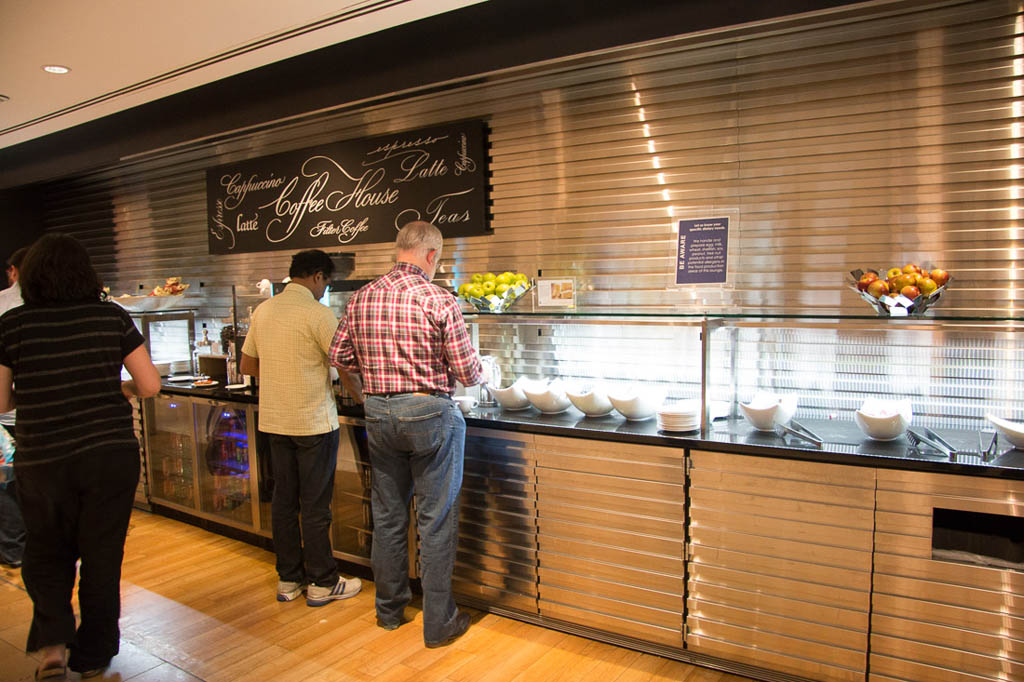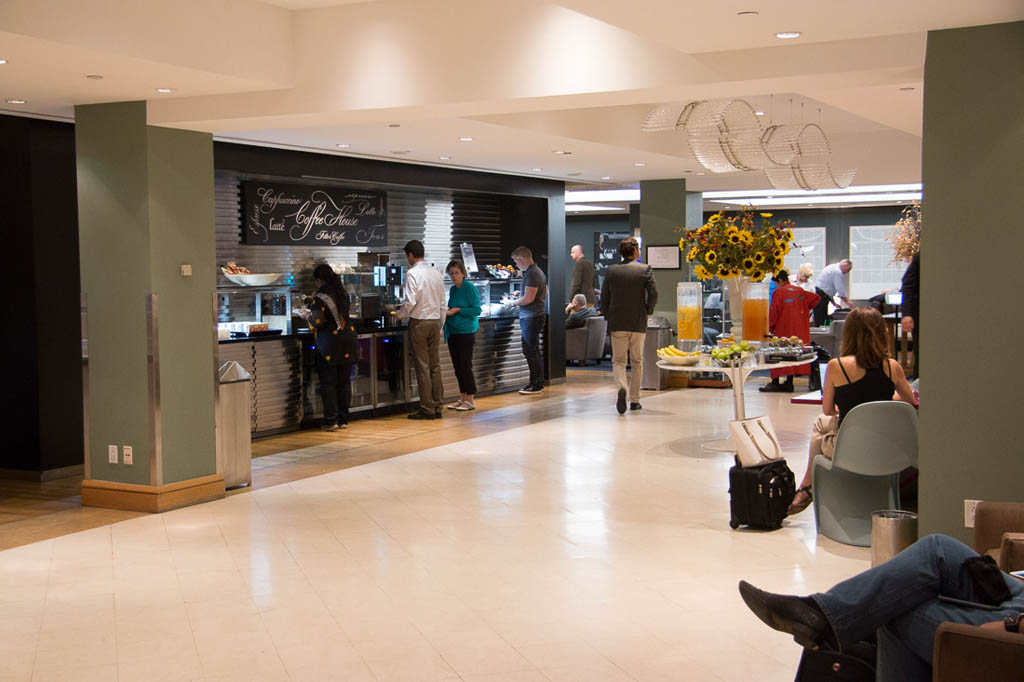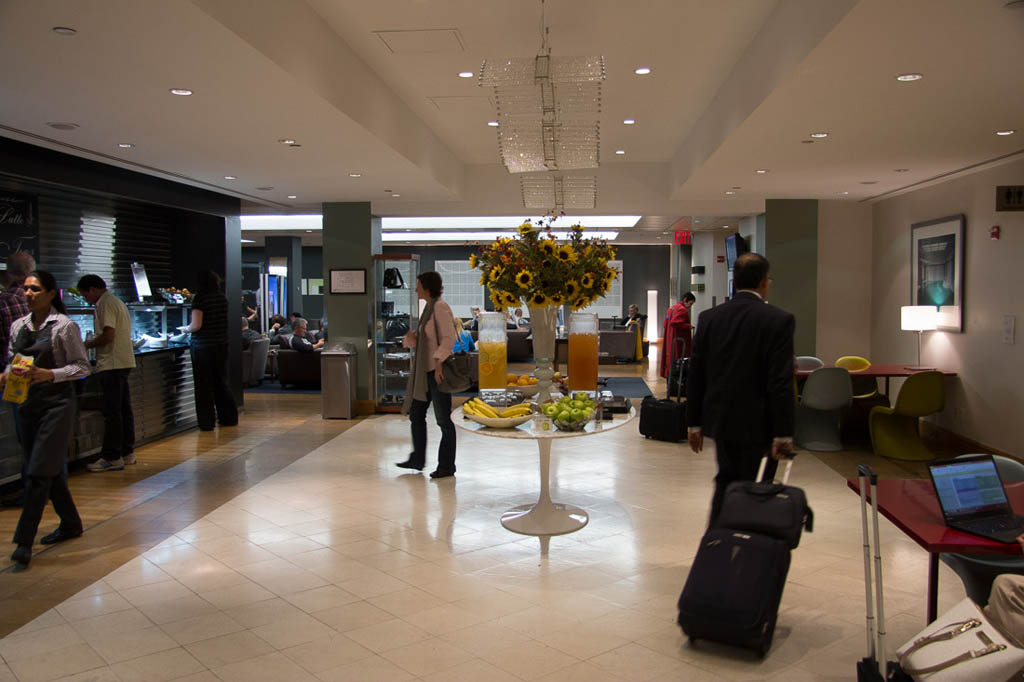 The business side was more crowded and definitely more bustling than the first class side, but there was almost a festive atmosphere in the lounge. There was a LOT of seating in the lounge, but most of it was full, as it seemed this was prime departure time for a lot of the flights that can use the British Airways lounge.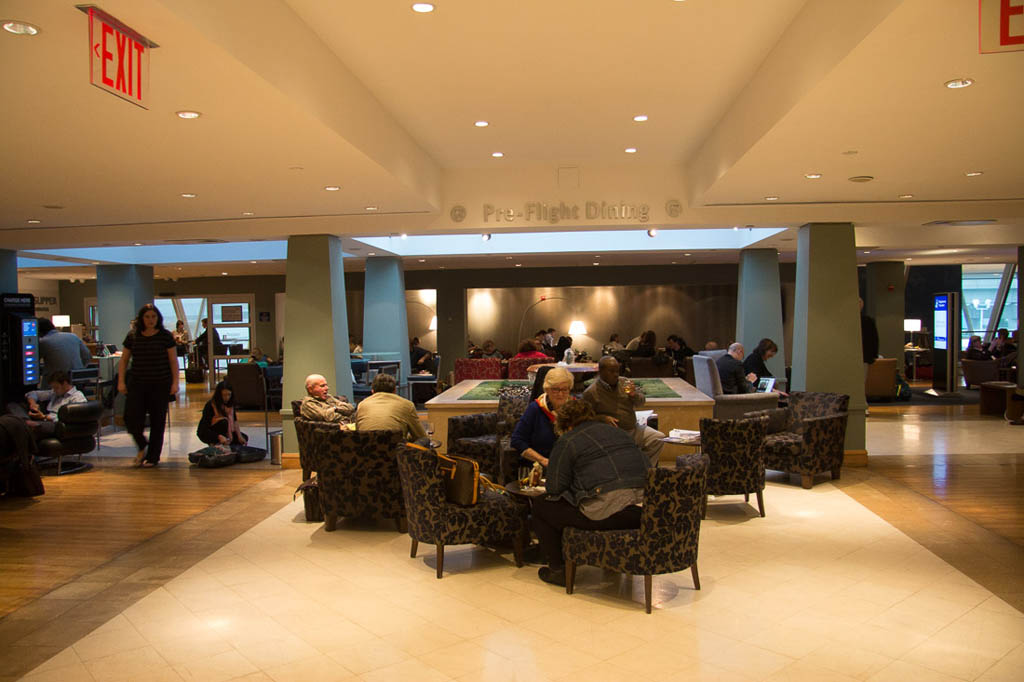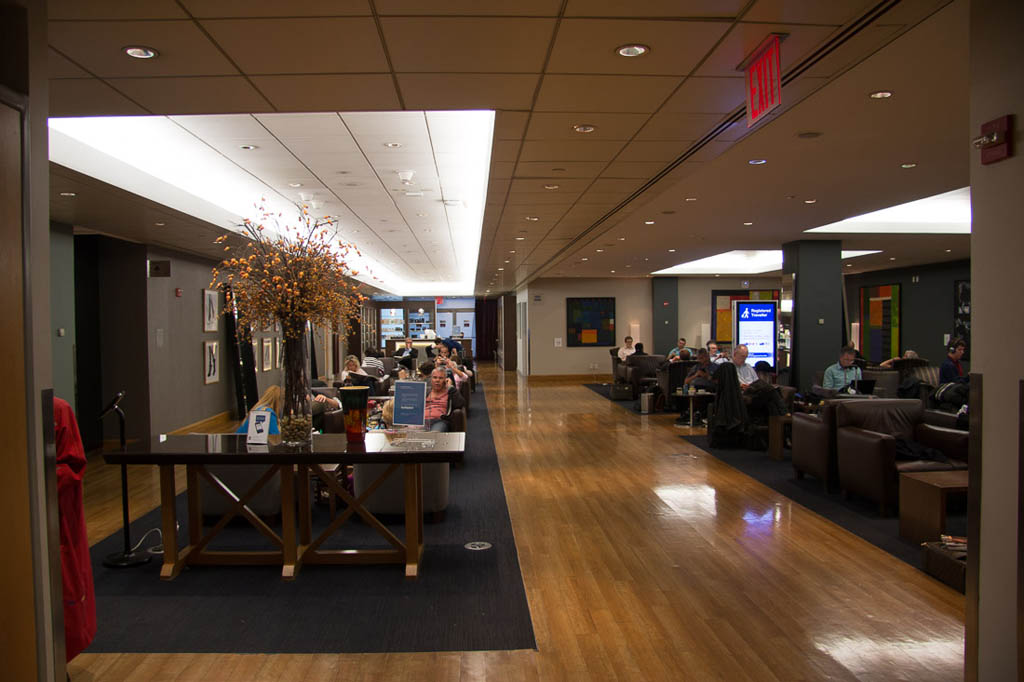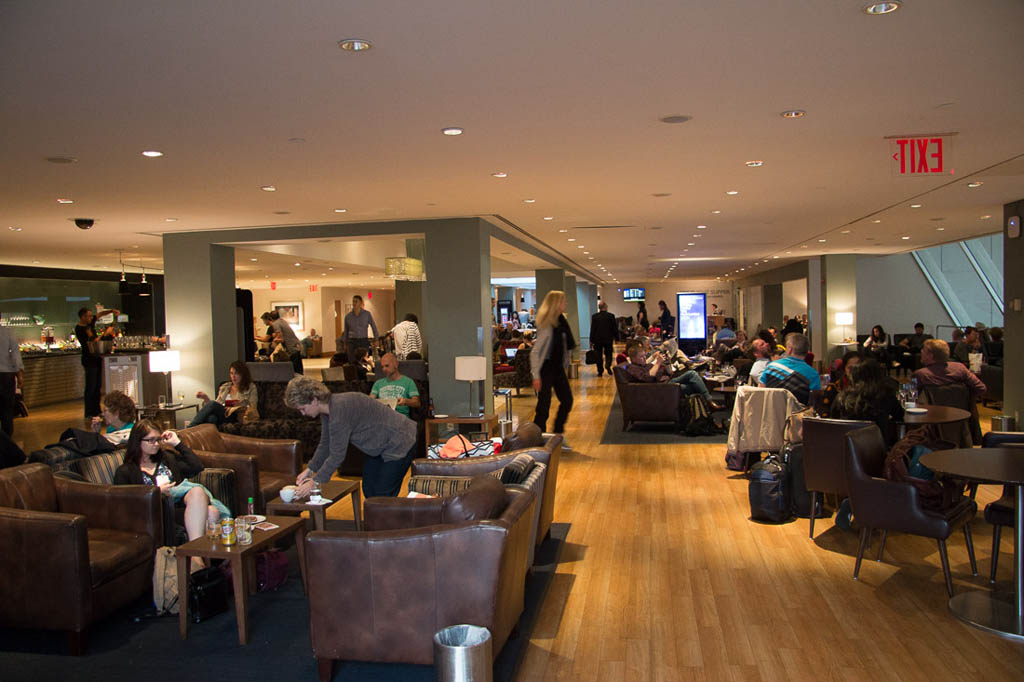 Even the outdoor area, which was completely empty when Ken and I first found it, started to fill up quite a bit!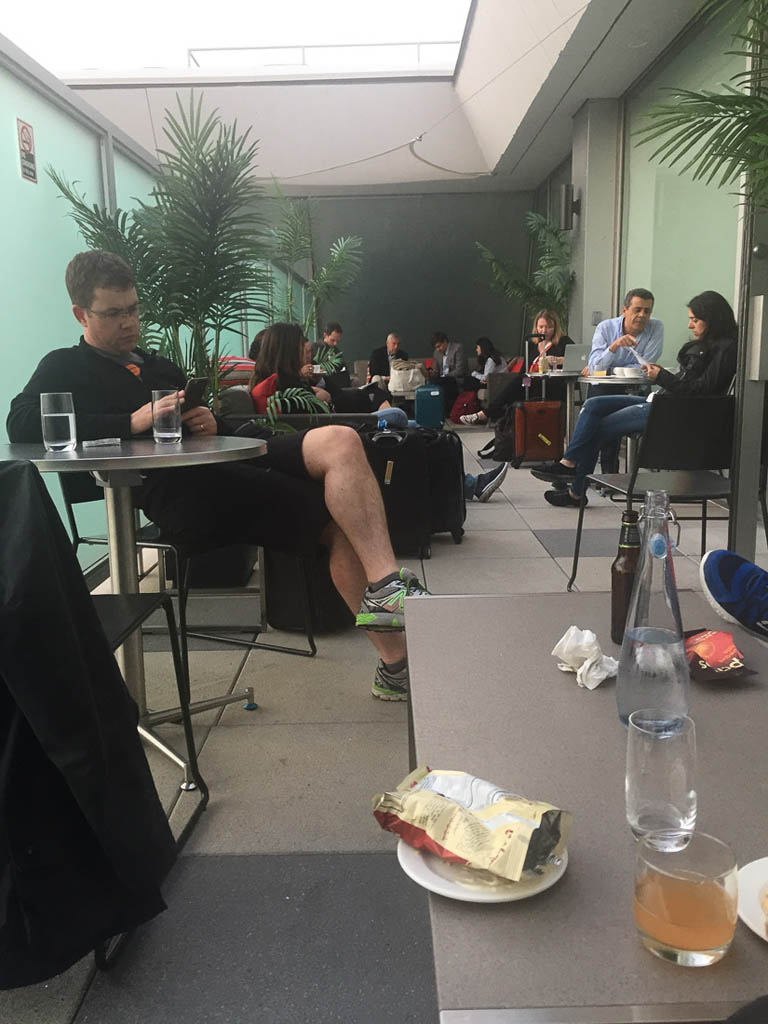 I visited the "pub" area of the lounge many, many times during our several hours at the lounge. It had self-serve beer on tap!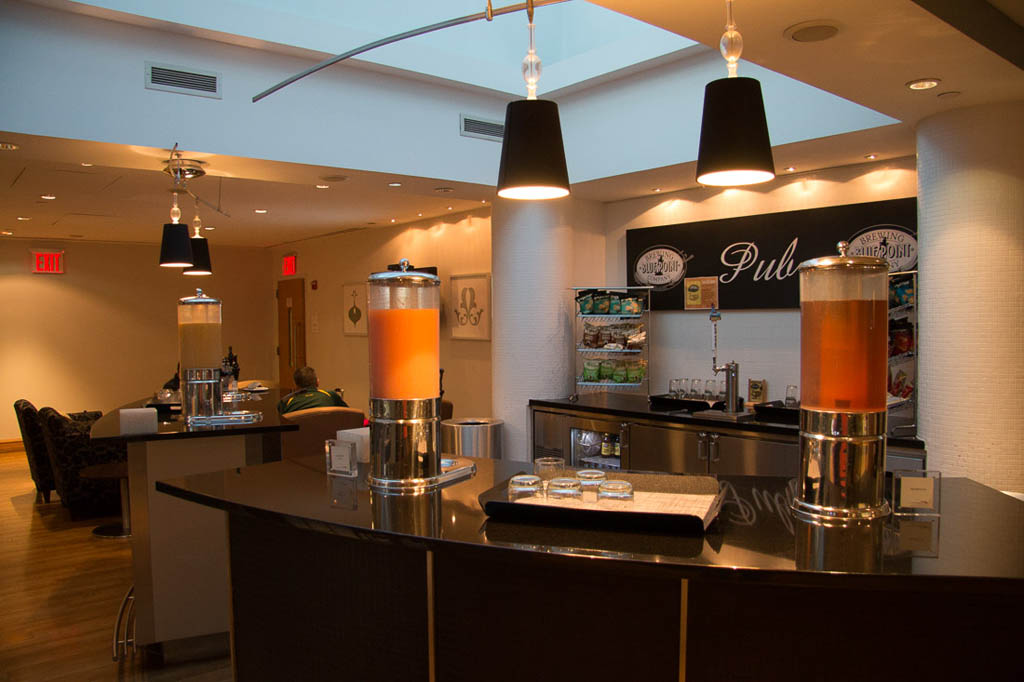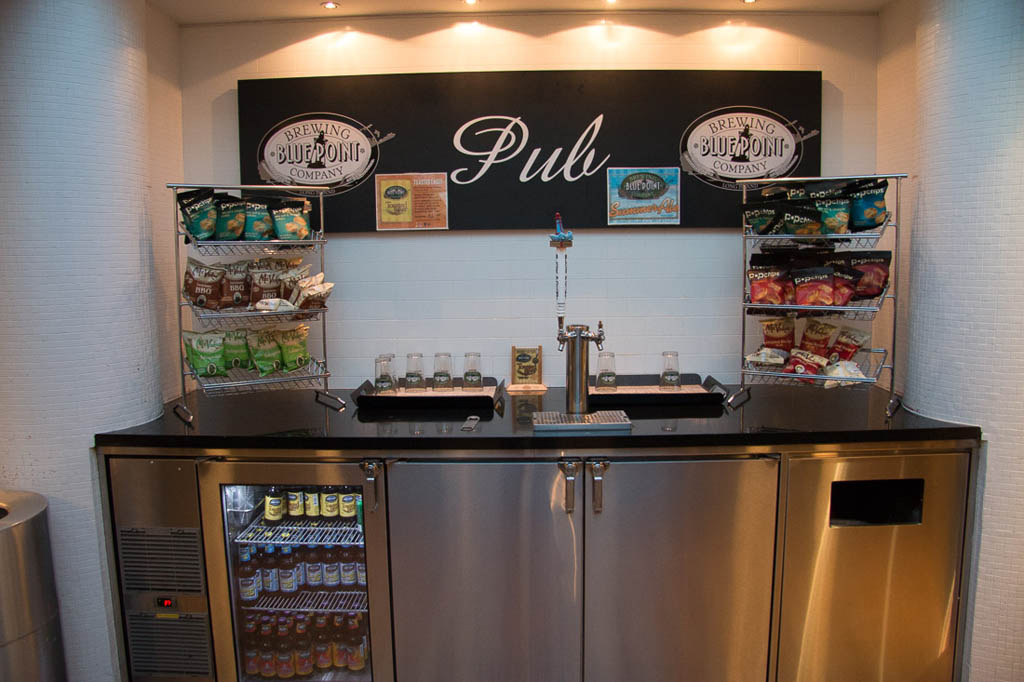 There as also an abundance of shoe art on the walls: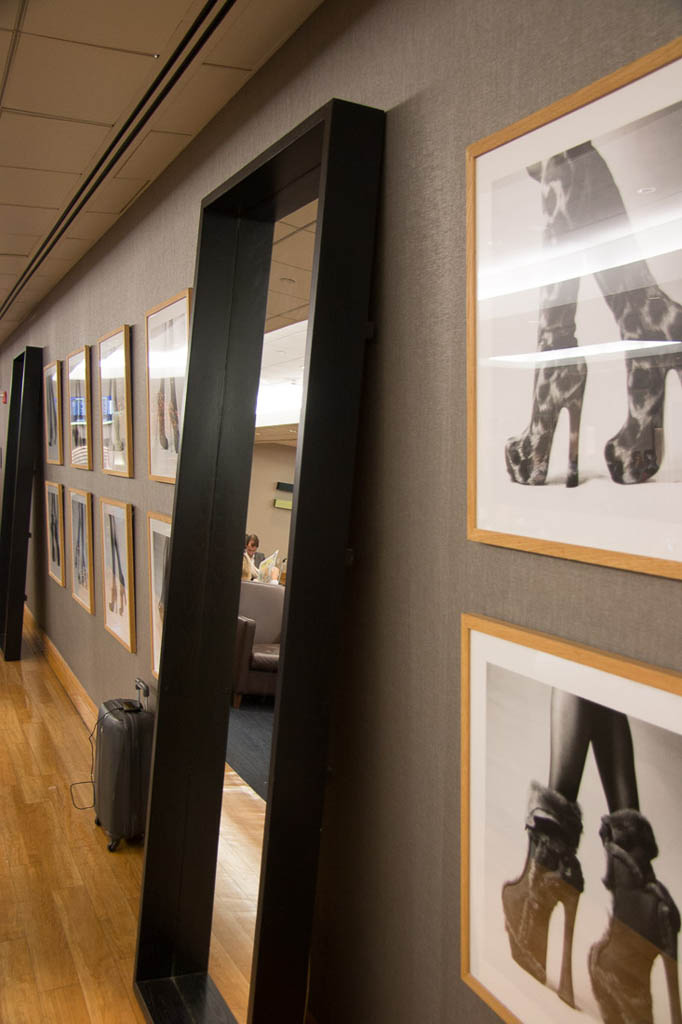 And a decent-looking area for kids: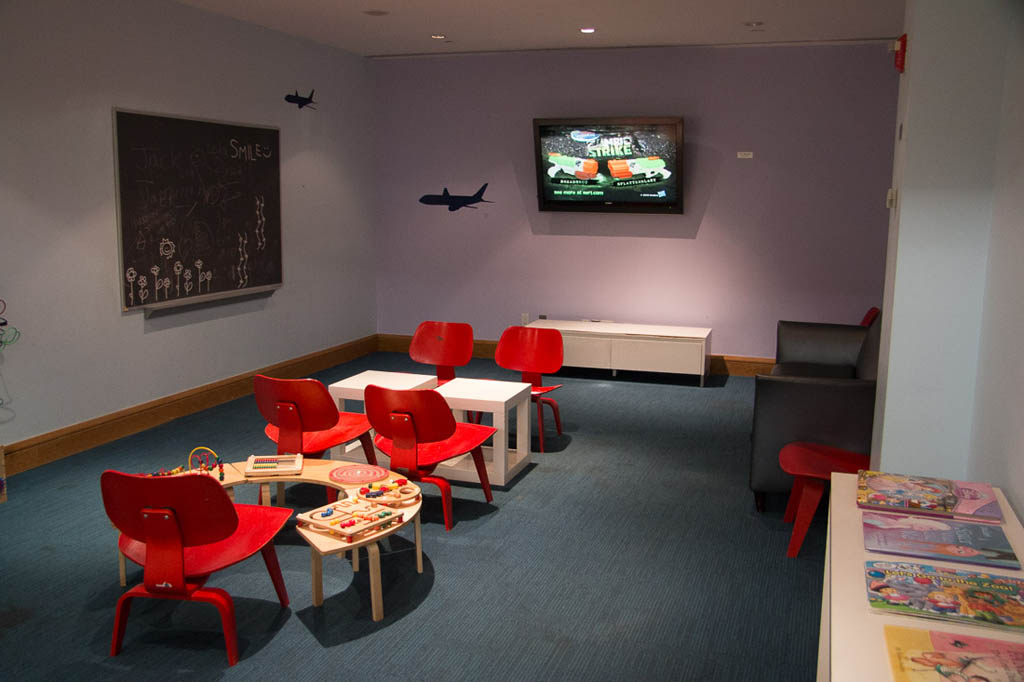 Ken and I tend to be fairly introverted, but the outdoor space at the lounge lent itself so well to socializing. We chatted with a dude from Sweden for quite a while, and many others who sat for a while outside on the couches. It really made our layover fly by!
For what it's worth, the lounge offers a pre-departure supper for first class passengers. But, Ken had filled up on snacks, so he wasn't hungry for the supper.
Pretty soon, it was time to board for our 9:55PM departure to Vancouver. We took care of some adminstrative things in the lounge, like calling AT&T to add the "Canada" plan to our cell phones, and then we headed to the gate for boarding.
The gate area was a complete zoo, so I'm glad we had had some nice quiet time in the louge before our departure. Before long, we boarded, and pushed back for an on-time departure.
The next post in the series will cover our experiences in Cathay Pacific Business Class and Cathay Pacific First Class.