This post may contain affiliate links. Please see my advertiser disclosure for more details.
The holidays are now long over, but that doesn't mean that gift wrap still doesn't come out! It's just more for birthdays and baby showers these days.
In the past few years, I've developed a kind of wrapping paper obsession. I have a really hard time walking past a cute roll of wrapping paper without buying it! I attribute these impulse purchases to one thing: A massive improvement in my gift wrapping skills in the past few years!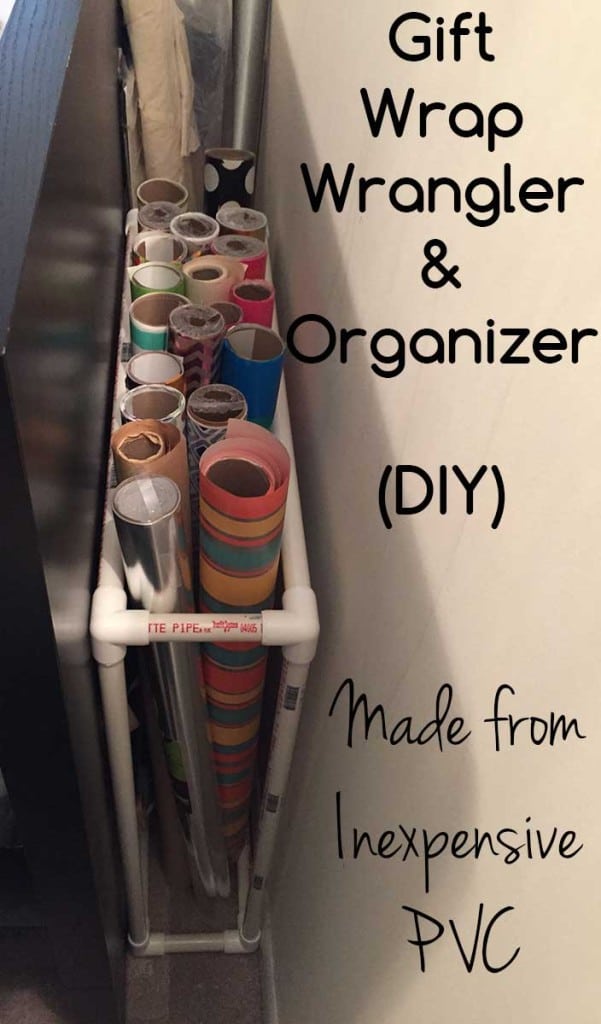 I used to be a TERRIBLE gift wrapper. Then I finally made myself watch tutorial after tutorial for properly wrapping gifts. And now that I'm such a good wrapper, I love to have beautiful wrapping paper to go along with the tight, crisp corners of my wrapped boxes!
But, storing wrapping paper had become a problem. I had one of these gift wrap organizers for a while, but was so awkwardly shaped that it was difficult to store it in the closet or anywhere else. (For what it's worth, we still have one that we keep Christmas wrapping paper in, but we keep it in the attic 11 months of the year, so the awkward shape isn't as big of a deal for the attic!) .
Underbed wrapping paper storage containers also weren't ideal, mostly because not that many rolls can fit in a single storage container.
Ideally, I wanted something to store behind our bed headboard. Why? I'm pretty sure the only reason that I wanted to store it behind the headboard is because that's where my parents used to store their gift wrap, and learned habits die hard. Although they just used to kind of toss their wrapping paper behind the bed. I wanted something a little neater.
I had an idea to corral my wrapping paper using some sort of PVC "box." And that's exactly what I set out to do.
But first, there was some cutting do do.
First, I went to Home Depot and bought ten 1/2 inch PVC pipes. I also needed 3-way PVC elbow connectors, which Home Depot did not appear to sell (and the sales associate confirmed!). So, I had to order 8 1/2″ PVC fitting connectors from Formufit.
First, I kind of fit everything together the way I wanted it to go, even though it was enormous.
You'll notice that there aren't two PVC pipes connecting the top two sections though, which would have made it a complete "cube" shape. I figured that, because I was going to be cutting pieces of PVC, I would just use one of the cut pieces to eventually complete the top part. That saved me a few bucks on buying two extra pieces of PVC.
Hopefully that'll make more sense in the next few photos.
First, I had measured the depth behind our bed's headboard to get an idea of how deep the organizer should be. Then, I measured that length on one of the pieces of PVC and marked it with a pen.
Then, I cut the PVC using a miter saw. (I'm sure a bunch of tools would've worked for this, it's just the easiest tool we can use in our space. Similarly, if you already know the measurements, Home Depot or Lowes staff can cut it for you.)
Then, using that cut piece as a guide, I cut the remaining three pieces that I needed (for a total of four cut pieces)
Then, I just had to put it all together. It would be a narrower version of the large cube above, and would include the two "top" pieces.
Then I put it behind our headboard.
(I swear, we sleep with sheets on our mattress. It was just sheet-washing day!)
Then, I filled up the PVC storage thingy with rolls of wrapping paper!
It was perfect for what we needed! Although the photos make it look like the bed is pulled out kinda far from the wall, it's really not noticeable. The only people that can ever tell are people that see our bed when walking out of the master bathroom. Which is just me and Ken!
Do you have a wrapping paper addiction? How do you store your paper?