This post may contain affiliate links. Please see my advertiser disclosure for more details.
---
Our second port-of-call on our Alaska cruise was listed on our itinerary as "Tracy Arm Fjord / Scenic Cruising / Juneau." I had no idea what that all meant. On every other cruise in my life, one day was one destination.
When we woke up that morning, whew, I knew what they meant about "scenic cruising!" We were transiting the Tracy Arm Fjord on our way to Juneau, and damn, it was GORGEOUS! These were all taken from our cabin balcony.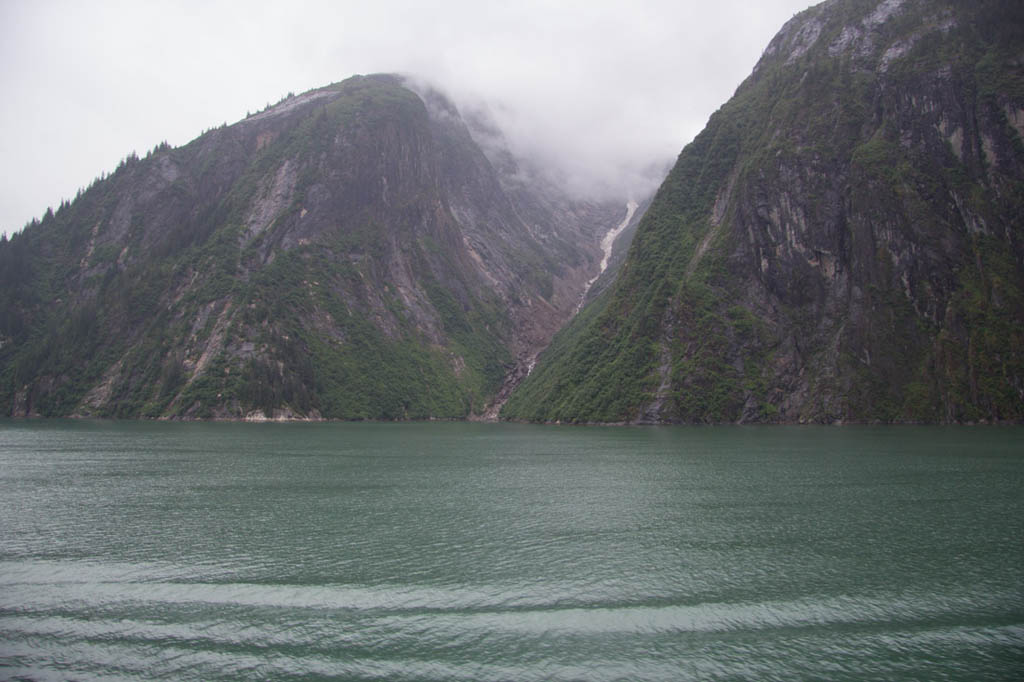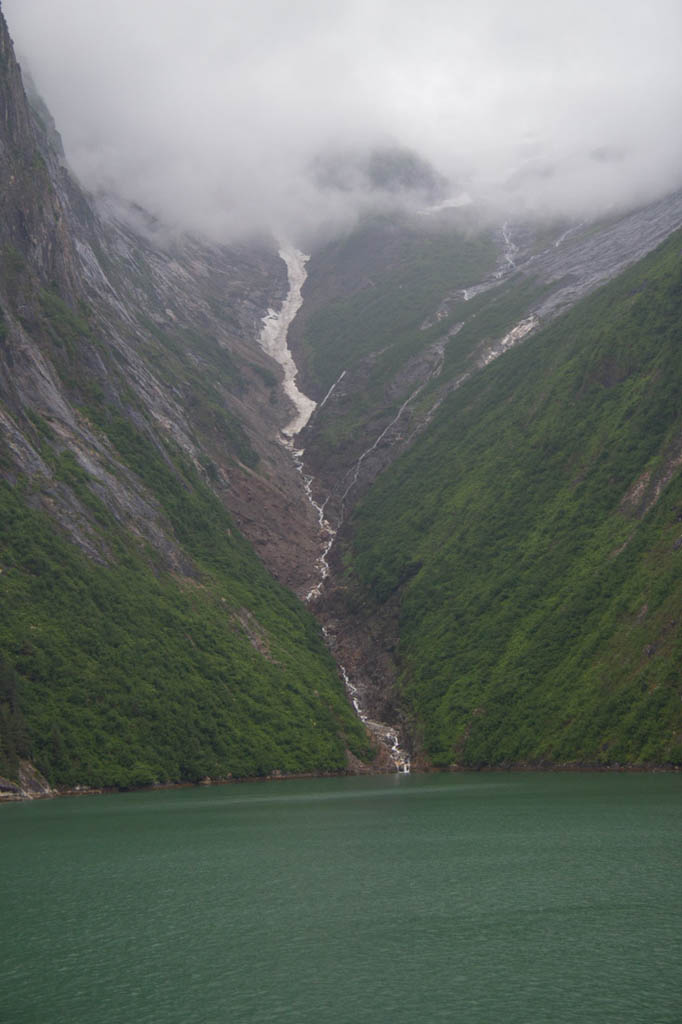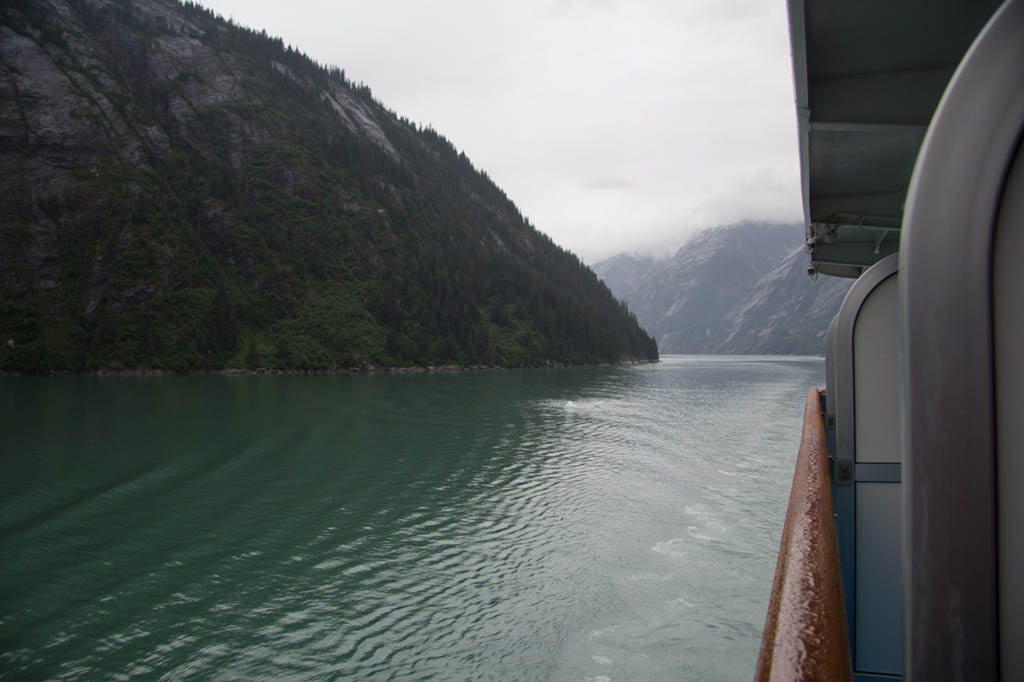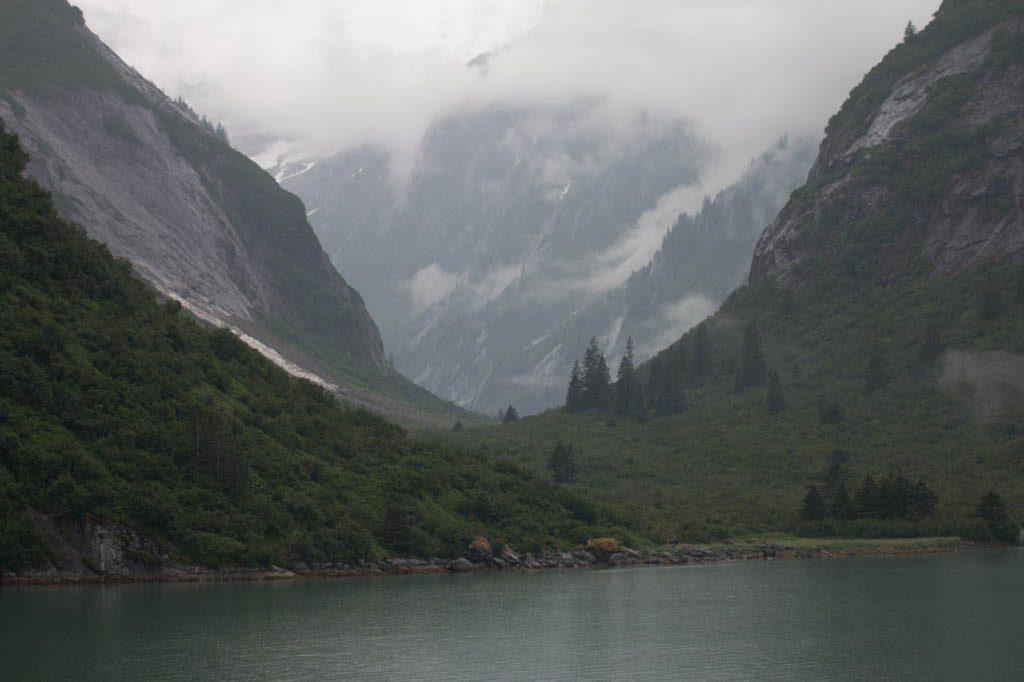 Ken and I had opted for the "Tracy Arm Fjord & Glacier Explorer" excursion that day. It was pricey at $199 each, but the reviews we found for the excursion were phenomenal. (Those reviews are for a different cruise line, but the excursion operators are almost always the same or similar). Some people said it's the best excursion option for an Alaskan cruise. Needless to say, we were excited. Basically we'd board a smaller vessel and get closer to the nearby glaciers and deeper into the fjord areas than the large cruise ship could go.
But, I was also a bit confused about this excursion. The excursion description specified we would depart at 7:30AM. The same time we were scheduled for "scenic cruising" of Tracy Arm Fjord. Meaning, we wouldn't be docked anywhere. And, then our excursion boat would drop us off in Juneau later that afternoon, meeting up with the ship. All very mysterious!
Mystery was finally solved the day of our excursion departure. We weren't docked anywhere. The ship basically just slowed to a stop, and the smaller vessel pulled up right alongside the ship. The excursion guests all went to one of the ship's bottom floors, where a gangway-type connector linked the two vessels. And so, we boarded one boat from another boat!
The boat was small, which made it nice because it wasn't overly crowded. There was an indoor area with large windows and a top deck for outdoor viewing.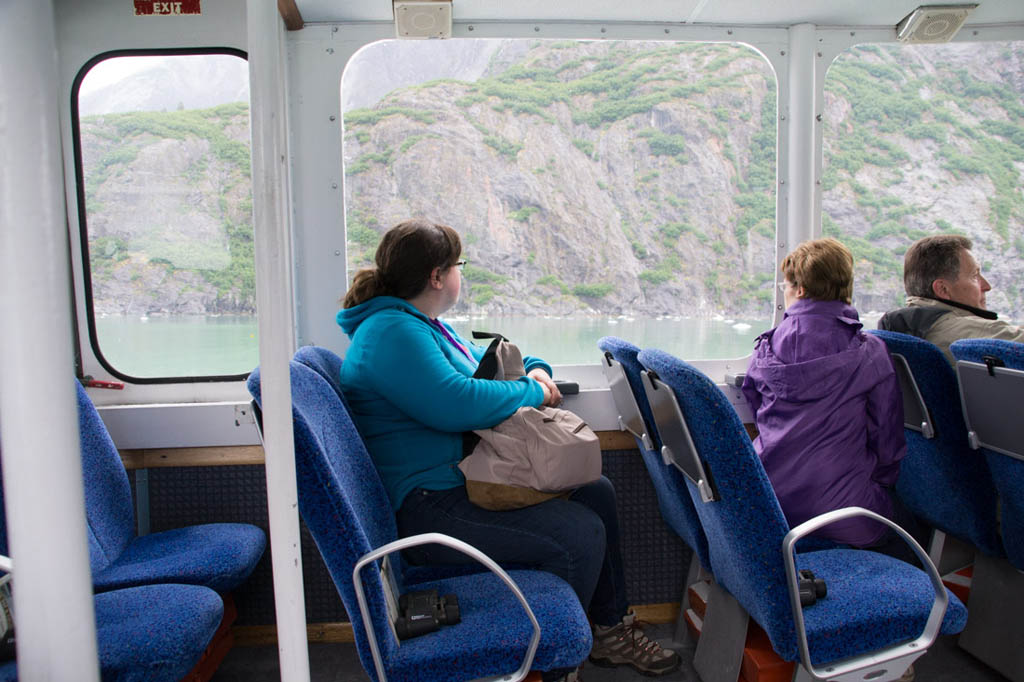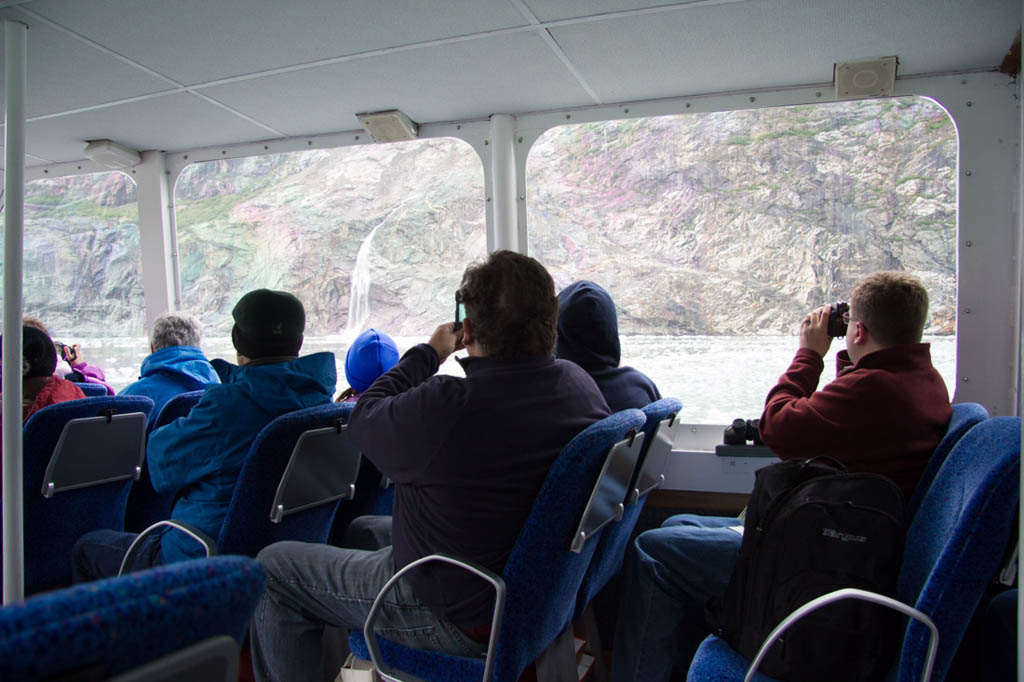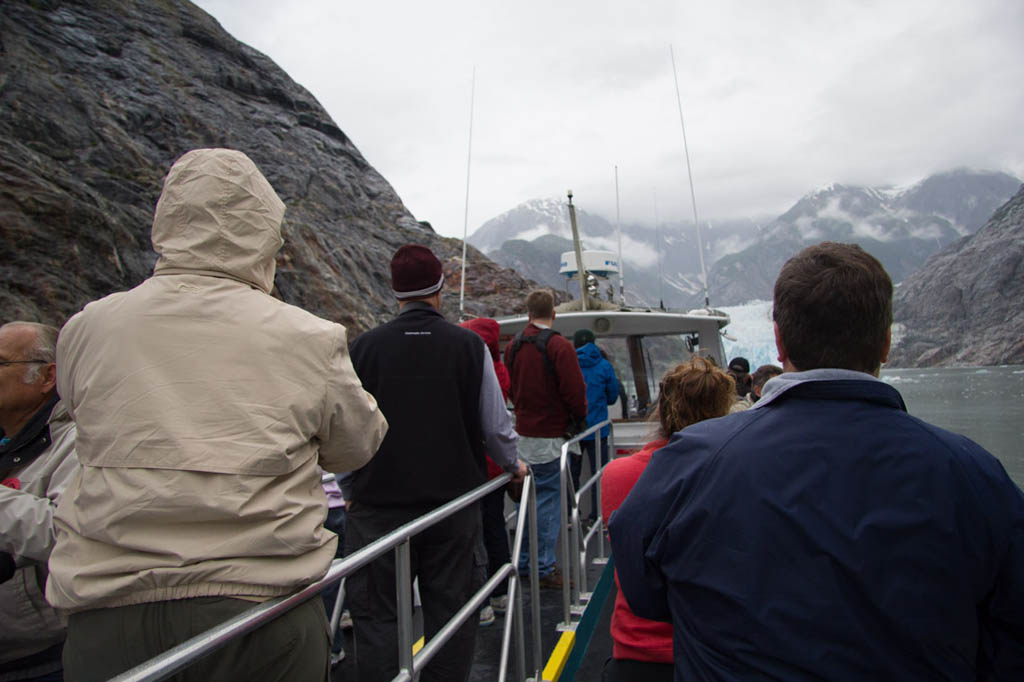 It was evident almost immediately the gorgeous surroundings we'd be seeing that day.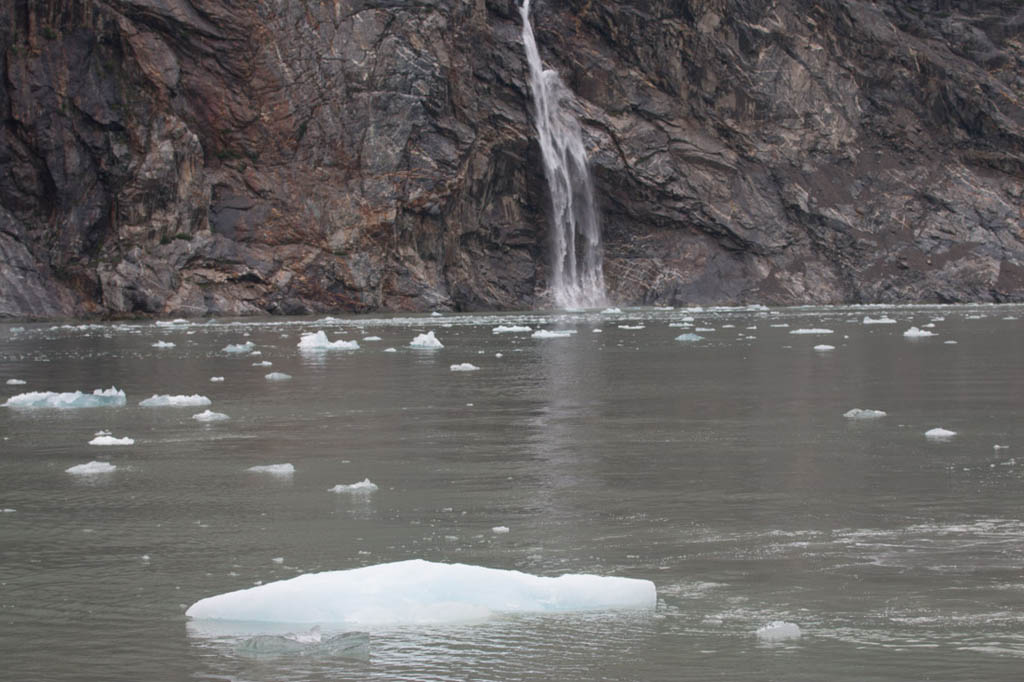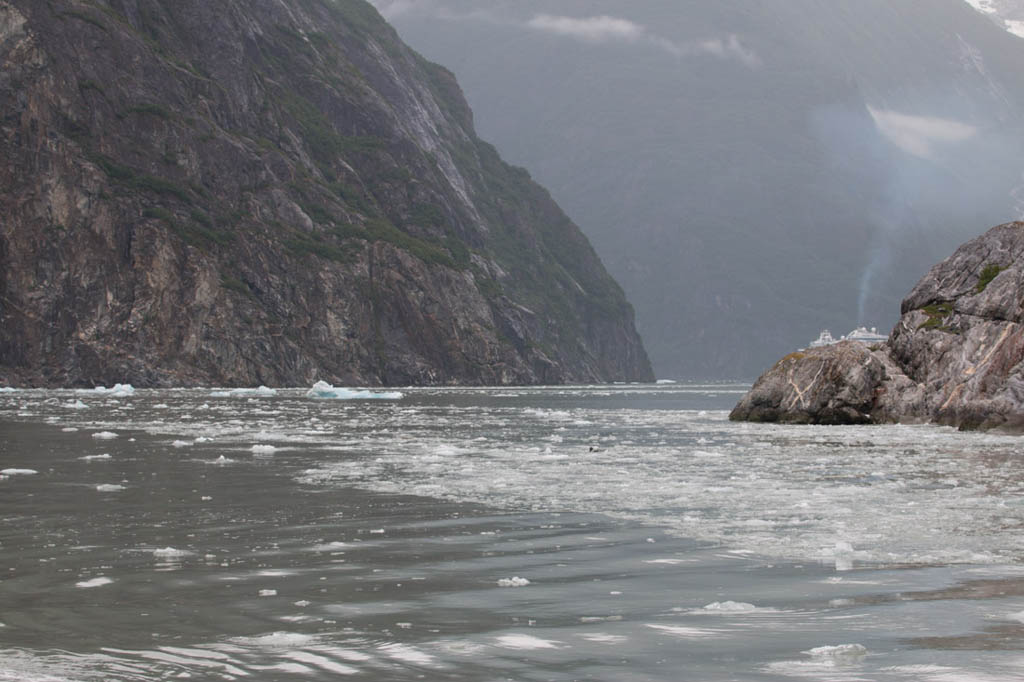 The first "destination" on our little boat was North Sawyer Glacier. We didn't disembark or anything, the boat just stayed in one location while we all took pictures and listened to the guides give overviews of the glaciers.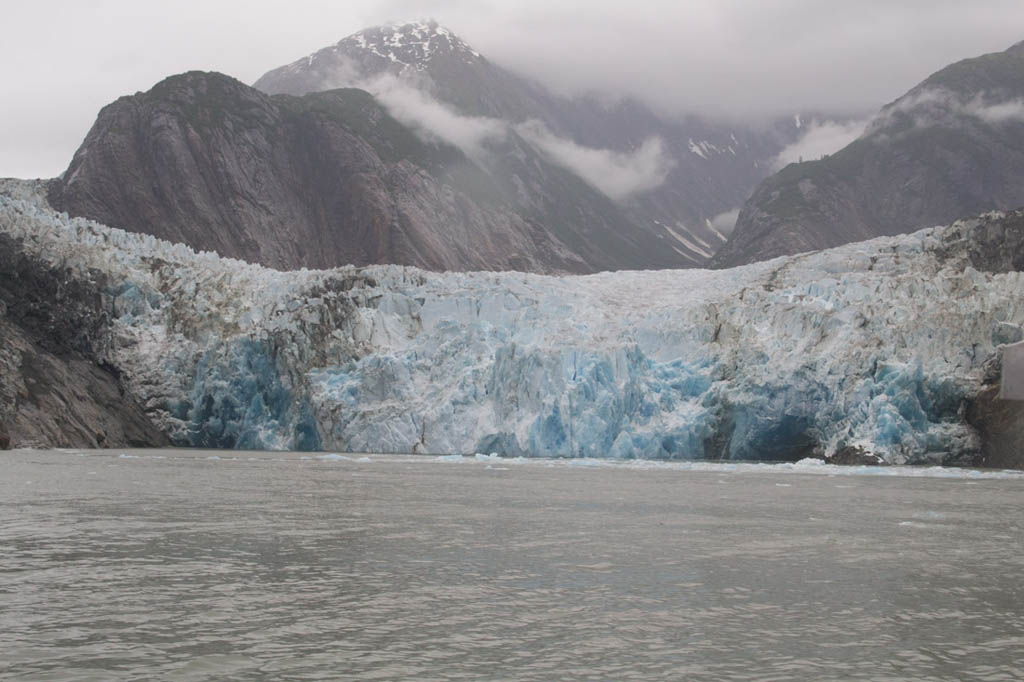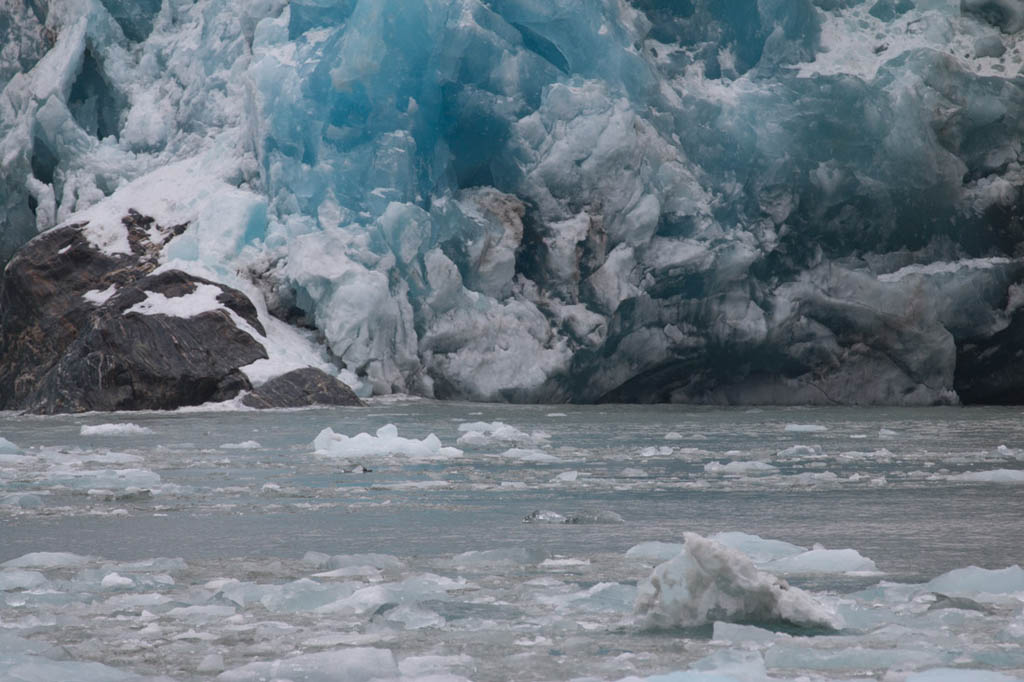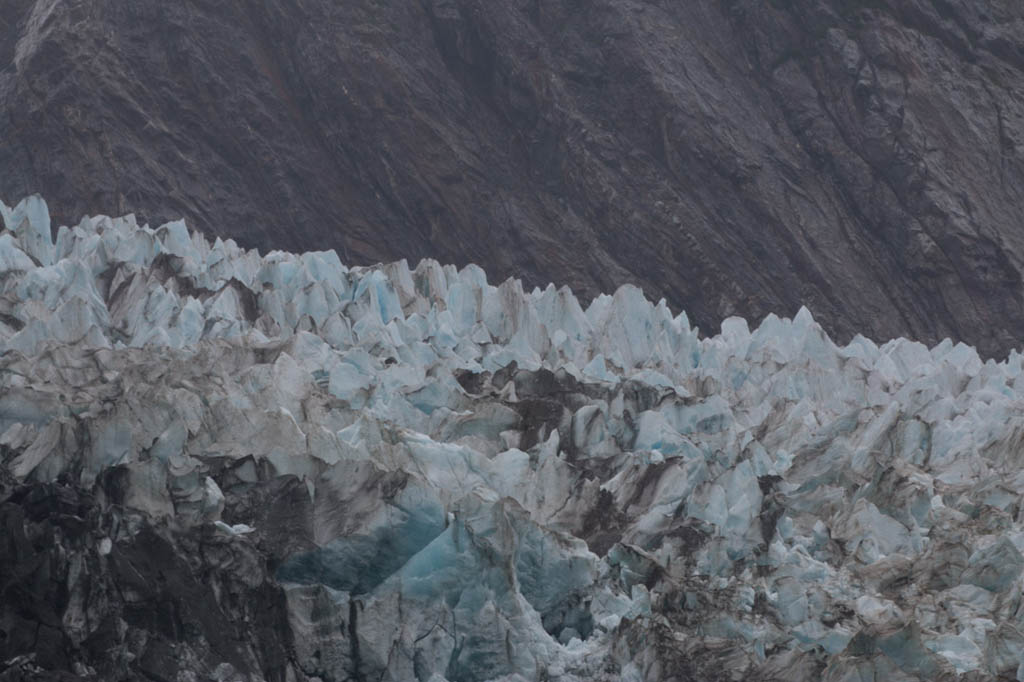 I had never seen a glacier before, and I was completely and totally awestruck. Those hues of blue! Those craggy edges!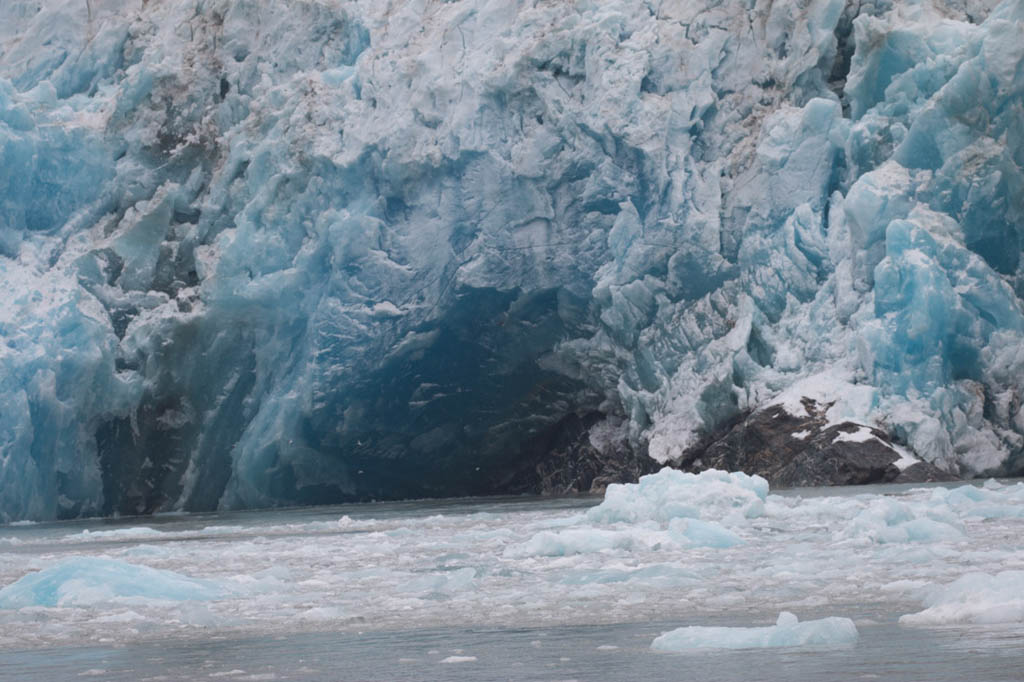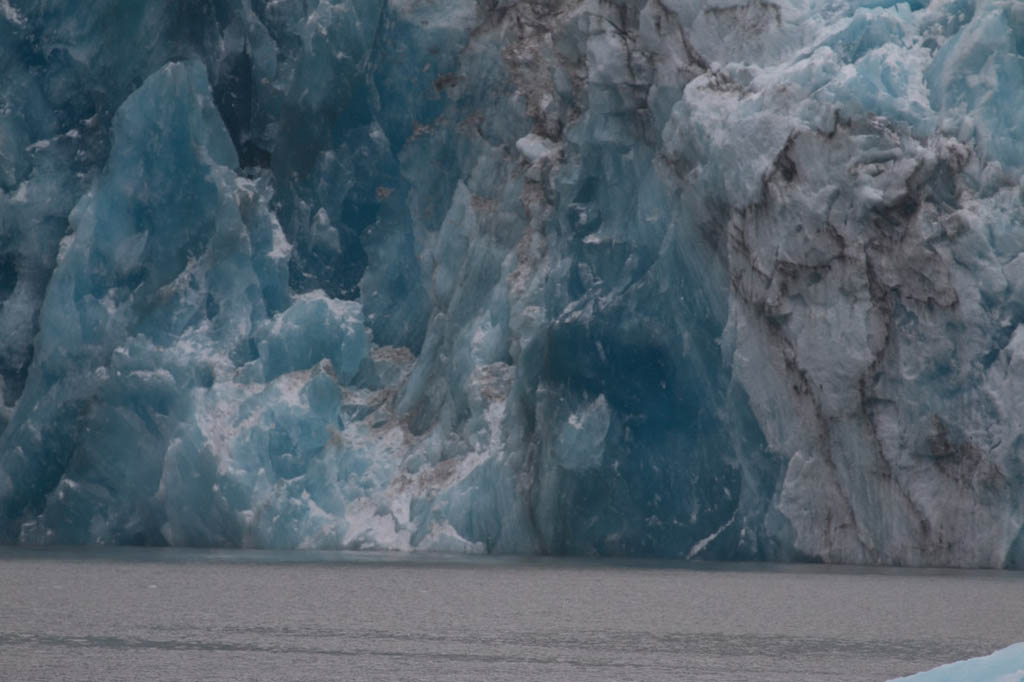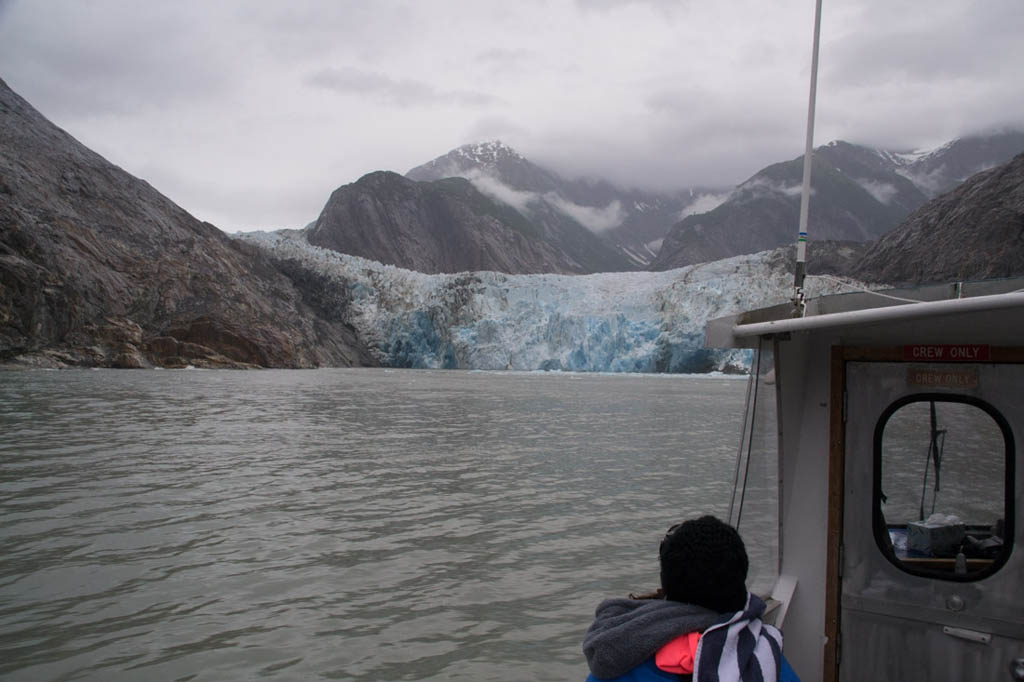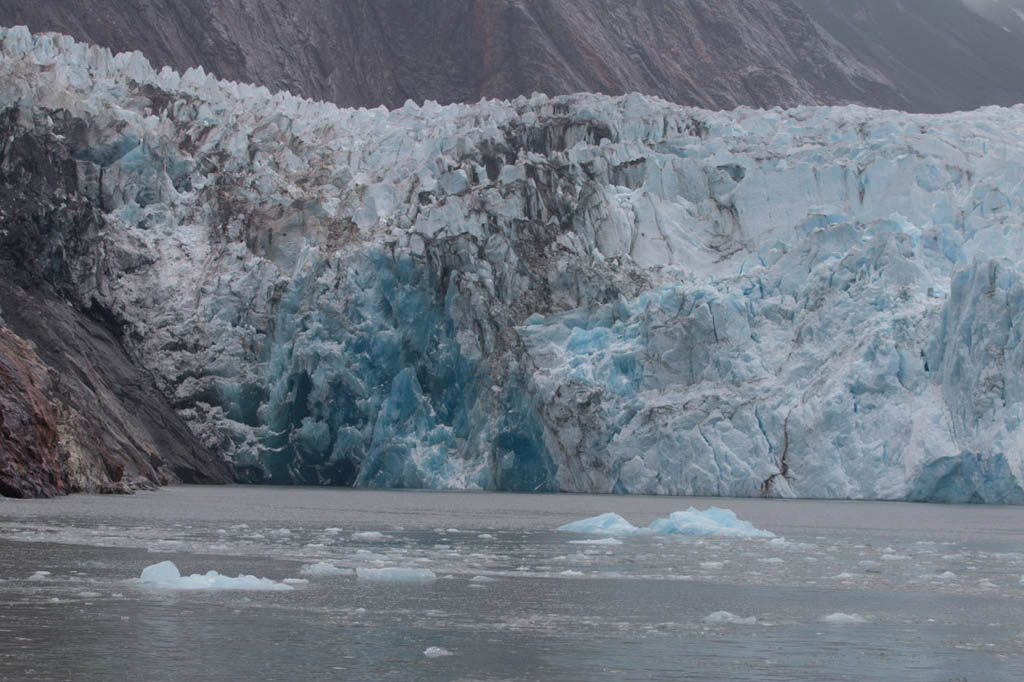 We even witnessed "calving" while we were there. Basically, calving is when a huge chunk of the glacier falls from glacier and into the water. Then it becomes an iceberg! And it just kinda (very slowly) floats away.
Here are a few video links to ice calving. The calving we witnessed was not nearly this numerous or dramatic, but it gives you an idea!
It was pretty incredible because we were at a distance where there was a slight sound travel delay. So we actually saw the ice fall off before we actually heard the loud crack and subsequent boom into the water!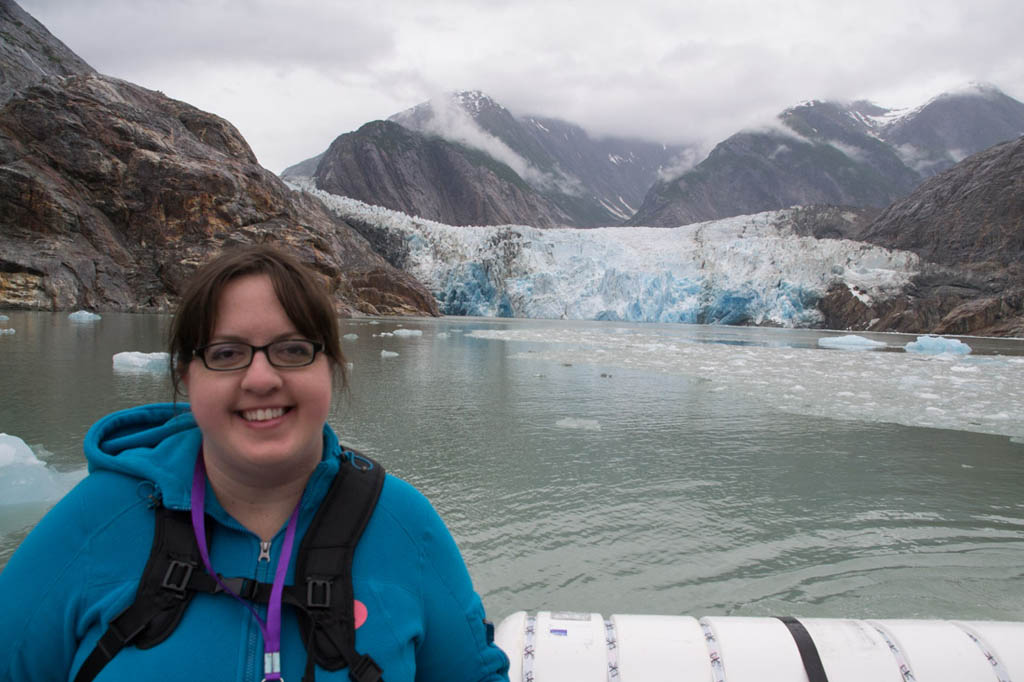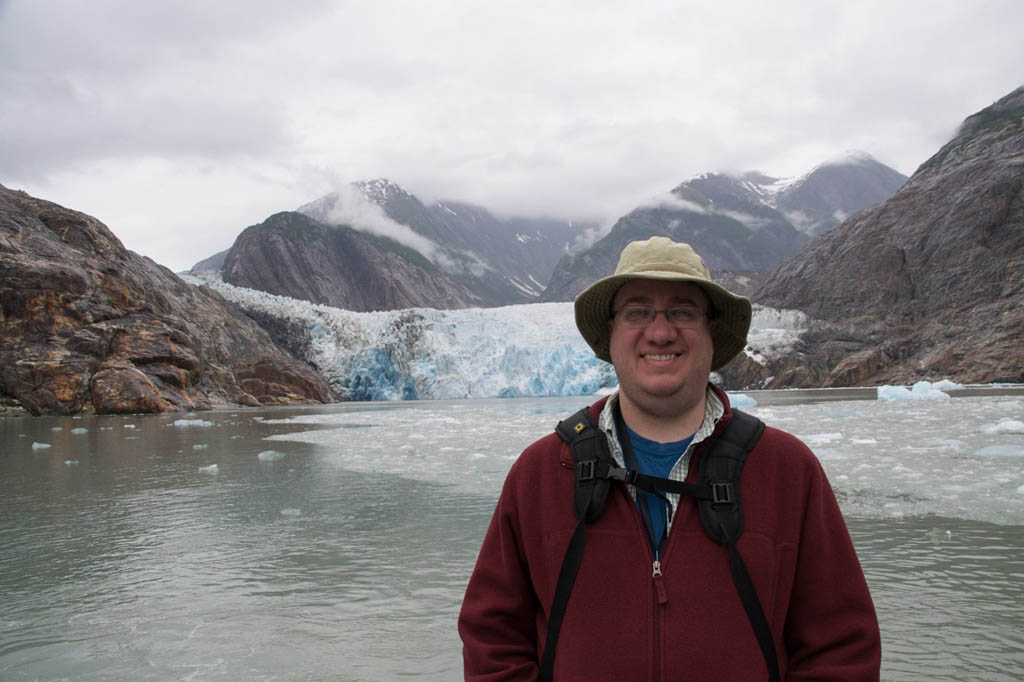 Even the stone around the glacier was incredible.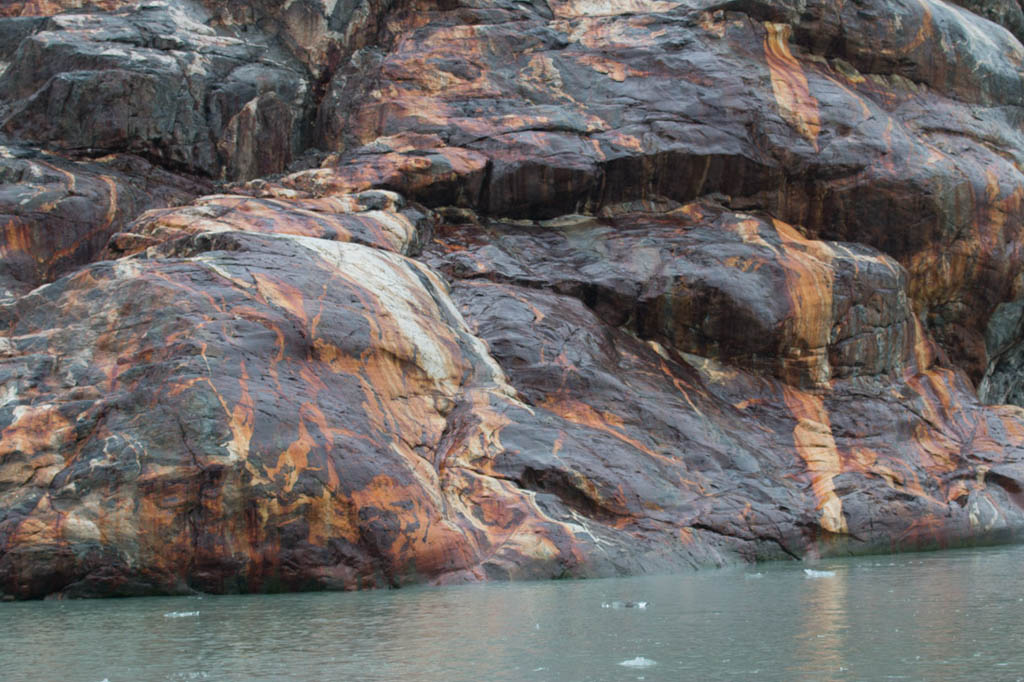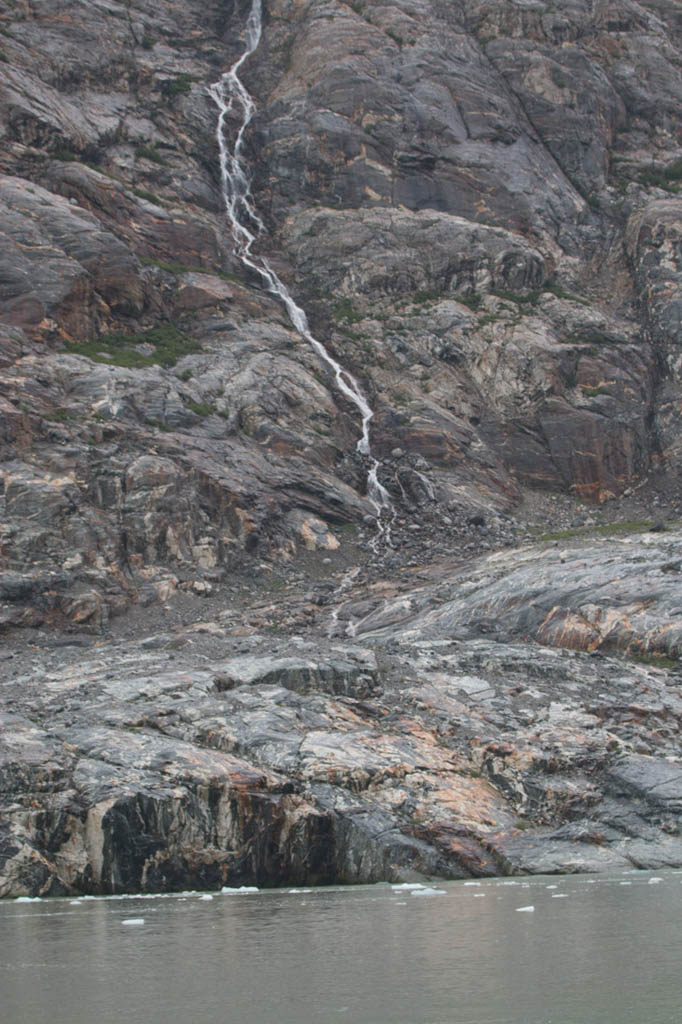 At one point, two of the guides donned lifevests and leaned into the water to bring a small chunk of an iceberg onto the boat.
Ken even got to hold it!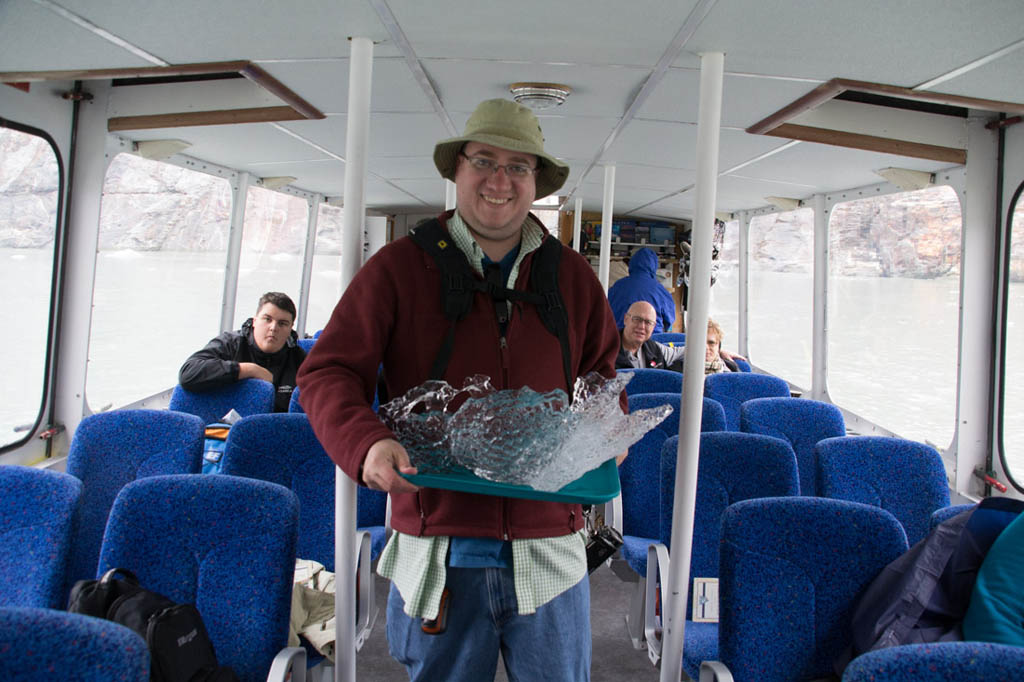 We pulled away from North Sawyer glacier and the boat headed toward South Sawyer glacier. And, we of course saw gorgeous sites along the way!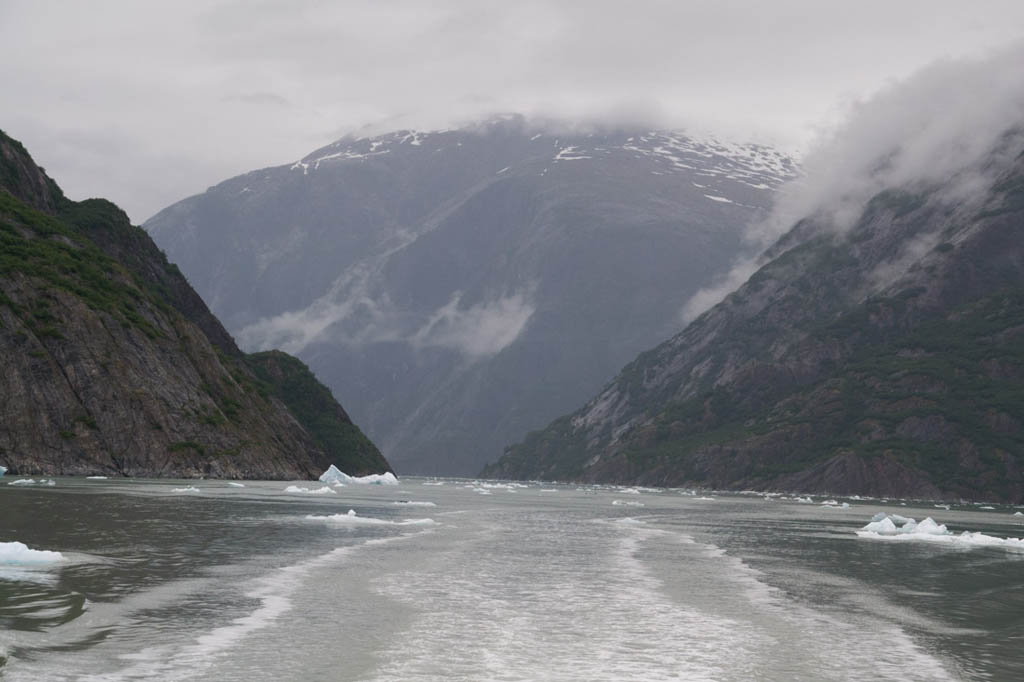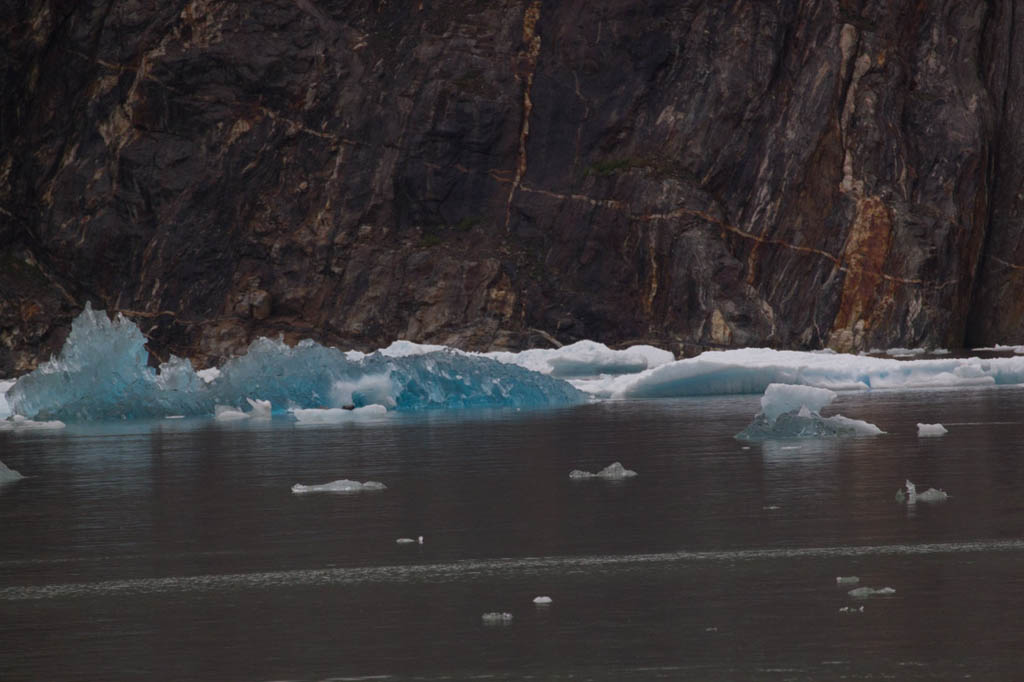 Once we arrived at South Sawyer Glacier, our tour guide quickly noted all the seal pups around! She explained that it was pupping season, and many of the seals and their pups were on the icebergs to stay warm.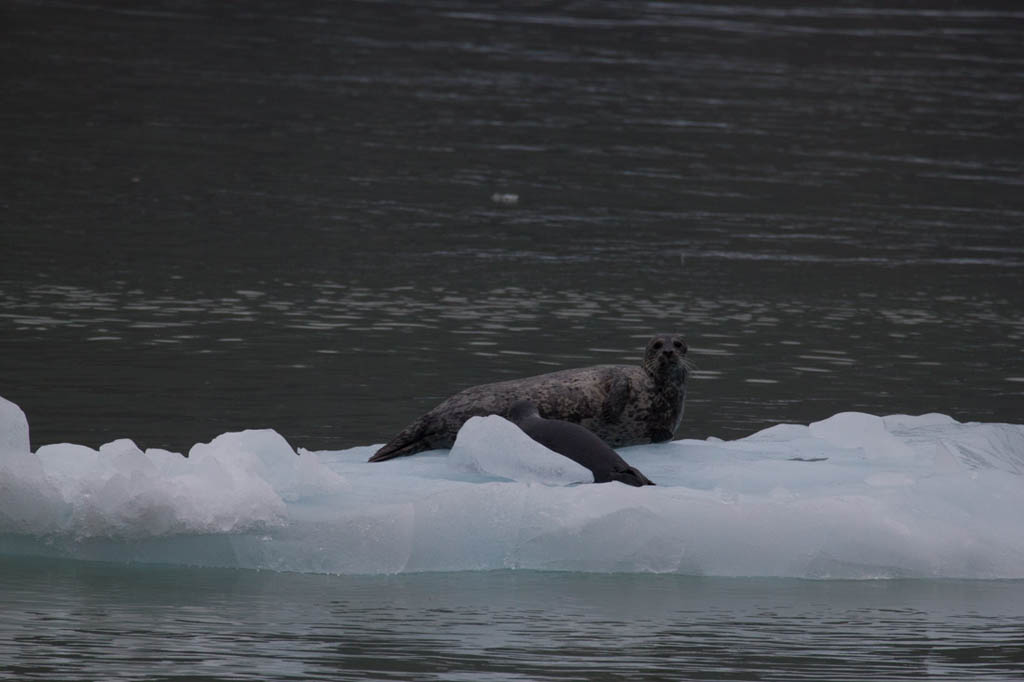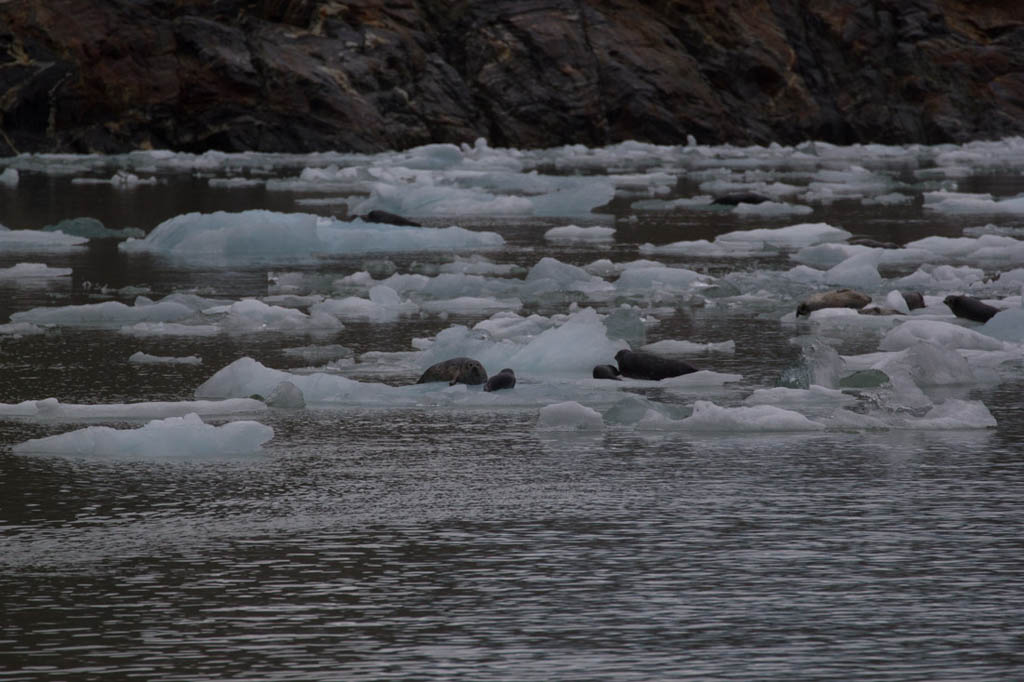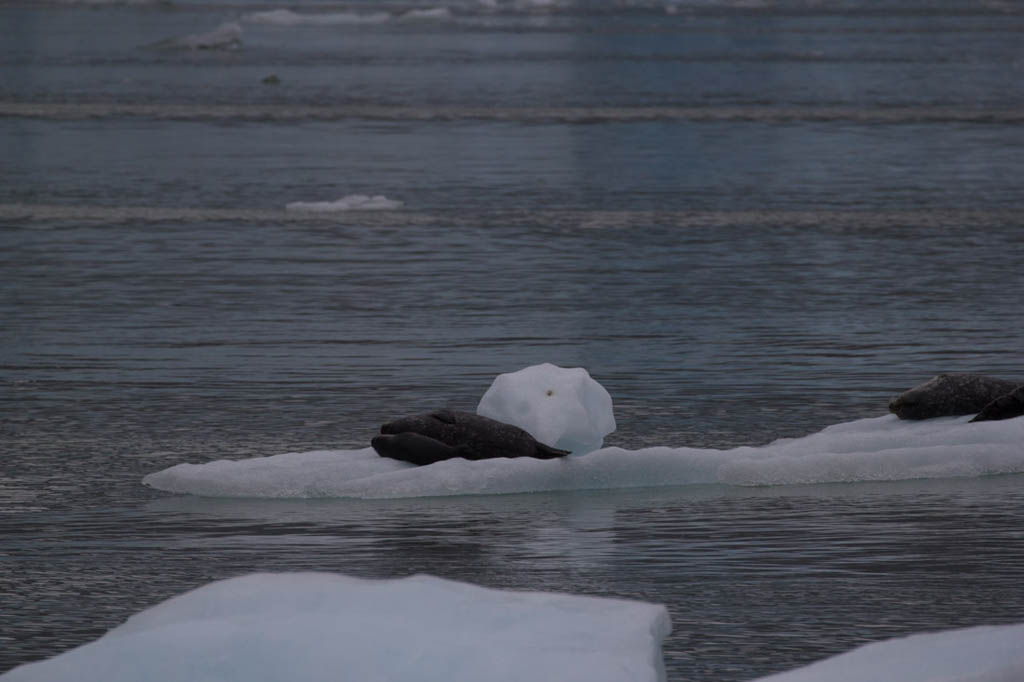 And again, more gorgeous closeups of glaciers and stunningly blue icebergs.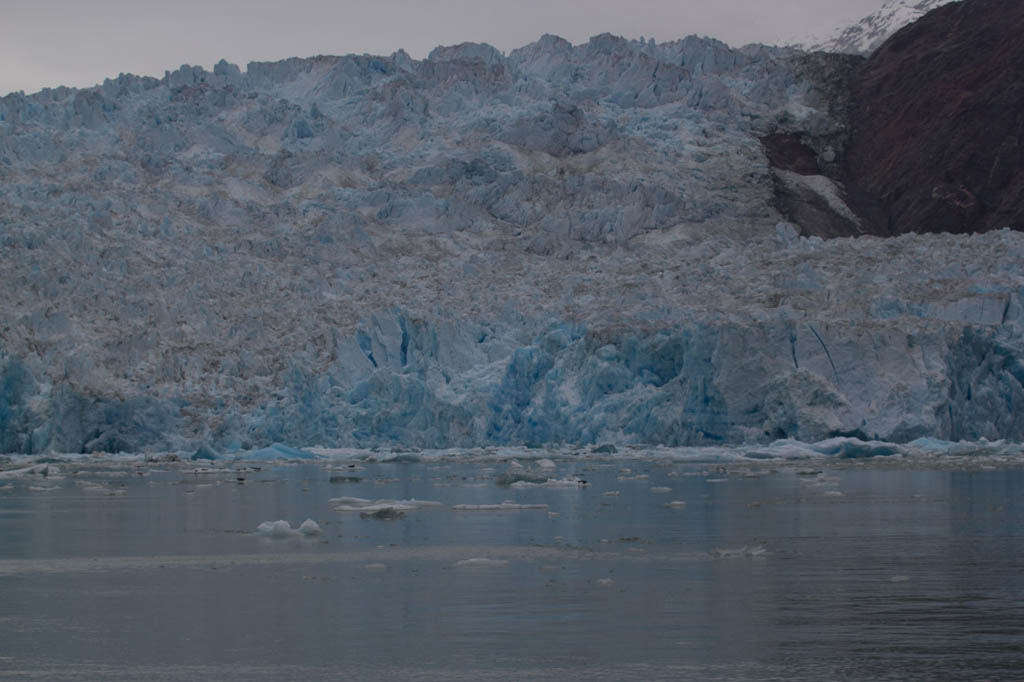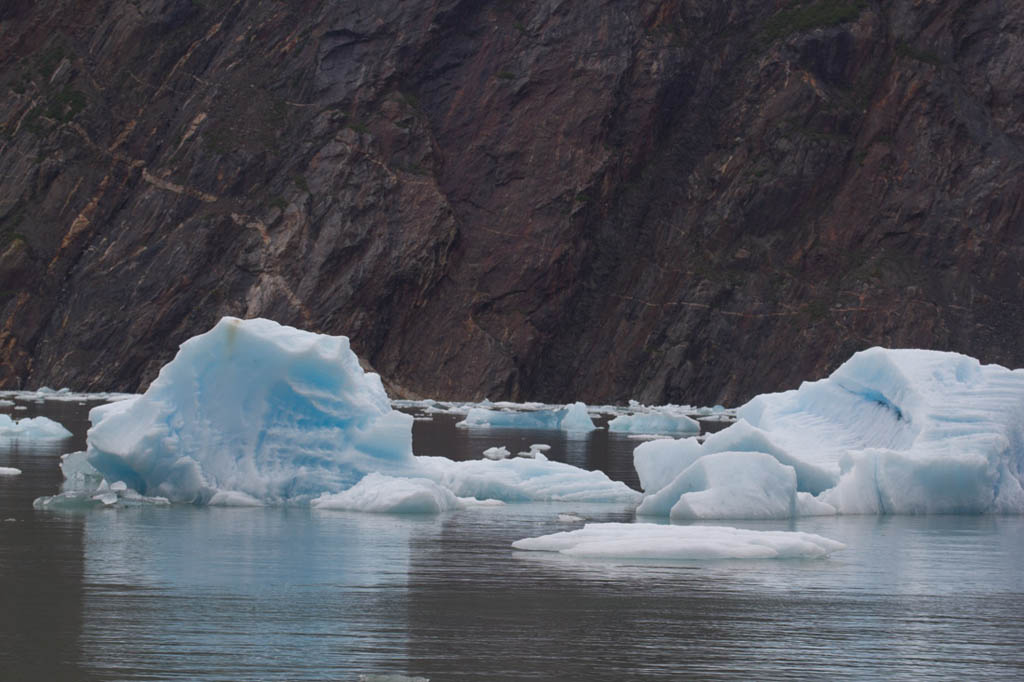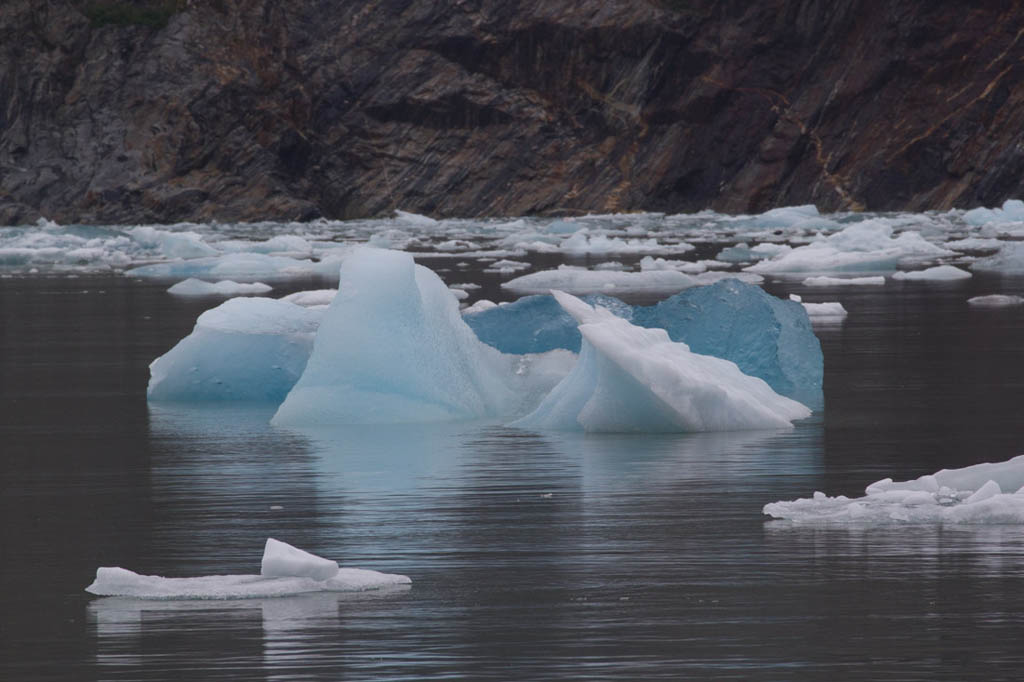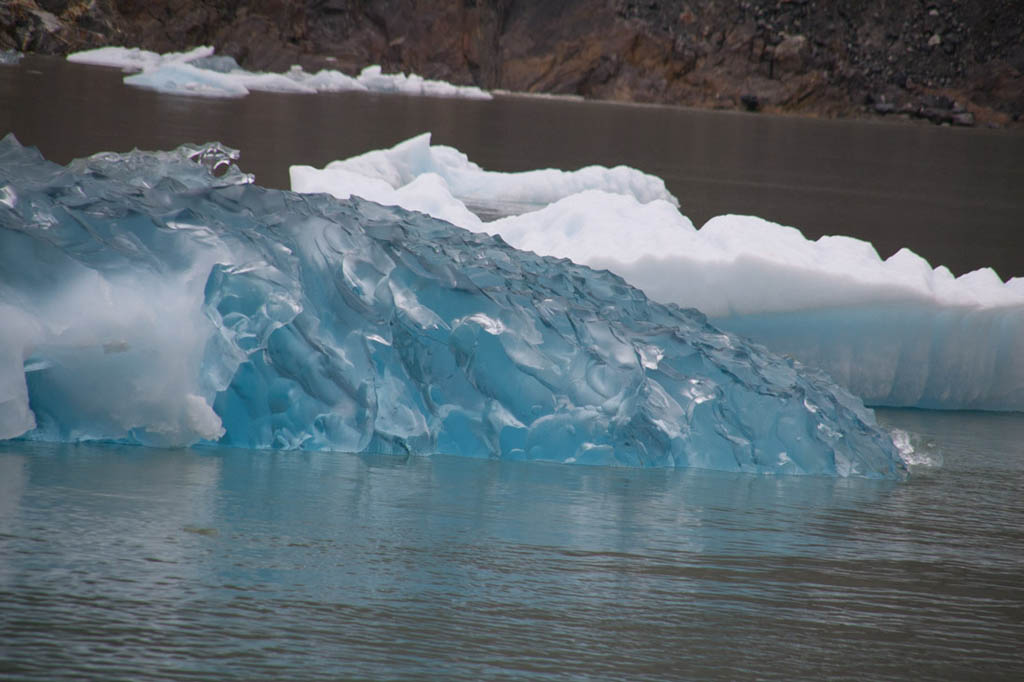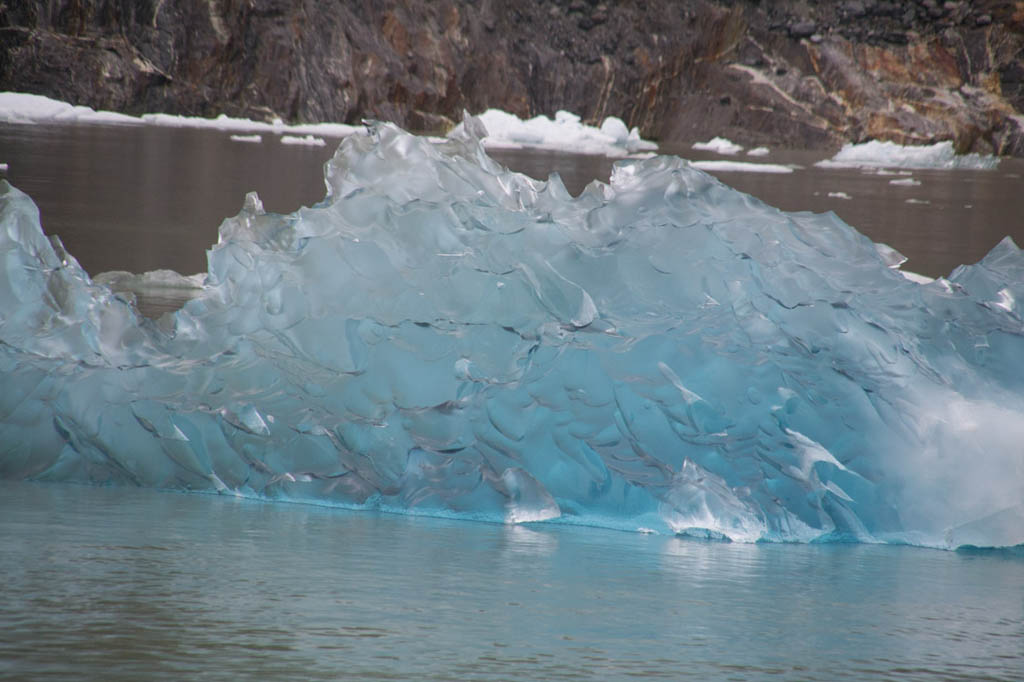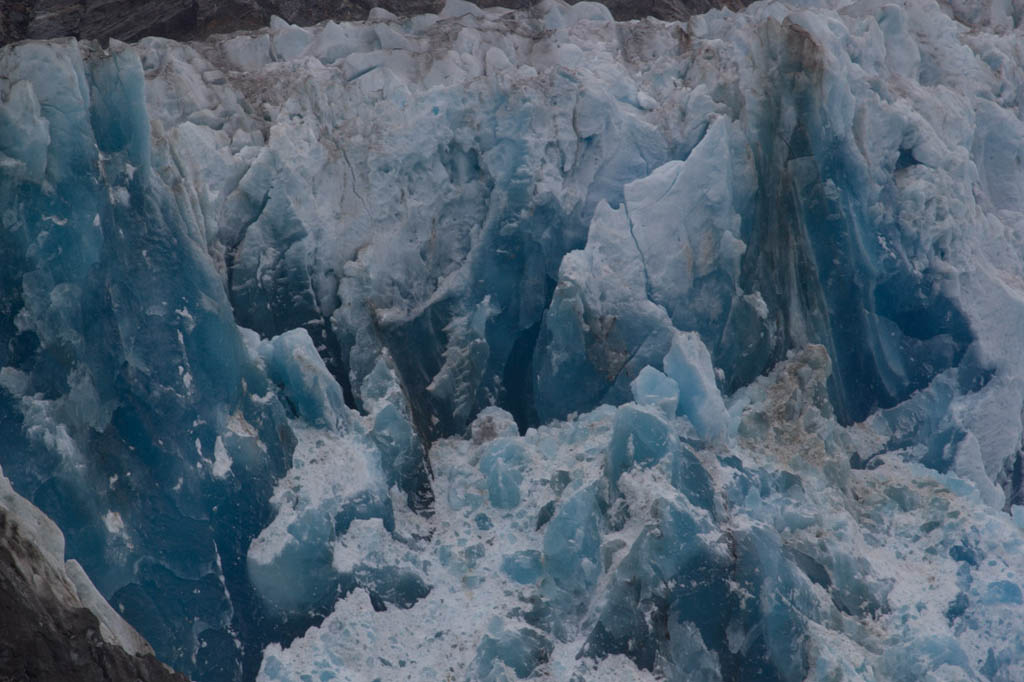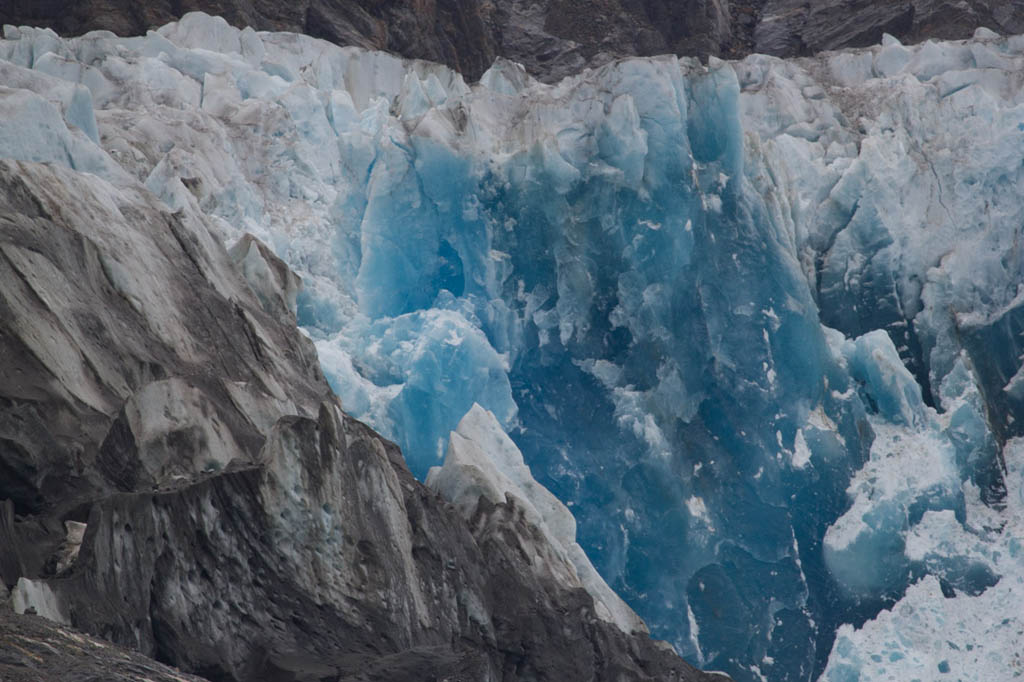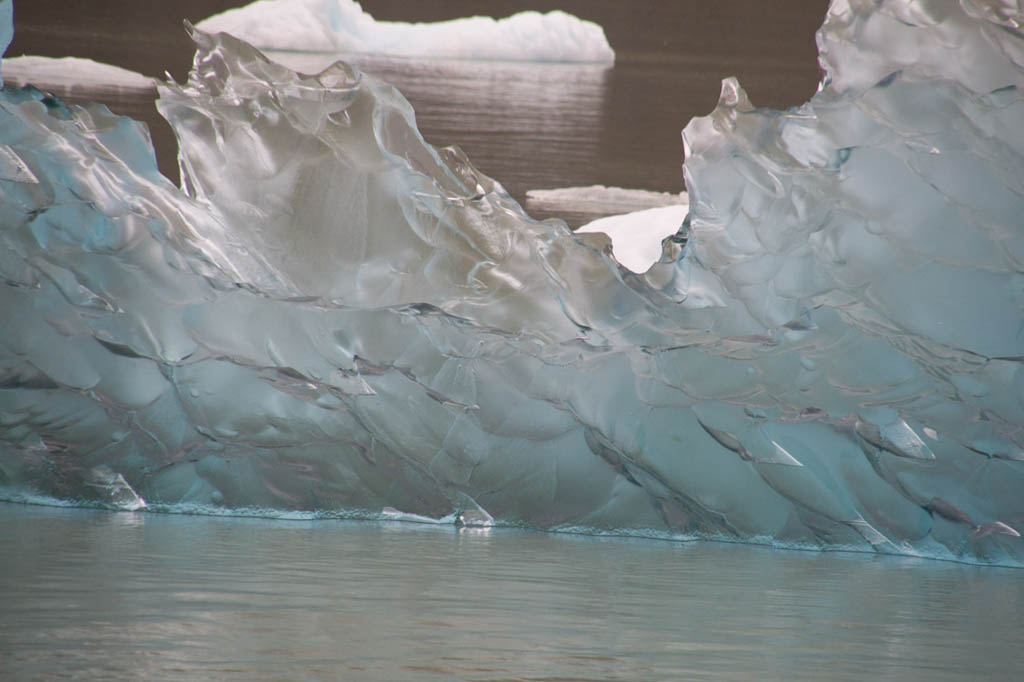 We stayed at South Sawyer glacier for quite a while, and then we set sail to head to Juneau to meet back up with our cruise ship. It was actually quite a long journey. That, coupled with our early departure, I even dozed off a bit on the boat, leaning my head against the window.
But, along the way (and before falling asleep!) we saw more stunning sites.
Here is, by far, my favorite picture of the ENTIRE ALASKA trip (#nofilter):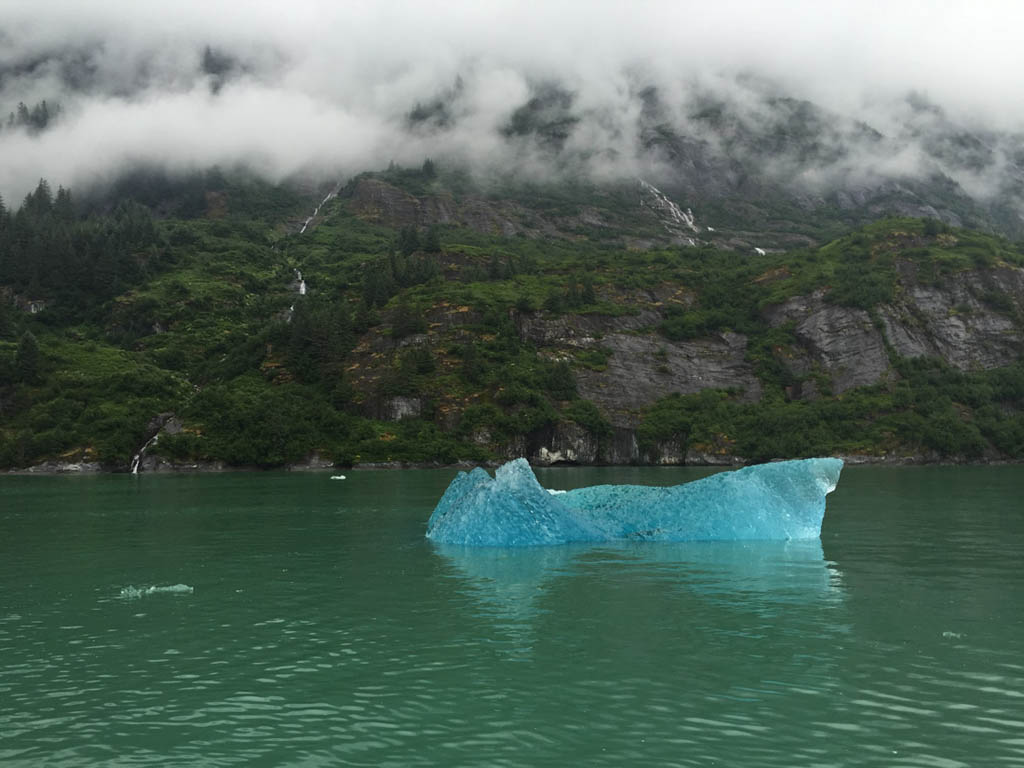 The boat actually slowed down for a bit so that we could take in the sites of these gorgeous icebergs.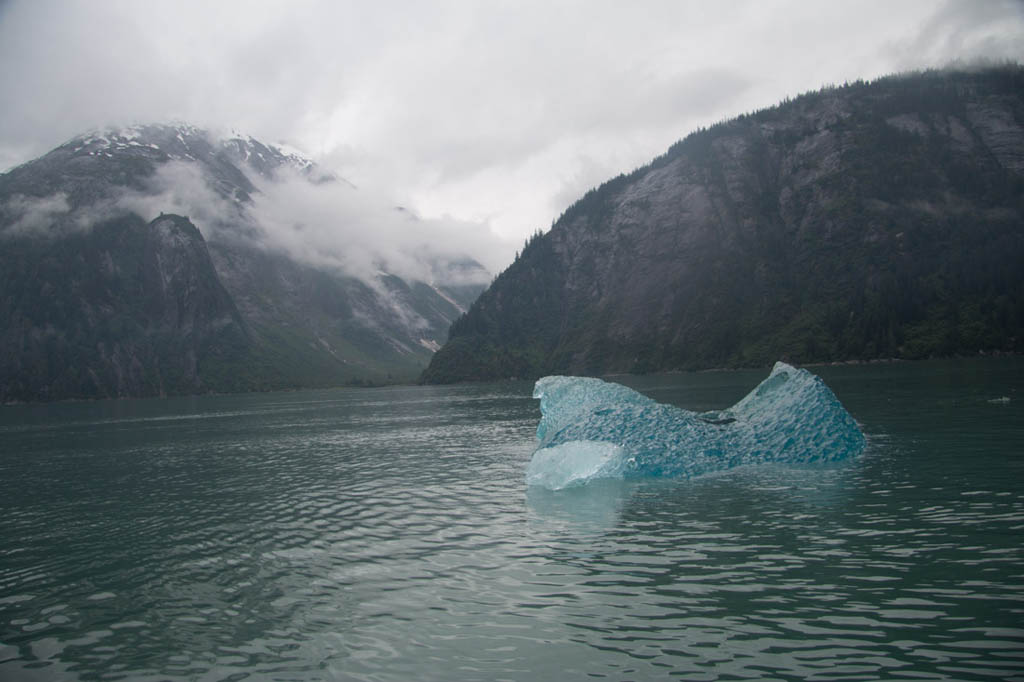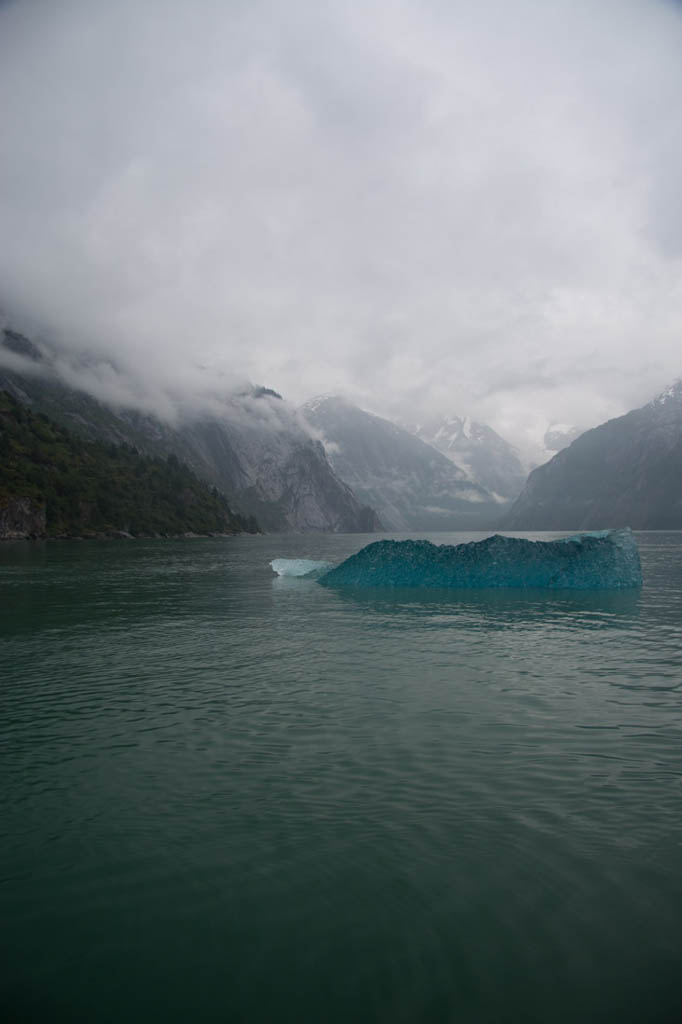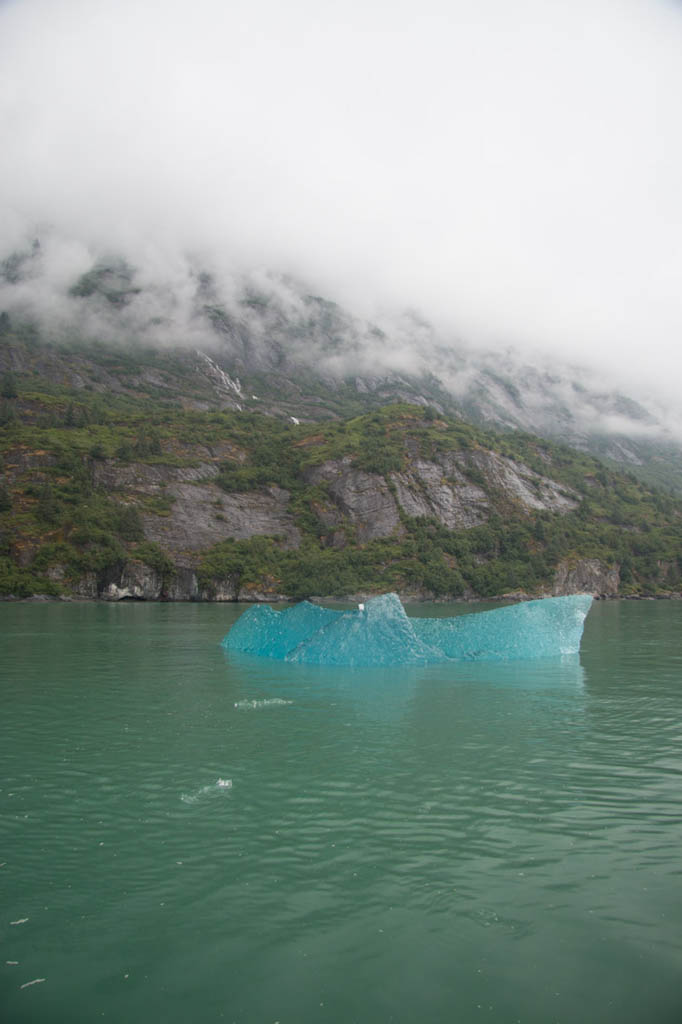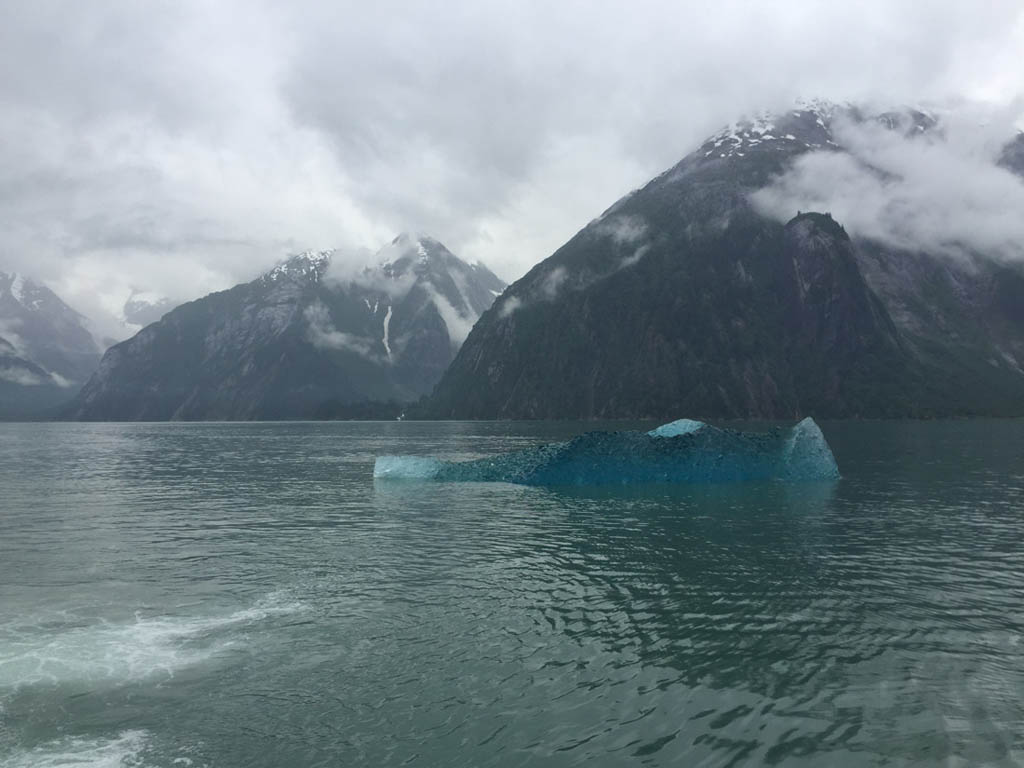 And even waterfalls!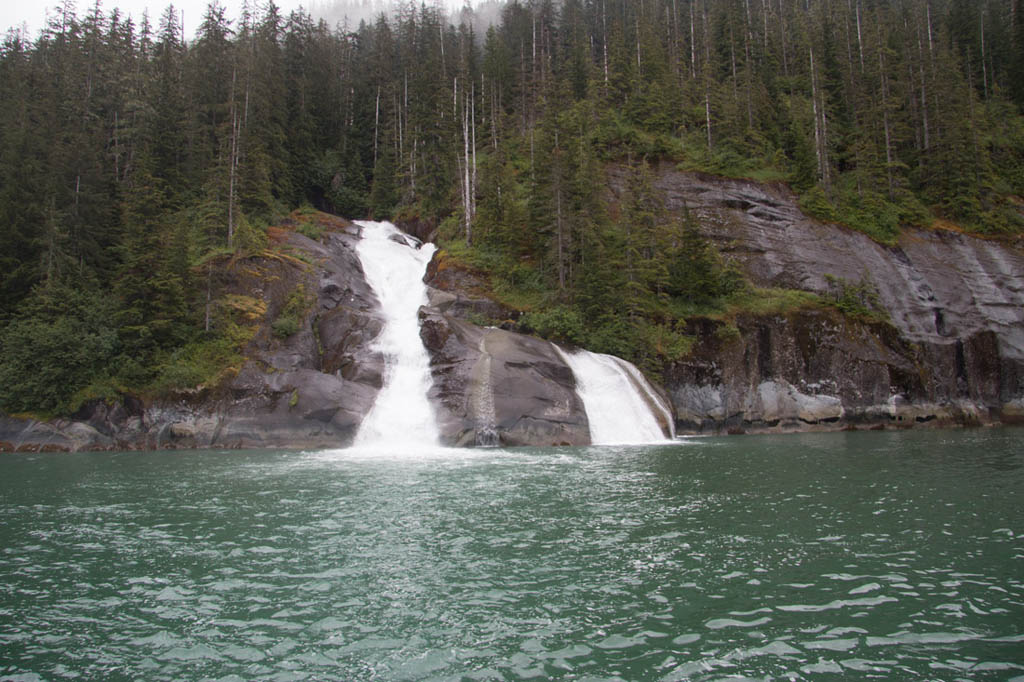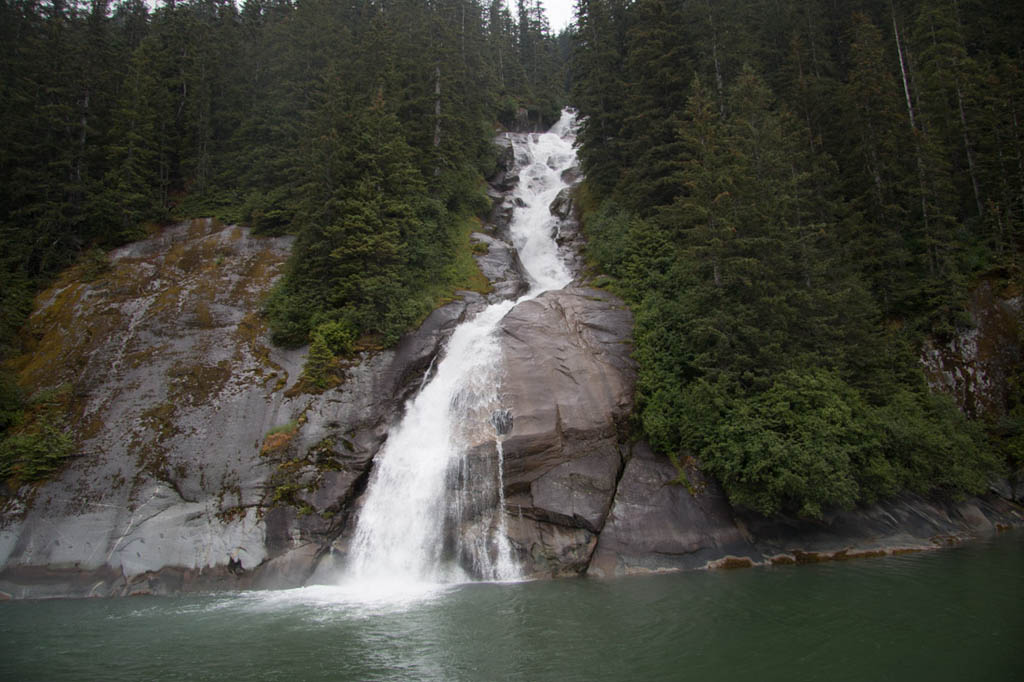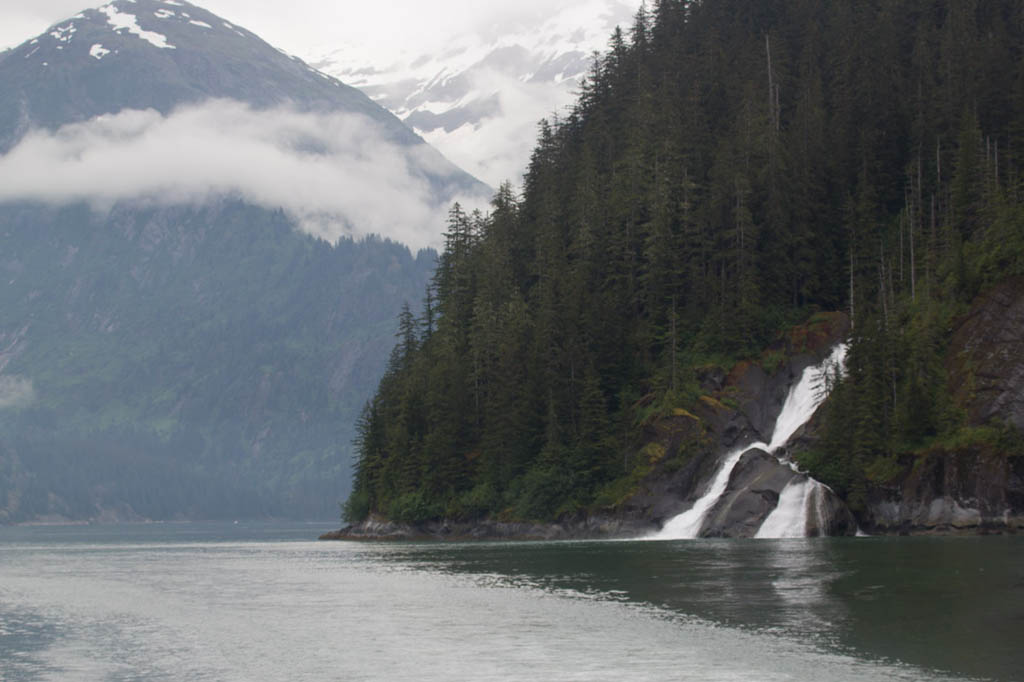 Our little boat arrived in Juneau and started approaching our cruise ship.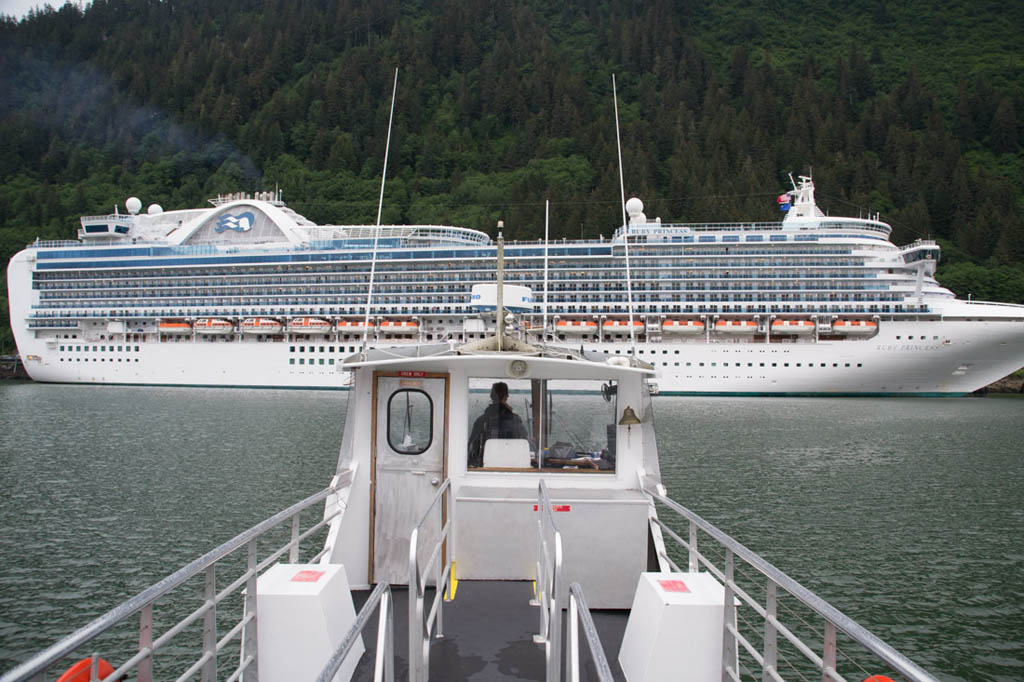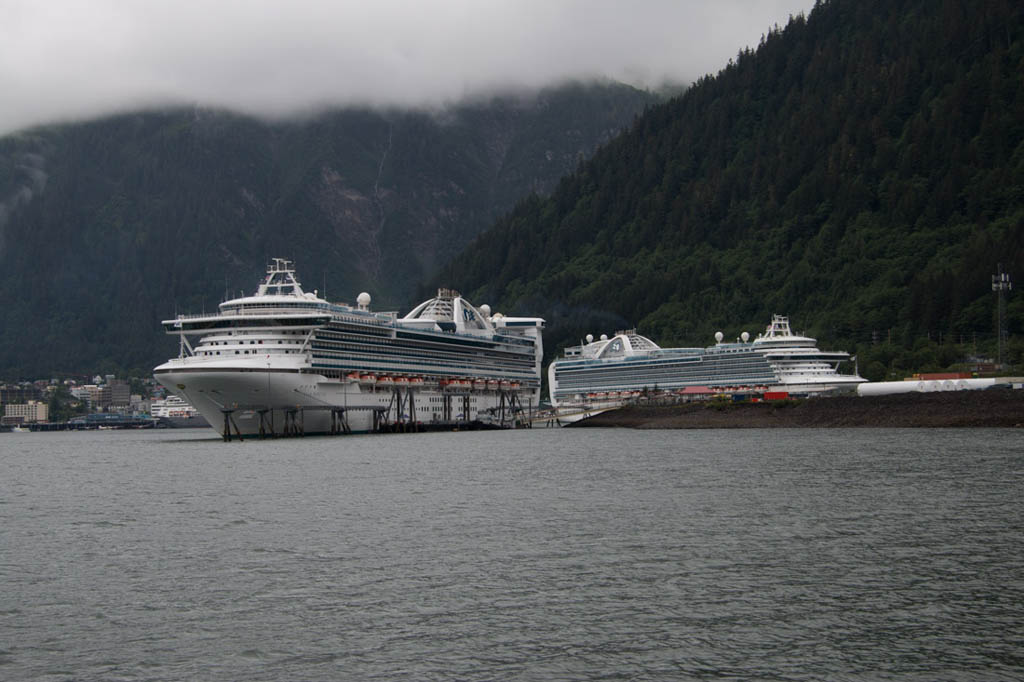 And just like how we boarded the small boat in the morning, the boat pulled up right next to the ship, and we disembarked directly onto the ship. We headed back to our cabin, dropped off our stuff, and ate lunch at a buffet before we headed out to Juneau. I'll cover Juneau in the next post!