This post may contain affiliate links. Please see my advertiser disclosure for more details.
Ken has been trying to convince me to go camping over the years. And by "trying to convince," he's brought it up about once or twice a year. He was shocked to learn that I had never been camping. I mean, sure, I spent nights in cabins during Girl Scout retreats or during a high school club outing, but with my family? Never. And I certainly never considered any sort of "tent" camping. That just sounded like something crazy hippie people do.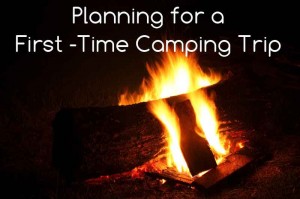 I learned that I had some incorrect (waaayyy off base) preconceived notions of camping.
1) I thought that camping involved unloading all of your supplies from your vehicle and them having to lug them several miles down some wooded trail to get to your campsite. When Ken finally realized this was my understanding of camping, he looked confused and said, "No, that's backpacking!" He then proceeded to show me photographs from one of his previous camping trips. The car is literally 10 feet from the tent. Ooops.
2) I do not function well without a daily shower. There's just something about letting water stream down my face in the mornings that makes me feel all clean and shiny and ready for the day. Ken proceeded to point out that many campsites have shower facilities. Many with hot water shower facilities.
And lo and behold, my preconceived notions about camping being unenjoyable started to fade, but I still wasn't ready to make the plunge. There was one final push that made me realize I wanted to give camping a try.
Over these past few years, I've really grown to like cooking. Trying new recipes and tweaking them, mastering charcoal grilling (Ken says I've ruined restaurant steaks for him because mine are so much better), experimenting with baking artisan breads and layered cakes, among other things.
I'm not even sure where I found it (Pinterest probably), but I tripped across some collection of camping recipes, and I was all like SOLD! You mean camping food didn't just revolve around hot dogs and s'mores? I mean, not that I don't like hot dogs and s'mores, but there were just all these fun new cooking techniques and recipes to try. Dutch oven cooking, foil packet grilling, pie iron cooking. The list just went on and on.
So, yes. I am going camping to try some new recipes. Well, not really. I'm going camping to try camping. The fun new cooking techniques and recipes are just an added benefit.
I've started Googling camping supply lists, and my oh my, that got overwhelming really fast. I thought to myself, "I thought camping was supposed to be cheap!" Sleeping bags, LED lanterns, bear mace, folding chairs, and campfire-friendly cookware? Luckily Ken already has a tent and his own sleeping bag, but yikes, that's a lot of equipment! Plus, I'm really trying to strike a balance between comfort and not wanting to go overboard on camping-related purchases.
My reasoning on the comfort issue has been floating around in my head like this: I really hope that I enjoy my first camping experience enough that I'll want to do it two or three times a year. But, if I hate it, I'm going to be mad that I made all these specific camping purchases. But, I probably WILL hate camping if I can't get comfortable enough to sleep, so does that justify purchasing a $50 self inflating sleeping pad in addition to a new sleeping bag for my first camping trip ever?
A lot of helpful camping-related websites and blog posts say that camping becomes infinitely easier when you have dedicated camping supply bins, but for my first camping trip, I'm just going to gather up some existing supplies from around the house and pack them. If I happen to like camping, then we can transition to having bins full of supplies just for camping. For instance, I'll just pack our kitchen spatula and wooden mixing spoons, and our flashlights under our sinks, and the bug repellant I keep in the linen closet.
I think that it's a fair tradeoff. Yes, it will be more annoying to pack like this and have to put stuff back around the house when we return, but this way, if I really don't like camping, I don't have to have the added annoyance of having purchased all these supplies we already have just so we can have "camping supplies."
With that "money saving" mantra in mind, I think I will purchase some added comforts like a sleeping pad and comfortable folding lounge chairs. If I don't like camping, we can probably sell the stuff on Craigslist for a decent price. I'll also develop a detailed meal plan for our camping trip so that I don't purchase any unnecessary camping cookware.
What do you think? Did you have a first time camping trip as an adult? What did you bring and decide to leave at home?