This post may contain affiliate links. Please see my advertiser disclosure for more details.
When we decided on New York City as a quick weekend getaway, my mind immediately was set on the Andaz Fifth Avenue. Over the past few years, I've seen the Andaz Fifth Avenue reviewed many times on miles and points blogs. Part of its allure seemed to be the great value as a points redemption. The hotel can cost $500+ per night. So redeeming just 22,000 Hyatt Gold Passport points for one night makes it a pretty great deal. I was excited to see that points redemptions were available for our desired weekend, so I transferred 66,000 Chase Ultimate Rewards points to my Hyatt Gold Passport account. The transfer was instantaneous, and I made our three night reservation immediately.
Our taxi from Penn Station to the Andaz was a bit absurd. The last few times I was in New York City, I was a broke college student, so taking a taxi cab anywhere was always way out of the budget. So, perhaps I was a bit out of the loop on New York City taxicab etiquette. But I thought that I could give an address, in this case, 485 5th Avenue, and the taxi driver would know where to go. Well, he needed to know the cross streets. What the hell do I know about cross streets? I mean, in DC I can just say "Take me to 400 12th Street, NW" and they know right where that is. (I actually don't know if that's a real address, but you get the point).
After a quick Google Maps inquiry on my phone, I discovered that the cross streets were 41st and 5th Avenue. Annoyed, he asked whether he could drop us off three blocks before that cross street because something about something traffic and one-ways. Or something. I really had no idea what he was saying.
So I just said no and that we wanted to be driven to the hotel at 41st and 5th Avenue. I did not want to be carrying my luggage, no matter how light and compact, three blocks to a hotel we had never even been to before. He agreed to drive us to the destination, although he sounded pretty irritated about it.
I digress.
We arrived at the Andaz, which has a nondescript entry. As you enter through the tall doors, it's like you're being granted entrance to some secret society or something. The entire time we were there, two employees staffed the doors to open them for guests as they entered and exited the hotel, as well as being nearby to get them a taxi or to help them out of a taxi.
(Exterior photos taken during the daylight since we arrived when it was dark)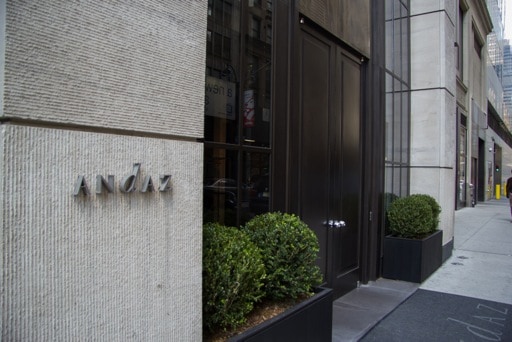 Andaz Entrance on 41st Street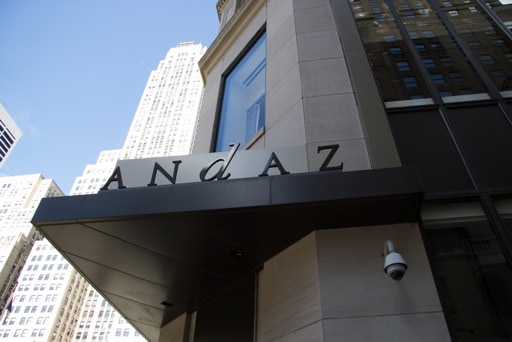 Hotel logo as seen from the corner of 41st and 5th Avenue
When we arrived, we ventured toward the small check in "desk," which is actually just a small white table with four employees staffing MacBook Pros.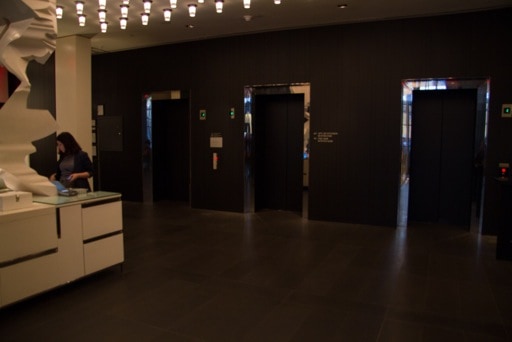 Check-in area and elevators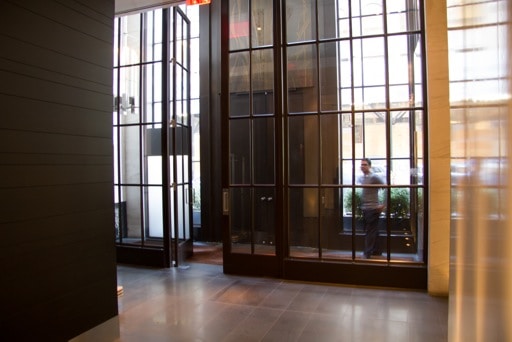 Staffed Lobby Doors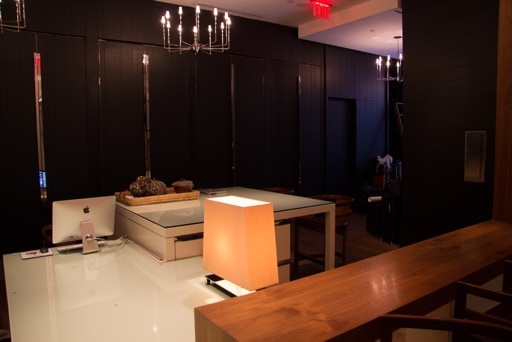 An iMac available in the lobby for guest use free of charge. I used it a few times to print our updated tickets to the 9/11 memorial, as well as to print our boarding passes after we re-booked our return Amtrak train.
A gentleman checked us in. We had booked an Andaz King, and I asked if there happened to be any upgrades available. He said they wouldn't have any suites available until the following night. But he offered to upgrade us to a "Pure" room, which faces an interior courtyard, so it is quieter than the rooms that face the street. We figured why not. He escorted us all the way to our room, which I was not expecting, but it was a nice touch. As we walked to the room on the 5th floor, he told us a bit about the Andaz brand.
One thing I found slightly annoying, although it is certainly not unique to the Andaz Fifth Avenue, was that we had to take two separate elevators to get to our room. First world problems, I realize, but the annoyance really became apparent after a long day of sightseeing and we just wanted to get to our room to relax. We had to do take two elevators to our room during our stay at a Westin in Philadelphia as well last year during a weekend trip.
On the second set of elevators, he explained that we would need to swipe our hotel room key to gain access to our floor. I made a light joke about being thankful for the security, saying "Oh that's good, because I've seen Law and Order plenty of times." He chuckled, and then Ken was quick to point out we were from DC, which these days has a much higher murder rate than New York City!
Anyway, he showed us to our room and proceeded to give us a brief overview. He covered how the lights worked (which I'm glad he did. It wasn't as easy as just flipping a switch), how the automatic curtains worked, that all the snacks and non alcoholic beverages in the room were free of charge (Free! No paying $3.50 for a bottle of Coke from a hotel vending machine!), and explained that there was a computer hooked up to the back of the television. For what purpose, I don't remember. Which brings me to #2 minor complaint about the Andaz — the computer ran all the time, which made for a slightly annoying whirring sound all night long. Nothing too loud to keep me awake, especially after exhausting days of sightseeing, but just something to be aware of for light sleepers.
Ken asked whether breakfast was included. I knew it wasn't, but I forgot to tell Ken. But, I'm glad he asked because the host showed us the breakfast room service menu, told us to fill it out that night, and write it to his attention. He would comp us breakfast for the next morning. That was certainly a great gesture and a sign of great customer service.
The room was large by New York City standards.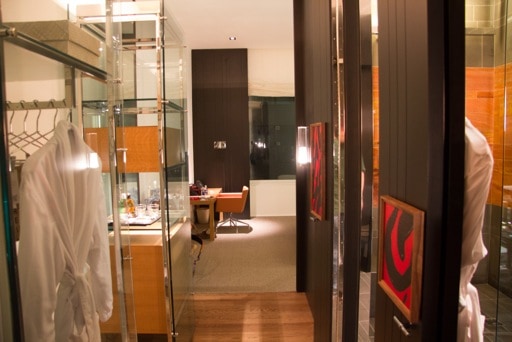 Looking down the hallway after entering the hotel room door. The bathroom entrance is on the right.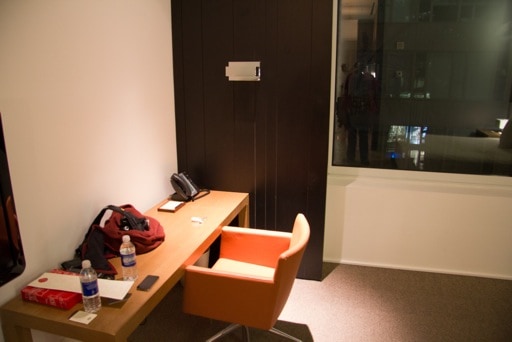 Desk area. Sorry, we had already started to set stuff down!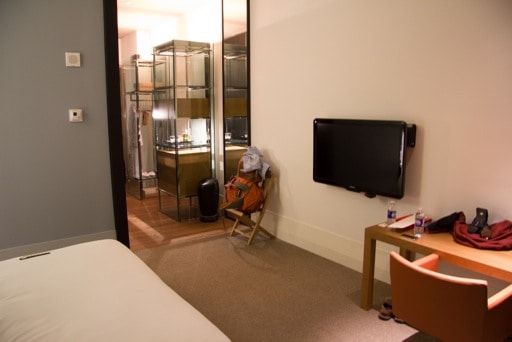 Looking other direction down hallway with bed and desk partially in view.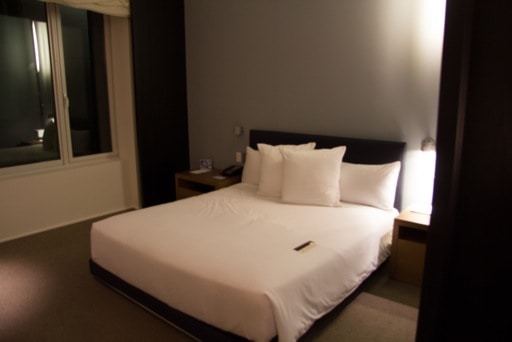 King Size Bed. Very comfortable and a good selection of pillows.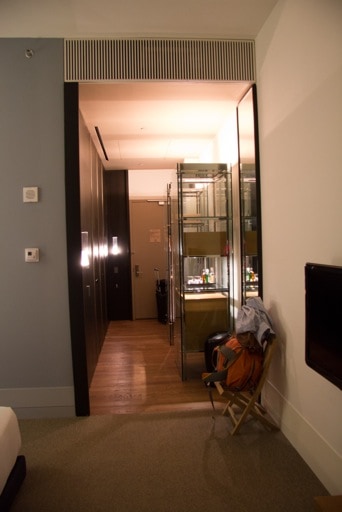 Standing next to desk, looking back towards hotel room door.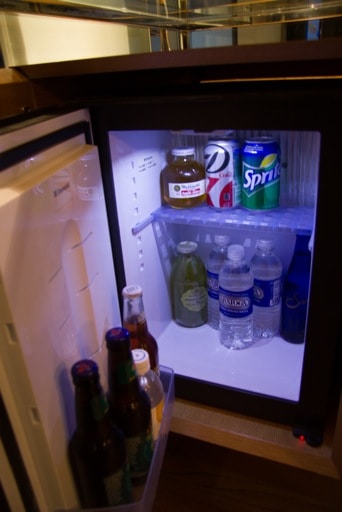 Fridge stocked with sodas, water, and a light selection of alcoholic beverages. Ken and I certainly took advantage of the bottles of water and sodas. Every day, the fridge was re-stocked.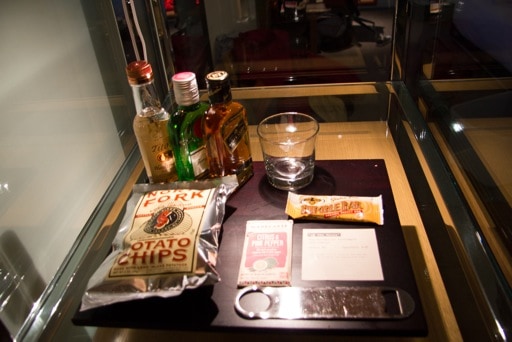 A few light snacks were also free, plus there was some liquor available for purchase.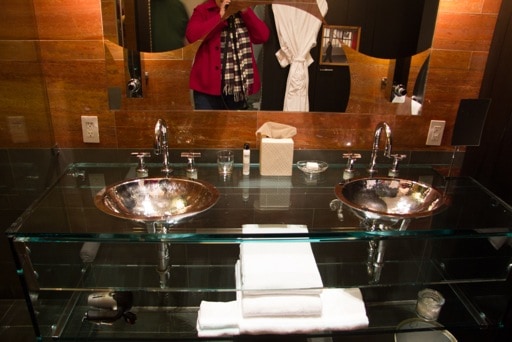 Double sinks in bathroom.
Shower area next to sinks.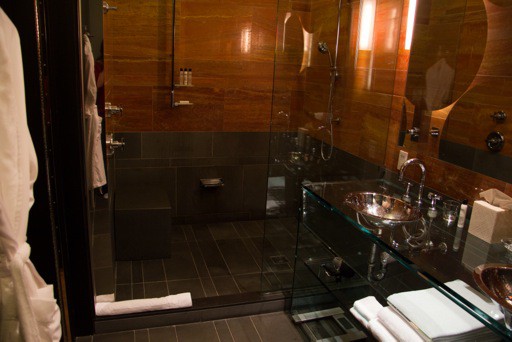 More complete view of shower.
Not visible in the above picture though is the rain shower head in the ceiling. The bench was lovely, and under the bench (not pictured) was a large heavy bowl that you could fill up with water to soak your feet. I did that every night of our stay! The small silver thing to the right of the bench that looks like a soap holder is actually the water faucet, which ran like a waterfall, which you could use to fill up the large bowl. Finding the perfect water temperature was a bit difficult. I tend to like my showers on the hot side, but it was hard to find that sweet spot of hot enough without being too hot.
Also, this is a personal preference, and I realize that it bucks current trends, but I don't like showers without doors. In addition to liking my showers hot, I like them to be steamy too. And it's just too hard to "trap" the steam in a shower when there's no door. Eventually it would get steamy when the entire bathroom filled with steam, but obviously that takes a lot longer. I find showering just a bit too breezy without a door!
The bathroom was stocked with CO Bigelow products.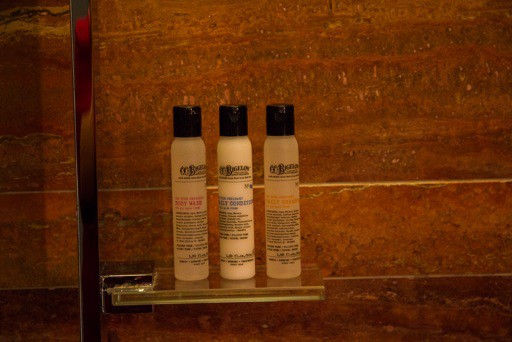 CO Bigelow Body wash, Conditioner, and Shampoo. (Not pictured: Body lotion that was available on the sink)
I don't have a photograph of it, but the only thing I didn't like about this bathroom was the way the toilet was situated. The toilet was behind a half partition wall, but if you walked into the bathroom as someone was using the toilet, you'd be able to see them just fine. I'm not sure why they bothered with a partition wall since it didn't offer privacy from others who may have been using the sink or shower.
The view wasn't much to write home about, but because we faced this interior courtyard, our room was very, very quiet for New York City. So, while it was no Splash Suite, we didn't have to worry about street noise.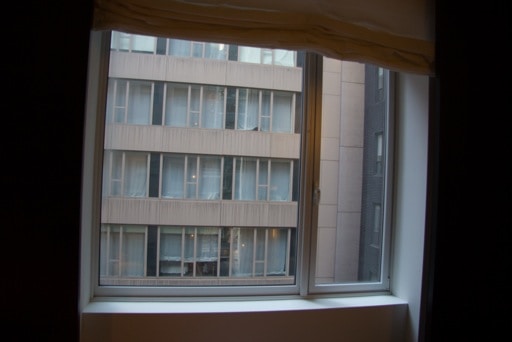 View from Andaz King "Pure" Room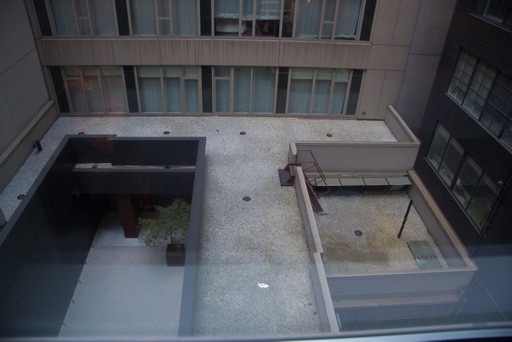 View from Andaz King "Pure" Room
I have an informal rating system for hotels that I stay at. So here you go for the Andaz 5th Avenue!
Mattress Comfort: Did my back hurt when I woke up in the morning? No. Great Bed Comfort!
Towel Quality: Did the towels wrap all the wrap all the way around my body? Yes. Best hotel towels EVER.
Shower Quality and Comfort: Did I have to duck down my 5'9" body in the shower to get my hair wet under the shower head? No. The rain showerhead was like 3 feet above my head!
Room Temperature: Did I wake up at times during the same night alternating between feeling hot and cold? Yes. Unfortunately we couldn't quite get the room temperature comfortable at night.
Would I Recommend it to a Friend: Yes, but with a caveat. If I had paid the full price for this room, I don't think I would have been terribly impressed given the money we would've spent. Yes, the service was great, the rooms were comfortable, and the free snacks were appreciated, but would it have been worth $450/night? Not to me