This post may contain affiliate links. Please see my advertiser disclosure for more details.
---
Two weeks ago, Ken and I spent a long weekend in New York City. I had been hoarding a lot of points recently, and decided it was time to redeem some of them. Plus, I had really been itching for a vacation. We went on an amazing Southwest USA road trip for two weeks in Fall 2012. Shortly after our return from that road trip, I redeemed some American Airlines miles for an off-peak award to Belize scheduled for April 2013.
Unfortunately, in between those two trips, tragedy struck our family. My parents were in a serious car accident. My mother died on the scene, and my dad was airlifted to a trauma center where he thankfully survived. Needless to say, both Ken and I took a lot of time off work. So, we decided to cancel the April trip to Belize, and I had our AAdvantage miles refunded.
In the subsequent months, I had tried to plan other long weekend trips, researching places like the Bahamas Out Islands and Key West, but I had one family emergency after another that prevented me from being able to go somewhere and relax. Although we typically take a long vacation in the fall, we decided to skip a big fall vacation for 2013, since we already had our Russia trip planned for February 2014.
By July, I was getting anxious to plan some sort of vacation, and we decided that New York City would be a fun weekend getaway. Although we had both been there before (albeit separately), we were both broke college students during our previous visits. So, it would be nice to actually afford to go to museums like the MoMA! (Spoiler alert: We never actually made it to the MoMA.) New York was also close enough that I could return home in case of some other family emergency. We picked out a weekend in the Fall, when the weather would be crisp and the foliage beautiful, and started making reservations!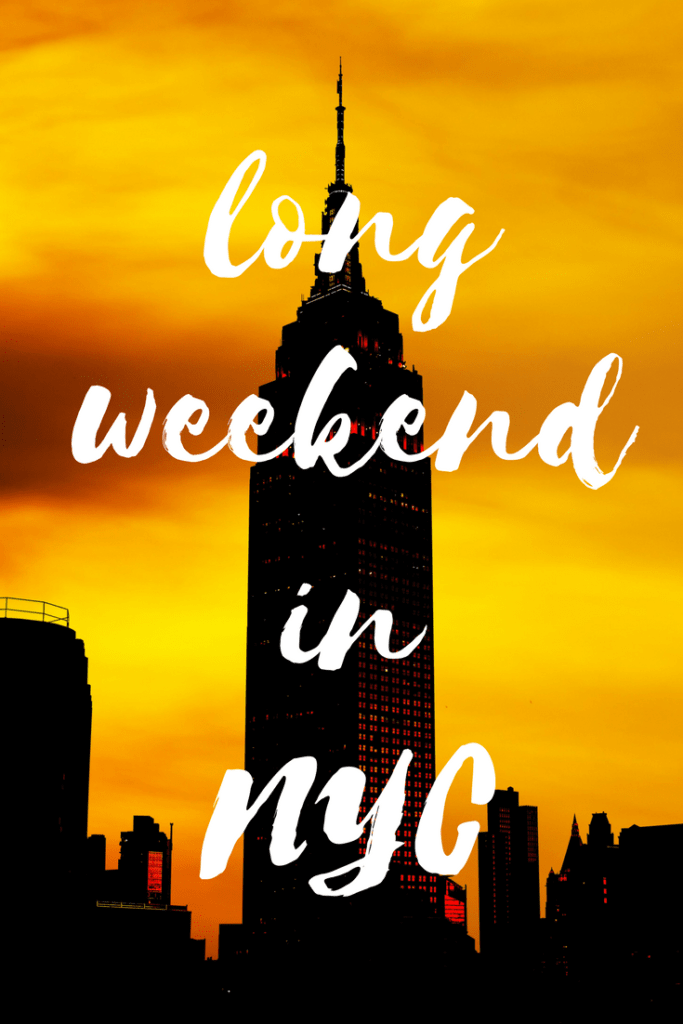 I immediately knew I wanted to stay at the Andaz Fifth Avenue. This hotel is currently all the rage among the many points bloggers that I follow. I was also swimming in Chase Ultimate Rewards points. Since the Andaz is a Hyatt property and since Chase Ultimate Rewards Points are 1:1 transfer partners with Hyatt, I checked award night availability for the Andaz Fifth Avenue on Hyatt's website. There was availability for our desired October weekend, so I transferred 66,000 Ultimate Rewards points to my Hyatt account and immediately made the reservation.
Next up were transportation options. The easiest transportation between DC and New York City is Amtrak. Trains to New York were very reasonably priced for our desired Thursday evening travel, so it didn't make any sense to use points. We just paid the $49 per person and booked our tickets. The Sunday night return, however, was much more expensive, approaching nearly $200 per person for just the Amtrak Northeast Regional Train.
Since part of the fun of points is redeeming them for new and fun experiences, I decided to book our return train in Amtrak Acela First Class. I've never taken an Acela train before, let alone Acela First Class. And since Amtrak Acela First Class tickets were about $350 per person, so I thought it would be a fun indulgence. I tempered my expectations though, as many people complain that the Acela trains, which are touted as high speed, really aren't that much faster than the regular Amtrak trains. I've taken high speed rail in both Japan and Europe, so I knew that Acela would be no Shinkansen. But, I still wanted to give it a whirl.
Amtrak is also a 1:1 transfer partner of Chase Ultimate Rewards. I knew that there are a handful of weekends that Amtrak excludes points redemptions, so I double checked that our desired travel date wasn't one of the blackout dates. I made sure to do this because Ultimate Rewards transfers are not reversible once they are made. For instance, if I had transferred my Ultimate Rewards points to my Amtrak account and then was unable to redeem them for my travel date, I would not be able to "return" the points to my Ultimate Rewards account. They would have to stay in my Amtrak account, which would be unfortunate because I don't travel Amtrak much. After confirming that our dates were not on the blackout list, I took the next step. One way Acela First Class tickets are 12,000 points per person, so I transferred 24,000 Ultimate Rewards Points to my Amtrak Guest Rewards account. Then I immediately made our reservation.
Free hotel, free return trip, and a very inexpensive train ride up to New York City. Score!
Over the next few months, we tinkered with a draft itinerary for New York City. We kept waffling on some things, like whether to see a Broadway show or whether to go to the Statue of Liberty. Both of us had been to the Statue of Liberty before, but I had never been inside the Statue of Liberty pedestal or crown. But when we realized that we couldn't get crown tickets because they book several months in advance, we decided to skip the Statue of Liberty for this trip. We also decided to skip a Broadway show and see one on a future trip. By the day we left for our trip, our draft itinerary looked like this.
Thursday October 24
Arrive New York Penn Station at 9:30PM
Check in to Andaz 5th Avenue
If not too tired, head to Brooklyn Bridge for night time photographs
Friday October 25
Empire State Building
Intrepid Museum
Walk along the High Line
World Trade Center Memorial. Last entry is 5PM
Do an evening walk of Brooklyn Bridge if we didn't do it on Thursday
Visit Museum of Modern Art (MoMA). Museum closes at 8PM.
Visit Lego exhibit. Exhibit closes at 9PM
Saturday October 26

Cloisters
Walk around Central Park
Met or Guggenheim museum if desired / if time. Met is open until 9PM. Guggenheim until 7:45PM. Guggenheim is "pay what you want" from 5:45 to 7:45PM on Saturdays
Evening visit to Top of the Rock
Sunday October 27
The Meadows for Giant Globe
Daytime walk on Brooklyn Bridge
Greenflea Flea Market ( 77th St. & Columbus Ave)
Amtrak train to Washington departs at 6:00PM and arrives at 8:45PM
Of course, like any draft itinerary, things changed as our trip progressed, and there were a few things we had to skip, but overall it was very successful!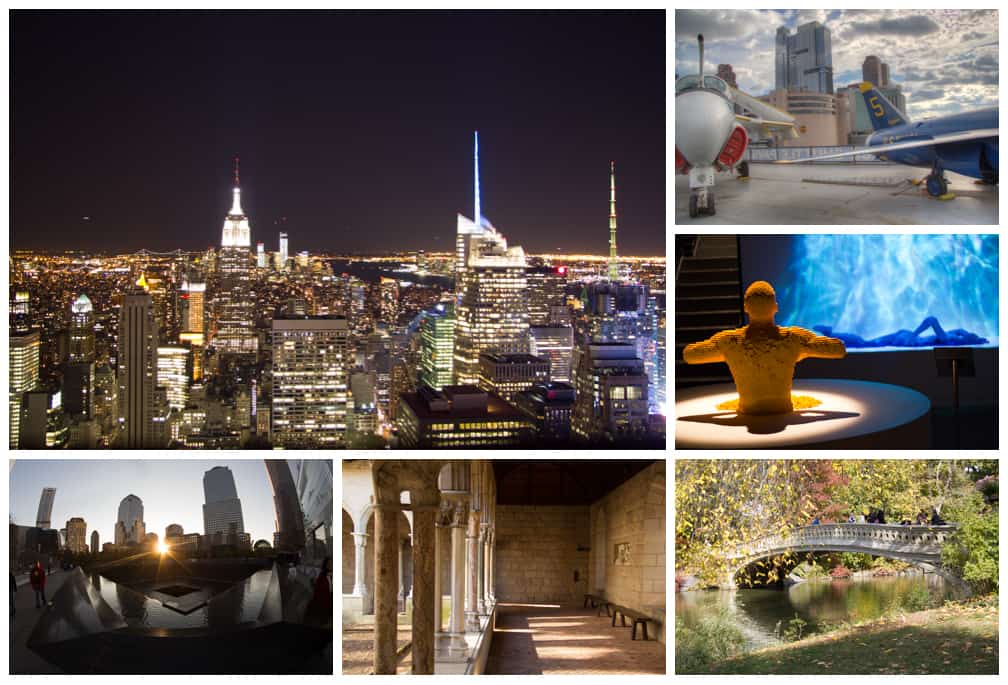 ---