This post may contain affiliate links. Please see my advertiser disclosure for more details.
When your vacation plans take you to Russia in February, there is one thing on your mind.
THE COLD.
Oh my goodness, the cold. In my research for what to wear in Russia in the winter, I came across this gem of a quote:
Don't forget that the Russian winter defeated both Napoleon and Hitler. Do not underestimate how cold and windy it will be.
So, I undertook a major effort to find the warmest coat I could find. And I also did a lot of research on the science (er, theories?) behind layering clothes.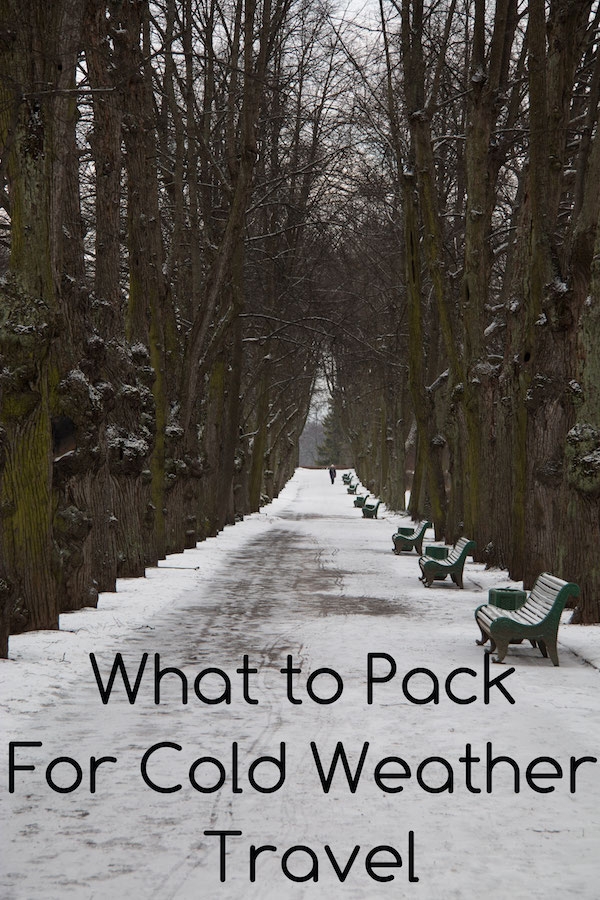 First, let's talk about shopping online. Does anyone else shop online using this strategy like I do? I might want one thing. Like one pair of shoes or one coat. But I want to easily compare sizes and styles. So what do I do? Order multiple sizes of multiple styles and try them on as soon as they're delivered. It's like having my own personally curated fitting room, all from the comfort of my own home. The first time I did after we got married and combined our finances, I alerted Ken about my credit card statement. It went like this, "Do not be alarmed at the $1200 charge from Talbots. I will probably be returning about $900-$1000 worth of that stuff."
He didn't really blink an eye. Good job Ken!
Buying a Coat
So, before our trip to Russia, I used that same strategy for shopping for winter coats. Heavy, warm, but functional coats for Russia. But buying coats wasn't been nearly as easy as I anticipated.
It went like this: Order three styles, don't love them but don't hate them, so I order two more styles from a different store, keeping the first three to compare once the second two arrive. In the meantime, I order three coats for my husband to try on. His coats arrive and I like them more than the women's coats I've been ordering. But now I need to order a men's "regular" instead of "long." Oh, they do make a women's version of that men's coat I like. Let me order that one too.
Well, you get the idea. First world problems to the max. "I'm having a hard time deciding among these one dozen warm winter coats I currently have in my possession."
At one point, there were stacks of coats on our living room floor.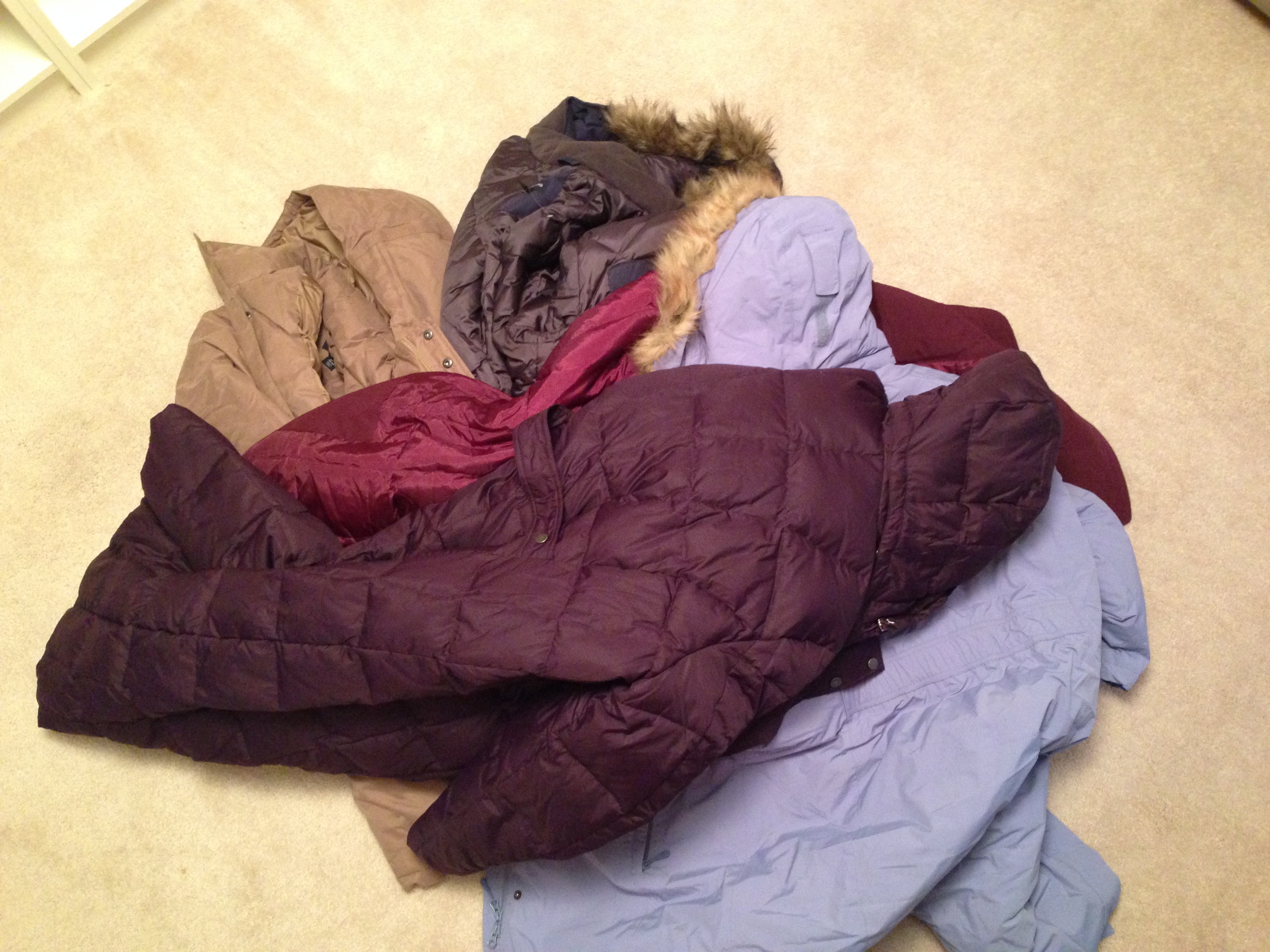 I suppose we were lucky that we had SUCH a cold winter here in DC. It gave me a good opportunity to try out the coats.
The one I ended up sticking with was the Lands' End Women's Expedition Down Parka. Although it was a difficult decision between this one and the LL Bean Microsuede Down Coat. I liked the Microsuede Down Coat because it was longer and it felt slightly more fitted and stylish, but the hood just wasn't as effective as the hood on the Expedition Down Parka.
As silly as this sounds, I was kind of concerned with the stylishness aspect. I read many internet threads that women in Russia wear stylish fur coats and high heels no matter how icy the sidewalks are. Well, both of those options were not for me. So I was prepared to stick out with my unstylish coat and hiking boots. But, as I mentioned right after we got back from Russia, everyone assumed we were Russian no matter what city we were in, so I guess we didn't stand out that much!
Layering
I did a lot of research on layering before we left. Base layers, mid-layers, and shell layers, and all that.
I'm a real wimp when it comes to cold weather (what can I say, I'm an embarrassment to my hometown of Pittsburgh), so I really wanted to layer effectively to stay warm.
Again, after much trial and error during our Polar Vortex here in the DC area, I decided on the following:
Base Layers
Mid Layers
Shell Layers
I'm not sure if these are technically considered "shells." But since I wore these items as my outermost layers, I am considering them to be my "shell" layer
I did not actually wear a "mid layer" on my legs, but I did pack a pair of fleece leggings in case it was necessary.
Accessories
Did it work?
So, the answer to the real question: Was I cold in Russia? Although the coastal areas of Sochi were quite warm, Moscow and St. Petersburg were definitely cold and wet. We spent a lot of time outdoors in both of those cities, and not once was my wimpy self shivering and/or miserable from the cold. Nope! I am so glad that I took the time to try out so many different coats and layering options. It really paid off.


The base layers were really key. After a long day of touring, we went back to our hotel to rest. While we were there, I changed into my pajama pants. Later that night, we decided to go out to dinner, so I changed back into my jeans. I couldn't figure out why I was SO COLD while walking to dinner. Then I realized I had forgotten to put on my base layer pants! That was actually a fun accidental experiment. It showed me just how effective those base layers are!
I feel like now that I have this whole cold-weather travel gear down pat, I need to utilize it for other travels! Maybe I should book some upcoming Alaska and Iceland trips!
A few final tips
If you are traveling somewhere in January or February, make sure you start shopping for your cold weather gear in November, or no later than Christmas. After Christmas we actually had a really hard time finding cold-weather gear in stock in stores or even online. I guess stores start to clear out their cold weather inventory after the Christmas season.
In a future post, I'll write about the cold weather gear that I purchased but didn't work for me, either because it wasn't warm enough or the fit was weird.
Have you traveled to any frigid weather destinations? What did you pack?