This post may contain affiliate links. Please see my advertiser disclosure for more details.
It's pretty darn hard to believe that it's been a year since our kitchen renovation wrapped up. We spent almost a year planning and designing the kitchen, including about five months of slowly buying appliances when they went on sale, leveraging shopping portal bonuses for points and miles all along the way.
We purchased our kitchen cabinets at Ikea. When you search the internet about Ikea kitchen cabinets, you'll find a lot of haters. "They're not real wood," "They're not custom" and things like that. But, here's what we had to say to that. We LOVE our Ikea Kitchen. Even a year later, I have not a single complaint about anything we purchased from there. (And for the record, the cabinet doors are real wood!)
I think even if I won the jackpot tomorrow and could spend any amount of money for kitchen cabinets in a brand new home, I'd still choose Ikea cabinets. Everything is so durable and customizable, easy to clean, and very stylish with countless options to choose. And no, I'm not a paid spokesperson for Ikea. We just love our cabinets.
I thought I'd start with the begin before and after "reveal" to get you all sucked in. Then, over the course of the next few weeks, we'll talk about our kitchen renovation in detail, including tips for designing an Ikea kitchen, pros and cons of DIYing the cabinets vs. hiring a contractor, the cost of our entire kitchen renovation, and some of our best (and worst) decisions. (Spoiler alert: we only have one regret … not splurging on a french door refrigerator and buying a side-by-side one instead. So cramped!).
Before: View from the Hallway
Eat-in area of kitchen before. We never actually ate in here though, because it was always just too depressing of a space. So we had a separate dining room table in our living room/dining room combo area and just used it for bike storage!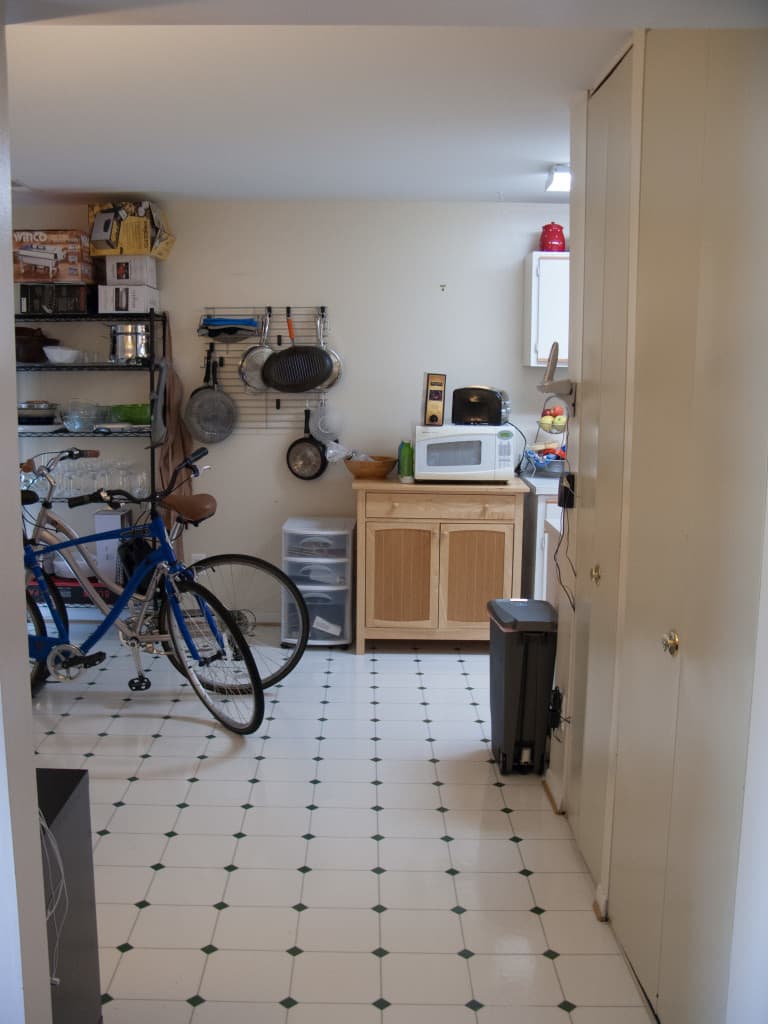 Another view of a lot of the wasted space in our kitchen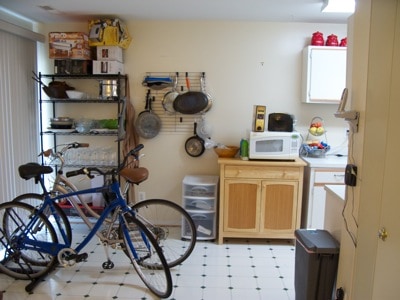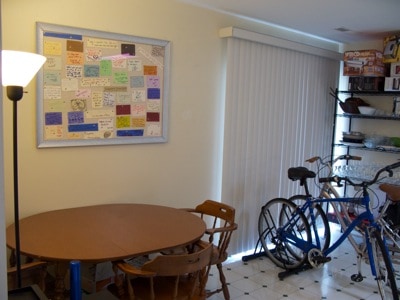 AFTER: View from the Hallway
Such a transformation! Please don't mind the broken and hideous venetian blind. We recently changed that to curtains! We also added a spot for a light fixture, and moved the light fixture from our living / dining room into here. Eat-in area of the kitchen after. We moved the fridge to this end, and extended cabinets all the way down the wall, what was previously completely wasted space. Also installed new black hardwood floors in the kitchen and the foyer area of the house. We considered removing framing in the sliding glass door to just have a large window, but since live in an HOA community, we couldn't change the exterior that dramatically.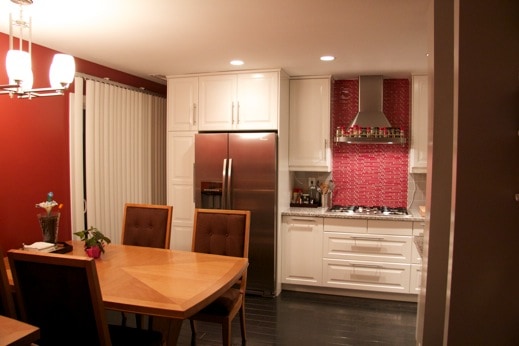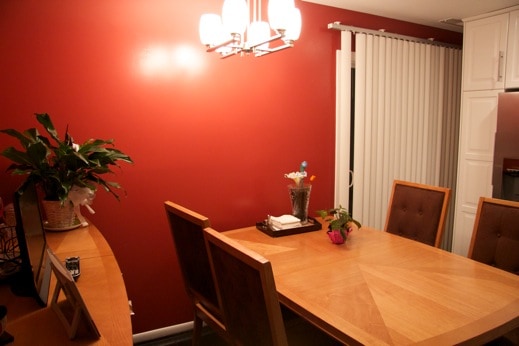 BEFORE: Looking down our galley style kitchen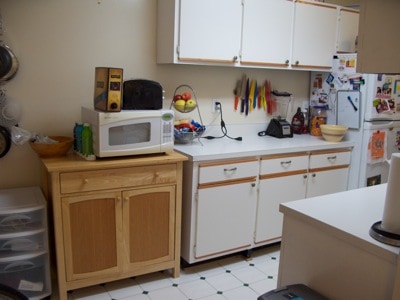 After:
Looking down our galley style kitchen. Kitchen area after. We now have a separate cooktop and moved it to a new space in the kitchen. We also finally have ventilation! Our old kitchen had NO fans, no hood, no ventilation whatsoever. If we burned food, we'd smell it for days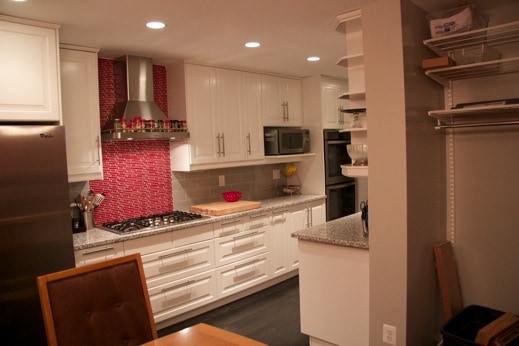 BEFORE: View towards the Hallway / Dining Nook
Strangely enough, we never ate in here. This dining room table set was a hand-me-down from my family that I used in my old apartments. Our "real" dining room set was in our combined living / dining area.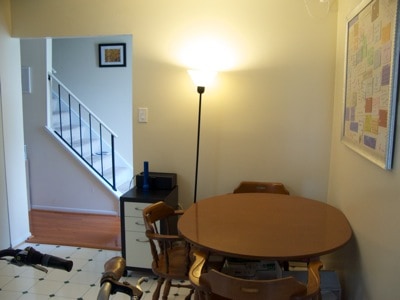 Closet areas with awful and non-functional (disfunctional) bifold doors that made it impossible to reach into the far right side of the closet.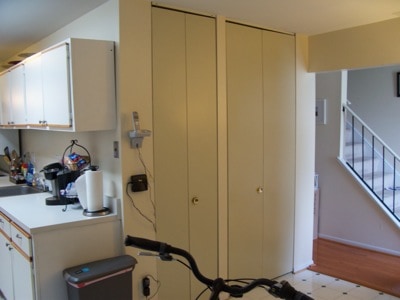 After: View towards the Hallway / Dining nook
After the renovtion, when our kitchen was no longer such a depressing space, we moved the dining room set in here. It didn't match all that great and it was a bit large for the space, but we did something about that just a few months ago that I'll be blogging about soon! We also removed the hideous bifold doors to the pantry closet. We're still deciding what types of doors to put on the closet.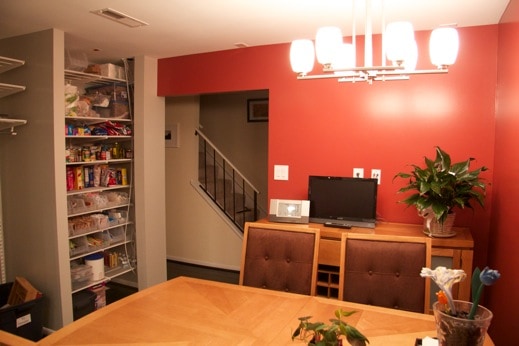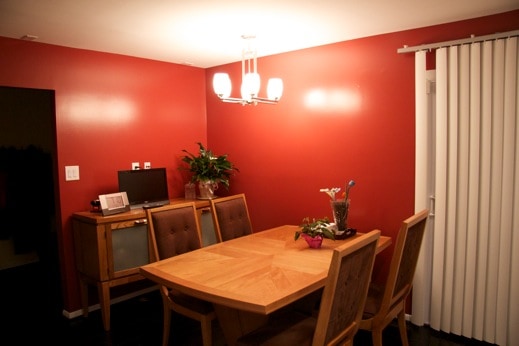 (Okay, I think you guys get the BEFORE and AFTER gist now)
Looking down the kitchen galley. (and the dining room table we moved to the eat-in area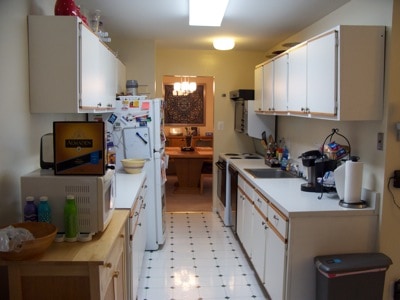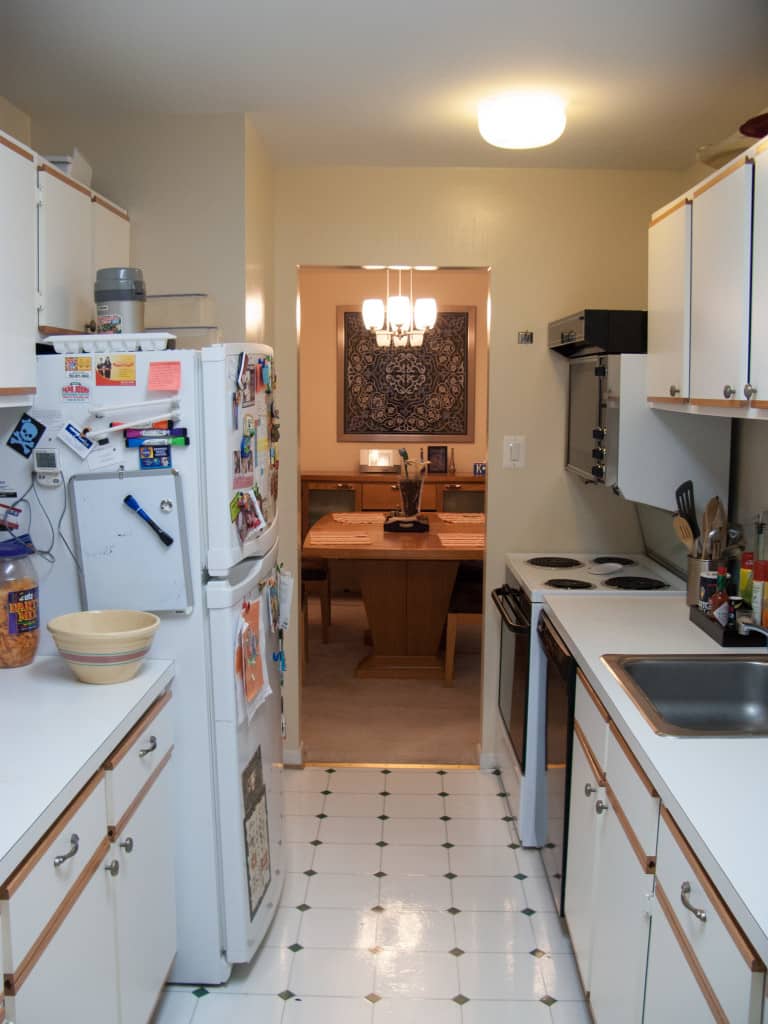 View of kitchen after. Newly extended countertops and cabinets on the left, and a double oven where the fridge used to be. Also so happy to be rid of the old ugly fluorescent lighting. We love how much taller our upper cabinets are in the new kitchen. These old ones were terrible. They should have been 8 inches closer to the lower cabinets (according to today's standards), and they didn't even come close to extending to the ceiling. So we have so much more upper cabinet storage space now!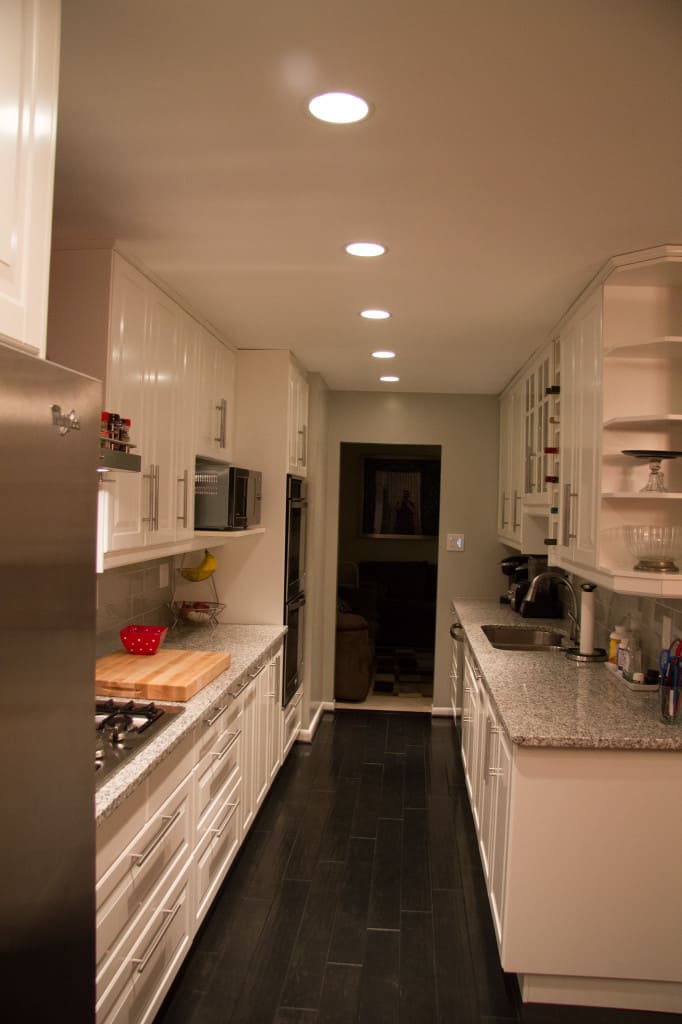 Closer view of the kitchen area, including the double oven and microwave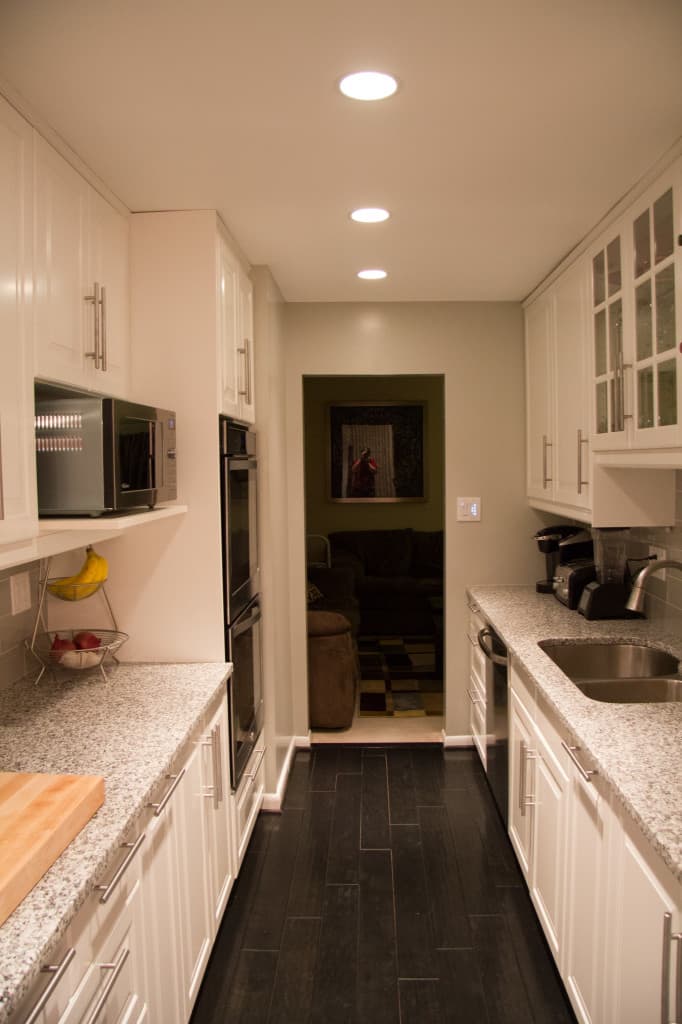 View of the kitchen (before) from the other direction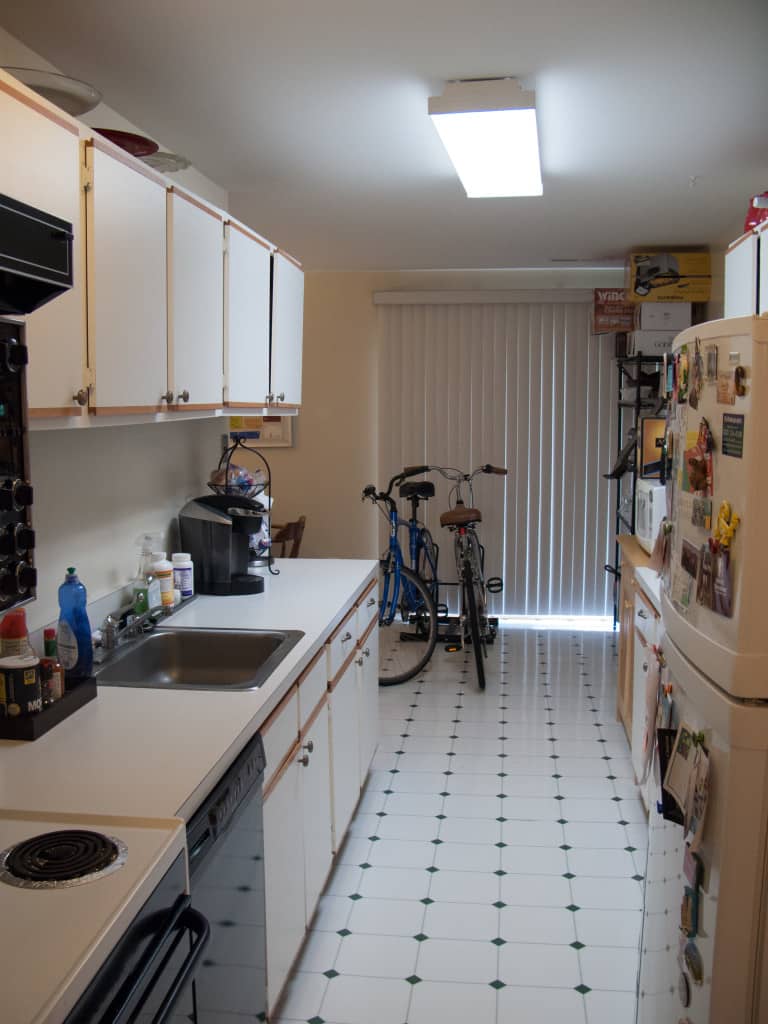 View of the kitchen after. Nice new double sink and a touch faucet. The dishwasher was the only appliance to stay in the same place.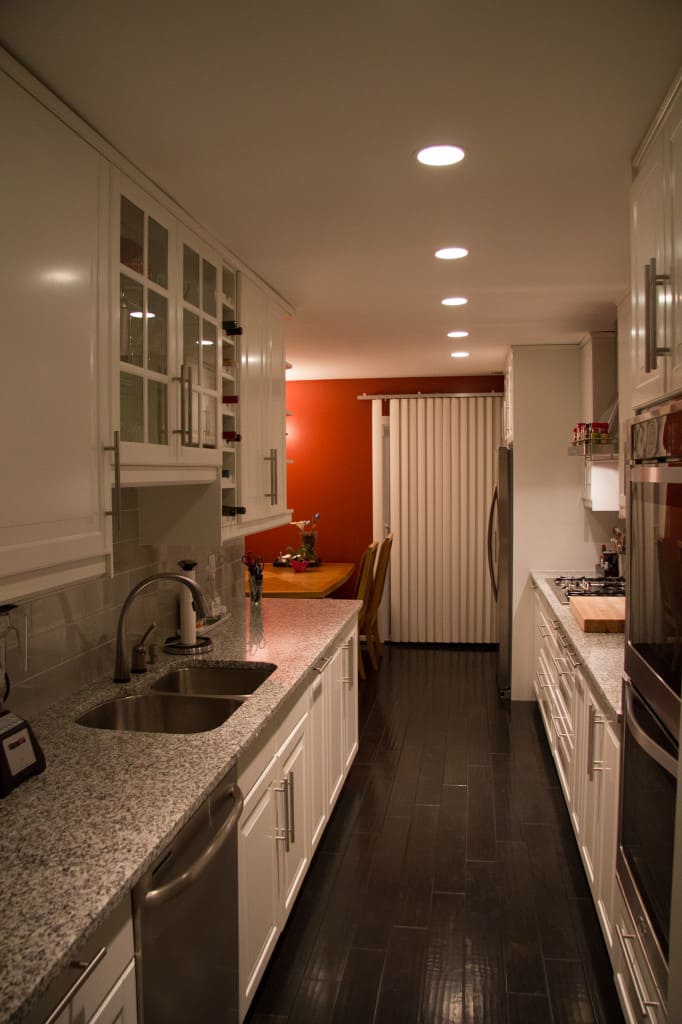 Old stove, oven, and dishwasher. It was so gross because there were gaps between the stove and countertop and the stove and the wall. So food crumbs were always falling into the cracks.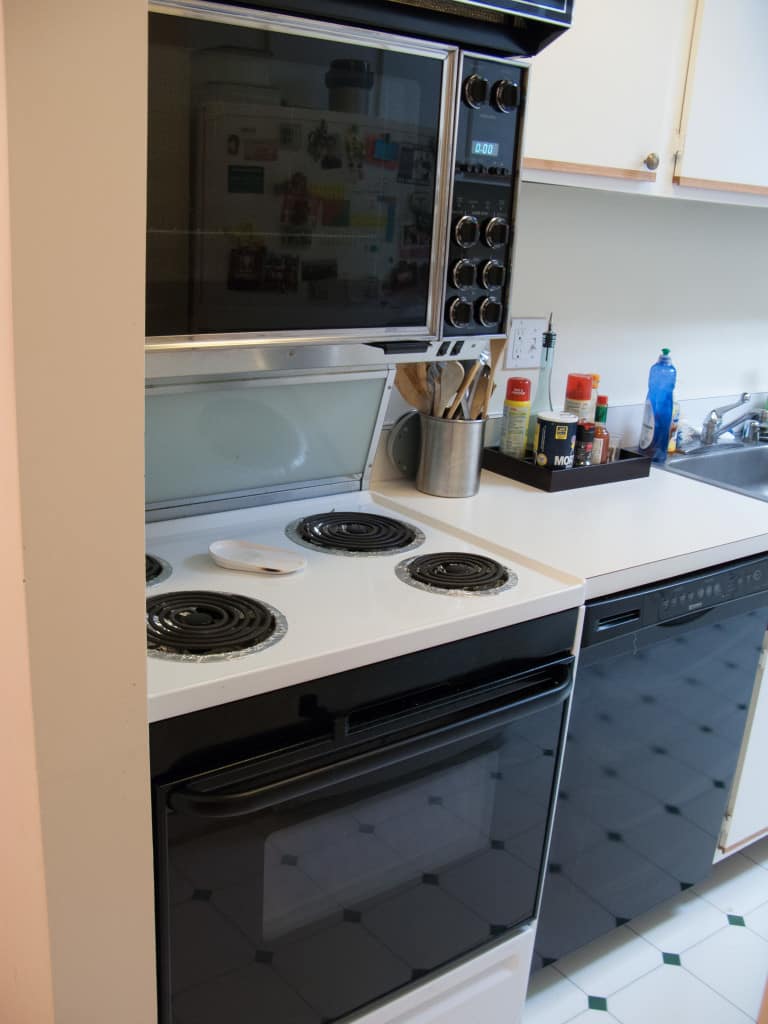 View of the new cooktop. No gaps for food to fall into! We also converted it from electric to gas.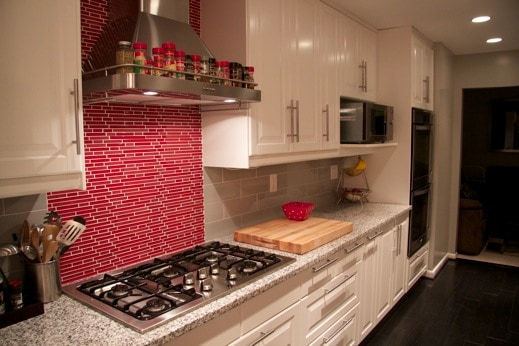 And just a few more afters for good measure!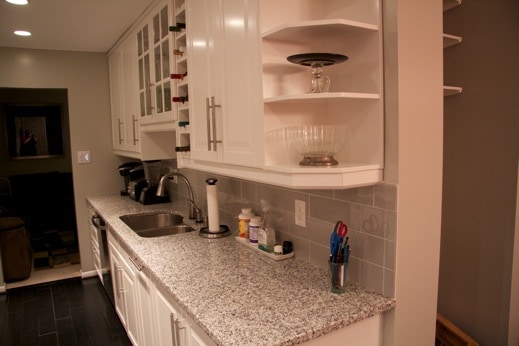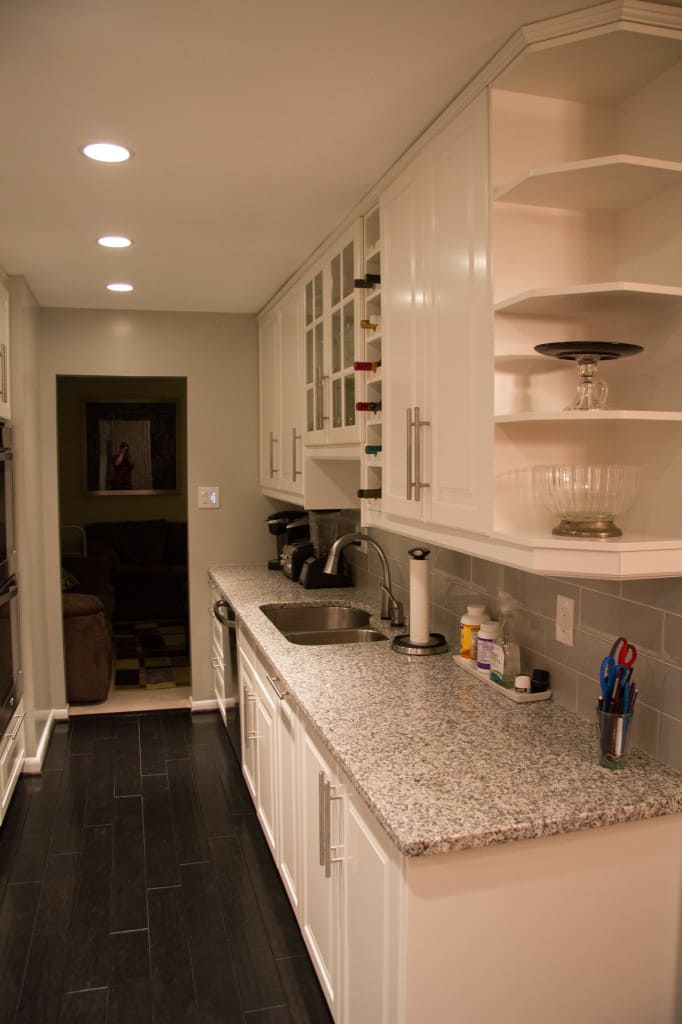 ---