This post may contain affiliate links. Please see my advertiser disclosure for more details.
Can we talk about messy kitchen drawers for a second?
Since our kitchen renovation finished up about 16 months ago, I've been able to keep most drawers and cabinets relatively neat. MOST. There are two that have been really difficult to maintain. 1) The undersink cabinet, where we keep a lot of cleaning supplies, and 2) The spice drawer, which is the topic of this post. (I'll get around to organizing that undersink cabinet … someday.)
My spice drawer was driving me nuts for months.
The drawer had mismatched bottles, some small enough to stand up, others too tall and had to be laid (lain, lay?) on their side. I had spice bottles, spice envelopes, and spice shakers. I was constantly on the hunt for spices when I was cooking, and well, to make a long story short, it created unnecessary stress in the kitchen.
So, I finally set out to organize my spice drawer!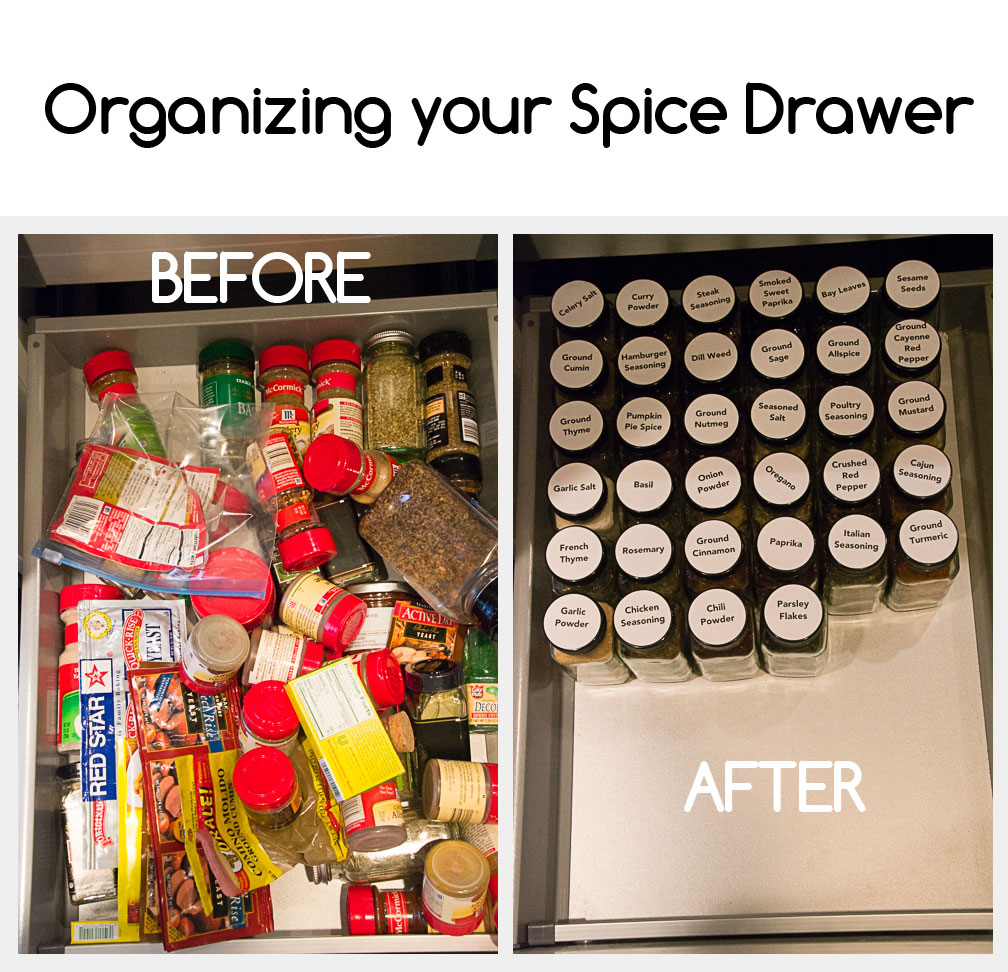 After browing many many wholesale bottle websites like SKS Bottle, Wholesale Supplies Plus, and Speciality Bottle, , I settled on buying 40 of these Clear French Square Glass Bottle 6 oz w/ Cap from Speciality Bottle. . I liked that I could buy them by individual bottle, and not some huge bulk amount.
I set out a few of the newly purchased bottles and started transferring the spices from the store bottle to the uniform, 6oz bottles I had purchased from Speciality Bottle.
I hadn't made any labels yet, so I needed to keep the old bottle next to the new bottle as I went along so I wouldn't get the spices mixed up.
Once I finished the rebottling process, I opened up the 1 2/3″ Diameter White High Visibility Avery Labels I had purchased (Avery 5293).
I downloaded the template for the labels, and then, just by looking at the bottles sitting in front of me on the table, I started entering the spice names on to the labels.
Once I was done, I printed the labels, and started putting them on the bottle lids.
Once I was done, I put all the beautiful, uniform bottles back in the drawer, and admired my work.
Ken admired my work too, although he did playfully suggest his displeasure that some of the labels were not on straight. One thing at a time, right?
As phase two of this project, I might also label the bottles themselves (maybe using a cuter template like this), that way I don't get them mixed up if I have th lids of several spice bottles while cooking.
I love it. LOVE IT LOVE IT. I love that the spices can stand up, maximizing the space in the drawer, and I love that the labels are clear and easy to read. As soon as I open the drawer, I can spot the spices that I need. No more digging!
Do you have a constant battle with one (or more!) of your kitchen drawers? How do you handle it?