This post may contain affiliate links. Please see my advertiser disclosure for more details.
Do you ever read a recipe and it says something like "DO NOT ALLOW MIXTURE TO BOIL" or "DO NOT OVERMIX!" and then provides no explanation?  I mean, are we talking it won't taste good or will it kill me?
We finished Season 5 of Breaking Bad this week!  So tempted to hurry up and start watching Season 6, but we'll wait for a while!
Several months ago, I made homemade blue cheese dressing, and it was amazing.  The other night, I wanted to snack on some celery and blue cheese dressing, so I poured some Kraft brand bottled dressing into a bowl.  I hated it!  I can't eat the bottled stuff now that I've had the real stuff.  Yum.
I guess I've been sleeping soundly these past few weeks because when I wake up, some part of my body (usually my hand or arm) is completely asleep.  Does this ever happen to you?  Then do you start frantically shaking and flopping your hand around in an attempt to "wake it up" and the subsequent pins and needles ensue?  So, this reminds me of something that happened to me when I was maybe 16 or 17.  I woke up in the middle of the night and was laying on my stomach.  My arms were kind of positioned above my head.  My right arm was touching some sort of freakish fleshy object in my bed.  I shrieked, jumped out of bed, and started running toward my parents' room.  It was only then that I realized that I could not feel my left arm.  It was so completely dead asleep, there weren't even "pins and needles."  That freakish fleshy object that I was feeling with my right hand was actually my left arm.  I just had no idea because my left arm had zero sensation at that moment.
Speaking of sleeping, do you have dreams that take place in recurring locations?  For instance, any time I have a dream that I'm in a mall (I have no idea why this happens because I go to a mall like 3 times a year), the mall always looks the same.  It's not any mall I've ever been to, but it always looks the same in each dream.  Same thing goes for gyms (again, I'm such an infrequent gym-goer, I don't know why gyms appear in my dreams), they always look the same.  Sometimes I wish I had some artistic ability so that I could draw the scenes.  I can picture them perfectly in my head.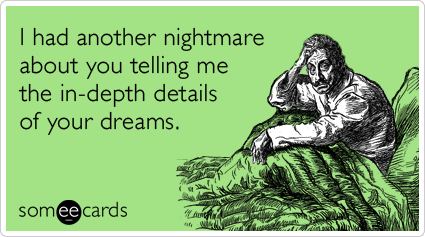 Apparently it was driving Ken nuts that I had accidentally uploaded a 15MB picture to one of my blog posts.  He told me about it a few weeks ago, but I forgot about it.  On Tuesday, he tells me, "so I fixed your picture."  He's never touched the blog before, but went into our hosting system and fixed the picture from there.  I guess it really did bother him!
Do you have any guilty pleasure TV shows that you watch?  Mine is definitely COPS.  The (presumed innocent) criminals that they catch act just like children.  Like if they find drugs, "No, that's not mine!  I don't know how it got there!"