This post may contain affiliate links. Please see my advertiser disclosure for more details.
---

This is a Blast from the Past post. These posts chronicle our travels and other life events before we started blogging! These posts are usually heavy on the photos, but lighter on the narrative text.
The second day of our tour in Spain was spent in Seville. The day full of activities, excitement, and subsequently trying to figure out how to call an ambulance in Spain.
Plaza de Espana
Our first stop in Seville was the Plaza de Espana. Although it seems like it would be much older, it was "only" just built in 1929 for the World's Fair.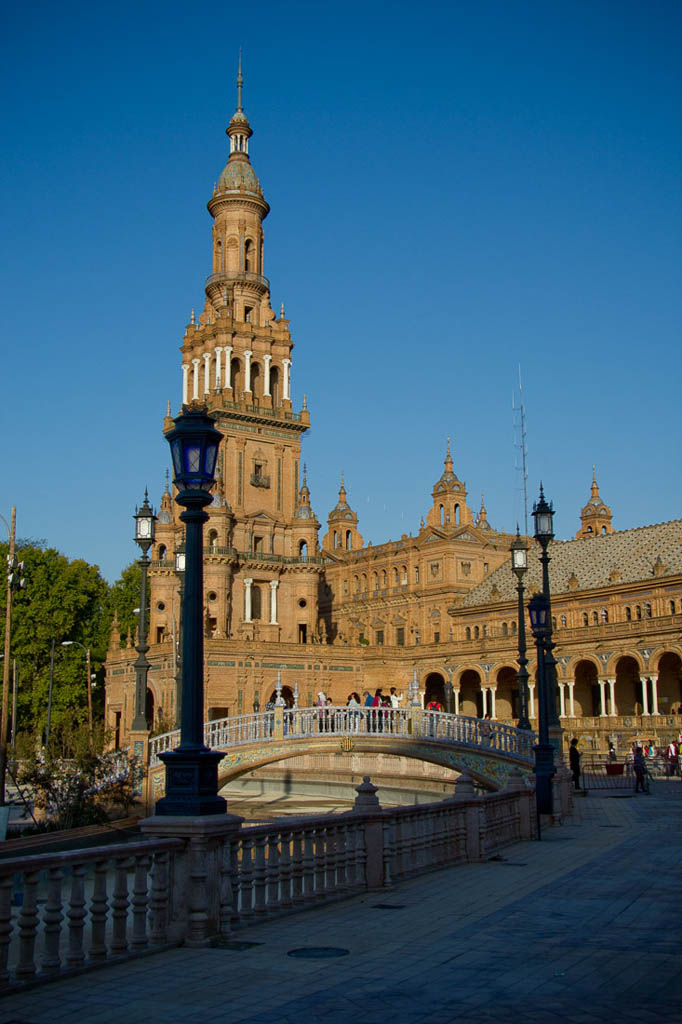 Much like everything we saw in Spain, it was an incredible mix of styles, including a lot of Moorish influence!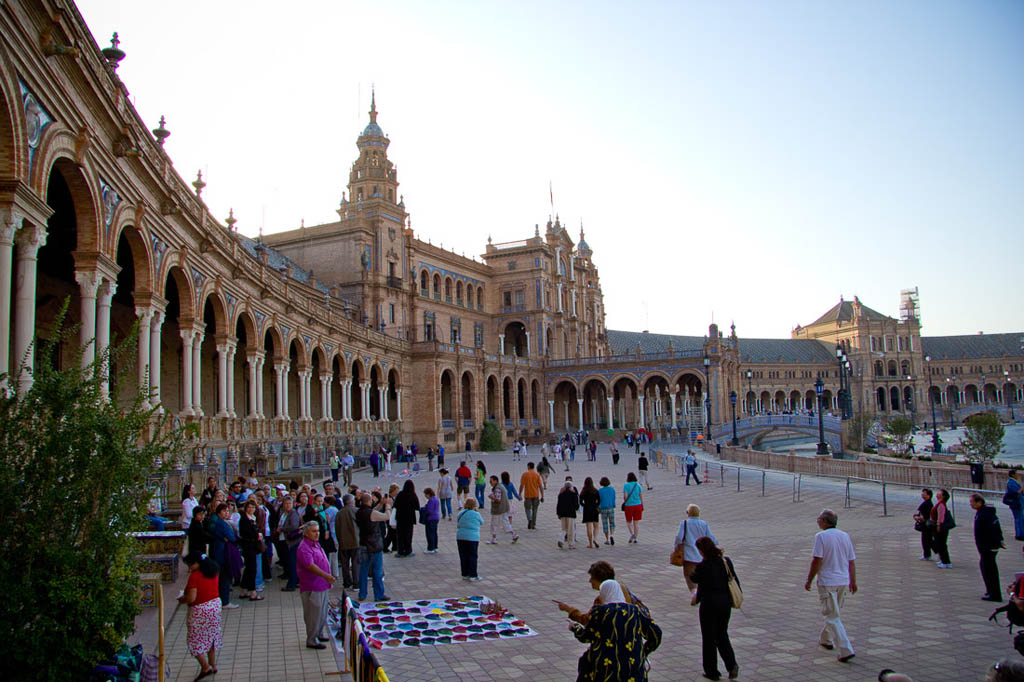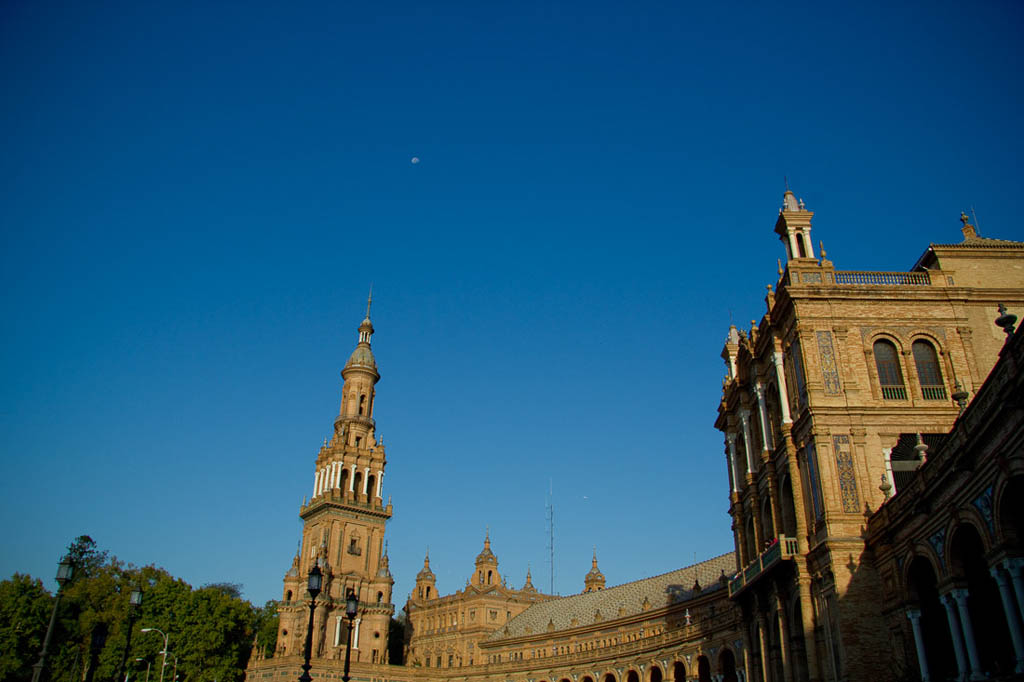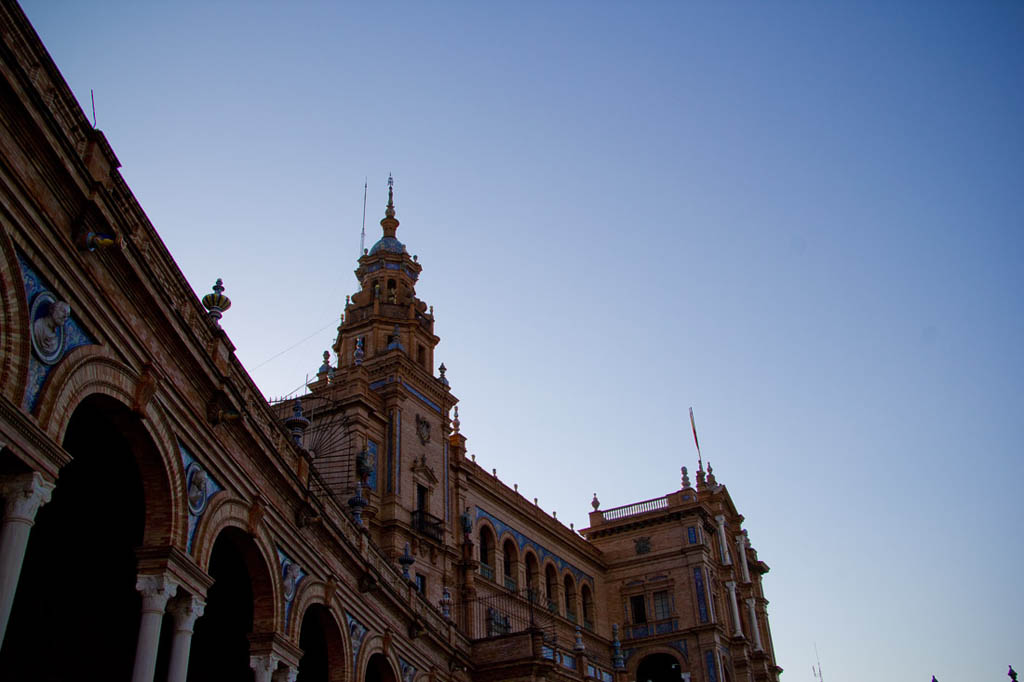 We spent a lot of time walking around Plaza de Espana!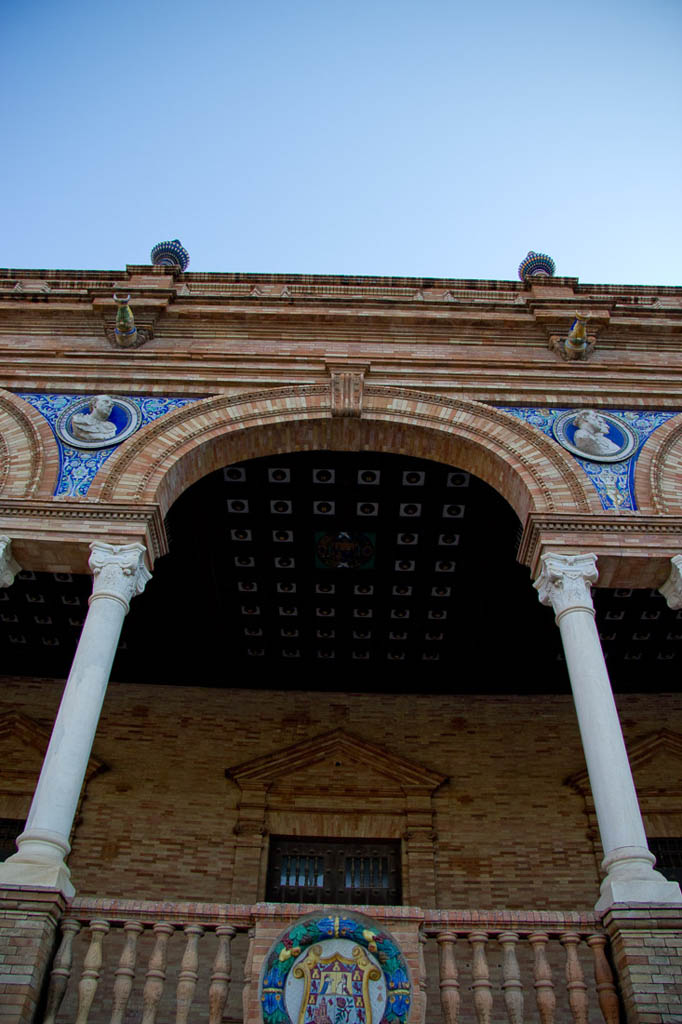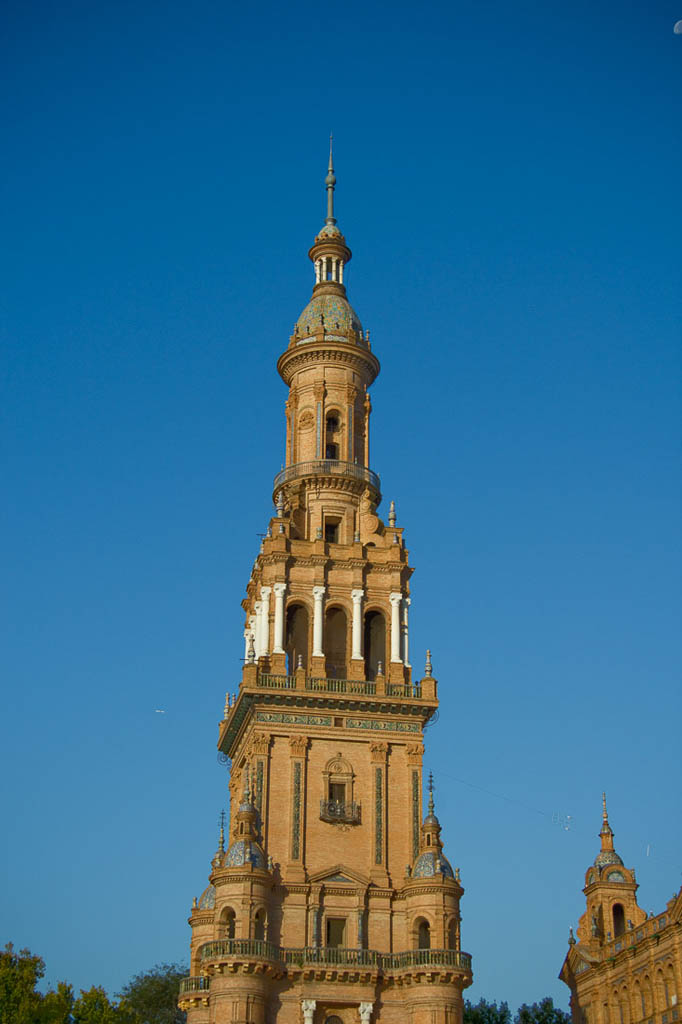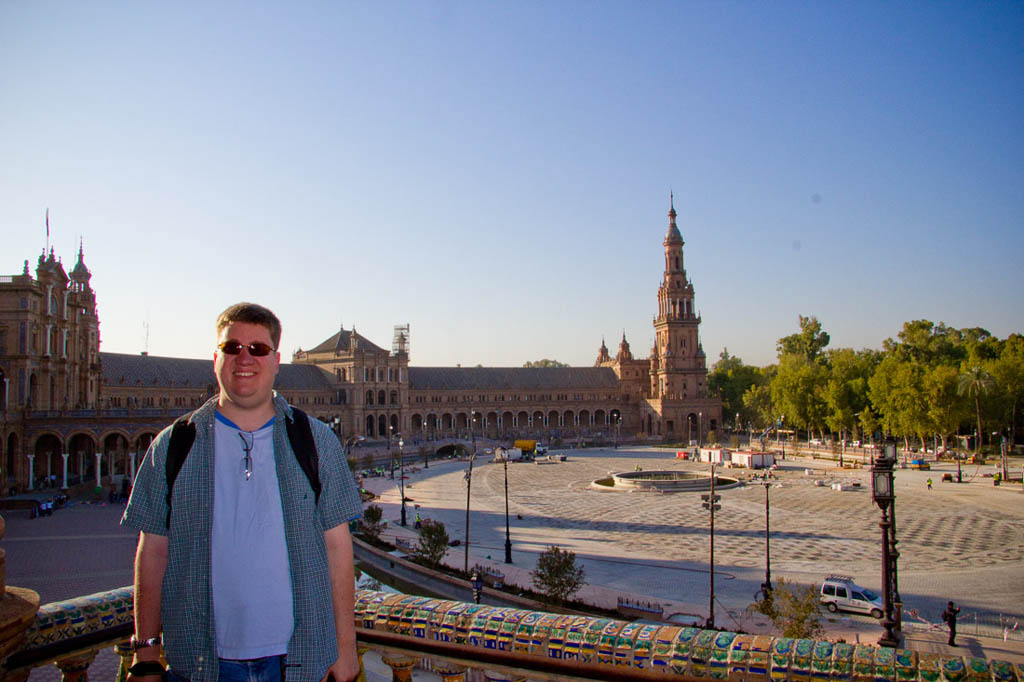 The details were incredible too.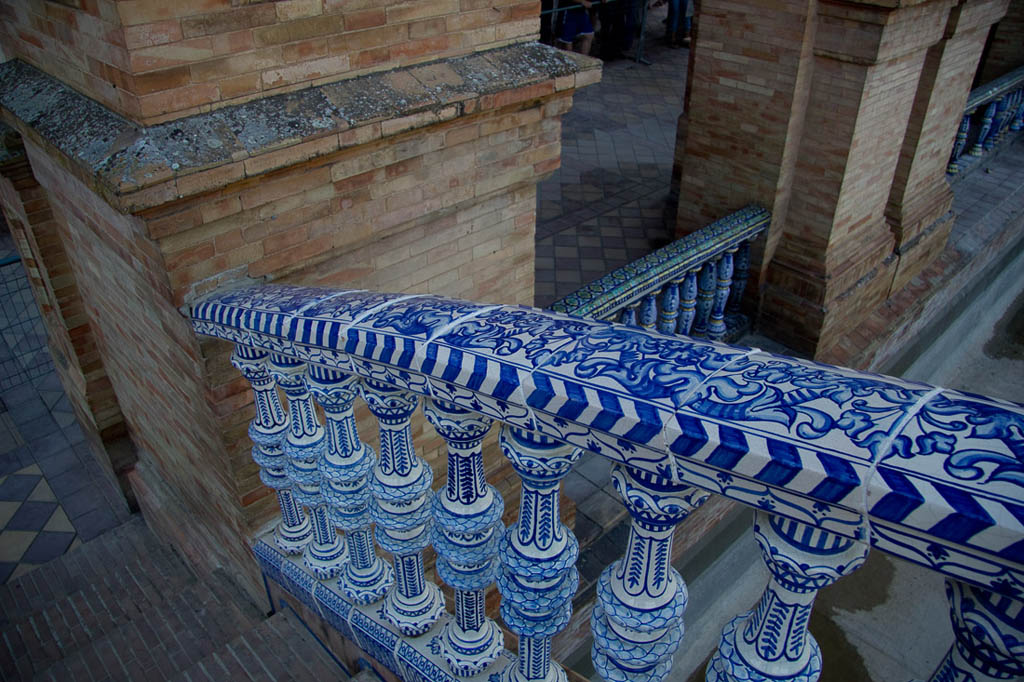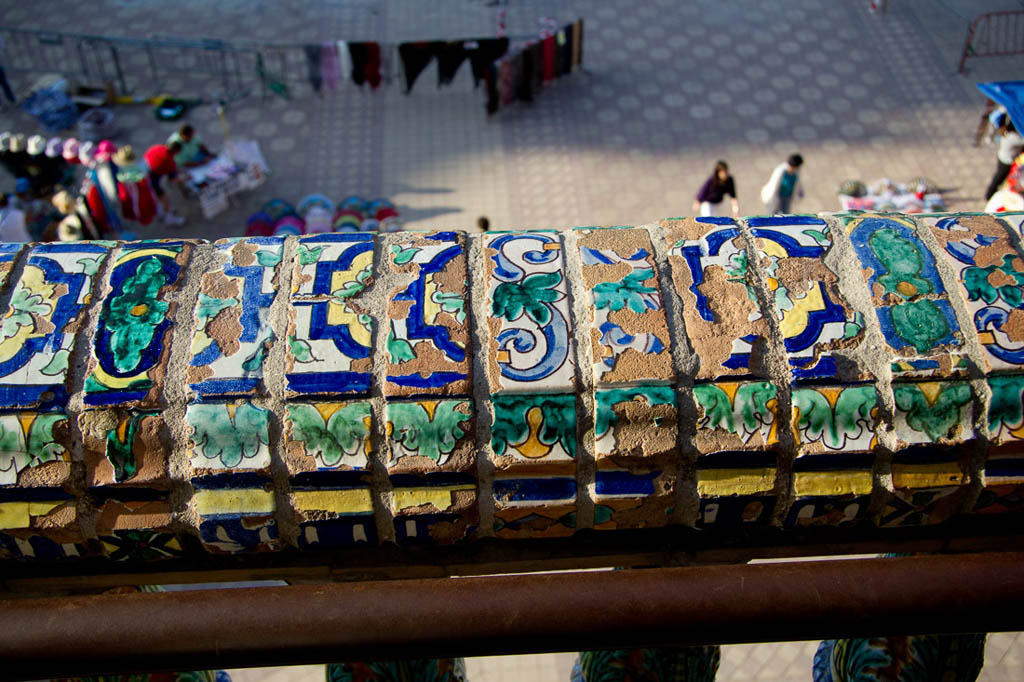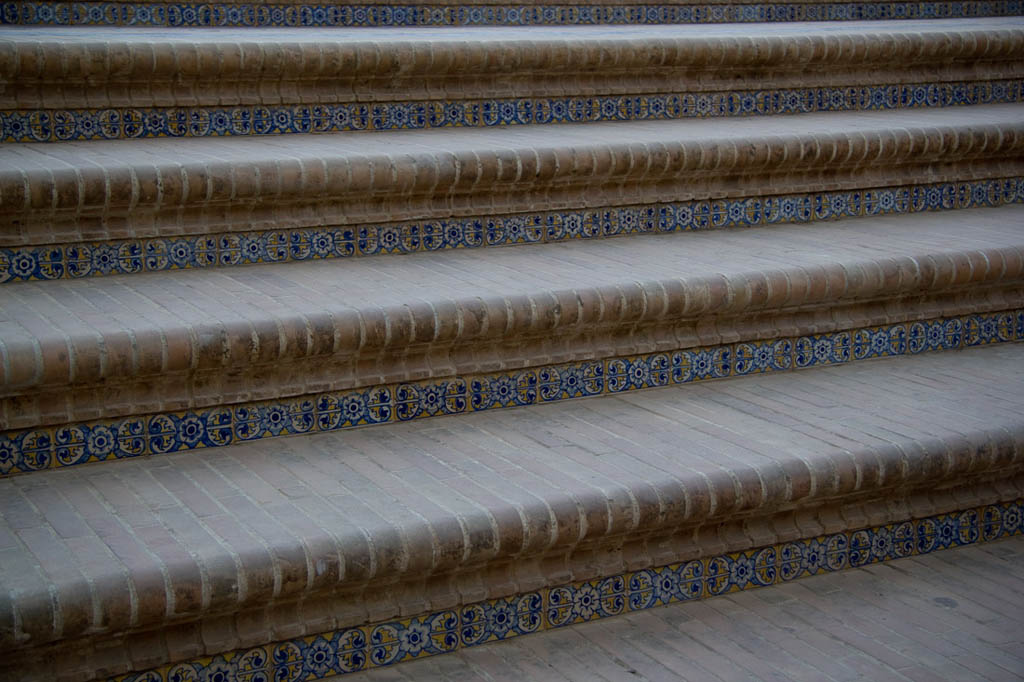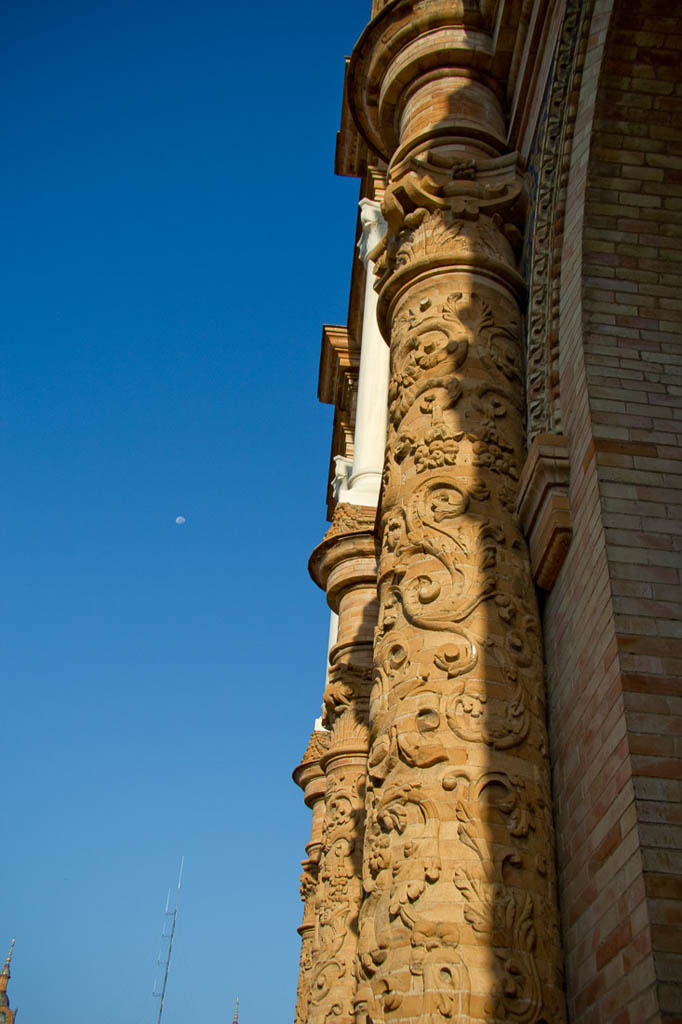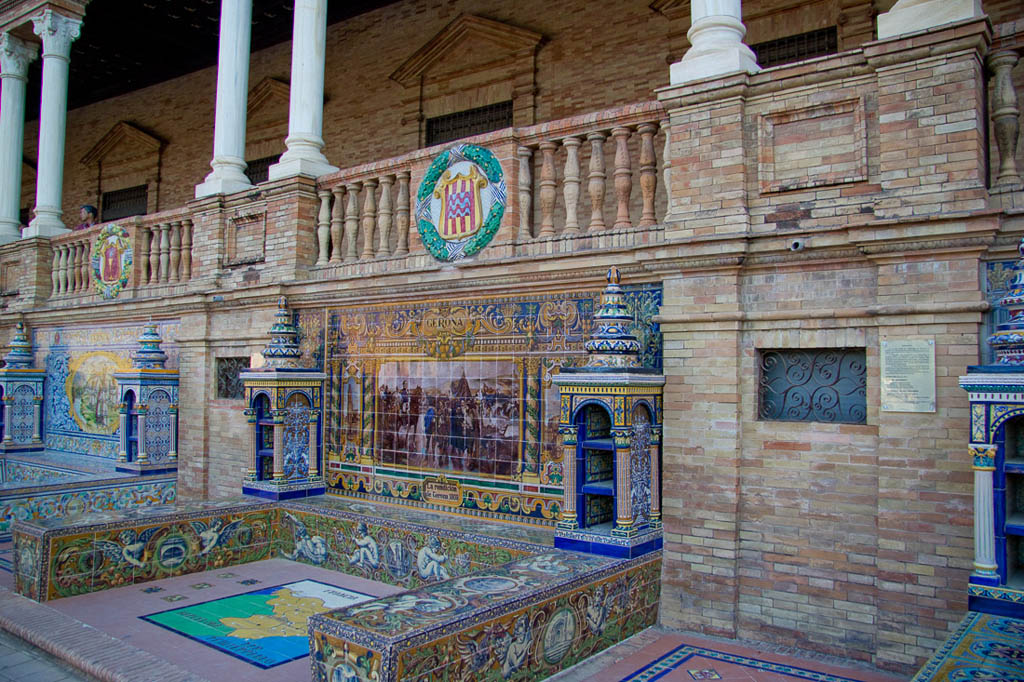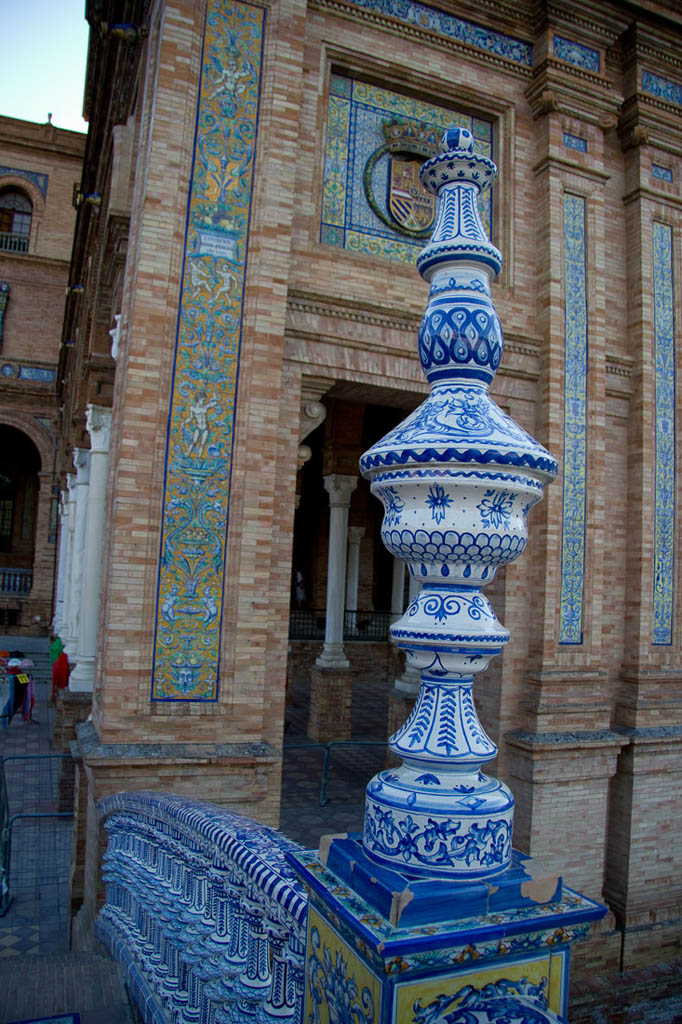 And there were some truly stunning staircases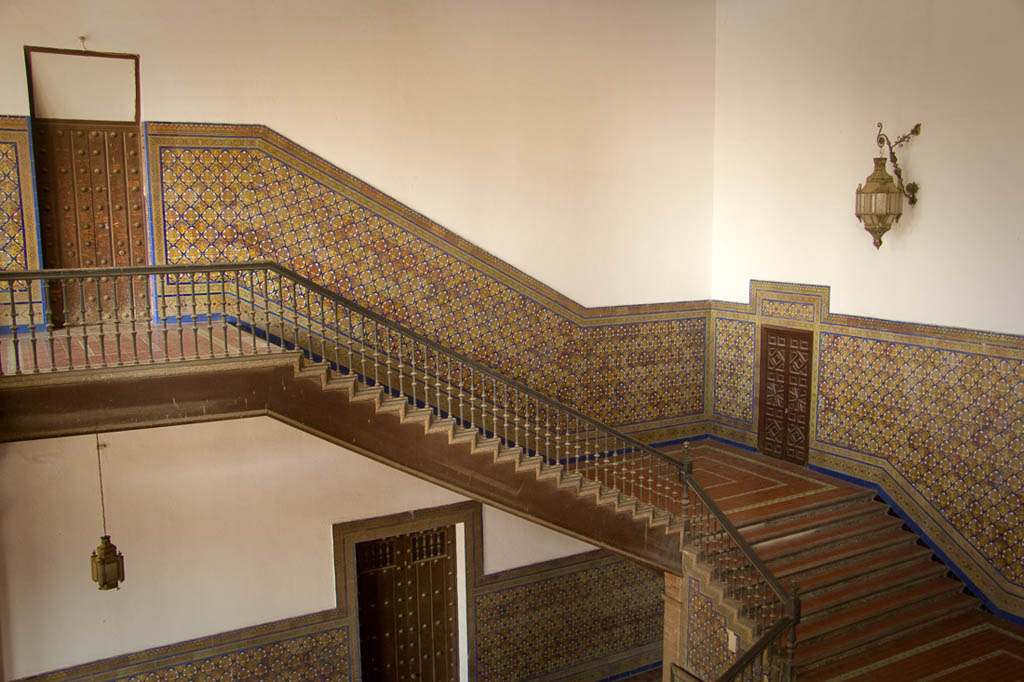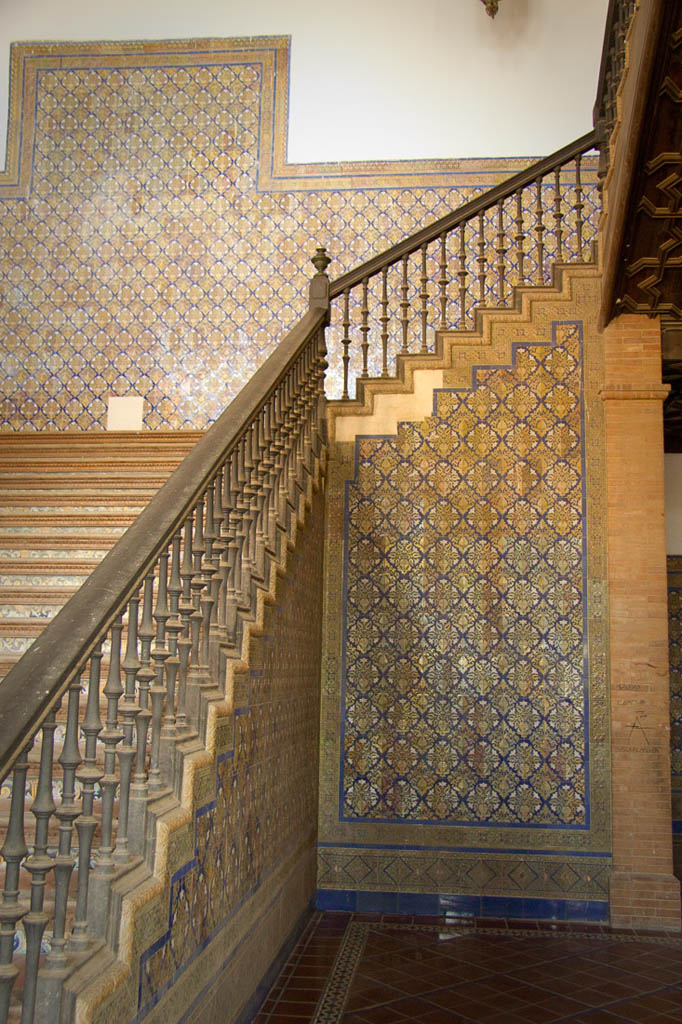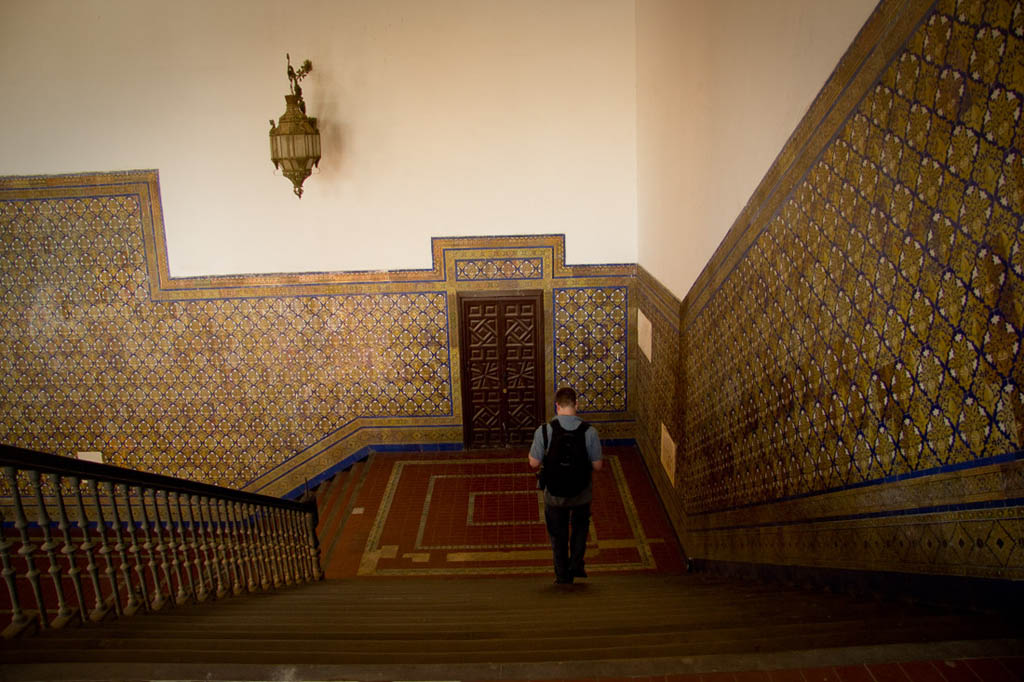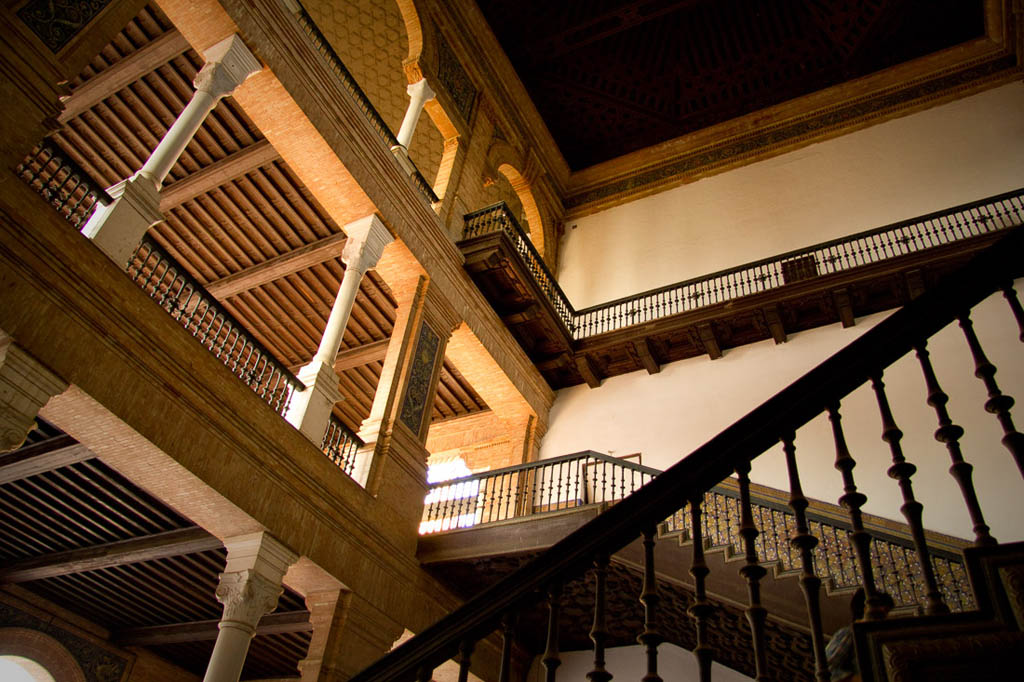 And I also like this reflection shot I captured!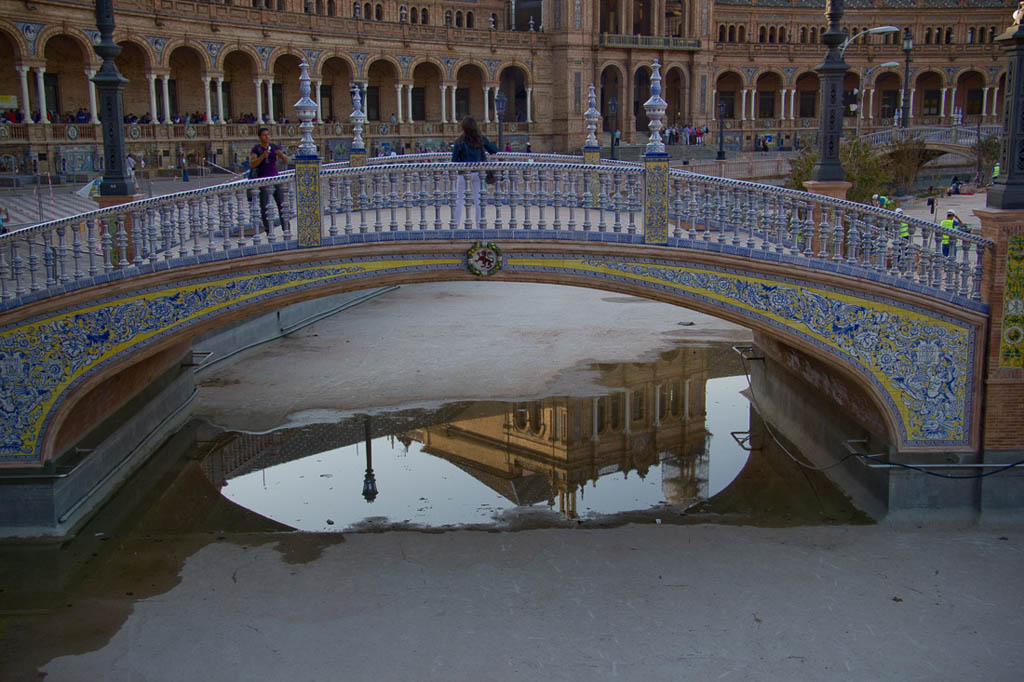 Seville Old City
After our time at Plaza de Espana, we walked around Seville's "Old City." It was so charming and it was lovely to just walk around and take in the sights. It certainly helped that the late-September weather was cool and gorgeous!
I'm not sure what any of the specific buildings were that I was photographing, but they're all of Seville's Old City: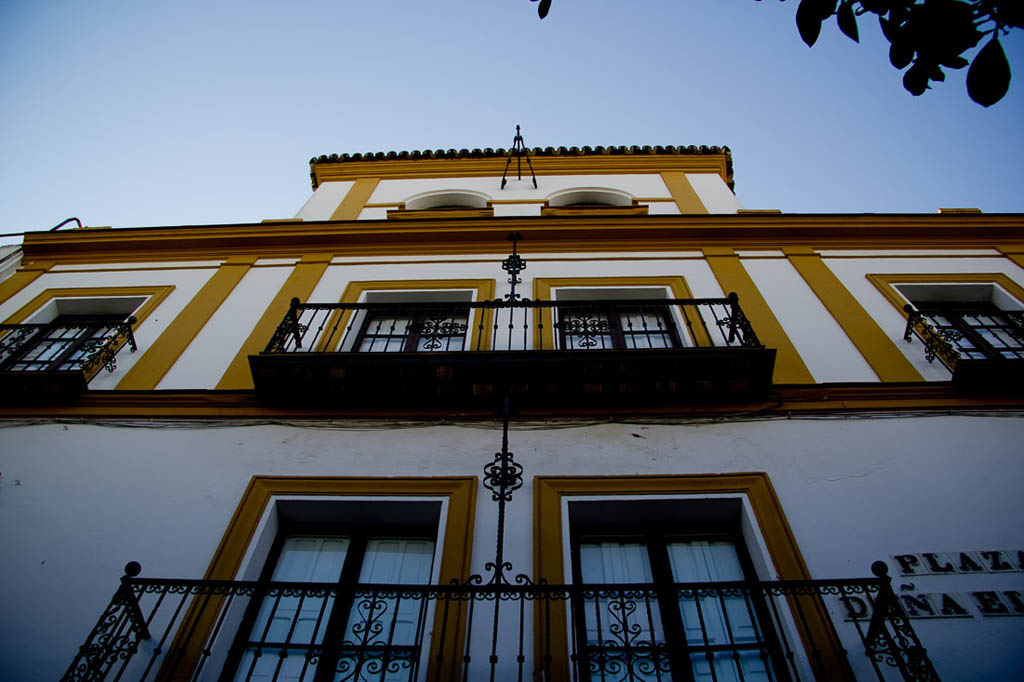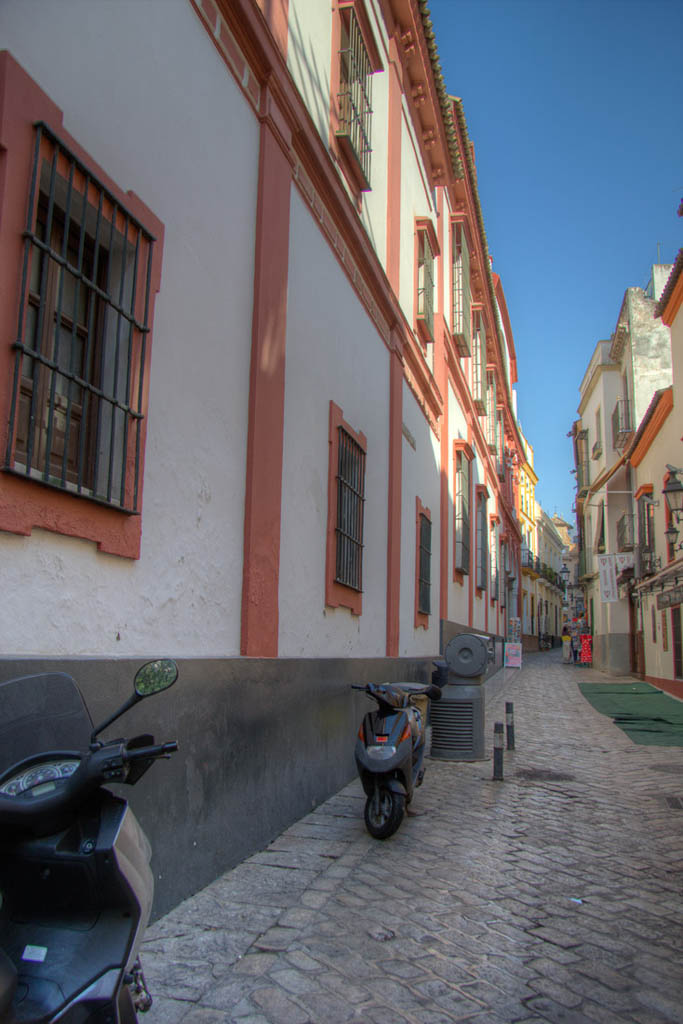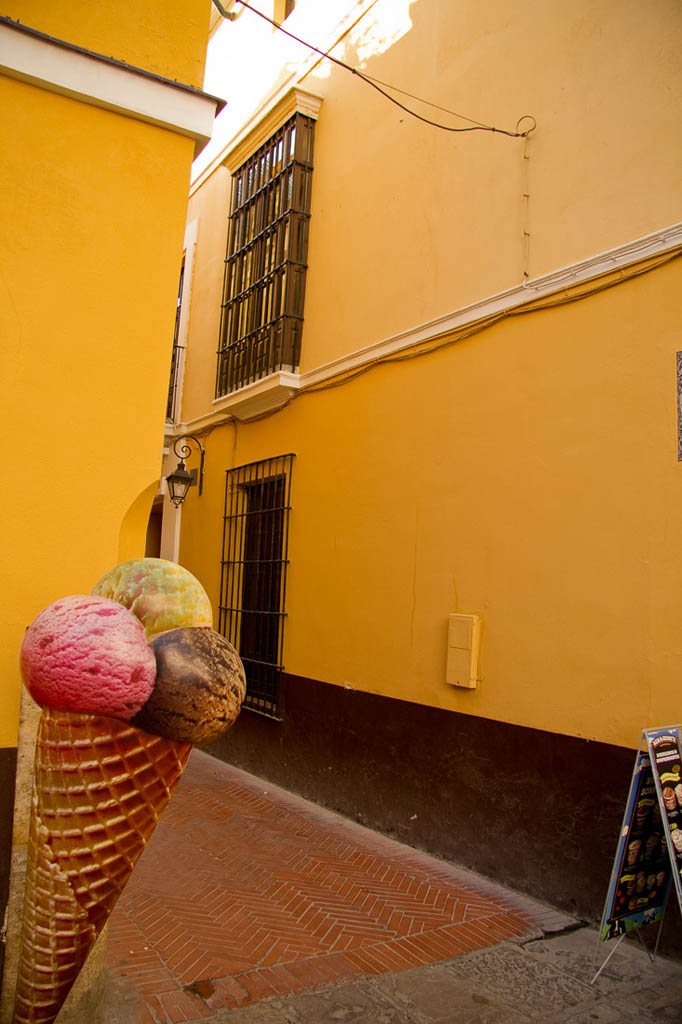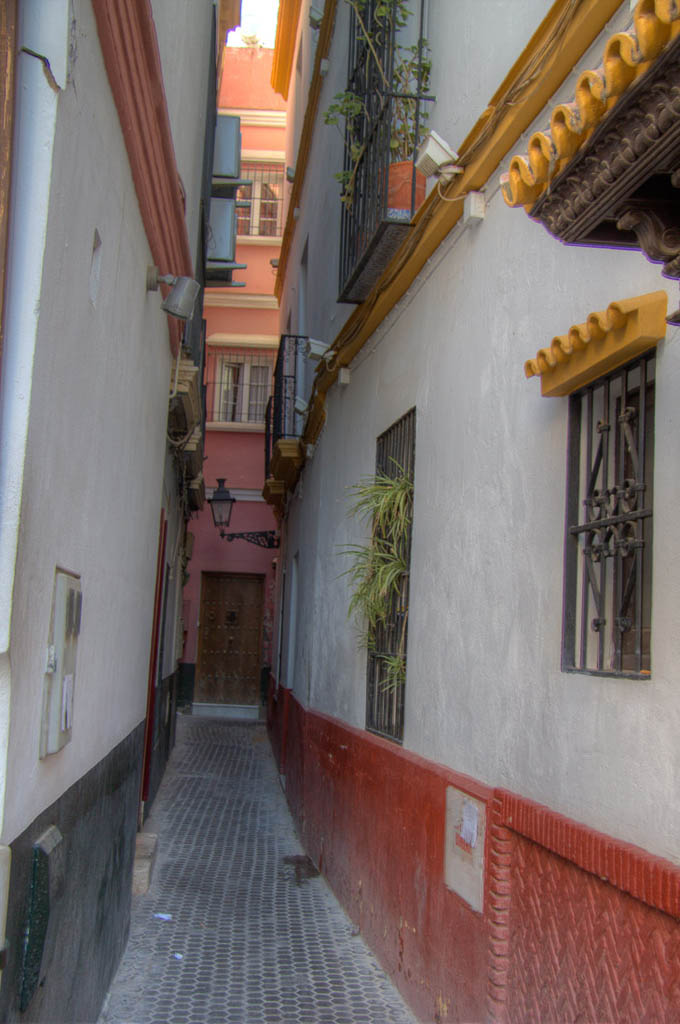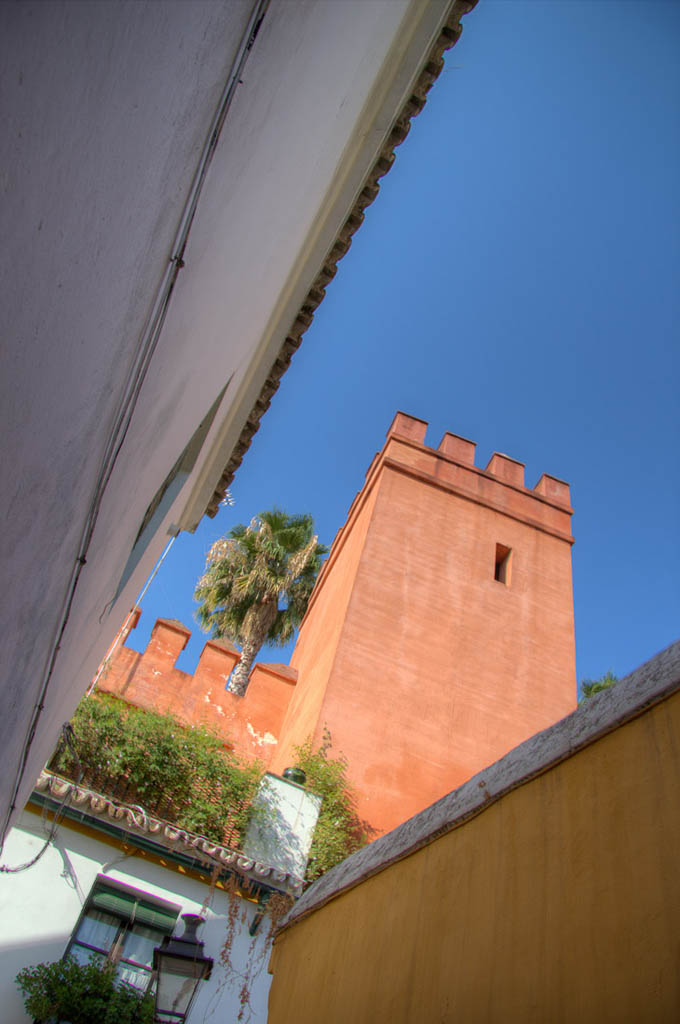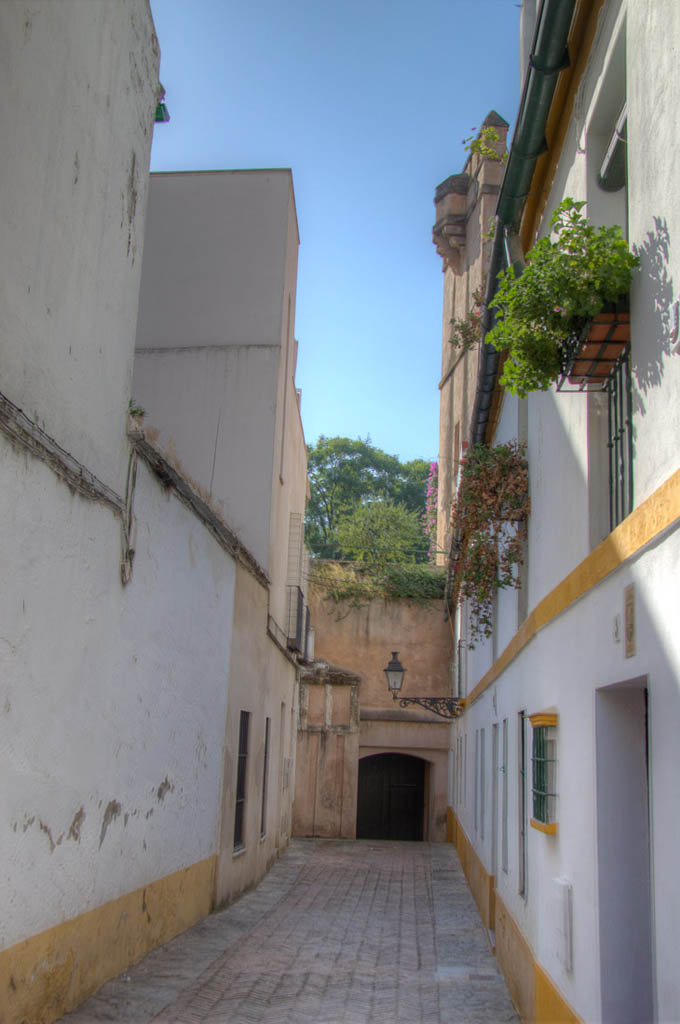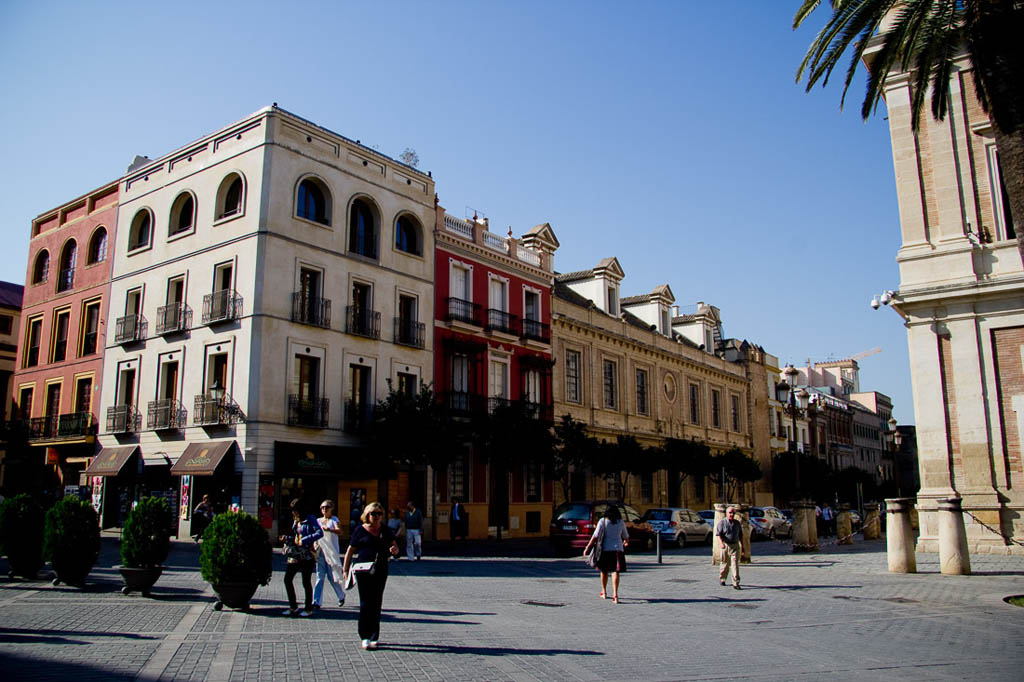 Cathedral of Seville
As we meandered through Seville's Old City, we saw this place, the Cathedral of Seville (the next stop on our tour). The Cathedral of Seville is the third largest churh in the world and the largest gothic style church in the world.
It was really cool, as you walked through this gate, you finally saw the cathedral in its entirety. It was a beautiful and unexpected site as we rounded that corner through this gate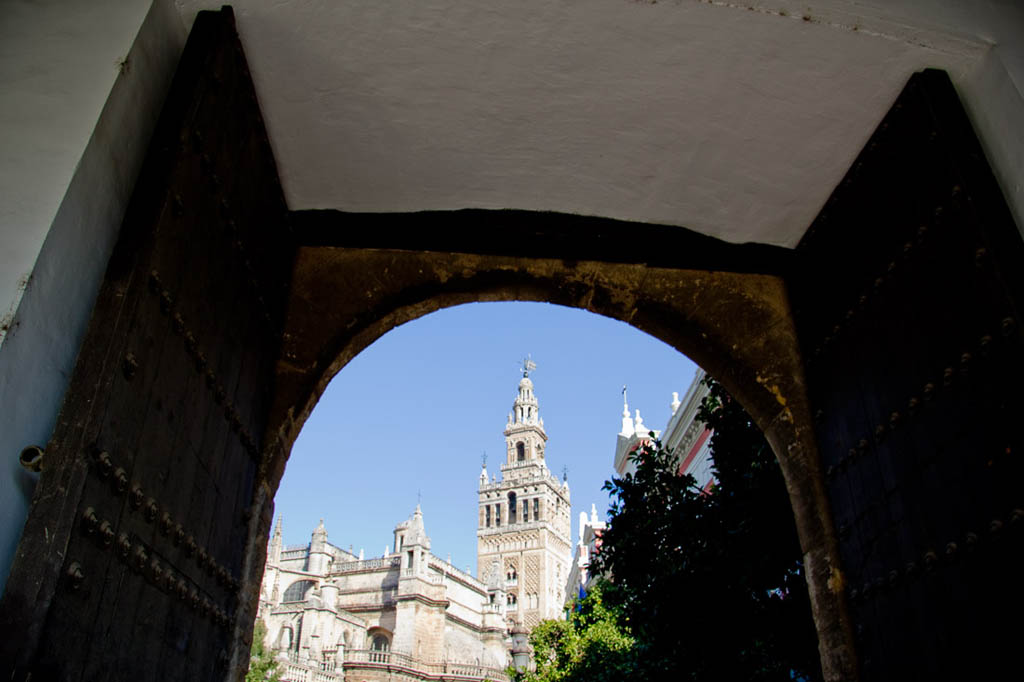 As we approached the cathedral, we were able to see additional beautiful details on the outside of the structure.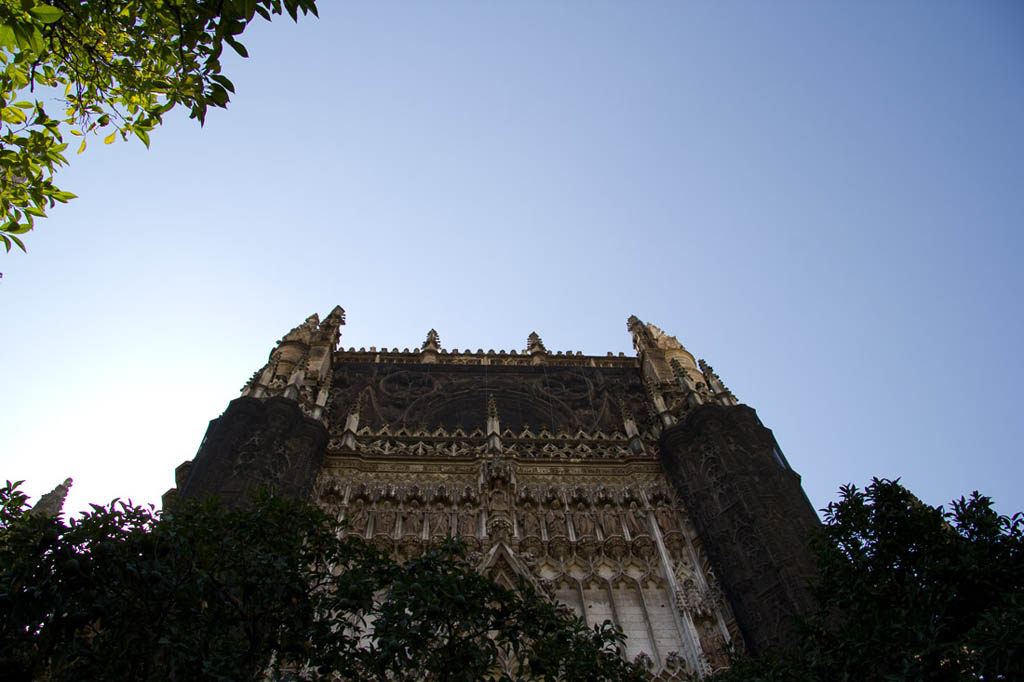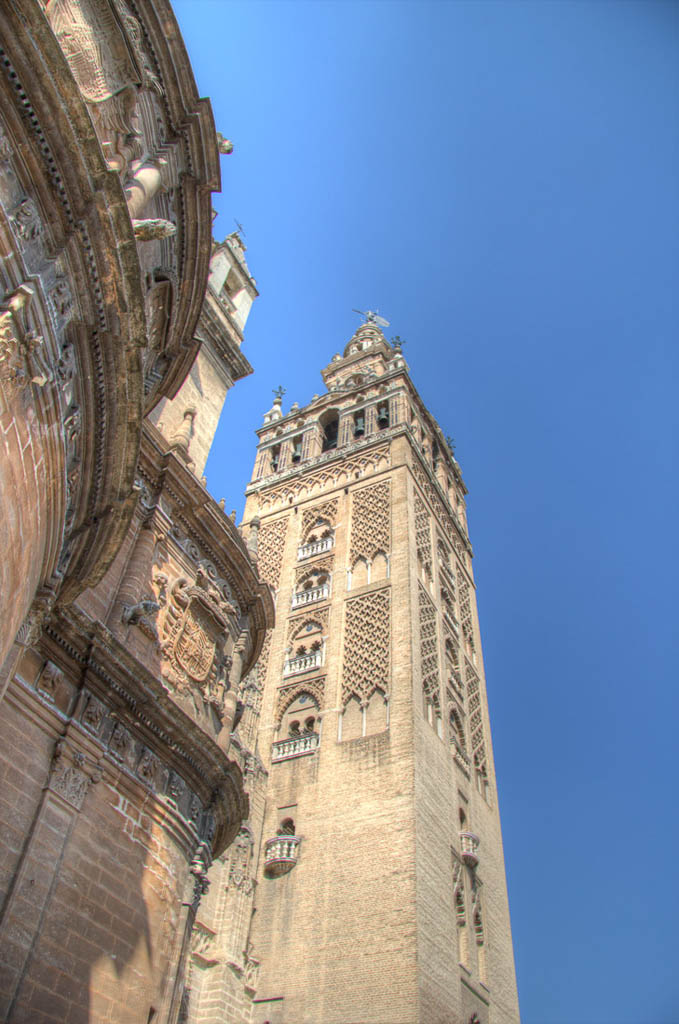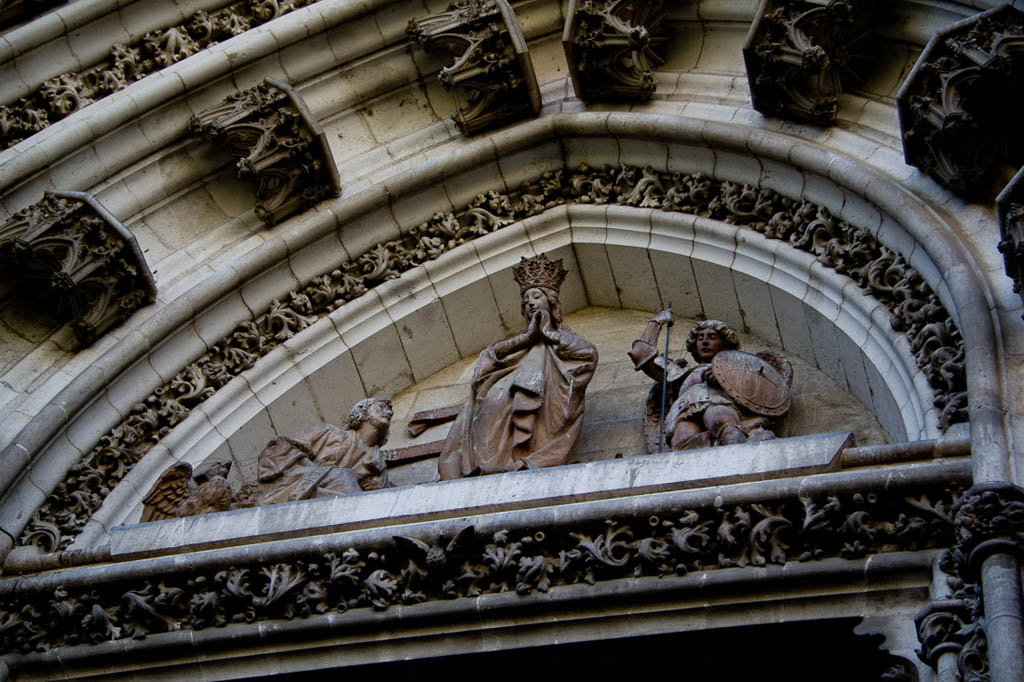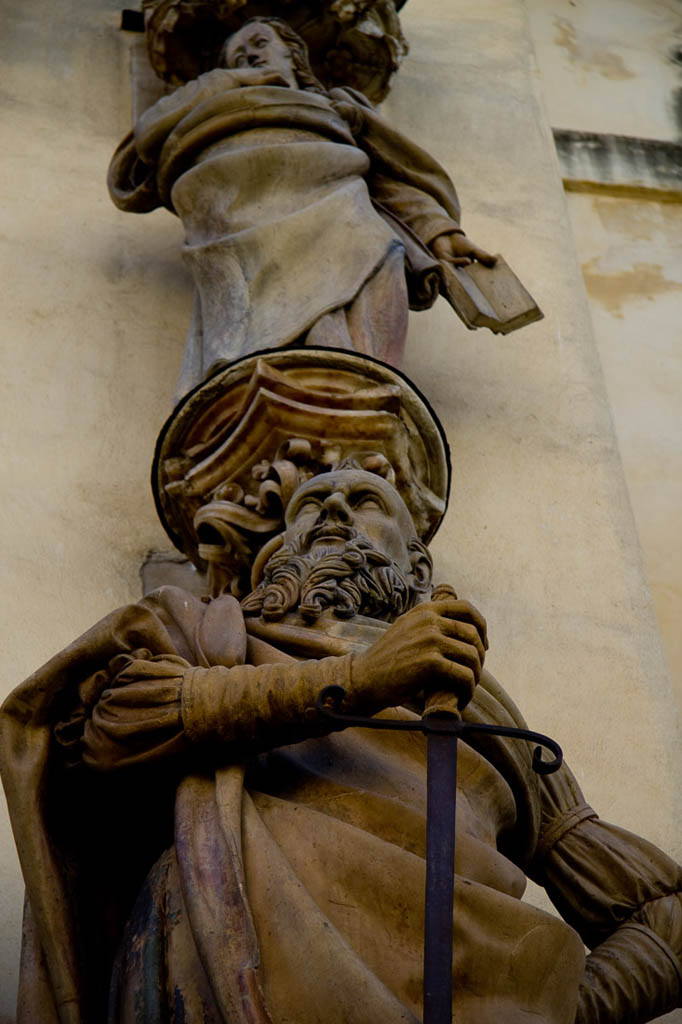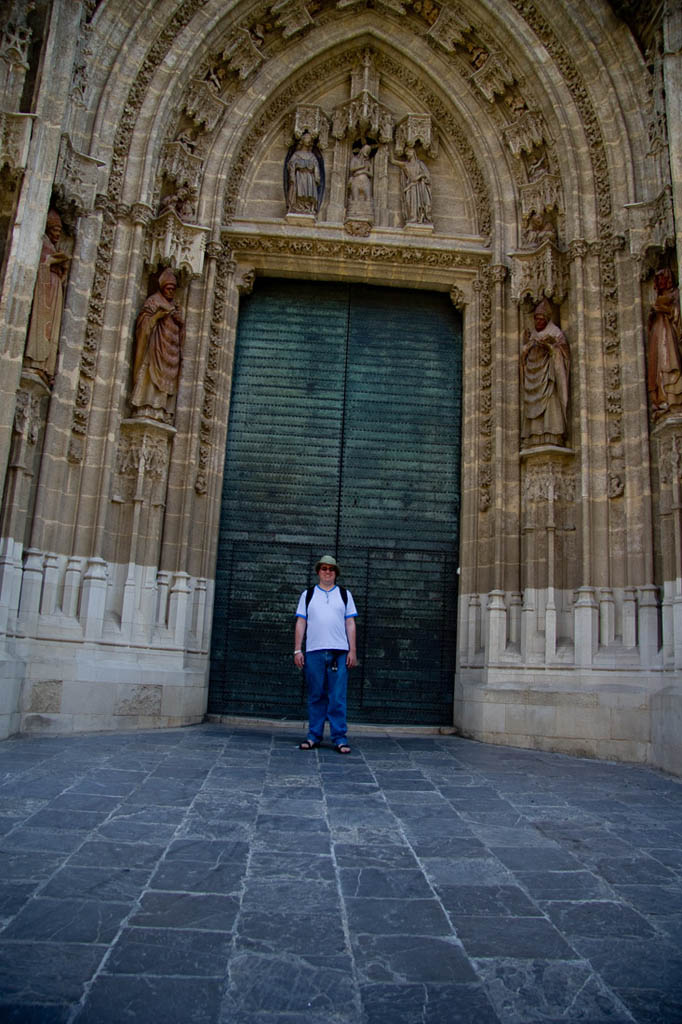 Once inside, we spent a lot of time admiring the details.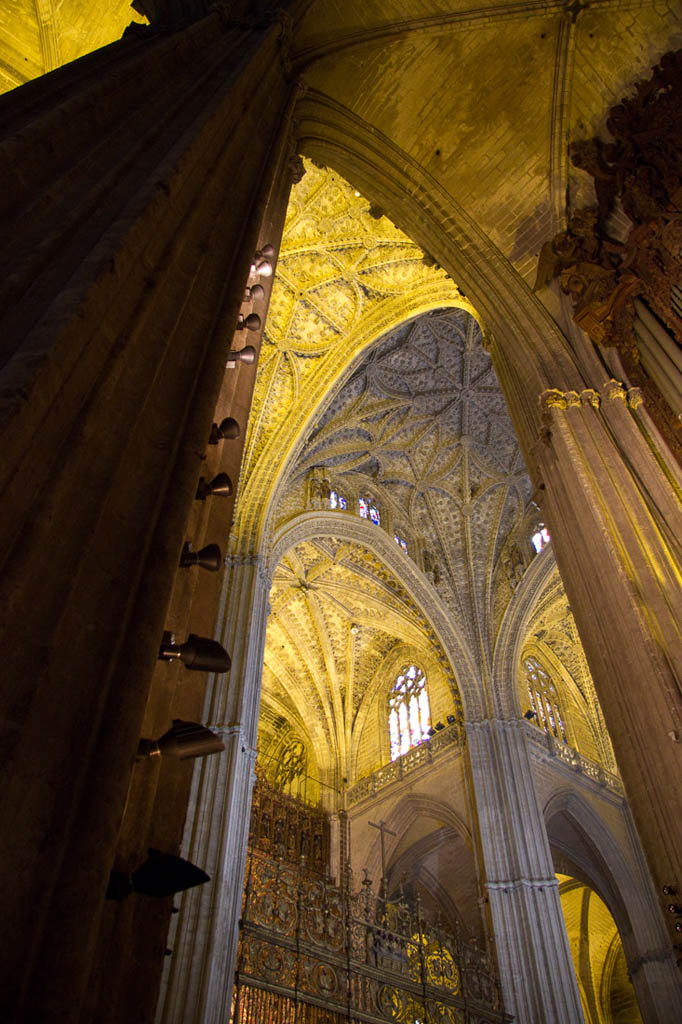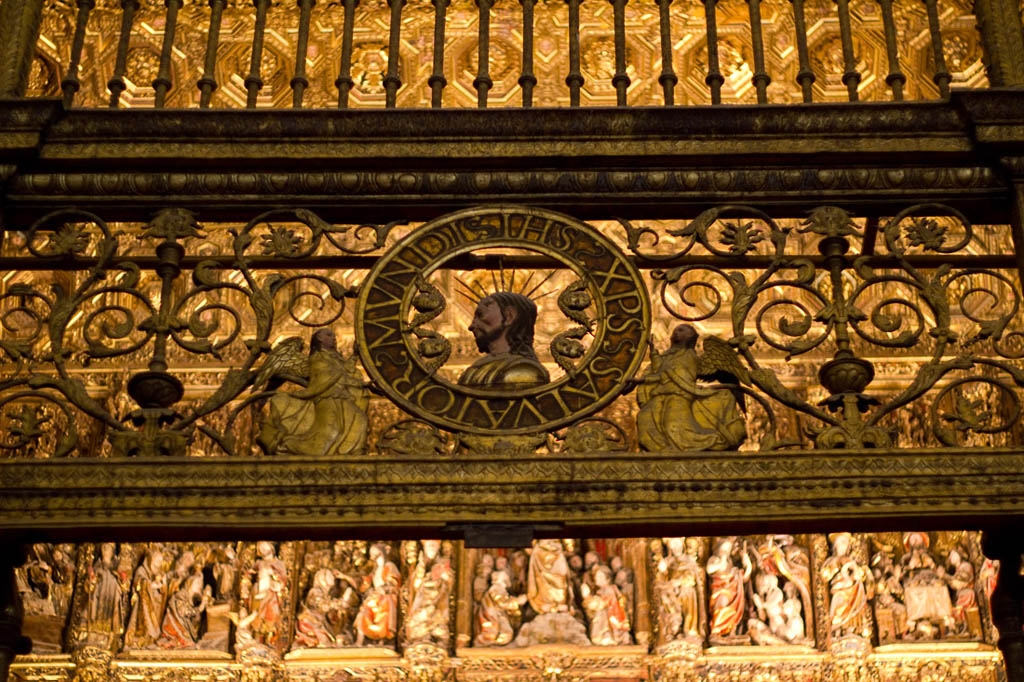 According to our guide, this altar took 40 years to build. The statues at each level are actually different sizes, but were made like that to give the illusion that they are all the same size, instead of getting smaller toward the top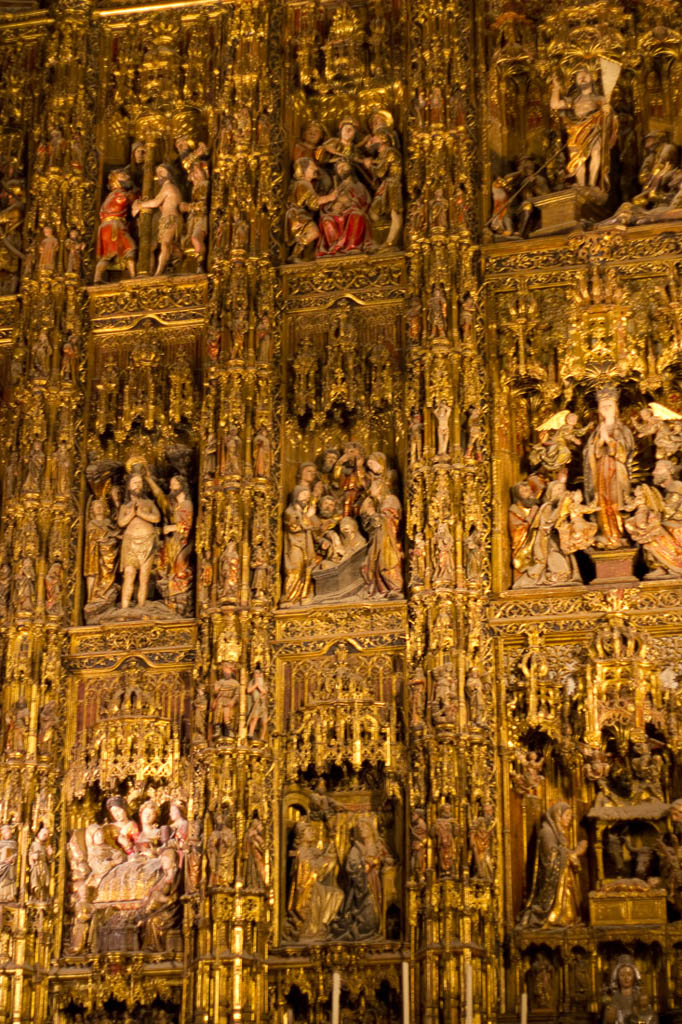 The cathedral is home to the tomb of Christopher Columbus, pictured below: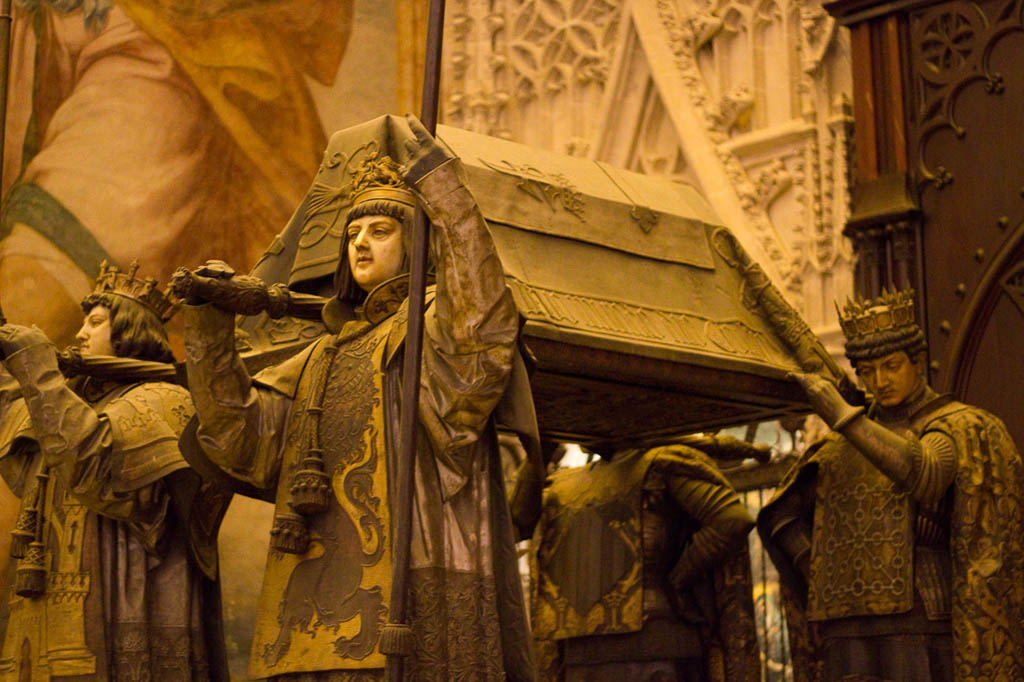 The cathedral is also home to the Giralda Tower, and you can climb to the top of the tower.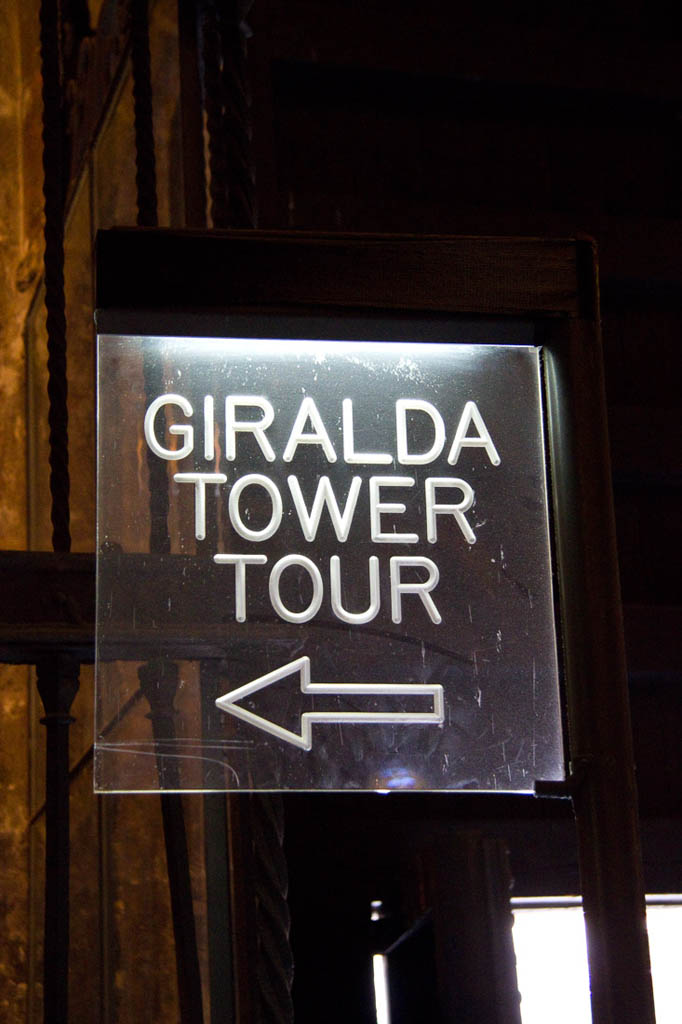 There were 37 ramps, (not steps), built to reach the top of the tower. That way the muezzin (the person that leads Muslim calls to prayer from the Minaret) could ride a horse to the top, instead of walking up steps.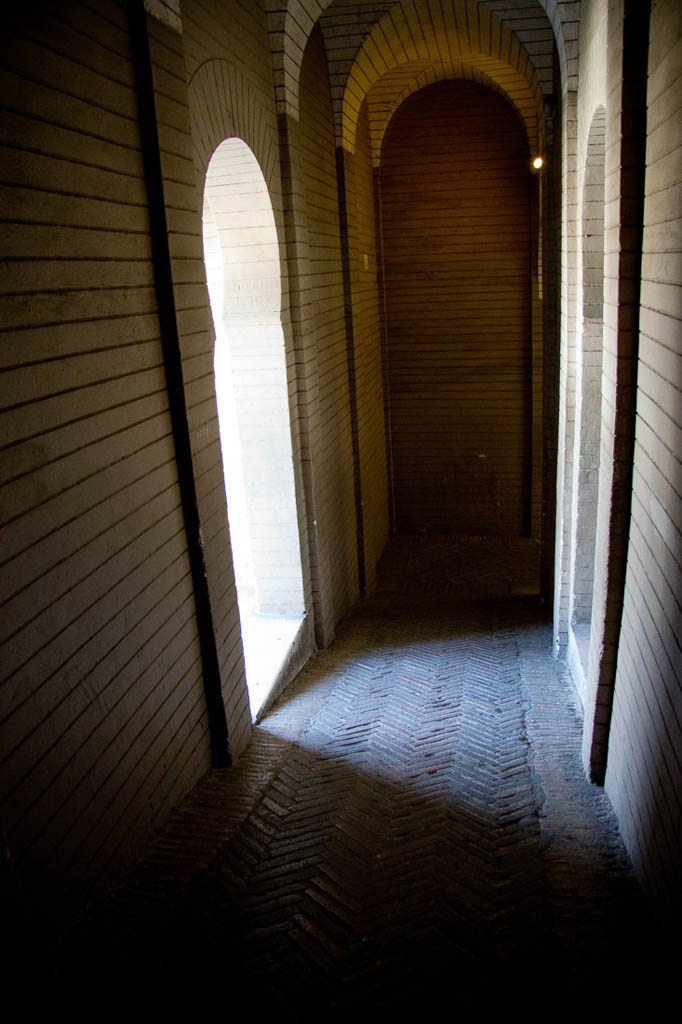 Here's Ken at the top of one of the ramps: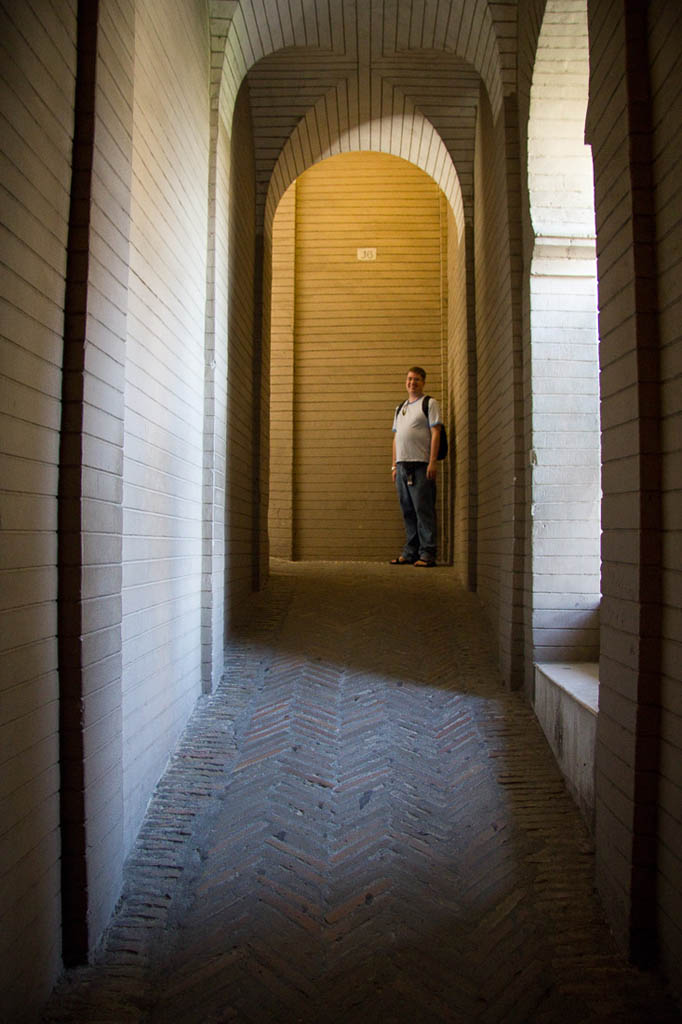 I am a total klutz on stairs, so I was so thankful for these lovely ramps for a change! There were also windows along the way up to look outside and enjoy the views of Seville.
The viewing tower was home to church bells and, of course, stunning views of Seville.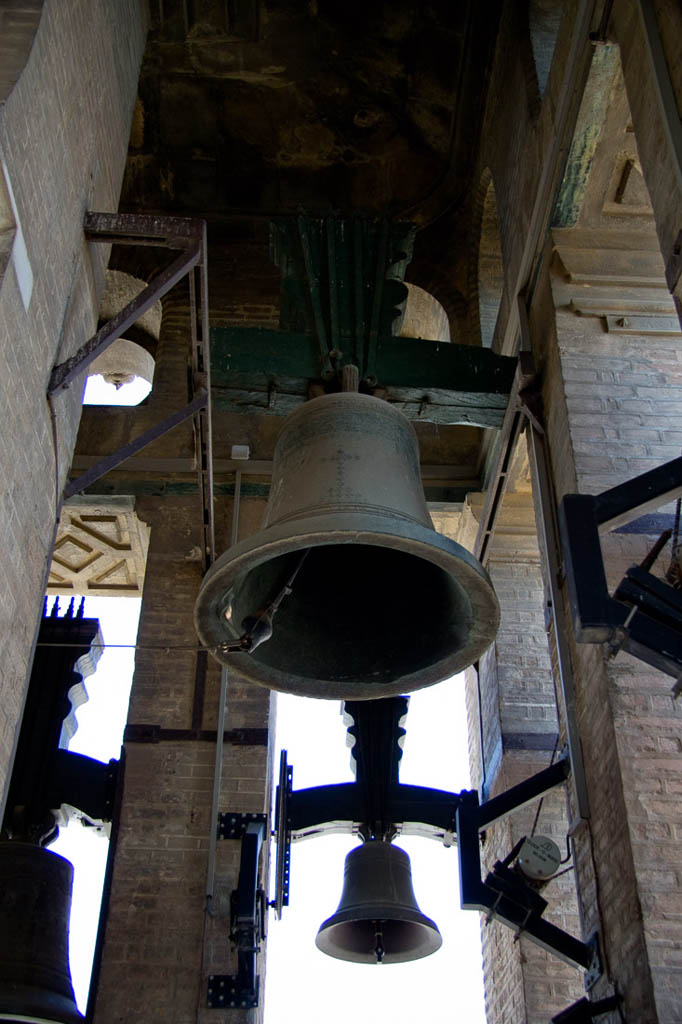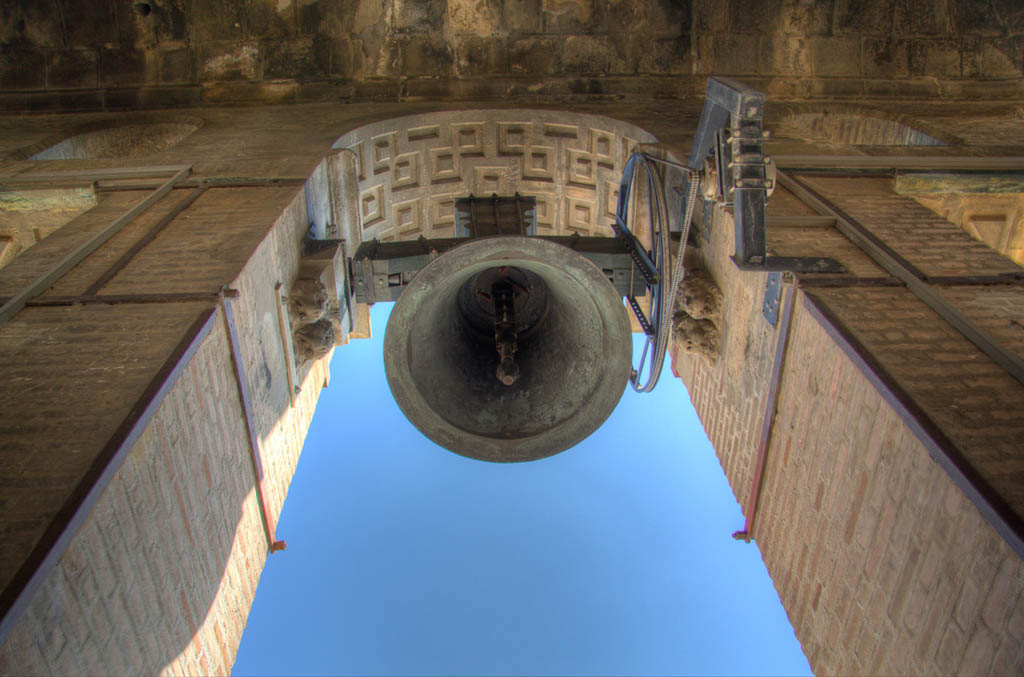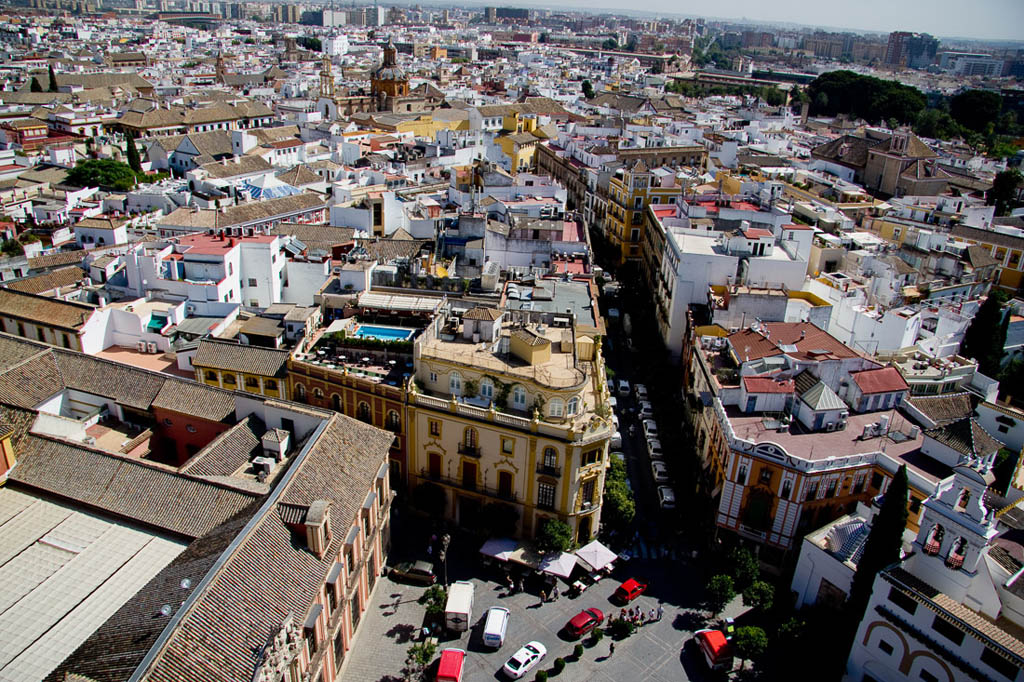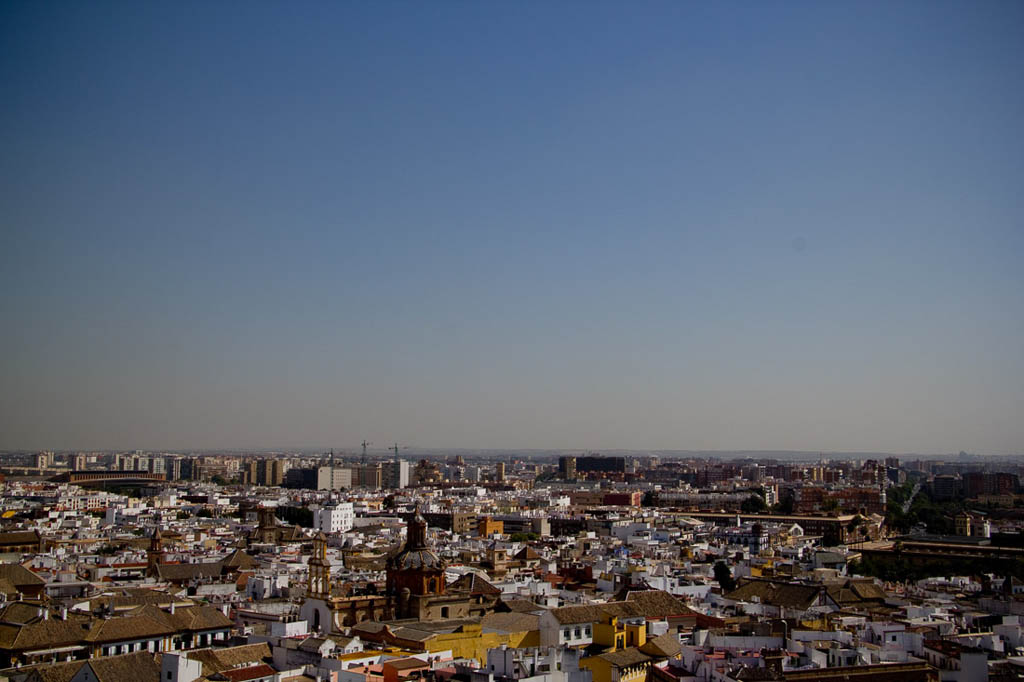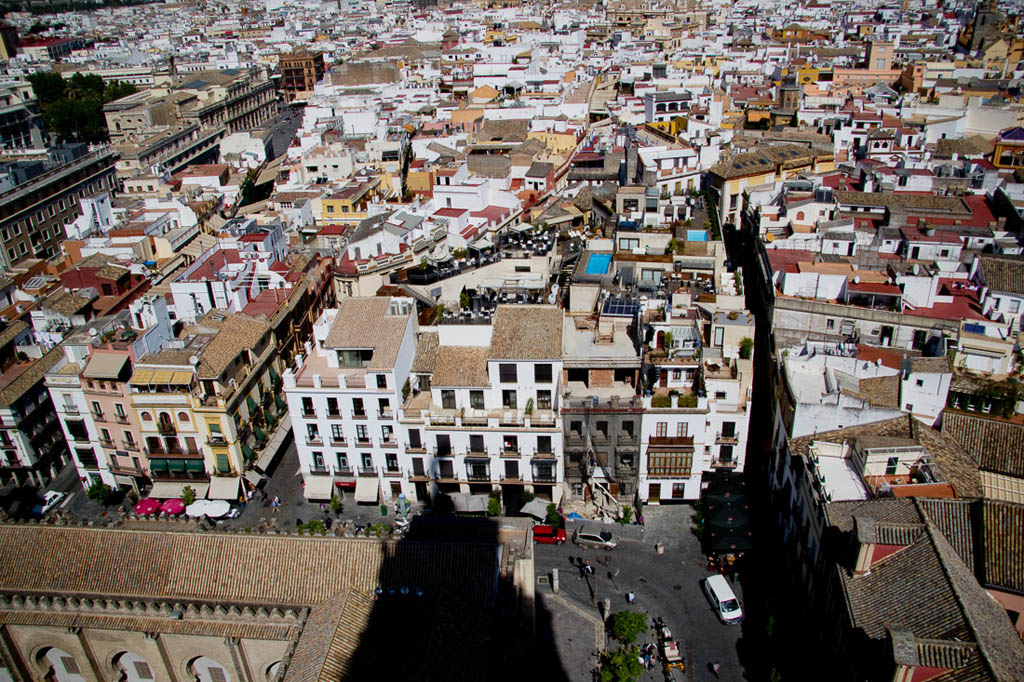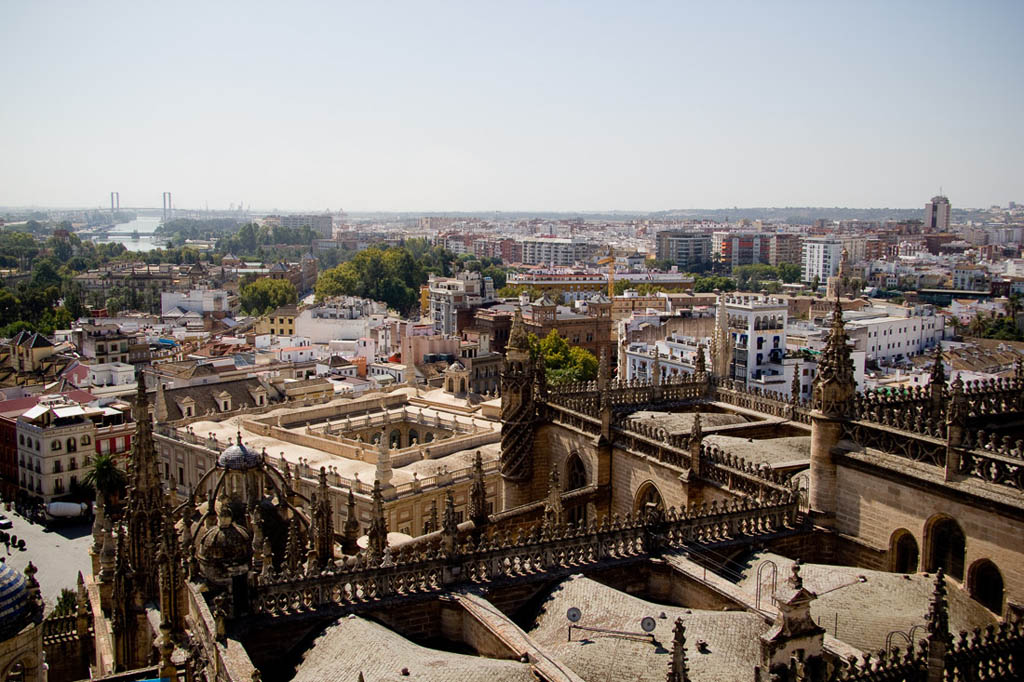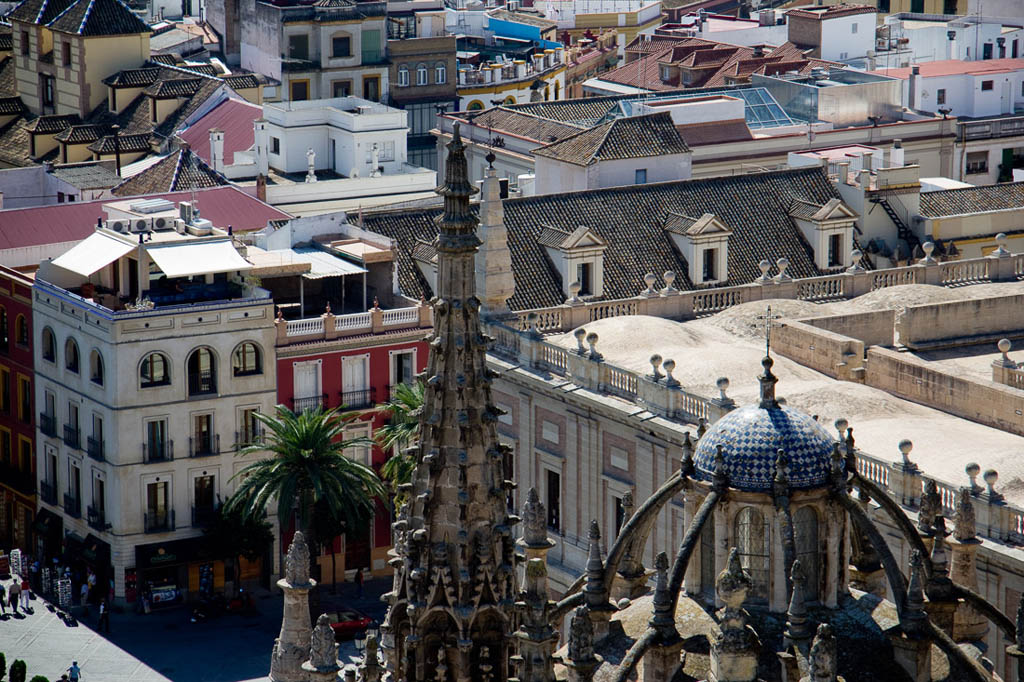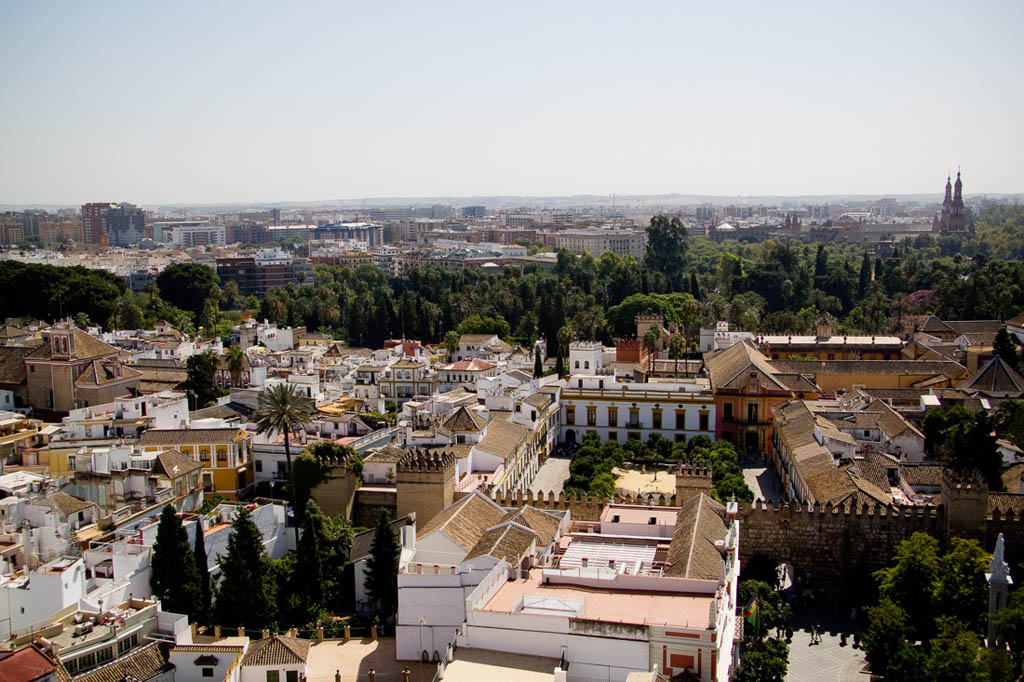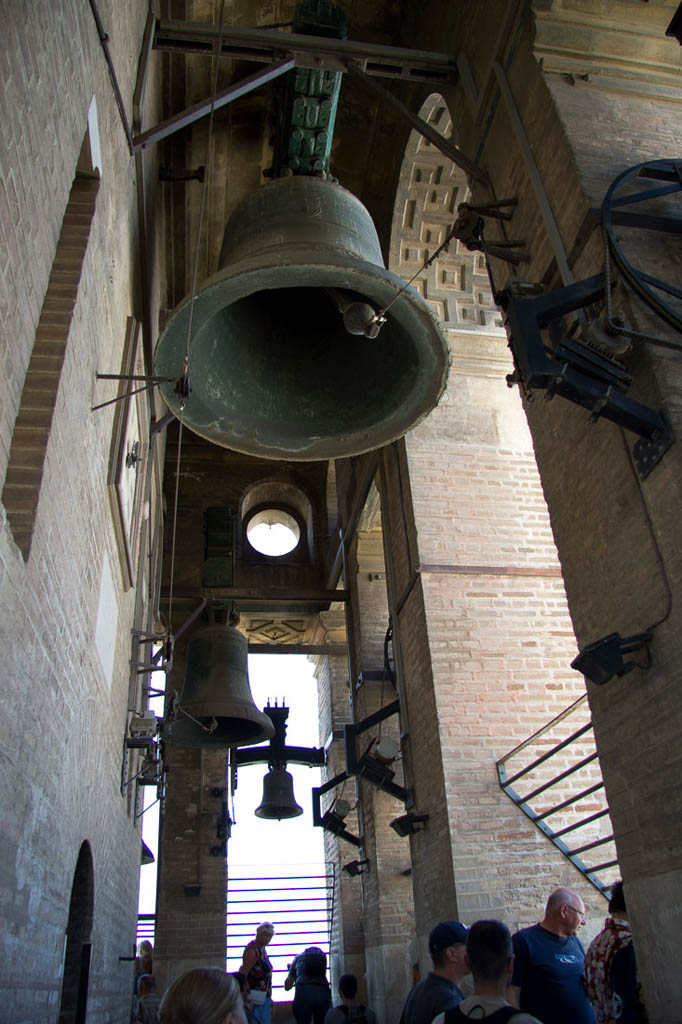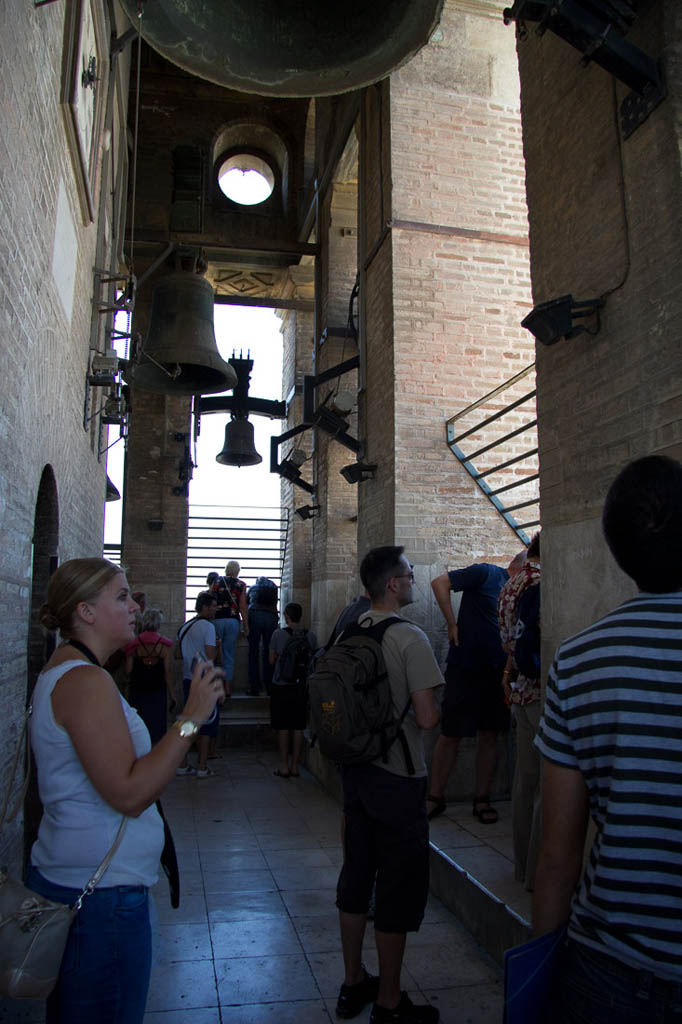 We descended back down the 37 ramps, met up with our tour group again, and then we went on the next stop of our very busy tour!
Royal Alcazar Palace
Another stop on our VERY busy day in Seville was the Royal Alcazar Palace.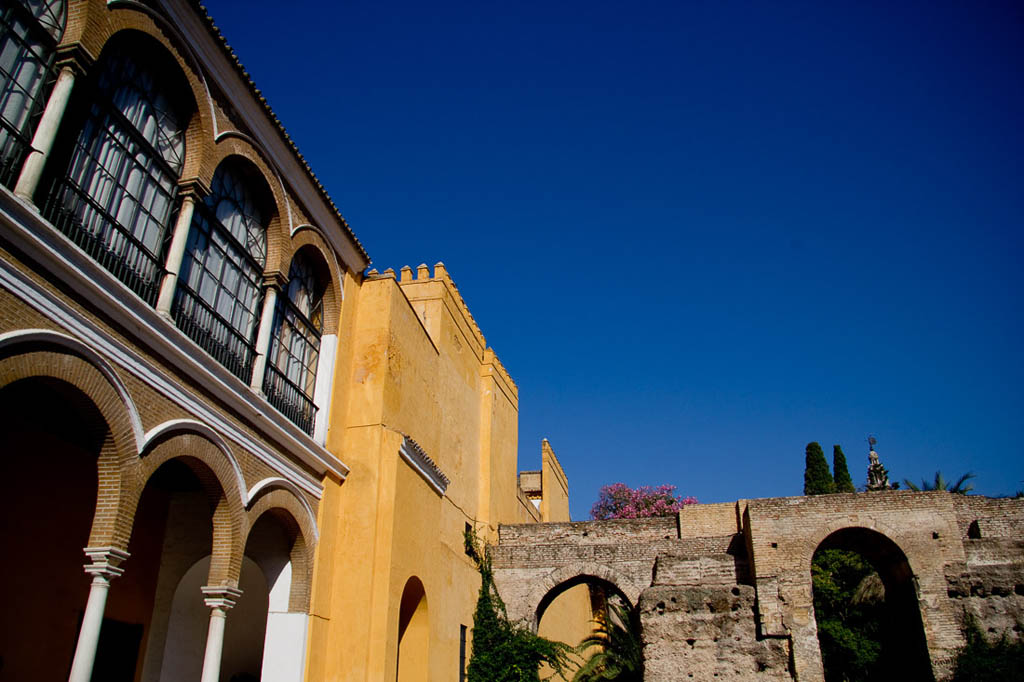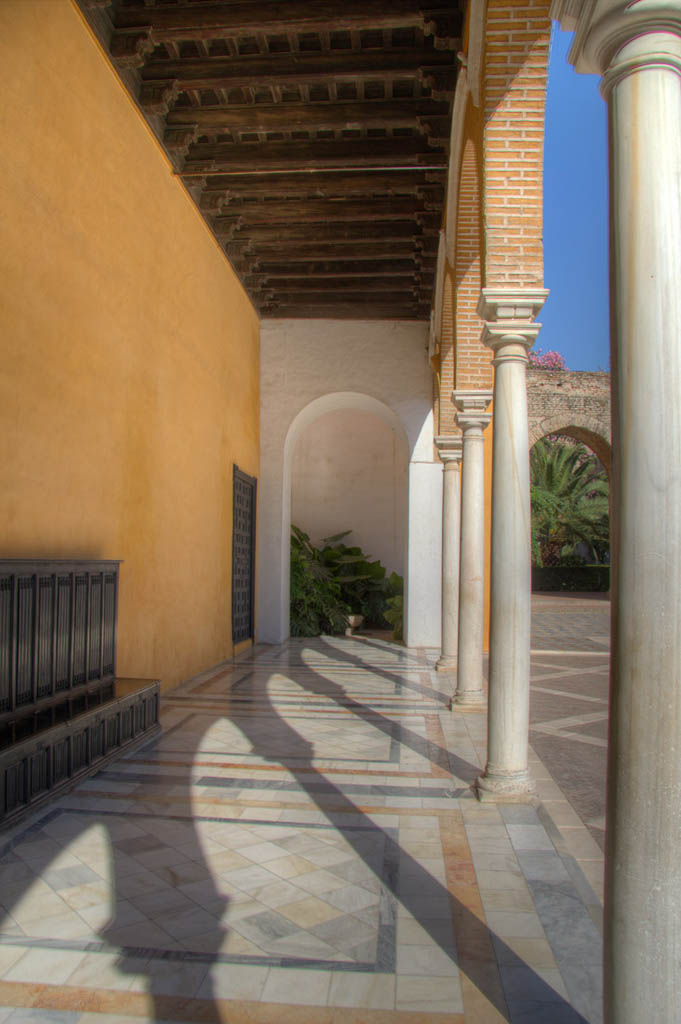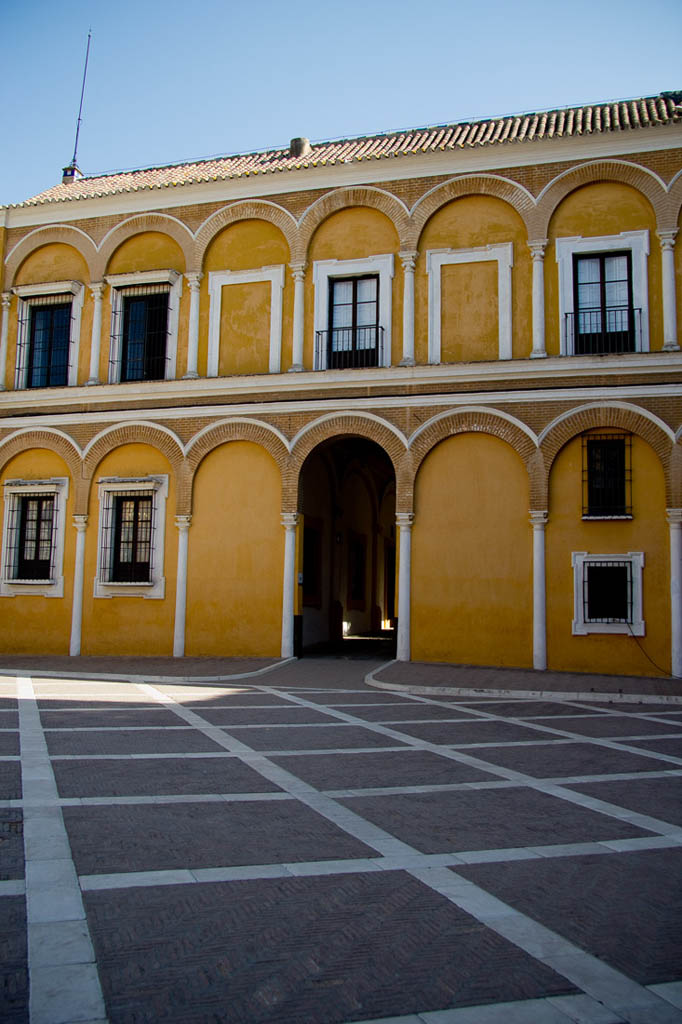 If you look closely, you can see that some of the building fronts are actually fake! They're just fabric covering the front of the structure, designed to look similar to the rest of the palace. We learned that they were covering up restoration work currently underway at Royal Alcazar Palace. We had never seen anything like that before! I mean, of course we see sites and monuments under restoration all the time, but usually it's just ugly scaffolding. I thought this was so clever!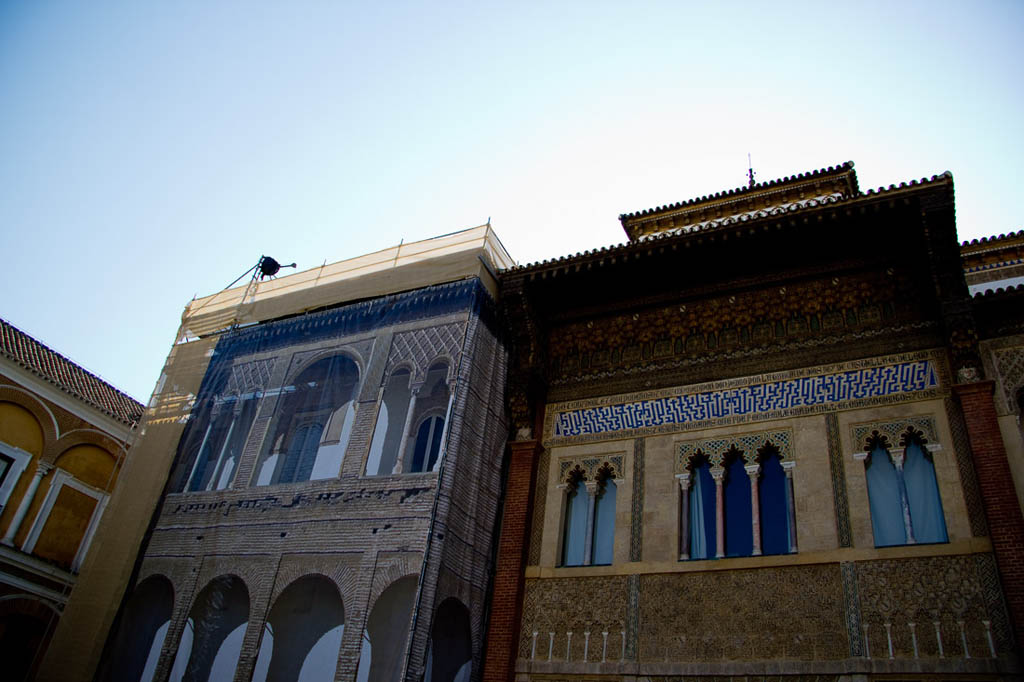 And it's no wonder that the Palace is undergoing restoration. It was built in the 13th century, and part of it still serves as a palace for the Spanish royal family!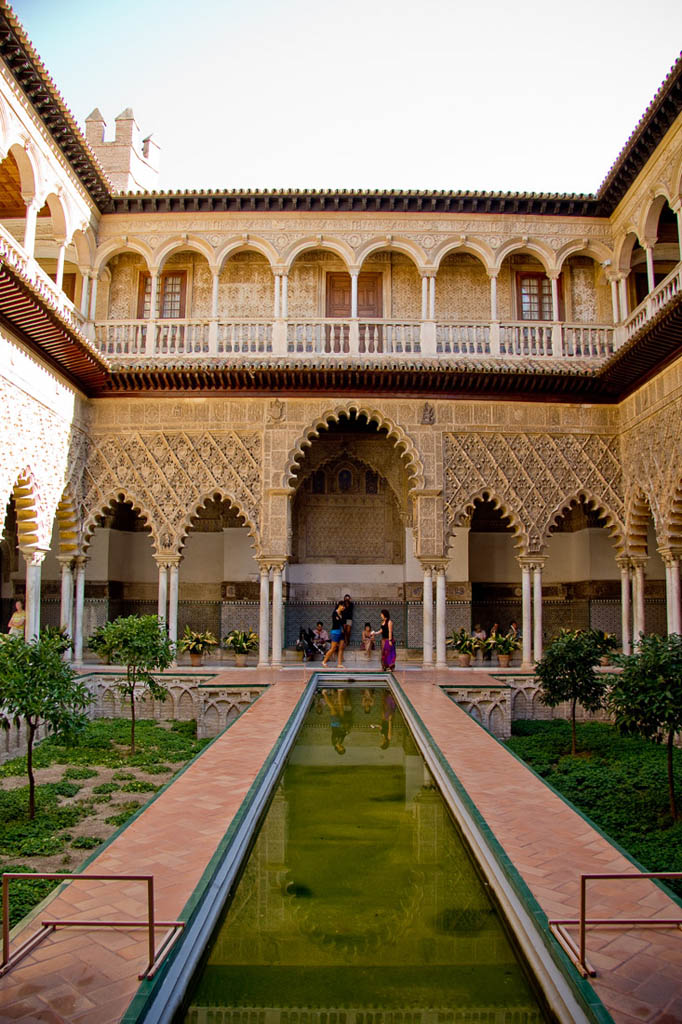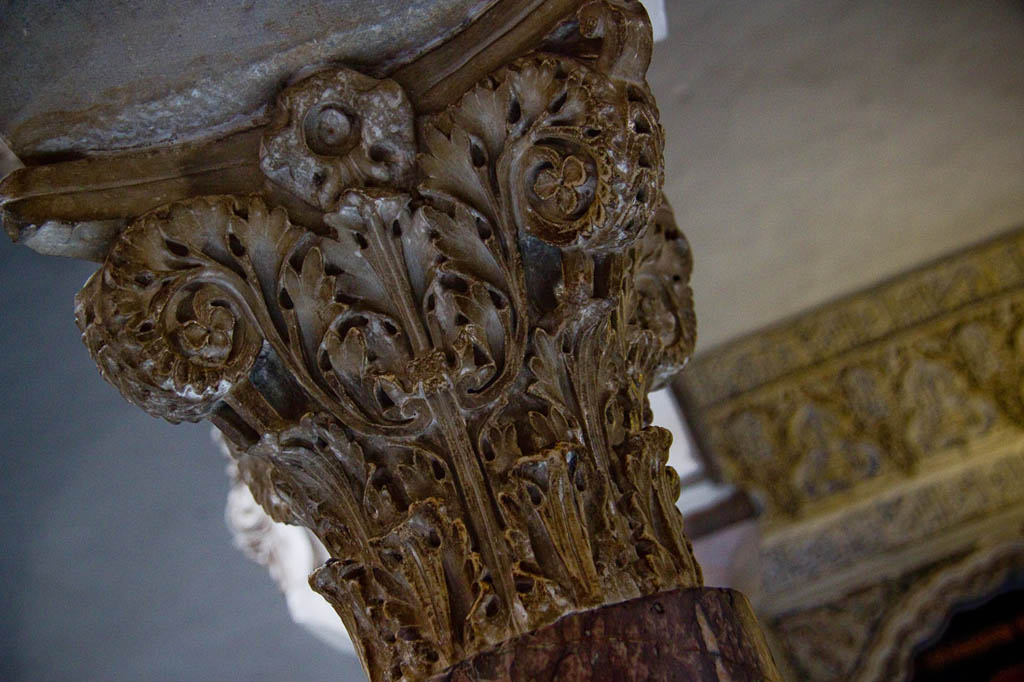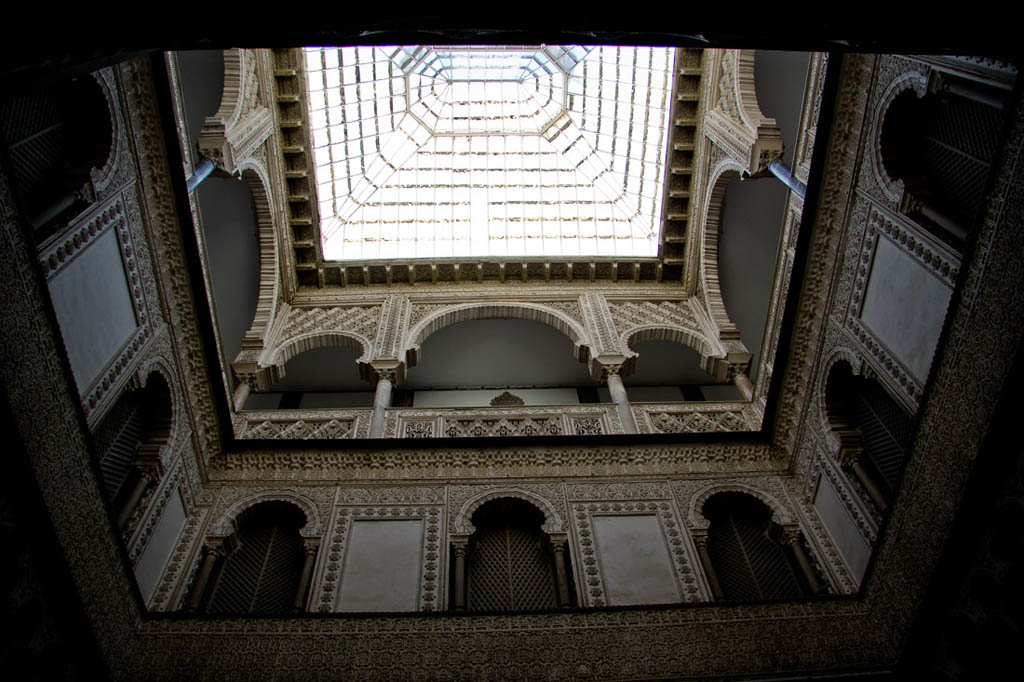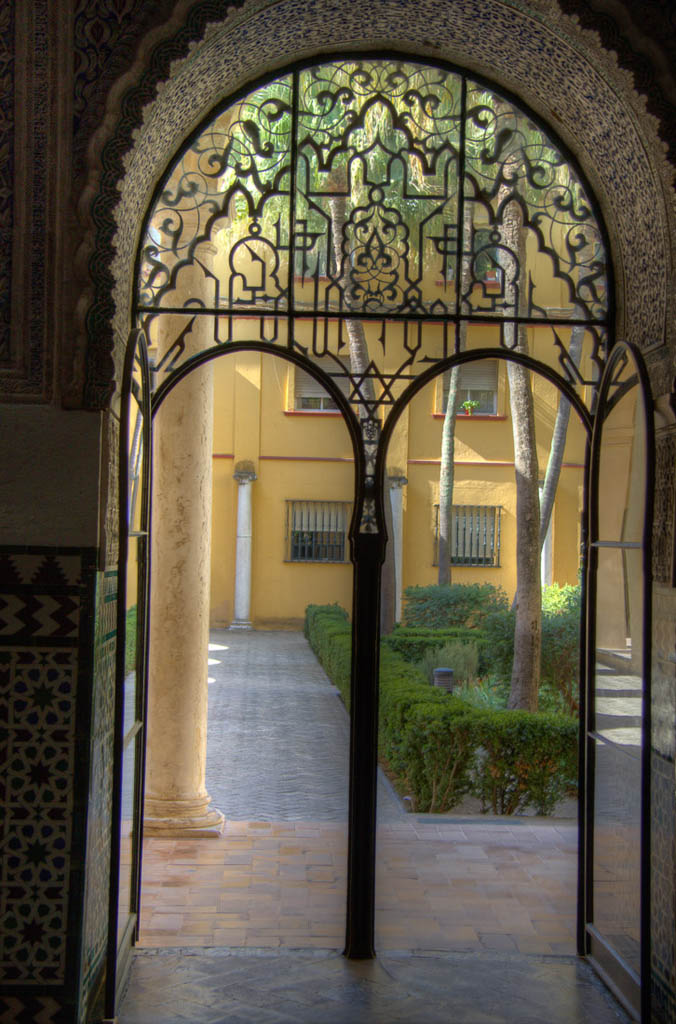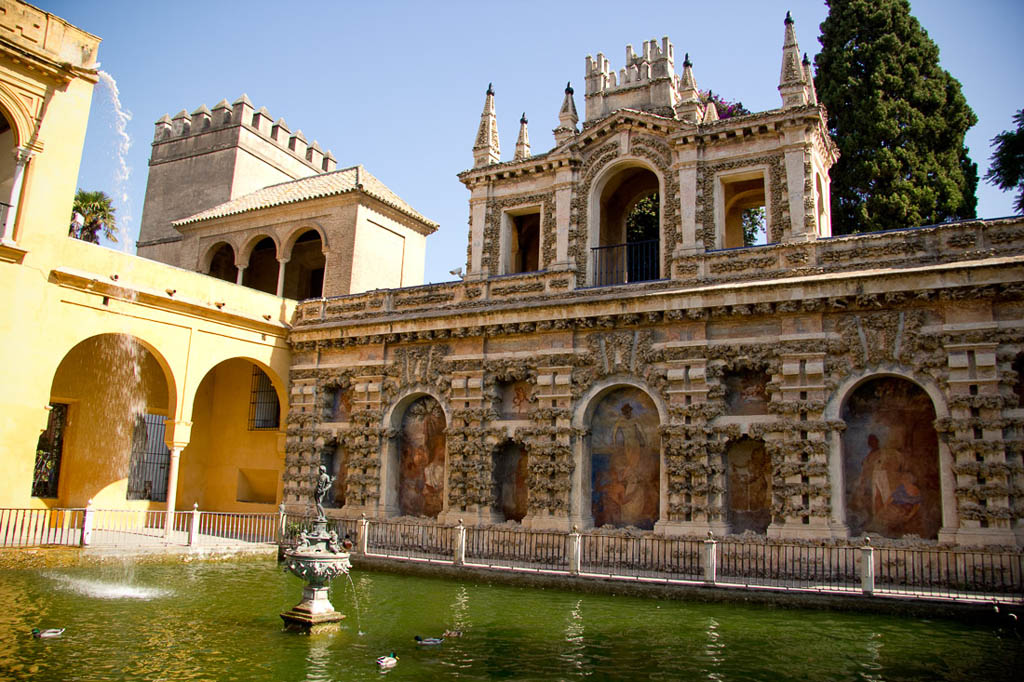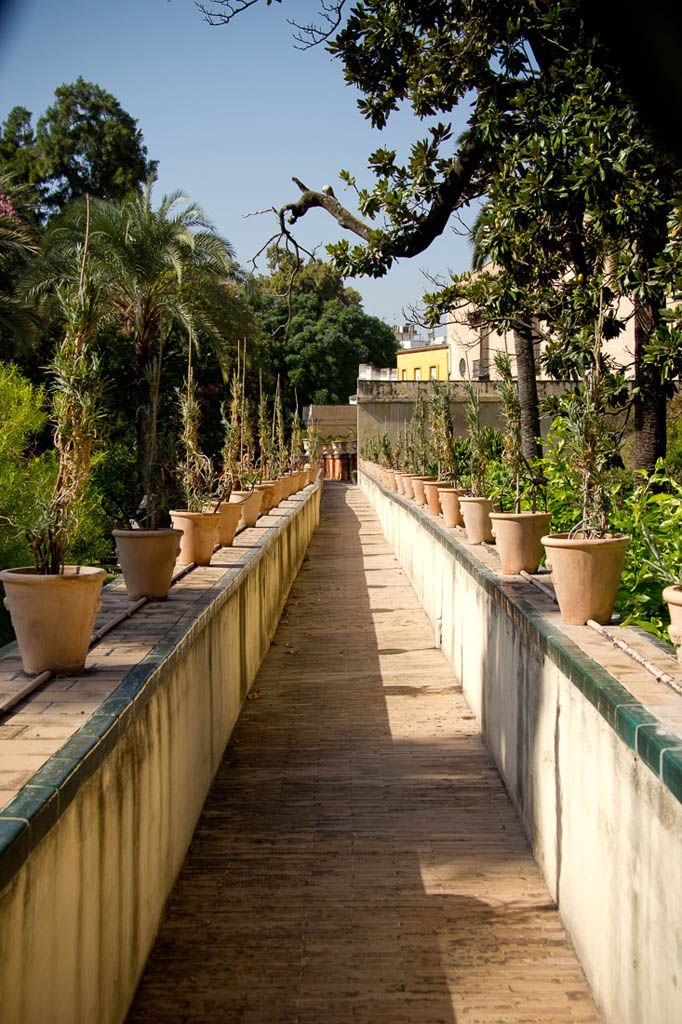 I feel kinda ashamed to admit that I had never heard of this place before, (but hey, I guess there are also still plenty of sites in the United States I've never heard of), but it was so beautiful. I definitely recommend it if you go to Seville!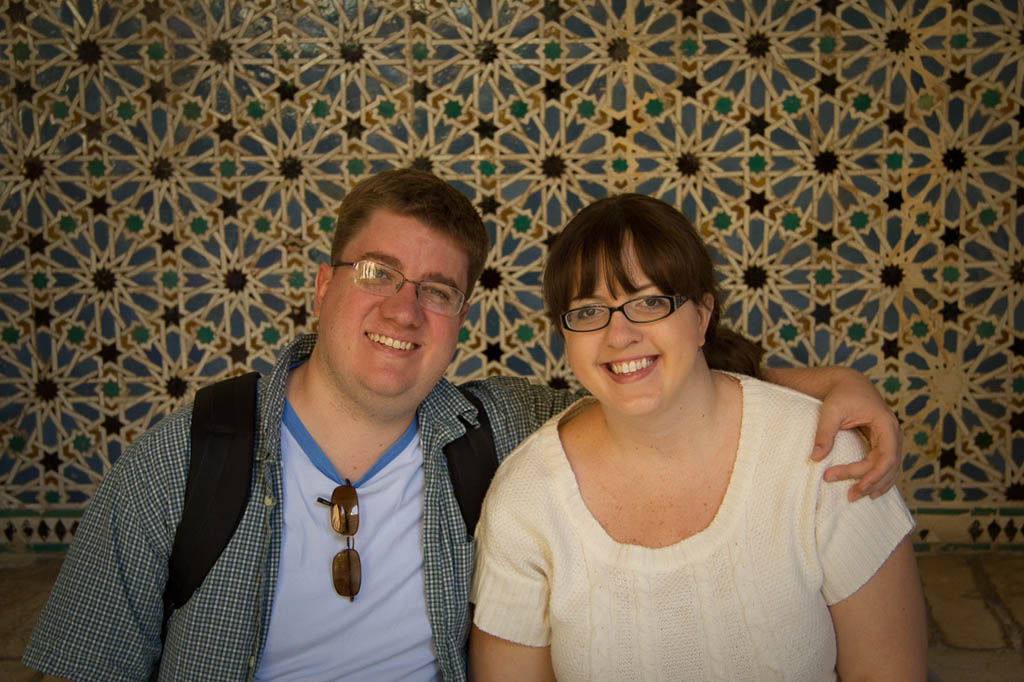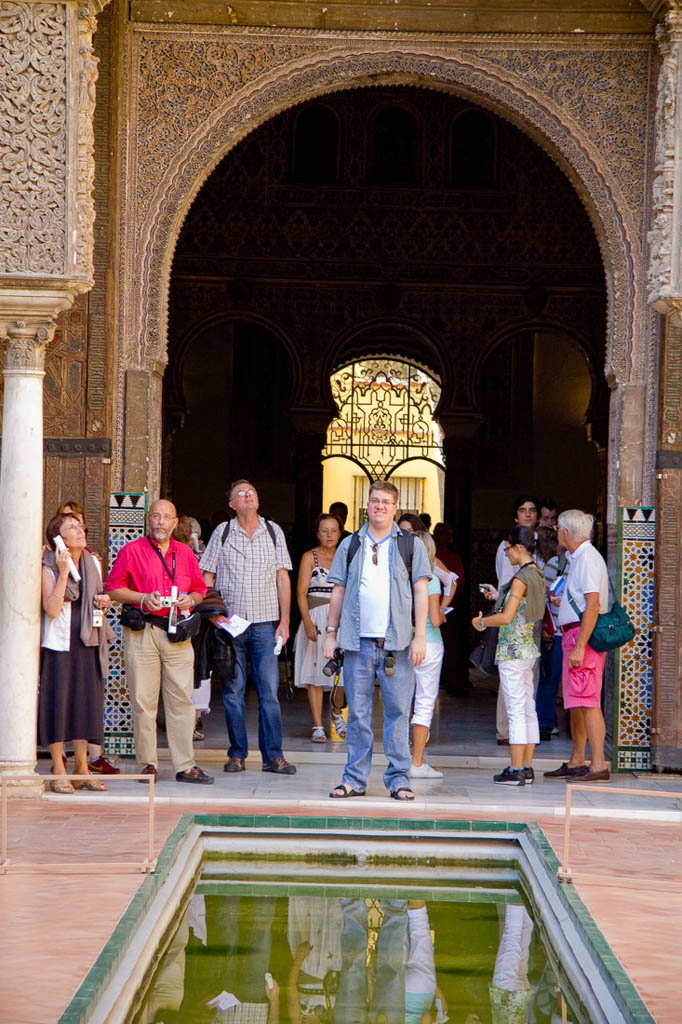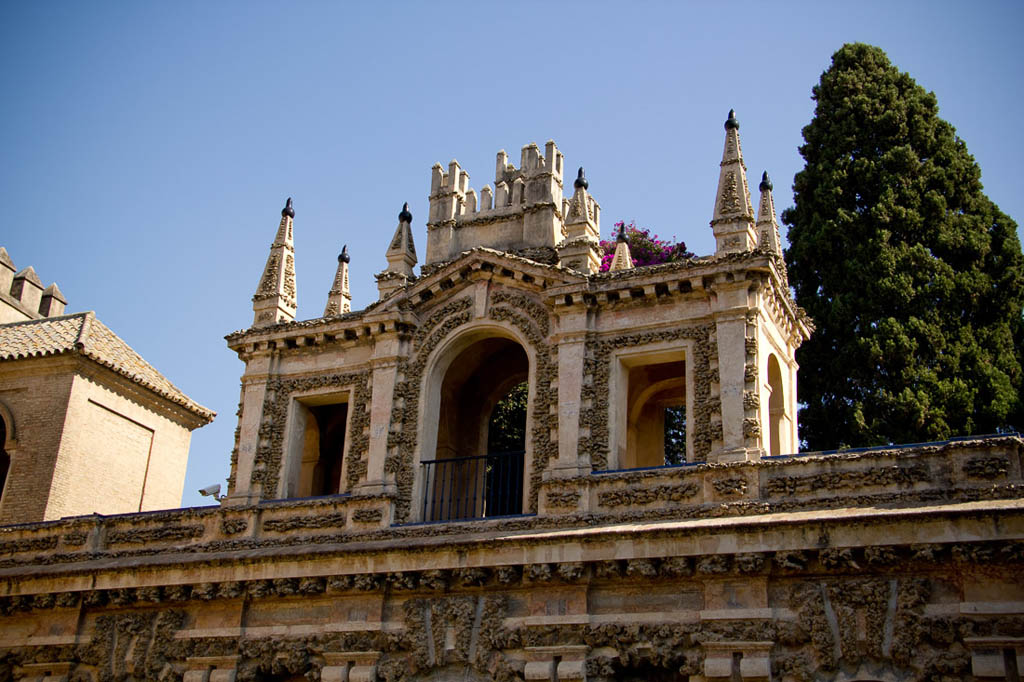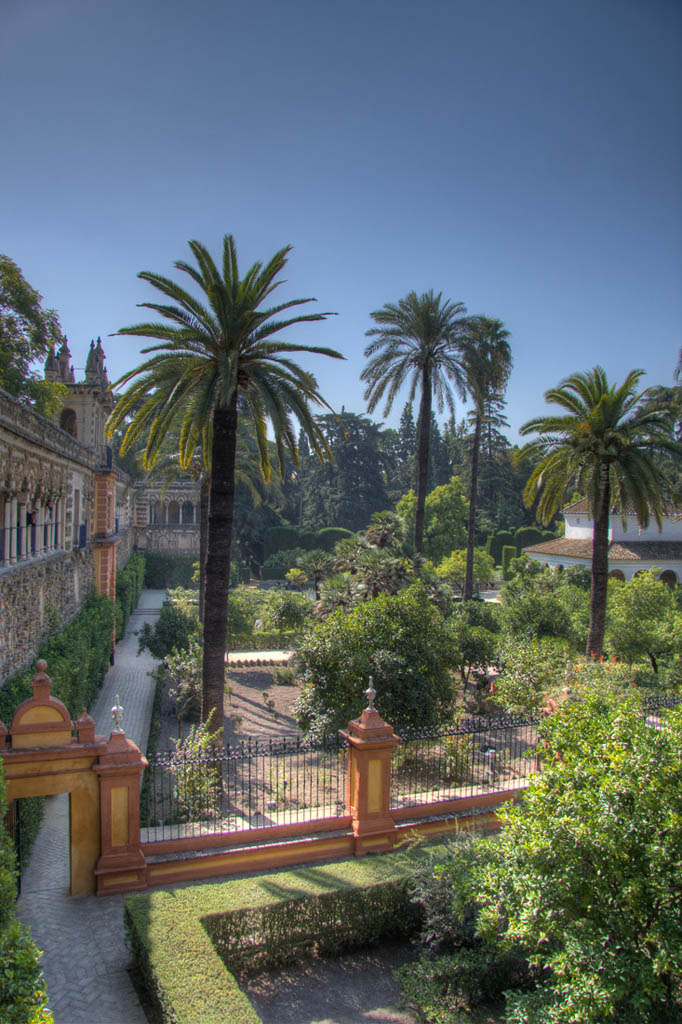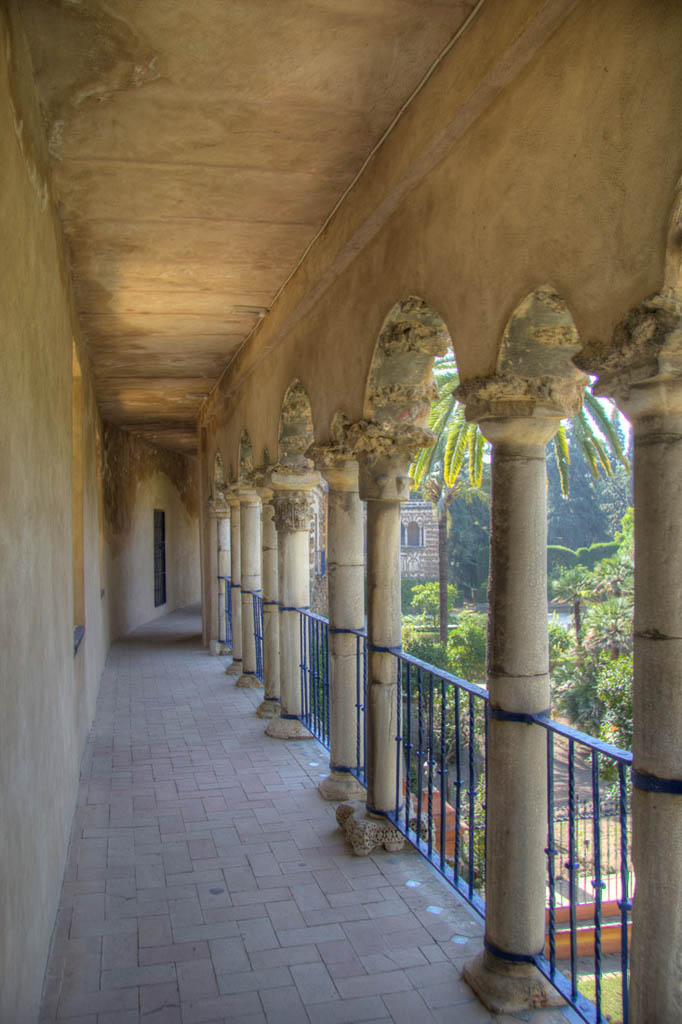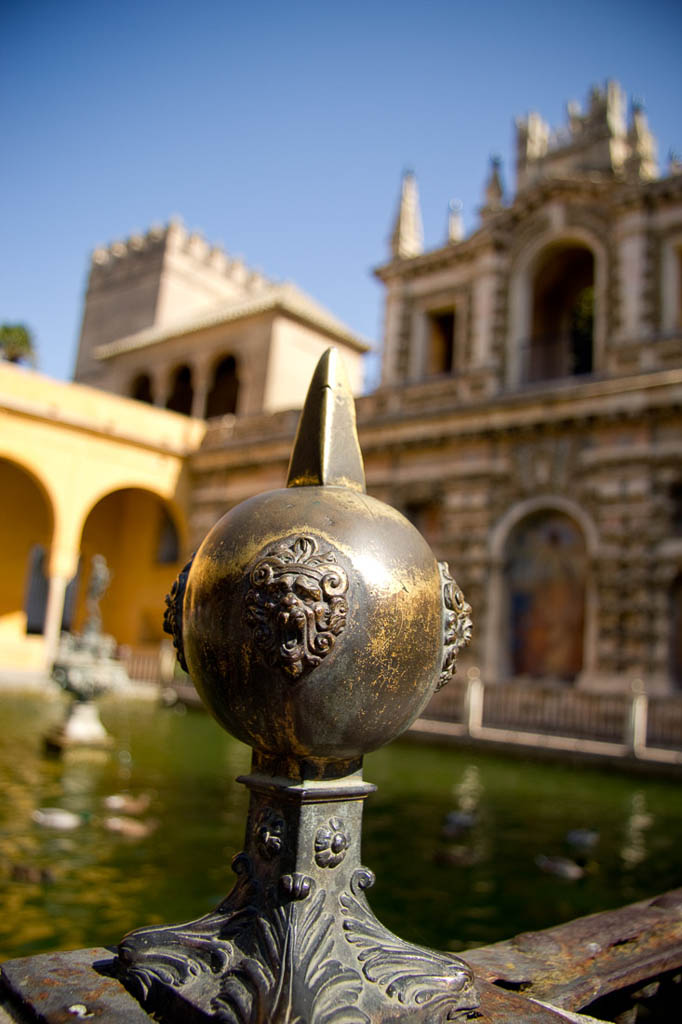 Boat Ride on the Guadalquivir River
Our extremely busy afternoon of touring ended with a relaxing boat ride down the Guadalquivir River in Seville. We were so tired from being on our feet all day, we barely got up to take any photos! Instead, we just sat in our seats and enjoyed the beautiful scenery as we floated down the river.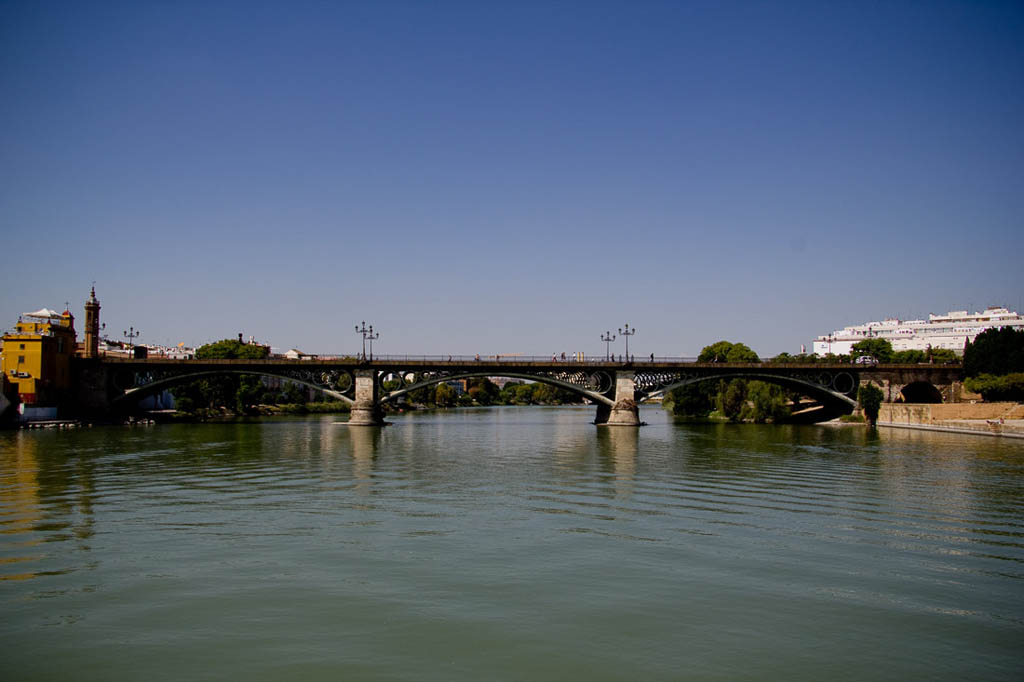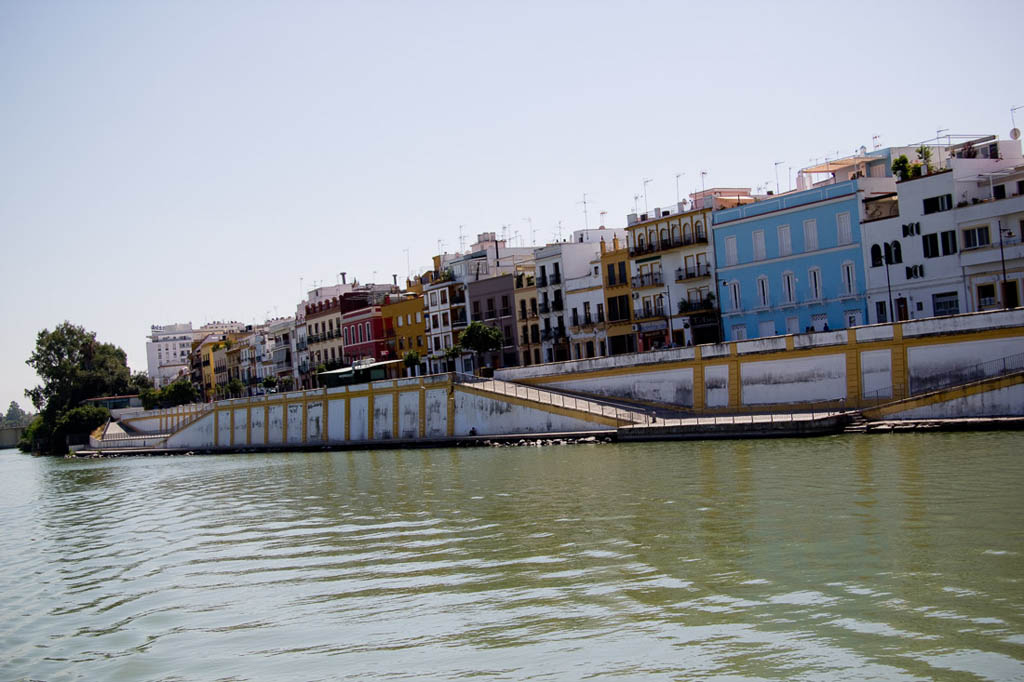 Somebody Call an Ambulance
After the boat ride, we met up with our tour bus again, and headed back to the hotel. What happened next has become a legendary story. (Well, in our household anyway!)
There were two exits from the bus. One in the middle and one in the front. Ken and I were seated near the back of the bus, so it made more sense to exit from the middle door. However, I took one look at those steep steps (much steeper than the front steps), and was like, umm, forget it. I'm a klutz, I know my limitations, so I just walked to the front exit.
Ken, in the meantime, exited through the middle door.
When I emerged from the front door of the bus, there was a commotion near that middle door. I've written about this incident before on the blog, in my "Being Prepared for Emergency Abroad" post, so I'll just reuse some of the language from that post:
At the center of that commotion was Ken. He had fallen down the steps of the bus. He sunglasses, which had been clipped to his shirt, flew off and slid across the sidewalk. I saw him start to stand up, and then sit back down on the ground. Three or four folks we had met earlier on the bus, including the tour guide, were helping Ken gather some things that had fallen.

There was a small cafe with outdoor tables and chairs about 30 feet from the bus. I told Ken that the sidewalk was dirty, and to see if he could get up to sit on one of the cafe's chairs. He got up, not saying much except that he hurt his ankle. He sat down on one of the cafe chairs, and I pulled up a chair to face him. I looked down at his foot, and told him to lift his leg so I could look at it.

He lifted his ankle and just dropped it back to the ground right away. I just kept looking at his foot, and kind of annoyed I said, "C'mon, let me see your foot!" And he didn't move. And then I heard the folks from the bus who were still standing around start gasping, and one said, "Oh my god."

I looked up at Ken's face, and his normally flushed red face was emptied of color. His face appeared gray and ashen. His eyes were rolling in to the back of his head and he was completely unresponsive.

I immediately thought he must have also hit his head in the fall, even though he only mentioned his ankle. I started screaming at the top of my lungs for somebody to call an ambulance. In my high-school Spanish, I started yelling, "Necesitamos un doctor!!" "Ambulancia!" (Even though I had no idea if that was the word for ambulance in Spanish, but it seemed close enough). Nobody seemed to do anything, including our Spanish-speaking guide, so I started running into nearby storefronts, saying, "Llame ambulancia," (call an ambulance) hoping I was making some sort of sense or even using the correct vocabulary.

I ran back to the table, and saw that Ken was conscious. A doctor who happened to be eating at a neighboring cafe heard the commotion and came over. Through our guide acting as translator, the doctor said that if Ken hit his head, he needed to go to a hospital right away. Ken insisted that he had not hit his head, that he must have just fainted from his ankle pain. (Ken had told me on prior occasions he has the propensity to faint, but I never actually witnessed it, so the fact that he might have fainted didn't even cross my mind.)
Anyway, after that incident, Ken and I went to a restaurant next to the hotel. I figured the fact that we hadn't eaten since breakfast, and it was now almost evening certainly didn't help prevent him from fainting. Ken is a kinda picky eater, and didn't eat much at the restaurant since it was a lot of unfamiliar foods, so we went to a McDonald's right afterwards and he loaded up on food there.
We had a disagreement in that McDonalds about whether he needed to go to an emergency room. While I was ordering the food at the counter, he was sitting at a table. As I walked back to the table when I was done, his face was, once again, devoid of all color. I asked him if he fainted again, and he said no. He said that he was just alarmed at how big his ankle was already. Here's a photo of his ankle while sitting in that McDonald's: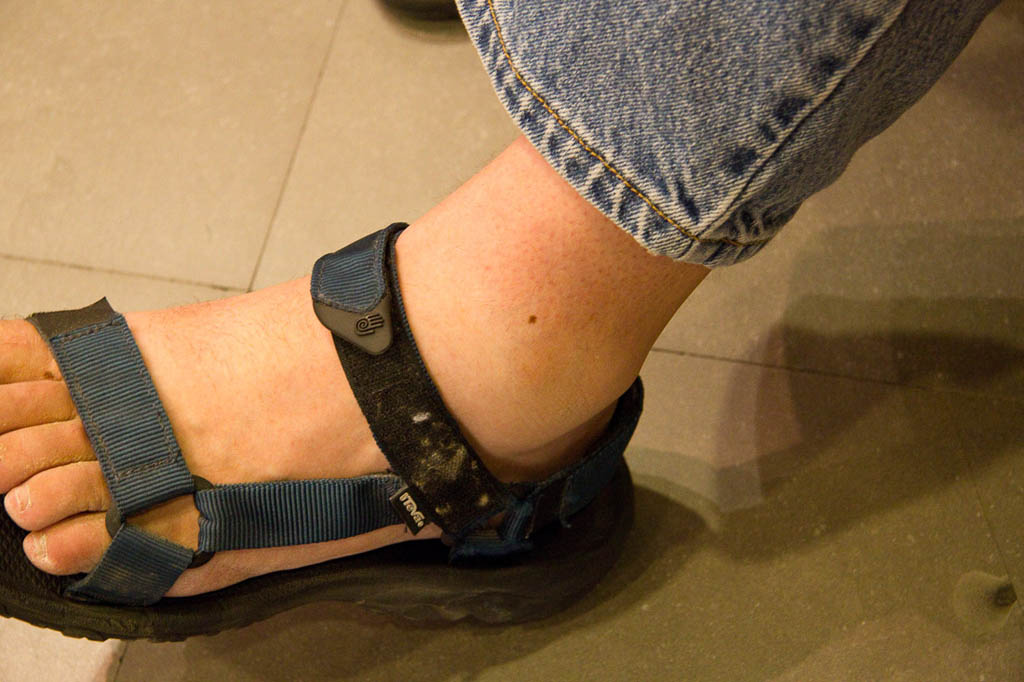 I was insisting we find a hospital, and he was being stubborn, saying things like, "I don't even know how that would work with insurance and paying them and stuff." And I said it didn't matter, that we would figure it out, explaining that my sister once had fallen in London and had to go to a hospital and it was no big deal. I kept telling him that he needed x-rays and potentially crutches and some ace bandages. And he said if it was seriously broken, that he wouldn't be able to walk on it.
You get the idea. He never did end up going to the hospital. And I still give him crap about it to this day.
We went back to the hotel. I got him some extra pillows so he could elevate his leg, and went to the hotel restaurant to get ice for his ankle. (And can I just say, finding ice in Europe is such a hassle). They obviously didn't have ice, and they directed me to the hotel bar, which luckily had some.
After we both relaxed, and I think we both had a short nap as well, we both called our families to let them know what had happened before we posted about the ordeal on Facebook.
By the way, we continued to take photos of his foot as the days progressed. Isn't it crazy that bruising and blood pooling?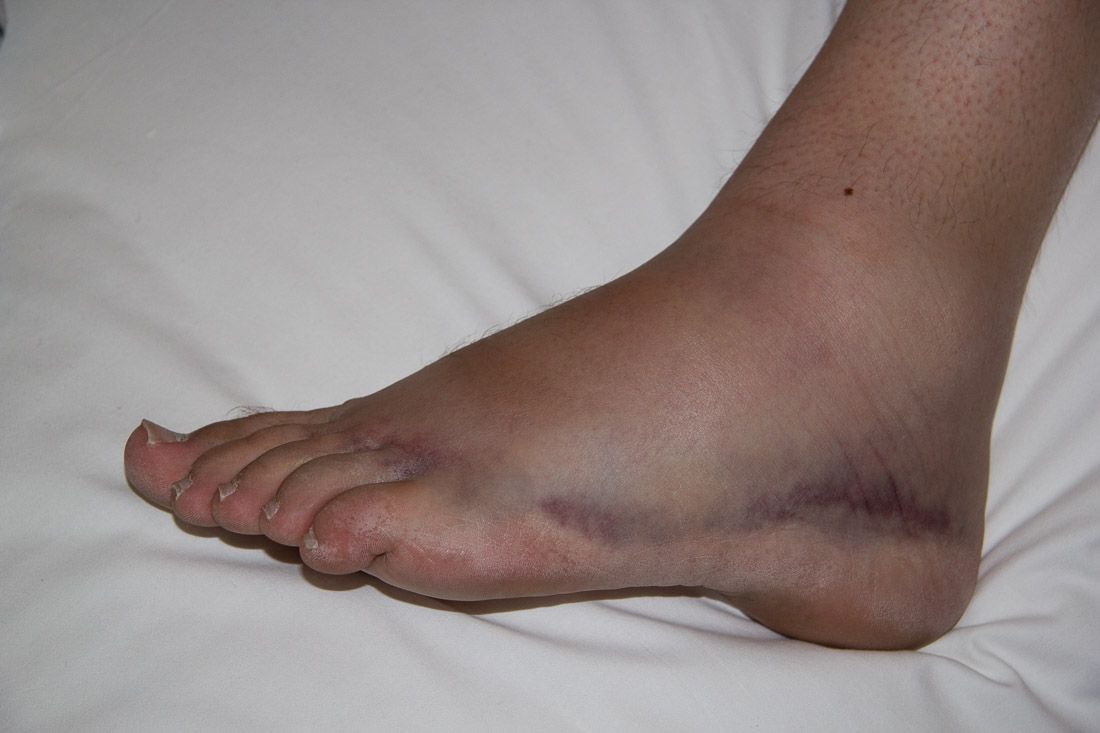 Seville by Night
The entire rest of the day was free from our organized tour, and since Ken obviously needed to rest his ankle, I went out exploring on my own. I took the subway from our hotel back to Seville's Old City, where I walked around for a bit. I was surprised that there wasn't a whole lot that was open. But it was still fairly crowded with folks at restaurants and just walking around the city.
I headed back to the hotel, still exhausted from the day's excitement, and went to bed!