This post may contain affiliate links. Please see my advertiser disclosure for more details.
I confessed a few weeks ago that some months, we spend $600 or more at the grocery store, for just two people. I've been taking a few steps to lower our grocery spending. The first step has been a pretty boring one, but necessary – plain old information collection.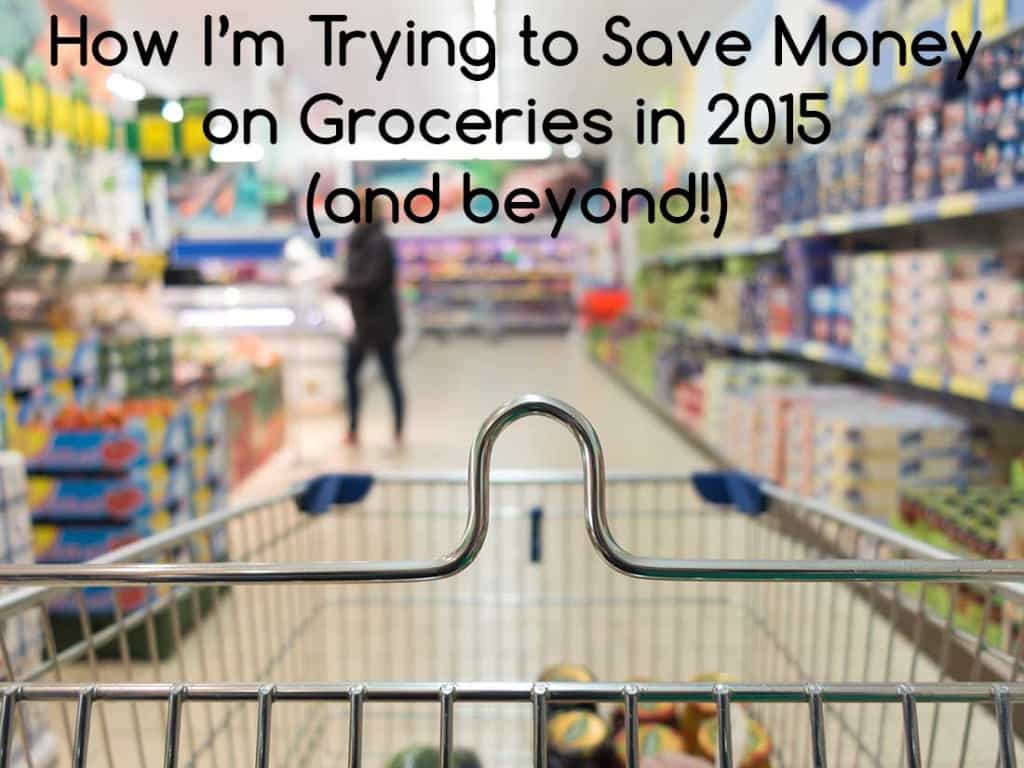 I mentioned in the introductory post that I only buy groceries that I need for the week. If something is labeled with "sale" at the store, I might pick up a few more if it's something I know we use frequently, but more often, I just buy what we need. So if we ran out of ketchup the previous week, I buy more. If we need a can of Cream of Chicken soup for a meal that week, I buy a can of Cream of Chicken soup.
I knew that to cut our grocery spending, I'd have to start leveraging sales better. But really, I have no idea what a good sale price is for the items we shop for. And to do that, I needed to do a few things.
Developing a Master List and Inventory of Groceries and Pantry Items
So began the process of identifying prices for items we purchase for our house. And not just food-related groceries either, but personal care items like Advil or Nyquil, and paper items like aluminum foil and toilet paper. You get the idea.
I set out to create a "master inventory" list that would contain a list of items we use, eat, consume, etc. That actually wasn't as hard as it sounds, mostly because of some habits I've had for a few years now.
Since getting my first iPhone in 2009, I have made my grocery shopping lists with the Grocery IQ app. I review my meal plan, add items that I need to Grocery IQ, and I check the box (scratch them off the list!) as I shop. Well, as you check the box, Grocery IQ adds those items to your History. I just went into my history and copied all the items into a spreadsheet. (Unfortunately I couldn't find a "share" or "export" button from the history. If you find one, just let me know!) From the web version, I logged into Grocery IQ, viewed my History, and copied and pasted the entire table of items. Then I just pasted the list into a spreadsheet. It did require a little bit of cleanup and formatting, but it was a lot quicker than going through the house and trying to identify each and every item we use or have used!
We also use Peapod grocery delivery service. To get even more information about our previous purchases, I was also able to login to our Peapod account, and copy and paste our entire shopping history since we started using Peapod in 2008. There were several duplicates between the Peapod list and the Grocery IQ list, but not all! So, it was a good use of time.
I ended up with a list of nearly 250 items. I added categories to the items, and voila, I had a comprehensive list of groceries! Here's just a sampling of the A's and B's: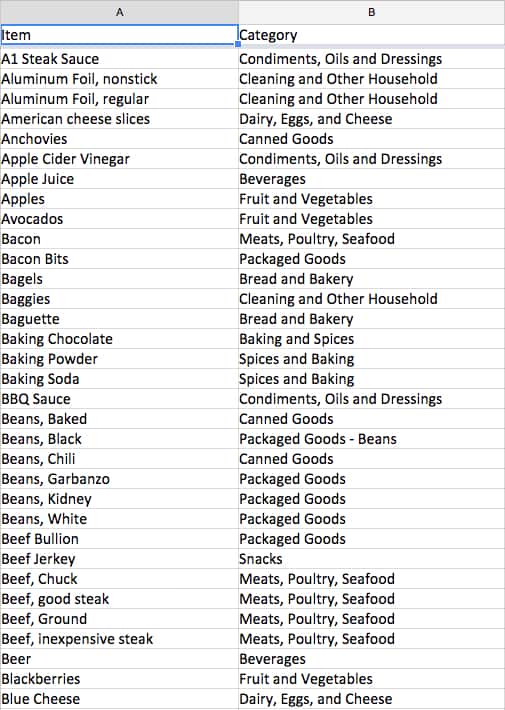 Developing a Price Book
Next up, I wanted to determine good prices for those items, especially the items we purchase more frequently. Just by poking around on many couponing sites that I found linked on Pinterest, I found some tips for couponing that including creating and maintaining a "price book." Essentially a price book is something that you create to keep track of the prices of items you purchase. By tracking those prices, you'll essentially figure out the best "rock bottom" or stockpiling price for the items you buy.
I had found many templates for a price book, and, although most of them were paper-based, I used them as inspiration to create a price "spreadsheet." I wasn't exactly sure if I was going about it in the right way, but here's what I've been doing.
Since early January, I've been reviewing the weekly sale ads for stores near me. These include Target, CVS, Walgreens, RiteAid, and the grocery stores Shoppers, Giant, Safeway, Food Lion, and Harris Teeter. Any time I see an item on sale that I purchase regularly or have purchased in the past, I would enter it into the Price Book Spreadsheet.
Of course, multiple stores have sales on the same items over the course of multiple weeks, so my price book is now fairly different from my master grocery inventory, because, for instance, I have like 10 entries for Advil and 5 entries for Orange Juice and like 40 entries for Toilet Paper. Seriously, I had no idea that toilet paper went on sale so much.
Here's an excerpt from my Price Book Spreadsheet: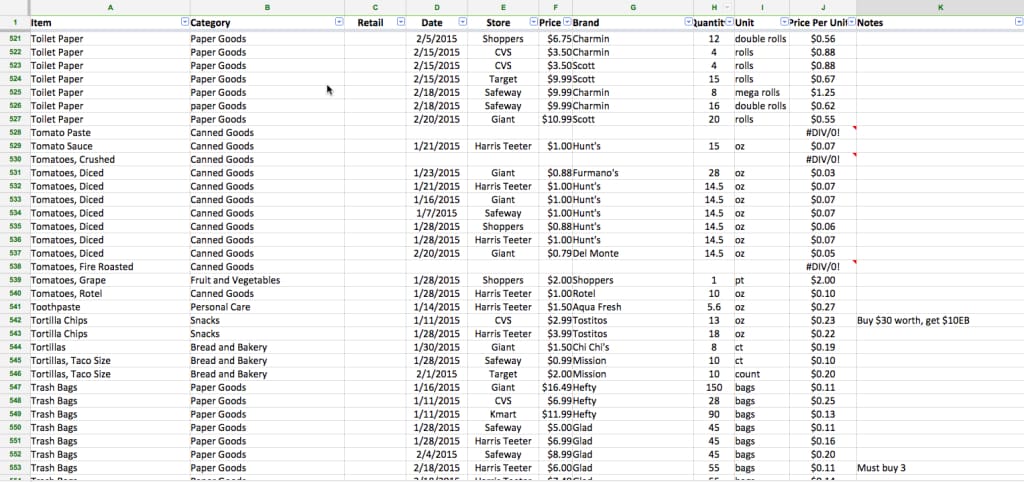 As you can see, I track the item, the category, the starting date of the advertised sale (which I find on the bottom of the ad inserts), the store that has it on sale, the price of the item, the brand, the quantity, the unit (oz, count, rolls, tablets, etc), and the price per unit. I'm sure most of you know by looking at it, but just in case it's not clear in the spreadsheet, the Price Per Unit is calculated (using a formula) by dividing the quantity by unit. For instance, CVS was selling a four pack of toilet paper for $3.50. I divide $3.50 by 4 (rolls) to determine the price per each roll. The per unit price comes in handy because there are always so many different packaging sizes!
Keeping track of sale prices over the past six weeks has been so helpful. As you can see, "sale prices" vary wildly. In the excerpt above, you can see that trash bags vary from 11 cents to 25 cents per bag! There are the same wild variations with toilet paper, even among the same brand.
(P.S. – The blank rows are for items that I have on my master grocery inventory but I have not seen a sale price for yet in the past six weeks. Or perhaps I just missed it in one of the ads. Also, I have a column for the retail price, but I'm too lazy to go to the stores to figure out what the non-sale price of those items might be! So I might just delete that column eventually)
I've timed myself doing this each week, and it takes almost precisely an hour to go through the ads for 9 stores and add the information to my spreadsheet. I view the digital versions of the ads on one computer monitor, and enter the price and other information into the spreadsheet, which I keep open on my second monitor. Having two monitors really speeds things along!
I'm going to keep track of the price book for another month or two, and then just develop a rock bottom price list for each item. I've read that grocery sales are cyclical, so you should see that same rock bottom price repeat itself every three months or so. Now I'll know what is a good price for nearly every item we purchase, and that will help me take better advantage of sales and save money in the long run!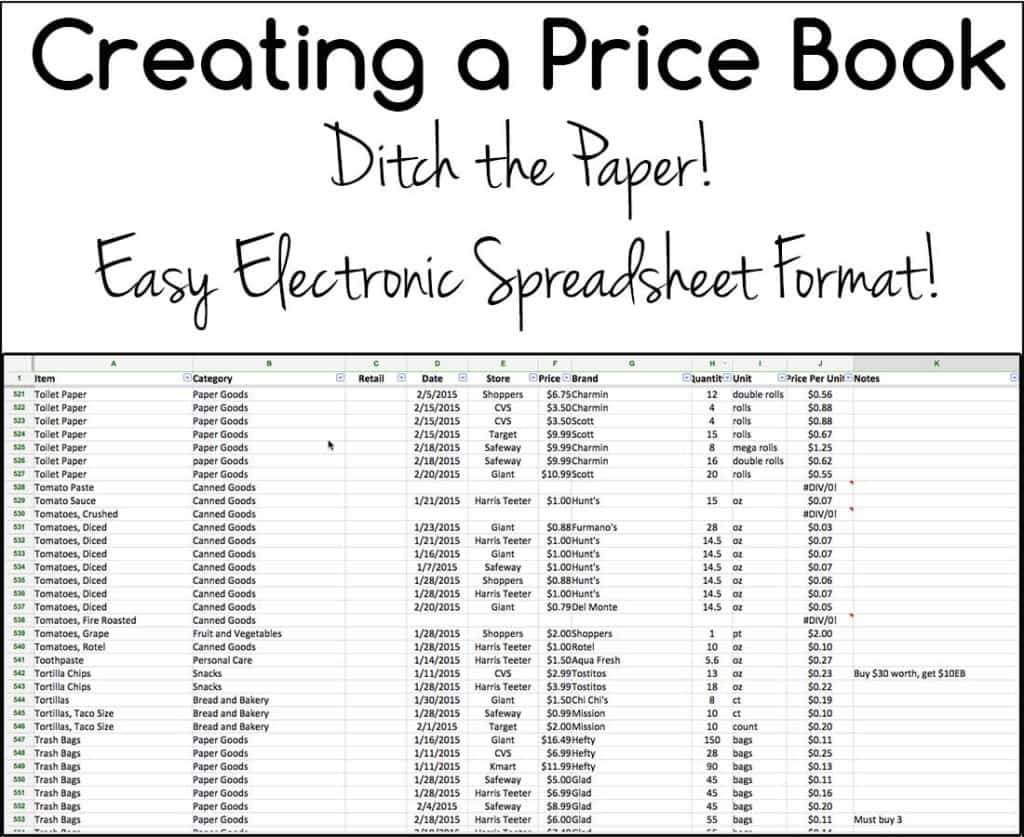 Other Experiments in Grocery Savings
I've been experimenting with other grocery saving ideas as well, and I was going to describe them in this post, but I realized this one is already getting long! So, I'll save that for a part 2. But for spoilers, I've been taking advantage of digital rebates such as Ibotta and Snap, utilizing Walmart's Savings Catcher app, using real paper coupons, printing coupons I find online, and browsing "matchup" sites, along with many other things! One of those things has been an amazing database that Ken developed. We use a barcode scanner to keep track of items in the house. I'll be devoting an entire post to that soon.
What do you think, seasoned couponers and extreme grocery savers? Am I off to the right start?