This post may contain affiliate links. Please see my advertiser disclosure for more details.
I grew up going to Disney fairly regularly.  My parents bought a trailer in Orlando when I was just 3 years old, and that, coupled with the fact we flew for free (because my dad worked for an airline), we went to Orlando quite a bit.  They were able to get Florida resident discounts on Disney tickets thanks to the trailer, and I was very lucky to be able to go to all the Florida Disney parks a lot.
We'd always just show up at Disney, get into the park, and well, ride the rides.  But now it seems like it's getting a lot more complicated!  Apparently you can't just "go" to Disney anymore.  It takes a lot of preparation and planning!
The last time I went to Disney World was in 2009.  My nephew was turning 3, and my sister wanted to take him to Magic Kingdom for a "Character Breakfast."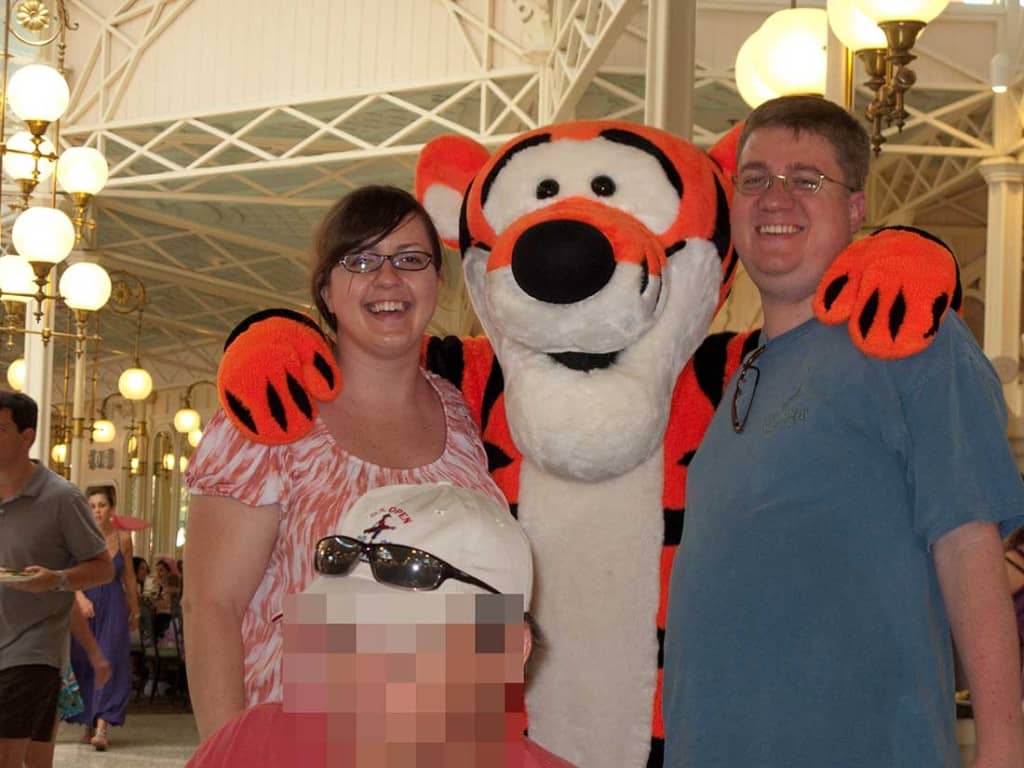 Before that 2009 trip, I probably hadn't been to any Florida Disney Parks since 1997-ish.  (I had gone for a very short trip to Disneyland in California in 2007 when my sister wanted to take her son there)  
But, I've been tempted to go to Disney again recently.  In particular, I'm interested in the Epcot Food and Wine Festival.  Not necessarily for this year, but maybe in 2016.  I had also seen on other random sites and blogs talking about things like "Disney Dining" and how important it is to make dining reservations six months before your trip.  
Wait a sec.  Dining reservations at DISNEY??  What happened to just walking into their cafeteria style establishments, or grabbing a Monte Cristo sandwich at that one restaurant?  (Seriously, that was my mom's favorite sandwich ever.  The Monte Cristo from Disney World).  And fast passes?  What are those?  And what do you mean those things have to be reserved well in advance of the Disney visit too?
Or, have these things always been around and I just never paid attention to them?  
I started to do some digging.  And, by "digging," I mean Google searches. And digging is a stretch, because it really wasn't hard to find.  At all.  Because this is BIG business and apparently everyone on earth knows about it but me.  
Alas.  
All this to say, I want to plan a trip to Disney.  Probably two days at Epcot for the Food and Wine Festival in Fall 2016, and maybe one day at MGM studios.  
How I'm Starting to Plan our Trip
Fall 2016 is a seemingly long time away, but based on what I've been reading, I need to get planning ASAP.  
Here are some random stream-of-consciousness discoveries I've made in the past few weeks:
I know that Disney is expensive, but wow, I really didn't know the range of hotel options available on Disney property.  Ranging in the low $100/night range, all the way up to like $700 per night.  Of course, the more expensive properties caught my eye because they look really impressive, but there's no way I'm spending that kind of money on a hotel!  
But then I discovered this thread over at Reddit.  The person indicated that they do "DVC rentals" and save a lot of money on the "deluxe resorts" at Disney.  I commence googling "DVC rentals" and find that people who buy into Disney's timeshares (called the Disney Vacation Club) can offer "rentals" of their timeshare weeks and properties.  (I realize that I'm vastly overgeneralizing the process, but I'm just trying to convey the idea here: discounted hotels from people that own timeshares.  It seems like a great deal to save money on a high end property at Disney! I did some "dummy" searches on a few sites that specialize in DVC rentals, and discovered that it was about half the cost for the deluxe Disney properties compared to booking directly through Disney (and several of the deluxe properties are only available to DVC members).   
Staying on Disney property affords you many benefits, like access to dining reservations earlier than those folks not staying on Disney properties, extra time in the parks, and free transportation from the hotel to the parks.  So, although there are MANY points options for hotels in the Orlando area, I feel like it's worth a cash expense to stay at a Disney Resort.  (For what it's worth, there are two hotels on Disney property that you can redeem points for, the Dolphin and Swan, but I wanted to stay at some of the nicer Disney hotels).  
I need to do a LOT of additional research on what restaurants at Disney!  Granted, we plan on going during the Epcot Food and Wine Festival, so that will take care of our dining for a good chunk of our visit, but if we go to MGM or another park such as Magic Kingdom, we'll need some dining reservations there!
I want to figure out what hotels would be the best options.  If we'd be spending the majority of the time at the Epcot Food and Wine Festival, it seems like it would make sense to stay at a resort close to Epcot, like Boardwalk Villas or the Beach Club Villas.  But wow, places like the Animal Kingdom Lodge or the Wilderness Lodge certainly look awesome!
Park tickets
During our trip in 2009 to Disney, Ken and I actually bought a six-day ticket with no expiration (For what it's worth, it sounds like Disney doesn't even offer the no expiration option anymore).  It seemed silly at the time, but the way we saw it, we weren't going to LOSE money on the deal.  Disney prices only increase, so we essentially locked in at 2009 prices and can use the subsequent days at any point in the future.  We only used one day of our ticket, so we still have five days left on our ticket.  So, we don't have to worry about spending money on additional park tickets during our visit next year.  However, I am a little worried about how this will work for things like Fast Pass, since you have to link your tickets to your Disney account.  If you were buying tickets for your upcoming trip, that seems like a pretty easy process, but I have no idea what it will be like to link a 7-year-old ticket to our account!  
Maximizing discounts and cashback options
Although we won't have to buy park tickets, we'll still have other various in-park expenses, such as food and souvenirs.  I've read about this technique, where you can buy discounted Target gift cards, then use those gift cards to buy Disney gift cards online at Target, which are subsequently discounted 5% if you have a Redcard (even if you're paying with the Target gift cards.  And if you open a Disney savings account, they give you a $20 bonus gift card for every $1000 you deposit in the savings account (and the Disney gift cards can be used to load the savings account).  However, I'm not sure if we'd do the Disney savings account part, because I doubt our in-park expenses will be more than $1000, but I'll have to do some estimates!  
I also want to figure out how reservations made through various DVC rental sites are categorized.  If they're categorized as travel expenses, then that means I can use a card like my Barclays Arrival Plus or a Capital One Venture Card to basically get a rebate on those expenses after paying up-front.  But if they're not categorized as a travel expense, then I'm not sure what my other options are.
I've been getting so excited about learning all these new things and planning our trip that I've actually suggested to Ken that we invite his sister and her family.  Our niece would be 7 by next fall, and if she doesn't get to Disney soon, I'm afraid some of that "magic" might be lost on her!  Because, let's be honest.  Although Disney has some pretty cool things that cater to adults, it's nothing compared to what they have for children.  When I ride "It's a Small World,"  all I see is cheapo styrofoam covered in glitter.  But, riding that same ride next to a niece or nephew and watching their eyes light up!  SO MUCH COOLER.  
Have you been to a Disney park recently?  What planning did you do?